There are many vacation spots in the United States that come to mind when planning an exciting vacation for the family, but for many, the state of Kentucky may not come to mind – they would be wrong. There are so many attractions across the bluegrass state that will not only entertain the adults in the family, but many places have exciting things to do in Kentucky with kids.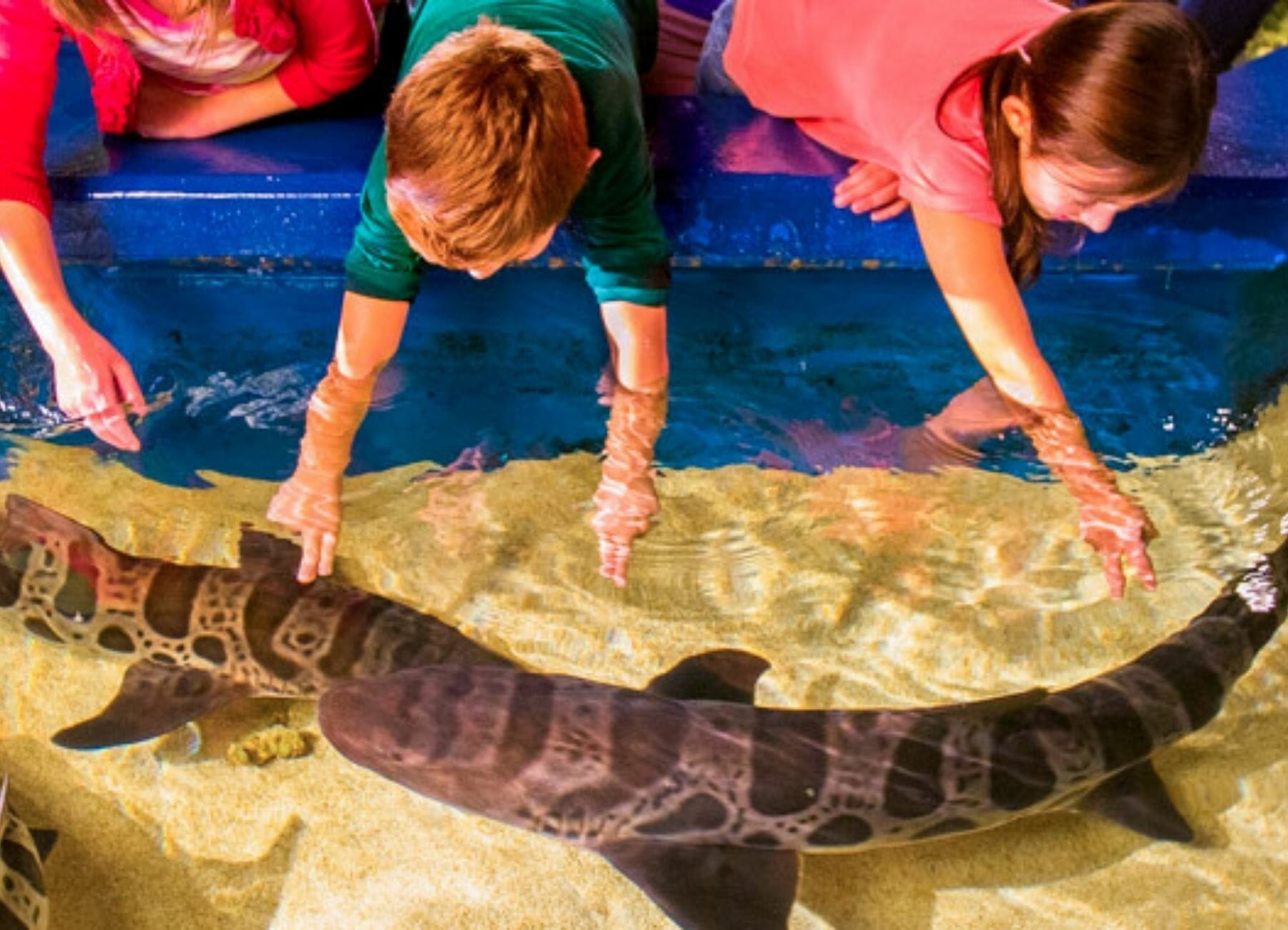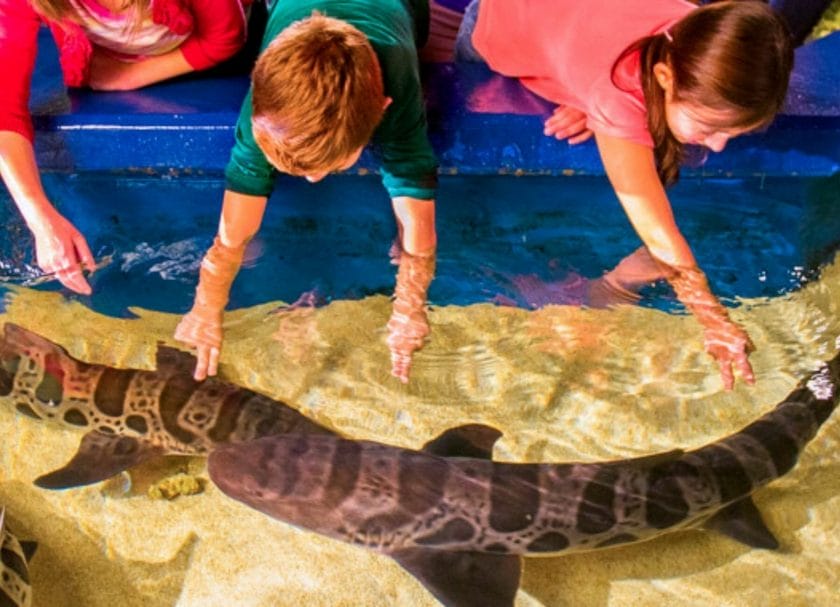 The top cities we recommend you visit are: Lexington | Louisville | Bowling Green | Elizabethtown
Now lets get into the top things you will want to do when you visit Kentucky!
Things To Do In Kentucky
Mammoth Cave National Park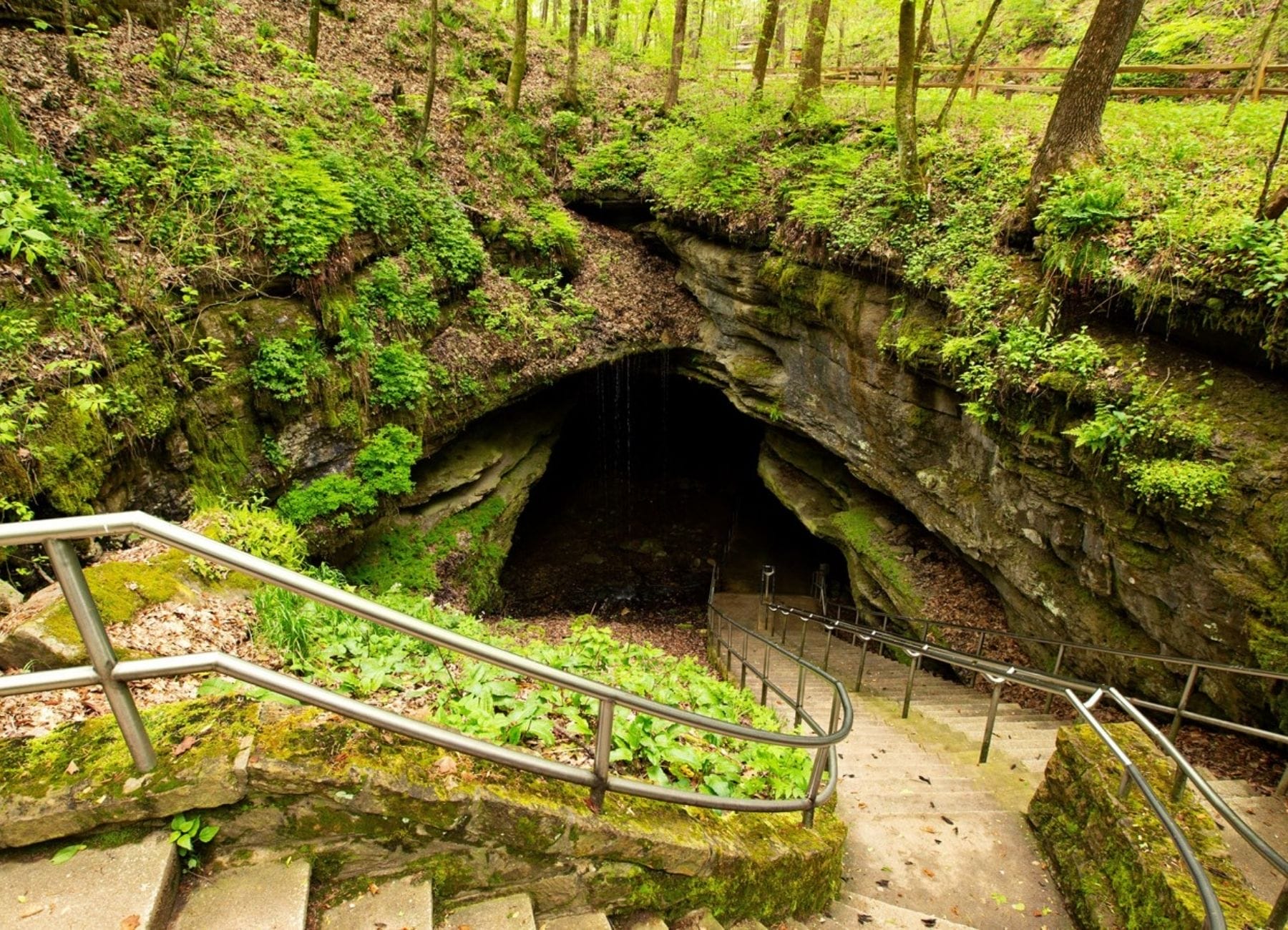 Kids love to explore the outdoors, and what better way than making your way through the cave systems at Mammoth Cave National Park. Here you will experience 350-million-year-old rocks as you venture into the dark underground caves in the world's longest known cave system!
Mammoth Caves National Park has over 400 miles of known cave trails explored, and you can view a portion of that when you go on guided tours at Mammoth Cave. There are trails, and even a walking tour, for all activity levels from easy kid-friendly hikes to strenuous hikes deep inside the cave system.
Quick Tip – Be sure to bring a jacket with you since the average temperature is 55 degrees year-round once you're underground.
For more info check out Mammoth Cave here.
Abraham Lincoln Birthplace National Historic Park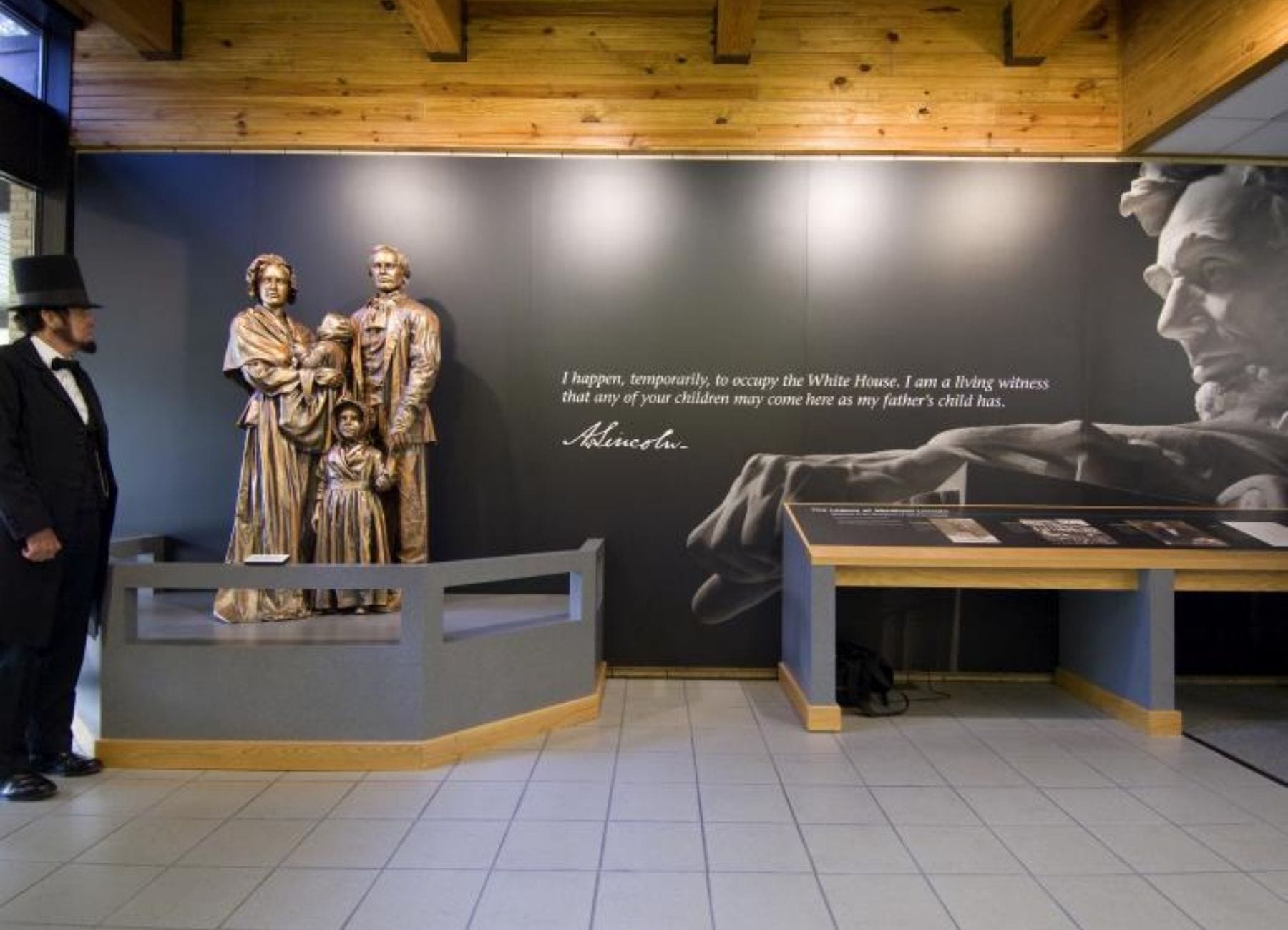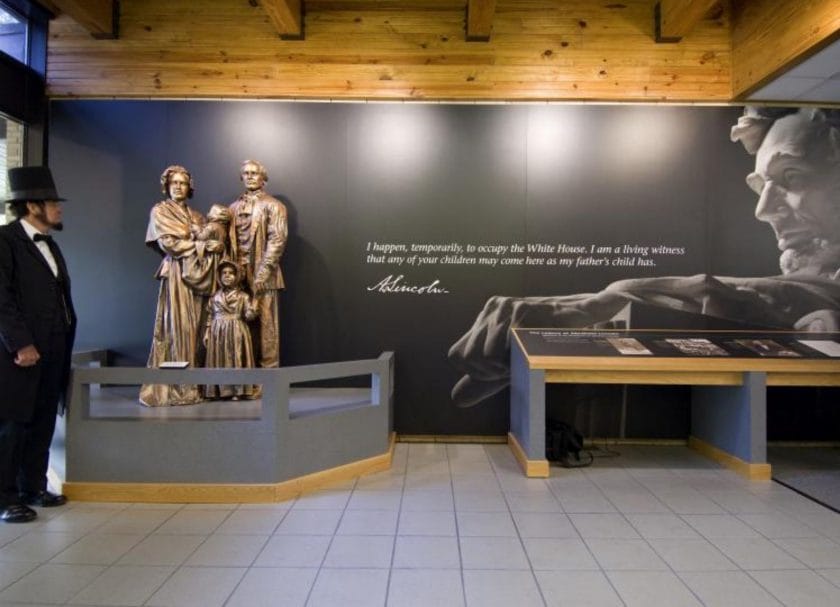 Abraham Lincoln's Birthplace needs to be on your list of historic sites worth visiting. Things to do in Kentucky with kids come easy when you can blend together historical and educational lessons.
President Abraham Lincoln played an integral role in the dissolution of slavery. Here you will also learn all about how he was an important figure before, during, and after the Civil War.
For more info check out Abraham Lincoln Birthplace National Historic Park here.
Newport Aquarium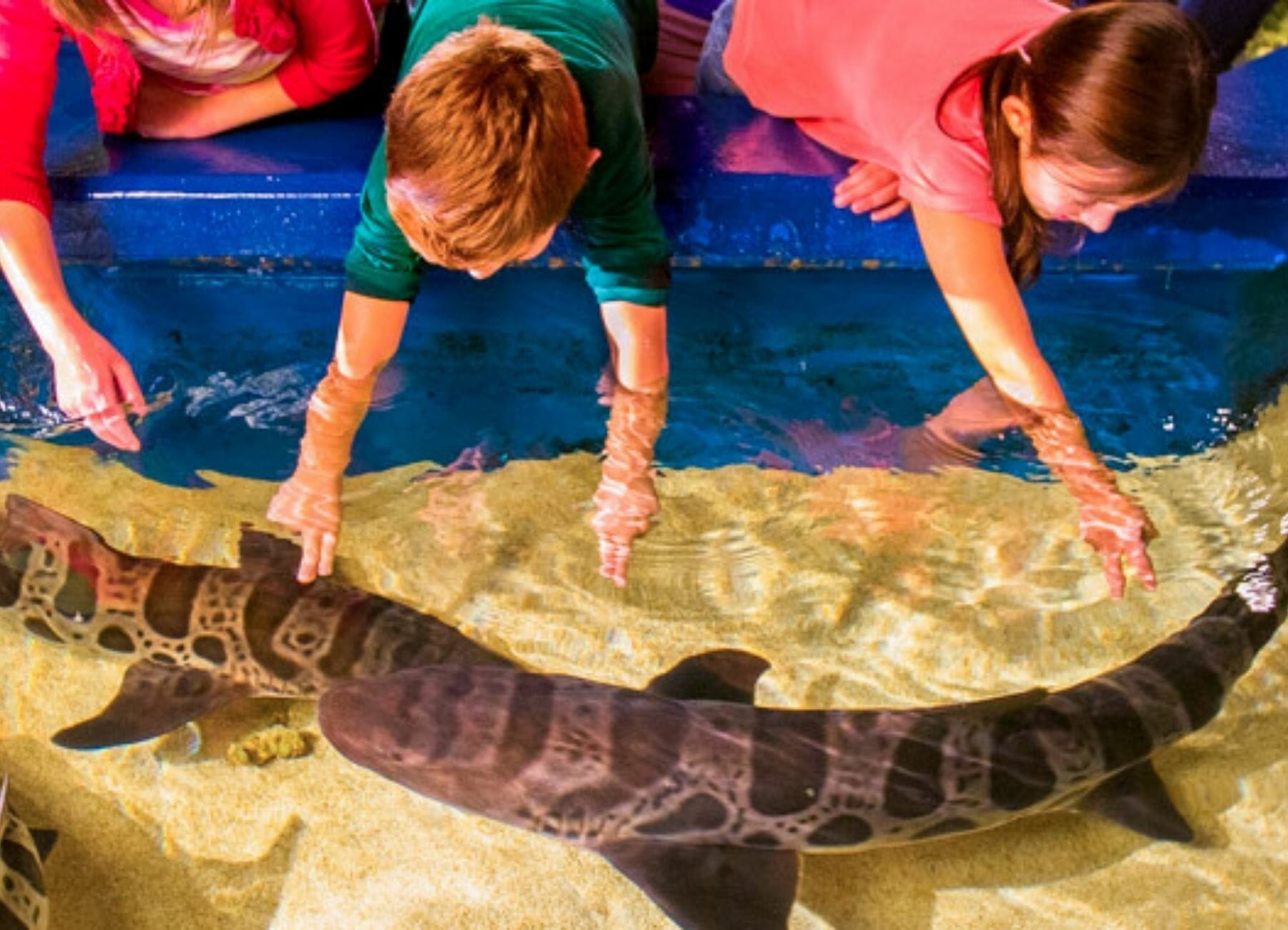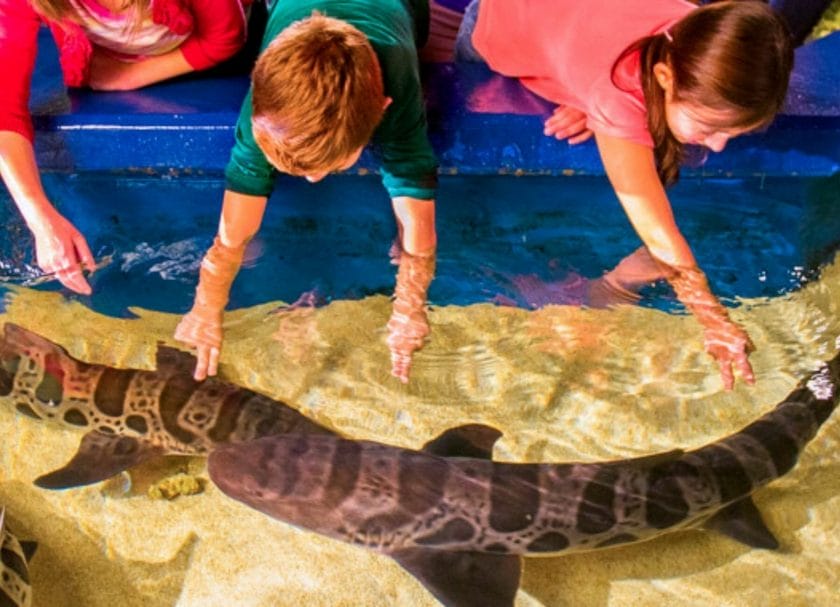 Get ready to explore the underwater world when visiting the Newport Aquarium. Located in Newport, KY, right across the Ohio River from Cincinnati, OH. The Newport Aquarium is a great day trip idea, or if you have more time to visit, it's a great area to explore all that Northern Kentucky and the Cincinnati area have to offer.
Thousands of animals are on display at the Newport Aquarium for you to enjoy during your visit. Spend time watching the penguins waddle on the ice or dive into the water, meet rare white alligators, or watch the many fish swimming in their tanks.
When you're ready for a more up-close adventure, you will want to head to the Shark Central exhibit. Here you can cross the world's very first shark bridge, walking just inches above swimming sharks on a rope bridge. While there, be sure to explore the touch tank where you're able to touch sharks!
If you have any questions, a stop at the visitors center will answer any questions you may have. They will let you know which exhibits are open, as well as provide a map to help you get the most out of your aquarium day.
Looking to bring home a souvenir? The gift shops will not disappoint. With clothing merchandise, stuffed animals, and more! Remember your trip by taking home a memmento to help you recall the wonderful memories made.
When hen you get start to get hungry or need to take a break, head over to Sharky's Cafe. Located just through the shark tunnel, they offer quick snacks and sweets, even coffee. If you're ready to eat lunch they offer burgers, wraps, and a kid's menu.
For more info check out Newport Aquarium here.
Six Flags Kentucky Kingdom Amusement Park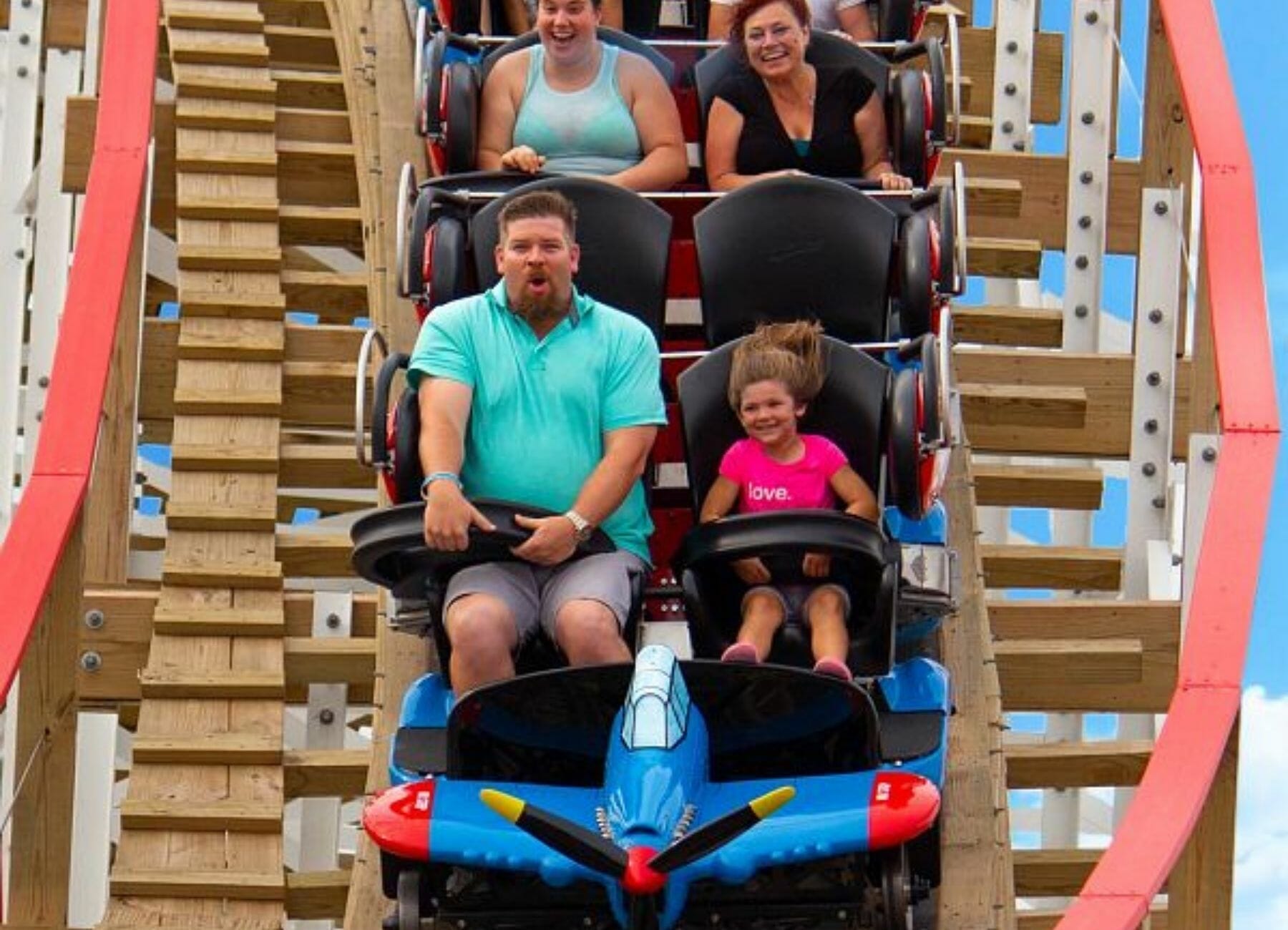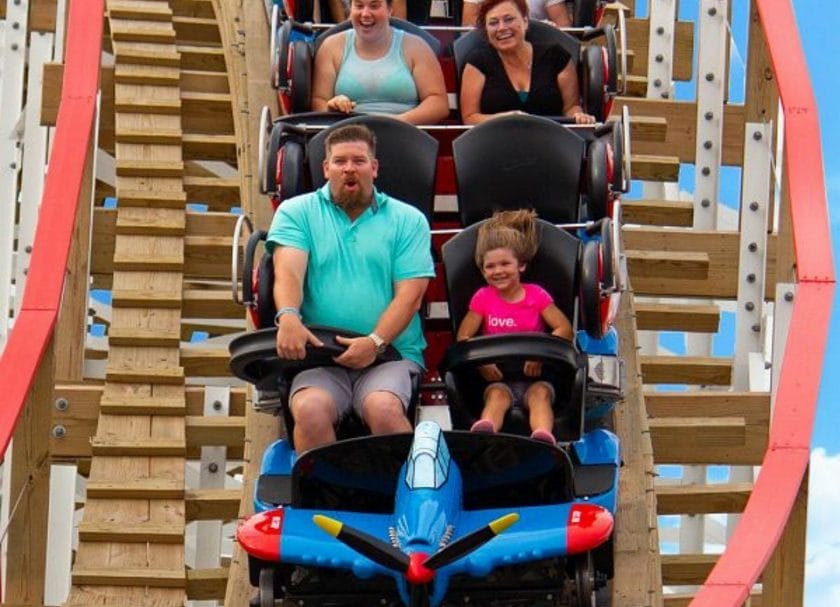 The ultimate family adventure day! Get ready for some thrills, excitement, and quality family fun when at Six Flags Kentucky Kingdom Amusement Park. The theme park is more than just thrill rides, the park hosts two parks in one – the amusement park and Hurricane Bay Water Park.
The amusement park at Kentucky Kingdom is one worth checking out for any amusement park enthusiasts. The park is located in Louisville KY and has smaller kid-friendly rides and fast roller coasters for the thrill-seekers.
There is no shortage of things to do in Kentucky with kids at Kentucky Kingdom Amusement Park. The park is home to 5 thrill roller coasters and 1 kiddie roller coaster, where you will enjoy twists and turns and flips along the way. If you're a fan of wooden roller coasters, you won't be disappointed either – the Thunder Run is a world-renowned wooden coaster with a 74-foot drop and negative airtime, sure to excite the roller coaster lover in your family.
Kentucky Kingdom Amusement Park is more than just thrill rides. If you're visiting on a day when Kentucky humidity is high, plan to visit the other half of the park.
Hurricane Bay Water Park offers everything you look for in a water park. The water parks include one large wave pool, and a separate more family-friendly, smaller wave pool. They offer the same options when it comes to a lazy river.
The water park offers a regular lazy river where you can float your way along and relax, or if you're looking for more excitement, they offer a ride called Adventure River. The Adventure River is a chance to experience wild water adventure, moving at speeds 6 times faster than their original lazy river ride. This ride provides entertainment throughout the entire ride!
For more info check out Six Flags Kentucky Kingdom Amusement Park here.
Muhammad Ali Center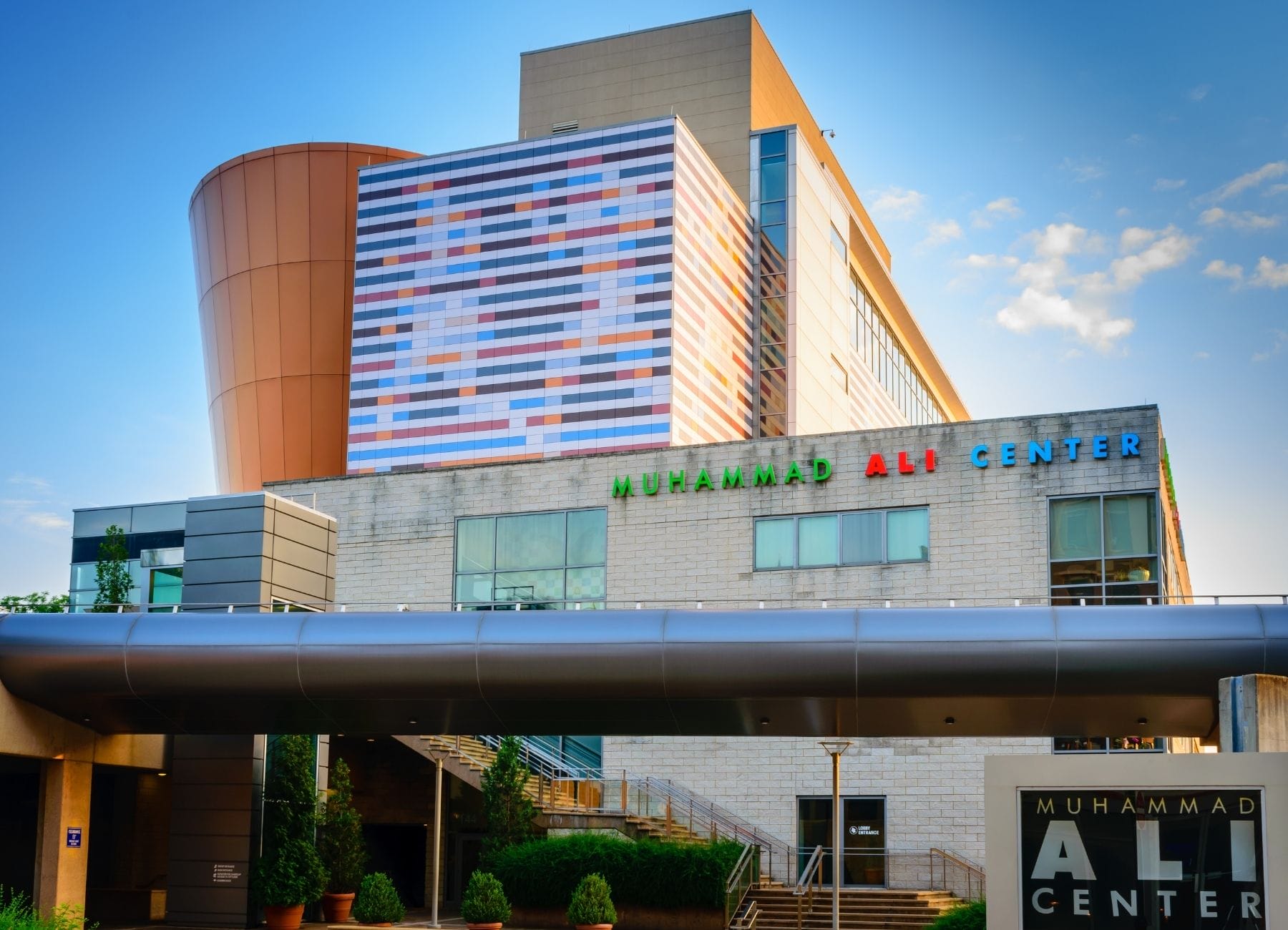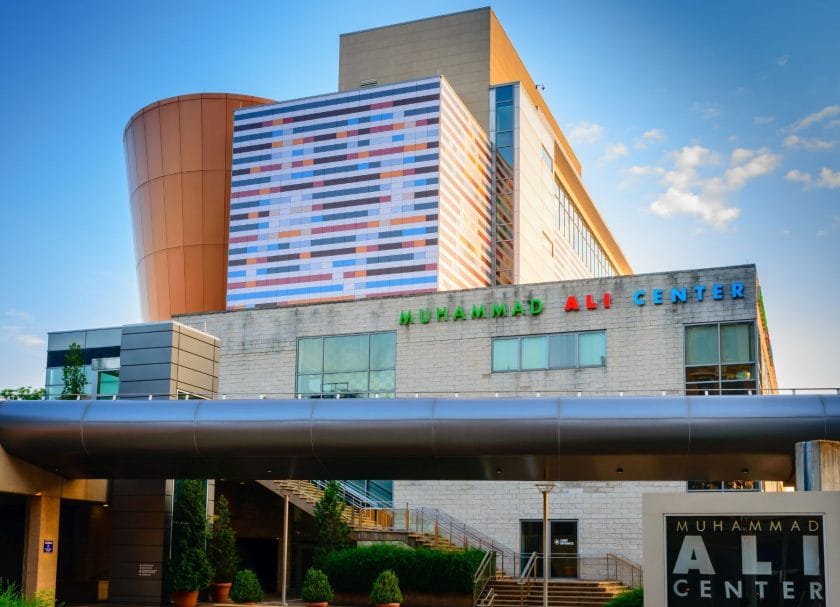 The Muhammad Ali Center, located on museum row in Louisville, is a multi-cultural center and museum to remember his life and legacy and is used to encourage other generations to strive for more.
The Muhammad Ali Center includes exhibits, videos, and artifacts to give you a glimpse into the life of Muhammad Ali. His life principles were: Confidence, Conviction, Dedication, Giving, Respect, and Spirituality, and all are explored in the museum.
While there are 18 permanent exhibits in the Muhammad Ali Center, when planning your visit, be sure to check out their temporary exhibits, which change regularly to offer deeper educational opportunities.
For more info check out Muhammad Ali Center here.
Louisville Zoo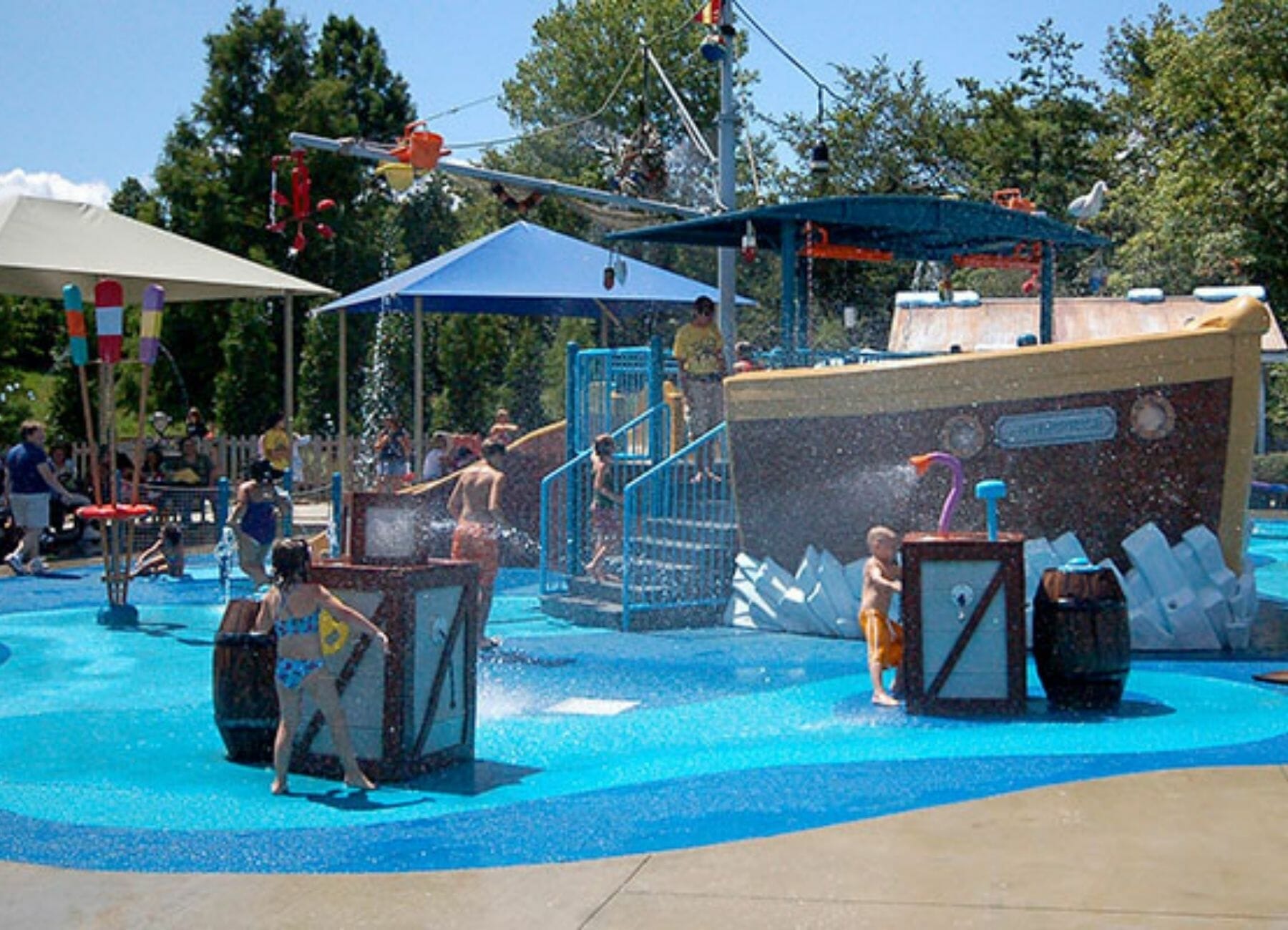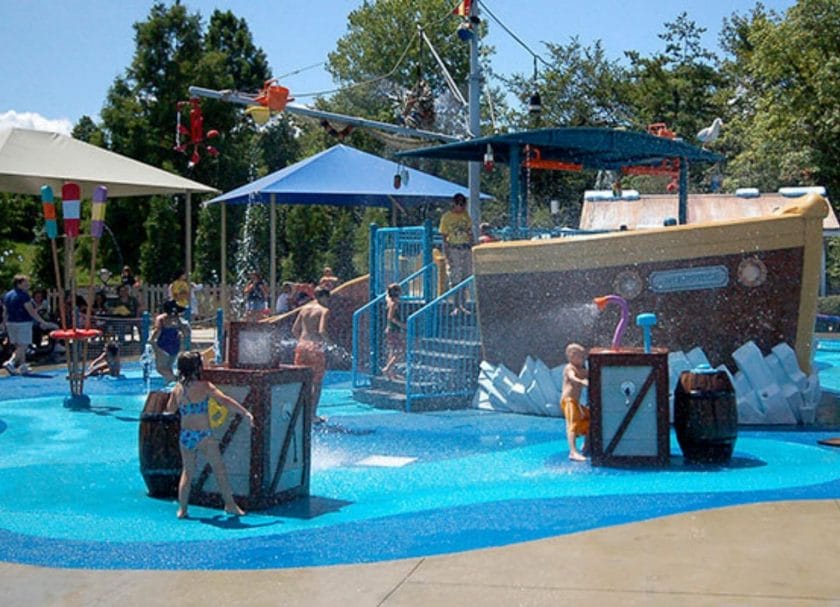 Lions, and tigers and bears, oh my! Louisville Zoo has over 1,700 animals in 8 exhibits at any given time; The Islands, Africa, Glacier Run, Australia, South America, HerpAquarium, Gorilla world, and The Cats of the Americas. The Louisville Zoo needs to be at the top of your list of things to do in Kentucky with kids!
The Louisville Zoo offers family-friendly fun and education, and don't forget healthy physical activity for the entire family. There is a 1-mile paved walking trail through the zoo so you can see the amazing animals while getting those steps!
Be sure to bring lots of sunscreen during the summer, and even some swim clothes or clothes that can get wet! When the Kentucky humidity goes up, the kids will find themselves wanting to splash in the nautical-themed splash park inside the zoo. It's free with paid zoo admission.
For more info check out Louisville Zoo here.
Louisville Slugger Museum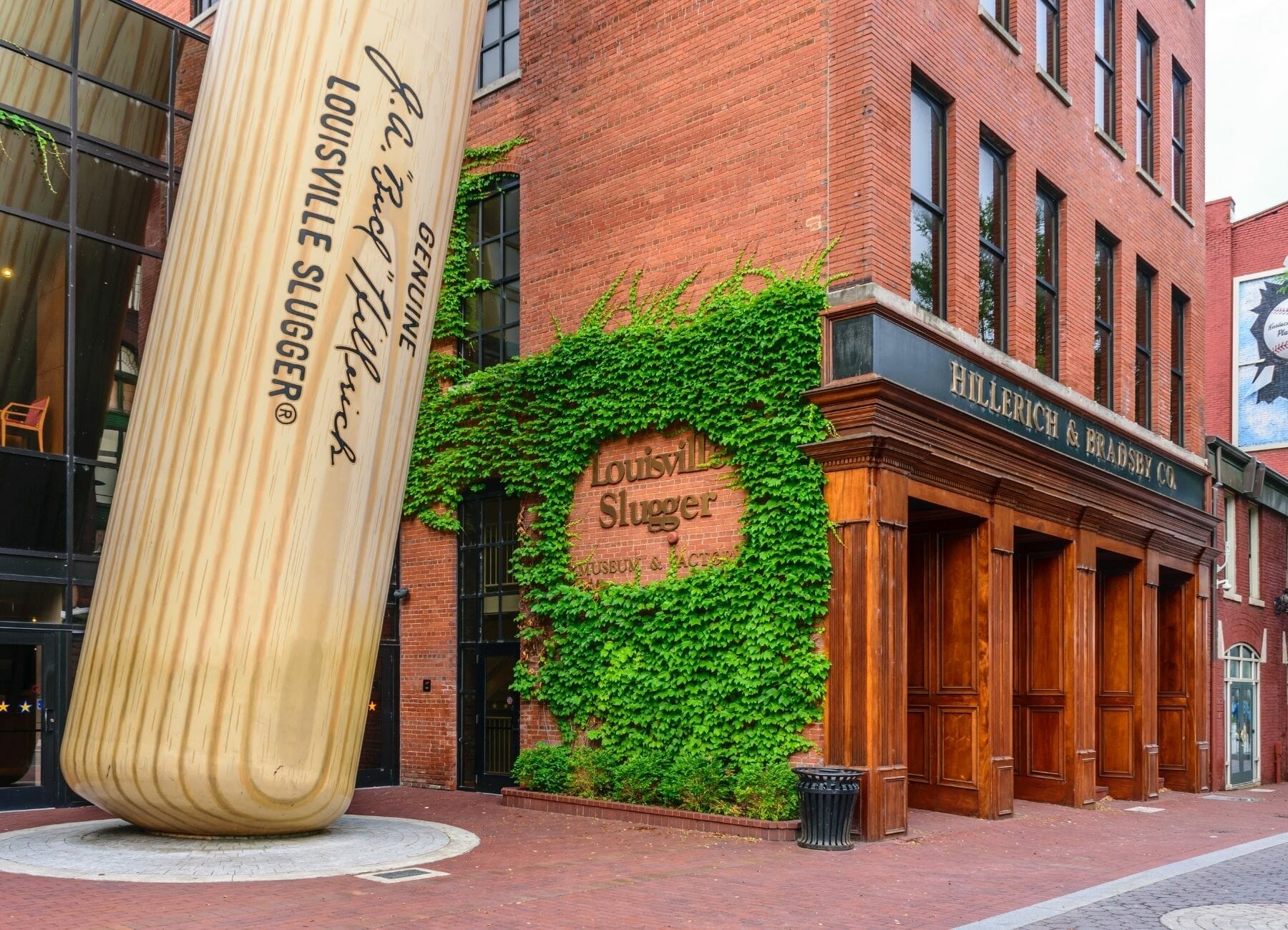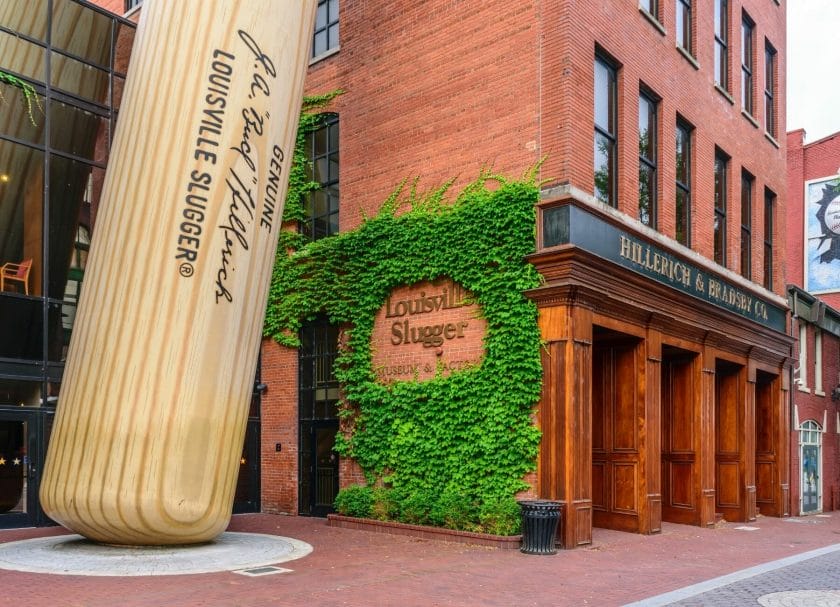 Baseball is as American as apple pie, and in Louisville, baseball is no different. Louisville Ky is home to the Minor league baseball team, Louisville Bats. But did you know that one of the greatest sports museums in the world is located in downtown Louisville, KY?
The Louisville Slugger Museum is where all of the action takes place and will entertain sports fans young and old. You will not want to miss the Louisville Slugger Museum Factory Tour, where they actually make the bats. Tickets sell out fast so be sure to buy your tour tickets early!
During the factory tour you walk through the production line for the Louisville Slugger bats, where you will see in the making, the famous wooden bats up close and personal, sure to delight any sports fan. Explore their collection of famous baseball bats – A baseball bat used by Babe Ruth is even on display in the museum!
The Louisville Slugger history museum is located across the street from Louisville Slugger Field, where the Louisville Bats play. Be sure to add this to your list of things to do in Kentucky with kids if you have a baseball lover in the family.
For more info check out Louisville Slugger Museum here.
Kentucky Derby Museum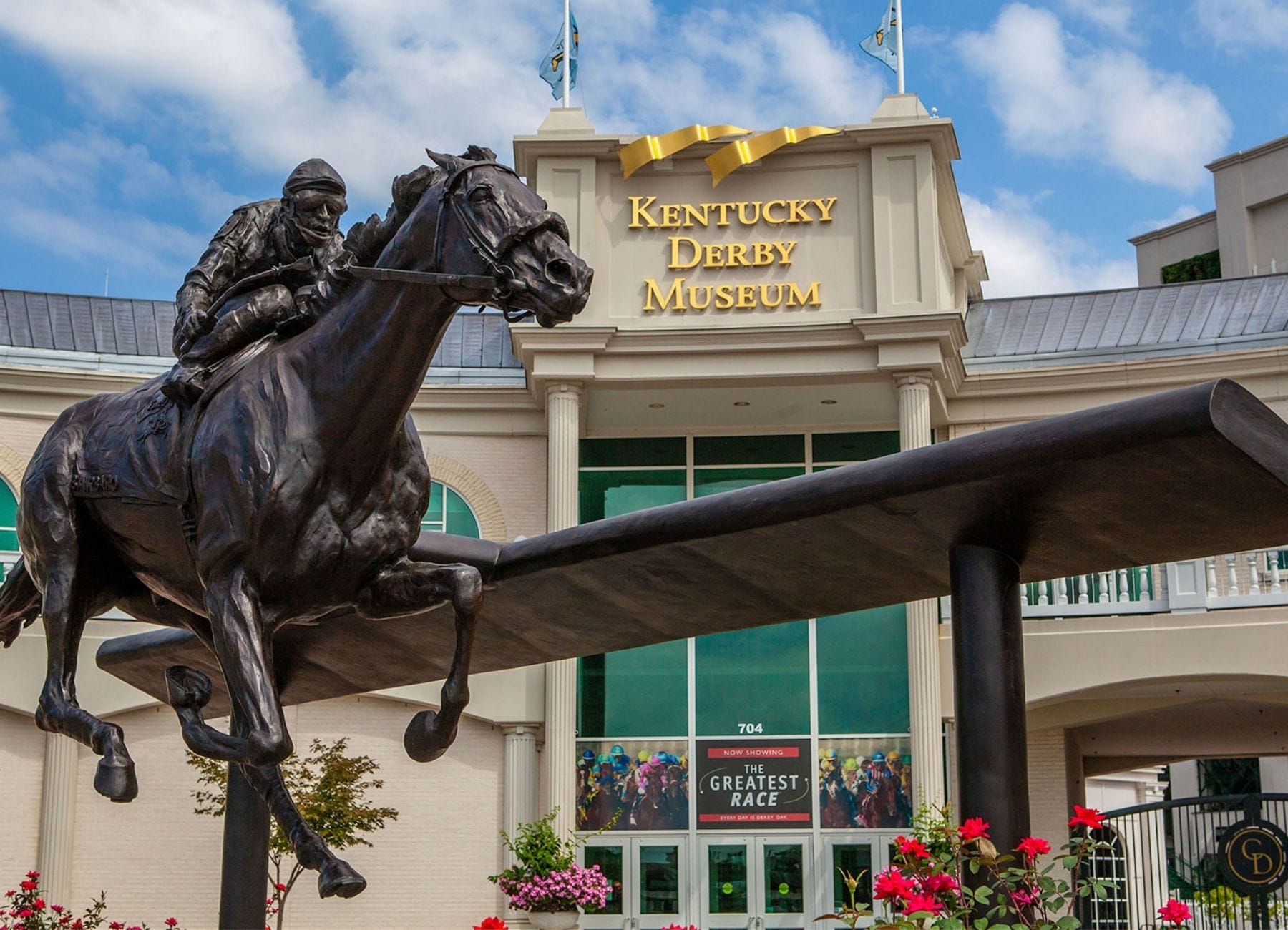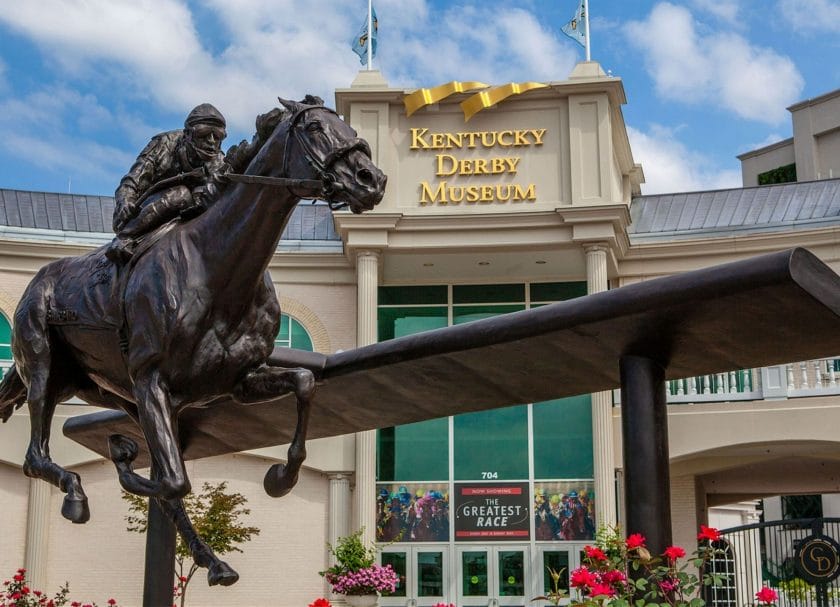 Horses and horse racing are engrained in the hearts of all Kentuckians, and no trip to Kentucky is complete without an authentic experience at The Kentucky Derby Museum. Located next to Churchill Downs, The Kentucky Derby Museum prides itself on preserving the history of the Kentucky Derby.
The museum offers two floors of interactive exhibits sharing history dating back to the very first Kentucky Derby. The museum features artifacts showcased from the Kentucky Derby Champion winning horses over the years.
Horseback riding is a popular sport in Kentucky, but you will not find this opportunity at the Kentucky Derby Museum. If you're looking to saddle up, check out a family farm in Louisville or visit the Kentucky Horse Park. The Kentucky Horse Park offers horseback rides for families at a reasonable price.
Included in your general admission ticket, you will also want to go on the Churchill Downs Historic Walking Tour, where you will have a tour guide take you through the property and even down by the track. Have your camera ready. To say you have experienced the bluegrass state, the Kentucky Derby Museum is a must on your list of things to do in Kentucky with kids!
For more info check out Kentucky Derby Museum here.
National Corvette Museum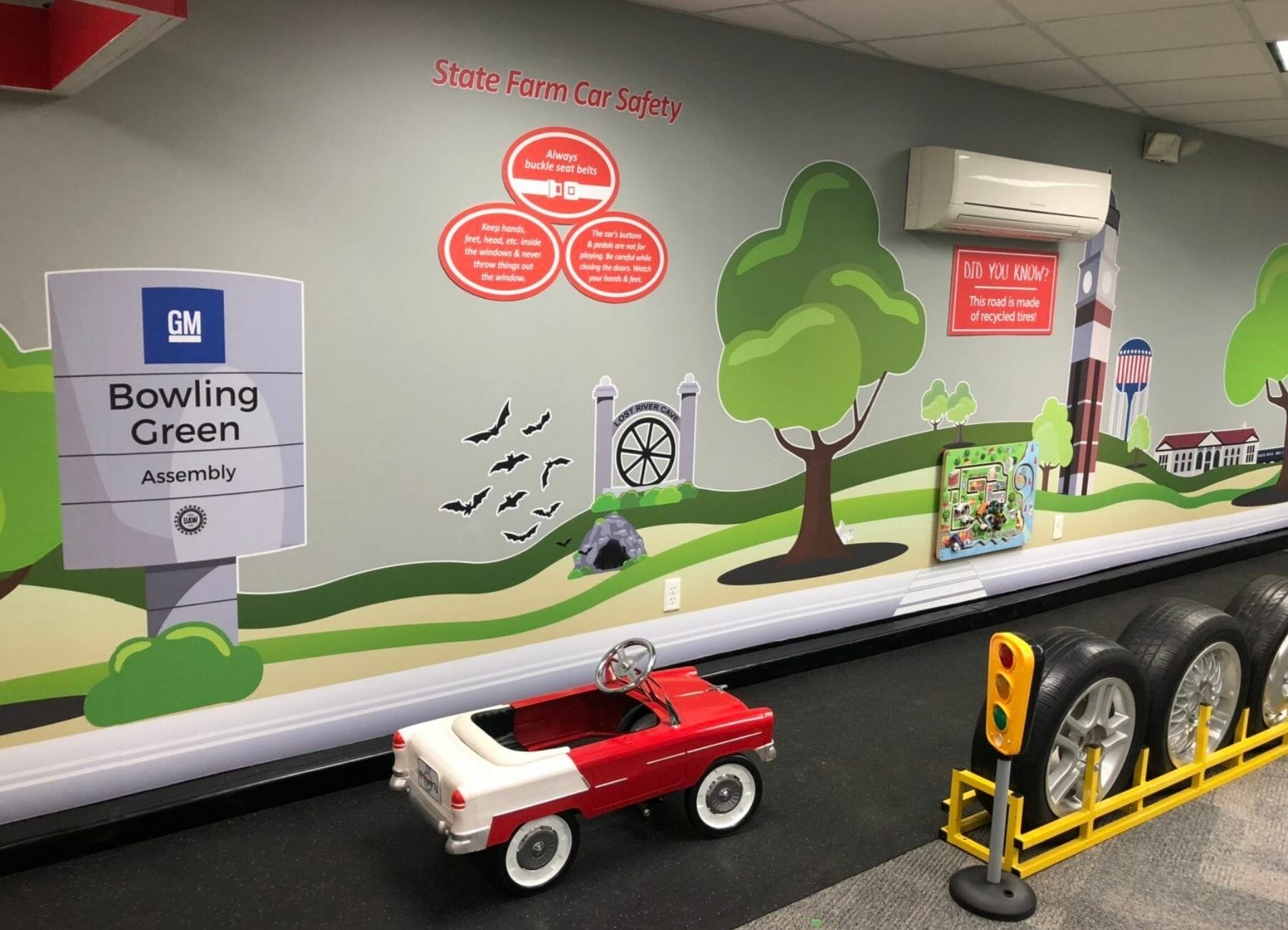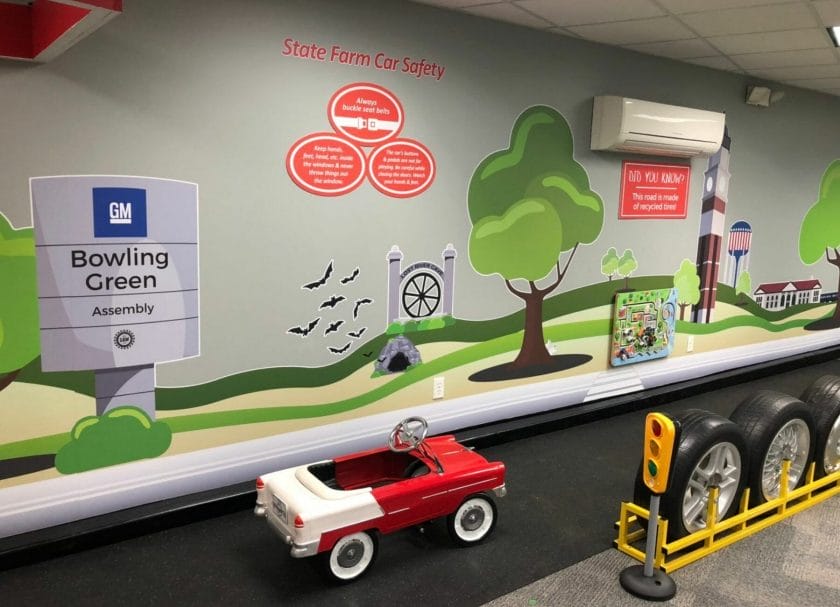 Home of America's sports car, the National Corvette Museum, located in Bowling Green, KY, is a great place in Central Kentucky to make a pit stop. This stop is so much more than just a museum, although the museum of corvettes is worth touring! The National Corvette Museum is a top-notch activity to check off your list of things to do in Kentucky with kids.
Located in the lobby of the museum is the first attraction that will get the kid's (and any car lover's) attention. The C6 Corvette Simulator is your chance to get behind the wheel of a fancy sports car. As long as you're tall enough to reach the gas pedal, for only $10, you're in for excitement as you drive around the virtual track in their sports car simulator – and passengers are welcome!
If you're visiting with kiddos who are under 8 years old, the KidZone may be what you're looking for. They have designed an area for kids to be creative and design their own cars. Be sure to snap a picture capturing their very own driver's license.
In the KidZone, turn their car drawings into reality using lego-style blocks. Have your littles give their car a test drive – there is a pedal car they can use to knock over foam blocks.
Don't miss out on the go-kart experience while visiting the National Corvette Museum. At the Motorsports Park in the Karting area, junior drivers and adults can race around the track in go-karts.
You will want to make sure you take a step into the iconic landmark, the Skydome, and visit the exhibits. Take this time with your family teaching them to appreciate the history of corvettes and the history of cars in America. See over 70 corvettes from all time periods while visiting the country's largest museum dedicated to one car model.
For more info check out the National Corvette Museum here.
Cumberland Falls State Resort Park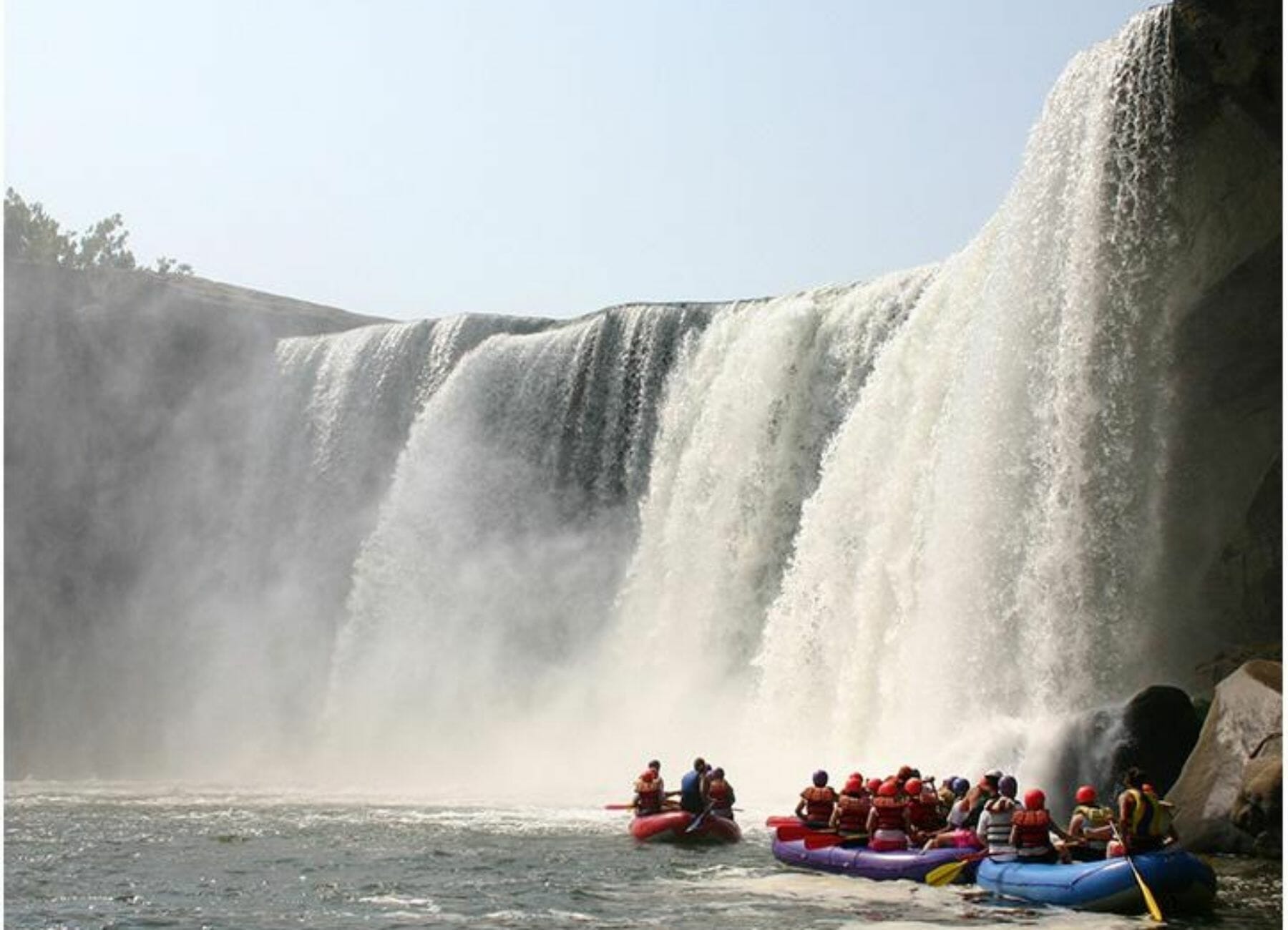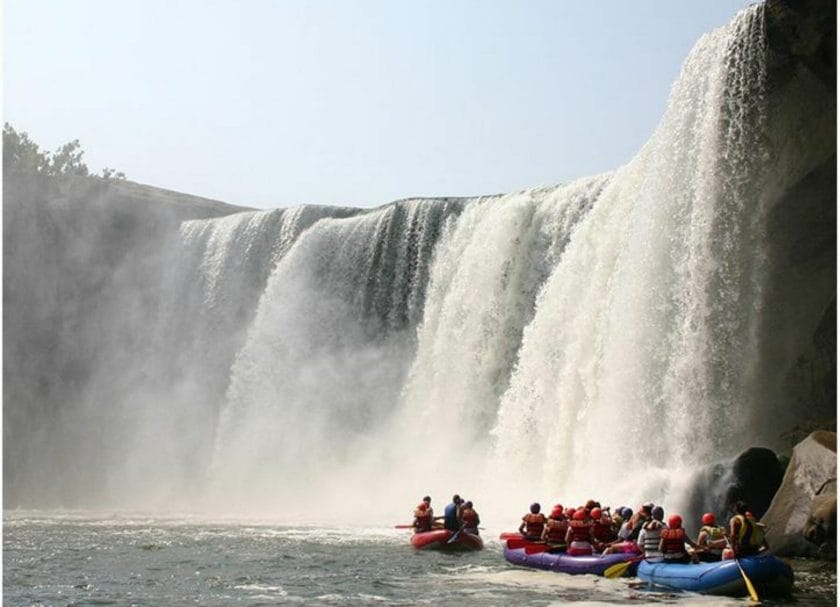 Known as the "Niagara Of The South", Cumberland Falls State Resort Park is one of the most beautiful vacation spots in Kentucky and surrounded by the Daniel Boone National Forest. There are so many outdoor activities and things to do in Kentucky with kids who love to get out and explore nature.
Cumberland Falls State Resort Park offers many birding opportunities that visitors will enjoy. You can witness many bird species on any visit, with the most common being the red-bellied woodpecker, downy woodpecker, chipping sparrow, and many more.
While spending the day at the park, you will be able to explore the area by taking one of their many hiking trails, or even horseback riding, if it is in season. Gem mining is an activity that is available seasonally that the kids always enjoy.
If you've been hiking all day and getting tired, spend the night and continue your adventure the next day. There are wonderful accommodations at their lodge. If you have a bigger family, cottages are also available to rent. Campground sites are also available at Cumberland Falls State Resort Park.
For more info check out Cumberland Falls State Resort Park here.
Green River Lake State Park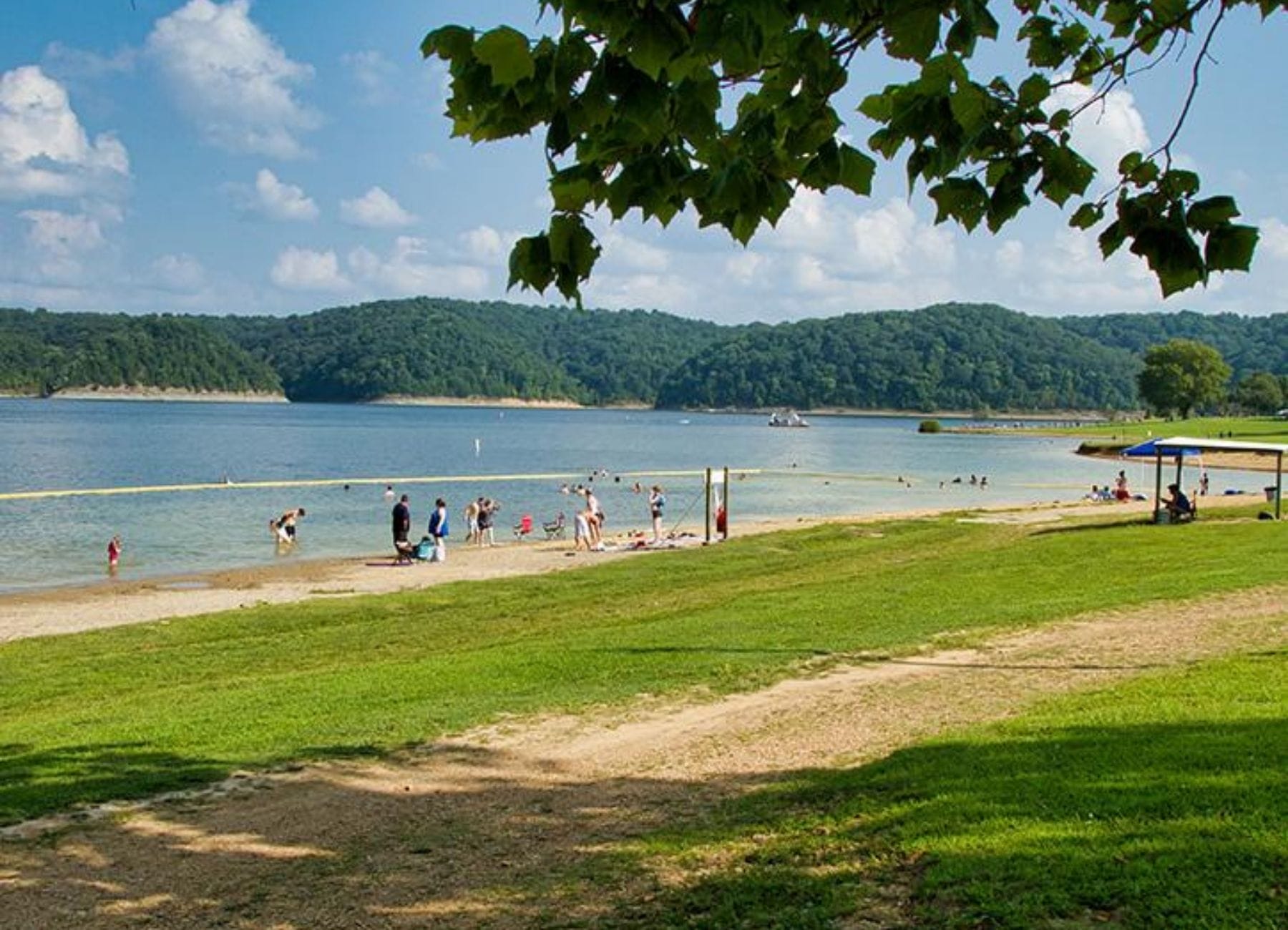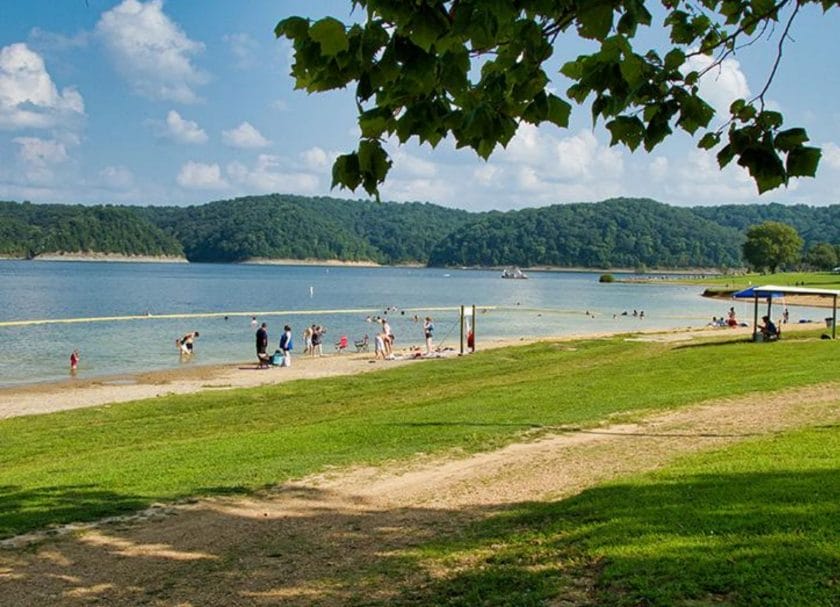 Located in Campbellsville, KY, Green River Lake State Park is a beautiful state park that the whole family will love. Green River Lake offers many fishing opportunities, and if boating is more your thing, stop by their marina to rent a pontoon for a day on the water.
This State Park also offers many other outdoor activities, such as hiking trails, picnic areas, a playground, an 18-hole miniature golf course, and even a beach area, perfect for lake swimming. Green River will entertain the whole family so plan a visit when making your list of things to do in Kentucky with kids.
For more info check out Green River Lake State Park here.
Where To Eat
Dave and Busters
Such a fun restaurant with great food and atmosphere with two locations in Kentucky; Florence and Louisville. They offer arcade-type games in the play area. You won't be disappointed in the restaurant either, where they serve typical restaurant food, such as chicken tenders, burgers, steaks, and many appetizers. They also offer a great kid's menu!
The Old Spaghetti Factory
When you're looking for a unique experience and great Italian food, you will want to give The Old Spaghetti Factory a visit. It is a family-friendly restaurant located in downtown Louisville. If you're lucky, you will get a table inside a real caboose to eat dinner!
The Cheesecake Factory
Who doesn't want to eat at a restaurant that is called The Cheesecake Factory? As you can imagine, as you walk into the restaurant there is a huge display of the many cheesecake offerings. They also offer a full entree menu. Kentucky offers two locations; Lexington and Louisville.
Where To Stay
VRBO
Victorian Louisville Loft
Stay in this beautiful victorian loft in the heart of downtown Louisville. It is 1000 sq ft of elegance in the loft of a historic glassworks building. Only a 2-minute walk to Museum Row, and sleeps 8.
Historic Home in Downtown Lexington
This charming historic home in downtown Lexington offers 3 bedrooms, 3 baths. It is within steps from restaurants and shops, and only a short 10-20 minute drive to most other activities. The location is so convenient, if you do not have a car, a Uber is readily available to take you around town while visiting.
Hotel
Hampton Inn Cave City
The Hampton Inn located in Cave City is only a 15-minute walk to Mammoth Cave Wildlife Museum. The hotel accommodations are clean and comfortable. A hot breakfast is included, as well as free parking and wi-fi.
Omni Louisville Hotel
This property location is amazing, being close to Louisville Slugger Museum, Muhammad Ali Center, and more. You will enjoy first-class accommodations, a roof-top pool, and a restaurant on site.
Campgrounds
Yogi Bear's Jellystone Park Camp-Resort: Mammoth Cave
Just 30 minutes from Elizabethtown, you can enjoy the Yogi Bear's Jellystone Park Camp-Resort, near Mammoth Cave. The campground offers RV and tent sites, as well as cabin rentals for all groups. Check out the campground's planned events to take part in the fun without even leaving your campground!
Mammoth Cave Horse Camp
Mammoth Cave Horse Camp is near Clay City, KY. Don't worry, you don't have to have a horse to camp here. Their campsites offer electricity and water, fire rings, and picnic tables.
For More Info Check Out
Top 13 Fun Things To Do In Elizabethtown KY
9 Fun Things To Do In Louisville KY With Kids
12 Best Things To Do In Bowling Green KY
14 Fun Things To Do In Lexington KY With Kids
5 Things To Do With Your Kids When Visiting Mammoth Cave Kentucky
9 Favorite Things To Do In Memphis With Kids
6 Top Tips On Visiting Gateway Arch National Park
10 Top Tips on Visiting City Museum St Louis
Top 12 Indoor Water Parks in Ohio You Will Want to Visit
Pin This Post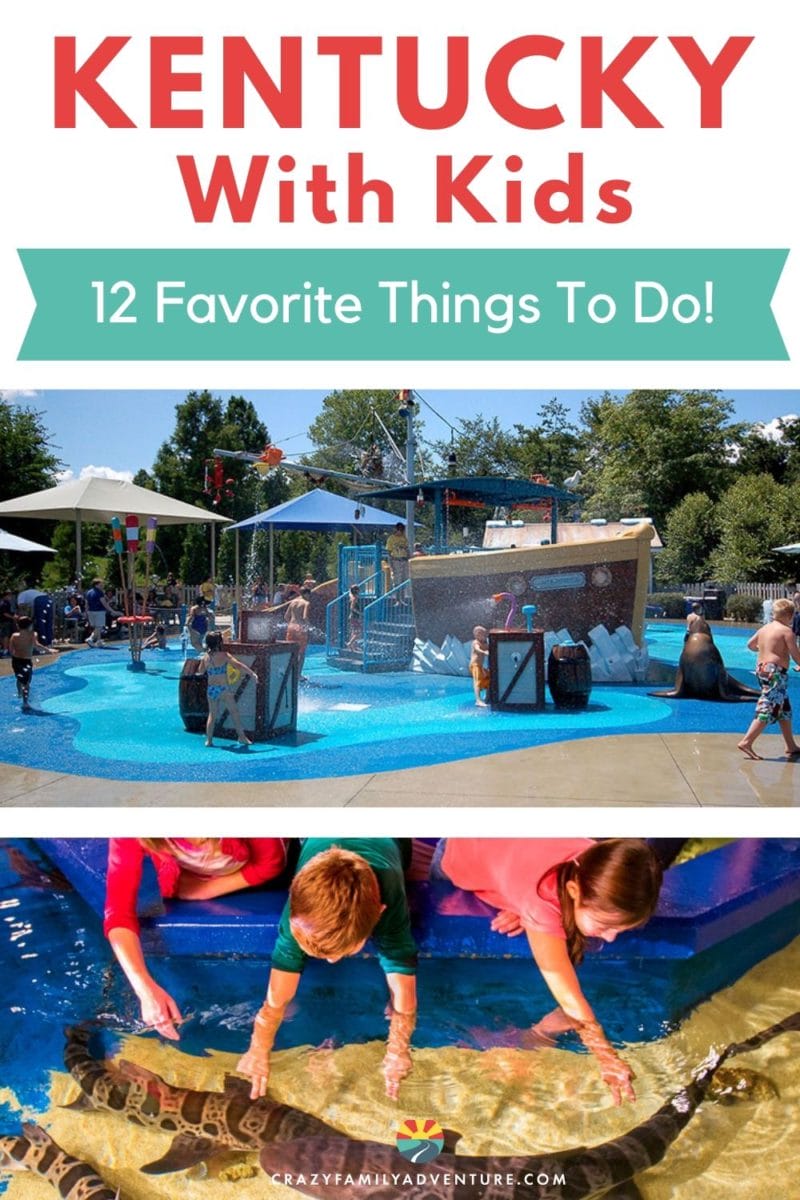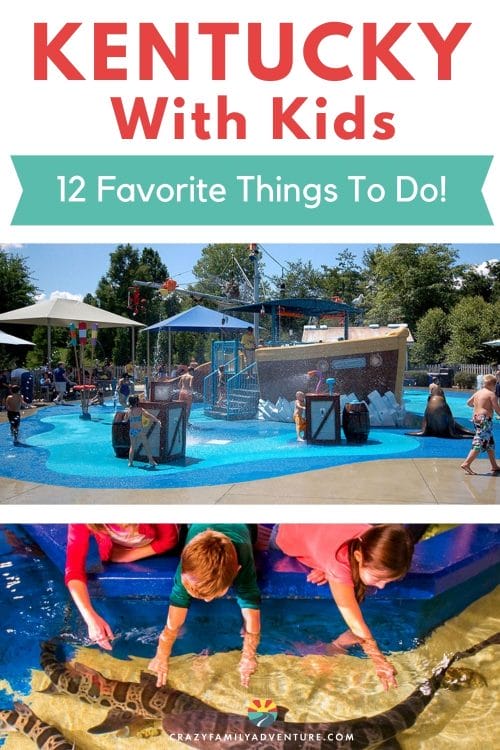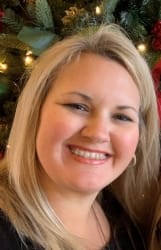 Latest posts by Jessica Spears
(see all)
DISCLOSURE: This post may contain affiliate links, meaning I get a commission if you decide to make a purchase through my links, at no cost to you. Please read my disclosure for more info.