When planning a trip to St. Louis, MO area, City Museum St. Louis is sure to make your to-do list. When we visited we couldn't wait to explore the museum with our kids! Below we share our top tips so you can have an amazing time at the City Museum.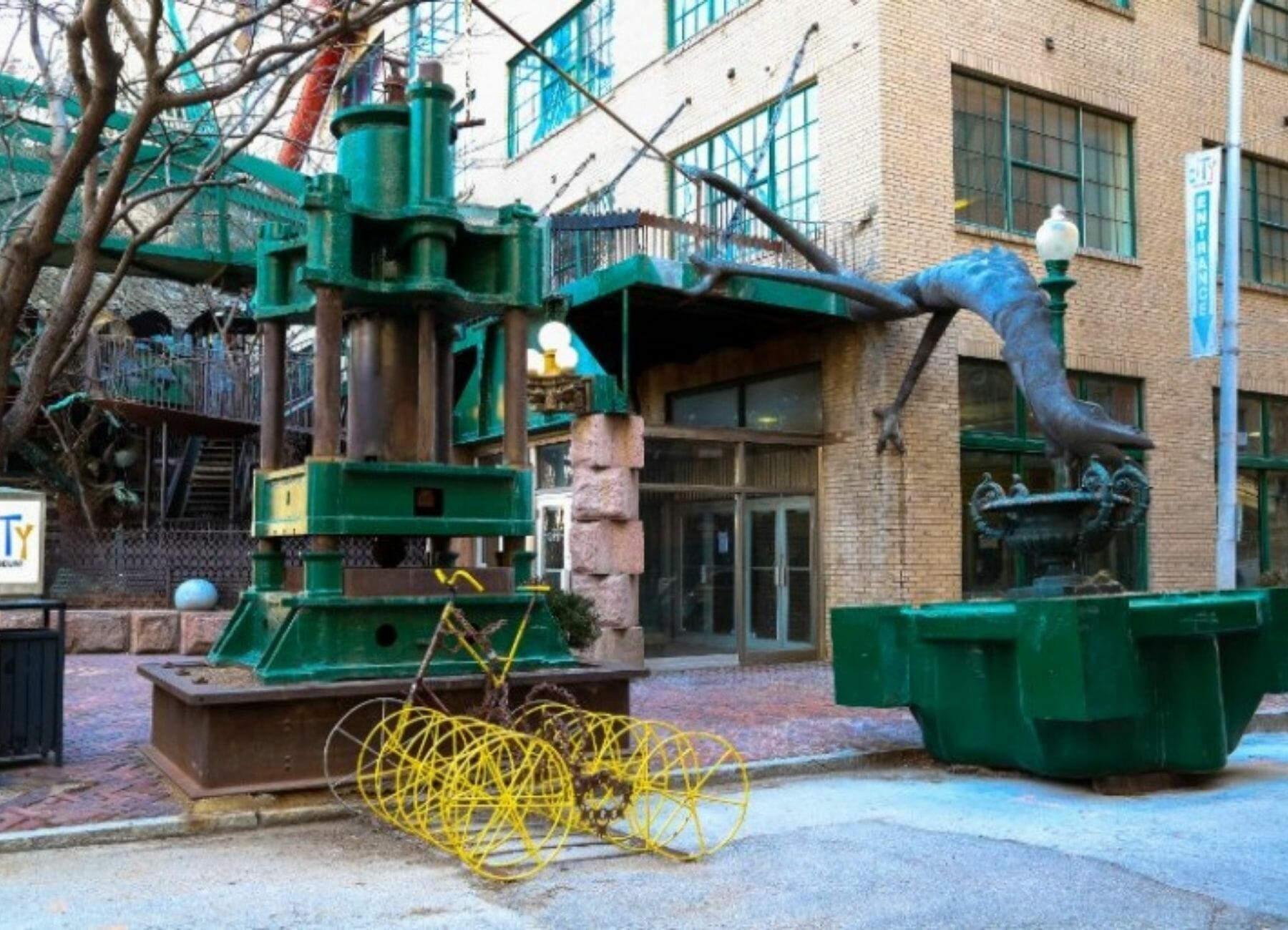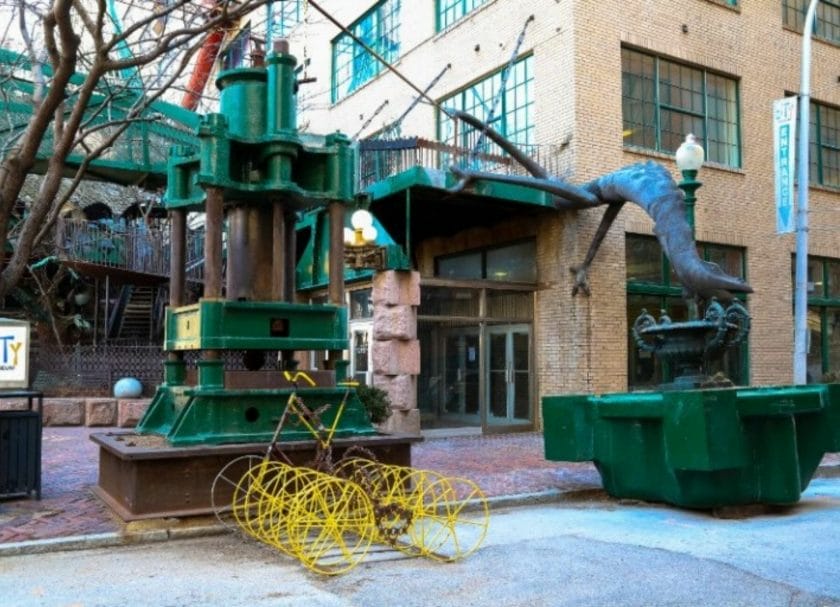 Image Source: City Museum website
Adventure awaits you with a Ferris wheel on the top of the building, the world largest pencil, the City Museum pipe organ and a full-size school bus hanging off the building edge. Entertaining for the entire family, it is the ultimate urban playground.
History Of The City Museum
So just how did the City Museum get its beginning? Artist Bob Cassilly and Gail Cassilly became owners of the 10-story building in St. Louis that was once an international shoe company warehouse. The artists had a special place in their hearts for history museums and a desire to create their own architectural museum.
There, their vision was formed to transform this cement structure into "a city within a city." And that's just what they did. This place is amazing!
One of the most unique museums in the United States, the City Museum opened its doors to the public in October 1997. The museum attracted families and artists from all around where you will be greeted with a giant whale and praying mantis at the main entrance.
It is one of the most immersive museums, a true playground for all and one of the top things to do in St Louis for couples and for families!
Things To Do (Not to miss!) While You Are There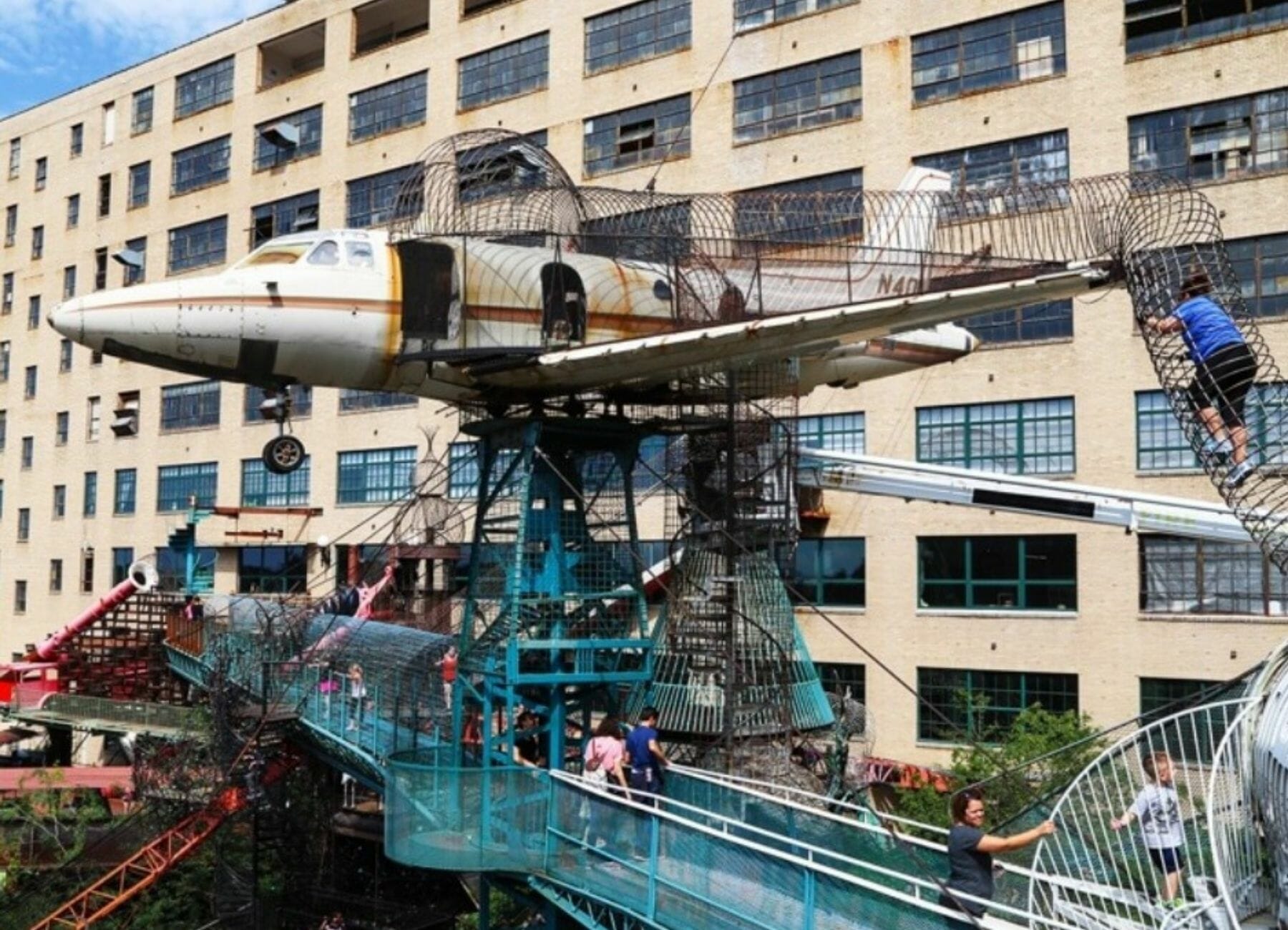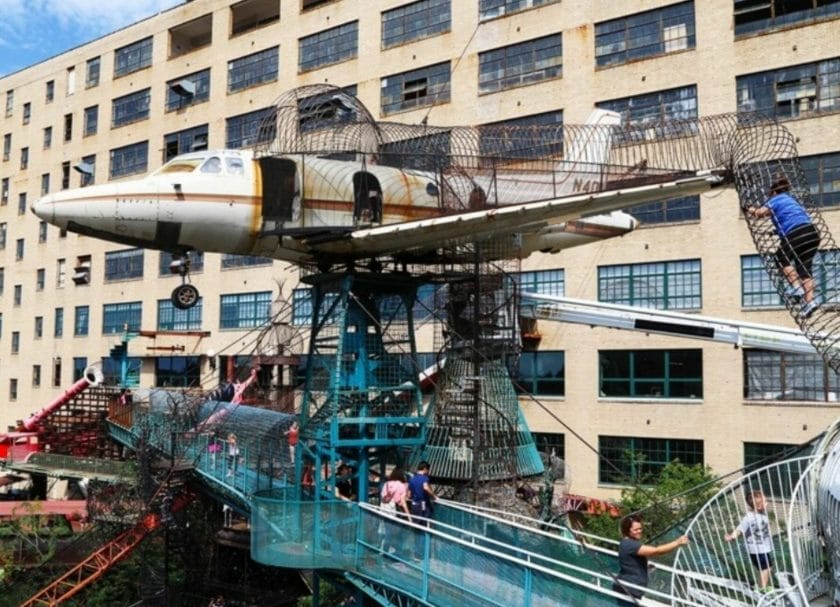 Be A Kid Again – Jump In The Ball Pit
Get ready to feel like a kid again when you take your first jump into the massive ball pits. You will be swimming in a pool of rubber dodgeballs.
Slides, Slides, and more Slides!
One exhibit you do not want to miss is the Shoe Shaft area. It is probably one of the most popular attractions in the museum and runs through the center of the museum up to 10 stories.
What was once a 'Shoe-Shoot,' used when the shoe factory was still in operation, it would quickly send shoes from one level of the building down to the loading dock, is now slides for all to enjoy!
You do not want to miss the 10-story slide that goes through the center of City Museum St Louis!
Visit the Rooftop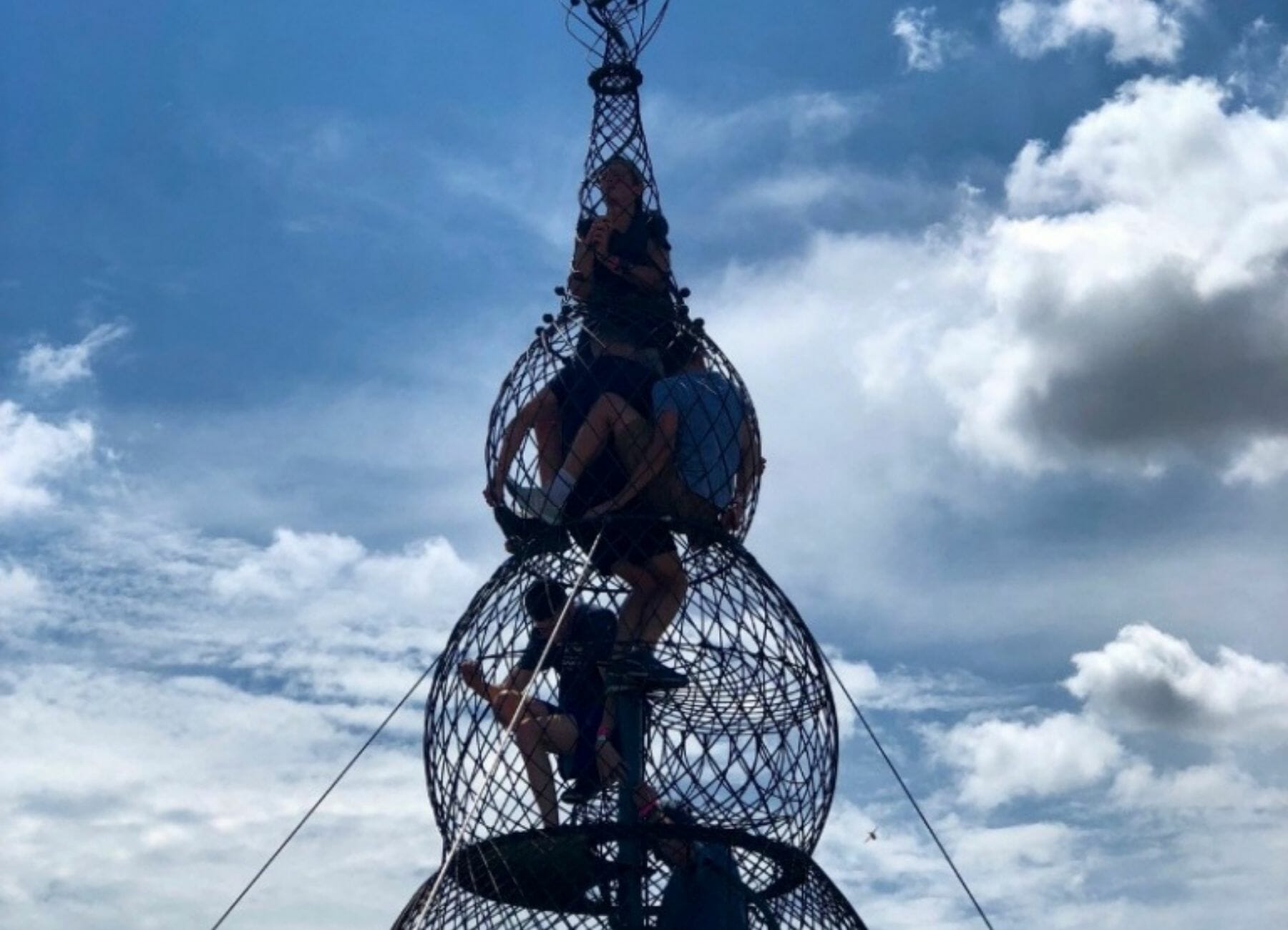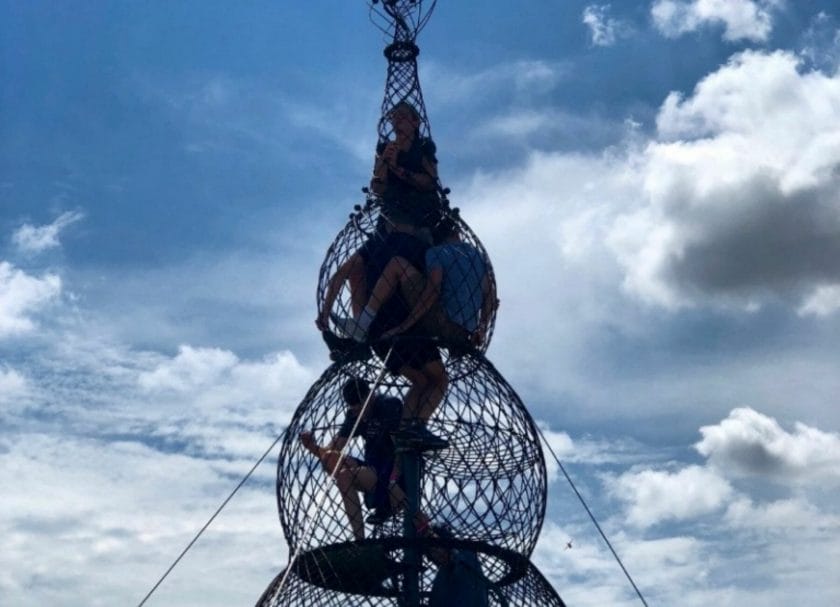 Visiting the Rooftop of the City Museum is an adventure all on its own. That's why it's an additional fee just for this exhibit area.
For $8 (2023 season), you will get access to the Rooftop and all of the fun to be had up there, including the Ferris wheel and a giant slide. You can even climb to the tip-top of enclosed structures. The Rooftop area isn't for those afraid of heights!
Beatnik Bob's
While exploring the City Museum St Louis, head up to the 3rd floor and check out the Beatnik Bob play area. You will find the lights turned down and glowing neon lights shining. Beatnick Bob's recognizes the carnival midway and features pinball machines, a photo booth, and books galore to browse.
Needing a snack? Beatnik Bob's is also your place to find a tasty corn dog and ice cream since it has a snack shop.
While at Beatnik Bobs, don't miss your chance to see the world's largest underwear. They're tucked away in a corner by a dining table. This could be your only chance to see this famous pair of underwear!
Remember, Beatnik Bob's is a stand-alone inside the City Museum. It operates on a different schedule than the rest of the museum and sometimes will have an earlier closing time.
The Shoelace Factory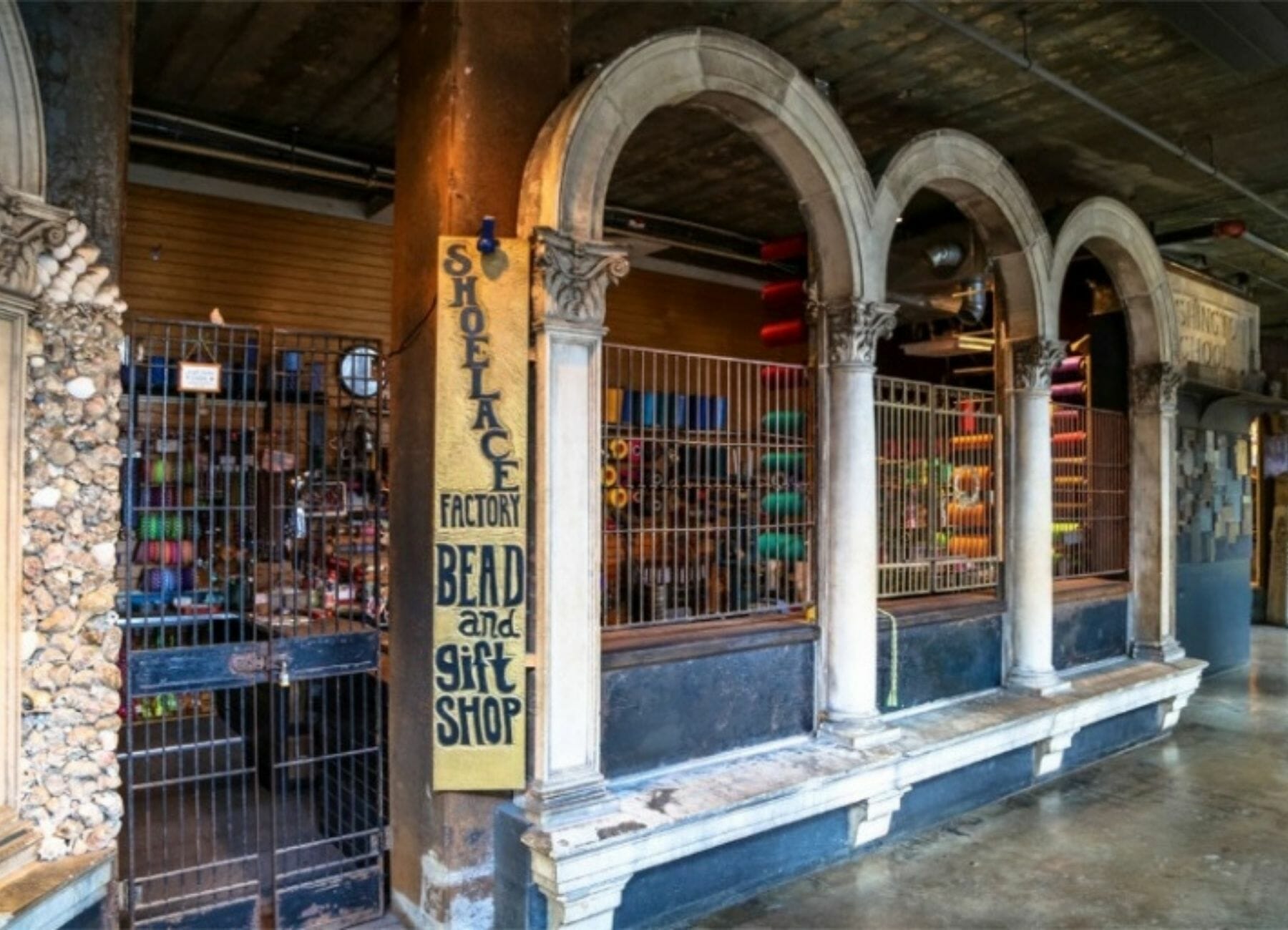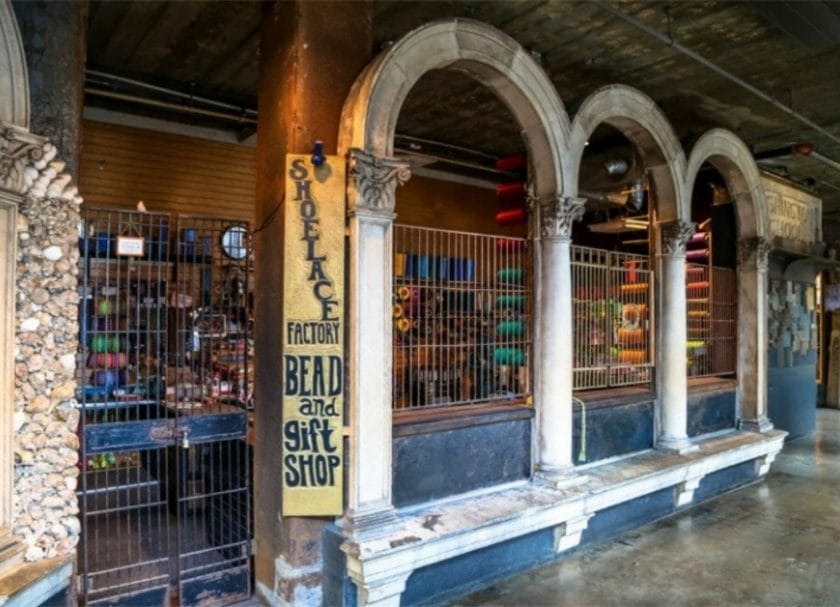 Located inside the City Museum St Louis, The Shoelace Factory has called the City Museum home since its beginning in 1997. Most likely the largest shoelace factory west of the Mississippi, you will find high-quality artisan color laces made exclusively on antique machines.
Shopping
There are 3 locations within the City Museum where you can browse gift shops and even take home a piece of history.
The main gift shop is on the 1st floor, and besides your regular touristy memorabilia (which is plentiful at the gift shop!), you can also find things such as knee pads. You will be crawling your way and finding adventure around every corner and the knee pads will keep you comfortable while exploring.
In addition to the main City Museum gift shop, is The Shoelace Factory and Artifact shop.
The Shoelace Factory is located on the 2nd floor, where you will find custom artisan shoelaces, and the surplus recycled shop is located on the 3rd floor, where you can purchase artifacts from the museum.
Top Tips
Dress For Activity
The City Museum St Louis is not your typical museum where you wander around aimlessly and gander at historical artifacts. You will climb, slide, and crawl through the museum. To make yourself most comfortable, wear long pants (it helps when shooting down the slides), and closed-toe shoes are a must. You don't want to lose a flip-flop in the ball pit!
How Long Does It Take To Explore?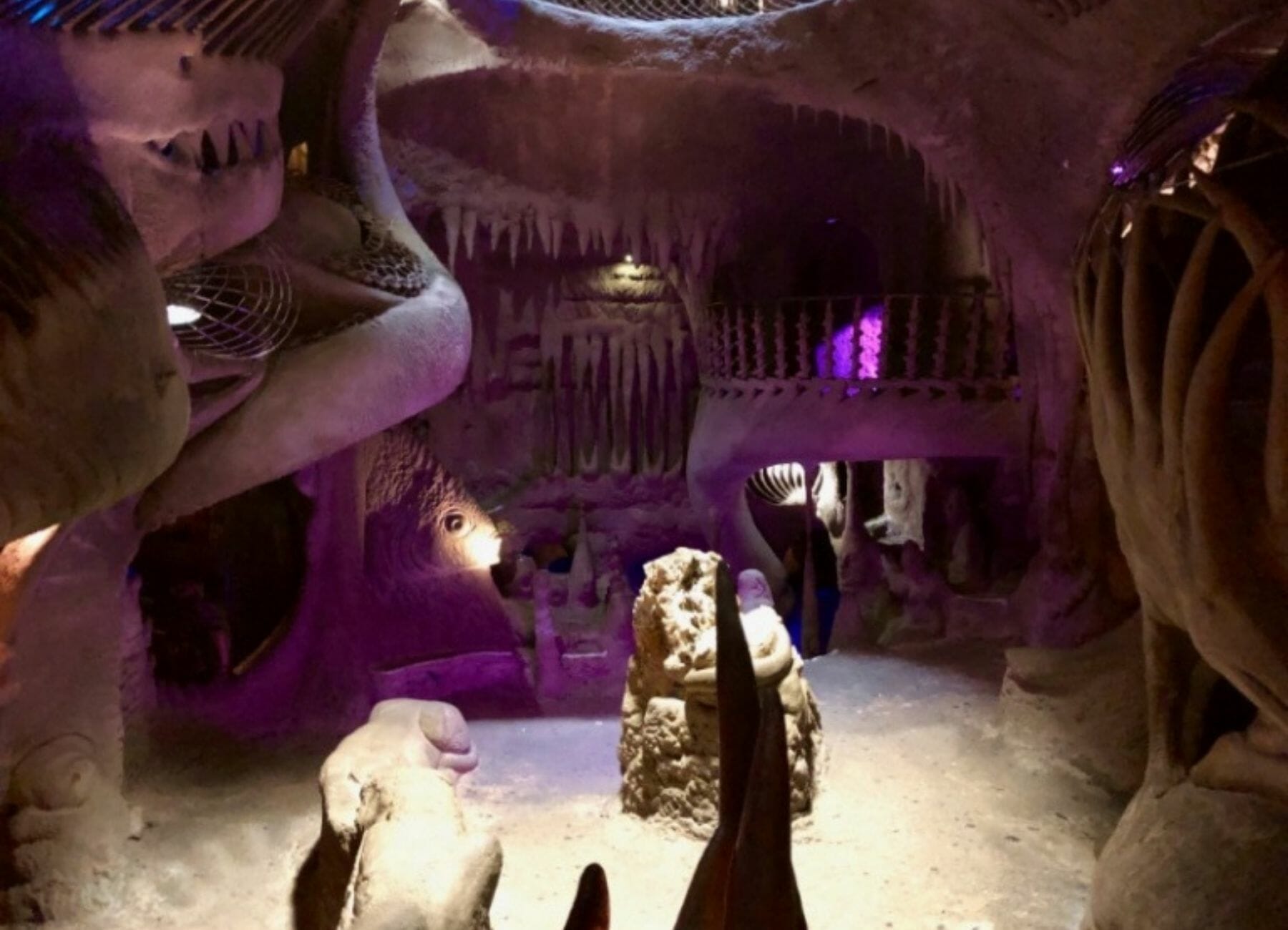 When planning a trip to visit the City Museum St Louis, be sure to you set aside anywhere from 4-6 hours for your visit. If you want to explore and see as much of the museum as possible, you will need several hours to walk, climb, and crawl through the museum and its miles of tunnels, slides, and caves.
When To Visit
There is no bad time to visit the City Museum St Louis. Most of the exhibits are indoors, so you will still have a good time exploring the museum even during rainy weather.
Tips on Bringing Kids
The City Museum is for kids of all ages, from the littles to the full-grown. Bringing littles along to explore will take a little more planning.
Since the City Museum is such an active experience, you will want to bring as little as possible. However, lockers are available to rent if you find you are carrying too much to enjoy your visit.
Now let's talk kid strollers. The museum is handicapped accessible, but keep in mind that certain areas, such as the cave system, are built in tight spaces and on uneven ground. There are areas in the museum that a stroller will be unable to access.
Buy Tickets
You may want to purchase tickets online before your visit to save time. You can purchase general admission day tickets online at the City Museum website.
Where To Eat
The City Museum St Louis offers 11 unique places to grab a drink or a bite to eat when you get hungry. Be sure to check when you arrive at the museum to see if the location you want to check out is open. Many locations have been undergoing renovations and will be closed for short periods.
Lizard Lounge
A crowd favorite located on the first floor of the City Museum is the Lizzard Lounge restaurant. This full-menu restaurant features pizza – but that isn't all. The Lizard Lounge also offers fresh salads, chicken salad, tuna salad, or even turkey club croissants. Everyone is sure to find something to fill their belly to give them the energy to keep exploring.
The Circus Cafe
When looking for a quick pick-up food station, The Circus Cafe offers treats such as popcorn, pretzels, cotton candy, and Dippin' Dots. The Circus Cafe is on the 3rd floor just outside of the circus ring.
Where To Stay
Vacation Rentals
Downtown Loft
You can relax in the downtown loft before heading out for a walk to all the downtown attractions, such as the Busch Stadium, Aquarium, and the City Museum Saint Louis. The loft is kid-friendly, and with 2 bedrooms, there will be plenty of room for your family.
Urban Three-Story Townhouse in Soulard
You will enjoy staying in this urban 3-story townhouse in Downtown St. Louis. There is plenty of room for the family to spread out and relax, and the townhouse is only half a mile from the Gateway Arch National Park and less than 2 miles from the City Museum St Louis.
Hotel
Drury Plaza St. Louis Arch
The Drury Plaza St. Louis Arch is located in downtown St. Louis and is less than a 5-minute walk from the Gateway Arch National Park. You will enjoy spacious accommodations, an indoor/outdoor pool to relax in, and a free hot breakfast. This location is great to put you in the middle of downtown attractions and is only a 2-mile drive to the St Louis City Museum.
Hampton Inn St. Louis – At The Arch
Hampton Inn St. Louis – At The Arch is only 1 mile from the City Museum St Louis. The hotel offers contemporary accommodations and an on-site restaurant. Also included are an indoor swimming pool, free wifi, and free breakfast for all guests.
Campground
Although there is no camping on-site at the park, there are camping opportunities around the area.
Cahokia RV Parque
This cute RV park, Cahokia RV Parque, is close to downtown and offers full hookup spots. They're also pet-friendly if you're traveling with your furry friend.
St. Louis N.E./ I-270/ Granite City KOA
This campground is the closest KOA near St. Louis attractions, only 12 miles from downtown. While at the campground, you will enjoy the swimming pool and playground, and the kids will love the jumping pillow. There are no campfires allowed at this location due to county ordinances.
There you have it – your inside look at the City Museum St Louis. Enjoy your visit to "a city within a city!" If you have time to visit other area attractions, head over to the St. Louis Science Center or check out the Gateway arch. We have all of the details for the Gateway Arch National Park here for you – 6 Top Tips On Visiting Gateway Arch National Park!
For More Great Family Fun in St. Louis
Check out all the great attractions St Louis offers on this 75-minute City Trolley Tour. Learn about the most popular attractions on this guided tour.
Capture your memories at the Gateway Arch and the Old Courthouse with a professional photoshoot. Discover the history of these historic landmarks on a guided tour.
More Info Check Out:
11 Favorite Things To Do In Kentucky With Kids
9 Fun Things To Do In Louisville KY With Kids
Top 13 Fun Things To Do In Elizabethtown KY
Experience The Unforgettable Grand Ole Opry in Nashville, TN
13 Things to do in St Louis with Kids
Top 9 St Louis Family Vacation Ideas
37 Stops for the Best Cross Country Road Trip
Pin This Post: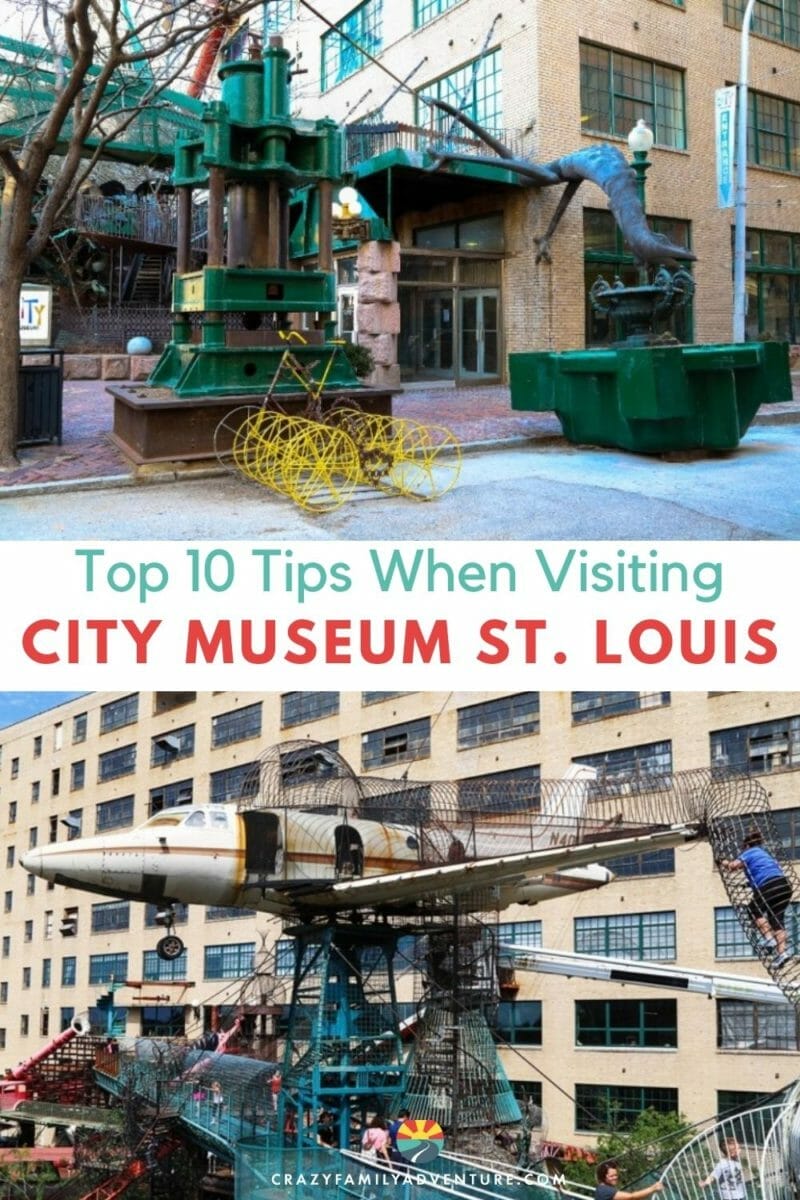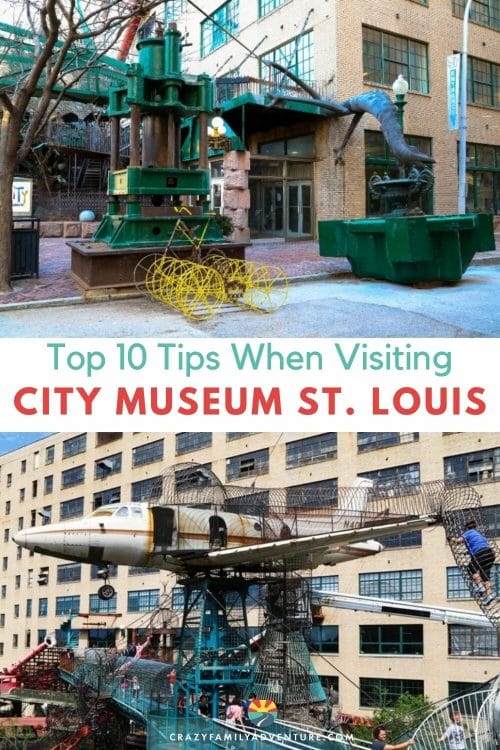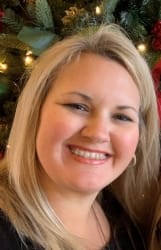 Latest posts by Jessica Spears
(see all)
DISCLOSURE: This post may contain affiliate links, meaning I get a commission if you decide to make a purchase through my links, at no cost to you. Please read my disclosure for more info.