If your family is looking for a city with fun activities, a national park, museums, sports, and much more, a St. Louis family vacation is for you! We love visiting St. Louis with kids, especially because it has one of our favorite children's museums and a great free zoo. Below we talk about those activities and more, as well as where to eat and stay.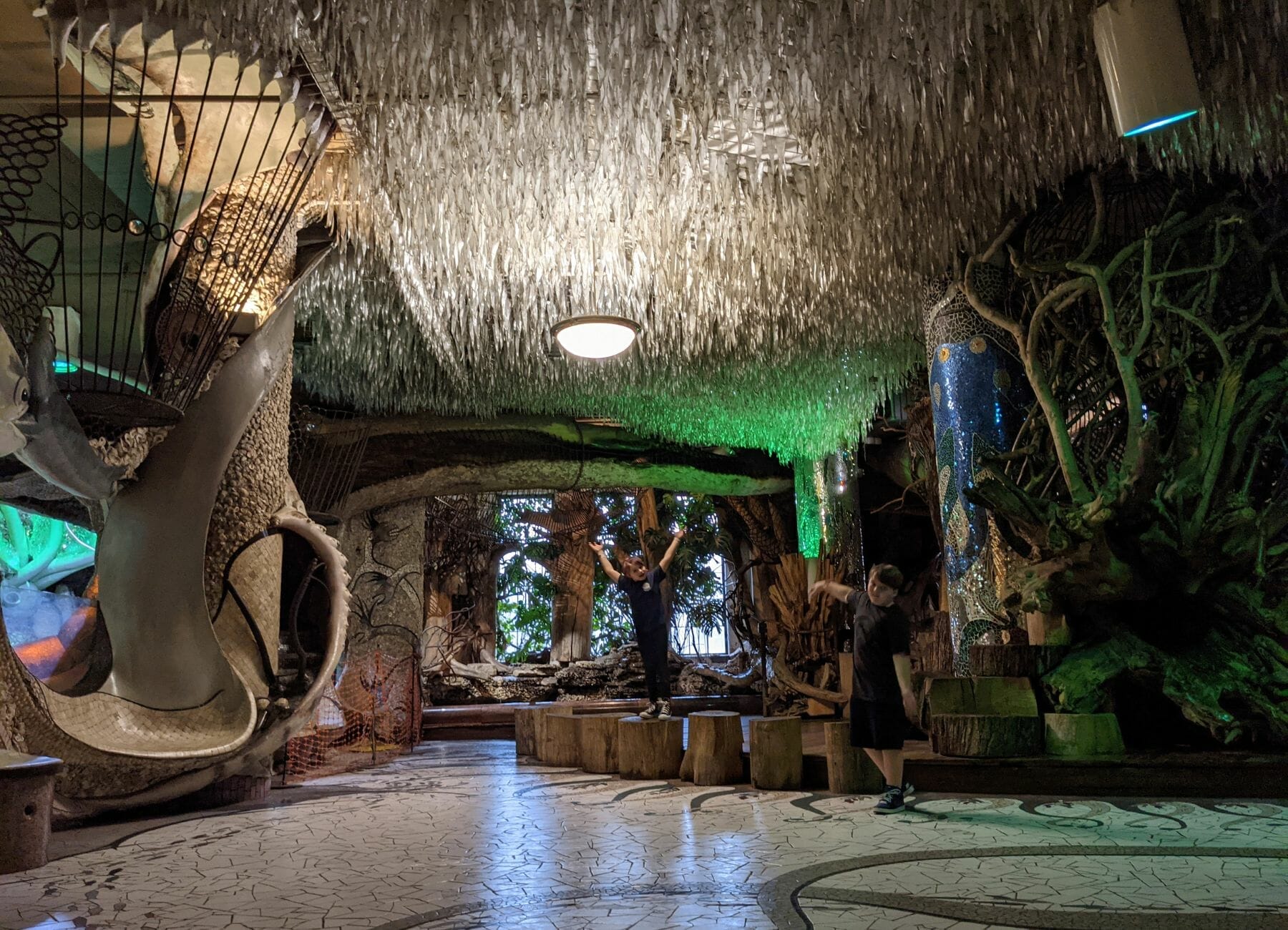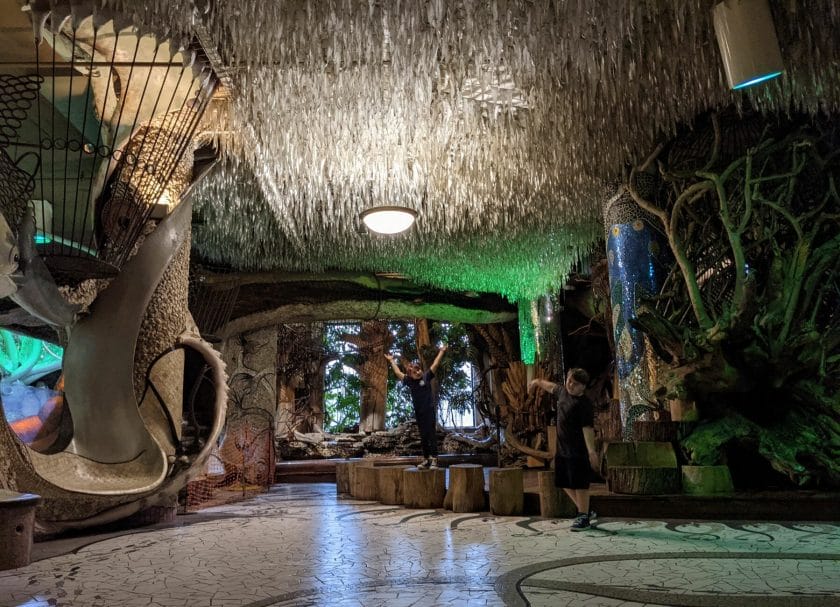 Things to Do
If you're into visiting all the National Parks, like us, you'll want to stop by the nation's 60th, established in 2018. Taking the tram ride to the top of the arch is a unique experience and a great way to see the city.
When you buy tickets for the tram online, you'll see the option to purchase a combo ticket that includes the Tram Ride to the Top & a St. Louis Riverfront Cruise. This one-hour cruise is a fun experience anytime, but if you're visiting on the weekend in the fall, try to catch the NPS Ranger-led cruise, where a National Park Ranger leads the cruise and shares their knowledge of the National Park and surrounding area.
If you're looking for free activities to do around the arch, explore the museum under the arch and learn about the United States' westward expansion. Stop by the visitor's center to grab a Junior Rangers program workbook and walk along the St. Louis Riverfront Trail. We also liked walking through the Explorer's Garden, which has native plants, located in the North Gateway area of the park.
The Gateway Arch National Park does not have its own parking, but they do offer parking in the East Parking Garage of Busch Stadium for a special rate. However, you have to pre-purchase tickets on event days to get the special rate and ensure you can get a spot. Learn more great tips at 6 Top Tips on Visiting the Gateway Arch National Park.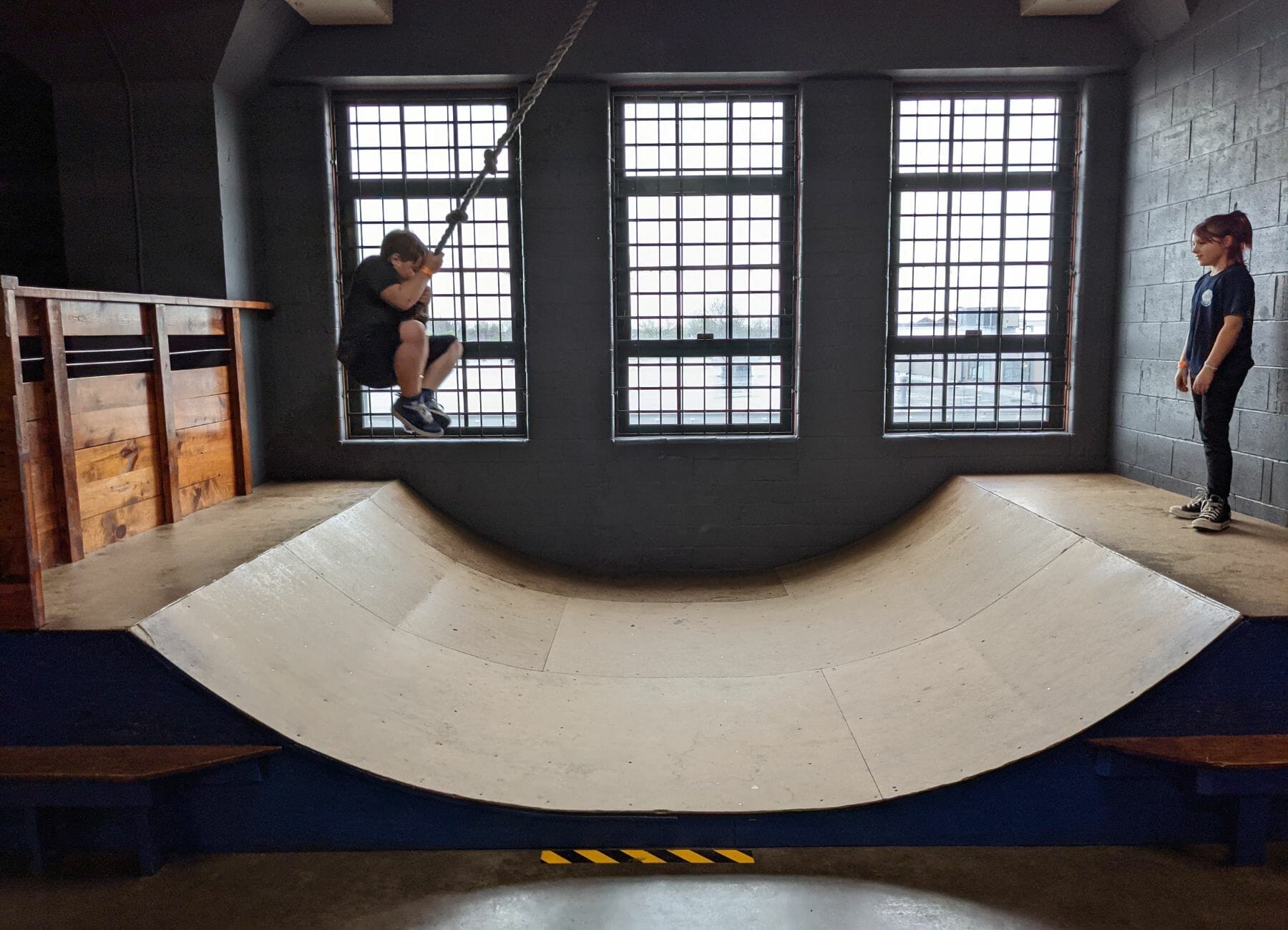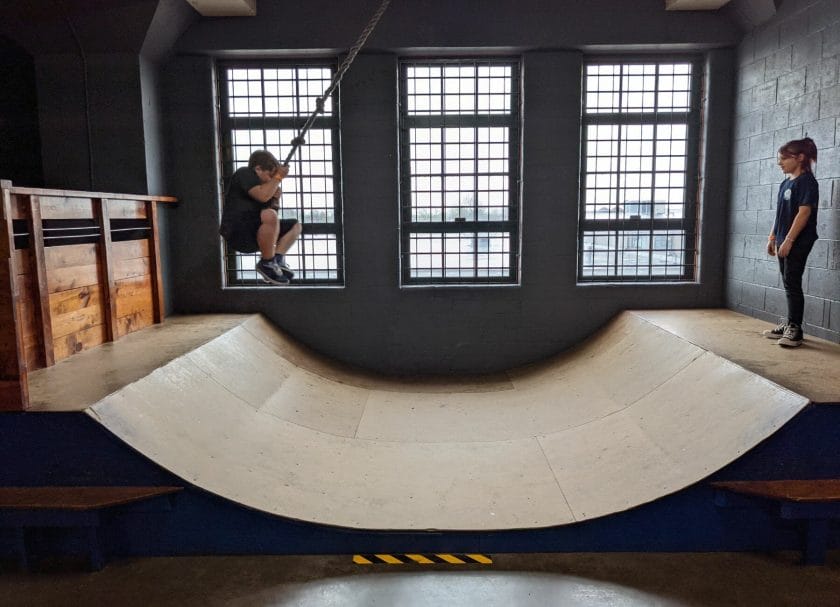 This giant playground is by far our favorite children's museum in the country. With tons of things to climb over, explore around, tunnel under, and slide down, it's great for little kids, older kids, and parents. Do not miss the 10-story spiral slides!
This museum is not only full of interactive exhibits; it's a giant piece of art. Designed and built by artists, every area has its own unique feel and was clearly well thought out. There is also an art area where the kids can make their own art.
Our kids loved playing hide and seek in the caves area, running up and down the ramps, and swinging on ropes in the skateless park area. The rooftop is also not to be missed, but it is only open from March to October and will close if it's raining.
A toddler area is also meant for kids ages six and under. This is a great spot to take a break if you have younger kids, as the rest of the museum is full of twists and turns, and you'll be running and climbing the whole day to keep up with your kids!
Your kids will not get bored at this museum, so plan on spending a whole day here. We recommend eating a bigger breakfast and then just grabbing a snack at the snack bar in the museum for lunch. Get your general admission ticket to the City Museum here! Check out our Top 10 Tips for Visiting the City Museum.
The Magic House
This children's museum is a more traditional interactive museum compared to the City Museum but is still a great spot to include in your St. Louis vacation. We love that this museum was designed to be a maker space for kids with a focus on art, design, and engineering.
Whereas the City Museum will be great for kids of all ages, including teens, we recommend the Magic House for younger kids. There are many hands-on activities meant to inspire creativity and curiosity, but we also like that this is a fun, safe space for the littler kids to play and explore.
Forest Park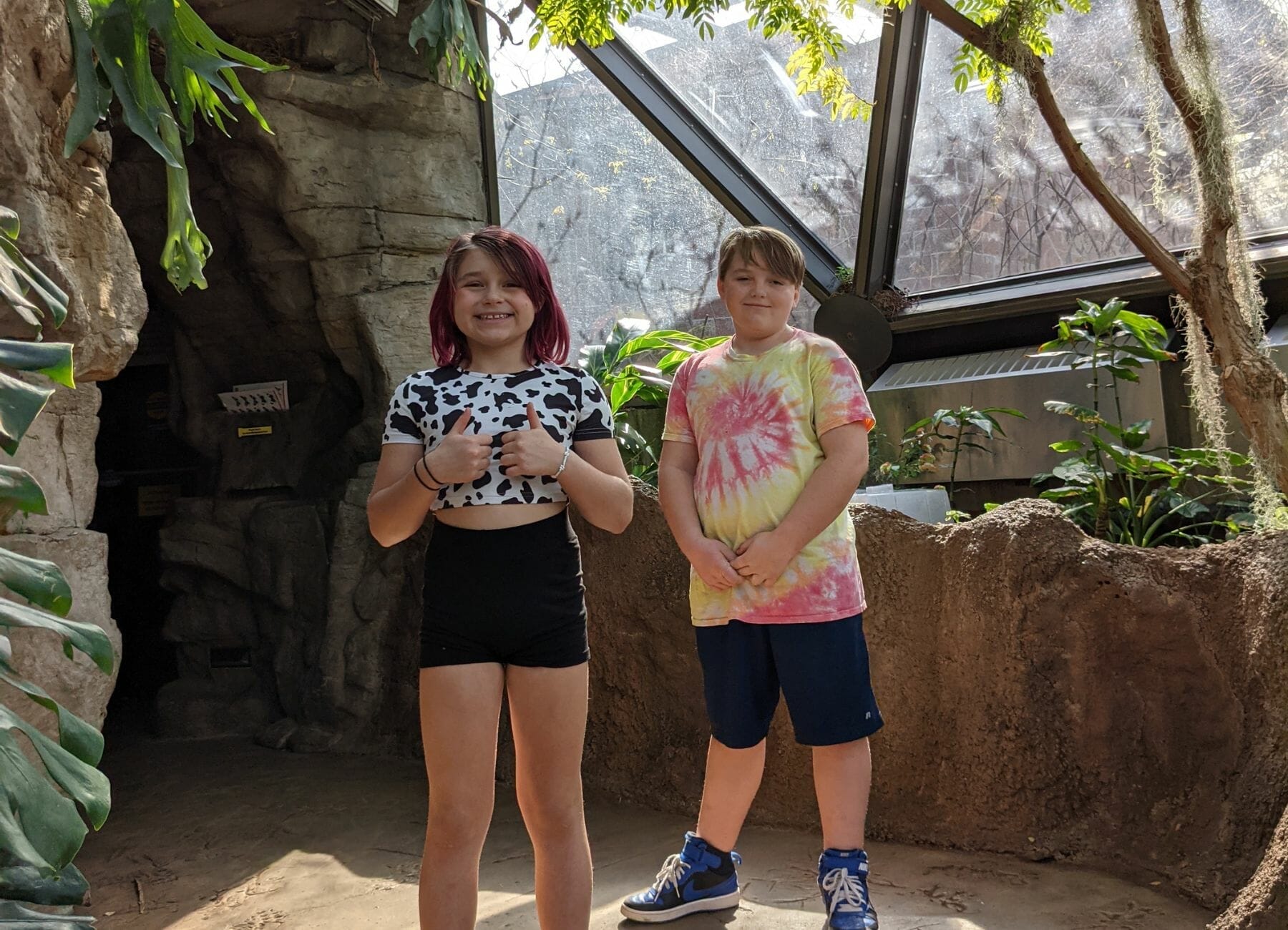 This city park is huge and a great place to spend a day while visiting St. Louis with kids. Not only is it home to the Saint Louis Zoo, Saint Louis Art Museum, and the St. Louis Science Center, and three free things to do on this list. It also has a great 17-acre kid's nature playscape area and a huge playground.
Anne O'C Albrecht's Nature Playscape has sand play areas, boulders and rocks to climb on, walking paths, and plenty of water features, including hand water pumps. We love parks encouraging kids to climb, play with water and interact with nature.
There is plenty of parking in Forest Park, and then once there, most things are pretty walkable, including the art museum, zoo, playground, and nature playscape. The science center is a little further walk, but still totally doable. There's a great interactive map at https://forestparkmap.org/.
St. Louis Zoo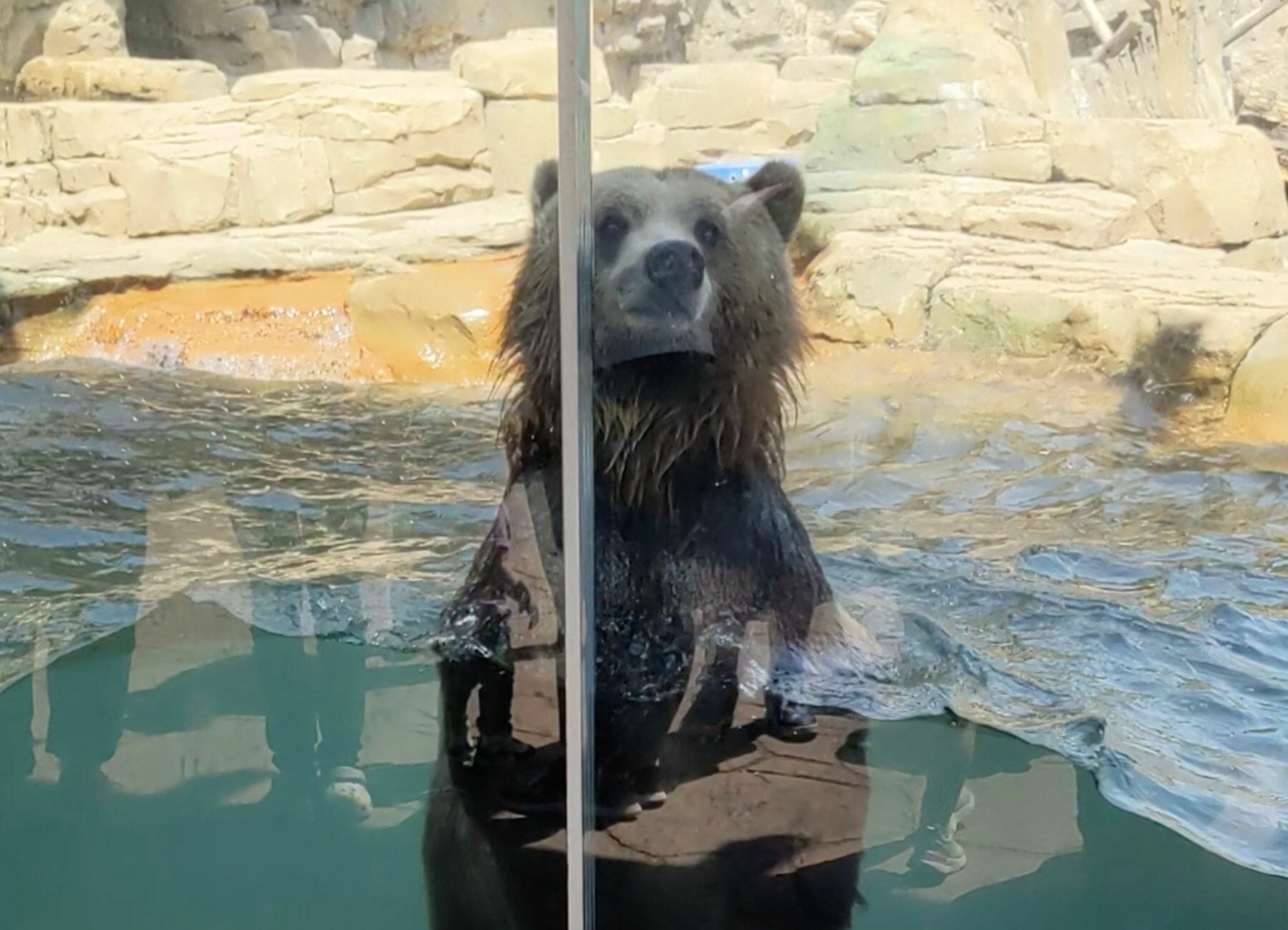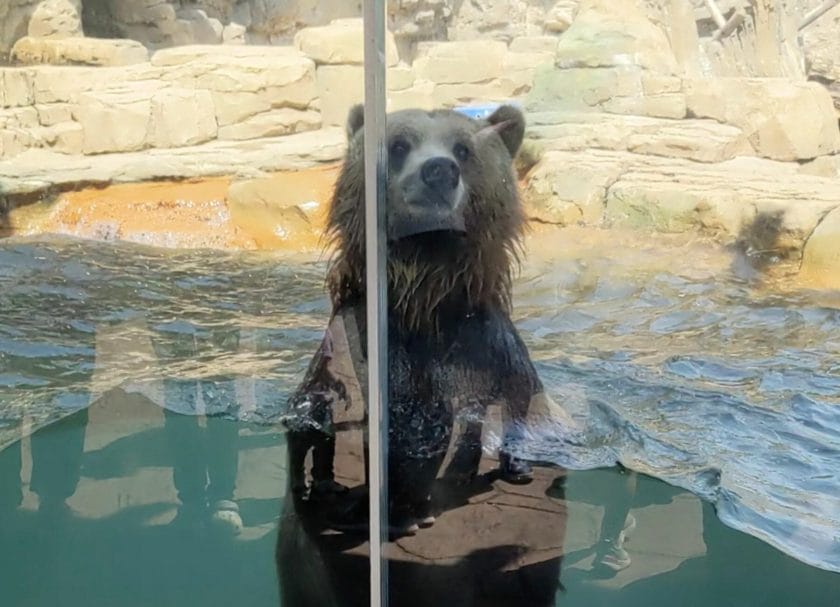 We love including a zoo visit on our family vacations, especially when it's free! This zoo is comparable to most zoos we've been to in size. It has all the classic zoo animals, and is conveniently located in Forest Park. The brown bear was super active when we were there. It was jumping up and down in the water, which made our day.
We recommend spending at least three hours here to see all the animals. Paid parking is available in the zoo lots, but there is also limited free parking on nearby streets in Forest Park, or park in the main parking area of Forest Park and stroll over.
Saint Louis Art Museum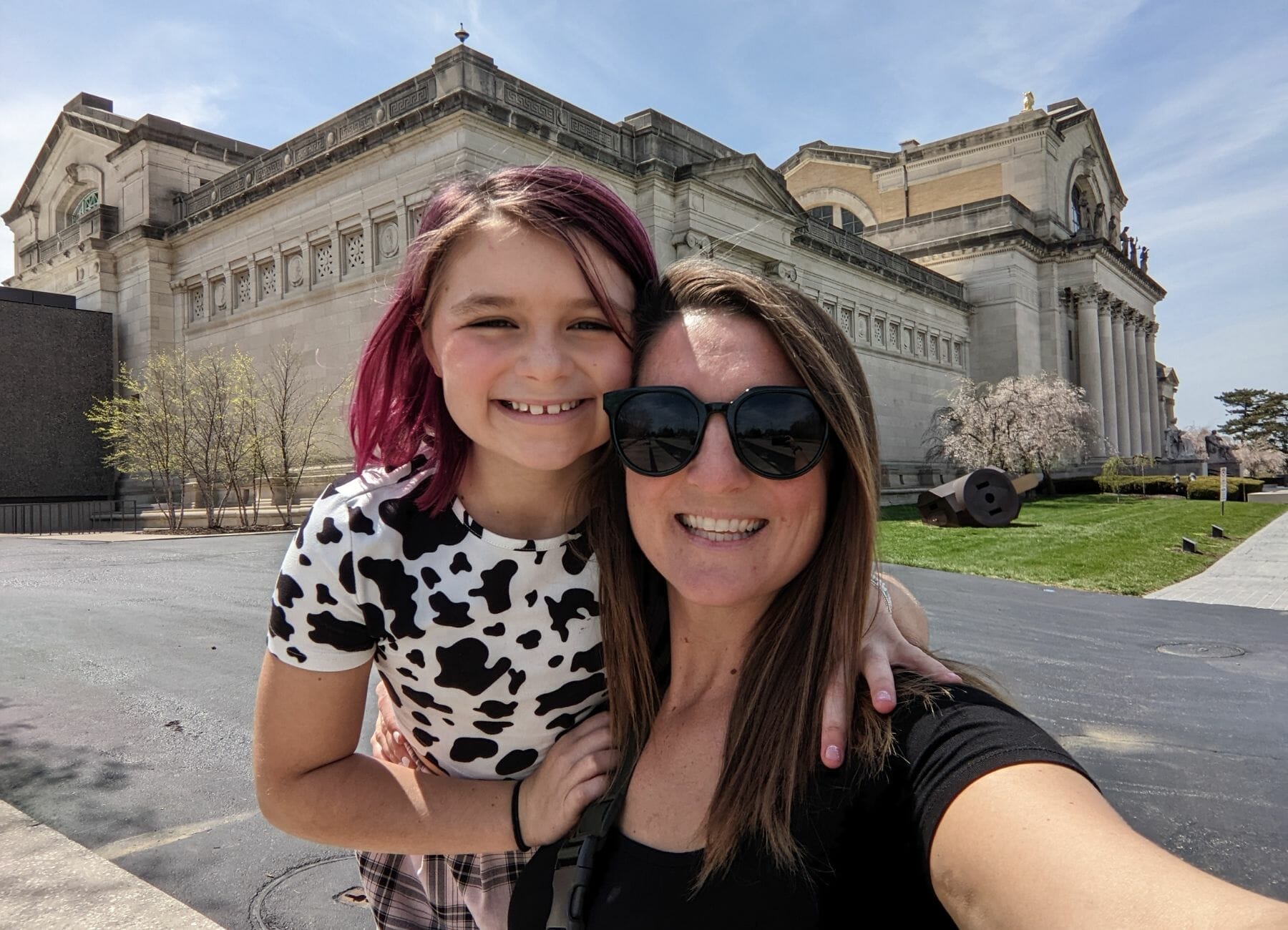 Another great free activity in Forest Park is the Saint Louis Art Museum. This art museum has three floors that cover a wide range of art from around the world. Since it's free every day and in a convenient location, this is a great way to introduce young kids to an art museum. As you can literally just walk through a couple of rooms and head out.
If you can visit on a Sunday, the museum has hands-on art activities geared toward families. On Wednesdays, they have story time, art viewing, and art activity, all geared toward children aged 3-5.
Saint Louis Science Center
Our third free thing to do in Forest Park is the super kid-friendly St. Louis Science Center. We love science centers as they combine some seriously heavy-duty learning with lots of hands-on fun. This science center includes an Omnimax Theater and a Planetarium Theater (both require purchased tickets.)
As with most children's museums, they offer a ton of special exhibits and programs, so be sure to check out their website before visiting to see if anything is happening while you're in St. Louis. We like to pick the day we'll spend in Forest Park based on what's happening at the science center and add in the rest of the day's activities around that.
Grant's Farm
This is the historic home of the Busch family, but more importantly, it's the current home to over 900 animals! See how they train and care for the world-famous Budweiser Clydesdales, watch and possibly interact with smaller animals, like rabbits, goats, and turtles, and hand-feed the deer in Deer Park.
So, why is it called Grant's Farm? President Ulysses S. Grant built a cabin here in 1855, which is still on the farm. You can take a tour to see the inside and outside of the cabin and the outside of the Busch family estate home.
St. Louis Cardinal's Baseball Game
We're not Cardinals fans, but we love going to baseball games, and Busch Stadium, the home of the Cardinals, is a great stadium to see a game in. It was built in 2006 with all the modern amenities and a great layout but was built with a retro style, so you feel like you are in a historic stadium.
If you want to make a day of it, spend some time before or after the game at Ballpark Village, right next to the stadium. You can eat, shop and even visit the Cardinals Hall of Fame and Museum. They have outdoor family-friendly movies on select Thursdays if you're visiting in the summer.
St. Louis Union Station
This is a spot in St. Louis where you will find a lot of kids' activities, family fun, and food under one really cool roof. We love when old buildings are repurposed, and this is an excellent example of that. Union Station was originally built in 1894, and although it's now filled with restaurants, shows, and activities, they've restored a lot of the original architecture.
Union Station is conveniently located, so you can stop in while exploring other downtown areas or make a day of it and stick around to do all the activities. Our top three activities at Union Station are the St. Louis Aquarium, the Rope Course, and the St. Louis Wheel, a 200-foot tall ferris wheel with enclosed gondolas.
Where to Eat in St. Louis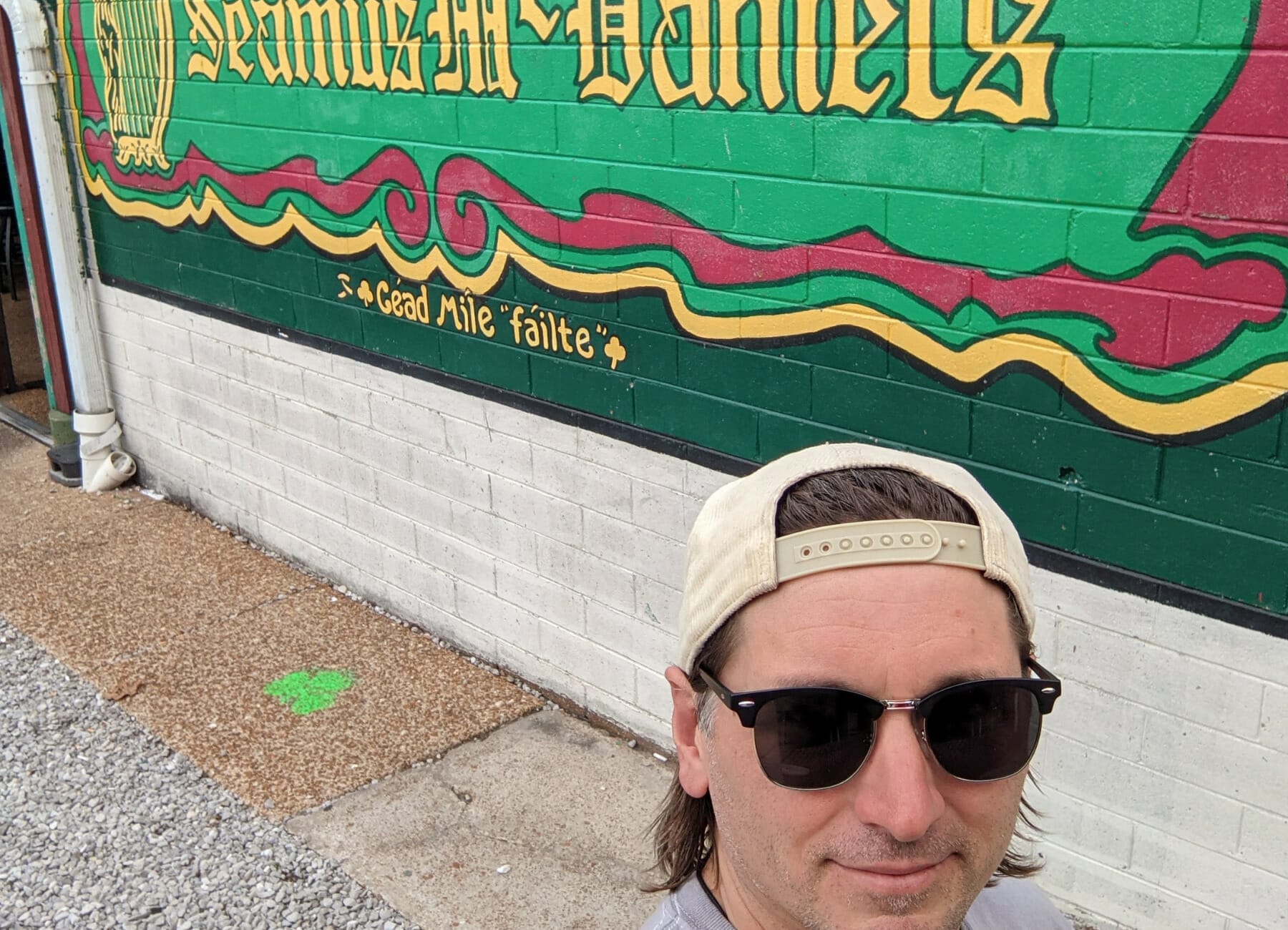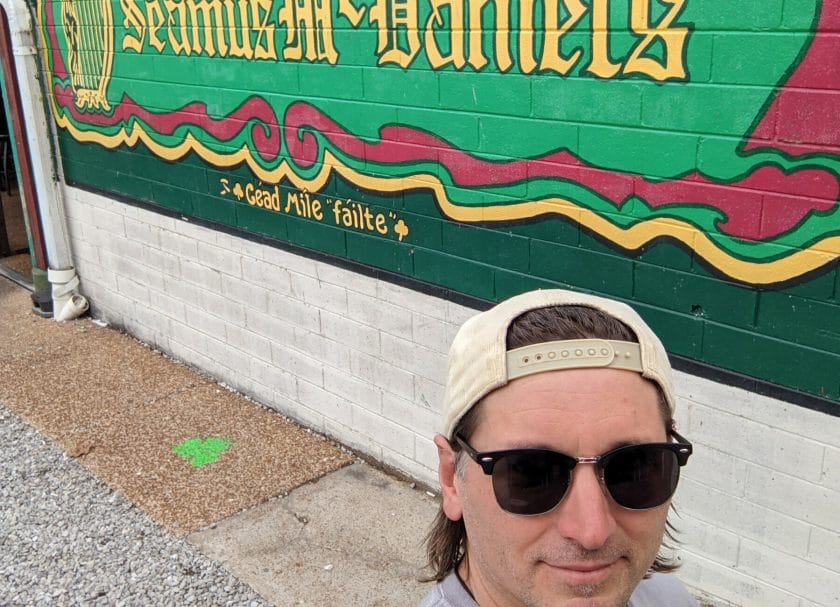 If you're looking for a casual neighborhood restaurant that is in walking distance of Forest Park, we recommend Seamus McDaniel's, a fun Irish pub. There is an outside space that has plenty of room for the kids to run around. Located in the Dogtown neighborhood, there is an ice cream shop, cookie shop, and brewery close by.
Super fun and unique restaurant that is kid-friendly and located downtown are Pieces the St. Louis Board Game Bar & Cafe. It's just like it sounds, with over 1000 games to choose from and Game Navigators who can help you pick games and learn the rules.
More Family Fun in St. Louis
See St. Louis in comfort on this 75- minute Trolley Tour. Experience all the local popular sight on this great guided tour.
Capture your memories at the Gateway Arch and Old Courthouse by having your family photos taken by a professional photographer.
Discover 13 Things to do in St Louis with Kids
Where to Stay in St. Louis
A great thing about St. Louis is that it is very affordable. You can find a spacious VRBO or higher-end hotel in a good location for a reasonable price. If you are RVing, there are a couple of good RV park options, including one that is so close you have a great view of the Gateway Arch.
VRBO
The Stylish Home VRBO is large, affordable, and has a garage. This is a great option if you have a car with you as you can get a neighborhood feel while being close to the downtown. This house also has five bedrooms and three bathrooms, so there is plenty of room for a big family.
For another great neighborhood house located near Forest Park, check out the Zoo Cottage VRBO. This house is located in the Dogtown neighborhood, close to good local restaurants and walking distance to the zoo, art museum, and science center in Forest Park.
Hotels
If you want to stay close to our favorite kid activity in St. Louis, the City Museum, we recommend the Last Hotel. This hotel has an onsite restaurant and swimming pool and is also within walking distance of the Gateway Arch National Park, Union Station, and Busch Stadium.
Another even budget-friendlier option downtown is the Hampton Inn St Louis at the Arch hotel. This hotel stay includes a free continental breakfast, which we love because it's convenient and saves money.
Campgrounds
The DraftKings at Casino Queen RV Park is a great option. If you want to stay as close as possible to the city. This RV Park isn't anything special, but it's close enough to give you a great view of the Gateway Arch from your RV window. There isn't much at this RV park other than your typical amenities — bathroom, shower, and laundry — but it was clean, safe and a quick Uber drive into downtown.
Another close campground is the Cahokia RV Parque, which is about a ten-minute drive to downtown St. Louis. This RV Park has a playground, an onsite BBQ restaurant, laundry, and an outdoor pool. If you travel by car, this RV Park is a good choice.
If you're traveling in the off-season. And looking for a year-round campground close to St. Louis, check out Kamper Kompanion RV Park. This is an hour northeast of St. Louis but is right off the highway, so it is an easy drive. This RV Park is cute, clean, and quiet.
Check Out More Family Vacation Ideas
37 Stops for the Best Cross Country Road Trip
Tips for Visiting the Civil Rights Museum Memphis
11 Favorite Things to Do in Kentucky with Kids
10 Favorite Things to Do in Memphis with Kids
East Coast Road Trip: 25+ Stops You Don't Want to Miss
11 East Coast National Parks to Visit This Year
Things to Do in Cuyahoga Valley National Park
11 Best Places to Visit in Downtown Memphis with Kids
6 Restaurants in Memphis You Don't Want to Miss!
Pin to your Family Vacation Board to Save for Later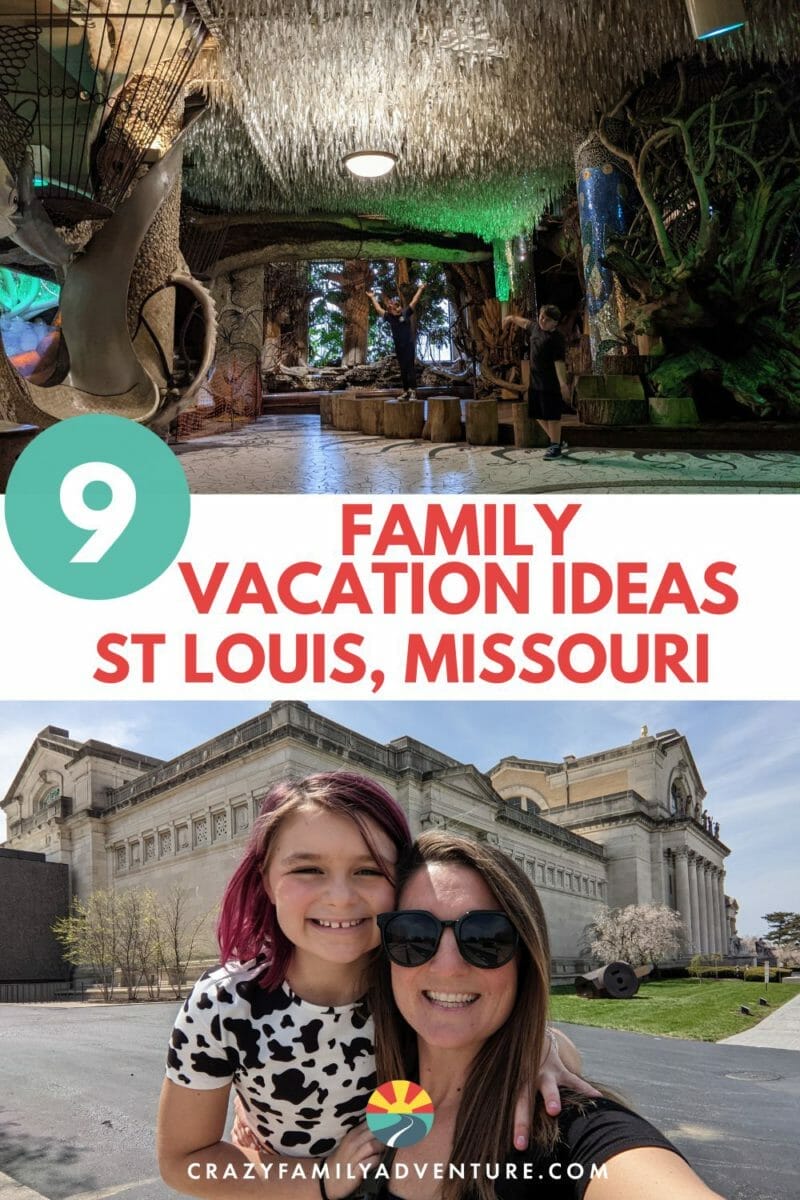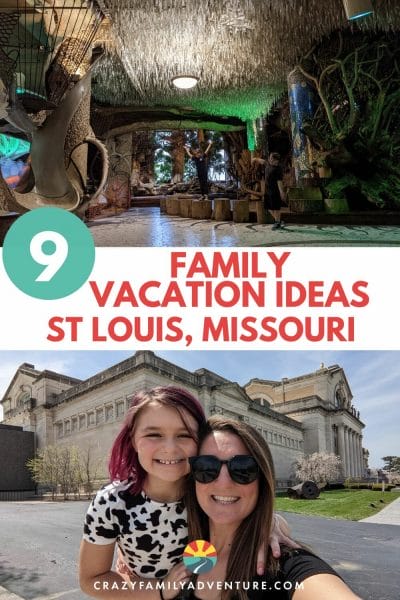 Latest posts by Megan Jurvis
(see all)
DISCLOSURE: This post may contain affiliate links, meaning I get a commission if you decide to make a purchase through my links, at no cost to you. Please read my disclosure for more info.