Taking a cross country road trip in the US is something everyone should do at least once in their life! We have traveled the country back and forth on multiple occasions and asked our fellow professional travelers for help on this post as well, to get you the best of the best when it comes to doing a cross country road trip.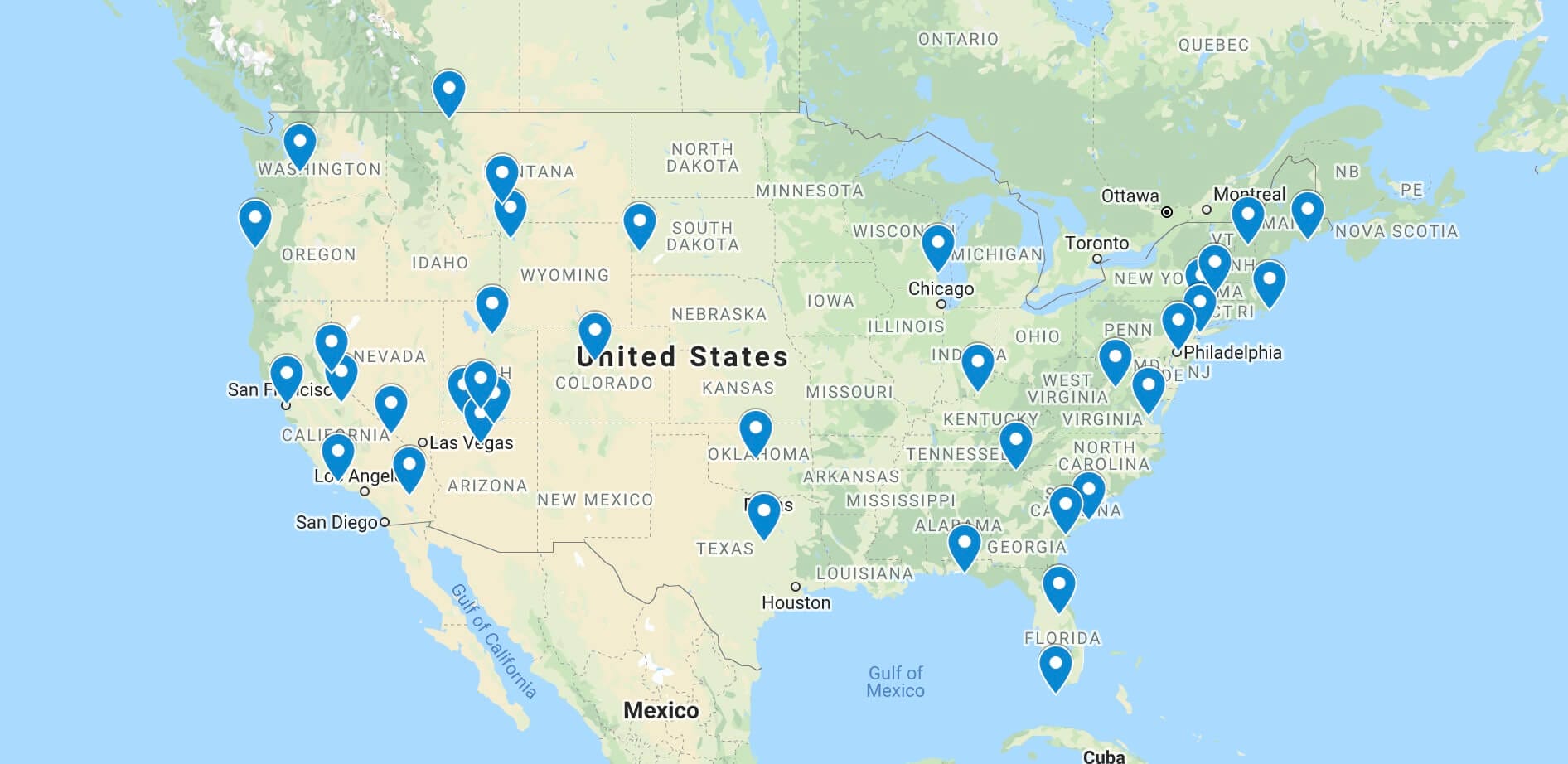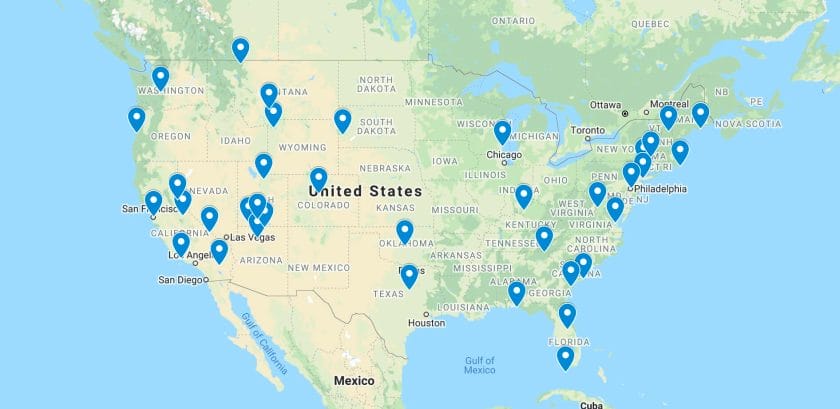 We share top destinations, route planning ideas, attractions and activities you don't want to miss and some great food options.
The US is filled with so many unique and different places to visit. The hard part is picking where to go. We will take you from the East Coast and places like Maine and New York down to the Florida Keys and up to Glacier National Park and Yellowstone National Park before heading to California!
Below you will find 37 amazing places to make your trip an unforgettable adventure.
Featured Place To Stay In The US
---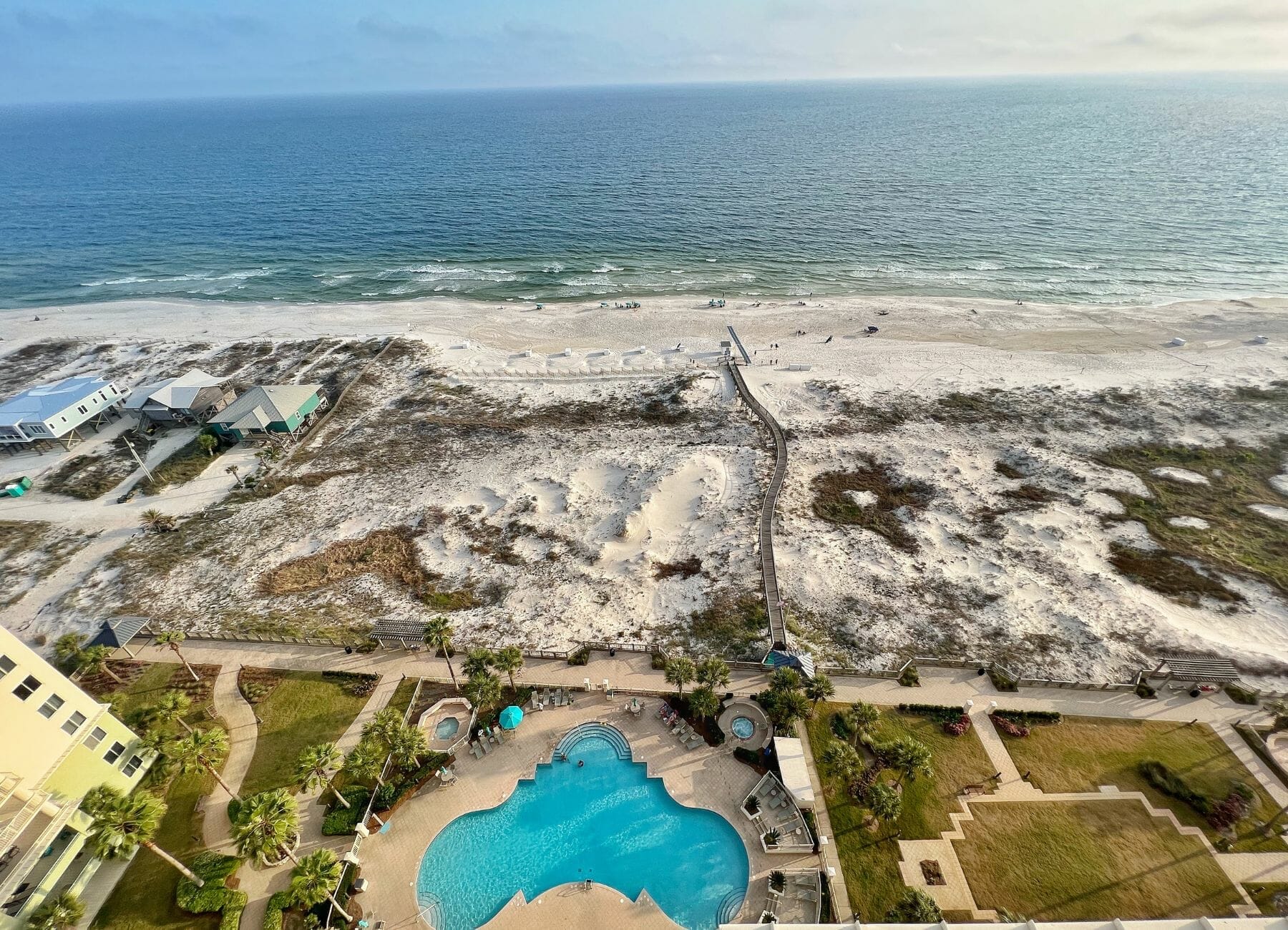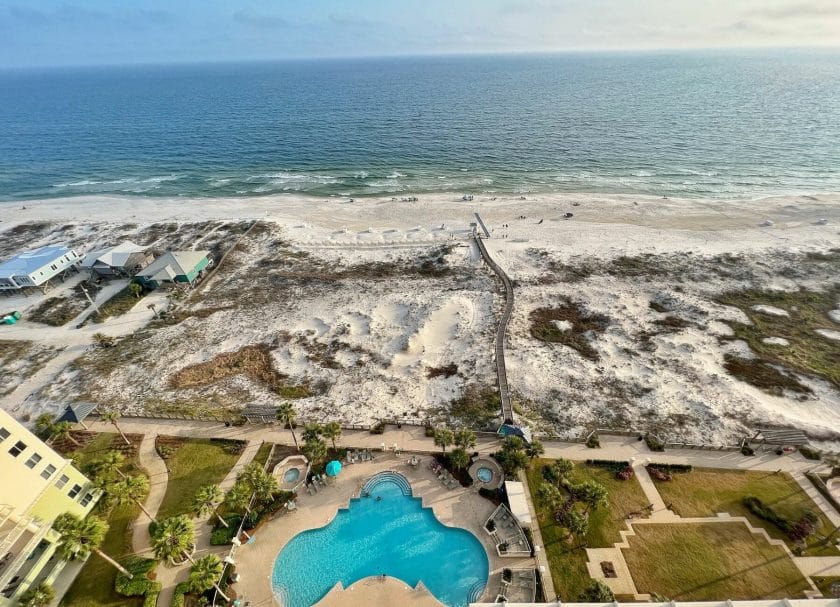 ---
Buckle up and let's start this drive cross country! If you want to add more adventure we recommend renting an RV for your trip. RVing cross country is an awesome way to travel!
Below we share our recommendations and recommendations from fellow travel bloggers on can't miss places to visit on the best cross country trip. We kick it off in the East coast and take you down to Florida up to the midwest out to the pacific northwest down the west coast and across to Texas!
Acadia National Park, Maine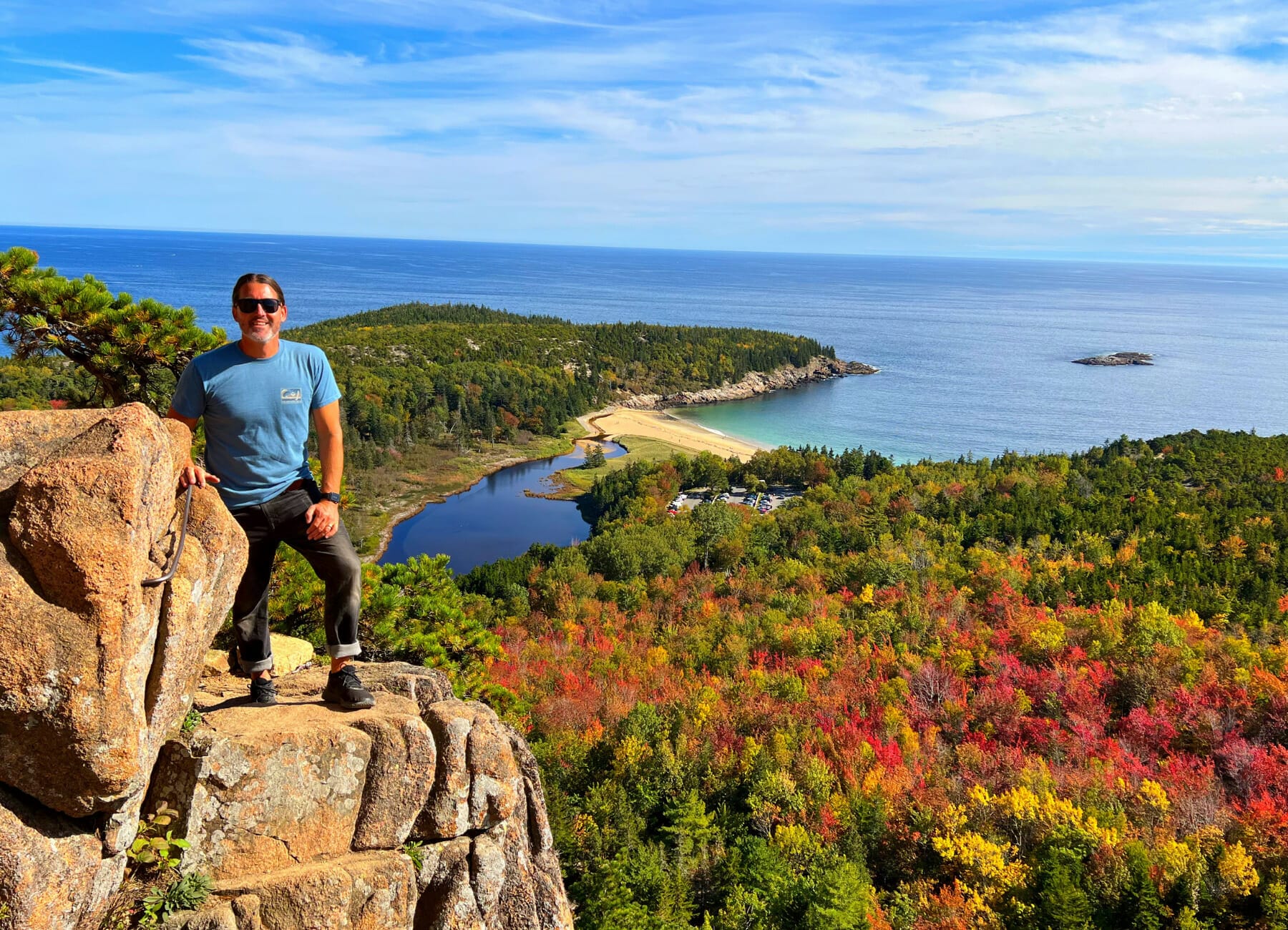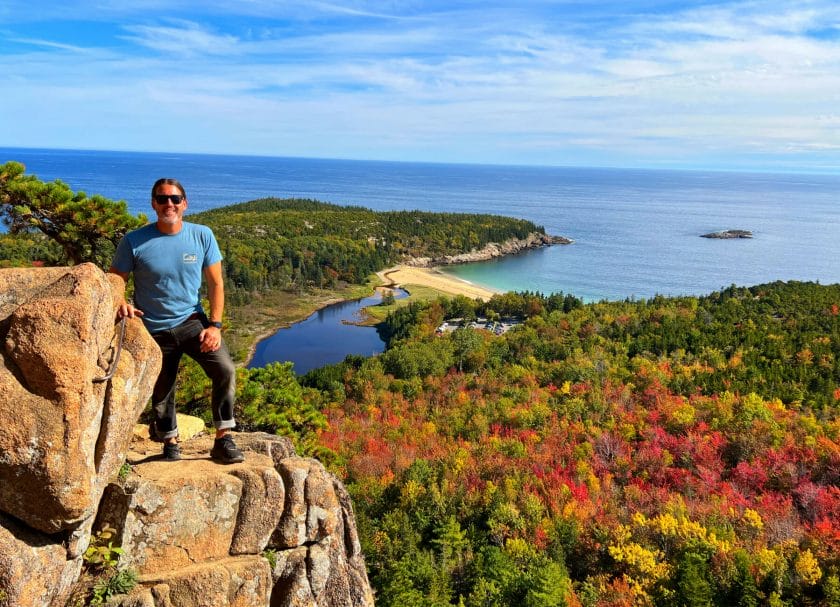 If you're heading on a road trip across the United States, one of the first places you should start (pending you're on the East Coast) is one of the most visited US national parks – Acadia in Maine. Acadia National Park is the only national park located in the northeastern US and it is home to a variety of different landscapes ranging from coastlines to bogs and more.
If you're visiting Acadia in winter, you will be pleased to find fewer people in the park and some of the best cross-country ski trails on the eastern seaboard. During the Acadia summers, hiking is a must and some of the most famous trails are the Precipice Trail, Great Head Trail (which offers coastal walks), and Bubble Rock.
The number one sight in Acadia National Park is Cadillac Mountain and there are a variety of ways to experience it, but hiking is definitely the best way. Be sure to also not miss Schoodic Point, the Bass Harbor Head Lighthouse, and Jordan Pond.
There are plenty of camping opportunities within Acadia or you can opt to stay on Mount Desert Island (the island where the park is located) in Bar Harbor. Otherwise, Acadia is an easy day trip from Bangor on the mainland. Acadia National Park will be a stellar first stop on your road trip across the wild and diverse country!
Shared by: Megan Starr – Megan & Aram Travel Blog
More on Acadia and Maine:
Acadia National Park Itinerary [Plus Where To Stay]
15 Amazing Things To Do In Maine
Top 14 Maine National Parks and State Parks To Visit
Check out these awesome farm stays around the US too!
White Mountains, New Hampshire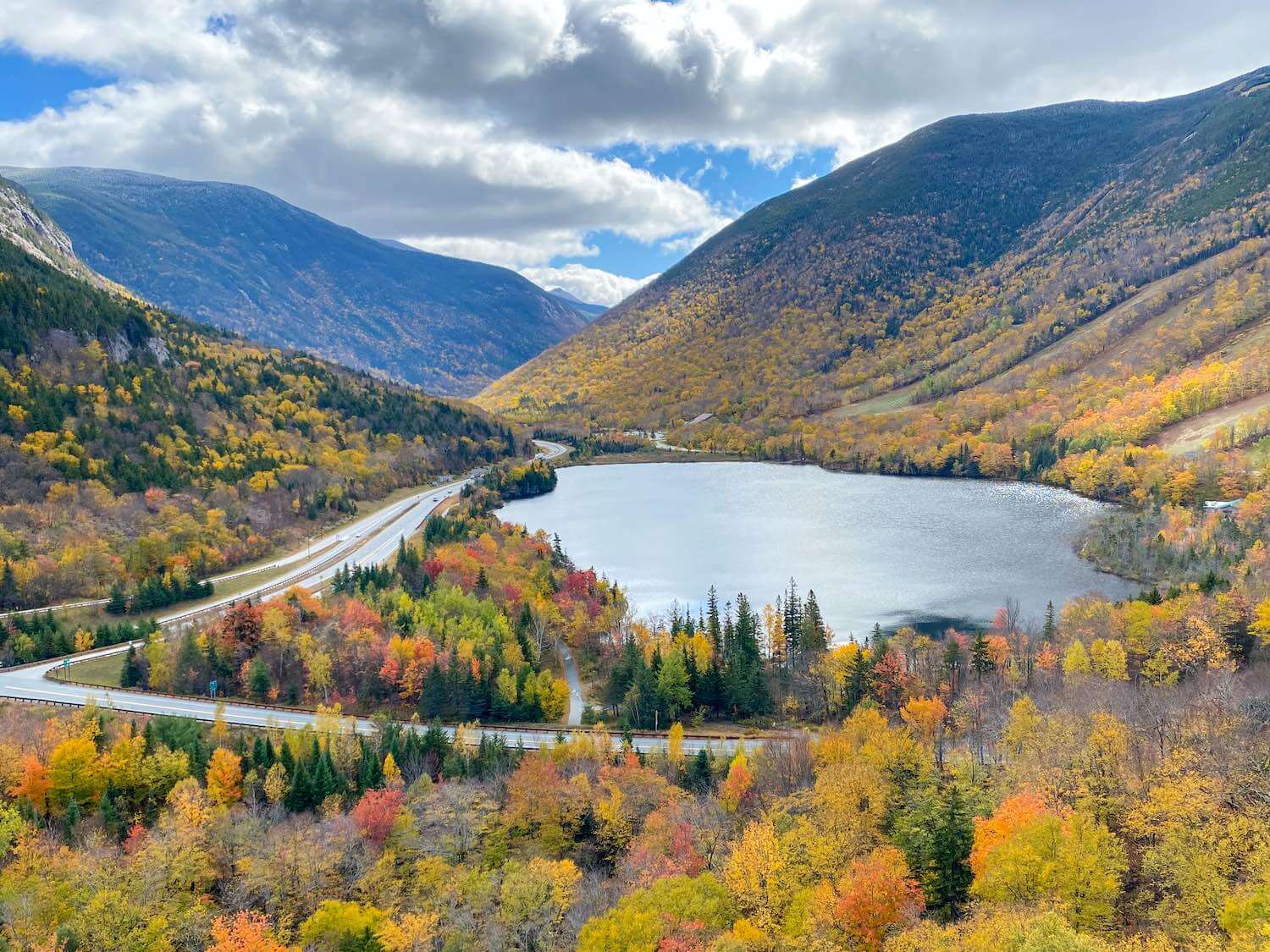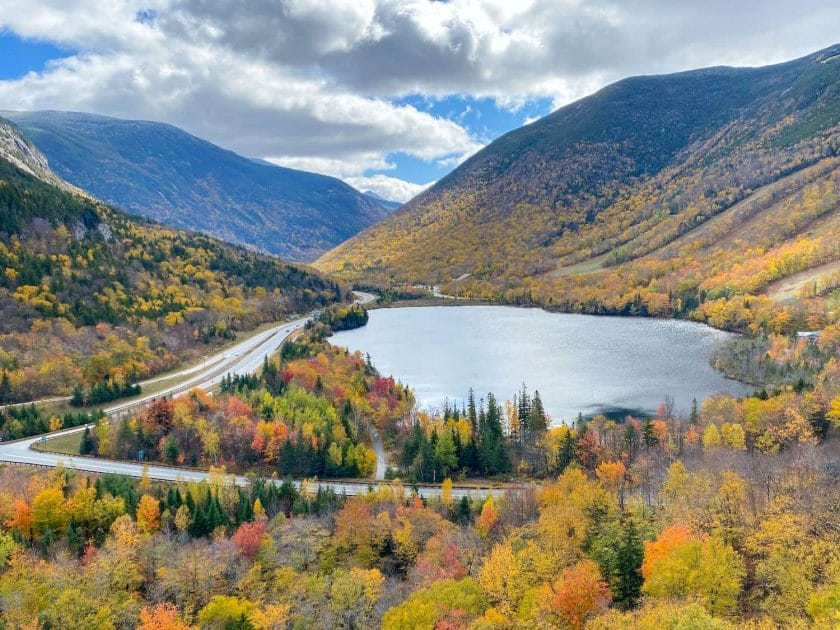 The White Mountains of New Hampshire offer scenic views, epic hikes, rocky rivers and gorges, and some of the best leaf peeping in the country. While you can technically make the 100-mile loop in a day, you will want to take at least a weekend to take your time and explore this road trip.
Start off in the charming town of North Conway, where you can enjoy some of the local ski resort mountain activities or take a ride on the Conway Scenic Railroad. From there, travel west across the Kancamagus Highway, one of the prettiest scenic by-ways in New England. Be sure to stop off at popular spots like the Albany Covered Bridge, Lower Falls, Rocky Gorge Scenic Area, Sabbaday Falls, Sugar Hill Overlook, C.L. Graham Wangam Overlook, and Lincoln Woods on your way to Lincoln.
Near Lincoln, spend some time hiking through the Lost River Gorge and exploring some of the caves, or visit Flume Gorge to gawk at the waterfalls. Travel north along Interstate 93 and Highway 3 through Franconia State Park. Leave time to enjoy Echo Lake Beach and make the hike up to Artist's Bluff for stunning views of the lake and mountains beyond.
You will then want to head north east on Route 3 towards Twin Mountain until you get to Rt. 302. You will then want to head south to Bretton Woods, stopping to look at the historic Omni Mount Washington Resort. As you pass through Crawford Notch State Park, take a hike up Mt. Willard for amazing views of the notch, or to Arethusa Falls, the second tallest waterfall in New Hampshire.
Last Stop
Finish your road trip by following Rt. 16 back to North Conway for some outlet shopping. If you have time, make a detour toward Pinkham Notch and drive the famous Mt. Washington Auto Road, or in Bartlett, take Bear Notch Road down to the Kancamagus Highway for a beautiful backwoods drive.
If you are looking for some cool places to stay check out these cool glamping In New England options!
Shared by: Tamara Gruber – We 3 Travel
More on New Hampshire:
14 Best Things To Do In Lincoln New Hampshire
Berkshire, Massachusetts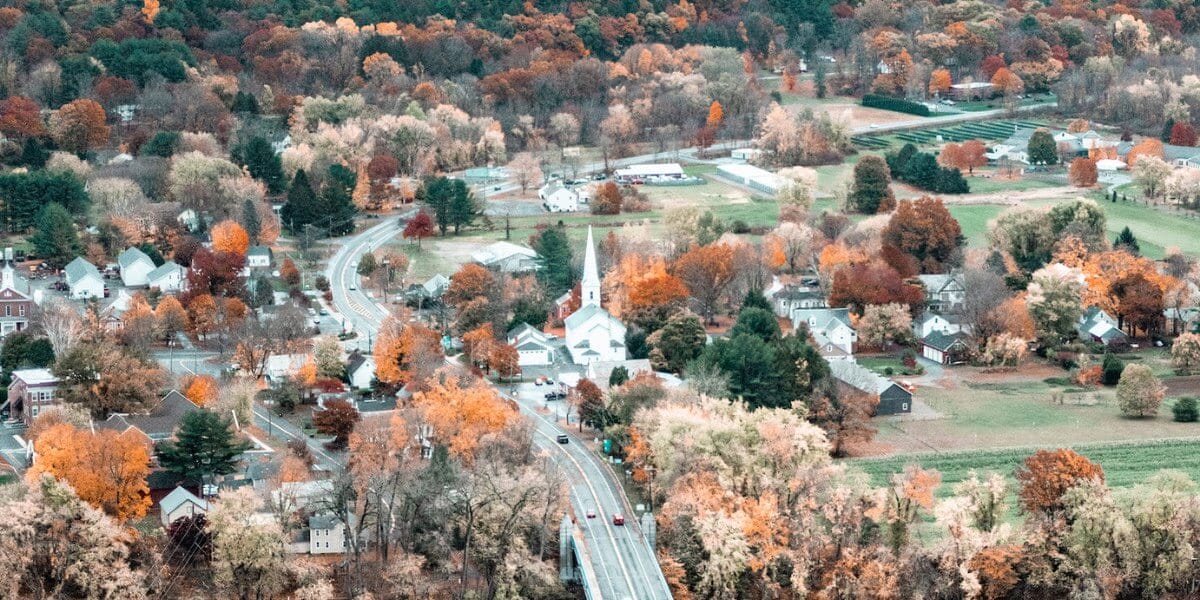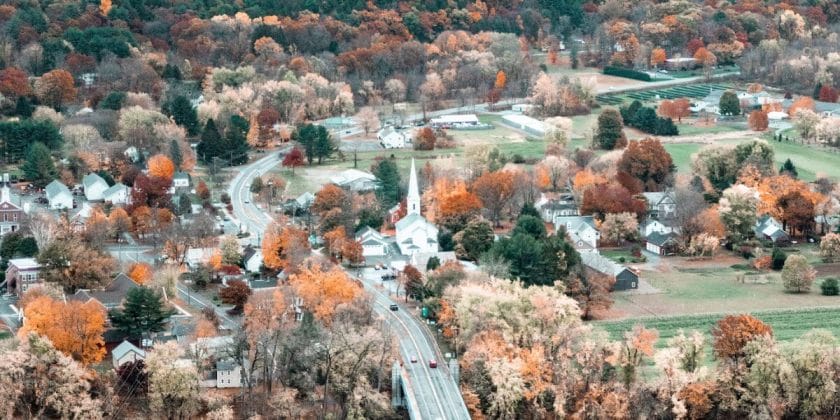 The Berkshires of Massachusetts is a breathtaking region located between New York City and Boston. This stunning area is ideal for outdoor enthusiasts, offering a bevy of hiking and biking opportunities as well as spectacular ski areas. Although the region is notably beautiful year-round, it's particularly spectacular in autumn, with vibrant foliage decorating the mountainous landscape. Leaf peepers gather each fall to witness the spectacle from atop Mount Sugarloaf State Reservation, around the Stockbridge Bowl, and down secret winding backroads.
In addition to various opportunities for physical fitness, there are numerous cultural amusements in The Berkshires as well. For instance, the charming town of Stockbridge is home to the Norman Rockwell Museum, a site that pays homage to the famous American illustrator. This popular town also features Naumkeag, a stunning Gilded Age mansion that sits atop 48 acres and offers a range of seasonal events. Travelers will also enjoy a visit to the sweet neighboring town of Lenox, home to Edith Wharton's former estate, The Mount. Here, self-guided tours are available of the impressive mansion and gardens through Mid-November.
Additionally, for a journey back in time, head to Santarella. This unique storybook property dates back to 1739 and looks like something straight out of a fairytale. Although the grounds are private, this dream home is available to rent for a special event or an unforgettable Berkshires getaway.
Learn more: Most Breathtaking Places to Experience Fall in The Berkshires
Shared by: Elena Pappalardo – The Carry-On Chronicles
Cape Cod, Massachusetts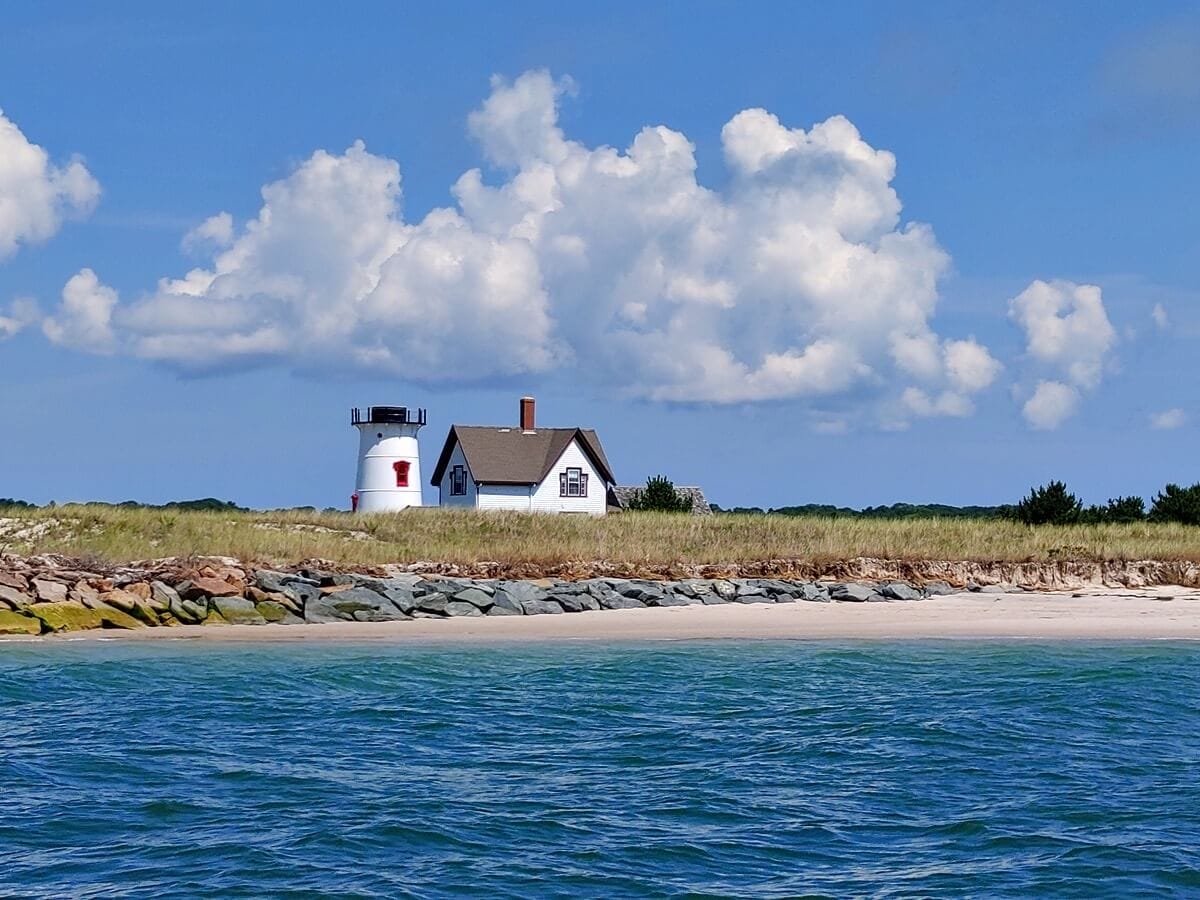 Cape Cod, Massachusetts is the perfect beach destination for some relaxation or adventure. Begin your visit in Sandwich on the western end of Cape Cod with a visit to the Sandwich Glass Museum or enjoy nature at the Heritage Museum and Gardens. Continue with your drive through Cape Cod with a stop at some of the many lighthouses, including the Nauset Light and Chatham Lighthouse.
Drive along the Cape Cod National Seashore where you will have a plentiful selection of sandy beaches to choose from. Spend a couple hours or all day relaxing in the sand, viewing the sand dunes, and jumping over the waves.
Depending on how much time you allot for the area, a whale watch is highly recommended! Head to Provincetown, the end point of Cape Cod, and hop aboard for a ride along the shores of Cape Cod featuring the famous sand dunes before heading out to the Stellwagen National Marine Sanctuary.
After the whale watch take a stroll along Commercial Street and enjoy the quaint, local shops and tasty seafood options. Visit the Pilgrim Monument for breathtaking views of Provincetown and the surrounding area. Hang around until sunset and catch the famous Cape Cod sunset from Herring Cove Beach in Provincetown.
When visiting Cape Cod be prepared to eat your share of seafood-the options are endless! You can expect to find oysters, scallops, clams, mussels, and lobster. If you aren't a seafood person don't worry! You will find a great selection of international foods, including Asian, Middle-Eastern, and Italian.
Learn more: Provincetown With Kids: 11 Must Do's
Shared by: Melissa – Navigation Junkie
You will also want to check out all the awesome Cape Cod towns.
More on Massachusetts:
4 Best Amusement Parks in Massachusetts To Visit
Hyde Park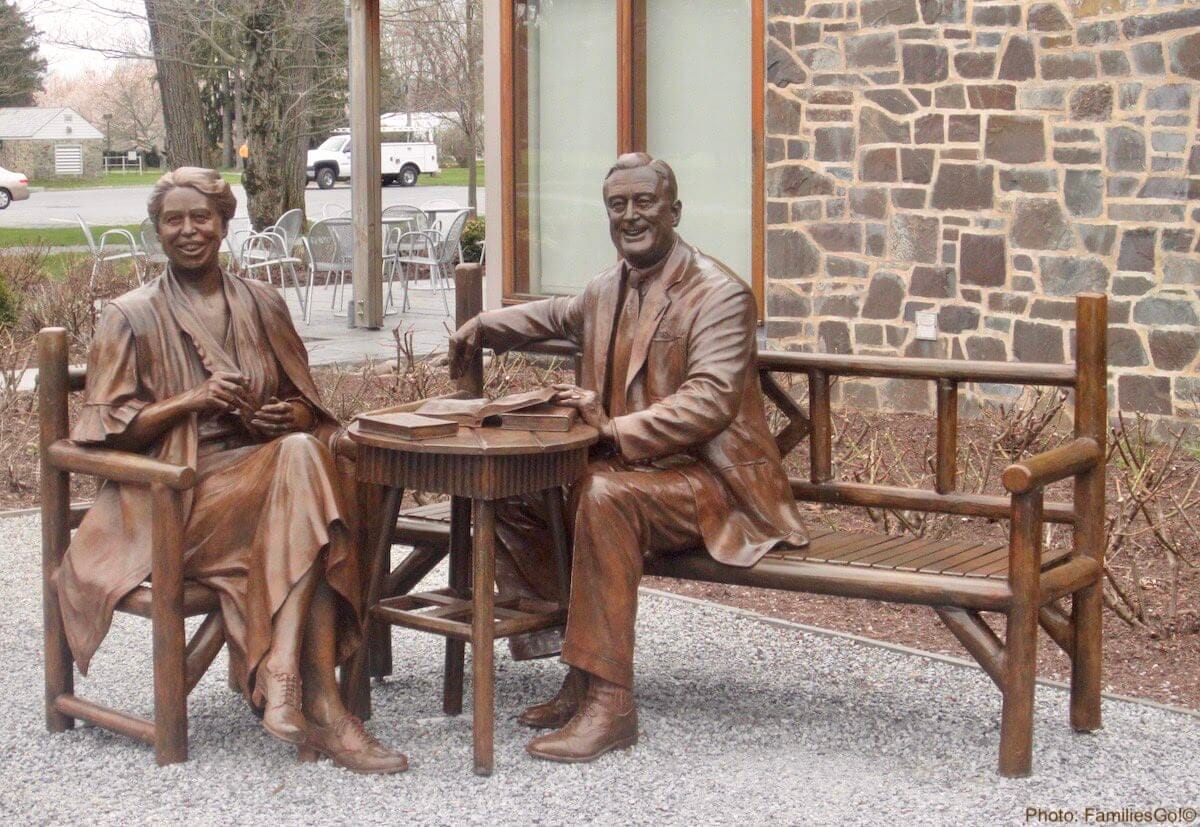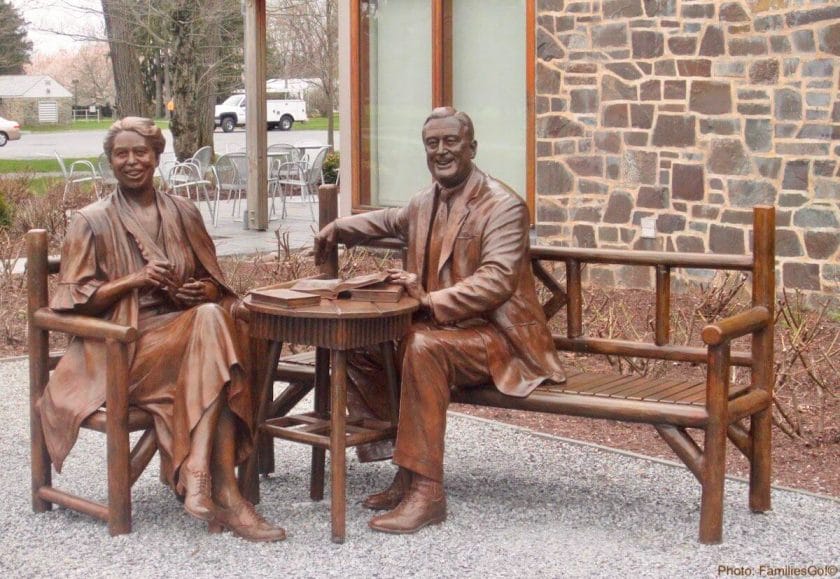 One of my favorite places in the Hudson Valley is Hyde Park, the National Historic Site that encompasses Franklin Roosevelt's childhood home, his presidential library, historic Top Cottage and Eleanor Roosevelt's Val-Kill estate. There are also gardens and enough property for a good long walk. You can't see the whole estate in one day, especially with kids. So, I recommend you start with the library.
FDR was the first president to establish a presidential library and he did so on the estate while he was still in office. The public portion of the library is a nicely done, kid-friendly museum. You can sit at a model 1930s kitchen with a radio playing his fireside chats or follow the arc of WWII on interactive maps.
The highlights for me are his oval office desk cluttered with knick-knacks and the car he had adapted for his polio. Eleanor gets her own wing, where you can see her manual typewriter and letters from people across the country who wrote to ask for her help and her personal advice. My favorite place is Top Cottage, FDR's hideaway on the estate. He hosted a barbecue for the King and Queen of England here and sat on the porch with several world leaders including Winston Churchill.
You can only see the three houses by ranger tour and a highly recommend taking this one because the history and anecdotes make this little stone house fascinating. Eleanor led a long public life after Franklin died and you'll learn a lot about her interests and accomplishments at Val-Kill. In the family home you learn about Franklin's boyhood, entry into politics and his polio.
Tip
Kids who know something about 20th century history will get the most out of a visit, but there's enough to engage younger school-age children. The town of Pougheepsie, six miles south has restaurants, but on a nice day I recommend bringing a picnic or buying sandwiches at café and eating outside on the grounds.
Shared by: Eileen P. Gunn – Families Go Travel
New York City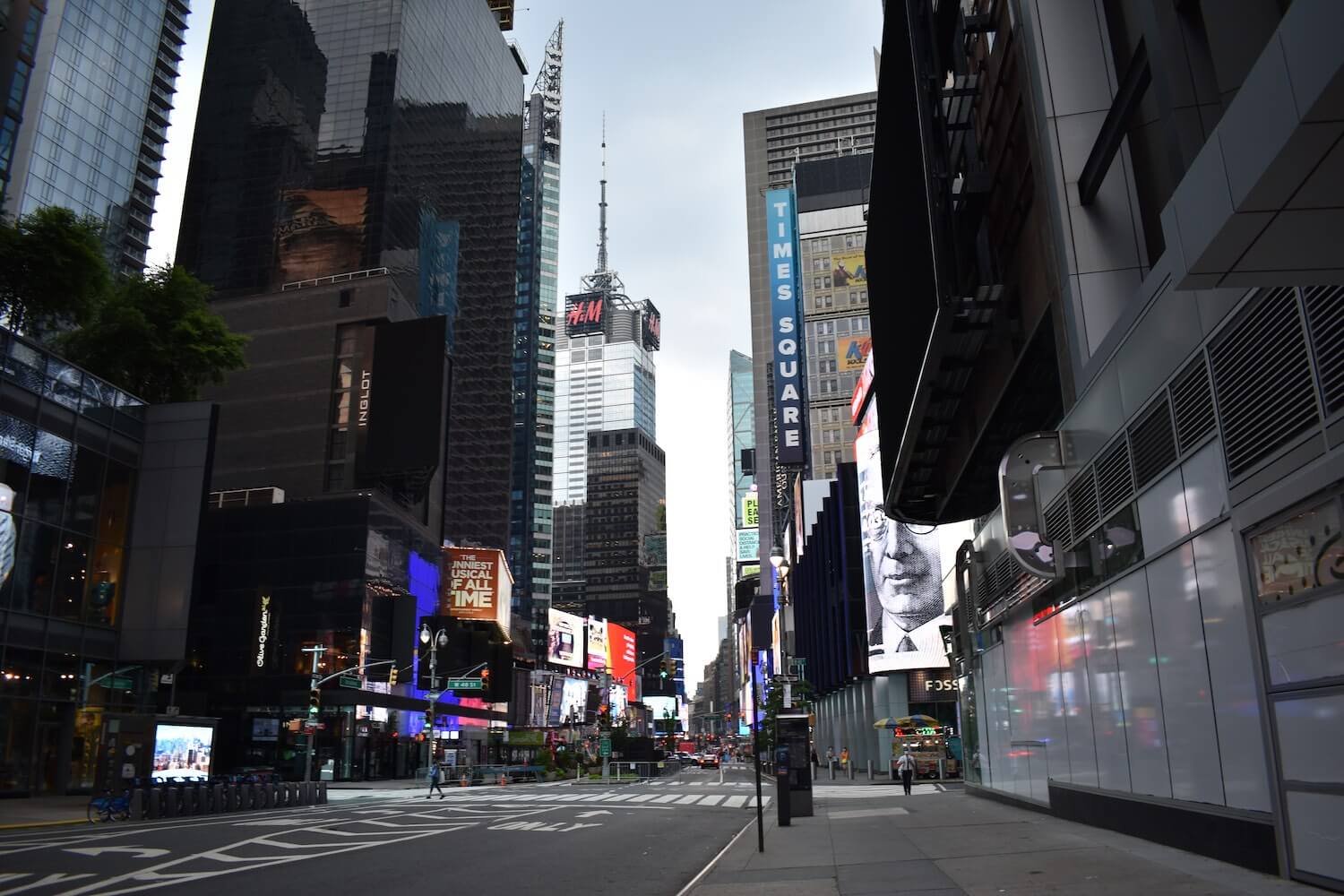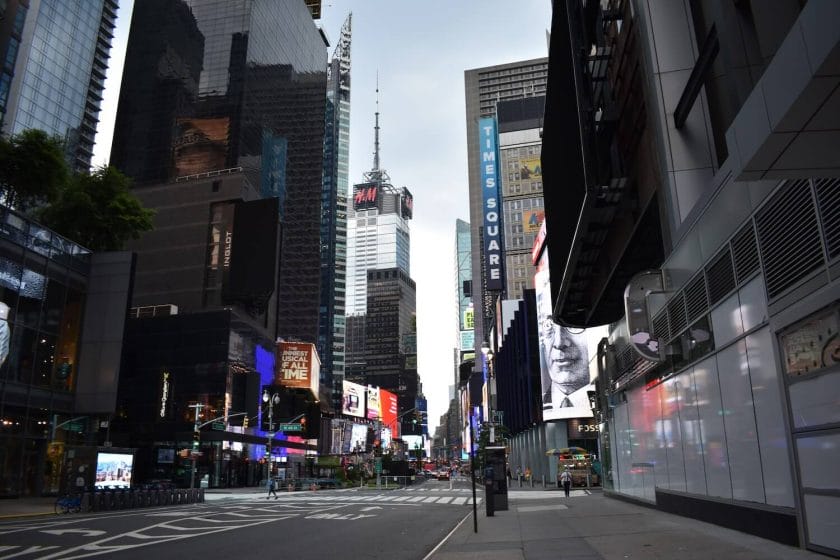 If you're planning an epic road trip through the United States, you absolutely need to stop in New York City. Phenomenal restaurants, world-class museums and architecture, stunning entertainment, beautiful parks, and more await you in the City that Never Sleeps.
New York City was first established in 1624, when the island of Manhattan was purchased from the native peoples who inhabited the land by the Dutch for a mere $24. As the Dutch, and then English, settlements grew and developed, it served as an important place during the American Revolution, and became the newly born United State's first national capital. Manhattan was incorporated with the other four boroughs–Brooklyn, Queens, the Bronx, and Staten Island–in 1898 to form the full New York City.
The City is home to tons of awesome museums, like the Metropolitan Museum of Art or the American Museum of Natural History, as well as Broadway theatre. Make sure you catch a performance in the Theatre District, which includes many of the theaters in the famous Times Square.
There are so many free things to do in New York City, in addition to paid activities. Wander through any of the City's parks, walk the High Line and explore the newly developed Hudson Yards, or visit the 9/11 Memorial in Lower Manhattan. You can even head to the beach, all without leaving the five boroughs. Even just simply walking through the many different neighborhoods will give you incredible insight into the diverse, mesmerizing experience that is New York City.
Shared by Lyndsay Crescenti – The Purposely Lost
More On New York
If you plan to head to New York check out this awesome New York to Maine road trip too! And if you want to go with kids check out our tips on New York City With Kids. If you are looking for a romantic getaway check out these romantic hotels in New York State!
Philadelphia, Pennsylvania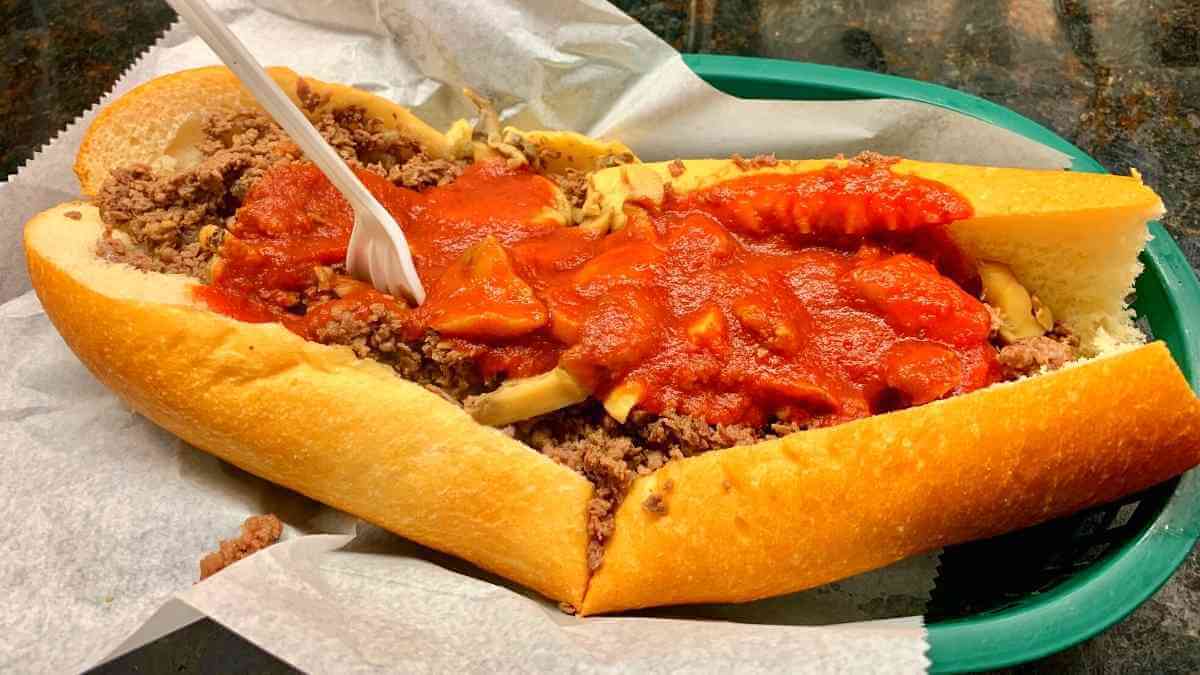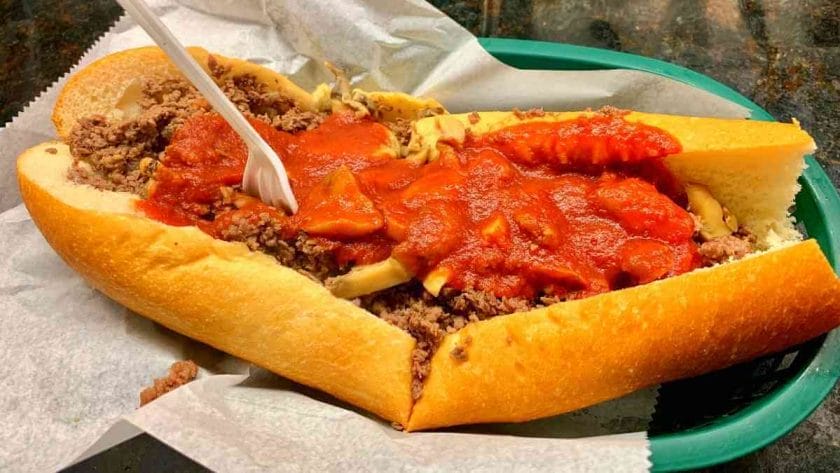 One of the best road trip stops in America is the northeastern city of Philadelphia. The city is full of fascinating history, world class museums and the delicious Philadelphia food scene.
There are so many worthwhile activities to enjoy in Philadelphia, like touring the historical buildings in Old City. Visitors love to explore Independence Hall, the site where Americans signed the Declaration of Independence and debated and signed the American Constitution. It's steps away from other historical attractions like the Liberty Bell and President's Mansion. Nearby you can also visit museums like the Constitution Center and The Museum of the American Revolution.
The Franklin Institute of Science is another favorite museum, especially for visitors with children. Still, the most famous museum in the city is probably The Philadelphia Museum of Art and its famous steps from the movie Rocky.
Philadelphia is also a foodie destination with famous local foods like the cheesesteak, soft pretzel and water ice. These treats alone are worth the stop in the city of Philadelphia. One of the best destinations to try these favorites is Philadelphia's famous food hall, Reading Terminal Market. There you can visit rows of open air food stands and enjoy them in the central dining area.
In the warm weather, visitors can enjoy the food at Spruce Street Harbor Park, a recreational area built on the bank of the Delaware River. It hosts entertainment, food trucks and is one of the most popular places to try the local cuisine and relax along the waterfront. No matter when you visit Philadelphia, it's a must-stop destination with so much to explore.
Shared by: Derek and Mike – Robe Trotting
Shenandoah National Park, Virginia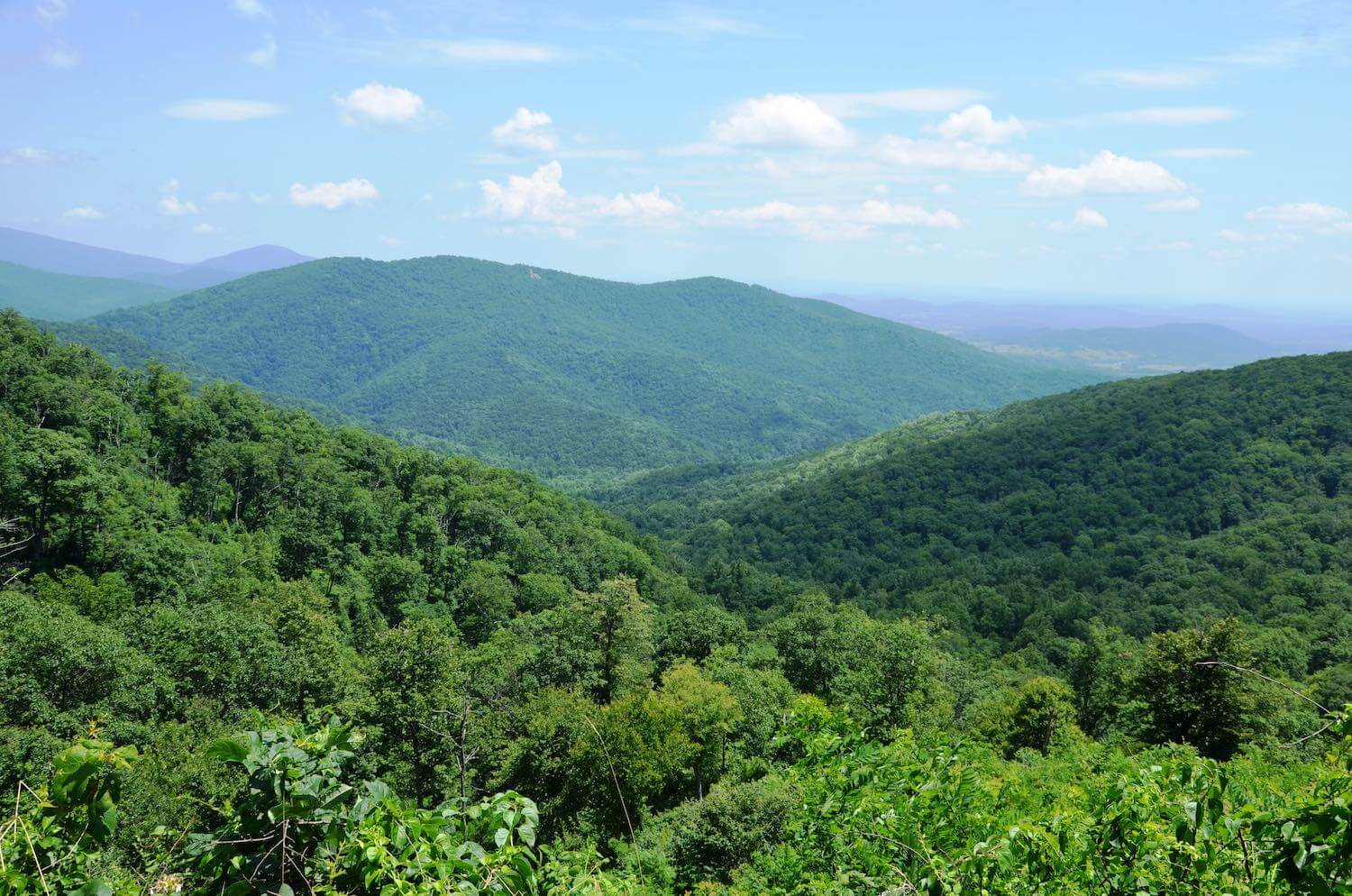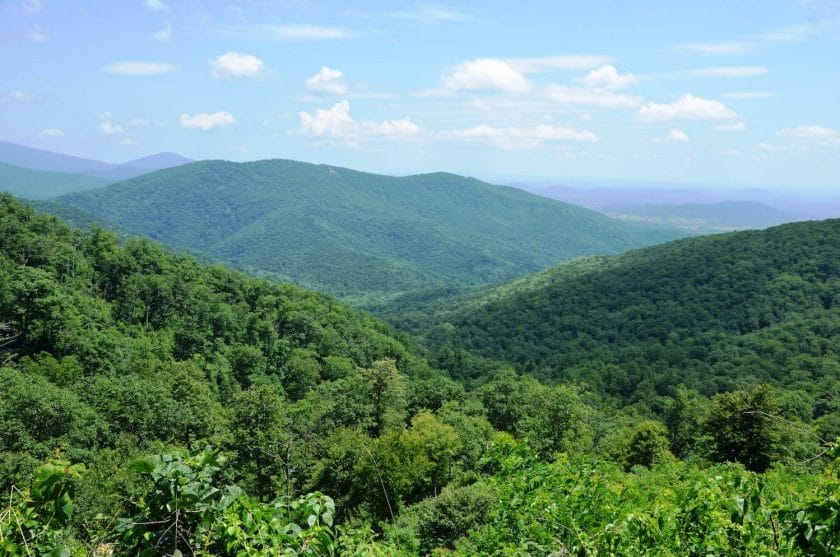 Shenandoah National Park is worth a stop on any road trip across the US. There are beautiful, endless views on the Blue Ridge Mountains and the Shenandoah Valley to admire. Stop for the many waterfalls, the hiking opportunities, both short and longer. The Skyline Drive is easy to include in your trip through the US. Stop to see all the animals in Shenandoah, like the butterflies and maybe a brown beer. When making your trip in the Fall, Shenandoah is perfect for seeing the fall foliage.
When going to Shenandoah National Park the top thing to do is driving the Skyline Drive, it's 105 miles and takes you along all the viewpoints. The views are so mesmerizing, you'll want to stop at every viewpoint there is. The viewpoints are also the starting points for the hikes in the park, another top thing to do in Shenandoah.
There's over 500 miles of marked trails. 20 of the hikes are to the waterfalls in the park. Not to be missed is the Stony ManNature Trail. A 1.6 mile hike to the highest point in the park, the Stony Man's Summit. The most popular hike is the hike to Old Rag Mountain, it's however a hike that will take a day and is not easy.
Come also for night sky watching and stargazing, which is a thing you have to see in the park. The Big Meadows Area and The Amphitheater in the Skyland area are perfect for this.
Shared by Cosette – KarsTravels
You may also want to check out these great off the beaten track destinations in the US!
Colonial Williamsburg, Virginia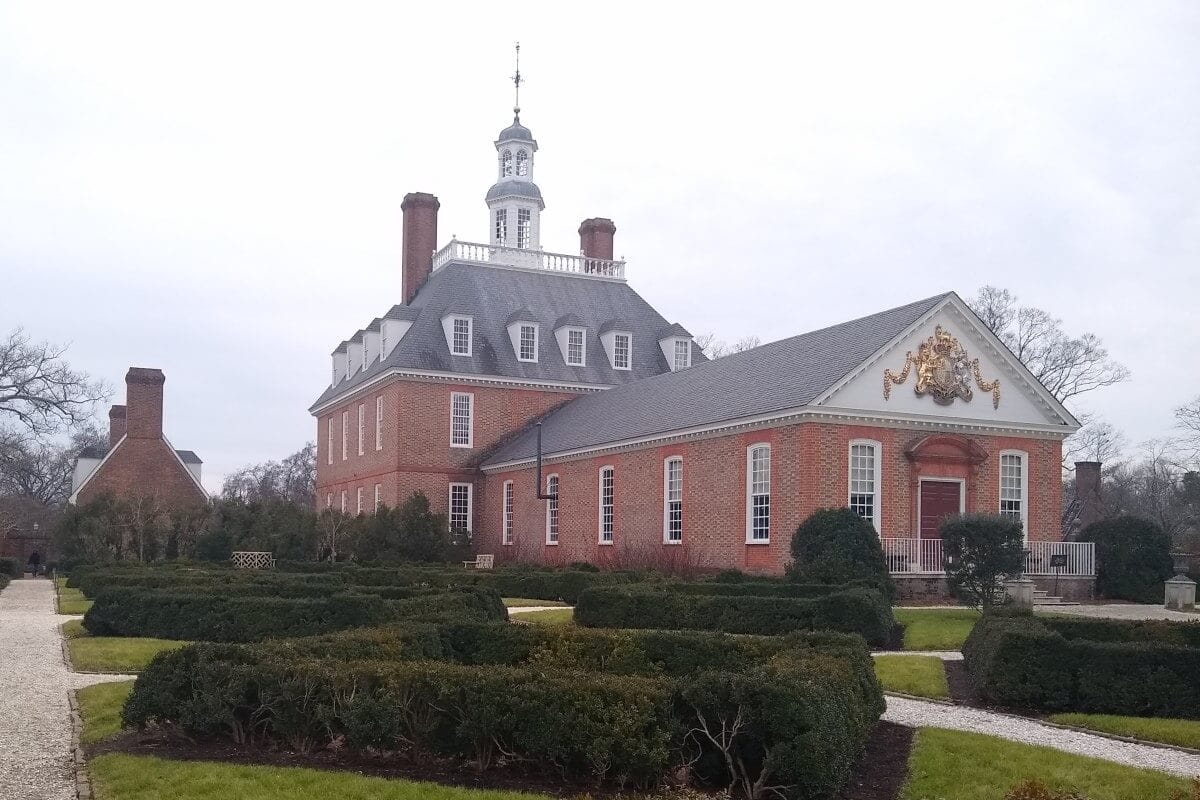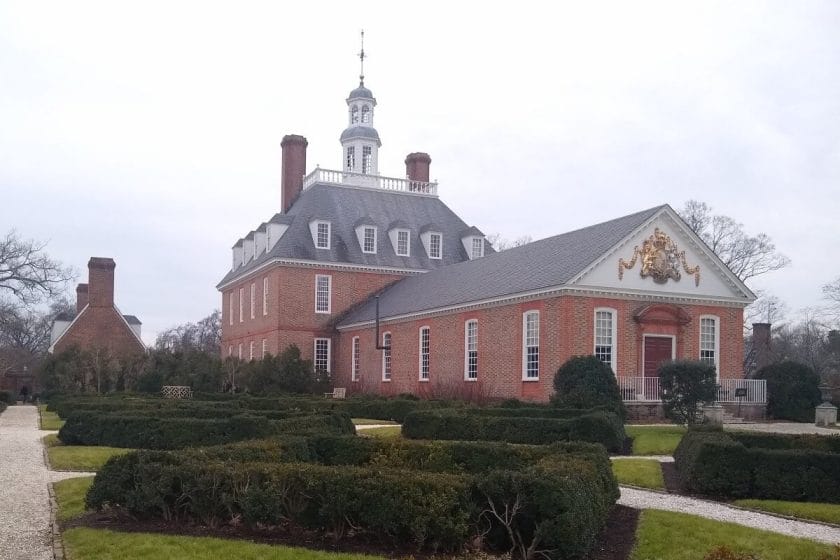 Colonial Williamsburg in Virginia is definitely a must-stop place on a USA road trip. It's the world's largest living history museum as well as being the capital of Virginia from 1699 to 1780. Thanks to the generosity of those who are committed to preserving American history, you can explore the restored and reconstructed historic center of Colonial Williamsburg.
Your Colonial Williamsburg ticket grants you entrance to important and historic buildings like the Governor's mansion and homes of other prominent residents of the town, mostly by guided tour. The excellent guides will not only discuss important features of the buildings, but the background of those who lived there providing important historical and cultural context. In addition, the historic center is full of trade shops where you can talk to historical interpreters about paper making, book binding, ironwork, wig making, sites important to the everyday economy and culture of the town.
Special programs like evening ghost tours, historical re-enactments, and concerts also give visitors a glimpse of what life might have been like there in the 18th century. When considering where to eat at Colonial Williamsburg, plan to treat yourself to at least one dinner at one of the historical taverns like Christiana Campbell's. You'll enjoy a great meal surrounded by history.
Shared by: Darcy Vierow – Plan, Ready, Go
Other fun stops in Virginia:
Things To Do In Charlottesville VA
Charleston, South Carolina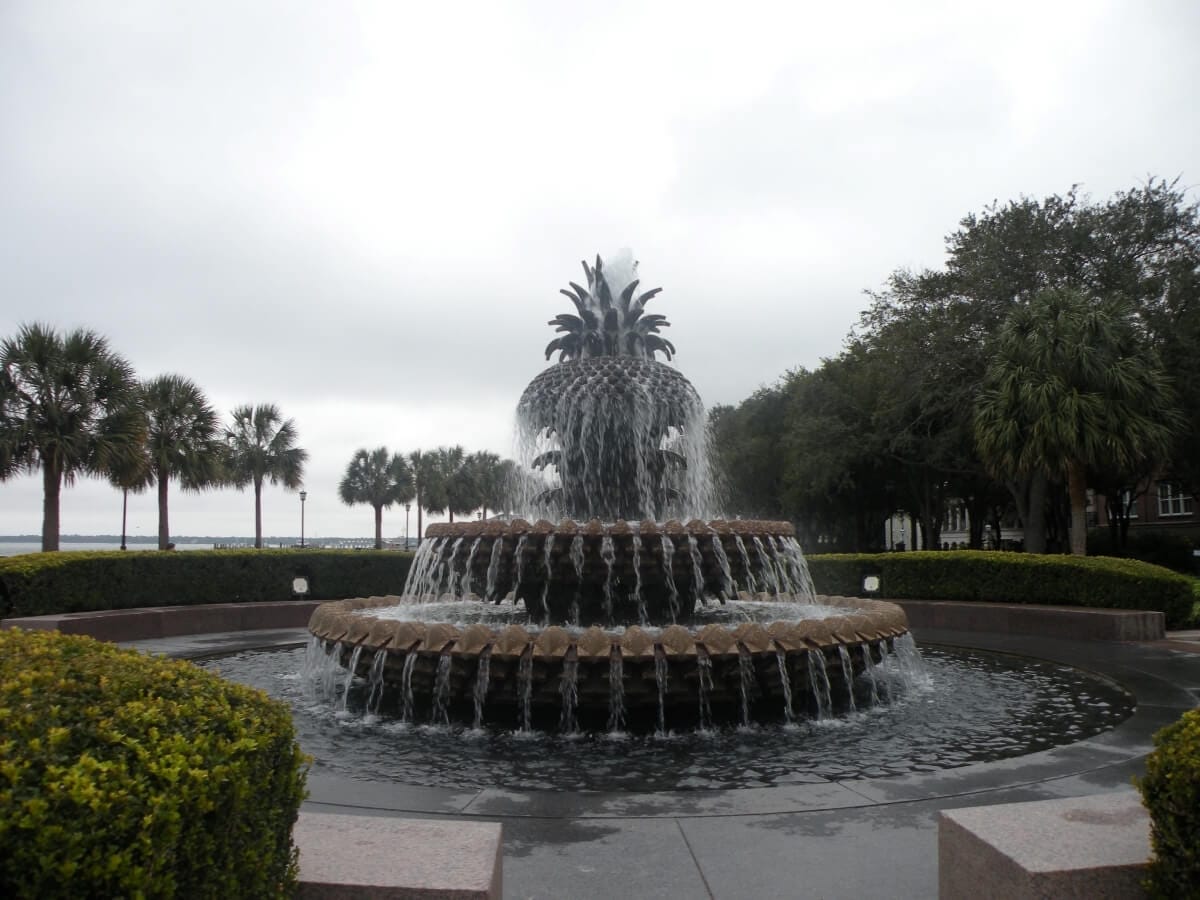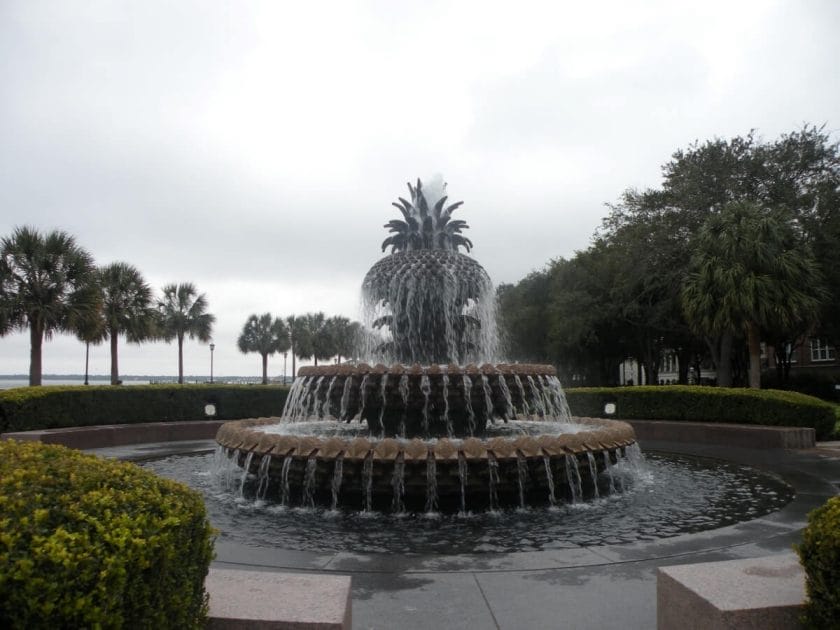 Charleston in South Carolina is a must-stop on any US cross country road trip! Why you may ask?
Well, mostly because Charleston is a super cute and beautiful town where road trippers can easily entertain themselves for a day or two.
A Charleston walking tour is a great way to see some of the city's highlights such as the pineapple fountain, Charleston harbor, the city market, and of course the rainbow houses. These colorful houses make Charleston a very picturesque place to visit. Besides some sightseeing, you can also explore one of the many beaches around Charleston (if the weather permits).
South Carolina may not be most famous for the beaches, but let Charleston try and prove otherwise. Sullivan's Island, Folly Beach, or Isle of Palms Country Park are three beaches that are worth checking out!
After a full day at the beach, you can eat your heart out at one of the many restaurants in Charleston. Some of the all-time favorite restaurants include The Darling Oyster Bar at King Street and The Macintosh a little bit further down the same street.
The last reason why Charleston is an awesome stop for a road trip is because of the great number of delicious breweries that are located there. Head over to Charleston Distilling CO, Highwire Distilling, Palmetto Brewing or one of the many other breweries and find out for yourself what makes Charleston so amazing!
Shared by: Lara – The Best Travel Gifts
Savannah Georgia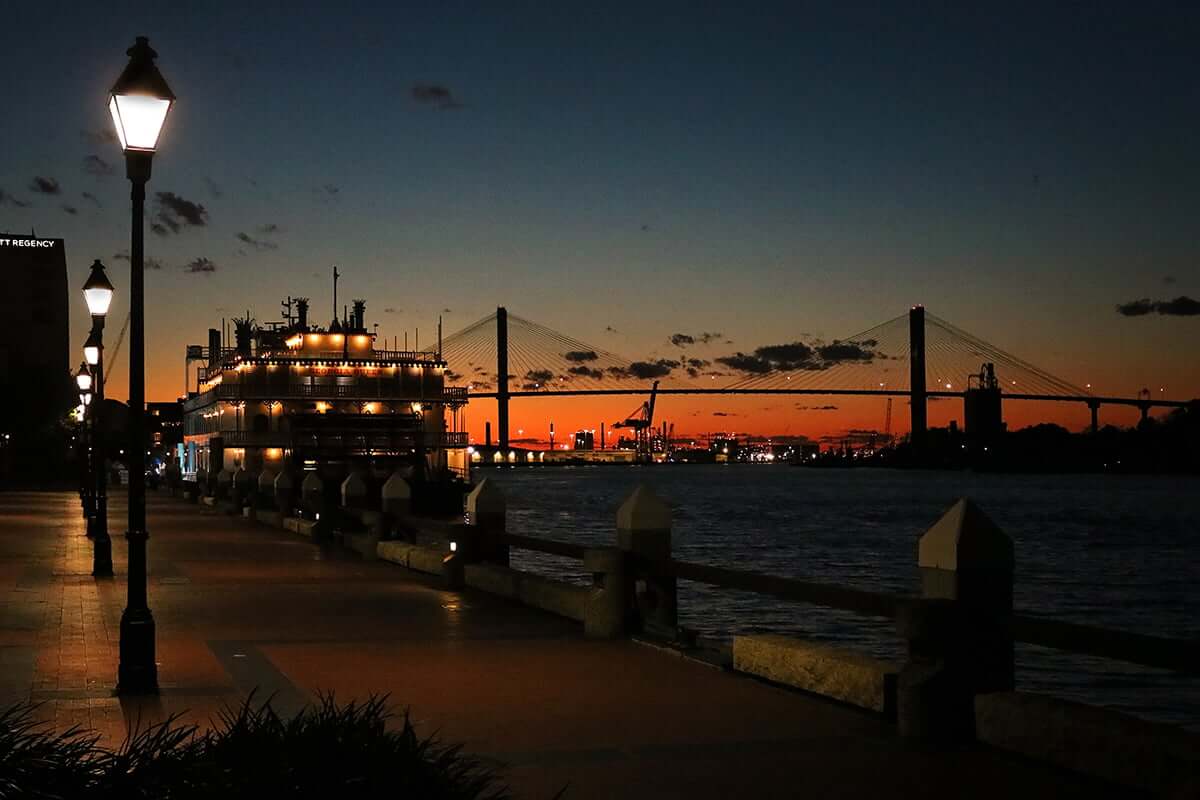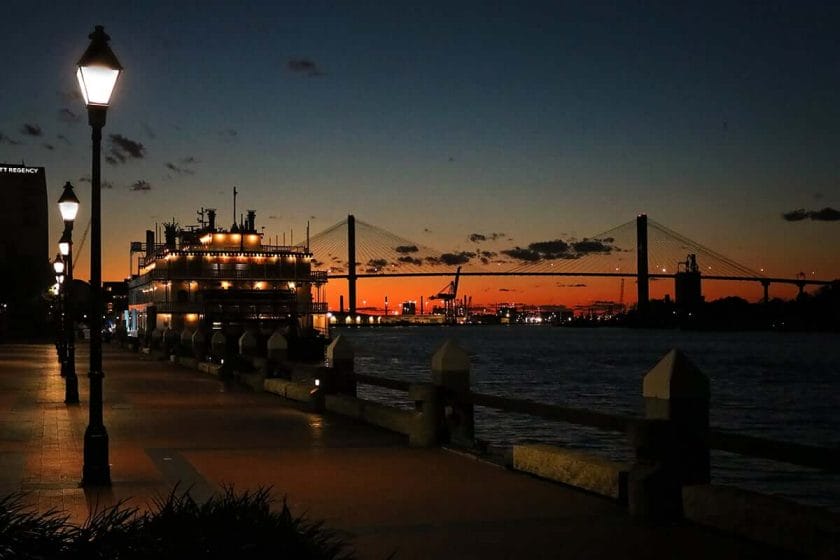 Be careful adding Savannah as a stop on your cross-country road trip; you might not want to leave once you've seen it! People from all over the country visit Savannah to get a peek at its charming squares and picturesque streets – and to sample all of the delicious Southern-style cooking.
First, plan to walk as much as possible! The city looks prettiest on foot where you can appreciate its beautiful details. Begin at River Street and watch the ships sailing into port while sampling some yummy pralines at River Street Sweets, then head to City Market for live entertainment, art, and a giant slice of pizza at Vinnie Van Go Go's. Afterwards, do some shopping along Broughton Street, and then head deeper into the Historic District to visit the squares and stroll along Jones Street. It's known as one of the prettiest streets in America. Make sure you stop by Forsyth Park to see the famous fountain!
If you're in the mood for a fancy dinner, try The Olde Pink House. It's a classic in Savannah and offers fine dining inside a beautiful historic (and reportedly haunted!) mansion. Prefer something more casual? Treylor Park is always a good bet. Finally, wind down your evening with a ghost tour — since Savannah is known as one of the most haunted cities in the US.
Can't-miss sights include the Cathedral of St. John the Baptist, Bonaventure Cemetery, and a tour of the Owens-Thomas House and Slave Quarters or Pin Point Heritage Museum.
Shared by: Erin Clarkson – Savannah First Timer
Universal Studios, Florida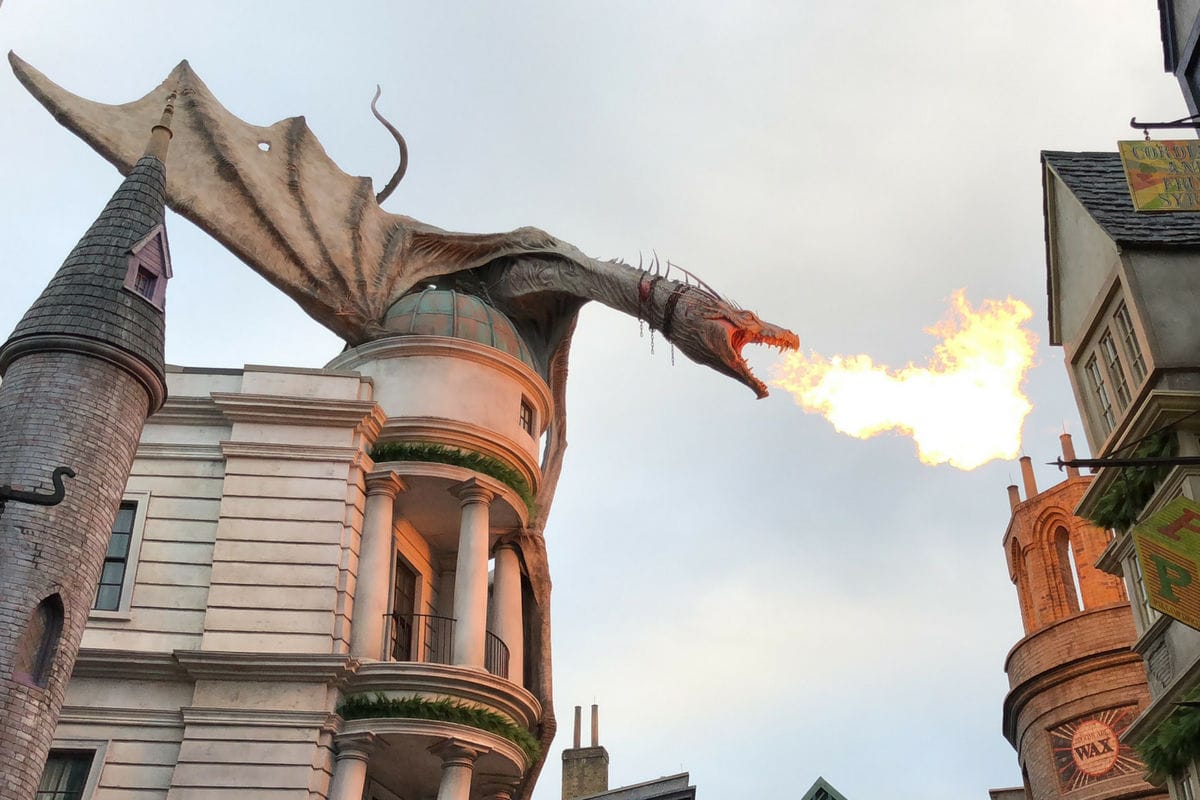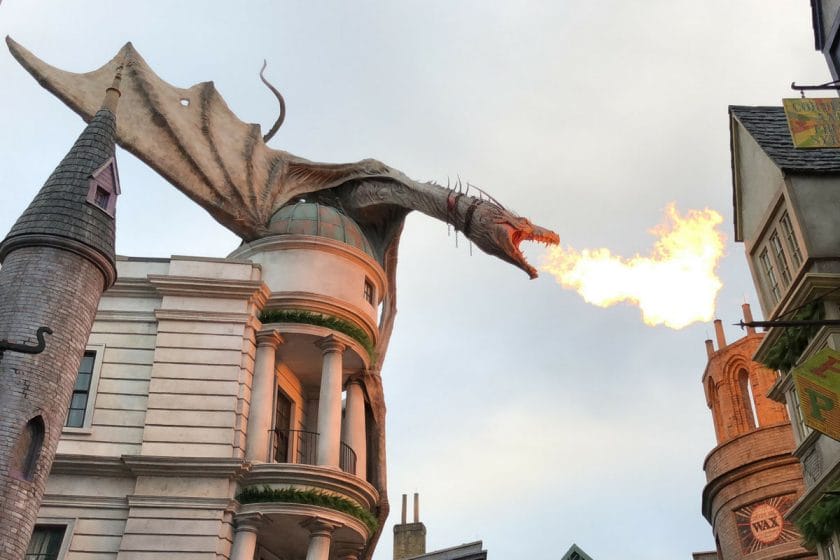 A Cross Country US road trip won't be complete without a stop to Orlando, Florida. Of course you could go to Disney World and if you have never been you should at least make time for Magic Kingdom. But don't spend all your time there! Instead be sure to head over to Universal Studios.
Not sure where to go? Check out this post: Should You Choose Disney World Or Universal.
Our kids much prefer Universal Studios and the kind of rides they have here – with their favorites being the Harry Potter rides. And of course you can't beat visiting Harry Potter world in Universal. It is a truly special places especially if you have read the books and watched the movies.
Make sure to try all the different kinds of butter beer – hot, cold, ice cream they have a lot of options!
Once you are done with Universal Studios you will want to head to Volcano Bay! This is our favorite waterpark in all of the US. You are in the middle of busy Orlando but when you are there you feel like you are on a tropical island filled with fun water rides and an awesome wave pool with a volcano.
There are so many fun activities to do in Orlando!
Between Orlando and the Florida Keys you can make a stop at the gorgeous Marco Island! Check out this post with a great list of things to do in Marco Island.
Florida Keys, Florida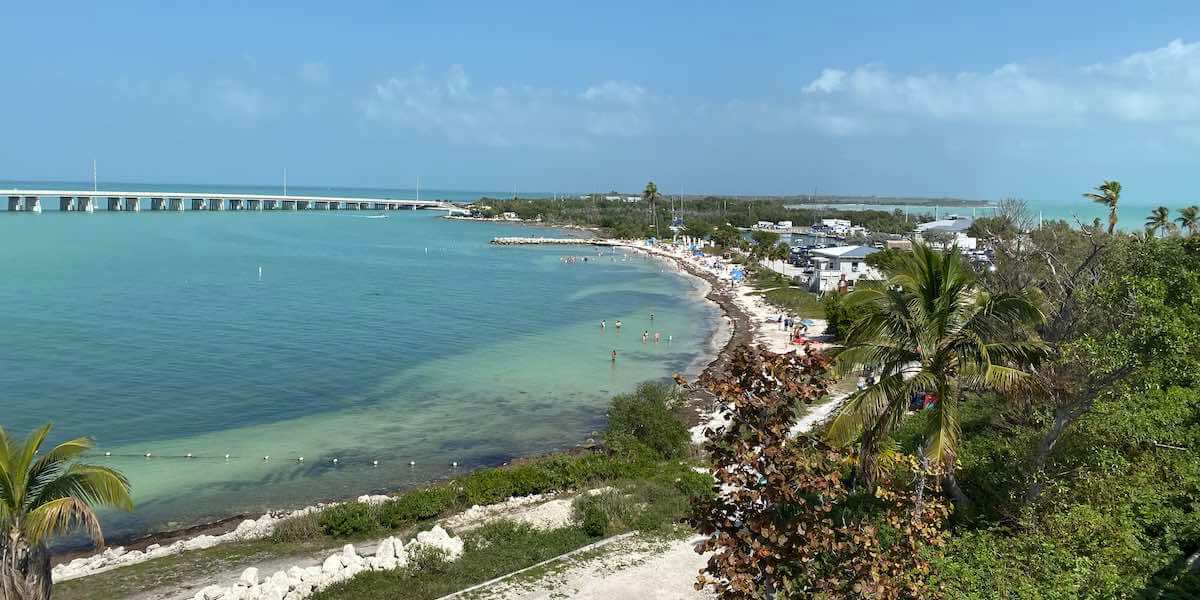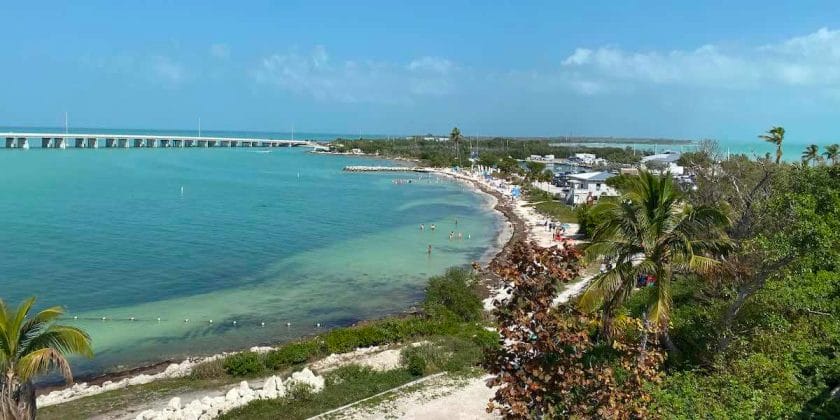 If you are looking for the most tropical place in all of the US then you will want to make the trek down to the Florida Keys. The Florida Keys remain one of our favorite destinations in the US after traveling full time in an RV for over 6 years around the US. We love the tropical feel, the beautiful water and all of the fun things that you can do while you are there.
Most people think of the Florida Keys and only picture Key West. Yes Key West is amazing but there are so many really cool things to do all up and down the Keys. The Keys stretch over 100 miles so plenty of other places to stop and things to do.
We love the middle keys and the fact it is a lot more slower paced and less busy than Key West. Rent a Pontoon, go to the turtle hospital, animal encounters. and more! While on your cross country road trip be sure to set time aside for a Florida Keys road trip. It would also be a great place to try car camping – since the weather is usually so nice.
If getting outside with your family is high on your list be sure to check out these awesome outdoorsy vacations with kids!
Destin, Florida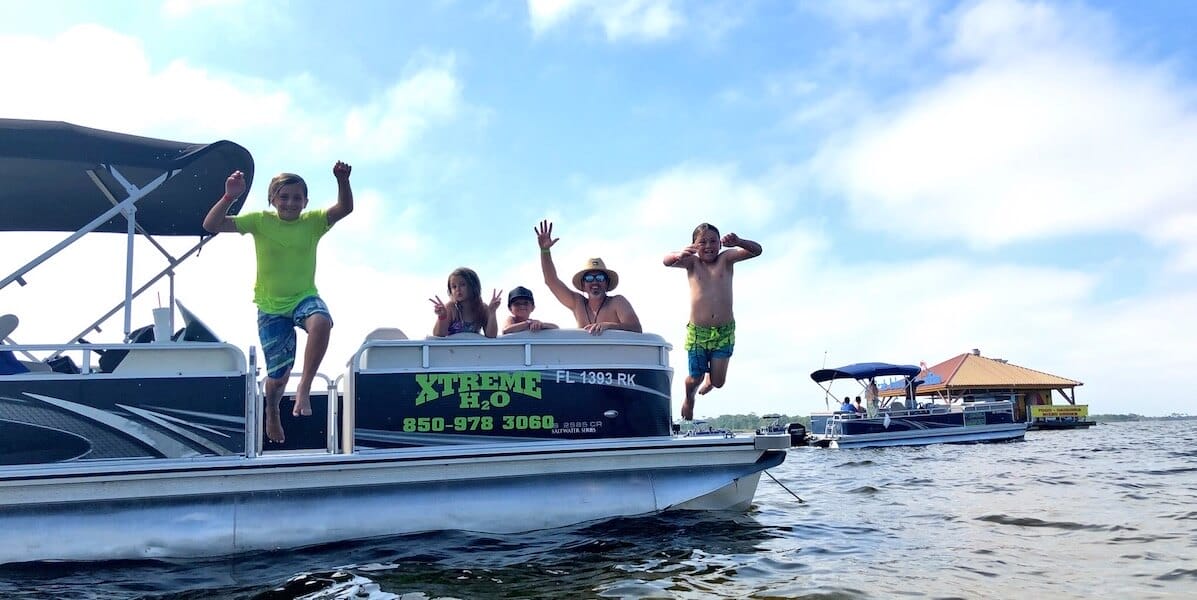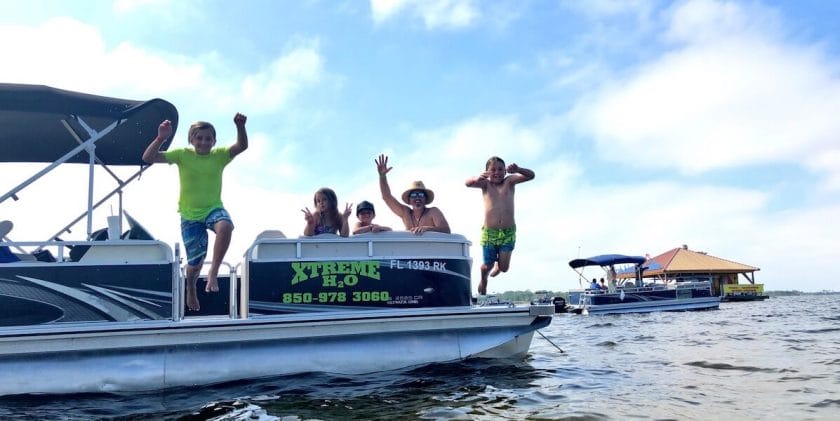 Another of our top destinations in the US is Destin, Florida! You can't beat the white sand beaches and gorgeous aquamarine colored water. We love coming here for a beach break to just kick back relax and hang out on the beach.
That being said we also love all of the fun activities that you can do from fishing to renting a pontoon to Jet Skiing. There are so many options for amazing family fun while you are in Destin, Florida.
We really enjoy camping at Grayton Beach when we are there and visiting the Surf Hut restaurant that is located right on the beach. And you want to be sure you don't miss the beautiful sunset from the beach out over the ocean.
Northern Georgia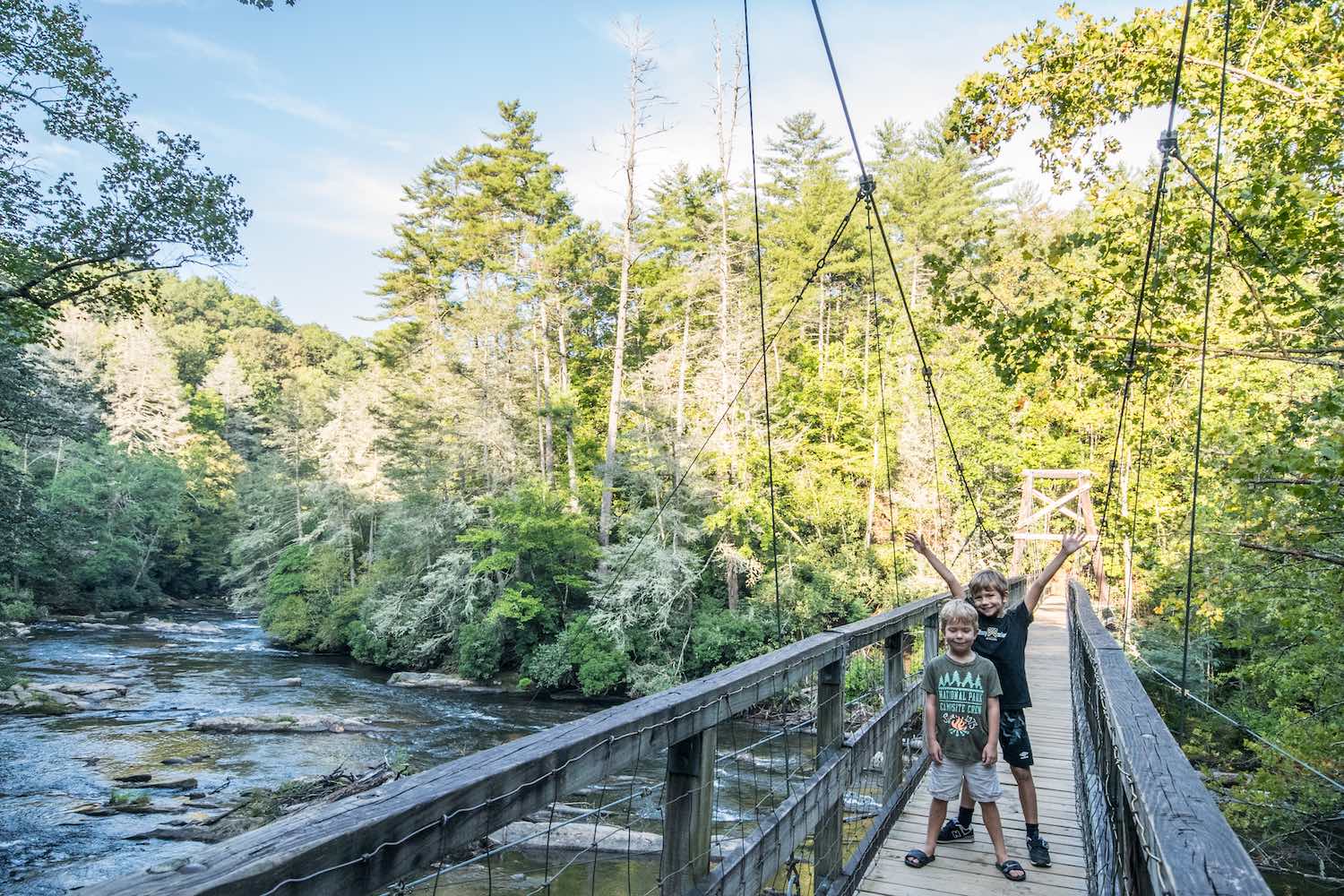 Every US road trip should include the North Georgia Mountains. Take the hike to Springer Mountain in Dahlonega, where the 2,200-mile Appalachian Trail begins. Ride an open-air car on the Blue Ridge Scenic Railway or take a hike on Blue Ridge's swinging bridge- both letting you adventure over the Toccoa River. Visit the Alpine town of Helen, Georgia known for the Bavarian Village, delicious German food and festivals galore.
In Blairsville, take the short walk to Brasstown Bald for sensational 36-degree views at Georgia's tallest point. Want more views? Add a stop at Bell Mountain in Hiawassee for a birds-eye view of Lake Chatuge. Ellijay is home to apple picking, but if you miss an early Fall visit then enjoy their wine trail instead. Finally, the Northeast mountains near Clayton and Rabun County are known for their waterfalls, magnificent trails, and charming small towns.
Shared by: Lesli Peterson – 365 Atlanta Traveler
Louisville, Kentucky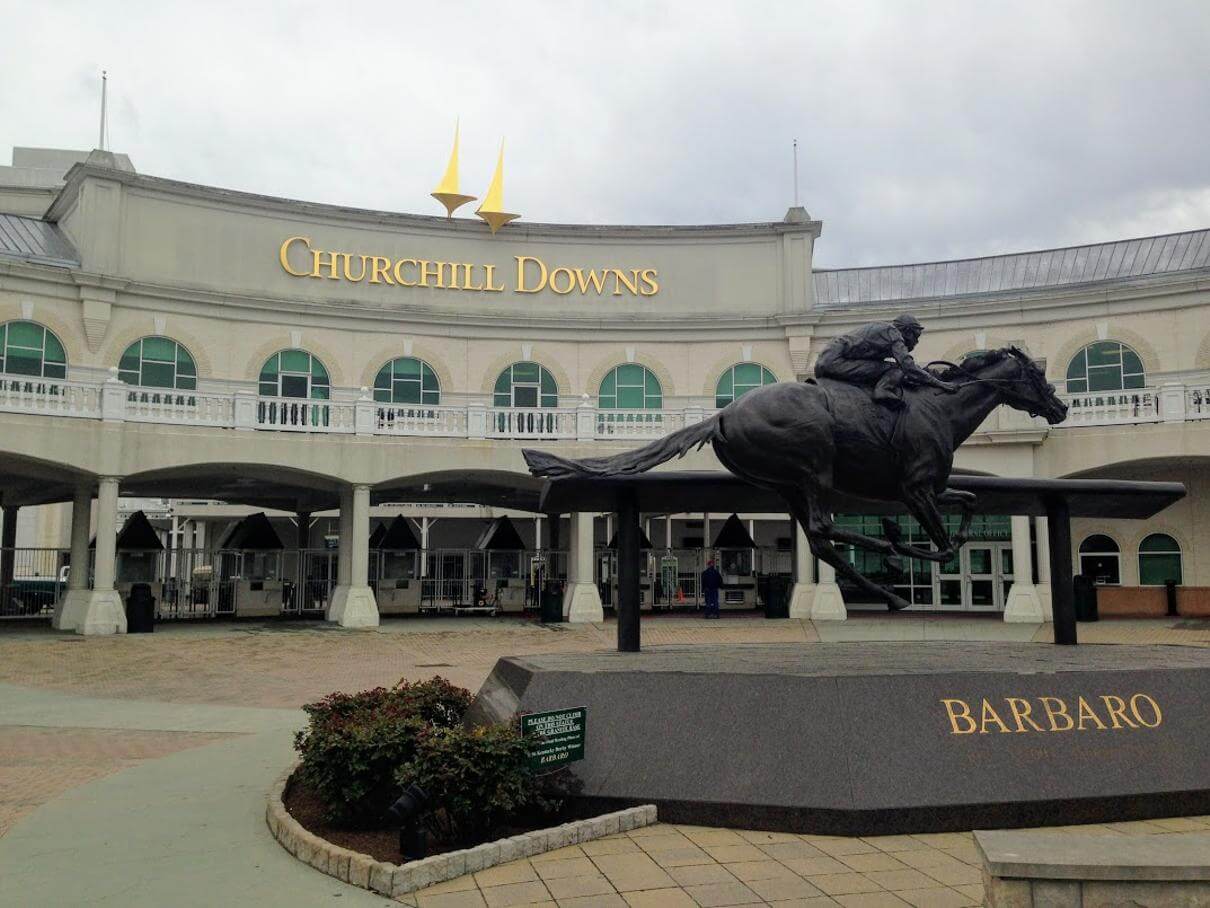 Louisville, Kentucky is one of the most fun cities to visit in the entire United States. But it is especially a dream come true for sports lovers. Start by learning about legendary boxer and Louisville native Muhammad Ali at the Muhammad Ali Center. Next, baseball fans will love visiting the Louisville Slugger Museum and Factory to see how Major League Baseball's favorite bat is manufactured.
But the most famous sports-related landmark in Louisville is Churchill Downs. This hallowed spot is where the most famous horse race in the world, the Kentucky Derby, is run every year. Even when the race isn't on, you can visit the Kentucky Derby Museum.
But Louisville isn't just for sports fans. Art lovers will adore the amazing collection at the Speed Art Museum. Bourbon fans will want to learn about how the famous American spirit is made at the Evan Williams Bourbon Experience. Or for a more low-key activity, wander around the Old Louisville neighborhood and admire the Victorian homes. You might even spot Louisville's famous Witches' Tree in this area.
Louisville is famous for several delicious and decadent foods. The most famous is probably the Hot Brown sandwich served at the Brown Hotel. It's an indulgent warm, open-faced turkey sandwich slathered with bacon and rich Mornay sauce. And don't miss the chance to try a yummy slice of chocolate and walnut Derby pie when you visit the Kentucky Derby Museum at Churchill Downs.
Shared by: Stella Jane – Around the World in 24 Hours
Milwaukee, Wisconsin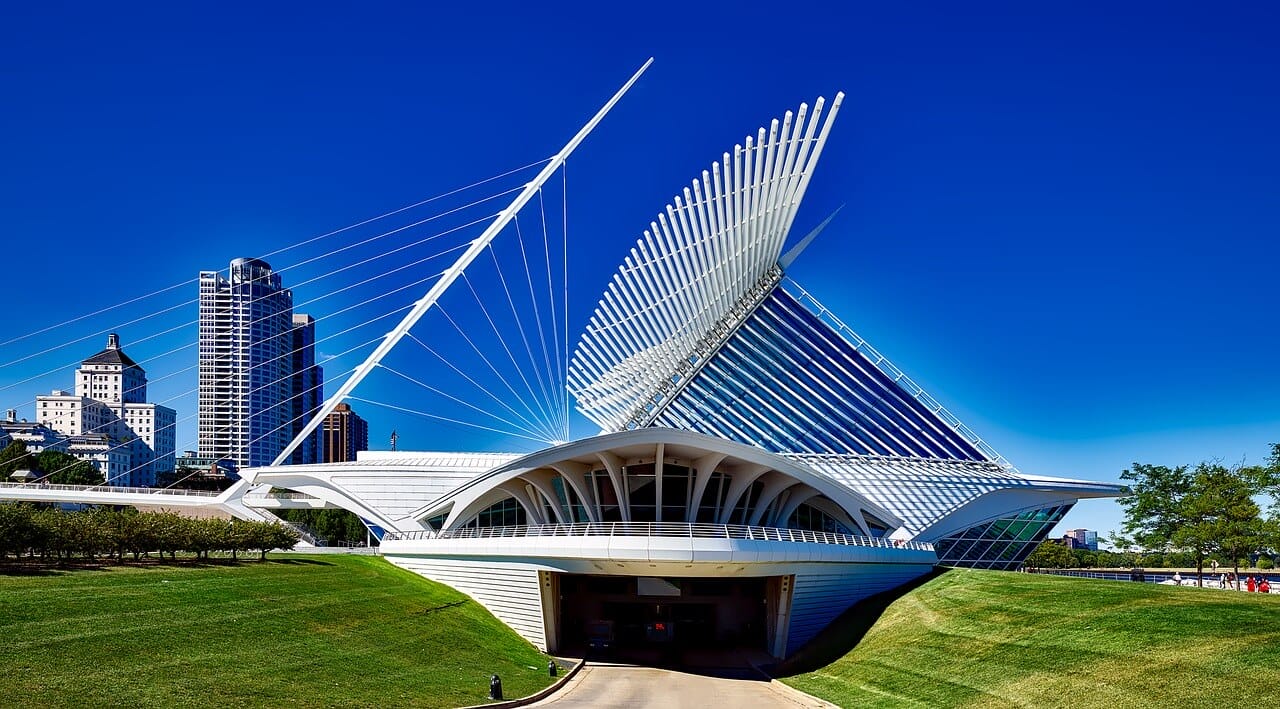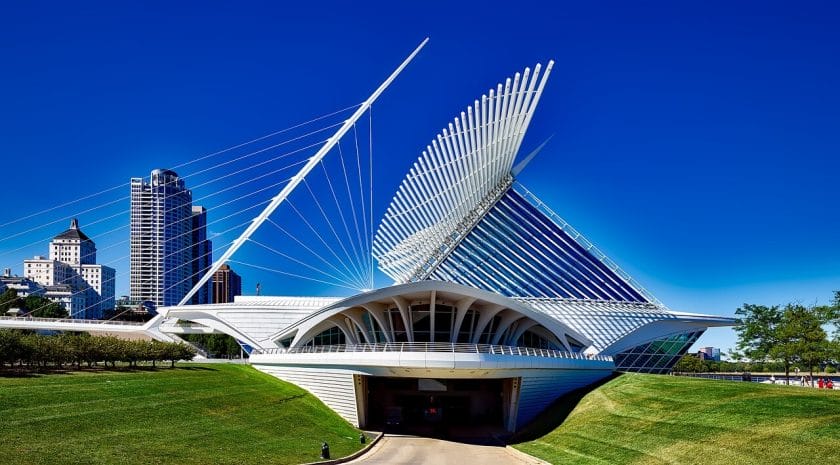 While taking a trip across the US, Milwaukee, Wisconsin is a place you must visit. Situated on Lake Michigan's western shore, it is famous for its breweries and cheese. Even if there's no other reason left to visit the city, you should stop here for the beer. If you are a beer fan, Milwaukee will not disappoint you. The city has beer stores on every third step. One of the reasons why tourists come and stop at this place to buy and taste the breweries.
It is great for a family vacation as there are a lot of things you can do. Start your trip by treating your taste buds to the city's famous dishes. Milwaukee is famous for its beer, no doubt, but you will find a lot of eateries around the corners of the city's street. There are vegetarian, vegan-friendly, as well as non-vegetarian restaurants. One of your must-visit stops should be Centro Cafe that offers rustic Italian food.
After filling your stomach, there are places you must visit. Visit the Public Museum which is the home to world history. Explore some amazing scientific innovations and collections from zoology to photography. Visit the Harley-Davidson Museum to witness one-of-a-kind objects including the very first Harley-Davidson bike.
The city has a lot more to offer from its history to great food. If you have a pet as your company, find the best pet-friendly cabins in Wisconsin and enjoy the sites with your furry friend.
Shared by: Paulina – Paulina On The Road
Black Hills, South Dakota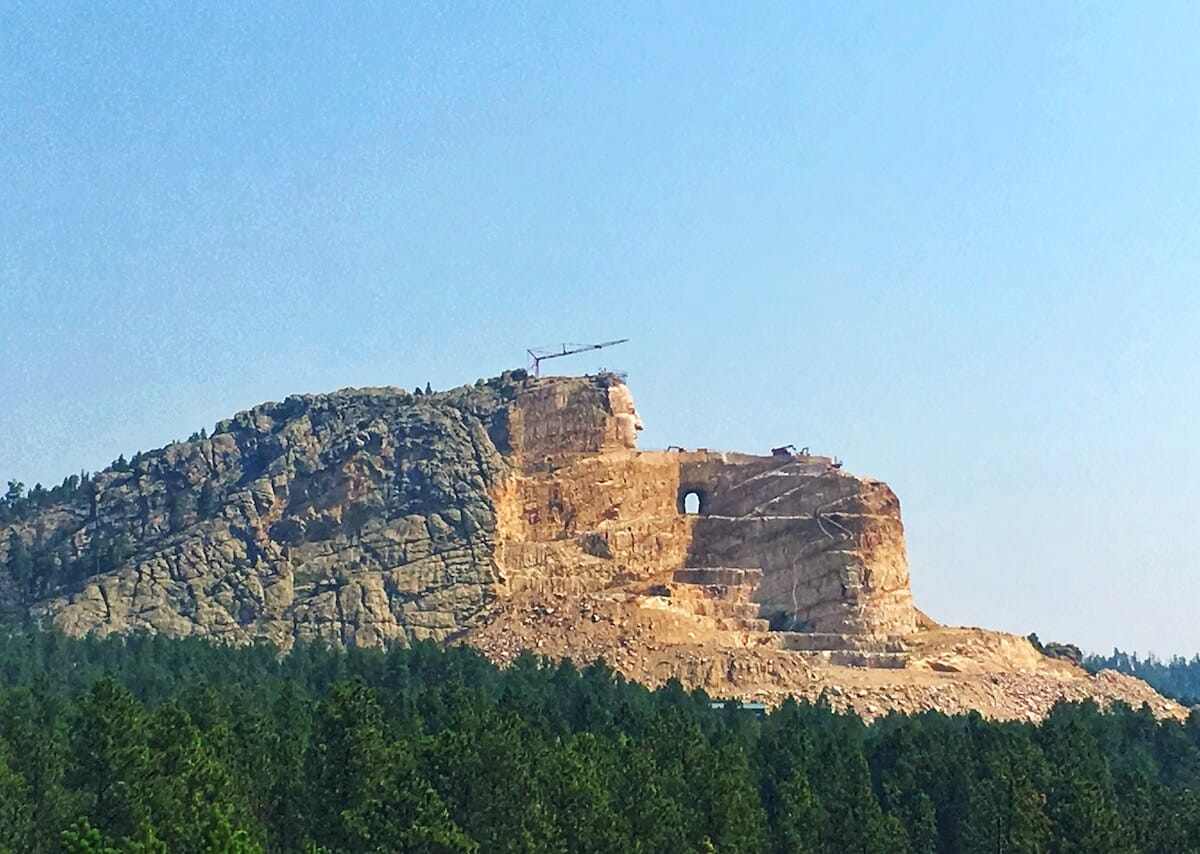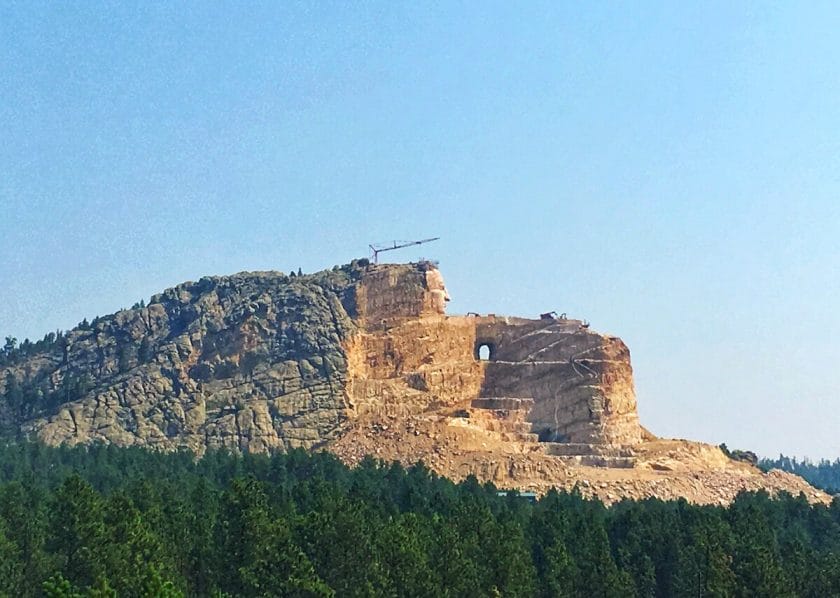 Any cross-country U.S. road trip should include a stop in the Black Hills of South Dakota. In addition to over 8000 square miles of natural beauty, these hills host some of our nation's most iconic monuments and parks.
Located right off of interstate 90, the Black Hills are easily accessible. Most people know this area because of Mount Rushmore, which is a must-see, but there is much more to see and do here. Half an hour away from Mount Rushmore is the Crazy Horse Memorial. This monument, also carved into the mountains, is still in progress and it's awesome to watch the work being done. There is a Native American museum at the memorial and they often hold live performances.
Just south of Mount Rushmore is Custer State Park. There's camping, hiking, kayaking and more at this sprawling park. Travelers who are short on time can take one of the scenic drives to see giant herds of buffalo and adorable prairie dog towns.
On the north end of the Black Hills lies Spearfish Canyon. The winding road that runs along the river reveals lush canyon walls. Bring a picnic, take a hike to one of the many waterfalls and just enjoy the natural wonder.
Lastly, a visit to the Black Hills wouldn't be complete without a visit to the historic town of Deadwood. Step back in time while you lounge at a saloon, take an historic home tour or visit the gravesites of Wild Bill Hickok and Calamity Jane!
Shared by: Julie Espinosa – Family Travel Lifestyle
Another great location in South Dakota is Wind Cave National Park.
Yellowstone National Park, Wyoming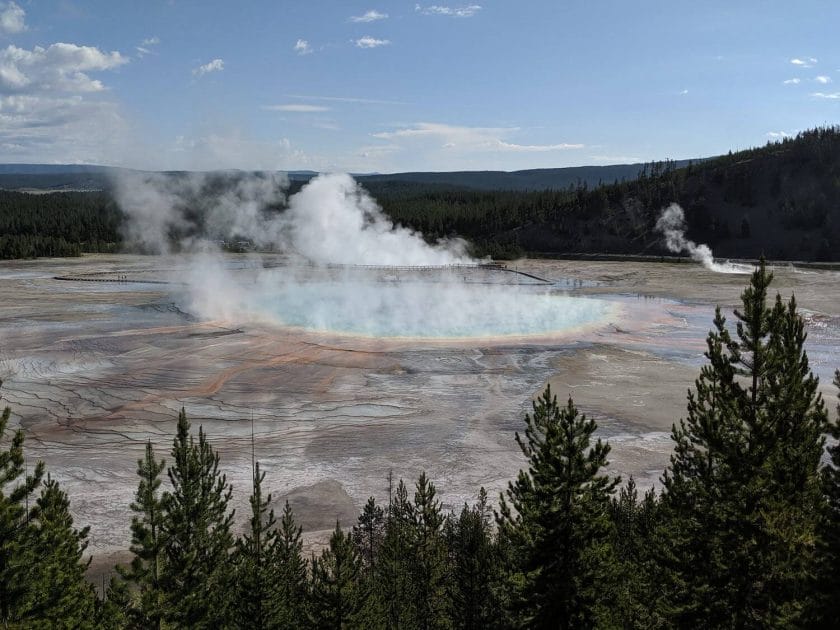 Yellowstone National Park is a must-see; this huge US National Park is home to some of the most thrilling natural sights in the country! It is so large that it covers three different states: Idaho, Montana, and Wyoming (which houses the bulk of the park). First time visitors are often surprised to learn that it can take hours to drive just within the park between the distance, crowds, and bison traffic jams so it's important to have mapped out the highlights you're planning to hit.
While you're driving, be sure to keep an eye out along the roads for wildlife. Often called the "serengeti of the west", Lamar Valley is famous for its wolves, bison, coyotes, and grizzly bears. If there is a crowd of cars pulled over, it's a good sign to join them and ask what's been spotted.
Old Faithful is the most famous geyser among the over 10,000 thermal features within the park, stop by for one of the predicted eruptions and then browse the dedicated visitor center nearby to learn more about this geological wonder. The photogenic Grand Prismatic Spring is also nearby, where visitors can walk on a boardwalk within inches of the thermal pool's vivid hues.
Visitors also can't miss the roaring Yellowstone Falls from one of the famous overlooks, as the most stunning waterfall inside the park. Wrap up your days in one of the gateway cities that have plenty of delicious restaurants, ice cream shops, and spots to unwind after the natural thrills!
Read more Yellowstone National Park Tips here!
Shared by: Stephanie – Explore More Clean Less
Bozeman, Montana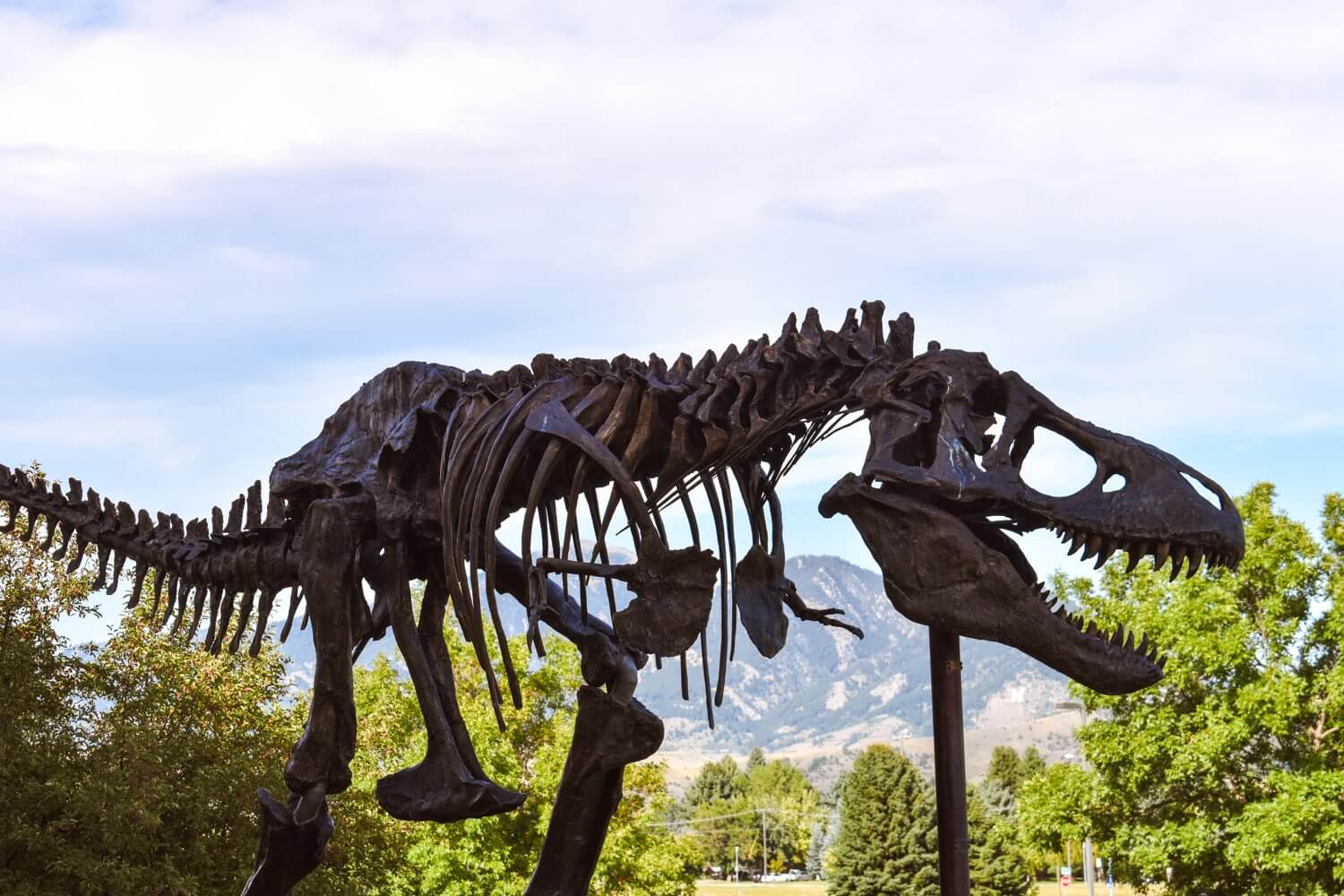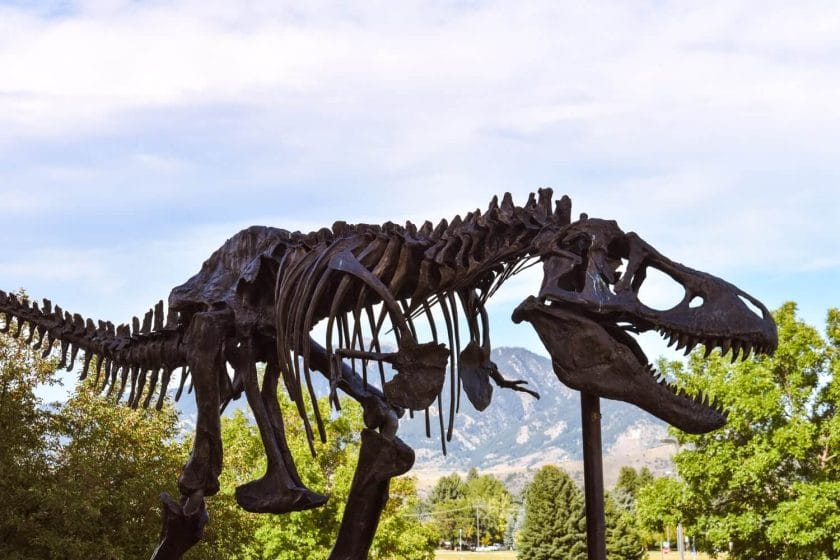 Beautiful Bozeman is one of the jewels of Montana; it balances both powerful and sprawling nature with a dynamic city center and cultural institutions. This dichotomy makes it well worth a stop on any road trip going through Montana.
Bozeman is situated in the Gallatin Valley and framed by the peaks of the Absaroka, Bridger, Madison, and Gallatin mountain ranges. The ski runs of two of Montana's best ski resorts, Bridger Bowl and Big Sky Resort, are within easy driving distance. The natural surroundings aren't just prone to world-class skiing; you'll also find excellent hiking at Hyalite Canyon Recreation Area and kayaking and rafting adventures waiting to be had along the Madison and Gallatin Rivers.
Moving closer to the center of the city, you'll find downtown Bozeman as well as Montana State University. The latter helps run the esteemed Museum of the Rockies, which is a museum that can't be missed while in Bozeman. It is easily one of the top things to do in Bozeman thanks to its incredible collection of dinosaur bones, many of which were found right in Montana. After a day exploring the museums or having adventures in the wild land surrounding Bozeman, head downtown for a pint at one of Bozeman's excellent breweries or to enjoy some farm to table cuisine.
Shared by: Gina – Travel Montana Now
Glacier National Park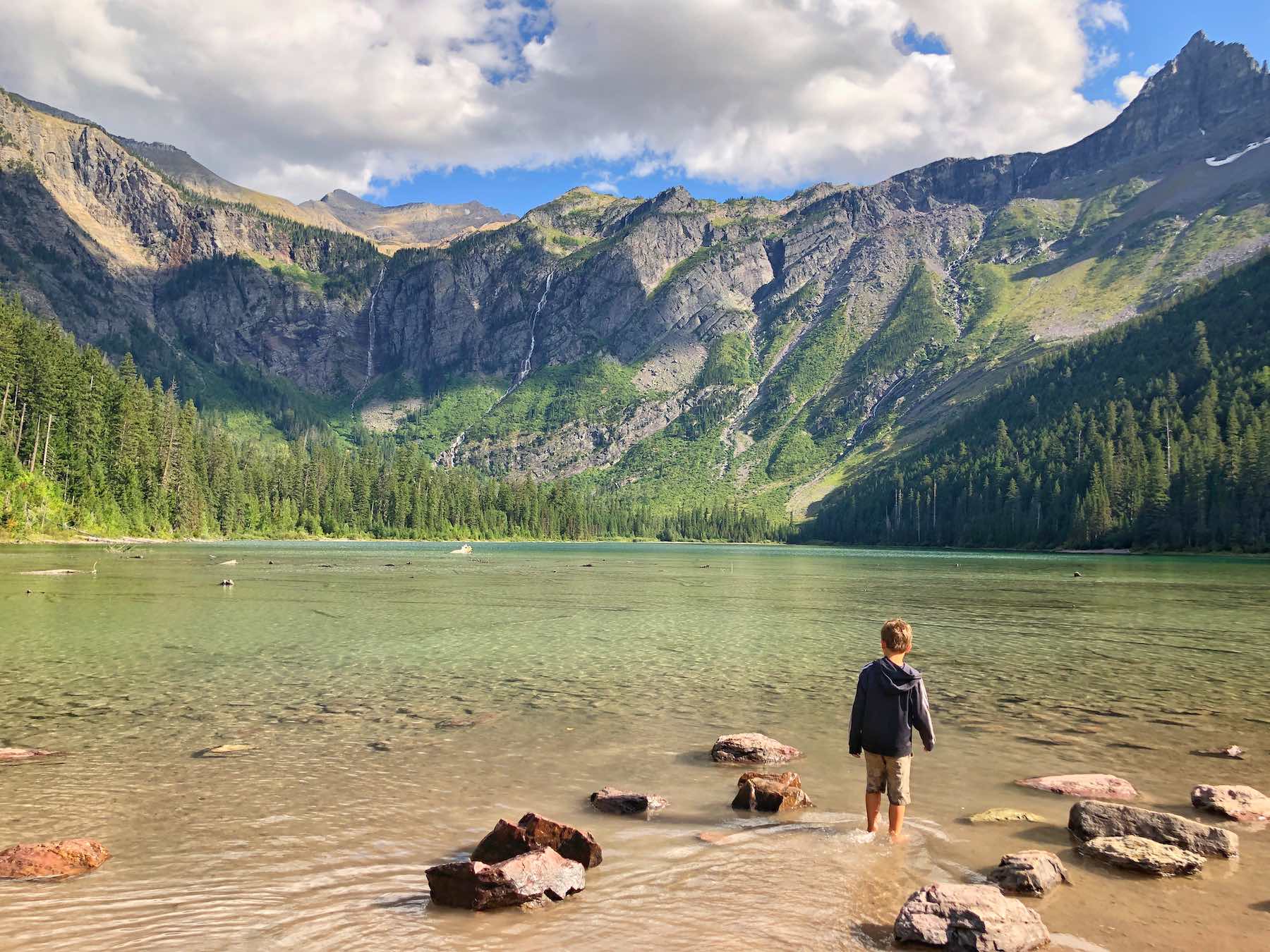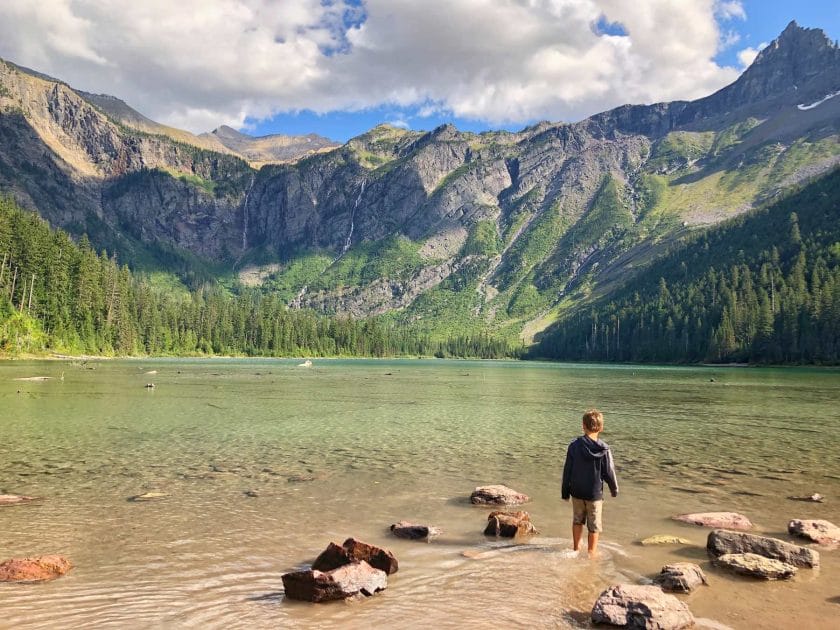 You can't have a list of places to visit in the US without having Glacier National Park! This place is unbelievably beautiful. From the glacial lakes to the mountains at every turn you are awe-struck by the beauty.
There are a few must do things like visiting Lake McDonald and driving the Going To The Sun Road. But some of our favorites are more of the off the beaten path things. Like visiting Polebridge Mercantile or the Many Glacier section of the park.
Our favorite hikes in Glacier are Grinnell Glacier where we say ice bergs floating in the lake at the top and Avalanche Lake with its mountain lake and greenery surrounding it. Glacier is a place that is best to visit in late July, August or early September. This time of year gives you the best chance to really see everything it has to offer.
The Going To The Sun Road doesn't even open until mid July sometimes and you want to do that when you are here. If you are questioning making the drive this far north don't. Just do it! You will be glad you did!
Check out our post on Unique Montana Airbnbs you will want to stay in on your trip.
Mount Rainier, Washington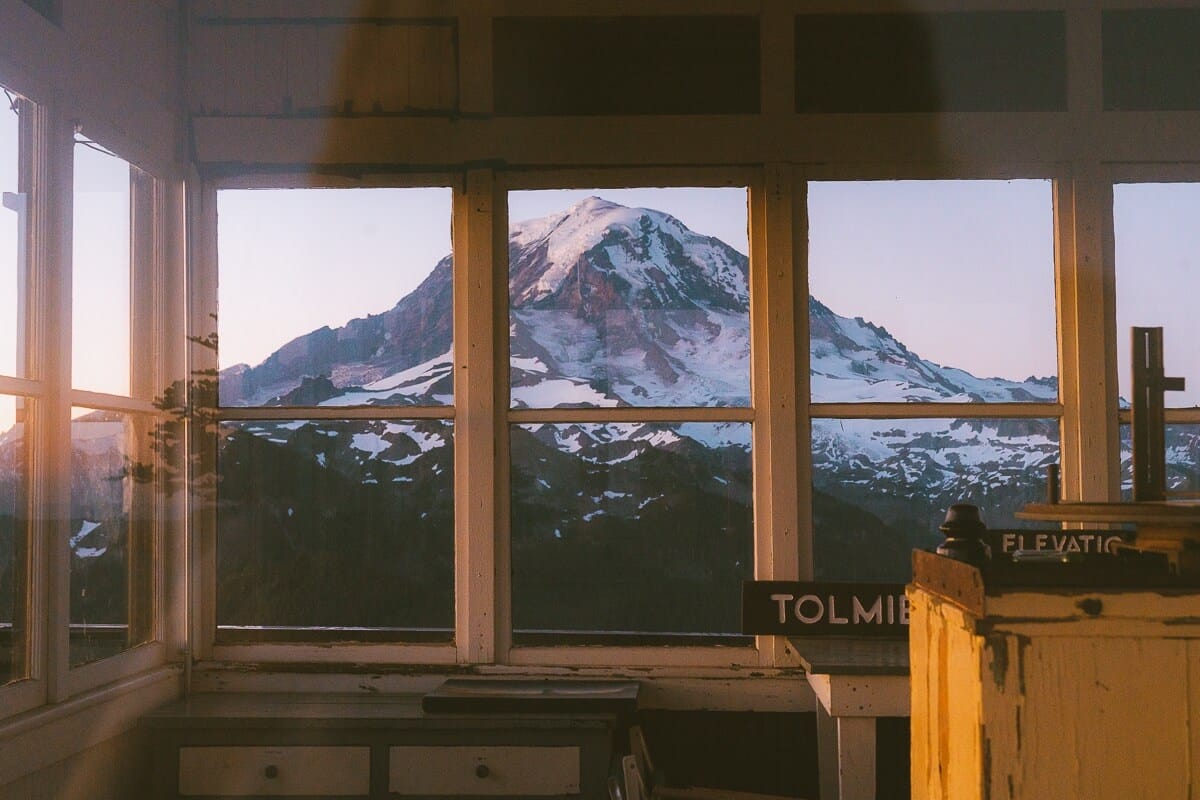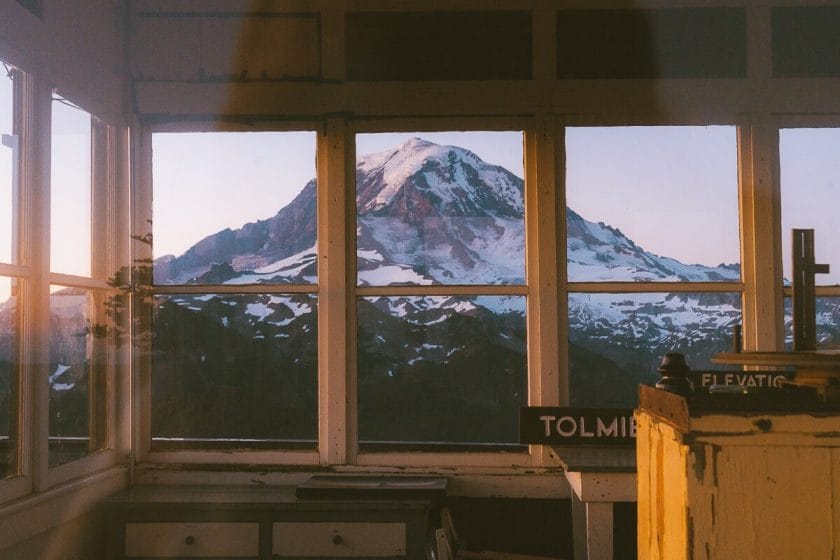 One of the best places to stop during a road trip through Washington State is Mount Rainier, National Park. This park has mountains galore, lakes, waterfalls, and old grove trees. It is a beautiful park with so much to see.
One of the best things to do is to stop by the Paradise visitor center to do the skyline trail. Even if you are not a hiker, you need to experience this area. Mount Rainier looks stunning, and there is a waterfall called Marymere Falls. The hike is moderate and has fantastic views throughout. If the weather is iffy, Comet Falls hike is a great place to experience a gargantuan waterfall. It is one of the best waterfalls in Washington State and is worth the 3.8-mile trek.
There are also multiple fire lookouts in Mount Rainier National Park. Fremont lookout is probably the most popular lookout, followed by Tolmie Peak. You have to hike to get to either of the lookouts, but the effort is well worth it. Many people do these hike for sunset and are sometimes rewarded with a stunning cloud inversion. No matter what you do at this national park, you will fall in love with its natural beauty.
Shared by: Michelle – The Wandering Queen
Oregon Coast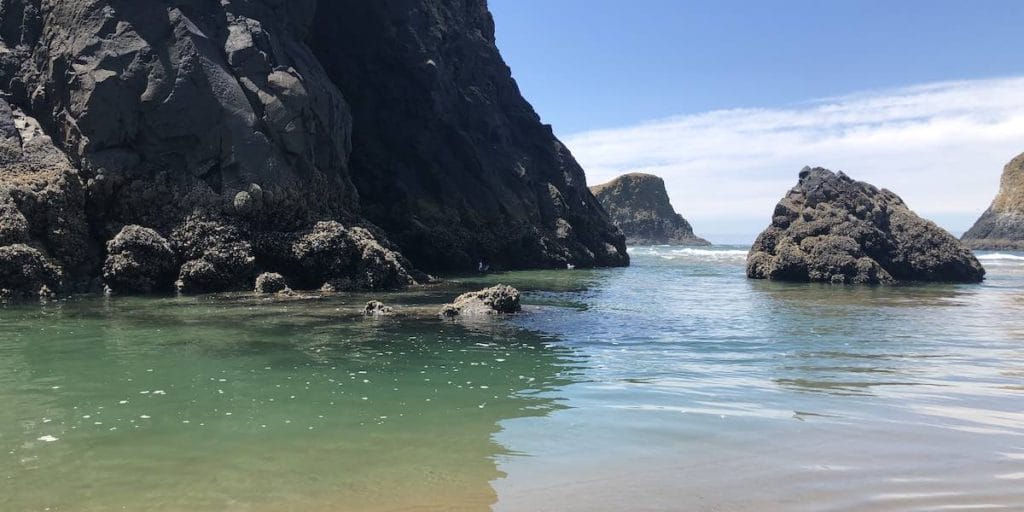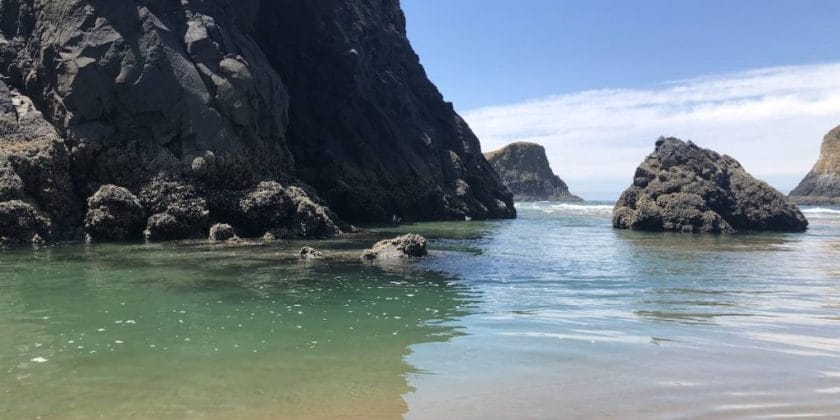 The Oregon coast is a magical and unique place. There is so much lush green in Oregon. With the green contrasting with the ocean cliffs and water it is a sight to see.
There are jet boat rides to take and sand dunes to 4 wheel on. Plus hours of tide pooling and amazing hiking. Oregon really is a nature lovers paradise. If possible make multiple stops along the coast. And don't miss Cannon beach and Astoria – where they filmed Goonies.
The Oregon coast is a unique place and definitely somewhere that has you thinking waterfalls, lush green forests and fairies. If fairies exist they are in Oregon!
Lake Tahoe, Nevada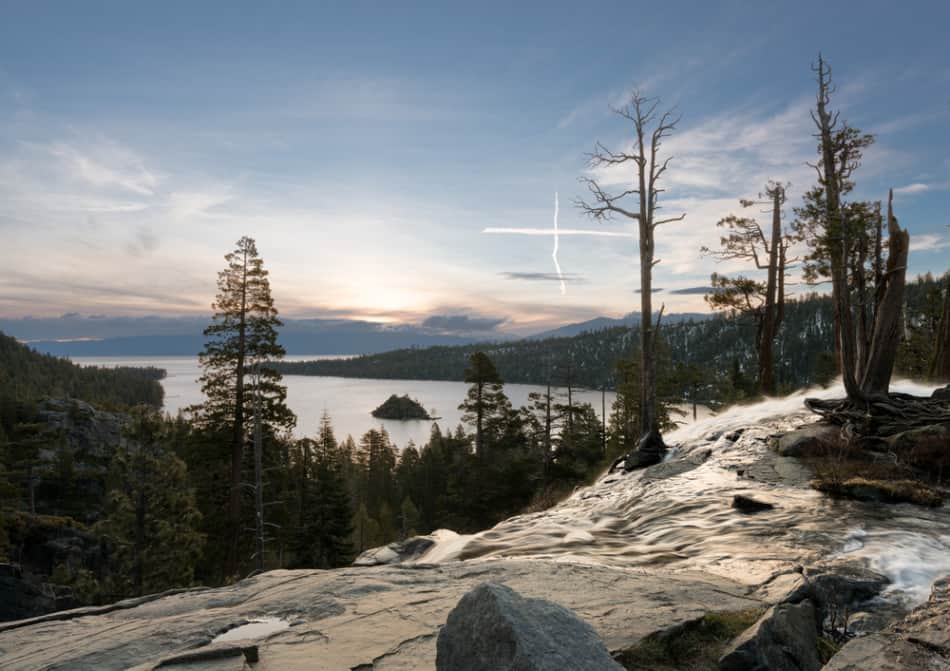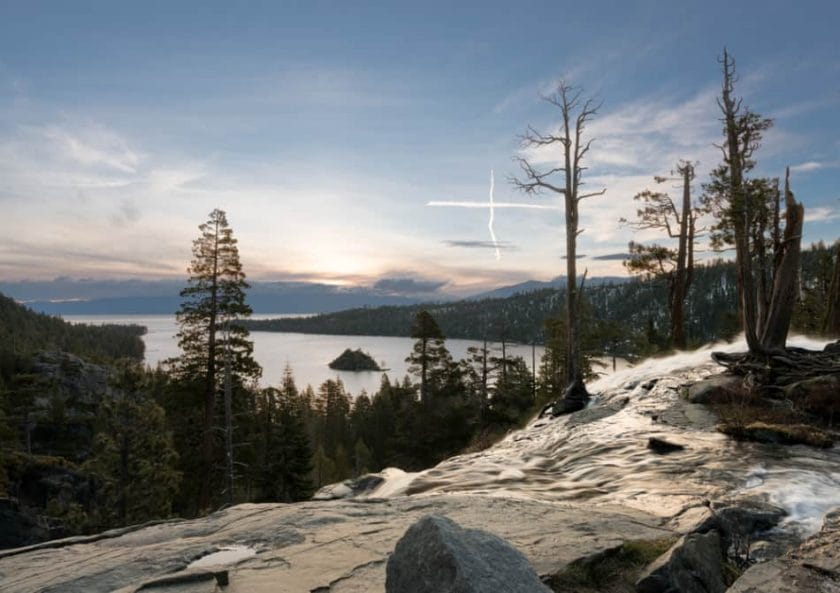 Lake Tahoe is a great place to visit all year round. Whether you are heading there in the winter for skiing or you want to spend the summer playing water sports and hiking – Lake Tahoe has something for everyone.
Lake Tahoe is the largest alpine lake and it straddles both California and Nevada. It sits in a basin at over 6,000 feet surrounded by the Sierra Mountains. The views around the lake are stunning.
One of the best things to do around Lake Tahoe is to go hiking. If you are looking for a short, scenic hike why not try the Vikingsholm Trail. This trail is only 3.2 miles long and ends in Emerald Bay. From the start you have amazing views of Emerald Bay the whole way down. Just remember you have to get back up again!
In the summer, you can take a scenic gondola ride up to the Heavenly Mountain for epic views. The gondola ride is 2.4 miles long to the Observation Deck where you can have panoramic views of Lake Tahoe. You can also check out the cafe there.
Lastly, why not take a scenic drive around the lake. It takes about an hour to drive from North Lake Tahoe to South Lake Tahoe. You will notice quite a difference in the North where it is more serene and the South which is more popular. Either way the scenery is gorgeous and you can see the Sugar Pines and White Firs.
Shared by: Nicole – American SW Obsessed
Another fun place to visit in Nevada is the Great Basin National Park.
San Francisco, California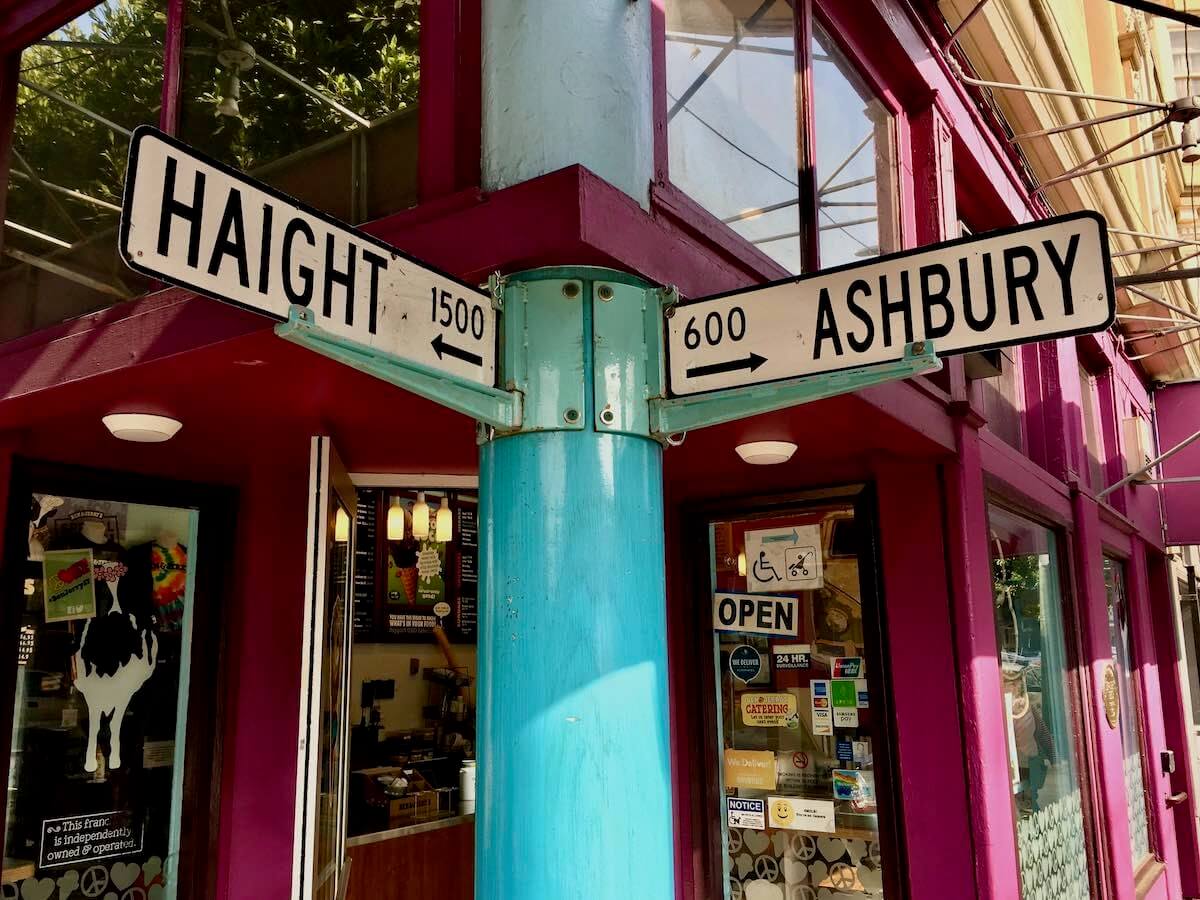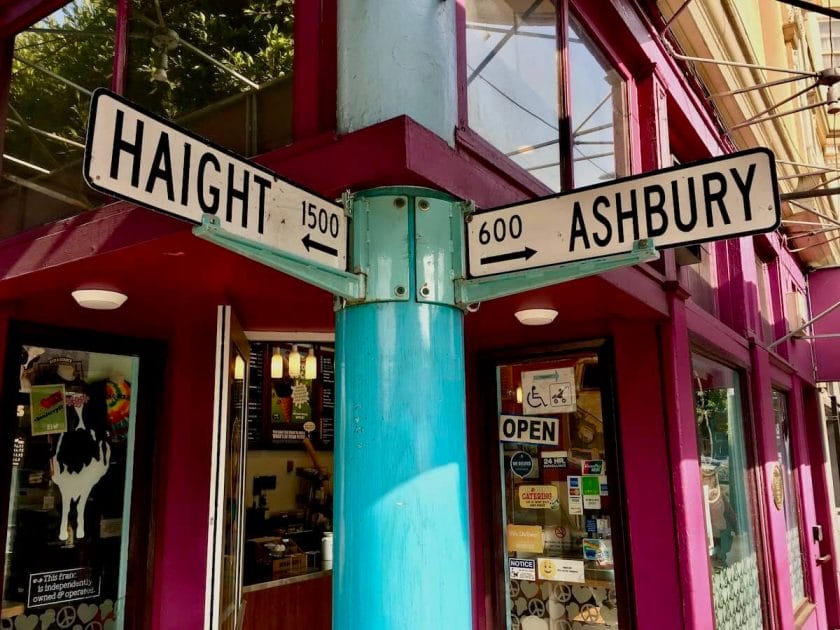 It's not a true road trip around the United States if you don't stop in San Francisco. Is it any wonder this stunning and unique city has been mentioned in so many song lyrics?
For starters, you need to drive across the Golden Gate Bridge. There's some excellent vantage points at either end to stop and take a photo, with one of my favorites being the dog-friendly Baker Beach. The beach is also perfect for taking in a west coast sunset.
Another top attraction to visit in San Francisco is the prison island of Alcatraz, accessible on a ferry from Fisherman's Wharf. (Don't forget to book well in advance!) While you're at Fisherman's Wharf, stop by Pier 39 to gaze at the resident sea lions. Also nearby is the famously crooked Lombard Street, with its eight hairpin turns. Naturally the street is one-way only; drive down the street from the upper end.
While you're in San Francisco, don't also miss visiting Haight-Ashbury, the hippie heart of the city and home to an eclectic collection of boutiques. Or else head to the Mission District for some affordable tacos and to check out its plentiful street art. Balmy Alley is lined with murals, many reflecting the Latino links of the district.
And for a final classic San Fran experience, leave your car behind for a ride on the old-school cable cars!
Learn more: Dog-Friendly Things To Do In San Francisco
Shared by: Shandos Cleaver – Travelnuity: Dog-Friendly Travel
Yosemite National Park, California
On a cross-country trip across the U.S., there will be several national parks vying for attention. One absolute must-visit is Yosemite National Park, which is in my opinion the most beautiful national park in California!
While you're there, be sure to indulge in plenty of hiking: that is why you come to Yosemite, after all! If you are traveling with kids or people who want easier trails, there are several easy hikes in Yosemite that are worth taking, but two top ones are the Lower Yosemite Falls loop and the Cooks Meadow loop. For more advanced hikers, hiking to Taft Point is absolutely worth it as well as Upper Yosemite Falls.
You should also drive around Yosemite and see several of the best views in Yosemite from easy vantage points that require little walking or hiking. A few favorites are the view from Tunnel View, Washburn Point, The Three Brothers, and Olmsted Point.
Also, don't miss Mariposa Grove and the beautiful giant sequoias which define this area, which was one of the first protected areas in Yosemite. There are both easy and moderate hikes in this area surrounded by beautiful towering redwoods, an absolute must-do!
Whatever adventure you choose for your Yosemite trip and however long you choose to stay, it won't feel like enough, and I'm sure you'll find yourself returning to Yosemite time and again!
Shared by: Allison Green – California Crossroads
Death Valley, California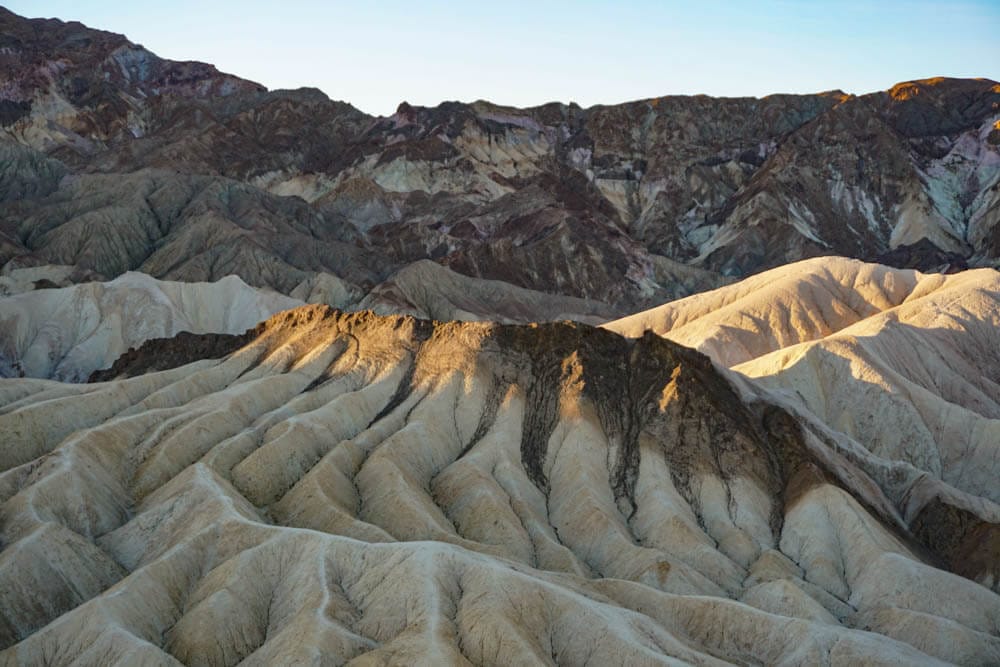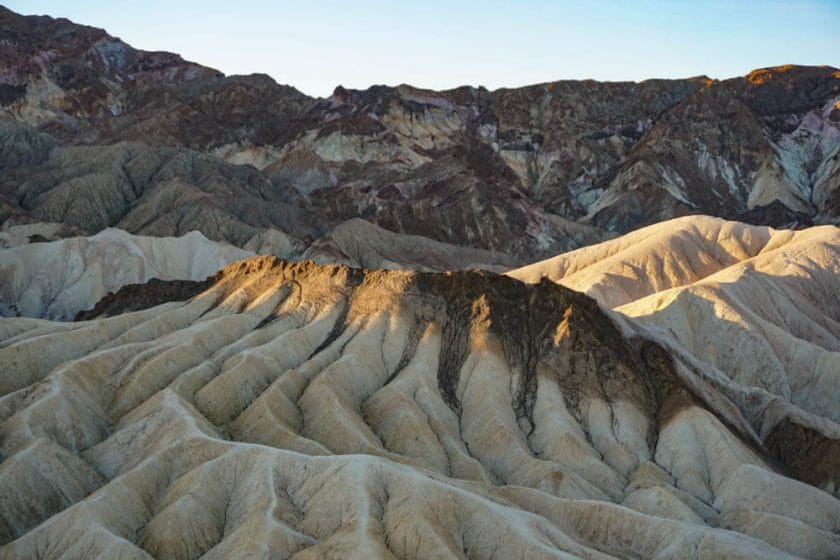 If you are looking for fun places to stop on a US road trip, consider Death Valley National Park in California! The largest national park in the contiguous US, Death Valley holds the record for the highest temperature recorded on earth.
The desert views at Death Valley are majestic, and they are varied as well. So if you go expecting nothing but sand, prepare to be awestruck by colorful canyons, vast white salt flats, and even snow covered mountains at the fringes of the valley.
Drive up to Dante's View to look out over the valley. On a clear day you may be able to see Mount Whitney, the tallest peak in the lower 48 states, as well as Badwater Basin, the lowest point in North America.
If you enjoy local history, the park has old mine sites and charcoal kilns you can visit. At Harmony Borax Works, you can even take a photo of a double wagon used in the days of 20-mule teams! There are lots of hiking trails in the park: the Mosaic Canyon hike is one of the most popular hikes in Death Valley.
Up in the north of the park, visit the Ubehebe Crater, a Maar volcano. Or zip out of the park a short distance to view the ruins at Rhyolite, a Gold Rush town.
There are three hotels inside Death Valley National Park, as well as a number of campgrounds. Each hotel has an onsite restaurant.
Visit Death Valley National Park in the cooler months of the year, especially if you want to hike!
Shared by: Dhara – Roadtripping California
Santa Barbara, California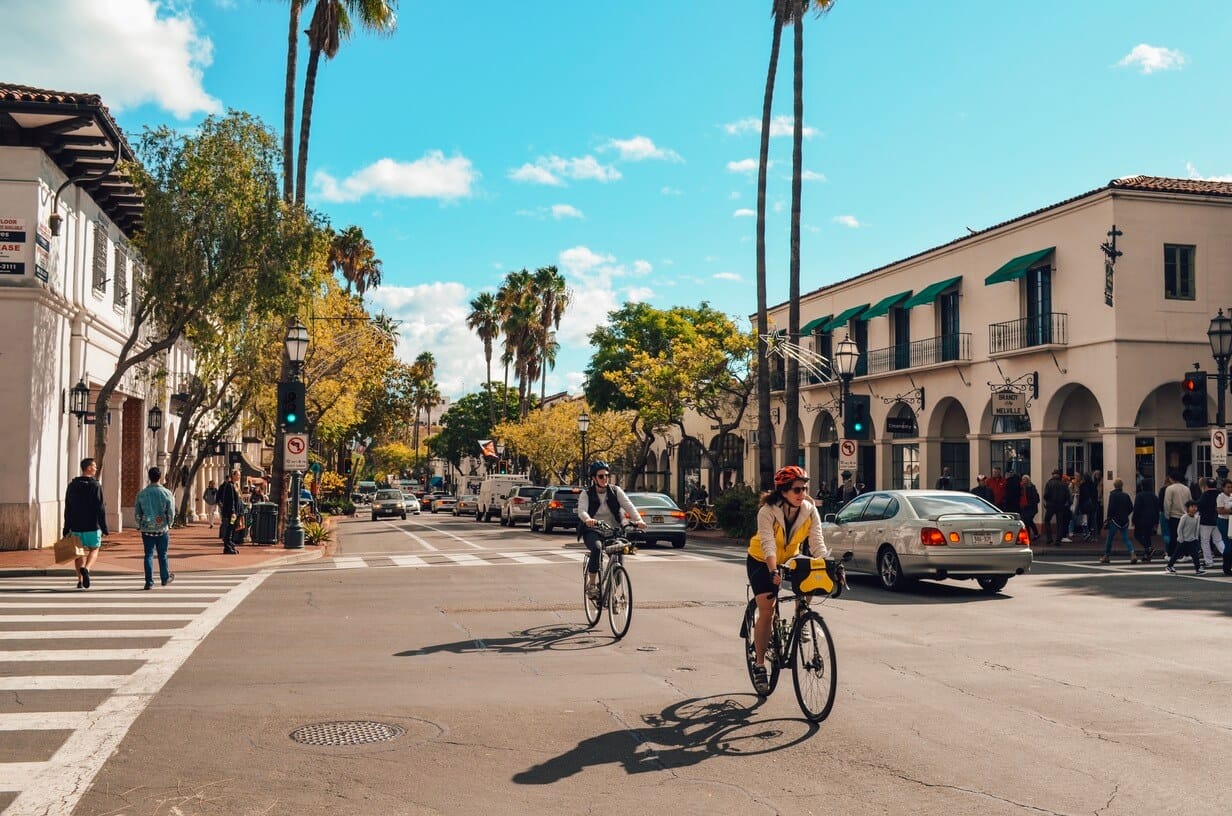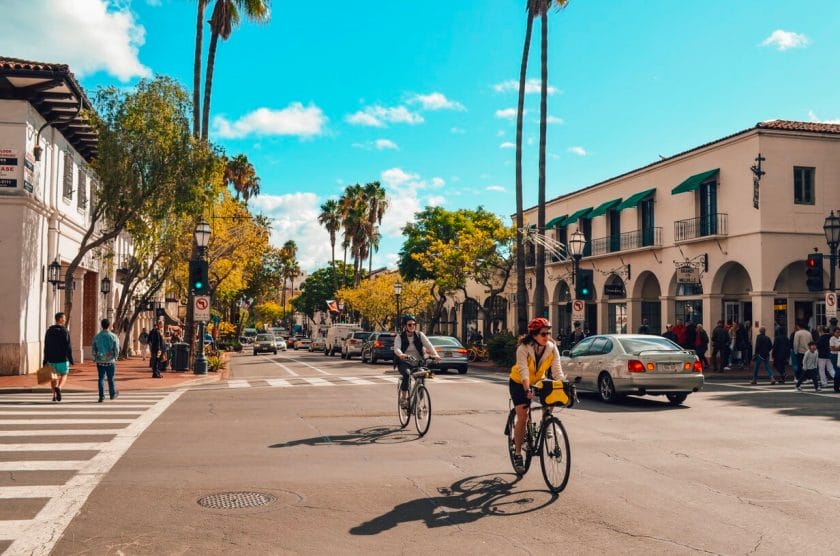 Located along California's Central Coast, Santa Barbara is a perfect destination year-round.
What makes it a great place to visit is the combination of unique cultural landmarks and great outdoor opportunities that could be explored year-round thanks to California's mild climate.
Early morning, head to Old Mission Santa Barbara to get a lesson in the area's history and later take a walk through El Presidio – a former military settlement that was built by the early Spanish settlers to protect their military outpost.
El Presidio is home to El Cuartel, one of the oldest buildings in the state of California and the oldest building in the city of Santa Barbara. It also has a distinction of being the last building that was built by the Spanish in the New World.
After touring the city's historic landmarks, explore Santa Barbara's beaches where you can surf, rent a kayak or if you don't want to get into the water, just ride a bike along the coast at your own leisure.
Downtown Santa Barbara is walkable and boasts many outdoor venues. One of the main hallmarks of the area is Paseo Nuevo, an outdoor mall built in the Spanish colonial style with plenty of stores and restaurants where you can grab a take-out and quickly head toward the beach.
After you finish shopping and dining, check out Santa Barbara Botanic Garden located against the backdrop of the Santa Ynez Mountains or soak in the views of the Pacific Ocean from the Stearns Wharf in the harbor of Santa Barbara – the oldest working wharf in California!
Learn more: Incredible Things To Do In Santa Barbara
Shared by: Daria Bachmann – The Discovery Nut
Joshua Tree National Park, California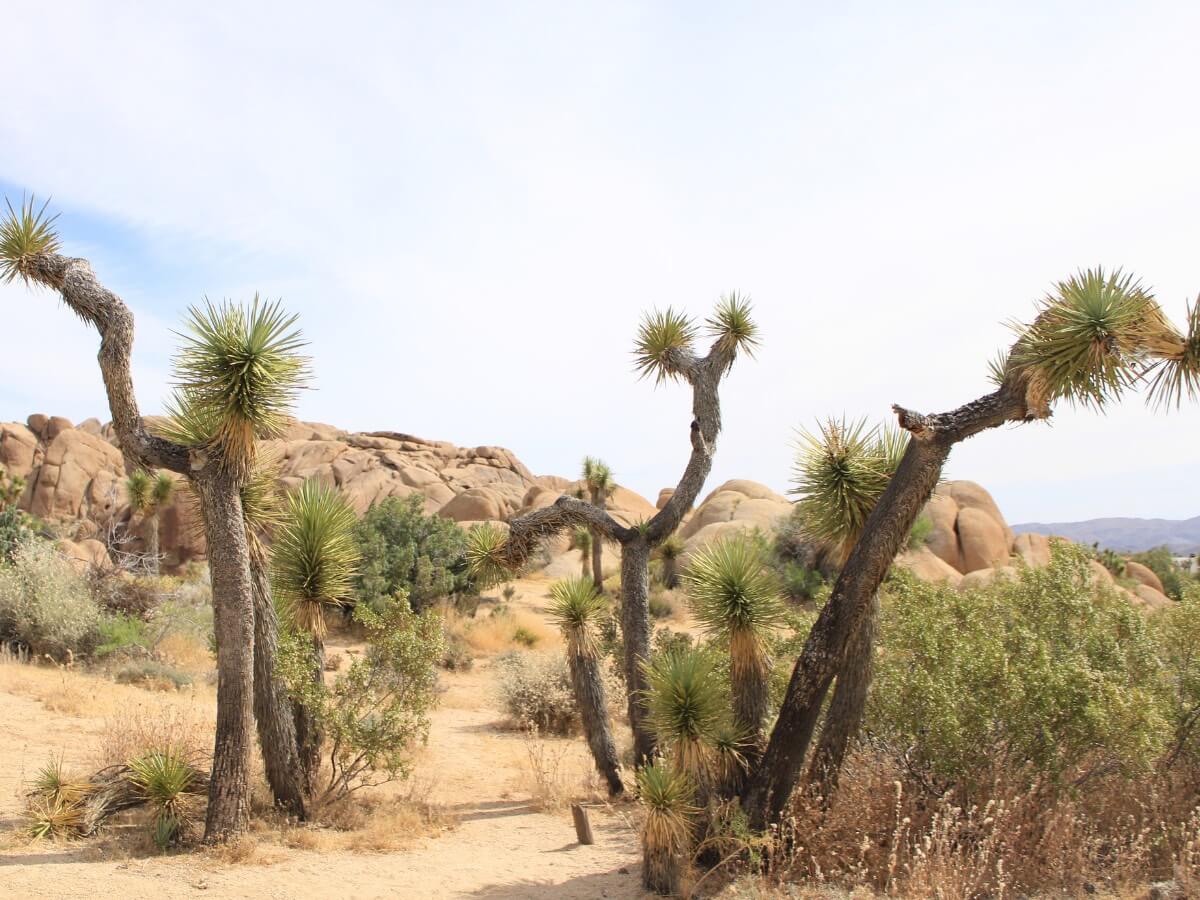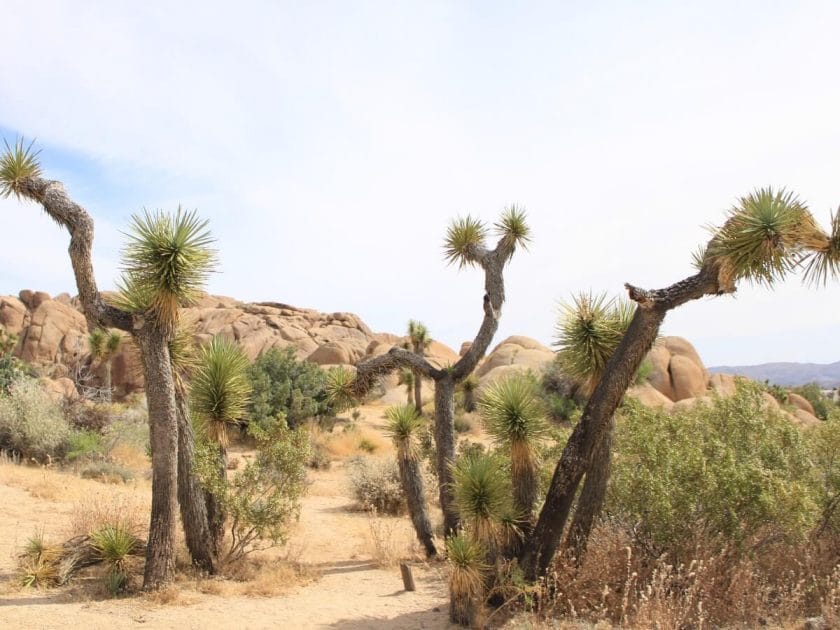 No trip across the US can exclude California and its many natural wonders. There's no shortage of beautiful places in the state, but there's no better way to experience the California desert than by visiting Joshua Tree National Park.
Located less than three hours east of Los Angeles, the desert landscape in this national park is dotted with stunning, out of this world Joshua Trees, for which the park is named after. These "trees" stand tall and proud, with spiky arms that twist and turn upwards and outwards.
The park is beautiful and offers plenty to do and see, even if you only have one day to spend here. If you're pressed for time, drive the main park road and stop at the Cholla Cactus Garden for a pleasant stroll through fuzzy, teddy bear-like cholla cactus.
More into cool desert rocks? Joshua Tree does not disappoint! Large boulders stand tall in the desert landscape, including Arch Rock, a famous boulder shaped like an arch. Skull Rock looks like (you guessed it) a human skull, and is another popular stopping point. A personal favorite is Split Rock, a giant boulder broken perfectly in two (and with less crowds!)
Of course, no trip to Joshua Tree is complete without photographing the famous Joshua Trees themselves. You'll find them in the northern part of the park, just pull over and start snapping photos!
Joshua Tree is stunning, and makes for a perfect addition to a US road trip!
Shared by: Ale – Sea Salt & Fog
Hawaii
Ok you are right Hawaii wouldn't really be considered on a cross country road trip – BUT – hear me out. When you reach the west coast you can usually get air flight to Hawaii a lot cheaper compared to other parts of the US. Plus there are more flights and it is a shorter flight!
For those reasons it may be a location you want to consider! Here are some great posts on Hawaii to help you plan that trip:
Tips For Visiting Hawaii For the First Time
Tips On Visiting Disney Aulani
Grand Canyon National Park, Arizona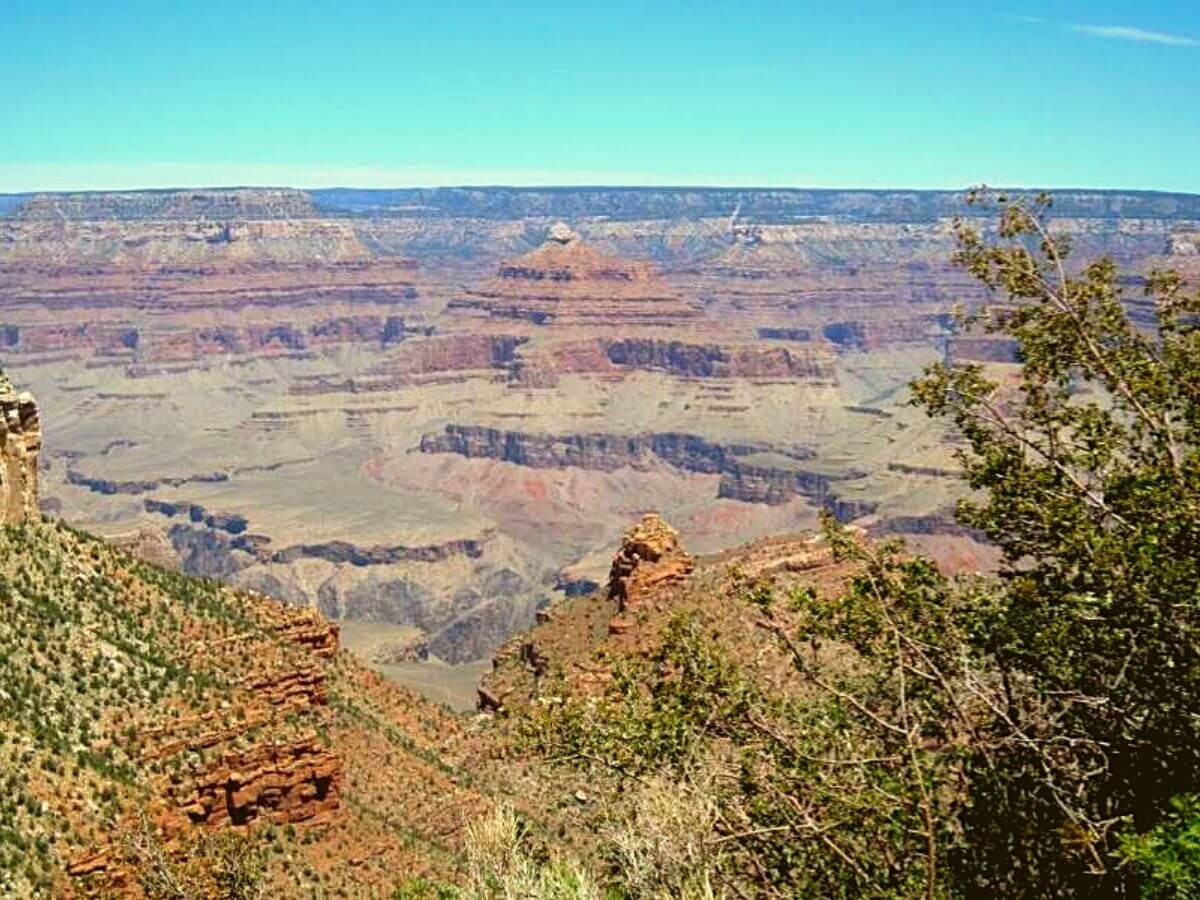 Everyone has heard of the Grand Canyon and with good reason — not only is it one of the seven natural wonders of the world, but it's a truly awe-inspiring place to see. If it's not already on your bucket list, it should be!
The best way to see the Grand Canyon is to hike it. Whether you choose a day trip or to hike down to the Colorado River with a stay at Phantom Ranch, it's all breathtaking. Most of the hikes are considered difficult as the switchbacks to get down to the river are quite steep, though there are some moderate hikes as well that still provide incredible views.
For those not up for the adventure of hiking, you can easily take in the spectacular views wandering along the rim. If you're feeling daring, the Grand Canyon Skywalk over the canyon offers views to the bottom with a glass skyway that is sure to amaze.
Whether you hike into the canyon or walk along the rim, enjoy how the light changes the colors of the canyon. The shifting sun provides a kaleidoscope of natural colors that seem unreal and it really lights up with the most incredible shades of color throughout the day and into the evening.
This is a popular tourist destination and people come from around the world to see it. The Grand Canyon is a great overnight trip from Phoenix, Arizona, and worth a spot on your bucket list.
Shared by: Sam – My Flying Leap
Northern Arizona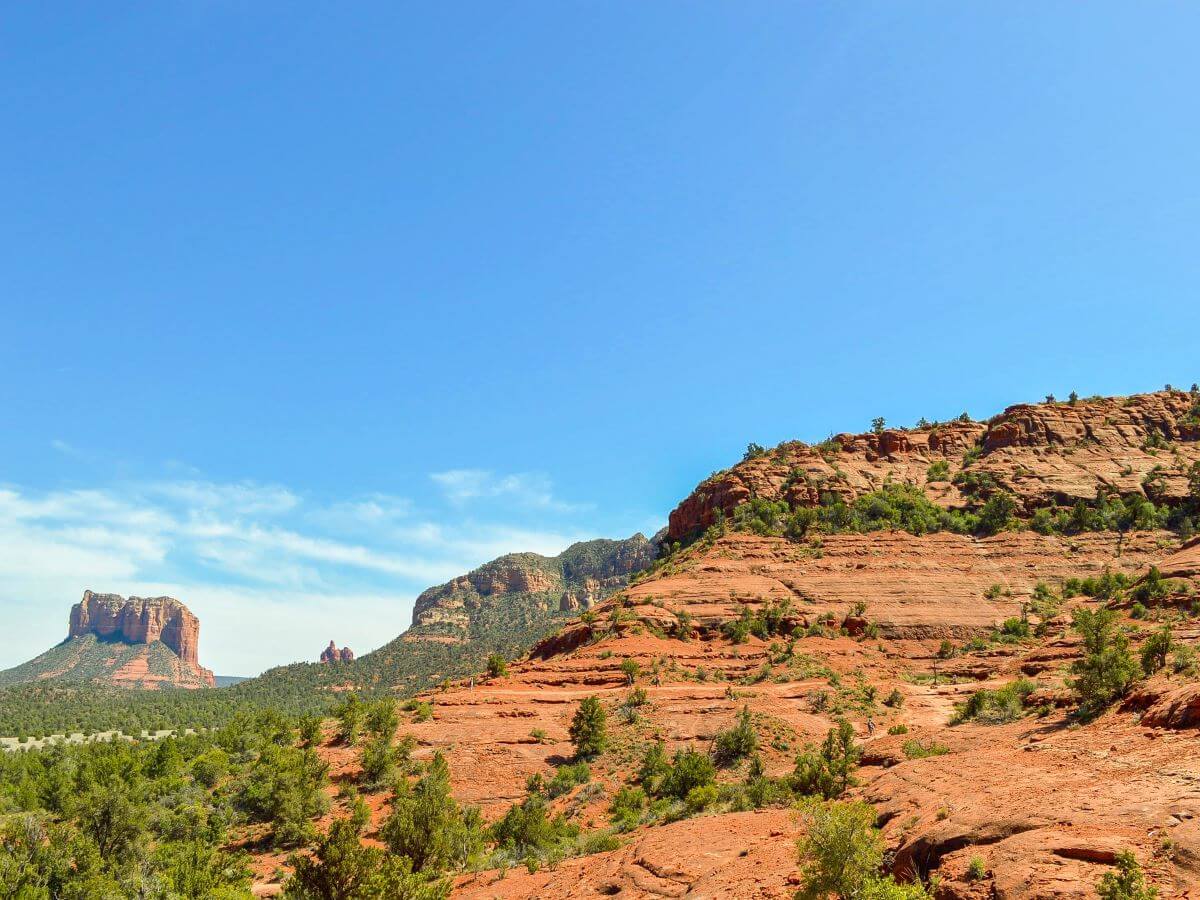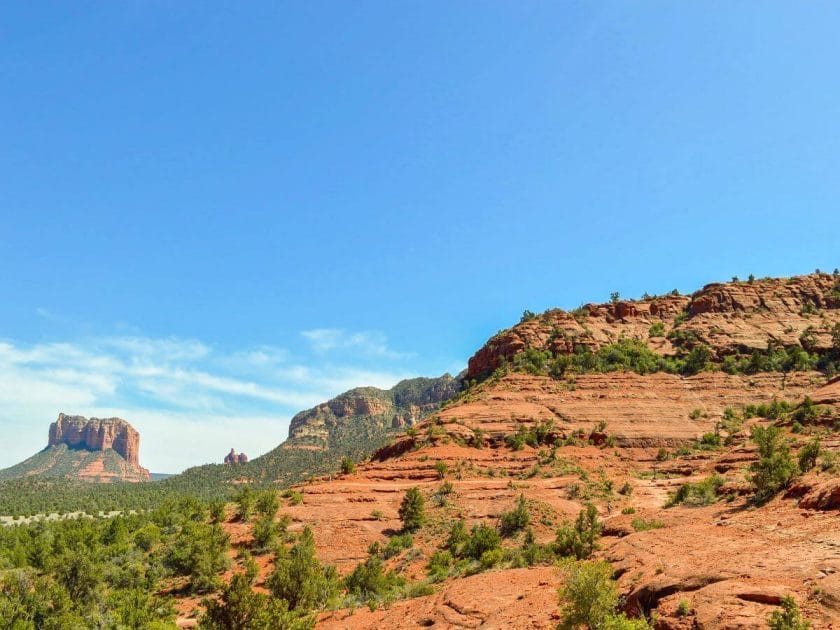 The dramatic desert landscapes of Northern Arizona have to be seen to be believed! Top stops on a US road trip through the Southwest include Sedona, the Grand Canyon, and Page, Arizona.
Sedona is a great first introduction to the red rocks of the desert. Take the popular Cathedral Rock trail, Devil's Bridge trail, Little Horse trail, and visit Slide Rock State Park to slide down the slippery rocks, which become a popular slide in the summer! While there are numerous luxurious spa resorts in Sedona, there are plenty of incredible Airbnb's with pools and views!
Traveling north, stop in Flagstaff, Arizona and make it your base for exploring the Grand Canyon. Located an hour and 15 minutes away, it's the closest city. Stay at the Drury Inn & Suites on Northern Arizona University's campus and make sure you eat at NiMarco's, Flagstaff's best pizza place with an incredible pesto pizza!
Lastly, Page, Arizona is one of the most beautiful parts of the Southwest (a bold claim, I know). Here you'll see Horseshoe Bend and Antelope Canyon. Horseshoe Bend is a free part of the Grand Canyon with a river that dramatically wraps around a plateau. The trail is short but it can get extremely hot, so be prepared. Antelope Canyon is a beautiful slot canyon on the Navajo Reservation. You need to book a tour for it, but the views are unbeatable!
Shared by: Alanna Koritzke – Periodic Adventures
Zion National Park, Utah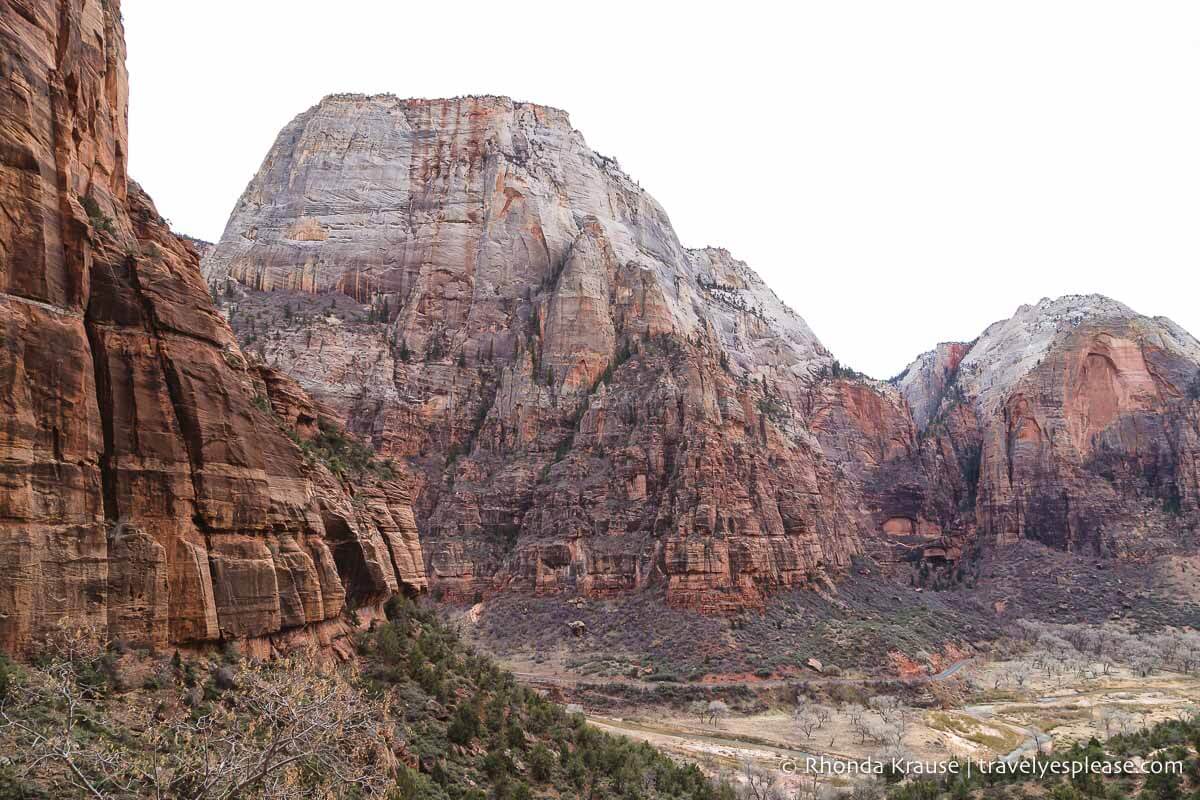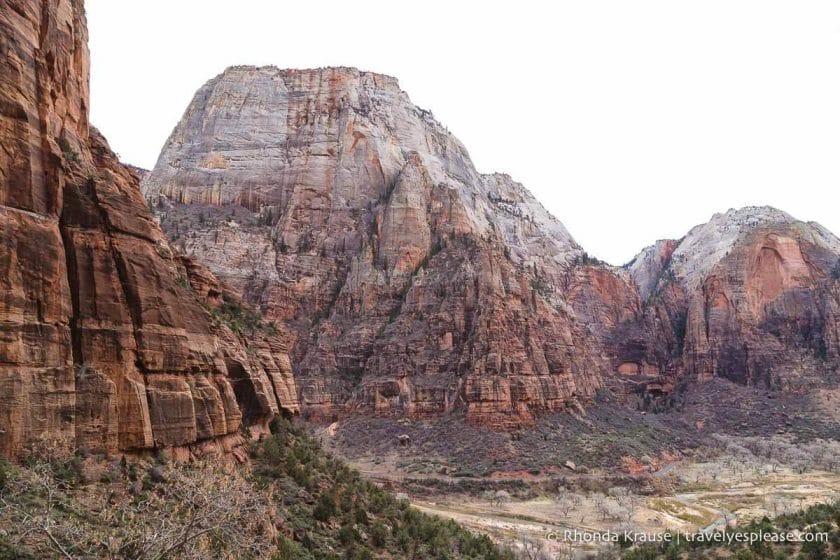 Nature lovers and outdoor adventurers will not want to miss visiting Zion National Park during a cross-country road trip. Located near Springdale, Utah, Zion National Park is famous for its steep sandstone cliffs soaring up from the canyon floor.
The main thing to do in Zion is go hiking, as there are several scenic trails in the heart of the park ranging from challenging and adventurous full-day hikes, to short and easy nature walks.
Some of the park's most notable hikes are also the longest and most difficult, including Angels Landing, Observation Point, and the Narrows. More moderate, but equally scenic options include the hike to Canyon Overlook and Watchman Trail. For an easy hike, you can follow along the Virgin River on Pa'rus Trail and the Riverside Walk, or set out to visit Lower Emerald Pool.
Even if hiking is not your thing, you can still enjoy Zion National Park by going on a sightseeing drive through the park. The park provides shuttle buses to access the Zion Canyon Scenic Drive (the most popular part of the park), but private vehicles are allowed on the Zion-Mt. Carmel Highway where you can drive through the sandstone cliffs via a historic tunnel.
Learn more: How to Spend 3 Days in Zion National Park- Hikes, Walks, and Scenic Drives
Shared by: Rhonda Krause – Travel? Yes Please!
Bryce Canyon National Park, Utah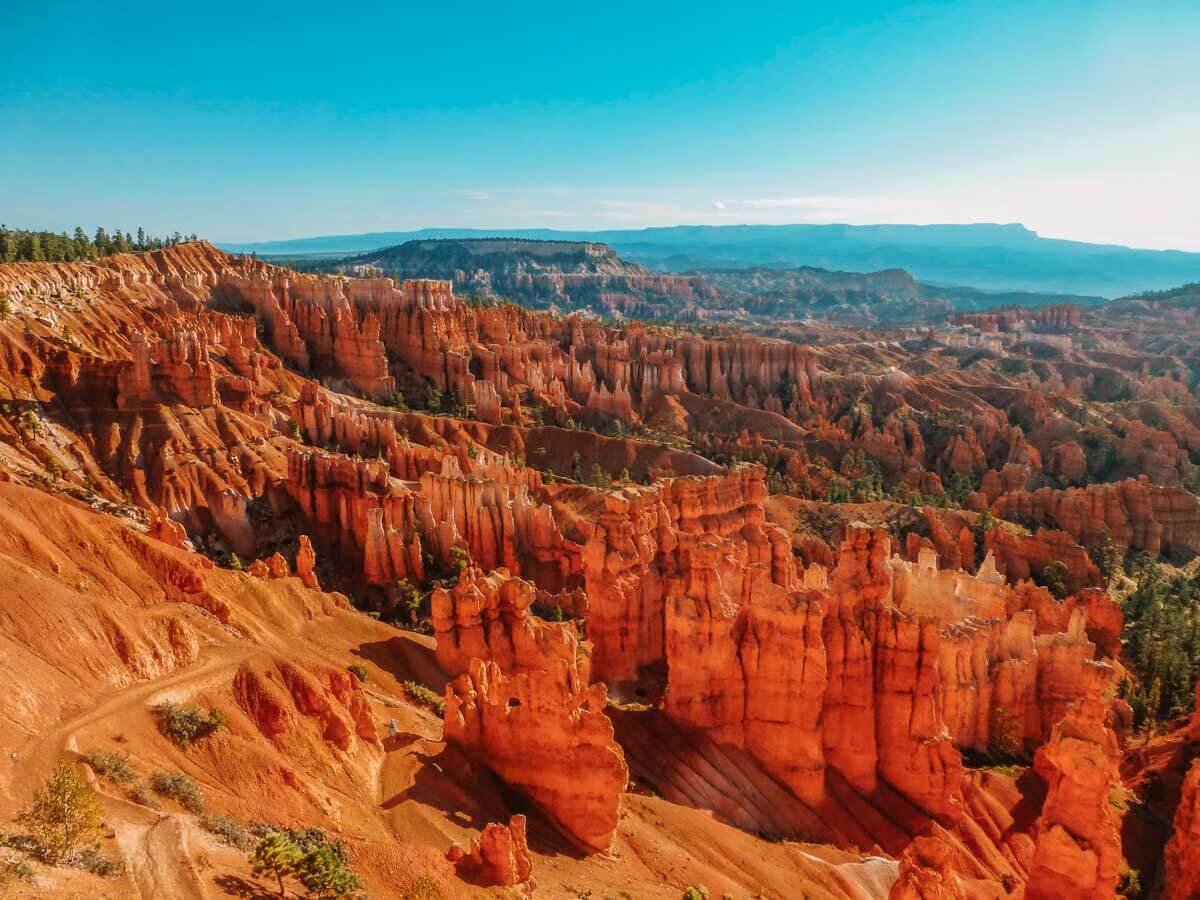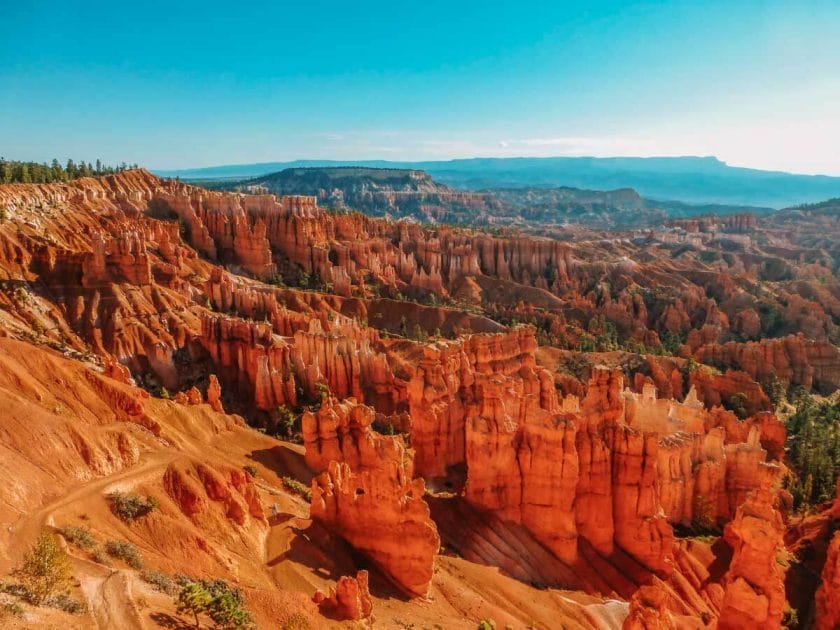 This is one stop you don't want to miss when you are road tripping cross country in the United States. Bryce Canyon will simply amaze, inspire and wonder how such a thing exists in the world. Located near the Zion National Park in Utah and in an area where hikes and exploration are at an abundance.
Ever heard of a Hoodoo, this is what Bryce Canyon is made up of and makes you think you have landed on another planet. These columns of rocks are formed by steam erosion and frost weathering and it's the one place in the world with the largest collection.
It's really worth checking out some of the view point like Bryce Point, Inspiration Point, Sunrise & Sunset point. While on the other hand you can burn off some energy completing any of the many hikes that vary from 1 mile to 23 miles. A couple you might like to try are "Navajo Loop Trail" & "Fairyland loop Trail", but plenty of others to suit your time frame and situation.
April to October tends to be the busiest season with temps ranging from 75 to 98 degrees F, this is also when a shuttle service is offered around the park to help you get around. Visiting in winter in January or February could have you enjoying a very different views with snow topping all the peaks.
If anything, don't forget to catch a sunrise view – you won't regret it!
Shared by Chris – The Aquarius Traveller
Park City, Utah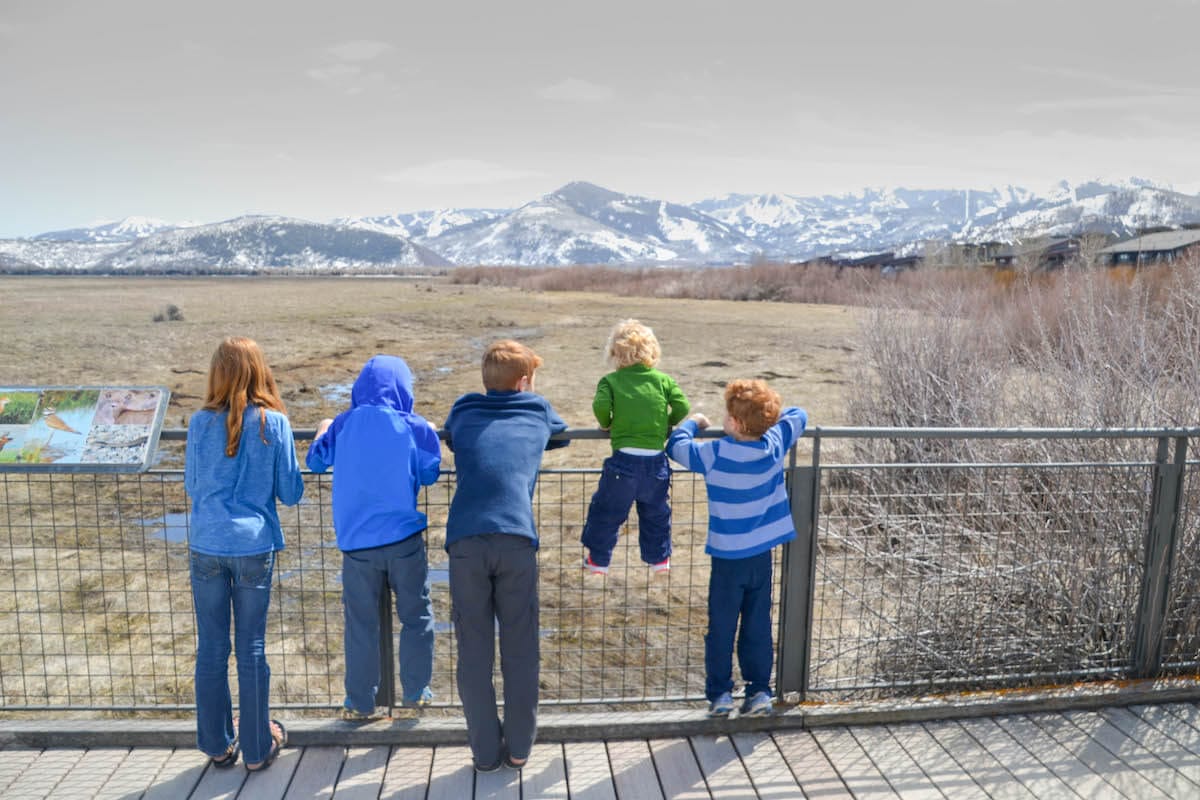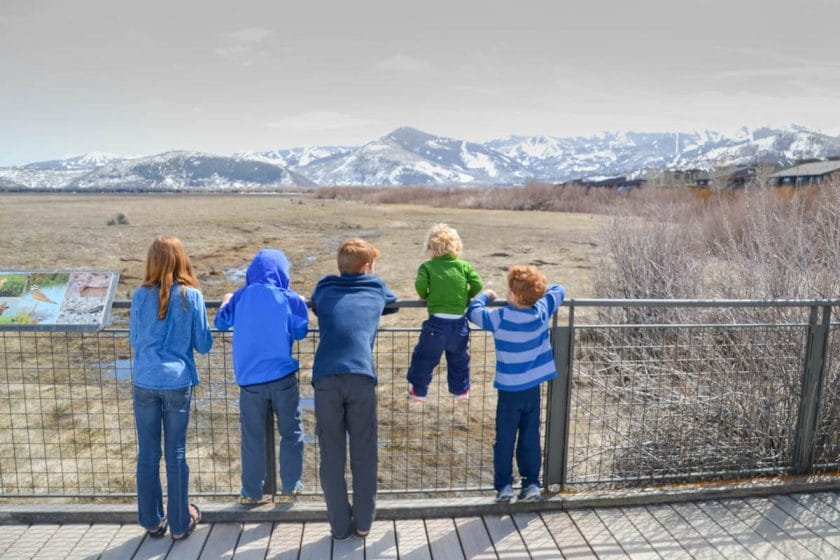 Are you looking for an amazing stop on your cross country road trip that's full of action and adventure? Then make sure to stop in Park City Utah. Located right off of I-80, and only 20 miles from I-15, Park City is a quick stop on the way to most mountain west destinations, but will still make you feel like you've just discovered the perfect mountain town.
All throughout the year, the mountains are the real show stopper, and the opportunities to recreate there seem limitless. If you really want to soak in all that the mountains have to offer, make sure to head hiking in the summer or snowshoeing in the winter. Our favorite trails are Silver Lake for hikers and Gamble Oak on snowshoes. If you're looking for an adrenaline rush, you can't go wrong with the ropes course or bobsled rides at the Olympic Park, or a class at Woodward Action Sports Complex.
If you're visiting Park City on a winter road trip, you'll want to plan to stay for a while since there is so much to do. The obvious winter activity of choice in Park City is skiing, so plan on skiing at least 2 days during your winter visit to Park City. After that, the absolute best activities in Park City is dog sledding with Luna Lobos, and you'll also want to see if you can fit in a snowmobiling trip into the Uintah mountains, to wrap up the perfect trip to Park City.
Learn more: Best Utah Ski Resorts For Kids
Shared by Jessica Averett – Skiing Kids
Summit County, Colorado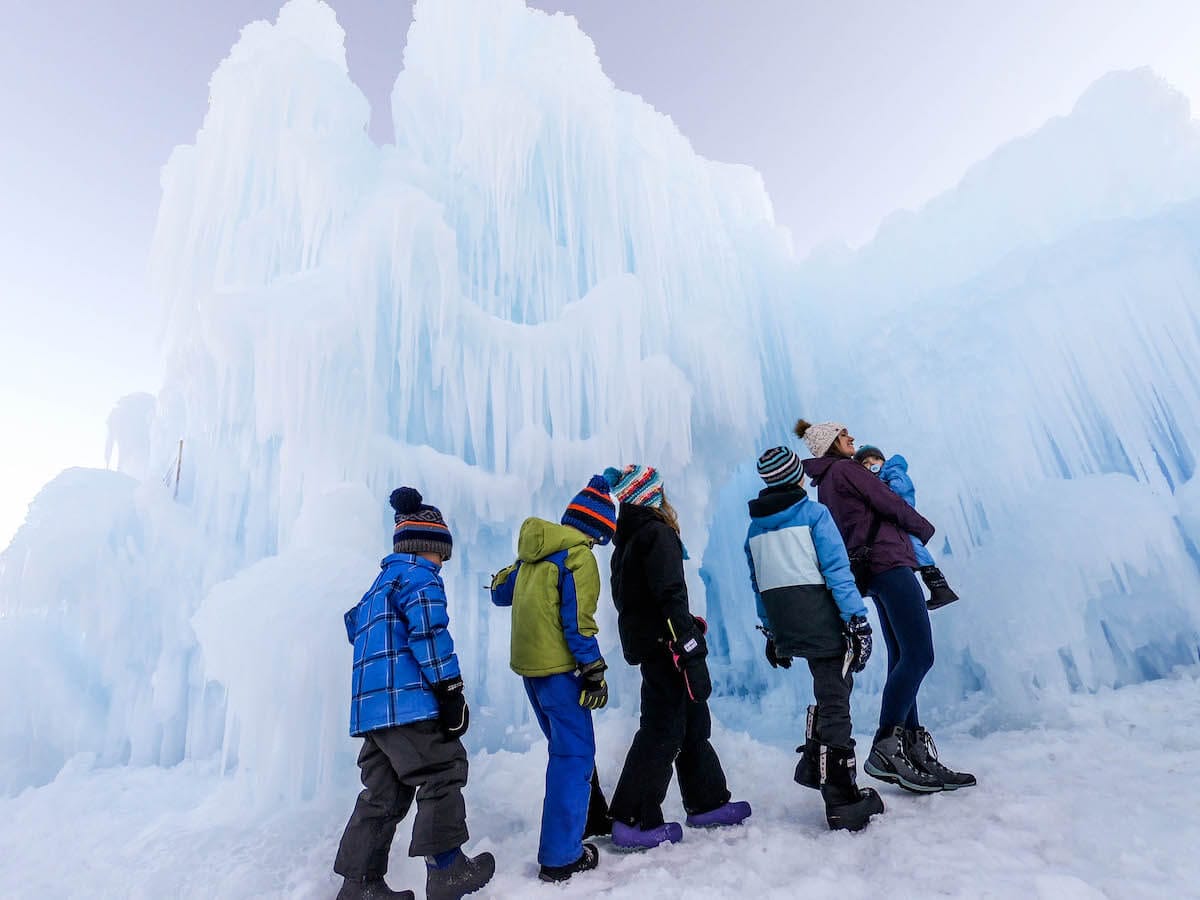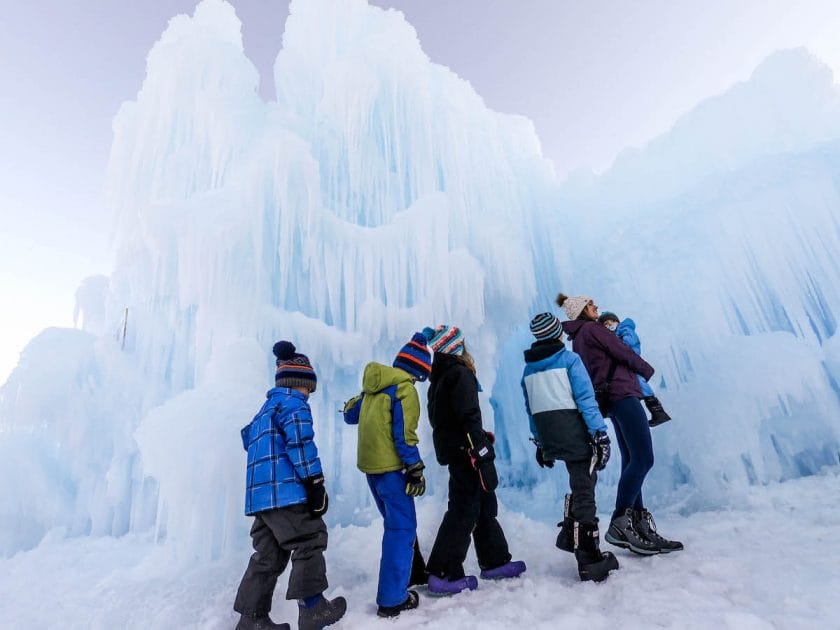 If you're looking for a place where you can pack a lot of Colorado mountain adventure into one place, then you absolutely need to plan a stop in Summit County Colorado. Luckily, I-70 runs right through it, so you won't even have to go out of your way to see this road trip stop. Plan on staying for a few days, and if you want to be centrally located and not pay resort prices, plan on staying in Silverthorne or Frisco.
In the summer, hiking and mountain biking shine here. If you're in good shape, and have adjusted to the altitude, be brave and go out and hike a 14er (Colorado term for a mountain over 14,000 ft). You can hike both Greys and Torreys peaks in only a 9 mile trek, so start getting in shape now so you can knock this off your bucket list (your legs will thank you for training in advance).
If you are road tripping in the winter, Summit County is a winter paradise. With 4 ski resorts within a 15 minute radius, skiing in Colorado is a must do. If you want a big resort feel, head to Breckenridge, but if you want a smaller resort that has incredible terrain, Arapahoe Basin is the place to ski and our personal favorite Colorado ski resort for skiing with kids. At the end of a long day of skiing, make sure to head into Dillon to visit the Colorado Ice Castles. These ice structures are incredibly amazing, so make sure to add this to your Summit County winter bucket list.
Shared by: Jessica Averett – Bring The Kids
Oklahoma City, Oklahoma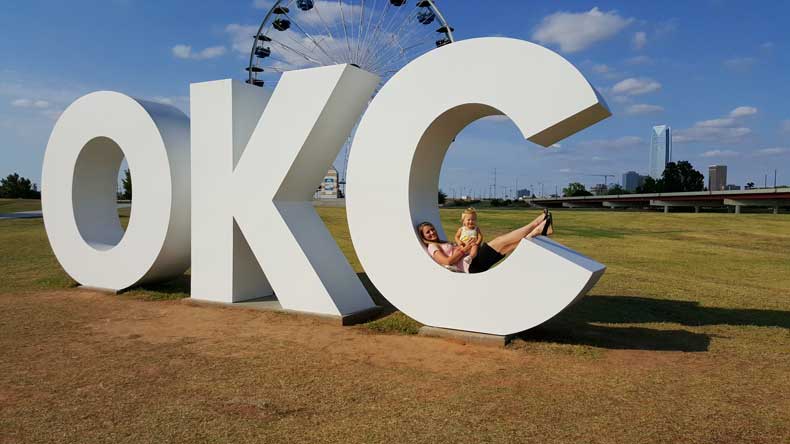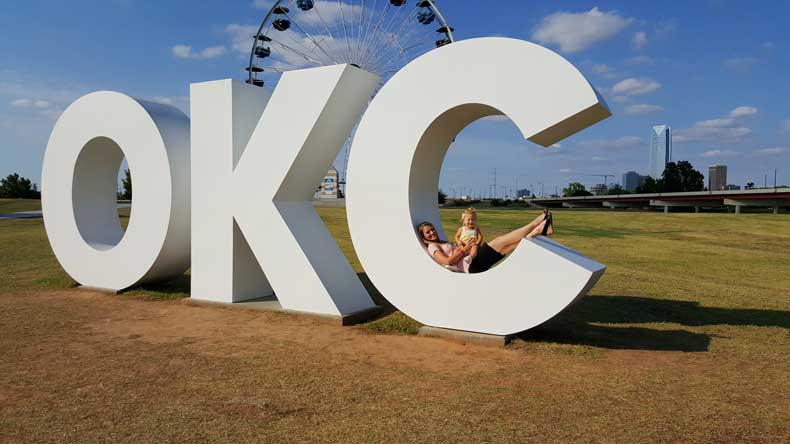 Oklahoma City is a perfect stop on any cross country road trip. Situated about halfway from either coast, this vibrant and fun city in the central plains is a flourishing metropolitan area that somehow maintains a small town feel.
There are a lot of unique and fun things to do in Oklahoma City. The Oklahoma City National Memorial and Museum is one of the most beautiful yet sombering places in the whole metro. The attraction, which is dedicated to the victims of the 1995 bombing of the federal building, is a must-see when visiting OKC.
Not far from the memorial, in the heart of downtown OKC, Bricktown is a lively commercial district filled with restaurants, arcades, and other fun activities. The district, which is named for its historic red brick buildings, lines a picturesque river walk. Visitors wanting to learn about the history of the area, can take a boat ride through the canal. The boat tour guide walks you through the not-so-distant history, detailing how this area of OKC was transformed from a blighted, crime-ridden neighborhood with boarded up buildings to a bustling entertainment district.
Finally, no stop to Oklahoma City is complete without a brief visit to Wheeler Riverfront Plaza to commemorate your visit with a photo. In this up-and-coming area, you'll find a large OKC sign that makes for a perfect photo opportunity, as well as a ferris wheel, outdoor games, and food trucks.
Easily accessible from Interstate 40, these fun attractions are not only worth visiting, they are exceptionally convenient for anyone making a cross country trek along the third longest interstate in the United States.
Shared by: Melissa – Parenthood and Passports
West Texas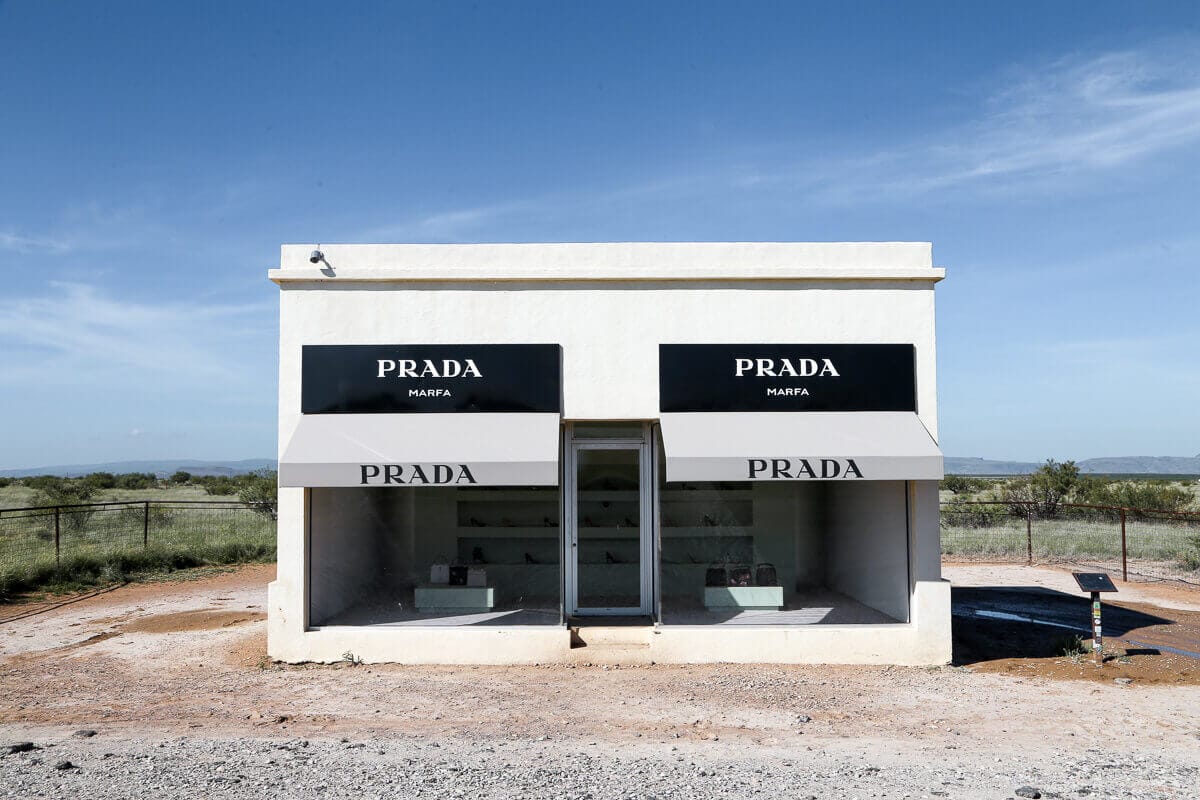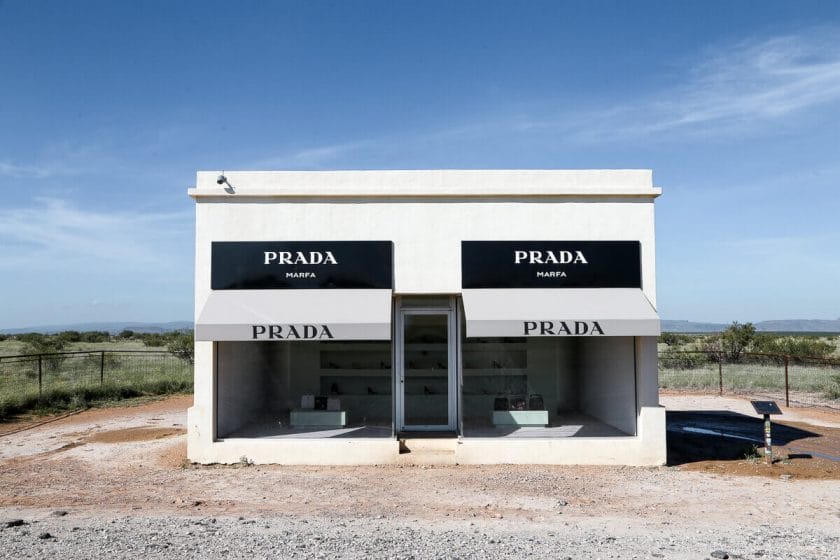 The state of Texas is bigger than the entire nation of France, so it's likely that any cross-country road trip will have you traversing the Lone Star State at some point. Plug in the isolated desert of West Texas into your GPS to see natural, isolated beauty.
There are so many things to do in West Texas that its isolated location, not its lack of offerings, that keep it off the beaten path.
Visit Texas' only two national parks, Big Bend and Guadalupe Mountains, for the best hiking and outdoor trails in the entire state. Outdoor enthusiasts will also enjoy camping, rock climbing, and rafting down the Rio Grande.
Art enthusiasts, big-city gallery lovers, and foodies will appreciate the quirky things to do in Marfa. This tiny town has become an artists' enclave with abandoned dancehalls and gas stations being converted into modern art galleries. Restaurants and wine bars worthy of Manhattan line the streets next to farmers' pickup trucks. On your way out of Marfa, don't miss the priceless photo opportunity at Prada Marfa, an art exhibit in the middle of nowhere.
Other small towns worth a stop nearby include Alpine, Marathon, and the ghost town Terlingua (which serves as the gateway to Big Bend). Visit big city El Paso before bidding adieu to the Lone Star State and continuing onwards to New Mexico.
Shared by Erin – Sol Salute
Conclusion
There you have it! If you can visit all of these amazing places on your cross country road trip you will have an awesome trip. There are your typical classic American road trips like route 66 from Chicago through St. Louis and west but we thought it would be fun to throw in a different road trip route.
Of course this post doesn't list all of the places you could visit. So here are a few other you may want to consider:
13 Things to do in St Louis with Kids
Meow Wolf Review: Which Location is Best?
15 Fun and Exciting Things To Do In San Diego With Kids
18 Fun Things To Do In Big Sur California [Maps Included]
East Coast Road Trip 25+ Stops You Don't Want to Miss!
15 Absolutely Enjoyable Things To Do In Nashville
Pin This Post: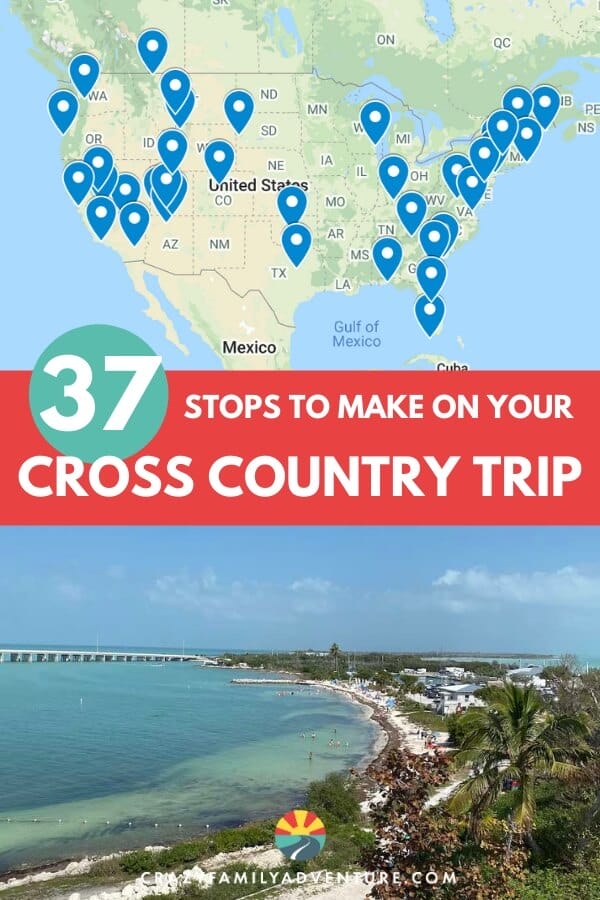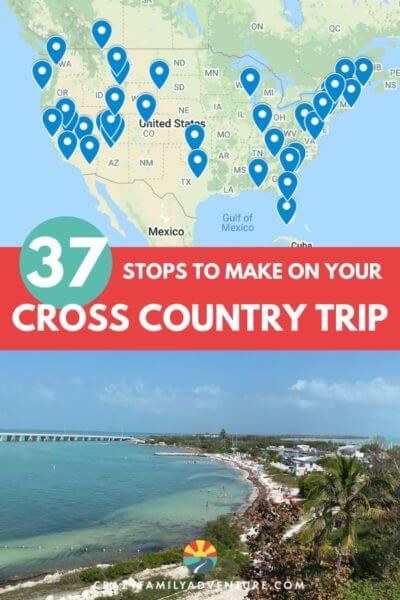 DISCLOSURE: This post may contain affiliate links, meaning I get a commission if you decide to make a purchase through my links, at no cost to you. Please read my disclosure for more info.