Okay, so we made it to Massachusetts with the family! All of the history and natural beauty have us swooning – but it's time for some excitement at amusement parks in Massachusetts! We have just the thing for your family's thrill-ride desires, along with some awesome attractions that the amusement parks in Massachusetts include.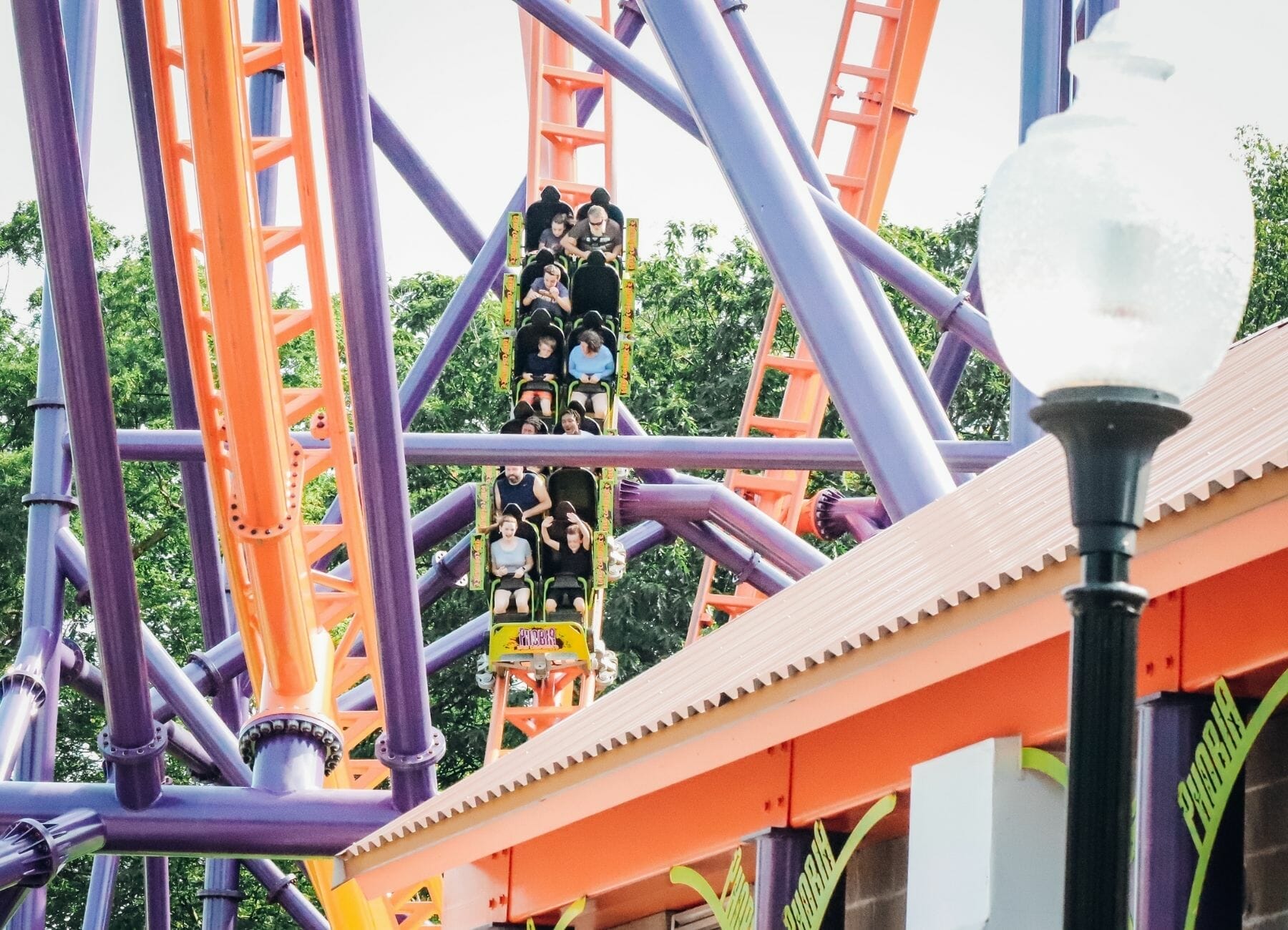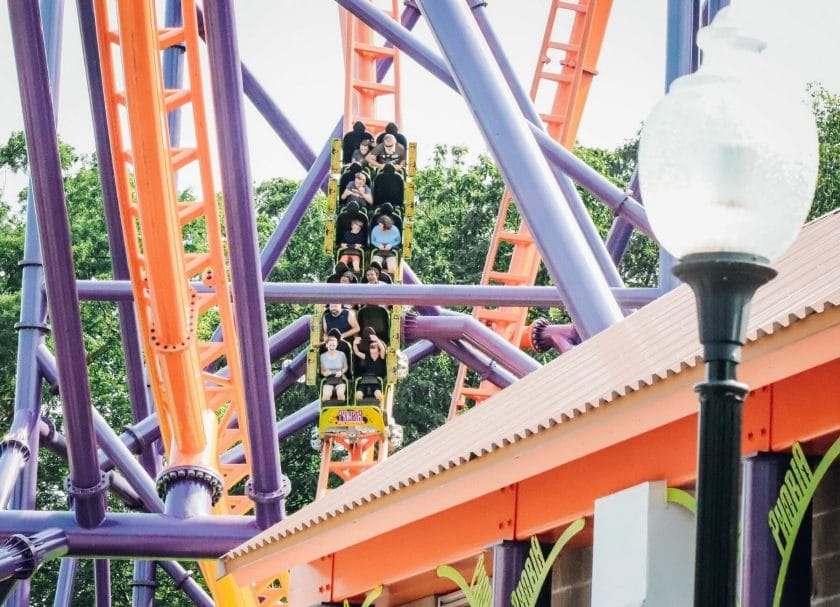 There are a variety of day trips you could take, like to New England's largest park, Six Flags New England where you can experience roller coasters like Wicked Cyclone and the wave pools in its water park, Hurricane Harbor.
Or, if you want less action, head to DinoLand and Thomas Land in Edaville Family Theme Park, where you can also experience season fun depending on the time of year, like its impressive Festival of Lights.
Other amusement parks in Massachusetts and surrounding areas such as Lake Compounce and Canobie Lake Park (near Boston) are worth special mention, too. Though not in Mass, they're right over the state line and worth the visit. Check out all the deets as we guide you through all the amusement parks in Massachusetts and the surrounding areas. Be sure to add these to your east coast road trip plan!
Six Flags New England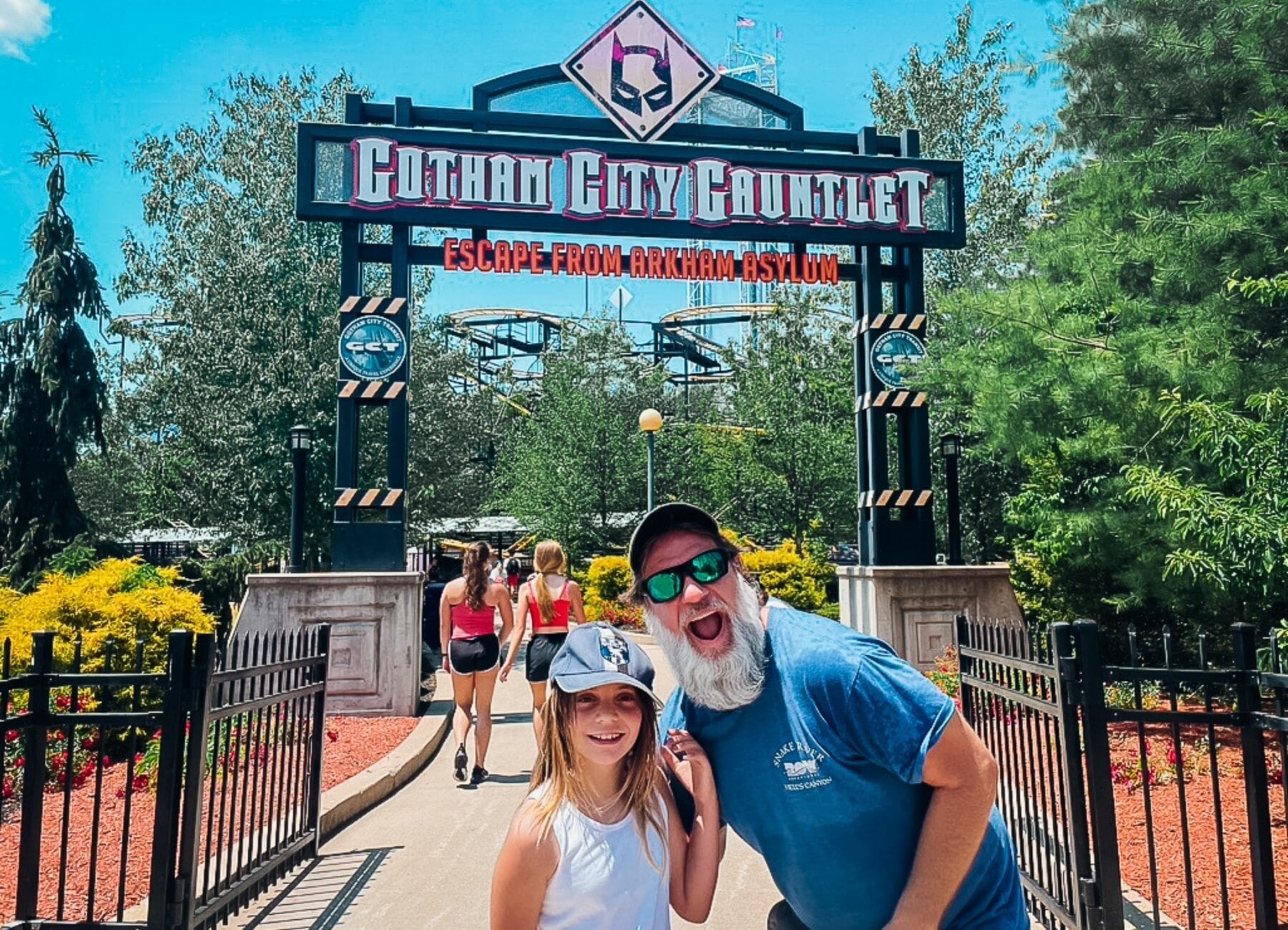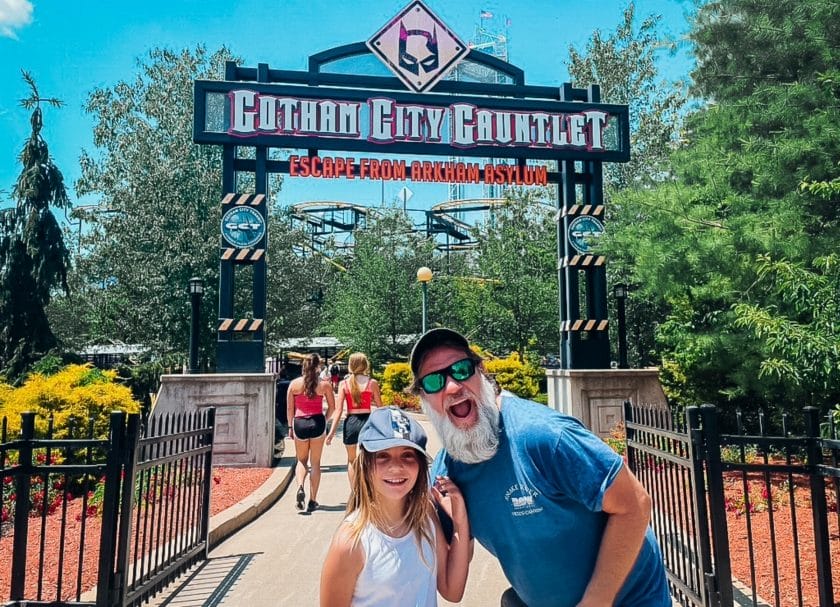 No trip to Massachusetts is complete without hitting one of the more highly rated amusement parks in Massachusetts in the Six Flags chain, Six Flags New England! New England's largest park, originally named Gallups Grove, and known as Riverside Park for most of its existence until 1999, Six Flags New England is the big mamma-jamma of amusement parks in Massachusetts!
Boasting 11 roller coasters, most notably the 5x Golden Ticket Award Winner for the best steel roller coaster in the world, Superman Ride Of Steel.
This park is steeped with history, excitement, food, games, rides and is absolutely a full day trip with something to do for the whole family.
Six Flags New England Rides
First, let's talk about the rides. Six Flags New England has 45 rides ranging from Ships Ahoy!, the Zamperla Rock & Tug kiddie ride, to the 1941 classic wooden coaster, Thunderbolt. There are quite literally tons of rides to please everyone in your party.
Beginning with the kiddie rides, it's nice to know that this amusement park includes more than 20 rides specifically designed for the young members of the crew. This is not a scenario where you will have 2 or 3 options for the little ones where they can get bored in a hurry. It could be argued it's worth a day trip just to experience the kiddie section.
Having two complete sections for the children, Kidzopolis and Looney Tunes Movie Town, there is the feeling of discovery for the kids who venture from one land to the other.
Family rides can get a bad rap, but I think that's unjustified. They tend to fill that gap between kiddie rides and extreme thrill rides. They can end up being where everyone tends to have the most fun!
From Cat Woman's Whip, the new millennium's answer to the old Enterprise spinning rides of the 70s and 80s, to classics like the Scrambler, Six Flags New England can keep the whole family occupied with the mid-tier family ride section alone.
Roller Coasters
Now let's take a moment to dig into the area of the park which falls under our true expertise, the roller coasters! Again, you will have the opportunity to experience 11 of them when you head to this park.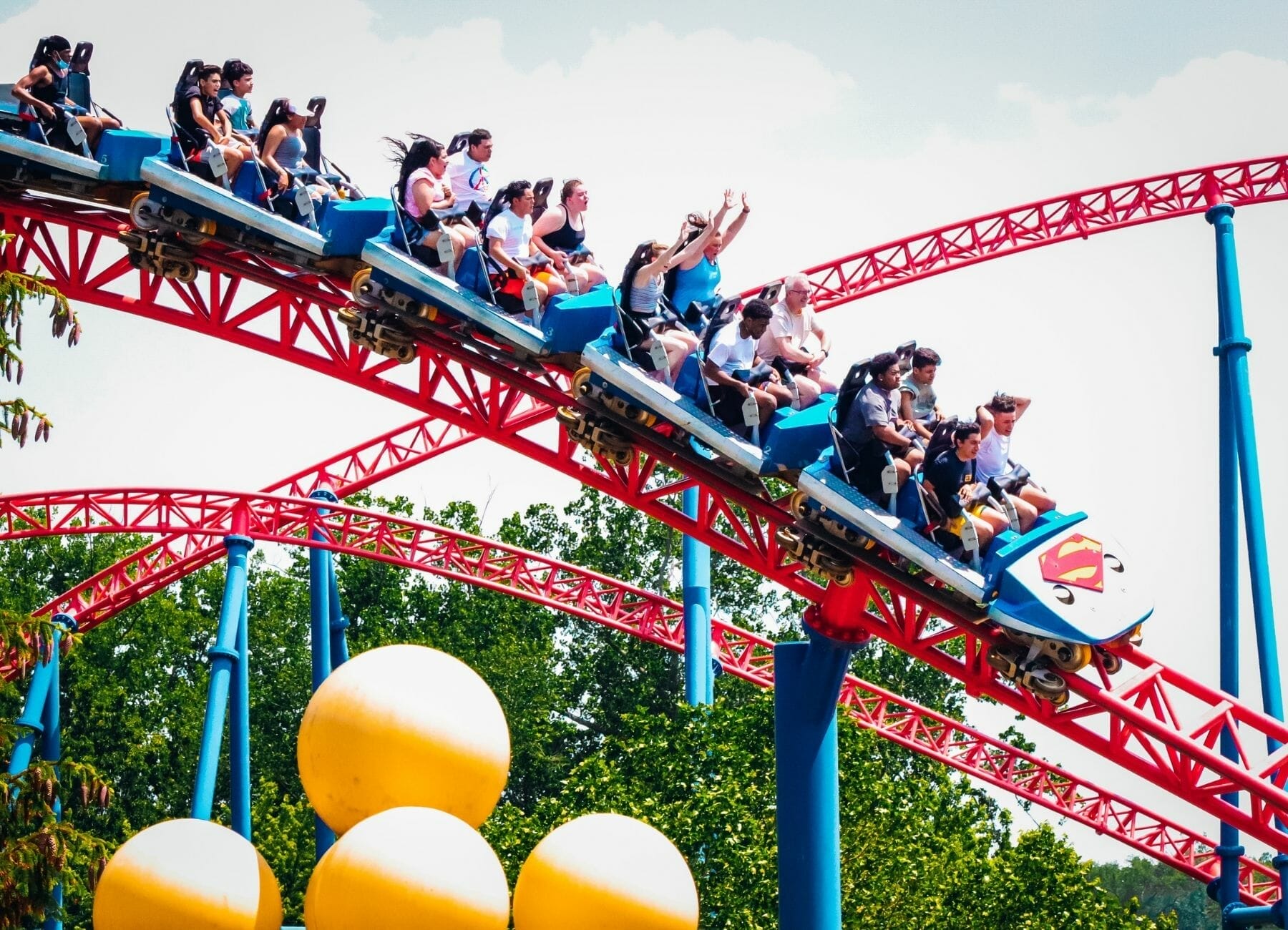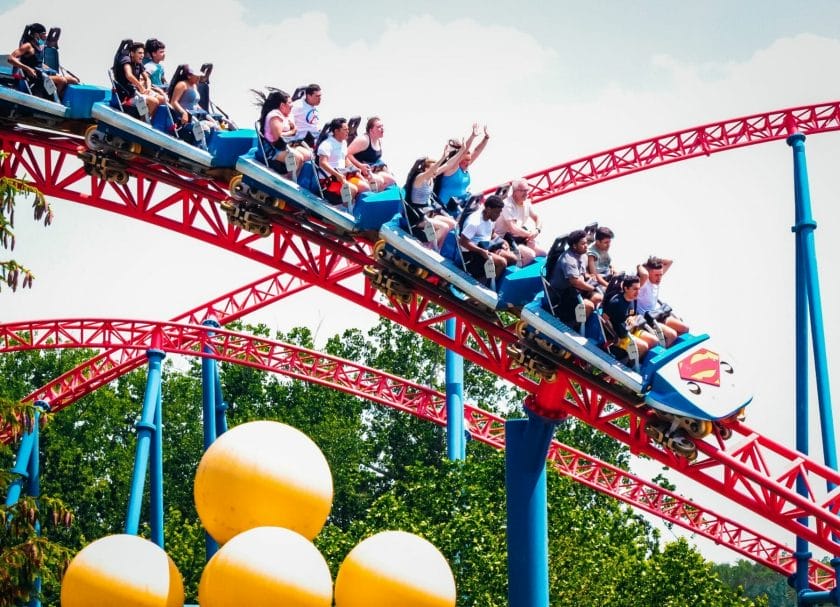 As mentioned earlier, the biggest of the roller coasters is Superman Ride Of Steel (renamed Superman The Ride in 2021). It is a 208-foot coaster that has been thrilling enthusiasts since 2000. This one is serious! One tidbit it's important to know is that it has been known for the restraints hurting people's thighs.
The Next coaster bearing mention is the Rocky Mountain Construction (RMC) hybrid steel/wood coaster called Wicked Cyclone. This one is, by far, our favorite at the park as "coaster people." A 110 drop followed by 111 air time moments provides one of the best thrills in the entire park.
Wicked Cyclone has never won the best steel coaster award, but it has been #2 more than once. I'd say that's pretty good, considering there are over 800 other steel coasters in North America alone. Getting a ride on Wicked Cyclone is an absolute must-do when visiting this amusement park.
Hurricane Harbor Water Park
And of course, we must mention the water park here! Hurricane Harbor is a huge attraction in and of itself, and there are droves of people who head to Six Flags New England just for Hurricane Harbor alone. We happened to visit on a 91-degree day during the summer, and the line was hundreds deep!
While there is a separate admission charge for the massive water park, the cool thing is the parks are connected, and they do allow back and forth from one park to the other once admission is paid for both.
This water park is a big one. Six Flags almost doubled the size of the water park when they took over ownership of what was Riverside Park in 1999. Two huge wave pools, Hurricane Bay and Commotion Ocean, are merely the beginning.
Twenty water slides, pools, and play areas topped off with the Northeast's first water coaster. That's right… water coaster. If you haven't experienced one of these yet, think of the same ups and down thrill of a roller coaster, but while sitting in a tube.
Just know, there has to be a way to push that tube "up" on a water slide, and the method they use just might surprise you the first time you feel it. Pro tip: don't lean back! We have a funny vid below of our first ride ever on a water coaster.
Park Tips
The Superman coaster uses a system known as "lap logs," which can press on your thighs and all but ruin the wonderful experience of one of the world's best steel roller coasters. To counteract the potential pain, make sure you are comfortable when leaving the station and that the bar is not too tight.
The line for the water park can get extremely long, and Six Flags will keep to their finite number of guests allowed. That creates a scenario where people have to wait outside of the water park for people to leave. Three leave? Three can enter.
If you're planning to spend the day at the water park, you might want to do that first before hitting the rides on the dry side of the park.
If you do not have priority parking via a Six Flags membership or a paid add-on, you will be parking in the main lot. You will see long lines waiting for the tram to take you to the theme park. This is unnecessary. The short walk takes about 5 minutes, makes social distancing easy and most folks can easily bypass the long wait times at the start of the day.
Where To Eat
Six Flags tends to have some decent food, but Chop Six is what we found to be the best. Either way, whether it's Chop Six or ol' reliable Johnny Rockets, I'd recommend grabbing a meal plan. If you plan on being at the park all day, this can be a great money saver.
Where To Stay
VRBO
Renovated Lakeview 2BD-1BA Cottage
Located only 7.6 miles from Six Flags New England, this newly renovated 2 bedroom cottage is a cozy spot to stay. Is only steps away from Lake Congamond that you can view from the deck.
Apartment Rental 2BR Excellent Location
This apartment rental is the perfect location. Only 2.5 miles from from Six Flags New England. This is a lower level walk-out basement rental, but it has all of the amenities. The apartment is 2 bed, 1 bath, fully furnished kitchen, home theater and more.
Hotel
Hyatt House Hartford North/Windsor
Hyatt House Hartford North/Windsor is 12 miles from Six Flags New England. The rooms are spacious and each include a fully equipped kitchen, free wi-fi and free parking.
For more info check out Six Flags New England here.
Lake Compounce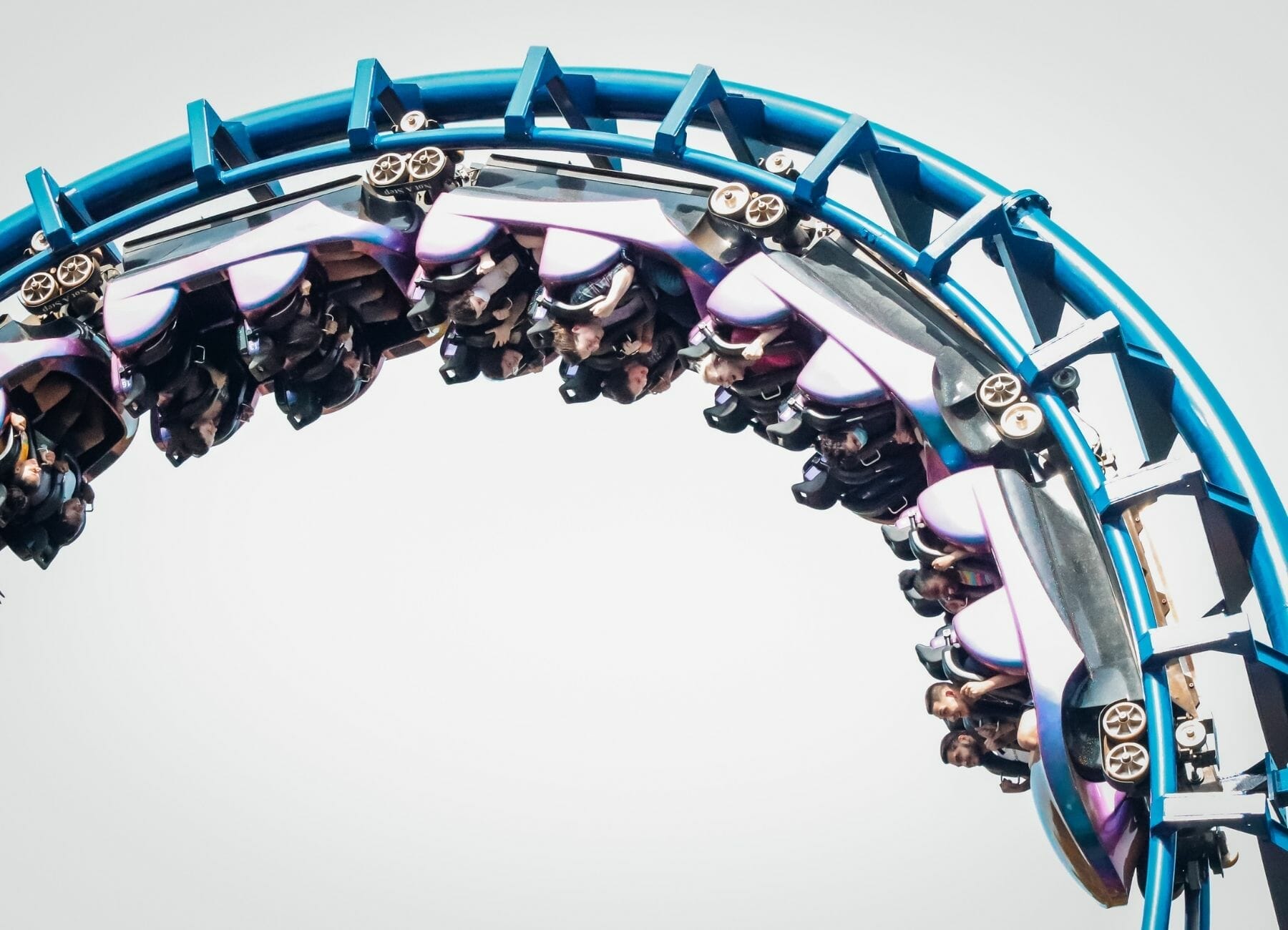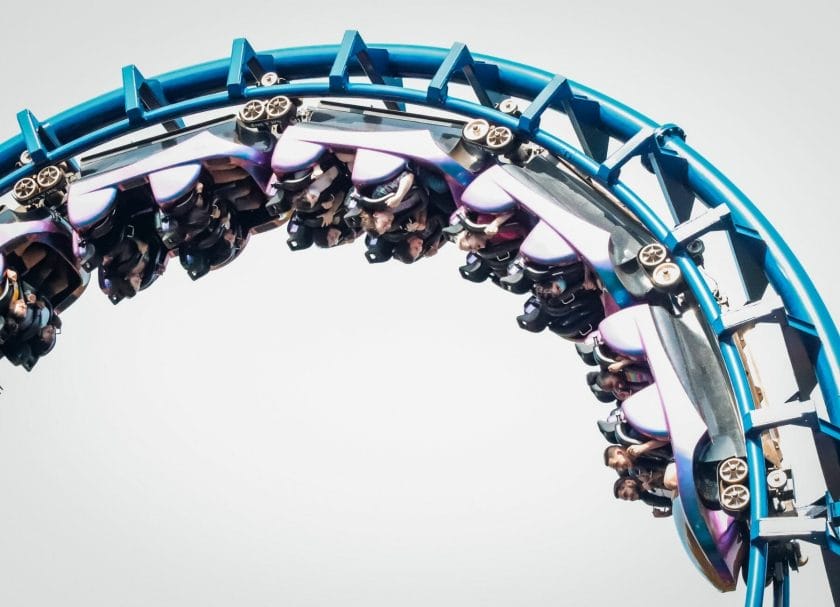 Remember Milli Vanilli? Those two good-looking singers with the huge hits in the 80s? Remember what happened to them? Well, guess where that immortal moment when the tape malfunctioned, exposing them for frauds took place?
That's right… Our next park, Lake Compounce! And fun facts like these are spread assigns you can read all throughout the park.
Celebrating its 175th year in 2022, Lake Compounce is the oldest continually operating amusement park in the US.
Interestingly this park is not within the state of Massachusetts, but it's one of the more important amusement parks in Massachusetts, and in the general area, so it bears mentioning here.
Where Is Lake Compounce?
Lake Compounce is located in a town called Bristol, Connecticut, which has another claim to fame as well. It's the headquarters of the sports mega channel ESPN, which is literally right down the street from the park itself.
After passing the huge ESPN sign, the first thing that stands out about Lake Compounce is its location. Nestled deep within the Connecticut forest, it's a park that uses its geographic location to its full advantage. It feels like a secret wonderland in the woods, which adds a little something to the experience from the moment you arrive.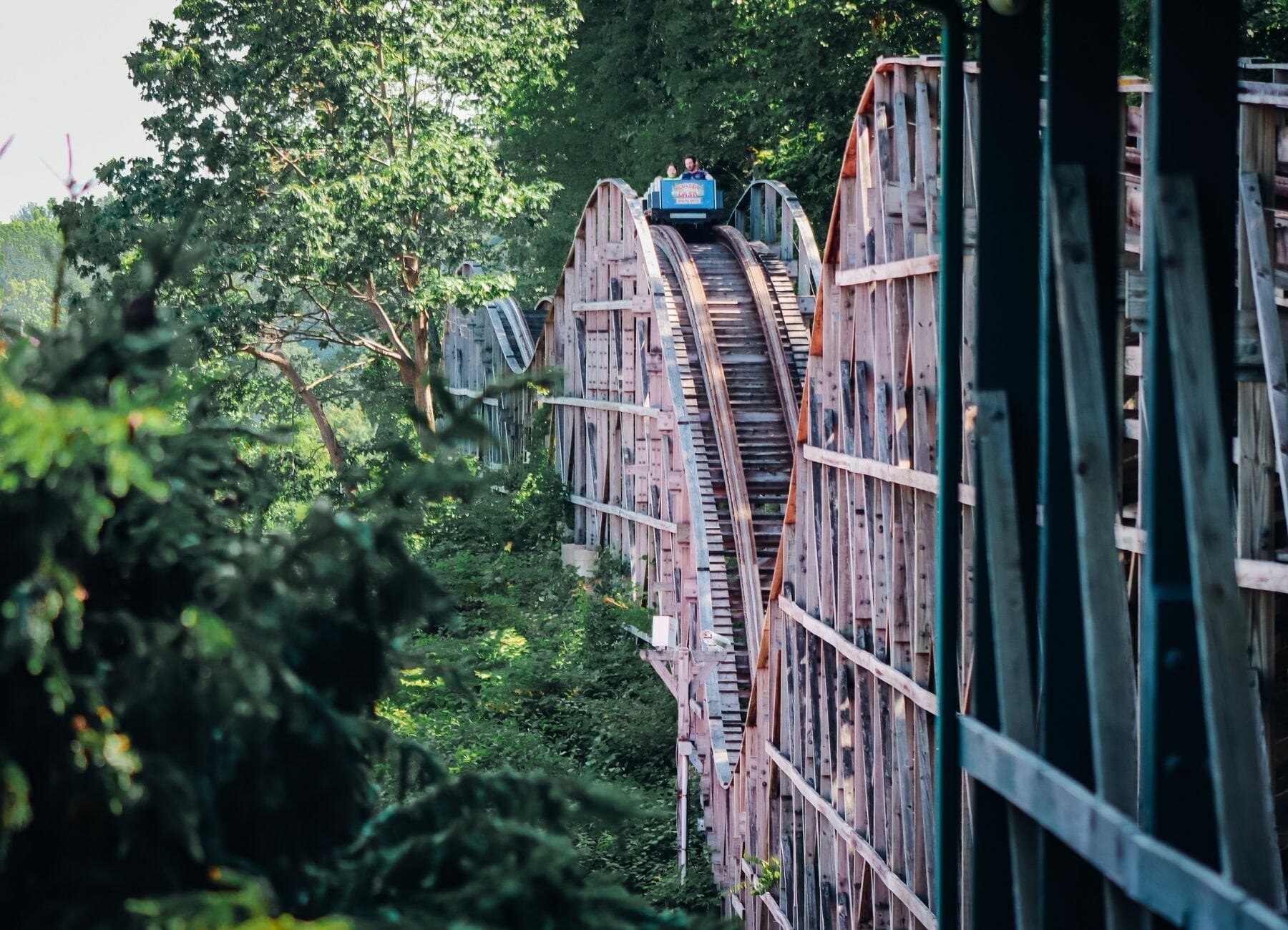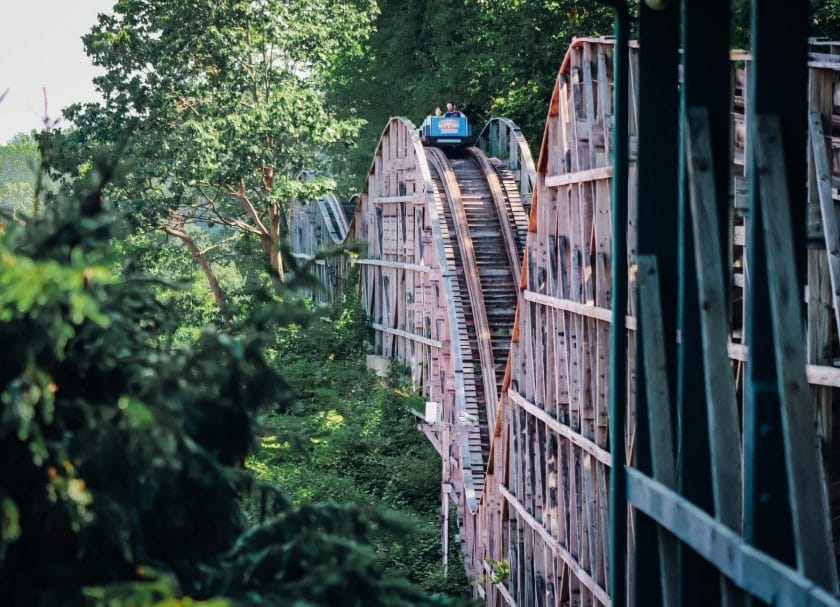 Lake Compounce Rides
Lake Compounce has five roller coasters headlined by one of the world's best wooden coasters, Boulderdash! It has won the prestigious Golden Ticket Award for best "woodie" in the world on 5 separate occasions and will not disappoint no matter what high expectations you have going in.
This roller coaster is a beast! It traverses the mountainside through the woods and takes you on a journey of laughter and thrills like no other coaster can. It's an absolute must-do when visiting Lake Compounce!
True Story – someone pooped on Boulderdash at Lake Compounce on the ride before us! You can check out our YouTube video on the experience – never thought we would see that!
On the opposite side of the spectrum, one of the most picturesque aspects of Lake Compounce is the big white wooden coaster positioned dead center when you're walking into the park. This gorgeous scene sets the tone for the whole day.
The problem is this coaster, called The Wildcat, just might be the roughest roller coaster we've ever been on! Check out the vid below. The park has gone to great lengths to fix the coaster over the years, even with a full re-tracking in 2017, but it remains a rough one to this day.
I want to be clear here. It's not that we're telling you to stay away from The Wildcat per se. Just to know what you're getting into before you strap yourself into the seat for this one. If you're anything like me, a word of warning isn't keeping me away from a beautiful white wooden roller coaster!
The park includes 3 other coasters ranging from kiddie to high thrill and the collection should easily satisfy the thrill-seekers in the group for the full day trip.
Lake Compounce Water Park
Lake Compounce also has a robust water park which can itself be a full day for the family. With dozens of waterslides headlined by the brand new Venus Vortex Water Slide for 2022.
Lazy rivers, cabanas, splash zones and wave pools make this a wonderful portion aspect of what Lake Compounce offers for a day of fun in the sun.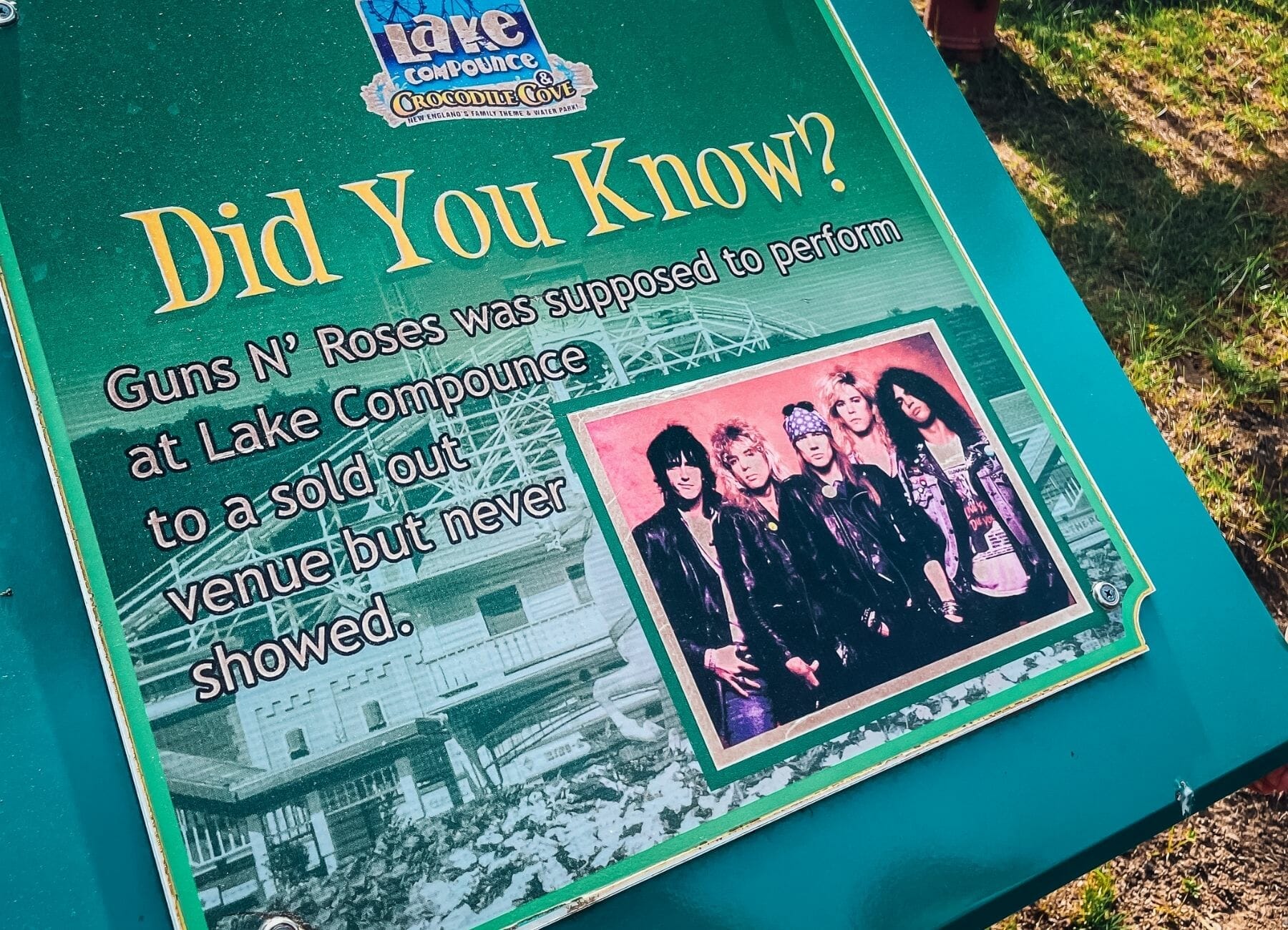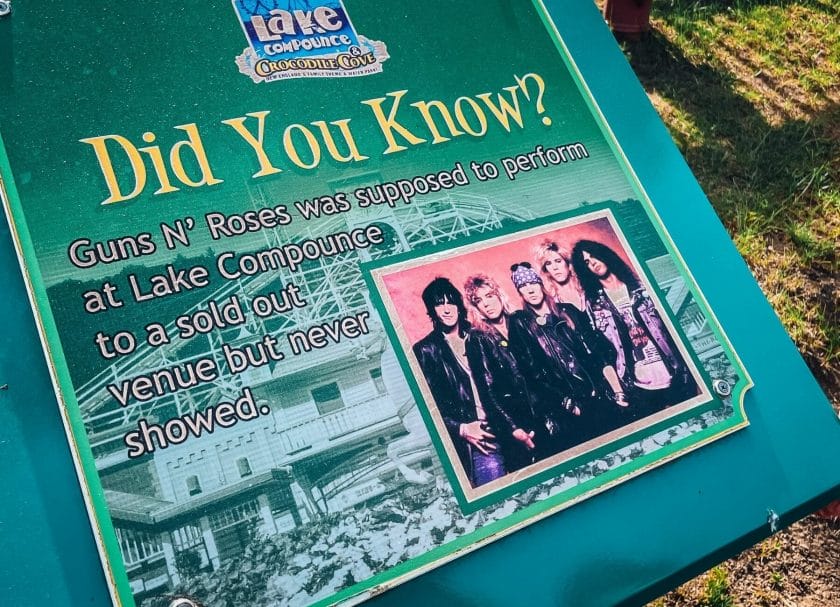 Where To Eat
Check out the Potato Patch for some of the best amusement park fries we have found out there. From chili fries to overstuffed baked potatoes and even chicken wings, we think this is the spot for the best of many Lake Compounce food offerings!
Where To Stay
VRBO
Fun Downtown Apartment
This is a 3 bedroom, 1 bath apartment rental that is within walking distance to restaurants, cafes, and shops. This is a second-floor apartment, so there will be stairs. The location is great and even only 10 minutes to the beaches.
Moose Lodge on Clatter Ridge Farm
Moose Lodge is only 9 miles to Lake Compounce. This is a 4 bedroom 3 bath rental, that has all of the amenities you will need. It is located on a small farm, but still close to everything. You'll have views of the pigs and sheep from your deck.
Hotel
SpringHill Suites by Marriott Hartford Cromwell
A family-friendly stay, located only 12 miles from Lake Compounce. SpringHill Suites offers free wi-fi, free parking, and a continental breakfast each morning.
Holiday Inn Express Hartford South – Rocky Hill
Holiday Inn Express offers free daily breakfast and wi-fi and parking is included with your stay. Rooms are spacious and each has a refrigerator.
Campground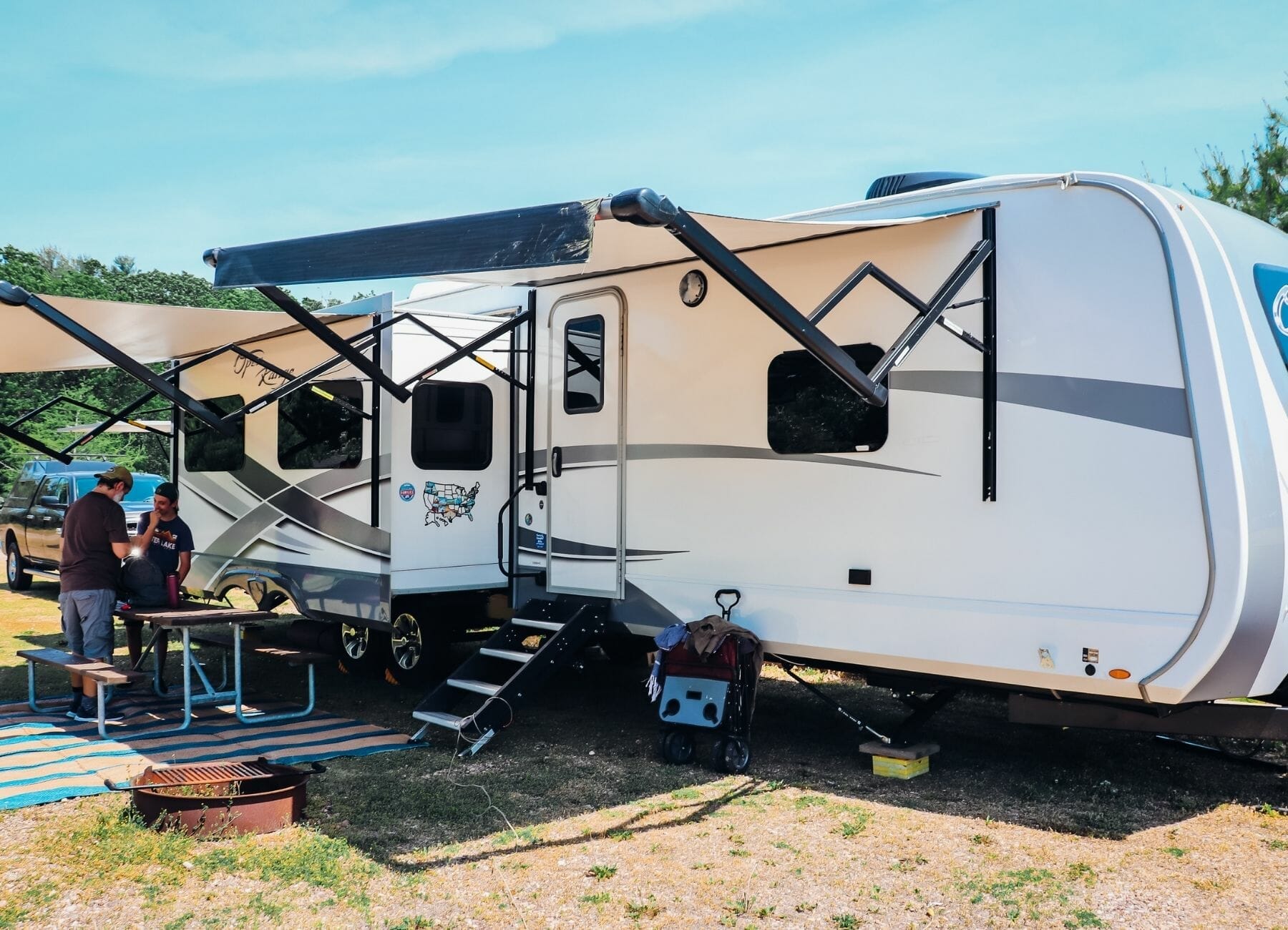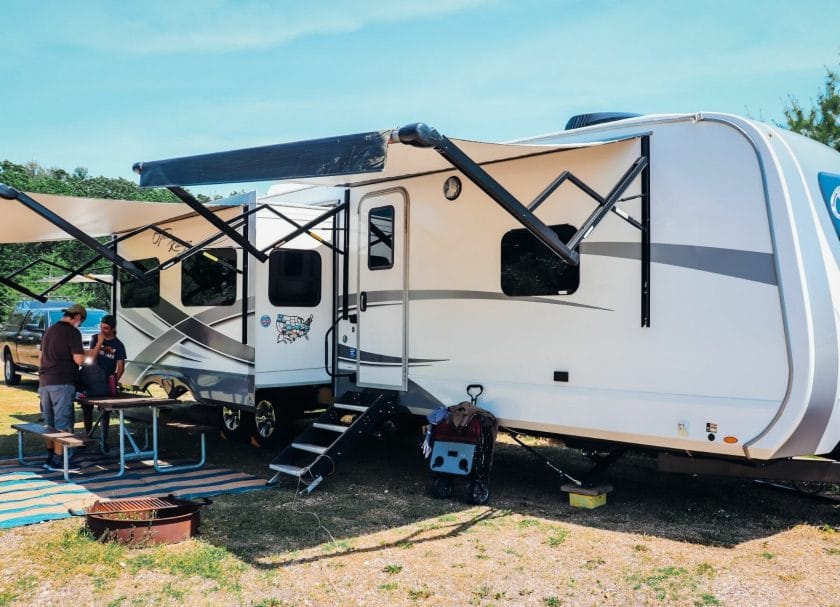 Lake Compounce has its own campground called the Bear Creek Campground on the adjoining property next door. With views of the coasters and rides poking out through the trees, you're gonna know you are at a special place right away when choosing to stay there.
The Bear Creek Campground has numerous options for a stay on their property. They have plenty of spacious full hookup RV sites, tent spaces, three different sizes of cabin rentals and even tipis!
The grounds are well-manicured and taken care of which a full assortment of playgrounds, tennis courts, basketball courts and more. There are also laundry facilities to dry off all the clothes that got soaked on the new Venus Vortex Slide!
Now here is the best part of staying at the campground: The park will give everyone who stays at the campground $20 off per admission ticket to the park. So for a group of 4 that's $80 off.
As an example, the tipis are $80 per night, so if you rent the tipi and then buy your tickets to the park in the campground store, your discounts for the park admission will basically cover the cost of the night's stay!
It makes financial sense to splurge and stay for a night right on the grounds of Lake Compounce, which can make the entire day and night at the park that much more fun and special!
And don't worry about getting back and forth from the park to the campground either. Bear Creek staff isn't located near golf courses, but they will happily shuttle you both ways on their 8 person golf cart. Our kids treated this 4-5 min shuttle like the first and final rides of the day. Bonus Rides!
In Conclusion
All in all, Lake Compounce has the feel of a hidden gem. A classic amusement park that has not lost the deep connection to its history yet has an updated and forward-thinking approach to service. We are happy to recommend Lake Compounce as a must-do while in the New England area.
For more info check out Lake Compounce here.
Edaville Family Theme Park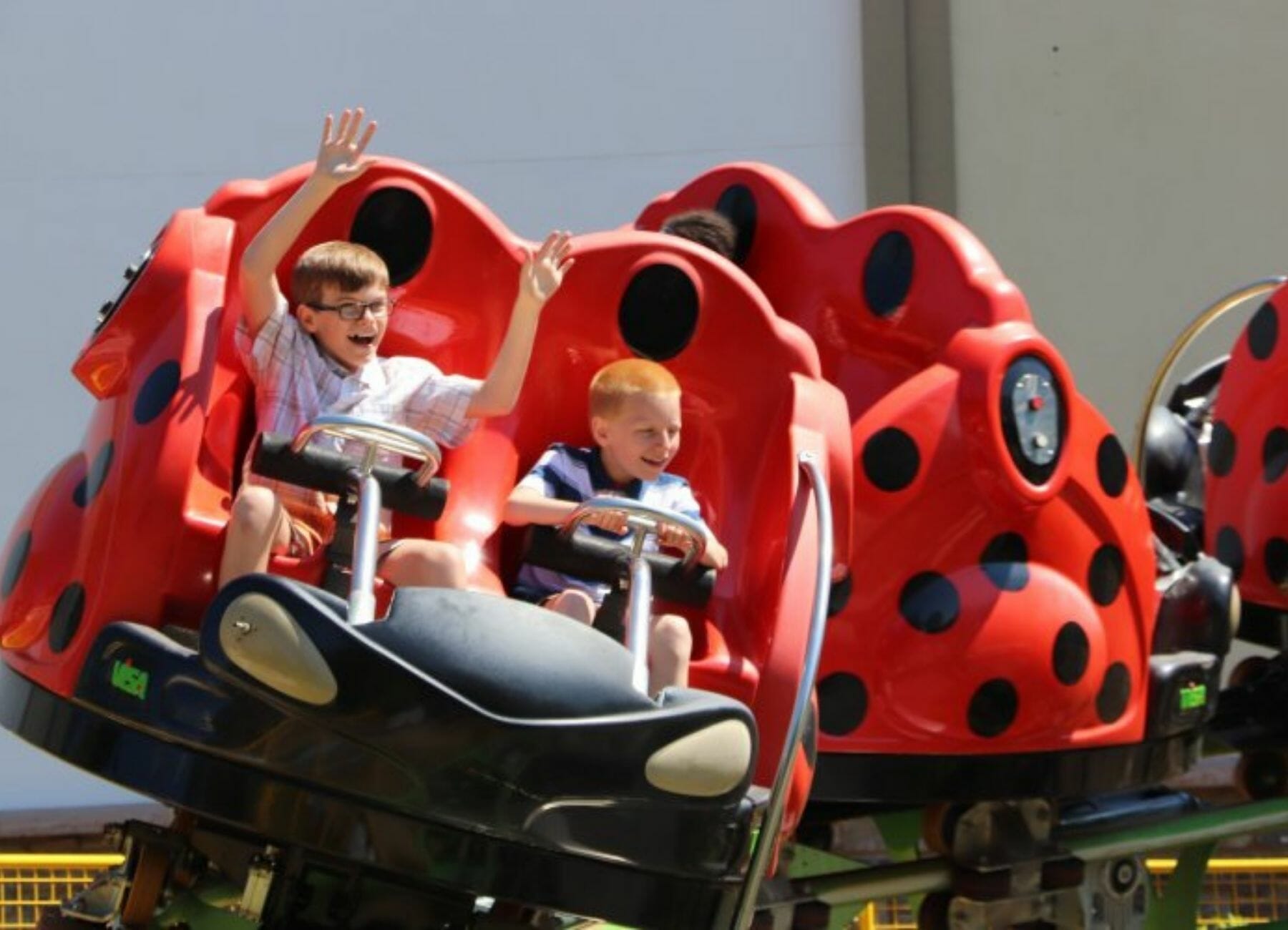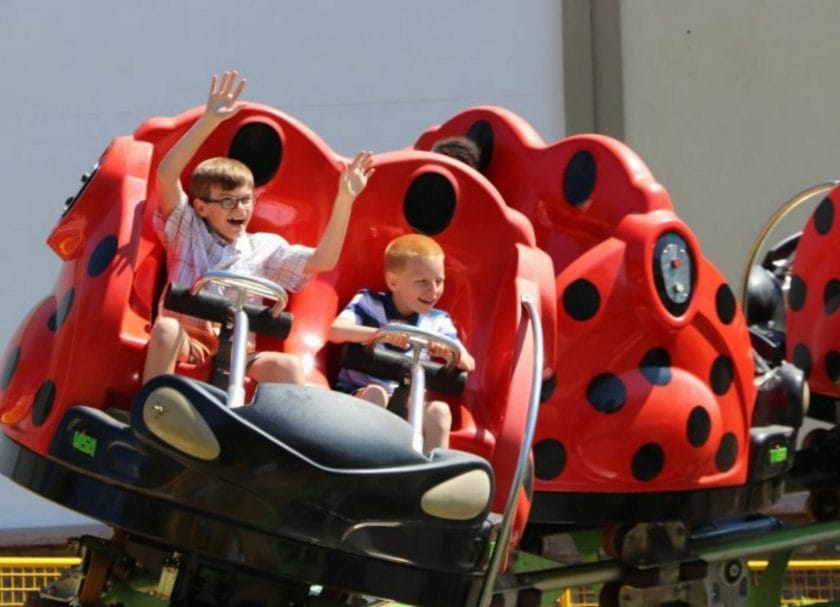 Aimed for the youngers on the age range, this family park, located about 40 min north of Cape Cod, is separated into three different lands for the kids to explore: Dino Land, Cran Central, and Thomas Land.
The newest area in the park is Thomas Land. Thomas the Train and his friends on the Island of Sodor are brought to life for you and the family. Here they have eleven themed rides, featuring characters like Winston, Bulstrode, and Harold the Helicopter.
The Sodor Play Zone is a great place for kids to run around, climb and jump. Its age range is 4-12, so the olders can enjoy this one too.
There is an hourly Thomas the Train tour of the whole theme park, allowing you to catch a peek at the cranberry bogs and other attractions around Edaville. You can also snag a pic with Thomas before or after the ride!
In Dino Land, there are trails to explore with over 20 life-like animatronic dinosaurs to learn about along the way. This is a fun and exciting way for the kids to get a glimpse at their favorite prehistoric pals.
Cran-Central lays out the history of Edaville with over 20 refurbished antique rides. This is super exciting for amusement park history nerds like us! There is a Ferris Wheel, Flying Elephants, Scrambler, and Carousel.
The Ellis Playhouse is also located in the Cran-Central. In there, you can find a cranberry museum, arcade, and indoor bumper cars. This one is good for all ages to enjoy!
Park Tips
This park is definitely targeted for a younger age group, so be aware if you have older kids.
There is a Cran-tastic Cranberry Jubilee Live Show at certain times during the day. If you make it, stay behind for meet and greets with your kids' favorite characters.
Check online for coupons. There are discounts for RI and MA residents, but there is usually a good coupon deal floating around!
Where To Eat
This is one of those great parks that allows coolers! Since there is no signature dish offered here, I'd recommend packing your own food. There are plenty of spaces throughout where you can spread out a blanket and enjoy a picnic with your family.
Where To Stay
VRBO
Gingerbread cottage 100 steps from the beach
3 bed, 1.5 bath charming cottage just steps from the beach. The location for this property is excellent. The cottage is very convenient to access all the local area has to offer.
Waterfront Cottage on Private Lake with Dock
This rental is for a 2 bed plus loft, and 1 bath rental. The location is a beautiful waterfront with amazing views of the lake. Includes is own dock on the property for easy swimming access to the lake.
Hotel
Hampton Inn & Suites by Hilton Plymouth
Hampton Inn & Suites is a family-friendly stay and includes free in-room coffee and free breakfast. There is also an on-location convenience store to purchase last-minute items you may have forgotten. Pets are also allowed, and there is an indoor swimming pool on the property.
TownePlace Suites by Marriott Wareham Buzzards Bay
This property provides rooms that are furnished with a full kitchen, including a dishwasher. The rooms are spacious and pet friendly. All rooms also include free wi-fi and parking, and breakfast is included.
For more info check out Edaville Family Theme Park here.
Canobie Lake Park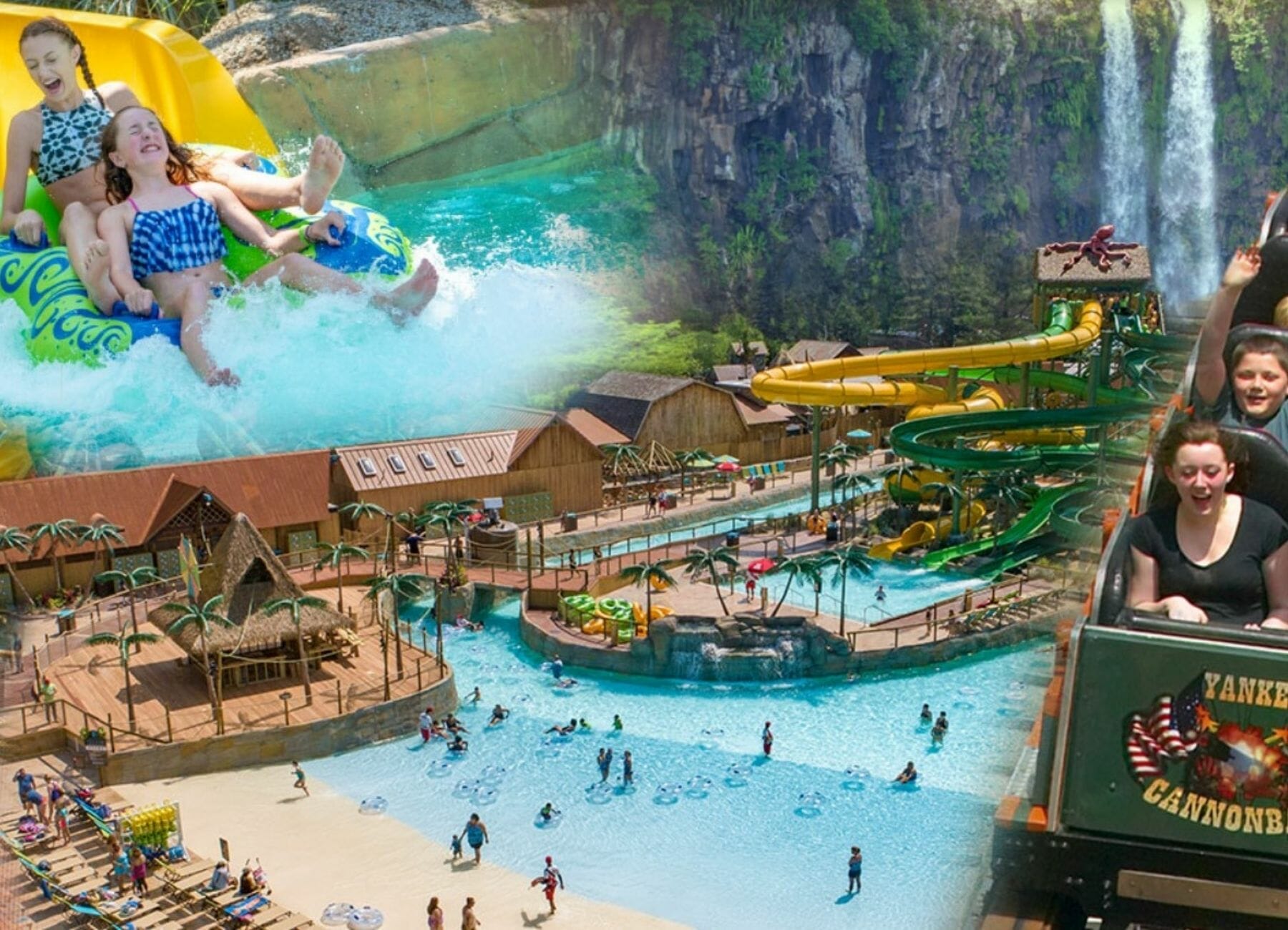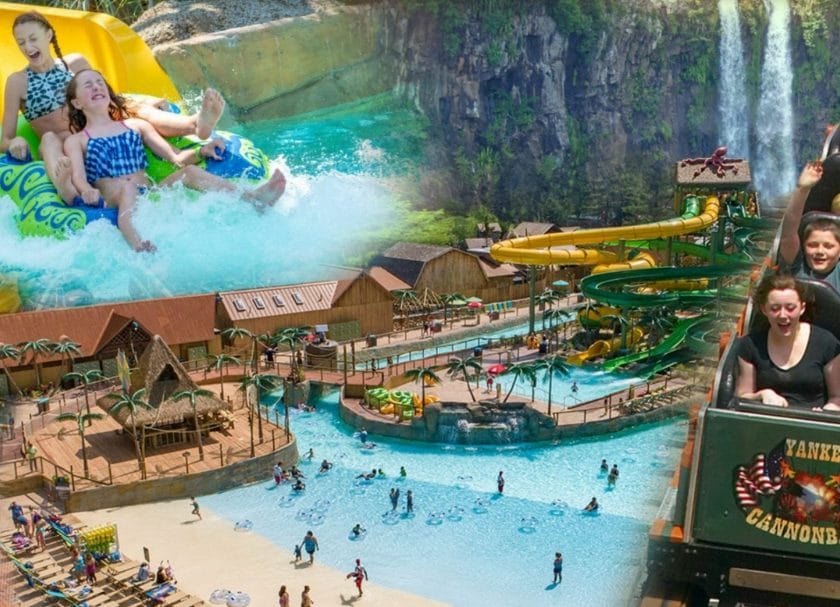 Canobie Lake Park, located about an hour north of Boston in Salem, NH, is the historic home to a long-time family friendly park. Opened in 1902, this one has something for everyone, big and small.
First, let's talk rides. We've got three thrill coasters here: the Yankee Cannonball, a classic wooden coaster, Dragon, a steel family coaster, and their latest, Untamed. That last one has a 72 foot, 97-degree drop. For the thrill lover in the family, it's perfect!
There are over 85 other rides in the park, ranging from teacups, pirate ships like the Boston Tea Party, and a Ferris wheel. A wide range of options for everyone to have a ball.
Different Sections Of The Park
Kiddie Land in the park hosts rides that are for 48 inches AND UNDER. We always loved taking our littles (when they WERE littles) to these types of attractions. Seeing their little faces as they go on a ride all by themselves was always pure flippin' joy.
Another cool area of the park is the Dance Hall. This iconic fixture in the park was where a number of classic acts took the stage. Names like Duke Ellington, Jerry Lee Lewis, and Aerosmith have graced the stage here.
Nowadays, it is open to the public, displaying old marquees, playbills, and figurines. It's s a fun walk back in time.
If you are visiting during the summer months, don't miss out on Castaway Island, Canobie Lake's water park. It's the perfect way to spend the hot afternoon after a morning of walking and rides.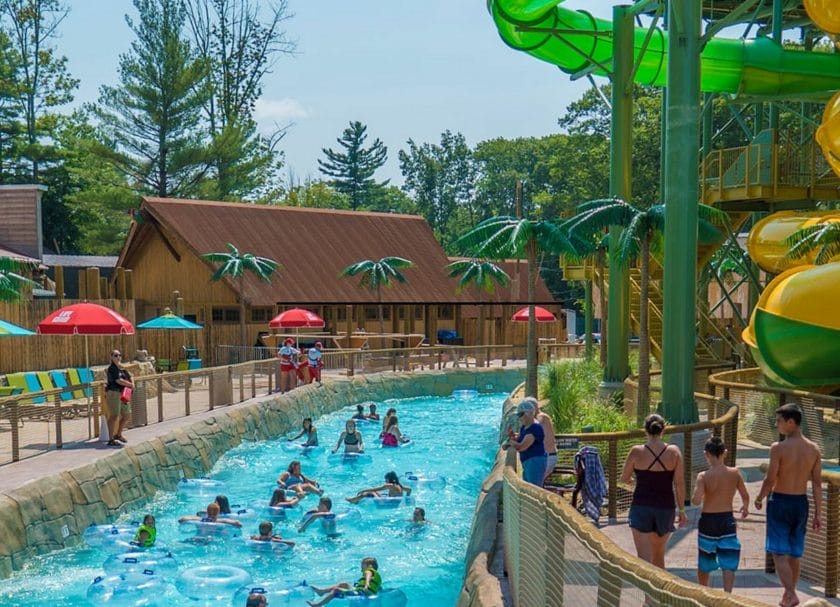 There are some really unique features in Castaway Island, like the Tidal River. Tidal River is like a lazy river and a wave pool combined. There is a 60-foot tower leading to three water slides, an area for kids called Lil' Squirts Lagoon, private cabanas, a tiki bar, and more.
Park Tips
Hop in line for the Cannonball first. The line for this one tends to get the longest, especially in the afternoon hours, so this is a good one to hit on the earlier end of the day!
If you really want to switch things up, go to the water park first! It opens a half-hour before the rides, so you can get to the water park before the lines get crazy!
Where To Eat
We have heard the park concessions are pretty darn good here, but as with most amusement parks, the prices tend to be more than what it's worth.
My two cents is to pack a lunch, keep it in the car, head out to eat in the parking lot and then head back in. In and outs are unlimited at Canobie, and the parking lot isn't a massive hike!
Where To Stay
VRBO
Modern Cottage in Southern New Hampshire
The Modern Cottage is a 3 bedroom that comfortably sleeps 6. This property is only 3 miles to Canobie Lake Park and has an excellent waterfront location. You can enjoy kayaking, swimming, and paddleboarding.
Harborside's Neighbor
Excellent waterfront location within walking distance to restaurants and shops. Located only a 9-minute drive to the beach to make an excellent getaway location.
Hotel
Fairfield Inn Boston Tewksbury/Andover
Located only 10 miles from Canobie Lake Park, this property includes a hot breakfast and an outdoor pool. Free wi-fi and parking are also included. Rooms are spacious and comfortable for a hotel stay.
Sleep Inn Londonderry
Sleep Inn is only 14 miles from Canobie Lake Park. After spending the day at the park, the property offers an indoor pool and hotel to relax. All rooms have free wi-fi and parking at the family-friendly hotel.
For more info check out Canobie Lake Park here. If you want to plan a couples weekend be sure to check out these romantic hotels in MA!
More Amusement Park Posts
8 Amusement Parks in Miami You Will Want To Visit
Top 8 Best Amusement Parks In NJ
4 Amusement Parks In Tennessee You Need To Visit
4 Best Amusement Parks in Oregon To Visit
More Info Check Out:
Things to do in Boston with Kids
21 Best Things to do in Mystic CT
11 Things To Do In Bar Harbor Maine
Top 14 Maine National Parks and State Parks To Visit
19 Best Things To Do In Newport RI
11 East Coast National Parks You Want To Visit This Year
15 Amazing Things To Do In Maine
Pin This Post: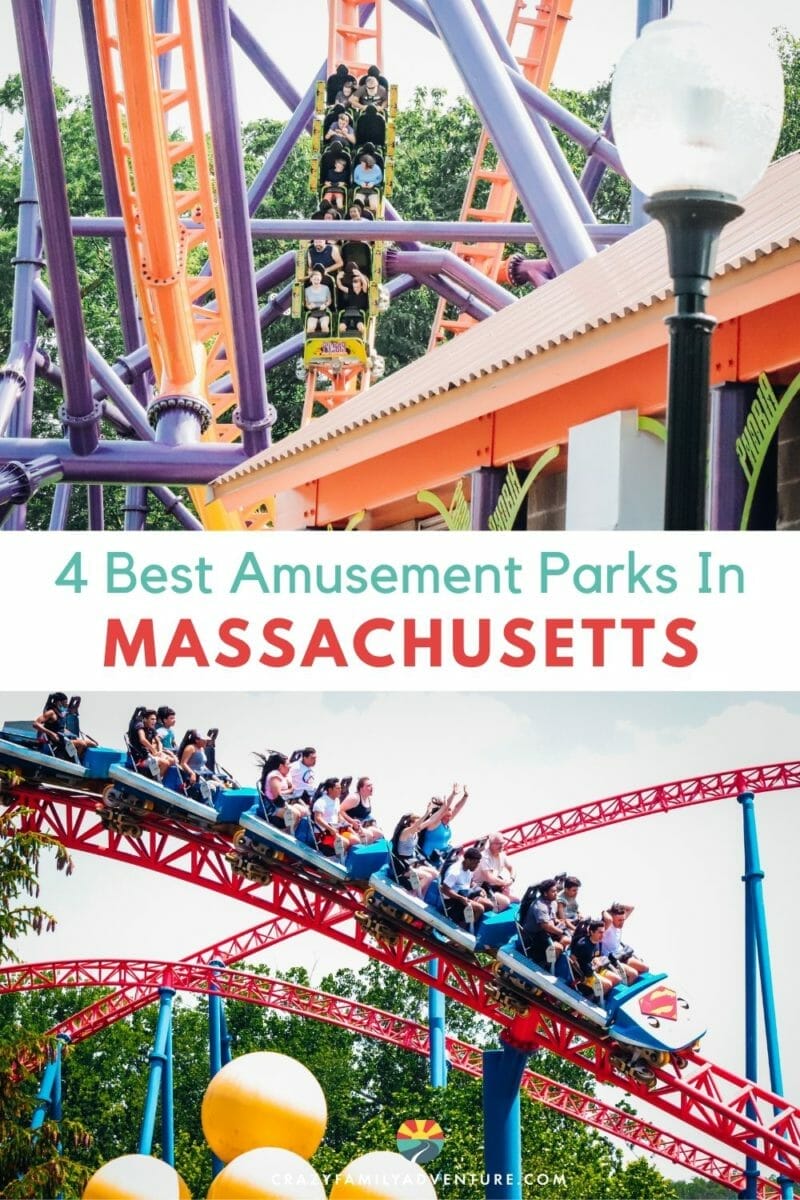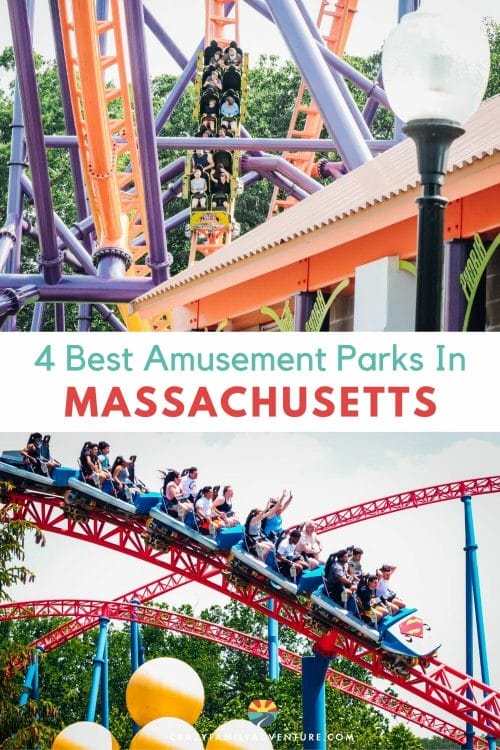 Latest posts by Meryl Kalman-Sarrecchia
(see all)
DISCLOSURE: This post may contain affiliate links, meaning I get a commission if you decide to make a purchase through my links, at no cost to you. Please read my disclosure for more info.