We were excited to head to Boston to share this awesome city and its history with the kids. Craig and I actually got engaged in Boston back in 2001. We did a lot of research to find the best things to do in Boston with kids hoping our kids would like the city as much as we do!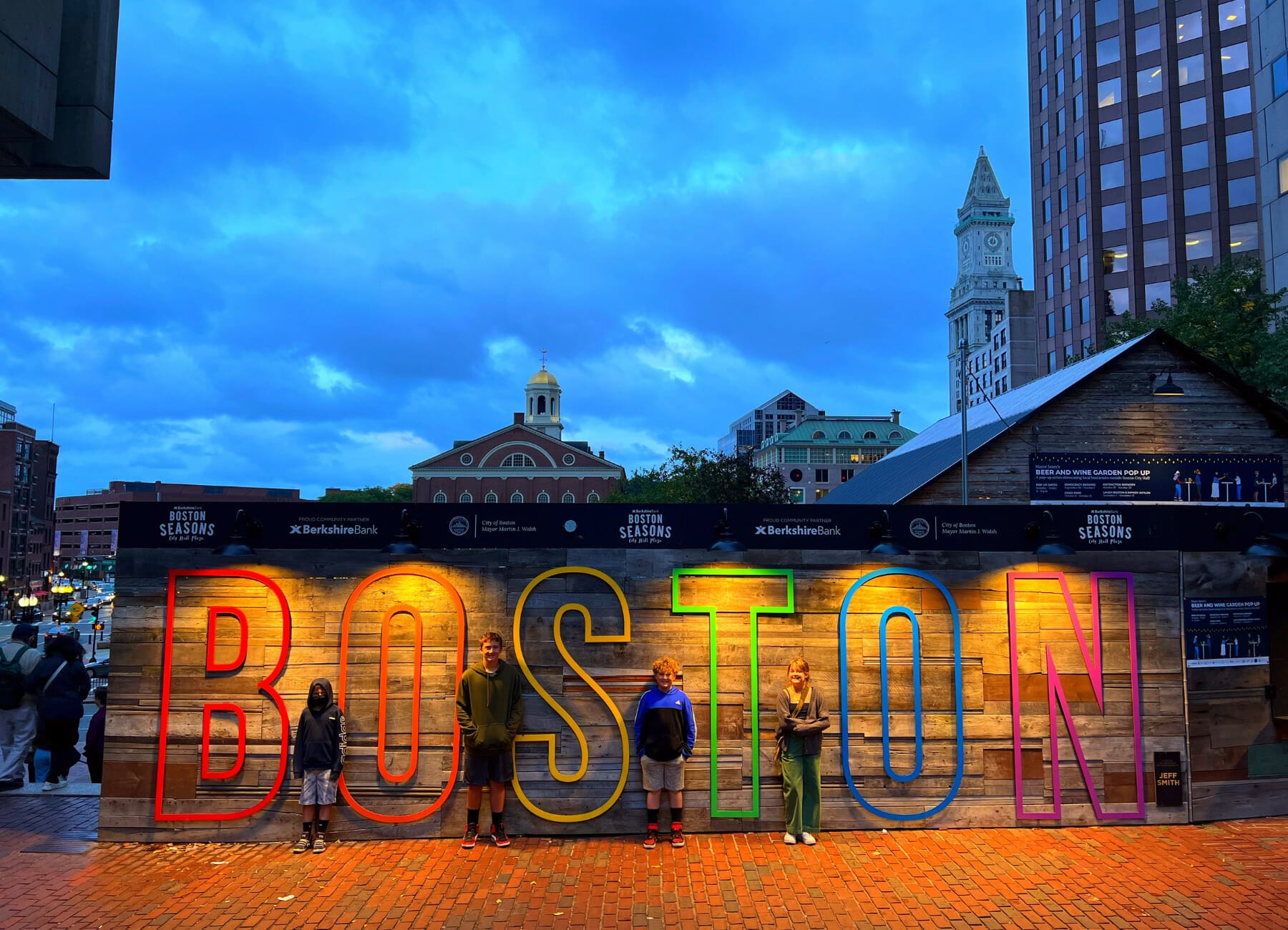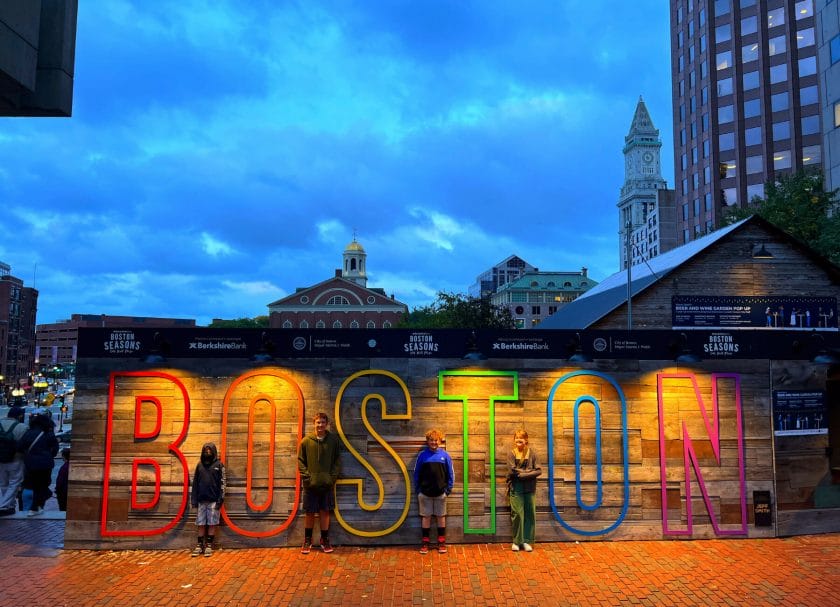 There is so much history in Boston that we knew we wanted that to be a focus while we were there. I love how Boston is filled with history, yet the history and historical buildings are mixed in with the newer parts of Boston too.
It is this unique combination of old and new and has such a cool vibe to it. Here is our top list of things we did not want to miss while we were in Boston with our kids.
We headed here on our East Coast road trip where we also made stops in Washington DC, New York City, Boston, Philadelphia, Lincoln, NH, plus a few other stops!
Freedom Trail
You could literally spend all day just walking and seeing the 2.5-mile Freedom Trail with your kids in Boston, and we highly recommend you spend a lot of time on this. The historic Freedom Trail follows the path of the American Revolution by visiting unique sites tied to our country's quest for freedom. If your kids aren't familiar yet with what the Freedom Trail is, we suggest watching some documentaries on it and reading some books – we liked the What Was the Boston Tea Party book.
Before your trip, you must talk with your kids about the Freedom Trail and its history.
Before going to Boston, we downloaded an audio tour of the Freedom Trail app called: Freedom Trail Boston Guide on Craig's phone, so we could stop at each spot and learn more about the site we were at. The one we downloaded was Action Tour Guide – Freedom Trail Walking Tour. Book a 2.5-hour guided walking tour of the Freedom Trail here.
We made the following stops on the Freedom Trail in this order:
Boston Common
Boston Common is America's oldest public park. It was established by the Puritans back in the 1600s. This historical site has been home to many important events in Boston's past, including executions during the Boston Witch Trials. The park also served as a base camp for many British soldiers during their occupation of Boston during the Revolution. You will find kid friendly activities for every season at the Frog Pond including a carousel, skating rink, and splash pad.
Massachusetts State House
The building is beautiful, so it is worth stopping and seeing it from the outside. The Massachusetts State House has served as the main seat of government for the state since 1798. The picturesque golden dome and majestic pillars are easily recognizable. It is located just steps from the Boston Common and in the heart of the downtown district. If you have extra time, guided indoor tours are available year-round and given free of charge.

Robert Gould Shaw Memorial
This memorial commemorates one of the first black regiments of the Civil War. It is located outside on a wall, so you can easily stop to see it. This amazing bronze monument is dedicated to the 54th Massachusetts Regiment and was the first public monument to honor the brave African American soldiers that fought and gave their lives for freedom during the Civil War. This touching memorial is important to Civil War and Civil Rights history.
The Park Street Church
Park Street Church was built in 1809. The 217-foot steeple was one of the first things people would see when coming into Boston. For many years this steeple was the tallest point in Boston. This beautiful church is located between the Boston Common and Granary Burying Ground. It has played an essential role in history over the last 200 years.
The church and its congregation have played an active role throughout history in human rights and social justice. In 1826, the brother of Harriet Beecher Stowe became pastor and spoke out against slavery.
Granary Burying Ground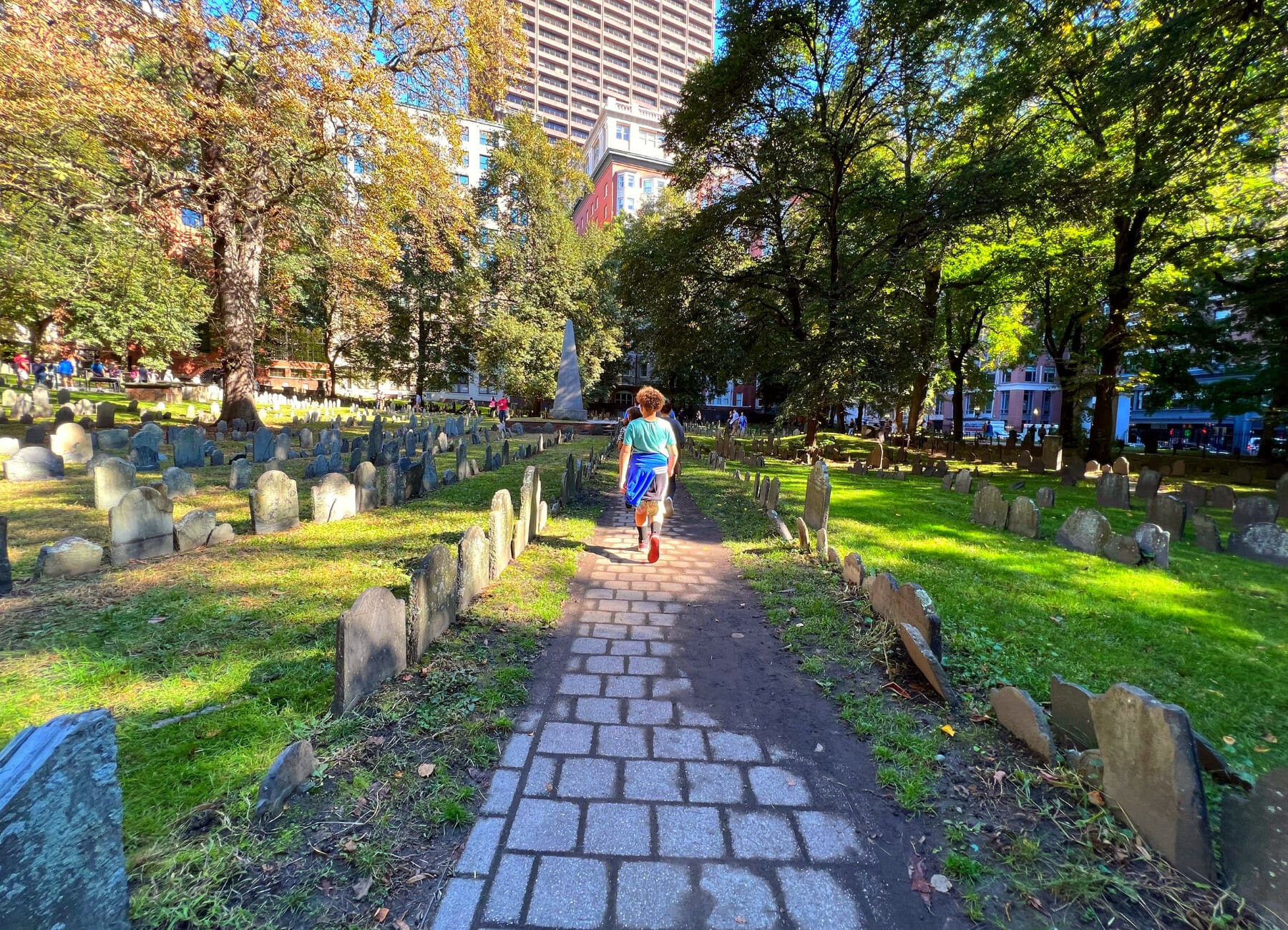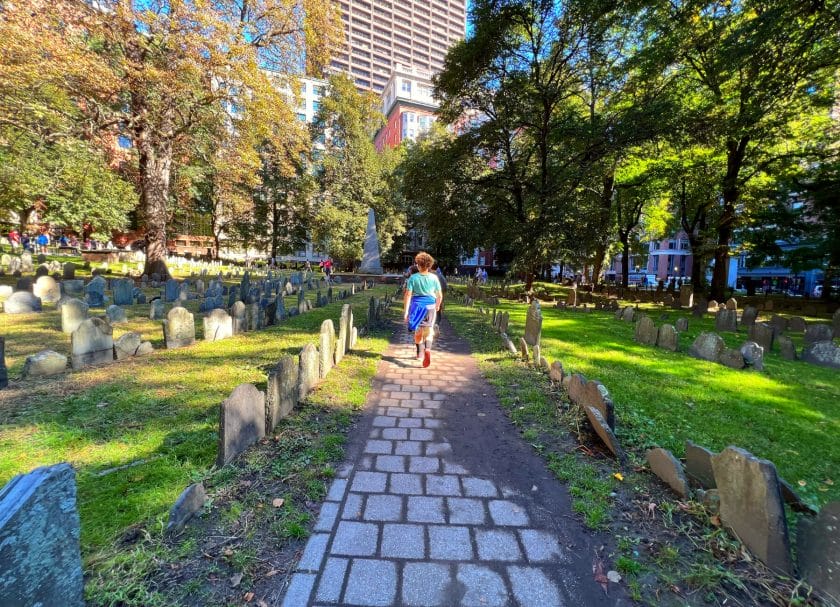 The Granary Burying Ground is one of Boston's oldest cemeteries and is the final resting place of quite a few notable citizens. When we arrived, someone at the entrance handed out maps of the cemetery and gravestones. We walked through the trails of tombstones, the graves of Paul Revere, Samuel Adams, and John Hancock. The map made it easy to know which grave sites we wanted to visit. Find a copy of the map here.
The booked audio tour also had a whole section on the cemetery and its history. The tour also gave us directions, telling us where we could find the most notable graves.
King's Chapel
King's Chapel is one of the oldest churches in Boston. Established in the 1680s, you can still visit this chapel and sit in the pews today. This church is home to some of the most beautiful architecture. We were lucky enough that a worker was available to answer questions and share pieces of history with us. While experiencing the peace and grandeur of the chapel, there was also someone playing the organ up on the balcony. It was a beautiful and memorable experience.
Old City Hall
Located in downtown Boston, you will find The Old City Hall. We stepped inside the fence to not really see the Old City Hall but instead for the kids to see the donkey statue (which represents the Democratic party – there are footprints on the ground that say stand in opposition that represent the Republican party) – which some of their favorite YouTubers had recently shared on their channel. Priorities when traveling with kids :)!
Old South Meeting House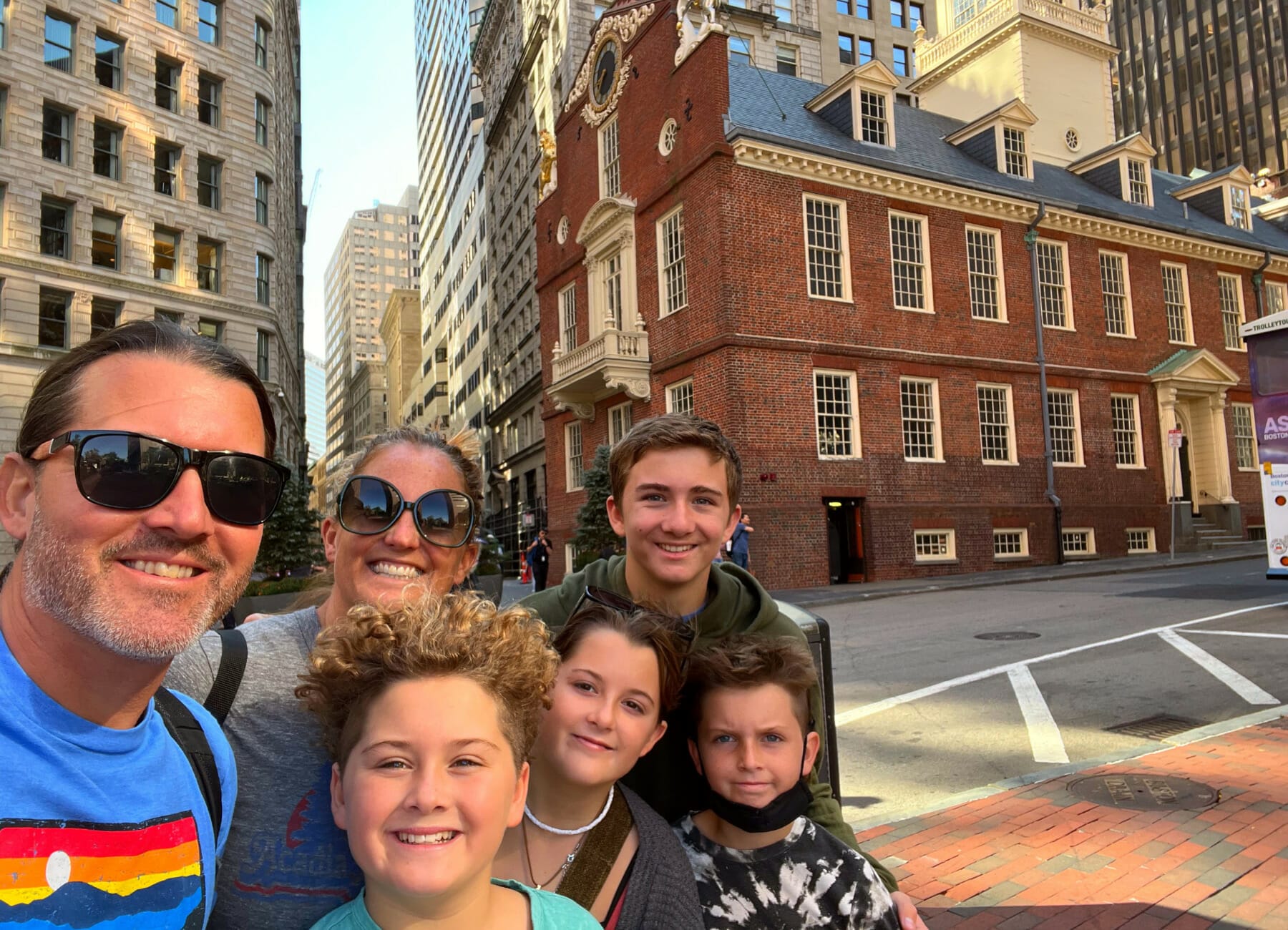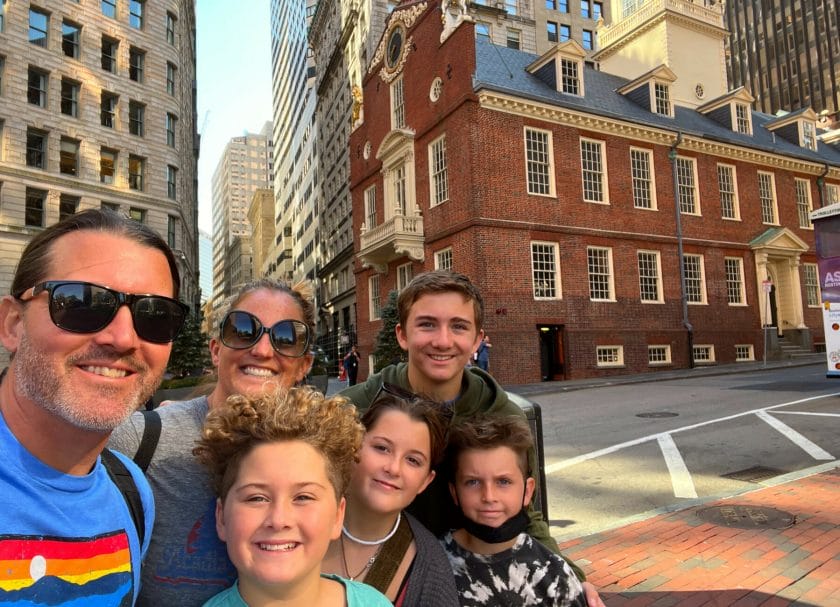 The location was a popular gathering place for a lot of political discussions and the birthplace of the Boston Tea Party. The historic Puritan meeting house has been designated as a museum since the late 1870s. There is an admission fee to go into the building, so we opted to stay outside and listen to our audio tour.
Boston Massacre Site
One of the most important revolutionary sites is where the Boston Massacre occurred. This murderous event paved the way for the beginning of the American Revolution and happened just outside the Old State Meeting House. There is a cobblestone ring marking the site where the massacre began. We stopped to listen to the audio and tried to imagine what actually happened at this spot.
The Old Corner Bookstore
The Old Corner Bookstore is the oldest commercial building in Boston. The Bookstore was home to one of the largest publishing houses in the 1800s. This notable location is now a Chipotle restaurant. We pointed it out in passing, or if you want to grab lunch, this would be a good place to do it!
Faneuil Hall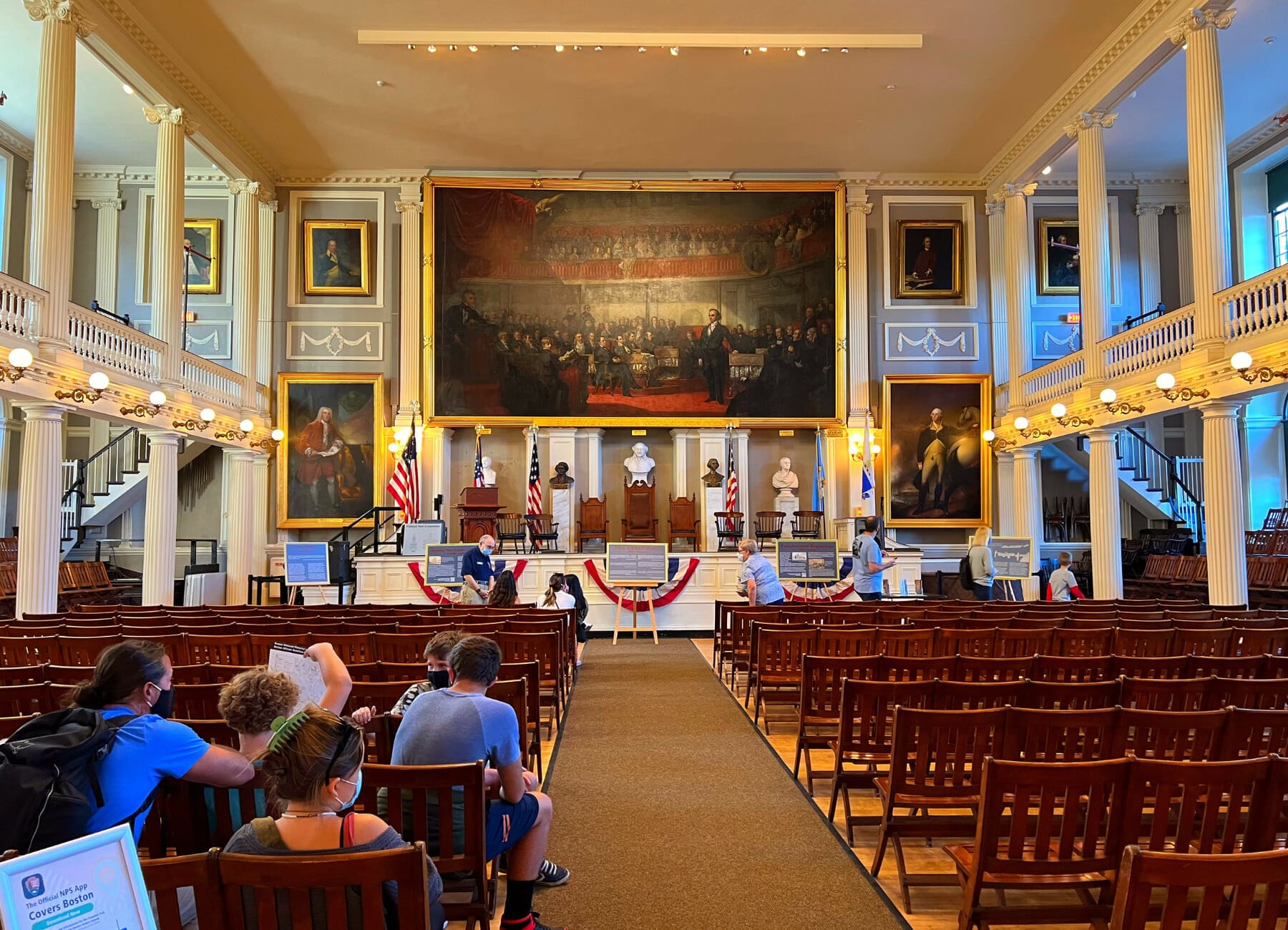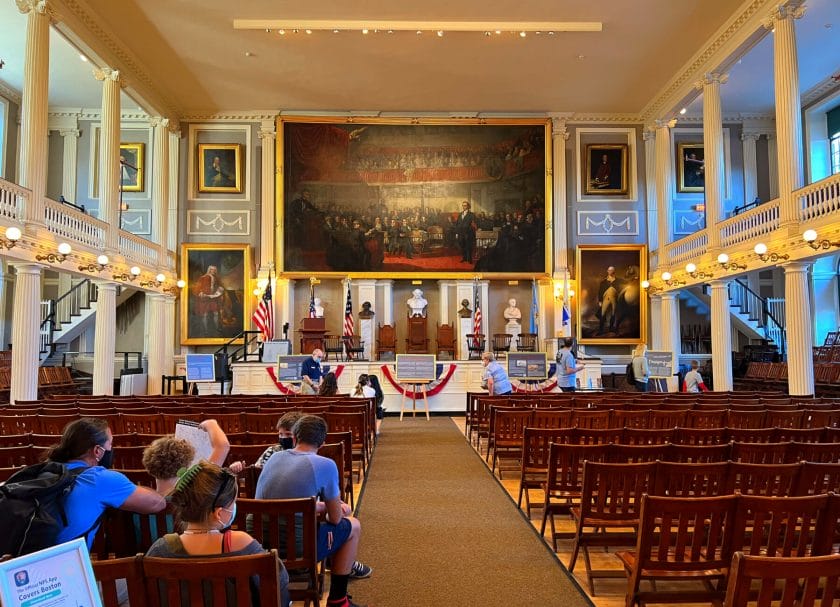 The location hosted America's first town meeting and is referred to as the "Cradle of Liberty" and "the home of free speech." This is the place where the Sons of Liberty first vocalized their protest against the British.
The hall is owned by the National Park Service. The first floor is the National Park Service Center Visitor Center. While the Great Hall is located on the 2nd floor.
We did go up to the Great Hall to sit in the chairs and listen to our audio tour on Faneuil Hall. National Park guides will also walk around sharing information or answering questions you might have. If you don't see any, you can ask questions about anything the National Park has going on at the visitor center.
Paul Revere House
Discover the only Freedom Trail destination that was a home. This house was built in 1680 and is home to the well-known patriot. There is an admission price to tour this site. We opted to look at the house from the outside but did not go in. If interested, be sure to check out the schedule for living history reenactments.
Paul Revere Statue
The statue honoring Revolutionary War Hero Paul Revere is located in a park area just outside the Old North Church. This statue is one of the most photographed in all of Boston.
Old North Church
This is where Paul Revere took his midnight ride! The Old North Church is the oldest church in the city. When visiting the Old North Church, you can enjoy a self-guided tour of the unique sanctuary or add on the guided tour of the crypt. The crypt under the church contains over 1,000 bodies.
There are other stops on the Freedom Trail, but these are all the ones we did, and we felt it gave our kids a great overview of the Freedom Trail. The National Park Service offers a lot of great information and tours. You can check it out here: National Park Service Boston.
You can learn more about the Freedom Trail stops and look into a tour here.
Boston Tea Party Museum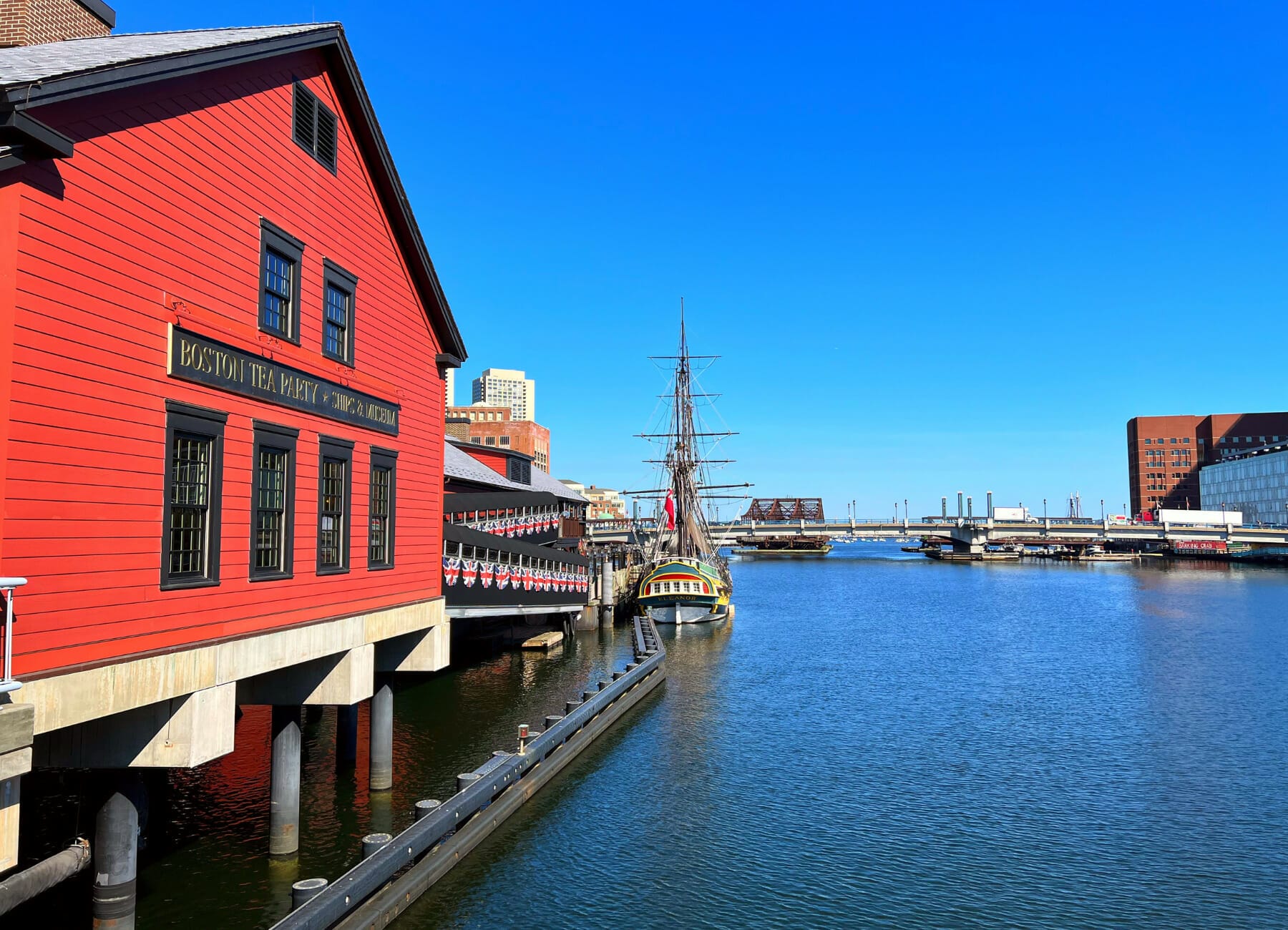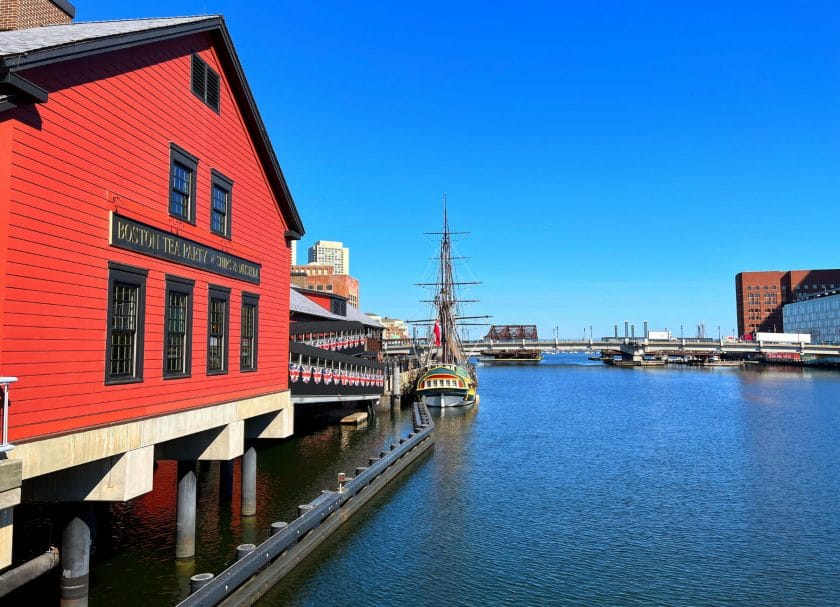 The Boston Tea Party is another important part of the history of Boston and has its own museum. We did not get tickets to go in – it was pretty expensive, and if I know my kids, we would be in and out in less than an hour . . .
That being said, we have had people tell us that the museum was worth it, filled with interactive exhibits and a full-scale sailing vessel. It may be worth checking out if you can fit it into the budget. Check out the Boston Tea Party Ships and Museum with this interactive tour.
Without going in, we could look at the ship from the bridge and visually see what would have gone down here all those years ago. I love how traveling allows us to show our kids the actual location where things happened.
Underground Donut Tour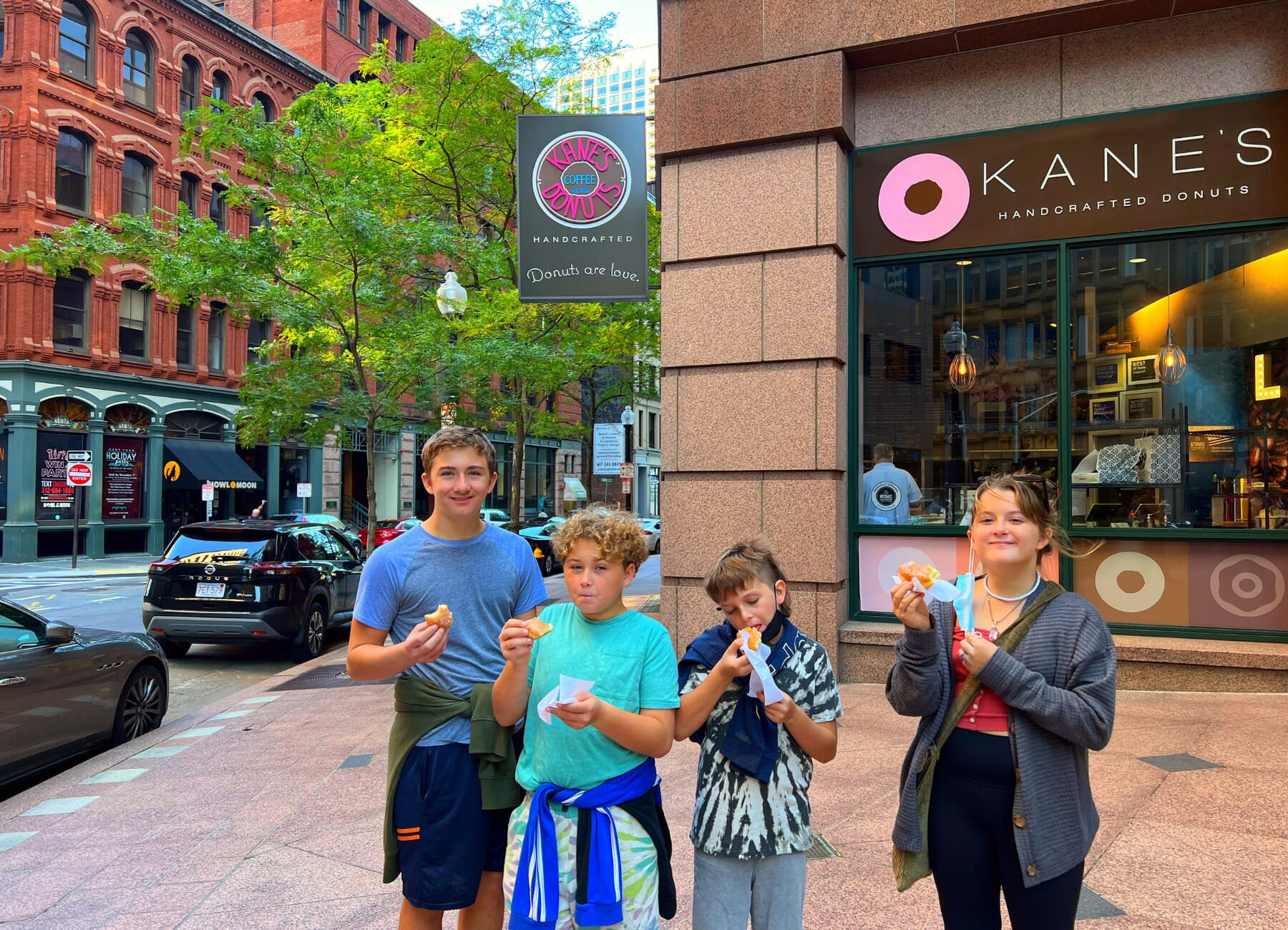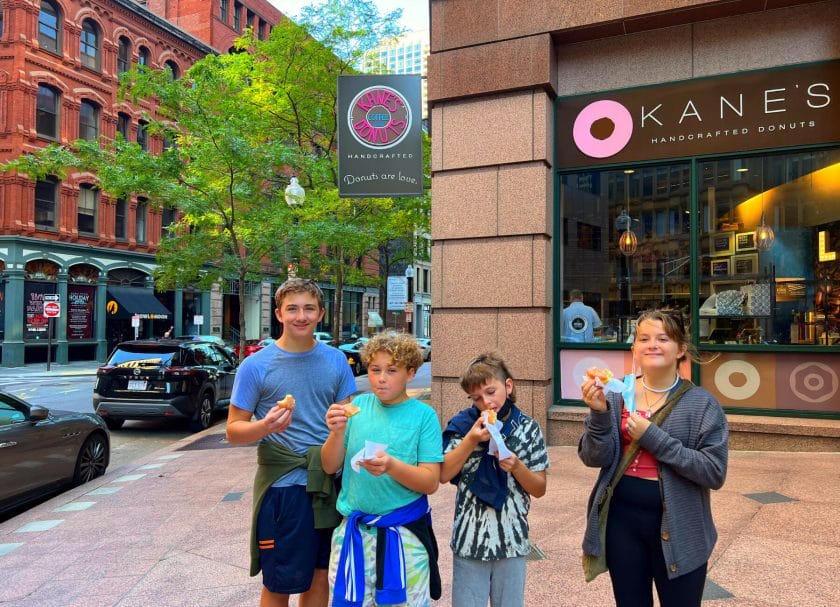 Instead of spending money on the Tea Party museum, we opted for a donut tour – priorities :).
On the tour, we sampled 5 different donuts and learned more about donuts in Boston, and got a walking tour of parts of Boston. There were a variety of favorites in the group, from the Apple Cider donuts to the pumpkin donut to the Boston Cream Pie! Book your Underground Donut Tour here.
We love incorporating food tours in our travels for a couple of reasons:
1 – Learning about a location through food is fascinating and tells a lot about the history of the location.
2 – We also get a walking tour of the city since you have to walk from place to place.
3 – It keeps the kids engaged since they know they will be eating something again soon.
It has been recommended to us to do a food tour right when you get to a city so you can learn more about the city and also ask the guide for their local restaurant recommendations, so you have a nice list of local places to eat on your stay.
New England Holocaust Memorial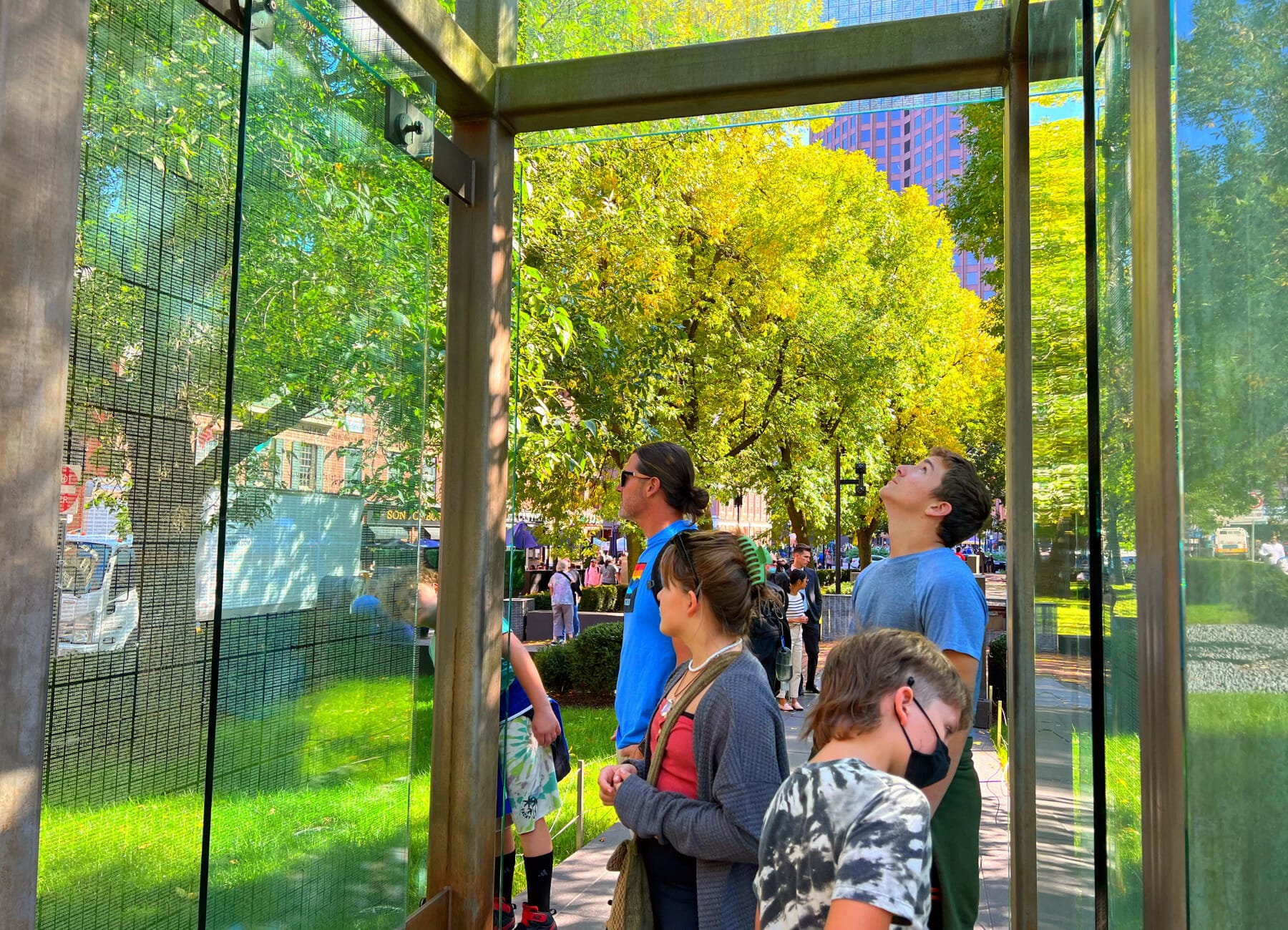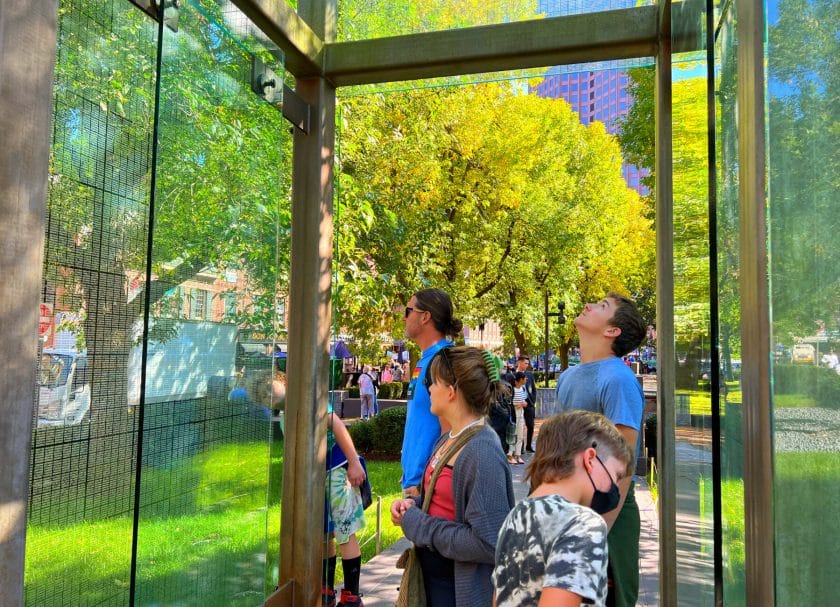 This wasn't on our list, but when we saw the glass towers, we wanted to stop and see what it was all about. I was so glad we stopped. The glass towers have the numbers of the Jews murdered in the Holocaust. Inscribed on the inner walls are quotes from survivors of each camp.
Reading the quotes (or listening to them – they did have recordings in the glass towers of people reading the quotes) and looking up at these huge towers with the numbers really made it sink in for our kids. It was a very well-done memorial and a powerful experience I recommend you do while in Boston.
Newberry Street
This is an upscale shopping district in Boston filled with pop-up shops, fashion, art, and more. The streets are so cute, and they have all the shopping you could ever want. Our kids made a stop at the Nike Store and LuLuLemon. Find something for everyone on Newberry Street.
Fenway Park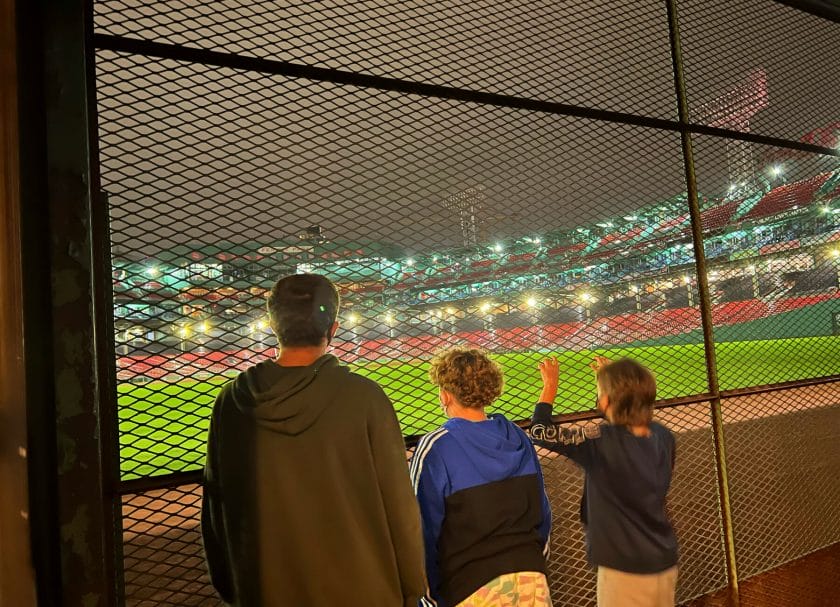 There wasn't a game, but we went to The Bleacher Bar, where you could look out and see the field from one section of the bar. We also ordered drinks and some food here. The Bleacher Bar is an excellent stop for any beer lover or Red Sox fan.
From there, we watched some of the Red Sox playoff game on the TV. It was OK to bring kids in but always make sure there isn't an event or something going on where they won't allow kids in. So it is good always to plan ahead. Book a 1 hour guided walking tour of Fenway Park here.
Celtics Game
When we went, it was preseason, so we got a great price on tickets to go and see the Celtics play! Their stadium is located in downtown Boston, so it was perfect. We could walk right to the stadium, and the whole family had a great time watching the game.
More Great Boston Activities
Old Town Tolley Tour Hop on and off at one of 14 spots on this great tour. These great spots include the Boston Public Garden, the USS Constitution Museum, Quincy Market, and more.
1.5 Hour Ghosts and Gravestones Tour Hear stories from the graveyard during this tour
Freedom Trail and Architecture Walking Tour Get to know Boston's historic buildings on this walking tour
Buy a Go City All Inclusive Pass This pass includes 40+ attractions including the famous swan boat, Museum of Fine Arts, Boston Children's Museum, Museum of Science, Franklin Park Zoo, and more.
Boston Duck Tour See Boston from a different view with this one of a kind kid friendly tour.
Whale Watching Catamaran Cruise See whales and dolpins up close on this cruise.
New England Aquarium Skip the line with this entry ticket.
Boston Harbor Historical Cruise See views of the Boston skyline and the Boston Harbor Islands and hear stories of Boston's past.
Canoe and Kayak on the Charles River. You can check out all the great paddling options around Boston here.
Where To Eat
Bell In Hand
The oldest Tavern in the US! We got an awesome table outside and enjoyed our food while sitting in the middle of Boston. If the season is right, this is a must-do. You can sit back and relax, people watch, and imagine what these streets were like hundreds of years ago.
Samuel Adams Tap Room
You can get a spot outside overlooking Faneuil Hall and do a lot of people-watching here while you have your Samuel Adams beer and grab some food.
La Familia Giorgio's
Craig and I had eaten here with my parents when we were in Boston back in 2001, so we knew we wanted to go back! It was in the Little Italy part of Boston and was yummy! They have all the traditional Italian food so be ready for lots of delicious pasta.
Tatte Bakery & Cafe
This is a great place to grab a quick breakfast. It was delicious! I got an egg biscuit sandwich, and Craig and Carson got a breakfast sandwich, and the other kids got donuts. It is coffee shop style with lots of outside seating.
Where To Stay
Hotels
This was a great place to stay for our family of 6 since they had a room that would fit all of us. It was also in a great location right downtown. Parking our big truck down there was a bit of a challenge, but the hotel helped us find a garage right around the corner that would fit us.

Seaport Hotel Boston Stay right on Boston's historic waterfront
Vacation Rentals
Historic Loft neat Boston Common
Townhouse in the Center of Boston
Salem, Massachusetts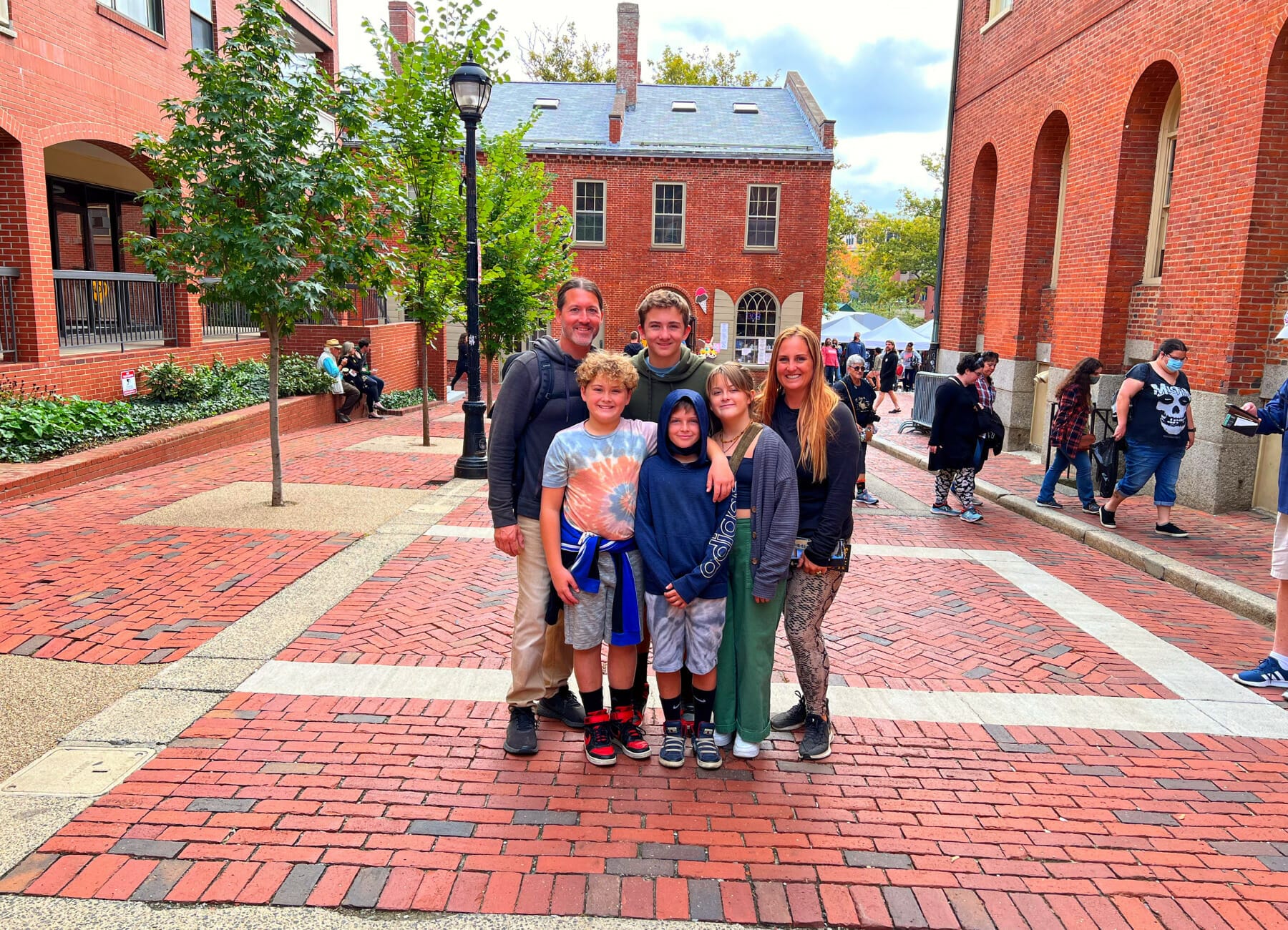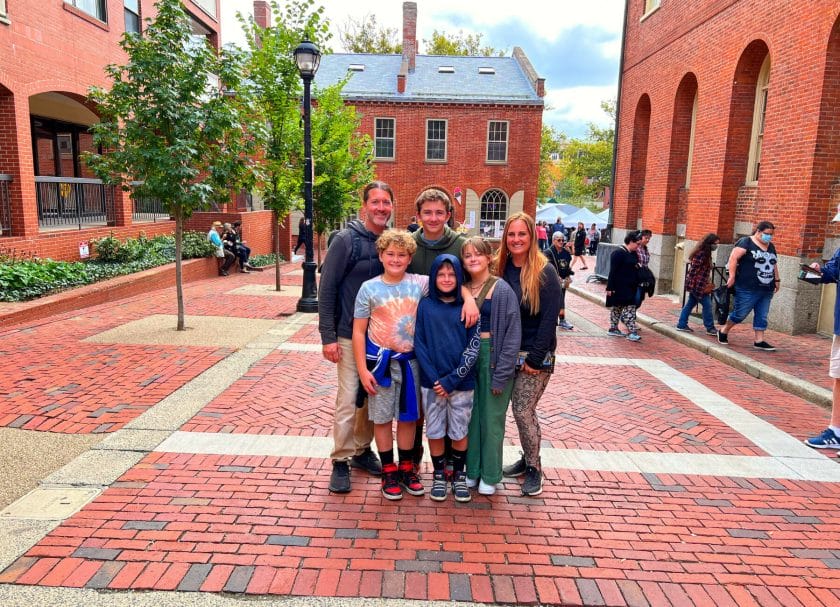 If you have extra time in Boston, be sure to check out Salem! Before going, we read What Was The Salem Witch Trials to the kids so they could understand what had happened here.
It was a Saturday in October, so we knew it would be busy in Salem since this is one of the top places for Halloween travel, but we also thought it would be a cool time to go. Unfortunately, the train that normally takes you from Boston to Salem was down for construction, so we had to take a bus to Lyn and get on a train from there to go the rest of the way.
The bus was packed, and it was a bit crazy figuring it all out. But we did, and we made it to Salem – and the bus was a great idea since it was so busy!
We first headed to the National Park visitor center in Salem and got a map of the area. From there, we headed out to see the Witch House and walked some of the Salem Heritage Trail – similar to the Freedom Trail in Boston.
We had an app on our phone: Salem Witch Trials Tour Guide, that would tell us about what we were seeing so we could do a walking tour at our own pace. For us, this option works really well with the kids.
Here are the stops we made:
National Park – Salem Armory – Visitor Center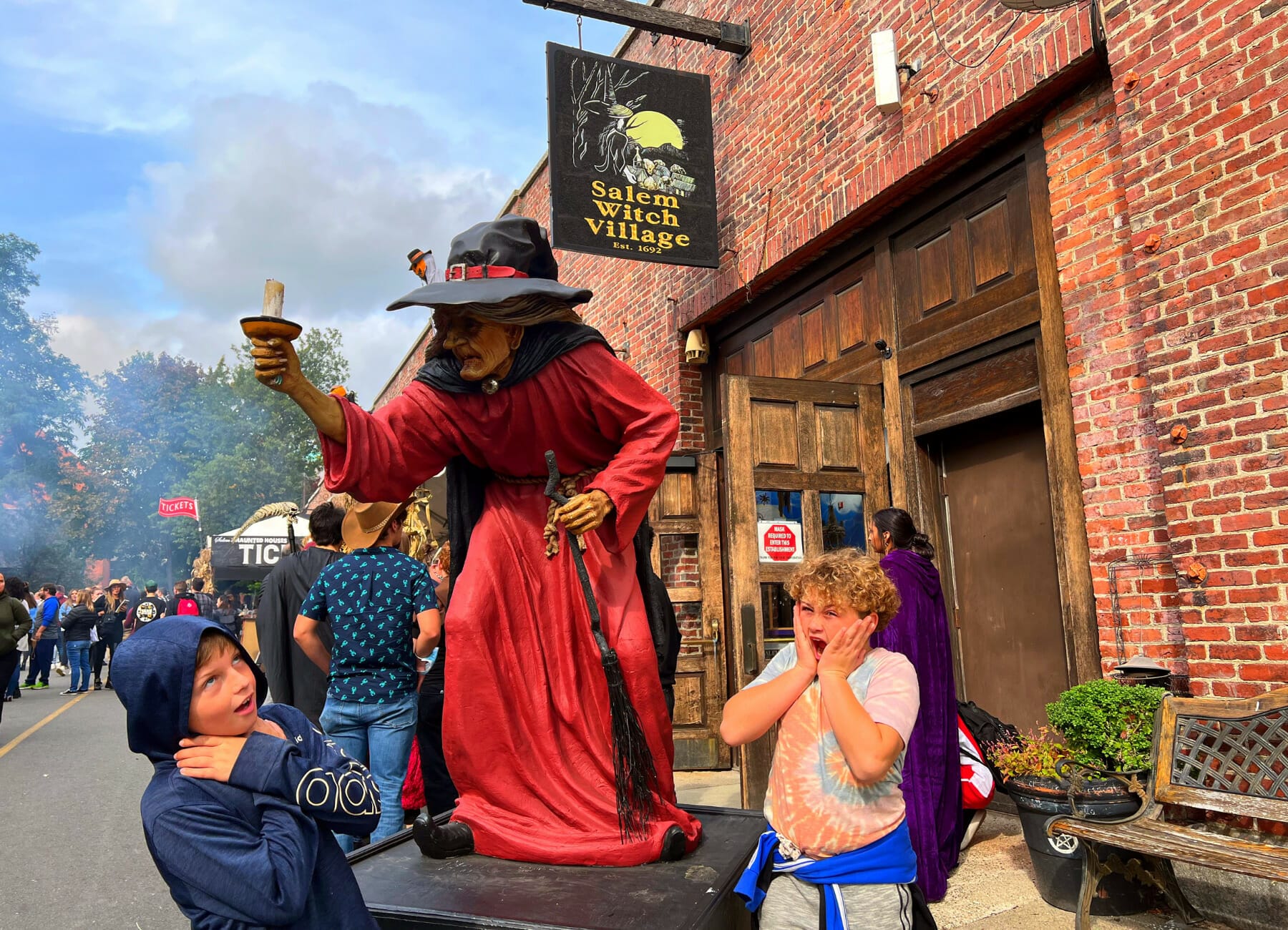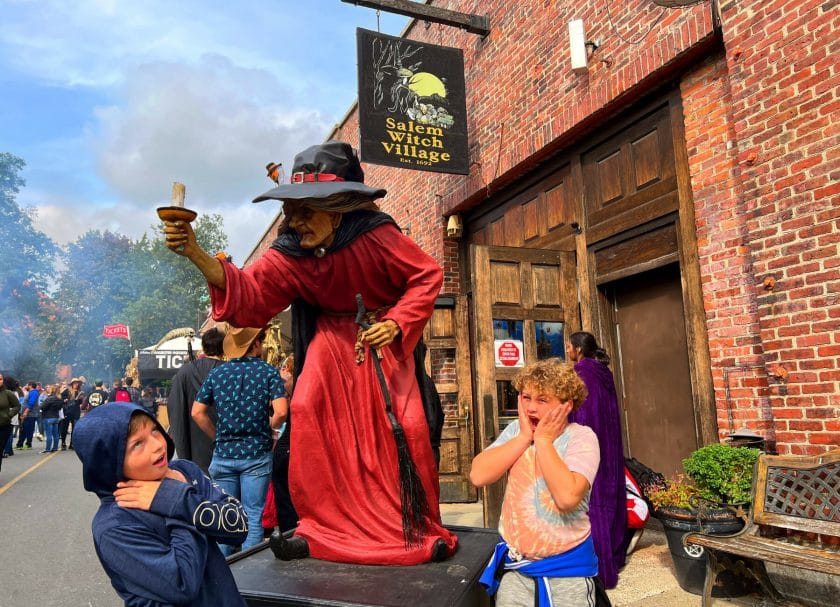 Located in downtown Salem – they had a few displays here and some history on the area, along with a movie you can watch about the Salem Witch Trials. They also had maps of the area. The visitor center is always an excellent place to stop to get your bearings in a new location.
Essex Street
There are a lot of fun shops and restaurants on this cobblestone street. You could spend hours just going into these shops or window shopping. Located in downtown Salem, this pedestrian mall is filled with unique shops, cafes, and more.
The Witch House
Home to Jonathan Corwin, one of the judges of the Salem Witch Trials. You can tour the house but we opted not to and just looked from the outside and also listened to the app we downloaded that told us more about the Witch House.
Chestnut Street
Here you can see all of the older houses in Salem dating back to the 1700s. It was cool to really get a feel for what the street would have looked like back then. This picturesque street is gorgeous, especially with all the fall colors.
Broad Street Cemetery
The Broad Street Cemetery is located across from one of the oldest homes in Salem. It is home to the final resting place of many notable figures of the Salem Witch Trials. For as busy as Salem was, this cemetery was not since it was a bit off the main path. You could walk into the cemetery to check out the tombstones.
Gedney House
The Gedney House is the second oldest standing structure in Salem. Although the home has undergone many renovations, the earliest part was constructed in 1665. This home and unique architecture are a must-see when it is open for tours on the first Saturday of the month from June to October.
Derby Square
Located a few blocks from The Witch House, Derby Square is home to Salem's Farmer's Market and Flea Market. If you happen to visit during the summer, you will also find the Salem Jazz & Soul Summer Series here as well.
Old Town Hall
The oldest surviving municipal structure in Salem is located in the heart of downtown. Old Town Hall's federal-style architecture has been featured in numerous films, including as the site of the Halloween party in Hocus Pocus.
Salem Witch Trials Memorial
Located by the Burying Point graveyard that was founded in 1637. In this memorial, you will find benches bearing the name of those that died during the witch trials. If you see a penny on the benches, leave them, they are said to help those lost pass into the afterlife. As you walk through this area, there are more shops, restaurants, tours, etc.
Salem Maritime National Historic Site
It is the first National Historic Site in the United States. Located on the waterfront, you can experience over six centuries of maritime history. Here you could walk onto an old sailboat and learn more about the Maritime part of Salem.
The House Of Seven Gables
The House of Seven Gables is one of the Northeast's most recognizable historic homes. The house was depicted in Nathaniel Hawthorne's 1851 novel. You had to pay to go in, so we walked over to see it from the outside. You couldn't see much, so if this is something you want to do, be ready to pay for a ticket.
More Great Activities in Salem
Ghosts of Salem Walking Tour This family friendly tour will immerse you in the city's dark past.
Haunt & History Guided Night Tour Explore this historic city at night.
If it wasn't so crowded, we would have loved to stop and eat at one of the cool restaurants here and would definitely like to come back when it isn't so busy to explore the shops more.
If you want to explore more of Massachusetts be sure to check out New Bedford, MA. You can also include Boston in an epic Boston to Bar Harbor road trip!
More Family Fun to Check Out
4 Best Amusement Parks in Massachusetts
21 Best Things to Do in Mystic, CT
11 East Coast National Parks to Visit
The Best Cross Country Family Road Trip
Pin This on Your Family Travel Board to Save for Later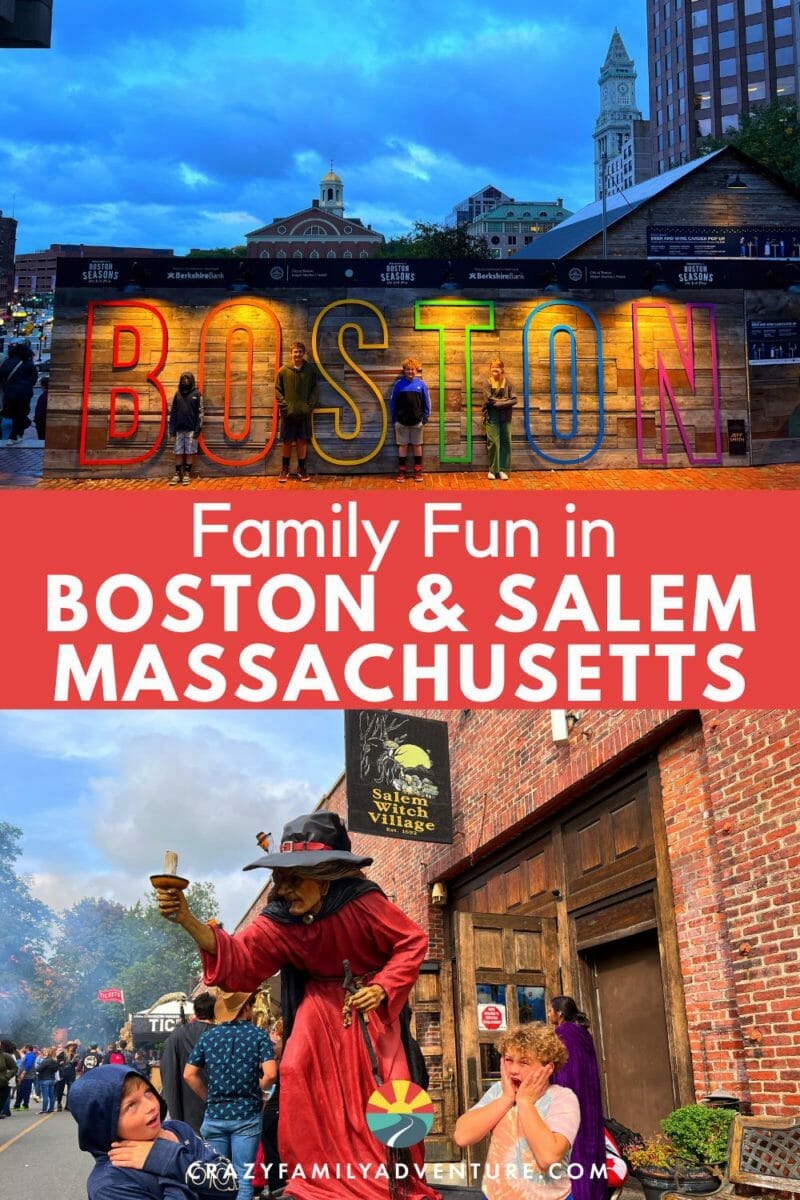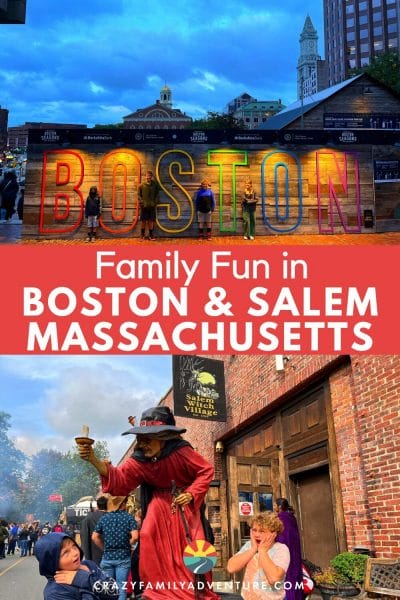 DISCLOSURE: This post may contain affiliate links, meaning I get a commission if you decide to make a purchase through my links, at no cost to you. Please read my disclosure for more info.