There are a lot of great things to do in Philadelphia with kids! Whether you want to check out incredible museums, learn some American history, or eat some delicious food, there is something for you and your family.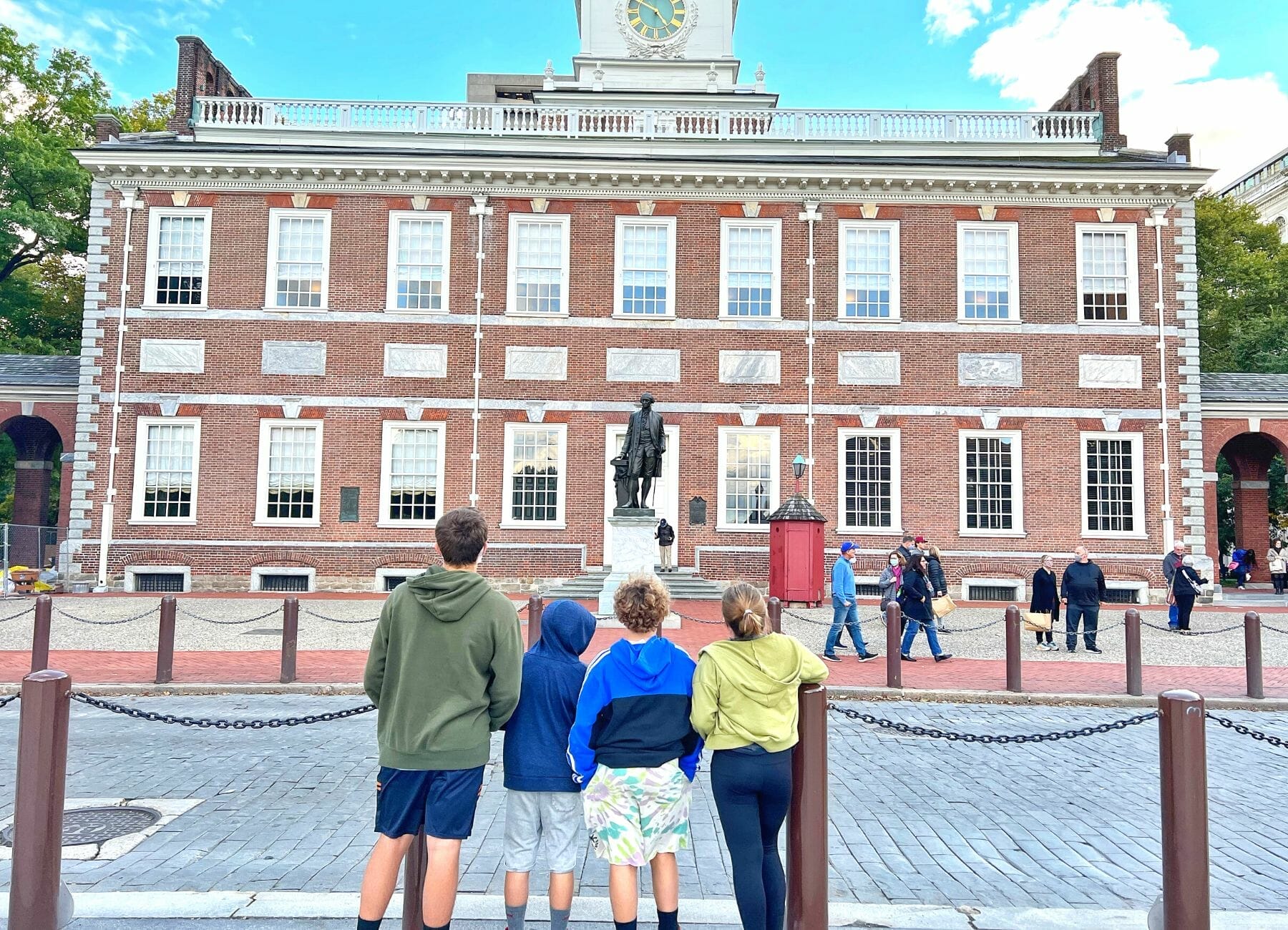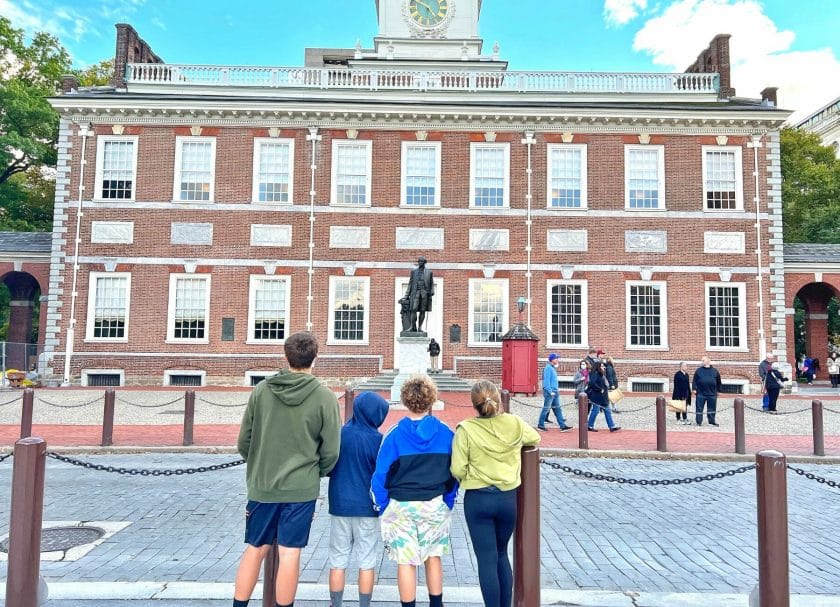 The only problem? Well, planning a trip to a big city like Philadelphia can be a bit overwhelming. Lucky for you though, we've visited the city and are here to help with our favorite tips.
We made a stop here on our East Coast road trip where we also visited New York City, Boston, Washington DC, Lincoln, NH and a few other places.
This post will share a list of the top things to do in Philadelphia. We've also included a condensed list of how to spend one day in Philadelphia in case you are just stopping in and want to hit the highlights.
Highlights of Top Things To Do In Philadelphia With Kids
Things to Do In Philadelphia with Kids
In this section, we will discuss the best things to do in Philadelphia when you have kids in tow. These museums, historical sites, and playgrounds are all perfect for kids, but fun for adults as well. As an added bonus, many of these spots are educational, making them ideal additions to any roadschooling adventure.
Below that we will share our 1 day Itinerary of exactly what we did when we visited Philly with our kids! I will say 1 day was not enough and there is so much more we want to go back to explore.
Here it is the top things to do in Philadelphia with kids:
Franklin Institute Science Museum
A favorite stop of many is the Franklin Institute Science Museum. This is a large museum with a wide variety of educational hands-on activities. There is something for all ages, making it an ideal attraction for families, even if there happens to be a large gap between kids.
One awesome part of this museum is the Franklin Air Show where kids can sit in a real plane, experiment with the force of lift, and even do some pilot training. The Giant Heart is also a fan favorite; this interactive exhibit allows kids to climb through a gigantic replica of a heart. Other areas of the museum include an electricity exhibit, a spot all about machines and how they work, and an area to learn about planet Earth.
Of course, you won't want to miss the special exhibitions or the many docent talks that happen throughout the day!
This museum is included in the Go City All-Inclusive Pass. This pass is awesome because it includes 30 Philadelphia attractions and tours, all for one low price. You simply choose the number of days you want to visit and then bounce from one included attraction to the next for the duration of your stay.
Flavors of Philly Food Tour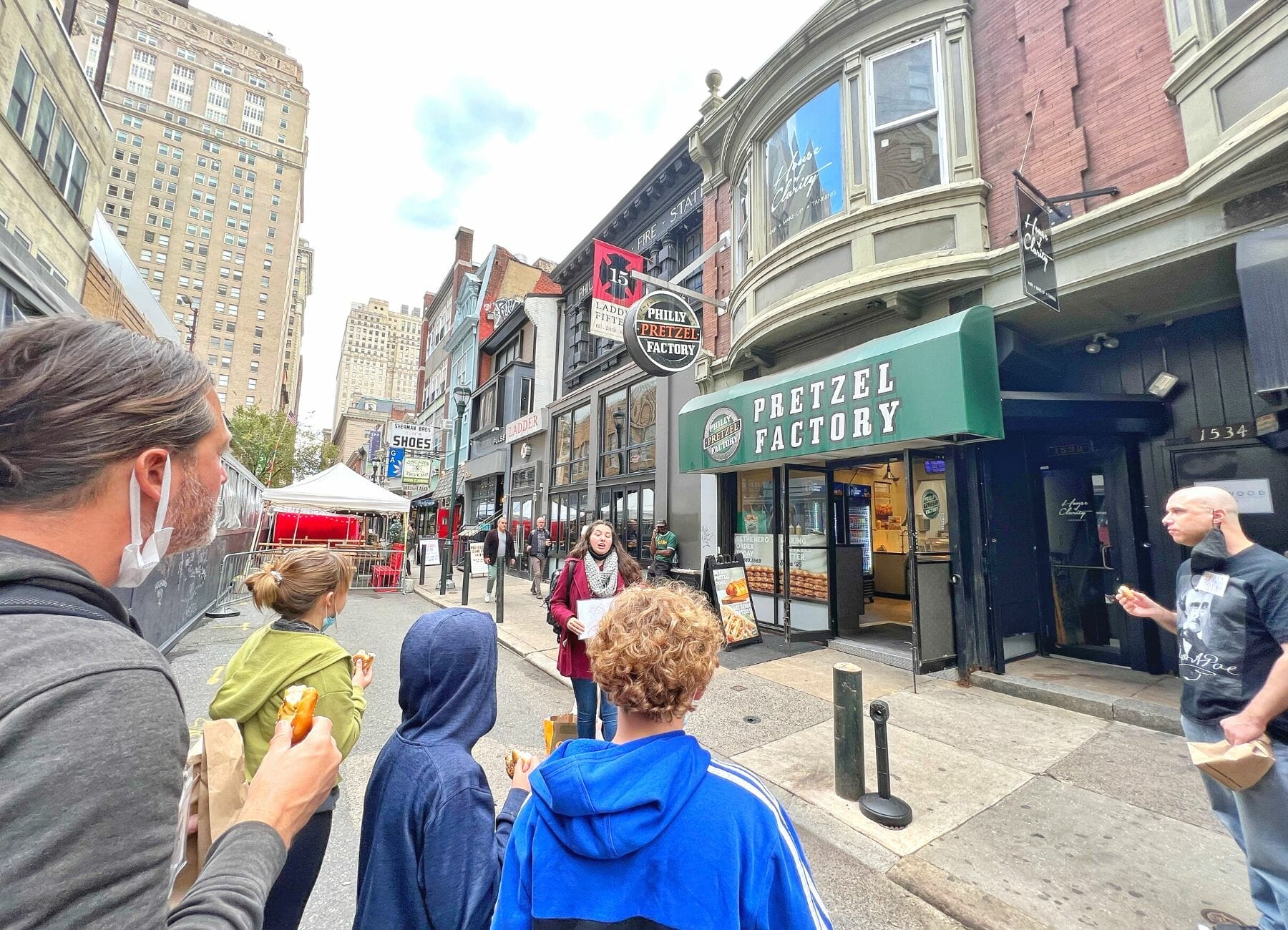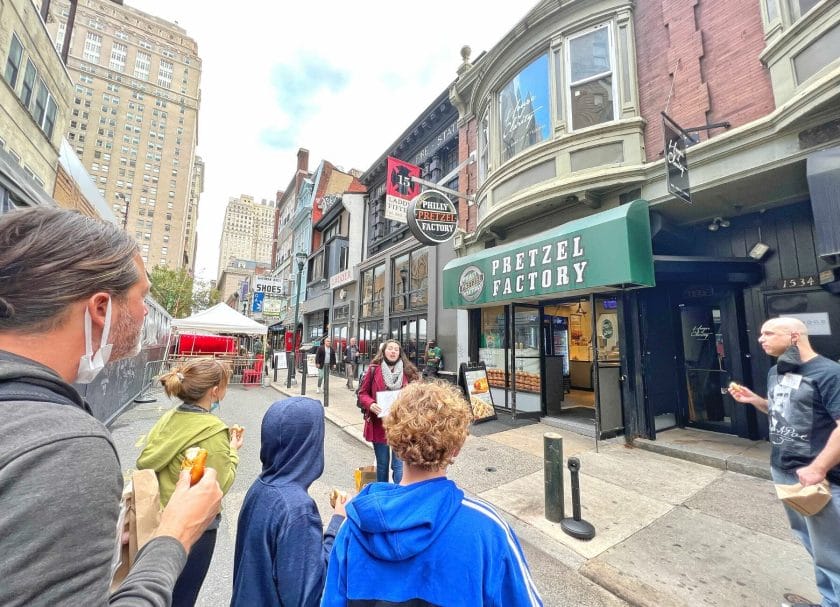 We have always found that a food tour is a great way to show kids the city while keeping them engaged since they get to eat throughout the Flavors of Philly Food Tour! Plus you learn a lot about the local history through your guide since they will share the backstory on all of the places that you go.
Plus the local guides are usually passionate about their city and it is fun to get wrapped up in their excitement and pride about their city. Taking this food tour was one of our favorite things to do in Philadelphia with kids.
Please Touch Museum
Have kids who like to touch everything? (Well…what kid doesn't, right?) The Please Touch Museum is perfect for little ones because it actually encourages them to touch anything and everything as they explore and learn. It doesn't get much more kid-friendly than that!
One of the best spots in the Please Touch Museum is the Albert M. Greenfield Makerspace. Here, visitors get to become inventors as they create and build with a variety of materials and tools. We also really love the Creative Arts Studio for young creators. This area encourages little artists to let their creative juices flow, and offers the perfect space and supplies for creating art and making messes.
More hands-on fun can be found in the River Adventures water play area, as well as the Please Touch Garden. Young mechanics will appreciate the Roadside Attractions exhibit where they can work on toy cars, and the Imagination Playground allows kids to build their own play area. Of course, you won't want to miss the tiny grocery store or the Fairytale Garden!
Spruce Street Harbor Park
If the weather is nice when you visit Philadelphia, you really must make time for Spruce Street Harbor Park located on Penn's Landing. This family-friendly attraction is located on the Delaware River Waterfront and is the perfect place to make some memories.
First, we must mention the hammocks. That's right, hammocks! You see, this waterfront park has some first-come, first-served hammocks available to the public, as well as some retail hammocks. Find one (or reserve one) and then kick back and relax in your private hammock as the world passes you by. There really isn't a better way to relax while in the middle of the city, and we love that this is such a unique experience.
The other notable thing about Spruce Street Harbor Park? The dining. There are a number of outdoor dining locations set up in the park, making it easy to grab some food and enjoy a picnic. Some of the food options include PhillyTaco, French Toast Bites, Chickie's & Pete's, Frozen Delights, the Barge Bar Oasis, and the Beer Garden.
Independence Hall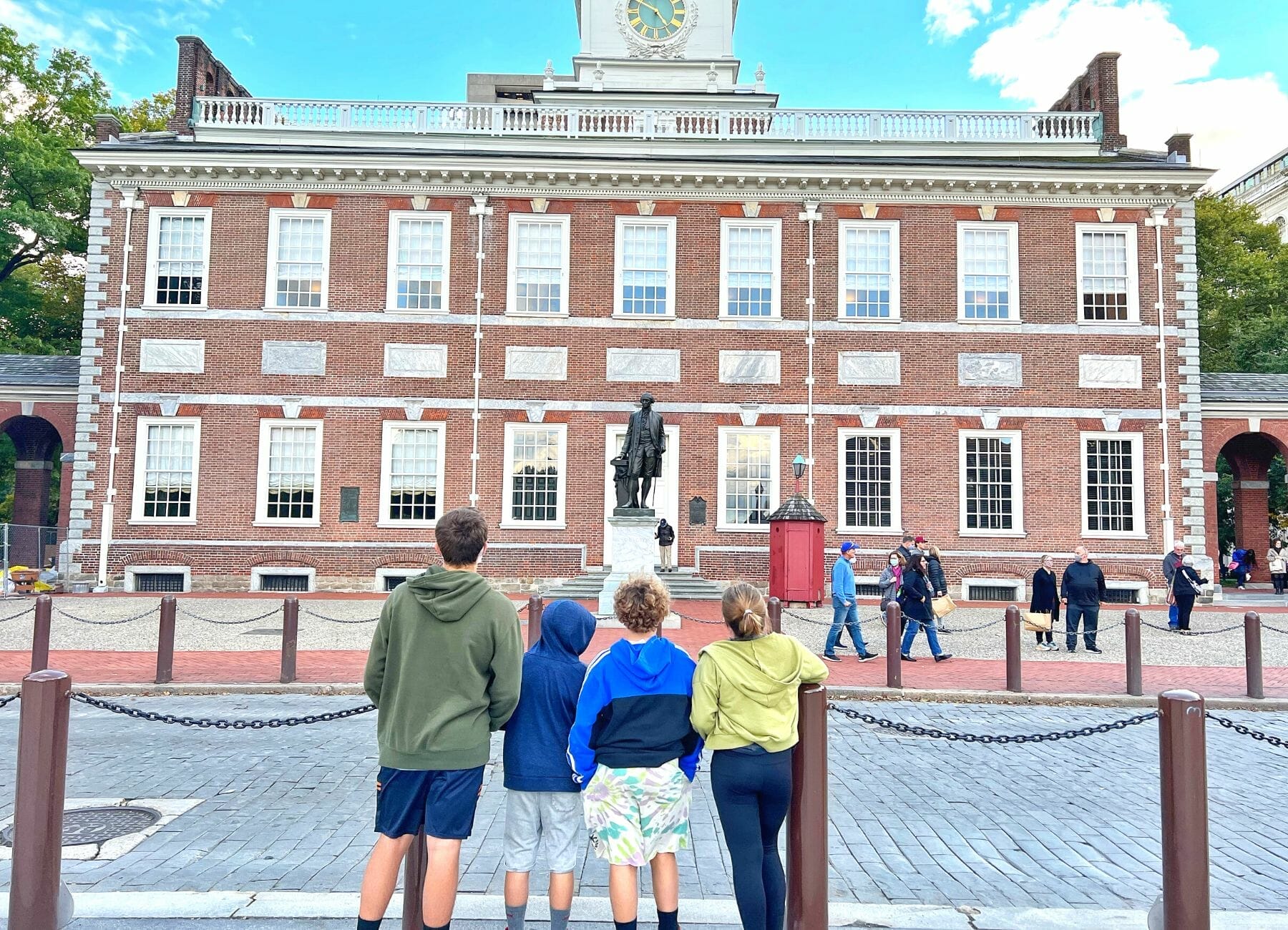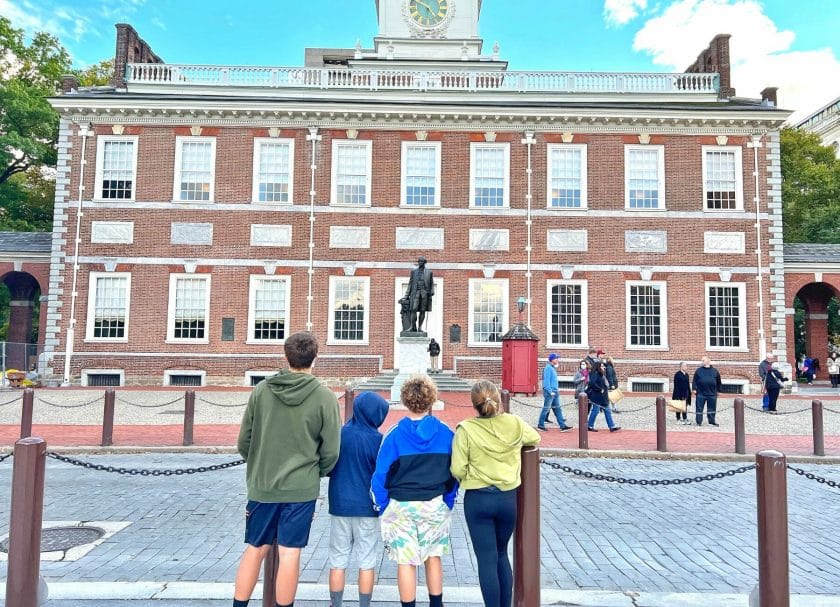 No visit to Philadelphia is complete without a stop at Independence Hall. This is where it all began—the place where the Declaration of Independence was signed.
Tours of Independence Hall are free (besides a $1 service charge), but you must reserve a timed entry ticket in advance. The tour guides provide tons of awesome information, making it possible to imagine what it must've been like to be in the building as the document was being signed. After your tour, be sure to check out the small museum to see some amazing artifacts.
This "Revolutionary Walk Through Historic Old City" tour of Philadelphia is a great addition to your visit to Independence Hall. While visiting Independence Hall is free and you will need to reserve your tickets separately from the tour, the tour does take guests to Independence Hall as well as a number of other notable locations such as the Liberty Bell. It's a comedic tour and makes learning about the history of the city both fascinating and fun.
City Hall
Did you know that Philadelphia's City Hall is the largest municipal building in the United States? The iconic building is topped with a statue of William Penn and is home to some of the most lavish public rooms in the city. It's also chock-full of interesting history and incredible details.
Learn all about the building, its history, and its details by taking a guided tour of the place. Currently, tours of the interior of the building are on hold. However, tours of the exterior are being offered and are well worth taking to learn about this fascinating and beautiful building.
Mini Golf
Mini golf is a great addition to any family vacation, and a vacation to Philadelphia is no exception. Believe it or not, there are actually a few great places to play mini-golf in the city. Our favorite is Philly Mini Golf found in Franklin Square.
Franklin Square is a park located in historic Philly. It is one of the city's original five squares and is surrounded by historical sites. The park itself is home to a gorgeous historic fountain, a carousel, playgrounds, the famous SquareBurger restaurant, and of course, mini golf.
Philly Mini Golf Course has a super fun, historic Philadelphia theme and features a number of miniature versions of the city's historic buildings and sites. It's an 18-hole course, meaning plenty of opportunity for fun and silliness, and even offers some little history lessons along the way!
Smith Memorial Playground & Playhouse
If you need a place for the kids to run and play, the Mitch Memorial Playground & Playhouse is for you. Located in East Fairmount Park, this attraction has both an outdoor playground and an indoor play space, meaning you can have a great time as a family no matter the weather.
The Smith Memorial outdoor playground features all of the usual play equipment. Here, you'll find swings, slides, ride-on rocking toys, and plenty of structures to climb. There is a nature play area and a super cool giant wooden slide that has been in use since 1905. Kids especially love the saucer swings and the spinning climbing cone. Of course, you won't want to miss the nature trails as you explore the outdoor area!
When you head inside the enormous "playhouse" you'll find art supplies, a super fun pretend train, ride-on toys with a "road" to ride them on, and various kinds of building blocks.
All of this play equipment is 100% free to access!
Philadelphia Museum of Art
Who says art museums aren't for kids? We find that kids of all ages can enjoy going to an art museum. Yes, it might mean shorter trips with younger ones, and you might have to find fun ways to engage elementary-aged kids, but there is no reason everyone shouldn't get a chance to enjoy the world-class Philadelphia Museum of Art.
The permanent collection in this museum is enormous and astounding. You'll find art from all around the world and from a number of different periods. Additionally, the museum plays host to traveling exhibitions throughout the year, ensuring every visit is different and interesting.
The Philadelphia Museum of Art is also included in the Go City All-Inclusive Pass mentioned above. Buying this pass is a great way to see several of the most popular Philadelphia attractions without spending a small fortune.
Reading Terminal Market
One of the most well-known markets in the country, Reading Terminal Market is a wonderful place to shop, eat, and explore. This indoor shopping spot plays host to a number of local businesses looking to sell their wares. From baked goods and produce to flowers and art, you're sure to find something you love while pursuing the stands and stalls here.
Some of the best places in Reading Terminal Market are the eateries. Beck's Cajun Cafe is a delicious and unique place to grab a bite, and By George Pizza, Pasta, and Cheesesteaks is sure to keep the kids happy. Don't forget to grab dessert at Famous 4th Street Cookies or Beiler's Bakery.
Looking to take home a souvenir? You will want to visit Amazulu, Contessa's French Linens, or Market Blooms.
Our food tour took us to the market and I was glad we had a guide when we were there to give us the history of the market and to tell us the can't miss places to stop. Plus we sampled some yummy desserts! When visiting Reading Terminal Market be sure to check out the special events offered each month.
Scavenger Hunt
A great way to see any city is by going on a scavenger hunt. This will keep the whole family engaged, and it really makes you pay attention to the details all around you. Additionally, a scavenger hunt has a way of taking you off the beaten path so you see parts of the city you may not have thought to check out otherwise.
This Amazing Philadelphia Scavenger Hunt Adventure allows you to use your smartphone as your guide. This is great because you can start and stop as you see fit. It includes stops at many of the most famous spots in the city, as well as some lesser-known sights. Additionally, participants will have the chance to participate in challenges along the way.
We love this scavenger hunt because it makes seeing the city's historic sites a more engaging experience and helps you really understand why these spots are significant, all while keeping things fun.
Philadelphia Zoo
A zoo day is always a good way to have fun and reconnect as a family. We especially love the Philadelphia Zoo, which is well-kept and an absolutely lovely place to spend a few hours. To make the place even cooler, the Philadelphia Zoo was America's first zoo!
Some of the best exhibits in this zoo include the big cat exhibit (we love the tunnels included in their habitat) and the giraffes, which you can actually feed during certain parts of the day. Be sure you also check out the Nature Blazer Scavenger Hunt, which makes your visit a more engaging one through the use of challenges and trivia questions as you explore the place.
Like the Franklin Institute and Philadelphia Museum of Art, the Philadelphia Zoo is also included in the Go City All-Inclusive Pass. If you plan to visit all three of these attractions, we highly recommend investing in this pass. Even if you only pay for a single day in order to visit these three spots, it is a worthwhile investment. That said, buying multiple days and seeing even more of the city makes it an even better deal!
FREE Things To Do In Philadelphia With Kids
Love Statue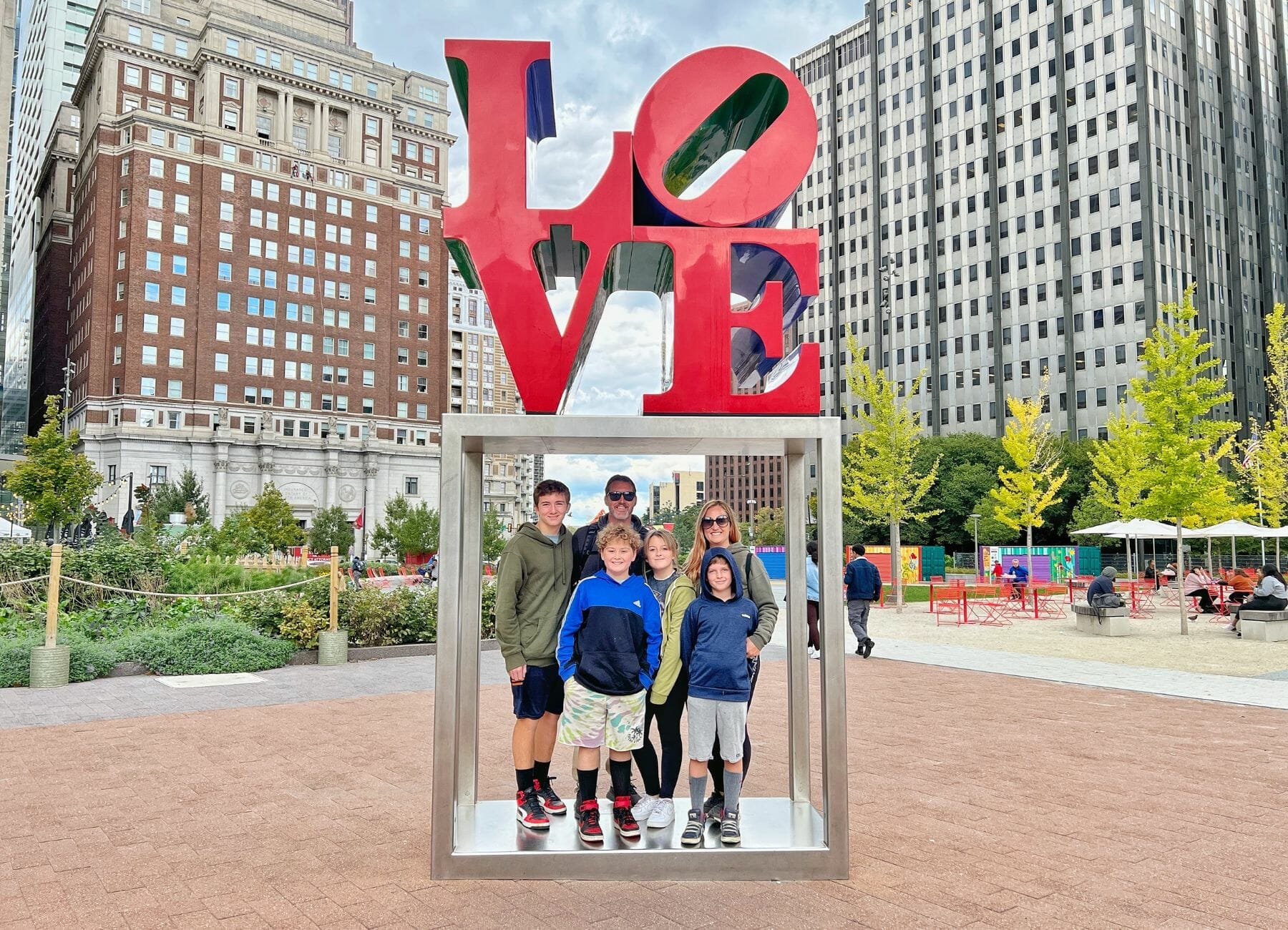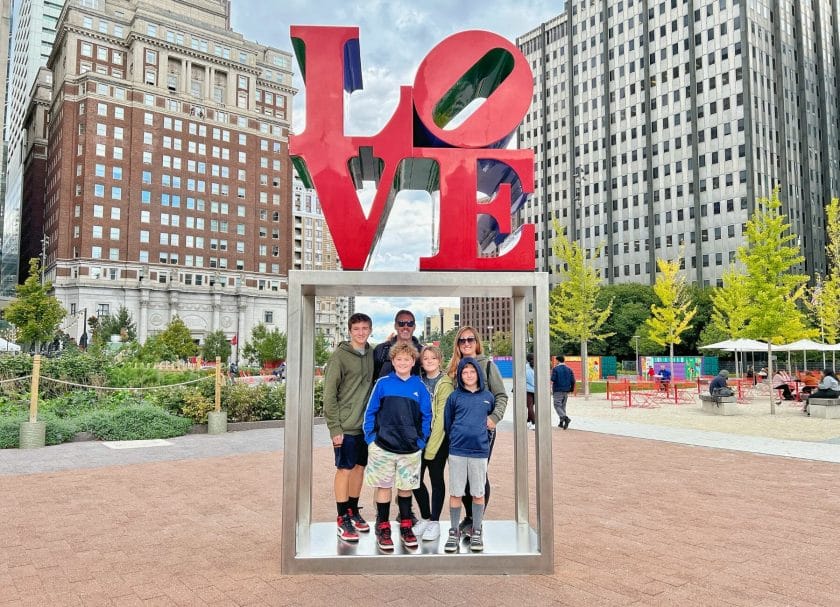 A perfect souvenir to bring home to show you have been in Philly. This art installation is located across the street from City Hall.
Amor Statue
Another great free souvenir option. Located in Philadelphia's Sister Cities Park, this is a great opportunity for a family photo.
Elfreth's Alley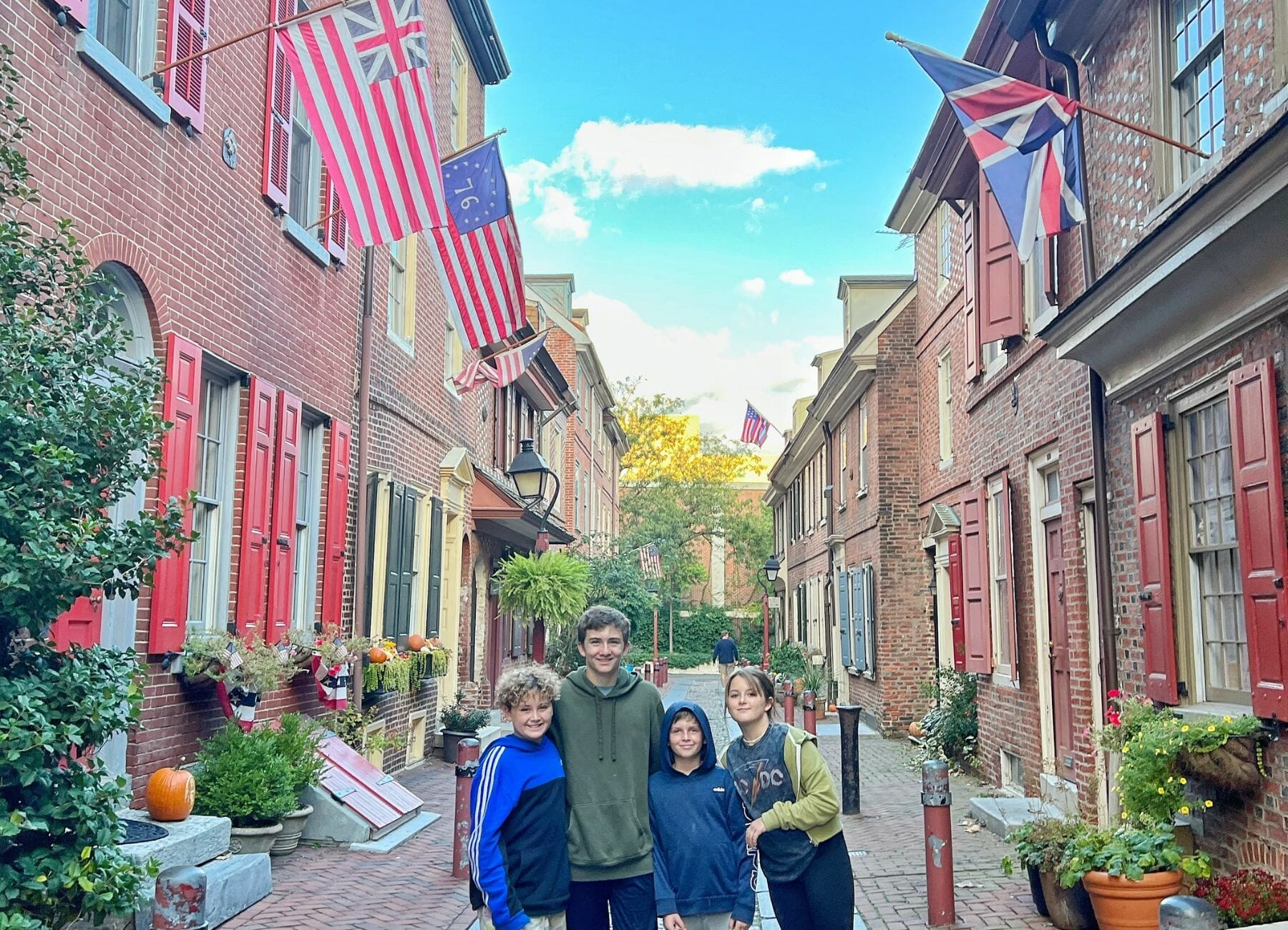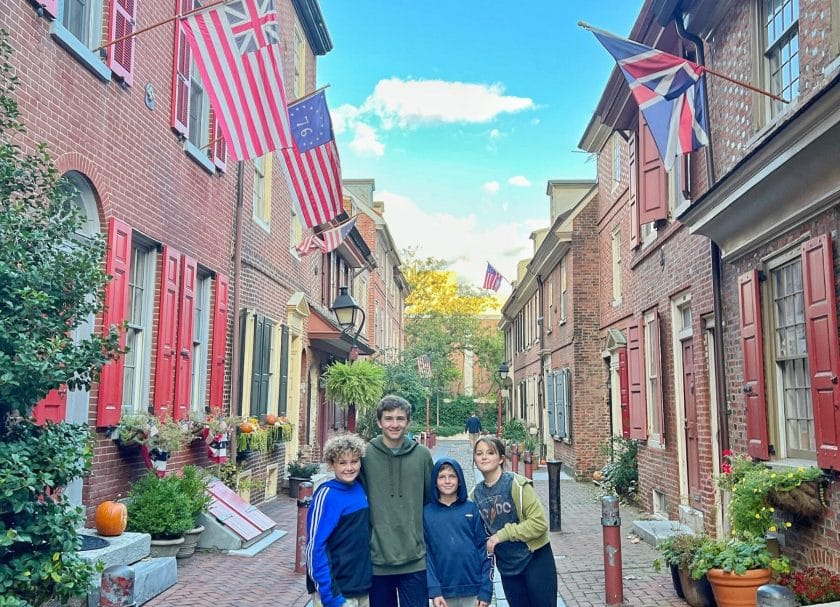 This is an alley that was home to 18th-century tradespeople and artisans that were an important part of Philadelphia. You can walk the street on your own or take a guided tour. They also have a museum and gift shop.
Learn more about Elfreth's Alley here.
Independence Visitor Center
You can come into this building for free and take in all of the exhibits, and short films, and touch a replica of the crack in the Liberty Bell. Plus you can get maps of the area to help you navigate Independence National Historic Park.
Liberty Bell Center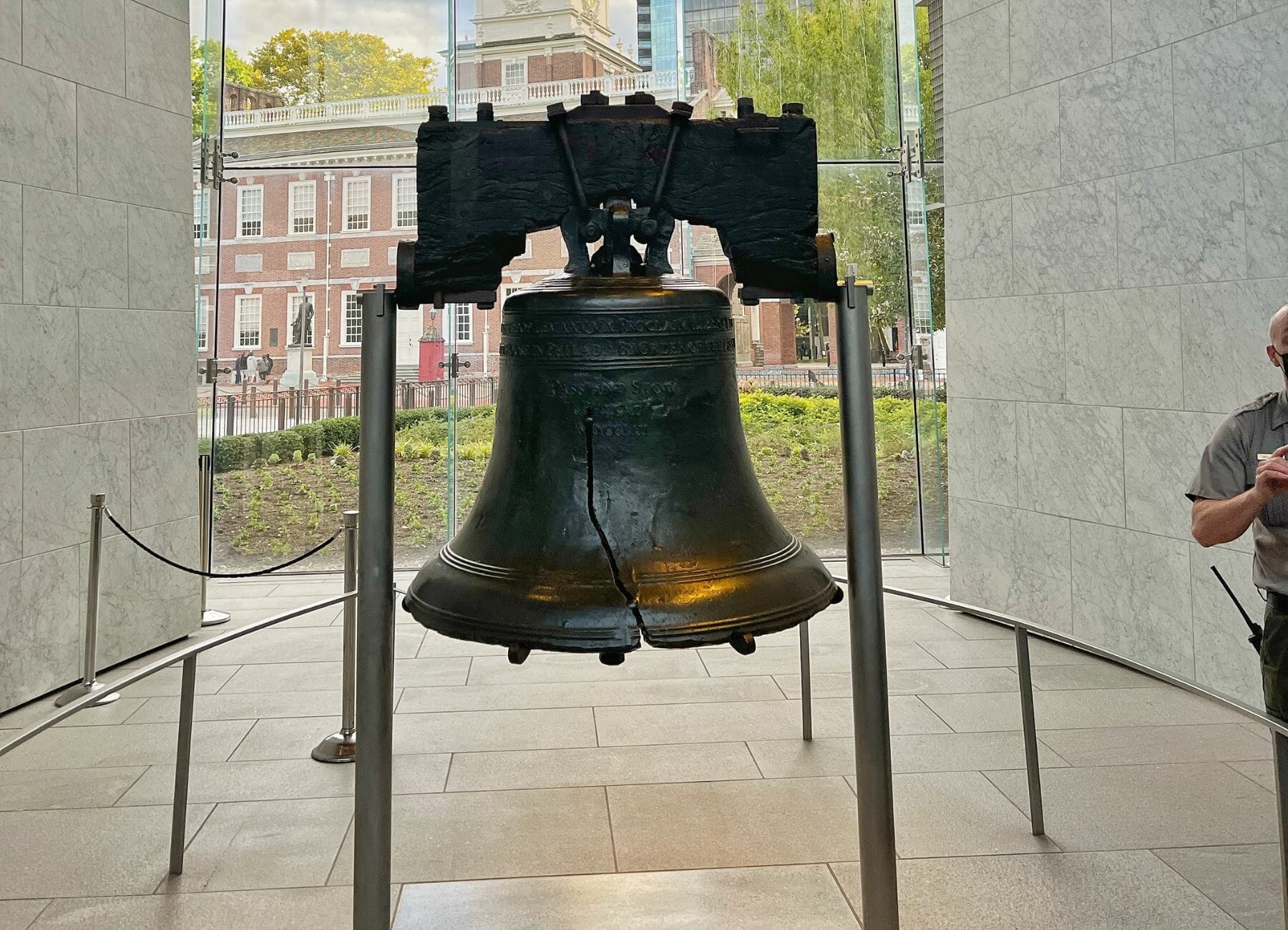 It is free to go in and see the bell. But you will have to go through a screening process so be sure to check times and give yourself enough time to do this. Seeing the Liberty Bell is one of the most popular things to do in Philadelphia with kids.
Independence National Historical Park
You can walk around the outside of all of the historical buildings and sites. Some do require tickets and timed entry and since this seems to always be changing it is best to check their site to confirm what you will need for the dates you will be there: Check your dates here.
Here is a map of the historic area of Philadelphia. You can click here to download this map.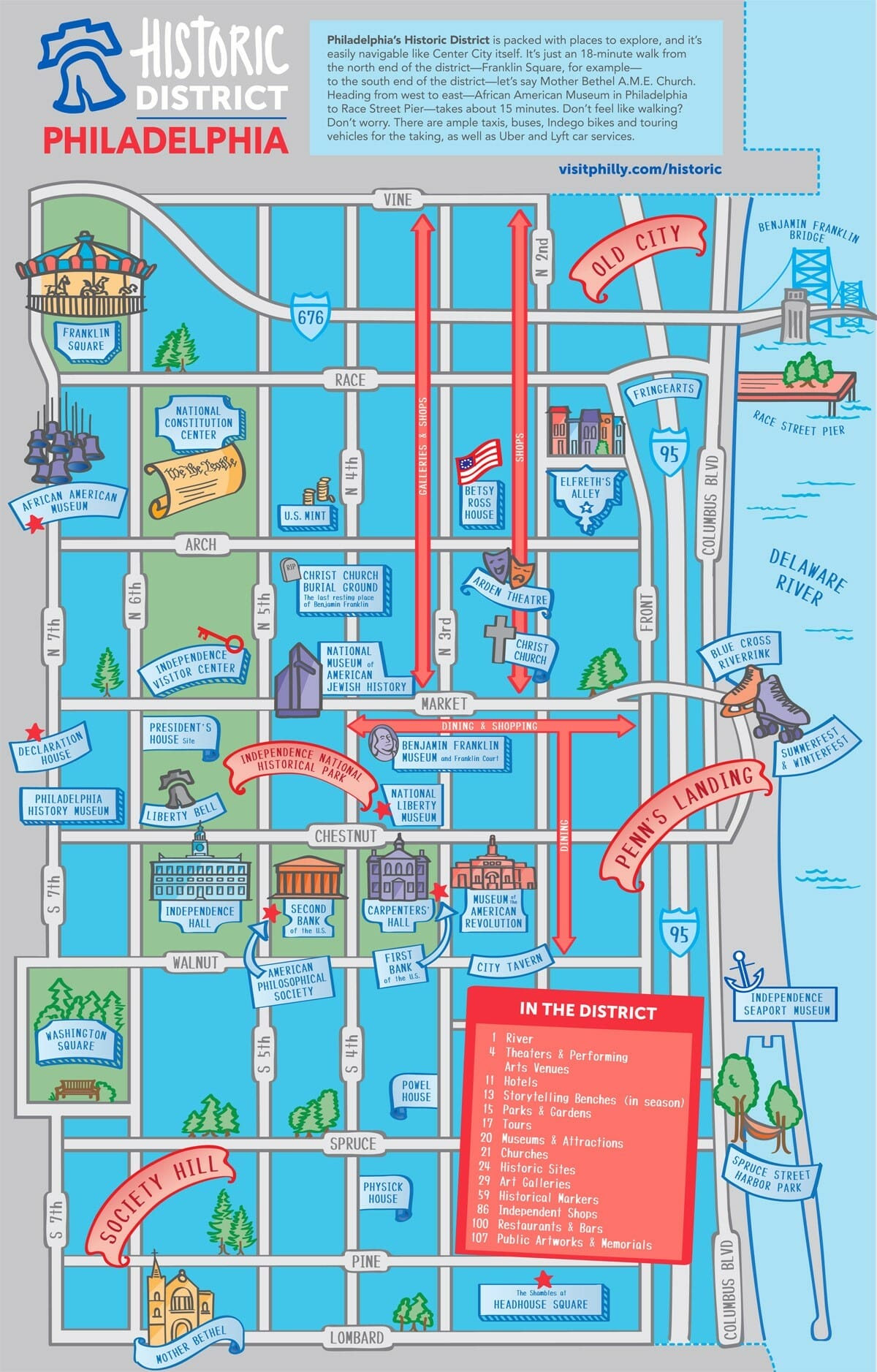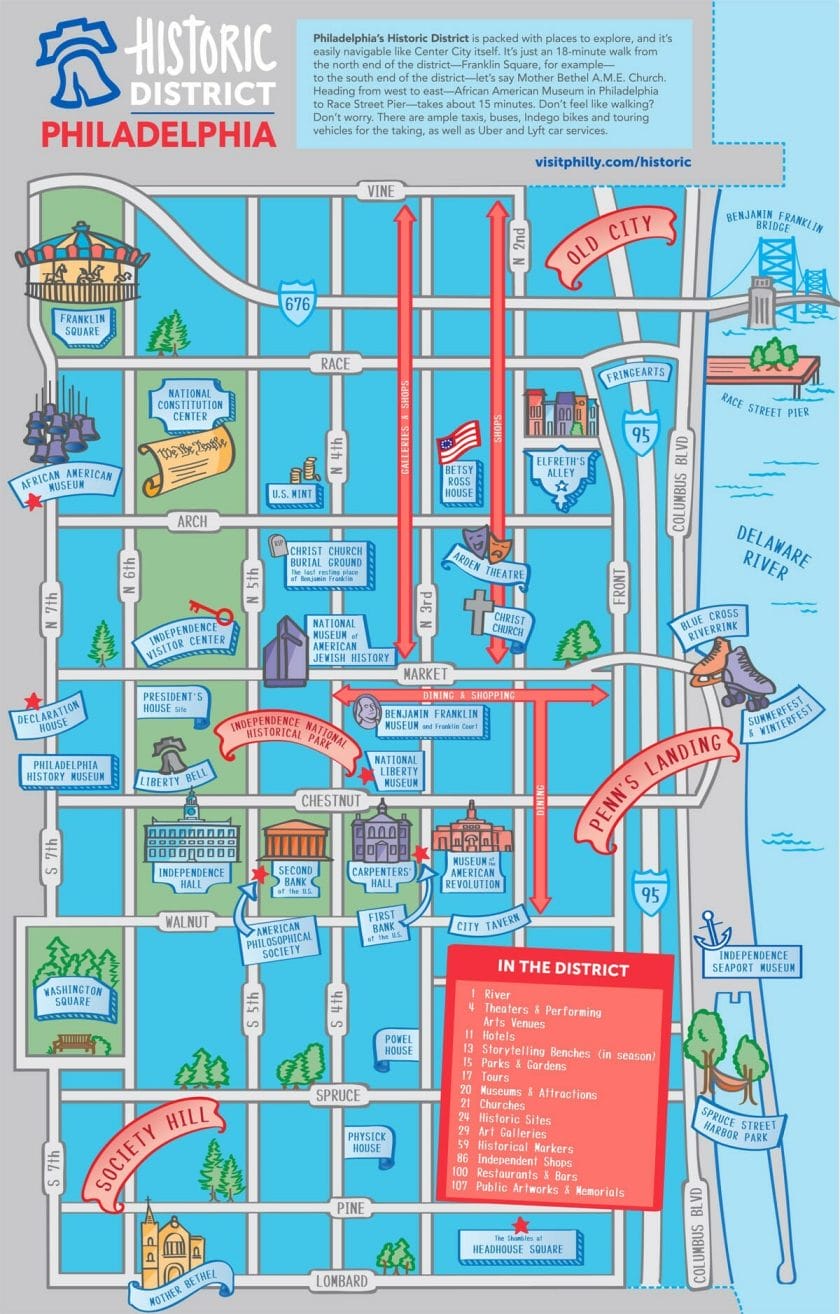 Where to Stay
Clearly, you're going to be pretty busy during your time in Philadelphia. Therefore, you will definitely want a comfortable place to stay. Fortunately, you have plenty of great options. Some of our favorites are listed below.
Philadelphia Marriott Downtown
A super comfortable hotel right in the heart of downtown Philadelphia, Philadelphia Marriott Downtown is a wonderful place to call home for a few days. You're sure to love the fitness center, onsite eateries, and the onsite Starbucks. Another benefit? You're within walking distance of many attractions.
Hilton Garden Inn Philadelphia Center City
Located in the same location as the above hotel, Hilton Garden Inn Philadelphia Center City is another great pick. Again, you will be within walking distance of several attractions when you stay here. Additionally, you are sure to appreciate the microwave and mini fridge in your room, the onsite restaurant, the onsite lounge, and the fitness center.
Historic 3-Story Classic Trinity House
Prefer to have a little more space to spread out during your getaway? This beautiful 3-Story Classic Trinity House is located in the heart of the city. Two bedrooms ensure your family has plenty of room, and the location is just steps from shops and restaurants. Amenities such as a fireplace, dishwasher, laundry room, and fenced yard all make this a very pleasant place to stay.
Beautiful 3-Bedroom Apt in Heart of Callowhill
Another perfect option for those who like their space, this Beautiful 3-Bedroom Apt in Heart of Callowhill is absolutely wonderful. It has three bedrooms and two bathrooms, and includes a host of amenities such as a fully equipped kitchen, a jacuzzi, laundry facilities, and super fast internet. Like the other lodging options mentioned, this apartment is just a walk away from many Philadelphia attractions.
Where to Eat
The food scene in Philly is a pretty wonderful one. Since you'll need to eat something during your visit, you might as well try some of the wonderful local cuisines, right? We think the options listed below will satisfy your hunger just fine.
Spruce Street Harbor Park
We mentioned Spruce Street Harbor Park above, but it's worth mentioning again. Like we said, this is the ideal location for a nice picnic in the park followed by a relaxing nap in a hammock. Best of all, with everything from tacos to french toast bites, you're sure to find something for every member of the family here.
Reading Terminal Market
This is another spot that is worth repeating. As mentioned above, Reading Terminal Market features a ton of local food choices. Whether you're looking for locally grown produce to snack on, some fresh-made lunch or dinner foods, or some yummy dessert, you'll find an awesome option in this huge market area.
Philly Pretzel Factory
You haven't had a soft pretzel until you've had a Pennsylvania pretzel. Seriously, the soft pretzels here are some of the best we've ever had, and they are a huge part of the culture. The Philly Pretzel Factory might just be the very best place to pick up one of these Pennsylvania pretzels and you will want to make sure you stop by.
Franklin Fountain
Looking for a sweet treat to finish off an awesome day in Philadelphia? Franklin Fountain is just the place. This local soda fountain has a super fun old-timey feel to it, and the ice cream and soda treats served up by the soda jerks are absolutely wonderful.
1-Day Philadelphia Itinerary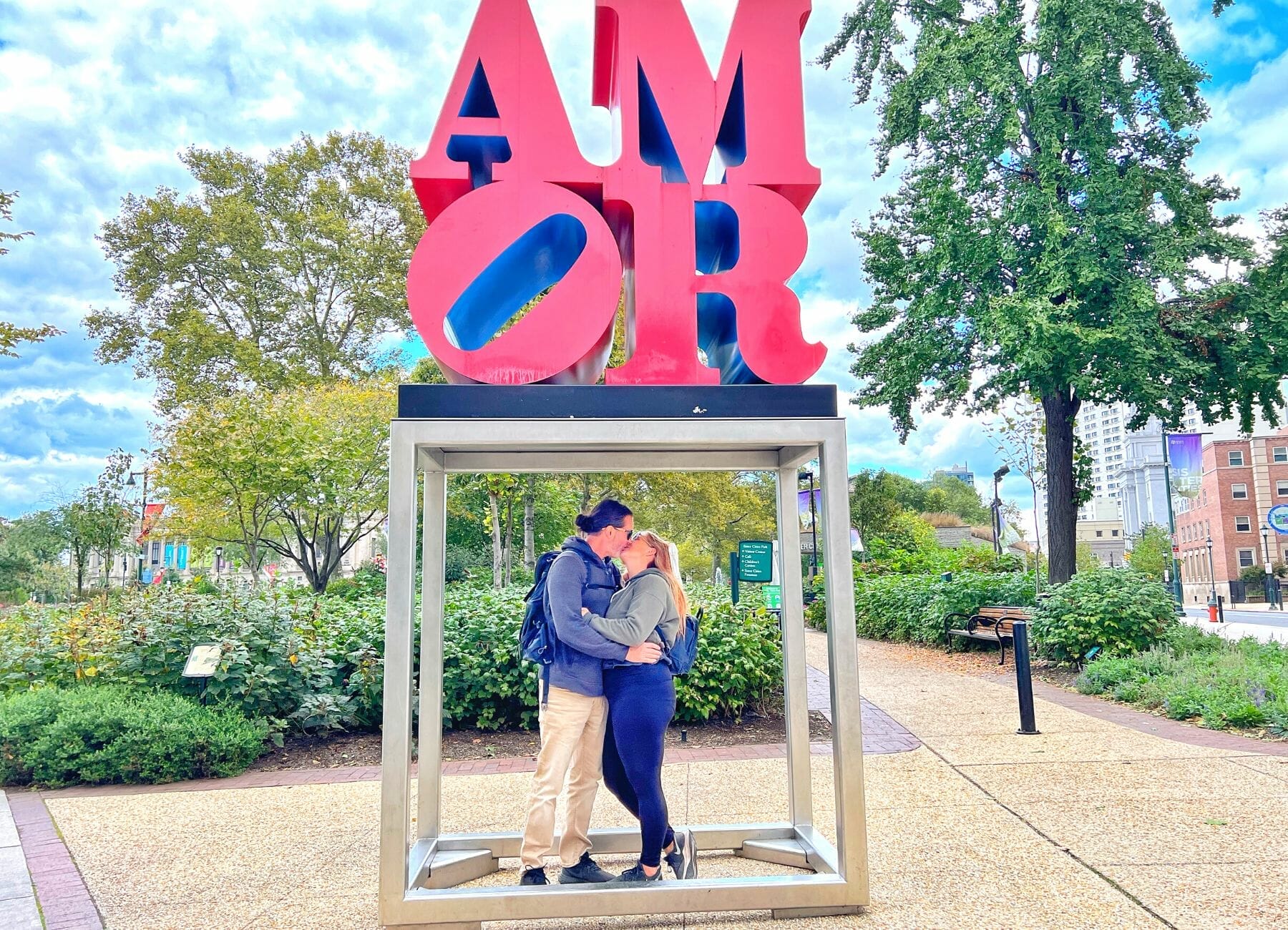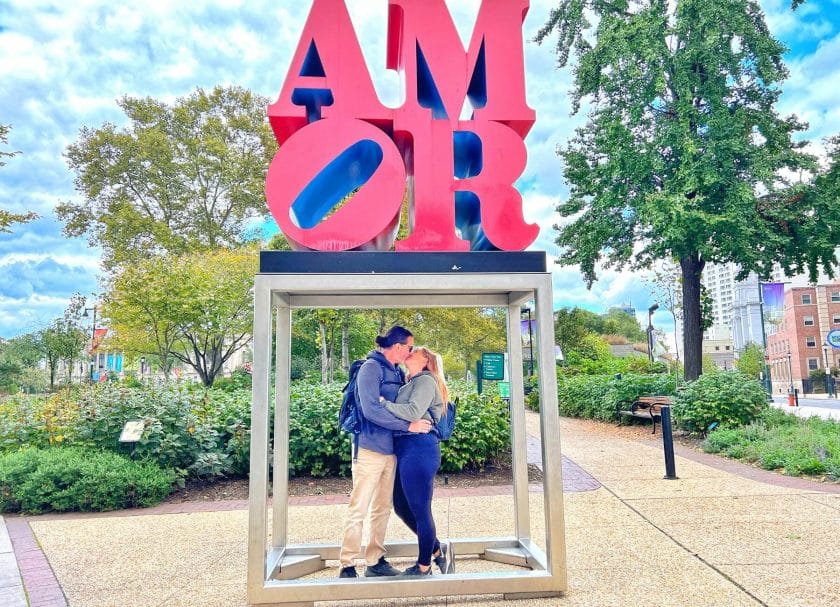 We had one day to explore Philadelphia and we knew we wanted to visit many of the historical sites since we had been reading about them with the kids.
We drove into Philly and had no problem finding a parking spot. With a big city this isn't always the case. You can google parking when you are coming into town and you will see all of the options and can pick where you want to park based on where you are coming in from and what you will do in Philly.
Here is what we did on 1 day in Philadelphia:
Love Statue & Amor Statue
I had to get a picture in front of these!
Food Tour
From there we headed to our Food Tour in Philly that we booked on Get Your Guide. Our guide was amazing and knew so much about Philadelphia and Pennsylvania!
We highly recommend a food tour with kids. It is a great way to see a lot of the city and learn about the history of the city while keeping the kids occupied with food.
This is what we tried on our tour:
Tomato Pie– Have you ever had this? It was fun learning about this unique "pie" and the history behind it.
Philly Pretzel Factory pretzel- Can't come to Philly without having a pretzel. Did you know people in Pennsylvania eat 14% more pretzels than anyone else in the US?!
Del Frisco's– No food here but we saw the cool eating area in the vault of the old bank where the restaurant is!
Zio's– We went here for fries and whiz (another Philly thing you have to try!) and of course a Philly Cheesesteak sandwich. Nothing gourmet, just the local choice – which is another reason we love food tours.
Reading Terminal Market– Here we had dessert. The Famous 4th Street Cookies and Beiler's Donuts.
Everything was yummy and the kids each had a different favorite! Plus our guide was so informative and pointed out a lot of cool places in Philly! This food tour is a great way to experience all the great food that Philadelphia offers.
Independence National Historical Park
It was after 4 pm when the tour was done so we ran out of time to go into a lot of the historical buildings (you also needed a ticket for Independence Hall and I dropped the ball on that!).
If doing all of this is high on your list be sure to check the times before you come so you don't miss out. We still headed that way to see what we could!
We did the following:
Liberty Bell
We were able to head in and take a picture by the Liberty Bell. You can see it through the window from the outside but it is worth going in to see up close.
Independence Hall
We weren't able to go inside but looked from the outside and talked about everything that happened in the Hall.
Old City Hall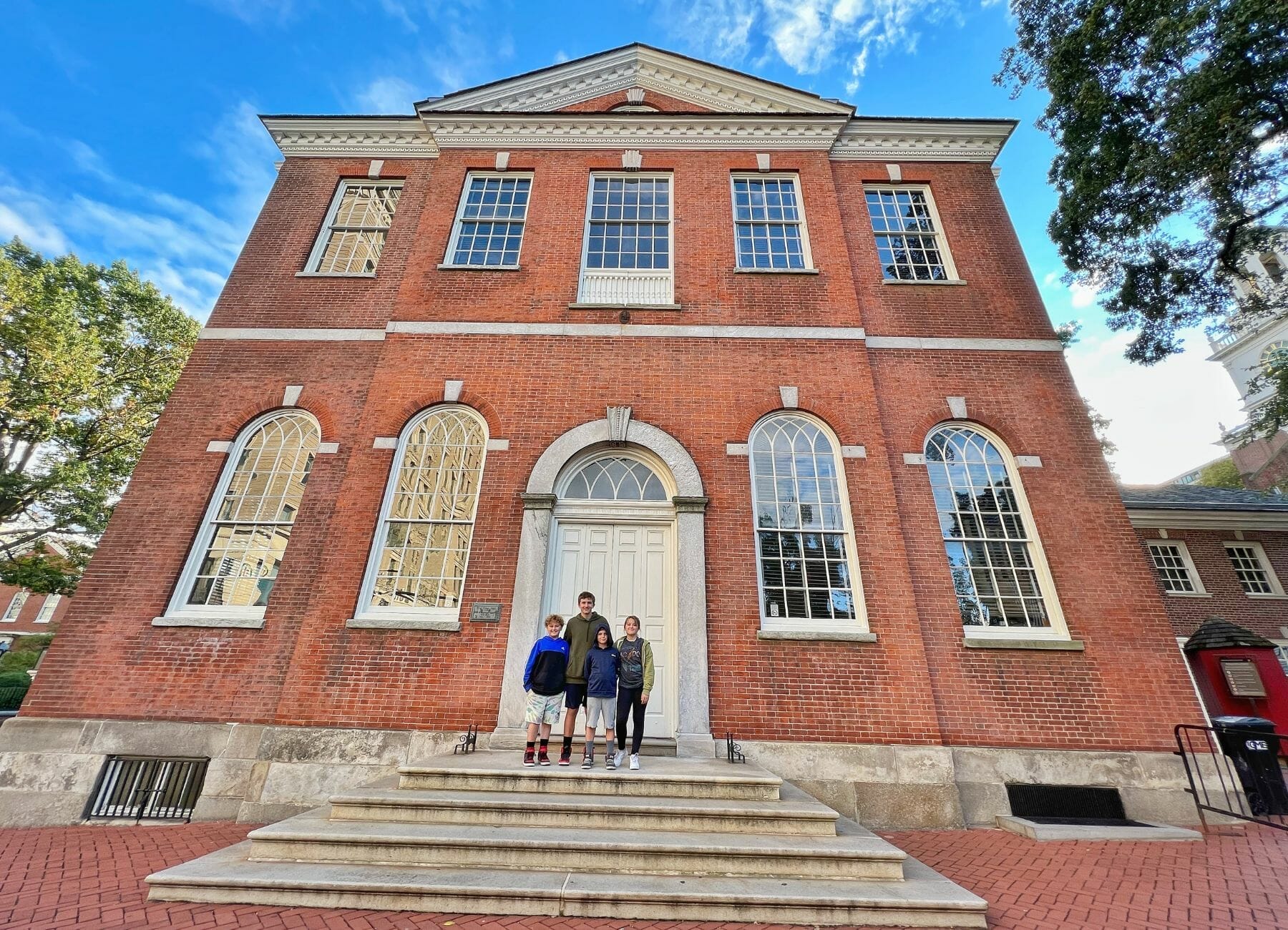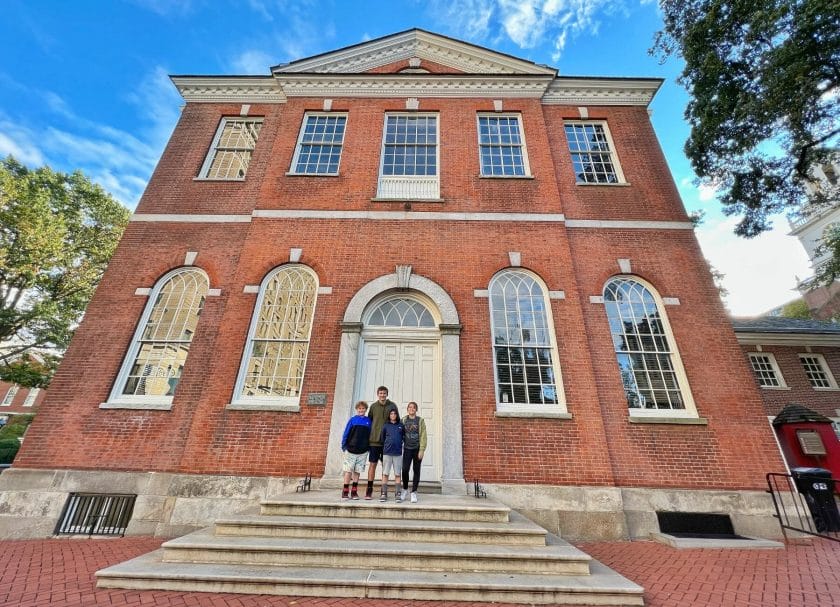 We again took it in from the outside. That wasn't all bad as we talked about walking the streets and imagining how it was back in the 1700s! It also wasn't busy at all so that was nice.
Carpenters Hall
Another stop to see from the outside.
We had read about the Declaration of Independence before coming so it was cool to see all of these places!
Elfreth's Alley
This is a residential street – yes people actually live here – but it looks almost exactly like what it looked like in the 18th century. It was a fun street to walk down!
Penn's Landing
We were here too late in the year to see Penn's Landing in its full glory. But we didn't want to miss it so we checked out the following places:
Cherry Street Pier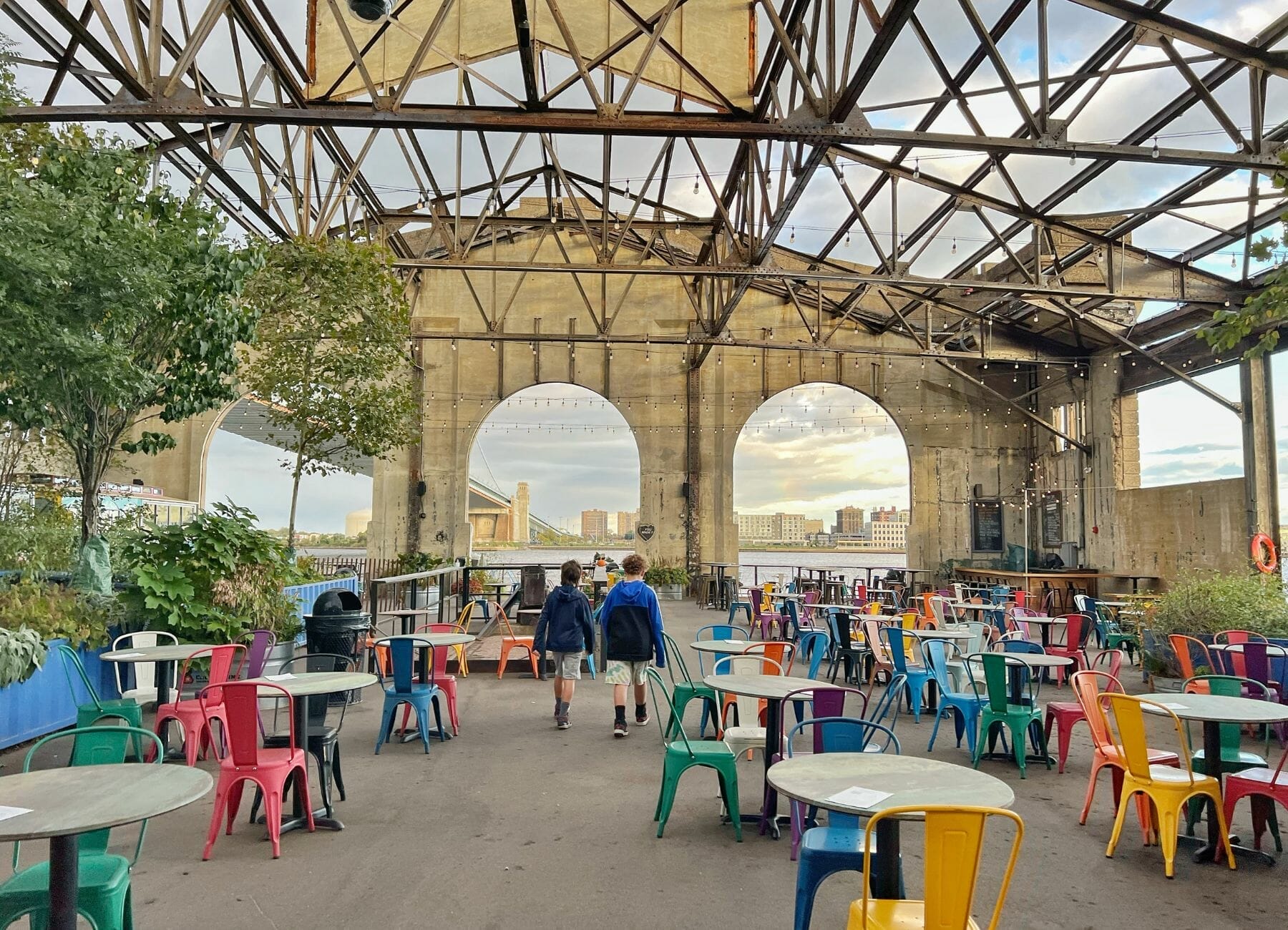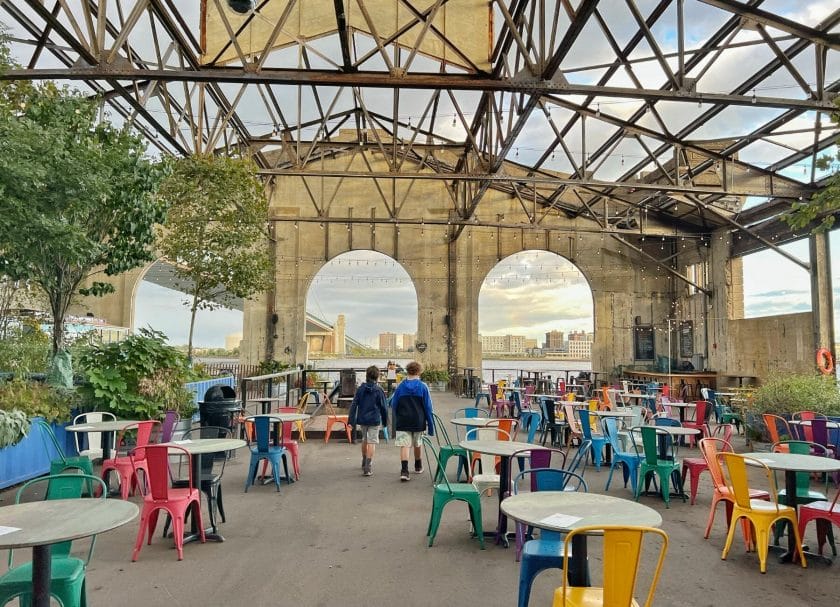 This is an early 20th-century pier that is now home to art studios, a flea market, and a beer pub. It wasn't very busy when we were there and just a few things were open. But I can see if you come on the weekend or in the middle of summer it would be a great place to hang out for a while.
Walk Along The Waterfront
There is a nice path that takes you right along the waterfront. It was a bit chilly when we were there but still beautiful.
Click here to learn more about Penn's Landing. During the summer months, they have a lot of activities and things going on here!
If seeing all of the historical sites is your main focus make sure to check times and if you need tickets beforehand. And do better than I did at timing the food tour and these stops!
As you can see there are so many things to do with kids in Philadelphia and 1 day wasn't even close to enough time!!
Other Great Family Fun Activities in Philadelphia to Check Out
Philadelphia Double Decker Sightseeing Tour With more than 28 stops you can hop on and off this tour bus as you learn about the history of this great city.
South Philly Art Walking Tour Discover unique murals and art installations in South Philly.
Philadelphia Black History Walking Tour Learn about some of the most important sites in Philly's history including the Underground Railroad. This walking tour is one of the best educational things to do in Philadelphia with kids.
Ghost Tour by Candlelight Known as America's most haunted city, delight in the ghost stories from the past.
Philadelphia Museum of Illusions Confuse your brain with these mind-bending optical illusions. Find out why this museum is one of the top things to do in Philadelphia with kids.
Just outside of Philly, you will find Dorney Park. This theme park and waterpark are filled with family-friendly activities.
If you are looking for things to do in Philadephia with kids, for outdoor fun be sure to check out TreeTop Quest where you will find over 60 outdoor obstacle courses.
Just across the Delaware River in Camden, NJ you will find Adventure Aquarium. This aquarium is the largest in the Northeast. This aquarium is one of the wonderful things to do in Philadelphia with kids.
The Museum of the American Revolution is a must-see for any history lover. The museum is located in the heart of Philly and filled with amazing exhibits featuring the history of our great country.
If you are planning a trip to Philadelphia without kids be sure to check out these romantic hotels in PA!
For More Family Fun Check Out
23 Things to do in Washington DC with Kids
14 Best Things to Do in Wilmington DE
Ocean City New Jersey Boardwalk- Everything you need to know
Top 5 Indoor Water Parks in New Jersey
37 Stops for the Best Cross Country Road Trip
14+ Things to do in Gettysburg
Pin to save to your Family Travel Bucket List: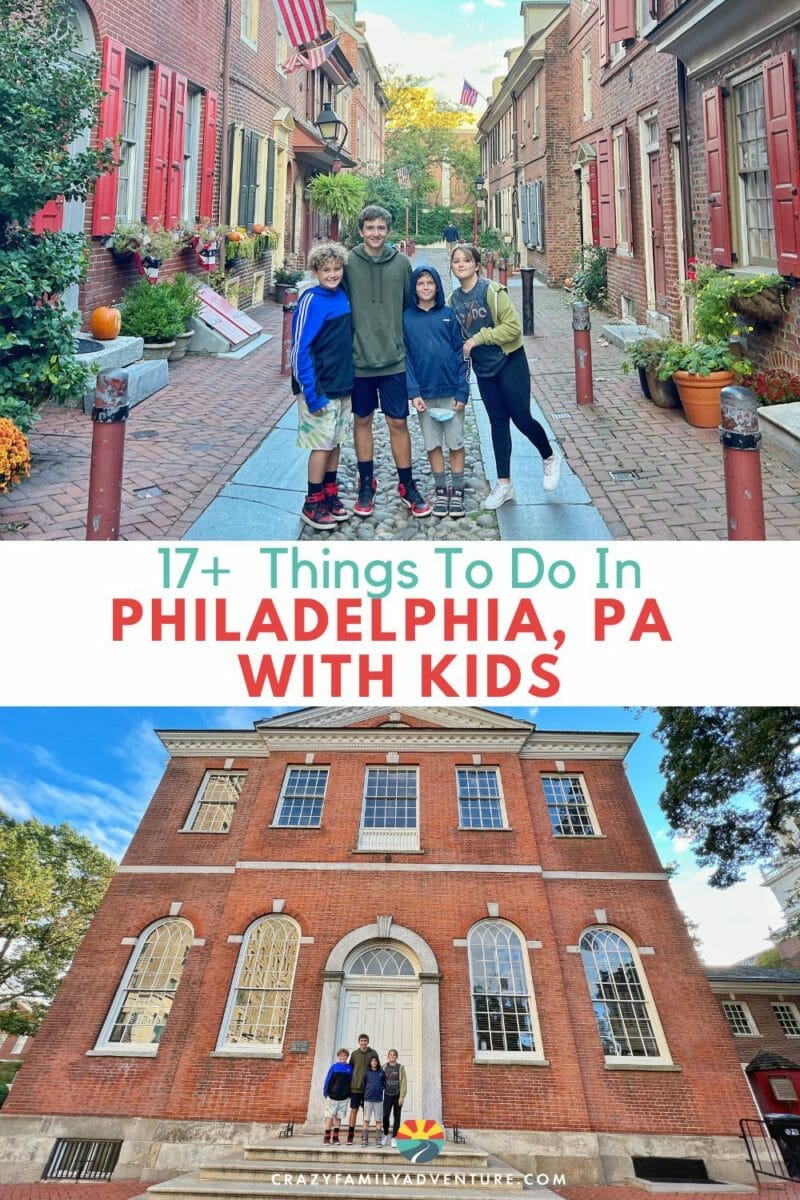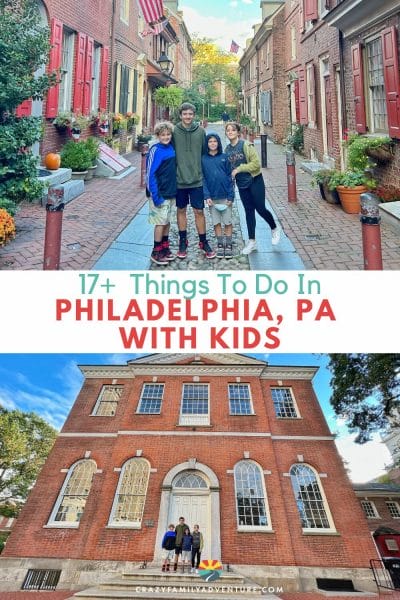 DISCLOSURE: This post may contain affiliate links, meaning I get a commission if you decide to make a purchase through my links, at no cost to you. Please read my disclosure for more info.