Have you ever wondered how a dry town on the Jersey Shore could pack in all the family fun and amusement parks you'd be looking for? A town with the shops and restaurants you've come to expect from the summer destination? That's exactly what the Ocean City New Jersey Boardwalk is doing!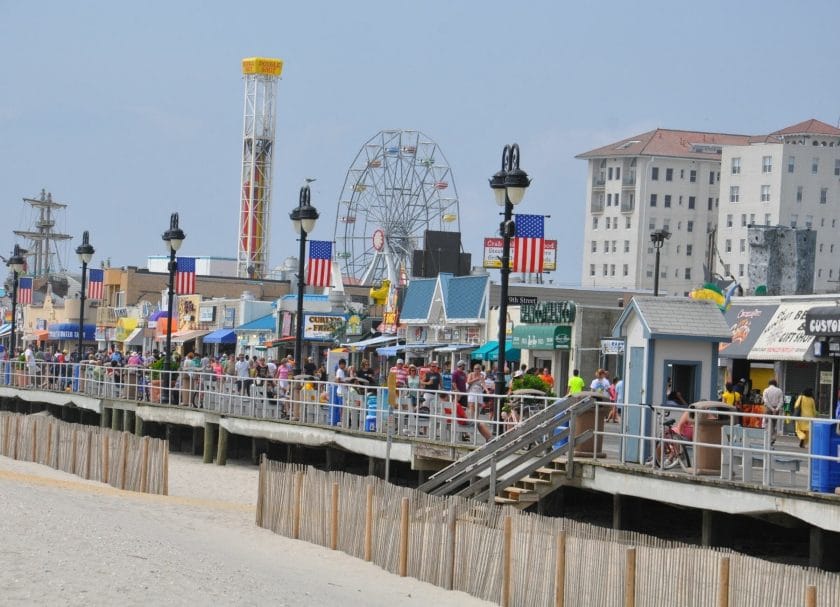 All of the surf shops, amusement park rides, ice cream, music, and art galleries you'd hope to find on the Jersey Shore, but without the alcohol! What madness is this?
Before we get into the big WHY of it all, I'll volunteer that I am a non-drinker. So, I can confirm that enjoying the Atlantic Ocean hot spots is possible without a family vacation's "spirits" aspect.
But it can still be strange to realize you can't find a beer or a glass of wine anywhere on the island.
I've known people to decide on choosing another Jersey Shore location for this reason alone, but you might be missing out on some true gems if you let the dry aspect get in the way. Let's dive into some of the truly wonderful and unique aspects of Ocean City, NJ. Let's do this!
Ocean City New Jersey Boardwalk
A little bit lost in the sauce of the more well-known Jersey Shore boardwalks, Ocean City isn't even the most well-known Ocean City out there. Most people will think about Ocean City, Maryland, before the NJ version with the same name, pops into their minds.
So it's easy for the Ocean City New Jersey Boardwalk to slip through the cracks a bit when digging into all of the delightful options on the world-famous stretch of Atlantic Ocean beach.
Why would Ocean City chose to be a dry town in a place known for its nightlife hotspots? An area famous for drinks like the Lime Rickey being born not too far away?
It all began in 1909 when a largely Methodist Christian community, led by their four ministers, had grand plans to create a Christian family resort town in 1879.
There are obvious ways to "get around" the lack of alcohol sales, but for our purposes today, let's embrace it for everything it's worth and the uniqueness it can offer.
The official prohibition of alcohol sales In Ocean City predates the famous US Prohibition laws by a solid 10 years. So, they were serious when considering such a move. They just decided not to change back with most of the country when the laws were repealed.
One very clear positive of the dry town moniker is the family-friendly atmosphere born from such an environment. The potentially uncomfortable walks past loud bar scenes with the kids are virtually gone.
The wafting alcohol smells in the morning are not present in Ocean City. This can be an incredibly positive aspect of a sunrise walk on the boardwalk. One we didn't realize we might prefer.
The 2.5 miles of the Ocean City New Jersey Boardwalk is a quiet, quaint environment and has a visible Ocean City police presence. Anyone not interested in the bar scene would relish this throughout their vacation on the beach.
About 8 miles due south (as the crow flies) from Atlantic City, NJ, The Ocean City New Jersey Boardwalk and town are in a world of their own. A completely separate Island with stunning unencumbered views of the Atlantic ocean.
Interestingly, much of the famous boardwalk rolls along pristine beaches far away from the sites and sounds of the Amusement park rides.
Over a mile of the boardwalk is purely for your trip's view and beach aspect. Romance, beauty, peace, and quiet are just steps away. Be sure to take advantage of this boardwalk portion when you are there.
The excitement starts right at Gillian's Wonderland Pier, which will begin our deep dive into some of the more fun options for your vacation!
Amusement Parks
Ocean City has a few competing amusement parks within its borders. None are what we'd call world-class, but all are very well done. Historic in many respects, these parks are a large piece of summer memories for millions of people.
They are the type of parks that get the job done well but won't blow too many doors off the hinges.
That said, there are some very well hidden gems that roller coaster and theme park enthusiasts travel all the way here to experience. We will get into the nitty-gritty of it all, and I'm even gonna let you in on a local turf battle between the amusement parks.
I have secret information I heard during our Jersey Shore Coaster Tour in 2021. I will hand that information to you, my friends.
Gillian's Wonderland Pier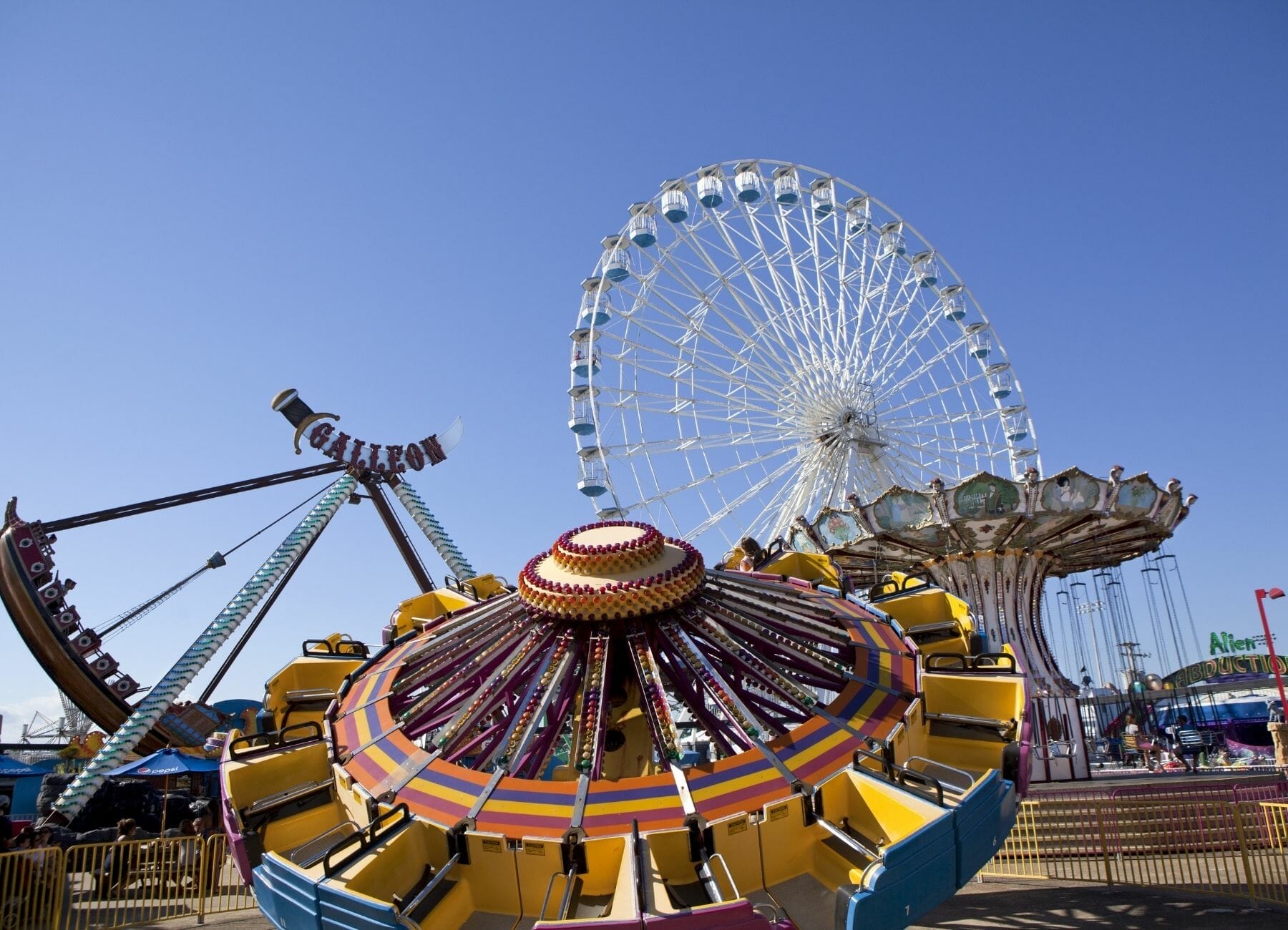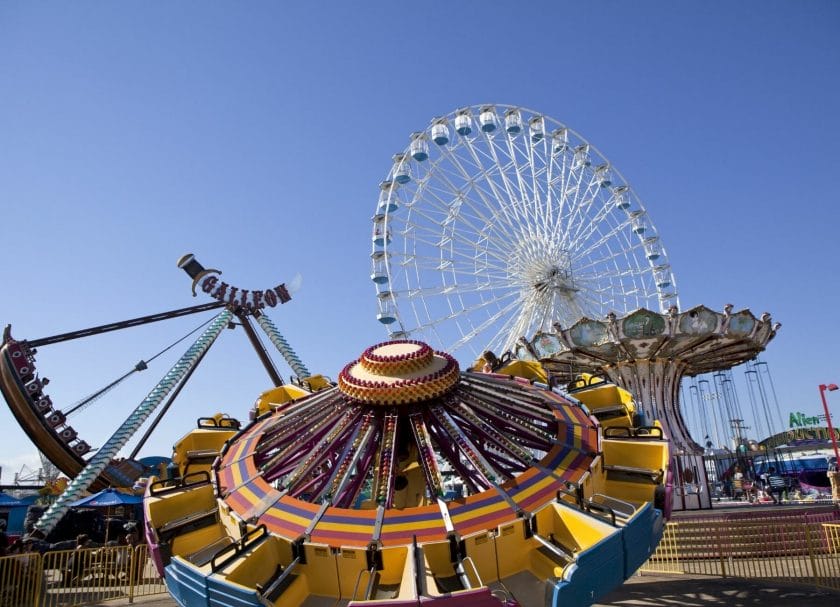 This pier has been a staple in Ocean City since 1929 and is synonymous with fun for the whole family. A unique pier experience with four segmented areas offers a more specific design to the riding scene than you might be used to.
Starting with the inside rides, let's just take a moment to acknowledge how wonderful it can be to spend a nice chunk of the hot summer day within an air-conditioned building!
Three cheers for AC! And another cheer for the person who decided to stick half of the amusement park inside said AC!
The inside rides are largely geared toward the little ones. Perfect! What better family members benefit from the option to spend most of their day in a climate-controlled area?
With classic style rides like the Choppers, Fire engines, Dune Buggies, and even a historic carousel built-in 1972, the inside area is exactly what the doctor ordered for the little buggers in the group.
The carousel is built by legendary ride engineers/manufacturer the Philadelphia Toboggan Company, PTC for short, and has the classic Wurlitzer-style organ that makes any carousel experience complete!
The big kid rides are spread through the other 3 decks. The Mid Deck, Lower Lot, and upper Deck offer traditional seaside pier attractions like Moby Dick, Wacky Worm coaster, and the Big Wheel Ferris Wheel.
The nighttime allows you to see the whole park lit up in its neon splendor. This is something to consider when choosing your time to hit the park. There's just something about the rides lit up at night on the beach!
Glass House Mirror Maze
One of the more unique offerings at Gillain's is the mirror maze they call Glass House. They have a rule that all people entering the maze must keep their hands out in front of them.
Obviously, this rule is pretty difficult to enforce, but it is here so they can remind you, "we told ya so," when you run face-first into a wall, you were convinced was a hallway.
In my experience, a well-designed mirror maze can be one of the absolute best moments of a trip. And Gillian's has a good one.
I can still remember my 5-year-old son getting a touch too confident toward the end of the Glass House. He'd done so well throughout. When he saw the exit, he thought he'd made it.
I tried to stop him. I really did. But some lessons are only learned through experience. Daddy's impassioned pleas to "STOP!" were ignored.
When my poor son realized the rules were there for a reason, it was already too late, and BOOM!
He has yet to walk into another mirror maze wall, and he's about to turn 15. 10 straight years of that lesson being adhered to perfectly. And the memory is one we bring up often. He remembers it clearly.
Glass House is a must-do in Ocean City despite the potential for a surprising face plant into a wall.
Just follow that rule!
While not quite on par with some of the more extreme offerings at the next amusement park we will discuss, Gillian's is simply fantastic! Plenty for the little kids but more than enough to keep the teens and young at heart going for a full day or night of oceanside pier fun!
Playland's Castaway Cove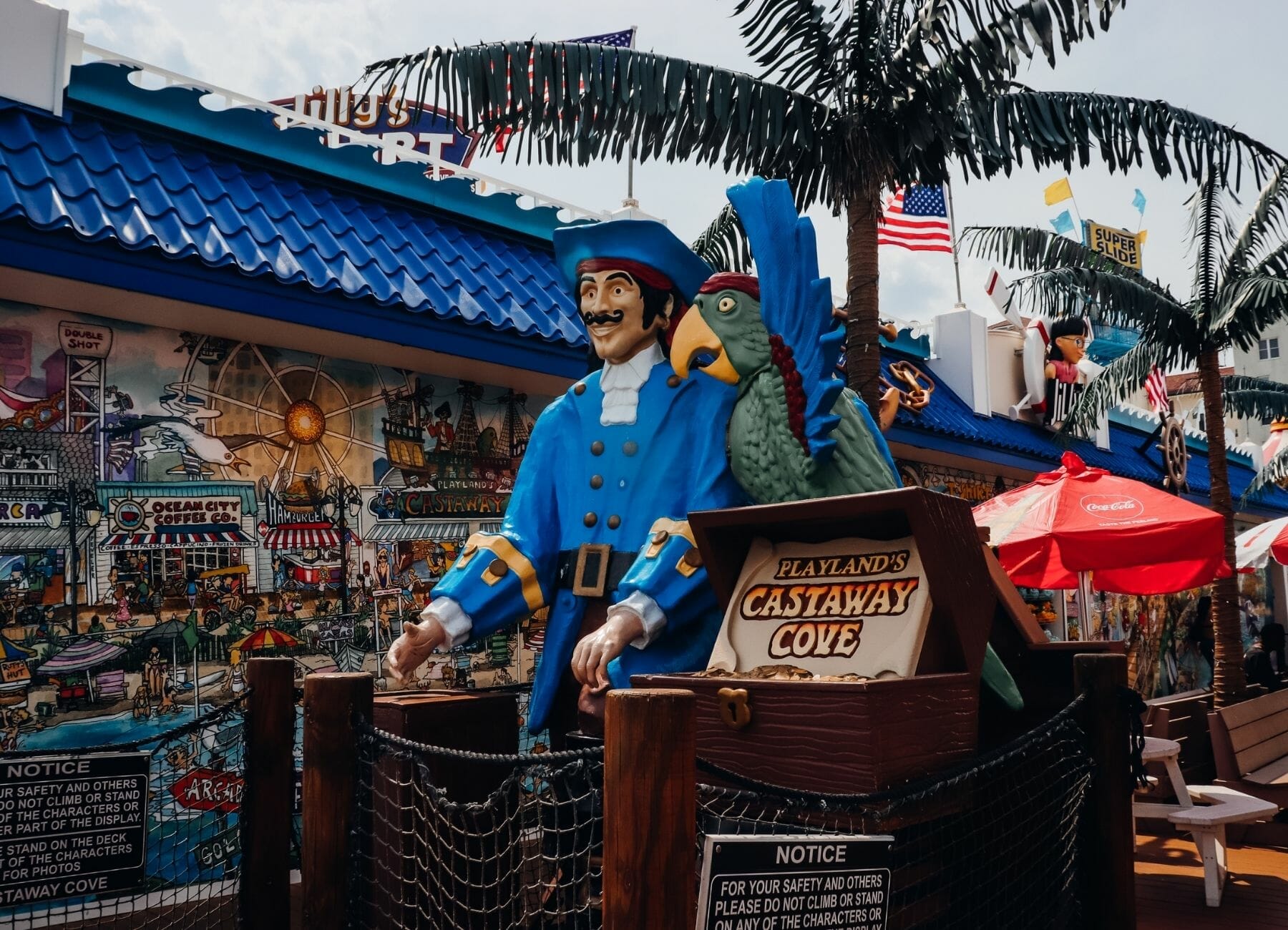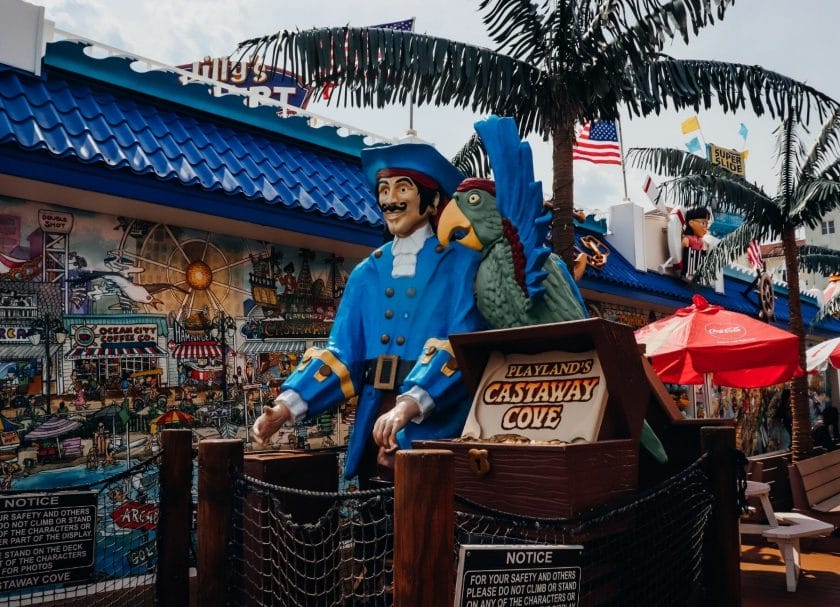 A short skip down the Ocean City New Jersey Boardwalk will land you at the next of their two premier, "mostly dry" amusement parks. Playland's Castaway Cove (PCC) claims to be the oldest amusement park in town, but there are a lot of details to sort through to make that work.
Being in its current location since 1959, it has been about 30 years post-Gillian's arrival, but again, there are details and semantics to get lost in if you'd like.
For our purposes, I'm going to tell you that this is the park that gets the coaster enthusiasts to town. We can leave the debate for someone else. When it boils down, we just want to enjoy our beach vacation! Gillian's and Playland's Castaway Cove should both be on your Ocean City New Jersey Boardwalk to-do list!
There are some absolute gems in Playland's Castaway Cove, and they are pretty much back to being fully operational since the fire of early 2021.
Word of advice, don't bring up the fire and how long it's taken them to get their permits in place to open some of their more popular attractions. Turns out there is quite a bit of bad blood with Gillian, whose family is currently sitting in the Mayor's seat.
Playland's Castaway Cove has accused Gillian of slowing down their ability to get back on their feet, and it's pretty contentious down there.
I rarely see a smaller amusement park utilize its tight space as effectively as PCC. It's amazing. Playland's Castaway Cove utilizes every square inch of the park, adding fun around every corner.
PCC knows what they are doing, from kiddie rides to world-class coasters and everything in between.
Gale Force
I like to start big, and there is no bigger place to begin in Ocean City than the Gale Force Roller Coaster. It's undoubtedly the king of Ocean City amusement rides!
A unique coaster you could easily find at a theme park such as Dollywood or Six Flags, Gale Force entered the scene in 2017. After numerous delays and redesigns, this coaster hit the ground with fury.
At 125 ft tall and 64 mph top speed, it's the kind of coaster that doesn't seem to belong at a beachside amusement park. But there it stands.
Built by world-famous coaster manufacturer S&S Sansei (Steel Curtain-Kennywood/ Steel Hawg-Indiana Beach), this one pushes the limits and has unique ride elements. Just the KickFlip alone is hard to find on another roller coaster and is worth strapping in for all by itself.
To add to the crazy of it all, they built another roller coaster that wraps around and intertwines with Gale Force at the same time.
Wild Waves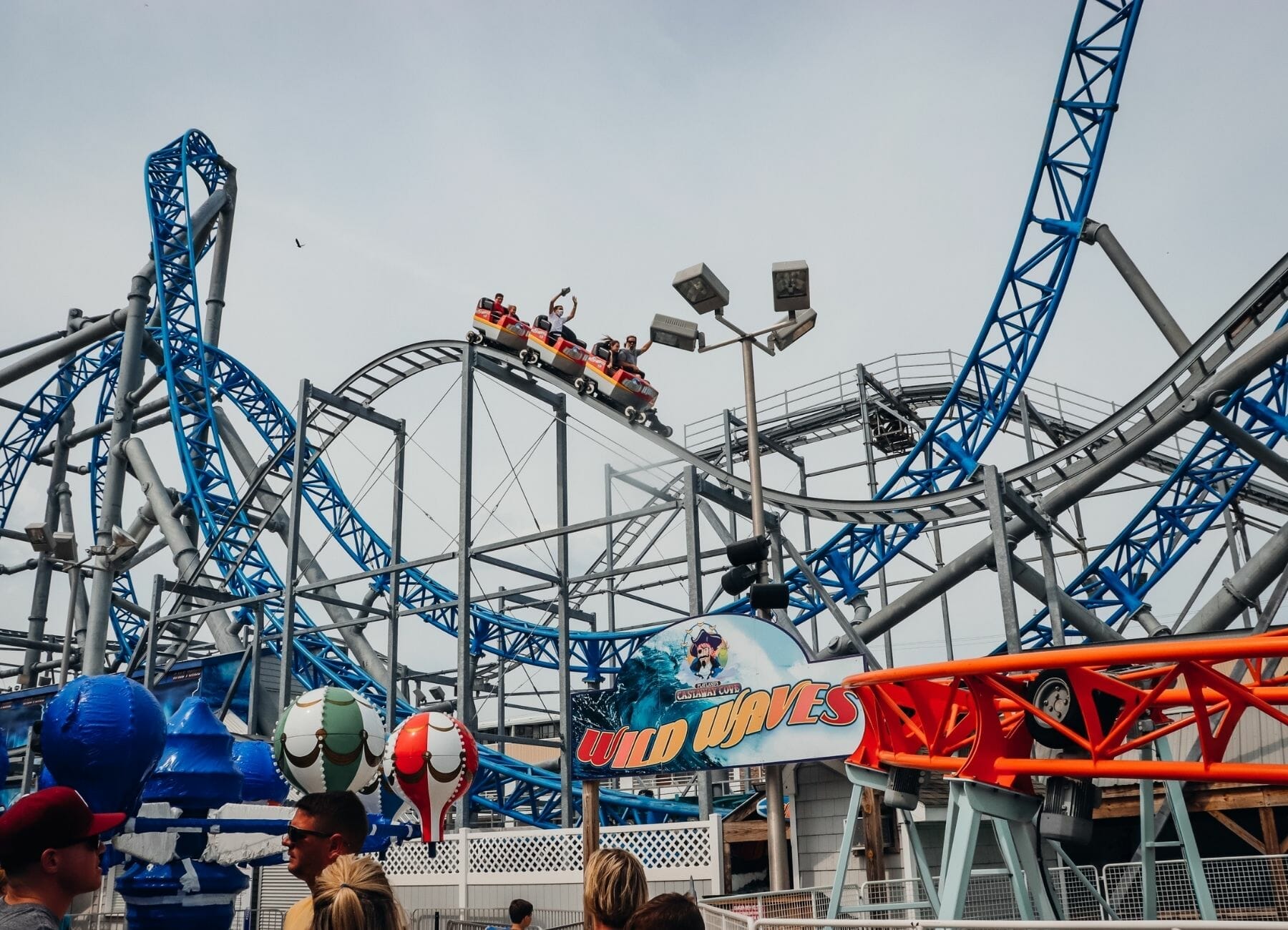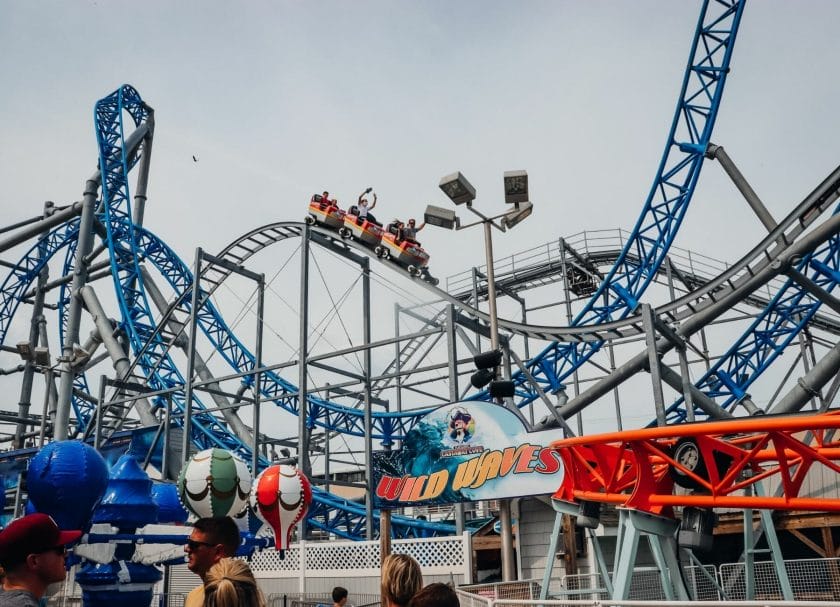 Wild Waves is most famous for being the "other coaster" at PCC. But I have to tell you, it's delightful and fun. Not necessarily one of the biggest thrill rides, it still packs an enjoyable coaster experience that can be unassumingly good.
Wrapping around Gale Force adds a charm to it, and even the family members who aren't quite daring enough to try the big one on for size will get a major thrill out of Wild Waves.
Also added in 2017, it opened alongside Gale Force, the big additions for that year.
Wild Waves may not be enough to attract enthusiasts from around the world, but it's a quality beach boardwalk coaster. Alongside Gale Force, it adds just enough punchy fun to make the collection well worth the trip.
Playland's Castaway Cove has two more coasters in the bunch. Two kiddie-level rides for the young ones that are sure to delight. Pirate's Gold Rush and Whirlwind are top-notch "little" coasters close out the coaster collection well.
The rest of the ride collection at this amusement park is perfect for an oceanside boardwalk. Rides from a nice big Ferris Wheel to the excellent High Seas Log Flume. It has everything you'd hope and expect to see there.
It's boatloads of fun, and coupled with Gillian's down the boardwalk, Ocean City's amusement ride offerings quite literally have something for everyone. The centerpiece of any Jersey Shore getaway has to be the pier rides. Ocean City beach does not disappoint!
OC Water Park & Adventure Golf
What would a summer Jersey Shore trip be without a water park? It would be disappointing; that's what!
The OC Water Park & Adventure Miniature Golf might not be the biggest or most elaborate in the world, but it's perfect for this town. Nestled right between the two dry amusement parks, they offer everything you'd want to see at a waterpark. Intense water slides, a lazy river, cabana rentals, and a large pool.
There are numerous options when considering how much time you'd like to spend at the waterpark.
In truth, I have found that the 3-hour pass works pretty well, but you can easily justify grabbing the all-day pass if you'd prefer to take it easy and go at your own pace. Especially for only $5 more.
OC Waterpark Pricing
The general pricing looks like this:
All-day w/1 round of mini-golf- $49.00
3 hours- $44.00
Spectator Pass- $20.00
1 round of mini-golf- $8.00
So spending $5.00 more plus the round of Adventure Golf could be the ticket if you are looking for a full day of fun in the sun.
Attractions at the Ocean City New Jersey Boardwalk are in full swing. From spooky Haunted Mini Golf to the Music Pier, you can easily spend a full week vacation here without the ability to get it all in.
As a matter of fact, I think it's very important to make sure you are let in on a few special food options that can make this Ocean City trip even more memorable.
Where to Eat
Many people assume Jersey Shore boardwalk food is pretty much the same. Everyone loves saltwater taffy, but there are unique finds specific to each town. When you find them, they make the vacation all that much more special.
I would be remiss if I didn't slam down a couple of the absolute must-do eateries in Ocean City. Let's talk about food!
Manco & Manco's
In my life, I associate this legendary pizzeria with the name Mack and Manco's. Why? Well, because that was its name for most of its existence. The Mack portion comes from the same family famous for their pizza shops on the Wildwood NJ boardwalk.
In 2011 the two families decided to "amicably" end the long-term relationship, and that was that. Mack was out, and Manco was the sole proprietor. The good news is it's the same place. Different sign and look, but the pizza is identical.
Famous for their tomato sauce swirl method, every pie has that instantly recognizable look. Looks are fun and all, but it's about how good this pizza is. A crispy well-done take on NJ pizza with excellent flavor and pizzaz.
Macks…er … Manco and Manco is a must-do when visiting the Ocean City New Jersey Boardwalk and piers.
Peace Pie
I just might have saved the best for last here.
While there are a few locations out there currently, Peace Pie is not exactly easy to find. Located right on the boardwalk, this unbelievable sweet treat became an instant classic the moment it opened in 2010.
I'm just going to say it straight, and you tell me if this doesn't sound amazing!
"The ice cream sandwich with a layer of pie filling." Yep, pie filling. So as you search for that Jersey Shore sweet treat at the end of the night, forgo the standard deep-fried Oreos, salt water taffy, and funnel cake this time around.
As wonderful as those staples are, THIS is the one to make sure you get to.
It almost looks like one of those classic Carvel Flying Saucer sandwiches. It's a round ice cream sandwich, but unlike any you've probably had before, the ice cream flavor and cookie outside are paired with a specific pie filling to create an experience that's truly special.
One of my all-time favorites is the Pecan Pie. A scoop of vanilla ice cream surrounded by two butter shortbread cookies, but with pecan pie filling in between! Can you imagine that? Pecan pie filling!!
How about the Rocky Road?
Two chocolate cookies, chocolate ice cream with a layer of chocolate mousse, almonds, and marshmallows in the middle.
They have dozens of combinations, and the only thing I find difficult about them is deciding on one.
It's the perfect way to end a perfect day at Ocean City's boardwalk!
Where To Stay
One thing I've learned is to plan as early as you can when it comes to lodging. This is standard for most vacation scenarios, but even more so at congested locations like the Jersey Shore. Here area few options I think you may enjoy for your vacation.
VRBO
2 Bed – 3 Bath Condo With Beach/Ocean Views
If you're wanting to stay at a prime location, this 2 bed, 3 bath condo may be right for you. Only steps from the beach and within a 5 minute walk to the rides and food, this condo will not disappoint. Also included are 2 parking spaces, which can be hard to find along the Jersey Shore.
4 Bed Beach Front Condo
This 4 bed, 4 bath beach front unit has all that you could ask for when traveling with a large family, or even multiple families. This condo also offers 2 parking spaces, 1 garage and 1 driveway. Having a parking spot is important when visiting the Jersey Shore, since you can park your car once you're there and walk where you need to go.
Booking.com
Ocean City Home
This 3 bedroom holiday home in Ocean City is within walking distance to Beach, Boardwalk and More! The Ocean City Beach and the Playland's Castaway Cove are within 2.6 miles and 1.1 miles of this holiday home, and free WiFi is provided.
Biscayne Suites
Biscayne Suites is a hotel located in Ocean City that has all of the amenities that you could ask for. From kitchenettes in the rooms, to roof top swimming pools, free wifi, and within a 5-minute walk to the beach, this place screams – vacation destination!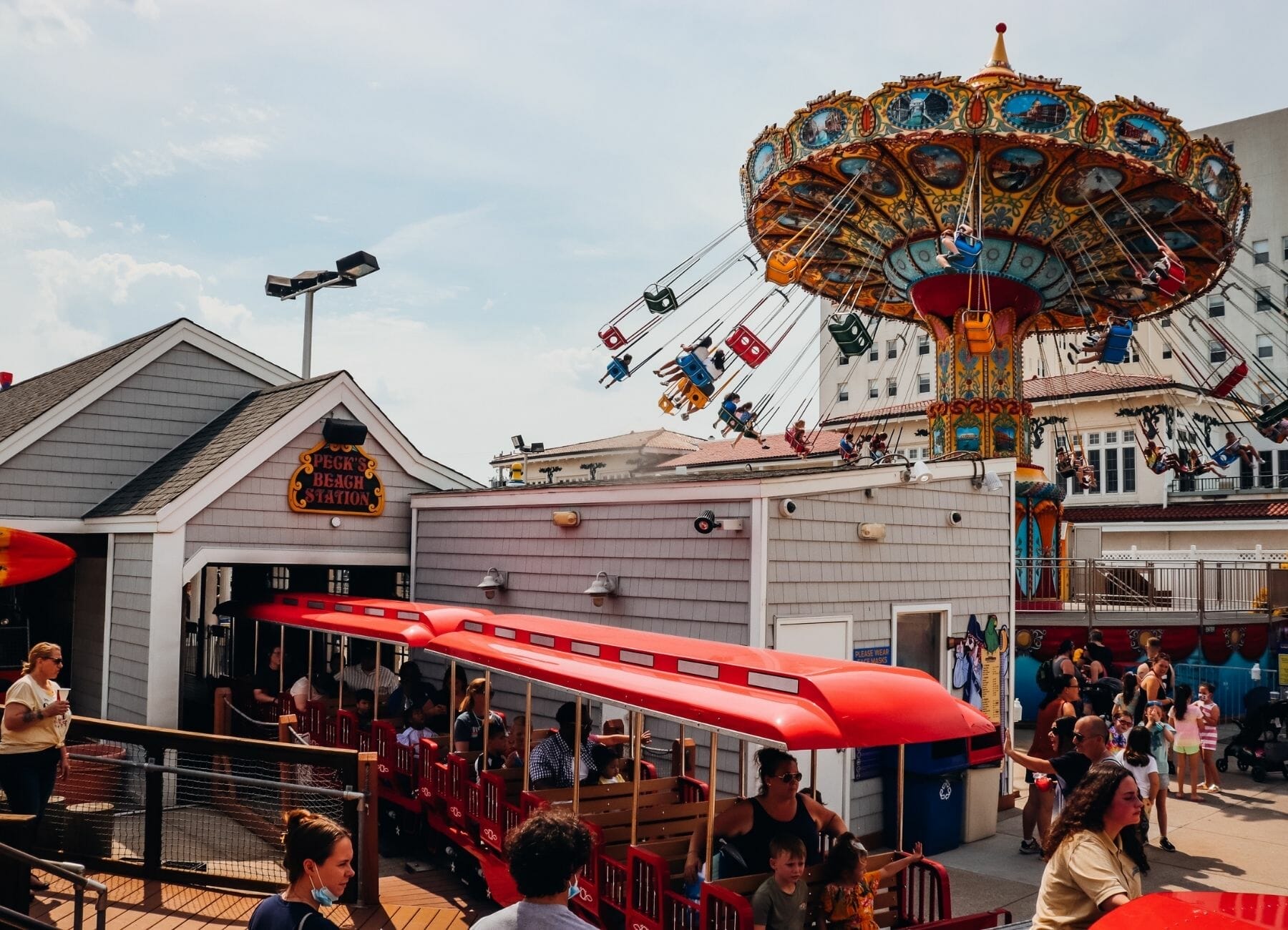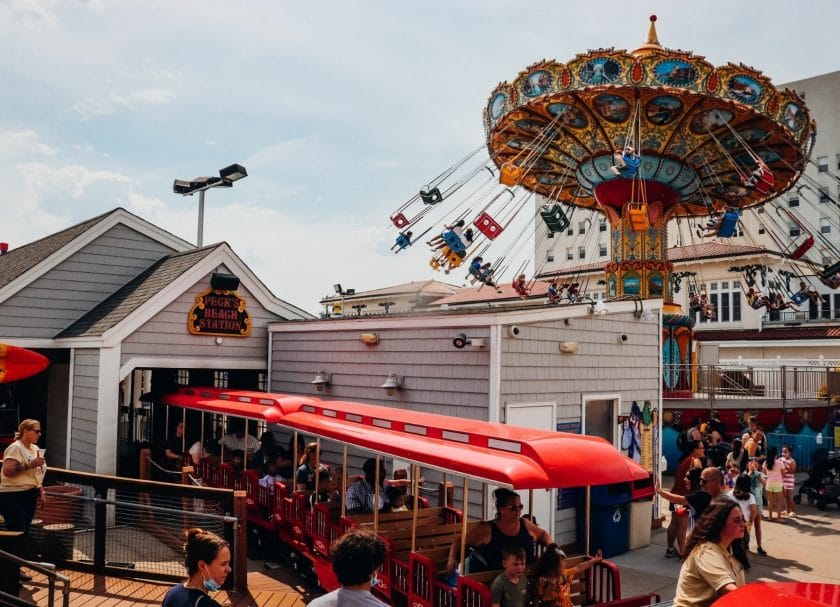 So, remember in the beginning when we talked about Ocean City being a "dry" town?
I hope I've been able to highlight why hanging onto that one detail, while potentially a big one for some, could stand in the way of an amazing vacation destination. One with so many unique elements and special events you just can't find everywhere else.
Ocean City, NJ is a special place for families to visit. Ocean City has a different feel than most other Jersey Shore locations up and down the coast.
There's so much more to explore, and I think you'll love Ocean City, NJ!
More Info Check Out:
Things to do in Cape May New Jersey
11 Things to do in New Jersey Plus Food You Don't Want to Miss!
17+ Fun Things to Do in Philadelphia with Kids!
Top 8 Best Amusement Parks In NJ
Top 5 Indoor Water Park New Jersey You Won't Want To Miss!
Jenkinson's Boardwalk NJ (What To Know When Visiting)
The Best Summer Fun At The Wildwood New Jersey Boardwalk
Casino Pier New Jersey – Everything You Need To Know To Have An Awesome Time!
12 Best Things To Do In Bowling Green KY
Pin This Post: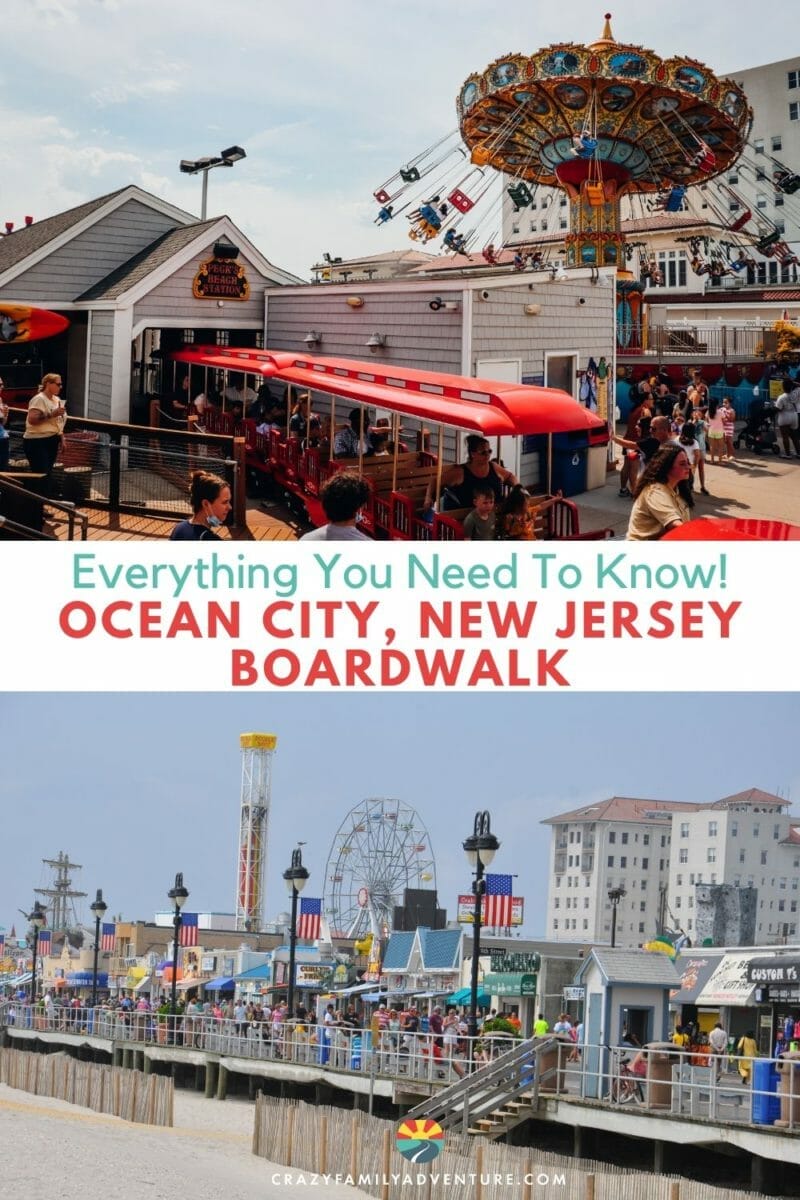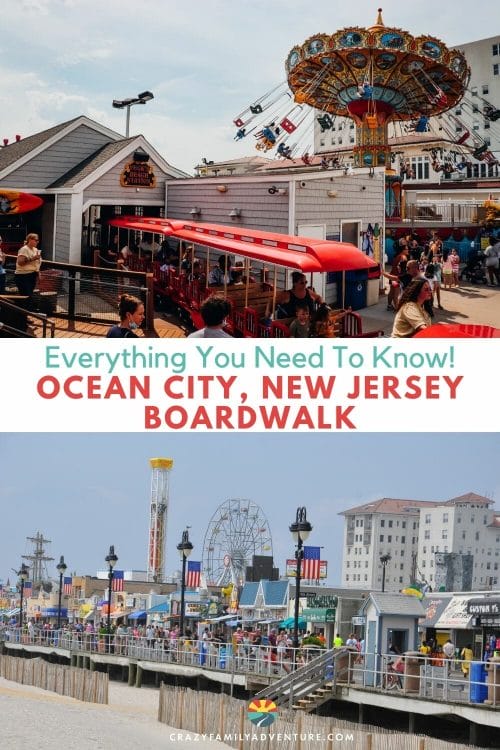 Latest posts by GreenBean
(see all)
DISCLOSURE: This post may contain affiliate links, meaning I get a commission if you decide to make a purchase through my links, at no cost to you. Please read my disclosure for more info.