Let's look at a smaller, jam-packed Jersey Shore hot spot, Jenkinson's Boardwalk in Point Pleasant, NJ!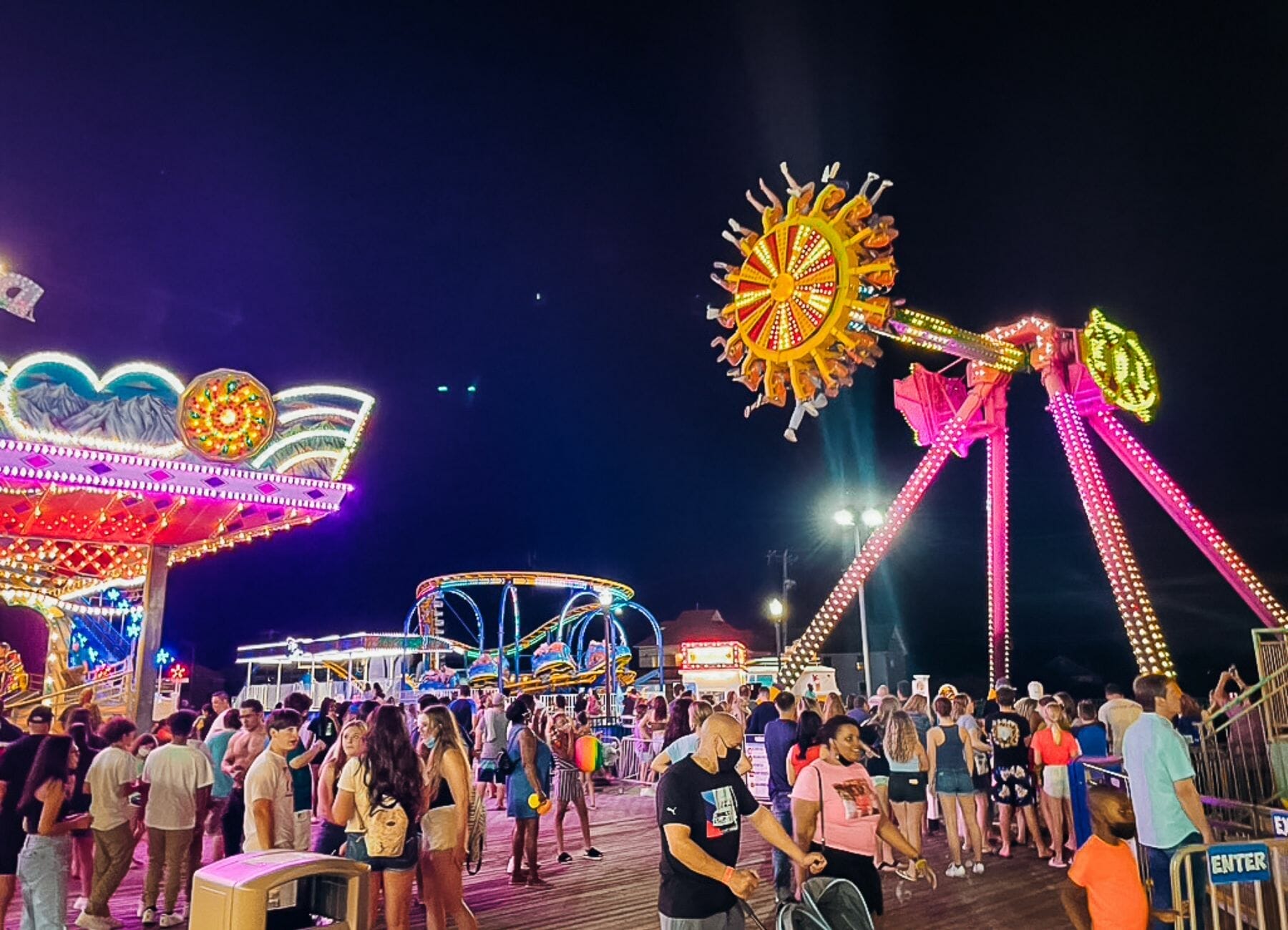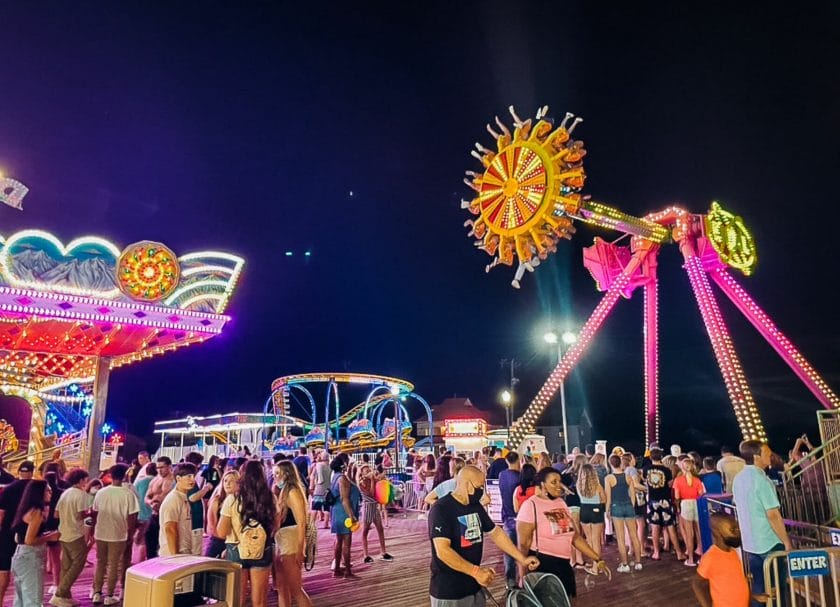 When visiting the Jersey Shore, many oceanside locations come to mind. Seaside Heights, Atlantic City, and Wildwood are all more likely to rise to the surface sooner than Jenkinson's boardwalk ("Jenks" as the locals affectionately know it) in Point Pleasant, NJ.
You know what that means, right? HIDDEN GEM TIME!
I have been to this place so many times that the term "lost count" applies perfectly. The interesting thing is that, for years, I took the name Point Pleasant far too literally, and it didn't excite a kid.
I was around 13 when I went there for the first time and realized that Jenkinson's boardwalk offers a lot more than I originally thought. The amusement park and aquarium take center stage on the mile-long boardwalk alongside Point Pleasant Beach. Other favorites include Castaway Cove Adventure mini golf and Jenkinson's Fun House.
My favorite ice cream place in the world can be found here, in addition to all the sweets and treats you'd expect from a boardwalk on the Jersey Shore.
Unlike my last article, where we broke down the massive 2.5-mile boardwalk in Wildwood, NJ, Jenkinson's is an easily navigated one mile long, with about half of that being where most of the hubbub resides.
I think it is only appropriate to begin with the amusement park portion of the boardwalk. This will set the groundwork for who will enjoy each part of the place the most.
Jenkinson's Amusement Park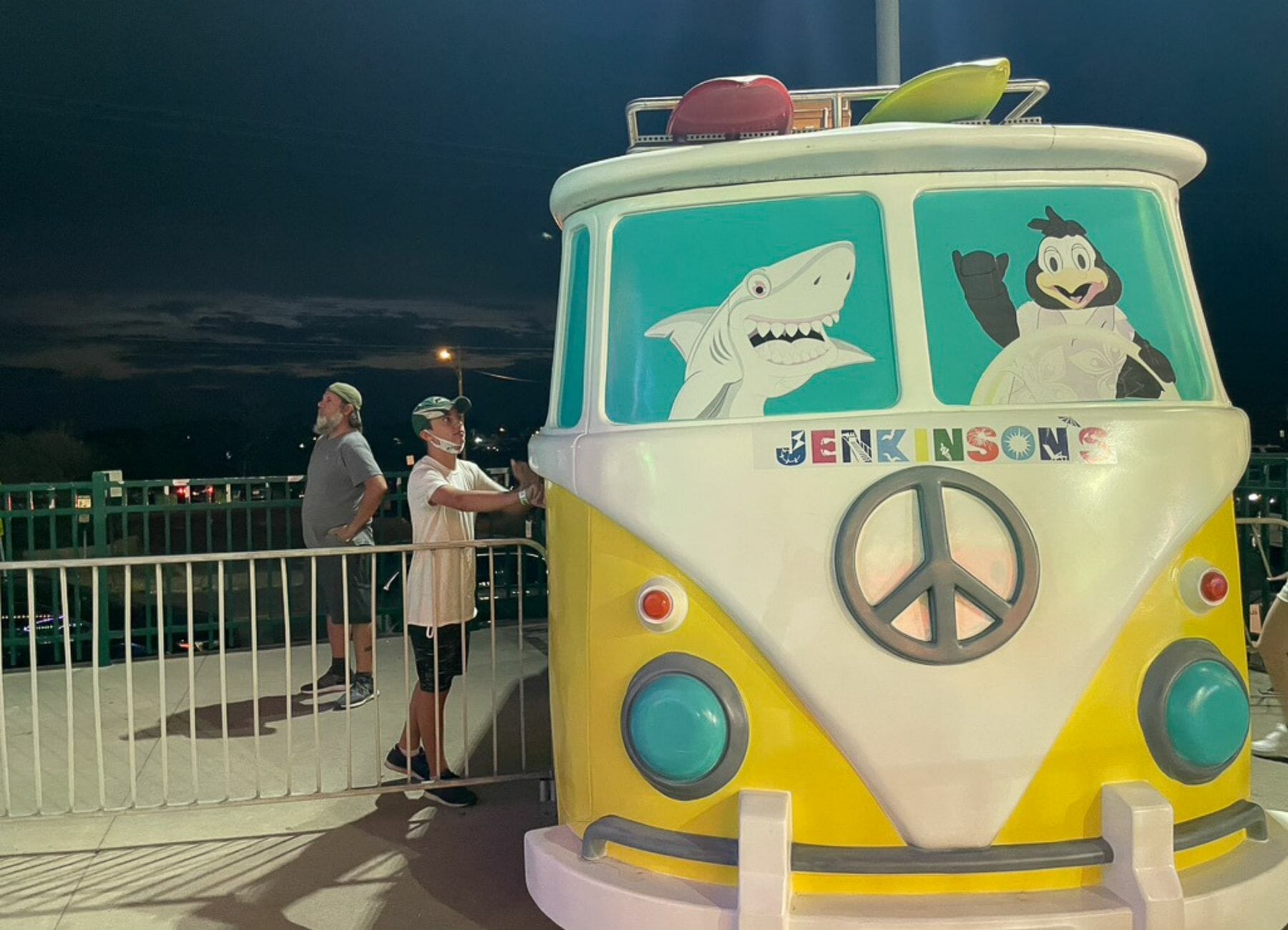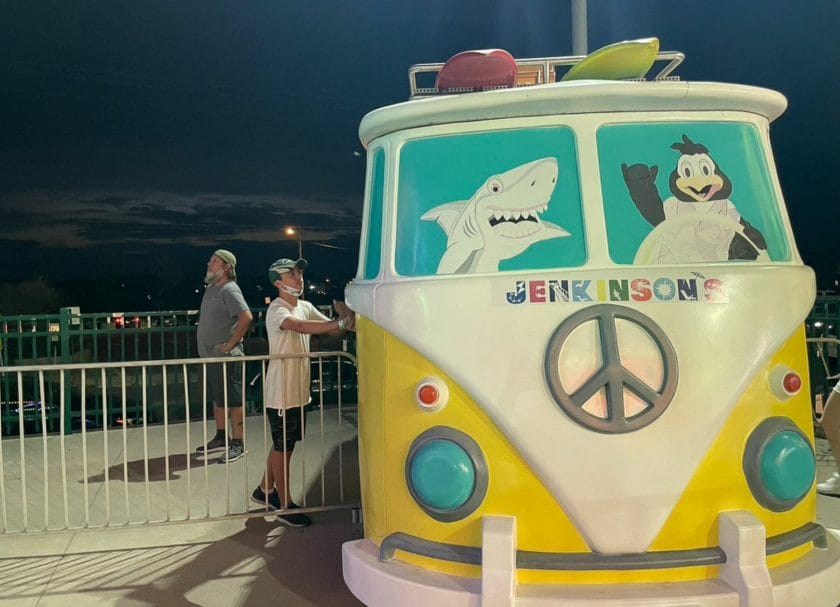 I like to shoot straight, so I'll lay this out for you. The amusement park portion of Jenkinson's is going to be the most epic for the younger kids.
It's where they've placed the most focus. All of the classic spinner rides with the multi-colored umbrellas overhead are present and accounted for.
Rides such as the Red Baron airplanes, the boat ride, Tilt A Whirl, and the carousel will trigger memories of a more innocent time. Jenkinson's has found a nice way to stay connected with their classic past while still making sure to have the newest advancements in kids' rides around.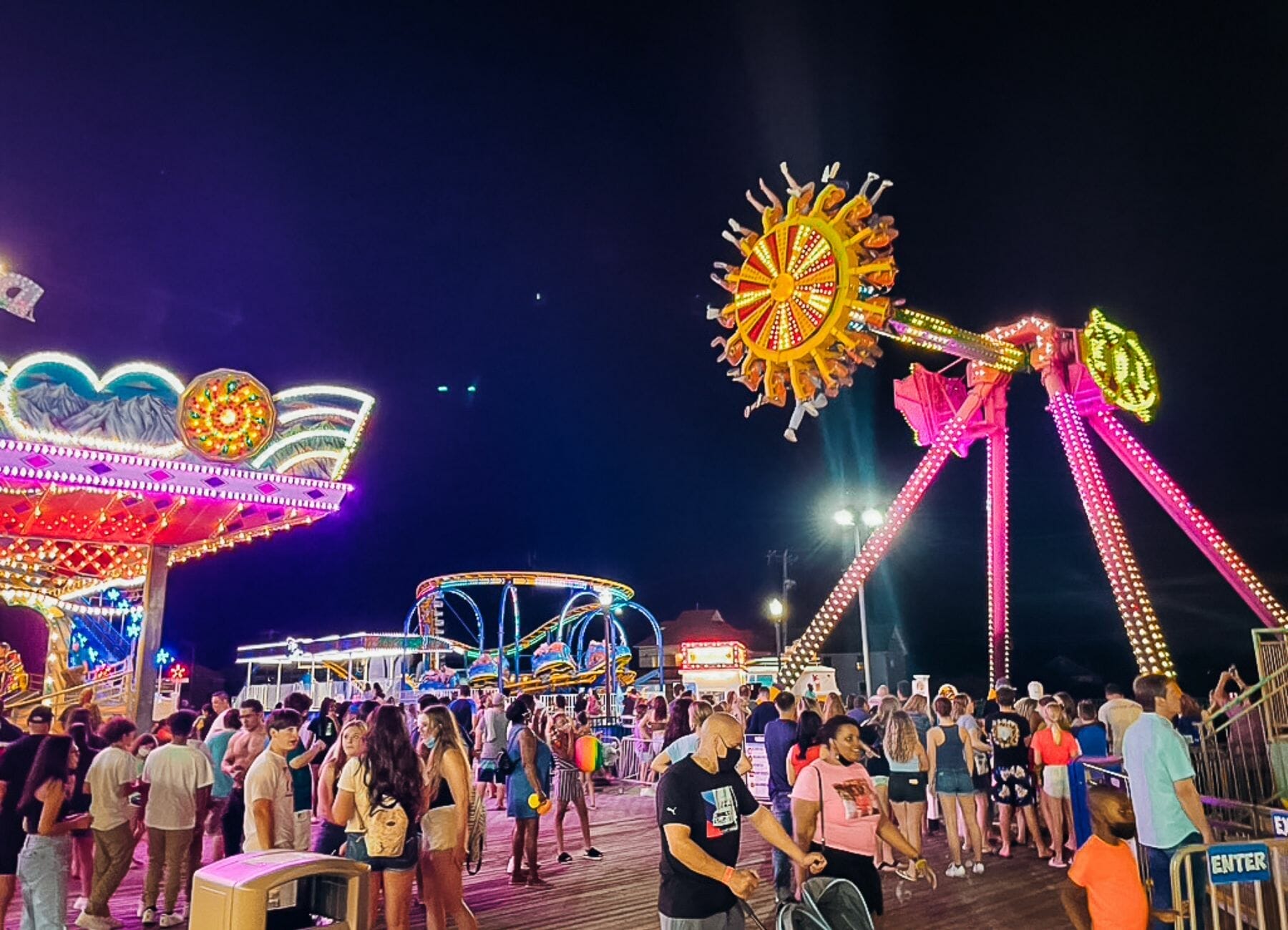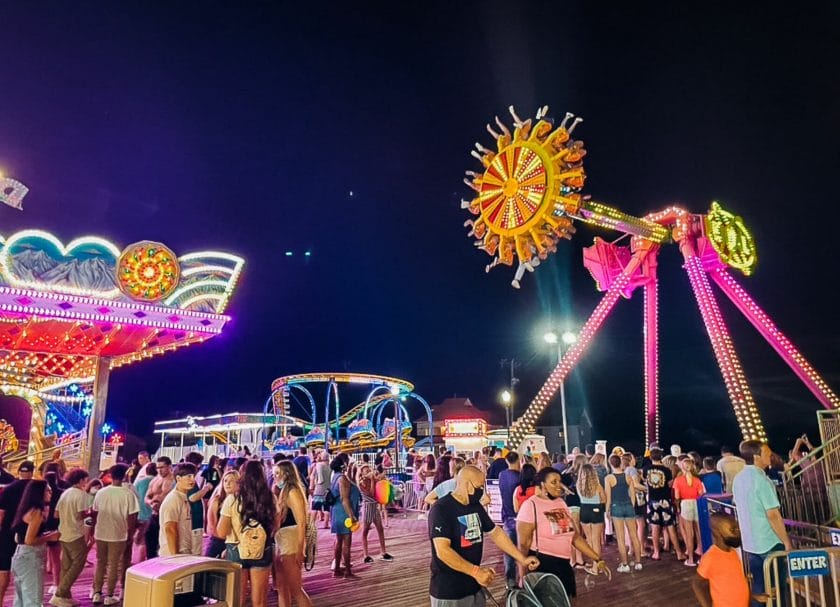 The Crazy Cabs and Dizzy Dragons are updated versions of the classics, which let you know Jenkinson's is consistently keeping up with the Joneses in the ride game.
While over half of the amusement park is geared toward the little ones, there is also a strong list of offerings to keep the teens and young adults entertained.
When was the last time you were on a Gravitron? Jenks' Starship 3000 is exactly that.
This is the last Gravitron ride I've been on and the last I will EVER ride. It owns the exact moment I found out I can no longer handle such rides. "I think I'm gonna die!" was the only phrase I could muster that day.
Being stuck to the walls with the force of over 3 Gs is a younger person's game and will provide that intense thrill any excited teen is craving!
Just not me… or my wife.
There are other great rides for the older kids as well. One of the more popular rides is the Seven Seas. This is their version of the famous Moby Dick ride and packs much more of a punch than you think upon first observation.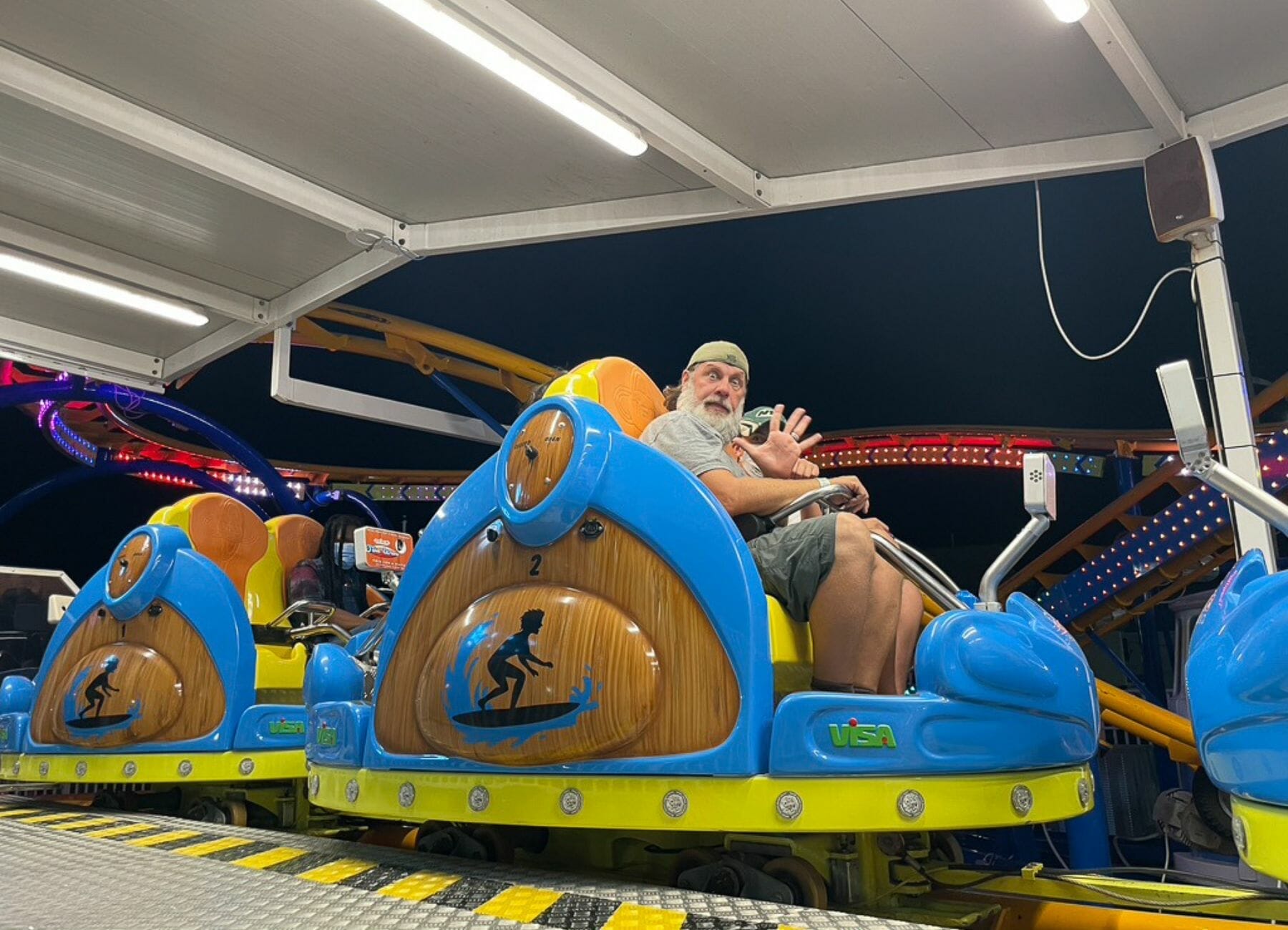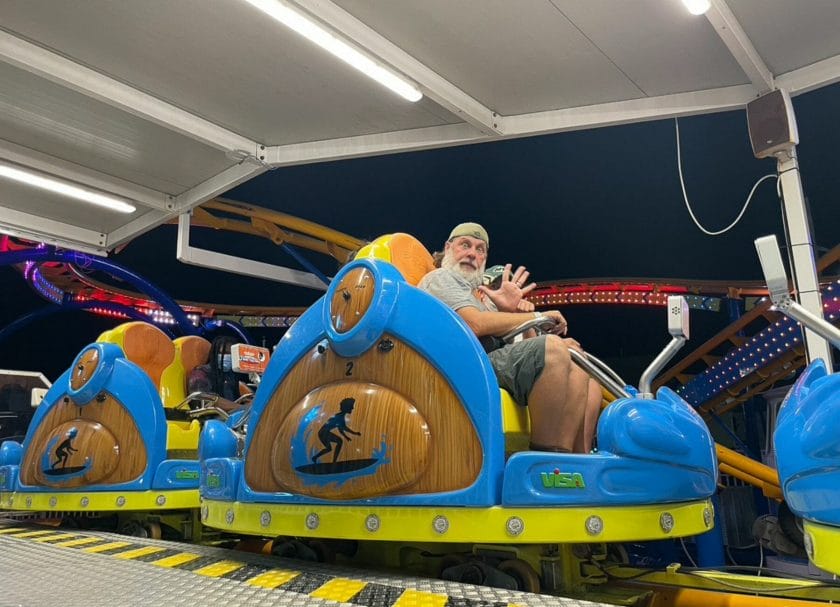 Jenkinson's has always had a coaster or two in the amusement park. They have two brand new SBF Visa Group-built coasters, which have been all the rage out there these past 3-5 years.
Tidal Wave and the NEW for 2022 Shark Attack are new takes on packing a nice punch in a small footprint. Smaller boardwalk coasters are not what they used to be.
SBF Visa Group has figured out how to create legit coaster fun into what could be labeled a kiddie coaster. It's no wonder that they are such popular coaster models these days.
What's cool about Jenkinson's amusement park is its layout. It feels like a top-tier carnival atmosphere. Jenks has made optimal use of their somewhat tight squeeze where many piers are more spread out. There are numerous ride interactions that create a sense of connectivity and fun that's hard to replicate on larger piers.
Even the train ride travels around and through the amusement park. What a thrill for the riders to pass right between the coasters and underneath the swings ride. All of the screams from one ride are heard and felt by the riders on the next ride. Jenks does an amazing job managing their property for maximum enjoyment.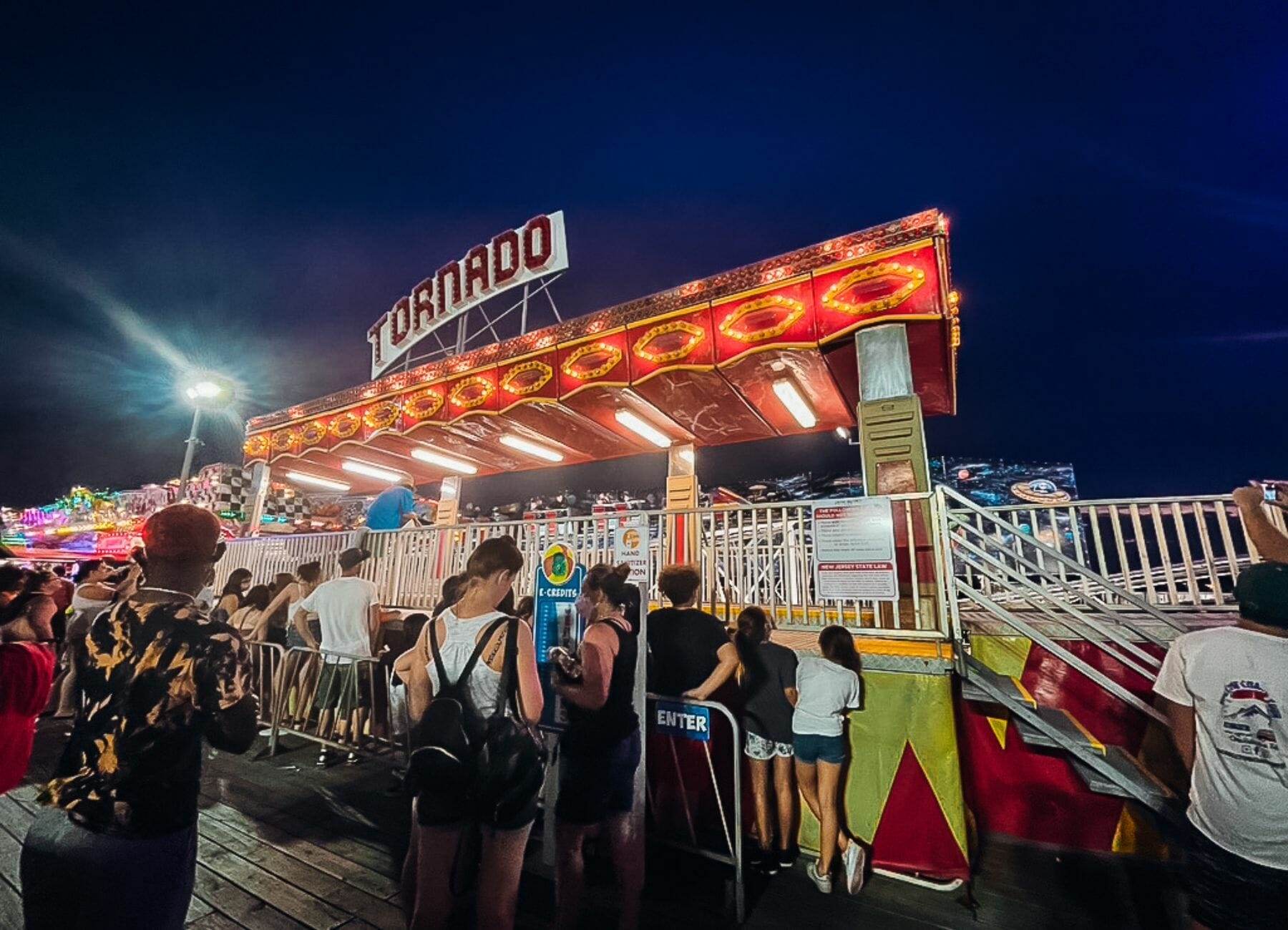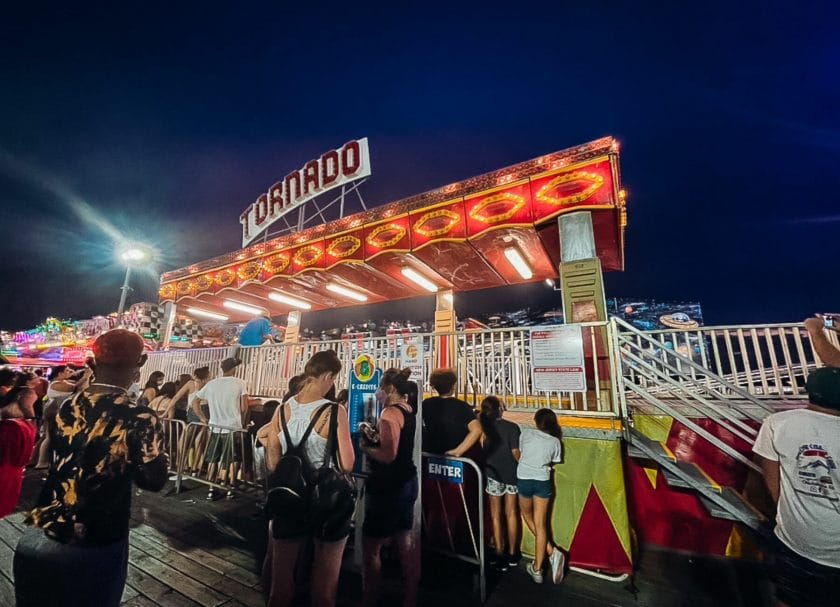 Tips:
Check out Jenkinson's South Beach Bath House for locker rentals, and any mobility rentals, including strollers, wheelchairs, and scooters.
Where To Eat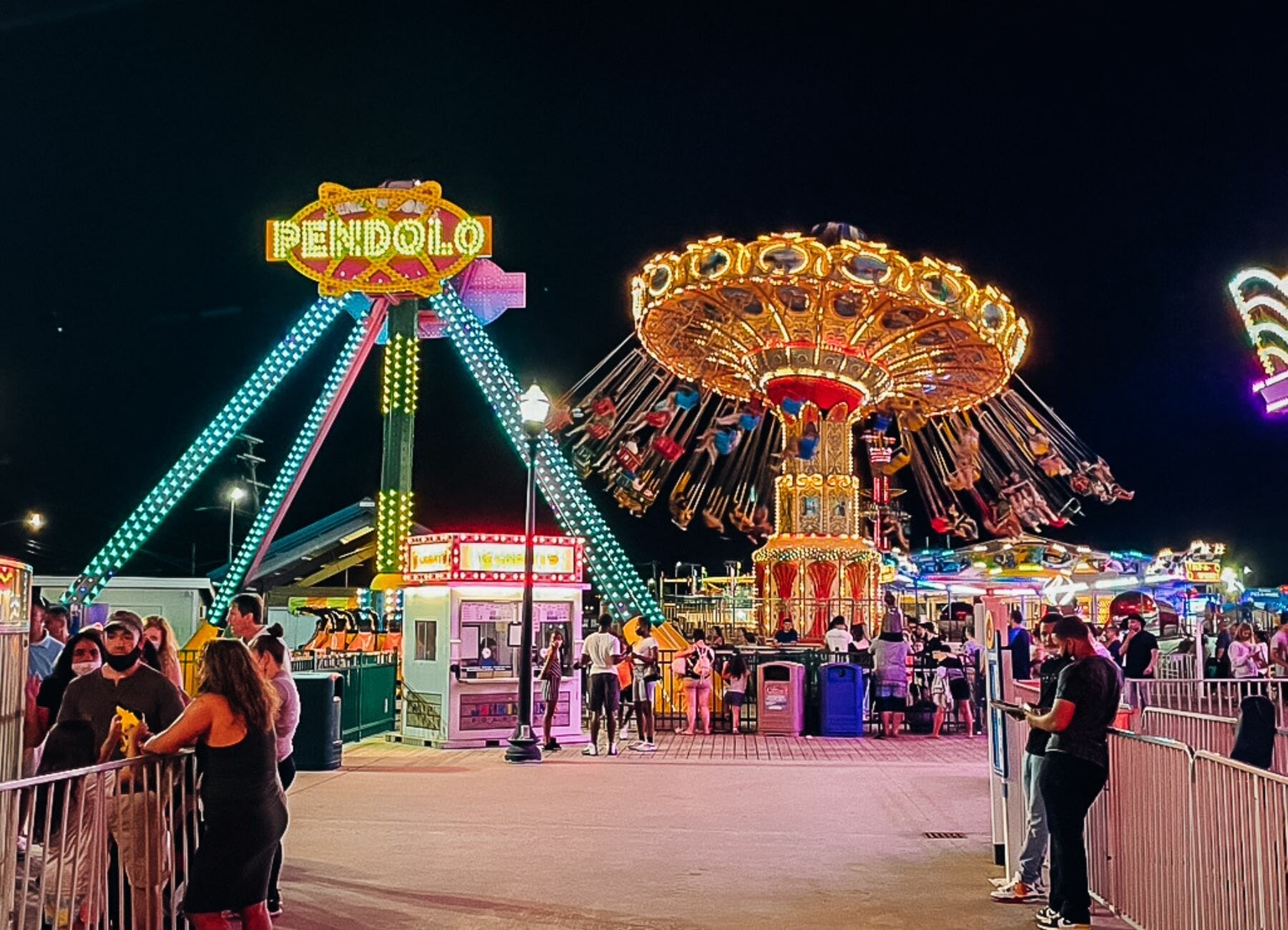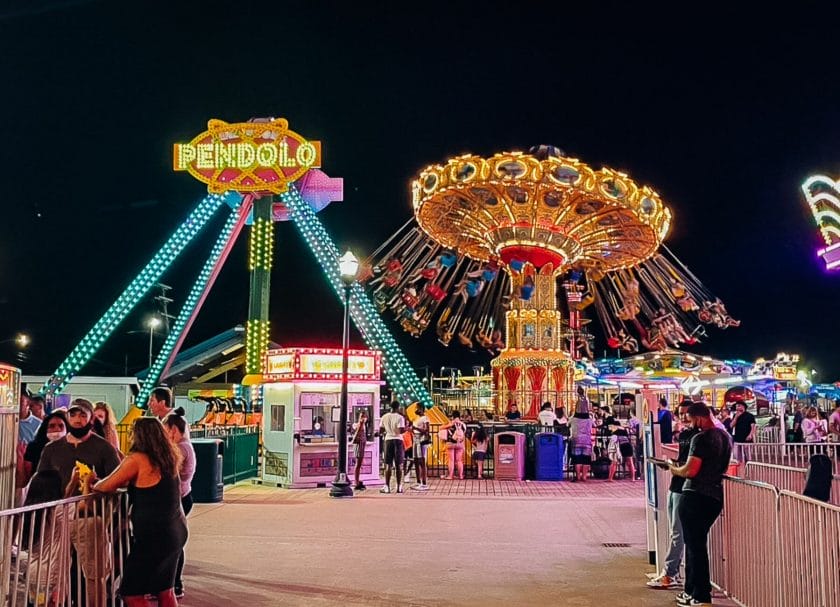 No trip to the Jersey Shore is complete without the traditional sweet shop stop to try out some boardwalk foods. Jenkinson's is no exception. While the offerings might not meet the quantity of some of the larger piers, they meet your quality expectations for the types of treats you will want to enjoy while on the boardwalk.
Let's take a short stroll over to Carousel Candies:
Salt Water Taffy? Sure. They have that, and I always suggest getting a box when visiting the shore. Candy Apples? Yep. They have those magical delights too, but how does a massive Belgian Waffle covered in ice cream, cookie dough, and whipped cream sound?
I can honestly tell you that I never even think of waffles and ice cream unless I'm at the Jersey Shore and Jenkinson's fits neatly into that pocket, offering some of the best on the entire coast!
At the risk of sounding like a broken record as I traverse the Jersey Shore with you all, I simply can not allow myself to move forward without mentioning my number one "ice cream" spot in the entire world. Kohr's!
The Kohr brothers have a classic frozen custard stand right here at Jenks! Believe it or not, there IS a difference between ice cream and frozen custard.
It all began in 1917 on the Coney Island boardwalk. Two dairy farmer brothers wanted to sell ice cream, but the hot salty ocean air melted the soft serve product too quickly.
Their solution? Add egg to the mixture. What was created was a legendary custard which is thicker yet much smoother than traditional soft serve ice cream.
I'm a chocolate and vanilla swirl man myself, but it bears mentioning that they are famous for the orange cream swirl. It's one of those things that might taste familiar, but you will know right away it's very different from anything else "creamsicle" flavored you've had before. Another slam dunk would be the mint soft serve!
Oh, and don't forget the Jimmies!
The Aquarium
One of the more unique aspects of Jenkinson's in Point Pleasant is their boardwalk aquarium. Right next to the Ferris wheel and roller coasters is a full-sized aquarium!
Perfect for a break from the sun, the aquarium is packed full of sharks, numerous species of fish, and even penguins.
One of the best parts of the Jenkinson's aquarium is its attention to the feeding times. They have a schedule for when the seals, sea turtles, and even the sharks get fed. Watching sharks feed is something to behold!
Another favorite is the touch tank. It's one thing to observe the fish majestically swimming in the tanks. It's an entirely different thing to have the opportunity to learn what horseshoe crabs, manta rays, and starfish feel like.
This is momentous for the little children, but don't be surprised to hear ooooo's and ahhhhhh's coming from some of the adults as well.
Jenkinson's Boardwalk Aquarium Costs
$16.00 per adult
$11.00 Seniors 65 & up
$10 for children aged 3- 11
Children 2 and under are FREE
Point Pleasant Beach
Including the actual beach when planning a trip to Point Pleasant is always a good idea. And it's a beautiful one!
Much more manageable than the 200 yd walk to the water in Wildwood, NJ, Jenkinson's Beach is just a little skip over the golden sand to the Atlantic ocean.
Point Pleasant is known as a bit more of a family beach, so while you will certainly have teens around, Jerseans consider it one of the calmer and more relaxed beaches associated with an amusement park and boardwalk.
Many people are surprised to learn when they arrive at a Jersey beach that almost all beaches charge for admission before you can enter. There are little ramps heading down from the boardwalk to the beach, which are staffed by a beach attendant.
Tips:
If you're heading to the beach for more than 7 days, it makes a ton of sense to buy the ½ season pass. Even if it's 8-10 days and you have no intention of returning, it still saves money to jump on the ½ season pass. I'll explain.

Beach badge prices are as follows:

$12- Weekdays- Adults 12 and up Daily
$13- Weekends- Adults 12 and up
$4- Weekdays Children 5-11
$5- Weekends Children 5-11
Kids under 5 are free

The ½ Season pass, which gives you ½ of the summer (May 21- July 18/ July 19- Labor Day), will cost you less than $3 per day for the season but breaks down as follows:

$90- Adults 12 and up; this includes weekends
$35- Children 5-11
Seniors have a full-season option for $90, so they will get the whole summer for the price of the half-season badge.

Wristband Days – watch their website for what they call "wristband days". On certain days of the year you're able to ride unlimited for one set price.
So essentially, it costs 7.5 days at the weekday rate of $12 per adult. If you're going to be there for a 2-week vacation, for example, it saves a ton of money and gives you the flexibility to go to the beach whenever you want. Even if it's just a few minutes to stick your toes in the water, you won't feel like it's a "waste" of a badge.
We usually get the full season badges when we head to Point Pleasant, which costs $120 in 2022. It always made sense to do so from our perspective.
You will have to make those decisions yourself, of course, but having the full story beforehand can help save some money and take a boatload of stress off your shoulders during the trip. If you want to head to the beach, just hop on over to the beach!
Point Pleasant also has umbrella and lounge chair rentals. All of that costs about $11-$12 per day. While I'm a beach blanket kinda guy, this is an option many people find to be a wonderful addition to their beach day.
Nightlife
One of my favorite things at Jenkinson's Boardwalk is to head 'home" after the long beach day, clean up, eat dinner and head out to the boardwalk.
If I'm with the kiddos, it's all about the Amusement park, of course. A boardwalk amusement park is ALWAYS more fun at night! The lights add something spectacular to the atmosphere, and if I had to choose one over the other, nighttime is the right time 100% of the time.
Uniquely, Jenkinson's Boardwalk has made the night out without the little ones very simple. While the town of point pleasant has plenty of restaurants, bars, clubs, and even comedy theaters, the boardwalk has essentially two options everyone flocks to.
Those spots are Martel's Tiki Bar and Jenkinson's or Jenks!. But wait, the whole place is called Jenkinson's, right?
Yes and no.
It depends on what time of day you're referring to the place. If it's after sundown, using the term, Jenks will cause people to think about one place and one place only. And that's Jenk's Club.
I'll start with the place I could be found 4 out of 5 times when hanging out in Point Pleasant at night. Martels, or simply The Tiki Bar, is a more laid-back type of place. They have live music and a wonderful atmosphere built around their pier, which juts out over the beach's sand.
Hundreds of folks will get dressed up in evening casual attire and spend the night in a place where you can generally hear your friends talk while enjoying craft cocktails around a huge pier-long bar.
I find Martel's to be the best of the sort on the Jersey Shore, and a vacation in the area calls for at least one night at The Tiki Bar.
The other nightlife hotspot is Jenks club. Just the name alone should tell you where they differ. Where the Tiki Bar is relaxed, Jenks is amped up. A traditional Jersey Shore club scene is what you'll discover walking into Jenks for the first time.
Loud dance music, amazing lighting, and fog effects enrobe hundreds of energetic people dancing the night away. Having been to just about every club on the Jersey Shore at some point or other in my time, I can honestly tell you that Jenks is a good one.
A touch smaller than some of the bigger clubs in larger areas like Seaside Heights or Wildwood, NJ, Jenks is plenty big enough to give you the full feel of the club experience at the Jersey Shore. It's a very specific scene, and Jenks provides it.
Where to Eat
Martels is also known as Martel's Lobster House, so if you really want to get the full experience, get a dinner reservation at their restaurant a little earlier in the evening. Then follow a wonderful oceanside meal with drinks and nightlife at the Tiki Bar. Lobster Tail is the order at Martels!
In the same way that Martel's can give you the full dinner and drinks experience, Jenkinson's Boardwalk can do the same. Standing as the northward neighbor to the Tiki Bar is Jenkinson's Pavilion.
Serving amazing fish tacos, burgers, oysters, clams on the half shell, and many other seafood favorites, Jenk's Pavilion offers a true oceanside experience with their wide-open dining room with large ocean-facing windows.
They close at 9 pm, so grabbing dinner at 7:30 gives you the perfect time to get those fish tacos in before burning them off on Jenk's dance floor, just a few steps across the boardwalk.
Where to Stay
I want to mention another interesting wrinkle to the Point Pleasant summer vacation.
There are, of course, plenty of hotels in the area. Some are better than others, but no.
Staying right next to the beach has always been something I felt was important when spending time in Point Pleasant. I've only stayed at a hotel once in my years visiting this town.
It was fine; if that was your experience, I'm sure you'd be happy overall. But if you want to be near the beach, it will need to be a house in most cases.
My honest recommendation is to explore and take advantage of the robust vacation home rentals in the area. Sometimes I feel like every house in Point Pleasant is available to rent. There are that many.
The vacation will be that much better when you can walk right over to the beach and amusement park. I'm sure you can also see the benefit of leaving the car home for a night out for drinks and dancing as well.
Even with so many options for beach house rentals, I'm going to tell you that you will need to book early. They fill up quickly, and it's a bummer when you dream of staying on the beach but have to settle for two miles away.
VRBO
The Perfect Beach Cottage
The Perfect Beach Cottage (Manasquan Family Shore House) is the perfect beach retreat and located only 200 feet from the beach and 1.4 miles from Jenkinson's Boardwalk. This cottage offers 7 beds and 2 1/2 baths, and comfortably decorated. The back porch with exposed beams and ceiling fan will have you relaxing in no time at all.
Ocean Breeze Beach House
The 3 bed "Ocean Breeze" Beach House is only a 3 minute walk to the beach and Boardwalk. The location could not be better. Also included in this beach rental is beach passes, beach chairs and FREE coffee. It just keeps getting better! Once you take in the beach and bay views from this beach house you will not want to leave.
Hotel
The White Sands Resort and Spa
The White Sands Resort and Spa is the perfect location and accommodations when visiting Jenkinson's Boardwalk. Located only half a mile from the boardwalk, everything is within walking distance. You will enjoy the indoor and outdoor swimming pools, and of course the free wifi. You trip will be convenient and relaxing when staying at The White Sands Resort and Spa.
Boardwalk Beach Inn
Although this is a small beach motel, the amenities and location at Boardwalk Beach Inn are not lacking any details. You will enjoy comfortable rooms, and there is a private outdoor swimming pool on the property. The Jenkinson's Boardwalk is only 0.8 miles away, making it easily acessible. The private beach access is beautiful when sinking your toes in the sand.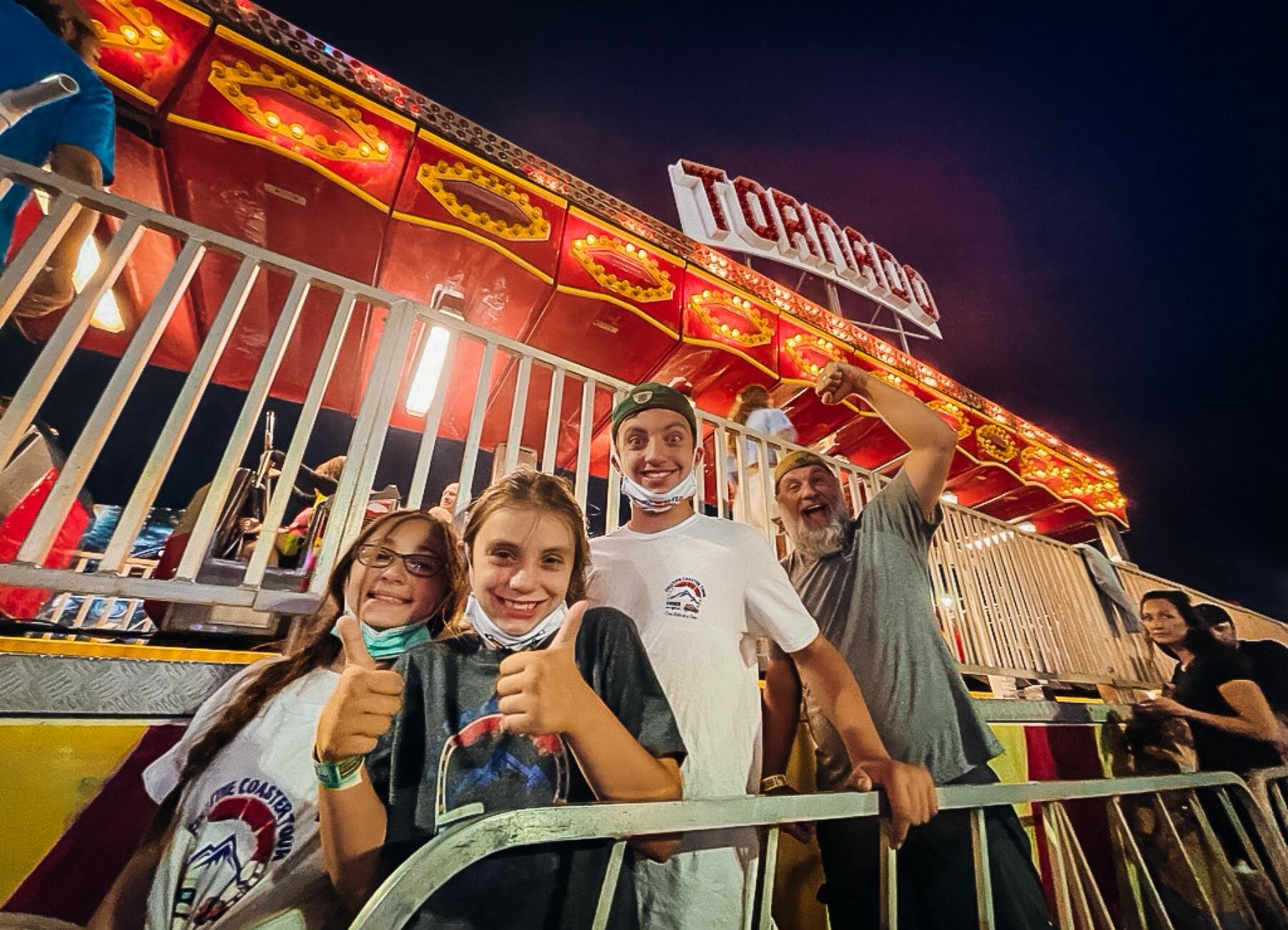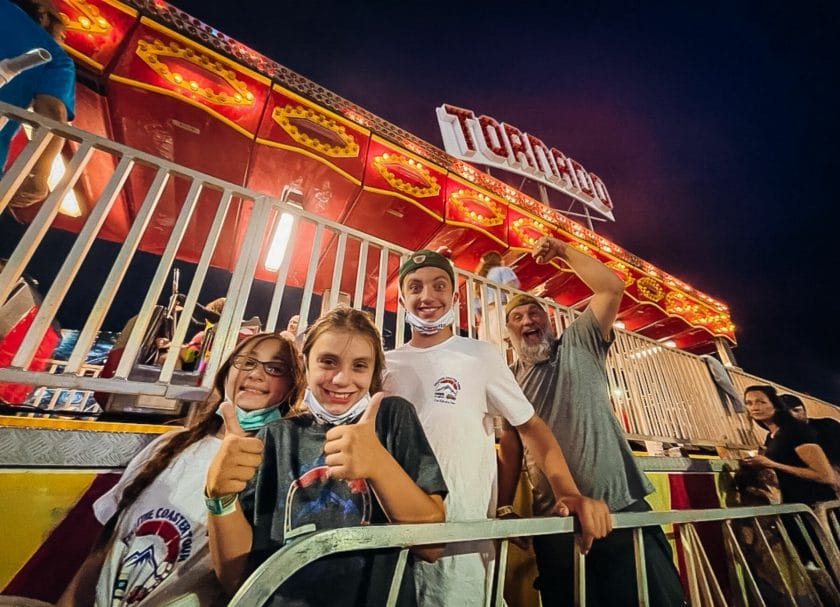 Point Pleasant has so much to offer for your summer vacation, and Jenkinson's Boardwalk is at the center of it all. With so much to offer from the beach to the clubs and back around to the Gravitron. If you take the time to plan, you'll love this area of the Jersey Shore!
More Info Check Out:
Top 5 Indoor Water Park New Jersey You Won't Want To Miss!
Top 8 Best Amusement Parks In NJ
The Best Summer Fun At The Wildwood New Jersey Boardwalk
20 Indoor Water Parks You And Your Kids Will Love
21 Best Things To Do In Mystic CT
Top 4 Amusement Parks In Tennessee You Need To Visit
Casino Pier New Jersey – Everything You Need To Know To Have An Awesome Time!
Ocean City New Jersey Boardwalk (Everything You Need To Know When Visiting)
Pin This Post: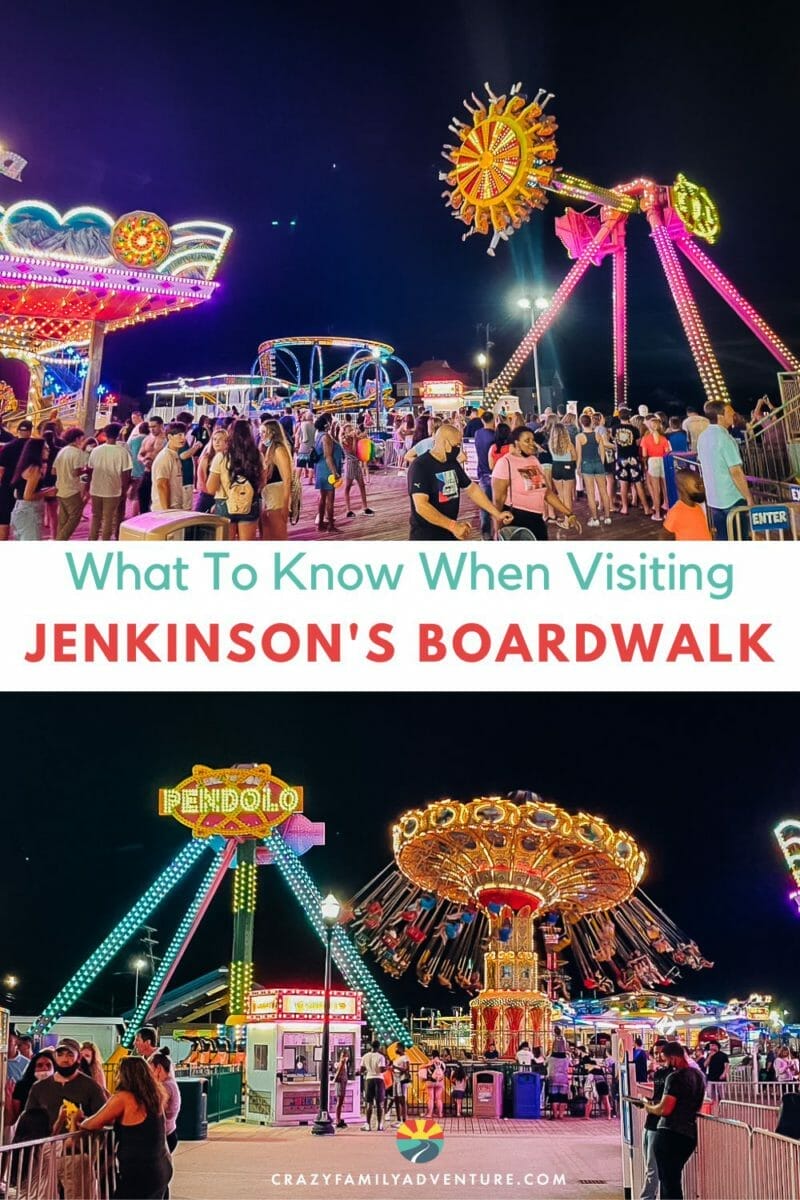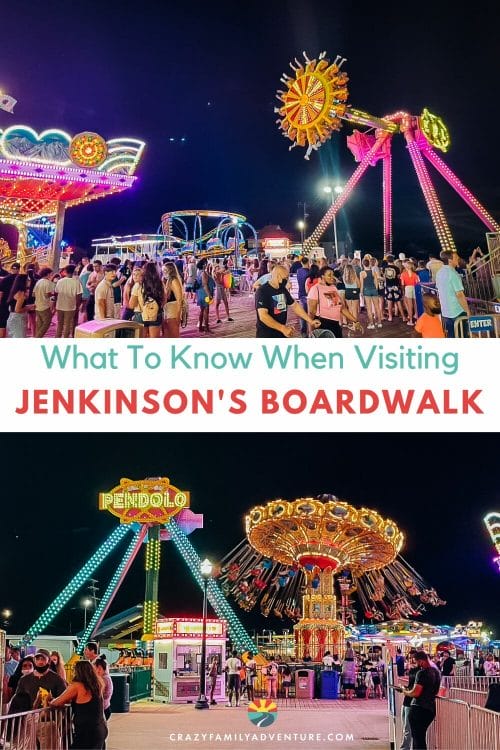 Latest posts by GreenBean
(see all)
DISCLOSURE: This post may contain affiliate links, meaning I get a commission if you decide to make a purchase through my links, at no cost to you. Please read my disclosure for more info.