When you think of Michigan, water parks aren't the first thing that comes to mind, but the newer indoor water parks in Michigan have a lot to offer and are changing that forever!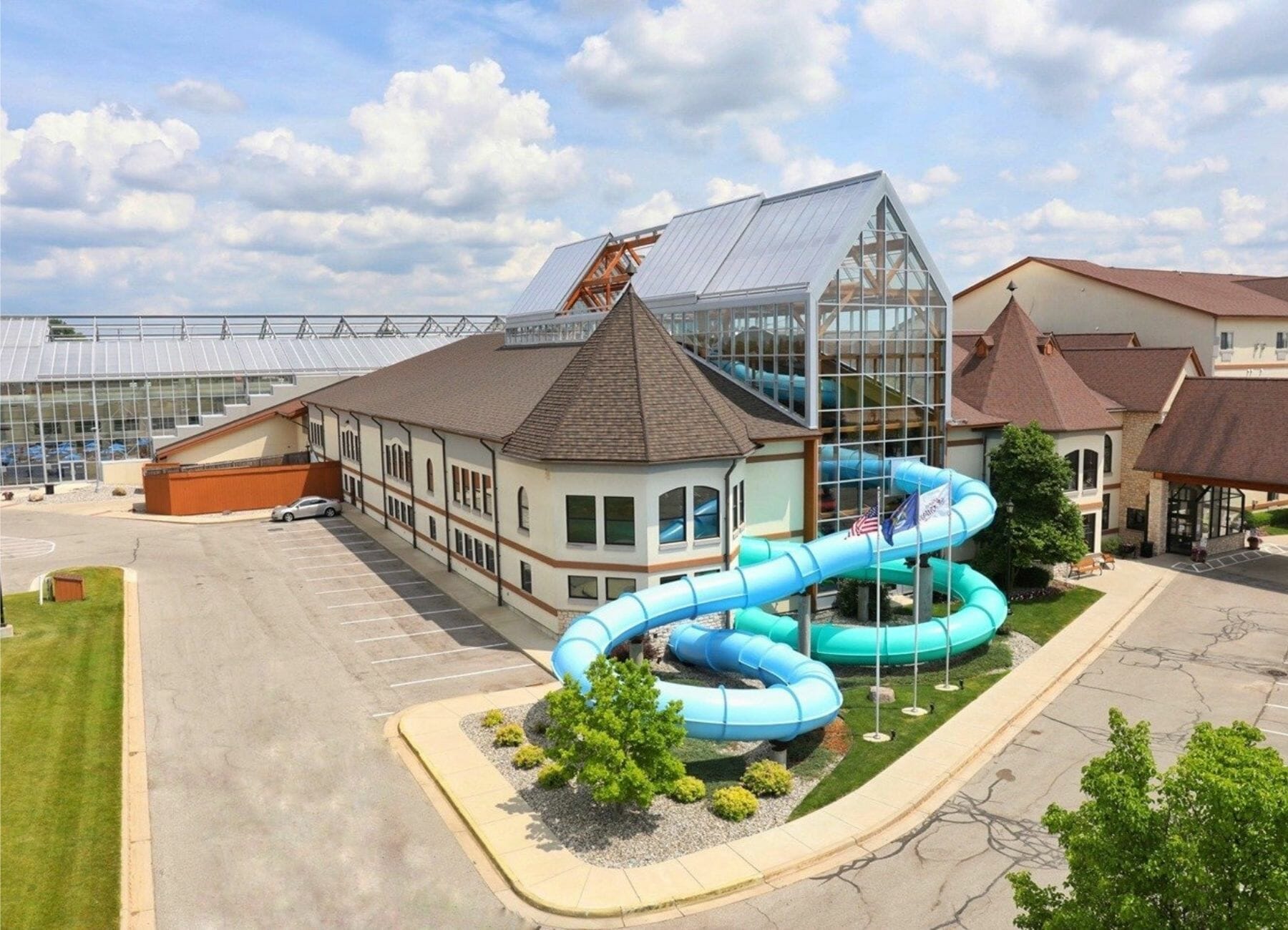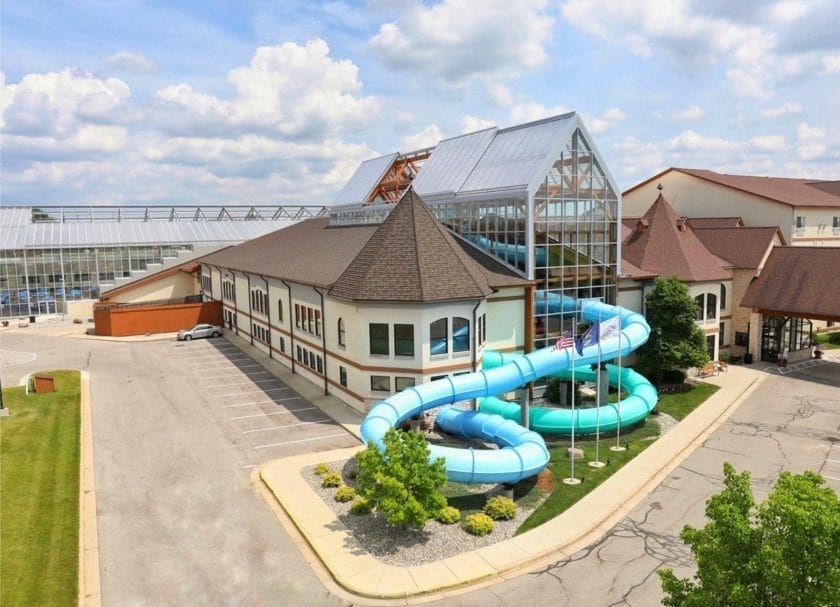 Photo Courtesy of Zehnder's Splash Village
Tube slides, body slides, and surf simulators? Check! We got 'em! Maybe your thing is wave pools, water playgrounds, water slides, a lazy river, water basketball, or dump buckets. Good news! Michigan has those as well!
Bavarian Inn Lodge
I can still remember the first time I visited Frankenmuth, MI. I was 19 yrs old, on a family vacation to my uncle's house up there. When they told me we had a fun night planned in Frankenmuth, a Bavarian-based Christmas town, I was less than excited.
The reality? I was blown away. The energy, the laughter, the lights, and my first Wienerschnitzel made it one of the more memorable nights of my entire teenage years!
Frankenmuth, the home of rock group Gretta Van Fleet, has continued to add to their "Christmas Every Day" image through the years. Sure it's still a wonderful mini Germany atmosphere, but they now have two, that's right, two indoor water park complexes in the town.
One of the said indoor water parks is right here at the Bavarian Inn Lodge in Frankenmuth. This is where the whole thing started. The Zehnder family, already the owners of Zehnder's restaurant since 1928, bought the Bavarian Lodge in 1950. It is still owned and operated by four generations of the same Zehnder family today!
Bavarian Inn Lodge Features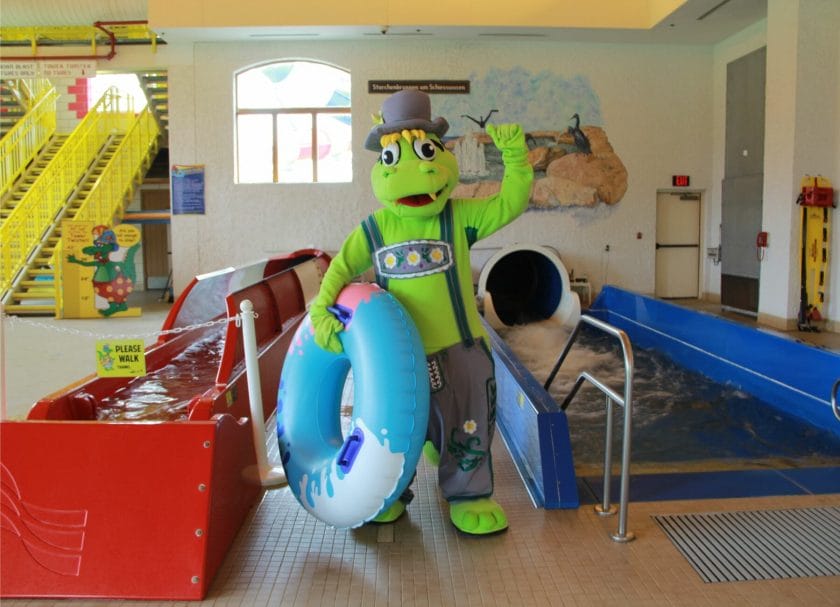 Photo Courtesy of The Bavarian Inn

They like to call themselves the "Living Room Water Park" because the rooms have a view of the pool area. The hotel has that classic Bavarian feel. You are instantly transported to a different time and place the moment you pull into the parking lot.
The water park has had numerous phases, and we will get into some of the details to help you decide if this is the place for you.
Dumping Bucket: No
There isn't a dump bucket play area, but one of the four pools has a waterfall and some additional splash effects to provide a similar sensation for the kiddos…and you!
Water Coasters: No
Sorry, we don't have a water coaster to discuss at this one.
Wave Pool: No
The Bavarian Inn doesn't have a wave pool, but they make up for it by giving four pool options to choose from. The aforementioned splashy pool, large swimming pools, and even one for the adults only. This one has a value only understood after an hour or so in the shared pools.
A relaxing break from the kids can change everything!
Tube Rides: Yes
The Bavarian Blast is their tube slide and can easily be found by associating it with the blue and white colors of the Bavarian flag. The most incredible aspect of this water slide is that you can choose to go down by yourself in a single tube or double up with someone in their double tube.
It's the type of slide where you can help the young ones with their initial fears by going down with them earlier in the day, but the kids can leave you at the bottom to head up alone when you're physically spent!
They also have a body slide next to the Bavarian Blast called "The Tower Twister." Identified by the red and white colors of the Franken flag, this is the faster of the two slides.
Together they pack a nice wallop for the exciting part of the day! The kids will want to ride these two over and over again.
Together they pack a nice wallop for the exciting part of the day!
Swim-up Bar: No
No swim-up bar is available here, but you can grab a drink at the Ratskeller Cafe. This is a fun place in and of itself, with daily activities on their stage, including Karaoke!
Lazy River: No
While there isn't a lazy river, they do have a section to take it easy for a while. We have the standard indoor pools available for a mild swim or you can slip deep into a trance in one of the hot tubs.
One hot tub is for adults only as well. Now, isn't that nice?
Children's Play Area: No
Not in the water park section, but another fun wrinkle is the full 18-hole indoor mini golf and arcade options. It's a full fun day if you play it right.
Dining Options at The Bavarian Inn Lodge
Ok, I'm going to break away from what I think I should say here and go with what I want to say. There are excellent dining options within the Bavarian Inn. In fact, if it's a quick bite I would recommend the Ratskeller Cafe.
The Fischer Platz Bier Garten is another in-house option you would also be very happy with.
That said, I just can't talk about Frankenmuth, Michigan, and recommend someone to eat anywhere other than Zehnder's of Frankenmuth Restaurant especially if you're only there for one dinner.
This is the place where I had that first-ever Wienerschnitzel! I can still remember how this place smelled and sounded that first time I walked in over 30 years ago. It has that potent of an atmosphere.
As good as the Bavarian Inn options are, it would be borderline tragic if you didn't take the 3 min walk across the street to the legendary Zehnder's of Frankenmuth restaurant. Just steps across S. Main St., and you are there.
Famous for their chicken dinners, you can get seemingly endless options of fried chicken, prime rib au jus, New Zealand lamb chops, egg noodles, and Bavarian sausages and cabbages.
If Schnitzel isn't your thing (WHAT???) I recommend the family-style dinner feast for maximum fun. All you can eat is BBQ ribs, chicken, and jumbo shrimp, followed by apple strudel for dessert.
Right after the bread with rhubarb raspberry jam, of course!
Choosing to end the day at "America's Largest Family Restaurant" is a great choice. It's the big ol' exclamation point at the end of your day at the water park and any Frankenmuth vacation.
Where To Stay When Visiting Bavarian Inn and Lodge
It will not take long to guess my recommendation for "lodging" here.
I always love when there is a nice hotel attached to the indoor water park. What's better than wearing out the kids on the slides and pools without having to get them in the car to head home?
The hotel is gorgeous, exactly like you imagine a Bavarian-style lodge. This is the place of your Bavarian dreams.
Rooms ranging from the standard two queen rooms, which will run just about $200.00 per night, all the way up to the Whirlpool Suite with direct access to the adult pool for about $300.00 per night, you should be able to find the perfect match for your group at the Bavarian Inn and Lodge.
They are booked out way in advance, so please consider booking ahead of time to ensure you nab this lodging for your Frankenmuth water park trip!
Additional Information
Towel Rental: No
Hotel guests have towels available, while day guests must bring their own.
Cabana Rental: No
No Cabanas, but with most of their water park guests staying at the hotel, it doesn't feel like much of a loss. Especially with many of those rooms opening up directly to the pools!
Lockers: No
There are no lockers to rent.
Showers: Yes
In the rooms! wink
Day Passes Available: Yes
There are day passes available, but this is a popular place with limited capacity. If you'd like to spend the day at the water park without staying at the hotel, you'll need to call ahead of time and check availability.
Again, I recommend getting this done as early as you can. Talk to the hotel staff about availability windows and such.
The Bavarian Inn and Lodge indoor Water Park is an unsuspecting great time. It's a self-contained full-day wonderland with numerous options and activities.
Pretzel rolling courses and a full-sized 160-game arcade in addition to the water park make it an excellent choice for families with preteen children.
It also provides a fantastic home base in one of the country's better-kept secrets, Frankenmuth, Michigan. We won't have to go very far for our next recommendation, only about 1 mile away.
Zehnder's Splash Village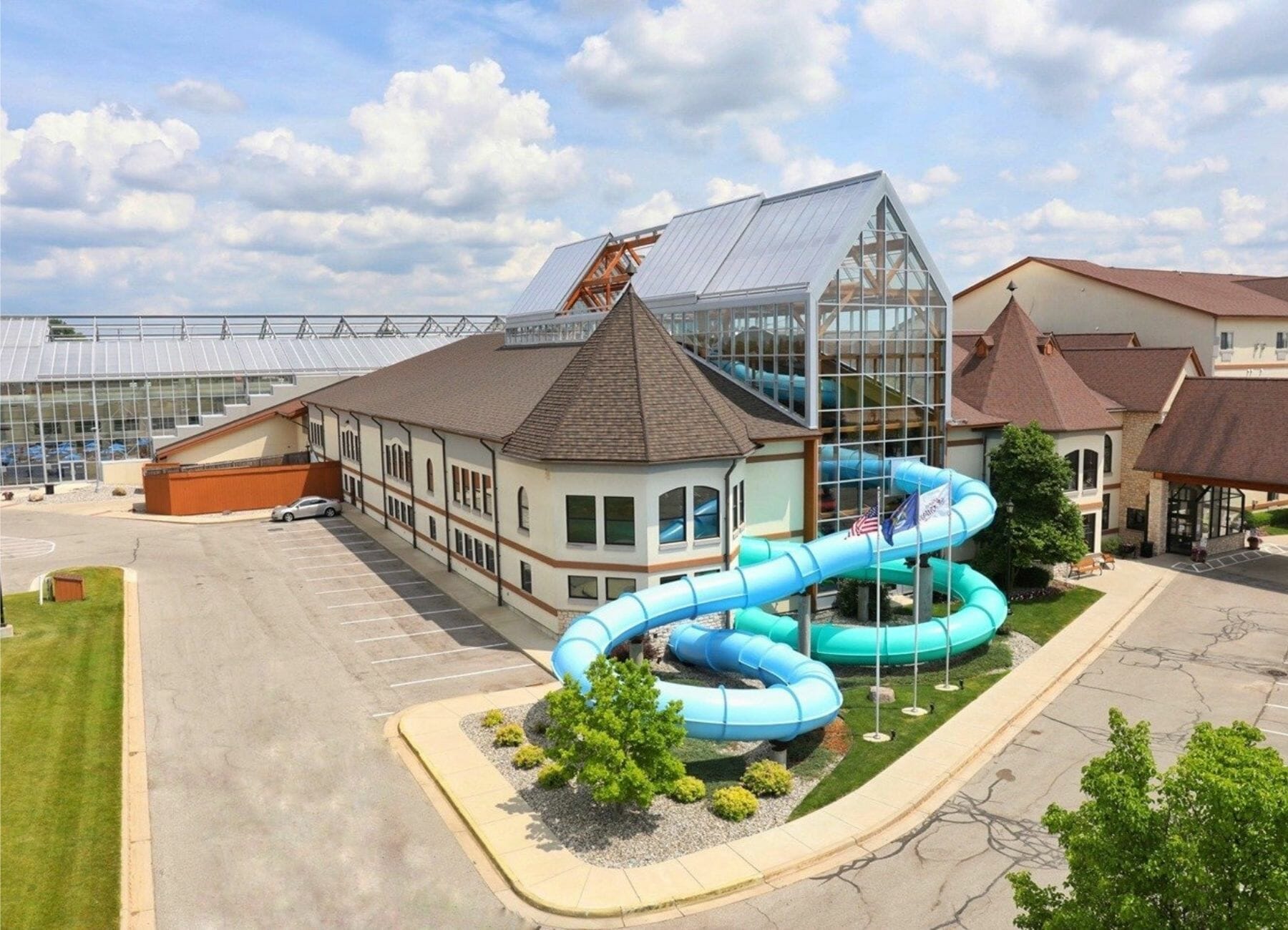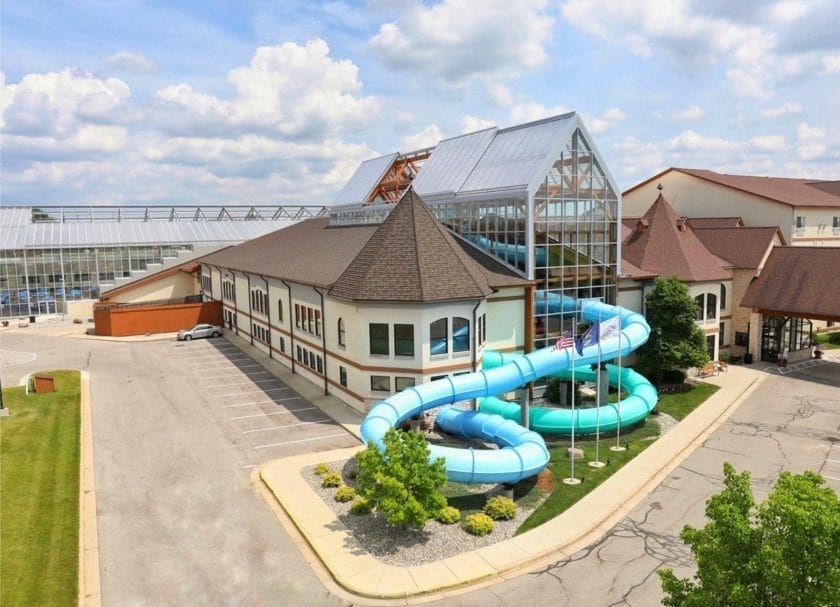 A short 1.0 Mile trip down S Main St. will take you to an area of Frankenmuth that's a little more spacious. As a matter of fact, this is the exact same route you would take to one of the town's most famous attractions, Bronner's Christmas Wonderland.
You know, the world's largest Christmas store!
I could write an entire blog post about that store all by itself. Just try leaving that place without buying at least something. I dare you.
I had my Frankenmuth Flashlight (a thin wooden block with a matchstick glued into the end) displayed in my apt for decades!
Spacious and spread out this area may be, but this is definitely a step up in the adrenaline department. The Zehnder family knew they needed a little bit more space for their grand plans, so down the block, they went.
They purchased the Bavarian Haus Motel in 1988 from the Palmer family. The 48-room hotel has been renovated numerous times, with its current incarnation boasting 178 guest rooms and 74 suites with two indoor water parks.
If you have teens in your party, this might be the indoor water park for you!
Zehnder's Splash Village Features
This one is a 50,000 sq ft, year-round park broken up into two separate parks! The Splash Side and the Atrium Side with the famous retractable roof! That allows the Atrium side to let the weather shine in on sunny days.
The glass ceiling of the Atrium side does a pretty solid job of letting the sun through on cold days as well, but there's nothing like a little added sunshine when possible.
The good news? You get admission to both parks with your day pass, so the entire 50,000 sq ft is yours to explore.
Dumping Bucket: Yes
The Dumping bucket is located on the Splash side in the Splash Landing play area. Dumping hundreds of gallons of water on a timed loop has to be one of the best parts of the water park.
Water Coasters: No…but
We don't have a water coaster to speak of at Splash Village, but we have the Super Loop Speed Slide. This is one of the newer technologies added to the water park scene and can be found on the Atrium side.
A body slide with a punch!
You climb into and stand in a tube. The operator closes the door, and suddenly the floor drops out from underneath you.
You will be sent speeding down a four-story straight drop through a 273 ft long tube. There is also a 360-degree loop (not upside down) before sliding to a stop at the end. The whole process takes just under 7 seconds.
273 ft in less than 7 seconds? That's pretty fast!
Wave Pool: No
There is no wave pool here, but you can enjoy a seasonal outdoor pool on those sunny days.
Tube Rides: Yes
We have options for our tube riding at Splash Village! The Perilous Plunge and Giggling Gorge enclosed tube slides over at the Splash side, and the Tantrum Twist on the Atrium side offer a nice array of experiences.
Both of these slides are considered family-level slides, but don't let that fool you. They are fun! Similar experiences, yet not entirely the same, could be the slides for repeat rides throughout the day.
**Please remember, these two slides are very dark inside. If anyone in your party is afraid of the dark or claustrophobic, they might want to skip them.
If the family/group wants to get on a large raft together and try out the funnel-style slide, you need to head to Tantrum Twist. A Classic clover tube that can accommodate four members of your group at once will quadruple the fun heading down the wide, steep slide into the funnel!
It's a great slide, and many consider it the headliner at the park.
Swim-up Bar: No
We don't have a swim-up bar at this water park. But, a pretty good idea could be to wait for that drink until you head up to the Fortress Golf Course to play on a gorgeous par 72 course claiming to be "built to defend itself" with oversized greens and challenging bunkers.
The Fortress Clubhouse has a full-service bar where you can kick back and have a glass of wine or a hand-crafted cocktail while the teens stay back to fight the Action River… oh wait, I didn't tell you about that one yet.
Lazy River: Yes and YES
The Crooked Brook Creek Lazy River is more of your traditional lazy river. Well, that's if you consider winding through big red and white Alice in Wonderland-style mushrooms all around you, traditional, of course.
Scenery aside, this is the one to choose if you are looking for that easy breezy float to your heart's content. You'll get that at Crooked Brook Creek on the Splash side.
Now, if you're not feeling lazy but still want a river to contend with? That's the Action River on the Atrium side. This is widely considered one of, if not the most intense, river attractions out there.
I have to admit, this is one of the water park advancements I've been enjoying most out there. I love when the lazy river suddenly becomes not so lazy.
The Action River is not the longest water park river ride in the world, but it doesn't need to be. This will be one of their favorites for sure.
Children's Play Area: Yes
Absolutely. The Splash landing area has numerous play structures and activities, including two zero-entry activity pools. They can be found on both the Atrium and Splash sides of the park.
The tiniest ones in the group will have more than enough to keep them engaged and giggling all day while the teens are trying to break the sound barrier on Super Loop!
Dining Options at Splash Village
Ok, we're only a mile away from my passionate plea for you to head over to Zehnder's Family Restaurant. So, I'm not inclined to change that now.
I maintain that if you're in Frankenmuth, MI, for the weekend or even an evening, Zehnder's of Frankenmuth is a must-do.
Zehnder's Splash Village won't mind you leaving to head up the road either. They own both places AND the Bavarian Inn Lodge, after all.
That said, you can find a few gems right here in Splash Village.
The Mushroom Grille is not a bad choice for the standard water park fare such as pizza, burgers, and sandwiches. You can also get a slushie or fresh fruit right there at the Atrium.
Where to Stay When Visiting Splash Village
Me? I'm staying right here at the Splash Village Hotel and Water Park! Why wouldn't we want to do that? The base room comes with up to 4 complimentary passes to the water park, and they offer free shuttle service to and from all of their properties.
Remember that great restaurant I mentioned earlier? If you plan on going there for dinner and having a few drinks, it's nice to know that the shuttle will be there waiting for you on the other side.
It's a recently renovated and rebuilt hotel with all the amenities you could possibly want. Add on the water park passes, and this just has to be my recommendation!
Other Accomodation
Full Family Retreat Downtown Frankenmuth
Additional Information
Towel Rental: Yes
There are towels available from the staff. These are complimentary, which is a nice bonus. You will have to pay to rent towels at many other water parks. It's really lovely when they're included in the price.
Cabana Rental: Yes
There are a limited number of cabana rentals available while at Splash Village. They come with a Credenza, mini fridge, safe, Flat screen TV, food and beverage service, and can accommodate up to 10 guests.
If you want a cabana for your day here, you should book it ahead of time. The few cabanas they have can get swallowed up rather quickly.
Lockers: Yes
Rental lockers can be found in the locker rooms
Showers: Yes
There are showers located in the locker rooms as well.
Day Passes Available: Yes
This water park has day passes available. They have two choices.
You can choose the full day pass with access from 10 am-9 pm. The price is approximately $60.00 per person for everyone over 3 yrs of age.
If you feel like you can do all you need to with the afternoon pass, take advantage of a $10.00 discount on the full price. You can splash and play from 4 pm-9 pm!
Zehnder's Splash Village is a great indoor water park in a really great area of the state! The Zehnder family has spent the last 160 years building up their properties, with Splash Village being right near the top of the list.
The only water park with a retractable roof in Michigan and two parks in the same location make for a great self-contained time worth having.
All of this without even mentioning the 2000 sq ft Arcade. Amazing!
Great Wolf Lodge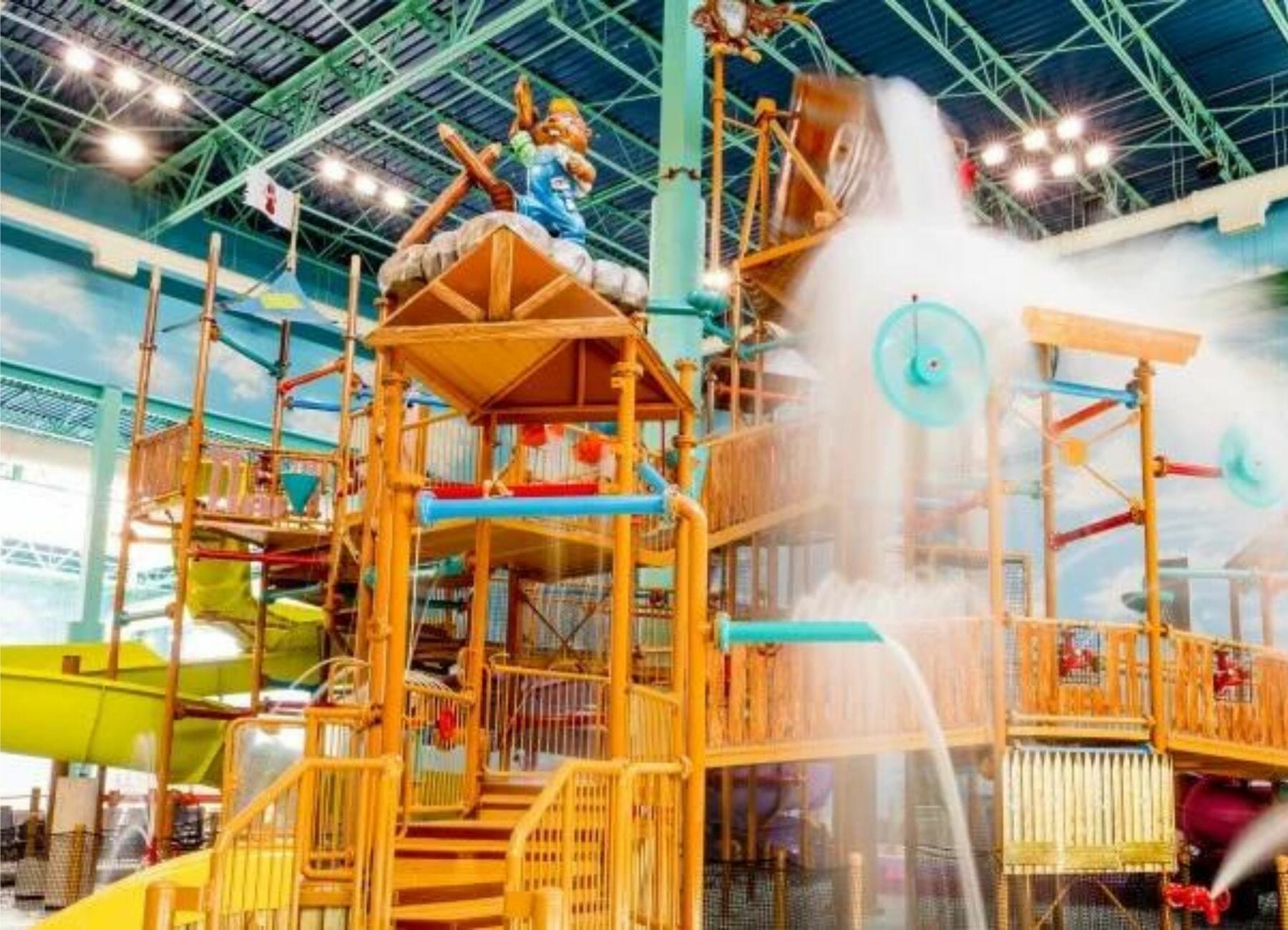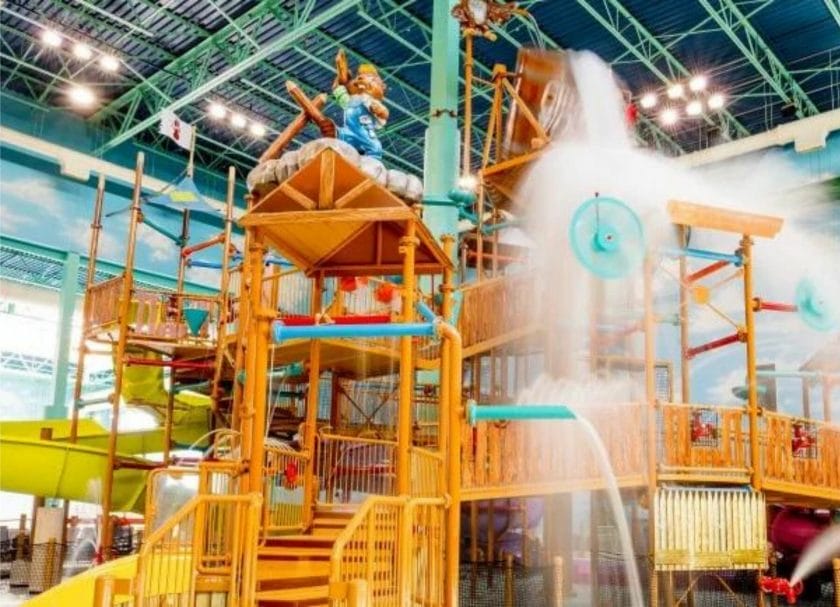 Ya know, I'm actually a bit surprised this is the first time I'm mentioning Great Wolf Lodge on our tour of the best indoor waterparks in the country. We've enjoyed this hotel chain numerous times in numerous locations.
There's a baseline of excellence you can expect to see when you arrive at any Great Wolf Lodge, yet every location has its own feel to it.
Let's take a look at the Great Wolf Lodge in the Cherry Capital of the World, Traverse City, Michigan!
Great Wolf Lodge Features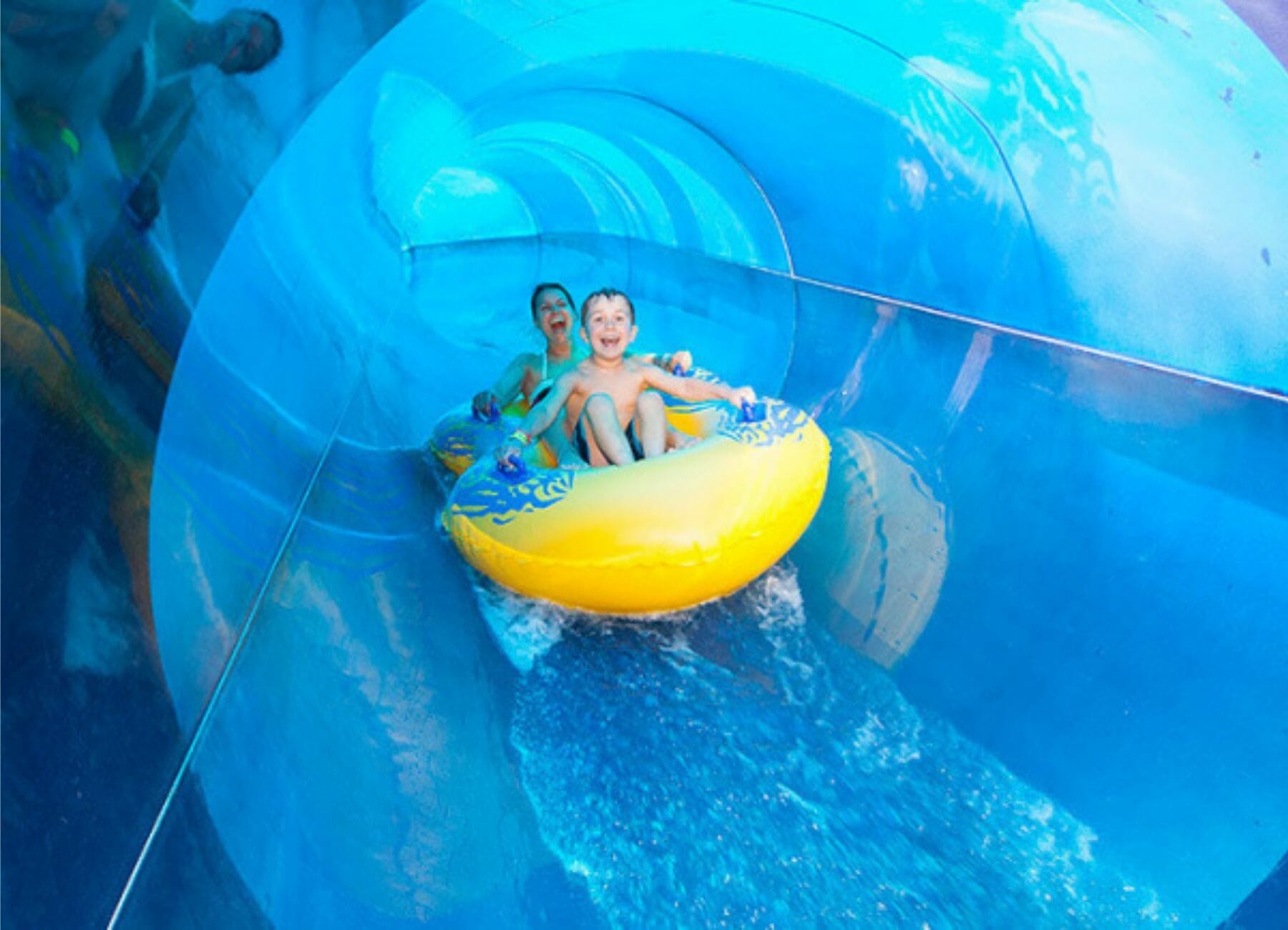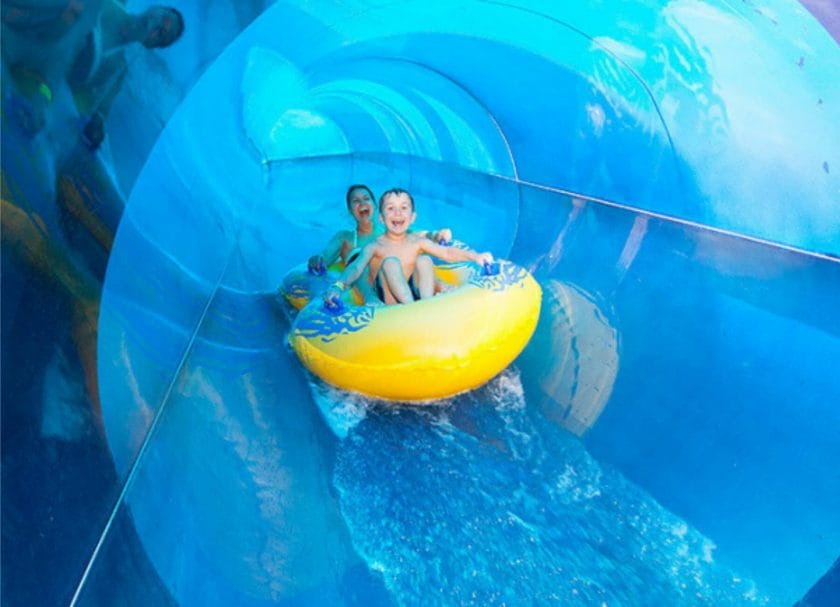 I'll say again that once you've been to a Great Wolf Lodge, even though the water parks can vary to a degree, you already know what to expect when you arrive at the wolf-guarded lobby.
There is a baseline of quality you can count on when heading to the indoor water park and hotel chain.
Dumping Bucket: Oh yes
A Great Wolf Lodge standard are the Dumping buckets, and this one is no different. The big dump bucket can be found at Fort Mackenzie, the four-story water fort treehouse! This thing is epic. Almost too much for the kids to see and do, from slides to buckets to water blasters and more!
Water Coasters: No
In truth, I'm not sure if I've ever seen a water coaster at any Great Wolf Lodge, and you won't find one here. It's never tainted the day for us, so we're still gonna have a whole lot of fun.
Wave Pool: No
They do have a beautiful pool which is rather large. You can take a break from the exciting portions of the park with a soak, and that has value.
The pool also has a partitioned section called Chinook Cove. A splash and play area with basketball hoops and other games.
Tube Rides: Yes
We have several options, with River Canyon Run leading the charge! A 4-5 person circular raft that can pack the whole group in for this river simulation-style ride. A bit on the mild side but an absolute ton of laughs every single time!
Swim-up Bar: No
No swim-up bar at the Great Wolf.
Lazy River: Yes
Crooked Creek is a massive lazy river attraction that spans almost the entire water area of the park. Lazy rivers are great even when they're smaller, but this one definitely qualifies for bigger is better!
The kids, and adults, can spend hours in this one!
Children's Play Area: Yes
Great Wolf does a great job of accommodating the kids. The Cub Paw Pool is an activities pool designed for the little ones, while Whooping Hollow has more slides and splash effects for the "pups."
If your children have graduated past the two kiddie-style areas you can feel great knowing the Fort Mackenzie water fort treehouse is waiting for them to explore with a seemingly endless assortment of nooks to explore.
Dining Options at Great Wolf Lodge
Great Wolf Lodge is just outside Traverse City proper so you can easily find that night out if you'd like, but there are a few fun options inside the lodge as well.
Buckets of Incredible Craveables and Hungry As a Wolf have plenty to offer mere steps away from the fun of the water park. We also have Bear Paw Sweets & Eats. Cupcakes are everywhere in the Bear Paw. If fudge, pastries, and sweets are what you're after, no need to leave the lodge.
I'm going to add what could seem like an insignificant little wrinkle, but it has literally made my Great Wolf Lodge Trip before. There are Dunkin Donuts shops inside the hotel, not too far away from the water park.
There's really something about walking out the doors of a huge water park and grabbing a large Dunkin coffee a few feet away.
I've had days where I walked out of those doors exhausted, wondering if I had it in me to go on, and back through them with a big ol' smile.
If you know, you know.
And for those who do, there's a Dunkin Donuts right there for ya!
Where To Stay When Visiting Great Wolf Lodge
Well, Great Wolf Lodge of course!
This place caters to the kids. Daily activities like MagiQuest, gem mining, Build-A-Bear Workshop, nightly story time, and the arcade are all part of the fun when you choose to stay at the Lodge.
The rooms come with unlimited admission to the water park during your stay (even the day you check out), so that's a huge reason to stay here, but still more than that.
The Family suites are just that. Mini suites with a little living room separated by a divider from the 2 queen beds. You will find the mini-fridge and microwave there too, which can significantly alter the lunch plans.
Our little homeschool co-op here in Virginia does a Great Wolf Lodge trip every year and believe me when you get that many stay-at-home moms and dads(I am one of these) together with microwaves and mini-fridges, going out to lunch isn't happening.
A lot of money can be saved for other activities when you utilize what's offered to you here. That's a fantastic option!
I highly recommend absorbing the whole Great Wolf experience and staying right there! You won't regret it.
Book your Great Wolf Lodge Accommodations
Additional Information
Towel Rental: No
Towels are offered by the hotel, but you don't have to pay for them. As a matter of fact, life jackets, the cool jet ski types, are also included. The lodge wants you to feel like everything has been taken care of, and towels are a big part of that!
Cabana Rental: Yes
There are private cabanas for rent for your time at the indoor water park. Seating, including a cushioned ottoman, a mini fridge with four bottles of water, an overhead fan, towels, a safe, and a Flat screen TV, are all included when you rent the cabana.
Lockers: Yes
The water park has locker rooms and changing rooms available to all for all of its guests.
Showers: Yes
They do have showers for you to use at the water park.
Day Passes Available: Yes
They DO have day passes! This is a relatively new amendment to the previous policies of the chain. Beginning in 2019, they allow non-hotel guests the ability to purchase a day pass to the water park only.
The prices change from weekdays to weekends. There are also price adjustments based on their projected business, so factor that in when you're making your plans.
A day pass begins at $50.00 for the full day and $40.00 for the 4 pm to close pass. It can adjust plus $5.00 or $10.00 depending on the day. Check ahead to get the full scoop.
It's great that you can get a day pass at the Lodge these days, but I can't guarantee they'll let you past the gate to get to that Dunkin Donuts when you're in there. Um… You might want to reconsider staying the night.
I will admit that generally speaking, I'm more of a singular one-off park kinda guy. Still, when something is done so well,(Cedar Fair is another one) I see no reason not to support it being available to more people around the country.
After opening their first indoor water park, originally called Black Wolf Lodge, in Wisconsin Dells, Wisconsin, the Waterman brothers knew they had it figured out. Since then, they have opened 17 locations, and for good reason.
The Traverse City, Michigan location has been creating smiles and memories since 2003 and it may be one of the best parks in the whole chain. Being just across Lake Michigan from its birthplace in Wisconsin, it has that feel of being close to the source.
Beautiful Surroundings, a great hotel, and a fantastic indoor water park!
More Activities in Traverse City
Tour the city by rickshaw Get to know the city from a local in this family fun activity
6 Hour tour of the Sleeping Bear Dunes Explore nature and discover the history of Traverse City
Double JJ Resort Gold Rush Water Park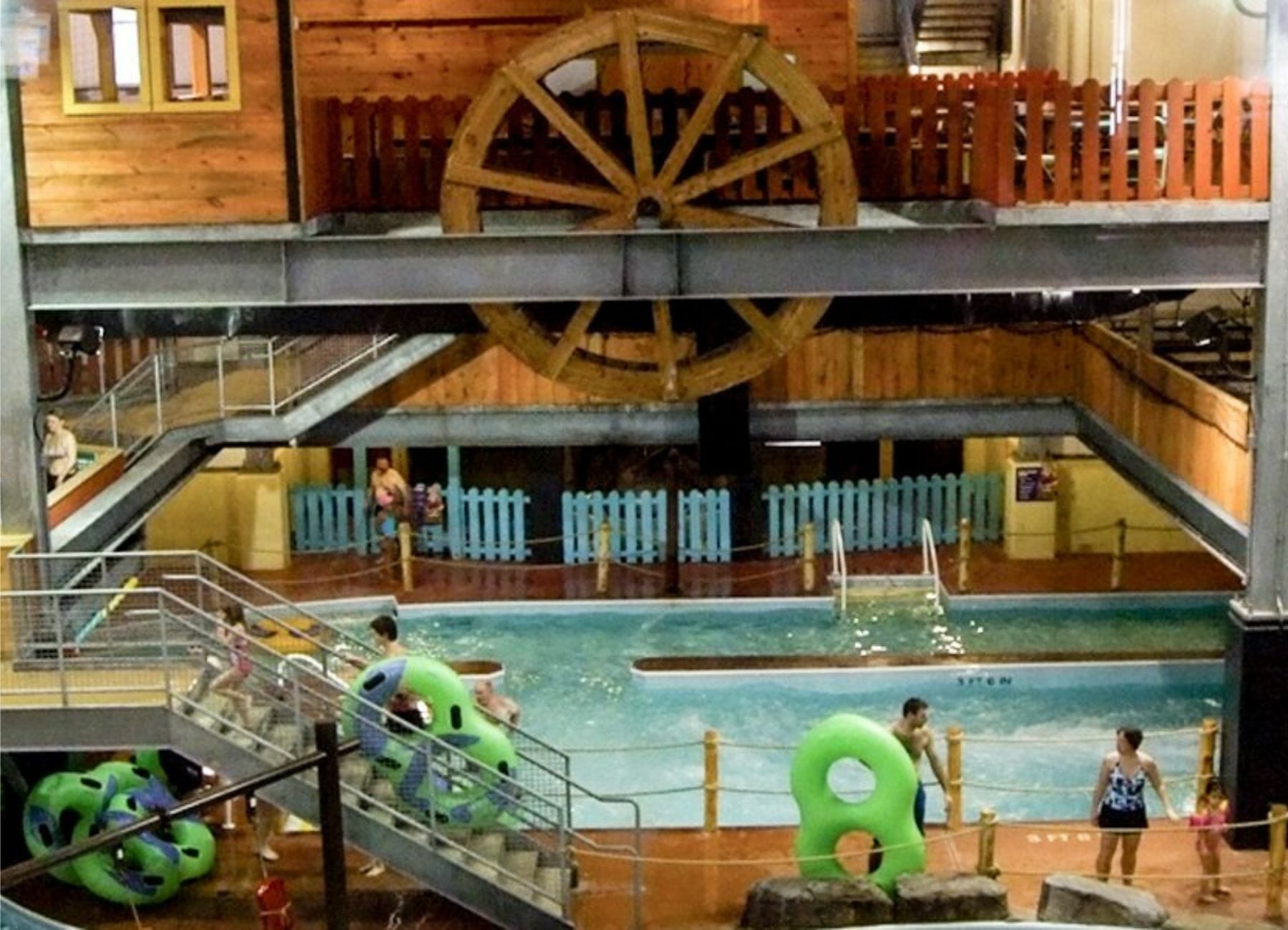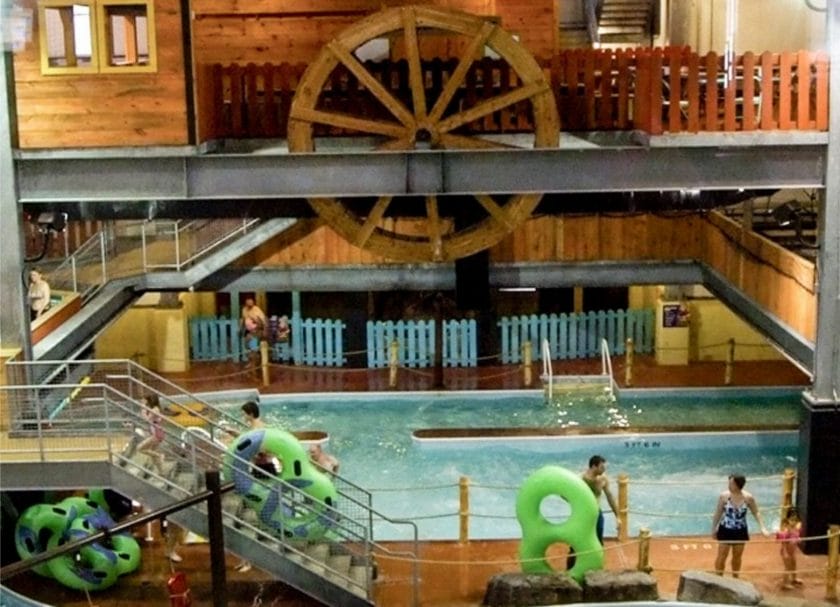 Ok, so let's head a little west southwest to a town just north of Muskegon called Rothbury, Michigan. The Double JJ Resort is known as one of Michigan's best-kept secrets.
Far away from the hustle and bustle of a place like Traverse City, Rothbury is off the beaten path.
Dating back to 1937, the ranch has over 1000 acres of horseback trails, and golf courses and even hosts film festivals on its property. While there have been numerous additions to the ranch over the years, the biggest deal has to be the 60,000 sq ft Gold Rush indoor water park!
Themed to an old gold mining operation, the Gold Rush stakes their claim as having the tallest indoor body slide in Michigan.
It's time we took a deeper look into what this hidden gem has to offer a fun seeker like you!
Gold Rush Water Park Features
60,000 sq ft can be a bit misleading. This quaint, fun spot has a smaller feel, including the crowds. Opening its doors in 2006, the Gold Rush is a well-themed little spot that has enough to keep the kids busy all day, and when that happens, parents get a peaceful night!
Dumping Bucket: No
No Dump bucket at this one, but there is a nice-sized waterfall to provide a similar effect. It's just a bit more consistent than waiting for the big bucket to dump its contents over your head!
There are also geysers that explode with water and water cannons the kids can control themselves, so the effect is definitely here.
I will also say it looked like they did have a spot for the big dump bucket before. So maybe they'll bring it back. Hey, perhaps it'll be there when you go! What a gas that would be, huh?
Water Coasters: No
You won't find a water coaster at Gold Rush, but you will find Michigan's tallest indoor body slide! Rustler's Gulch sends you speeding through different atmospheric conditions on its way down. Now you can see. Now you can't. It's a good one.
Wave Pool: Yes!
There is a very fun, albeit leaning toward the milder side, wave pool you can enjoy with the whole family!
Tube Rides: Yes
We have the one or two-person Miner's Plunge, which is one of the bowl slides. Sliding down a fast slide and swirling round and round in the bowl before getting funneled into the hole in the center for the final burst of speed before the end!
Swim-up Bar: No
They do not offer a swim-up bar at the Gold Rush.
Lazy River: Yes
The Lazy/Crazy River traverses just about the entire floor of the park with lots of fun splashing effects, waterfalls, and a current, which gives the attraction a nice little twist. While staying here, don t forget to float down the lazy river.
Children's Play Area: Yes
The Toddler Pool has all the fun wheels, cranks, splash zone, and other themed elements for the little ones to play with while getting soaking wet and splashing around.
Dining Options at Gold Rush
The big one here has to be the Sundance Saloon and Grille. A potential nod to one of the other big film festivals out there. Sundance has everything you'd think to find at a restaurant labeled a saloon!
With Ribs n Chicken, Buffalo Chicken Mac, Cedar Plank Salmon, and Prime Rib Saturdays, they've gotcha covered at the Sundance Saloon.
They also have a selection of soups and salads to go along with the burgers and specialty sandwich offerings which widen the scope to fit any appetite.
Where To Stay When Visiting Gold Rush
If you're heading to the Gold Rush Water Park, it's almost a foregone conclusion that you'll be staying at the Double JJ Ranch. It's sort of the thing to do.
Options such as family cabins, log homes, homestead condominiums, and camping go right alongside the traditional hotel and suite options.
The rates for a standard two-queen room at the Lofts Hotel will run you just about $180.00 per night, but with family cabins beginning at $230.00, I might have to recommend you consider bumping it up just because it's more fun!
Cabins are almost always more fun than a hotel room, by the way!
Accommodations
Charming Log Cabin at Double JJ Ranch Resort
Rustic Cabin with Double JJ Resort Access
Private Lake Michigan Beach House
They even have a full hookup RV campground as well. So, if you're rolling through southwest Michigan in your Fifth Wheel or motorhome and are looking for an indoor water park to take a break from the road in, this just might be the perfect place for you!
An Important thing to note is that water park admission is not included with your stay at Double JJ Ranch. There is a $5.00 discount for overnight guests which brings the cost down to $30.00 for the day.
Still not a bad price in my opinion, but that's important to know.
Additional Information
Towel Rental: Yes
They have towels available to everyone entering the water park, and they're complimentary. How's that sound?
Cabana Rental: No
They do not have cabana rentals available.
Lockers: Yes
Lockers are available to guests of the hotel and water park.
Showers: Yes
Showers are available in the locker rooms.
Day Passes Available: Yes
They offer day passes to use the water park. The price is only $35.00 for the entire day at the water park. Children under 3 are free. They also allow spectators free admission, which is also a huge plus. I can't tell you how many times I was forced to pay to enter a park where my kids would be the only ones using the attractions.
It's pretty standard procedure these days to charge anyone entering the park. Sometimes you'll be able to find a discounted price for spectators, but Gold Rush doesn't do that. That's a big plus in my book.
With their beautiful Gold Rush indoor water park, the Double JJ Ranch has so much to offer you on a family weekend getaway. Whether it's the Wave Pool, the Lazy/Crazy River, or any one of their impressive water slides, you're sure to have a blast.
Another plus to mention is the Mystical Forest Indoor Mini Golf Course. It's a dark black light obstacle course for the whole family to play in. The black light is a very nice touch and changes a vacation standard into a mystical experience.
With a price of $7.00 for 18 holes, this is another excellent option the Double JJ has waiting for you.
Exploring the Double JJ Ranch and gold rush indoor waterpark can be a lot of fun and a unique experience.
It's smack dab in a picturesque location about 15 minutes away from Lake Michigan herself and that's another added bonus when choosing to stop at this one.
Michigan indoor water parks are changing the way many think about the far northern state in the best way possible. There is so much beauty to see up there.
I have enjoyed many aspects of Michigan in my life and the rise of indoor water parks might attract many folks who might not have considered it before. Maybe you're one of them.
Find out more about family travel in Michigan:
7 Amazing Michigan Campgrounds on the Lakes
Mackinac Island and Saint Ignace
For More Indoor Water Park Fun Check Out:
The 4 Best Indoor Water Parks Wisconsin
20 Indoor Water Parks You and Your Kids Will Love
12 Indoor Water Parks in Ohio You Will Want to Visit
Best 4 Indoor Water Parks in Tennessee
Top 5 Indoor Water Parks in New Jersey You Don't Want to Miss
13 Amazing Water Parks Dallas You'll Want to Check Out
Top 7 Amazing Indoor Water Parks Texas You'll Want to Check Out!
Pin it for later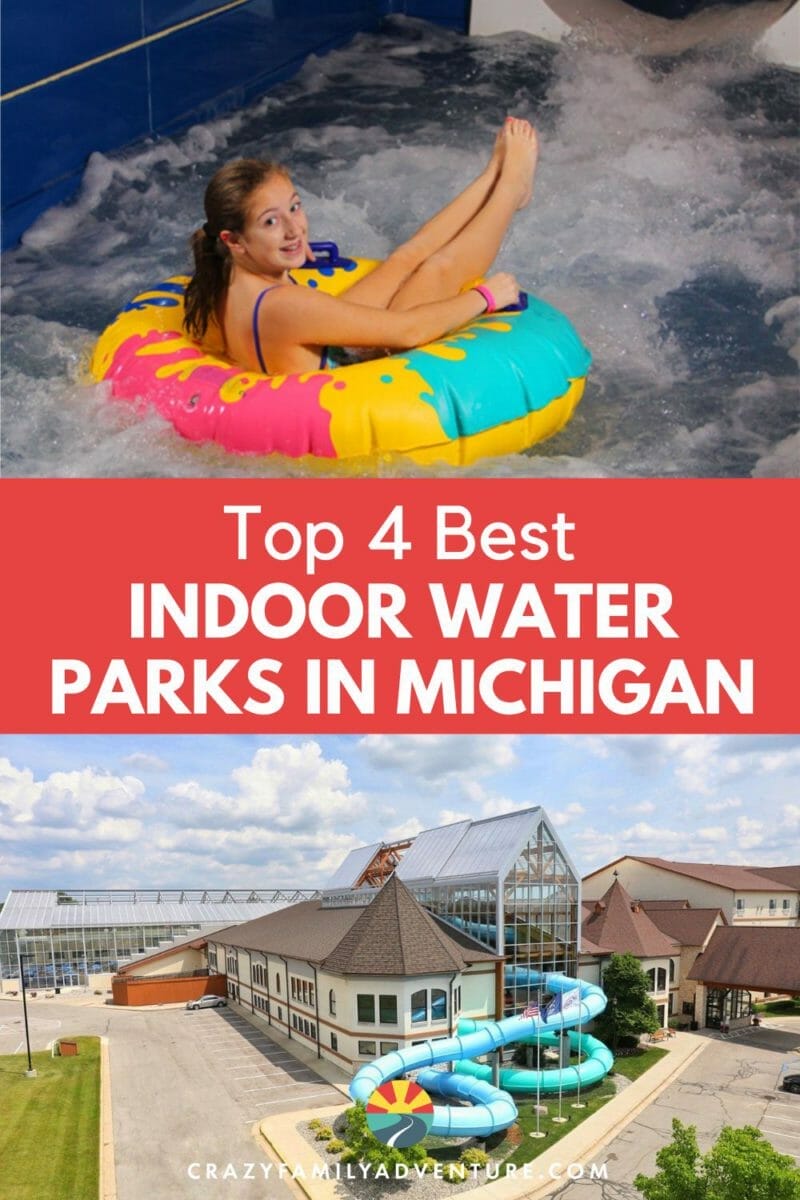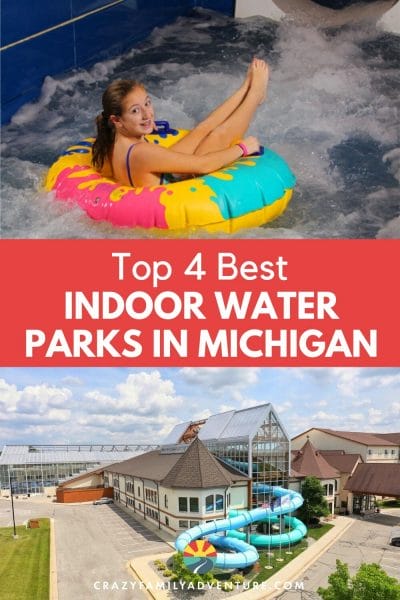 Latest posts by GreenBean
(see all)
DISCLOSURE: This post may contain affiliate links, meaning I get a commission if you decide to make a purchase through my links, at no cost to you. Please read my disclosure for more info.