Our next stop was Saint Ignace! Our plan was to stay here and then take the Ferry to Mackinac Island! We had to cross the bridge to get there and that was a scary experience! It felt like we were going to fall off the edge but we made it! And the bridge is really cool. It is amazing that things like that can be built!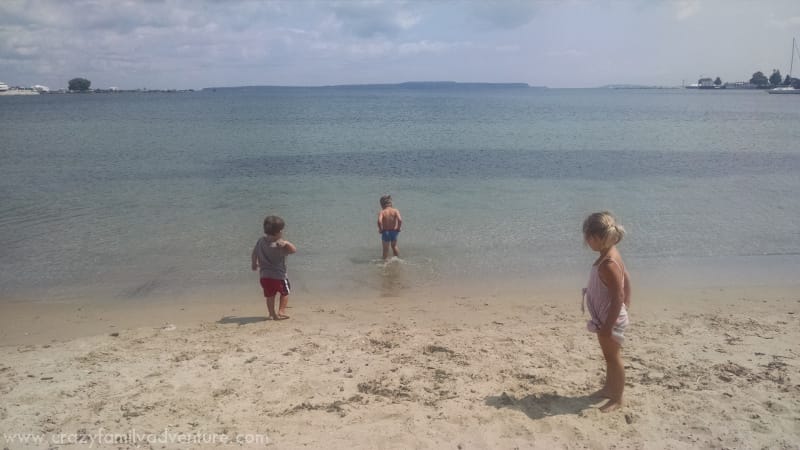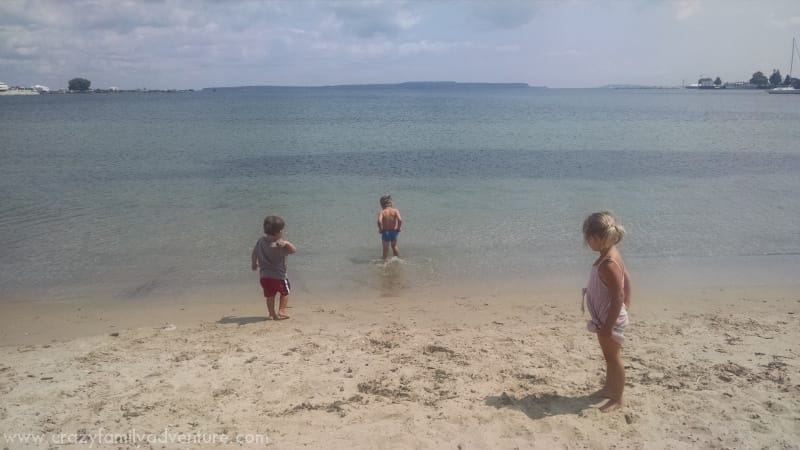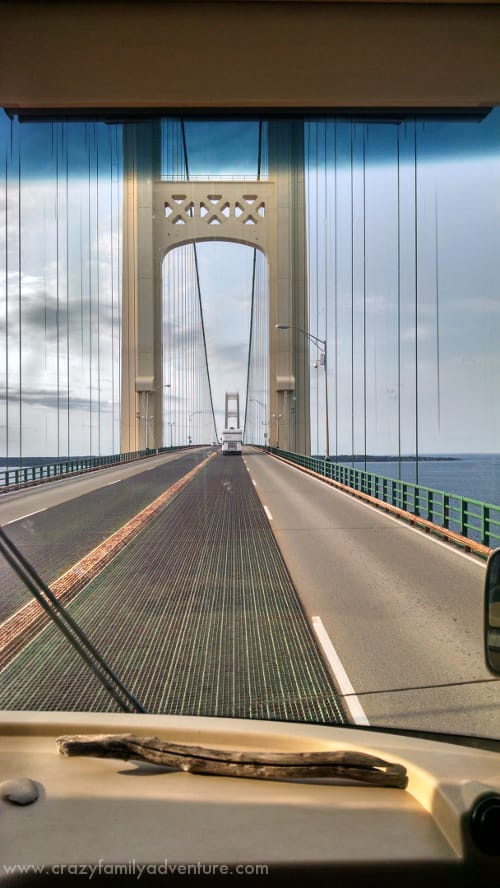 We stayed at the Castle Rock Campark. It was a campground that Megan had found online and it said it had a beach on the water along with a playground. We were going to be staying here for 4 nights – so it was nice to settle in! Our campground was up by the main office which meant free wifi!!! Yippee!!! I can't believe how much we miss unlimited wifi!!! We actually go to watch a couple of our shows on Hulu! Such a highlight now!!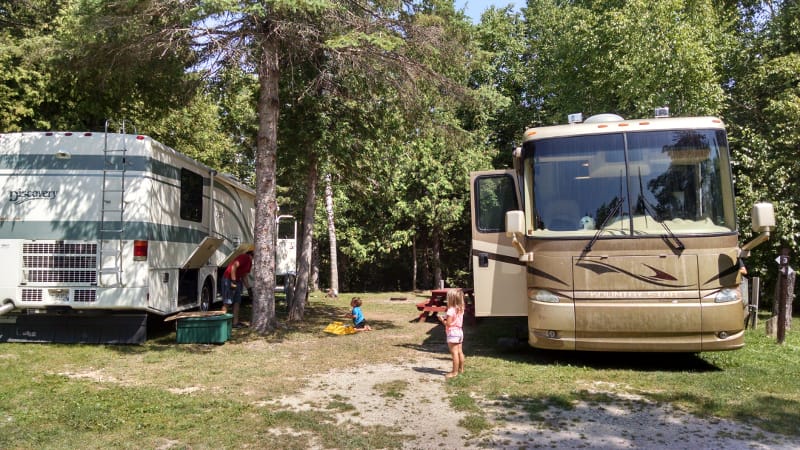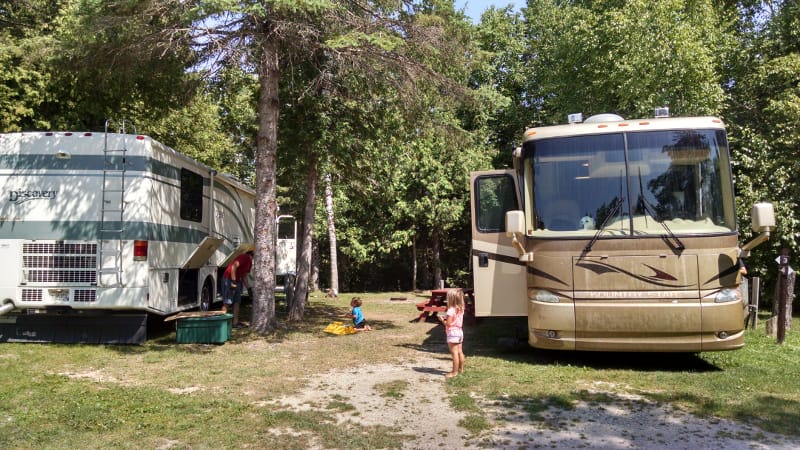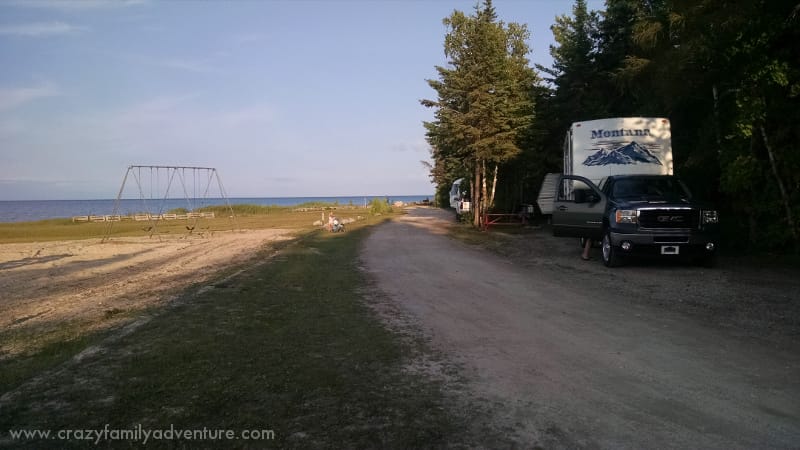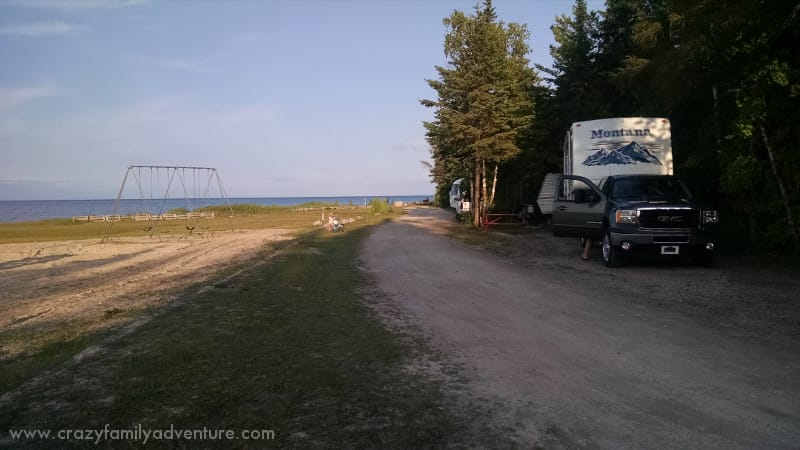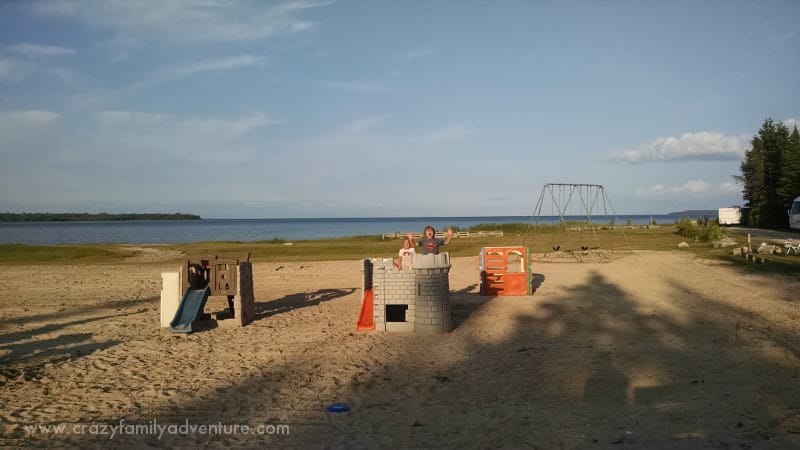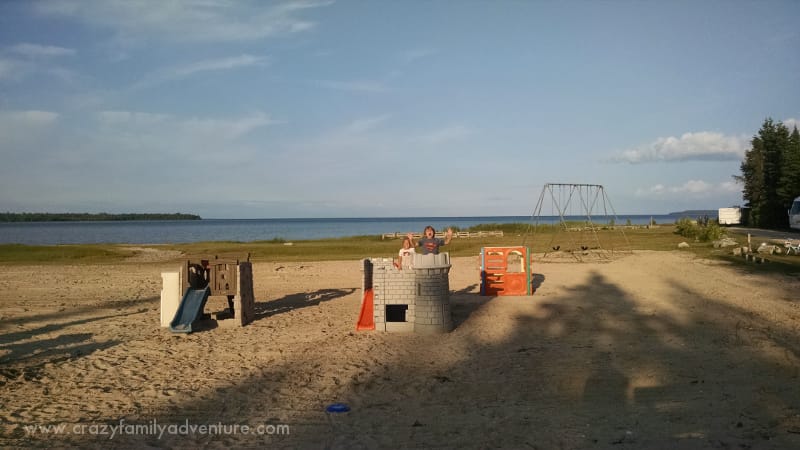 The first day there we took a bike ride into Saint Ignace. The bike ride was a little sketchy since we had to ride on the shoulder of the Highway for a little while. But it worked out! Our first stop was for FUDGE!! Yummy!! We walked in the store and the kids wanted every flavor they had :)! We finally decided what we wanted and got some Salt Water Taffy. We headed to the beach to eat our fudge and hang out – and of course the kids went swimming – the water was cold but refreshing! Cannon – in full Cannon style – did a full body dive into the water! After that we stopped at the Native American Museum and one of the tourists shops. Then we headed further into town. We made it to the other end and stopped at the park there. After that we headed back – stopped for ice cream and then went back to the campground. It was a nice little town and worth the bike ride in for the day.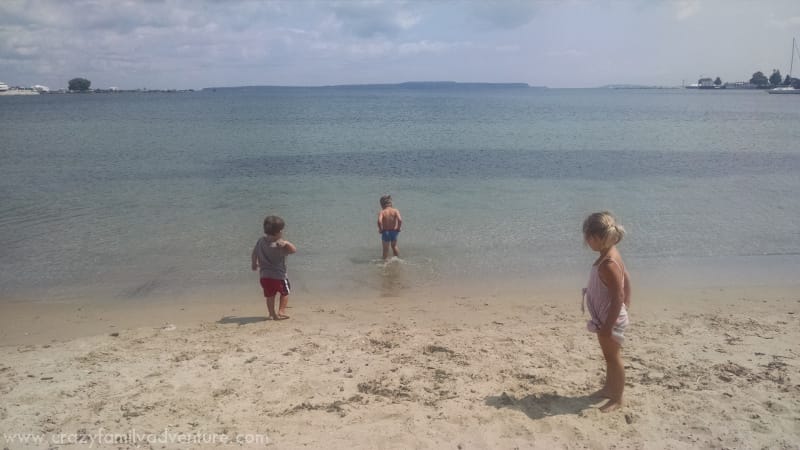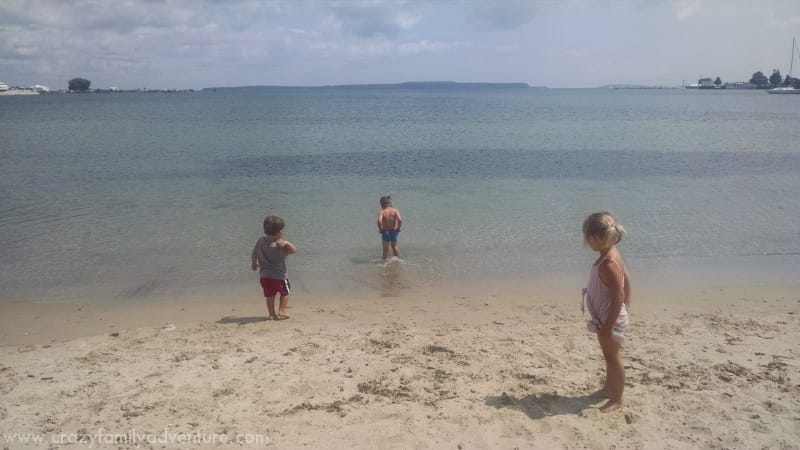 Our next trip was to Mackinac Island! My parents had come to join us the day before and they would be coming with! The shuttle bus from the ferry picked us up at the Campground for a Noon take off to the island! We had never been before so we were excited to check it out. The boat ride itself was really cool and pulling into the island was awesome! It is so beautiful! We had purchased a package which got us a round trip on the ferry, a horse-drawn carriage tour, and admission to Fort Mackinac.
There are no cars allowed on Mackinac Island so everything is done by horse, on bike, or on foot. The island was really busy! People, bikes, and horses everywhere!
We got on our horse-drawn carriage and started the tour. The tour was the right length of time with 6 little kids (about 30 minutes before our first stop).
Half way through the tour they dropped us off at the Fort and we were able to walk around and participate in a few activities. They have a really cool kids area in the fort where the kids can do a lot of hands on activities. Carson was also able to do a practice drill with the officers at the Fort! After that we stopped on the terrace for a drink – the view was amazing – we then got back on the carriage for the rest of the tour back into town.
We hung out on the island for a while longer, got some dinner, walked around and then headed back.
Overall the island was really cool – with young kids I think one day is enough. But with older kids or just adults I think you could spend at least a weekend there and really get into the relaxed atmosphere!

Saint Ignace/Castle Rock Campark
Bring beach toys for Saint Ignace and a change of clothes for when they get wet
It is a very small town without a lot of things going on
You can walk or bike into Saint Ignace – it is about a 2 mile ride – without bike trails (some highway and some sidewalk)
The beach was pretty overgrown and covered in bird poop but the playground area was nice and was also sandy so it worked out well for playing frisbee!
Mackinac Island
The cheapest place to eat on the Island is Mighty Mac's
If you are going to be walking everywhere you might want a stroller – however the roads and sidewalks are very busy and there is a lot of horse poop on the road.
You can rent bikes and bike trailers on the island
You can bring your own bikes on the ferry for a fee

Castle Rock Campark was a really nice resort and was within 2 miles of the ferry docks.
If you don't have a car all of the ferry services offer a free shuttle to and from the campground
They had full hook ups and the sites were easy enough to get into
If you want wifi make sure you stay at a spot that is close to the main building. It worked great for us and we were in spot 3.
Craig's Nugget:
Don't sit directly behind the horses on the carriage ride!
Overall Rating (E = empty, 1/4 full, 1/2 full, 3/4 full, F = full – a Must See!!):


I give it a Full because experiencing the island is really neat! From the boat ride to all the horses to everything in-between! I also really liked the Saint Ignace area and the slower pace of life up there!
More Info Check Out:
The tour and ferry tickets that we got
7 Amazing Michigan Campgrounds On Lakes To Stay At This Summer
Another awesome place to check out in Michigan – Things To Do in Ann Arbor
DISCLOSURE: This post may contain affiliate links, meaning I get a commission if you decide to make a purchase through my links, at no cost to you. Please read my disclosure for more info.