The name "Michigan" is actually derived from an Ojibwe word meaning "large water." Not only that, but because of its location in the middle of the Great Lakes, Michigan is often referred to as the "Great Lake State". Therefore, it should come as no surprise at all that there are tons of amazing Michigan campgrounds on lakes.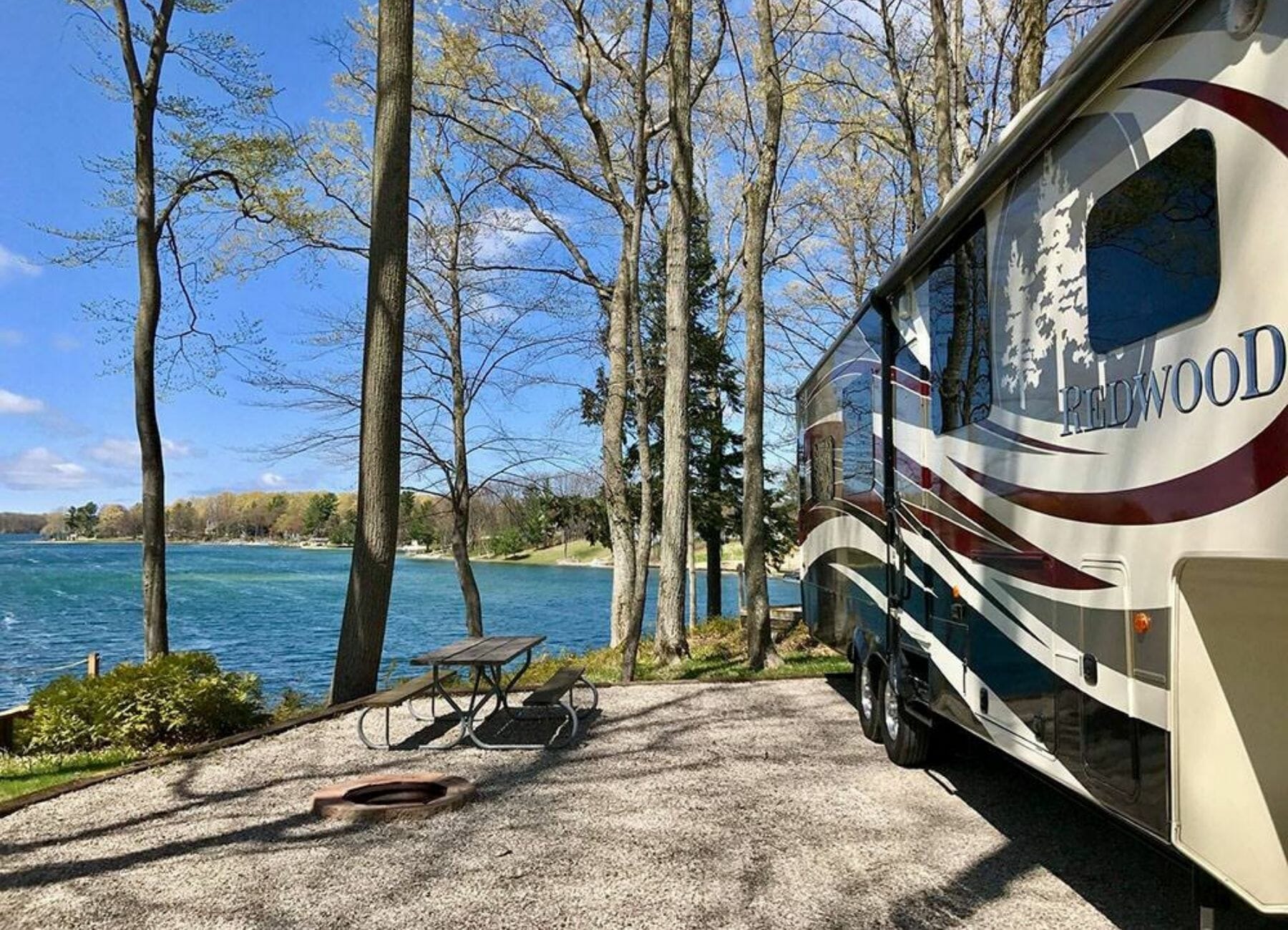 This post is brought to you by Good Sam Parks.
Yes, with its 3,288 miles of shoreline, Michigan is one of the best places to go for excellent lakeside camping. As it turns out however, not all of the best waterside campgrounds in Michigan are located on the shore of Lake Michigan or Lake Huron. In fact, there are tons of excellent campgrounds that sit next to the state's many smaller lakes.
Michigan Campgrounds On Lakes
Below we've listed 7 awesome lakeside campgrounds in Michigan. Pick and choose from this list and you're sure to have an amazing lake camping adventure!
Soaring Eagle Hideaway RV Park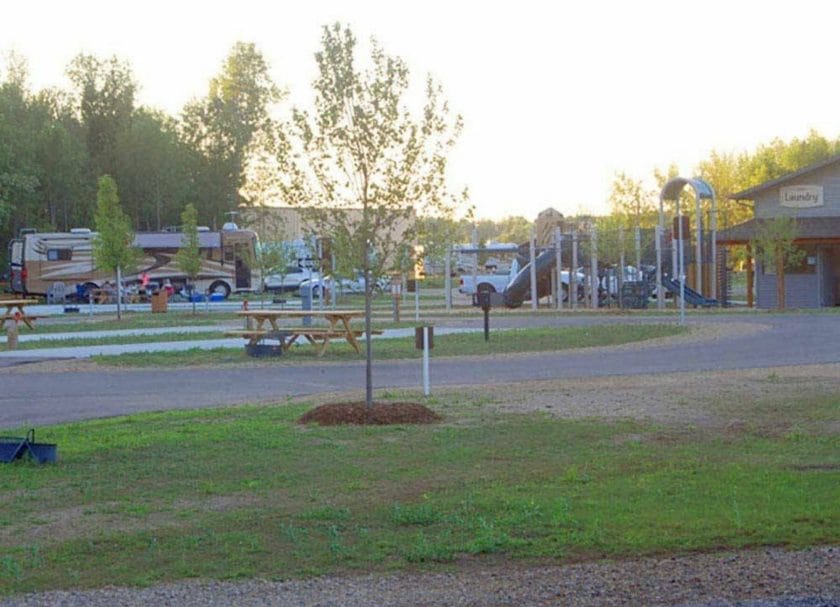 Photo Credit: Good Sam/Soaring Eagle Hideaway RV Park
Soaring Eagle Hideaway RV Park is an excellent place to stay for a number of reasons. Most of the RV sites at this park feature full hookups, and many are quite large, meaning big rigs won't have trouble staying here. There are even some pull-through sites available—perfect for those who aren't comfortable backing their RV up.
The park itself features a variety of amenities including clean restrooms, showers, and laundry facilities, as well as an onsite ATM and store. A restaurant and cocktail bar are located in the campground, and the pool, hot tub, and game room all ensure you're never bored. Best of all, the RV park is right on the shore of Grewes Lake, meaning fishing, boating, and other lake activities are all options.
If you plan on leaving the park to have some fun, you'll be happy to know that it is located on the same property as a casino that offers complimentary shuttle service to and from the campground. Additionally, you are just a day trip away from many Michigan attractions! Some of our favorites include Ludington State Park and the beautiful Silver Lake, both of which lie on the shoreline of Lake Michigan (albeit 36 miles apart) and are each only about two hours from Soaring Eagle Hideaway.
Located at:
5514 E Airport Rd
Mount Pleasant, MI 48858
Learn more about Soaring Eagle Hideaway RV Park on Good Sam!
Northpointe Shores RV Resort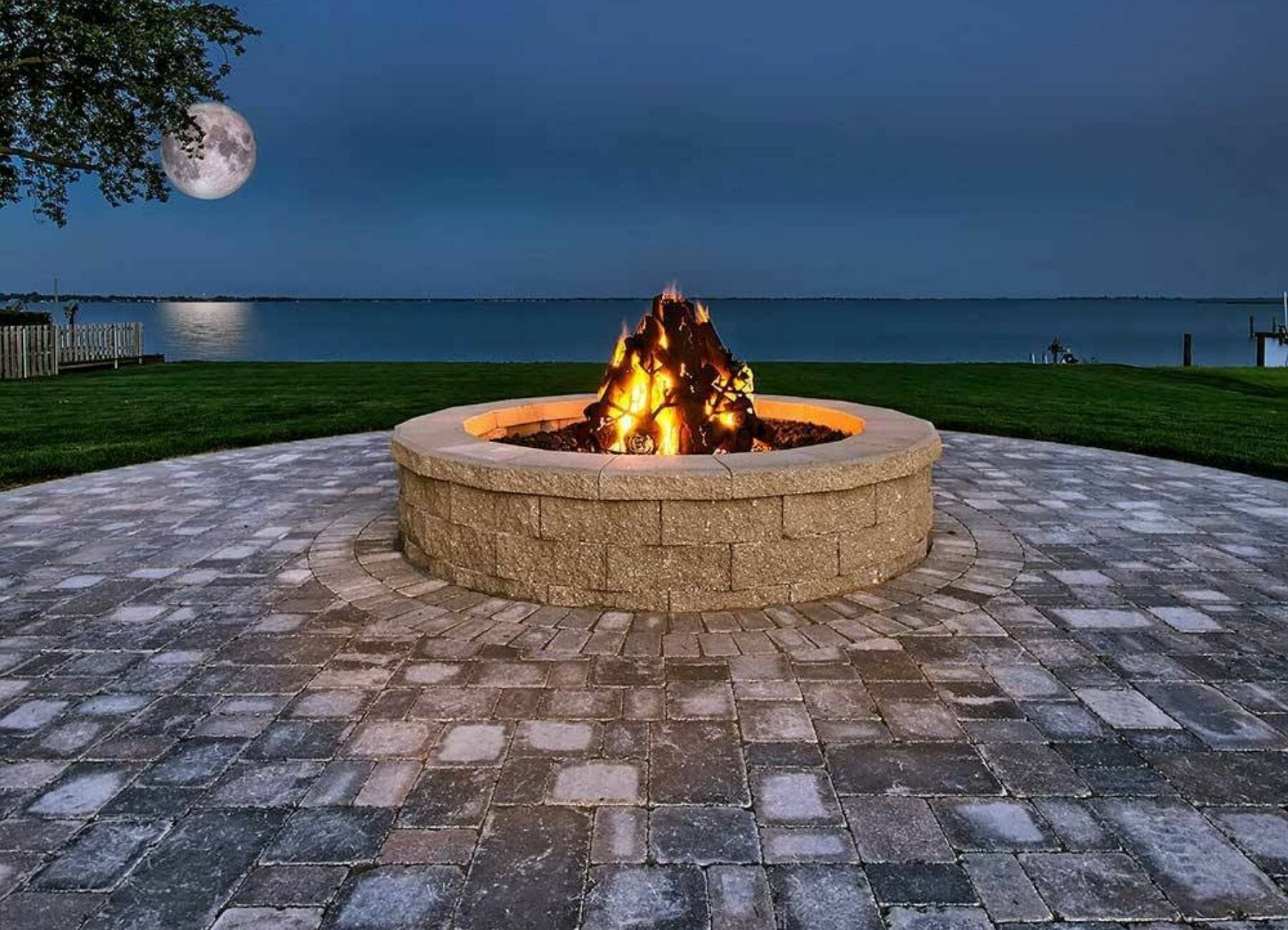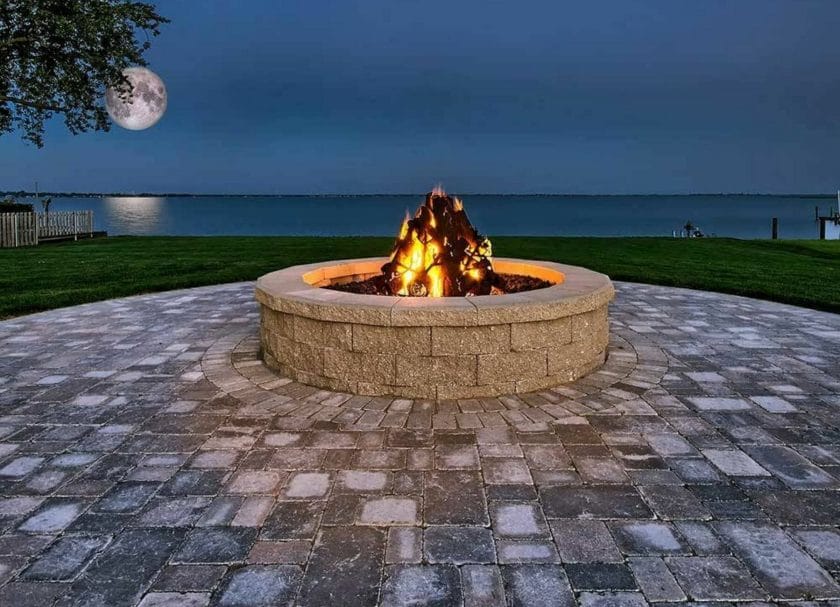 Photo Credit: Good Sam/Northpoint Shores RV Resort
As the name suggests, Northpointe Shores RV Resort is located right on the shore of Lake St. Clair. This adults-only park features a first-class marina with a boat ramp, making it easy to have a great time out on the water and get the most out of your lake camping trip.
We love that this is a smaller, more intimate park with only 36 sites available. Each of these sites features full hookups and a paved pad so you can stay in complete comfort. Additionally, there is a patio and a picnic table at each site, helping make your time outdoors more enjoyable. More park amenities include park-wide Wi-Fi, clean restrooms with showers, laundry facilities, a rec center and exercise room, and some outdoor games.
Those who wish to go exploring outside of the campground will love the fact that the park is so close to the Canadian border, and not too far from Detroit and all the attractions that city has to offer. (We highly recommend checking out the Henry Ford Museum!) Additionally, Lake Huron is only about 40 minutes north for even more lakeside fun.
Located at:
10413 Dixie Highway
Ira Township, MI 48023
Learn more about Northpointe Shores RV Resort on Good Sam!
Holiday Park Campground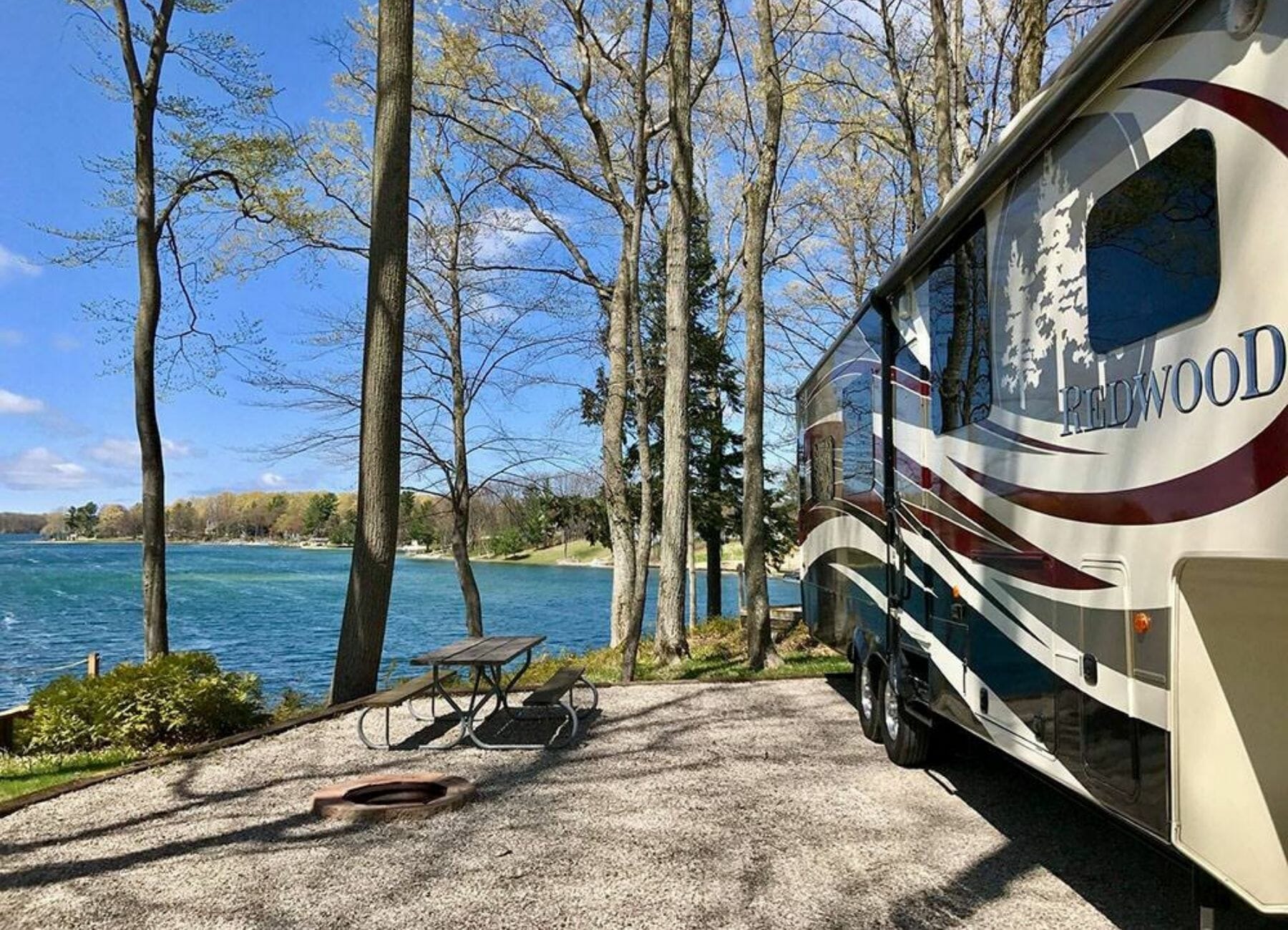 Photo Credit: Good Sam/Holiday Park Campground
A local favorite, Holiday Park Campground is a great place to get away. The campground features 217 sites, meaning there's bound to be a site that suits your needs. 30-amp and 50-amp electric hookups are available, as are 137 full-hookup sites. There are also plenty of campsites for big rigs, so if you have a larger RV, this might just be the park for you.
Other park amenities include things like laundry facilities, onsite shopping, a playground, outdoor games, and more. Of course, the in-park lake is pretty fantastic as well and presents guests with opportunities for fishing, swimming, boating, and enjoying some absolutely gorgeous views.
Last but not least, we really need to mention what a great area this campground is in. Not only are you right by a local casino and plenty of hiking opportunities, you're also right by Interlochen State Park, fun roadside attractions (like the world's largest cherry pie and the "Hippie Trees" art installation), the super fun Pirate's Cove Adventure Park, and a variety of sandy beaches!
If you're willing to drive a bit further, this park also gives you access to the awesome sand dunes at Sleeping Bear Dunes National Lakeshore, which is only 45 minutes away.
Other day trip options include Big Sable Point Lighthouse (an hour and 45 minutes away) and Hamlin Lake (an hour and a half away).
Located at:
4860 US-31S
Traverse City, MI 49685
Learn more about Holiday Park Campground on Good Sam!
Houghton Lake Travel Park Campground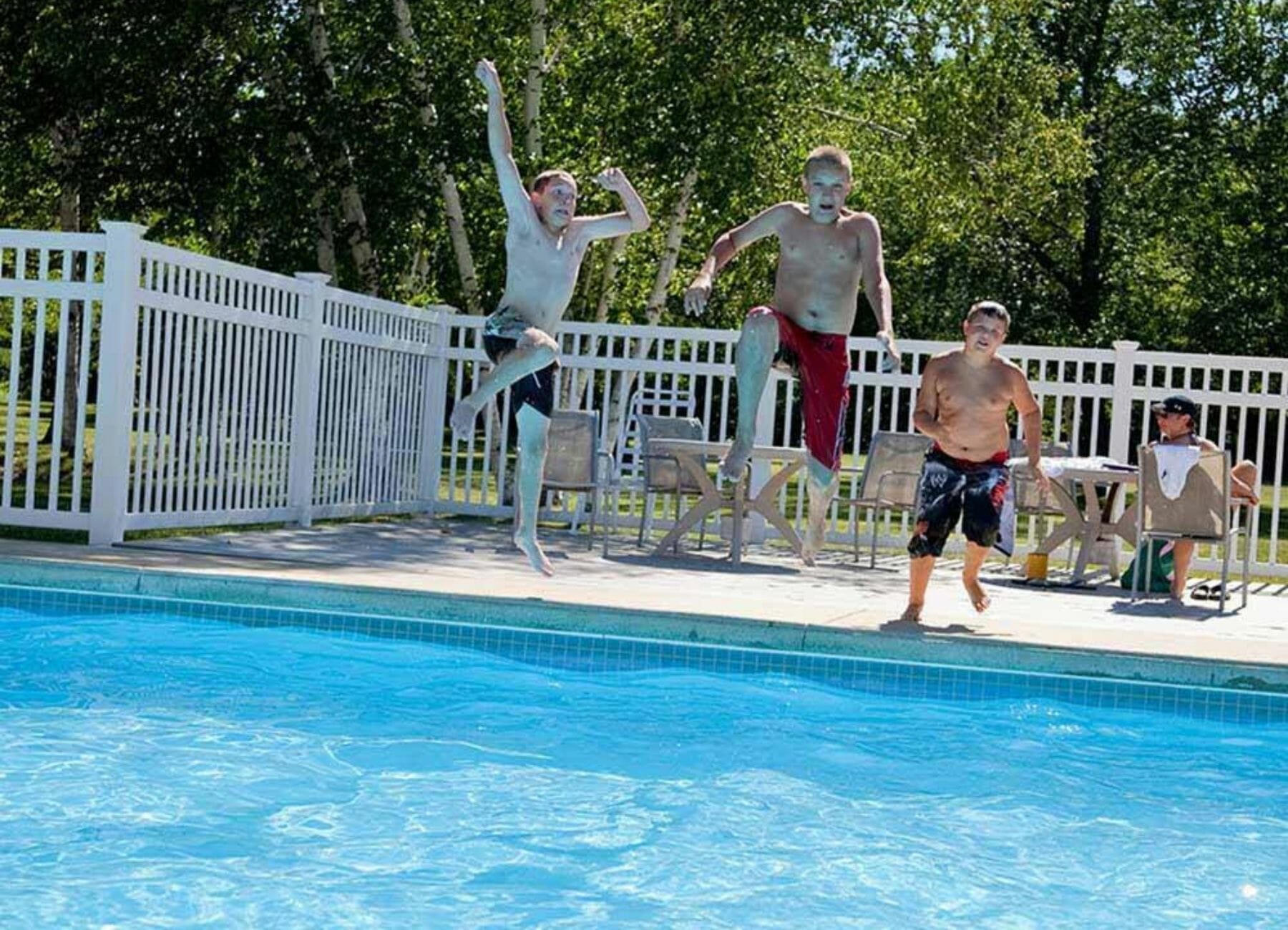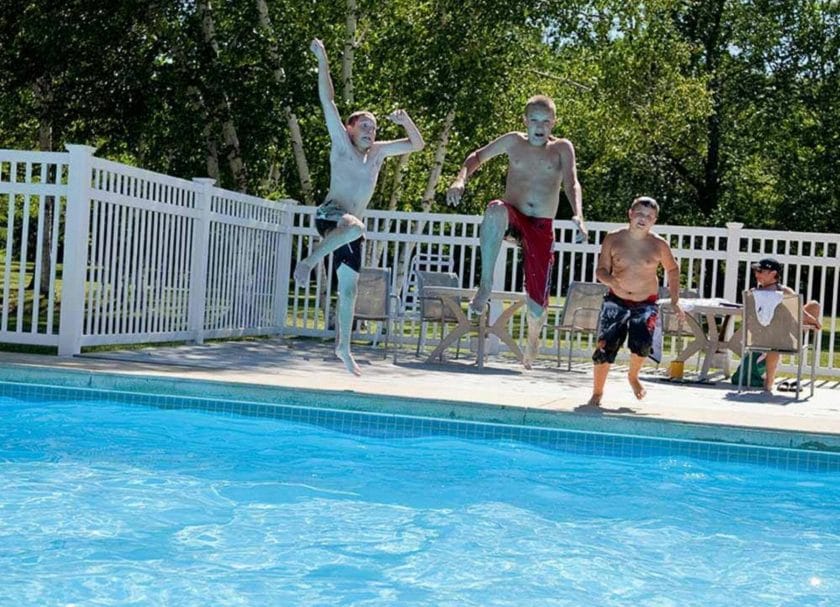 Photo Credit: Good Sam/Houghton Lake Travel Park Campground
Houghton Lake Travel Park Campground is yet another fantastic lakeside campground in Michigan. This park is located on Houghton Lake and just north of the lovely Roscommon State Forest. Outdoor activities such as hunting, archery, fishing, and more are all located nearby, making this the ideal place to go camping.
Tent camping is available for those who prefer to rough it, but we prefer to stay in the RV sites. These include either water and electric hookups or full hookups, and can accommodate large RVs, small RVs, and everything in between. Additionally, every campsite has access to Wi-Fi, making it easy to work or stream videos from your tent or RV.
As far as campground amenities go, you can expect to find a wonderful heated pool that is the main attraction during the summer months. Many campers also enjoy playing horseshoes and shuffleboard, spending time in the game room, climbing on the playground, and participating in the campground's planned activities.
Located at:
370 Cloverleaf Ln
Houghton Lake, MI 48629
Learn more about Houghton Lake Travel Park Campground on Good Sam!
Camp Lord Willing RV Park & Campground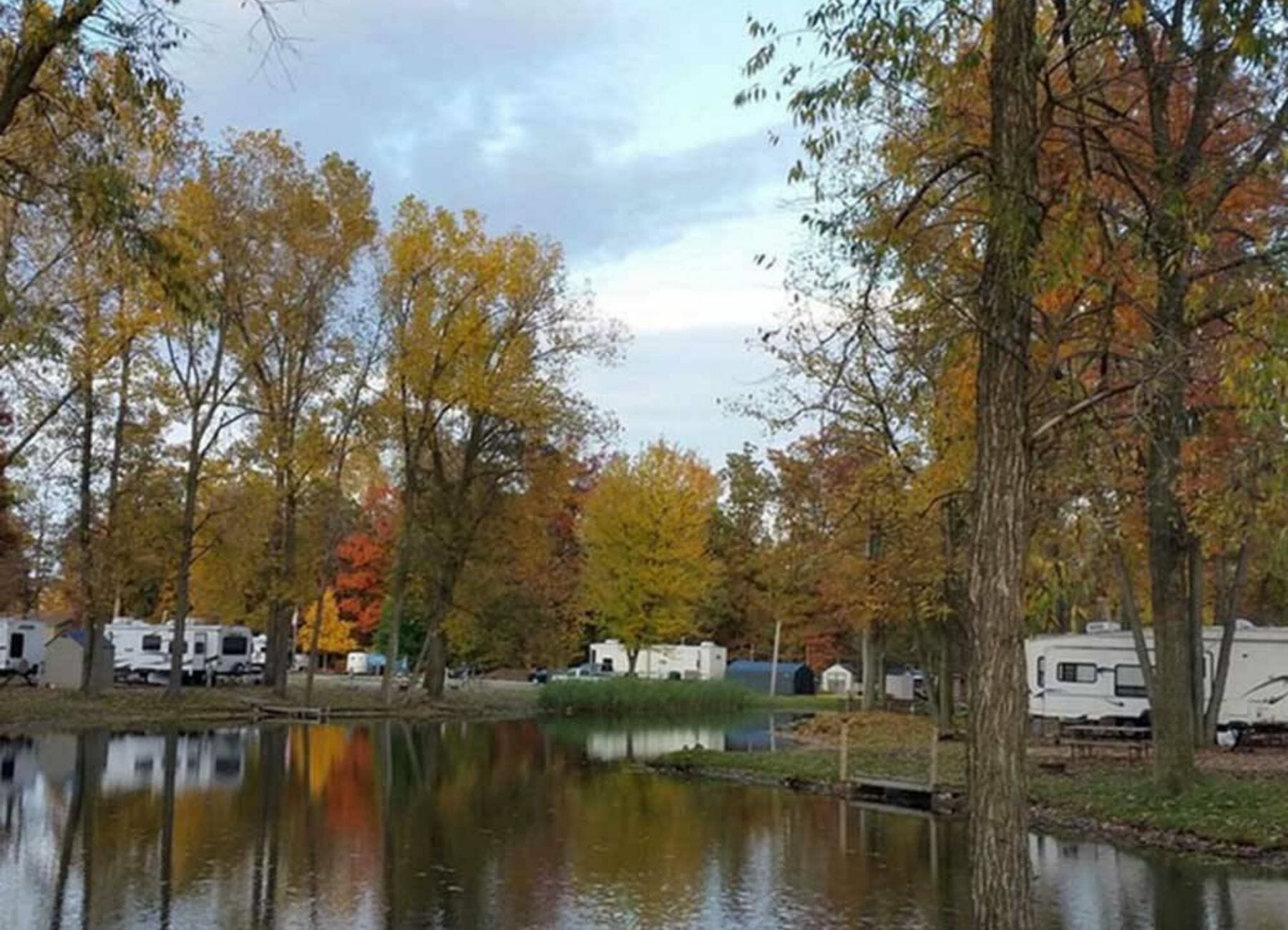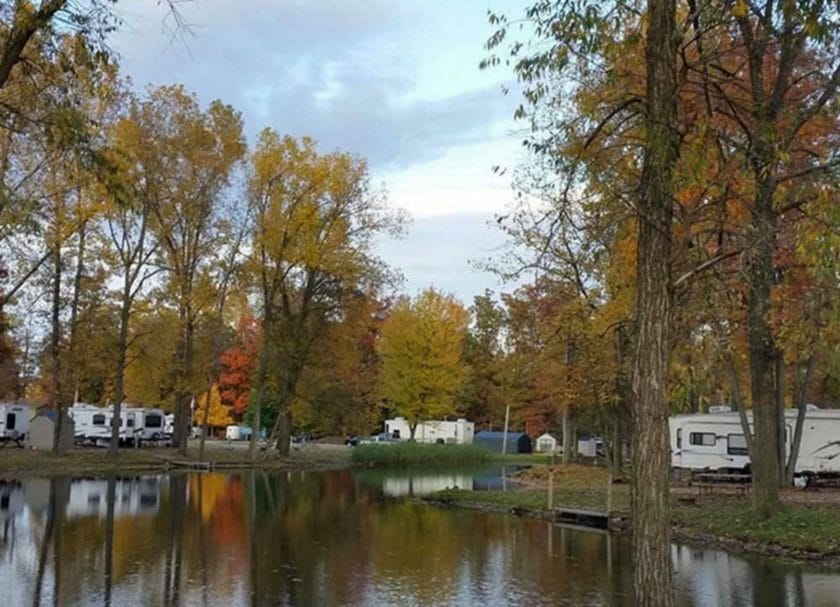 Photo Credit: Good Sam/Camp Lord Willing RV Park & Campground
Located just south of Detroit, Camp Lord Willing RV Park & Campground is the perfect place for those who live in the city to get away. That said, because Detroit is a mere 45 minutes away, it's also an excellent spot for travelers to call home while visiting the city to see the many attractions located there.
The campground itself features a variety of fantastic amenities. These include restrooms with showers, laundry machines, firewood and ice for sale, bike rentals, a playground, and onsite Wi-Fi.
Guests also have access to Lord Willing Lake while staying here, so they often enjoy activities like fishing, swimming, boating, and even paddle boats out on the water.
Wondering what to expect from the campsites in this park? We think you'll be pleased to learn that the campground features 100 sites, some as long as 80 feet! Full hookups are available at every site, and a handful are pull-throughs, making it easy to stop in for a quick overnight. Fire rings and tables are at each site, and trash pick-up is available for all guests.
Located at:
1600 Stumpmier Rd
Monroe, MI 48162
Learn more about Camp Lord Willing RV Park & Campground on Good Sam!
Waffle Farm Campgrounds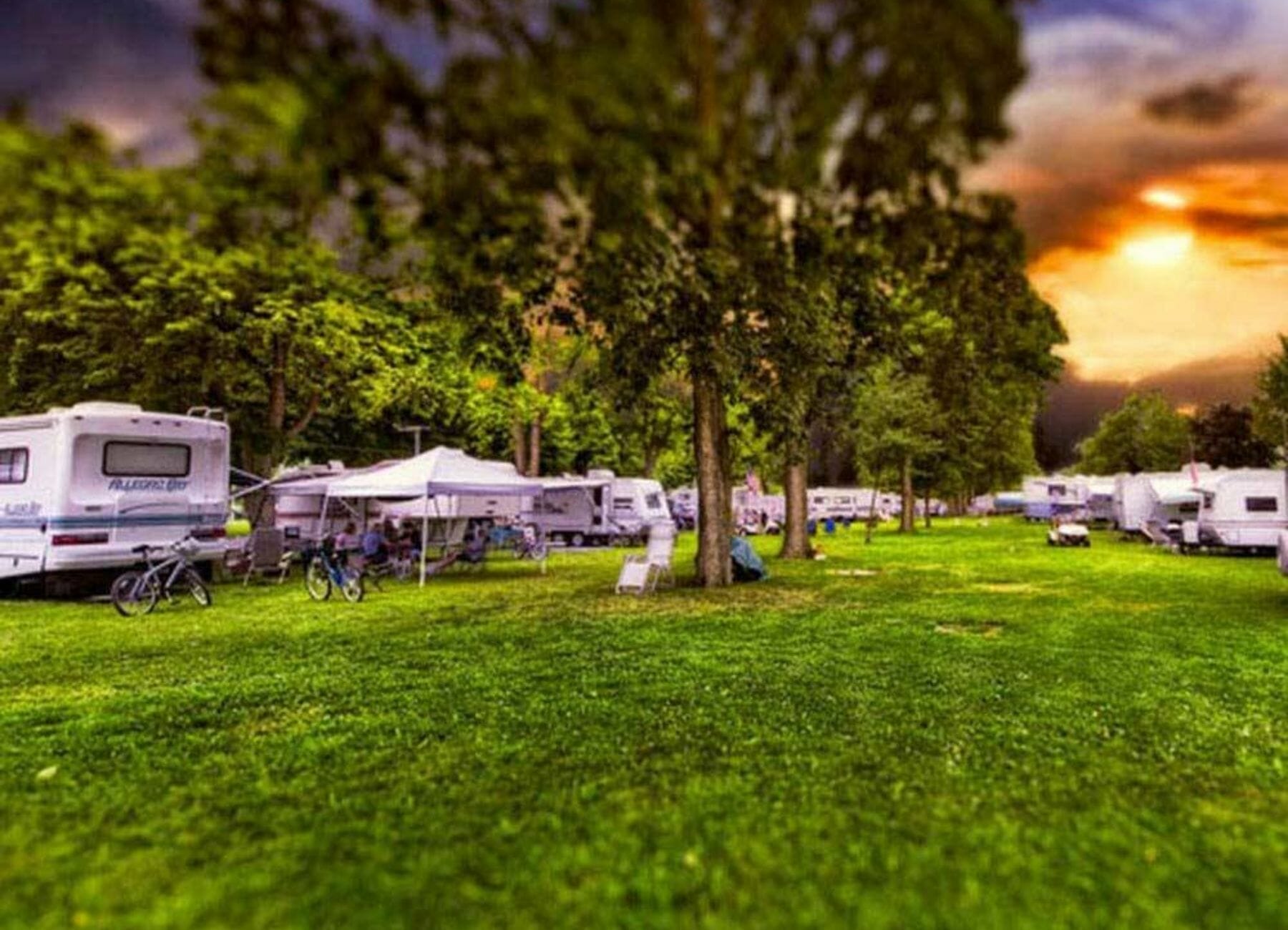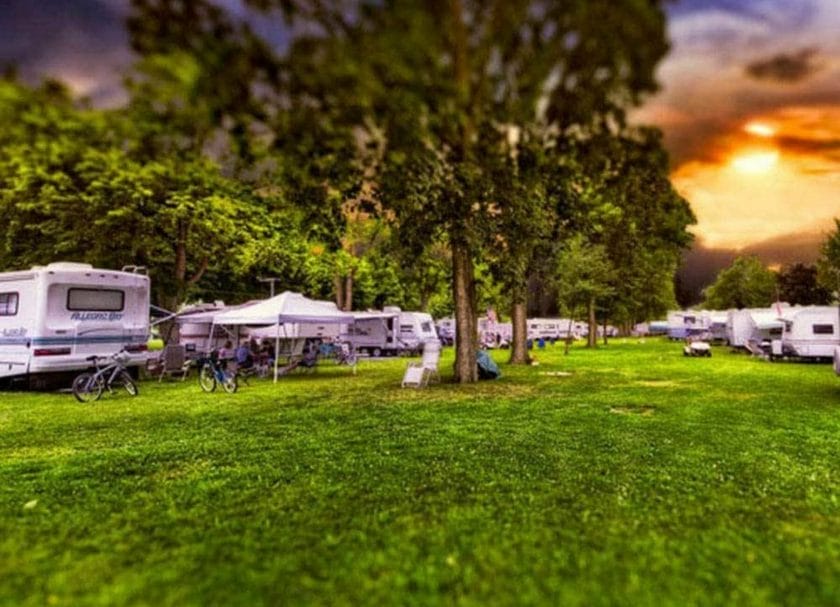 Photo Credit: Good Sam/Waffle Farm Campgrounds
Touted as a "boater's paradise," Waffle Farm Campgrounds gives campers access to a chain of seven (count 'em, seven!) lakes. These lakes offer amazing views. Plus they are the perfect place to enjoy water sports, go fishing, or just relax on a boat.
The sites at Waffle Farm Campgrounds include tent-only sites as well as RV sites. Many of the RV sites can accommodate big rigs. All of them offer water and electric hookups, and a few even have a sewer hookup option.
You can expect access to a picnic table on your site. Be sure to take advantage of the trash pick-up, which removes the need to carry your garbage to the dumpster.
Besides the gorgeous chain of lakes, this campground offers a number of other amazing amenities and recreational facilities. Things like groceries, ice, firewood, RV supplies, and fishing gear can be bought onsite. Clean, well-kept restrooms with showers are available, and cable TV and Wi-Fi are also options.
Guests can enjoy all kinds of onsite fun. Such as a playground, driving range, game room, bounce pillow, mini golf, planned activities, and a whole lot more.
Located at:
790 N Union City Rd
Coldwater, MI 49036
Learn more about Waffle Farm Campgrounds on Good Sam!
Somerset Beach Campground & Retreat Center In Michigan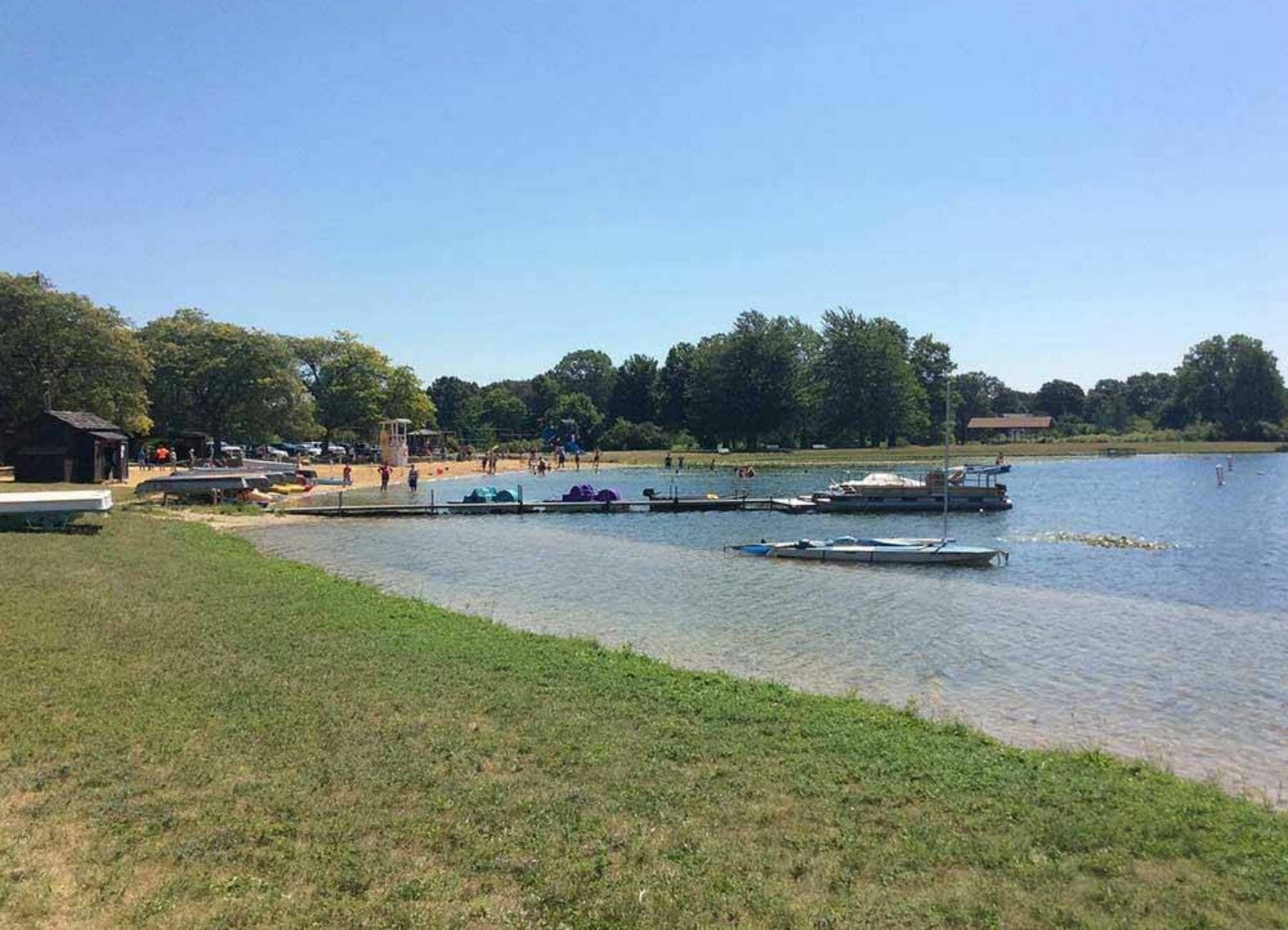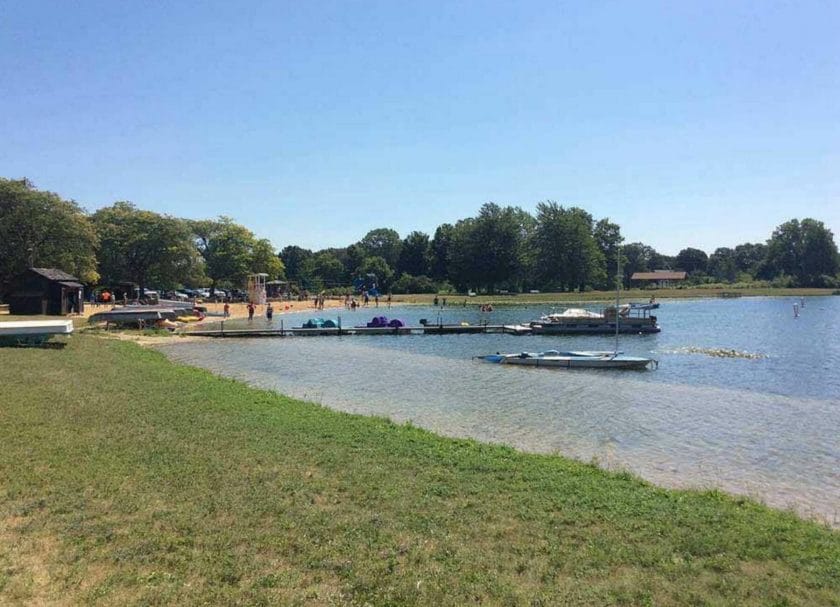 Photo Credit: Good Sam/Somerset Beach Campground & Retreat Center
Finally, we must mention Somerset Beach Campground & Retreat Center. This campground is located about an hour outside of Ann Arbor. Making it a great place for residents of the city to get away. Along with an excellent place to park for visitors who wish to explore the city.
We recommend that those who do choose to head into Ann Arbor check out the Matthaei Botanical Gardens & Nichols Arboretum. Families with kids should see the Ann Arbor Hands-On Museum.
The RV sites at Somerset Beach Campground offer 30-amp electrical hookups, lovely shade trees, fire rings, and picnic tables. There are also areas for tent camping should you prefer to rough it during your time in the area. Cabin rentals are also available for those who prefer such accommodations.
Curious about amenities? There is Wi-Fi available throughout the park. RV and camping supplies are available for purchase at the campground and an onsite snack bar offers refreshments.
Many campers appreciate the campground worship services. The outdoor sports courts offer lots of fun. The nature trails and playground are sure to help keep you busy.
Of course, the onsite lake is also a major bonus and offers opportunities for boating, swimming, and fishing during your time in the campground.
Located at:
9822 Brooklawn Ct
Somerset Center, MI 49282
Learn more about Somerset Beach Campground & Retreat Center on Good Sam!
Plan Your Trip
Clearly, Michigan is not lacking when it comes to lake camping. The ones we've mentioned in this article are some of our favorite picks. But they are far from the only options. Looking for even more fantastic lake campground options in Michigan? You may want to head up to the gorgeous Upper Peninsula to see Lake Superior and all it has to offer. Or park along the Lake Michigan shoreline or Lake Huron.
No matter where you go to get your lake camping fix while in Michigan, you're sure to have an absolute blast and leave feeling more relaxed than ever.
More Info Check Out:
Top 4 Indoor Water Parks in Michigan
Benefits of Having Good Sam TravelAssist
Everything You Need to Know About Good Sam Rentals
Benefits Of Good Sam RV Roadside Assistance – It Is Worth It!
Sleeping Bear Dunes in Michigan
Mackinac Island and Saint Ignace, Michigan
The Best RV Camping in Northern California
Pin This Post: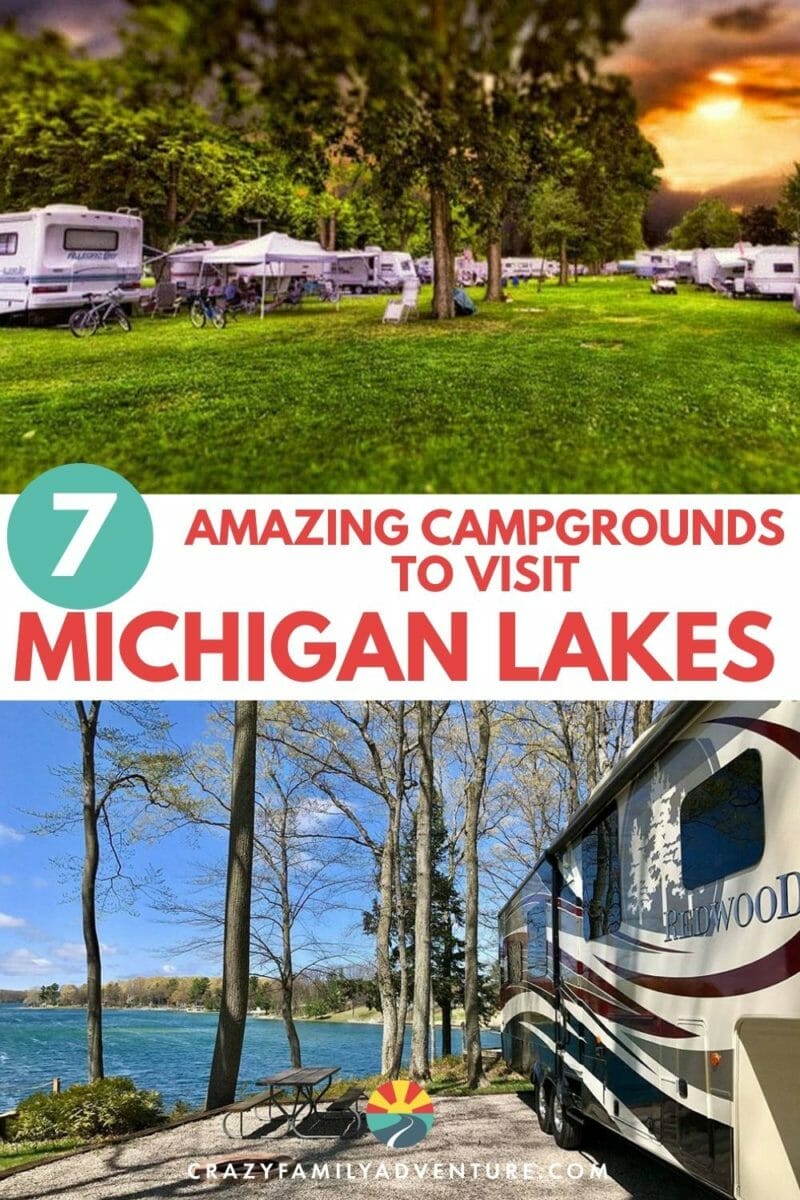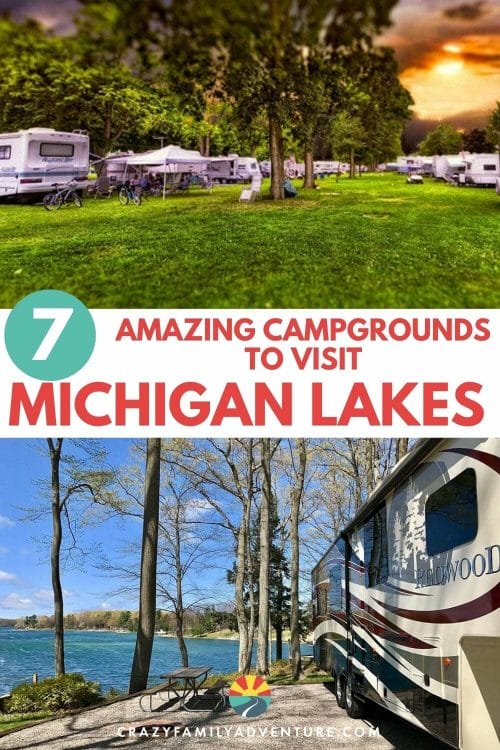 DISCLOSURE: This post may contain affiliate links, meaning I get a commission if you decide to make a purchase through my links, at no cost to you. Please read my disclosure for more info.