Every RVer loves the Good Sam Club. Yes, we absolutely think a Good Sam membership is a worthwhile investment, and we also think snagging some of the company's Good Sam RV Roadside Assistance is a good idea.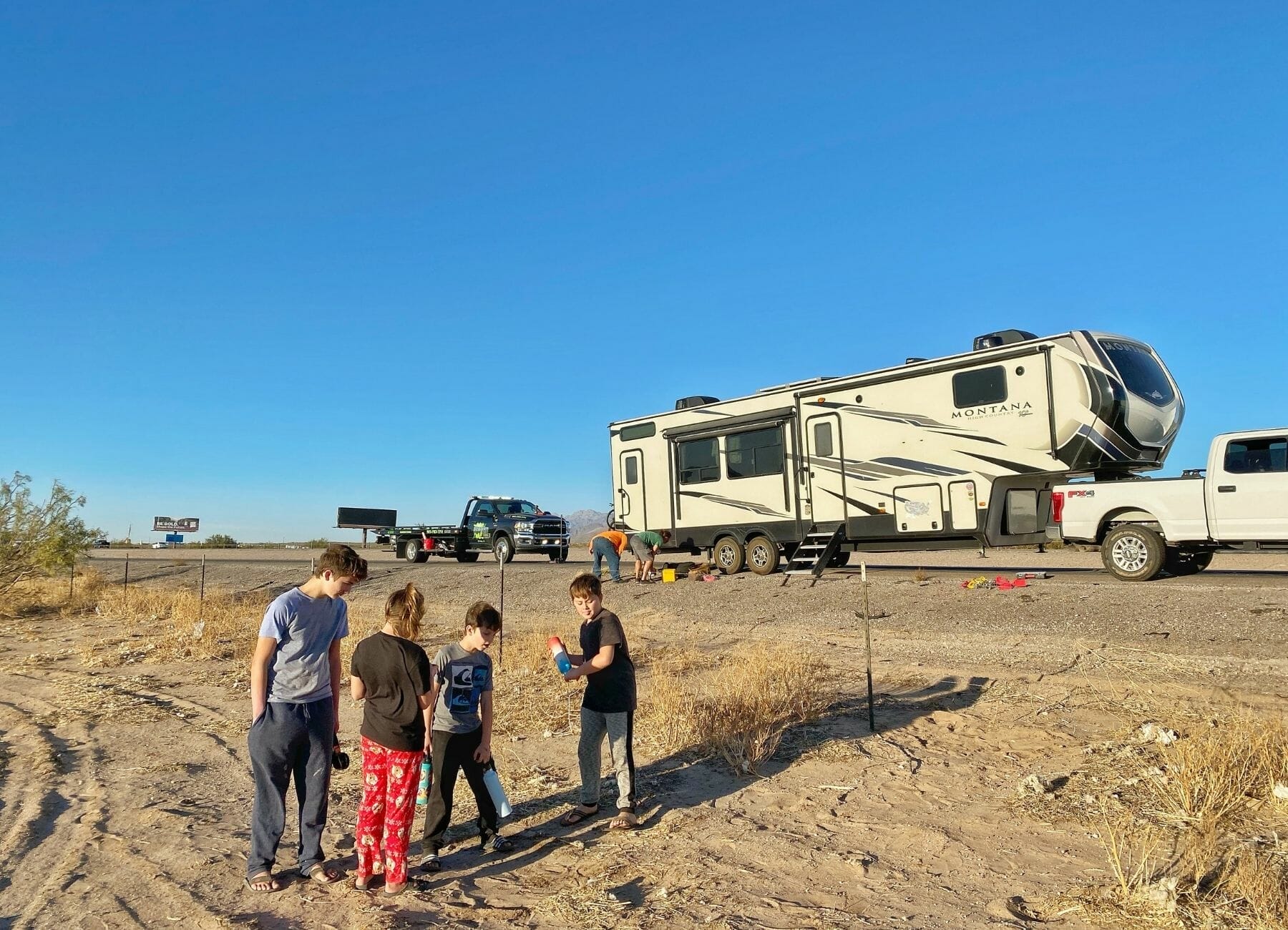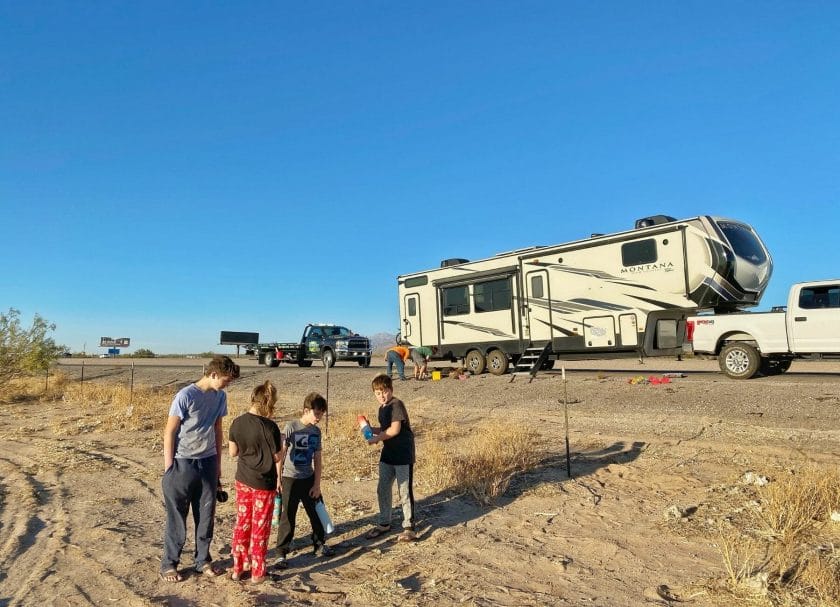 This post is brought to you by Good Sam RV Roadside Assistance.
That's right, Good Sam has more to offer than just a fuel discount, reduced campsite fees, and discounts at Camping World. In fact, Good Sam RV Roadside Assistance is one of the best roadside assistance options out there, especially if you're an RVer.
Not only will this roadside service help get you out of a pickle if something goes wrong on your next RV road trip. It also gives you peace of mind even when everything is going smoothly.
We are totally those people that are like "is it worth the money??". I'll tell you what when you are sitting on the side of the road on I-10 with a tire blowout and semi's are whipping past you it is 100% worth it!
Is It Worth It?
I was able to call Good Sam RV Roadside Assistance and give them my information and where I was located. They tracked down a mobile repair and tow company that could come out and replace the tire. Watching the guy replace the tire (that was on the highway side . . .) with semi's whipping past again made me so glad we had roadside assistance and it wasn't Craig out there doing that!
In the past when we haven't had Good Sam RV Roadside Assistance we have had to make all of the phone calls ourselves. That meant calling about 10 different places before finally finding one that could help us. . .and then calling all the nearby service centers to find one that could work on our vehicle.
This time I made one phone call and was able to take the kids to an open parking lot on the frontage road to hang out in a safe place until the tire was changed.
Needless to say we found Good Sam RV Roadside Assistance to be totally worth it!
Below we will share more about what this program is, how it might help you, and which plan might be best for you.
What is Good Sam RV Roadside Assistance?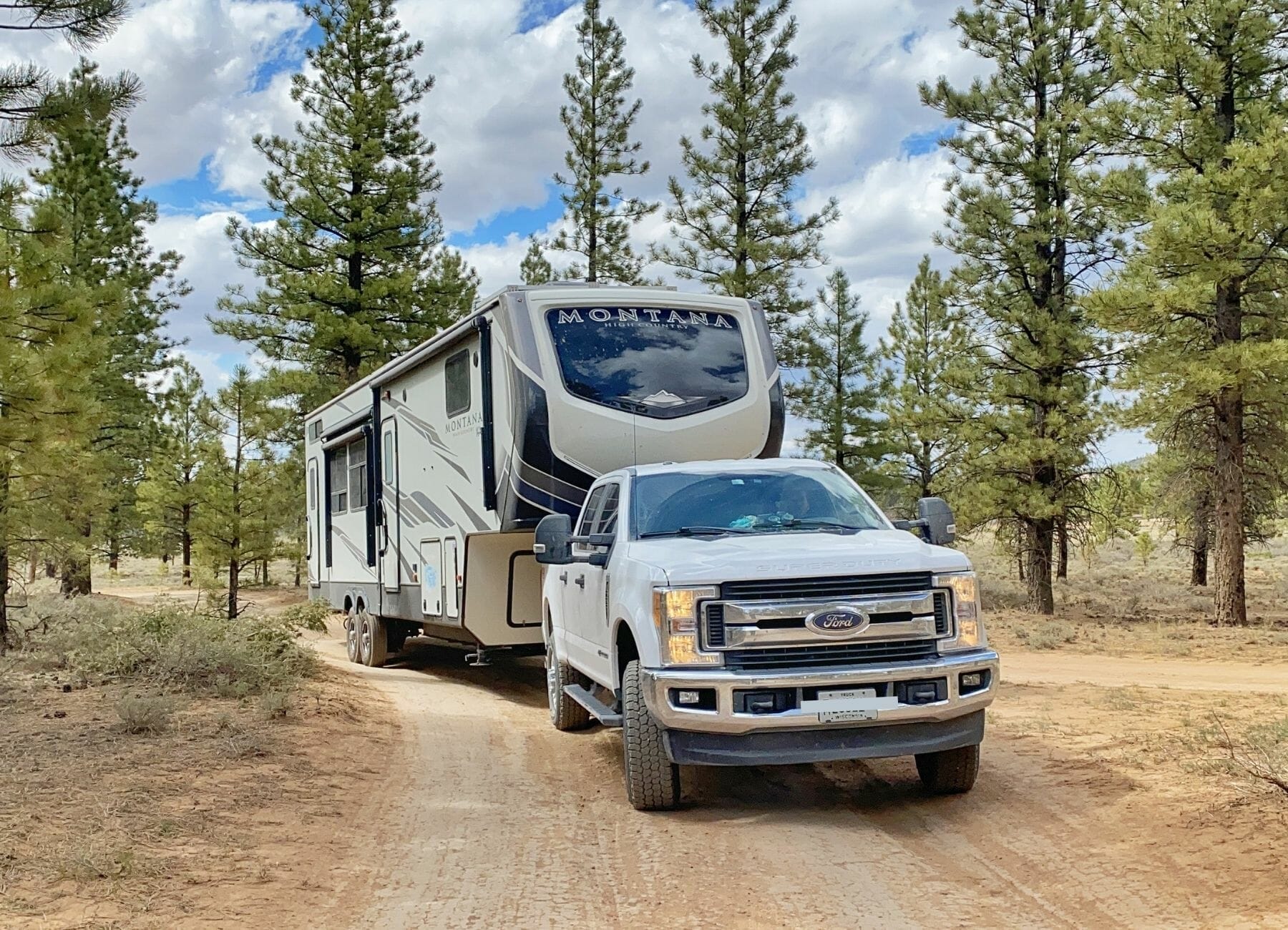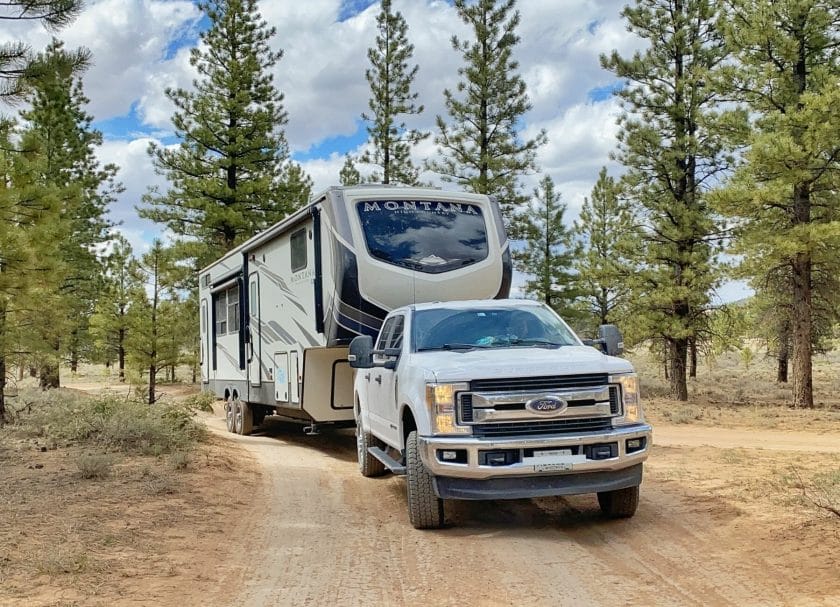 In short, Good Sam RV Roadside Assistance is a lifesaver for RV owners everywhere. You see, most traditional auto roadside assistance companies will not cover RVs, and those that say they will don't always follow through. Good Sam steps in where traditional auto roadside assistance won't, helping get you and your RV fixed up and back on the road should anything go wrong.
Whether you need a tow to a mechanic (yes, the service will pay to tow both your truck and your trailer), need a flat tire replaced, run out of gas, or just need a jumpstart, the folks at Good Sam are ready and waiting to help. Not only that, but depending on your plan, they will even provide a certified RV tech to help fix issues over the phone when you need some assistance without necessarily requiring a mechanic.
Included in Good Sam RV Roadside Assistance
We listed some of the benefits you recieve when signing up for Good Sam Roadside Assistance above. That said, exactly what you get will depend on which plan you choose. Below, we've created a quick overview of each of the three plans to help you choose the one that is right for you.
Standard Plan
This plan is ideal for those who own a bumper-pull RV and use it to camp occasionally. It will cover the most important things while you're out camping. That said, this option does not cover motorized RVs or fifth wheels. It is also missing a few features that those who travel often might appreciate.
Covers:
One travel trailer RV and all owned non-RV vehicles
You, your spouse, and your dependent children
Includes:
Unlimited towing to the nearest service center within the US and Canada
Cost-capped towing services and road assistance services in Mexico, Puerto Rico and the US Virgin Islands
RV mobile mechanic dispatch
Flat tire repair and RV tire delivery
Battery jumpstart service
Emergency fuel and fluids delivery
Trip interruption service (reimbursement for eligible expenses related to an accident with another vehicle)
Automotive locksmith service
AAMCO (repair company) discounts
Emergency medical referral service (help finding a doctor or dentist and replacing prescriptions while traveling)
Platinum Plan
The Platinum Plan is perfect for most travelers. Any RV is covered under this plan, and multiple RVs can be included on the same plan. We like that the Platinum Plan gives users access to even more great benefits, and we find that unless you travel often or have medical issues, these benefits are plenty.
Covers:
All of the vehicles and people covered by the standard plan, plus:
Motorized RVs and fifth wheels
Boat trailers, utility trailers, and sports trailers
Multiple RVs on a single plan
Leased, rented, or borrowed vehicles
Includes:
All of the benefits included in the standard plan.
Long distance operational and technical assistance by certified RV techs
Home locksmith service
Hotel discounts
Rental car discounts
Platinum Complete Plan
Finally, there is the Platinum Complete Plan. We feel that this plan is best for those who travel often, especially full-timers. Essentially, this is a combination of the Platinum RV Roadside Assistance plan, additional tire protection benefits , and emergency medical assistance benefits.
Covers:
All of the vehicles and people covered by both the standard and platinum plans.
Includes:
Everything included in the Standard and Platinum plans.
Emergency medical transportation from hospital to hospital
Repatriation of remains
RV/vehicle returned to your home after a qualifying medical event
Transportation home for you and your travel companions after a qualifying medical event
Road hazard tire replacement coverage
Road hazard wheel replacement and repair
And more
With all of these plans, all included services are prepaid by Good Sam, meaning you don't have to pay or deal with reimbursement forms. That said, you will have to cover any parts and labor charges that may come up during your services.
Recap: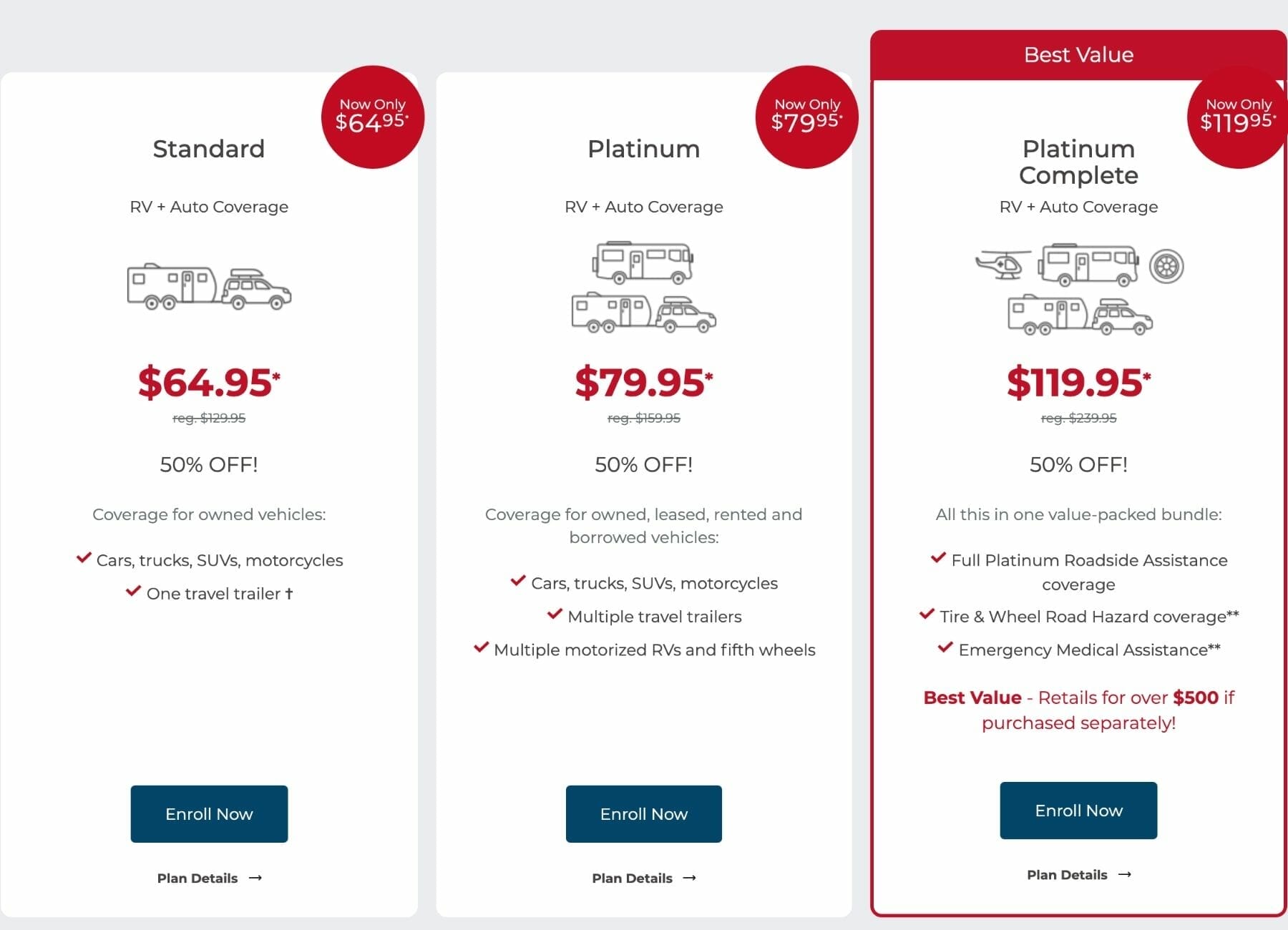 Cost of Good Sam Roadside Assistance
Wondering how much all of these awesome benefits are going to cost you? Believe it or not, Good Sam Roadside assistance is totally affordable.
As long as you're willing to set up auto-renew, the Standard plan can be had for a mere $64.95 a year right now during their special offers! The Platinum plan is only a little bit more at $79.95 a year, and is an upgrade we think is totally worth those extra dollars. Lastly, the Platinum Complete plan is currently selling for $119.95 a year, an excellent value considering the peace of mind you will receive in return.
Still not convinced you should make the investment? If you take the plunge and pay for Good Sam roadside assistance but later decide it isn't for you, you can cancel at any time and will receive a prorated refund (minus costs associated with any services you may have received, of course).
Who Should Buy Good Sam Roadside Assistance?
So who should invest in Good Sam RV Roadside assistance? Honestly, absolutely anyone who owns an RV will benefit from these motor club roadside assistance services. Good Sam travel club offers reliable RV coverage, and because RVs are their focus, they always know exactly how to help when you have a problem.
Really, it's just a matter of deciding which Good Sam RV roadside assistance plan is best for you, your family, your rig, and your travel style.
More RV Content:
19 RVing For Beginners Tips You Will Want To Know
Why You Should Rent Out Your RV And How To Do It
Benefits of Having Good Sam TravelAssist
Everything You Need To Know To Pick The Best Family RV
99 Tips After 6+ Years of Full Time RV Living
The Ultimate RV Packing List To Make Your Trip A Success
RV Checklist To Make Your Trip A Success
The Best RV Camping in Northern California
Pin This Post:
DISCLOSURE: This post may contain affiliate links, meaning I get a commission if you decide to make a purchase through my links, at no cost to you. Please read my disclosure for more info.