Picking the best family RV can definitely be a challenge! There are so many options from drivable to towable and different lengths, sizes and layouts. It also depends on if you will be living in your RV or just using it for weekend trips and vacations.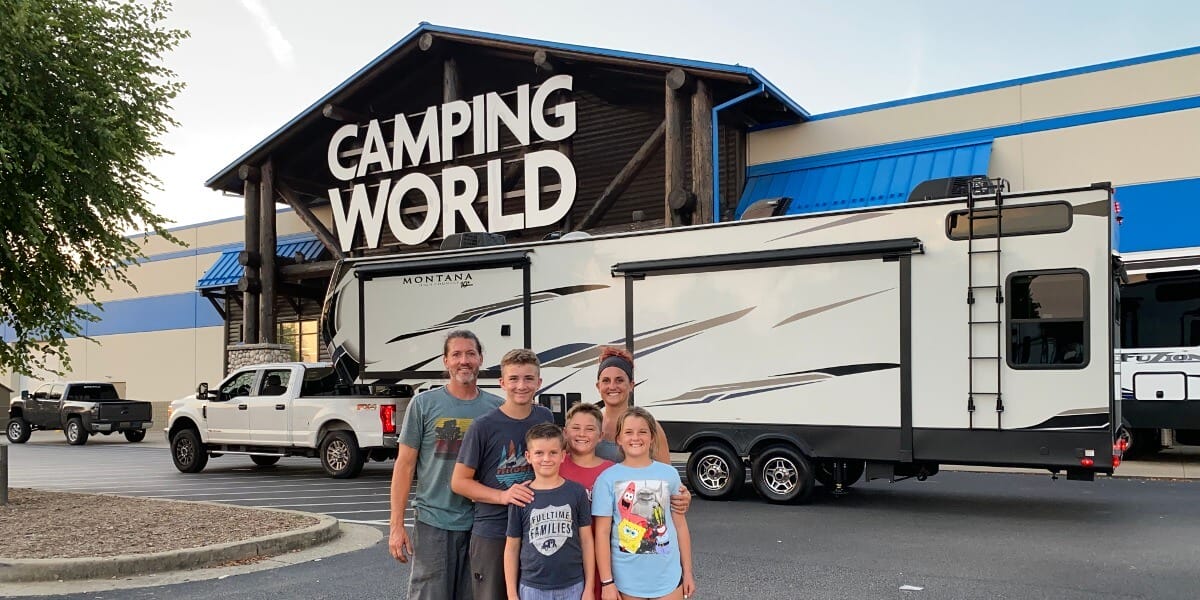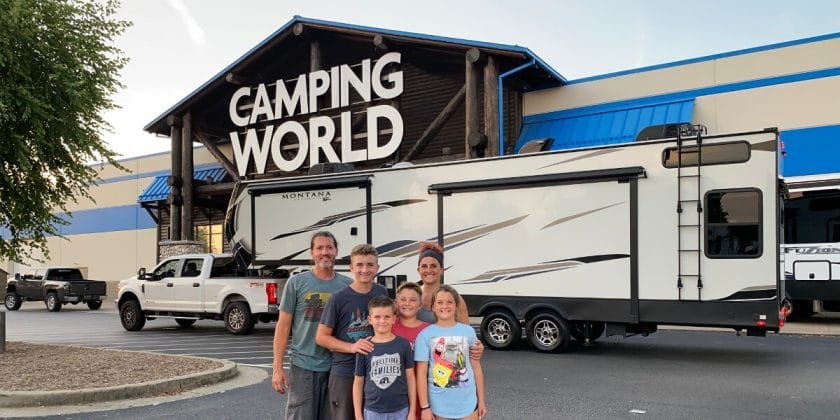 We have been on the road full-time since 2014 and have had 6 different rigs. We are hoping our insights and tips can help you figure out which rig is right for you and your family.
Below we share our list of things to consider and then after that, we share the 6 rigs we have been in and the pros and cons of each to help you decide on the best rig for your family.
Style Of Travel And Life
I think this is the most important thing to consider when looking for the right rig for your family. This can change the longer you are on the road, with the age of your kids, etc.
How Fast Will You Be Moving?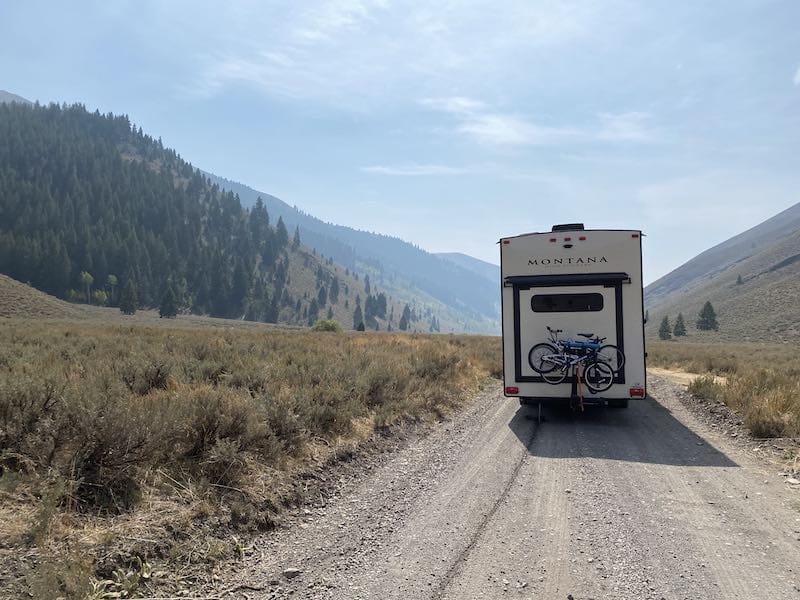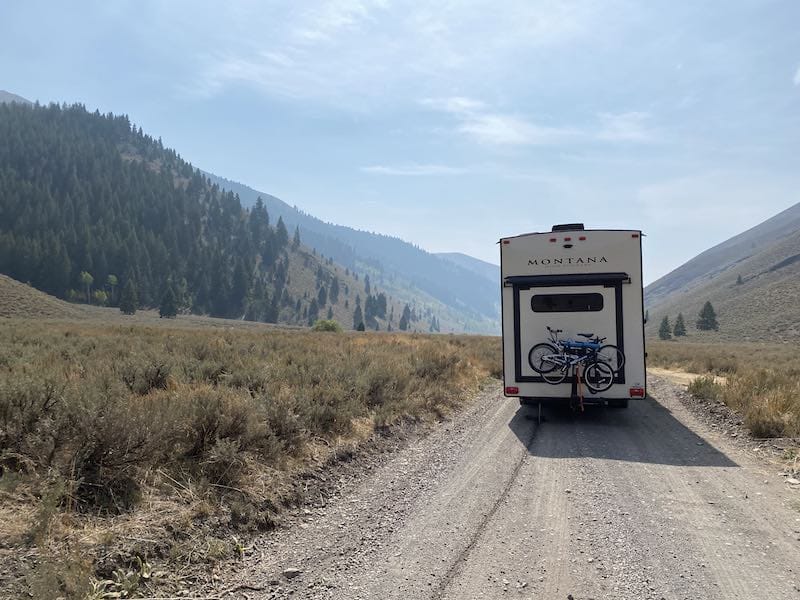 Do you plan to stay in one place for weeks to months at a time? Or do you plan to move quickly only staying at places for 3-5 nights?
Or maybe you just plan to use it for weekend trips or week long trips a few times a year..
If you are planning to stay at locations for weeks/months at a time you may want to go bigger with your rig. It is definitely nice to have space to spread out and if you are at one place for a long stretch you can really get settled in and your rig can feel just like a small apartment!
If you plan to move quicker from place to place or only use it as a vacation vehicle, a smaller rig with less things and setup may be the way to go.
What Seasons Will You Travel In?
Are you planning to do a lot of winter or summer travel? If yes, you definitely want to take weather into account. Planning to be in colder climates for a lot of the year? Then you will want to look at a 4 season type of rig or something that has heated tanks and underbelly. Without this it can get really stressful and/or you will have to do a lot of prep work.
If you plan to travel a lot to really hot places like 90 – 100 degrees know that your RV AC unit can really only get the rig down about 20% from the outside temperature. For this reason you may want to look for a rig with 2 ACs so at least you have a bit more AC power.
Where Will You Stay?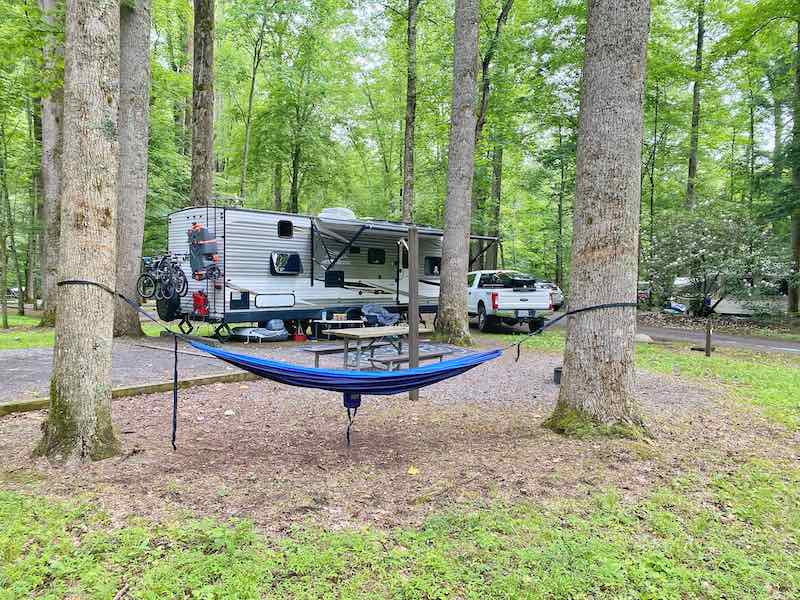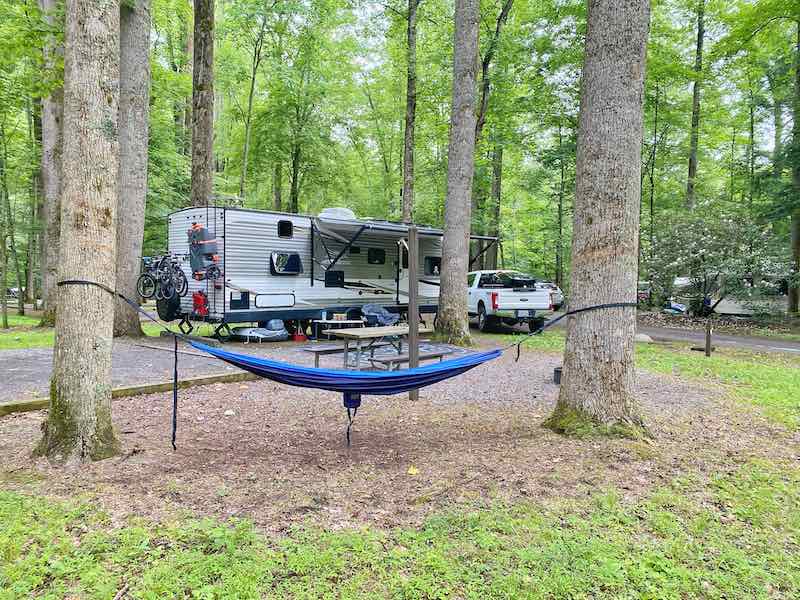 Do you want to stay just at campgrounds that have full hookups and easy in and out access or do you want to do more National Parks, State Parks and boondocking (staying without hookups on BLM land and places like that)?
Campgrounds
If you are looking for mostly full hookup campgrounds like KOA's then a bigger rig will work just fine – though with a smaller rig you have more options for sites and availability – so something to consider. Also consider cost, since KOA's are expensive.
National/State Parks
If you want to do more National and State Parks where you are staying in the parks we highly recommend going with a smaller rig. Yes, they do sometimes have spots for larger rigs, but more often than not, they don't.
If you aren't thinking you want to go under 30 feet, then we would recommend staying as close to 35/36 feet as you can.
We just stayed in the Smoky Mountains National Park and you had to be 35 feet or under to stay (you are usually OK in these spots with a 36 foot rig too).
On the west coast, the National Parks and State parks are even smaller. If you really prefer this kind of travel then going smaller makes a lot of sense.
Boondocking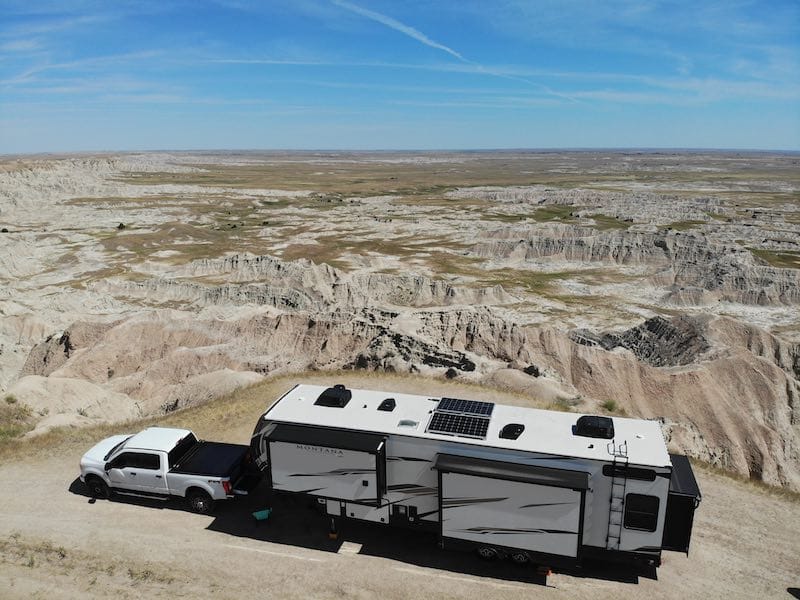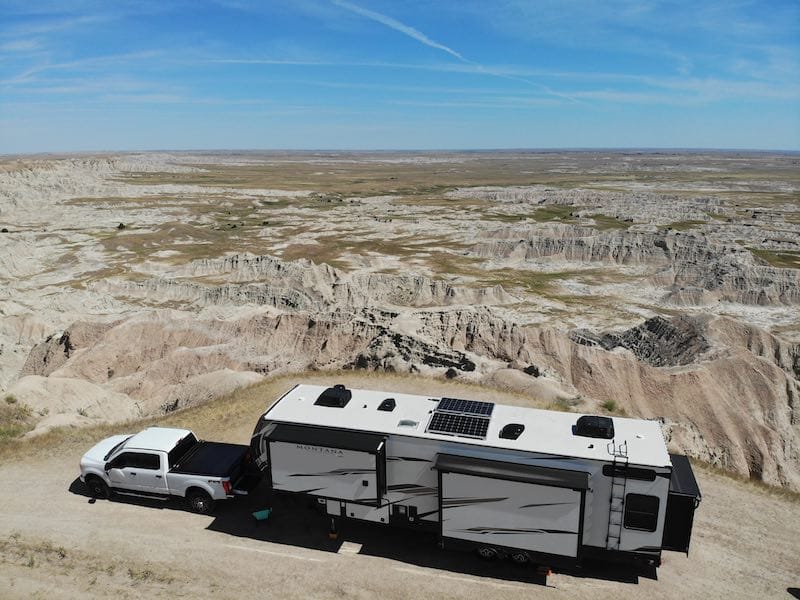 If you are interested in boondocking a lot, you can definitely do this with a bigger rig, but again you will be limited since a lot of boondocking spots are made for rigs 30 feet and under. This doesn't mean you can't find spots for larger rigs, you definitely can – but they can be harder to find. A bigger rig can have a more difficult time accessing boondocking spots since a lot of the time they are off the beaten path and bumpy to get into.
Another thing to consider if you plan on Boondocking is space for solar panels on the roof, space for more or better batteries, and does the rig have a generator. All rigs can boondock, but there are definitely things that you need to have in place in order to make it enjoyable.
Work/Homeschooling Schedule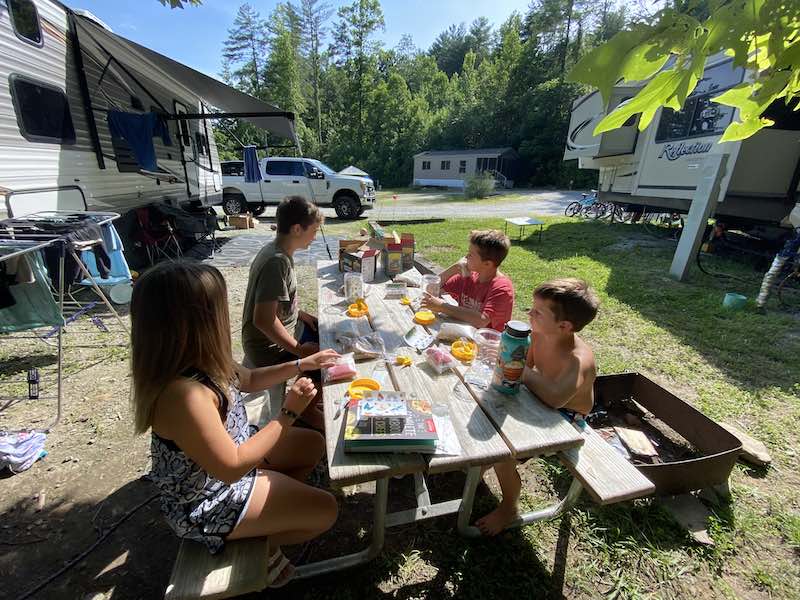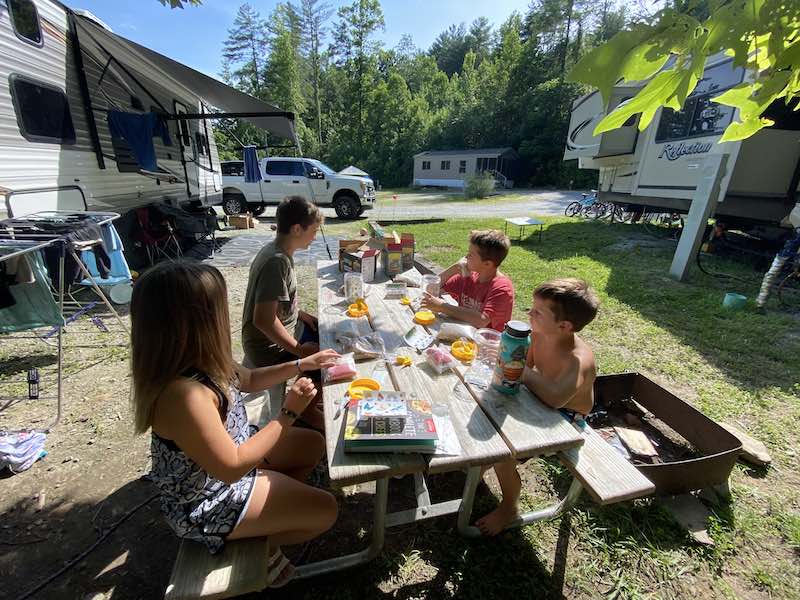 Does someone in the family have to work a 9 to 5 job? Are you planning to do strict/consistent homeschooling with your kids? Do you have a large family?
If someone in the family is working a 9 to 5 job and one spouse is home with the kids all day you will probably want a bigger rig. Unless you are OK spending a lot of time outside or having one spouse take the kids out exploring while the other is working.
Also if you need an office space and/or quiet spot for multiple calls a day, then a bigger rig may make more sense and be more family friendly.
Same goes for if you are going to be doing a very consistent and strict homeschooling schedule and potentially have a lot of books and supplies. More room is very helpful for this.
If you plan to travel faster and you don't have as much of a work restriction and plan to unschool or have a more flexible daily schedule, a smaller rig may work better.
Where To Buy Your Family RV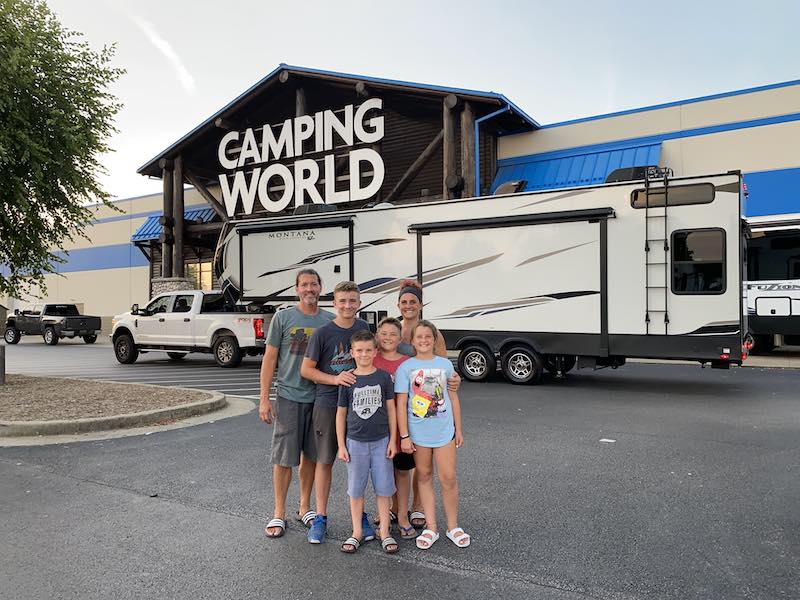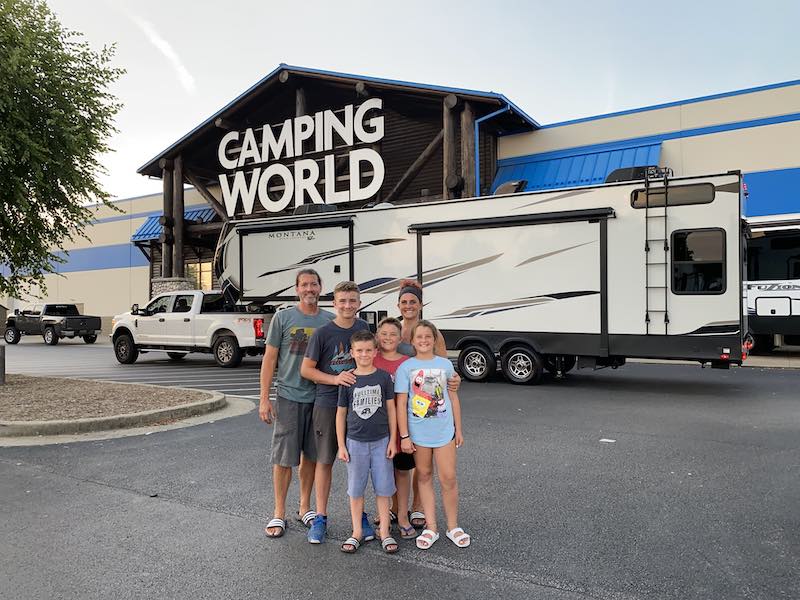 A couple things to think about when you are picking where to buy your RV from. First, ideally you purchase from a place that also offers RV service because, lets face it, things break on RV's and you will have to bring it in at some point. Second, picking an RV dealer that has locations around the US is great because when you need service on your trip going to the same dealership you bought it from while away from your home is a great feeling. This is especially important if you are going full-time. Who knows where you will be when something goes wrong.
We have purchased our last 2 rigs from Camping World. Before that we bought two via RV Trader/private sale, one via a small RV dealership (this did not go well) and the other one at a local dealer near our hometown. Then for the last 2 we went to Camping World. We did this for a few reasons.
One, we like that Camping World is a one stop shop for all your RVing needs. They really have everything you would ever need for your RV as well as so many cute RV themed cups, rugs, table clothes, etc!
They have a smooth and easy trade in process which we have used both times. Seriously it was so easy – basically get a quote on your trade in value just by filling out a piece of paper (no need to bring the rig in). Then when it is time to trade it in you sign a few papers, bring the RV in move your things from your old RV to your new RV, give them the keys and you are done!
We have also been very happy with their sales team each time we have visited (we have been to multiple locations on our travels). Their prices are usually competitive compared to what we find online and other places. They almost always have a very large selections of RV's and their websites are pretty up to date with their inventory.
Based on our experience we would recommend buying an RV from Camping World.
Cargo Capacity
If you take anything away from this please let it be this – know your weights! Cargo Capacity is the amount of weight your rig can handle for all of your things, water, tanks filled, etc. We have come to the conclusion that for RV living especially full-time travel with kids you want as close to 4,000 pounds cargo capacity as you can get.
Take note that this is not easy to find in towable rigs. For Class A's/C's it can be easier. Our current rig has 3,700lbs cargo capacity. . . yes we would have preferred a few hundred more but figured we would make this one work.
You can try to tell yourself you don't have that much stuff or you will just get rid of things, but please believe us when we say the weight piles up quickly! Even just a trip to the grocery store adds a couple hundred pounds. Clothes weigh more than you think . . . and outside gear can get heavy.
In any case we highly recommend aiming for 3500-4000+ pounds for Cargo Capacity if you will be going full time in the rig – and don't forget to take this into account as you find your tow vehicle if you are going with a towable.
If you plan to just use it for weekend and vacation travel this won't be as important, but for safety reasons, definitely something you want to keep in mind. Take note even if a rig has a lot of storage space it may not have a high cargo capacity – check those weights!
If you do plan to add solar and a boondocking setup don't forget to take into account how much the panels, batteries and generator will weigh. I told you it adds up fast!
Age Of Kids
I do think the age of your kids can be a factor in picking your rig. When kids are little they just want to be around you anyways and you normally have to keep an eye on them so having a small space is fine.
Same goes for sleeping – they are usually heavier sleepers or sleep for longer stretches so if they are close to their parent's bed it is OK.
As kids get older they definitely want more room to spread out, set up their own decorations, computers, etc. They also tend to sleep less or stay up later and parents usually prefer more privacy to curious ears and eyes!
That being said if this is a vacation rig or you are just doing a year long trip, then all the kids really need is a place to sleep. They will adjust to everything else.
Also kids are very adaptable, so they will handle things better than the parents and will be able to adjust to the space.
Amount of Kids/Guest Visitor
If you have a lot of kids or planning on having a lot of guests/visitors in your rig you may want something with more space. As an example if we only had 2 kids we would have a smaller rig. Having 4 kids means we need more beds and just overall more space in our living area. Yes, we have had really small spaces and made it work, but most people with a bigger family thought we were crazy.
If Grandma and Grandpa plan to visit and stay in your rig or other relatives and friends, you will want to make sure they have somewhere to stay. It can just be a fold down couch/sofa bed or table, but again something to consider.
Comfort of Driving
Before getting a massive rig or deciding between towing or getting a drive-able, you will want to consider your comfort level with driving. Towing something, especially a trailer is not easy and can be a learning curve. If you are someone who has already done it a lot or doesn't get stressed about situations like this you will figure it out.
In our opinion a Class C motorhome is the easiest to get use to – since it is more like driving a truck down the road than any other option. But if you get a 35 foot Class C it may not feel this way. Craig enjoyed driving the Class A RV – except for the fact that it was so big so you couldn't just randomly stop somewhere very easily.
From a towing perspective he would say a 5th wheel is definitely way easier to tow then a trailer! So if you want something longer than 24 feet, then he would recommend a 5th wheel hands down.
Not A Home
You can (and should) give up some things to get the rig you want. Do you need 2 bathrooms? Do you need a big bed? What are your essentials? What do you really need to have. We think a 36 foot rig with 1 bathroom is a better choice than a 42 foot rig with 2 bathrooms.
This is not a home so it won't have everything, but that is 100% OK and we can promise you – you will adjust! So put together a list of your must haves and the reevaluate and determine what is really a must have and what is a nice to have. Be strict about it and set realistic expectations. Being able to travel the way you want and get into the places you want to is way better then having everything you need in your rig.
Note that all of the above can change while you are traveling. Especially if you plan to be on the road for years. Hence why we have been in 5 rigs since going full time. When we started, we wanted more space as we moved from a big house to an RV. Then after that we wanted to go smaller to be able to travel easier to the places we wanted to go and not be limited by size. Then we wanted to go back to having more space as the kids got older.
Below we share the rigs we have been in and the benefits and downsides of each.
1st Rig (non-full-time) – 29 Foot Jayco (Class C)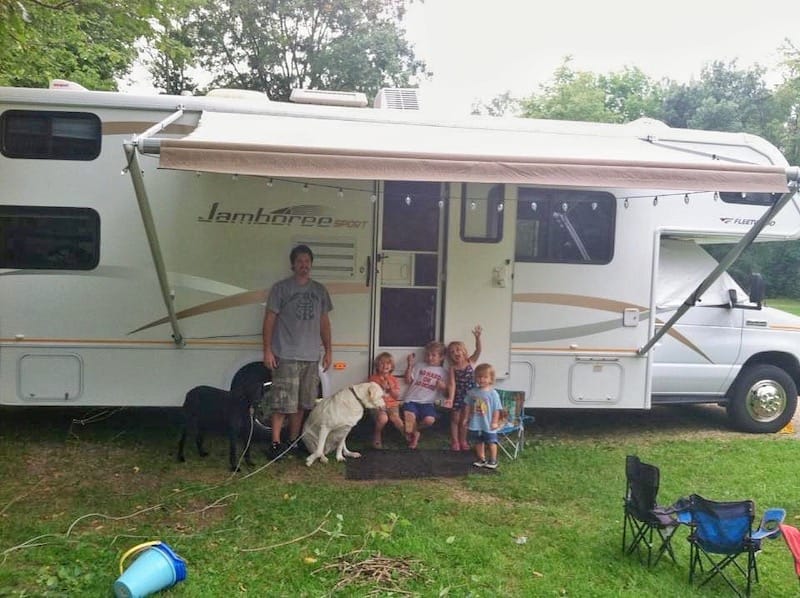 Before we started traveling full time, we had a 29 foot Jayco Jamboree Class C. It had 4 bunk beds in the back, but no slide-outs so when we decided to go full time we thought we needed something bigger. So we sold that one and bought a 39 foot Class A Diesel Pusher.
This rig was great since it was on the smaller size and we could easily get around places. Plus a Class C is much more like driving a pickup truck or big van, so it was a good first rig to have.
2nd Rig – 39 Foot Newmar Diesel Pusher Motorhome – 3910 Kountry Star (Class A)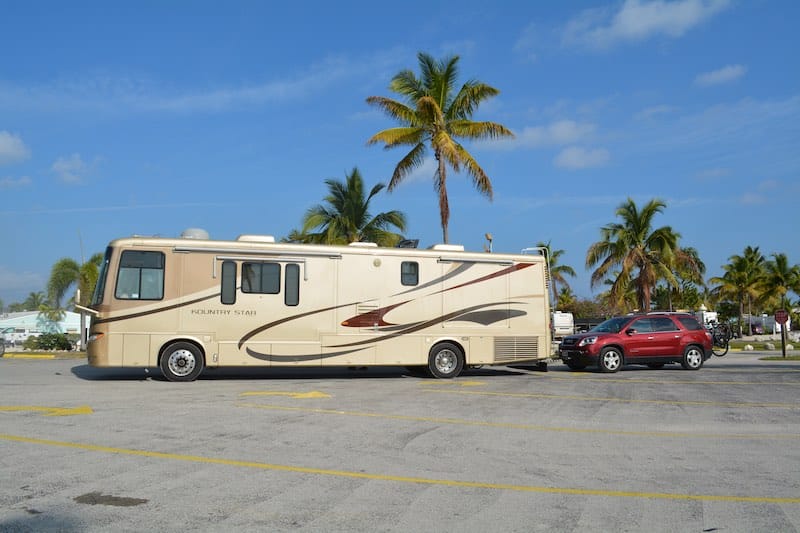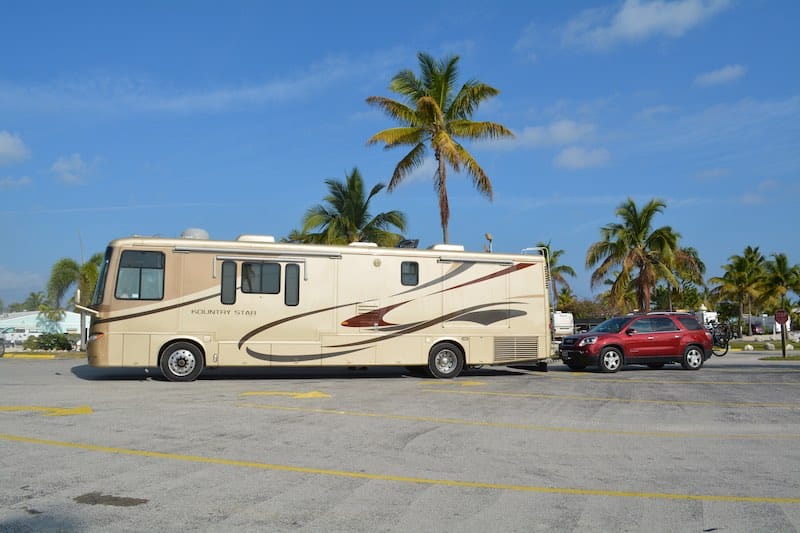 When we started full time travel we had a 39 foot Diesel pusher motorhome (3910 Newmar Kountry Star) and we actually remodeled the back room so that all 6 of our beds were back there and everyone had a sleeping area. At the time the kids were 6, 4, 4 and 2 so this worked out great! Mom and Dad just shut the door and used the living room for private space at night :).
It was really nice to have a big rig and we definitely didn't realize some of the really nice things about it and how high quality the Newmar was – until we sold it! The RV had 4 slide-outs so it was huge once we opened it up. Plus it had a lot of storage both inside and outside. And we didn't have to worry about the cargo carrying capacity at all!
You can check out that rig here:
Benefits of a Class A Motorhome:
Drive days are really comfortable!
If someone had to go the bathroom we could just go (minus Craig who was driving). This was great – especially with younger kids!
You could just grab food whenever you wanted. No need to pack snacks for the trip.
The kids had a huge TV / entertainment center to watch movies on while we were traveling.
Storage
The Diesel Pusher has a lot of power and is built like a semi so we didn't even have to think about the cargo capacity.
There was a lot of storage and cabinets in the rig.
There is a ton of pass through storage in the basement of the rig and I mean a TON. You just don't get that in towables.
We could tow a regular car/SUV versus having to have a big truck.
Downside of a Class A Motorhome:
We were very concerned about if something broke it would be really expensive to fix.
Drive days were easier, but securing car seats wasn't ideal . . . we did have a seatbelt for each seat, but definitely not as secure as in a car/truck. Plus you had to move the carseats in and out from the car to the rig on travel days.
The layouts are limited given it has to be able to drive. You really can't find any with 2 bedrooms or even regular beds for 6 people (unless they are huge rigs).
We really enjoyed the space with the rig and all of the benefits, but we started not liking being so big as we were driving down the road. We were basically the same size as semi trucks! Which made making random road side stops if we something cool either wasn't possible or was very stressful.
Also when towing a car you can't really back up … so you don't want to get stuck in a situation like that. Or you may have to unhook the toad vehicle in the middle of the road so you can turn around
3rd Rig – 23 Foot Winnebago View 23J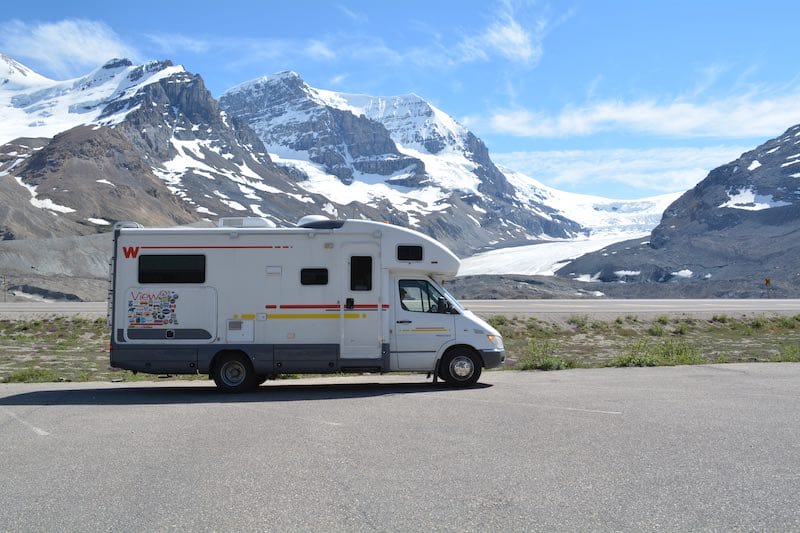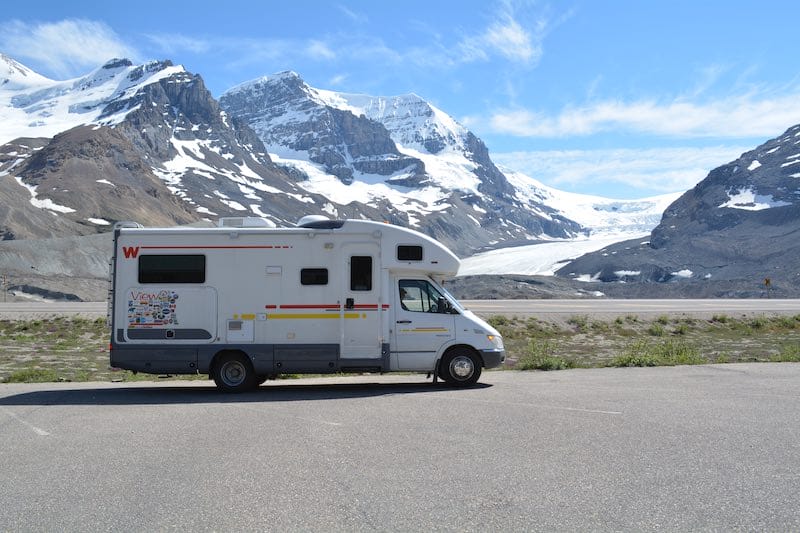 We decided to give downsizing a go and went for a 23 foot Winnebago View Class C for our next rig. Yes it was really small especially for 6 people and 2 big dogs! But we were anxious to get smaller and to try traveling without a car.
Here is that rig:
Benefits of a Class C:
You get the extra space above the driver area which makes it almost like 2 bedrooms.
When driving it it feels more like a regular truck. This is the only rig I (Bryanna) have driven on the highway.
We were so small we could fit into a parking spot at the grocery store.
Downsides:
Cargo Capacity – we had to take into account not only our things and water and gas, but also us since we would be driving in the rig. There just wasn't enough cargo capacity in the smaller one we bought.
I didn't like how the car seats had to be installed. They were just at the booth in the rig. They did each have a seatbelt to secure the seats in but not as secure as in a car/truck. And we had to move them in and out when we got to places so we could use the booth area.
Part of why we switched to this one was to avoid major repairs . . . well right after we got it we ended up having a lot of issues. This pushed us to switch to a new rig.
Needless to say this ended up not being the right option for us. That being said we did have a lot of fun with this rig and took it up to Canada to explore Banff and Jasper and it was a great rig for that!
4th Rig – 21 Foot Micro Minnie Travel Trailer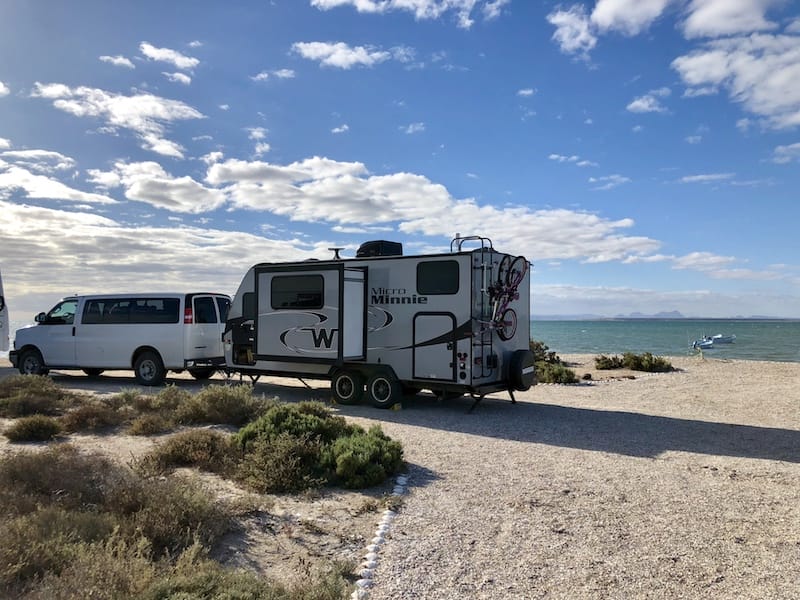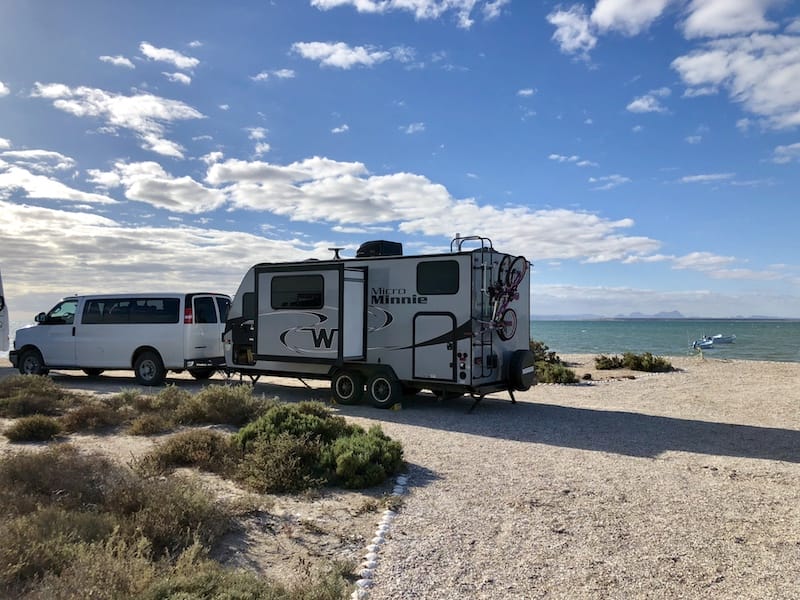 This time we wanted to try a brand new rig (after dealing with all of the issues with the pre-owned Class C) and opted for a 21 foot travel trailer and a 12 passenger van. We went with the Winnebago Micro Minnie 2100BH.
The thought was we could also remodel the van if we wanted to. And use that for off road side trips (we never did this, but liked the idea of being able to).
Right after we bought this new setup we headed straight down to Baja, Mexico! It was a great setup for that since we were so small still. It was easy to get to any of the places that we wanted to go. And at 21 feet we fit into all of the RV parks down there.
Here is the rig:
The Van was a 12 passenger Chevy Express 3500 (6L).
Benefits of a 21 foot travel trailer
Even in just 21 feet we could get a decent layout for our family in such a small space.
Car seats were now properly installed and secured in the van.
We were still small enough to be able to easily fit into grocery store parking lots and anywhere we wanted to go.
It was great having the big 12 passenger van for our vehicle. We could use it for storage and there was a lot of room for the kids to spread out. Plus we could take a few other people along with us when we went places.
Having the smaller trailer meant the van could easily handle this size rig. This is probably the least stressed that Craig has been while driving any of our rigs.
Downsides:
It was really small so there wasn't really anyway to comfortably all hang out inside. Which was actually fine with us and we spent a lot of time outside. If the weather is right and there isn't a lot of rain this is great!
This was a great setup for a lot of reasons. Then a few people in the family started to outgrow it. Craig wanted a bigger kitchen and more space and Carson our oldest just wanted more room. It all made sense so we made the decision to move to a 30 foot trailer.
5th rig – 30 Foot Jayco JayFlight 267BHSW Baja/Rocky Mountain Edition Travel Trailer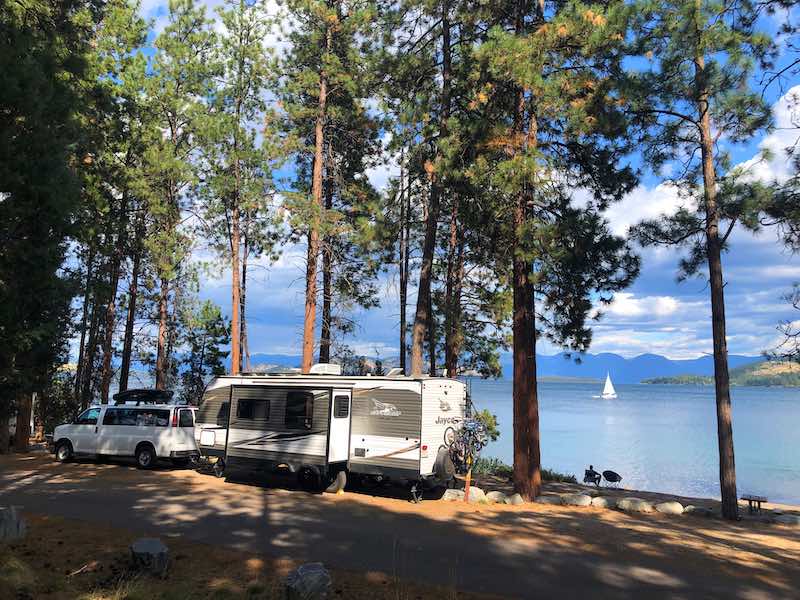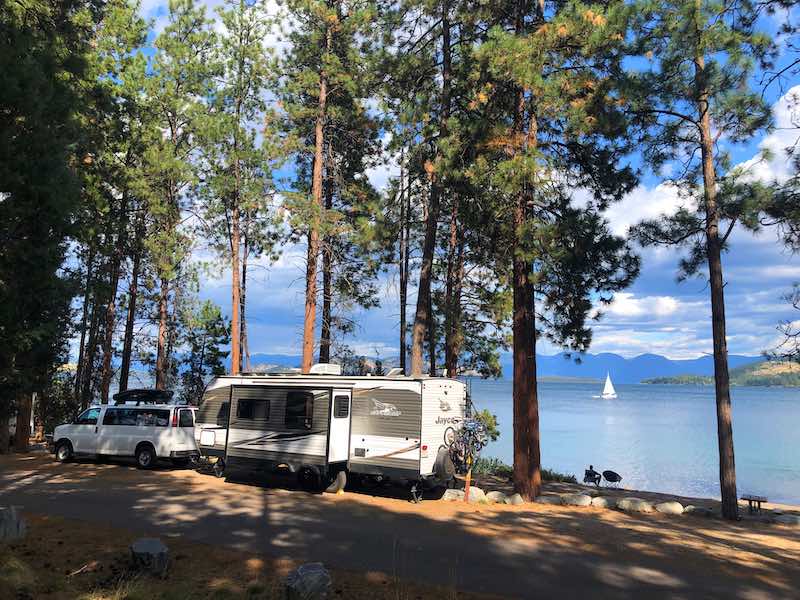 We didn't want to go the 5th wheel route. We were hoping we could keep the van and use that to tow trailer. Our choice was a 30 foot Jayco 267BHSW Baja/Rocky Mountain Travel Trailer. Unfortunately we quickly learned that wasn't going to be the case. The van really didn't handle the 30 foot trailer well at all. . .
Here is the 30 foot trailer we went with:
Towed it with a 12 passenger Chevy Express 3500 (6L).
We wanted this one since it had the higher suspension and bigger wheels. So we could easily take it boondocking and off road. The Minnie Winnie was really low to the ground so we were excited about this!
Benefits of the trailer:
The inside layout was really nice. It had a bedroom for Craig and I and then a full size double bunk for the kids in the corner. You could really fit a lot of living space in the trailer.
It is cheaper than a fifth wheel or motorized rig.
Downsides:
It wasn't super durable inside – which is a problem with kids.
The Cargo Capacity was no where near what we needed it to be. So even though it had space for all of our things, weight-wise it couldn't handle it.
We couldn't safely tow it with the van so we had to get a truck.
Towing a 30 foot trailer was the most stressed that Craig has been with driving any of our setups. This could have been due to the higher suspension, bigger wheels and regular Goodyear Wrangler off-road tires giving it a higher center of gravity and more prone to sway.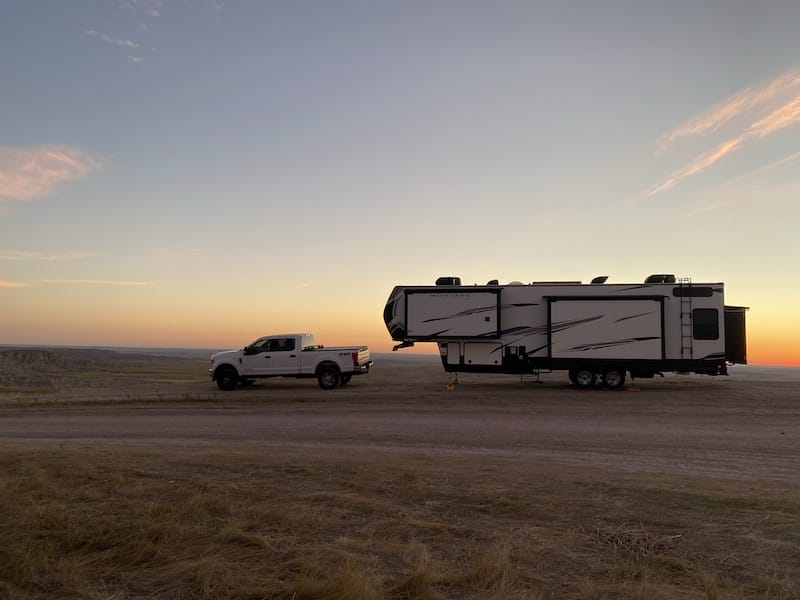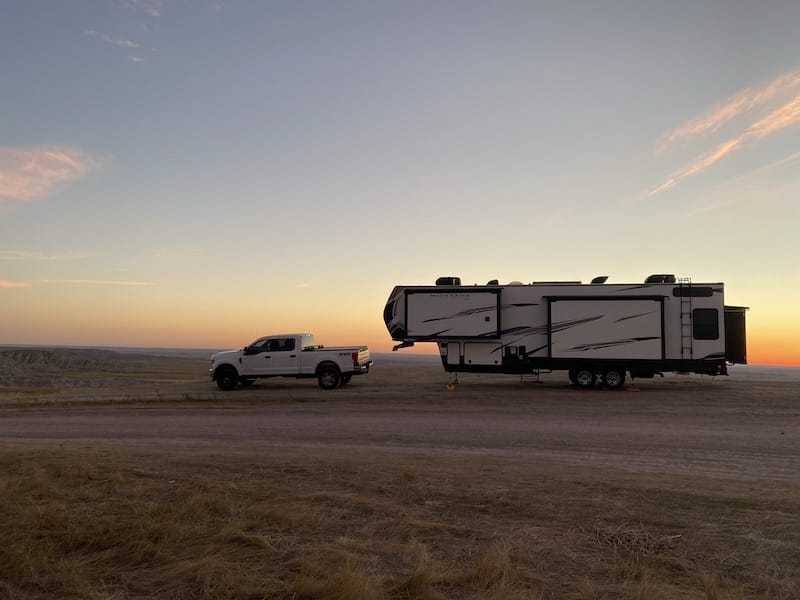 The downsides led us to want to try something else and we were excited to try out a fifth wheel! We now had the truck so that was good. We did a lot of research and knew we still wanted to stay smaller – ideally 35 feet or under. But still wanted a bedroom space for the kids.
We came across the Montana High Country 335BH and it was a great fit! 36 feet long with a slide-out in the back to make a small bedroom for the kids. Plus a loft area. And we would have a king sized bed! It meant the sleeping capacity was great for a big family.
With just being at 36 feet and part of it going in the truck it really didn't make us that much longer then the 30 foot trailer so that was an added bonus. We also heard it was much easier to tow then a trailer.
Benefits of the 5th wheel:
Much easier to tow than the trailer. Craig couldn't believe how much easier and better it felt!
Has a very good layout with a big fridge, 2 bedrooms (master bedroom and a rear bunk), loft area and big living room area. 5th wheels lend themselves to more of an apartment style layout.
We intentionally got one that had a cargo capacity between 3000 – 4000 pounds.
Comfortably sleeps all 6 of us.
Downsides:
It is still 36 feet. So this isn't really a downside perse, but there are times we miss having our really small 21 foot trailer just because it was so easy to travel with!
We don't have a bathroom in the truck. So having to stop when people have to go to the bathroom can be annoying.
We can access our fridge when the slide-outs are in. But not the cabinets so we have to do some pre-planning for travel days.
Here is a walkthrough of our rig (that we did remodel a few things).
Needless to say there are benefits and downsides to all of the rigs we have been in. We have come to the conclusion that there isn't a perfect rig for full time family travel. However, there are good things to take into account and to think about. So you can get the right rig for the season of travel and life that you are in.
When we went looking for our 6th rig, we put together a list of our must haves based on all the experience we had from the last 5 rigs. Here is what we came up with (for a family of 6 with 4 kids ages 12,10,10 and 8).
Our Must Have List For Our 6th Rig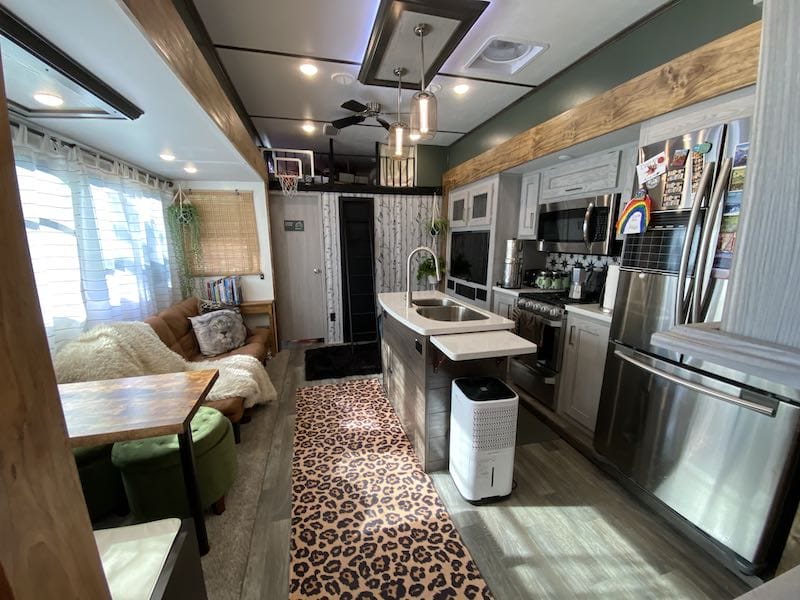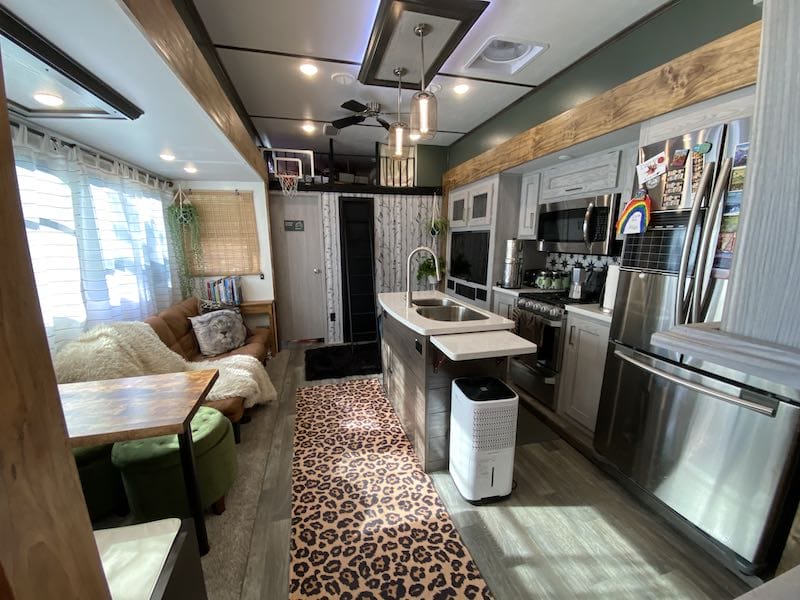 Please note this list was VERY different from our first year of travel and is definitely now a lot of choices based off of 6 years of being on the road and being ready for more space and more luxuries. If we did this list when we first started then the only thing that would be on here is Cargo Capacity :).
Below we share the RV features we were looking for this time around:
BIG Fridge
In all of our years on the road we have always had an RV size fridge. Yes it was doable, but, yes, it was annoying too. For this one we knew we wanted to give a big fridge a go and let me tell you it is fabulous :).
Cargo Capacity
We know we wanted a cargo capacity of 3500 or more. Ideally this would be 4000 or more, but you can't really find those in the size we were looking for.
Had to be in the right weight range to work with our current truck – we didn't want dually.
Kids Room Area
A bedroom area for the kids where they could setup their computers and gaming systems. When our kids were little I didn't think this was as important at all. They were fine playing in the common space and preferred that.
As they have gotten older and got into gaming, they really wanted a space where they could setup their systems and leave them setup. Versus setting them up at the kitchen table and having to take it down every night.
P.S. we have been on the road for 6 years so this is life to us. If you are planning on only being on the road for 1 year, I don't think you need to worry as much about a gaming space or separate bedroom area for the kids.
Kids beds
A separate bed area for each kid that they could decorate and have as their own. From a sleeping perspective our kids had no problem sharing a bed and I think they do miss it now. It can be lonely sleeping in your own bed!
But from a "my" space idea and freedom to decorate how they wanted to it is nice that they each have their own space. Our daughter definitely cares more about this than the boys though.
A few things we knew we didn't want were an outdoor kitchen – we would much rather have that used as sleeping space inside. I know a few people who have an outdoor kitchen that they love. But it seems like most would be fine without it. We also weren't interested in theater seating or a setup like that. Since we knew we would be most likely taking the couch out anyways.
Things To Keep In Mind
Here is a recap of the top things we think you should keep in mind when you are looking for the right rig for your family:
Cargo Capacity
This is HUGE for full time travel. We can tell you that with 6 people in our family, our stuff plus water and sewer (yes sometimes we travel with these empty, but there are also a lot of times you need water or weren't able to dump – like when we are boondocking) you will want to have a Cargo Capacity close to 4,000lbs. Your stuff weighs more than you think (this is pretty much everything you own when you hit the road). Things like groceries and water weight add up really fast.
This is why a motorhome may be a smart option for your family as well. Since they usually have a higher cargo capacity – especially diesel pushers.
Travel Style/Rig Size
Give this some thought before making your choice. The size of your rig does matter and can impact how you travel. Don't just get pulled in by a massive floor plan you see at the RV dealership. Yes it looks great just sitting there. But when you are towing it down the road or looking for campsites you may not like it as much…
Have this conversation with your family to really determine what the goals are when you hit the road. How do you want to travel, what will daily life look like, what will work life and homeschool life look like?
Towing Vehicle
Your towing vehicle has to be able to handle your rig weight-wise. If it doesn't, towing will be super stressful, dangerous even, and you don't want that! Learn everything you can about weights and what your truck can tow. This is actually pretty complicated and it isn't just one number.
You need to know the tongue or pin weight, the truck GVWR, truck axle weight ratings, the rig weight and probably something else I am forgetting. Take your time to really understand this BEFORE you buy your truck or rig. So you aren't limited in either way on what you can get. People have said it's a good idea to find the rig you want first. Then you know exactly how much it weighs before getting the tow vehicle for it. Then you can get the tow vehicle that is right for your rig.
Food storage
We went for 6 years with a regular size RV fridge it is possible but can be annoying. Your call on how you want to handle this. We also have a big pantry now for dry food storage. This is great and something we haven't had in a while!
Sleeping
Our kids have shared beds for a long time and it was fine. Now that our oldest is 13, we are hitting the phase where we feel it is more important for him to have his own space. But really he had no issue sleeping in the same bed with his little brother. A lot of times we would find them snuggling in bed in the morning :). So we didn't really have to do this for that reason. And I actually loved how sharing a bed made them all closer!
Extras that are really nice to have, but not decision making things:
Please note I would not recommend any of these if it meant we had to be 40 feet long. Being smaller and the flexibility it gives us is so much more worth it to us! But there are some RV accessories that are nice to have!
Washer/Dryer
We went years without one and it was fine. But it is nice to have one!
Fireplace
I NEVER would have said this is a nice thing to have and thought they were wasted space. Now that we have one I LOVE it when there are cold nights or mornings!
Other rigs to check out are the Keystone Passport, Aspen Trail, Open Range. There are a lot of different brands out there!
All in all, we don't think there is a perfect rig for full time family travel. Instead there are the right choices for the different seasons you are in for traveling, age of kids, work/school life, etc. Also remember this does not need to be your last rig. You can see we have changed multiple times :). It is better to pick something and get on the road then let this hold you up from getting on the road.
Pin This Post For Later: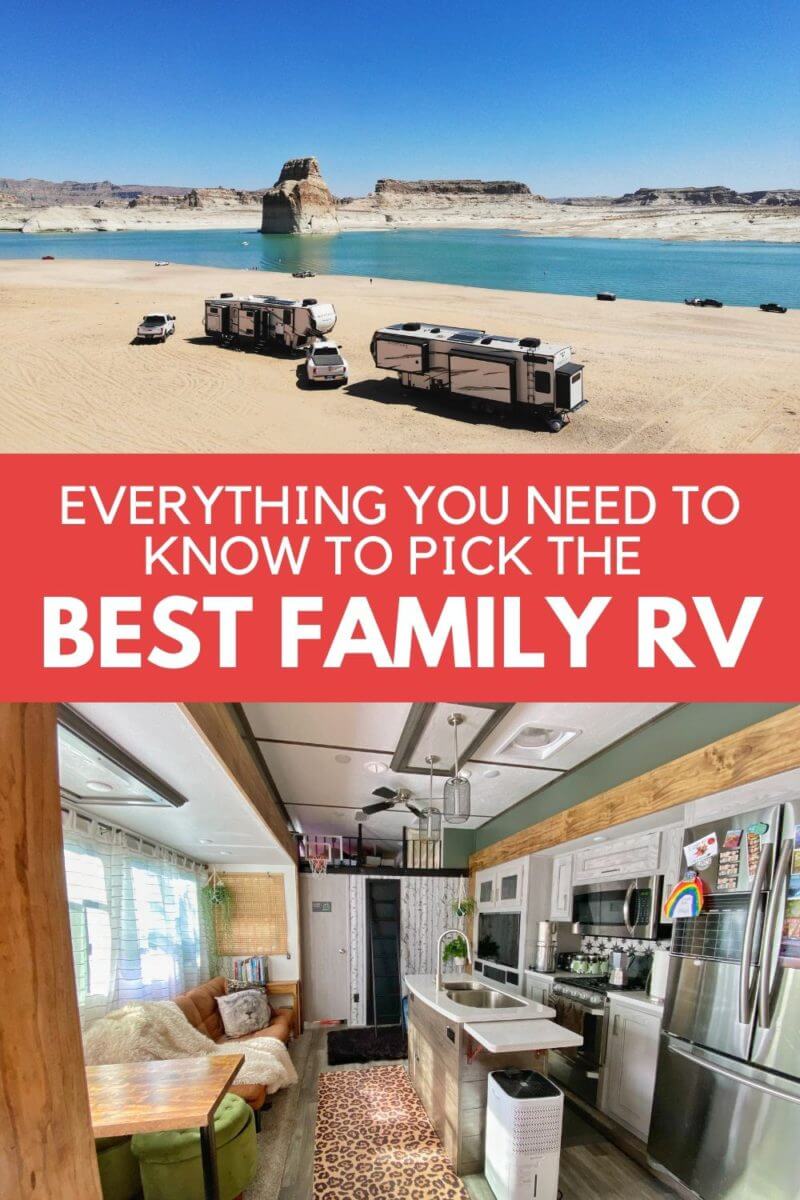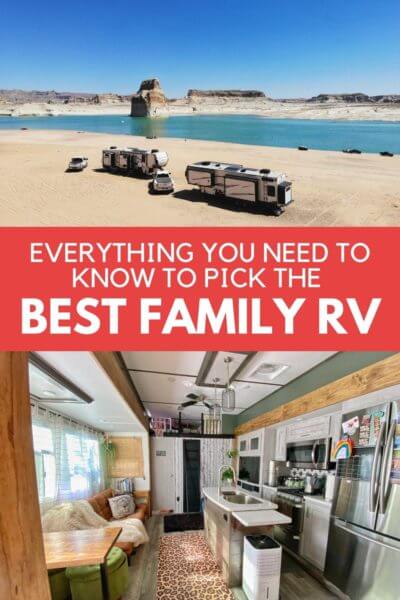 DISCLOSURE: This post may contain affiliate links, meaning I get a commission if you decide to make a purchase through my links, at no cost to you. Please read my disclosure for more info.