Whenever we buy a new rig we like to make it our own. With traveling in it full time it is our house on wheels so we want to make the RV feel like home. Normally we take months to do an RV remodel. But when we made this switch to a travel trailer we were ready for it to be all set ASAP. So 2 weeks later, lots of orders from Amazon and trips to IKEA we have remodeled our new rig into our home!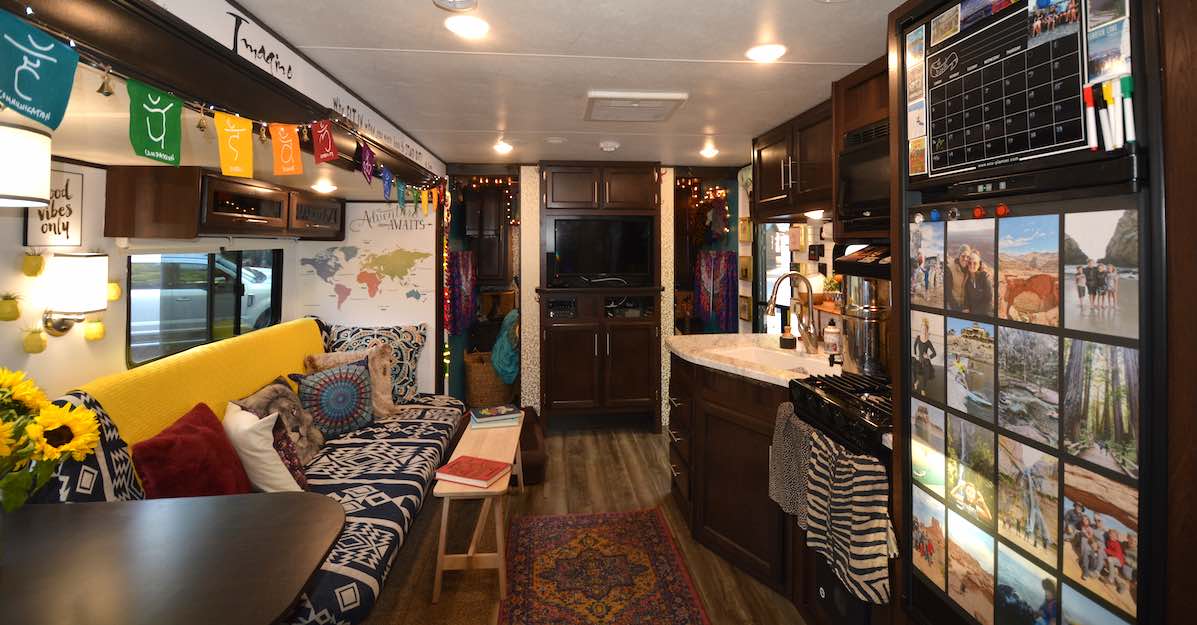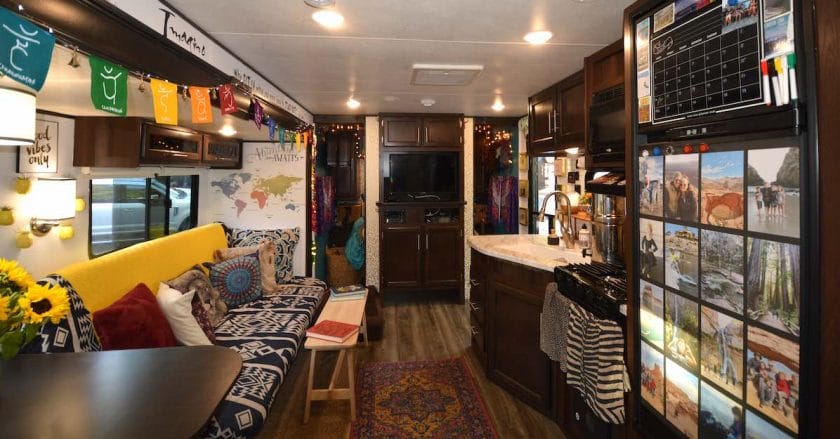 Below we share pictures of our RV makeover and also affiliate links to pretty much everything that we bought to remodel the rig. We did it all for under $2000. We weren't really trying to save money or keep the budget under any certain amount and definitely had some just for fun purchases that made the total go up. . . but we are happy with the outcome!
Luckily since it was a new rig and didn't have any water damage or things like that to fix we could just jump in and have fun updating the RV interior. We did a lot of research online for remodel ideas and looked at a lot of RV renovations to decide what we wanted to do with ours. Here is a step by step guide on what we did for our remodeling projects on our 2019 Jayco 267bhsw Baja edition travel trailer.
Before and After
We will kick it off with before and after pictures of the rig before breaking it down into detail for each section of the rig and what we did.
Kitchen: Before and After
Living Room Before and After:
Bedroom Before and After
RV Before and After
Kitchen
Backsplash
Pin This Post For Later:
Video of Finished Travel Trailer Remodel
In our last rig we did a bohemian tile backsplash which I really liked. But this time around all the RV remodel pictures that were callin my name were a much more white and basic look. My husband is also a fan of this so we went with a [easyazon_link identifier="B07BHKPTD3″ locale="US" nw="y" nf="y" tag="crazfamiadv05-20″ cart="y" cloak="n" popups="y"]white subway tile[/easyazon_link] look.
We purchased the white stick on tiles from Amazon and got to work removing the old backsplash and adding these tiles on. The hardest part about doing this in an RV is that none of the lines in the trailer are actually straight . . . everything is off by just a little bit.
Yet when you are installing tiles you want everything to line up! Please don't look that close at the picture – from afar they look great but upclose I can notice everything that is off . . .
I bought 2 packs and thought I would be good to go. Of course not. I ran out so had to order a 3rd. Note: Always order 1 more then you think.
The tiles went up fairly easily thought some of them are coming off a little bit now. Maybe since I put them on and took them off to rearrange them too many times . . . but I just keep repushing/sticking them on the wall and it is all good.
Click the image to buy on Amazon:
Sink Window
One of the things I really don't like about RV's is those window valance things. It takes a away from the view out the window and they are just so big and bulky. Those had to go ASAP. Plus the shades that come with the RV always break so it just makes sense.
We took the valance around the window down and then went to IKEA to buy these low profile shades. My sister uses them in her rig and they have been happy with them so figured we would give it a go. So far so good!
Area Behind Sink
Shelf behind the sink
We usually move at least once a week. So everything in our rig needs to be functional and able to easily be locked down when we move. I saw a picture with a shelf across the kitchen window and loved the way it looked and the idea of having plants in our space.
I found a shelf on Amazon that was about the perfect size. I am not sure if the wood color really works but for now we are going with it.
I haven't secured it down to the counter yet but may do that with some mounting tape in the future. For now I like the flexibility to move it around back there based on if I want to put a bottle of wine back there.
Succulent Plants
I knew if we did plants they needed to be easy to maintain. These succulent plants are perfect! I love the bohemian feel of them! We went to Home Depot and my daughter picked out which plants we should get.
I really like the way they look and they are holding up well.
Globe
We travel fulltime so the globe has a strong appeal to us. We use to have a big one in our old house but obviously now we don't have room. This small globe was perfect!
Picture Frame
I haven't been good over the years in including pictures in our decorations but wanted to change that this time around. This cute little frame was from IKEA and fits perfect up there. You can even see the picture on the other side through the window.
Essential Oil Diffuser
I love this diffuser and it fits perfectly on this spot. I really like how you can smell the oils right when you walk in the door. Plus it can be a nightlight at night for the kitchen area.
Light Up Sign
Total random purchase but every time I see these in Target I love them so I got one. Not sure it really works here but it is what it is for now :). Here is a similar one you could purchase on Amazon:
Travel Days
On travel days I take everything off of the shelf and put it in the sink and for now store the shelf underneath the dinette. It isn't too much of a hassle so I am OK with the fact I have to move it every time we travel.
Area By Stove
Spice Rack
In other rig we had a huge spice rack and it was so nice to have. However we realized we only use a few of the spices. So this time we opted for a smaller spice rack. We also got some of these glass containers so we can transfer our salt and pepper into them and everything fits great.
Basket
Behind the stove we wanted a basket where we could easily grab the things we use a lot, coffee, sugar, oatmeal. This basket fits perfectly and theses containers are the right size to fit within the basket.
Check out this post for more tips on RV Organization.
Flour
We also bought a flour container that isn't really a flour container (all the real flour containers were to big for the spot) but fits in the spot next to the basket. It has made accessing all of these things for making pancakes and other things very easy!
Click the image to buy on Amazon now:
Berkey
We have had a Berkey since we got on the road and highly recommend them to everyone! Ours sits perfectly right on the edge of the sink where it is out of the way but accessible by us and the kids.
You will LOVE your Berkey!! Order one today!!
Coffee
We have been making coffee with one of these contraptions for years now. The coffee tastes so good and has the perfect amount of caffeine so we normally only have 1 cup a day.
Sign up to receive our top 6 RV Remodel tips:
Cabinet Shelves
RV cabinets are always so big so you need a cabinet shelf or 2 to make the space more functional. These ones always work out well and are pretty sturdy.
Fridge
I can't tell you how excited I was when I found out our fridge was magnetic!! We haven't had a magnetic fridge in any of our rigs. I wanted to update the boring black so I ordered this peel and stick picture collage from Walgreens and it turned out great! Plus the fridge is still magnetic so we can stick up the kids artwork or any important documents we want on the fridge.
I went with a 24X36 size and it wasn't a perfect fit with the fridge so we did have to cut the sides off. Note: When adding pictures push them more towards the middle and make sure you won't be cutting anyone's head out of a picture when you put it on your fridge! Also get the black background to match your fridge. Then you can't tell that the size isn't quite right.
Magnetic Calendar
For the top of the fridge we did a [easyazon_link identifier="B01MUVU5Q7″ locale="US" nw="y" nf="y" tag="crazfamiadv05-20″ cart="y" cloak="n" popups="y"]magnetic calendar[/easyazon_link] so everyone can easily see what date it is. The markers are also magnetic so everything is right there. It has been great!
Then we surrounded the calendar with magnets we pick up when we visit National Parks and Cities on our travels!
Envelope Holder/Key Holder
It was so annoying when we first got in the rig and there was no where to put the keys! We actually took the envelope holder from our old rig and mounted it pretty much in the same place and it is a great place to hang our keys and to put the campground map and other important documents we want to easily have access too.
The exact one we ordered is no longer available. But this one looks very similar.
Door Area
There was a good amount of white space around the door so I wanted to figure out how to fill it :)! This is what we came up with.
Time Zone Clocks
I wasn't sure what to put above the door and then my sister recommended doing timezone clocks after I said I didn't want to do a clock since we move across time zones so often so it would be annoying to have to change it.
Enter the time zone clocks! I got 4 6 inch clocks and now we have the time showing for each timezone in the US. I labeled each of them with a city that the kids know in that timezone. I love the way it looks and they have had so much fun seeing the times in the other locations.
I hung them up with these [easyazon_link identifier="B00U9Q7INC" locale="US" nw="y" nf="y" tag="crazfamiadv05-20″ cart="y" cloak="n" popups="y"]Command hooks[/easyazon_link] so that I can still take them down and change the batteries when I need to.
I ended up purchasing mine from Target. But you could get something similar from Amazon.
I also got the gold letters from Target and you could check it out there or order something similar on Amazon (click the image to check it out on Amazon). Just be sure to measure your space and make sure you get the right size letters:
Decorations
We were at Target looking for something else and came across these fun decorations! I love animal print and they were gold and had a pineapple one. I did not initially start out with gold as a prime color and with pineapples as part of the theme but it basically evolved into that and I love it! Animal print, Gold and Pineapples!
One of the fun things when you are doing a remodel is your head is focused on what you are doing so when you are out and about you come across random things and then figure out YES that is perfect! So always be on the lookout and know things will ebb and flow as you find stuff that will work.
Check out this great post if you are looking for RV organization tips!
Living Room
We wanted to have a Bohemian feel in the living room but also a clean feel so we went with white walls.
Paint
Craig painted the walls with this color using the Behr Marquee Paint: Swirling Water. It is amazing what a coat of paint can do to a space!
Futon
Who buys a brand new rig and then takes the couch out . . . yup we did just that. Those RV couches just aren't very comfortable or big – it was pretty bulky with the arm rests which took away space for sitting. And the bed was awkward.
Tape measure out and off to IKEA we went. Nothing we found lined up perfectly and ideally we wanted something with a chaise lounge setup at the end that would work as a bench at the table. But we ended up with a huge Futon that we are really liking.
You can still sit at the end of the futon and use it as a bench for the table. Then the bench we bought for the table (that doesn't fit there) we are using as a coffee table. It is working out great!
Eventually we may take out the other booth and move the table over so we can have 2 benches and the table but for now we are good with it how it is.
Blankets
In the living room area I really wanted to go with a Bohemian look. So what does that mean? Lots of pillows and blankets! We got this huge blanket to cover the whole couch. Adds a touch of style and keeps the couch clean.
Click the image to order on Amazon now:
Yellow Blanket
Then we got this yellow blanket because Bohemian = lots of blankets 🙂
Pillows
Then we got all the pillows! On Amazon you can buy the pillow cases and then the pillows separately so we did that for a lot of them.
We got a large pillow and pillow case.
Then 4 18X8 size pillows and pillow cases.
IKEA Pillow
I saw the Lion pillow and really wanted it at IKEA so we grabbed it up.
H&M Pillow
Did you know H&M sells home decor? I didn't know that but now I do and that is where I got a lot of our pillow covers. We now have a lot of pillows!
Baskets
I got one of these large baskets to add some style and because there is always something that can go into a basket! And a small basket for the kids to play with.
Charging Station
We added a power strip below the table and a double basket to put the kids tables and phones when we want to charge them. I also got retractable power cords for their tablets and for the phones so there weren't cords everywhere! It is out of the way so works out well. I mounted the power strip to the wall using mounting tape.
Book Basket
We use a basket under the table to store all of the books so they are easy to get to. I have not idea where I got this – we have had it for a while. But possibly target?? Here is something else that would work. Just be sure to measure your space under the table to make sure it will fit past the table legs.
Dog Bed
We found this dog bed[/easyazon_link that works well for Indy and since it has a "back" it keeps her place pretty well.
Dog Food Bowls
These dog food bowls are great since they bring the food higher up to her level and ther is food storage under where the bowls are. Perfect!
Booth Blanket
To reupholster the whole booth would take a lot of money since I would have to hire someone. So instead of doing that I opted to get a bohemian style blanket and just wrap it around the booth cushions. It falls down but is doing the trick.
Art Station
We must have an art station on the table to hold the kids paper, markers, scissors. And this table top one works out great. On travel days I just stick it under the table. I picked ours up at Target but this one would work out well too.
Storage Bins
We found storage bins at IKEA that fit perfectly under the futon which works out great for storing games and extra toys. They don't fit with the lid but without they are perfect. Always remember to measure!
World Map
I loved having a huge world map up in our other rig. This one didn't have as much space to put one but I found the perfect size for the slide-out wall! You just peel off the countries or continents and stick them up on the wall. I am sure it somewhat off of scale but it is giving the kids a good enough idea of what the world looks like.
Adventure Awaits
I love this Adventure Awaits quote sticker and the idea that the arrow is pointing out the door – since yes Adventure does await!
Make sure to measure your space!
Pictures
I had a couple of our favorite pictures blown up and put into frames so we could stick them on the wall. I recommend looking for really cheap and light frames so you can easily put them on the wall with mounting tape.
Life Is For Adventures
This white space under the window kept calling out to me so I had to find something to go there. This mountain sticker was perfect! It was a bit of a hassle to get up there but I am glad I did it.
Pineapple Planters With Air Plants
I was super excited to add more greenery into the RV and check out these adorable pineapple planters! They are perfect for small air plants.
Good Vibes Only
Me and my family need to hear this regularly so we put it front and center on the wall in gold! I ordered this Good Vibes Only print and then purchased a frame to put it in.
Dr. Seuss quote
This is by far one of my favorite Dr. Suess quotes so I know I wanted it in the rig. If there is one thing I can instill in my kids this is it!
It fit perfectly above the slide-out!
Dream
I love these 3 words and love that Dream is in gold glitter! It rounded out the top of the slideout perfectly. I picked these up when they were on sale at Hobby Lobby.
Hanging Decorations
To continue with the bohemian theme I got a few random hanging decorations that we could add to the side of the slide-out. Cost Plus World Market has a great selection to pick from!
Floor Pillow
We got this big floor pillow at Cost Plus World Market as another place to sit either at the end of the table (though it is a little low for that) or just to sit in front of the TV or next to the couch. It has been nice to have. Now that I found this one on Amazon I might have to replace ours!
Twinkle Lights
Gotta love the twinkly lights! We ordered a pack of these to add some fun lights throughout the rig.
Hanging Flags
We had these in our old rig as well and I really like what they stand for so we ordered 2 sets so they could go across the whole slide-out. We picked these up at Cost Plus World Market.
Light up Decorations
Wanted to add a fun touch so went with an R for our last name and these light up decorations. And look at that the pineapple showed up again :).
Coffee Table/Bench
I am really happy we stumbled upon getting a "coffee table". It was suppose to be a bench for the dinette but we ran out of room. So it transitioned to a coffee table that gets used all the time!
Coat Hooks
We got some heavy duty command hooks that so far have held up well to hang 1 coat per person.
Leash holder
How fun is this random doggy butt leash holder. We picked it up at IKEA.
Rug
We already had pretty nice vinyl flooring so it was great we didn't have to do anything major with the floor! To keep adding some color and flare we went with a bohemian runner rug from Amazon. It fits well in this spot and for the most part stays put.
TV Mount
The TV can not swivel out which just doesn't make sense to me since you can't really see it from the couch . . . luckily Craig found a company that makes an arm and swivel for the TV that fits right in the mount we have! Check them out here.
Peel and Stick Wallpaper
I love this gold cheetah print wallpaper. I ended up having to order 2 additional rolls to cover all the places I wanted it! I also made myself not put anything up on these walls since I felt the wallpaper made it such a great accent piece.
Bedroom
It has been a few rigs since Craig and I have had a bedroom so I was super excited to decorate this one! We actually started out with the bedroom being bohemian and then it quickly fell out into the whole rest of the rig. I don't know why I tried to change it. I have always liked the bohemian look and feel.
Cheetah Print Gold Peel and Stick Wallpaper
This is the first place that the Cheetah Print wallpaper started. I have a thing for animal prints and this one was gold and available on Amazon – it was like it was meant to be!
Night Sky Peel and Stick Wallpaper
I wanted to go all out in the bedroom so we did a peel and stick wallpaper on the ceiling. This was so not an easy thing . . . don't look closely the paper is all creased . . . we hit a point where it was like just put it up there whatever!! But I do like the way it looks!
Baskets
I wanted to get matching baskets that had a variety of textures so I got 2 of these from Target and the other 3 from Amazon and they fit perfectly and we use them for our clothes.
Pineapple Hanger
Look pineapples again :). I found this at Cost Plus World Market and knew I wanted to add it to the room. It is perfect for putting my headbands and scarfs on.
Baskets next to the bed
I wanted a basket for both Craig and I to go next to the bed so we had a good place just to throw our stuff but it didn't look like a crazy mess. The baskets work great for that! I picked these up at Target. Me sure to measure your space and bring the measurements with you to the store.
Guitar Stand
We never really had the right place to put Craigs guitar so finding a guitar stand and setting it up in the corner was perfect!
Windows
The valances came down again and up went the IKEA shades and then a curtain rod around it with curtains I had made from a Bohemian sheet. I don't have a sewing machine with us so I stopped in at a dry cleaners and they were able to make them for me. This was the perfect window treatments for our bedroom!
Floor Basket
I got a huge floor basket to put next to the bed for when we don't want as many blankets on the bed. It is so nice to have a place to put the blankets instead of the floor. I picked this one up from Cost Plus World Market.
Comforter
I wanted a bohemian style comforter and this one had great reviews for being really bright and it is! It is actually a comforter cover that I just put around my old comforter. It also came with 2 pillow cases.
Pillow cases
We ordered these 2 additional pillow cases since we have 4 pillows in our bed.
Throw Pillows
Bohemian = throw pillows. So we got more throw pillows for our bed :). We basically rotate between the ones on the couch and the ones on our bed.
Christmas Lights
We went with the Christmas lights instead of the twinkle lights in here. Craig just likes them better. He bought these clips to hang them with.
Back Pillows
We got these huge back pillows and they work great for when we want to sit up in bed and read, look at our phone or watch TV. We picked these up at Target a year or so ago.
TV
There was already a mount for a TV and we ordered another one of the arm swivel things so we can bring the TV out and sit comfortably and watch it in bed at night when the kids are sleeping.
Paint
We painted the walls this fun blue color: Thai Teal – Behr Marquee paint from Home Depot.
It was super easy to paint the walls so I am glad we did it!
Bunkbeds
For the bunkbed area we wanted the kids to do what they wanted in there so they bought some posters they liked at Walmart, a white board and a peg board and so far have just decorated their areas that way.
Stuva
The 3 younger ones also have a Stuva (from IKEA) at the head of their bed where they can put all of their toys. It fits perfectly and did in our other rig too so thinking maybe that is a thing??
They have some baskets in their stuva and know that all of the inside toys they have needs to fit into the Stuva and it works out great.
Fans
We also got these battery or plug in fans. Perfect for when we are boondocking and can't plug them in. We have been really happy with these fans. Don't forget to get batteries!
Curtains
We added this bohemian fabric to their curtains to change it from the boring brown color they come in. I also brought these to the cleaners and paid them to sew the fabric on.
Print for my daughter's wall
I got this print for my daughters wall. Because this quote is awesome!
Bathroom sink area
We wanted to make this area as clean as we could. Yet have a few things really easy to get to that everyone uses every day.
Basket
We have a basket on the counter that keeps all of the things we want easily accessible. Brushes, hair gel, lotion, etc.
Nightlight
It is the perfect spot for a nightlight by the kids bed. I found this cute one.
Mason Jar Soap Dispenser
To match the nightlight I had to get the mason jar soap dispenser :).
Be You, Be Bold, Be Brave
I wanted to put a good saying right behind the sink that was at their level. They can't miss it. It says BE YOU and the you is gold!
The other 2 sayings go on the bathroom wall above the towel.
Sayings
I couldn't decide what saying I wanted in the Living Room so got both of these, bought frames and used mounting tape to add them to the bathroom wall.
Paint
We painted this area the same as the bedroom walls to keep bringing everything together: Thai Teal Behr Marquee paint from Home Depot.
Mirror
We always buy the cheap long mirrors from Walmart. They are super light and can be stuck on the bathroom door with mounting tape and usually stay put when we are traveling.
Over the Door Hangers
We us an over the door hanger for all the hats. It keeps them organized and out of the way. We picked ours up at Walmart I believe.
Bathroom
National Parks Map
We hang this National Parks Map right in front of the toilet so the kids have something to look at when they are going. It works since they tell me about the National Parks and where they are all the time! I did have to cut the poster for it to fit.
Digestive System Poster
We also have this digestive system poster that goes on the bathroom door so they can learn all about what is going on when they are goin.
Letter Board
Craig is in charge of putting fun sayings up on the letter board for when the boys are peeing. Ha! Always finding fun ways to make our "home" a cool place.
Shower curtain
We use the bathtub for storage so the shower curtain is a perfect way to add some color and close in that chaos!
Shower curtain rod
We took out the shower curtain they had and replaced it with a shower curtain tension rod we picked up at Target.
Laundry basket
I love that this big laundry basket fits right in the bathtub and it would be easy enough to move out if someone wants to use the shower (we usually use the campground showers). We picked this up at Target.
Vacuum
Our friends have this vacuum in their rig and it works really well! It does have to be charged so we are getting better at remembering to charge it! You can also check out our post on the top RV vacuums.
Other things that go in here are the broom, shower bag and laundry soap.
Shower Hooks
These hooks are great for hanging a wet bathing suit and a place to put our shower towels to dry.
Paint
We went with Power Gray by Behr in the bathroom and figured the shower curtain brought a lot of color!
So there you have it! 2 weeks later and a whole lot of work we are done with the inside and ready to roll and we have a great RV! You could easily do these remodel ideas in a trailer, 5th wheel, motorhome, class C, really any of the rigs out there!
Outside
For those of you that are curious here is an outside view. It is a Jayco 267BHSW Baja model. We are currently towing it with our van but Craig would really like to upgrade to a truck so we are in the process of figuring out if there is a truck that will work for our family of 6 and a dog!
We will do a future post on the solar setup and outside gear.
Want more help with your RV remodel check out RV Inspiration!
More RV posts:
Fun And Simple RV Remodel Ideas For Your 5th Wheel
Awesome Travel Trailer Remodel Ideas [Video Included!]
RV Remodel: How to fit 6 people and 2 large dogs in a Class A RV
Why We Decided To Downsize Our RV
11 Things We Have Learned After 3 Years Of Full Time RV Living
RV Kitchen Accessories For Your Family RV Trip
How We Downsized From A House To An RV
Pin This Post For Later:
DISCLOSURE: This post may contain affiliate links, meaning I get a commission if you decide to make a purchase through my links, at no cost to you. Please read my disclosure for more info.