When planning a trip to Europe with kids you will want to be sure to add Rome to your list. Chances are your kids know who gladiators are and have seen the Colosseum in school, in a show they watch or on TikTok.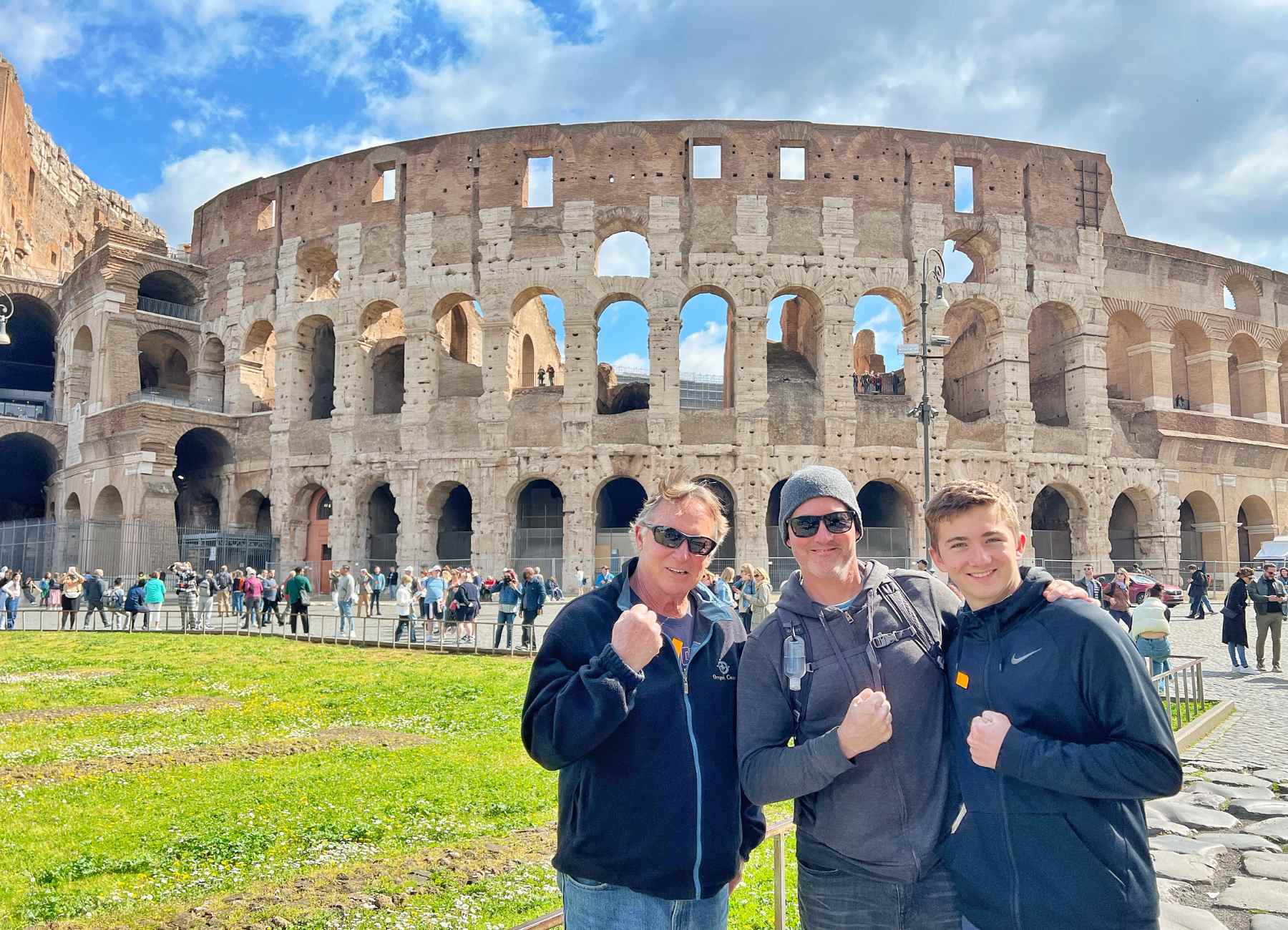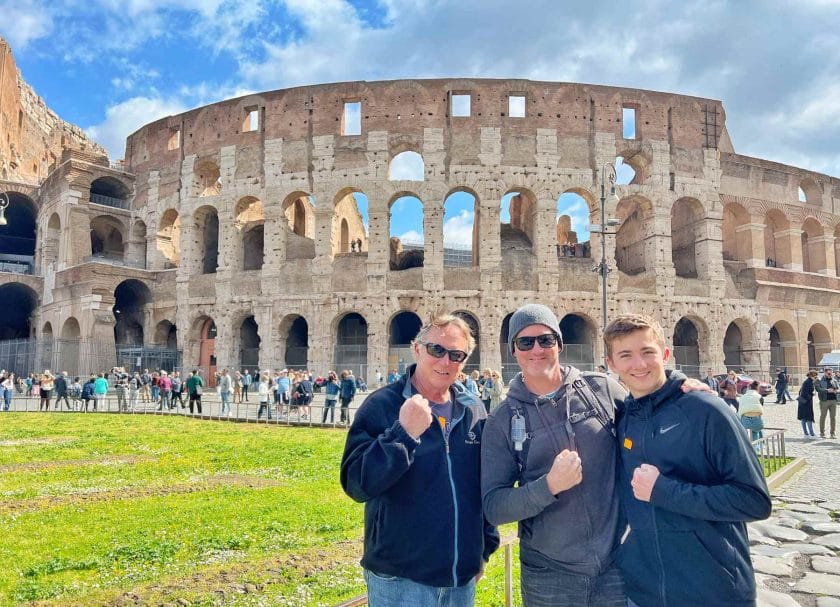 Here is a chance to show your kids this iconic city in person. There are so many great things to do in Rome with kids from becoming a gladiator to going to see a soccer game to learning about the history of the city.
Below we share our top list of things to do, where to eat and where to stay when you visit Rome, Italy. We also share our itinerary for how we visited Rome.
For us we planned on visiting Rome for 5 nights on our 3 month backpacking trip around Europe. We felt that would give us enough time to visit the city while also giving us some down time where we could sleep in and not have to get up early every morning to run out the door.
If you have traveled with older kids and teens you know how much they like to sleep. And to be honest Craig and I both enjoy sleeping in too. So that is something to keep in mind when you are planning how long you will be in Rome.
Activities Not To Miss In Rome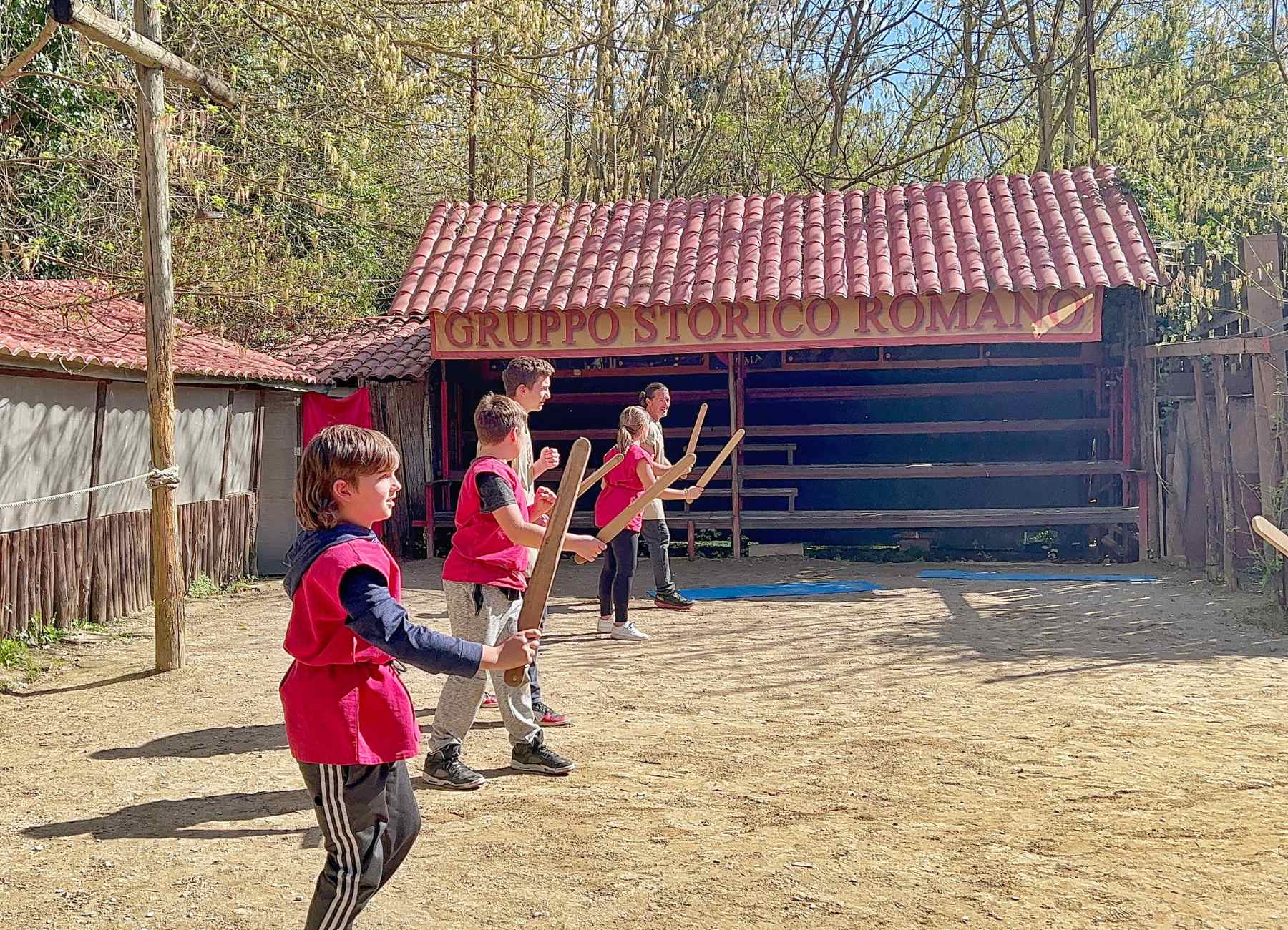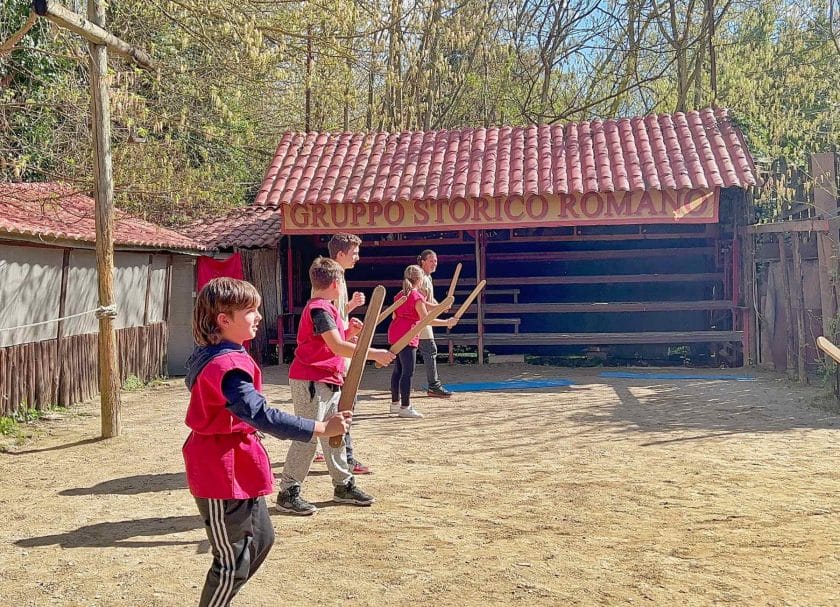 Before visiting each location we like to do research to find out what are the top things you don't want to miss in that location. These are the activities we found that you don't want to miss in Rome when visiting with Kids.
This is a high level overview. Further in the post I will share more details on each of these.
Colosseum – It's THE Colosseum you can't miss it! We recommend visiting with a guide to get the most out of your time visiting the Colosseum.
Gladiator School – We found this while we were heading to Rome and it looked interesting. We weren't sure what to expect but it was such a fun family activity to do!
Vatican – Did you know the Vatican is actually its own country?! This is another one of those iconic places that is a must see while in Rome.
Soccer Game – The Colosseum and Vatican were cool but going to a soccer game in Rome was the highlight of our time there. If you can get tickets do it. It is an awesome experience.
Foods Not To Miss In Rome Italy
Just like with activities we like to search for what are the top foods that you don't want to miss when you visit a city. I love how each city has so many foods that they are proud of and are excited to share! Rome was no different. Here are the 3 foods we found and knew we wanted to try:
Trapizzino – This was an interesting combination of half sandwich, half pizza. We weren't sure how that sounded either. But we knew we wanted to try it!
Pizza – When in Italy eat Pizza. It is as simple as that!
Gelato – Gelato is the same as Pizza. Any time you are in Italy eat all the Gelato you can!
Getting Around
Rome was probably one of the least walkable cities we visited in Europe. First it is huge and second there are like no sidewalks or designated places to walk. We made it work but it was definitely a challenge.
If you aren't in to weaving between cars and walking in tight spaces you will want to take the bus or an Uber. The buses did take a minute to figure out but we did use them when getting to the soccer game. It was quite the bus ride and an experience in itself!
How Long To Stay
If you just want to hit the highlights 3 days would be enough. We stayed longer but took a few mornings to sleep in and got going later in the day. If that is more your travel style you will need more time.
Day Trips From Rome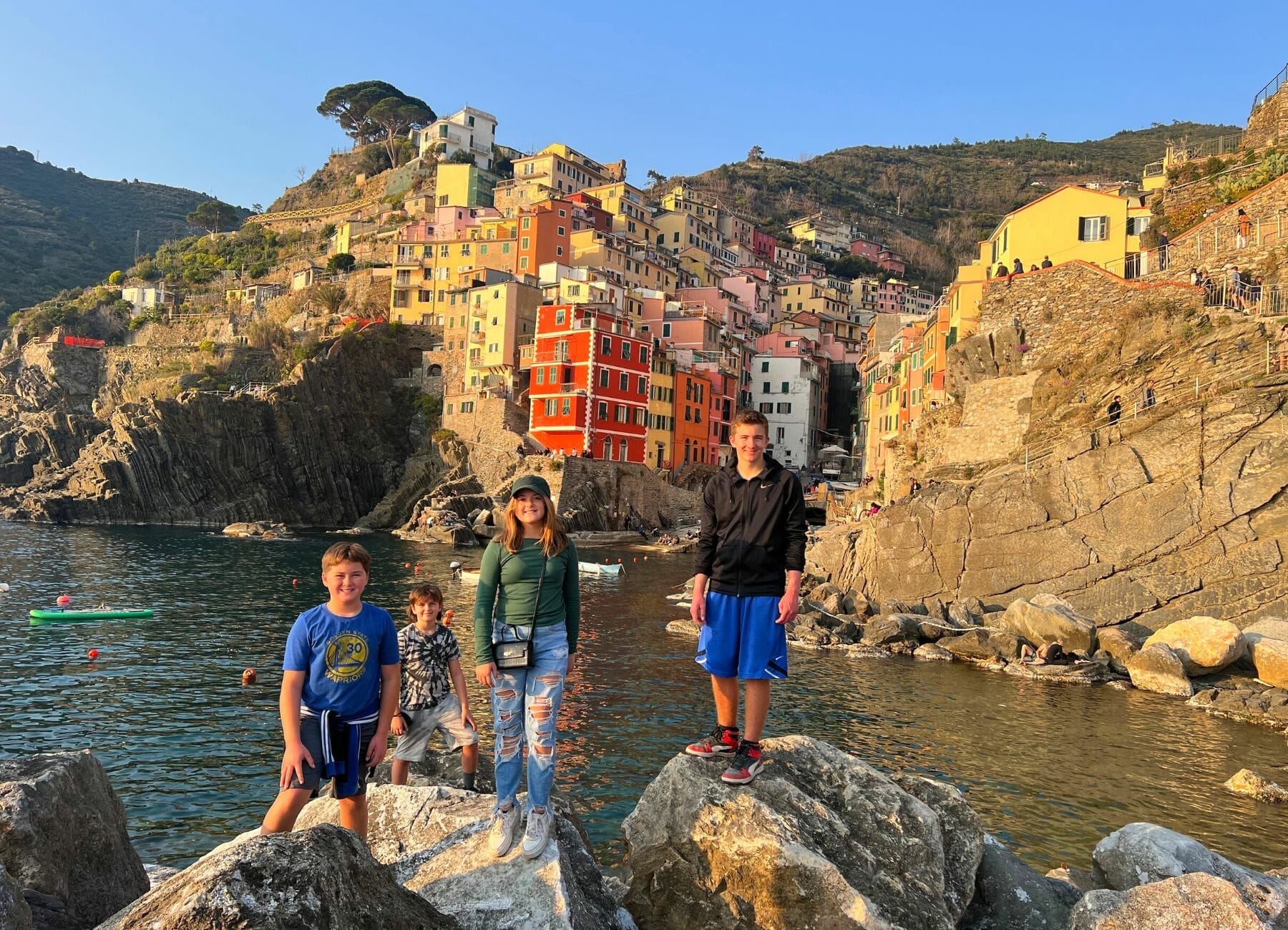 There are a variety of day trips from Rome that you can take. Some of them might be a stretch for a day trip and it may make more sense to make it a couple night or weekend trip from Rome. But if this is your only time to Italy be sure to take some of these days trips! There is so much more to Italy than just Rome.
Florence – There are a lot of things to do in Florence. Like seeing the David statue, going on a delicious food tour, and seeing all of the amazing art that is kept in Florence.
Tuscany – Tuscany was one of our favorite stops on our trip. We stayed at an Agrotoursim Farm and had farm to table meals, delicious wine and enjoyed living in the Tuscany countryside for a week. We also visited the surrounding mountain towns. There were so many great things to do in Tuscany.
Cinque Terre – Cinque Terre is a perfect place to visit for a day or 2. As you can get through all 5 of the Cinque Terre towns in that amount of time. The train is great and makes visiting each town a breeze.
Things To Do In Rome, Italy With Kids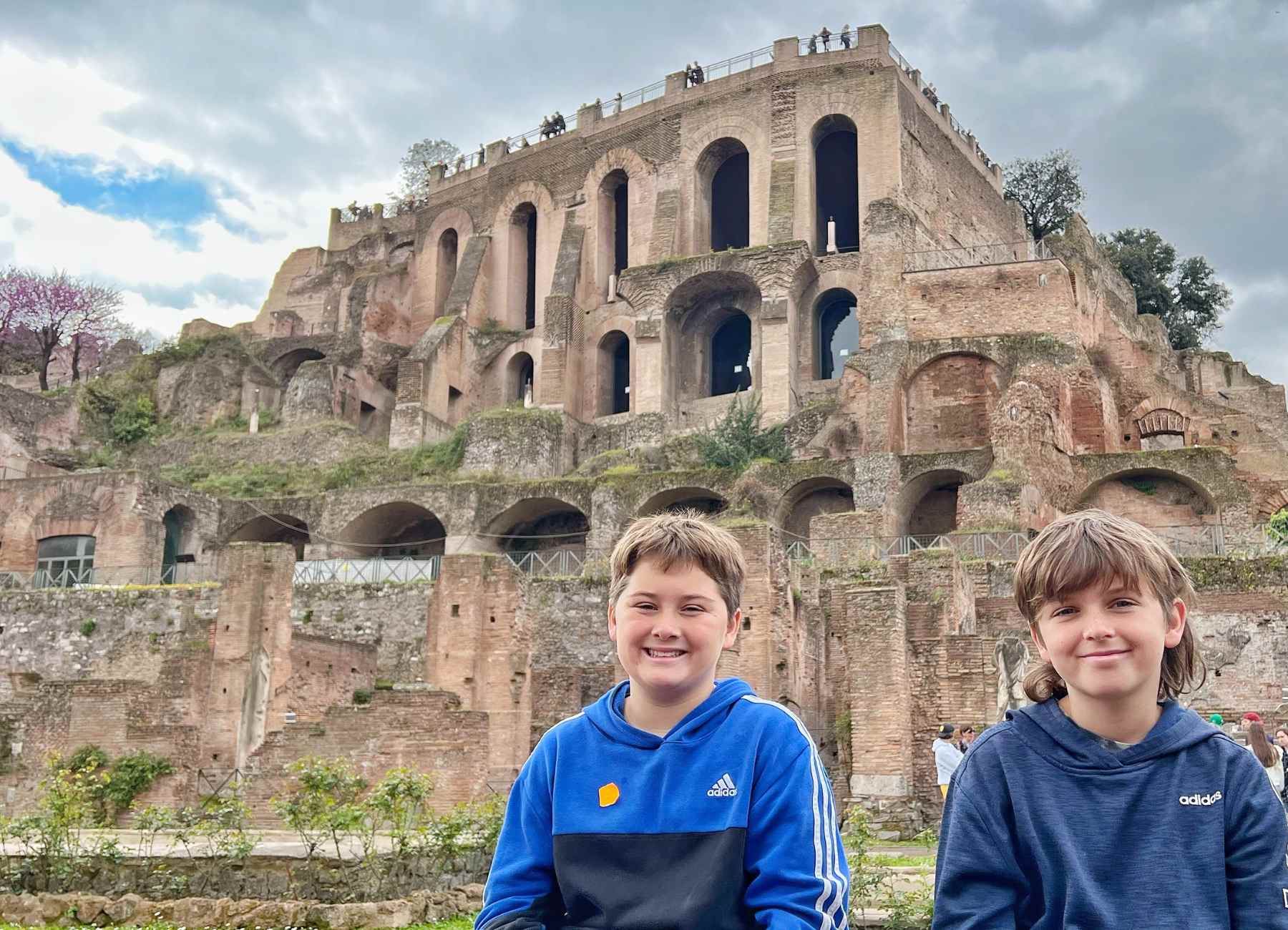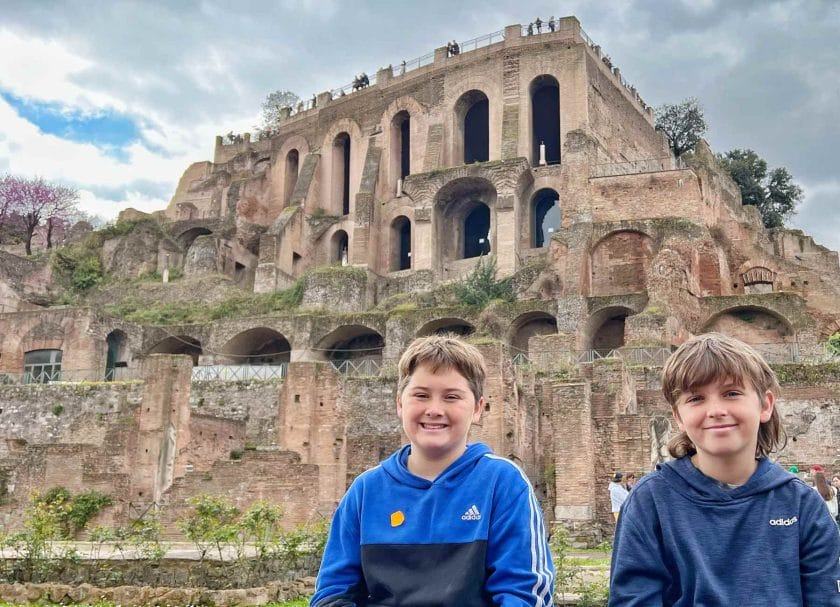 Soccer Game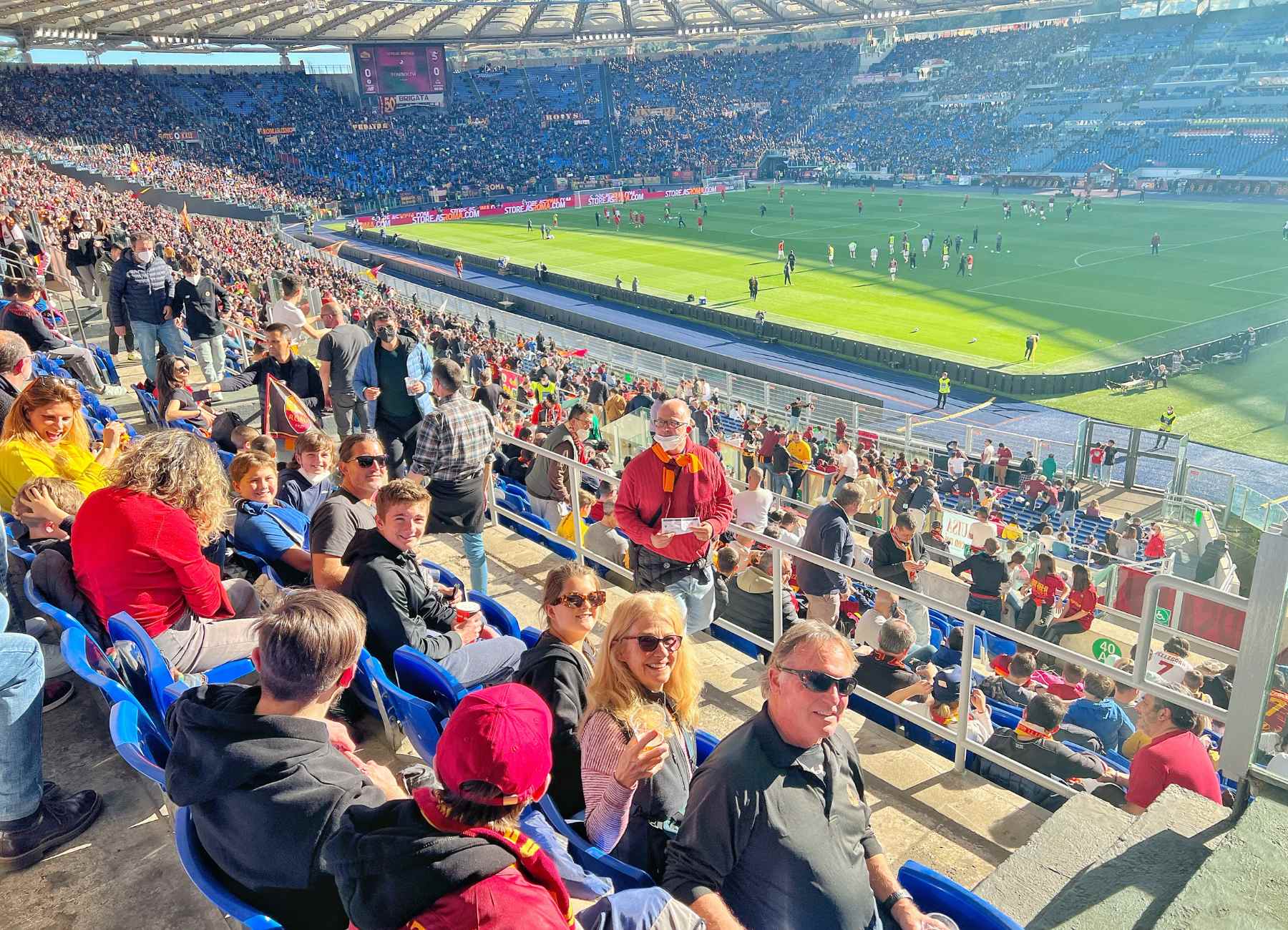 This was another highlight of our trip and something we highly recommend you do with our without kids! We went to an AS Roma game. This was such a cool experience! The passion the people have for their team and the game is quite a thing to be a part of!
It was a crammed 40 minute bus ride to the stadium and lots of id checks and ticket checks before we could get in. We felt like the whole city was going to the game. You could feel the excitement everyone had for the game from the minute we stepped on the bus! Yes it was all a hassle to get there but it was 100% worth the effort.
We got into the stadium about 45 minutes before the game started. TIP: when coming to a game be sure to plan a lot of extra time to get there and get into the stadium. The excitement is building before the game starts so be sure to get there well before kick off!
In The Stadium
When we walked in the stadium everyone was waving their flags, singing and cheering. We felt out of place without a flag, scarf or some time of AS Roma gear!
You can tell the games get passionate. . . there are security guards lining the opposing teams bleachers and making sure no one gets too passionate. For this reason you may think it isn't good to bring kids or have families at the game. Don't worry they have this figured out.
We sat in the family section – which meant we were completely separated from the non family crowd who you could tell was a rowdy bunch! Not saying the family crowd wasn't just as excited because they were but I think the overall understanding in the family section is you are going to keep it in check.
Once the game starts everyone breaks out in song together. You could tell this was a family tradition and that these songs were instilled in the Rome people from an early age. It was a really magical experience.
With soccer being such a low scoring game every game has you on the edge of your seat wondering who is going to score a goal first. When a shot is taken the crowd goes wild, when a shot is taken against your team the crowd goes wild, and when a goal is scored the crowd goes crazy!!
We had heard soccer games in Europe were an experience and they were right! This remains one of our top memories of our time in not just Rome but all of Europe.
The Rome Experience
The Rome Experience is a great way to get an overview of Rome and a good base knowledge on the city and the history of this iconic destination. We did this first to help us get our bearings on this big city.
There are interactive video projections that give a great overview on Roman culture and the history of the city. You will also learn how the city was founded and what has happened from then until now. In a short and condensed version. Which is nice with kids!
This was a great place to take the kids and all of us learned a lot about Rome and were ready to get out and explore the city!
Pantheon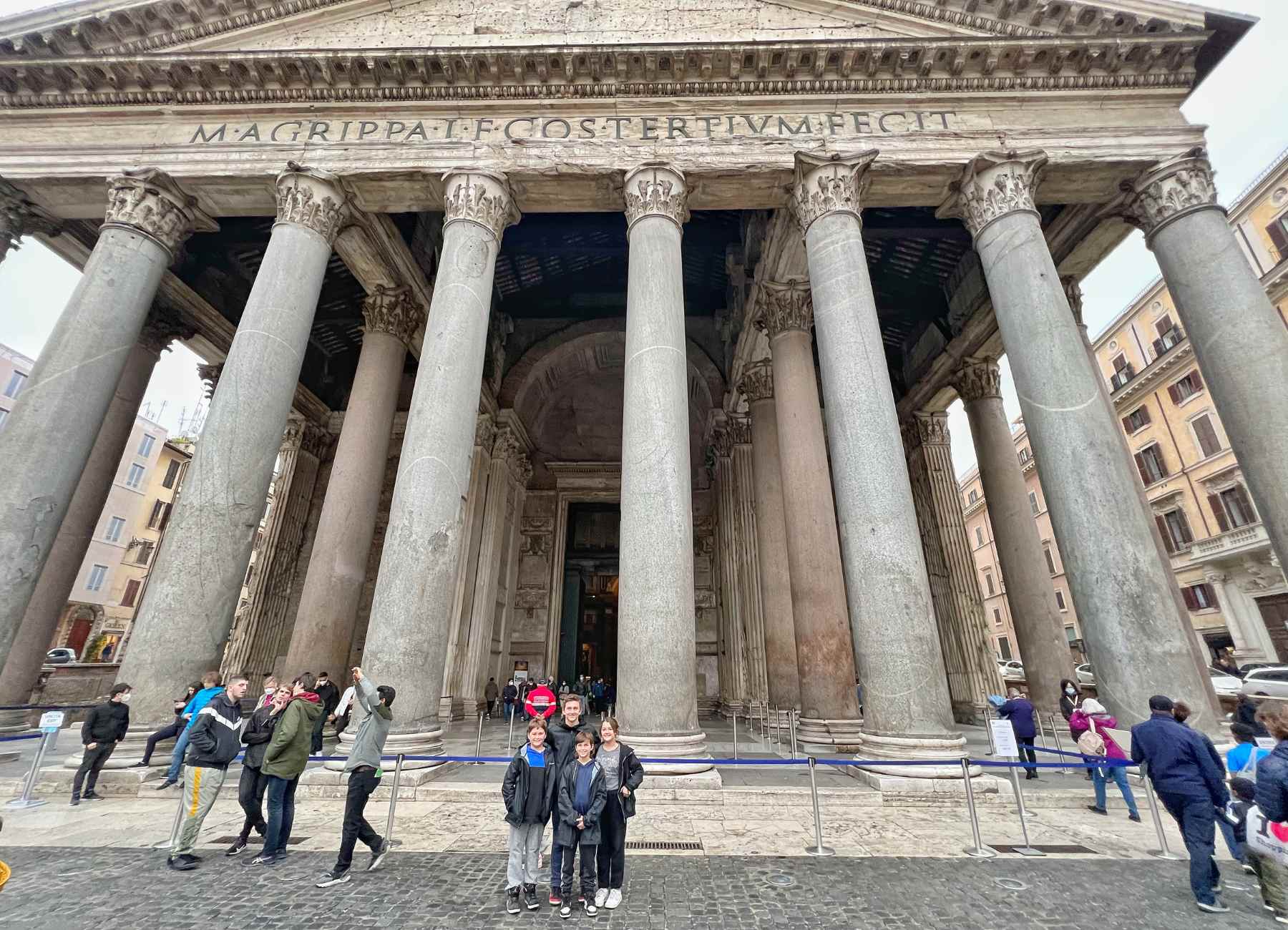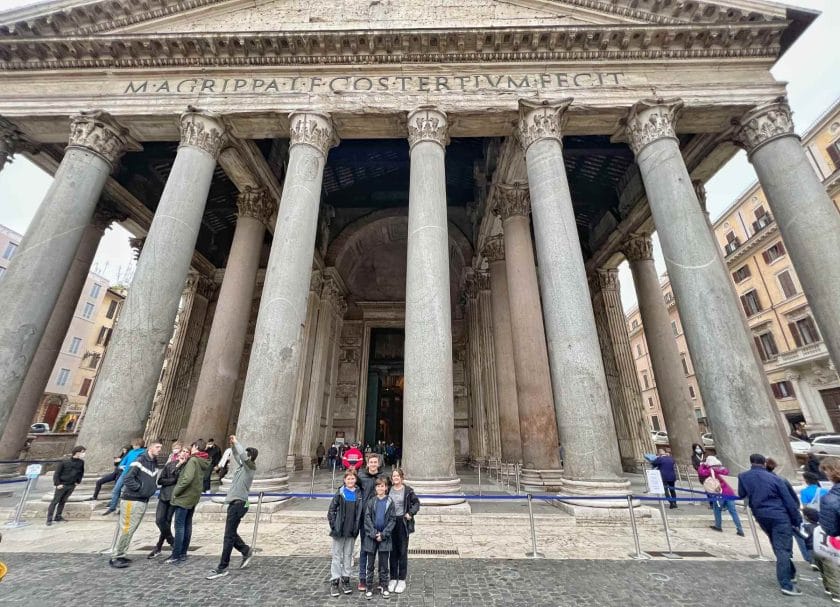 Step into a building that was built over 2000 years ago! It is hard to imagine that they were able to build something like this so long ago. No one is 100% sure why it was built but a lot of people lean towards thinking it was a public temple.
Now you can walk through it and imagine yourself here 2000 years ago. It also holds the tombs of some of the Italian monarchy and the famous artist Raphael.
If you really want to explore the Pantheon and learn all about it we recommend a tour: https://www.viator.com/tours/Rome/Pantehon-Guided-Tour/d511-41353P29 or if you prefer you can check out an audio tour so you can go at your won pace: https://www.viator.com/tours/Rome/Pantheon-The-Official-Audio-Guided-Tour/d511-66748P1
Colosseum Tour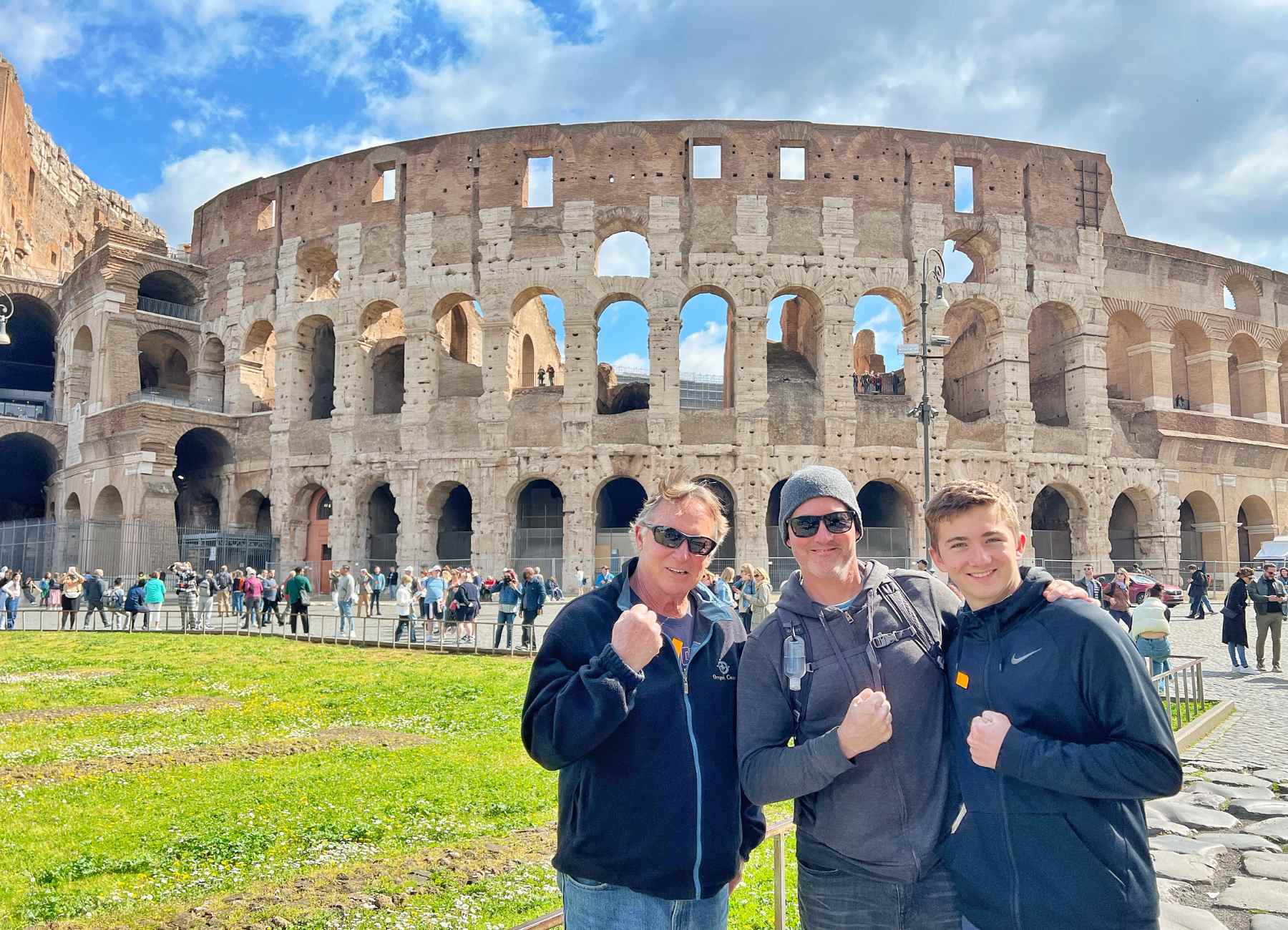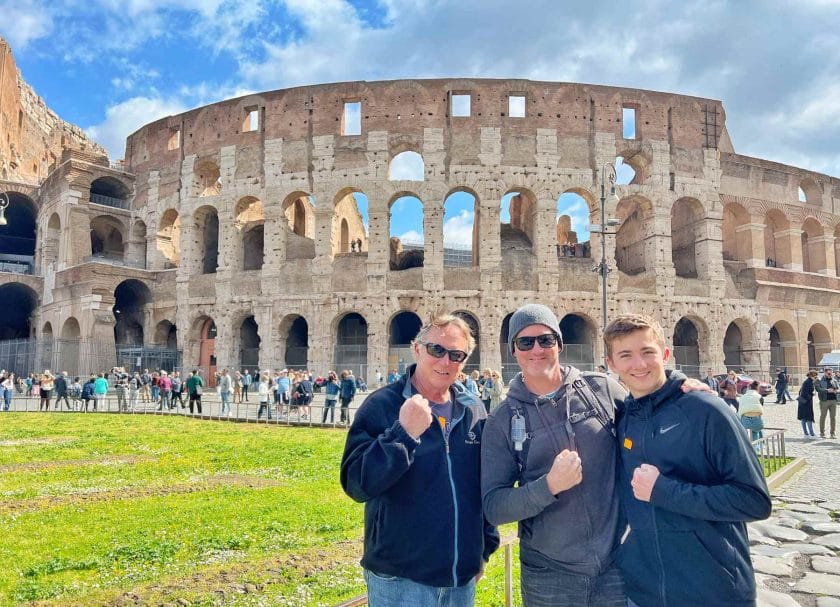 You can get into the Colosseum without a guide. But we recommend paying for a guide who is going to be able to take you to all the best spots and will point out things you may have missed if you were just walking through on your own. In our opinion this is the best way to visit the colosseum with kids.
We met our guide outside of the Colosseum and she beelined us right for the entrance and it to our first stop. When you are planning a whole trip yourself there is something so nice about having someone who knows exactly where they are going and what they are doing to guide you for a few hours!
This allows both you as the parents and the kids to get the most out of the experience. Since your head isn't down trying to read a map or reading all the signs. Instead you can just hold hands with your kids and let someone else do all the work while you enjoy the experience.
Our guide pointed out where they kept the bears and lions. Explained where the gladiators were kept and so much more great information on the story of the colosseum and what the ruins were that we were looking at.
She also knew where to get the best pictures and what spots to stop and take in a different angle of different locations in the colosseum.
Things To Do Before Visiting and Finding A Tour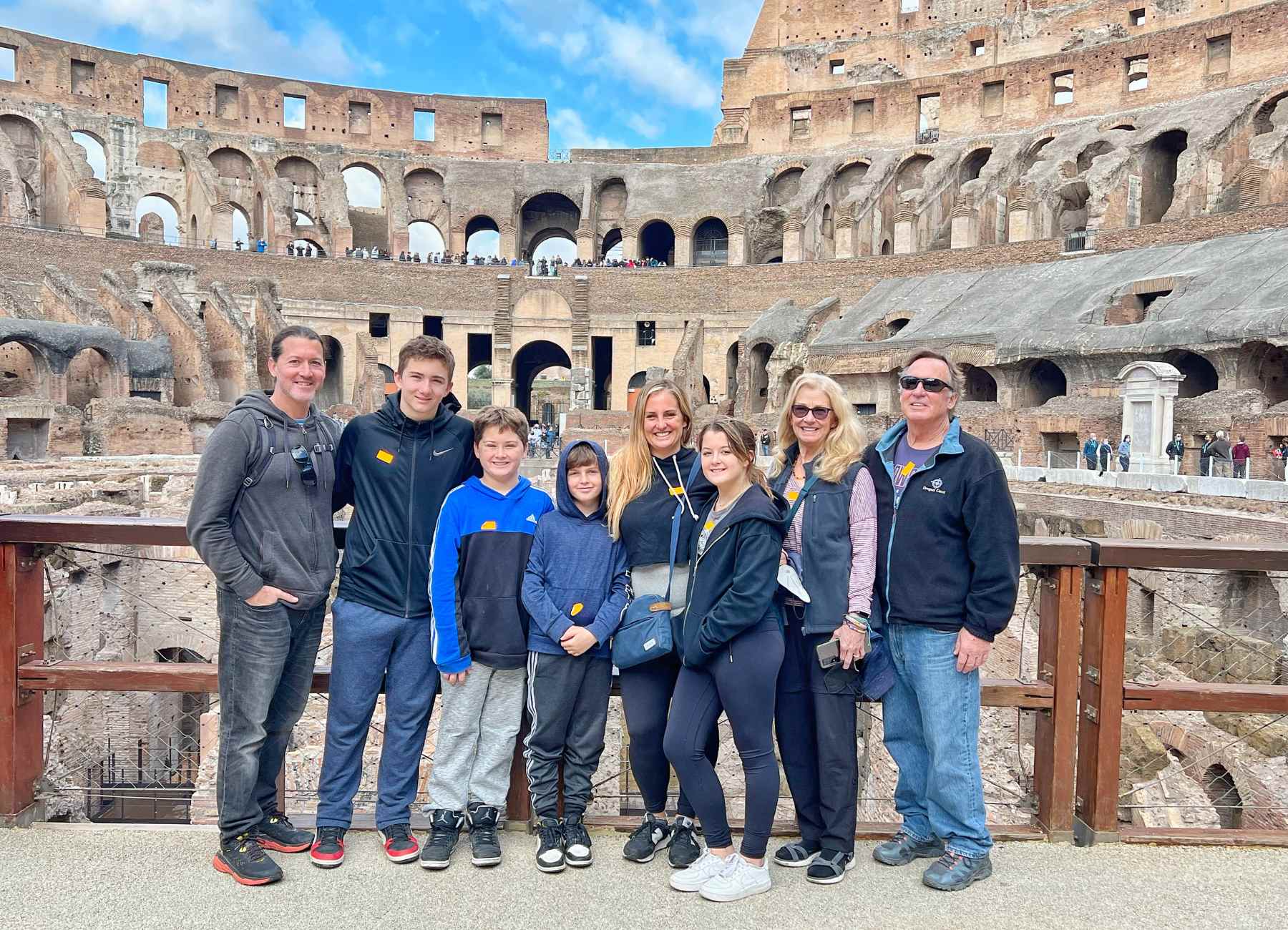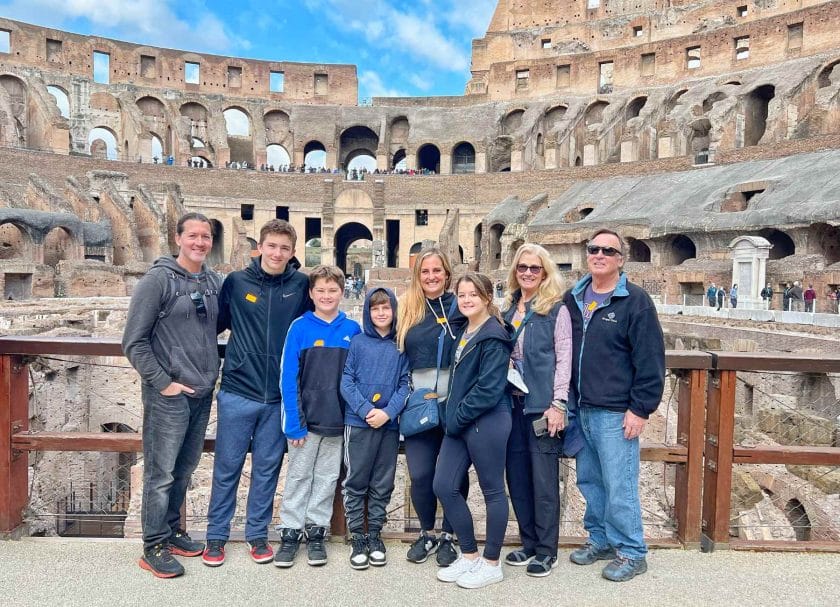 Before you go: watch the movie Gladiator with the kids (depending how old they are). It helps them really visualize what went down here!
If you are taking a tour we recommend you take a small group or private tour. That way you can ask questions and with kids the guide can change the pace up based on how the kids are doing.
Here is an option: Colosseum Underground Semi Private Tour.
In our case my Mom knew the tour guide from a Rick Steves tour they had done a few years ago so she reached out to her via email and we set everything up that way. Her name was Maria Laura and this is her email address: mlgiorgi2211@gmail.com.
Since we reached out to her personally we were also able to request a family tour that would work for our kids and their ages and was very kid friendly.
In my eyes this is the most iconic landmark in Rome. It is surreal to be walking in the colosseum and imagining what it was like in ancient Rome.
Roman Forum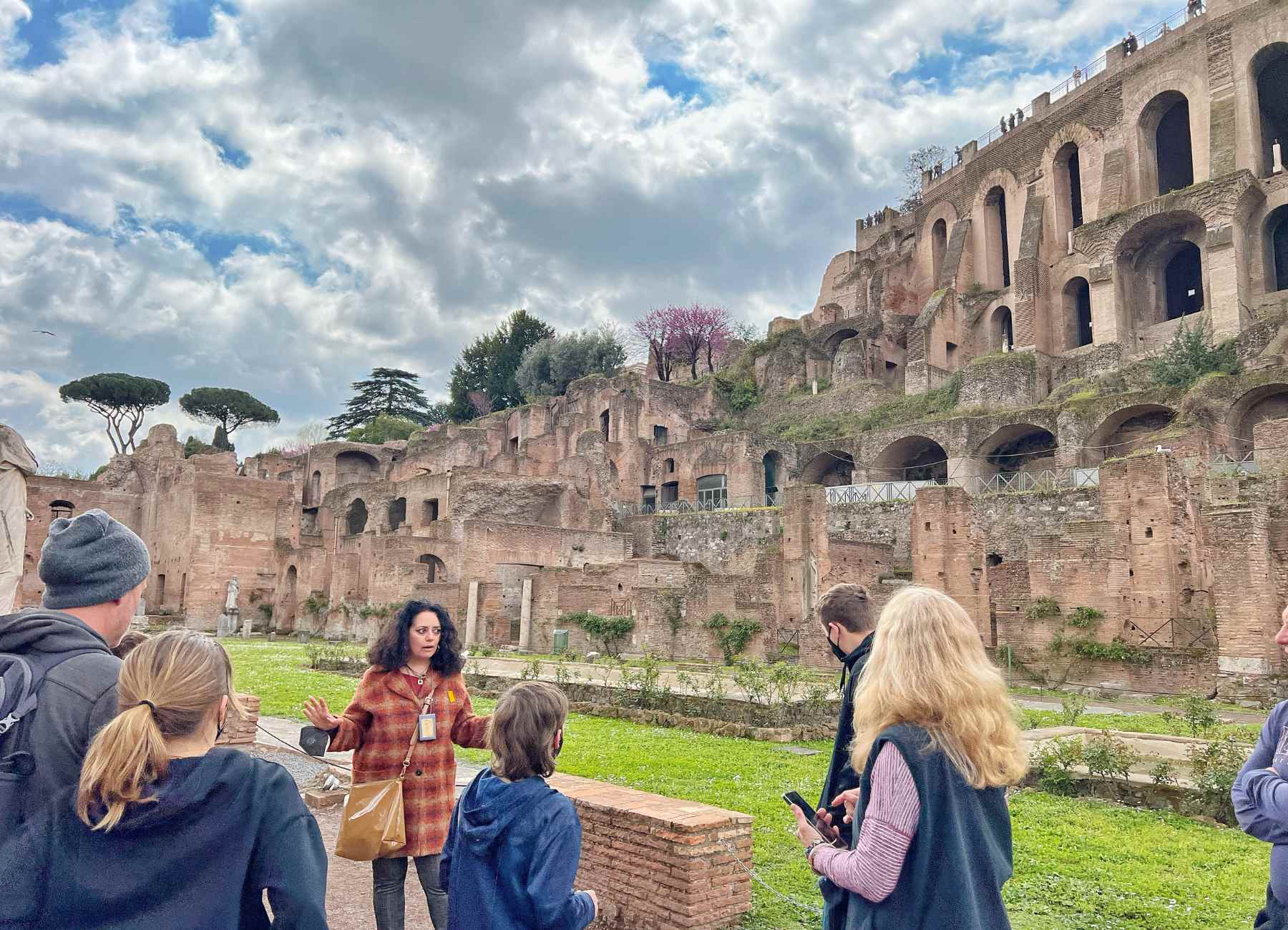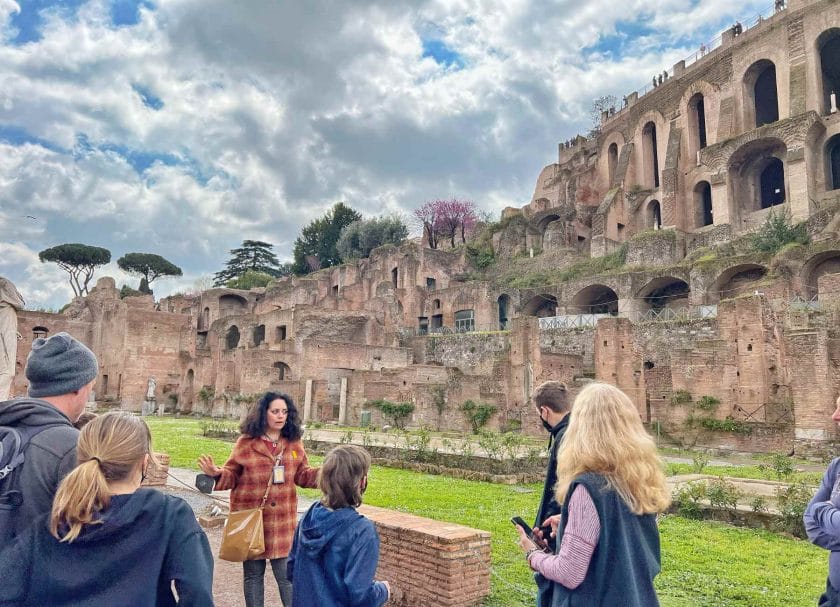 Most Colosseum tours will also include a tour of the Roman Forum. Which again is nice to see with a guide unless you have a lot of knowledge on the Roman Forum yourself and can share with your family.
The tour we recommended for the Colosseum includes the Roman Forum and our guide Maria brought us here as well. When you are done exploring here you could walk up to Palatine Hill as well.
Gladiator School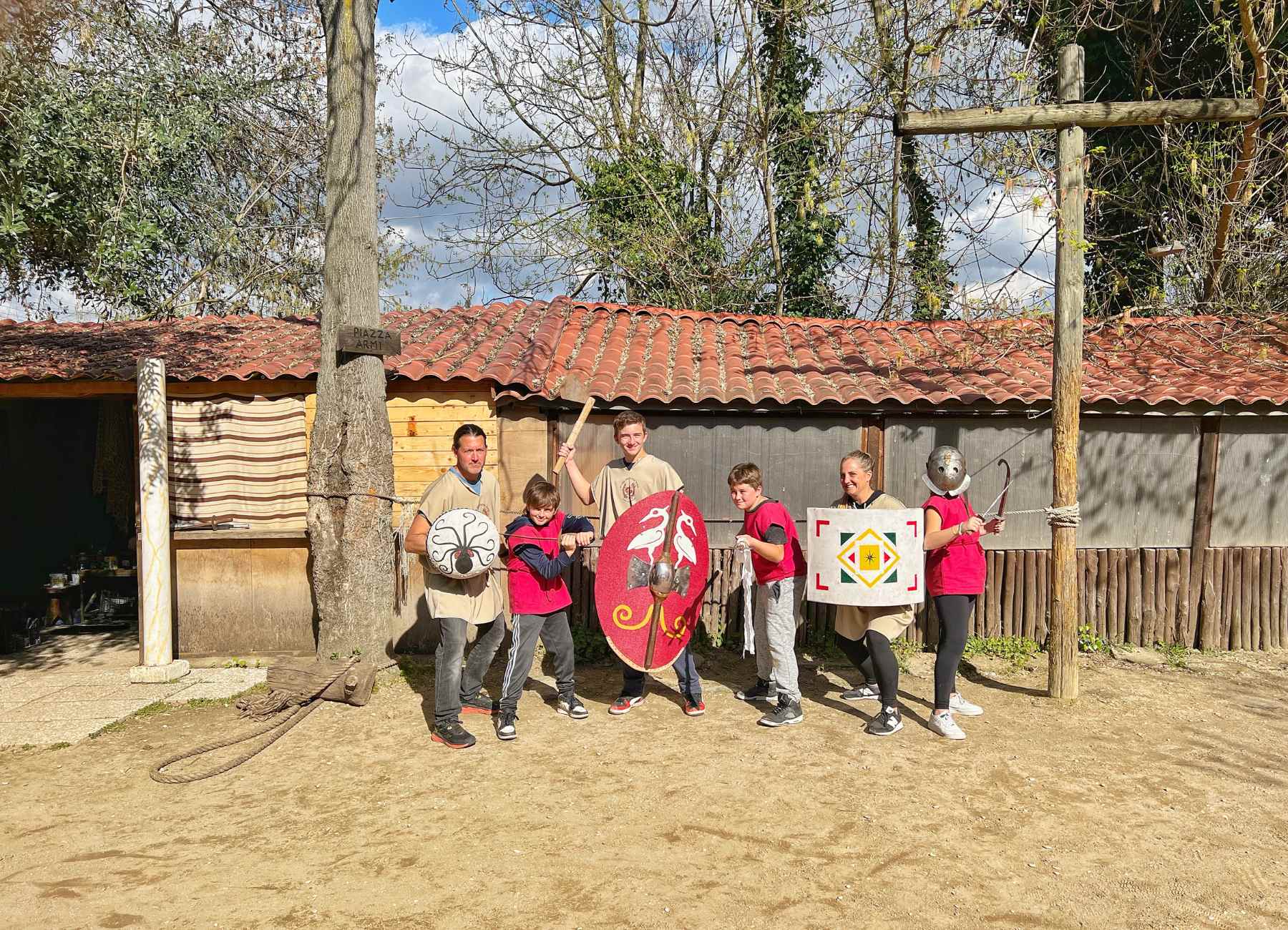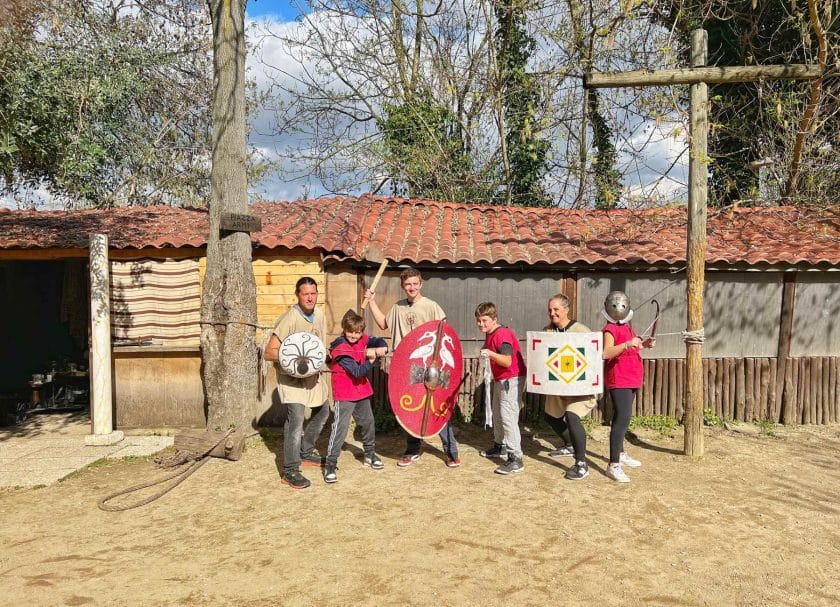 The Gladiator School was an interesting experience but also a highlight of our time in Rome! It was interesting since it isn't located by anything so as you are getting there you are wondering where the heck you are going.
We choose to walk there and it was an adventure to figure out where we were going. Plus it was a long walk. We would recommend getting an Uber to take you to this location if you aren't feeling up for a long and not ideal walk.
Once you get there it is a bit run down and the museum is basically a bunch of gladiator artifacts in someones shed in the backyard. BUT it was still cool to see.
The other interesting thing was our Gladiator instructor did not speak any English. We get it not everyone does and that is totally fine with us. It was a challenge trying to figure out how to communicate with each other. But we did it!
With all of this you are probably wondering why we said it was a highlight of our time in Rome. Here is why.
Our Experience At Gladiator School
Our instructor was passionate about being a gladiator and sharing what that meant with us. We all had to get dressed in our Gladiator gear and pick our gladiator name. From there our instructor had us yelling words in Italian while we warmed up by jumping over ropes and carrying logs on our back.
Once we were warmed up we got in formation and he taught us multiple gladiator moves and what they were called in Italian. He got a kick out of how Cannon and I could not pronounce the Italian words!
After going through the training we were set to battle each other! He paired us up and we did a gladiator "battle" where he would call out the move and we spared that way.
Next he brought out some of his Gladiator gear and Craig was able to hold that and battle the instructor.
When we were done he had certificates for each of us where he wrote our Gladiator name down and we did an awards ceremony. It was a really fun experience and made us feel like we were ancient romans! Plus it was a fun family activity to do together!
If you have active kids that are over all the history and museums and just want to DO something this is the activity for your family.
Vatican Museum Tour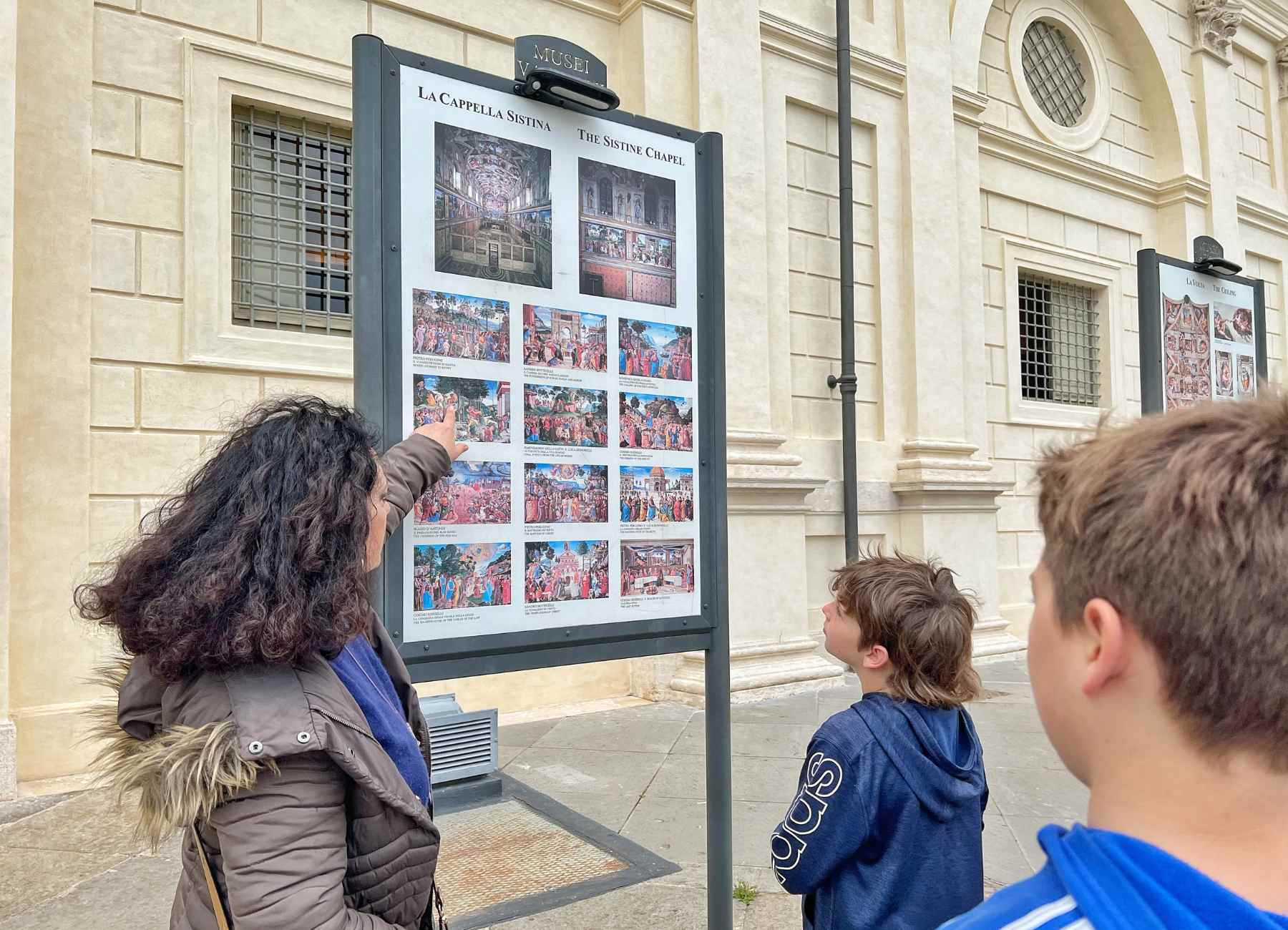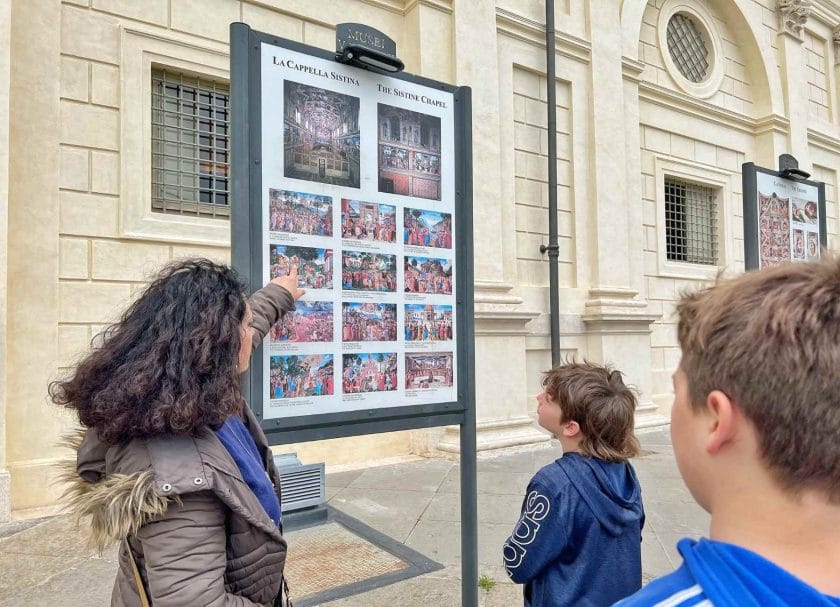 We booked a tour for the Vatican (if you are doing it on your own check out: how to get Vatican tickets) as we knew without a tour we would not take away what we could from this experience. Our guide took us all around Vatican City on a tour of the museum, Sistine Chapel and St Peter's Basicila.
We weren't sure how the kids would do with the tour but they all ended up really enjoying it. It was a private tour so the kids were able to ask questions and our guide could guide the tour based on how they were doing and their interests.
We all learned a ton!! We normally aren't tour people. But with visiting places like the Colosseum and the Vatican we were so glad we had a tour guide to show us around and share with us what we are looking at.
We used the same tour guide that we had for the Colosseum. I would actually recommend this as it meant we were comfortable with her and so were the kids. Here name is Maria Laura and this is her email address: mlgiorgi2211@gmail.com. I think since we went directly with her we got a better deal. It also meant it was just our group!
Trevi Fountain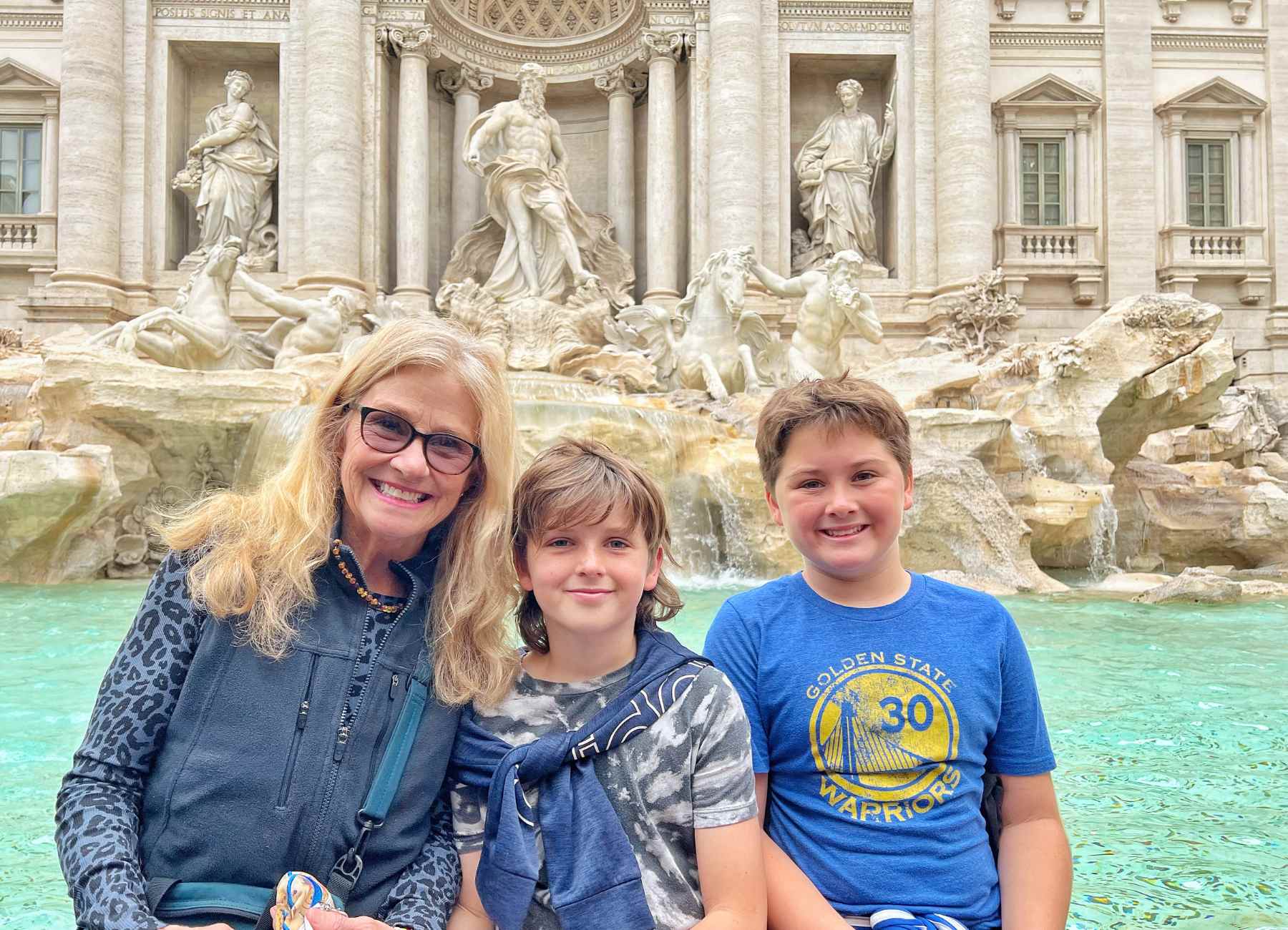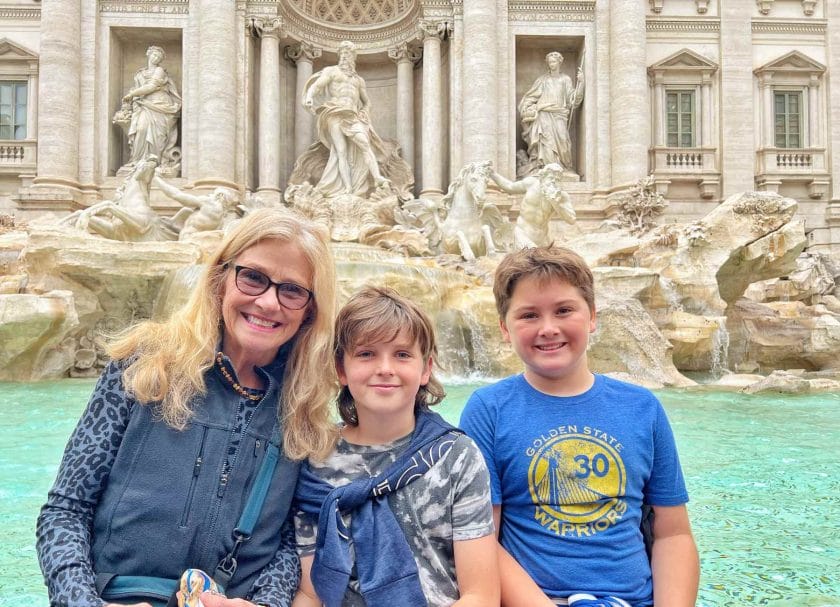 Be prepared it is super busy here. Like really annoyingly busy. Yes you can get up super early in the morning and supposedly it won't be busy. But we don't really do early.
We went and squeezed our way in to get a picture by the fountain and moved on. It really is a beautiful fountain but so darn busy!!
Capuchin Crypt and museum – no pictures inside!
This is a museum and a 500 year old monastery. You walk through the museum part first and after that head to the crypt which is known for its elaborately arranged skulls and bones. It was definitely a bit freaky but also kind of cool to see what they did with all the bones.
My Mom wasn't sure about coming along since she can get claustrophobic. But it ended up not being a tight fit at all and she would have been fine. It is basically a hall way you walk down with the bone displays lining one side of the hallway.
This was very interesting!
Spanish Steps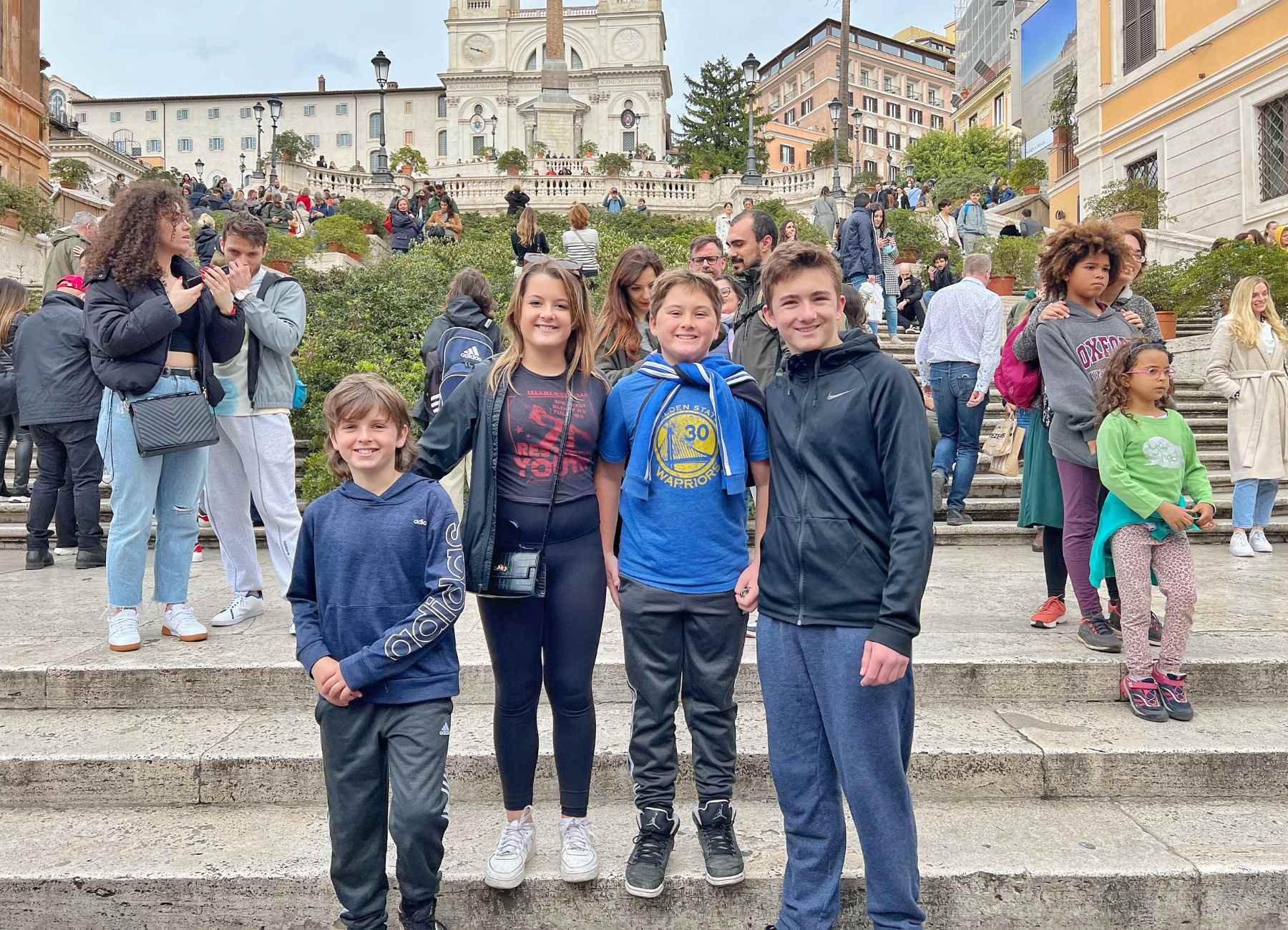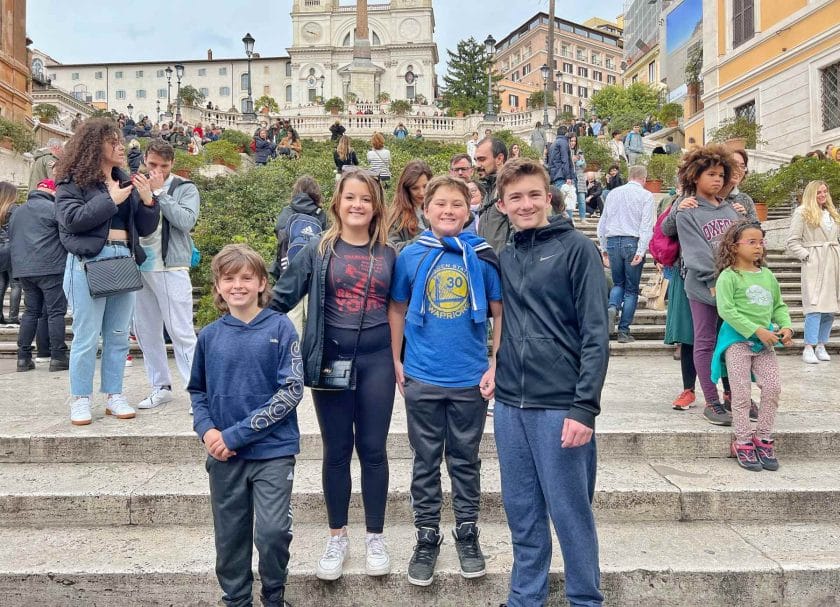 Another one of those must does while in Rome but again very busy. It was cool walking down the steps and seeing all of the people lining the streets of Rome. For this reason we recommend starting at the top and walking down.
The steps were cool – we got a picture with like 50 other people. But like the Trevi Fountain it was one of those must see, check it off your Rome list things and we did it.
Castel Sant'Angelo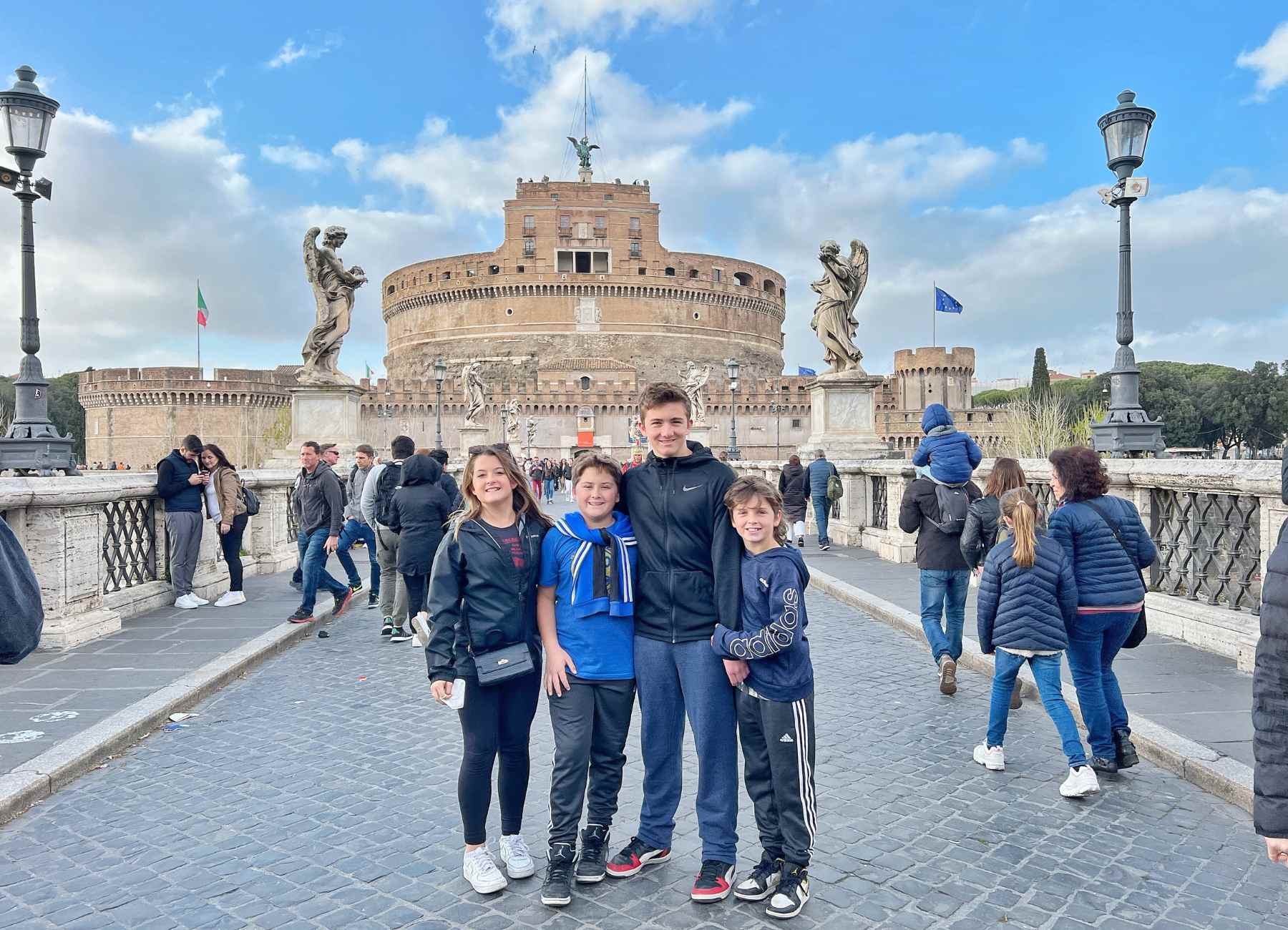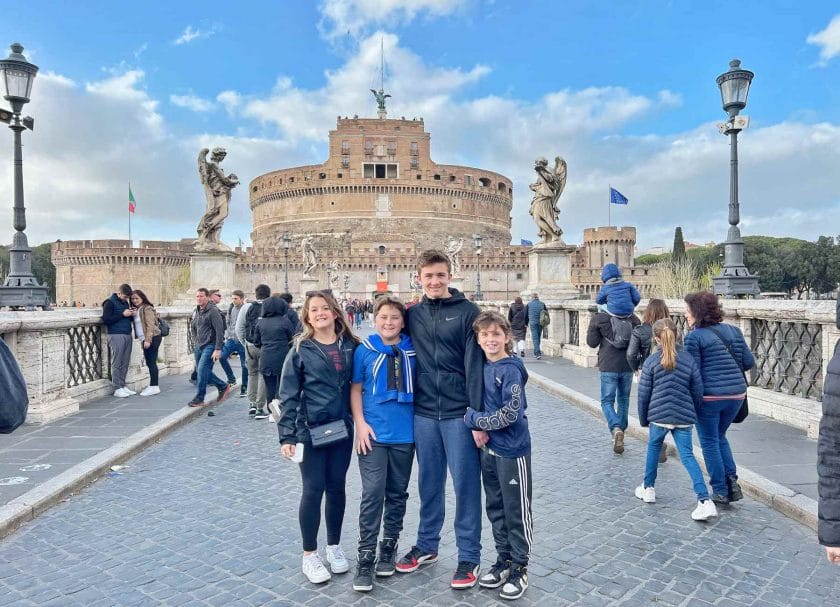 We didn't go in to the castle. We walked across the bridge to see it and walked around the outside. It is an impressive structure! If you want to you can go inside of it. At this point we had seen a lot of history and a lot of art work in Rome so I didn't think the kids would really care to go inside.
Even if you don't go inside it is worth it to see it and especially see it at night when it is all lit up.
Piazza Navona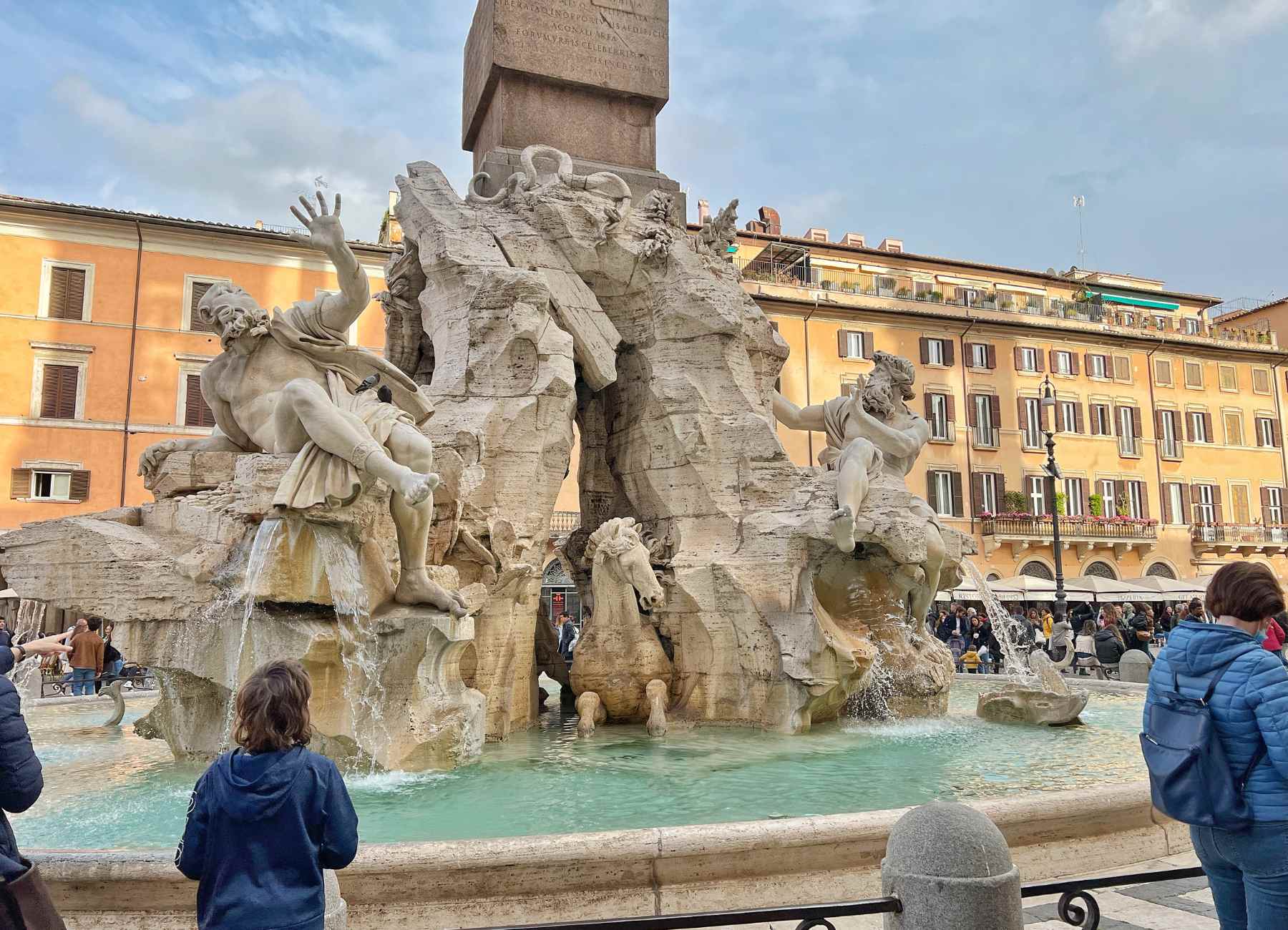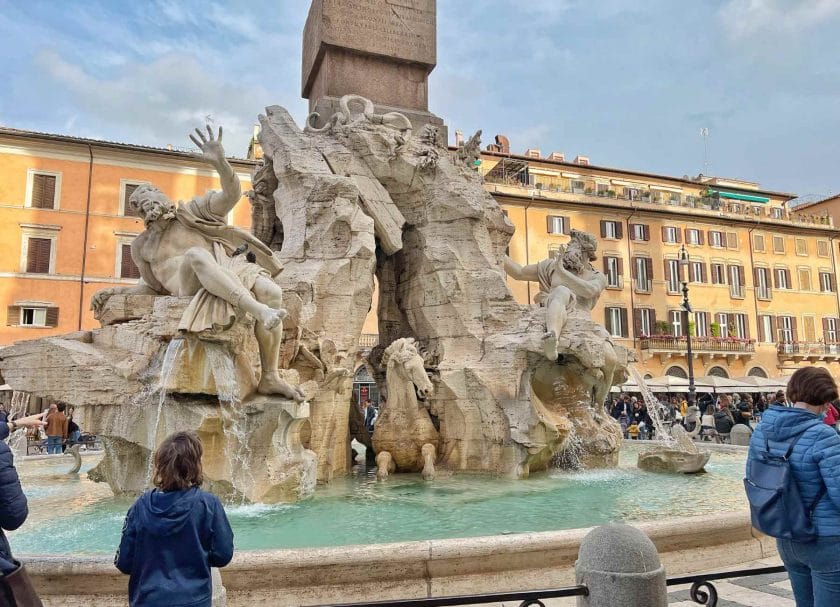 This is a gorgeous and elegant square that dates back to the 1st century AD. It has a baroque fountain, bars and street artists. We really love all of these squares in Europe!
They are also a great place to take kids to let them run around a bit and stretch their legs.
Stopped for a drink in the Trastevere neighborhood in Rome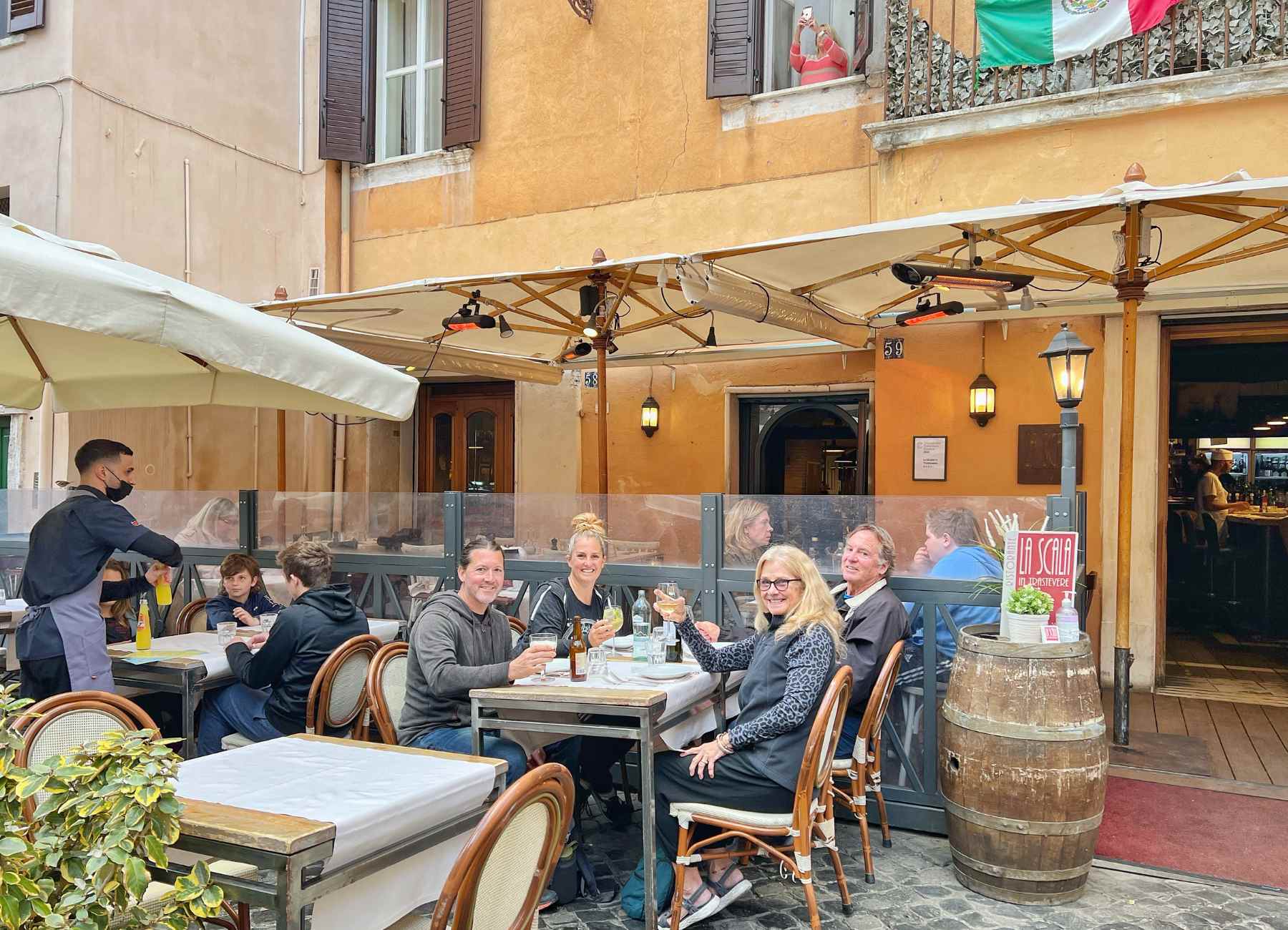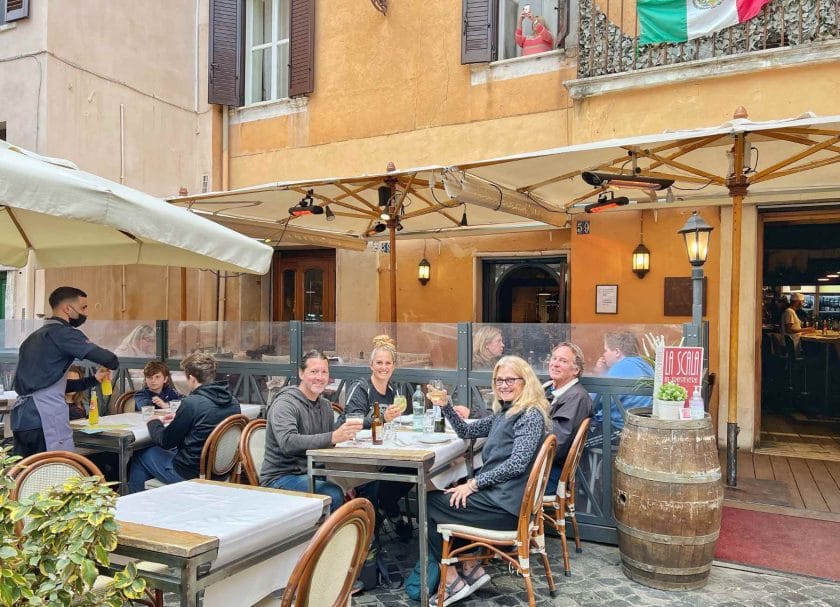 The Trastevere is a bustling neighborhood filled with bars and restaurants, places to stay and a fun up beat vibe. It seems like it is always busy but we had no problem getting a table for a happy hour drink on our walk back to our place. We stoped at La Scala in Trastevere.
If there would have been availability and if the price was right we would have chosen to stay in the Trastevere neighborhood. But unfortunately we weren't able to find anything that would fit our family and be in our price range.
Where To Eat
We stopped at a few places to eat but also got some food to bring back to our place. When you have a vacation rental eating at your place is a great way to save money! We also did a few nights where we just took pizza to go.
Alice Pizza
This was a local shop in a neighborhood in Rome. We have found that these places are usually very good and it was!
La Scala in Trastevere
A great stop for a happy hour drink right in the middle of the streets of Trastevere.
Trapizzino Trastevere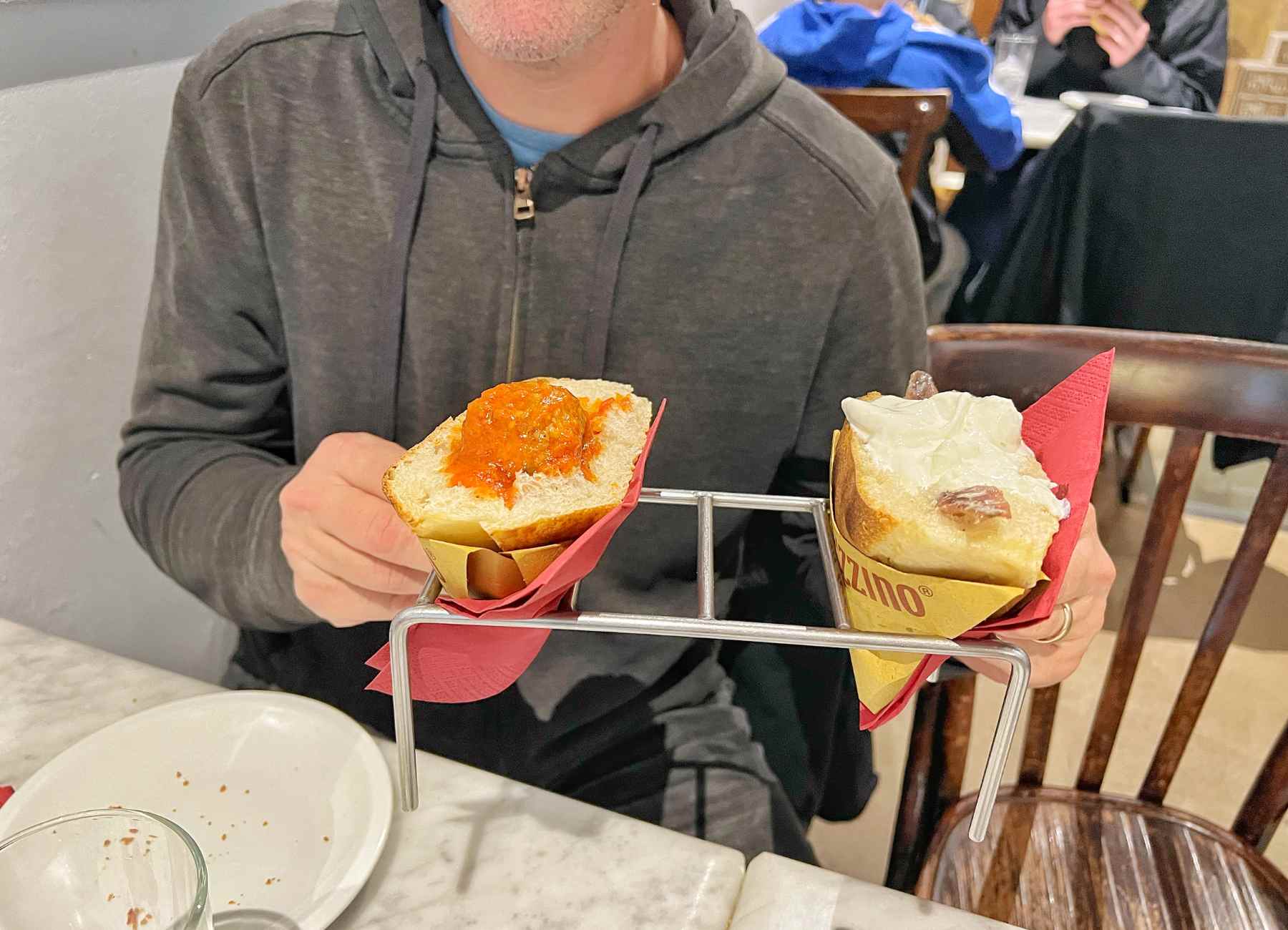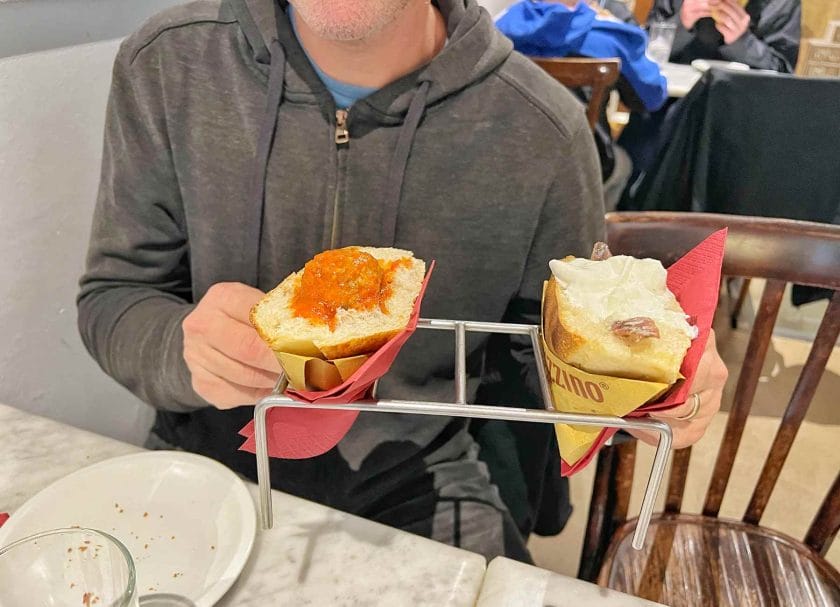 This is where we went to try the famous Rome Trapizzino. When we ordered we weren't sure how they were going to go over but everyone loved them! We also had an awesome server who talked us through what we should get.
Where To Stay
There are a variety of places you can stay in Rome and some great Rome hotels for families. If money isn't an object you could get a place located right in the middle of the hustle and bustle of Rome.
In our case we were trying to stay within a budget, we had 6 of us, and we wanted somewhere close enough to the train station that we could walk to it when we arrived in Rome and when we were leaving.
That brought us to the this location: Piramide & Testaccio Design Flat
The location itself was good with a grocery store close by and multiple restaurants. However walking into Rome and most of the places we wanted to go was a bit of a struggle and we were a decent walk from most places.
There was a bus stop down the road and we did use that when we went to the soccer game.
If you are interested in learning more about the neighborhoods in Rome and where you might want to stay check out this great post: Where To Stay In Rome – A Guide To Rome Neighborhoods.
Rome Itinerary
Our Itinerary in Rome was done at a slower pace since we booked 5 nights in Rome on our 3 month backpacking Europe trip. That meant we had days we could sleep in and not get going until 1pm or later.
Our kids really appreciate these days. As they need to recoup just as much as adults do! We also stayed at a vacation rental so we were able to make a lot of our own food. This allowed us to prepare and eat breakfast before we left for the day, would usually grab lunch while we were out and dinner was either out or back at our place.
We did not have a car so we walked ( a LOT) or took the bus everywhere we went.
1st Day:
Check into your place.
Head to The Rome Experience
Dinner
Pantheon
2nd Day:
Colosseum Tour
Roman Forum
Gladiator School
Pizza
3rd Day:
Sleep in – if you need it. Or else head out to walk the streets of Rome.
Vatican Museum
Early dinner
Head in for a relaxing night
4th Day:
Trevi Fountain
Capuchin Crypt
Spanish Steps
Castel Sant'Angelo
Plaza Novva
Trastevere Neighborhood for a drink
5th Day:
If you have one day in Rome or can stay for longer do it! We weren't able to see it all and do it all and know there are more things like Villa Borghese, Basilica di San Clemente and other museums and places to explore. But no matter how long you are there you will be able to see how vibrant the city is and how it is filled with so much energy.
Pin This Post For Later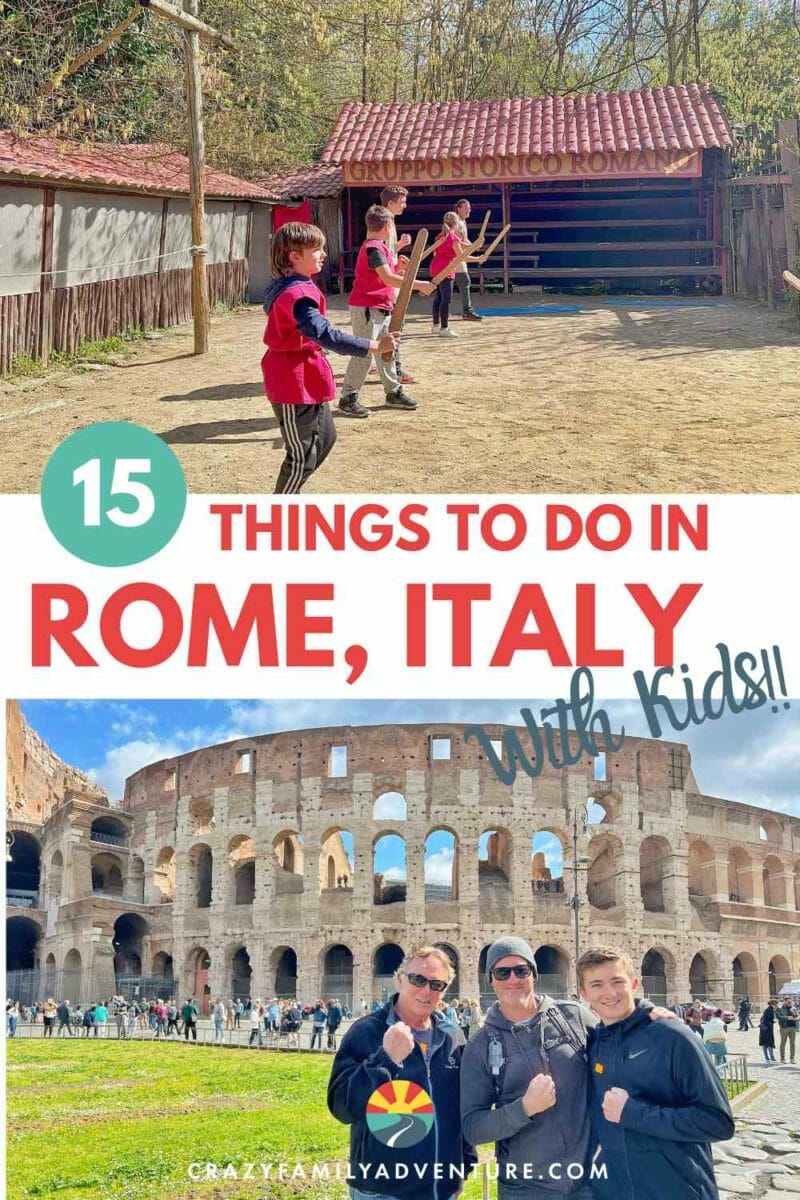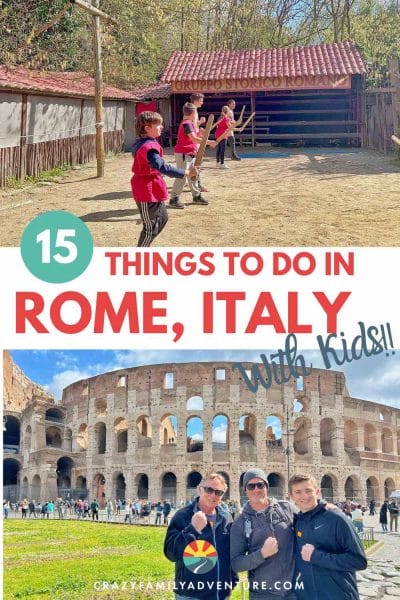 More Europe Content
17 Fun Things To Do In Venice Italy [2 day Itinerary Included]
Backpacking Europe Packing List [With Kids!]
21 Best Things To Do In Prague With Kids
Tips For Riding The Epic Bernina Express
30+ Best Things To Do In Lisbon, Portugal
One Day In Madrid Itinerary – 14 Stops Not To Miss!
One Day In Barcelona Itinerary
A Tourist Guide To Las Fallas Festival in Valencia Spain
DISCLOSURE: This post may contain affiliate links, meaning I get a commission if you decide to make a purchase through my links, at no cost to you. Please read my disclosure for more info.