We opted to backpack Europe and not bring suitcases for ease of moving. Since we would have 34 different stops on our trip, we wanted to be able travel quickly and lightly. Below we share our backpacking Europe packing list, how it went, what we do differently and the things we were so glad we brought with us!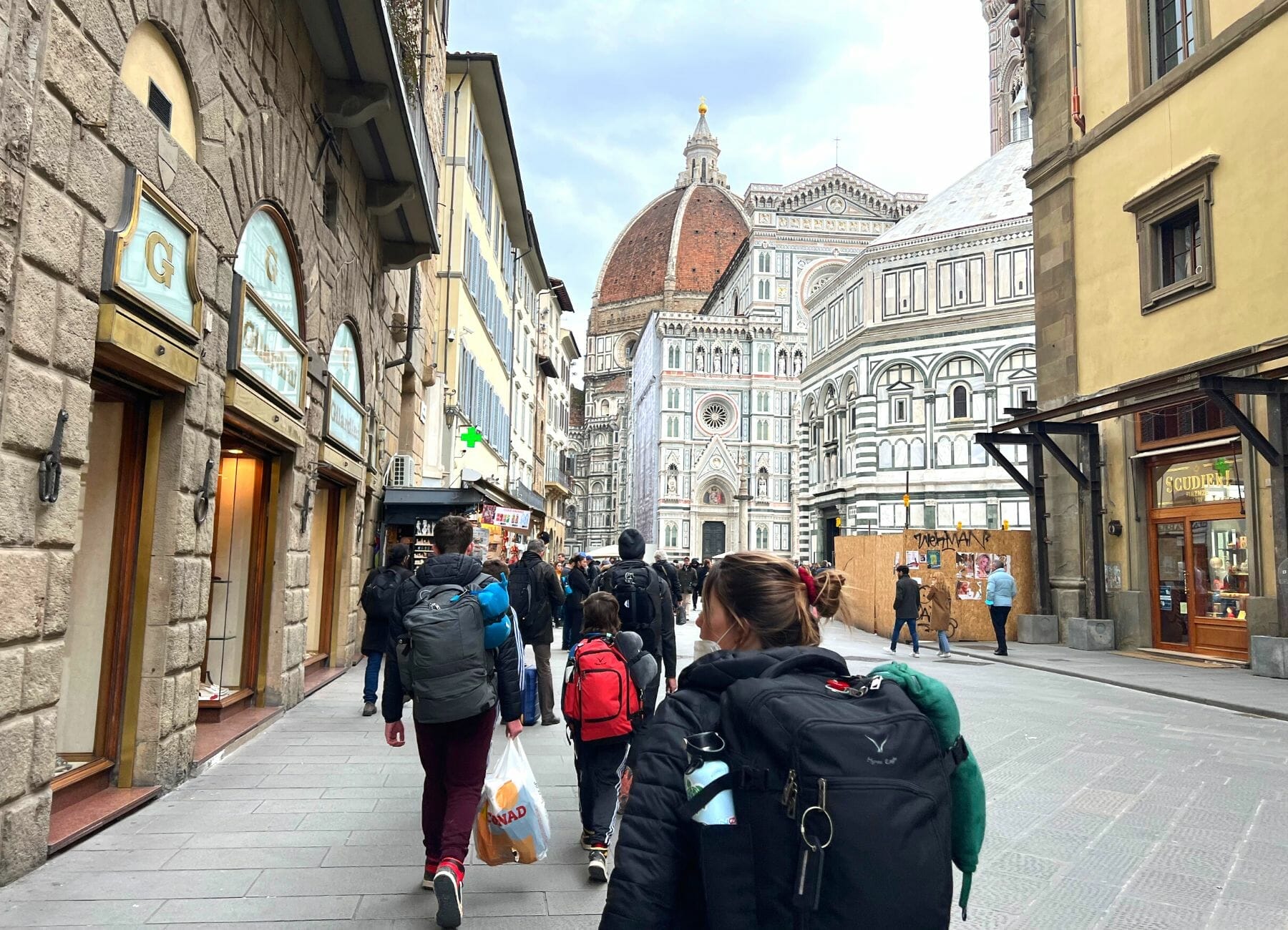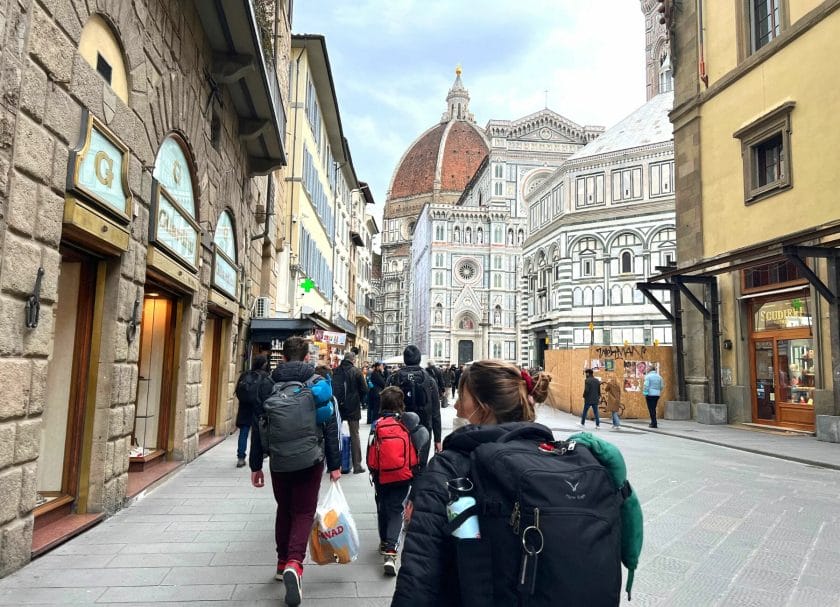 This meant each person in our family of 6 would have a big backpack. Craig had a 46L Osprey Porter, Carson and I had the 44L Hynes Eagle, Melia, Cannon and Knox each had a 40L backpacks and a small electronics bag. Luckily we had a trial run when our family visited Israel with backpacks back in 2020. That was only for 12 nights though! Now we were going for 90+ days!
**It looks like the Hynes Eagle is in and out of stock in the 44L size on Amazon. This could be another good option: Bange weekender.
We would be in mostly warmer places – so we didn't need any crazy winter gear. That helped! We also weren't planning on doing anything fancy and if something like that did come up we would just go buy things if we needed to (we didn't need to).
We also knew we were going to Europe where they would have pretty much anything we needed to buy. Luckily we didn't need to buy a lot of things!
Backpack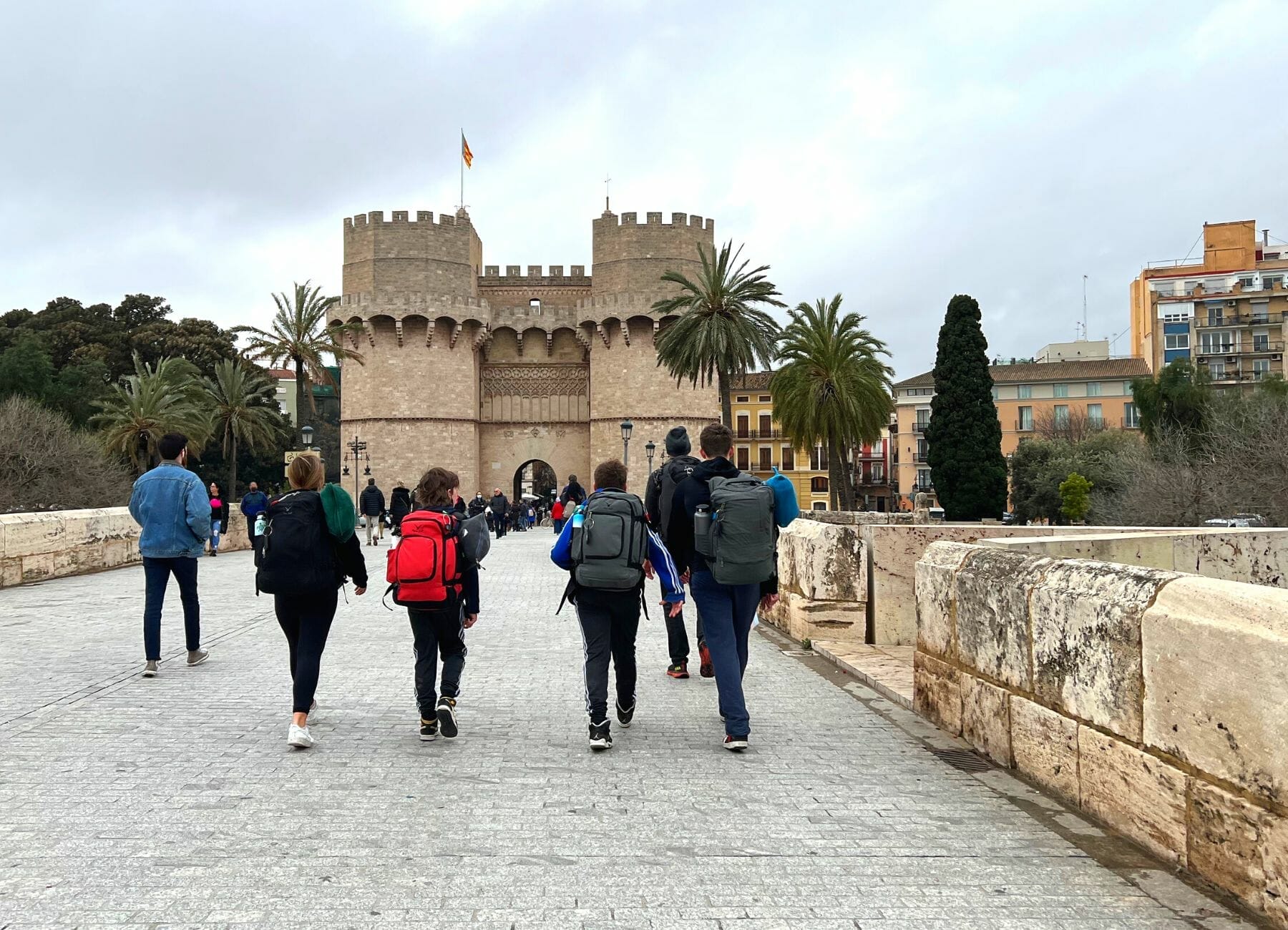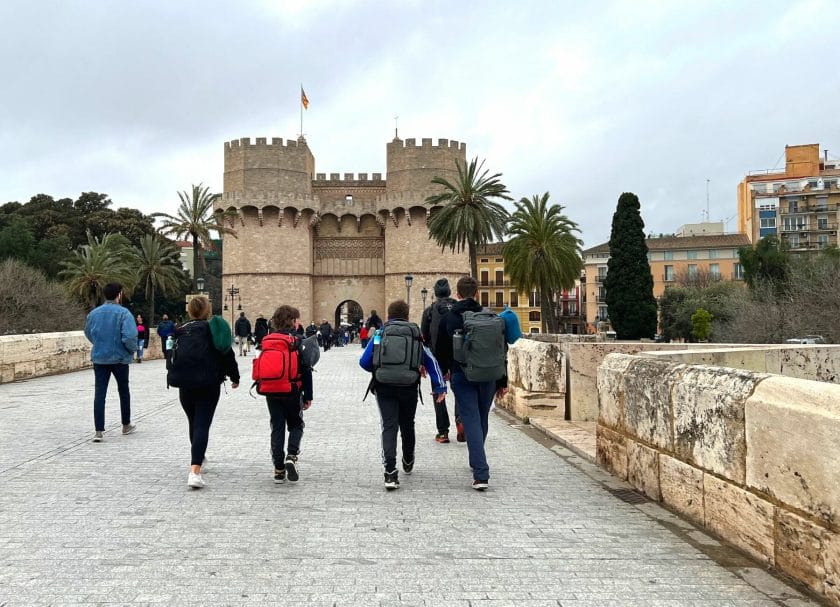 Here we are backpacking during the Las Fallas Festival in Valencia, Spain,
After researching and looking at sizes we opted to go with the Hynes Eagle backpack for me and the kids. We chose the 44L for Carson and I and the 40L for the 3 younger kids. The bags came with lots of extra compartments and pockets.
The front extra pockets were super helpful. I kept the kids raincoats in there for easy access, which we did need unexpectedly a few times, so it was nice I didn't have to dig through the whole bag to find them. I also put their hat and gloves in there for the same reason. The inside pockets we didn't use much.
The 44L was a great size for me and I and actually ended up being bigger than what Carson needed for his clothes. But, let's be honest he wore the same things almost every day in Europe so he didn't need that many clothes.
Our daughter, on the other hand, who had the 40L really could have used the 44L . . . in the end Carson ended up carrying a few extra things in his bag that were actually Melia's. Melia also bought a lot more clothes in Europe than any of the other kids. In the end it all worked out. But if we did it again I would get Melia the 44L bag.
Craig actually decided to get a completely different bag and went with the Osprey Porter 46 Travel Backpack.
Osprey Backpack
He has had Osprey bags in the past and really liked them. At this price point we weren't going to buy them for everyone. It made sense for him to get one since he does a great job taking care of his things.
After using it for Israel and Europe he was very happy with the bag. It is a larger capacity at 46L, but doesn't look like it since it compacts down really well with the compression straps. When wearing the bag it is designed to sit higher up on your back which was comfortable for him.
It is also nice since it converts to a handheld suitcase style that you can get 1 long strap for if you prefer that.
Here's a nice video from One Bag Travels on how to pack the Osprey to maximize its space. Spoiler** The packing cubes I used are down below on this post.
Osprey Backpack Review
The one thing that was annoying about the bag is it tapers up towards the top so you lose some space when packing since it isn't a perfect square like the Hynes Eagle packs. It also did not have a place to put a water bottle.
He also bought this Osprey daypack that can hook onto the Porter. However he never hooked it onto the backpack since the bag was already so heavy and instead wore the daypack on his chest with the big pack on his back.
Overall he was very happy with the bag and will continue to use it.
Hynes Eagle Backpack
Here is the Hynes Eagle backpack the kids got in the 40L size. The younger kids were 10,10 and 7 when they used these bags in Israel and 12,12 and 10 when they used them in Europe.
These were the 44L bags that Carson and I got. Carson was 12 when he used it in Israel and 14 when he used it in Europe.
It seems like the 44L Hynes Eagle is in and out of stock on Amazon. This could be another option:
Hynes Eagle Backpack Review
After 90 days traveling on multiple trains, airplanes and cars and moving about every 3 days – meaning the bag was opened and closed a lot. My overall review is these bags are great! There were a few rips on inside parts of the bag – mostly due to not being careful when packing and over packing.
I would have to lay on top of mine and Melia's to get them to zip closed and the zippers held up the whole time!
I also liked that these bags could be pushed down and squeezed into places. Yet the outside material was very durable.
There were a few train rides where the bags would not fit overhead and we had to squeeze them by our feet. But in these cases the overhead area was so small it wouldn't have mattered what size bag we had!
We only had one issue on a flight for the way home where they tried to tell me the bag was too big when I got to the gate and they were going to check it. I went back and removed some things from my bag, spread them out to the kids bags and really tightened down the straps and went back up and they said it would be fine.
Luckily they let me try and I was able to get it in the overhead bin with just a little push and a shove. Note that my bag was the same size as Craig and Carson, but depending on how you pack (or over pack) they can look like different sizes.
It was super helpful that they had compression straps on the side that you can buckle and really tighten to make the bag smaller. There was also an expander zipper you could open to make the bag bigger.
There was a pocket in the back of the bag for a computer. I felt it would have been quite the hassle to unzip it and get the computer out while traveling, so I opted to get a computer carry-on bag instead. I used that as my "purse" (I actually squeezed my purse in the bag) and 2nd carry on.
There was a water bottle pocket on the outside of the bag which was also helpful for the kids to put their water bottles in. We had each kid bring a water bottle with and this was super convenient.
In the end I would say these bags were perfect for our trip and I would use them again and again!
Electronics Bags For Kids
Funny thing is we bought these bags years ago when the kids were into Pokemon Go. They ended up working out great when we brought them to Israel so we figured we would use them for Europe too.
The kids put their iPads in here, chargers, cell phones, notebook, markers, and any little souvenirs they bought along the way.
They wore these on the front of their body with their backpack on their backs.
These bags worked well since they had a front part that could clip open and closed and they could easily fit a few extra things in there.
I am sure there are bags out there that would be better, but in the end these worked out great. The iPads (10 inch) had to be kind of squeezed in there and it just fit their big headphones, but we made it work.
In the end, one of the zippers totally broke on one of them. But with the extra clip section it was OK and could still hold everything in place.
Electronics bags:
Carry On Bag
Craig was able to put his computer in his backpack and since he wasn't planning on taking it out while traveling and it worked well just having it packed in there. For his 2nd carry on he went with a daypack that we would also use when we were out walking around the cities and exploring.
He opted for the Osprey Daylite. He wore this on his chest while he had the backpack on his back. While we were out and about he wore it on his back and it was nice since it was so compact and could fit 2 large water bottles.
Note that when you add the water bottles on the side it does take up a lot of the room in the backpack. It was a tight squeeze for 6 of us, but we were able to fit all of our raincoats in there and the 2 water bottles.
If you like to have more space you may want to go with something a little bigger. But if you can swing it having something this compact and small and in turn not weighing a ton was a really smart choice. Once we got over being annoyed we couldn't bring more things in it.
But also we almost never needed all the extra things we thought we should have brought. So . . . if you can make it work.
It also qualified as a personal item for flights, so that worked out well since we didn't want to pay to check bags or a second carry on.
Computer Bag
For my personal item on flights (on the trains it didn't matter how big or how much our luggage was), I went with a computer bag so I could easily access my computer to work while we were traveling. I knew we would have a lot of time on trains so wanted to be sure it was easy to get to.
This was a total last minute buy for me as I was just thinking it would go in my backpack. Then I started to really think through the logistics of being on the train! I am so glad I thought about it and got this bag.
I went as small as I thought I could go and still have room for everything I needed. In the end I definitely could have gone bigger. But again was glad this forced me to not accumulate a bunch of things on the trip and keep what I was carrying to as little as possible.
The bag worked out fine. Nothing special. But I did like that it had a zipper and side hook so I could lock the bag when I wanted to. It didn't come with a lock but I bought one so I could easily lock it.
Purse
Originally I was thinking I would just go with a sling backpack for our trip and I would tuck it into the computer bag or my backpack when we were traveling. As I kept researching and talking to people I kept hearing about pickpockets in Europe. This made me nervous about having a backpack on my back where I couldn't see it and couldn't tell if someone was trying to get into it!
After going to Europe I saw a lot of people with backpacks on . . . so maybe it would be totally fine??
In the end a friend recommended a Travelon bag and I was hooked! With these bags you can "lock" all of the zipper pockets closed! Well not really lock but hook them closed so it is not easy to open them. My thought was this would replace having to wear a money belt.
I really liked having this bag and the functionality of it being able to "lock". However about a month into our trip I went and bought a backpack when we were in Germany and ended up putting this bag in the backpack a lot of the time.
I did this since my shoulder started to get really sore from carrying the bag as we walked 5, 10, 15 miles a day! Granted the bag was stuffed full with our passports (we always had these with us), a first aid type of bag with band aids, Tylenol, cough drops, etc. My wallet/fanny pack and a whole collection of masks for everyone. Plus my cell phone.
When traveling I would squeeze this bag into the computer bag so I could get on the plane with just a carry on and a personal item. I couldn't zip the computer bag closed, but no one ever questioned it. I just kept the computer bag tucked tight under my arm when we were boarding the plane.
In the end I was glad I got this bag and there were multiple times we were in a crowd of people and I was glad I had this bag with its "locking" ability.
There were times I told myself I wish I had gotten the slightly larger Travelon bag. On the other hand that would have made the bag even heavier as I am sure I would have put more in it!
What We Packed For 3 Months In Europe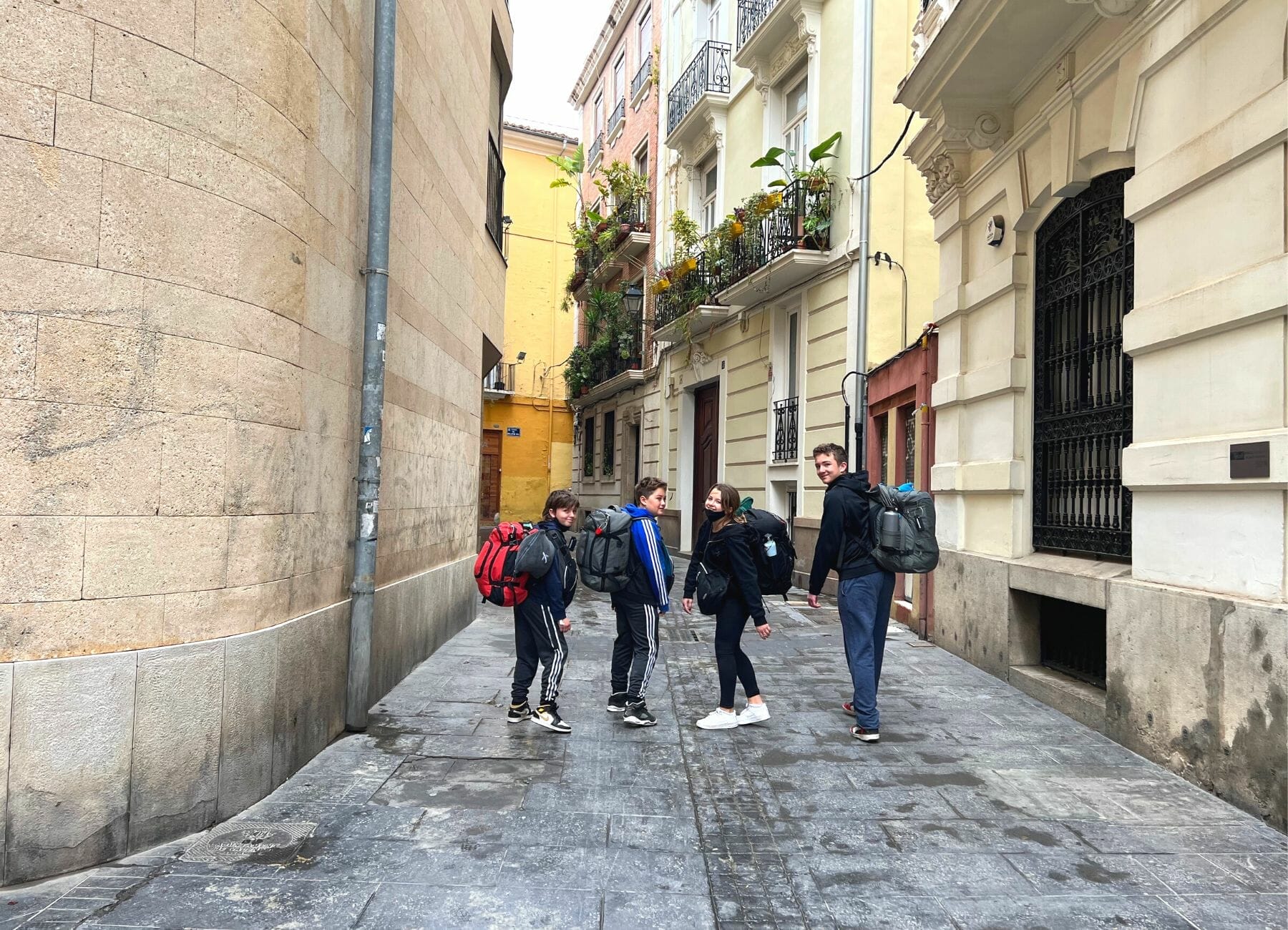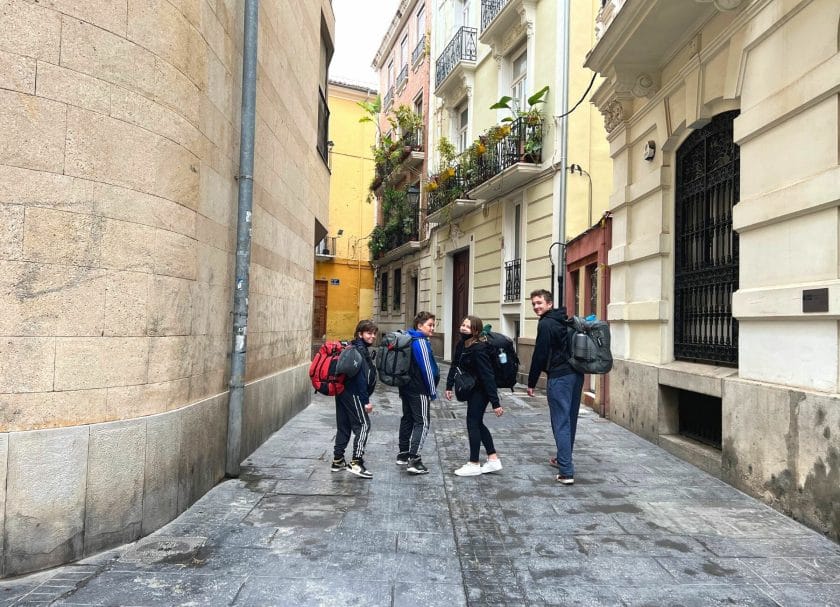 Shoe bag – after walking all over Europe I knew we didn't want our shoes touching our clothes in our bags! So got everyone 1 Shoe bag. Since we were each bringing 1 pair of running shoes and 1 pair of sandals 1 bag was plenty.
Underwear/socks bag – we had extra shoe bags so each person got one of these to use for their underwear and socks bag. So that their underwear and socks didn't end up all over their bag! It worked out well.
Packing Cubes – Craig got these Eagle Creek packing cubes because they fit perfectly in his Osprey pack. They're very durable and are compression cubes so they pack down nicely.
Laundry bag – Everyone got one of these laundry bags. This is where their dirty clothes would go between wash cycles. It worked out really well because the same amount of clothes stayed in everyone's backpack and the dirty stuff was separate from the clean.
Toiletry bag – Everyone but Knox ended up with one of these in their bag to get all of the cosmetics, deodorant, oils, etc over to Europe that we wanted to bring. Melia also had her own for all her makeup and extra things she wanted to bring.
If you want tips on packing these check out: Tips For Packing Your TSA Approved Quart Size Bag.
These worked out great and made it through our whole trip.
I also got this bag and put non liquid things like headbands, extra bandaids, etc in here for when we flew over. Once we were only doing trains and the liquids didn't matter I moved my liquid stuff in here so I had a nice easy place to find all my personal things I wanted when getting ready.
I was really glad I did this. Or else my stuff was in multiple toiletry bags in different backpacks. Plus this was a much easier setup with the compartments for me to keep my stuff organized.
What Clothes To Pack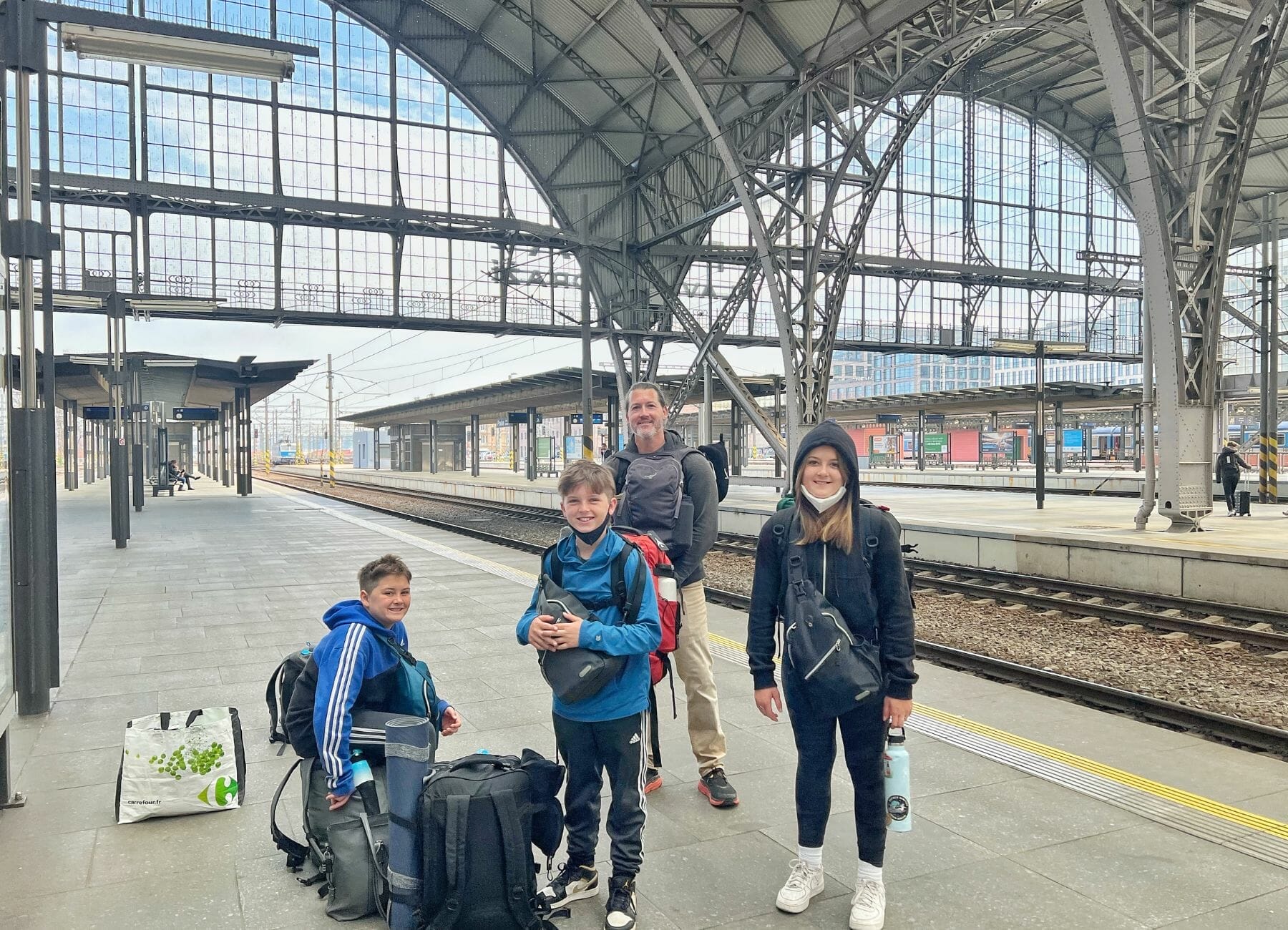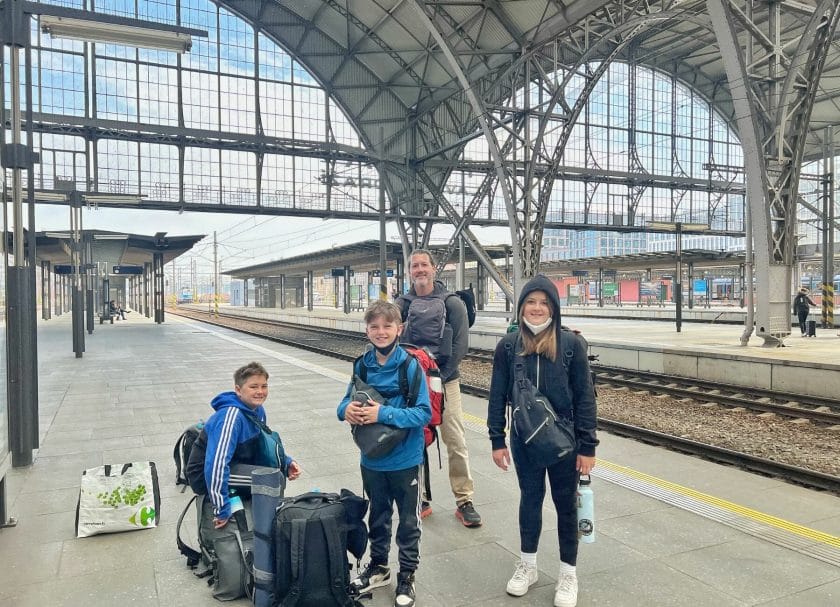 We went with 4 of everything and 10 underwear. In the end it wasn't exactly 4 of everything, but it was pretty close.
Day to Day Clothes
4 t-shirts
10 underwear
4 long sleeve shirts
4 shorts
1 sweatshirt
4 pants
4 socks
We didn't buy anything new or extra for these clothes. We just packed what everyone already had. I ended up with an extra sweatshirt and a few other things. But overall it was plenty! At the end of the trip I was still happy with what I was wearing and there really wasn't anything I wish I had brought with me. The simplicity of only having these things with me was so nice!
I do highly recommend these pants. They aren't expensive, are comfortable and held up well with all the walking. I brought 3 pairs of these with all black :).
This is the sweatshirt I bought and brought with and it worked out great since it was lightweight but added an extra layer.
My overall advice on clothes when packing a backpack is to bring a lot of darker colors that all go together. If you are like our family everyone is always spilling something and darker clothes are much better at hiding stains!
Outerwear
Raincoat – I knew we were going to Europe in the spring and there was a chance we would hit some rain. None of us owned rain jackets so we did have to buy these. We were very glad we had raincoat with us and used them a lot.
For the kids we went with these:
For me I went with this one:
They all worked out great and got the job done.
Winterish jacket. I say winterish since from what I could see it would be maybe in the 50's, but mostly 60's when we were in Europe so I knew we didn't need huge ski jackets. Since we just had backpacks we wanted something that was easy to squish down and fit in a bag.
We opted to go for these puffy jackets and they worked out great. No complaints and they made it through the trip without any issues (after being stuffed in and out of bags a lot!).
This is the one I went with:
I got the kids these:
I like to be prepared and in the end we only needed these a few times but I felt it was good to have. So we each had 1 hat and 1 pair of gloves for the trip.
1 winter hat
1 winter gloves (thin pair)
Shoes
1 pair of sandals – we each packed 1 pair of sandals. For Craig and I it was our trusted Adidas slip on sandals (we have bought these same pairs over and over again since college). And the kids each had a similar pair.
We didn't end up wearing these much at all.
1 pair of shoes – We each brought 1 pair of shoes. These would be athletic shoes for walking in. Craig (Hoka water proof shoes) and I got new shoes to bring to Europe. For the kids they went with what they had. That meant Cannon and Knox brought one of their Jordans, Carson had a pair of Puma high-tops and Melia had her Nike Air Force Ones and brought her Converse.
We walked a LOT like around 40-50 miles a week. Carson and Knox ended up busting through their shoes and by the end of the trip their toed were peaking out. But they made it back to the US without having to buy new shoes.
They had been wearing these shoes prior to going to Europe. If they had bought them new right before going they would have been fine.
I went with these. I am not by any means saying these were the smartest option for walking as much as we did. That being said they were very comfortable and I wanted something with a little style. If I was going for the "best" option for support and things like that. I would have gone with a running shoe or hiking shoe. But I didn't want that look :).
Cosmetics
For these we did enough to get us to Lisbon and through our first week. Since we had a few more plane rides in the beginning we had to keep this carryon bag approved. After the fights were done there weren't limits on the train so we knew we could buy things in Europe.
Shampoo
Conditioner
Lotion
Deodorant
Razor
Toothpaste
Tooth Brushes – with these cases. And we carried our toothbrushes in one of these bags – that I talk more about below.
Essential Oils
I wanted to bring a few of our staple essential oils so we had them if we needed them. I prefer to buy my base oils from Mountain Rose Herbs. For the Doterra blends I usually get them on Amazon so the order comes quickly.
Frankinsence
Patcholi
Peppermint
Lavendar
Digestive Blend
Respiratory Blend
Extra Things
Water Bottles – The kids all brought their Hydroflask water bottles. To avoid using plastic water bottles the whole time we were there. We also brought 2 Nalgene bottles. They fit in the pockets of Craig's Osprey Day Pack. We could have those 2 with us for the family while we were out and about during the day. We also got the Splash Guards so we didn't end up wearing most of the water.
Apple AirTags – Craig bought a 4 pack of the Apple AirTags to stash deep in our backpacks, purse and computer bag. Just a security measure just in case a bag was taken or misplaced. He also got these key ringed cases for them to hook onto something in the bag.
Locks for everyones bags – if we had to leave our bags at the luggage spot on the train and not put it right above us. Or when we left our bags in the room and went out for the day, we would lock them up. These locks just stayed on everyones bags at all times so we didn't lose them.

Locks for the lockers in the hostels – we knew at the hostels that it was recommended to lock your bags. Not as much if you had a private room, but we still figure it was good to be prepared. We got a set of these locks for that reason.
Retractable Lock – I kept reading about all this tourist theft in Europe. . . so wanted to be prepared. We also had friends that went and had their bag stolen out of their room. My thought was to get these locks so we could lock our bags to something in our room.
I totally know someone could just cut these locks with the right equipment. But we also kept reading if someone sees that the bags are locked up they will just move on and not even try to take yours – if it isn't just an easy grab and go. Who really knows and who really knows if this would stop our bags from getting taken?? But figured we would be prepared.
We did end up using these when we left our room and always locked our bags and locked them all together attached to something that couldn't easily move. I was especially on top of this with my computer bag and the kids electronic bags.
Carabiner clips – not sure what for, but useful – ended up using them to attach our travel blankets to our bags.
Travel Blankets – we all got our own travel blanket. I kept reading in reviews at hostels that people wished there were more blankets. Figured we should bring some and also have them for the train rides.
We did use them at a few of the overnight stops, but not really because we needed them but more because we just wanted to use our own blanket. If that sounds nice to you, get one. If not, you would probably be OK without it.
These did hook on well with the carabiner clips to our backpacks and were easy to carry.
Travel Towel – we had heard that not all hostels (or any really!) provide towels so we brought 3 of these in the medium size. In the RV we all share towels so it would be fine. Plus none of us shower every day. They weren't the best for drying off but they got the job done and were small and compact.
Clothesline – it was very useful. We would definitely recommend bringing one as a lot of places in Europe don't have dryers. Some places did have a drying rack which was nice, but not all of them!
Resuable Plastic Bags – I wish I brought more! I used one of these for the passports that I kept in my purse. The others were used for toothbrushes, q-tips, papers we had printed with train tickets on them, and random things we found out after that fact we wanted a bag for!
Portable Charger – Each of the kids had a portable charger with them. Whatever you normally use at home should be fine to bring with.
Outlet adapter – We got each person in our family their own outlet adapter. Which ended up being a good thing as one of them stopped working while we were there. We also brought a couple USB-C to USB adapters to make use of the USB ports on the adapter for our phones and Apple Watch chargers.
MacBook adapter – we didn't figure out I needed this until we got there. Luckily my parents where able to bring it to us when we met them in Europe. I could have just used the outlet adapter. But my large charging brick for my MacBook kept making the plug fall out of the wall!
Instead I got an adapter for my MacBook cord box. With it I could just swap out the plug on the brick and plug it right into the wall. Game Changer! Highly recommend if you are going to be working while on your trip.
Charging cords – make sure you have enough of these to charge everyone's electronics. Lightning, micro usb, usb-c, etc., etc.
Board Games – We brought a couple games with us to have some fun on long train rides, flights or just hanging out at night. We brought a couple decks of cards, a chess board and a cribbage board. These were packable and light which made them an easy choice.
Internet/Insurance/Documents
Internet/Cell – Before we left we created GoogleFi accounts. When we were in the states we activated those by removing our sim cards and replacing them with the GoogleFi sim card. We would recommend bringing your regular service providers sim cards with you. There were a few cases where we needed to log into things and we did need the old sim card.
GoogleFi works internationally for 3 months (always be sure to check their site for the latest information on this) and you can set up a hotspot on your phone. When we went the package we got allowed for 50 Gigs of high speed data each month.
Travel Insurance – We went with Allianz for travel insurance. We had used them on a trip we took to Israel. And we were happy with the service we provided when we did have to submit a claim. We have also heard good things about World Nomad insurance.
Documents – of course you don't want to forget your Passports and any other important documents you need for your trip! Prior to going always be sure to check the country you are going to and what they are requiring for entry. And be sure to check Passport rules – a lot of places won't let you in if your passport expires within 6 months. The reusable plastic bags we mentioned were great for holding all of this documentation.
Wow! I think that is all we brought. It might seem like a lot, but we had 6 people and were there for 3 months. For the most part, we were really happy with what we brought as it all worked out very well for what we needed.
There were a few times I thought an eye mask would have been nice when we were staying in hostels. But overall we wouldn't do much differently when we pack for our next backpacking trip in Europe.
I hope this helps you get your Europe packing list all set! We loved traveling to Europe and know you will too! Packing light helped make our trip easier and only having carry ons meant we didn't have the extra cost of checking bags.
If you want to learn more about how we planned our trip from Southern Europe over to Czech Republic and up to the UK on a 3 month 13 country trip check out our post: How To Plan A Trip To Europe.
Learn more about the locations we visited in Europe:
14 Fun Things To Do In Rothenburg Ob Der Tauber Germany
16 Top Things To Do In Munich Germany [+ Day Trips]
15+ Fun Things To Do In Rome With Kids
15+ Things to do in Tuscany, Italy
Tips on Visiting All 5 Cinque Terre Towns (Itinerary Included)
30+ Best Things To Do In Lisbon, Portugal
1 Day In Sintra Portugal – 3 Places You Don't Want To Miss!
1 Day In Belem (Lisbon) – 9 Awesome Places To Visit
One Day In Madrid Itinerary – 14 Stops Not To Miss!
One Day In Barcelona Itinerary
A Tourist Guide To Las Fallas Festival in Valencia Spain
25 Tops Things to do in Florence Italy
3- Day Florence Itinerary- Plan an Awesome Trip!
17 Fun Things To Do In Venice Italy [2 day Itinerary Included]
Pin This Post For Later:
** These are affiliate links and we will get a small commission if you click on them. See our disclosure for more information.
DISCLOSURE: This post may contain affiliate links, meaning I get a commission if you decide to make a purchase through my links, at no cost to you. Please read my disclosure for more info.