Florence is the capital city of the Tuscany region of Italy. It is a vibrant city with a lot of history, especially around its art and architecture. Be ready to explore amazing museums, art, sculptures, and delicious food when you visit.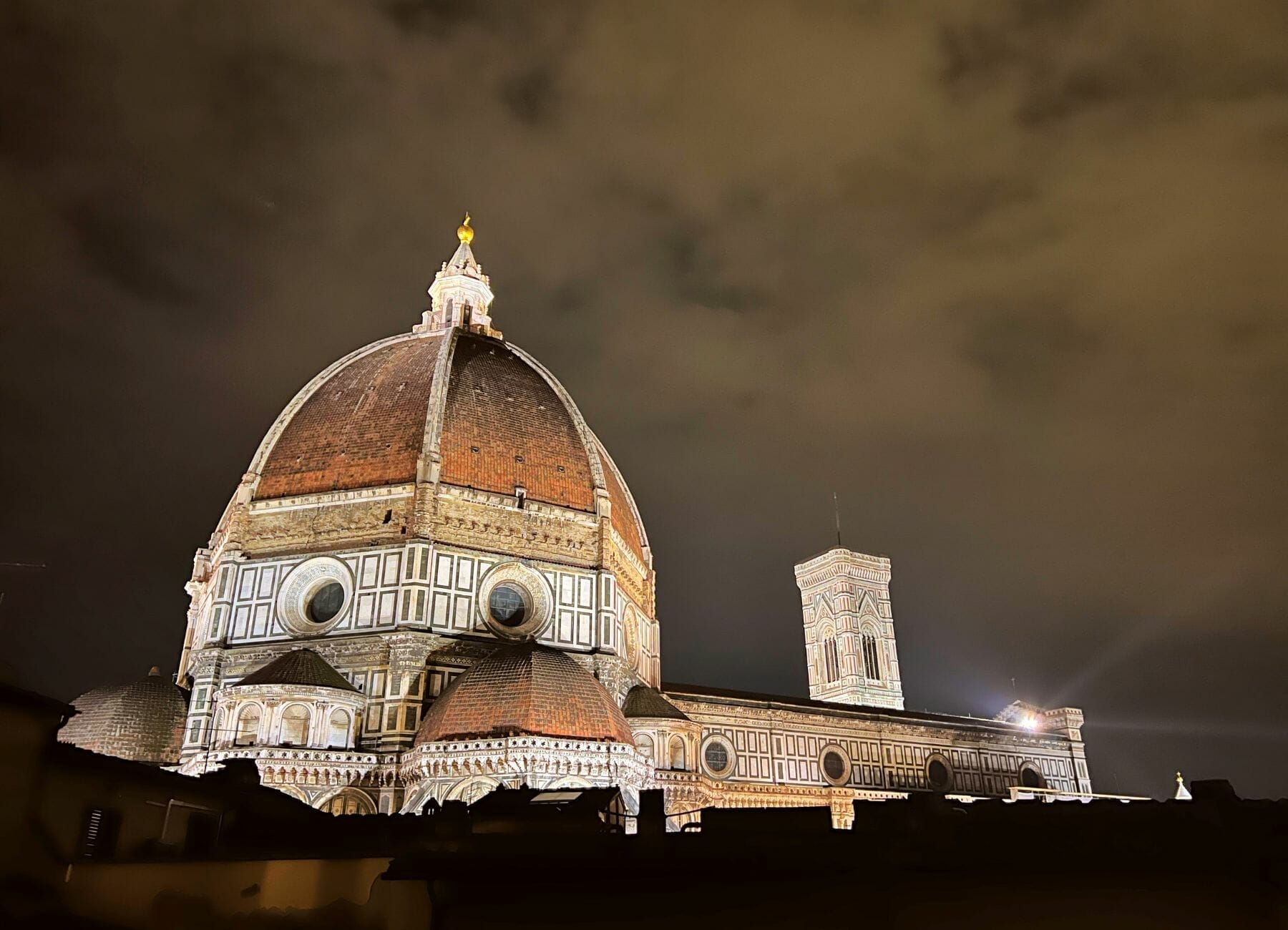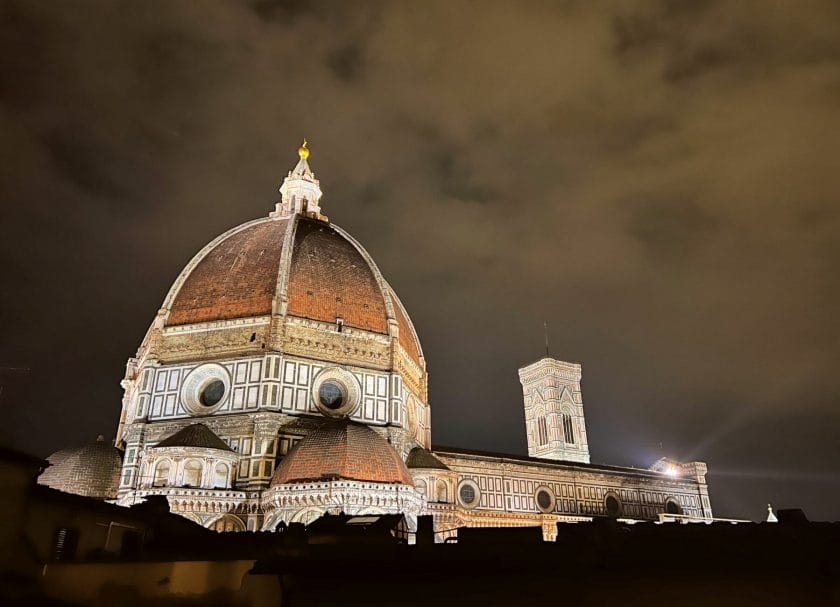 Our 3 day Florence Itinerary will show you how to do that and make the most out of your time in this beautiful city and all the awesome things to do in Florence.
How Many Days Do You Need In Florence
We booked 3 nights in Florence on our 3 month backpacking trip in Europe which gave us almost 3 full days. 3 days is a perfect amount of time to see the highlights of Florence. Like with any trip if you want to really immerse yourself in Florence, try a lot of restaurants, casually stroll the streets and sit at the cafes for hours you could most definitely spend more time here!
No matter what though make sure that Florence is on your Italy Itinerary. There are also a lot of free things to do in Florence which is always nice!
If you are on a tour of Europe and looking to stop in Florence to experience this magical, historical, delicious city 3 days will work!
You can also stay in Florence and use it as a base to explore Cinque Terre and Tuscany.
We choose to stay in each of these locations but if you would prefer to have one place to stay you can take a train from Florence to Cinque Terre pretty easily. It would make for a long day trip but we know people that have done it!
For Tuscany you would want to either book a tour or plan to rent a car to drive into Tuscany to explore all of the cool towns. We rented a car while in Tuscany and it worked out well. The roads are small and tight but it was doable.
Getting Around
Florence is one of the most walkable European cities that we visited. This isn't by accident. They have intentionally made it this way by closing down streets and creating these beautiful squares where you can walk around and take in the amazing architecture without having to worry about cars.
Craig also noted it made the city much quieter and more enjoyable without having to hear engines and horns all the time.
Foods To Try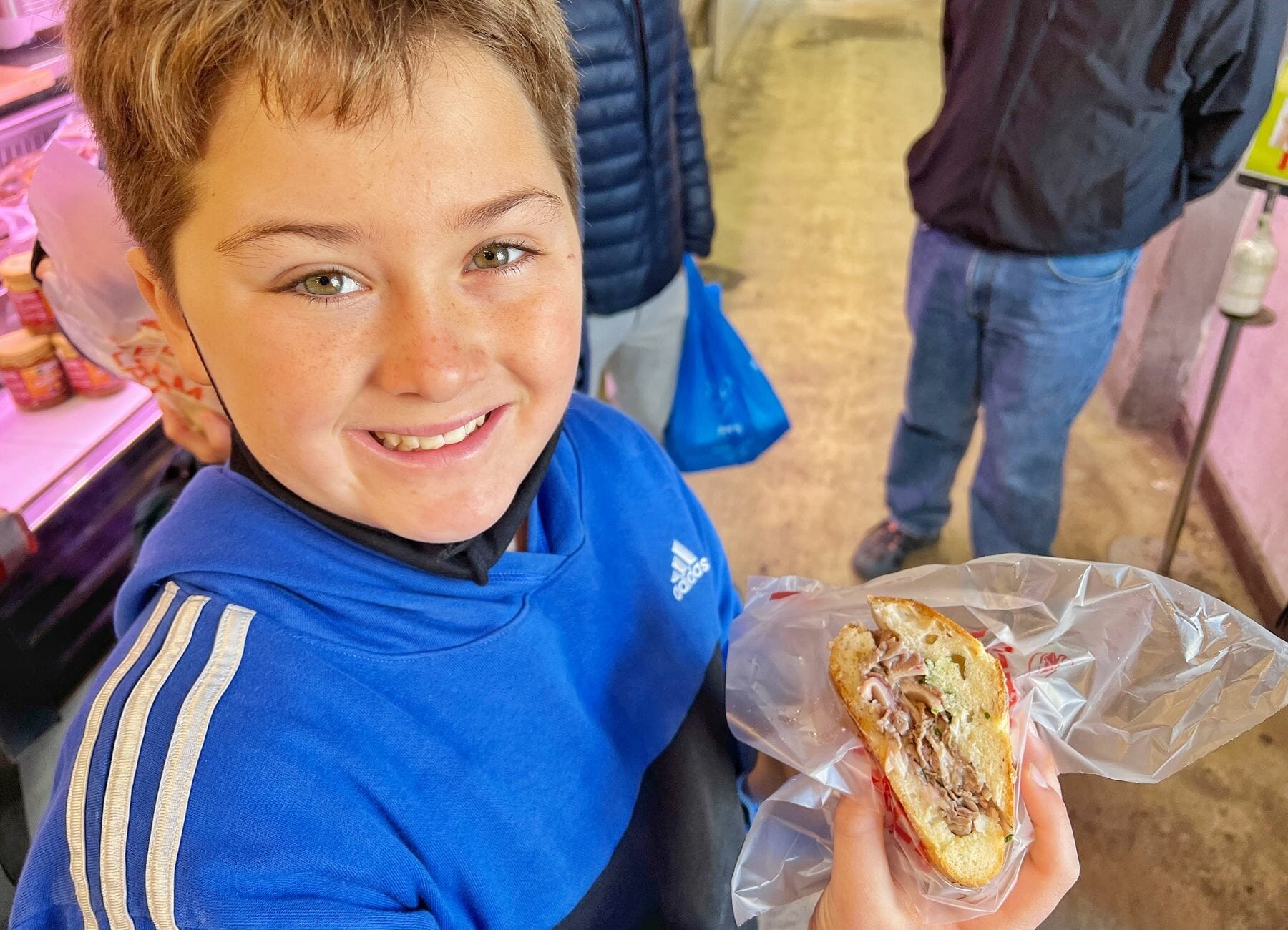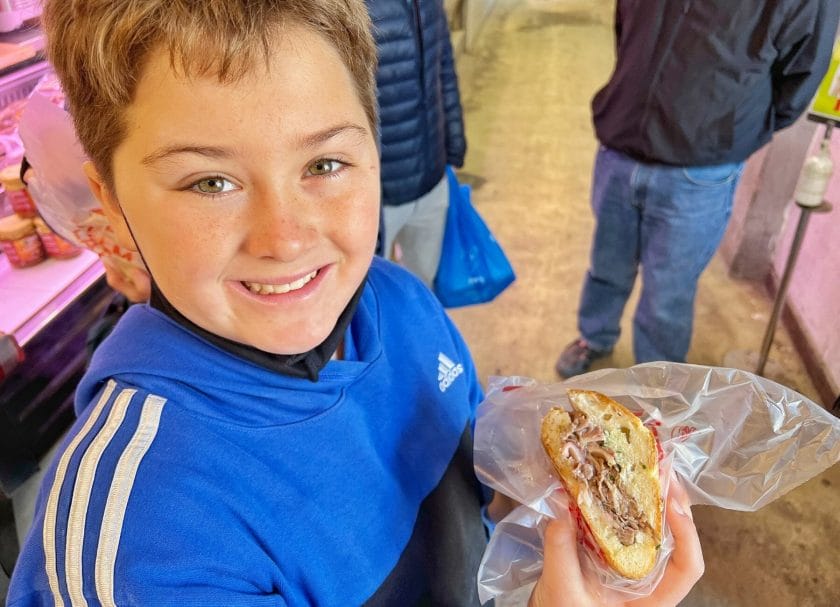 When in Florence you don't want to miss the Florentine Steak, pizza, and gelato. If you are an adventurous eater go for the lampredetto too!! You can find an awesome lampredetto shop on the 1st floor of the Mercato Centrale.
Here is our recommended 3-day Itinerary in Florence.
Map Of Florence Itinerary
Day 1 in Florence
Head to Duomo Square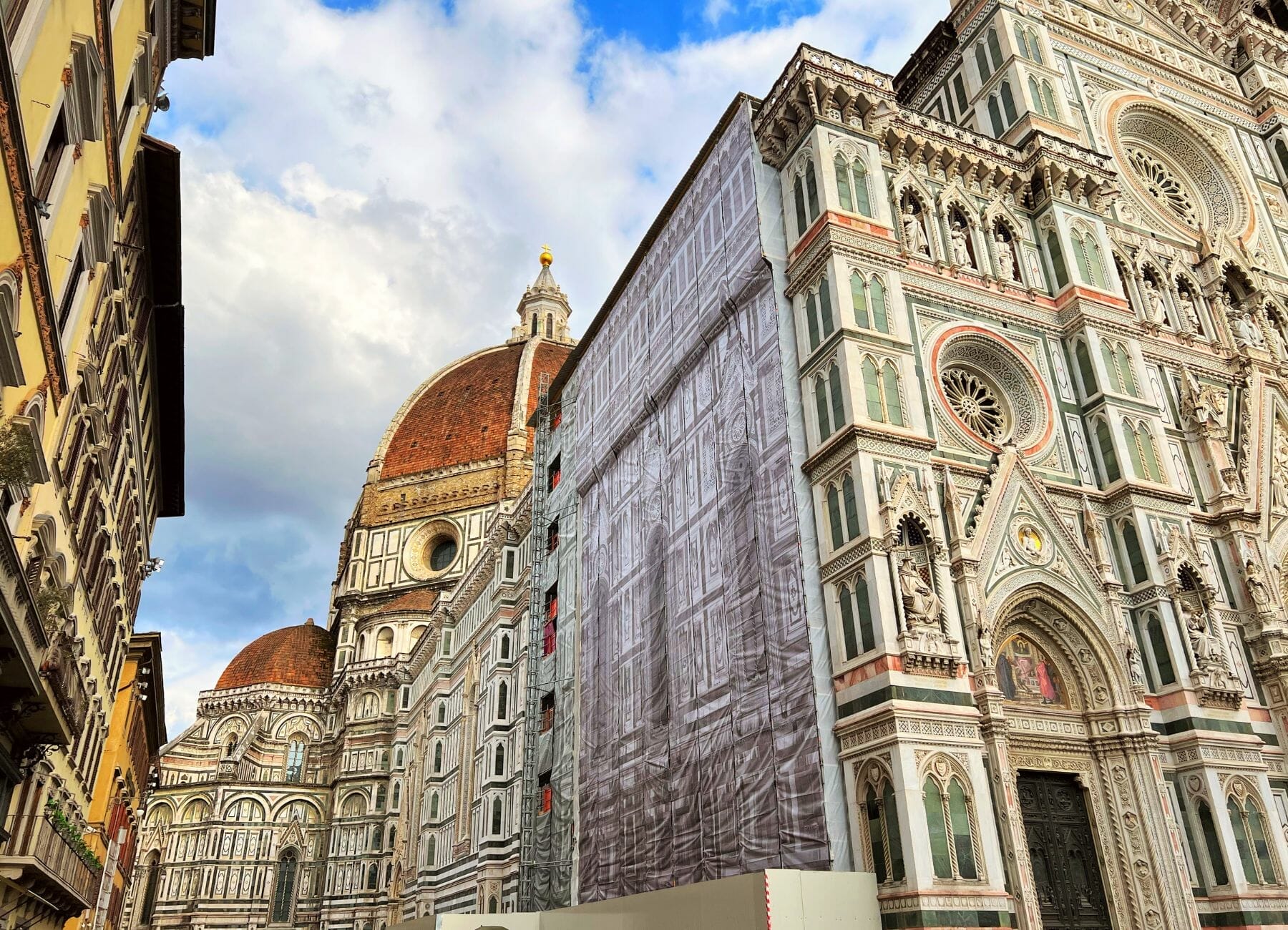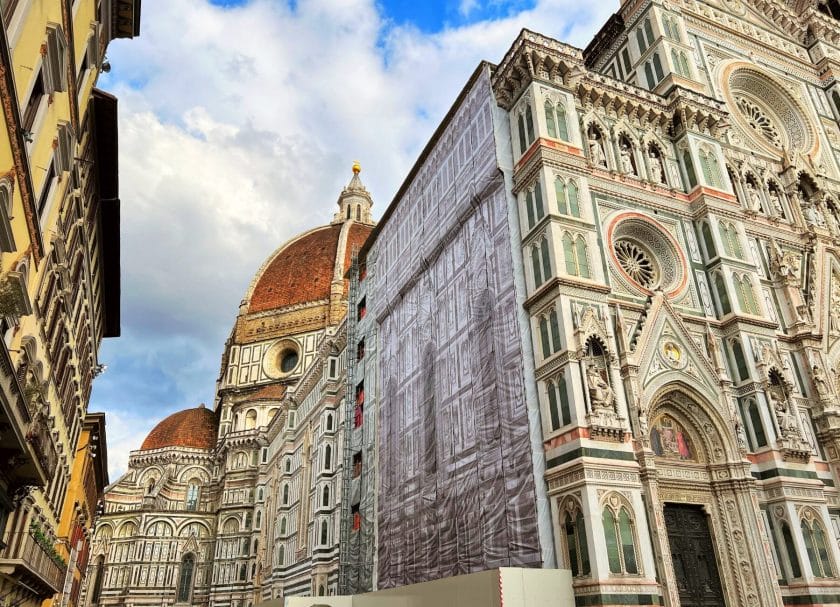 This square has the Duomo as the centerpiece and is lined with shops and restaurants. Walk around and take in the views of the Duomo from each side be sure to check out Giotto's Bell Tower, one of the main buildings on the square. . Stop and grab a coffee at one of the restaurants.
We had an apartment that was right down the road from the piazza del Duomo! And from a terrace in the building we had an amazing view of the Dome!
Accademia Gallery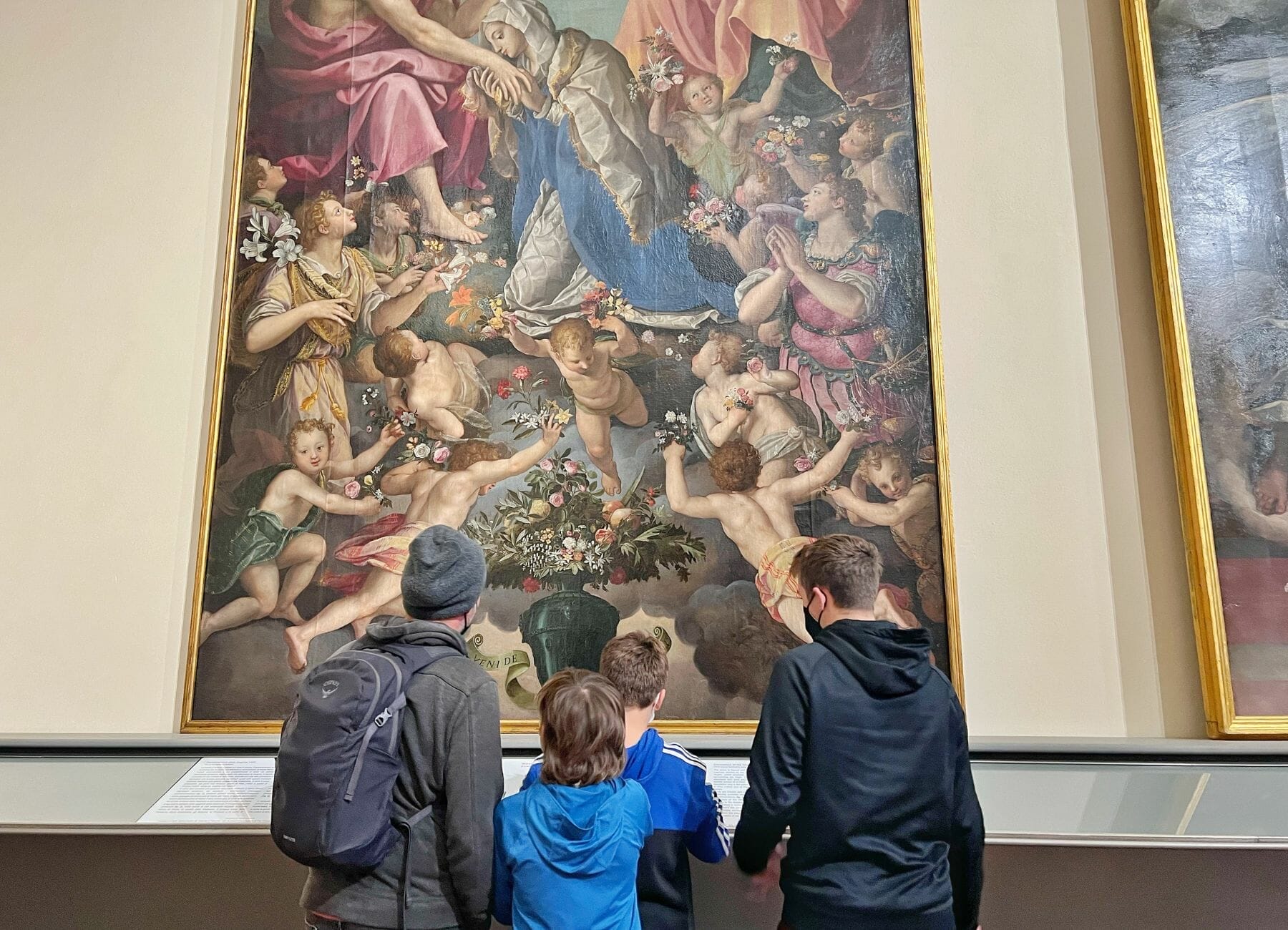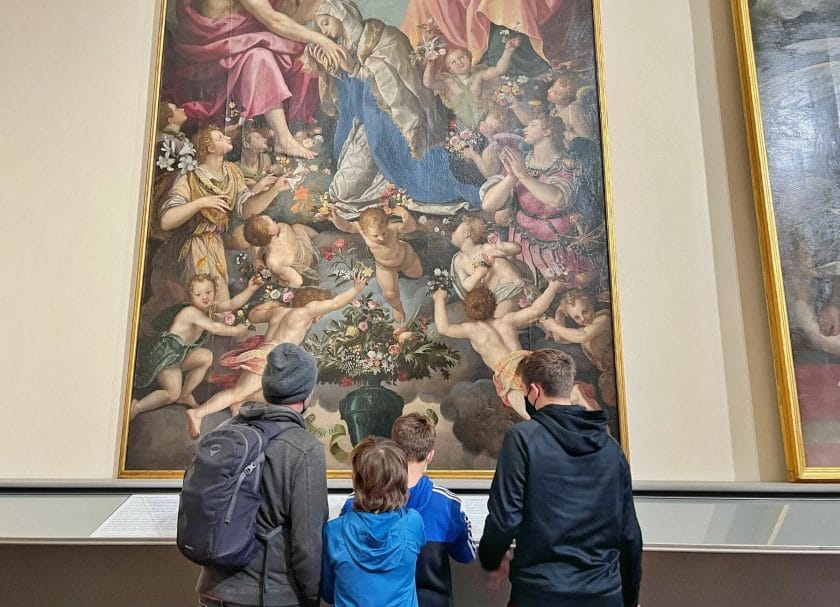 When visiting Florence the number one reason you come to the Accademia Gallery is to see the famous David sculpture. The sculpture is amazing and was bigger than I thought it was! No trip to Florence is complete without seeing this historic statue.
We used our Rick Steves app to do a tour of the museum. Highly recommend this if you are doing things without a guide! You can listen to it or you can read it – which is what I did for our kids so I knew they were paying attention.
We checked out a few more of the sculptures and paintings in the museum. We did buy a ticket ahead of time online (on their site), which meant we got to skip the long line to get in. Which was well worth it!!
Mercato Centrale – 2nd Floor
This was a perfect option for dinner since it had a variety of different restaurants to pick from. When we are traveling with 8 people (my parents were with us) it is always nice to go to a place where everyone can pick what they want to eat.
They also have a full bar so you are able to order drinks as well.
Duomo At Night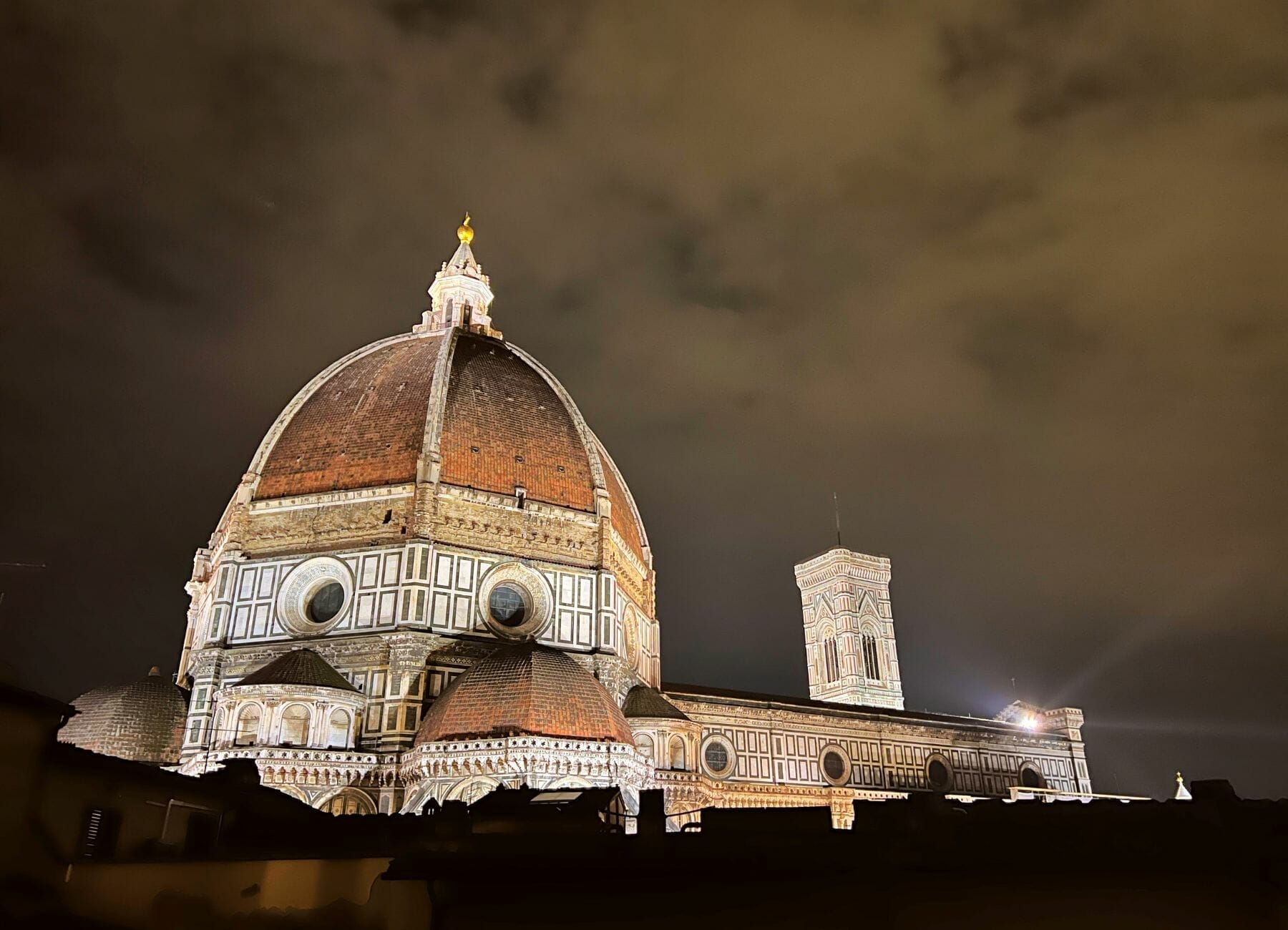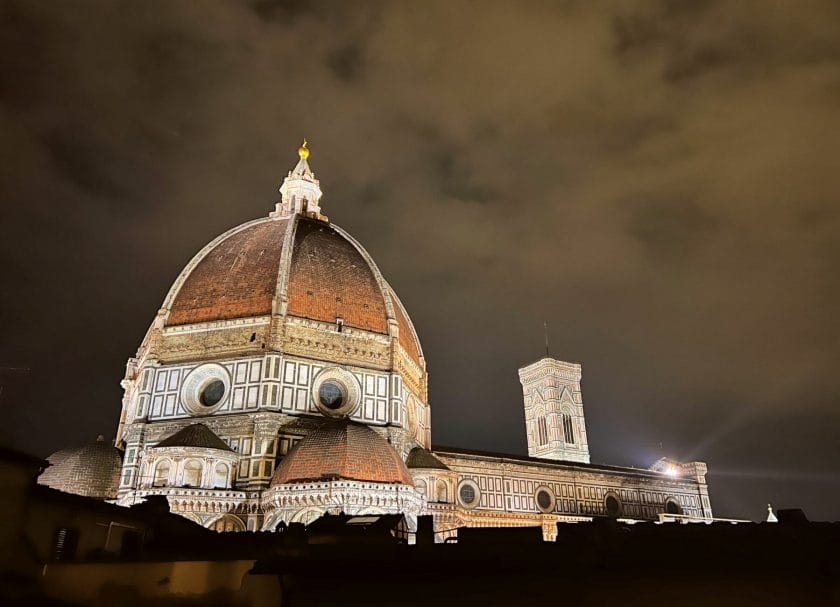 We didn't plan this but were so glad we stumbled on it and now highly recommend it! If you stay in the apartment we recommended heading out to the apartments shared terrace at night and you will get this amazing view of the Duomo!!
Day 2
Walking Tour Of The City
On Florence 2 day itinerary we did a walking tour of the city with a guide! She brought us to a lot of the lesser-known parts of the city and it was so cool to see the city from a locals perspective!
With a tour like this with a local, we really got a good feeling for the history of Florence and also the love the locals feel for their city!
With our guide we did the following:
Went inside the Duomo
Luckily the line wasn't long so we made our way inside. Our guide pointed out a lot of interesting things and shared the history of the Duomo.
Piazza della Dignoria
This is one of the most beautiful piazzas in Florence! Here you will find a replica of the David statue, the Loggia dei Lanzi sculpture gallery, and the town hall of Florence – which you can go into for Free.
Fountain of Neptune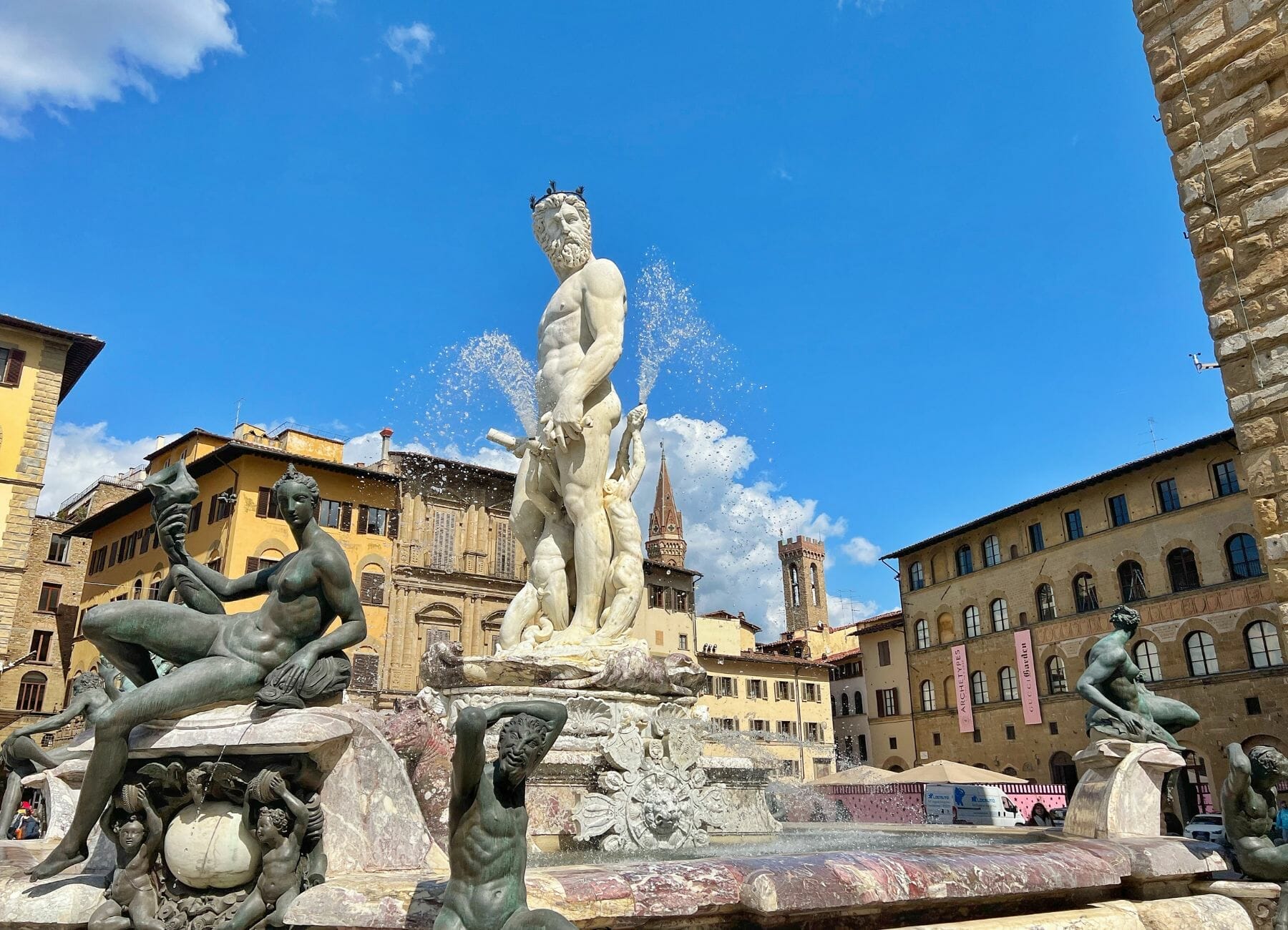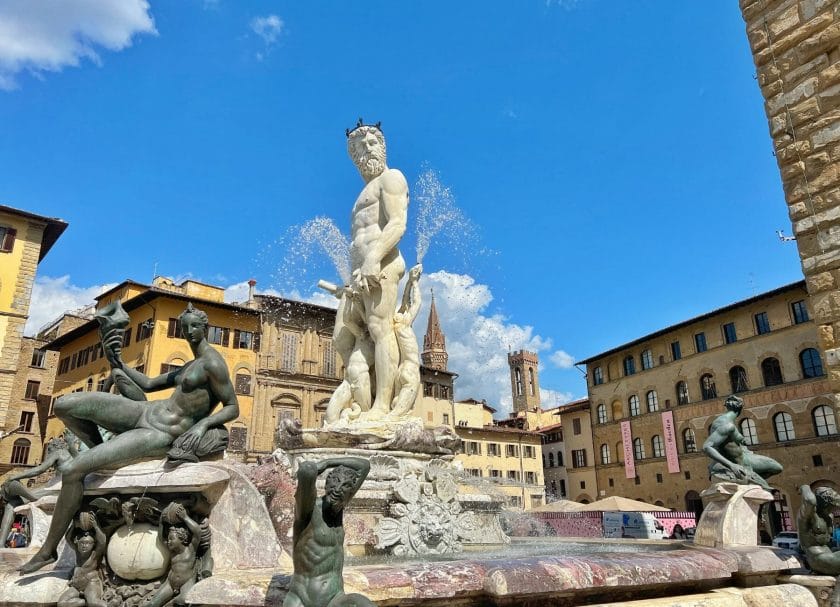 We stopped to take in the Fountain of Neptune which was built to honor the wedding of Francesco de' Medici I to Grand Duchess Joanna of Austria.
Ponte Vechhio Bridge
This famous bridge was built in 1345 and is now lined with jewelry shops. Walk across the bridge but also be sure to admire it from downriver.
Gelato at Gelateria Santa Trinita
You have to have a gelato stop! This one didn't disappoint!
Walk Along the Arno River
The Arno River is an important part of Florence's history and I loved that we had a guide to share with us and teach us the history of Florence.
Riccardo Luci – Marble Art Store
We stopped in here to watch the owner create a piece of marble art and the kids were able to get involved and pick the colors they wanted for it. We were able to come back the next day to pick up the finished piece.
Piazza Santa Maria Novella
A square with architecture from the 1200-1400's.
Officina Profumo – Farmaceutica di Santa Maria Novella
This pharmacy has been open since 1612. The architecture inside was beautiful. Plus when you walk in you walk through a gorgeous flower arch.
Leonardo da Vinci Museum
After the tour, we headed to the hands-on Leonardo da Vinci museum to learn more about him and to try some hands-out activities. We were there for about an hour and it was a great way to add in an activity that was hands-on for the kids.
Sunset Over Florence
Next up we stopped to grab pizzas at I'Pizzacchiere and a bottle of wine at a local store (that had plastic cups for sale – people must do this :). But bring your own wine bottle opener in case you can't find one!) and headed up to the stairs of San Miniato al Monte Church. Just past Piazza Michelangelo. To eat dinner and watch the sunset over Florence.
Day 3
Florence Food Tour With Eating Europe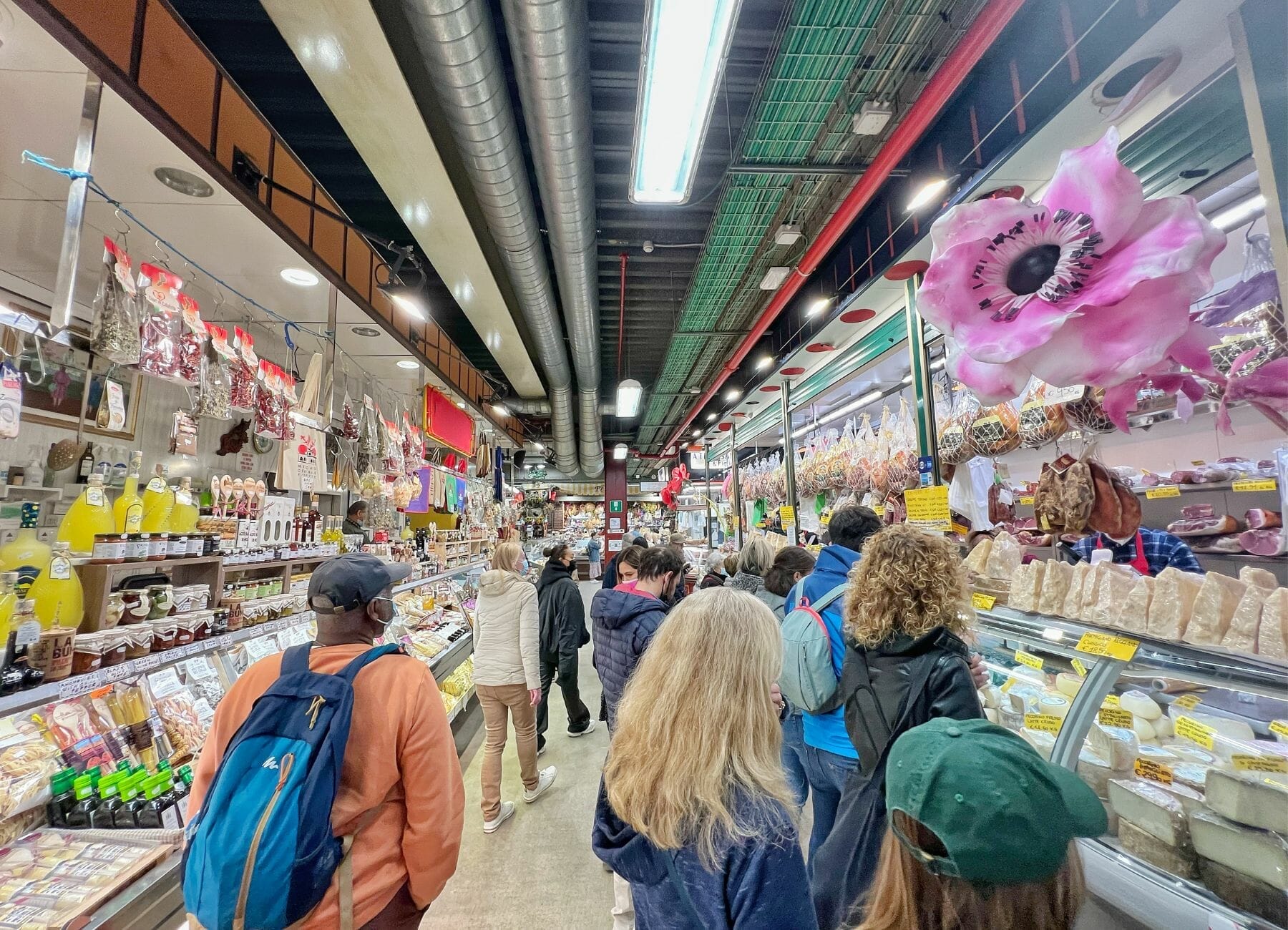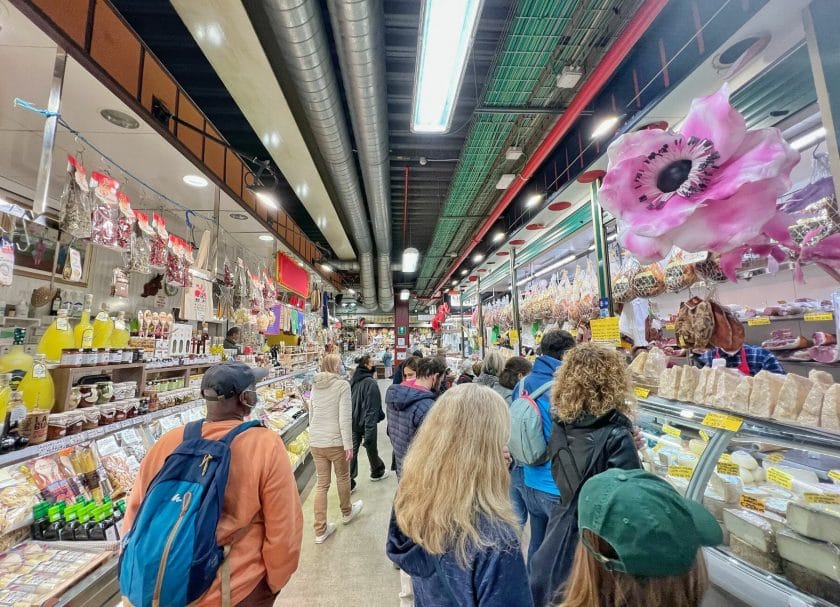 Our guide took us to all her local spots and navigated us through the market to put together a true Florence eating experience with all the meats, cheeses, wines and in season vegetables.
We also tried the Lampredotto! The 4th stomach of the cow (which was Carson's favorite food of the day)! Amazing fresh and soft biscotti and of course gelato!
It was fun to explore the Florence food scene through the eyes of a local!! Every place we stopped was family owned and the passion they felt for their business and food was so awesome to feel, see and taste!!
Uffizi Art Gallery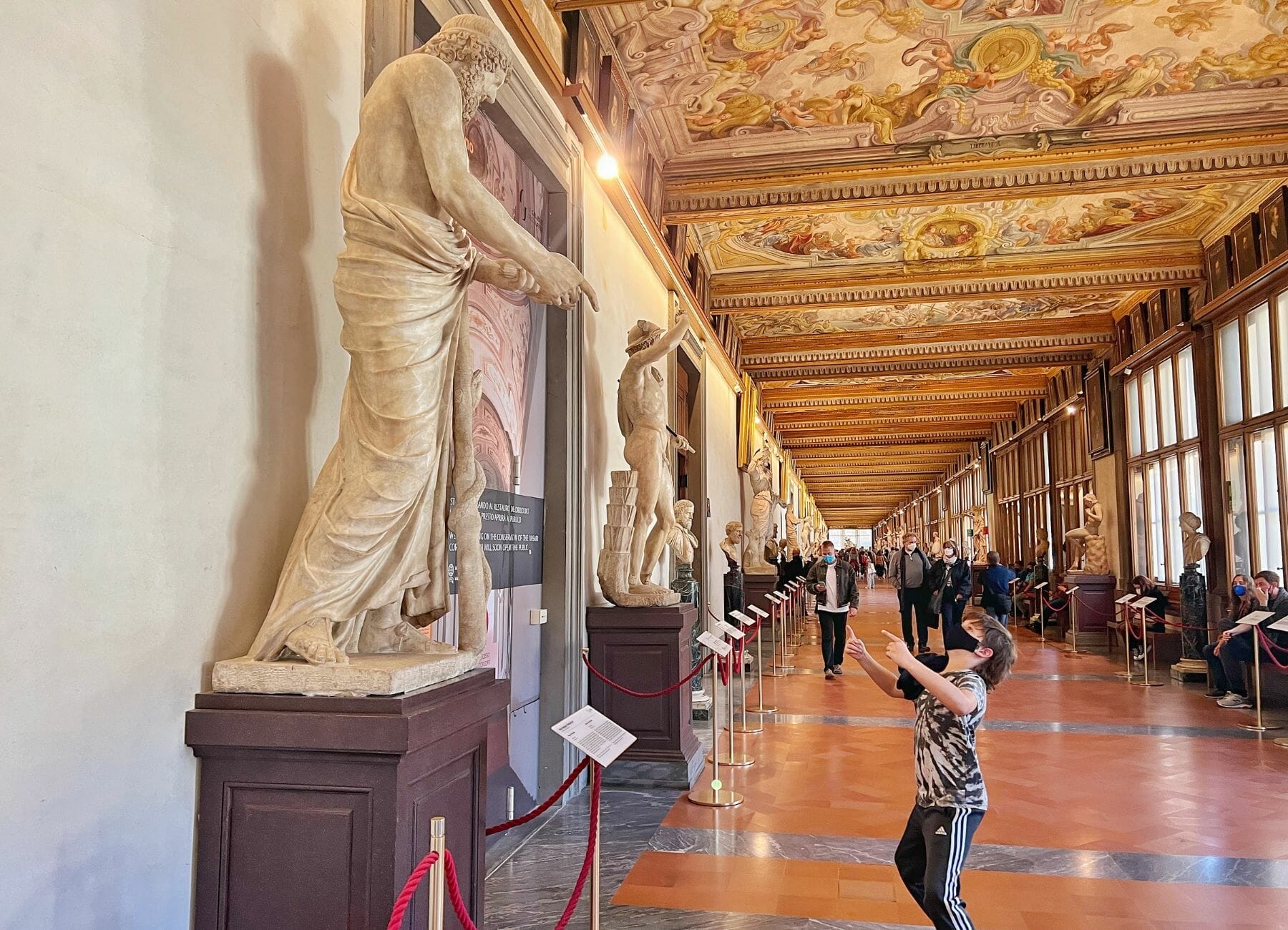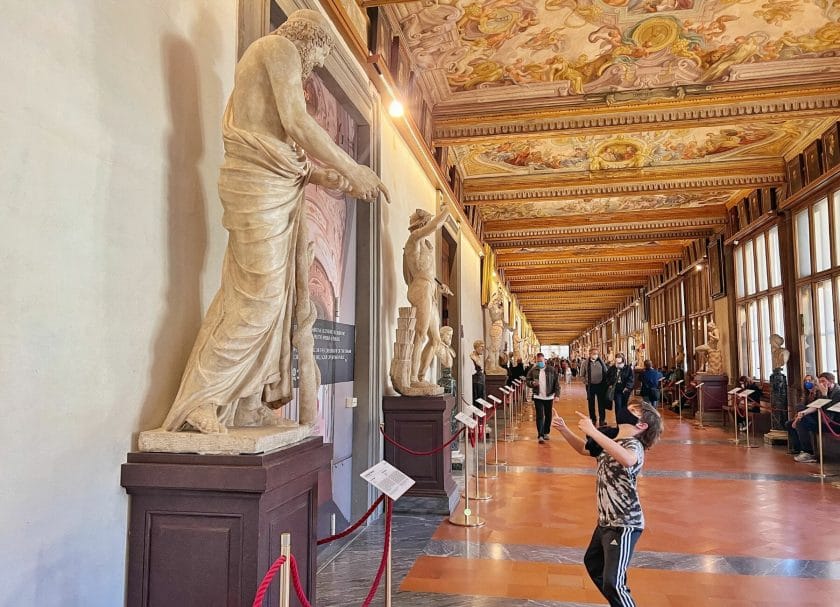 After the food tour in Florence, Italy we headed to the Uffizi Gallery to see the amazing artwork they have there. It is cool to see the kids really noticing things across the different art museums and places we go. Will they remember everything? No, but they are taking in a lot and we are happy to see it!
We ended our Florence 3 day itinerary with a ride on the carousel :).
Craig has chosen Florence as his favorite city so far on our trip!
Where To Stay
I would highly recommend you stay here. I'm not even going to list anywhere else. This place was perfect for exploring Florence! We were right outside the Duomo, restaurants were close by, and it was easy to get to everything else we wanted to do in Florence.
Extra Things You May Want To Check Out
Enjoy a combo ticket to 5 of Florence's most popular attractions. Skip the line as you visit the National Archaeological Museum, Uffizi Gallery, Boboli Gardens, Pitti Palace bought by the Medici Family, and the Opificio Delle Pietre Dure.
Get a ticket to see one of the greatest pieces of art, David by Michelangelo. This timed ticket sells out quickly!
Learn how to cook pasta and dessert in this amazing cooking class as you enjoy some of the best local wines.
Any art lover needs to check out the Medici Chapel and the Church of San Lorenzo built in the 16th century.
For stunning panoramic views of the city visit Piazzale Michelangelo located just south of Florence's historic city center.
The Palazzo Vecchio is one of the most iconic buildings in Florence. The Palazzo Vecchio is located in front of the piazza della signoria.This gorgeous building was constructed on top of Roman Ruins, making it a must see for any history lover.
If you love architecture be sure to check out the Ponte Vecchio bridge. This bridge was built in 1345 and has withstood the test of time.
Day Trip Ideas
If you have extra time and can plan some day trips either from Florence or you have extra time in your trip to visit a different location we high recommend the following.
Cinque Terre
Cinque Terre is gorgeous! Each of the 5 towns brings something unique to the table and you will want to be sure to give yourself at least 1 full day to explore here. You can do this as a day trip from Florence on the train but it will be a lot of traveling.
When we visited we stayed in La Spezia for 2 nights and took the trains into Cinque Terre. The hike between the towns was awesome too!
Agrotourism Farm In Tuscany
For this one we don't recommend a day trip but instead recommend you stay at least a few nights! We choose to do a glamping option where we stayed right on the grounds of the farm.
We did truffle hunting, pasta making, wine tasting and enjoyed all of their delicious food and wine!! You can learn more under our posts: 15+ Things To Do In Tuscany Italy
As you will see in the post there are also a lot of great towns to visit in Tuscany. Volterra was my favorite. Walking the historic streets, looking at the ruins and the views over Tuscany and of course enjoying some delicious Gelato.
We would say Tuscany is best explored by car. So rent a car and hit the road to explore all the uniqueness that is Tuscany!!
Discover More Bucket List Family Travel Adventures
15+ Fun Things To Do In Rome With Kids
Top 25 Things to do in Florence, Italy
15 Things to do in Tuscany, Italy
Tips on Visiting All 5 Cinque Terre Towns (Itinerary Included)
Backpacking Europe Packing List (With Kids!)
30+ Best Things to do in Lisbon, Portugal
One Day in Madrid, 14 Stops Not to Miss
Pin to Your World Travel Bucket List to Save for Later!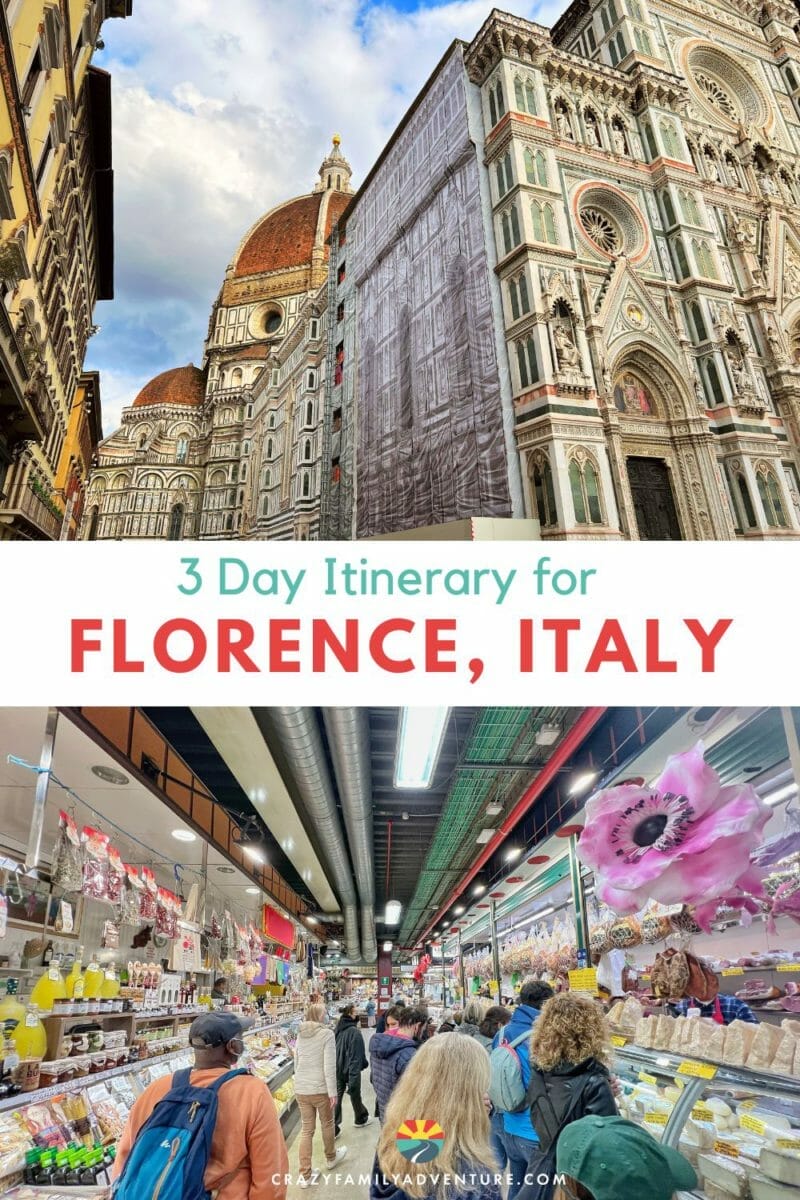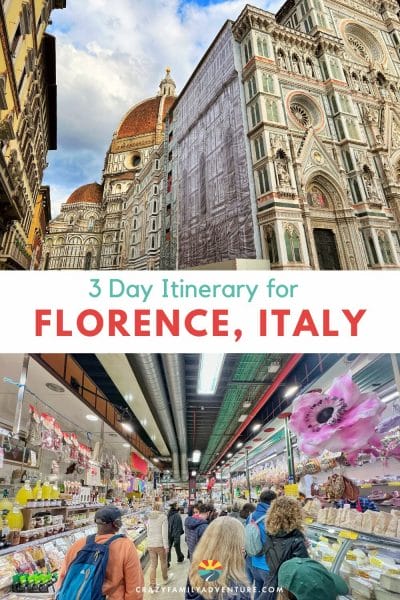 DISCLOSURE: This post may contain affiliate links, meaning I get a commission if you decide to make a purchase through my links, at no cost to you. Please read my disclosure for more info.