Below we share our top Things To Do In Lisbon, Portugal and around the city (you wont want to miss Sintra and Belem). We loved the warmth, grit and personality of this Portugal city and had a blast exploring in Lisbon and just outside the city in Sintra and Belem.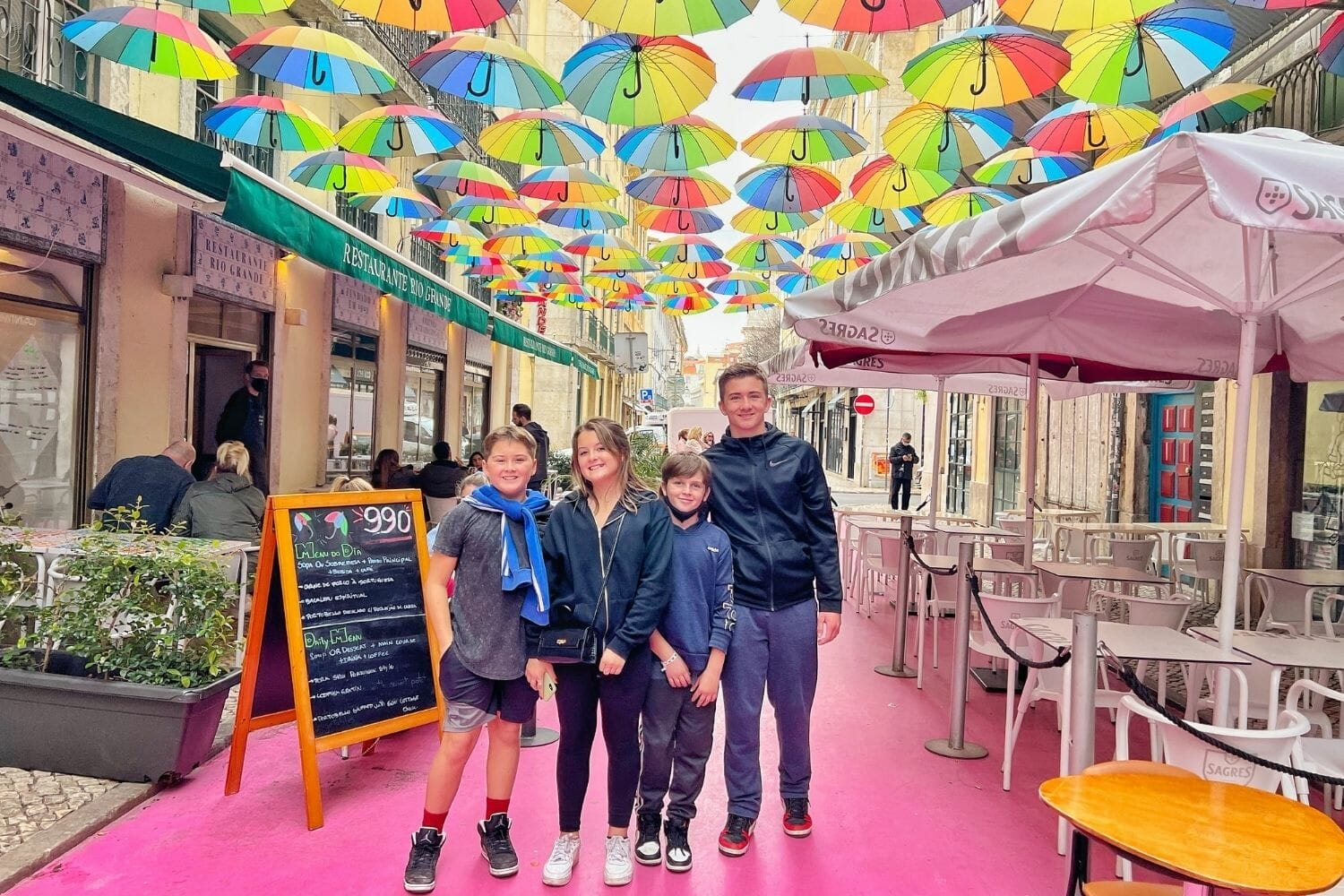 The post will start off with a high-level list of the things you don't want to miss when you visit Lisbon from food to activities and great day trips from Lisbon. We will talk about how long to stay in Lisbon, how to get there, and do you need a car?
Things You Don't Want To Miss In Lisbon, Portugal
When visiting a place for a first time I like to have a good idea of the high level things I don't want to miss while I am there! Below is the list I put together to make sure we didn't miss any of these when we visited.
If you are looking for a detailed itinerary be sure to reach out to Go Ask A Local guide Inês who can help you plan a customized Lisbon itinerary based on her 14 years experience being a guide around Lisbon and Portugal!
Foods Not To Miss In Lisbon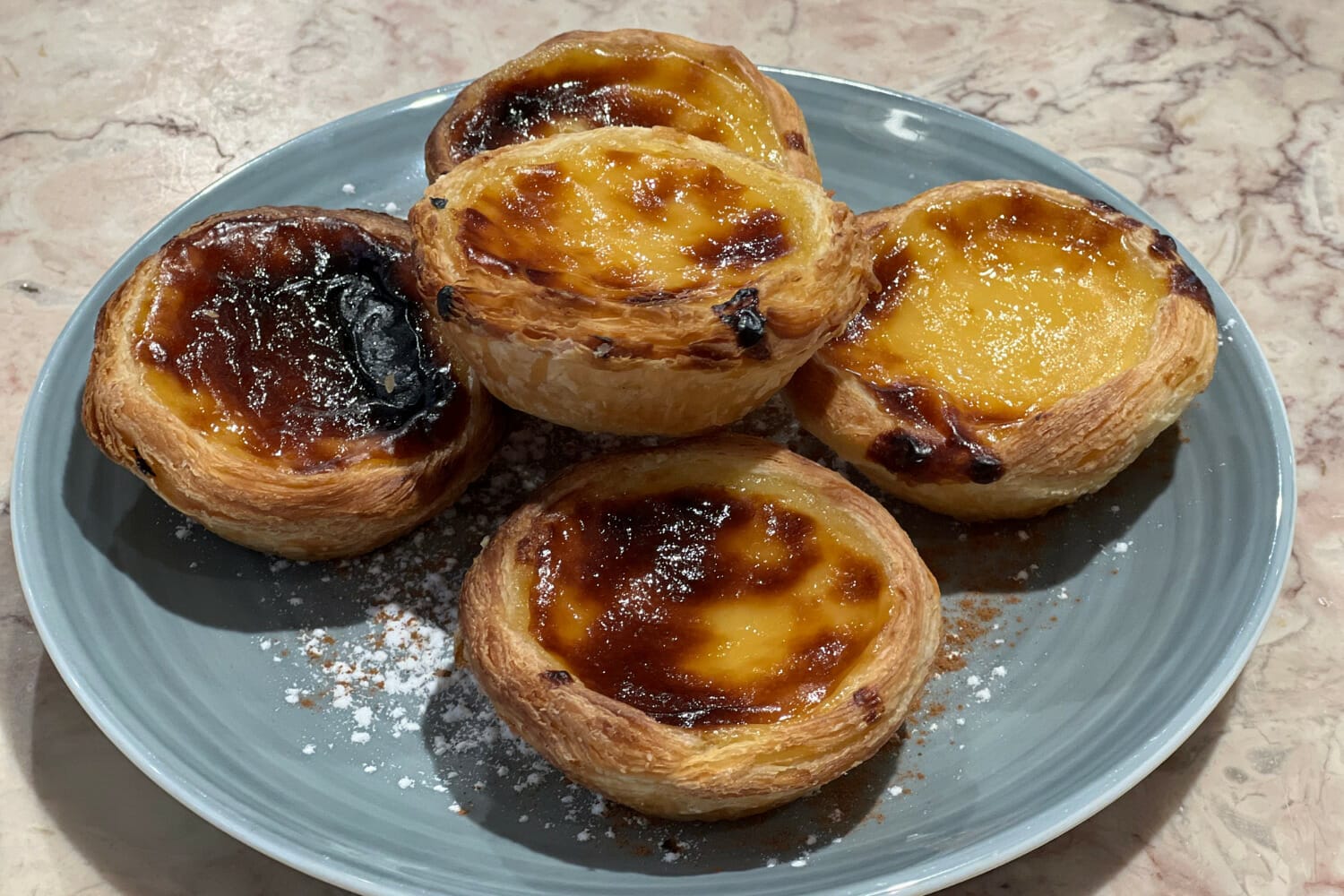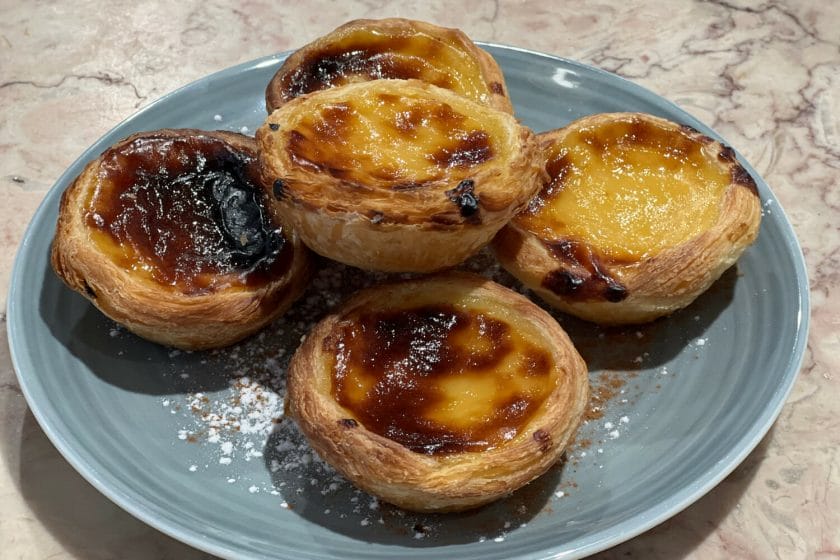 Pastel De Nata
These delicious pastries are found all over the city in cafe's pastry shops, restaurants, the grocery store they are everywhere and for good reason. They are delicious!
Cod
Cod, or Bacalhau, isn't actually local to Lisbon, but it is a staple in the city and you will see it mostly in cod cakes but also throughout the city at restaurants in different ways.
Anchovies
Anchovies are huge in Lisbon (no pun intended), but the tip we got is you really only want to eat them at restaurants in months that end in Y or else they aren't as fresh. Of course you can still get them but from a locals perspective they usually only eat them in those summer months.
They also have the fish in tins where you can sample anchovies, cod, octopus and more. It is something worth trying!
Activities Not To Miss In Lisbon, Portugal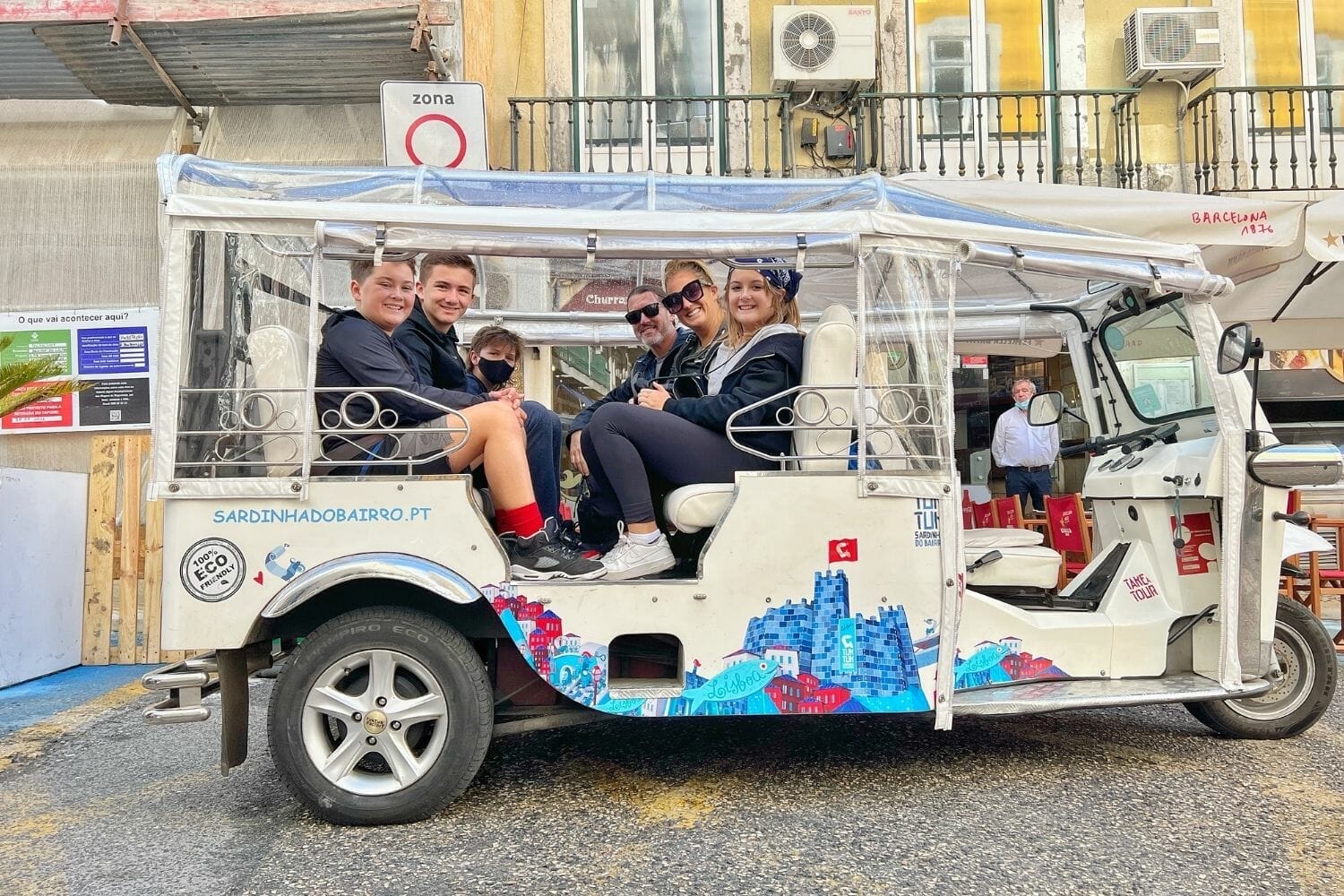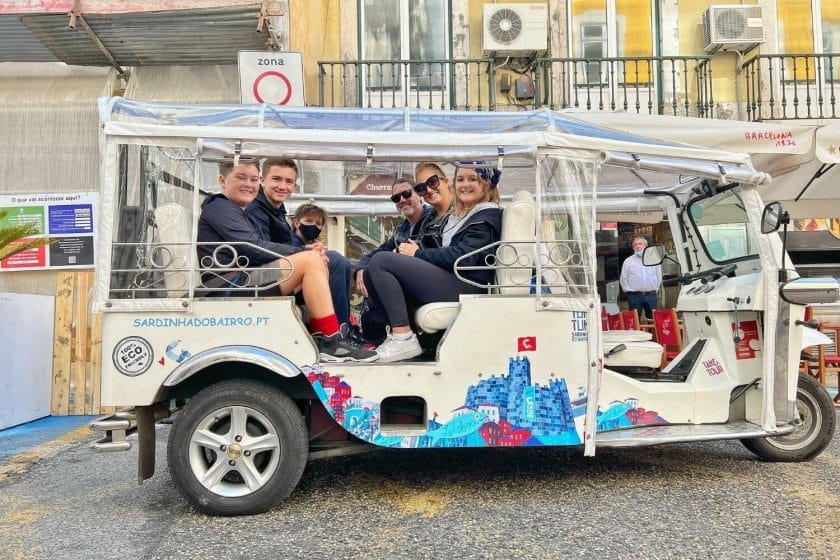 TukTuk Ride/Tour
These are a great way to get around the city and get you down streets that regular size cars and buses don't go on. It is also a great way to have a guide take you around the city.
Street Car/Tram
You will see these all over the city. Some are more iconic then others but in any case it is a fun thing to do! Tram 28 is an especially famous one as its an old school trolley car.
Fado Music
The music of Lisbon – this is a beautiful experience to help you further understand Lisbon and its history. The music has a sad history to it as a local explained it to us like U.S. Country Music, but way way sadder.
Lisboa Story Center
This is added on here since we thought it was so helpful to visit and really learn about the history of the city. The museum with audio guide was interesting and the movie at the end about the earthquake really made it clear what Lisbon is all about.
Places Not To Miss Outside Of Lisbon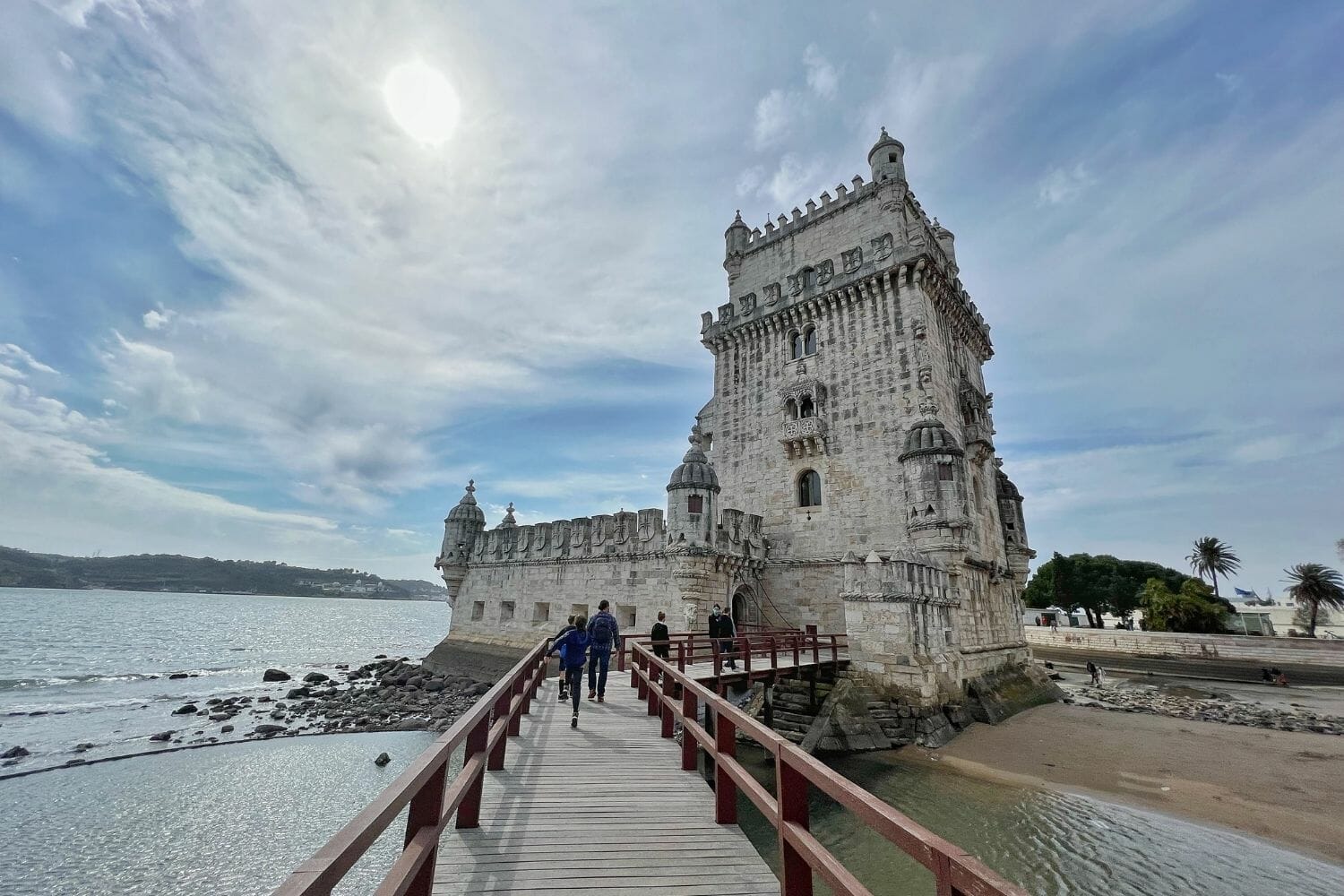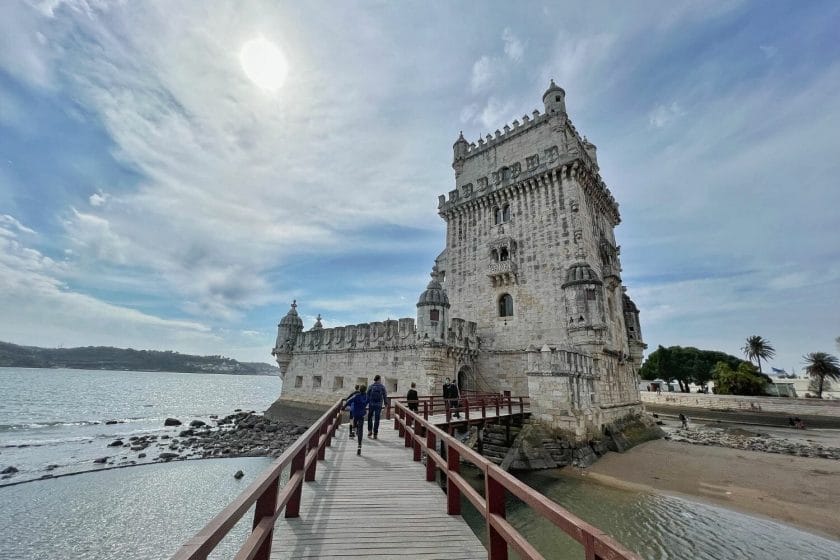 These are an easy half day to full day trips from Lisbon without a car – just jump on a train or a bus!
Belem
The history, castle, monastery, and Pastel de Nata make this a trip worth taking. More on this visit below.
Sintra
Castles on the top of a hill, colorful palaces, and all the history make this a worthy stop! More on this visit below.
Getting Around Lisbon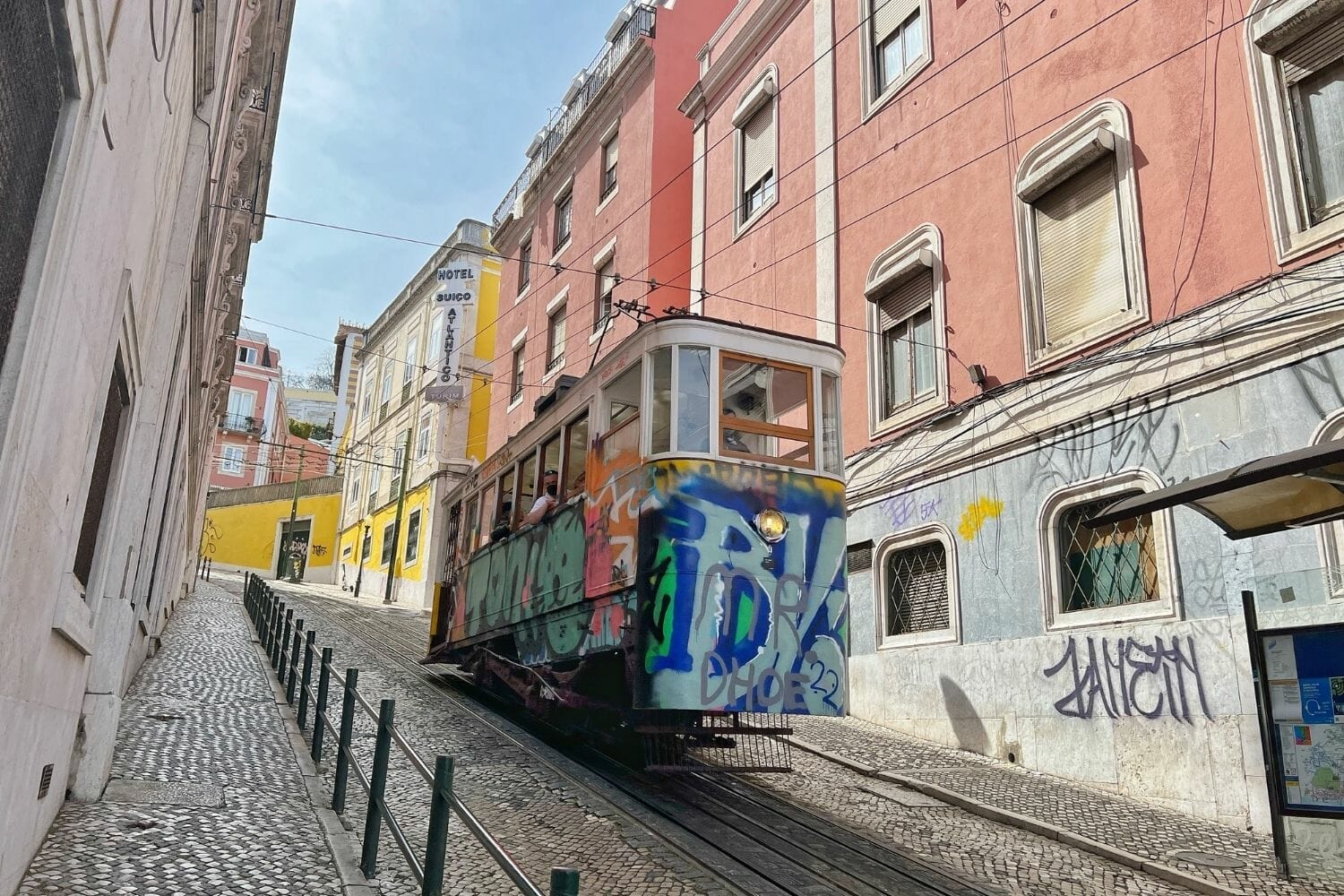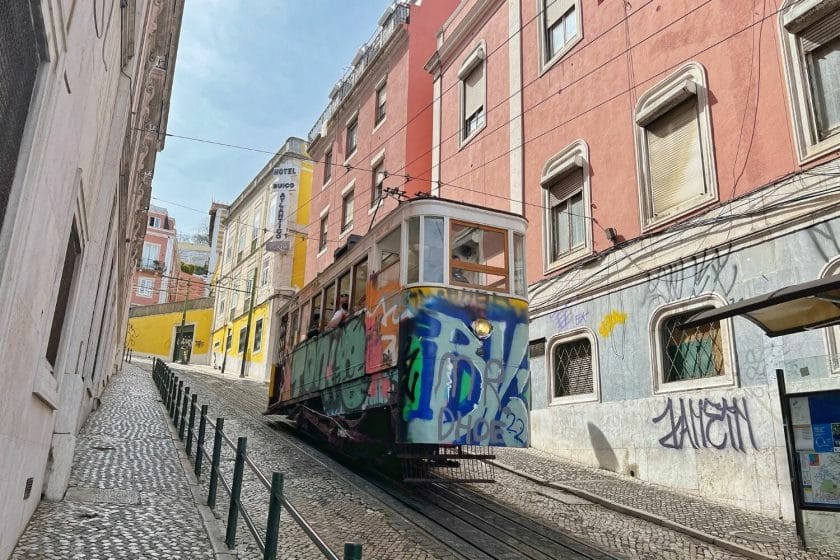 You really don't need or want a car in Lisbon. It is much easier to get around by walking or using public transportation. That works for the day trips as well. The public transportation system is amazing and easy to use.
Walking
We walked pretty much everywhere we went. The city isn't huge so this is easily possible. You'll get plenty of steps in, but be ready for some hills!
Santa Justa Elevator
If you don't want to walk, they have an elevator from the lower level streets to the upper level. Seriously it is a thing from back in the day when the rich people did not want to walk from one level to the other. There is just one located in one place though.
Street Car/Tram
They have these all over the city which we could have taken instead of walking but find walking is the best way to really get to know a city and feel comfortable in it.
If you do want to take this form of transportation check out this site for more info:
We had the 72 hour Lisboa Card and that worked out great as it was unlimited rides of the street cars/trams in the city and also the larger buses/electric buses that got us to Belem.
How Long To Stay
We stayed for a week on our 3 month backing trip around Europe. I do not think that is needed in order to get a good feel for Lisbon and do most of the top things and also a couple day trips as long as you are ok to go go go! If that is the case 4 days/5 nights would be a good amount of time to see Lisbon. If you want it to be more relaxed and slow paced go for a week.
Exchanging Money
If you are coming from another country to visit you will need Euros. Almost everywhere took a credit card for payment – but it is always a good idea to have some Euros on hand. We used our debit card at an ATM to get Euros out. A few things to be aware of:
It will ask if you want them to do the exchange rate for you – always answer NO! Instead let your bank do it. If you say yes you'll get the local banks exchange rate, which isn't always the best. We also heard some people got charged twice for the exchange – once by the local bank, then once by their bank.
If possible go to an ATM that is attached to a bank. Or pay attention to the big bank names around the city and verify the ATM is part of one of those banks.
There are ATM's around the city and at the train stations so it is easy to find one.
If this is your first time taking kids to Europe be sure to check out this post from We3Travel: 25 Tips For Traveling To Europe For The First Time With Kids.
Top Things To Do In Lisbon, Portugal
Ok lets get into more on our top things to do while in Lisbon! We did have a 72 hour Lisboa City Card which was very helpful. We note below which attractions were included with the card.
You can learn more about the Lisboa City Card here.
TukTuk Food Tour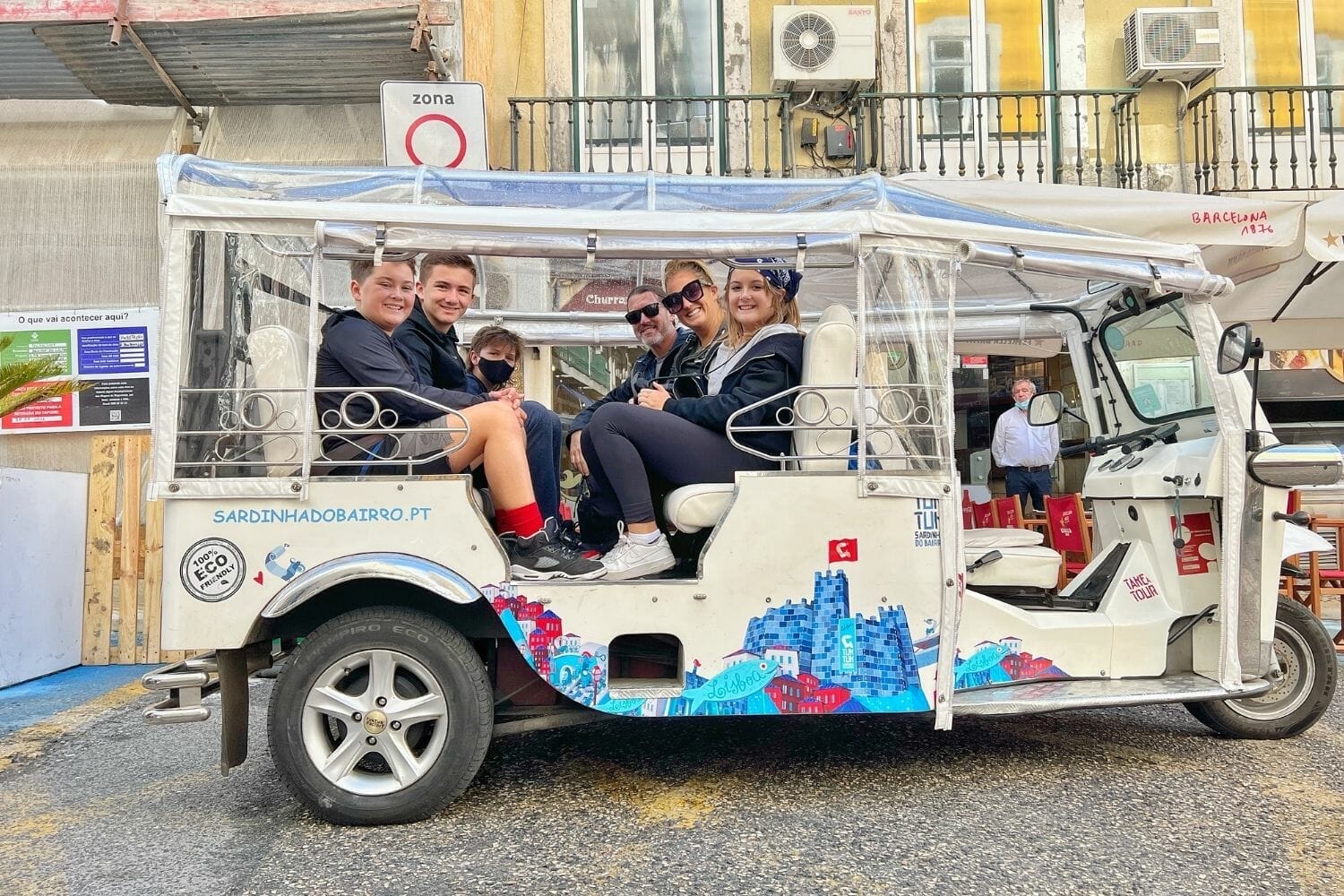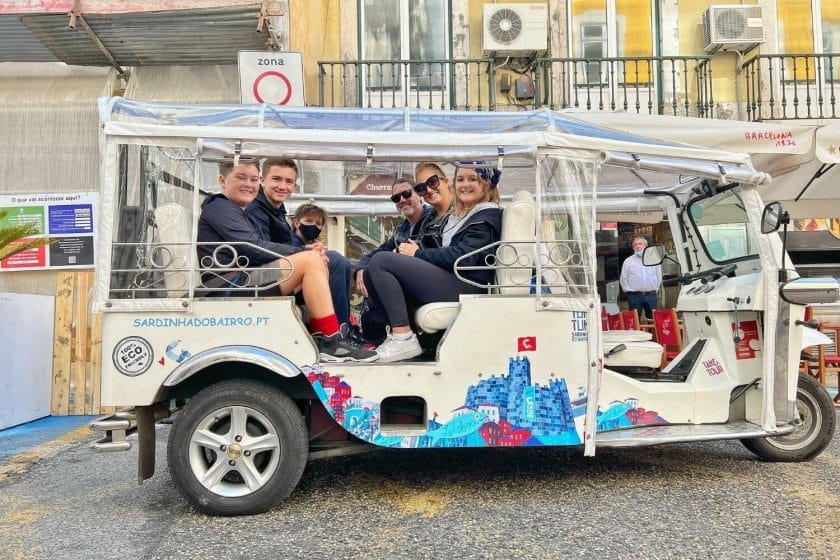 We would highly recommend starting off any stay in Lisbon with a TukTuk Food Tour (this one says wine tour – but was great with the kids too). These TukTuks can get you down narrow streets that the big hop on hop off buses can't do.
On the tour your guide will give you a tour or Lisbon while also sharing a ton of information about the history, why the city looks the way it is and more. If you choose to go with the food tour option you also get to stop off to sample some delicious Lisbon food!
If you would rather just walk look into a walking tour. It is helpful to do something like this to help get your bearings on a new city when you first get there!
Lisboa Story Center
This was another great way to learn about the history of Lisbon. When you check in they give you a radio type of thing that you listen to as you walk through the museum. It does a great job starting from the beginning up until more recent times.
The most impactful thing during our visit was the video on the earthquake that hit Lisbon in 1755. It really showed how horrific that must have been for the citizens of Lisbon.
**Included With The Lisboa Card**
National Pantheon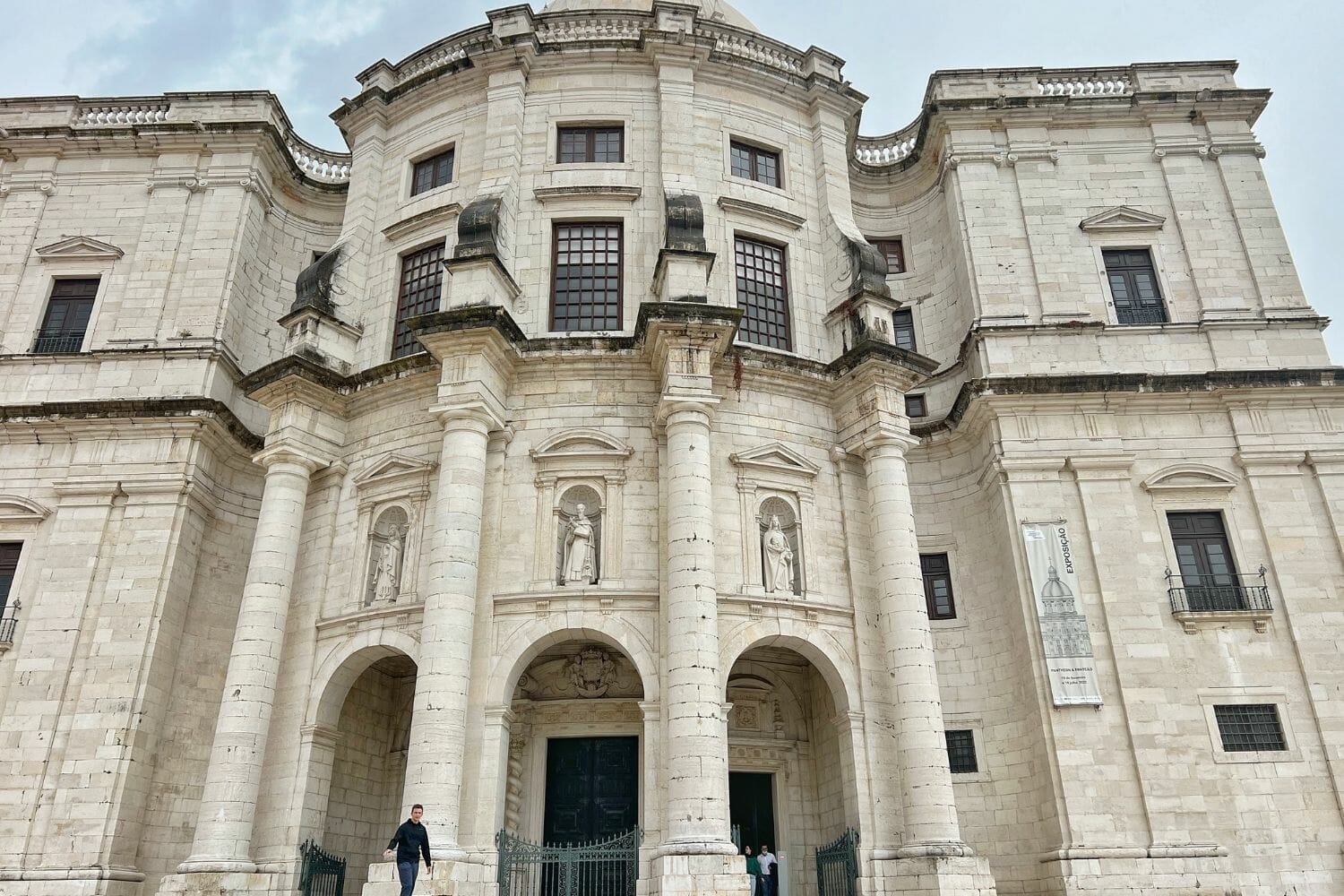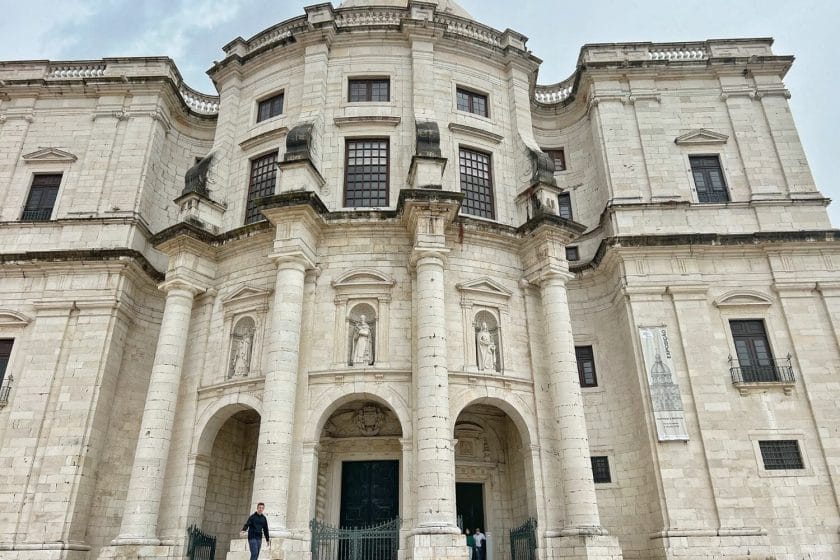 This giant building was quite impressive when you walked in with the high dome ceilings and large open spaces. It has the remains of prominent Lisbon citizens in it. You can read about each of them on the plaques by their tombs.
You can also climb to the top of the dome and walk around it – looking down over the first floor. It is super high up here so if you are afraid of heights you may want to avoid this section!
**Included With The Lisboa Card**
Elevator Da Santo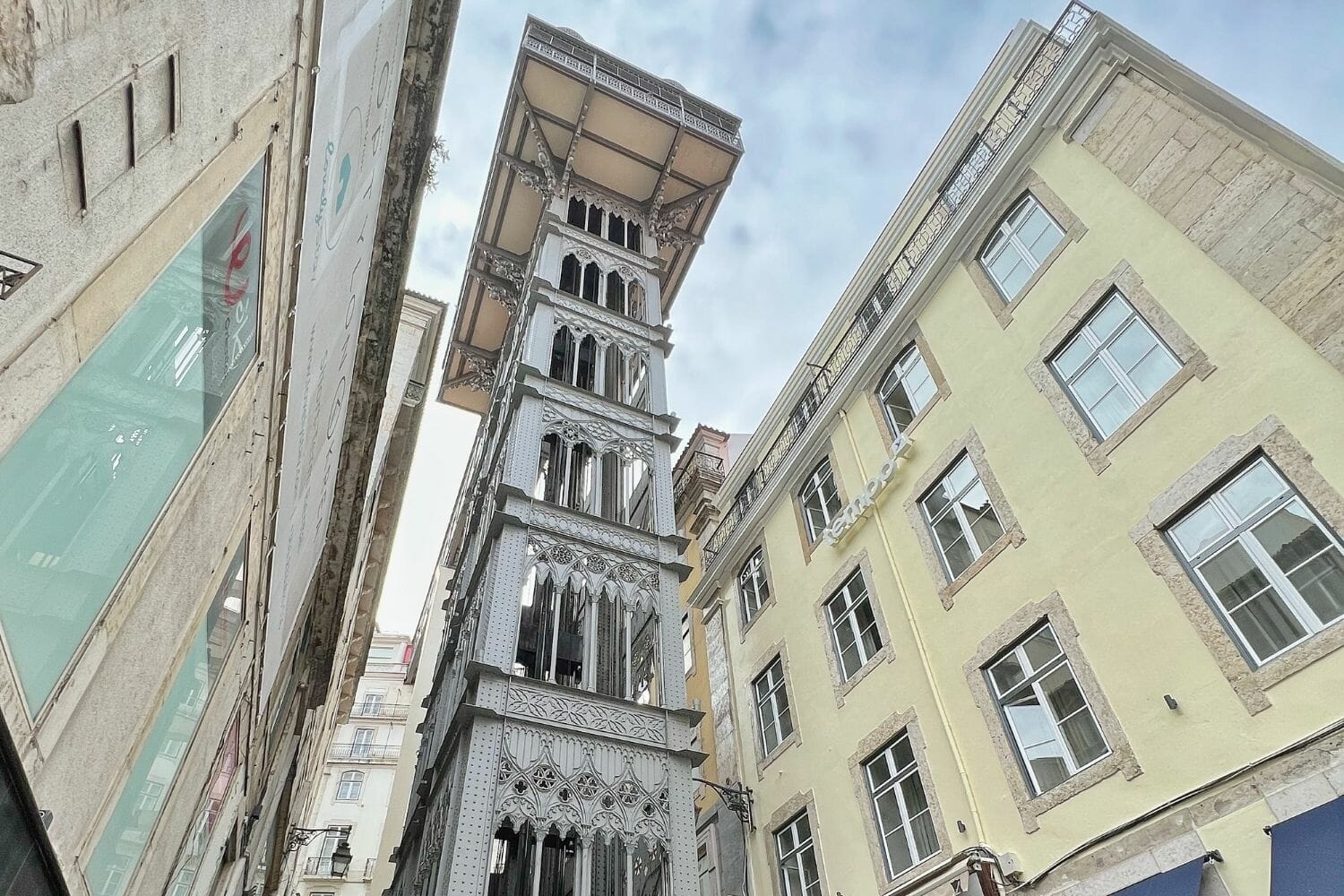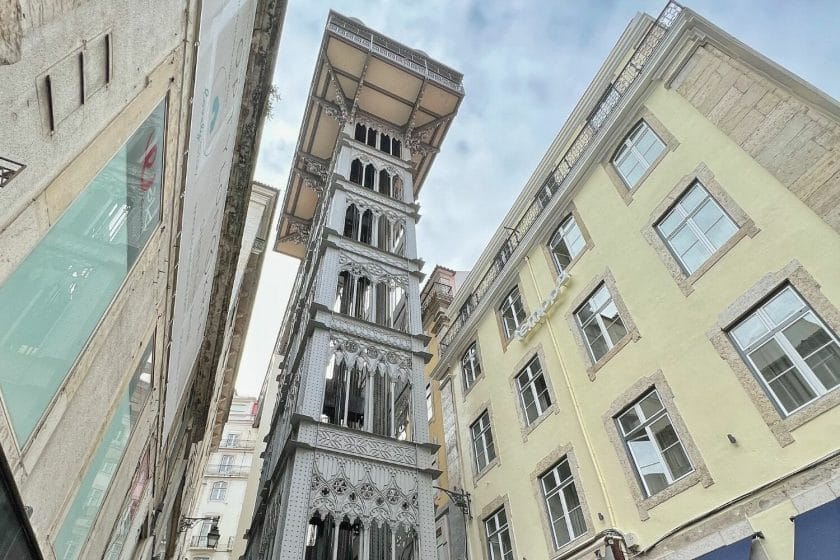 This is a gigantic metal elevator in the middle of the city. Back in the day it would take the wealthy Lisbon's up and down from the different levels of the city so they didn't have to walk . . . yup.
We didn't end up going up the elevator as there was a long line and we felt like we had already gotten a lot of amazing views of the city from up high on our TukTuk tour. It would have been free to go up with our Lisboa Card.
Street Car/Tram
We jumped on a random one that wasn't full and rode it for a short distance before getting off. The kids said they really enjoyed it. You can use this for a tourist experience or to actually get around the city without walking.
One of the most popular ones is Tram 28. It connects Martim Moniz and Campo Ourique and goes through the Alfama, Baixa, Estrela and Graca districts.
You get unlimited rides with your Lisboa Card.
We also went and saw the super steep one but didn't ride it but instead walked up the hill next to it. Our kids loved us for that one :).
Alcoa Pastry Shop
This pastry shop is filled with pastries that it can be hard to pick which one you want to get! We got 6 different ones and each tried a bite. You can stand at a small bar against the wall to try your treats!
Pink Street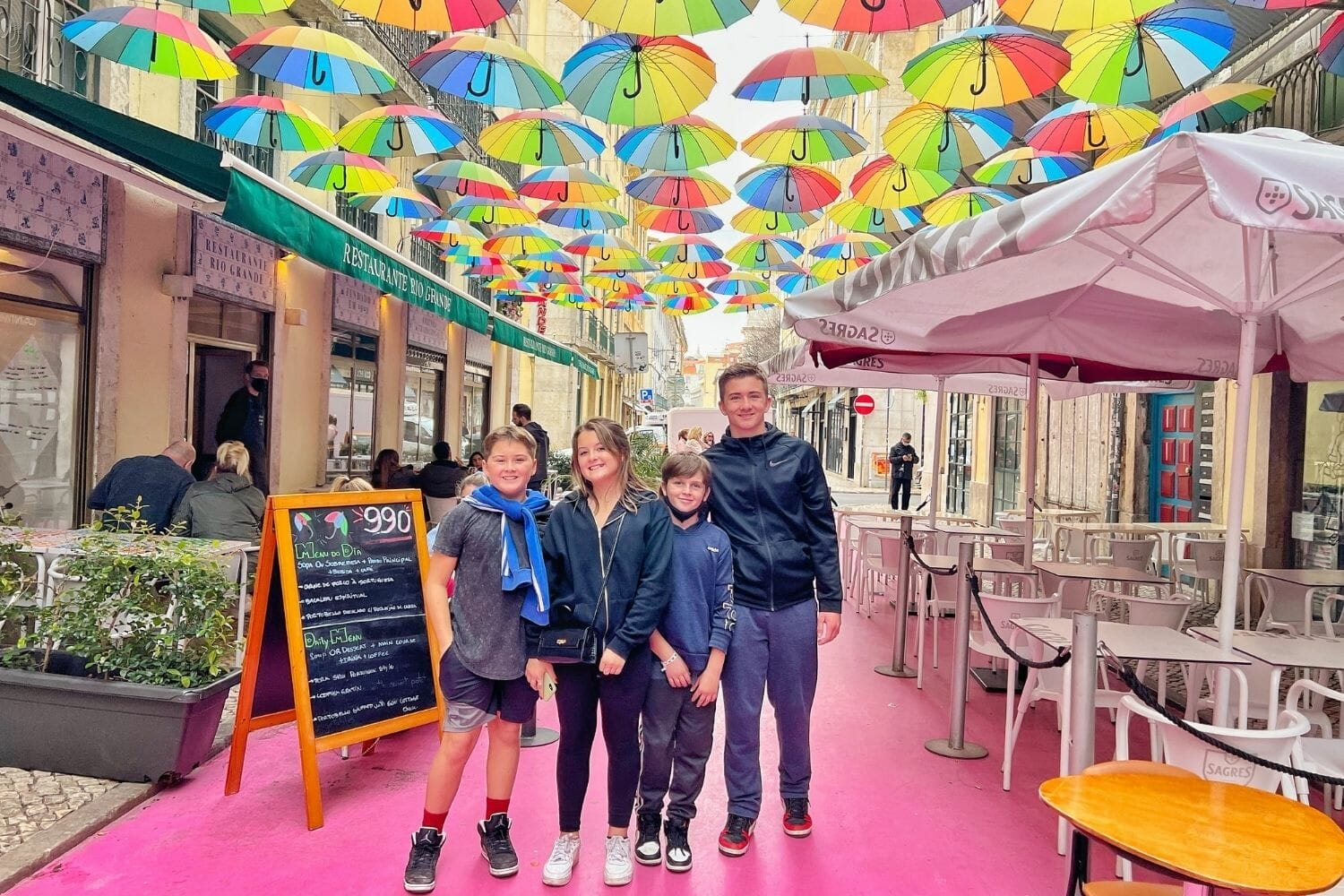 It is just a street painted Pink with colorful umbrella's hanging above with restaurants and bars on each side. But it is so cute!! And well worth stopping for that sweet Instagram picture.
Alfama Neighborhood
This is an old Lisbon neighborhood that is just chaos. The streets run all over the place – not orderly like the part of the city rebuilt after the earthquake. But has so much charm and some great restaurants!
The Alfama district is a fun place to walk and just get lost and see where you end up. We loved how we would turn a corner and a random restaurant would pop up with cute outside tables – that during the day was hidden behind a grafiti garage door.
Fado Show
You can't come to Lisbon and not see a Fado show! Fado is sad yet powerful music with a male or female singing and additional people playing instruments. We opted for the Club de Fado were there were multiple Fado shows throughout the night and we had dinner and a bottle of wine.
You do need to normally make a reservation – we did the day before for 7pm. The Fado music did not start until 9pm. But the timing worked out great and we had a nice relaxing dinner and listened to 2 rounds of the Fado music before heading out.
Ginjinha Tasting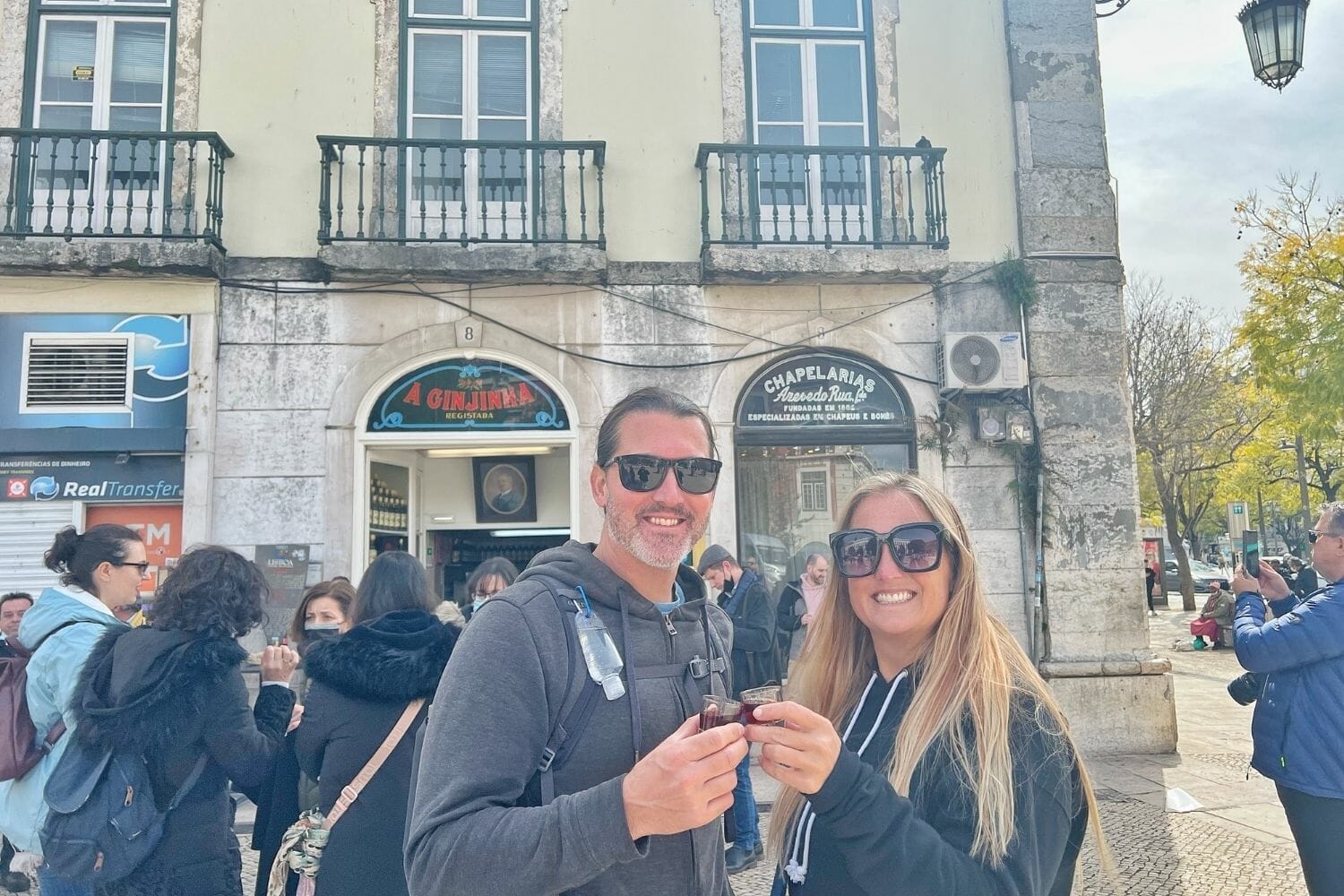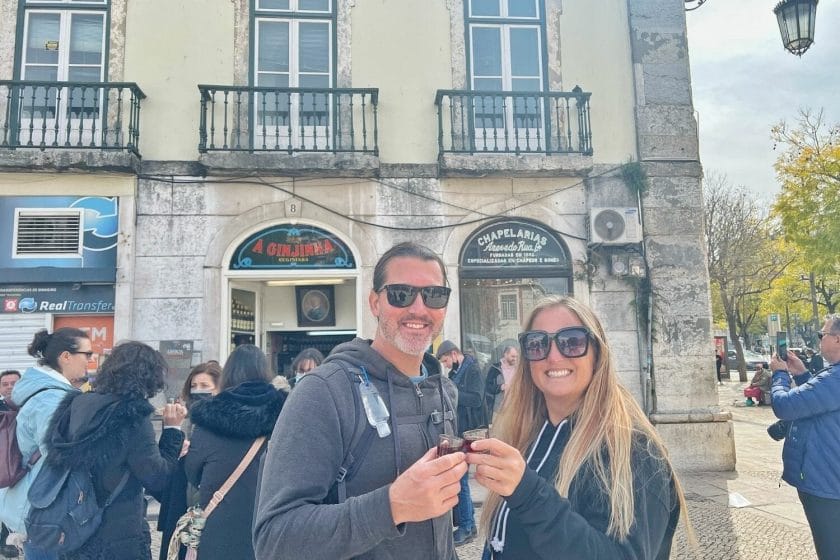 This is a famous Lisbon/Portugal drink and you can walk up to the bar to order one with or without the fruit in it. It was super sweet but in my opinion yummy! It was a bit to syrupy and sweet for Craig.
Rua Augusta
Walk down this pedestrian only street with shops and cafes. Stop to grab lunch or a drink or just people watch as you walk along.
Church of São Domingos
This church is huge and has a history dating back to the 1200's. You can look at the walls to see how they are scarred from years of fire, earthquake and being rebuilt.
Praça do Comércio
This is the biggest square in Lisbon and faces the harbor. There is a statue of Joseph I of Portugal in the middle of the square. From here you can also see the Rua Augusta Arch and this is where the Lisboa Story Center is located along with a variety of restaurants.
Rua Augusta Arch
When in Lisbon you will most likely walk through this arch multiple times. You can also go up to the top of it! It gives you great views of the square, water and the city.
**Included With The Lisboa Card**
Squares
There are a variety of squares, or Praças, throughout Lisbon and each of them is neat to stop in and look around. Rossio Square is one of the more famous ones. They almost all have a statue in the middle of a prominent figure in Lisbon's history.
Miradouro de São Pedro de Alcântara – The San Pedro Viewpoint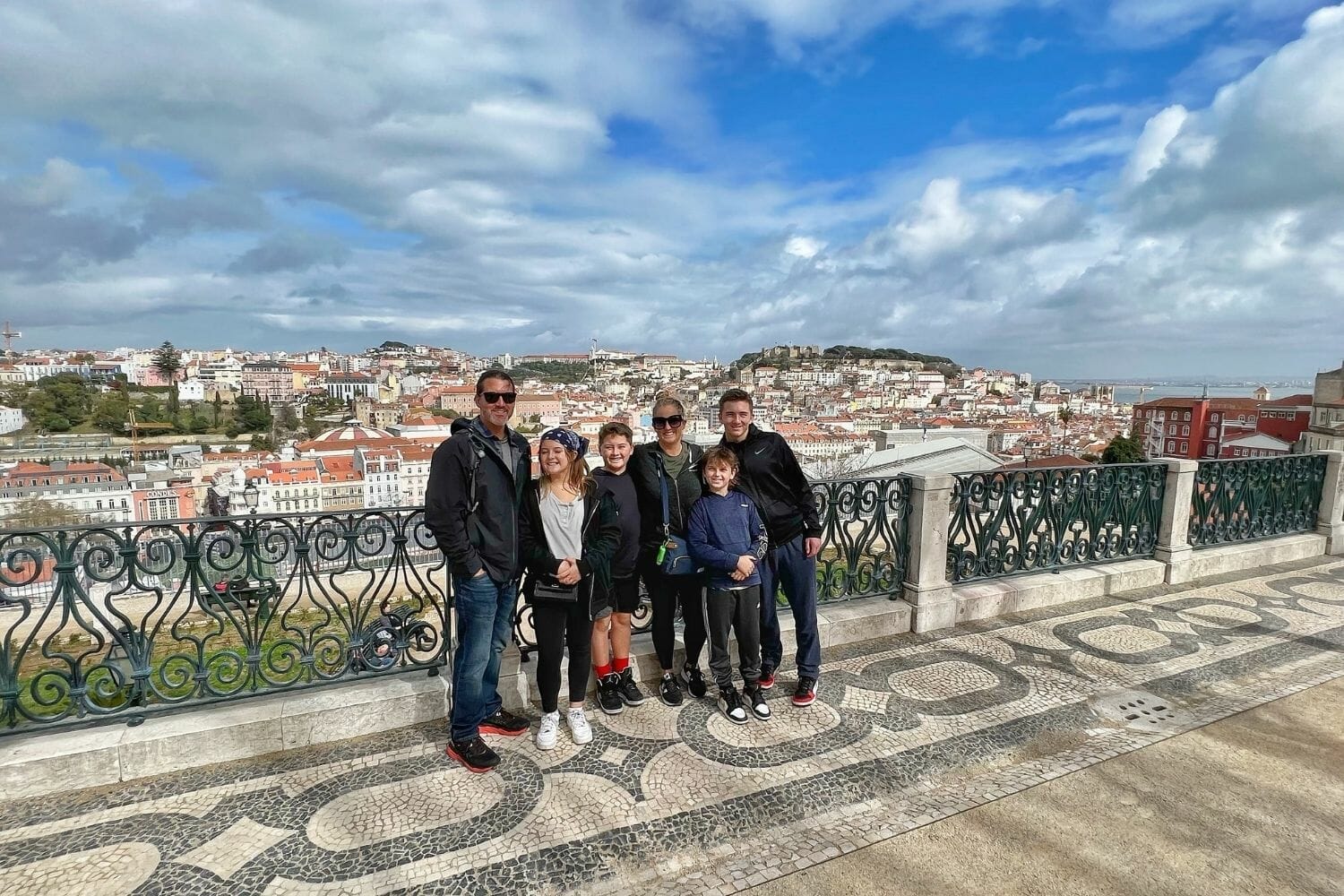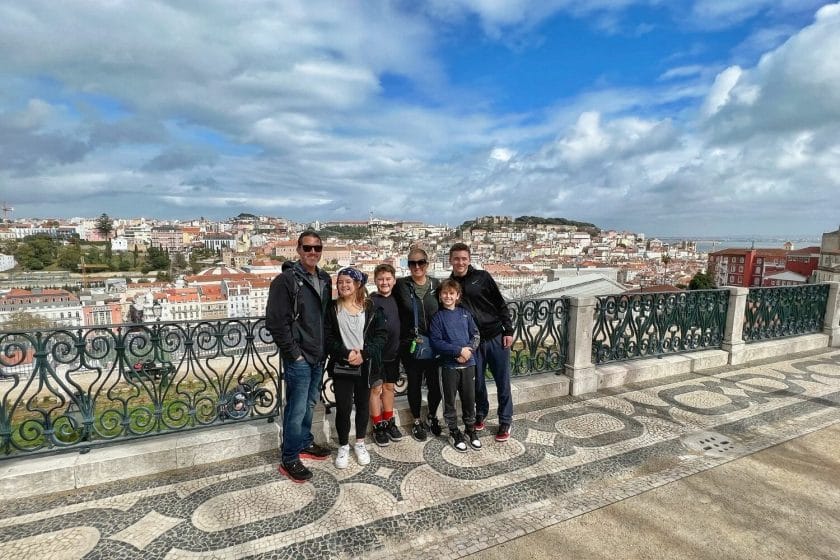 From here you have an amazing views of Lisbon. You can see the castle in the distance and the water to the right and the new city with its skyscrapers to the left.
Bairro Alto
Walk through the Bairro Alto neighborhood with it's charming streets and shops. This area also comes alive at night with restaurants and people filling the streets to hang out and drink.
Street Art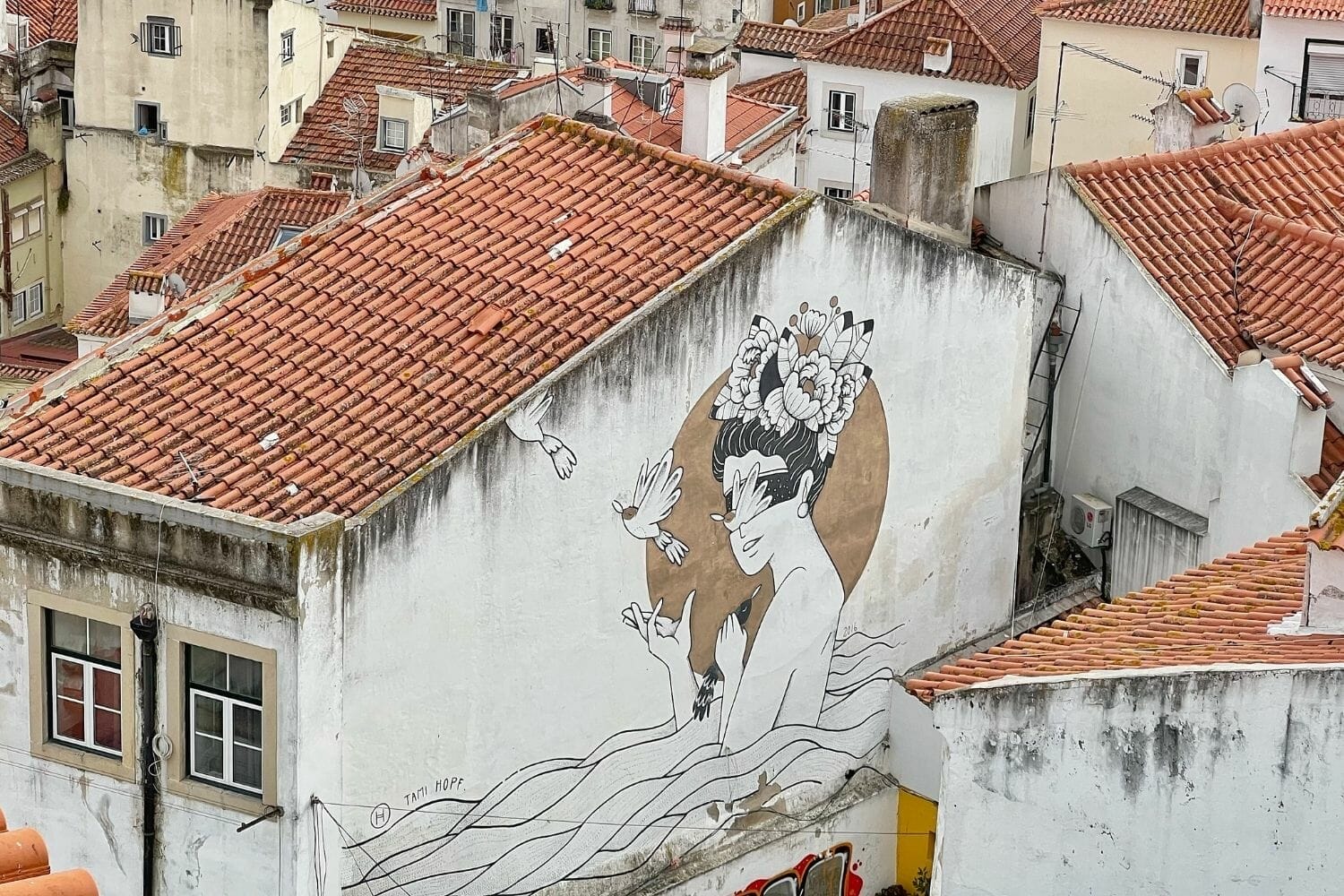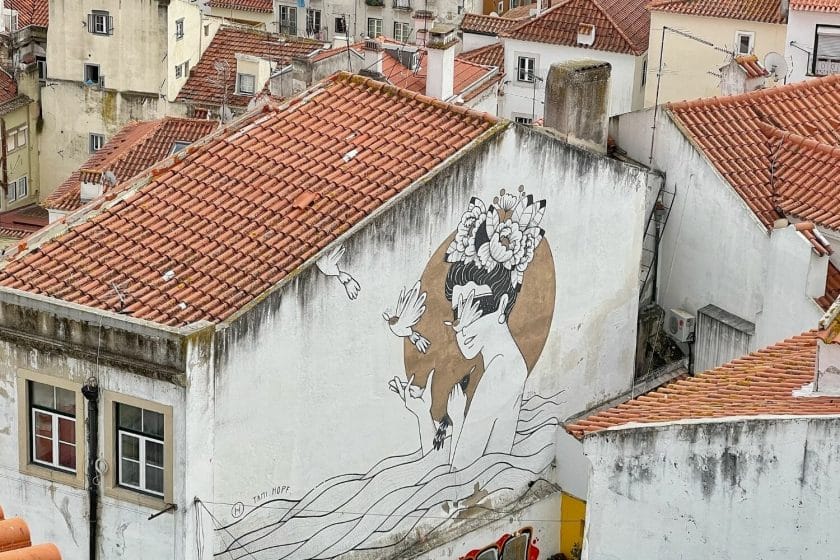 There is random street art throughout Lisbon. Always be on the look out for it!
Feira Da Ladra
A unique and large flea market in Lisbon. It is open Tuesday and Saturdays and an eclectic collection of goods. It is located in Campo de Santa Clara, behind the monastery of São Vicente de Fora.
Vasco Da Gama Bridge
This is the longest bridge in Europe and is named after one of the Portuguese discoverer: Vasco Da Gama. It connects the northern and southern parts of Lisbon.
Castelo De São Jorge
From this castle you can get amazing views of Lisbon plus learn about the history of Lisbon and this area of Portugal. You do have to buy a ticket to go in and the line can be long – not included with the Lisboa Card.
Trips Outside Of Lisbon
There are multiple trips you can take from Lisbon for half a day to a day or even overnight. Here are our top picks and how long they will take you.
Belem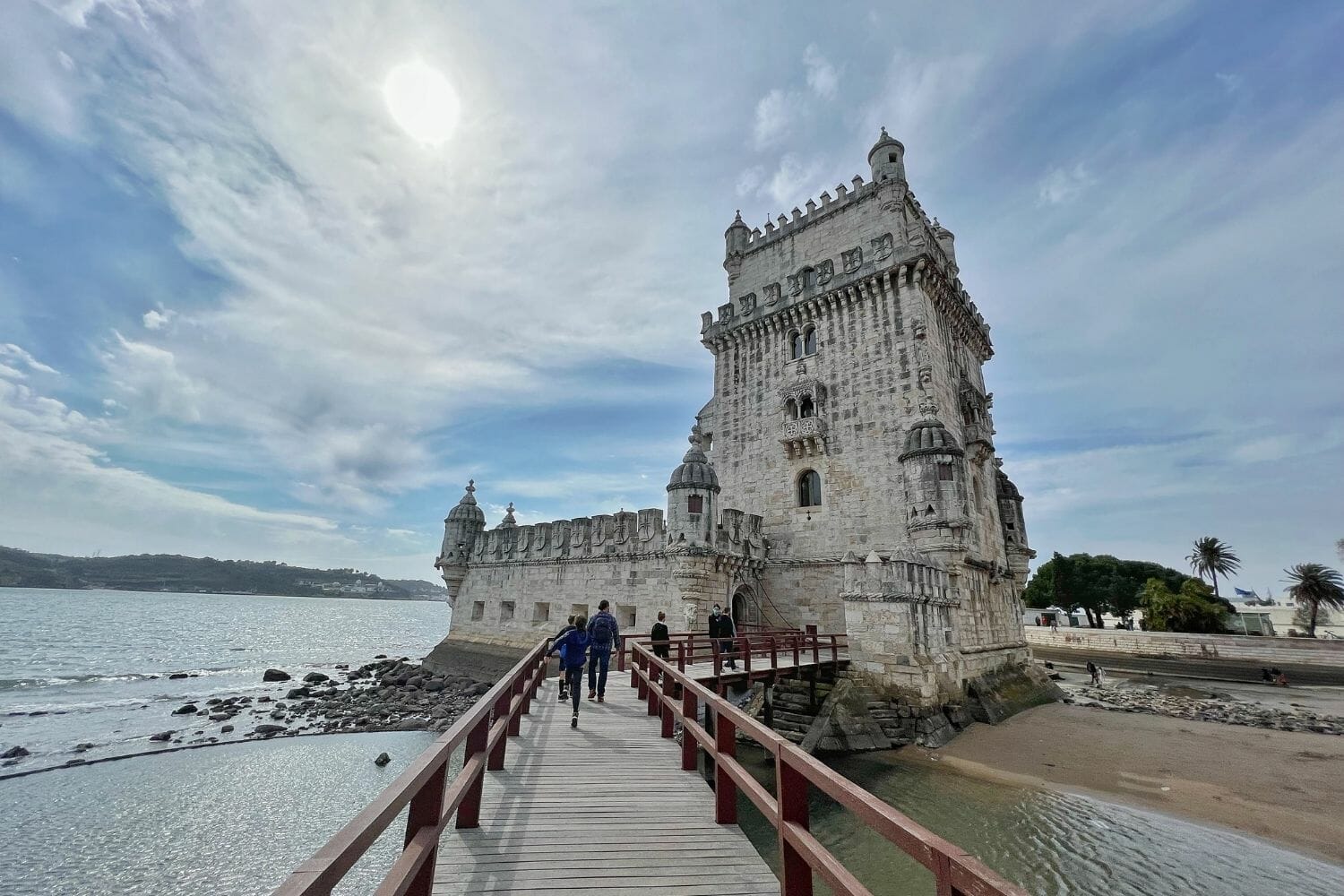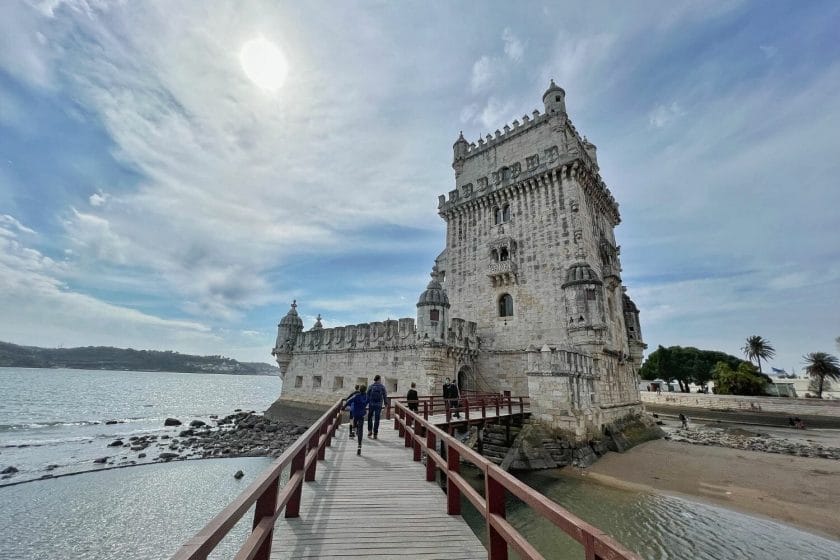 This can be a quick half day trip or you can make it a full day trip. It is easy to get here on public transportation from Lisbon.
Here is our high-level itinerary of our time in Belem. We got on the tram at 11:30 and we were back by 5:30 to Lisbon.
How to get there: take the 15E tram from the Praça da Figueira stop by Rossio Square to Belem (**Included With The Lisboa Card**).
1st stop: Coach Museum (**Included With The Lisboa Card**)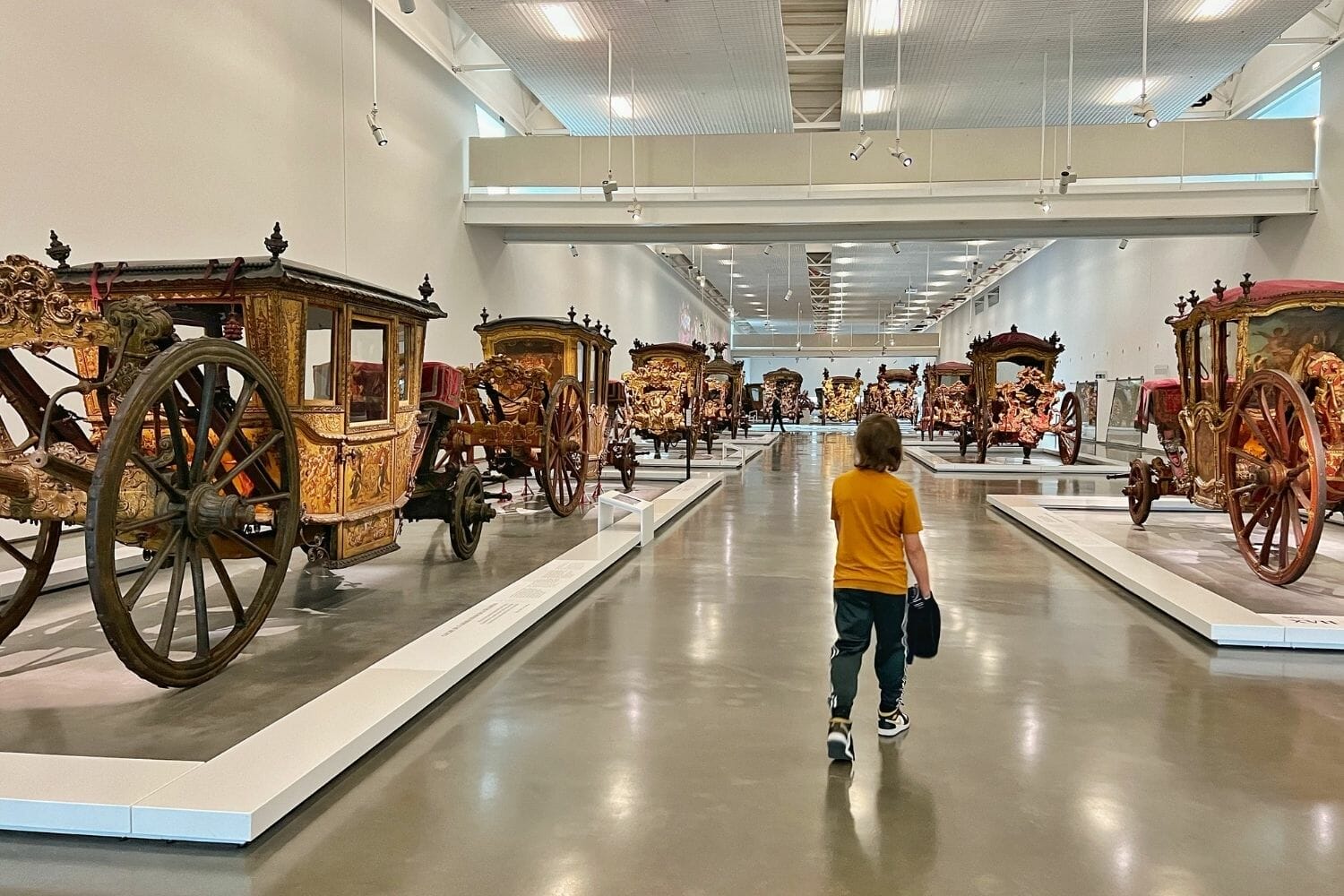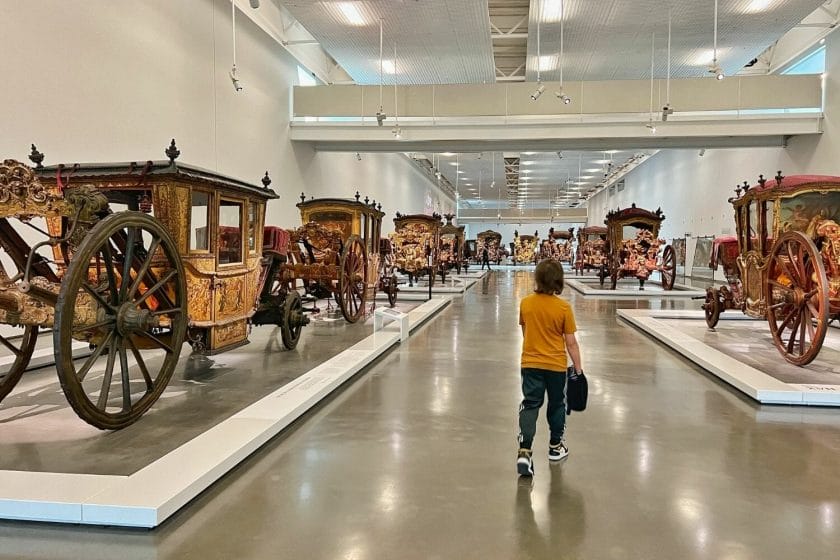 A museum filled with historical coaches that have been used in Lisbon throughout history. Since it was "free" with the Lisboa Card it was worth a stop!
2nd stop: Pastéis de Belém
Supposedly this is where the pastéis originated from. I think some people would argue that, but in any case they were yummy and we were all for having more pastéis!
3rd stop: Jerónimos Monastery (**Included With The Lisboa Card**)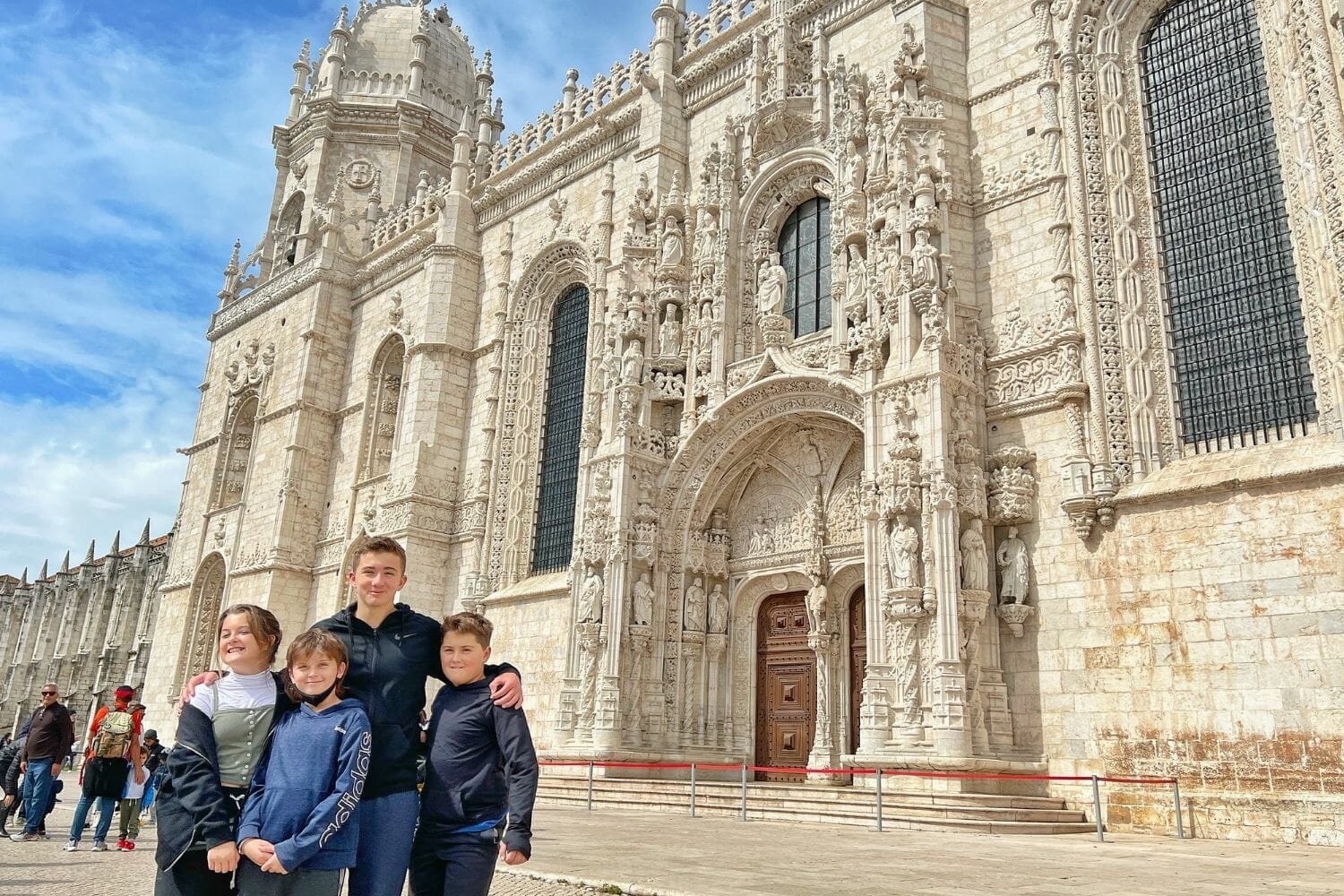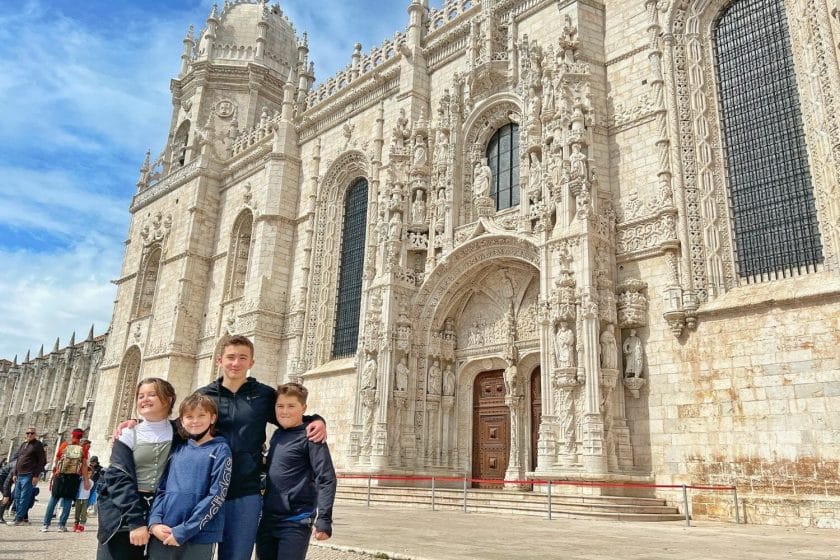 This was a gorgeous monestary and well worth walking through.
4th Stop: Belém Tower (**Included With The Lisboa Card**)
This was my favorite stop of the day. There is something about towers/castles that I just love and where this one is located makes it even more magical.
The Belem Tower is a Unesco World Heritage Site located on the Tagus River.
5th Stop: Gelato Ice Cream
There are multiple places to stop for gelato. We stopped at a random one as we were walking – it wasn't the best gelato we had had but the kids enjoyed it.
6th Stop: Padrão Dos Descobrimentos
We didn't go inside here as it is not part of the Lisboa Card but it was still worth seeing from the outside. Plus the open area walking up to it had a cool map to look at on the ground of all the places the Portuguese discovers had discovered!
The monument celebrates the Portuguese age of discoveries during the 15th and 16th century.
7th Stop: Pillar 7 Experience (**Included With The Lisboa Card**)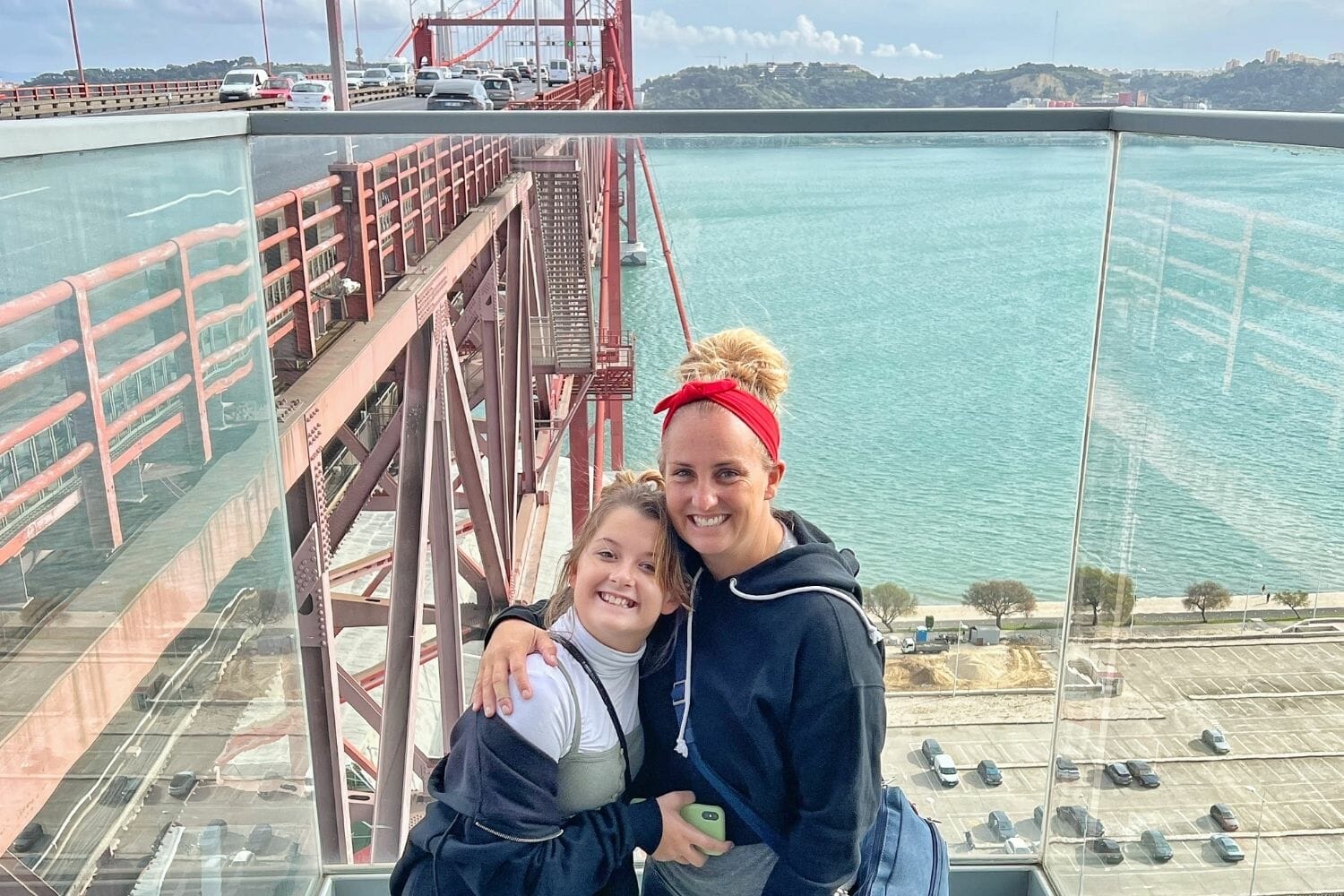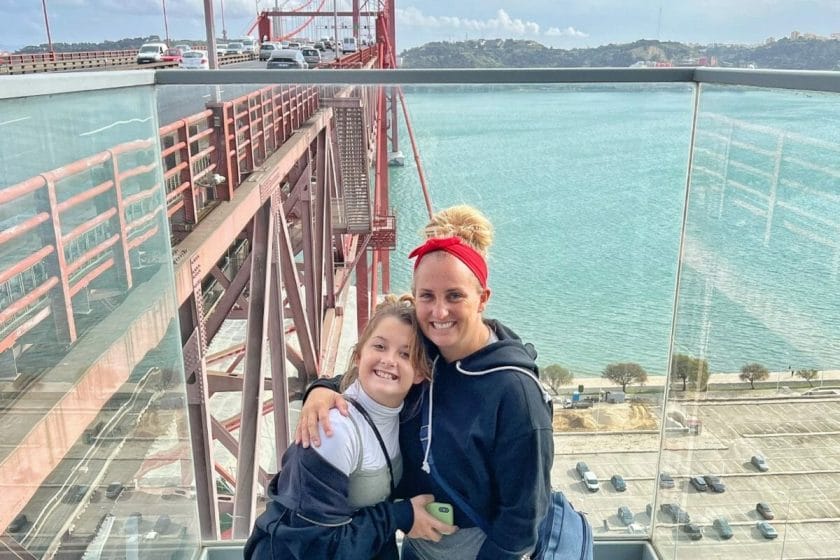 You could straight up to the top of the bridge in a glass elevator! It was a bit scary but also cool and worth the stop with the free Lisboa Card.
8th Stop: Village Underground Lisboa
We stumbled upon this place and it was great! It was a small container park that had a bar and places to sit and relax. It also had a basketball hoop which the kids loved. We were there in the afternoon, but they were getting ready for some live music in one of the containers.
No one was there when we were there, but I can believe it is a lively place once the night gets going. It was perfect for us to stop to grab some drinks and sit down for a minute before we headed back to Lisbon.
We took a bus back from here to Lisbon. If you put your location in Google maps and where you want to go and select the bus option (instead of walking or driving) it will show you what bus number to get on and where the stop is.
Check out our full post on Belem here: 1 Day In Belem (Lisbon) – 9 Awesome Places To Visit
Sintra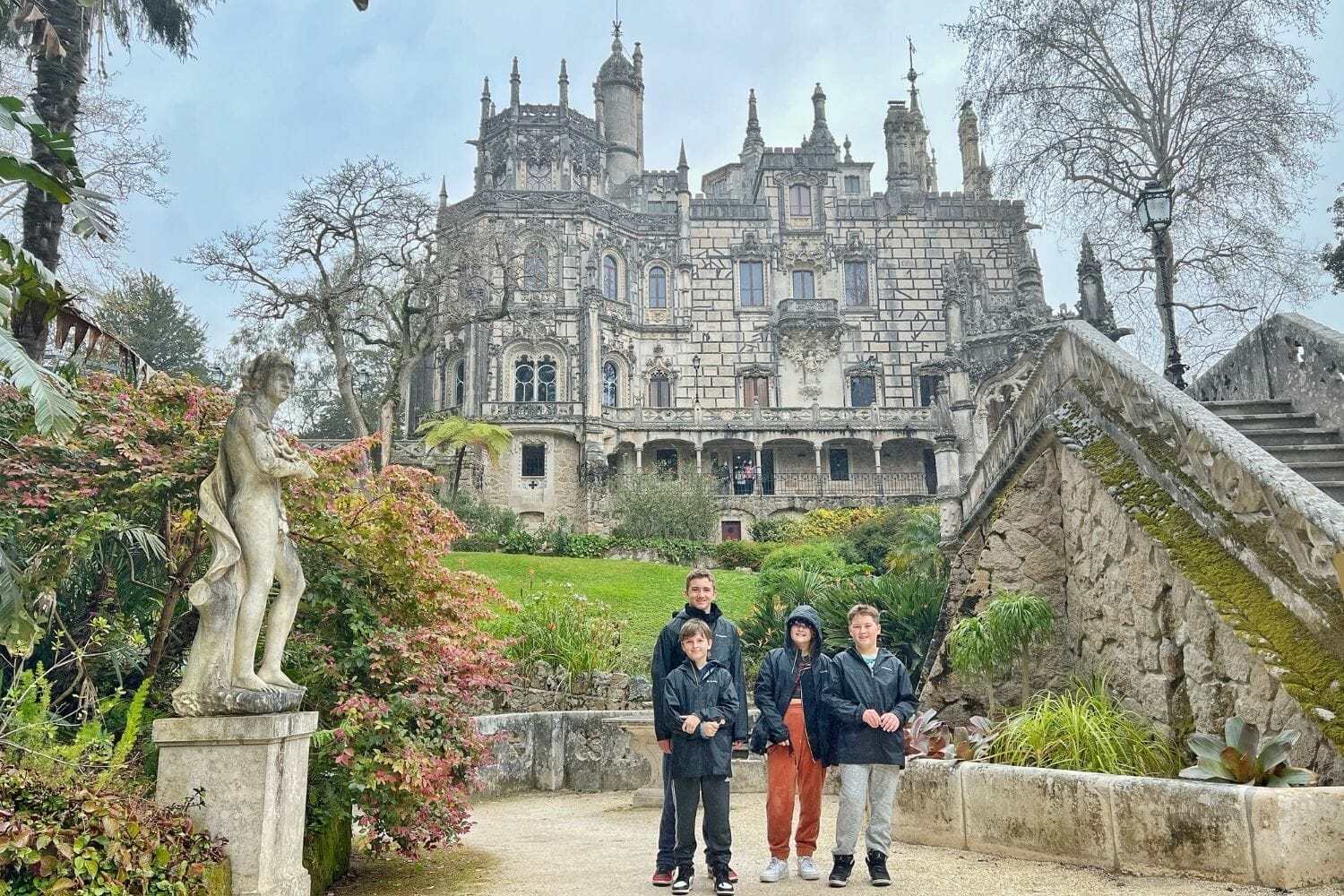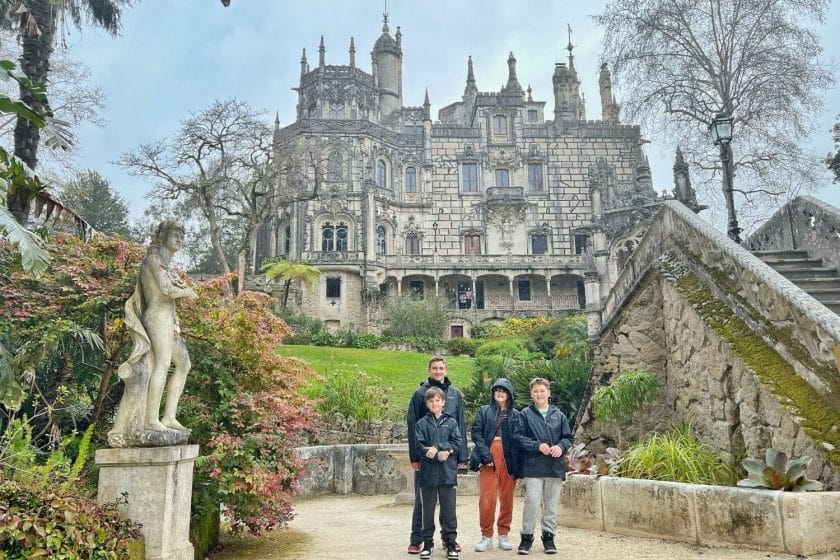 This will likely be a full day trip as it does take a while to get to Sintra and there is a lot to do. You get here on public transportation and can take the bus around Sintra – or walk (but it is far and a lot of hills).
We took the train from Rossio station (**Included With The Lisboa Card**) at 10:10am to Sintra. It is a 40 minute ride and you want to stay on the train until the end – there are 2 Sintra stops – don't get off at the first one.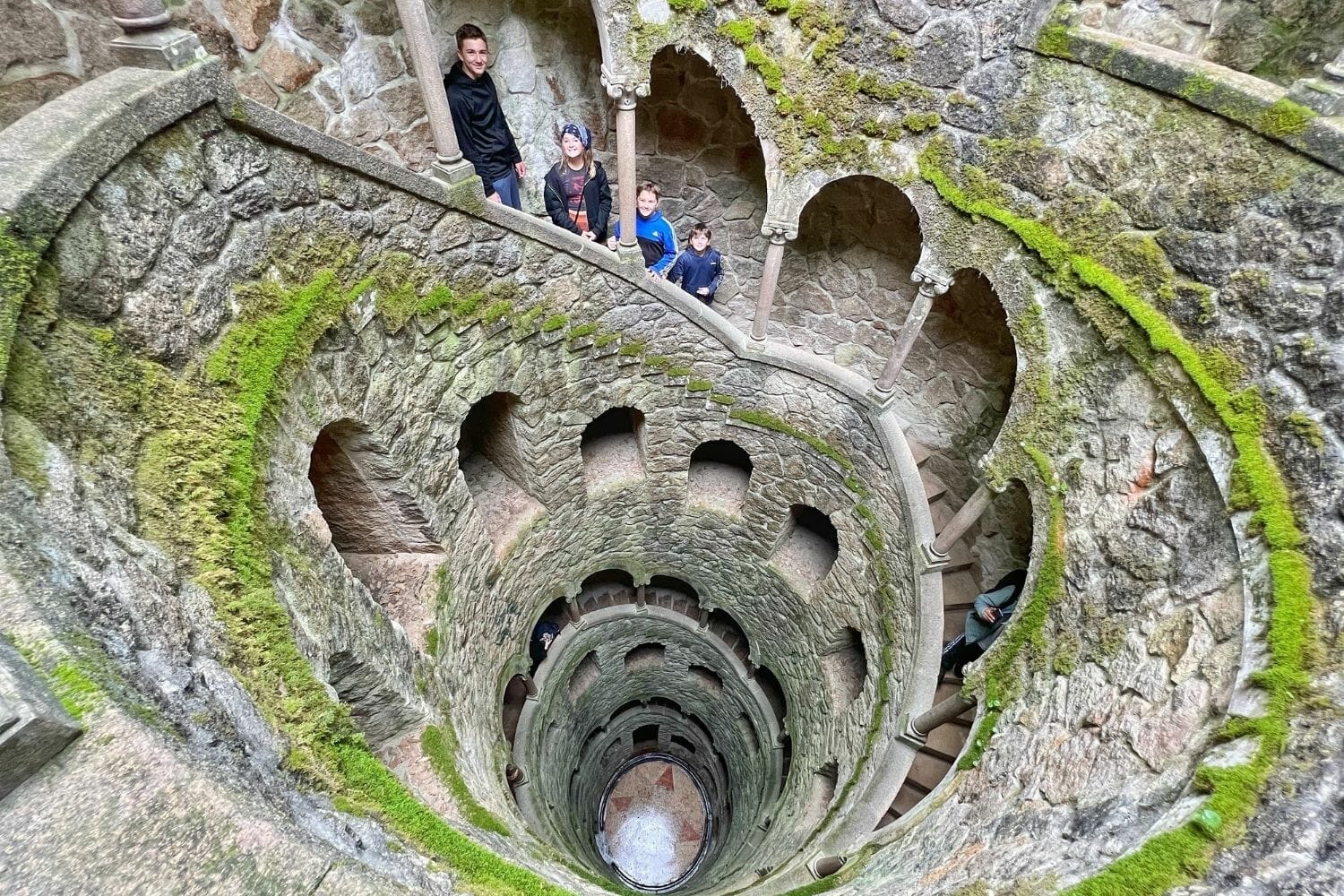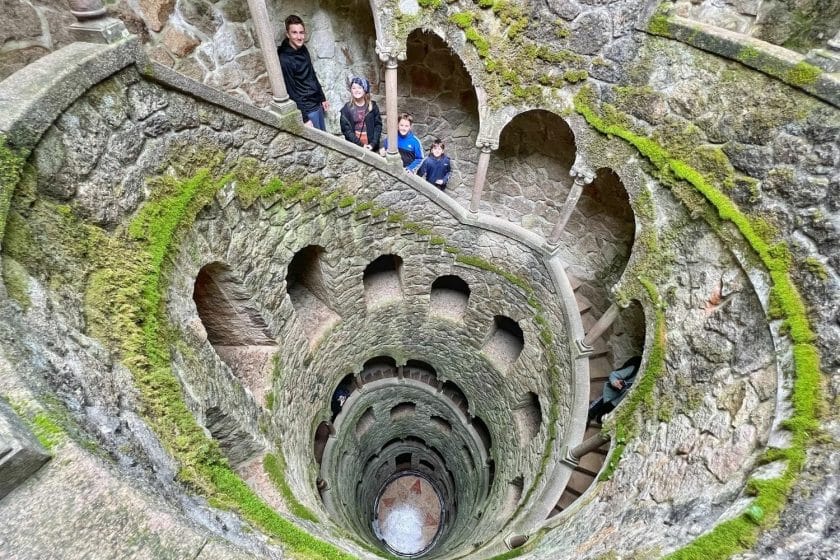 You can walk here – but does get confusing so look for signs or stop to ask for directions. Or take a bus. This place was awesome and we could have spent all day just here exploring the grounds!
It has lots of random walk ways, towers to walk up on, hidden passages and gorgeous views!
We ended up spending about 2 hours here but definitely could have stayed for longer. There is a separate entrance fee to get in here (not included with the Lisboa Card). You can buy the ticket ahead of time or when you get there. There was no line when we got there. But others have said it is worth it to buy your ticket ahead of time.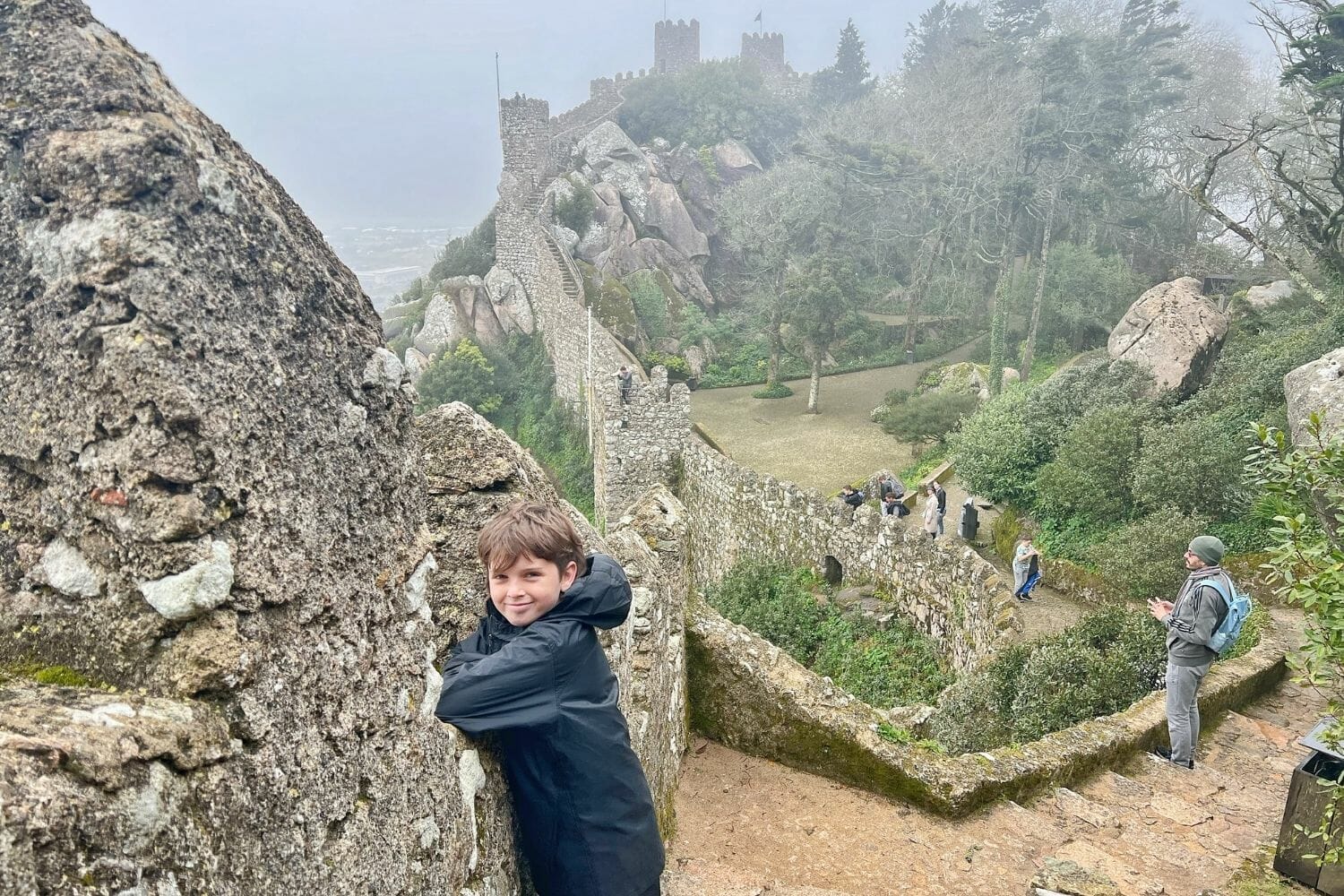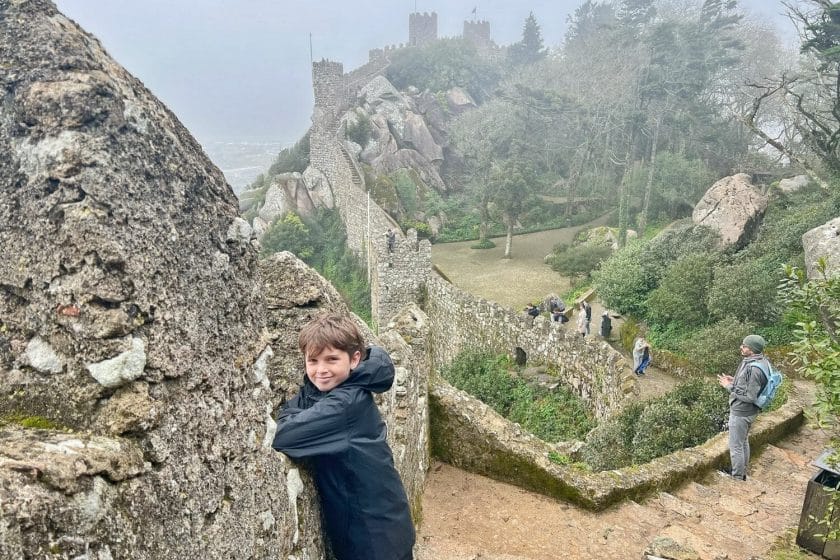 We walked here. We don't recommend it. Get a TukTuk (drivers are all around asking you if you want a ride) or take the bus. I would just ask at the Quinta Da Regaleira what bus to take to get to the Moors Castle and where you can pick it up.
The Moorish Castle was gorgeous!! All that is really left is the outside wall of the castle but you can walk along the whole thing. When we were there it was overcast but that added to the historical feeling of the place! There is a separate entrance fee for the castle (not included in the Lisboa card).
We spent about 1 hour here since we walked to the top on one side. It started raining so we didn't walk to the other side. Also with the weather rolling in we lost our views from the top!
Stop 3: Pena Palace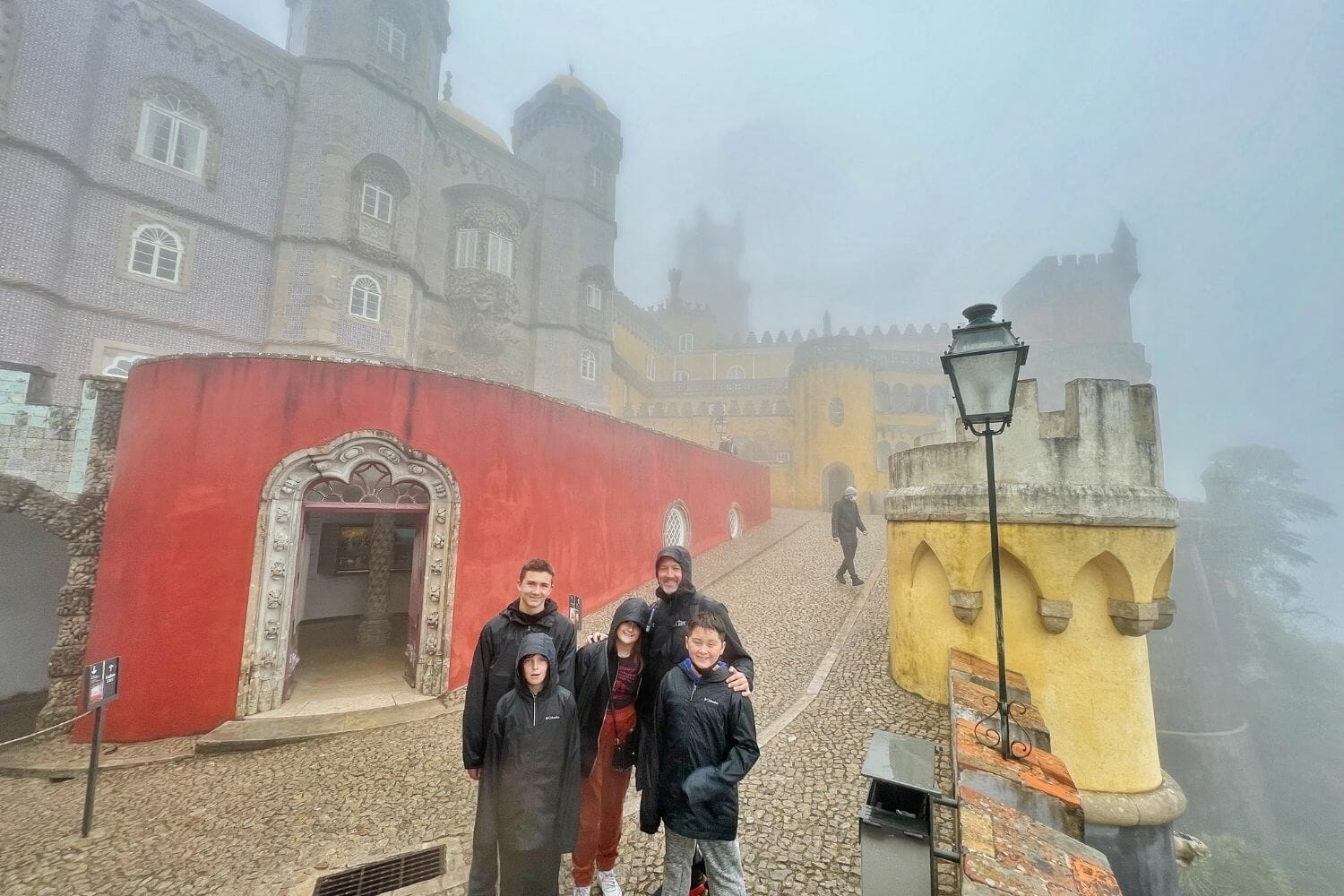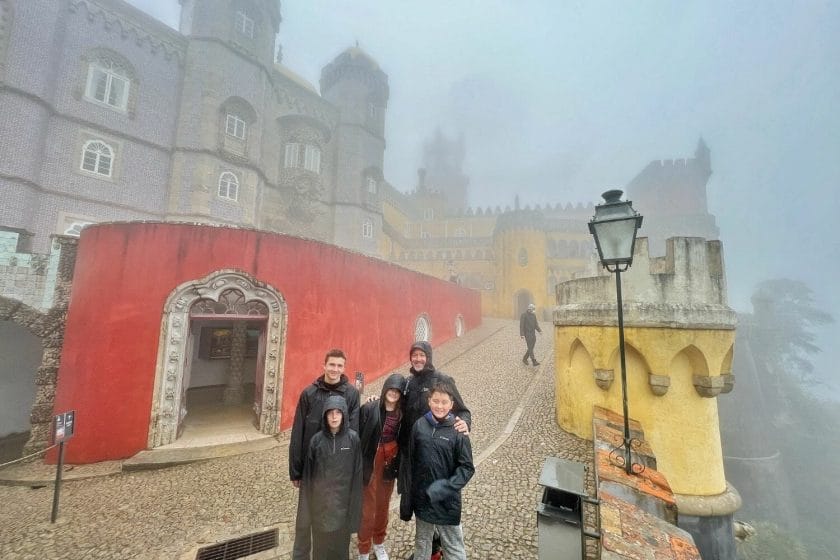 We walked from the Moors Castle to Pena Palace and it was totally doable for us and not that bad.
We opted to just do the Pena Palace grounds and not go inside (we did need a ticket to do this) that we bought when we got there. Unfortunately the weather did not cooperate with us and the fog made it so we could barely see the outside of the palace! From what we did see I would definitely say you don't want to miss this when you are in Lisbon!
From here we took the 434 bus back to Sintra and got on the train to head back. The 434 bus was not included in our Lisboa Pass and cost 10 Euros for our family to take it back to the train station.
Due to the weather this only took us about 1 hour to explore.
There have been changes to how to get around Sintra so be sure to check out their post with all the information on how to get around Sintra.
Sintra was amazing and I am glad that we went and visited it! Next time we have to go when the weather is better.
For our full post on Sintra (and all the details) check out: 1 Day In Sintra Portugal – 3 Places You Don't Want To Miss!
Where To Eat In Lisbon
Outro Lado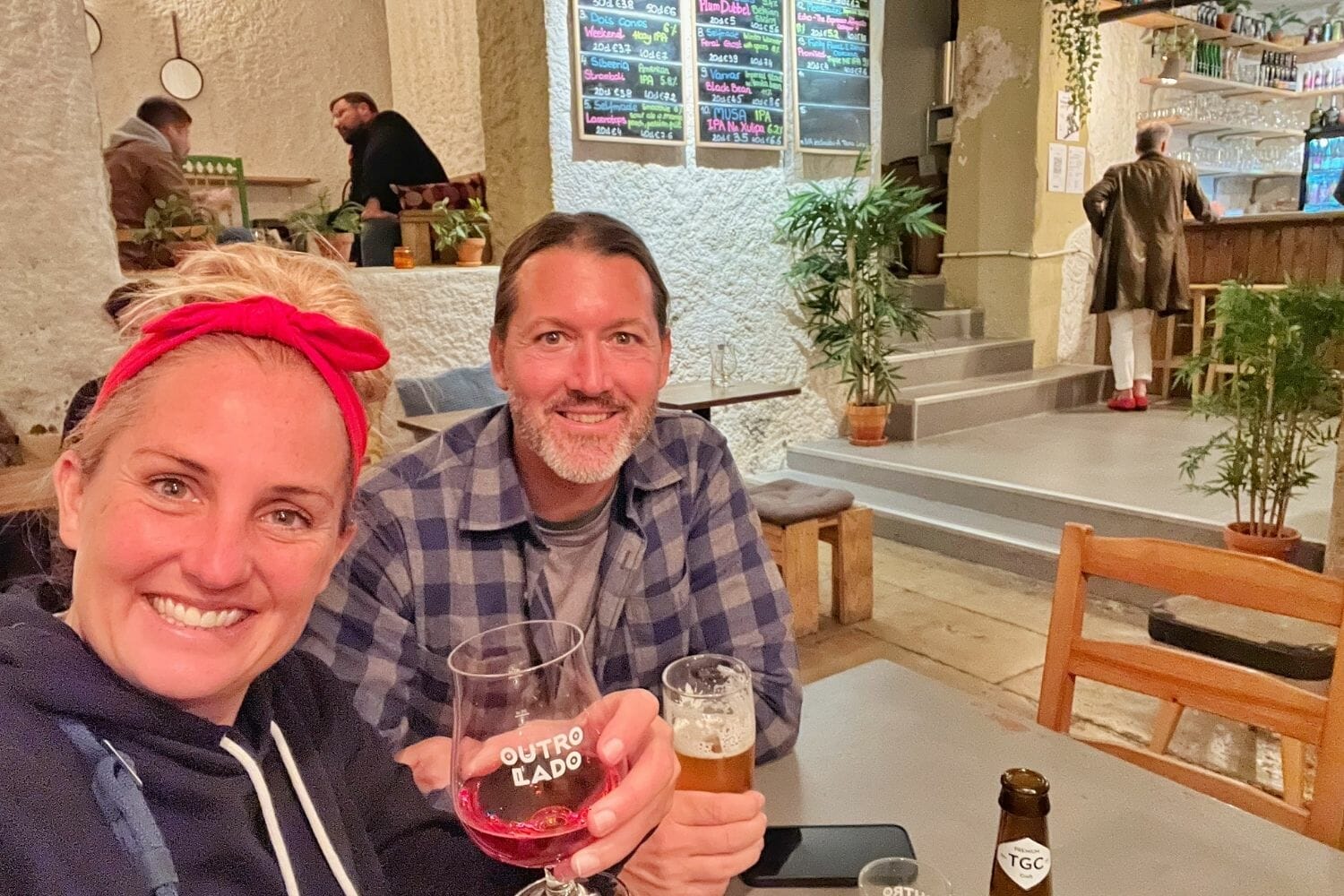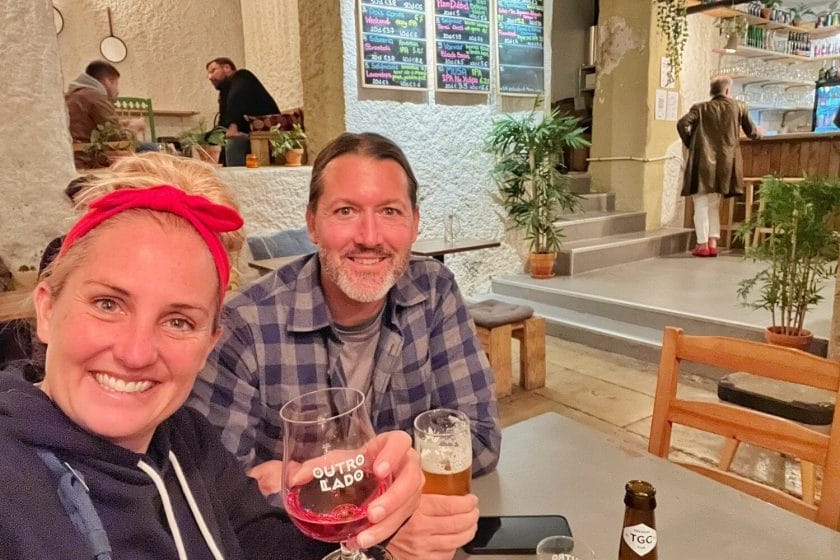 This was one of those places that didn't look like anything – and honestly we didn't even know what it was or that it was there. Even though we walked by the small sign and door everyday!
Then on a Wednesday it opened and wow! It was so cool inside! Similar to a brewery they had a bunch of beers on tap and more kinds in bottles in the fridge.
They had a small menu of food but on a certain days brought in chefs to do a pop up food cart – when we were there (well one of the times we were there – we went multiple times) they did this with sliders and they were yummy!
Romana Al Tavolo
A delicious pizza place in the Alfama Neighborhood. It is small inside but the pizza was delicious and very reasonably priced. The kids loved it!
Clube de Fado
This is dinner and a show. We got there at 7 and they gradually bring out your food (you do pick off the menu what you want) and the Fado music starts at about 9pm. Reservations were needed!
Meson Andaluz
Our friend Tamara from We3Travel recommended this restaurant! It was a bit more fancy but since we were there at an odd time – about 4pm it worked out great with kids. We got a few meat sample plates and cheese and it worked out well for an afternoon stop!
Cafe A Brasileira
Rick Steves recommended stopping here for a coffee. It was busy! And having 6 people threw them off a bit :). So we ended up getting coffee to go. It was good and the inside of the place was beautiful.
Alcôa Pastry Shop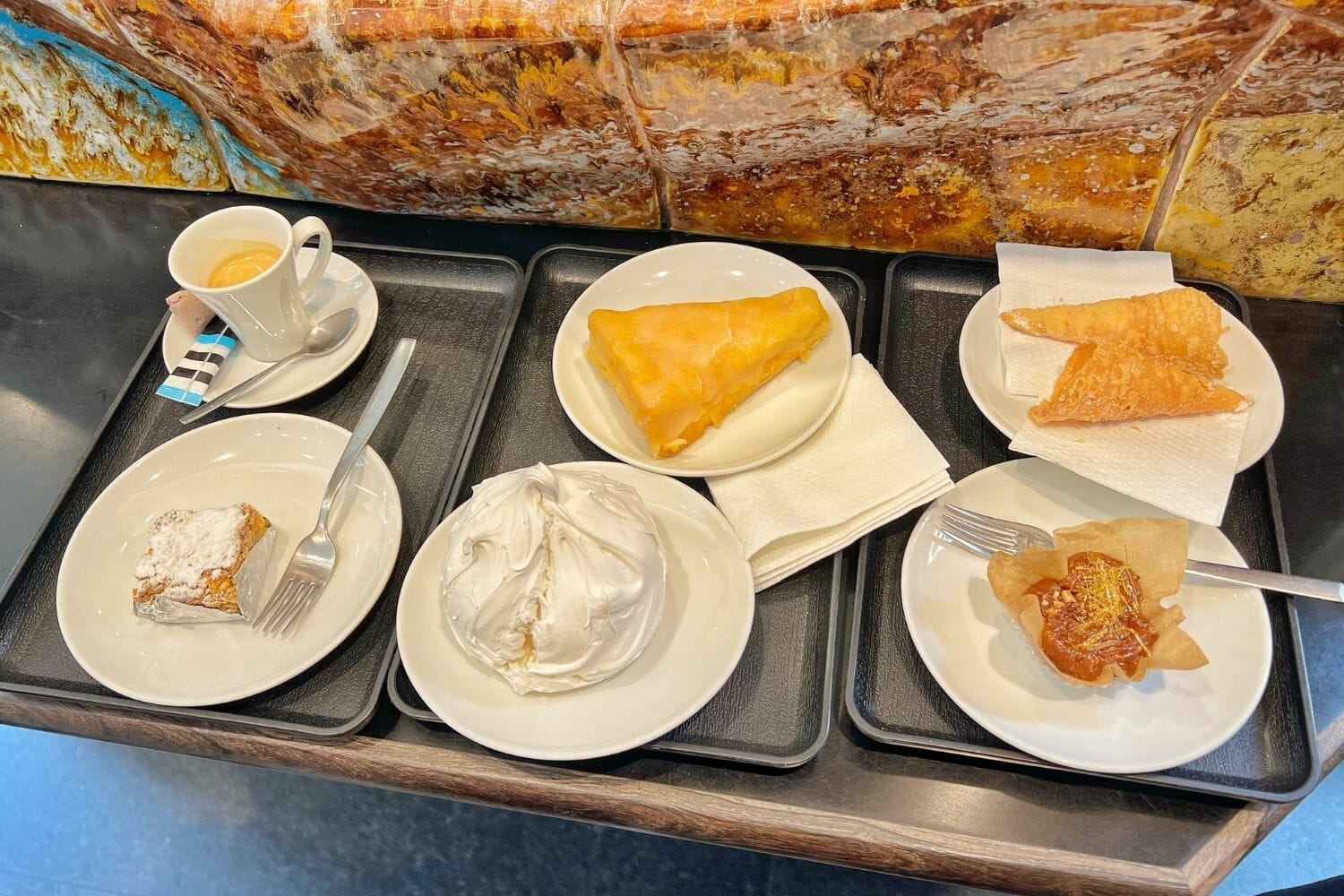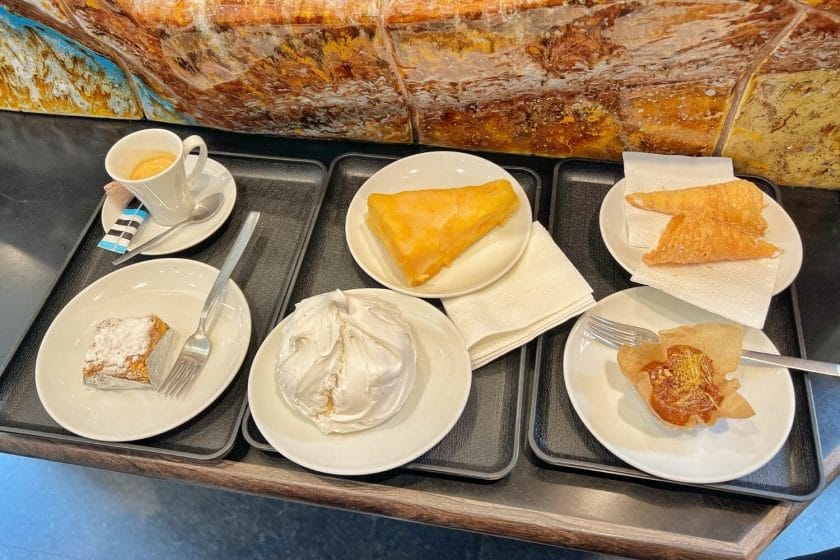 We got a collection of different pastries to try and stood at the counter to sample everything. Everyone liked something different but everyone found something they liked.
Confeitaria Nacional
One of the oldest pastries shops in Lisbon. We of course had to stop to try more pastries. We sat at a table outside and ate our pastries while we were people watching.
LX Factory
An industrial complex with a variety of unique restaurants inside of it.
Time Out Market
This is a huge market that has tons of different restaurants and food stands. We like these kinds of places because everyone can walk around and choose what they want to eat. There was also a beer stand that served different beers as well as a nice wine shop.
If you are looking to spend more time in Portugal be sure to check out this 1 week Portugal itinerary!
Where to Stay
Vacation Rental
We stayed at Gonzalo's Guest Apartments – Downtown Historic Flats in the business district of Lisbon and it worked out great! There was plenty of room for all 6 of us and the pull out couch in the Living Room was actually very comfortable and large.
The location was great as we were right off a side street with restaurants, a coffee shop and a small convenient store. It was also close to the main square and getting to public transportation.
The place had a dishwasher and a washer – no dryer – I was glad we brought a clothesline we could hang up to dry our clothes. A nice kitchen area and table. Plus it had huge windows that looked out over the street. It was fun to stick our heads out and see what was going on, on the street below.
Hotel
There are some awesome Lisbon boutique hotels, wine hotels and more! Here are some we recommend:
The Pestana CR7 Lisboa hotel is in a great location and access all of the fun things to do in the city! This is one of Cristiano Ronaldo's hotels and he's a pretty big deal in Portugal.
If you want to stay in the Alfama neighborhood (we would love to stay in this neighborhood when we go back) check out the São Vicente Alfama Hotel by TRIUS Hotels.
You can also check out these great wine hotels in Portugal.
We spent 3 months backpacking around Europe with our 4 kids. In this post we talk all about how we planned our trip to Europe for 3 months, how we picked where we went and how much it all cost. Be sure to check it out: How To Plan A Trip To Europe
More Posts On Europe To Check Out:
16 Top Things To Do In Munich Germany [+ Day Trips]
15+ Things to do in Tuscany, Italy
Backpacking Europe Packing List (With Kids!)
One Day In Madrid Itinerary – 14 Stops Not To Miss!
A Tourist Guide To Las Fallas Festival in Valencia Spain
One Day In Barcelona Itinerary
14 Fun Things to do in Rothenburg Germany
Pin this post for later: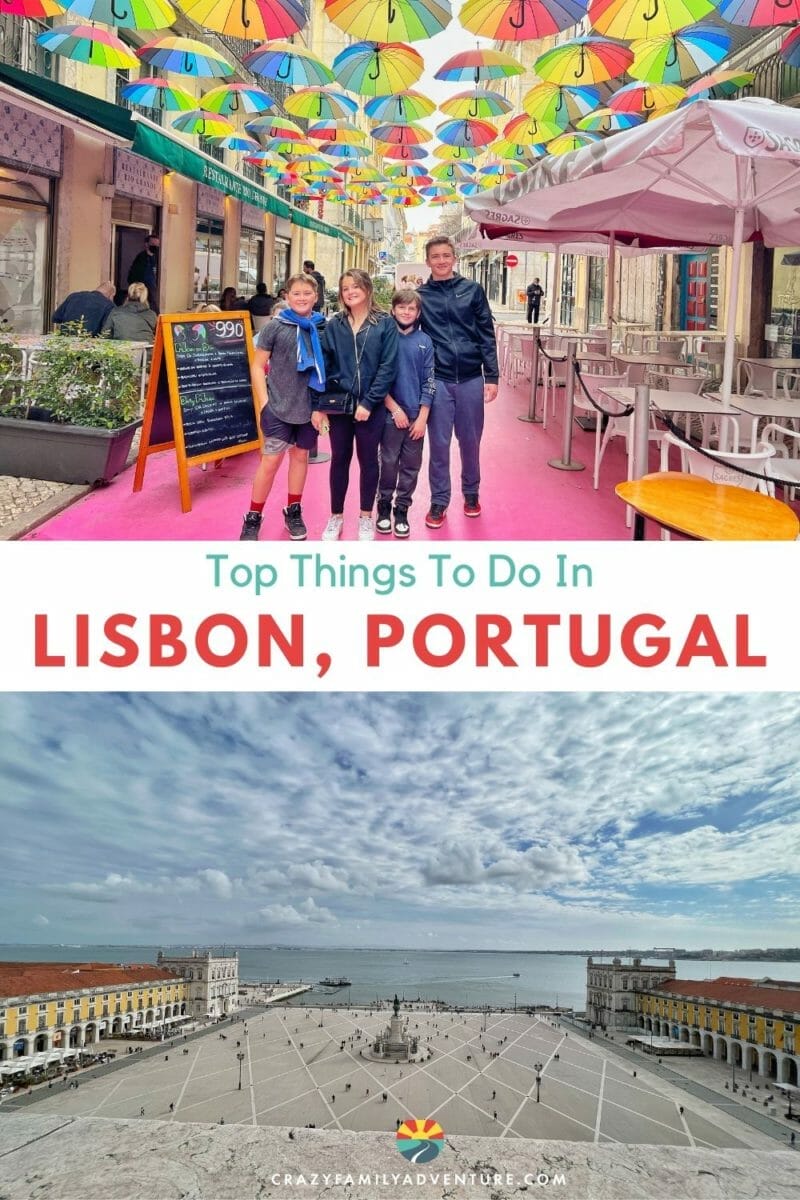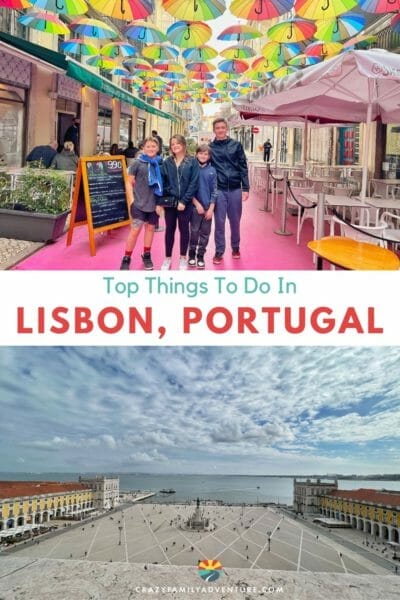 DISCLOSURE: This post may contain affiliate links, meaning I get a commission if you decide to make a purchase through my links, at no cost to you. Please read my disclosure for more info.