We loved the medieval town of Rothenburg ob der Tauber Germany! We are glad we came across it when we were planning our trip to Europe.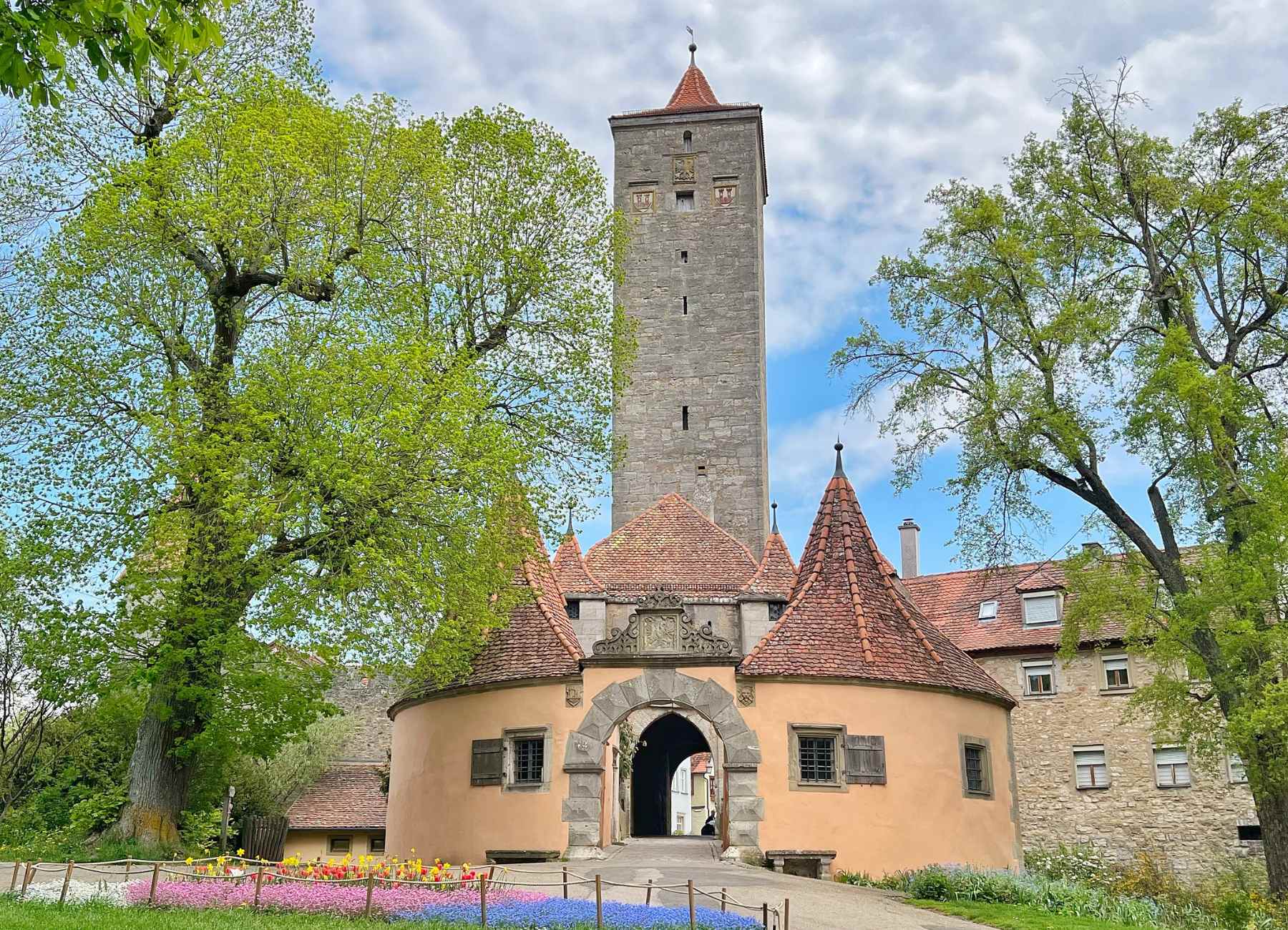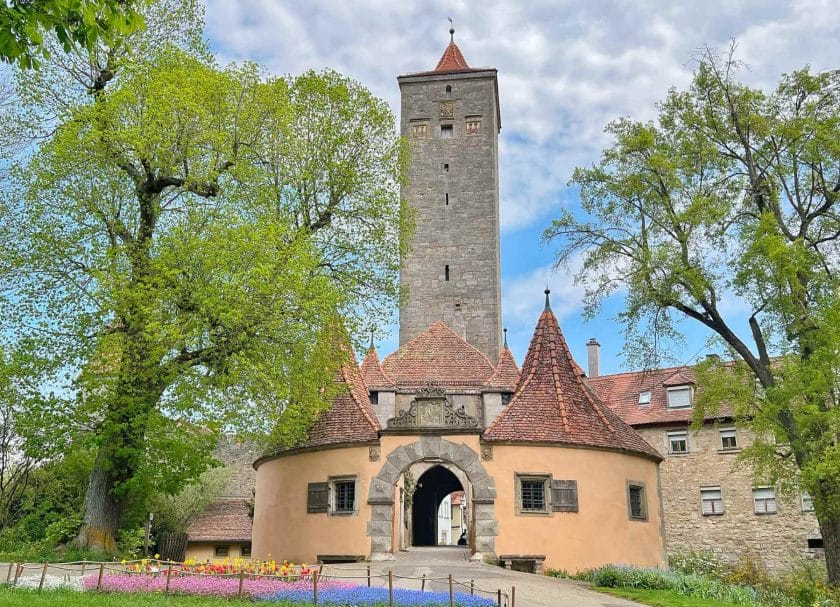 It has a sad story that got it to be such a preserved Medieval city but we appreciate that now we can enjoy it!
It was a prosperous city back in the high middle ages from the 13th century until the 1600's. When it was one of the 2nd largest cities in Germany. Then when the 30 year war swept the area it went into despair until it was rediscovered in the 1800's. It was impressive in that it was such a well preserved Medieval village – with the city wall still in place.
Now the majority of the cities income is based on tourism and they do a fabulous job at it! We would recommend you come and stay here for at least 2 nights so that you get 1 full day to explore.
A lot of tourist buses stop in the town on their Romantic Road tours so it can get busy during the day. But when they leave it clears out quite a bit at night and is peaceful and a beautiful city to walk through at night.
Foods To Try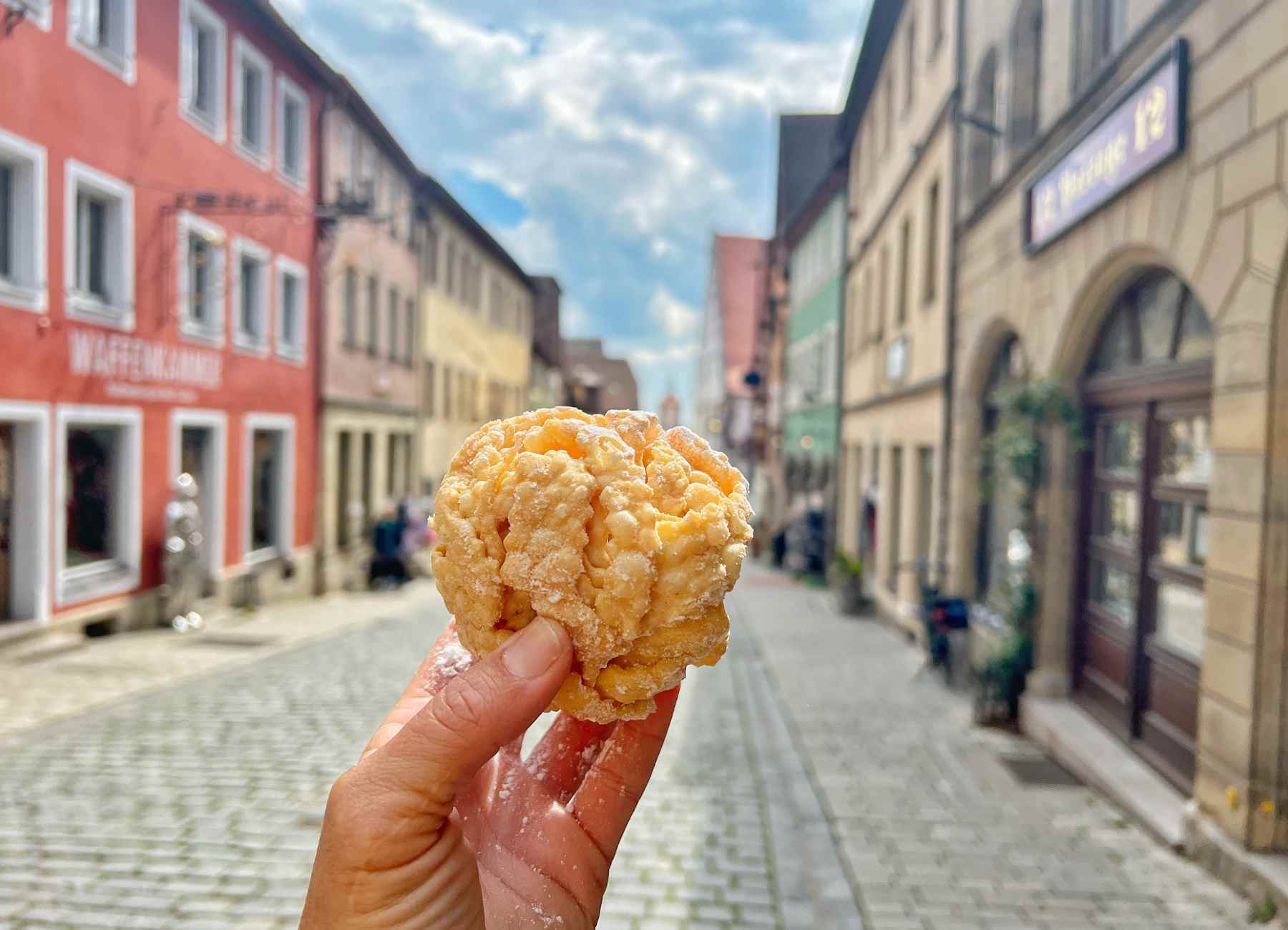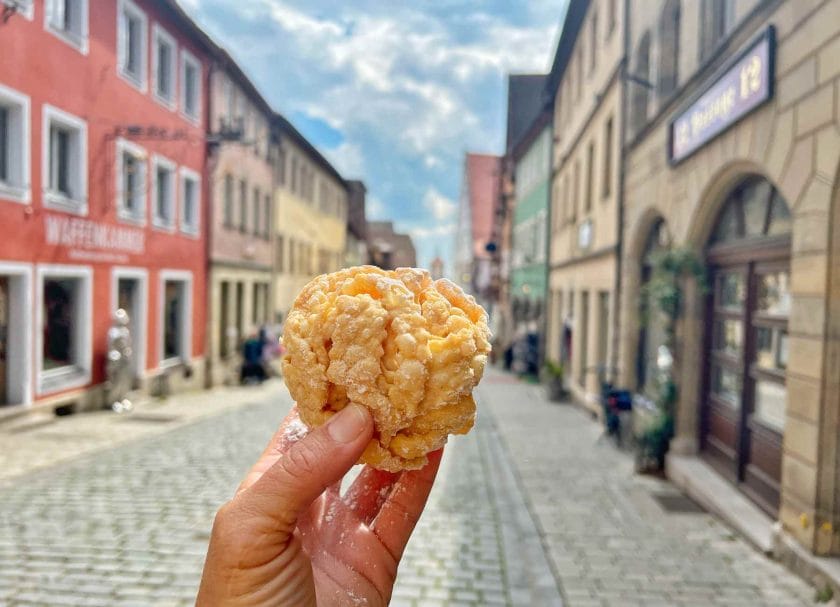 Schneeball – it sounds like a Snead from the Lorex :). But seriously don't miss this! It is also called a snowball. It is a round pastry that is about 8-10 centimeters in diameter and is usually covered in confectioner's sugar. So it looks like a snowball – hence the name.
Things Not To Miss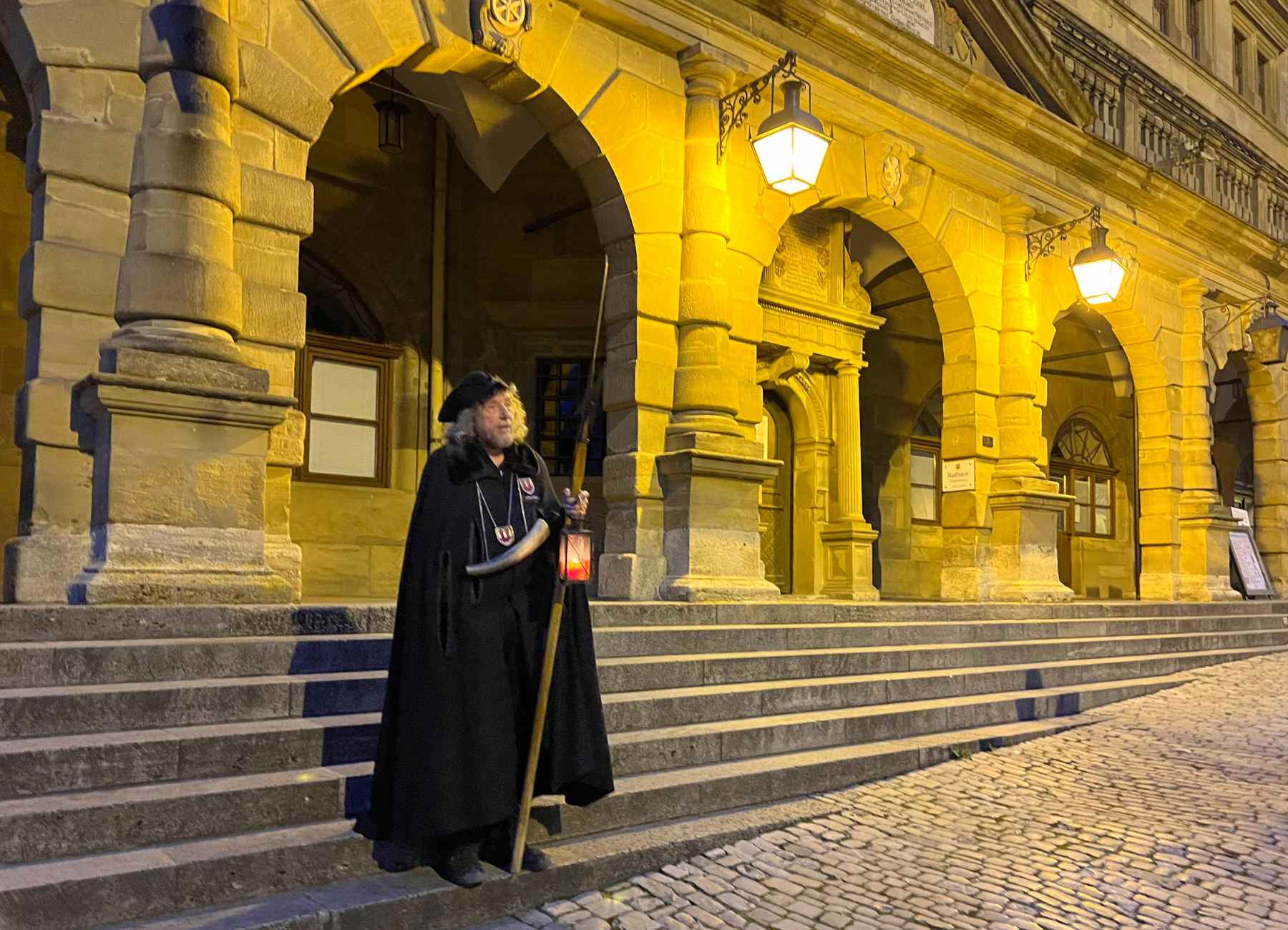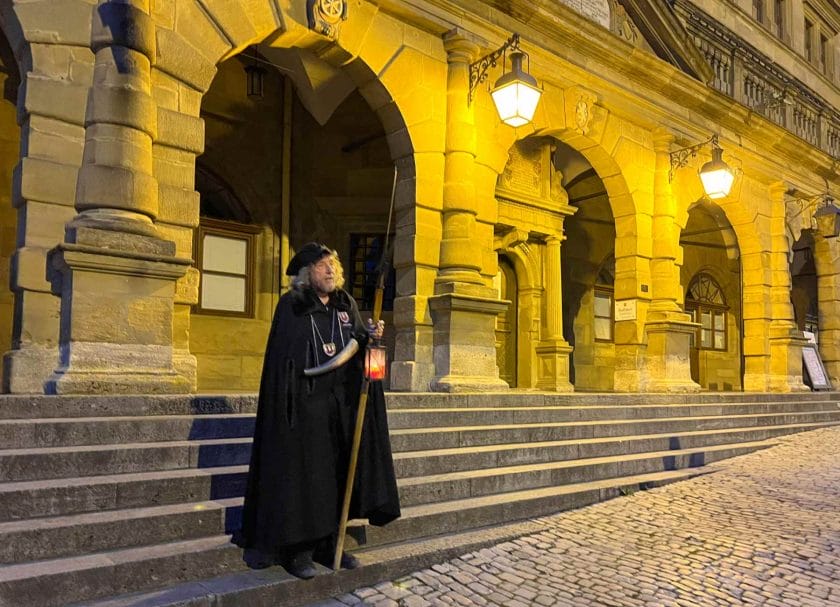 Nightman's Watch – It is usually at 8pm every night and a watchman comes out and walks you around the town sharing stories about the town. Some a bit scary and some more history based. From our understanding the guy that does it has been doing it for years!! He was great!
Spending One Day In Rothenburg ob der Tauber Germany
We stayed for 2 nights and choose to stay just outside of the town walls so the cost was less. If money wasn't a thing I would have loved to stay in the city walls!
With 2 nights it meant we could get there – have a nice dinner and get ready for the next day.
We spent our full day in the city walls exploring!
Here is how we recommend you spend a day exploring Rothenburg, Germany.
Breakfast
Breakfast: We ate breakfast at our hotel before heading out. It was included in our stay so we figured we should take advantage of it!
Rick Steves App
If you want to know what you are looking at and have some context we recommend downloading the Rick Steves App and the Rothenburg walking tour. You can either read through the stops he recommends or you can play the audio and listen. We have seen people with headphones on listening or in our case we had the kids circle around us and we played it for everyone.
Market Square
The Market Square in Rothenburg is a large square with a variety of buildings surrounding it. Including the Town Hall and Tower. Come to the square and stop in the middle of it or by the fountain and take in all the unique buildings, timbered houses and the vibe and imagine yourself here back when it first became a town!
This is also where the information office is. If you have any questions about anything stop in. They were very helpful when we stopped to find out about the Nightman's Watch.
The square is also where you mean for the Nightman's Watch tour.
Town Hall Tower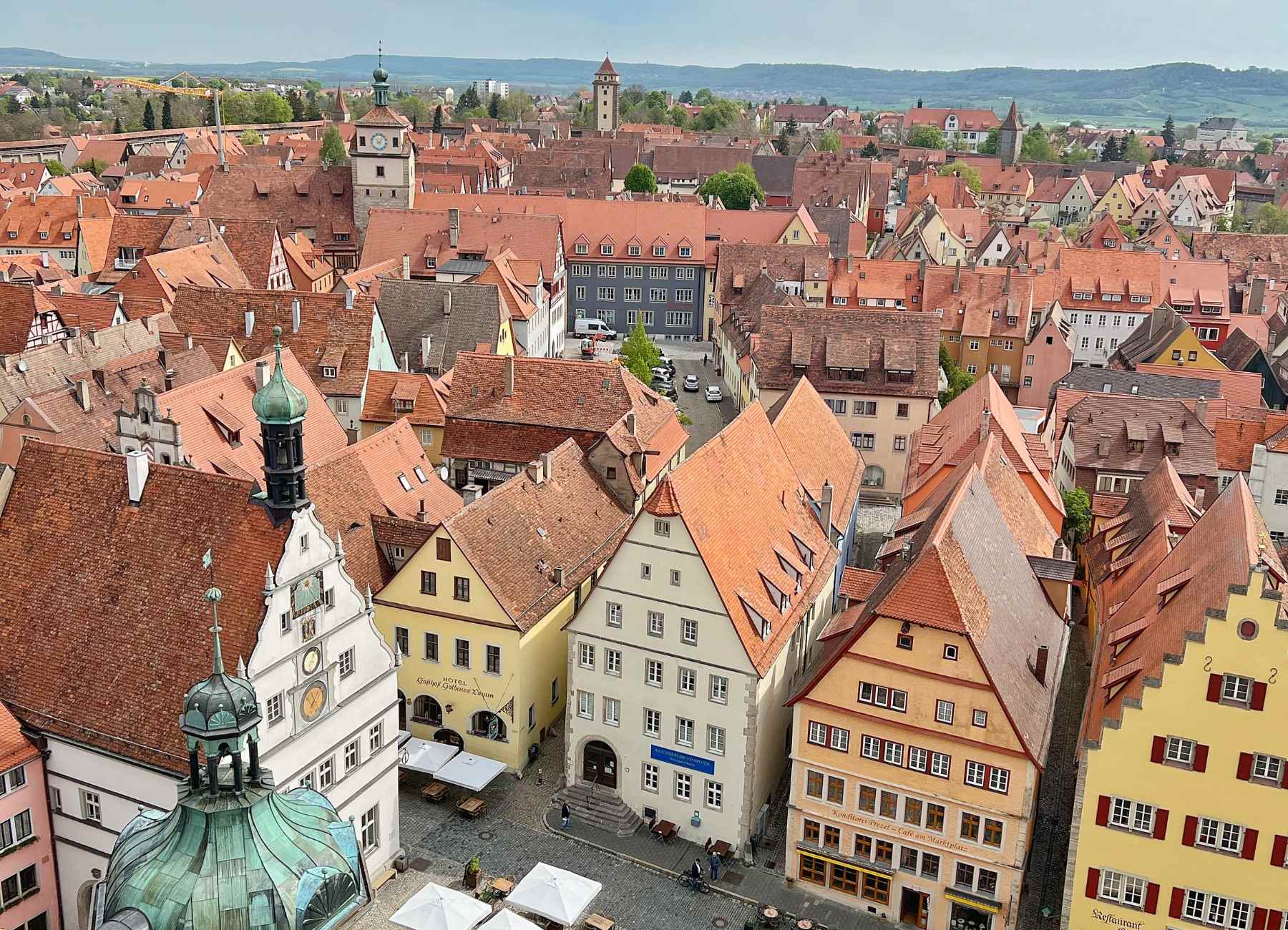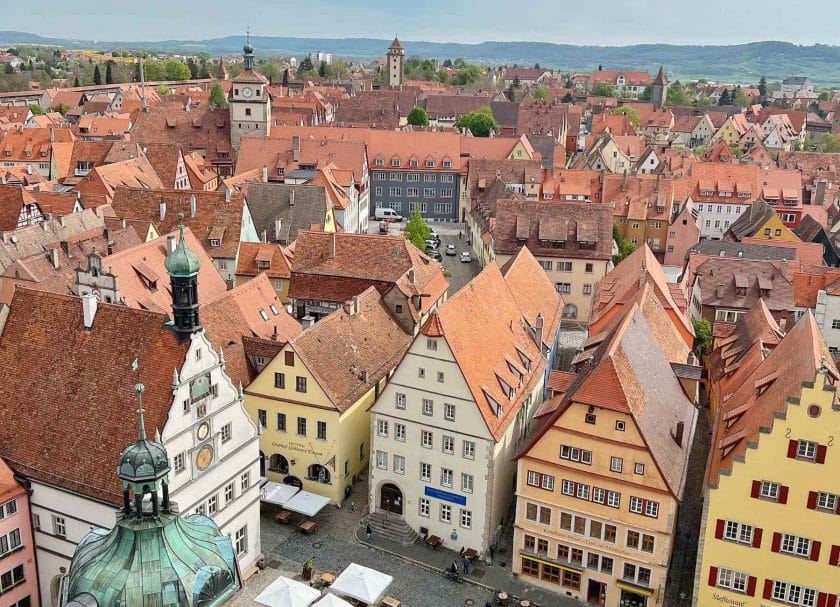 Located right next to the Market Square is the Town Hall Tower. You can climb up the 214 steps to get to the top of the tower. But be prepared it gets narrow and steep near the top.
Once at the top you have an amazing view of the town. It is well worth the climb. You do have to pay but it is just a few Euro's.
The Rothenburg Museum
If you want to learn more about the history of Rothenburg over the the last eight centuries be sure to stop in here to see the collections. There are crafts, arts, sculptures and paintings!
The kids were really impressed with the armor room. I liked the downstairs kitchen and how you could see how it would be back in the medieval times.
Lunch
Be aware that a lot of places close by 2pm and don't open again until dinner time. We didn't know this and most places were closed by the time we were ready for lunch. We are late starters and normally eat lunch around 2/3pm.
Instead find one of the coffee shops to have a coffee and a Schneeball pastry. The pastries are all over the place so it won't be hard to find one! Zuckerbäckerei was the shop we stopped in.
Castle Gate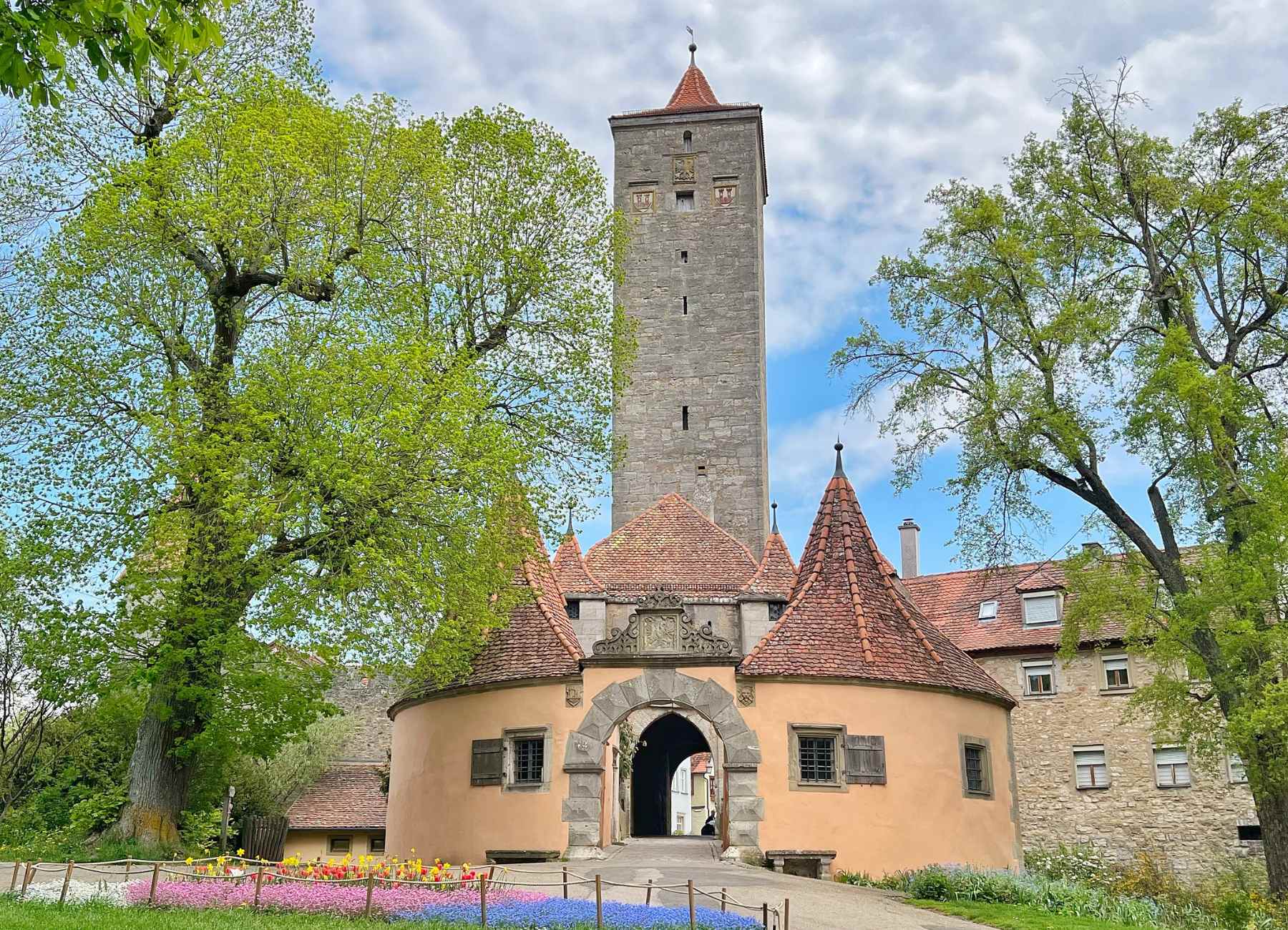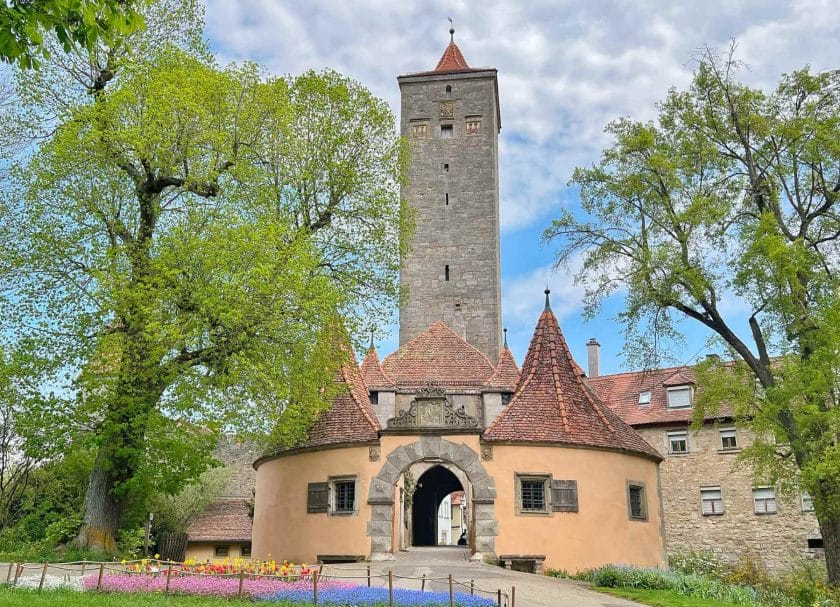 Walk outside the city walls through Castle Gate and into a large green space. The castle gardens were beautiful when we were there (in April). Head out to the scenic view at the end of the trail to look out over Tauber Valley or just turn around and take in the beautiful Castle Gate.
The Castle Gate was one of my favorite views in Rothenburg!
Shopping
Make sure to set time aside to walk around and shop! There are a lot of amazing shops to look around it. Here are some recommendations. But overall just walk around and stop in a shop that catches your fancy!
Käthe Wohlfahrt – Christmas Store
You can't come to Rothenburg and not visit the Christmas Store – no matter what time of year it is. This place is amazing and filled with so many Christmas things and Christmas trees!
It made me really want to come back to visit Rothenburg at Christmas time. I almost left with a $300 advent calendar but figured that wouldn't fit well in my backpack . . .
Waffenkammer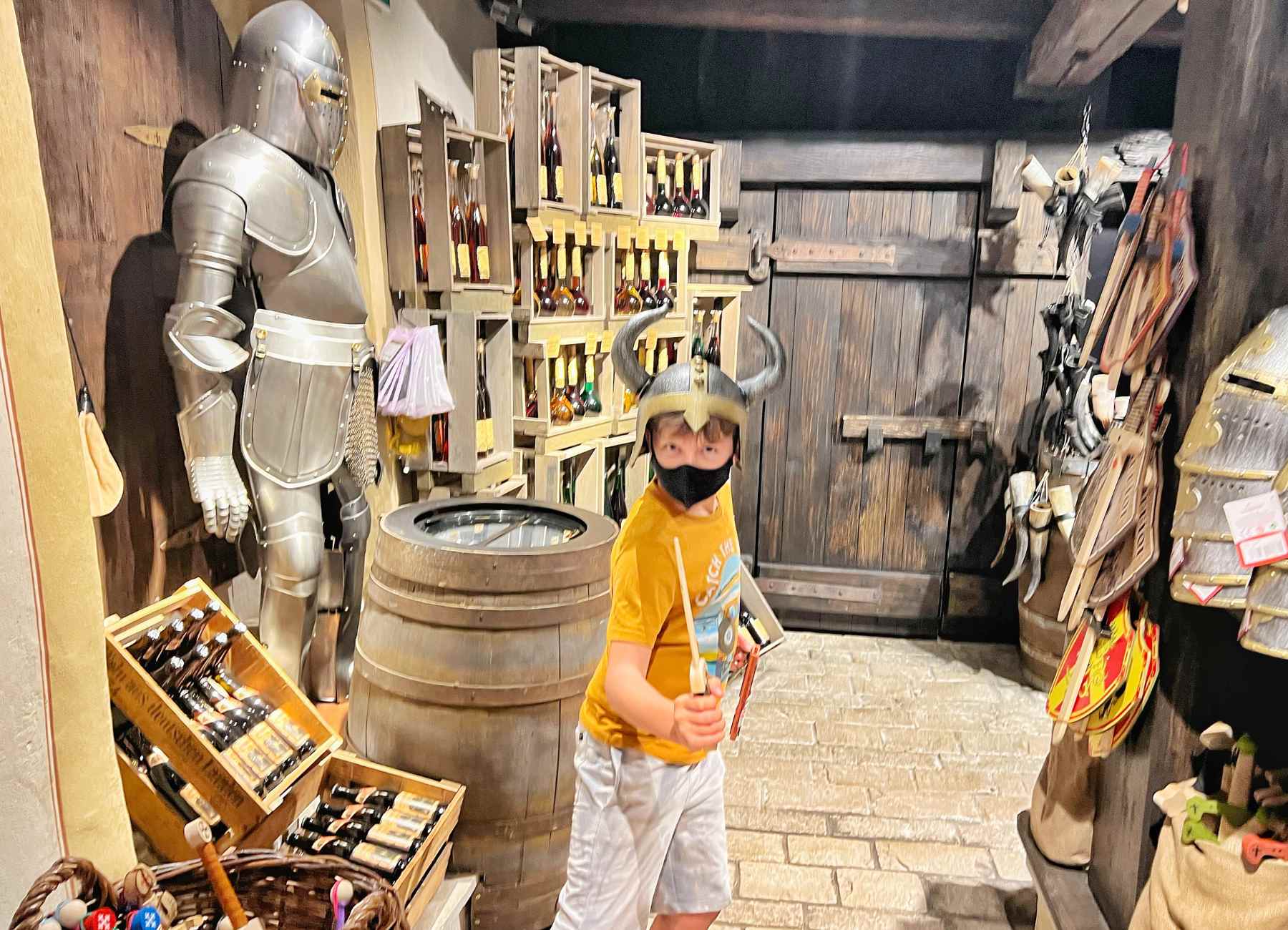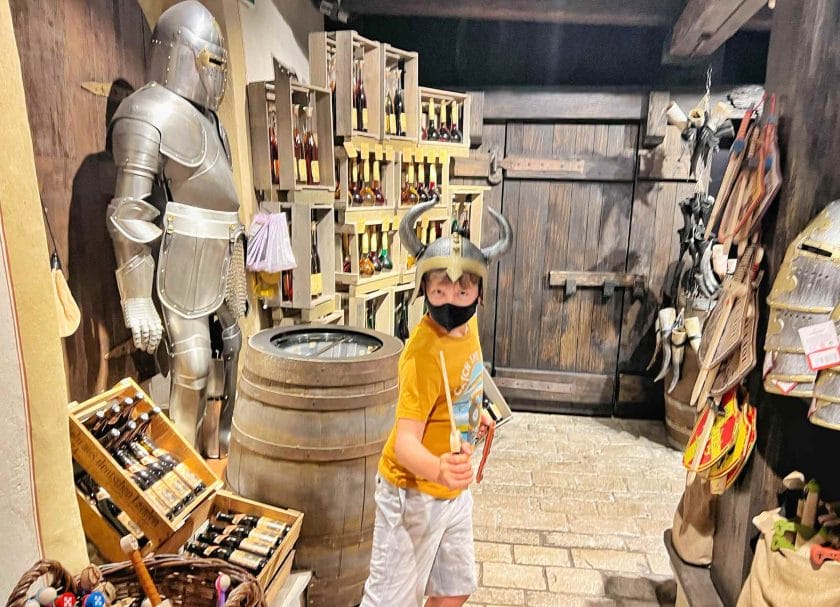 This store was like a tourist stop in its own right! Its speciality was armor and there were a lot of great options for the kids and things to try on. In the basement was a display with fake knights and everything. Plus a history of swords.
Metzgerei
Stop in here for some meat! The kids got a hot dog/sausage to try and really enjoyed it.
Medieval Crime Museum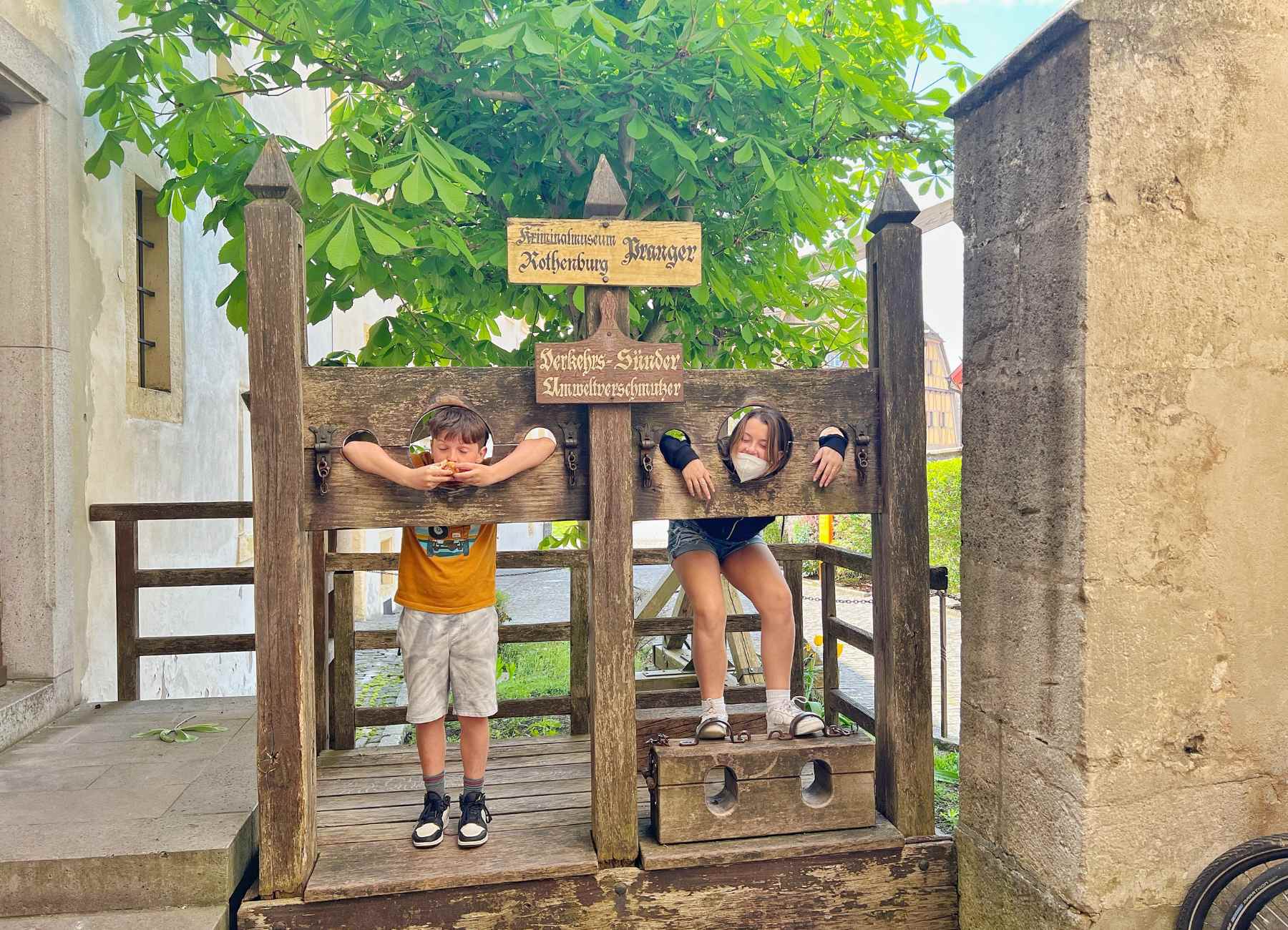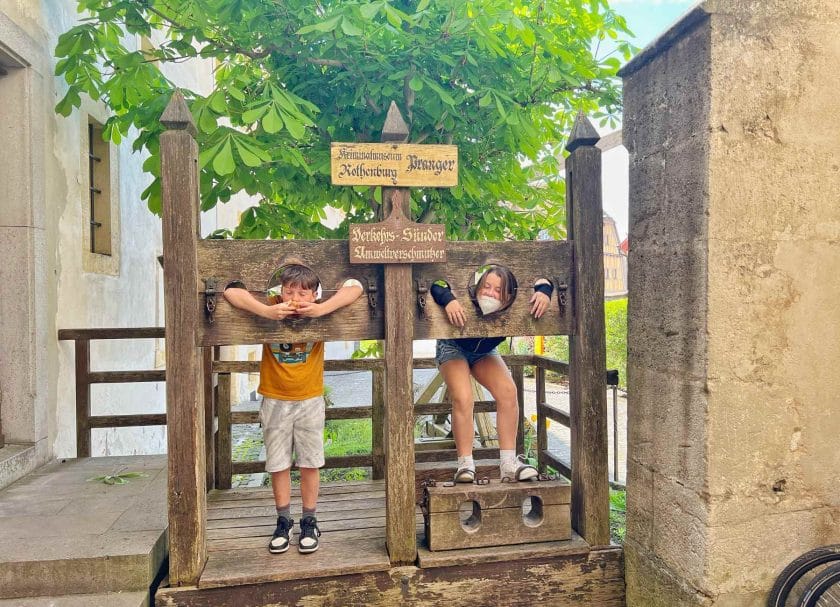 Before you enter be sure to stop and take your picture in the Pillory. After that walk through the museum and learn all about the different ways they would punish people! It is crazy and a little disturbing.
Plönlein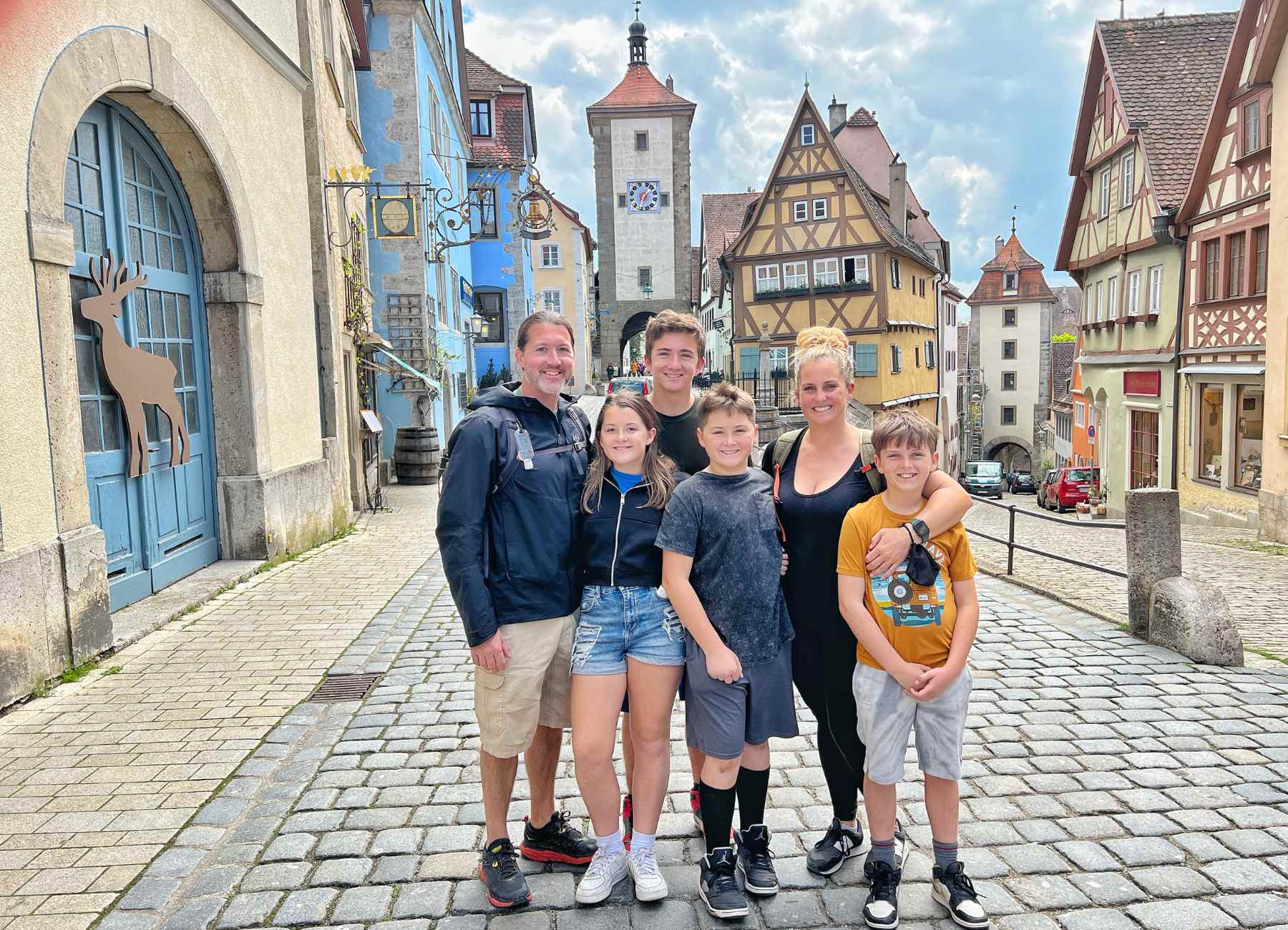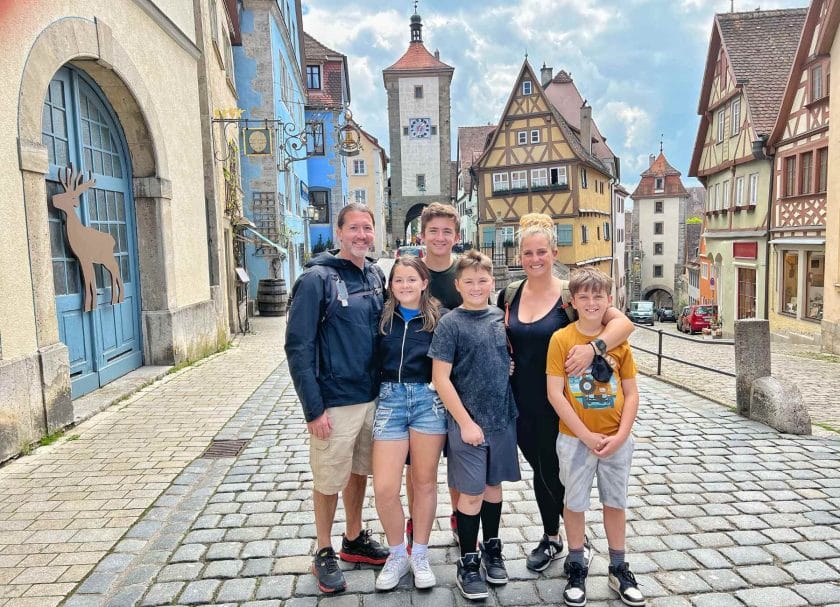 This is a perfect spot (and due to social media pretty well known) to get an picture of yourself in Rothenburg. Look how cute these buildings are!!
The address for this place is: 91541 Rothenburg ob der Tauber, Germany. In case you are like me and want to be sure to get this picture!
St Jakob's Church
Stop to see the layout of Rothenburg. It is a display that makes it so you are looking down into the walled city and really gives you a great perspective of the city.
Go into the church to see the amazing stain glassed windows and the beautiful carved alter.
Walk The City Wall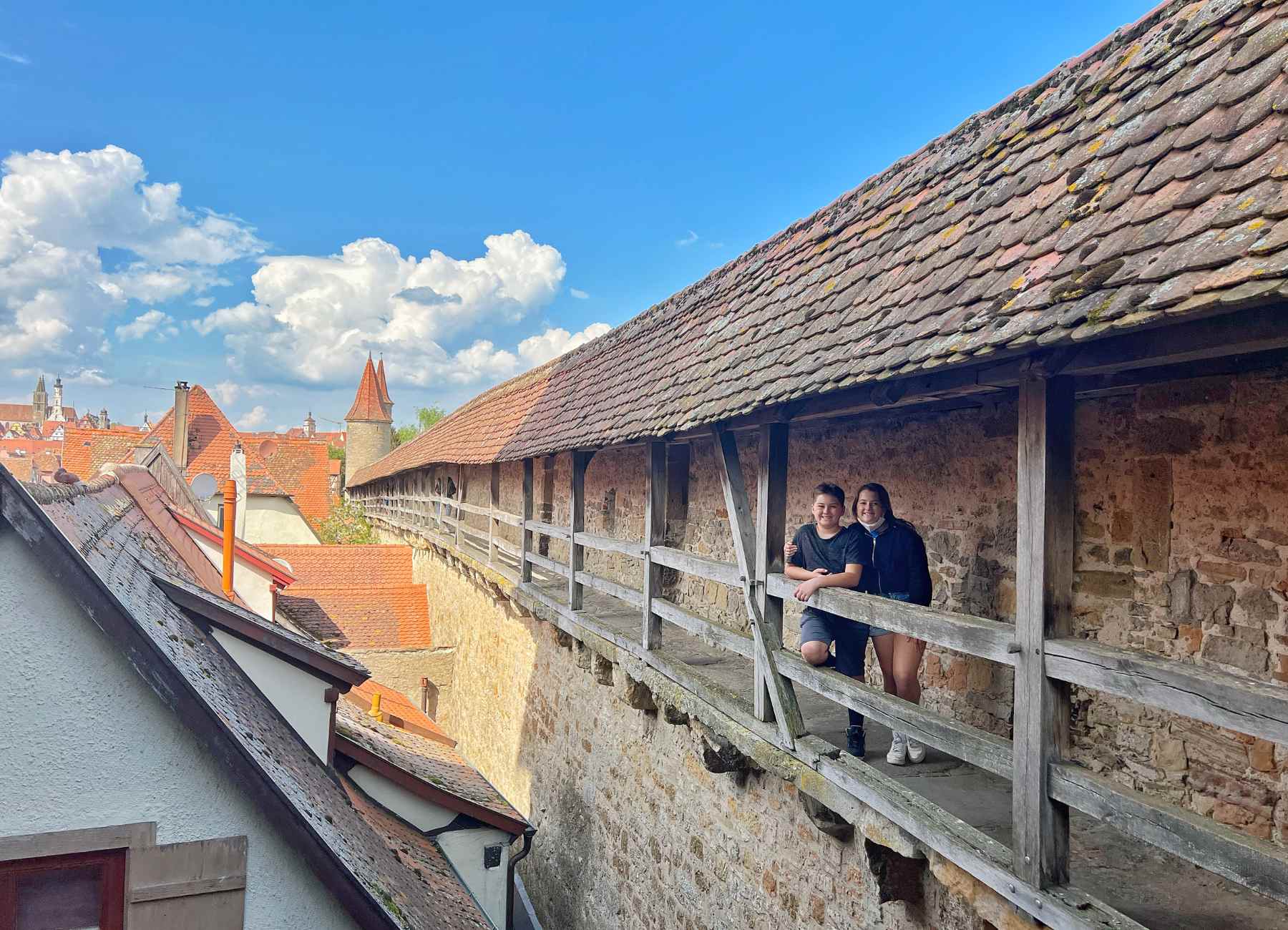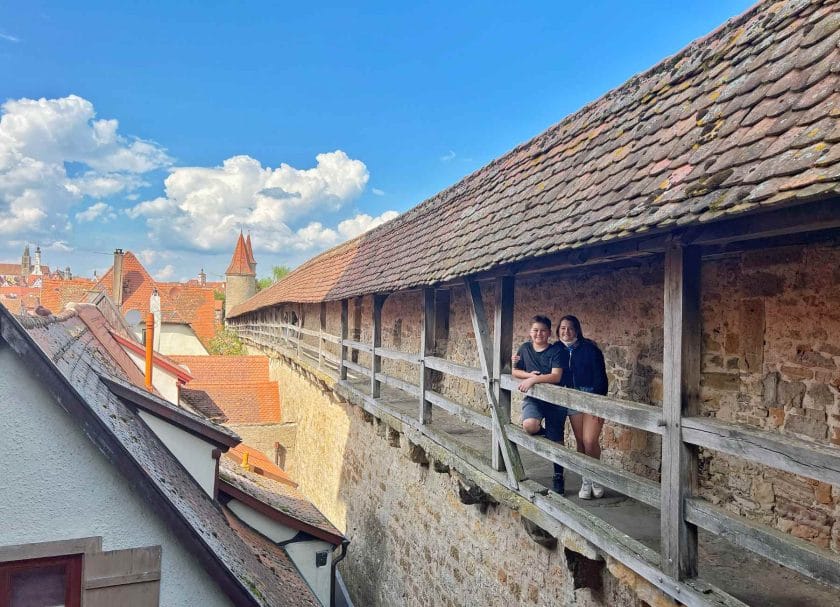 This is a highlight of the city! You can go up and walk around the city walls.
Get Dinner at Resturant Don Gallo
We opted to get dinner at a Mexican place! We had enjoyed a lot of German food in Munich so we were ready for something else. I even got a margarita!! The food was good and the owners were awesome and it was fun to talk to them to learn how they came to have a Mexican restaurant in Rothenburg, Germany.
Landwehr-Bräu am Turm
After dinner, we stopped at the Brewpub in town and enjoyed a beer while we sat outside. The kids climbed the stairs and found a park on the other side of the wall. They hung out there while Craig and I had our beer.
Nightman's Watch tour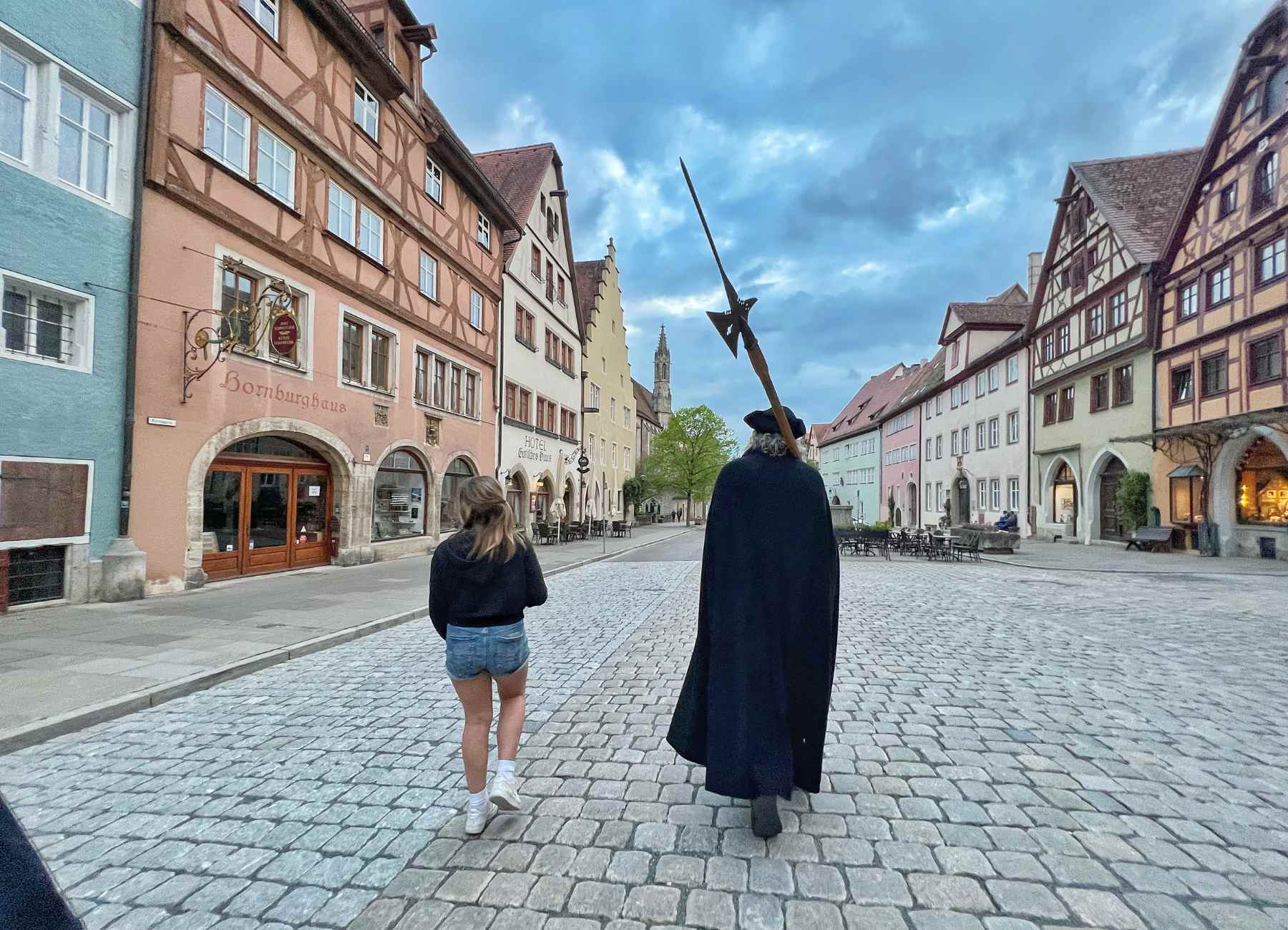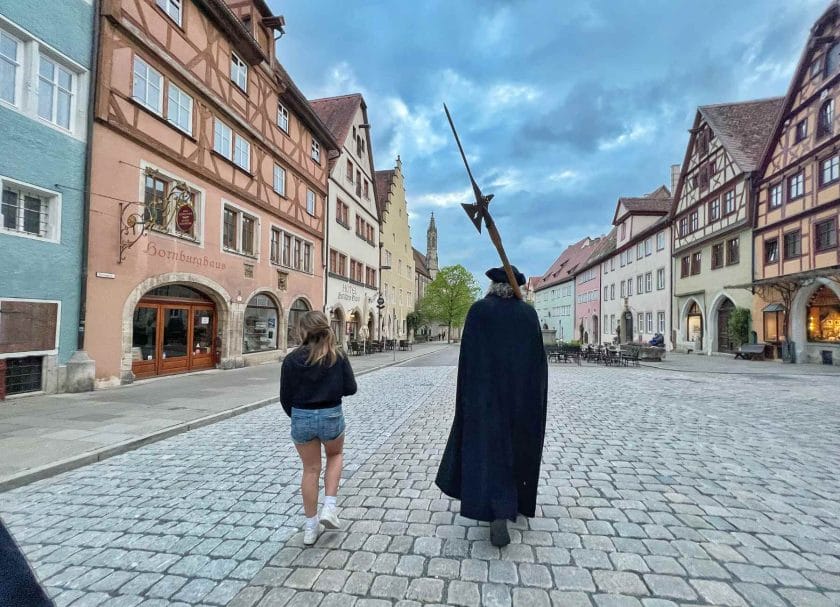 The Nightman's Watch Tour is a highlight of your day in Rothenburg. It doesn't start until 8pm so you have to be willing to stay up and stick around until then. But it is totally worth it!
He shares insights into how people lived in Rothenburg in an interesting and entertaining way. You can also take pictures with him before the tour starts.
We had a great time walking around the city with him learning more about Rothenburg!
You can learn more about the tour and check times here (it isn't 8pm every night all year so be sure you check to see what the times are when you are there).
Hans Georg Baumgartner – the nightman's watch has his own site too. Check out to learn more about him.
The tour is first come first serve – but you do have to pay for it. Kids 12 and under are free. Adults are about 10 Euros and students about 5 Euros. I can't recall for sure but I am thinking it was cash only?? In any case be prepared with your Euros just in case.
Rothenburg was such an awesome city! I would love to come back again during Christmas time when it is a Christmas market. I bet it looks like a Christmas village come to life.
From the fun shops, to the vibe to the oldest buildings Rothenburg is a cool place!
Where To Stay
Hotel – Gasthof "Alter Ritter"
Hotel Gasthof is where we stayed. It wasn't in the city walls but it was an easy walk to get into the city!
Tilman Riemenschneider
This traditional 16th century hotel has a lot of great reviews and looks like it would be a great place to stay.
More Content On Europe:
11 Top Things To Do In Bacharach Germany
Backpacking Europe Packing List [With Kids!]
Pin This Post For Later:
DISCLOSURE: This post may contain affiliate links, meaning I get a commission if you decide to make a purchase through my links, at no cost to you. Please read my disclosure for more info.