Switzerland is amazing. I know that seems simple but listen it is unreal. We have traveled a lot – full time for 8 years and it takes something special to wow us now. Well Switzerland did it, over and over again! There are so many epic things to do in Interlaken, Switzerland!! Let's get into it.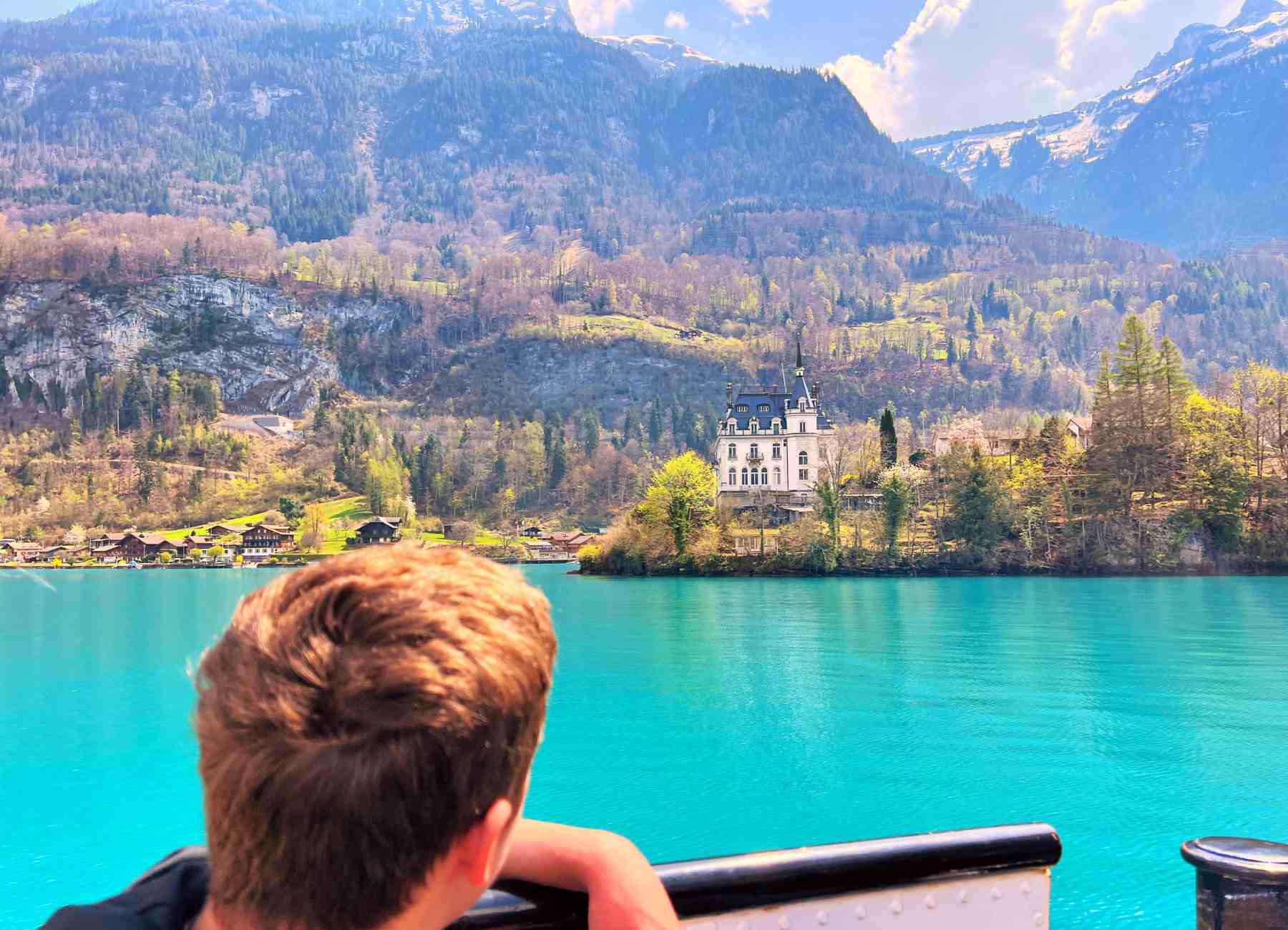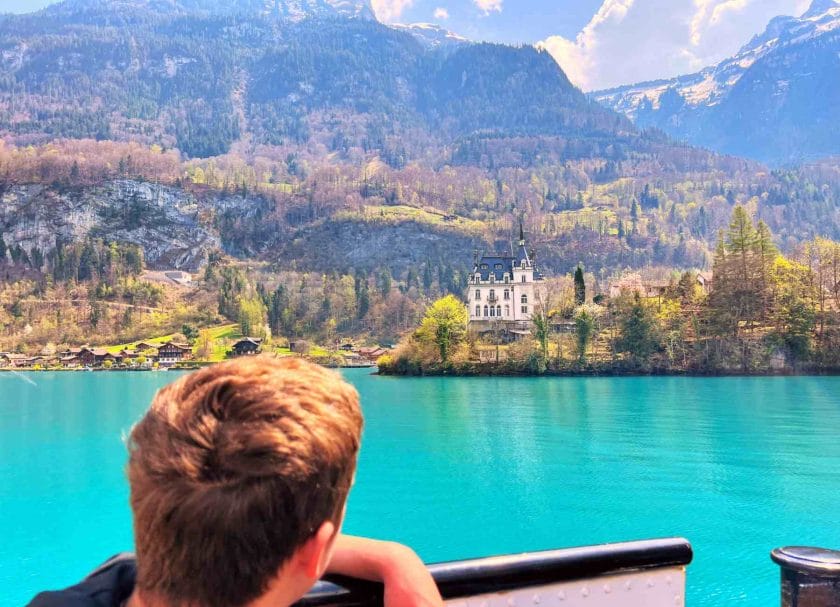 Carson looking out at a castle from the boat on Lake Brienz
Interlaken is a great location for exploring the Bernese Alps area of Switzerland (also known as Bernese Oberland), which includes the magical town of Lauterbrunnen. When you are planning a trip to Europe you will want to add Interlaken to your list of stops.
Interlaken Overview
Interlaken is located between 2 stunning lakes, Lake Thun and Lake Brienz. And by stunning I mean water color that is so blue it looks like it was colored with dye! Plus waterfalls and mountains. I mean it is magical!
Interlaken is by the Jungfrau region of the Swiss Alps. Like I had mentioned we have been to some pretty epic mountains but the Swiss Alps are AMAZING. In the Jungfrau region you will find the famous 3 sisters: Eiger, Mönch and Jungrau peaks.
Story Of the Mountains
There are a variety of legends around these mountains and some will say it is actually a Father, Son and Daughter. In any case the base of the legend is that these 3 mountains were actually giants that were rude to a mountain troll. The mountain troll cursed them and that turned them into the mountains covered in ice and snow.
Whatever the real story is their grandeur and beauty is unmatchable!
The Eiger is the easternmost of the three peaks and is known for its steep north face. The peak stands at 3,970 meters (13,025 feet) and is often covered in snow and ice.
The Mönch is located in the center of the group and is slightly lower than the Eiger, standing at 4,107 meters (13,474 feet).
The Jungfrau is the highest of the three peaks, standing at 4,158 meters (13,642 feet). There is a popular train that takes visitors up to the Jungfraujoch, a saddle between the Mönch and Jungfrau peaks that is often referred to as the "Top of Europe". More on that below!
From Interlaken you can take scenic train rides, get into all sorts of adventure sports with paragliding being a top choice. Or just spend your time taking in all of the natural beauty. There is also a
Jungfrau ski region that is pretty epic.
Getting Around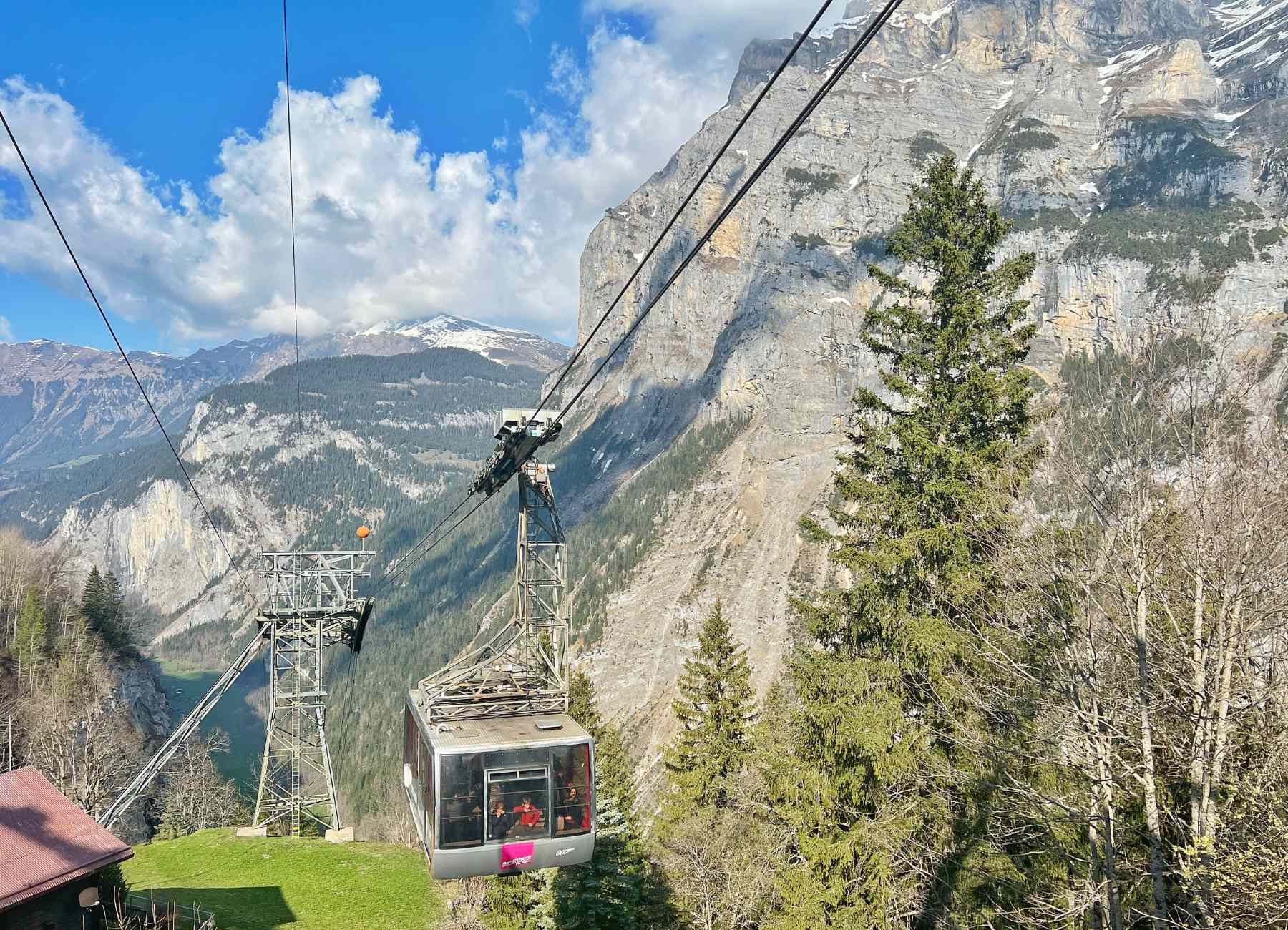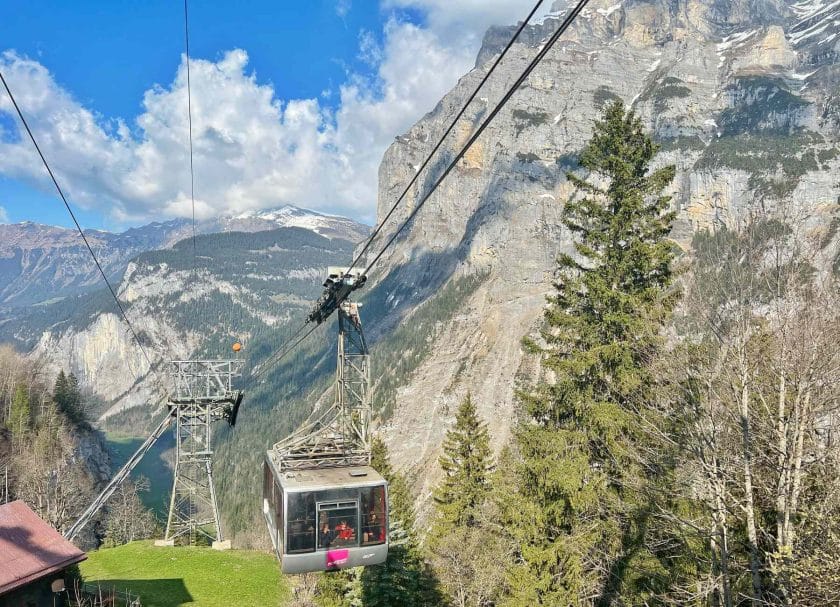 The city of Interlaken is a great base location for exploring this part of Switzerland. The trains in Switzerland are well run and were some of the nicest trains we went on during our time in Europe.
Interlaken has the Interlaken Ost Railway Station and the Interlaken West Train Station. It is a quick train ride from one to the other in Interlaken. We took the train from the Ost station to get to Lauterbrunnen.
You can easily walk around Interlaken but if you want to get out to some of the mountain towns you will have to take a train, taxi or bus and to get there plus some trams. It seems like a lot and seems confusing but once you are there it really isn't and people are helpful at the train/tram stations to help!
We always found it was best to go to the train station to ask the workers what pass we needed or what train we should book. Ok not just train but also cable car or funicular or cogwheel train – ha! It does take some effort to get up into the mountains but it is totally worth it.
If you are coming into Switzerland from Italy we recommend taking the Bernina Express. It is the coolest train ride we have ever been on!
Things To Do In Interlaken
Here we will cover things to do in Interlaken and also things that you can do in the surrounding area. From epic boat rides to the amazing views it is time to visit Interlaken!
Lake Brienz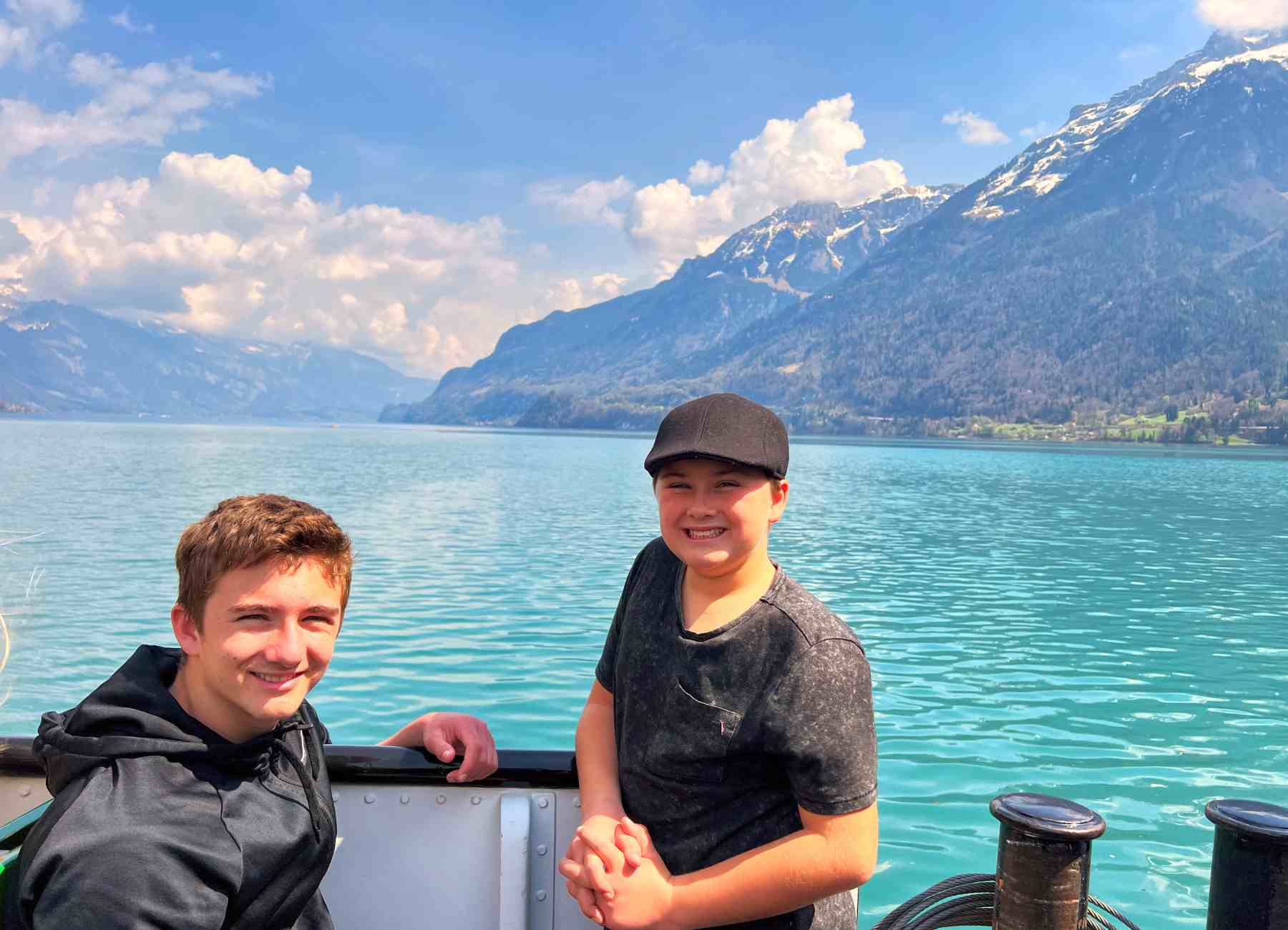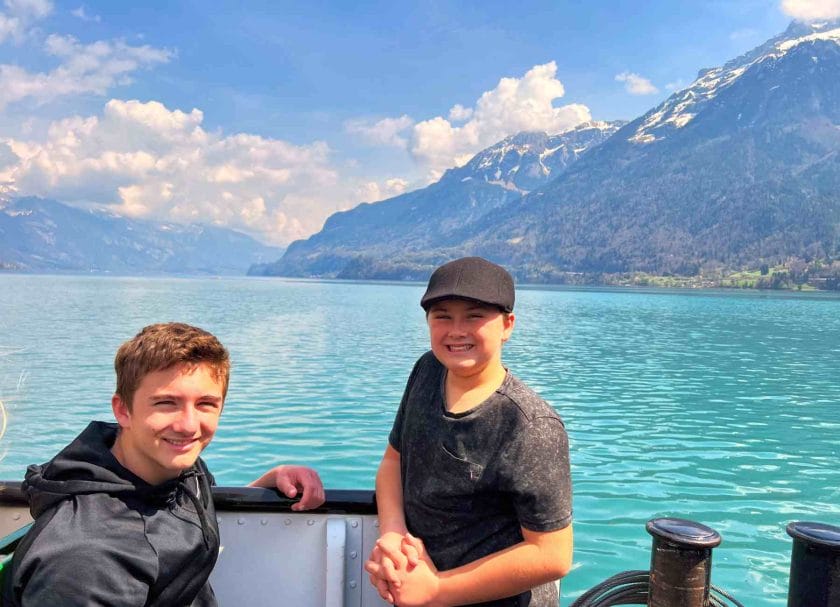 We had a 3 month unlimited Eurail pass. With this pass we were able to get on the Lake Brienz boat tour for free! Sweet! We made a stop at the boat dock to confirm this and to secure the time we should come back to go on the boat.
We had 2nd class Eurail passes which meant we had to sit in the 2nd glass part of the boat. It was fine. But the 1st class part was right at the front of the boat and would have been a sweet spot to sit!
We headed out on the boat and couldn't get enough of the bright blue water of the lake!
Giessbach Waterfall
Or plan was to go to the Giessbach Waterfall. That meant we would get off the boat at the Grand Hotel Giessbach stop and take the funicular up the side of the mountain to get to the historic hotel.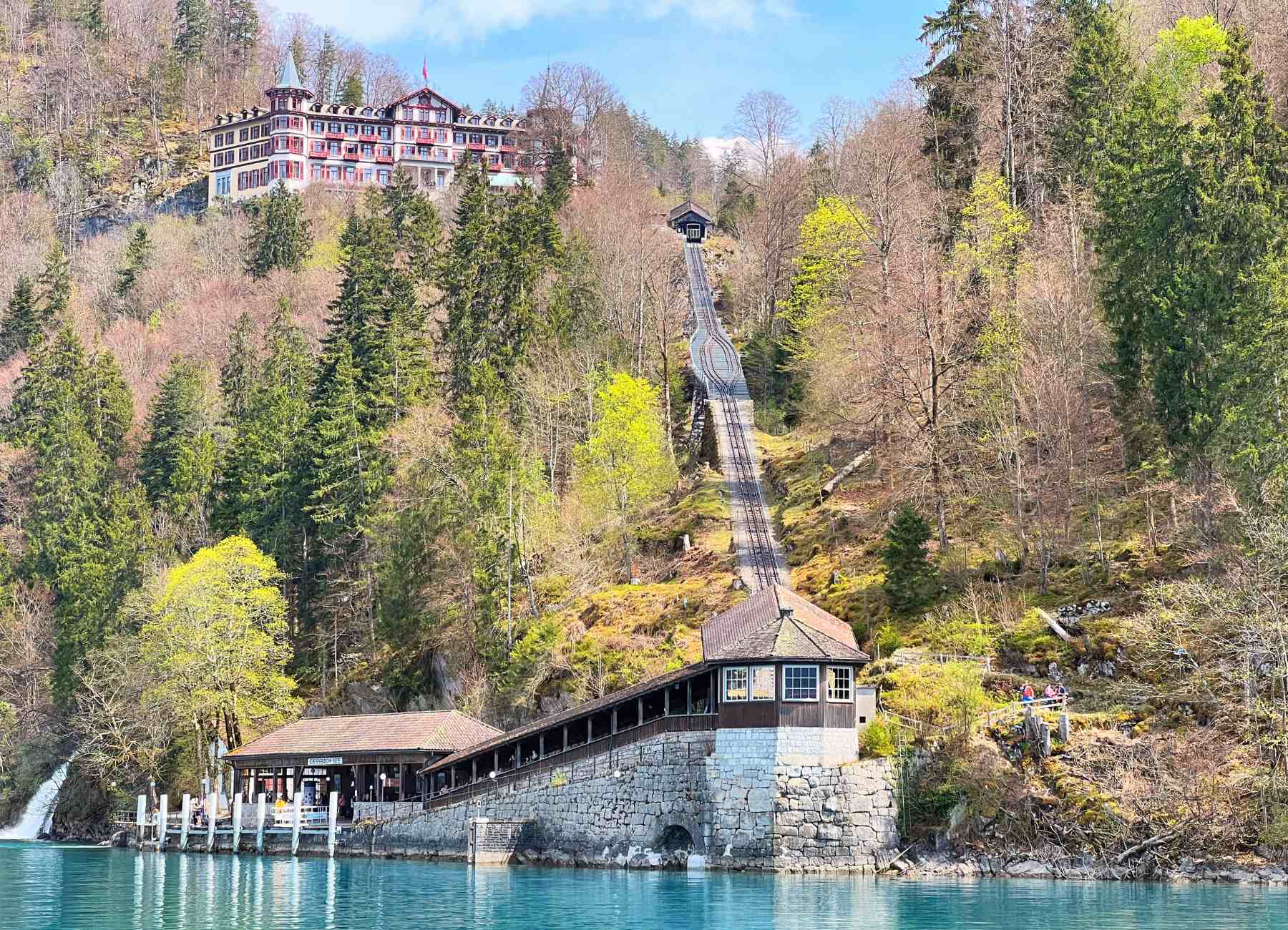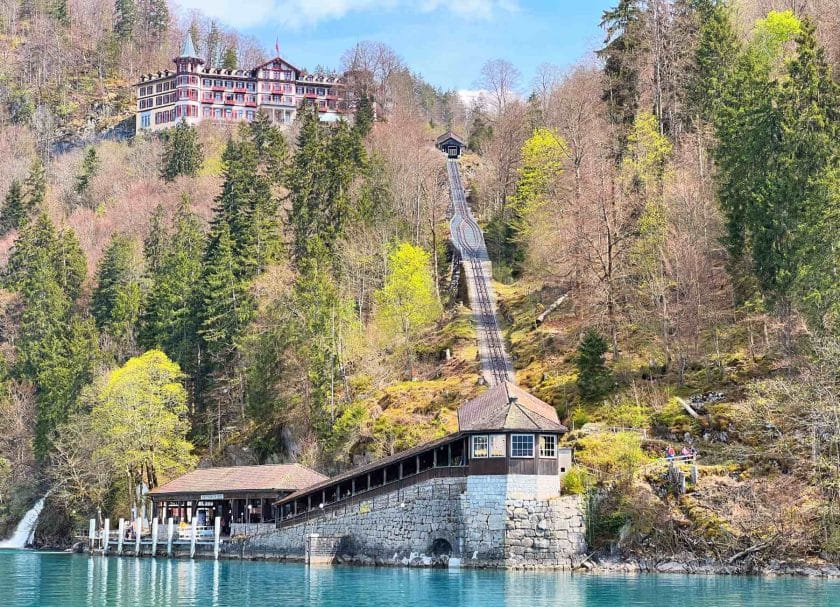 From there we would walk over to do the Giessbach Waterfall trail. You don't have to go on the trail to see the waterfall you can see it from the hotel. But if you want to walk up and over the waterfall and have epic views back down at the hotel and lake you need to walk up to the top of the waterfall.
It is about a 1.5 mile hike and you are going uphill pretty much the whole way in switch back style. It is worth it so just do it!! The views were unreal and some of the prettiest we have ever seen.
After that walk back down to the hotel and make a stop to grab a snack before either getting on the funicular to head back down to the boat dock. Or walk down from the hotel. It is pretty walk and not that hard.
It is a half mile hike and also means you don't have to wait for the funicular.
At this point you can either wait for the boat to come or you can take the 3.5 mile walk along the lake shore to the town of Iseltwald and pick up the boat there. We opted to do the walk.
Note you have to be aware of the boat times. They only stop at certain times and they end for the day pretty early. Be aware so you know how much time you have for walking!! We were a bit stressed and did a pretty quick walk just to be sure we got to Iseltwald in time for the boat.
Iseltwald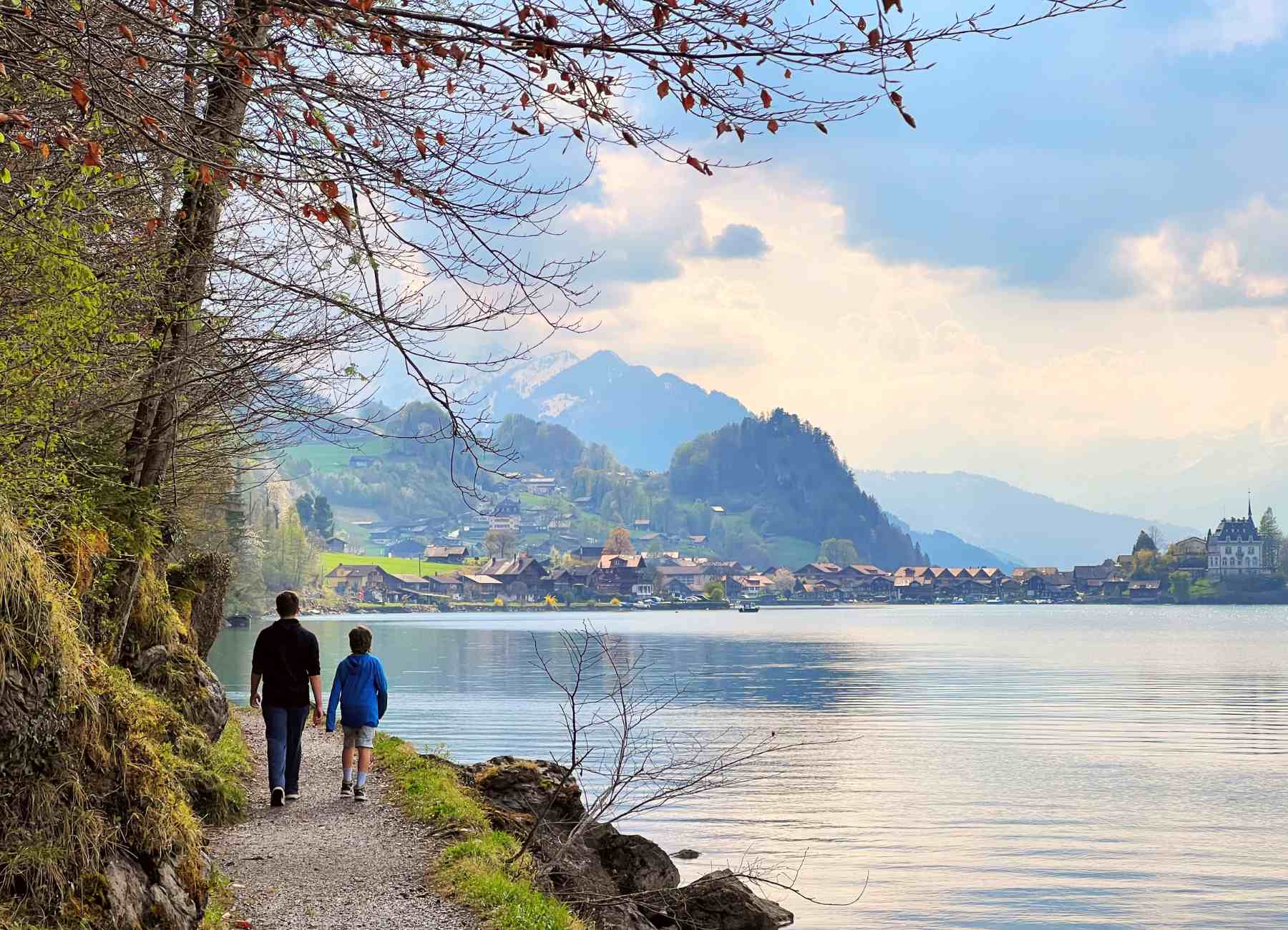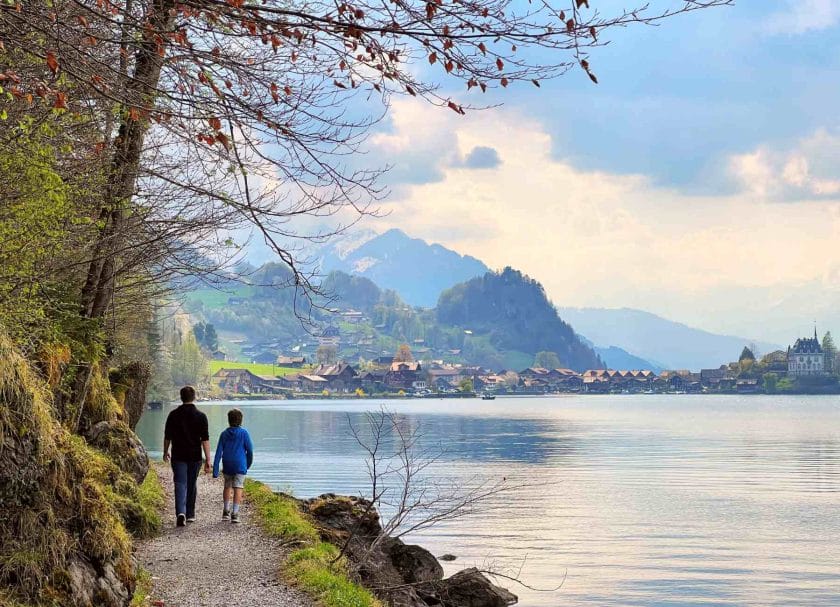 This was a super cute town and if we had known how cute it was we would have planned to spend more time here or even stayed overnight!
It was hard to decide between Lake Brienz and Lake Thun. In the end we picked Lake Brienz because I always go for the blue water and waterfalls! But I would 100% go back to visit Lake Thun.
Funky Chocolate Club
If you love chocolate you won't want to miss the the Funky Chocolate Club! It is a chocolate workshop and café that offers visitors the opportunity to learn about the history and production of Swiss chocolate while also creating your own chocolate creations.
The workshop includes a guided tour of the chocolate-making process, where you can see the different stages of chocolate production and learn about the various types of chocolate. After the tour you can try your hand at making your own chocolate creations, under the guidance of a professional chocolatier.
In addition to the chocolate workshop, the Funky Chocolate Club also features a café where you can sample a variety of chocolate treats, such as truffles, pralines, and hot chocolate.
St Beatus Cave
St. Beatus Cave is a natural cave system that has been open to the public since 1904 and is named after Saint Beatus, an Irish monk who, according to legend, lived in the cave and fought a dragon that terrorized the area.
The cave system consists of a series of underground chambers and passages. You can explore the cave with the help of a guide, who will provide information about the geology, history, and legends associated with the cave.
The cave has stunning rock formations, underground waterfalls, and deep pools of crystal-clear water. There are also a variety of stalactites and stalagmites that have formed over thousands of years and create unique shapes and patterns.
You can also take a boat ride on an underground lake!
Lauterbrunnen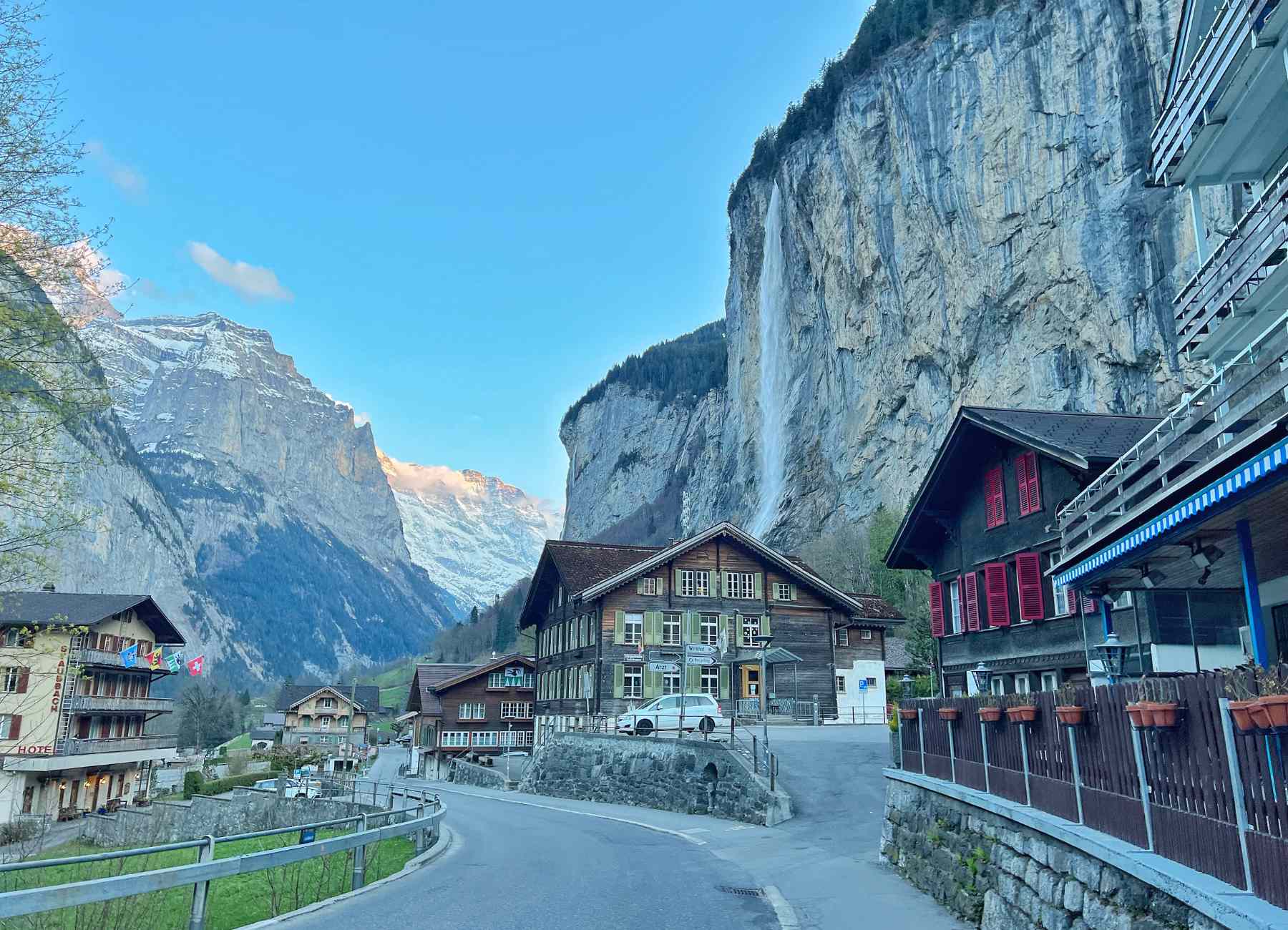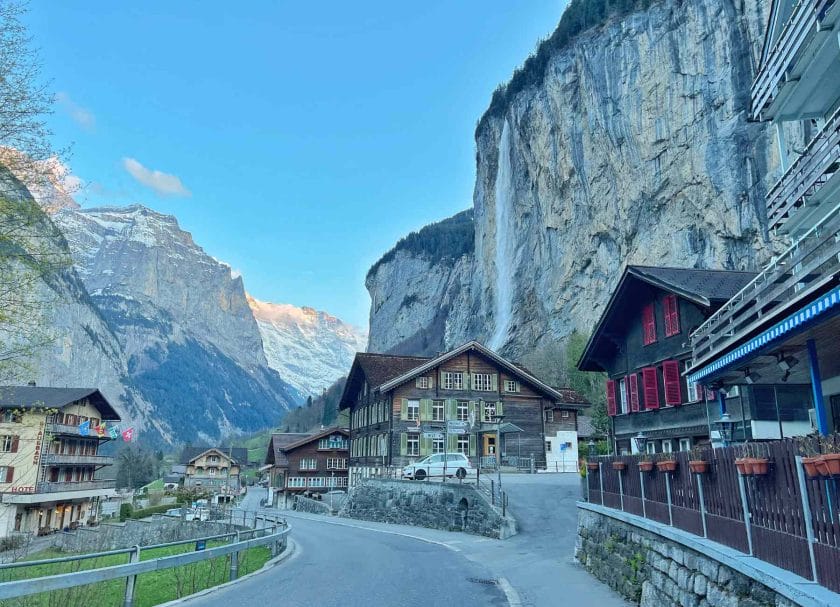 You can take the train from Interlaken to Lauterbrunnen. Let me just say this – do it!! Lauterbrunnen is amazing.
When you are here you can stop at one of the many restaurants and get some cheese fondue. You can also walk the trails here to see the waterfalls that are located right outside of town.
Lauterbrunnen is situated in a deep valley surrounded by towering cliffs. There are also 72 waterfalls in the area cascading down the walls.
You could spend a day in Lauterbrunnen enjoying the shops, restaurants and scenery or use it as a base to explore the mountain villages and the famous mountain top locations.
Murren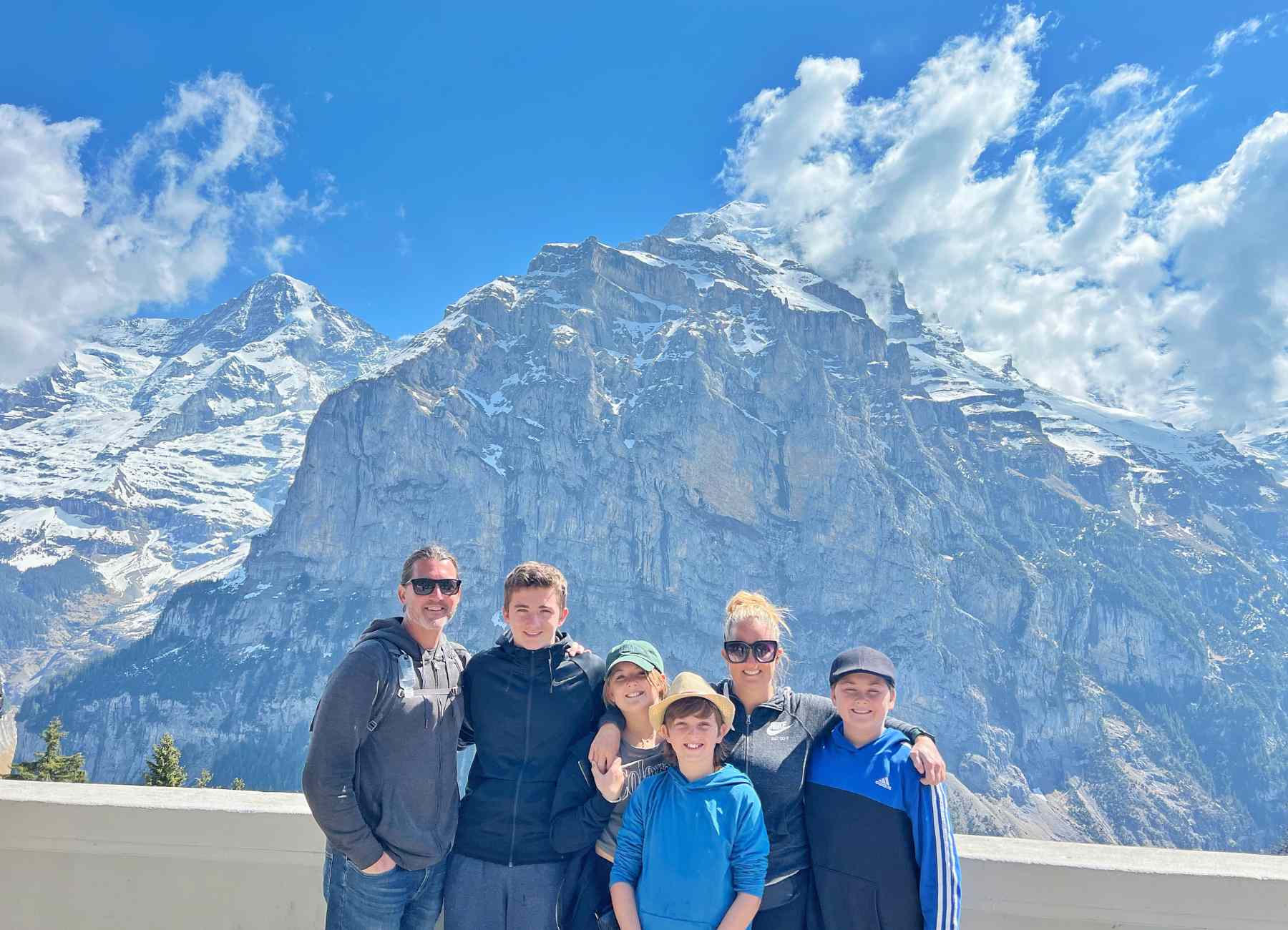 We took a tram up to the mountain village of Murren and didn't have a plan besides walking around the village. We found a playground for the kids to play on and a cute coffee shop where we got coffee and a pastry while the kids played a giant chess game.
The views of the Eiger, Mönch and Jungfrau mountains and the Swiss Alps all around us were gorgeous and we loved the fresh mountain air!
Grimmelwald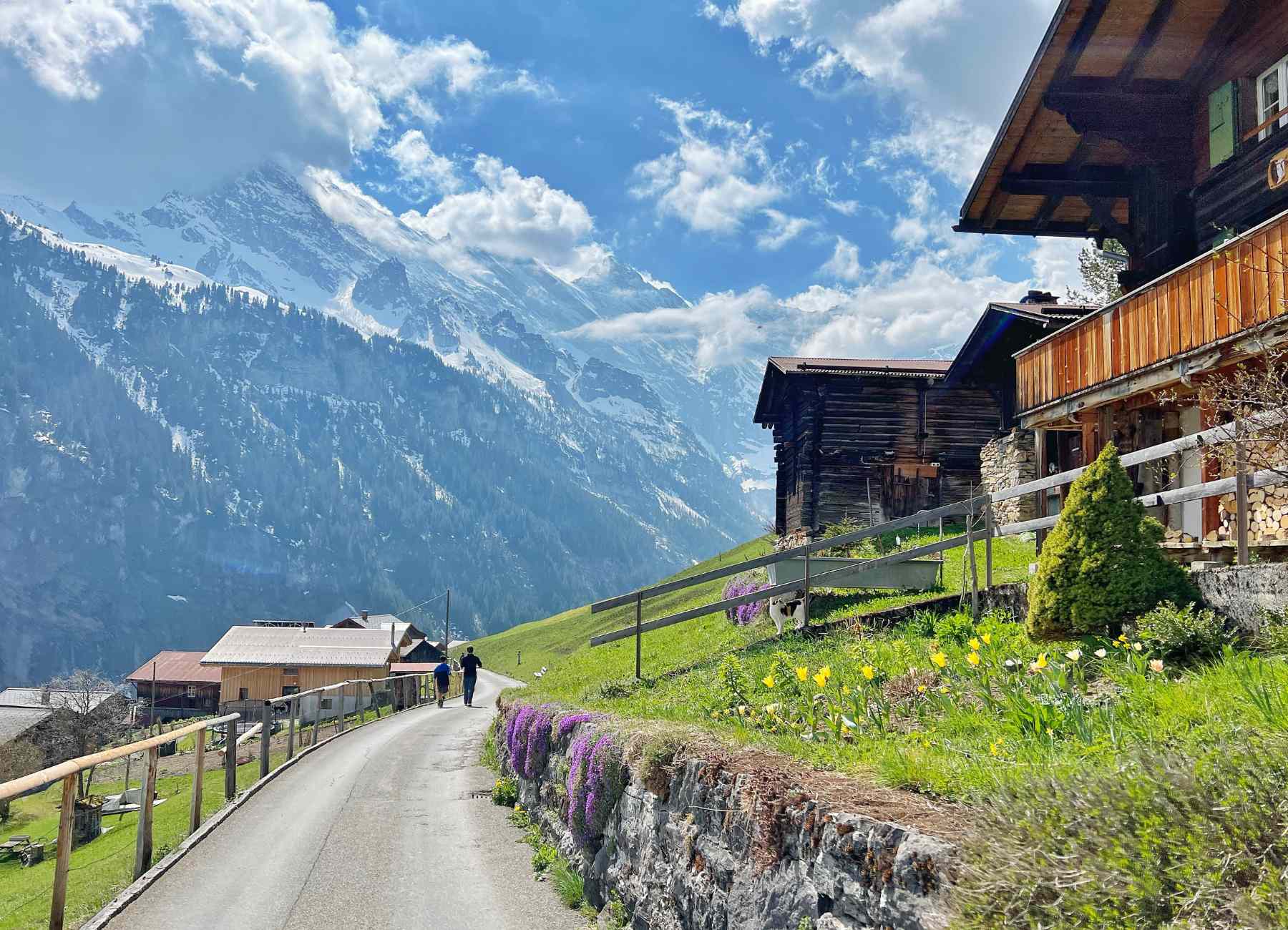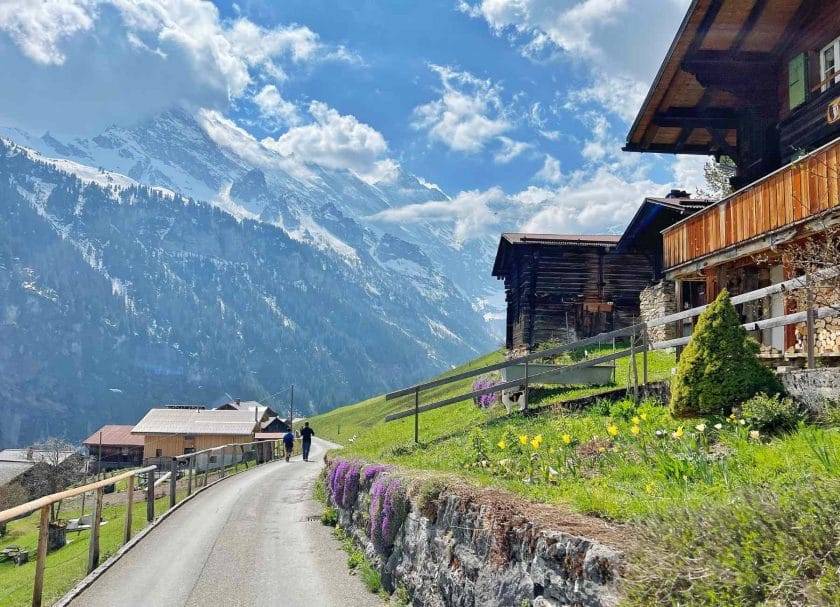 From Murren we walked to Grimmelwald. It was a 30 minute downhill hike to get there from Murren and it was a gorgeous walk with the mountains and paraglides all around us.
When we got to town we found that they had honesty shops all over the town where you could check out the properties products from cheese to meat and sometimes souvenir type things. You pay what they have for the prices by just leaving your money in a box (with all the other money other people have left!). We loved this concept and that people here trust people!
We got some cheese and meats and were so excited to try everything.
Mountain Hostel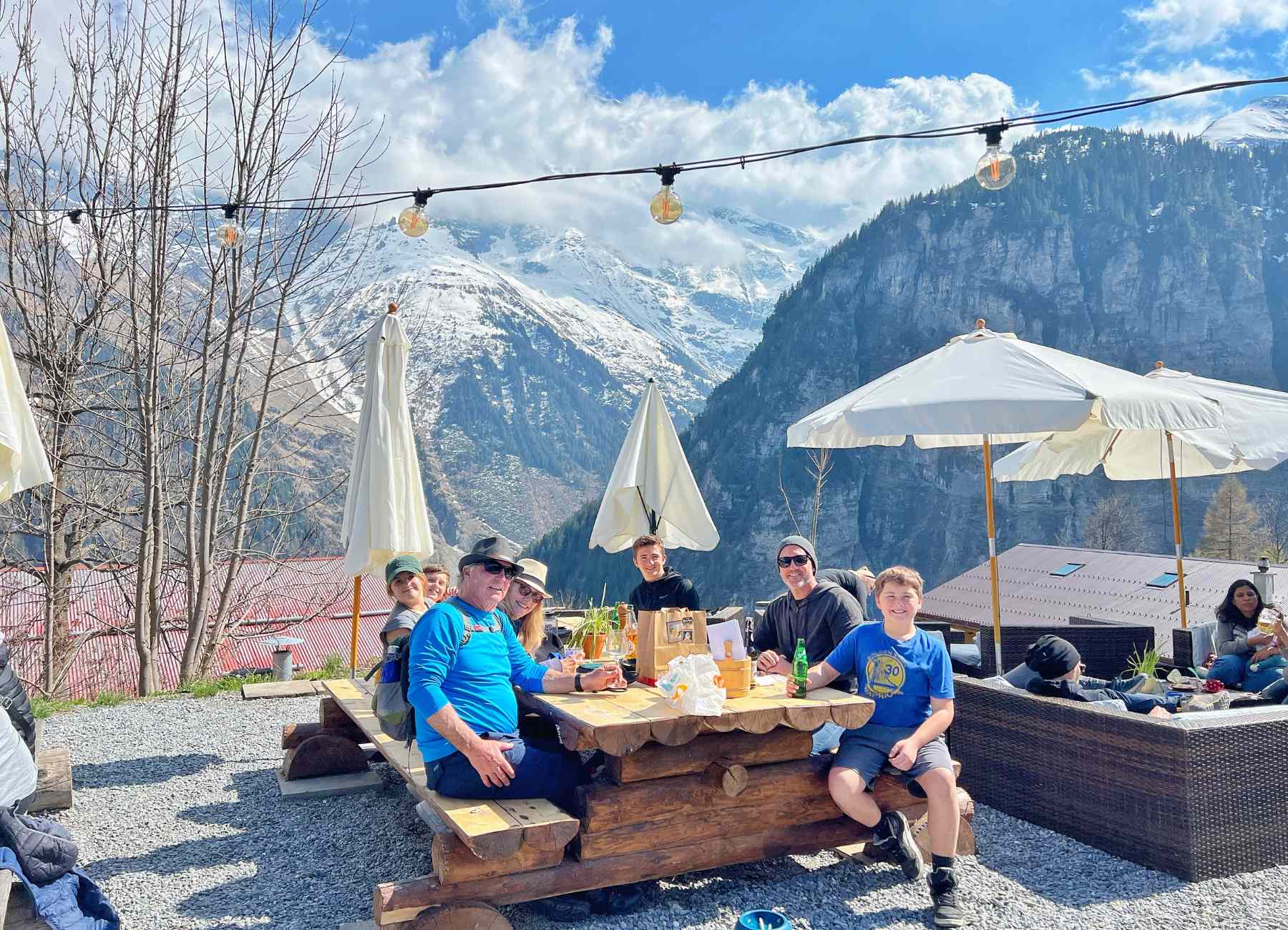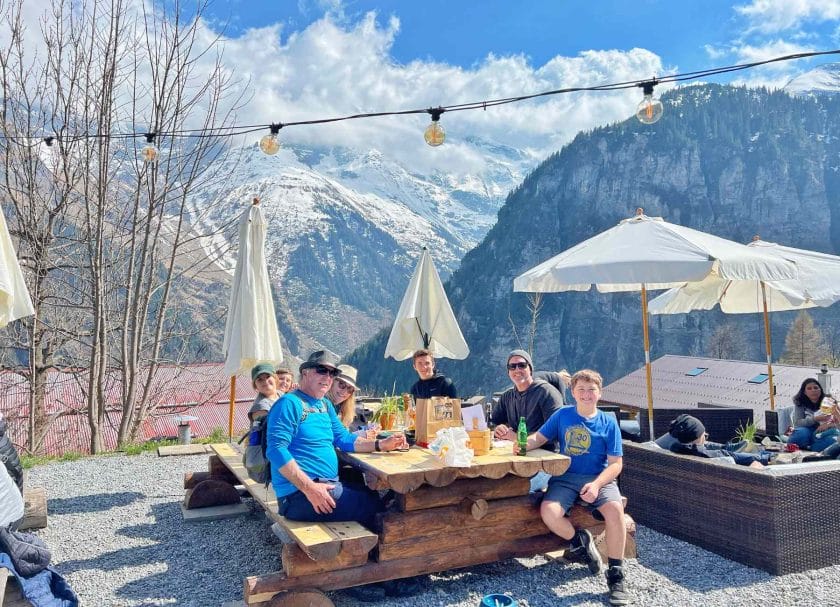 Next up we came to the Montain Hostel. They served delicious pizza and drinks and we sat at a picnic table with epic views out over the mountains.
We all said the next time we come to Switzerland we are going to stay in Murren or Grimmelwald!
Schilthron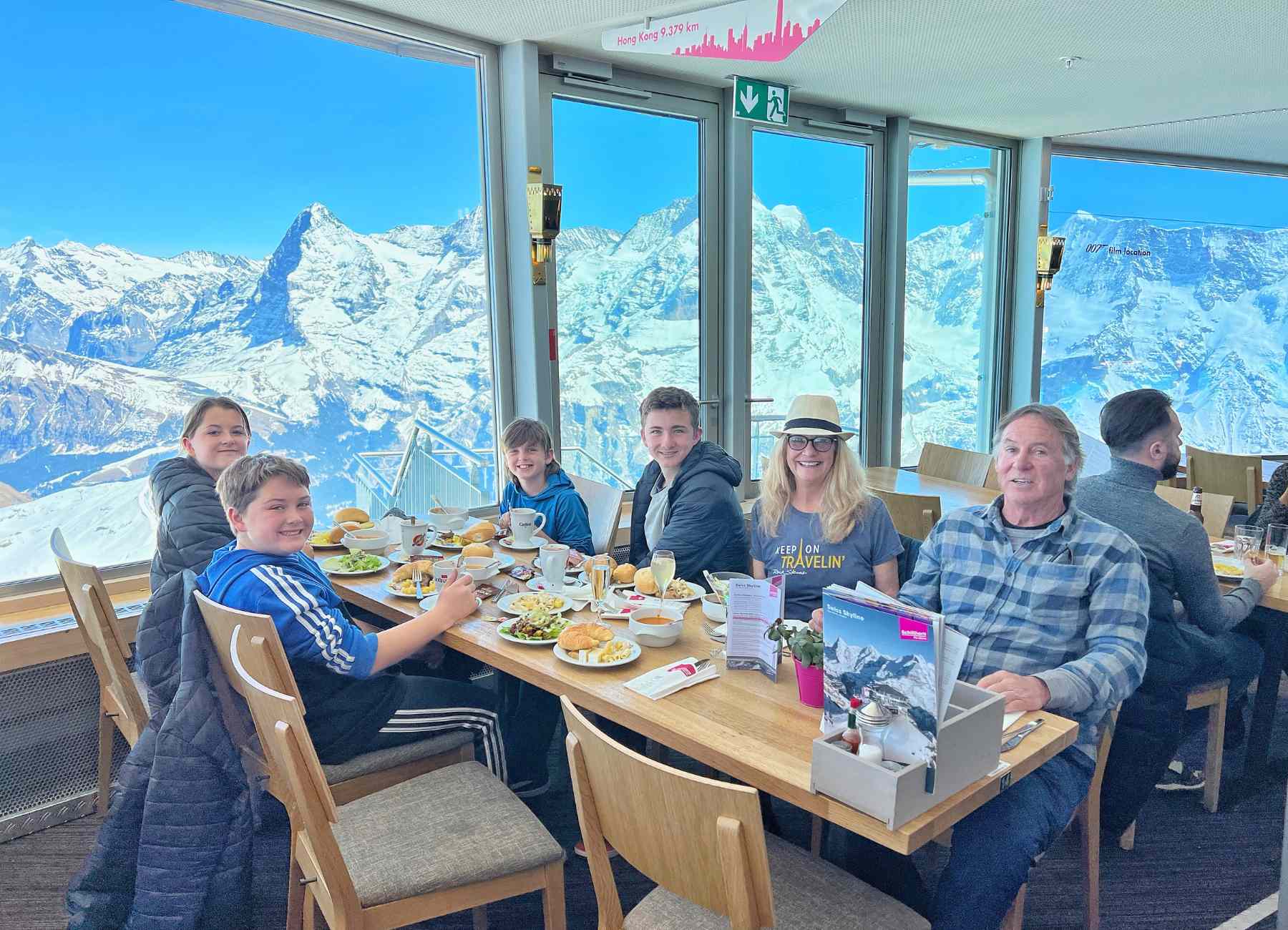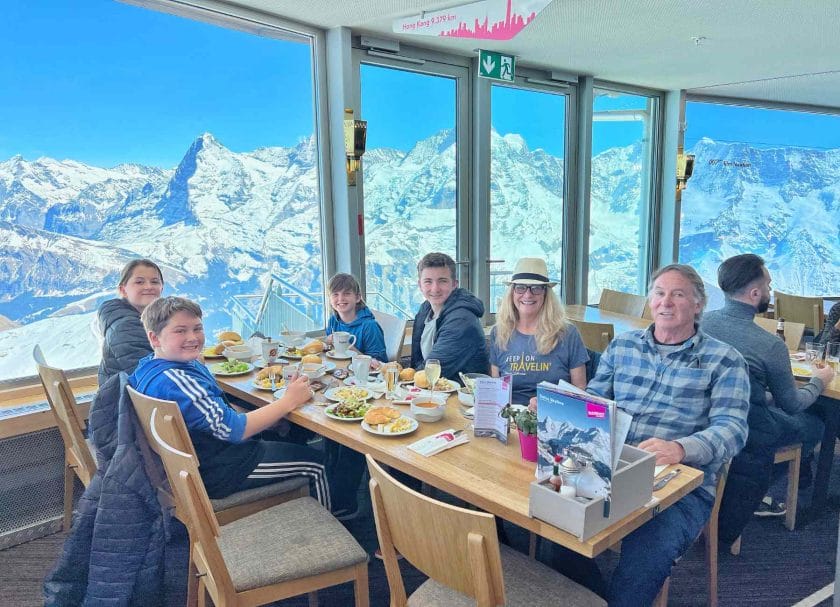 It takes a minute to get here and multiple trains and trams but it was worth it! You get to the top of the mountain – at the location where one of the James Bond movies was filmed. There is a museum and experience there all about the movie and how it was filmed there.
There is also a restaurant that rotates. So you can sit and eat while the restaurant slowly rotates around and gives you all the epic views with the floor to ceiling windows. The kids said it was one of the coolest things we had ever done!
There is also a lookout platform where you can walk out to take in the mountain views and to walk the skiers going down the hill.
On the tram on the way to the top you can stop at Birg to get out and do the Thrill Walk! This is a walk that takes you around the mountain on a walkway and some other fun things like a tunnel to crawl through and a tight rope walk.
It was an amazing experience and we loved every minute of it. Take note that we did need to make reservations for eating – and almost missed it! So be sure to book early. You also need tickets to get up here so make sure you do all of your research so know when you need to book everything.
Jungraubahn Train
Take a train ride on the highest railway to the highest train station in Europe. You will have epic views on your way up but will also go through a tunnel for part of it where it will be dark. The ride is long from the bottom to the top. For this reason we opted to do the Schilthorn instead.
Ideally I would have liked to do both! So we could compare them. Once you reach the top there is a snack bar and a variety of activities if the Snow Fun Park is open. There are also a variety of hiking options when you are at the top.
Tummelbach Falls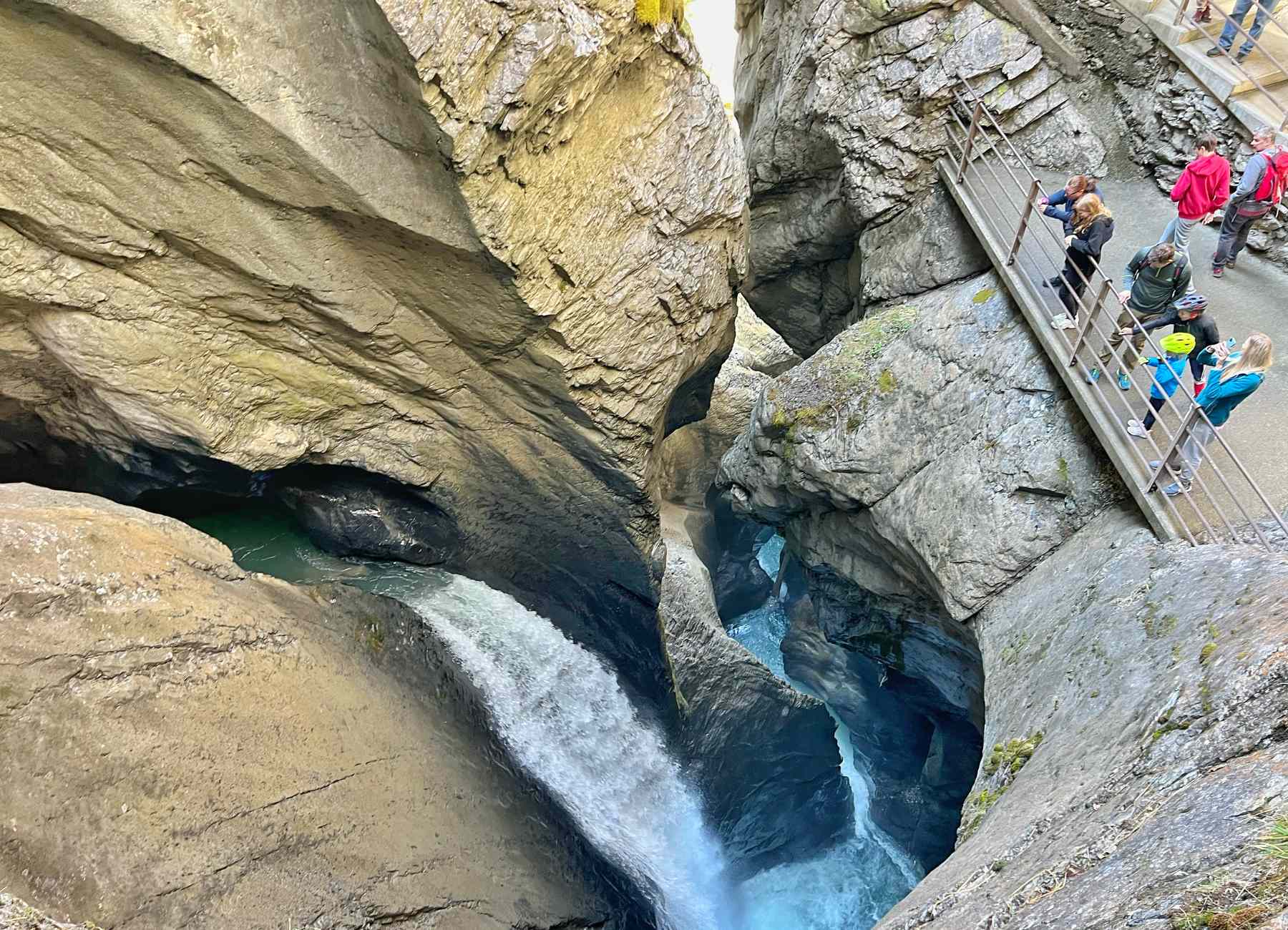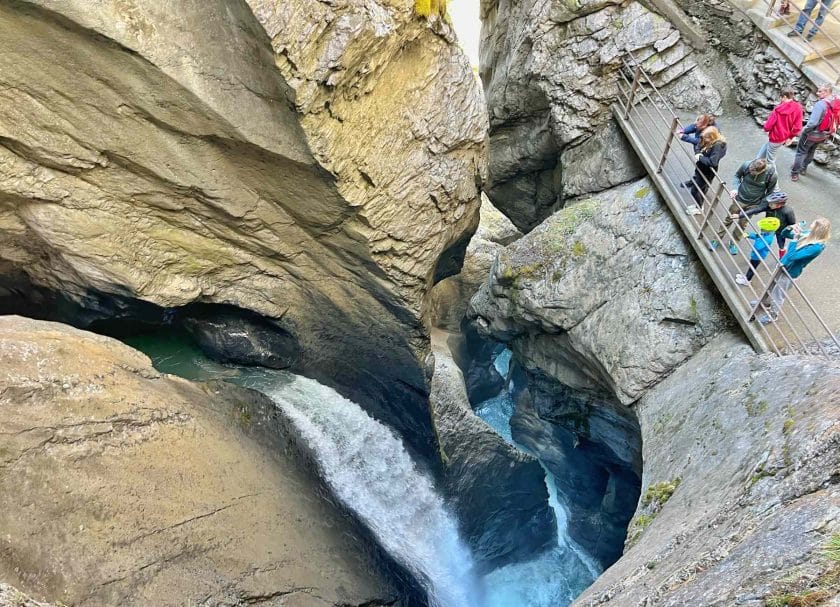 You can walk here from Lauterbrunnen and we recommend that since it is a gorgeous walk in the valley. Once you get to Tummelbach you will take an elevator up to platform 6 and walk a few more platforms up before turing around and making the walk back down. Following the roaring falls through the mountain!
Walk Around Interlaken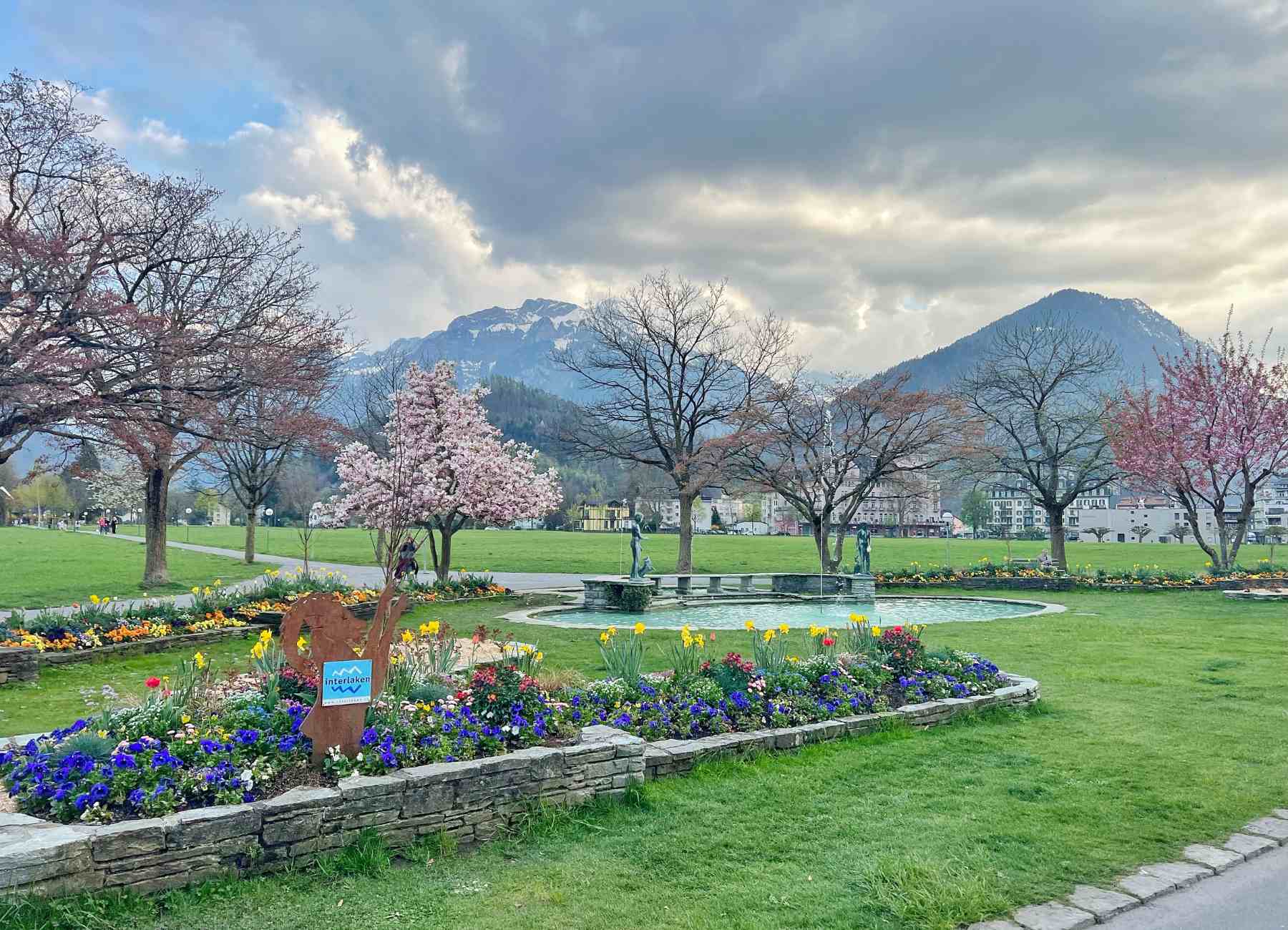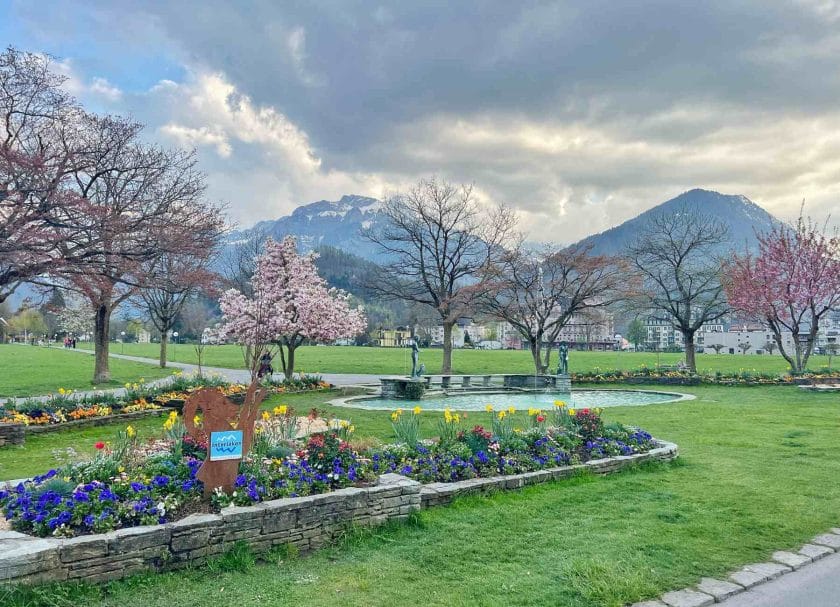 Another option is to walk around the town of Interlaken. When we were there in April there were gorgeous flowers all over the place. There are also nice shops and restaurants all over town. Plus the epic mountain views!! You can also walk along the Aare River.
Harder Kulm
If you are into epic views you will want to make it up to Harder Klum. You can get there quickly on a funicular ride or take a hike to reach the top.
Where To Stay
This is where we stayed. It was a very budget friendly option and was right by the West train station. It worked out well for us since we weren't in our room much at all! Bring by the Ost train station would have been a bit more convenient. But given the cost of the rooms we made it work!
More Things To Do In Europe
Backpacking Europe Packing List [With Kids!]
16 Top Things To Do In Munich Germany [+ Day Trips]
21 Best Things To Do In Prague With Kids
30+ Best Things To Do In Lisbon, Portugal
One Day In Madrid Itinerary – 14 Stops Not To Miss!
One Day In Barcelona Itinerary
A Tourist Guide To Las Fallas Festival in Valencia Spain
Tips On Visiting All 5 Cinque Terre Towns [Itinerary Included]
25 Top Things To Do In Florence, Italy
15+ Things To Do In Tuscany Italy
17 Fun Things To Do In Venice Italy [2 day Itinerary Included]
15+ Fun Things To Do In Rome With Kids
14 Fun Things to do in Rothenburg Germany
Pin This Post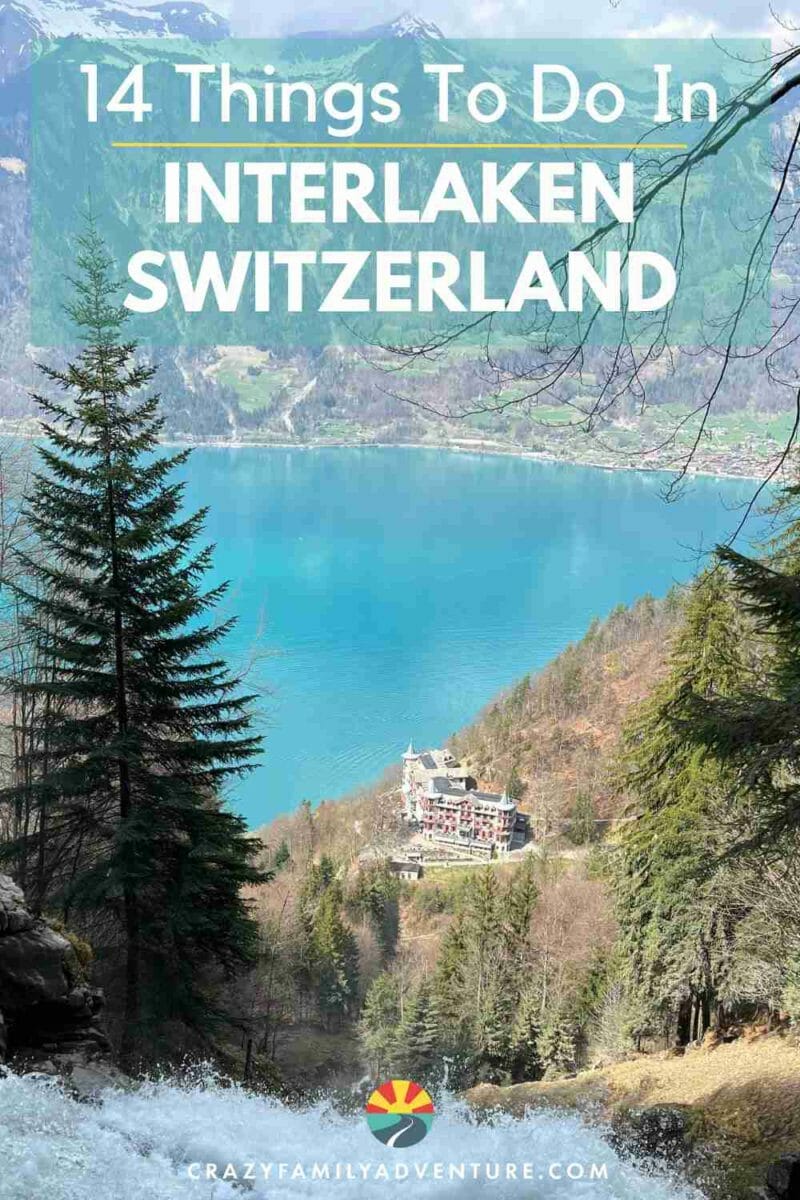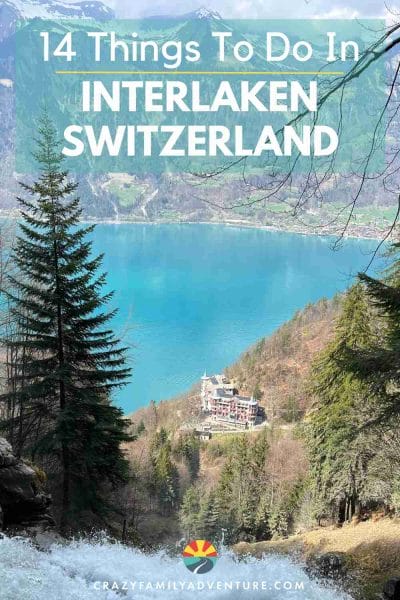 DISCLOSURE: This post may contain affiliate links, meaning I get a commission if you decide to make a purchase through my links, at no cost to you. Please read my disclosure for more info.