Lauterbrunnen, Switzerland is a small town in Lauterbrunnen Valley and is nestled between towering mountains with waterfalls cascading down it almost everywhere you look. There are 72 waterfalls here! There are so many great things to do in Lauterbrunnen and it is a great base for exploring the surrounding mountains and towns.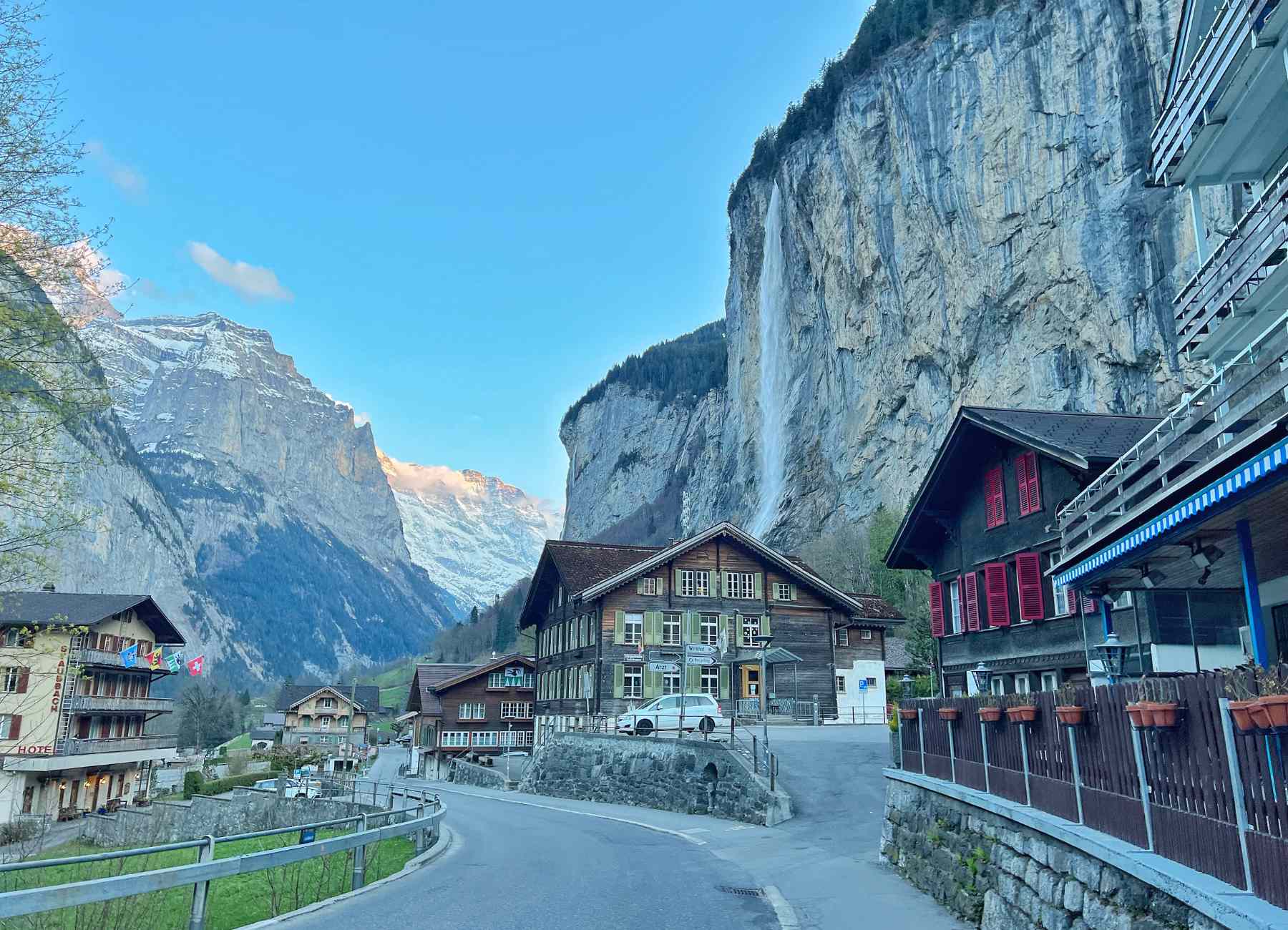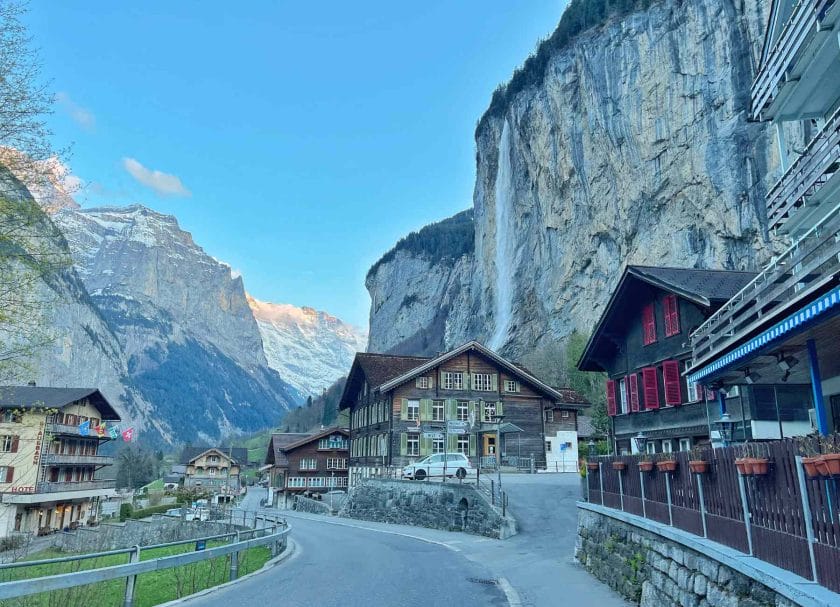 The town has an outdoor adventurer vibe to it and is a bustling tourist hub for those looking for the epic views, those that want to go hiking, do adventurous sports and skiing fans in the winter months. You can book a hotel with a balcony looking out to the waterfall or stay in the hostel for the lowest cost in the area with an awesome bar area downstairs.
Lauterbrunnen is a vibe that pulls you in and makes you want to stay well beyond when you are supposed to leave! It is magical and feels like a whole different world. If you are planning a trip to Europe you will want to add Lauterbrunnen to your list!
Getting Around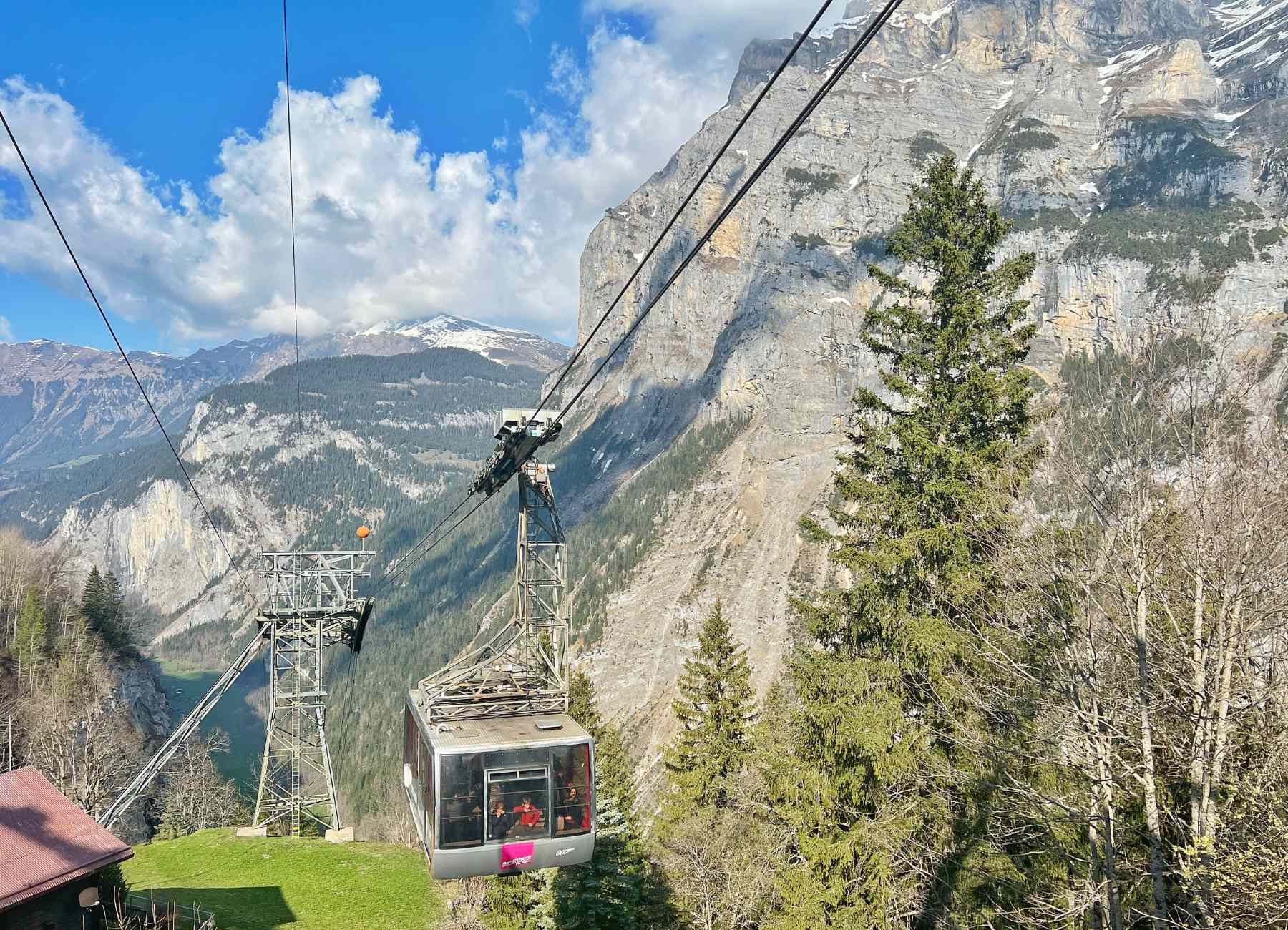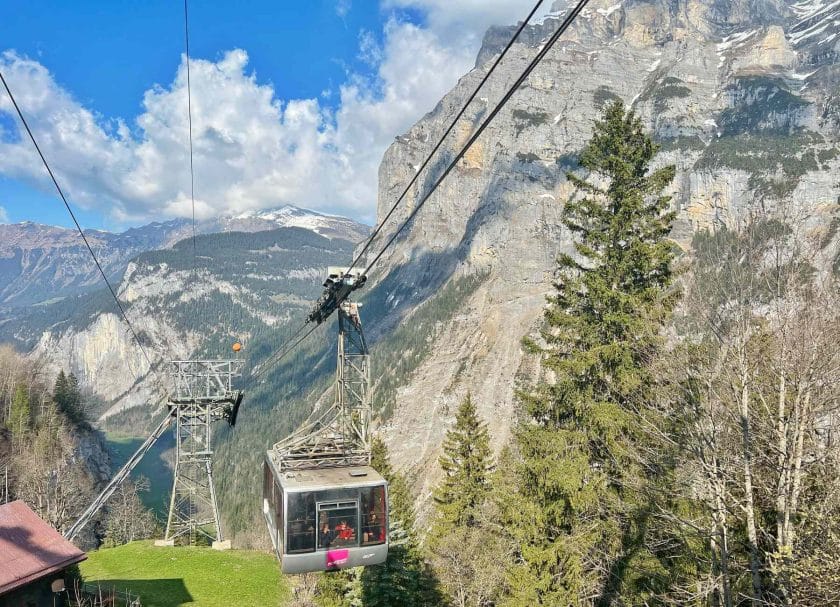 Most people come by train from Lucerne to Lauterbrunnen for a day trip but we are going to highly recommend that you come and stay in Lauterbrunnen and the Jungfrau region for at least 3 nights – longer if you can. It is a magical place!
Lauterbrunnen is a small town and you can walk anywhere you need to go. To get to the mountain towns and villages you will need to walk to the train station or tram station to catch a ride.
You can take a train to Lauterbrunnen from Interlaken and you really don't need a car with all of the train and trams around the area. We came without a car and never felt like we needed one. There are no cars allowed in the villages so even if you have a car you won't be able to drive if you want to visit Murren and Gimmelwald.
If you don't have the Eurail pass you will want to look into the Swiss Travel Pass. This pass is for non-swiss residents so swiss residents would get a different pass. With the pass you get unlimited travel by train, bus, boat and public transportation in Switzerland.
If you are like us when you are here you are going to want to be out exploring the whole time so we would plan on not doing any grocery shopping but instead plan to grab breakfast, lunch and dinner while you are out.
Most hotels will have something to offer for breakfast and coffee. Ok now that we have that figured out let's get into what to do in the area!
Horner Pub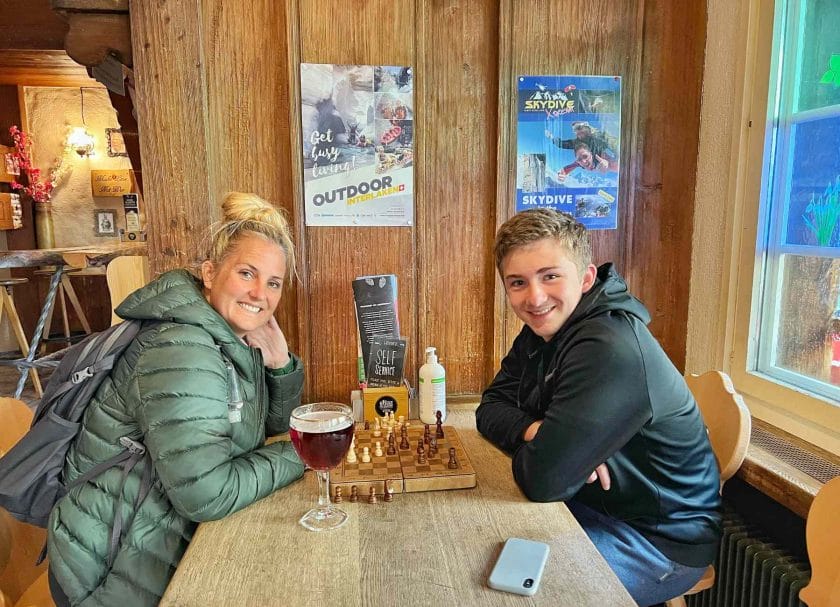 Horner Pub is the hostel we stayed at when we visited. It is basically a room with 4 bunk beds squeezed in and a shared bathroom with the other rooms on your floor. There is a women's bathroom and a mens bathroom.
It is just that a room with enough space for the beds and your luggage. But the reality is you probably won't be in the room much so go with it. It was the cheapest option for staying in Lauterbrunnen by far.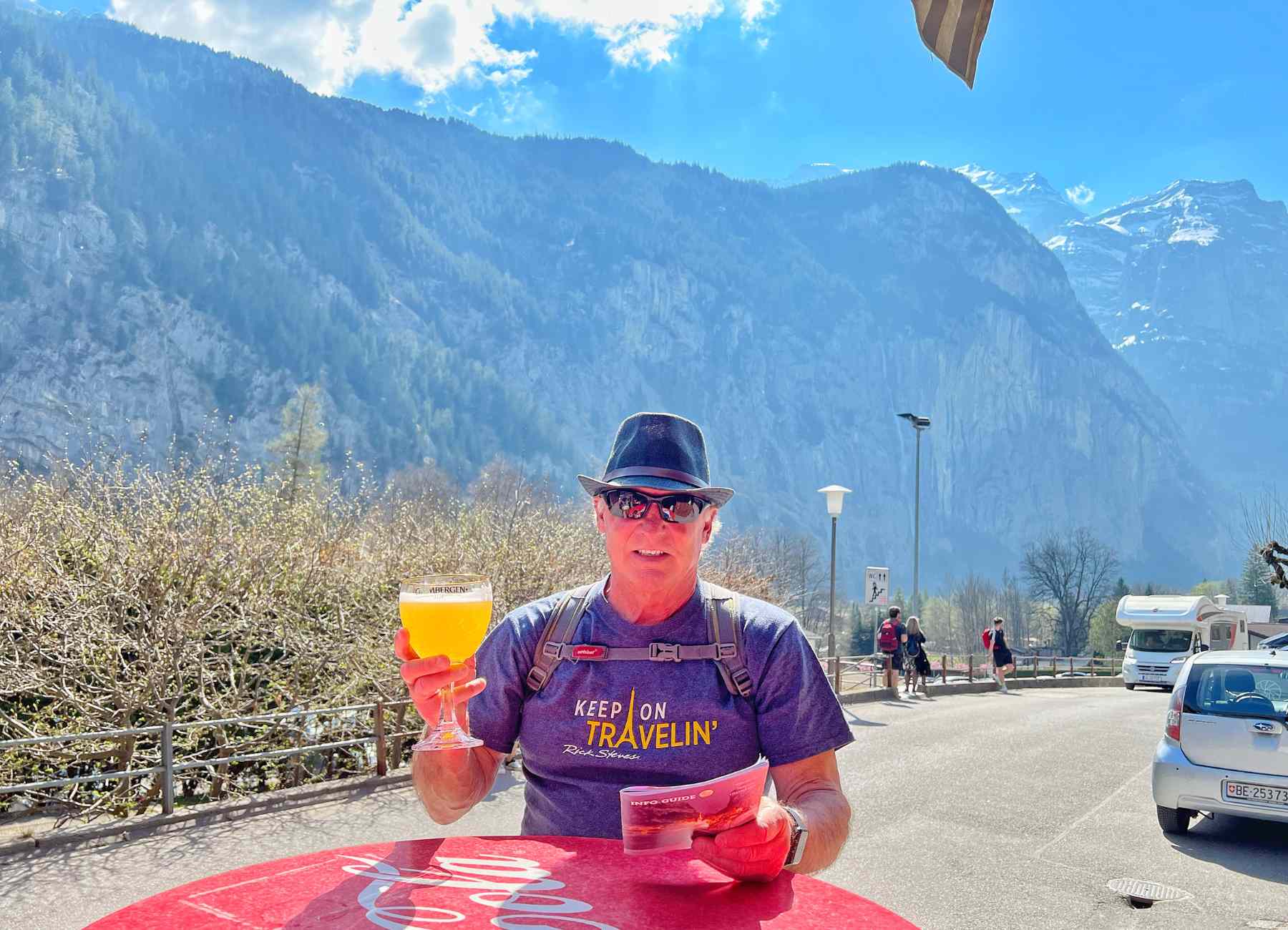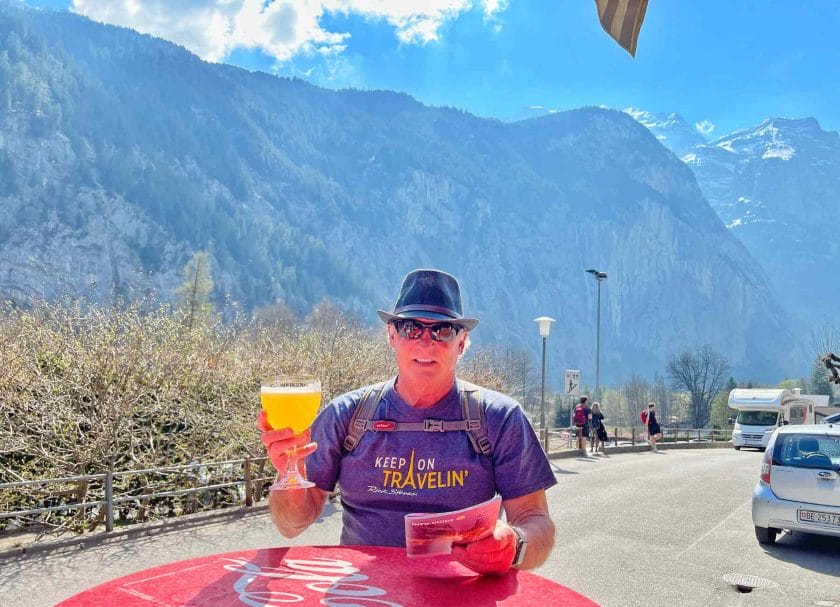 Even if you don't stay here come stop in to get a drink or for dinner! They had delicious beer options and a good food menu. It was where we normally ate dinner and the kids liked the food options too.
Another night Carson and I hung out down in the restaurant/bar and played chess while I had a beer and he got a soda. It can get busy but when it isn't it is a really nice place to just hang out. They also have outdoor seating.
Make sure to set time aside to have some drinks here and sit outside on a nice sunny day!
Trümmelbach Falls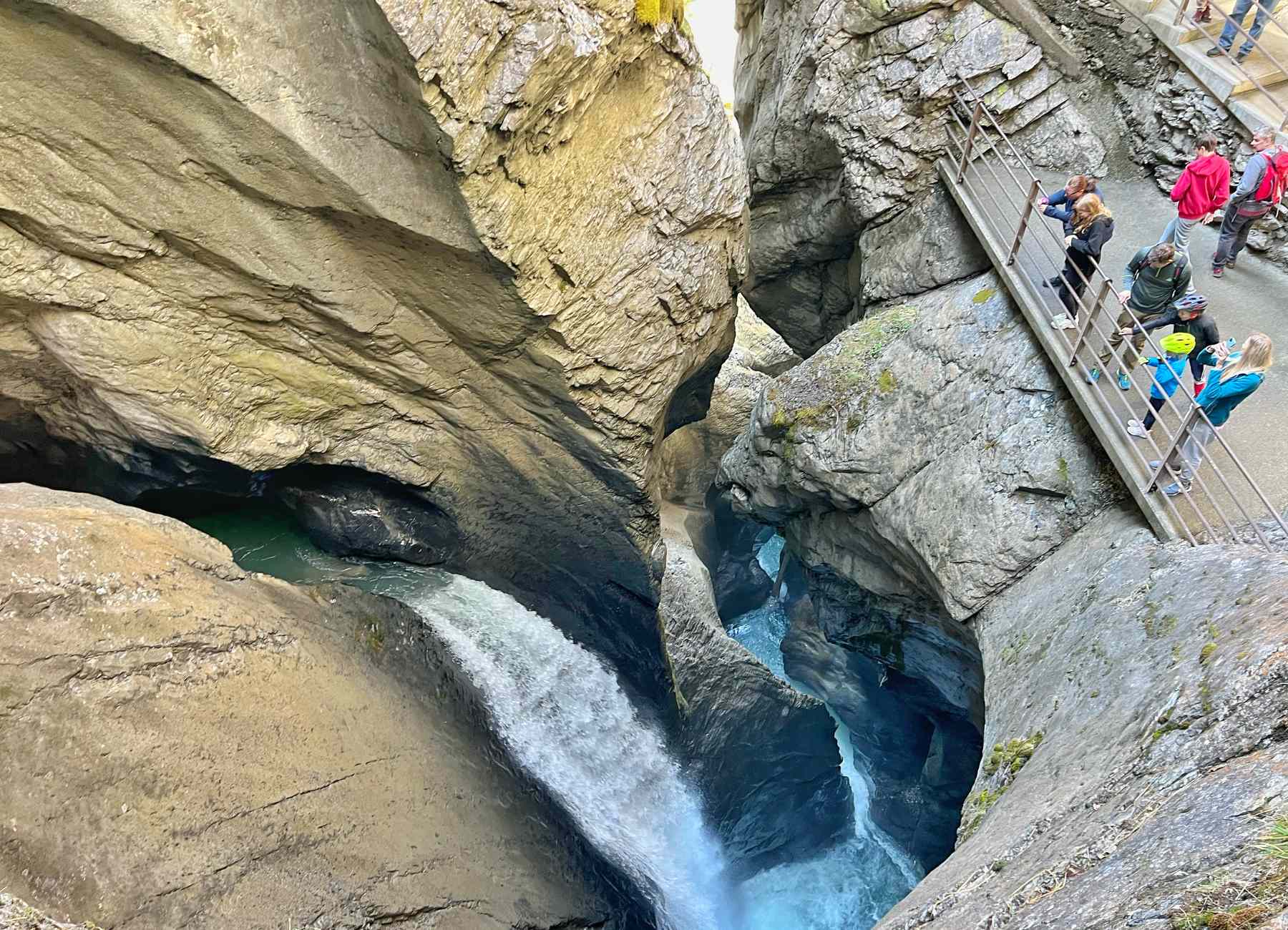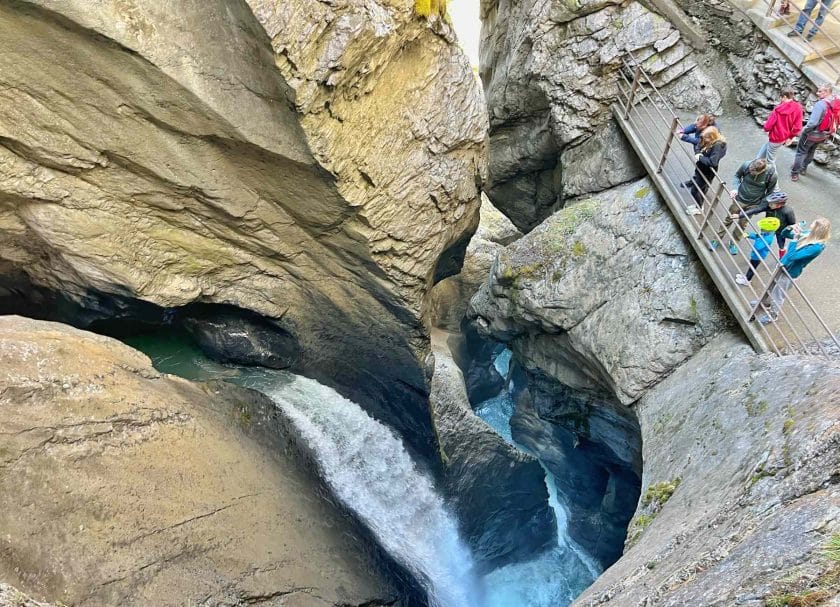 Walk from Lauterbrunnen to the Trümmelbach falls. It is a 30 minute walk and about 1.7 miles to get there. It is a flat walk with amazing views where you can see many of the 72 waterfalls that are in Lauterbrunnen.
The Tummelback Falls are a waterfall in a mountain!! The waterfall cascades down through the mountain and there are a variety of platforms in the mountain where you can stop to see the waterfall.
On the way to Tummelback Falls we stopped to have a picnic lunch, that my Mom packed for us before we left, next to the river that is fed from the waterfalls. It was a beautiful place to stop for a few minutes.
You have to buy tickets to go up into the mountain to see the waterfall from inside the mountain. After buying our tickets we got in line for the elevator. You have to buy tickets at the door.
The elevator took us up to platform 6 and we walked up a few more platforms before heading back down. The water was roaring down the inside of the mountain! There were multiple different viewing platforms. It was quite a site to see. The water was so powerful.
You can also stop to look out over the valley in a few spots. It was a cool experience and worth getting the tickets for.
Staubbach Falls Trail
This trail is only open in the summer due to icy conditions. It is a short .5 mile hike that gets you up to the top of the falls. You do go through some caves and there are stairs and metal railings. Be prepared to get a little bit wet from the falls!
The Staubbach Falls are the highest free falling waterfall in Europe!
Murren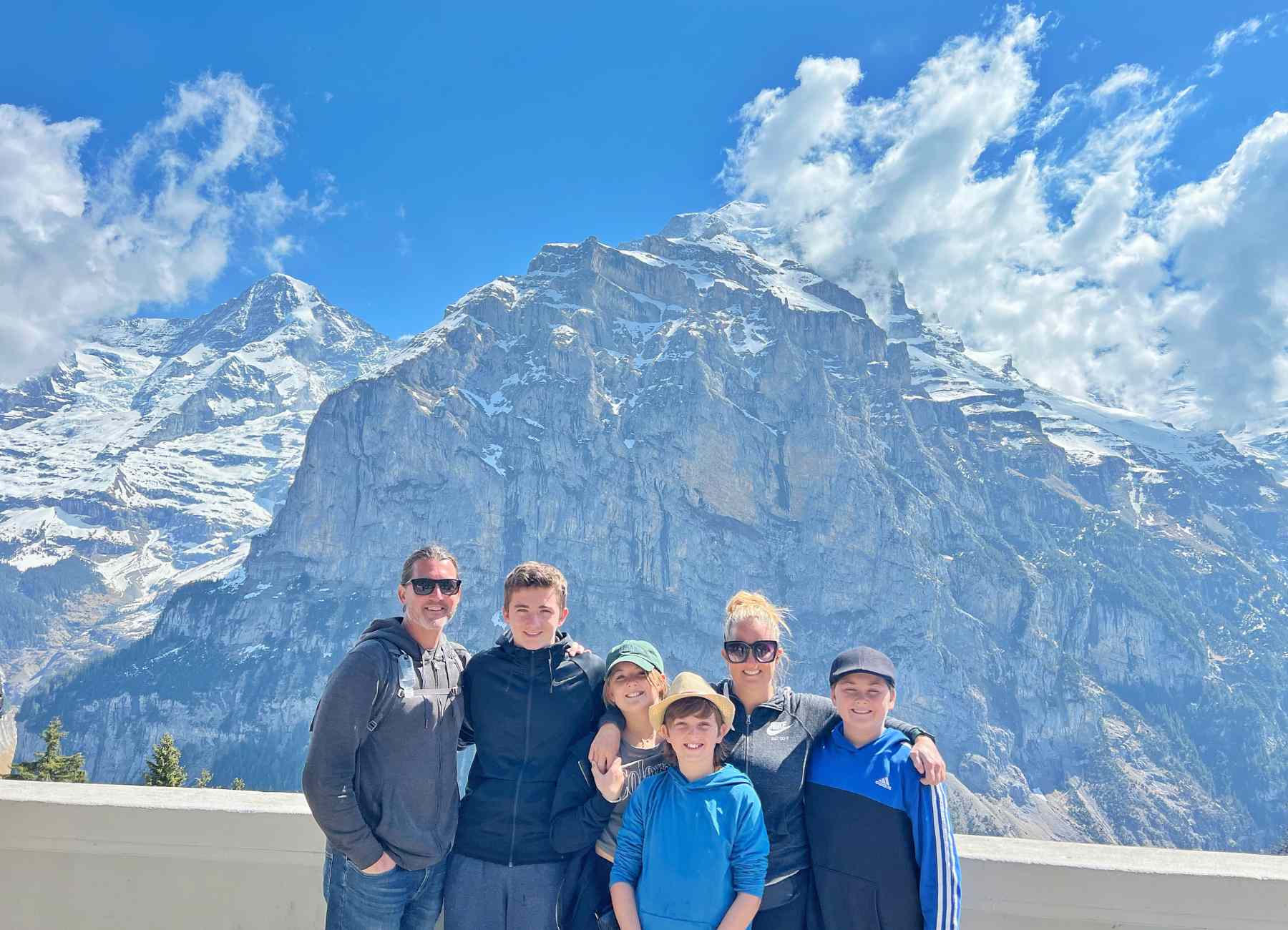 We were really excited to explore the mountain towns and this alpine village did not disappoint! Our first stop would be Murren. We took a tram up and out of the Lauterbrunnen valley (that we could walk to from our hostel) into the mountains. The views were epic all the way up! After the tram ride we got on a train to the mountain village of Murren.
In Murren we found a park and played for a while, took in the amazing views, stopped and got coffee and a pastry, and played chess with the oversized chess board. The mountain air, the vibe, the views it was amazing!!!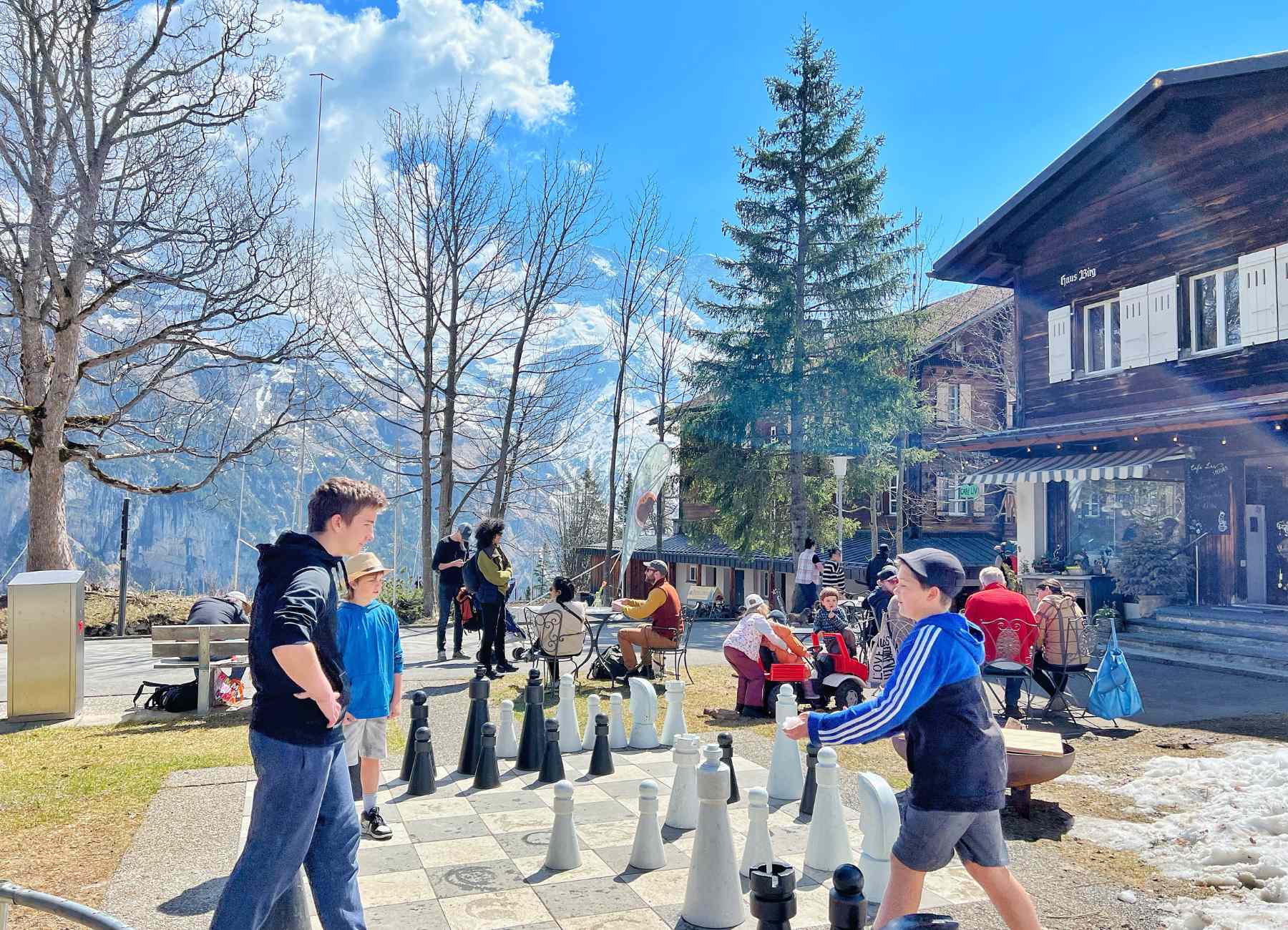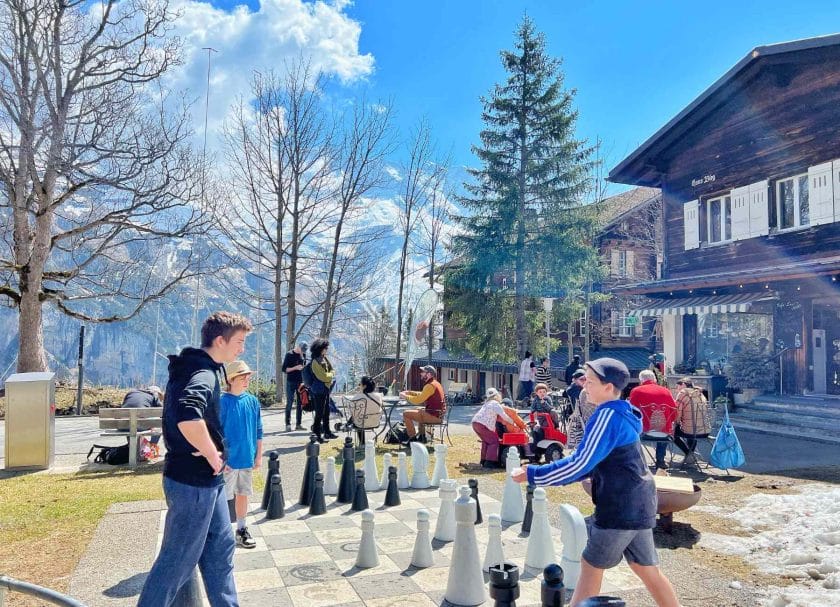 The whole time we were here we were scoping out hotels/apartments we would want to come and stay in when we come back some day!
Taking the tram and train is easy BUT be sure you are aware of the times when the trams and trains leave. They do stop running at some point during the day so you will want to know what time you plan to leave so you give yourself enough time to get to the stations.
Everything runs on time so they aren't going to wait for you! My recommendation is to figure out what your plan is and to stop in the train station to talk to a worker to figure out what tickets you need and to confirm train times.
Gimmelwald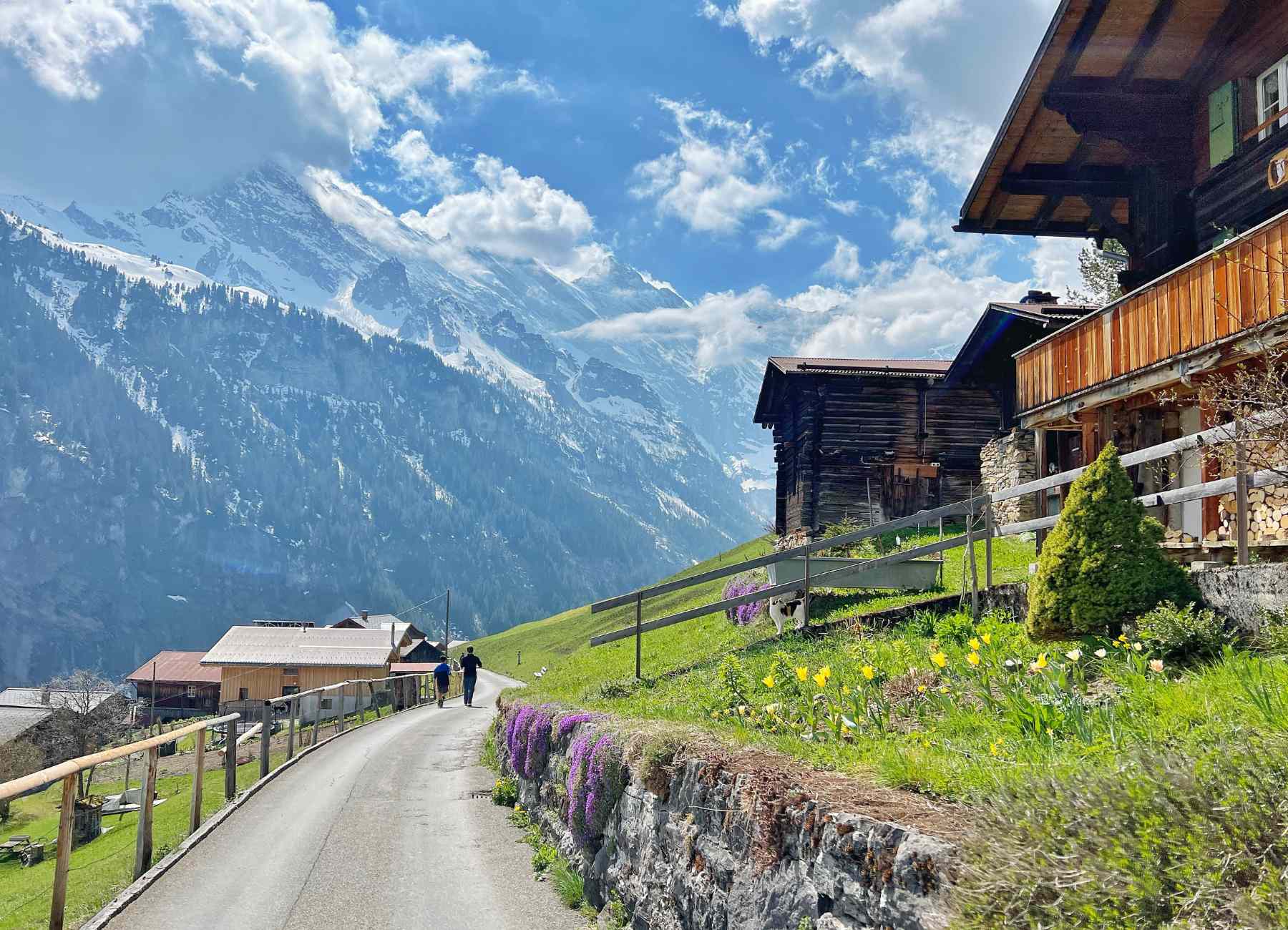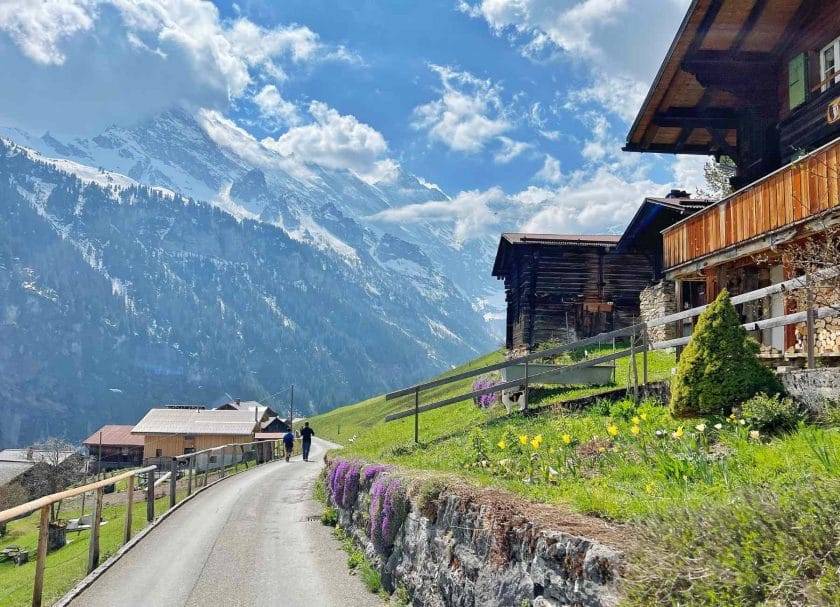 This adorable quiet mountain top village was an amazing stop. We walked to it from Murren. About a 30 minute downhill walk with unbelievable views the whole way. We saw amazing mountains views and all the people paragliding!
Plus the flowers were starting to bloom on the side of the trail. It felt like we were walking in a beautiful picture.
As we were walking into town we saw signs for honesty shops. Where you walk into one of the barns, open the fridge, take the cheese or meat that you want and leave your money. There is a note that they are working in the field so just take what you want, write it down and leave your money. So cool!!
Next up we went to the Mountain Hostel for some drinks and pizza. You just order your pizza and drinks at the bar and grab a picnic table. When your food is done they will bring it out to you.
While we were waiting for your food the kids played in the park and flew down the big slide! While we enjoyed our drinks and took in the Mountain View's.
From here we took a tram down back into the valley and walked about 3 miles through the valley (past a ton of waterfalls) back to Lauterbrunnen. We could have gone a different route and gotten right back into Lauterbrunnen without the 3 mile hike but we wanted to take the hike!
Schilthorn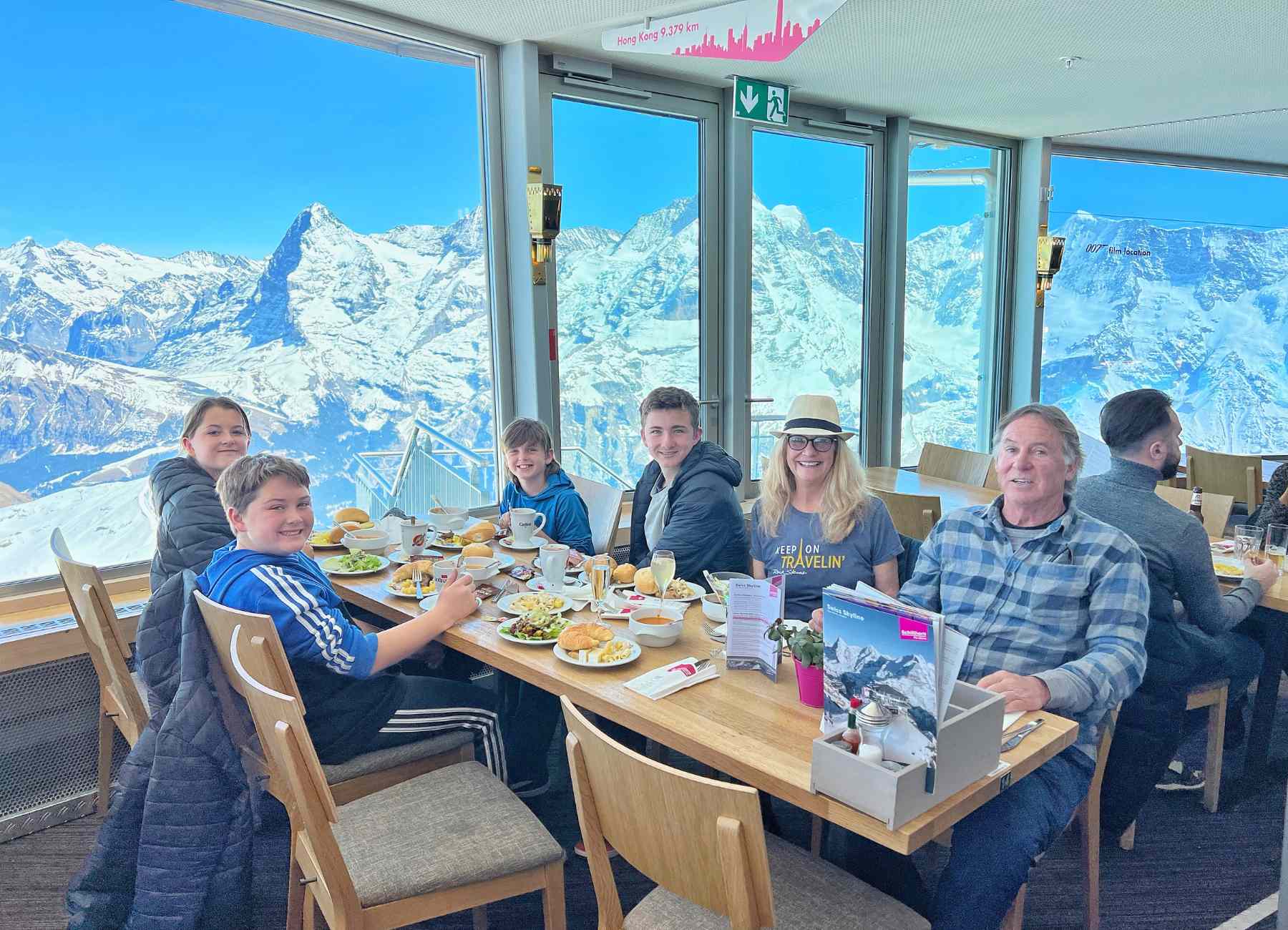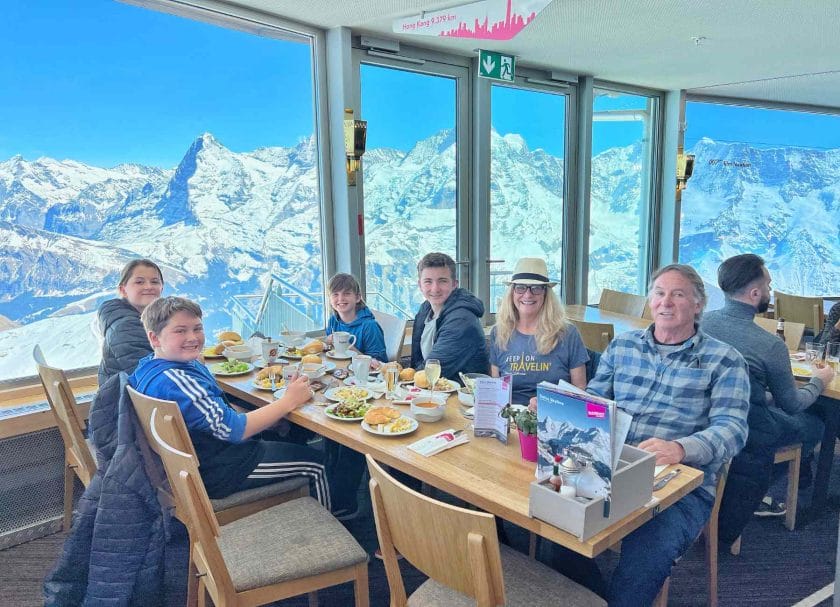 The next day we got up and had breakfast at the pub downstairs from our hostel room and headed out on a tram, train, tram and a tram to get to Schilthorn! It is located on the top of the mountain at the Schilthorn peak.
Schilthorn is where the 1969 James Bond movie On Her Majesty's Secret Service was filmed. They have a whole James Bond museum and experience there. If you are into the James Bond movies you will really appreciate the museum.
Birg Stop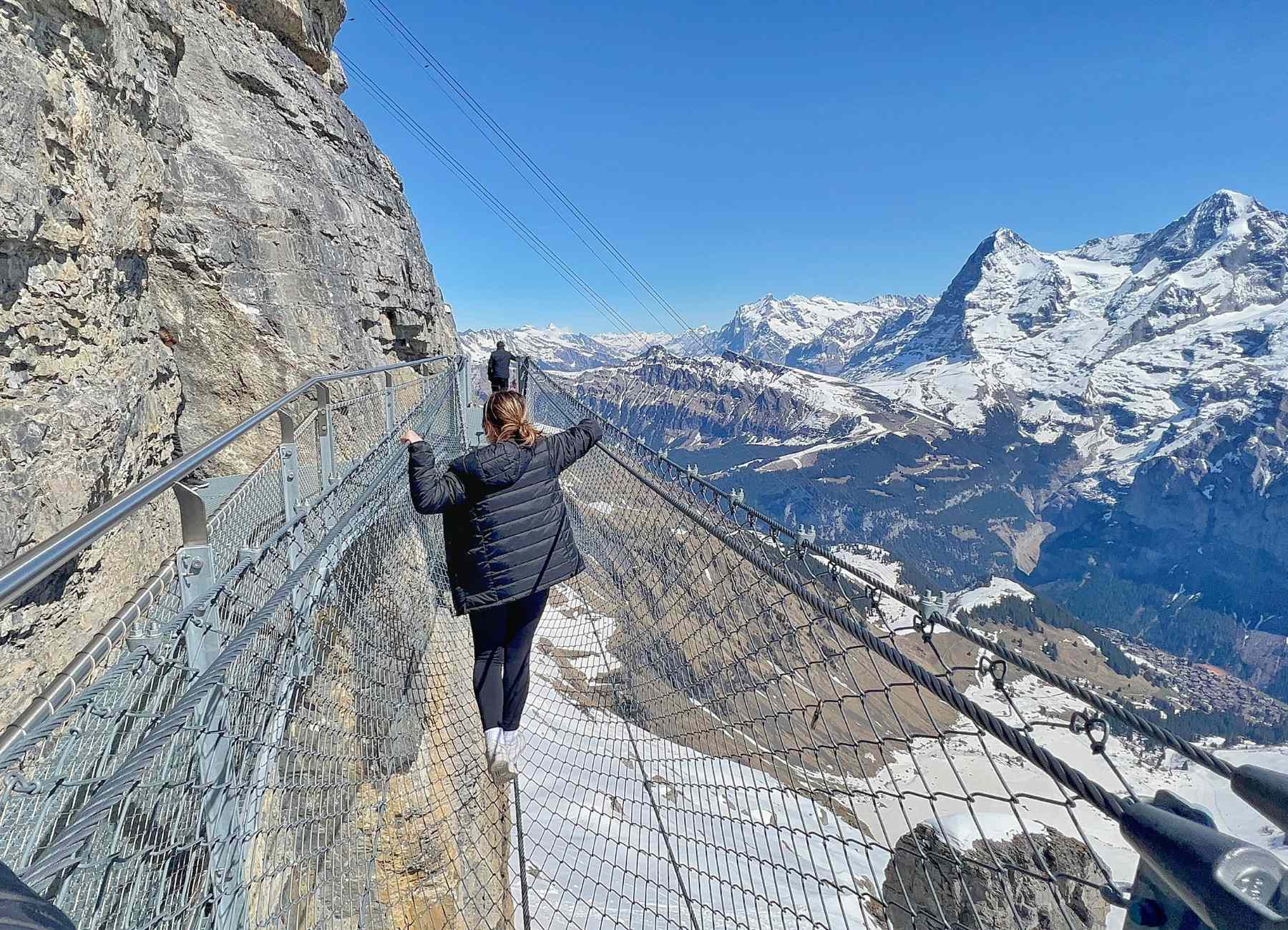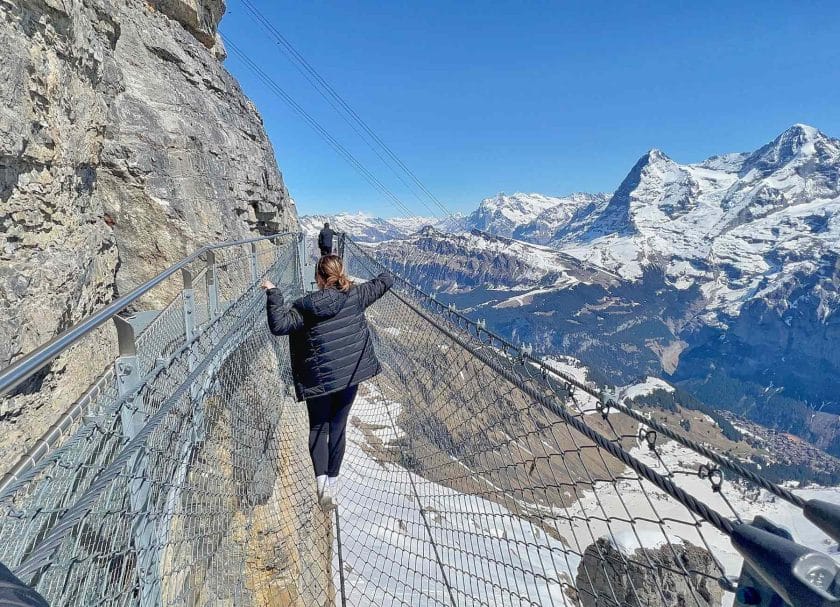 Prior to getting to the top we stopped and got off the tram at the the Birg stop so we could get out and do the Thrill walk (better called the cliff walk)!! The kids loved it.
You basically walk down and around the side of the mountain. There is a clear glass walkway, a rope tunnel to climb through and a tightrope to walk across. The whole time you are doing this you will see epic views of the Swiss Alps! If you are afraid of heights you may want to skip this one!
Things To Do At Schilthorn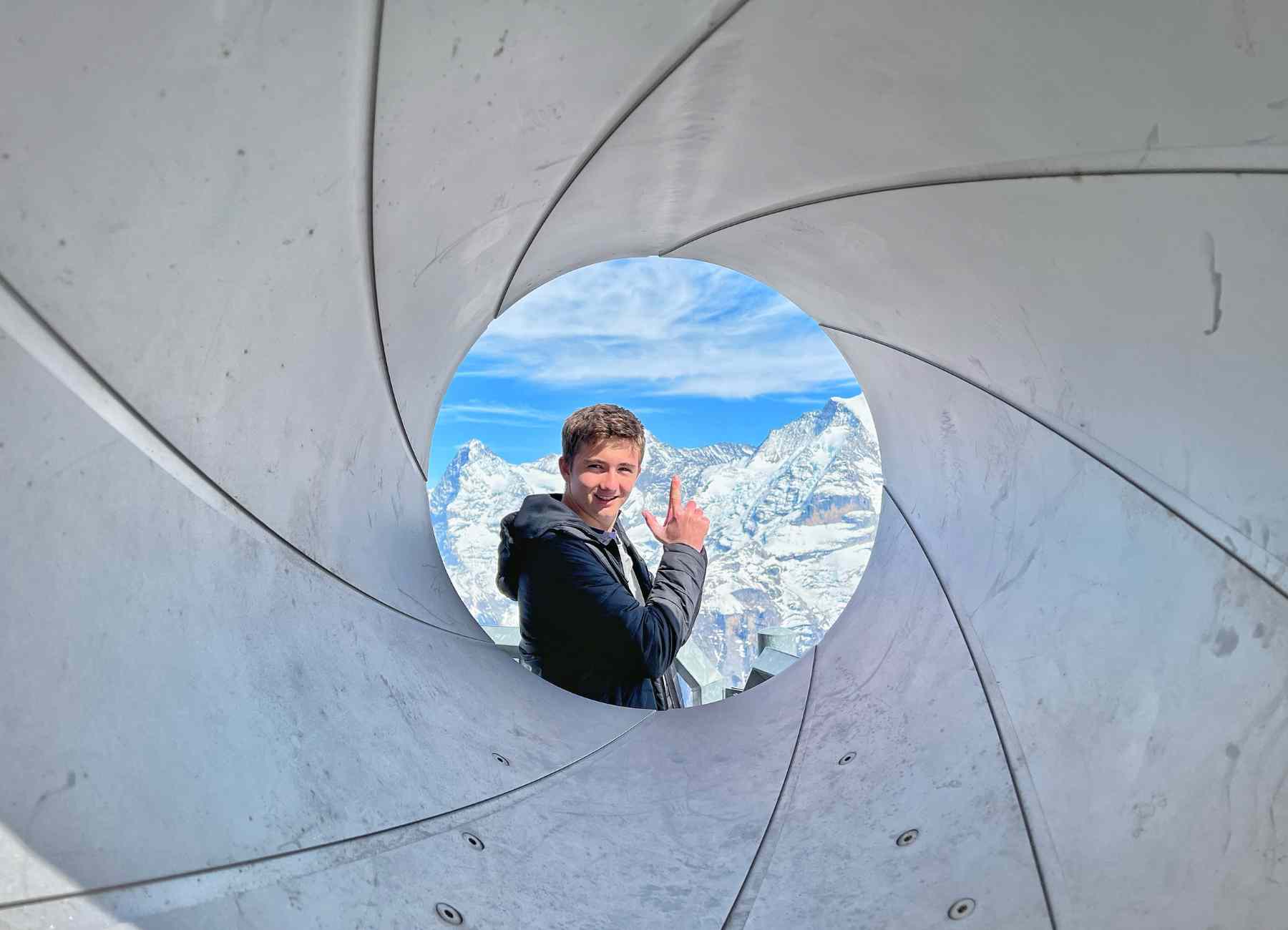 After that we headed up to the Schilthorn to check out the museum and to get lunch at the Piz Gloria revolving restaurant. Depending when you get there you can do the buffet or order lunch and the restaurant rotates! It takes about 45 minutes to go all the way around so you get views from all sides. And don't worry it isn't moving fast so it doesn't bother you while you are eating.
Luckily we had a gorgeous day and we could see for miles!! The kids loved the buffet and everyone enjoyed sitting there and eating while taking in these amazing views!!
We did a make a reservation for the restaurant with the hopes of getting a table right by the window which we did! If this is high on your list (which we do recommend) be sure to look into reservations and check the times for the buffet and eating.
You can book a table and check the menu out here.
There are also viewing platforms you can go out on to look at the mountains and to watch the skiers. Plus some bar/restaurants outside where you could get a drink and sit to take in the views.
Of course there are gift shops as well. The tickets aren't cheap to get up here but I will say it was worth it and the kids said doing the spinning restaurant was one of their favorite things we did in Europe!
You can look here for different tips on how to get to Schilthorn.
Jungfraujoch – Top Of Europe
If you want to experience another epic train rides and views you can look into visiting Europes highest railway station: Jungraujoch. We choose not to do this since it is a 2 1/2 hour train ride that you can take from Interlaken.
The ride goes from Kleine Scheidegg way above Grindelwald and climbes via a cogwheel train to the Eiger Glacier station going through a 4.5 mile tunnel before continuing on.
Once you reach the top you can visit the Sphinx observation building, Ice Getaway and snow plateau, Ice Gateway, Alpine research exhibition plus 5 different restaurants.
I really wish we had more time in Switzerland so we could have done this one too!
Hiking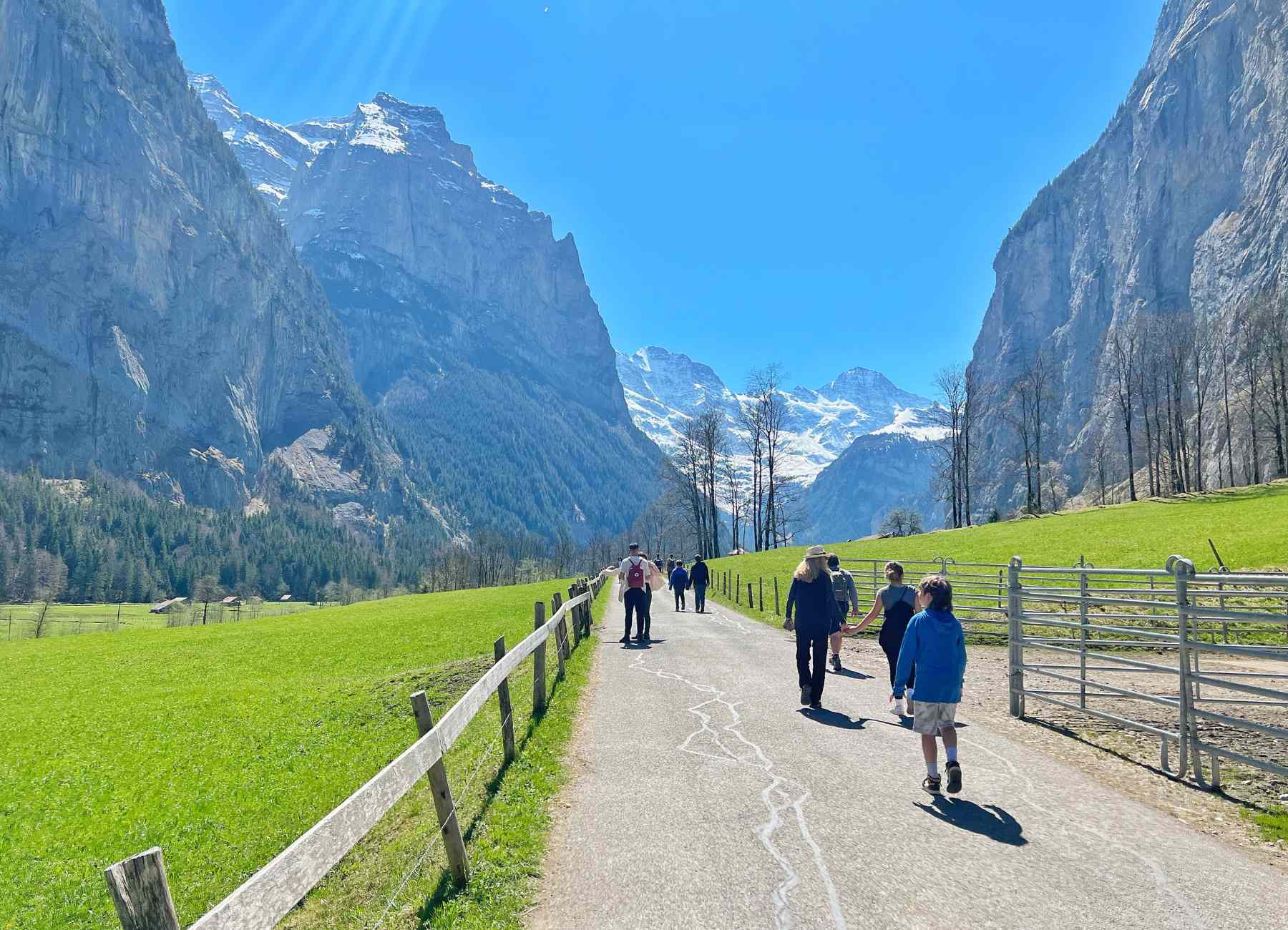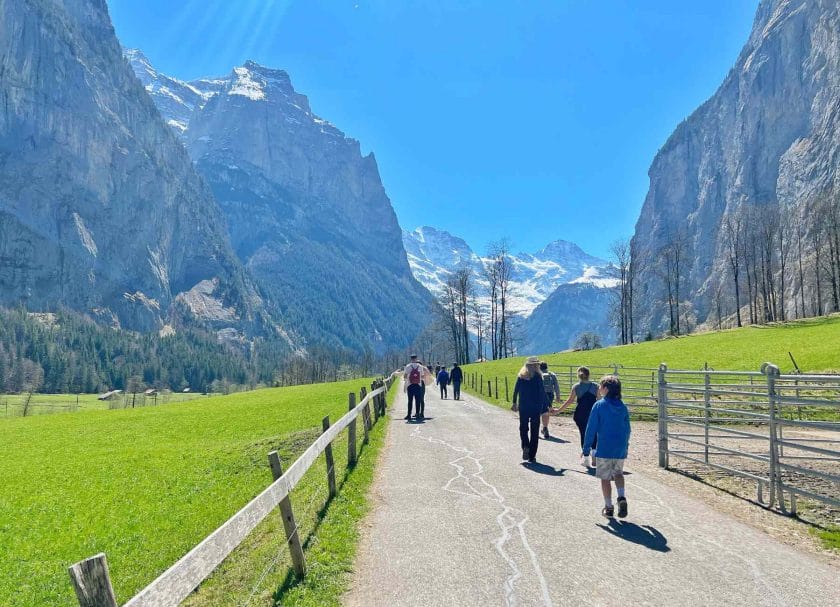 On our next trip to Lauterbrunnen we will give ourselves enough time so we can go and hike as many of these epic trails as we can.
On the top of my list is the Mürren Via Ferrata: this hike offers a climbing experience that leads to the summit of the Mürrenfluh mountain. There are metal ladders, cables and bridges. It sounds like an epic hike!! It is also only open in the summer.
You can learn more about the Mürrn Via Ferrata hike here.
Interlaken
Prior to going to Lauterbrunnen we visited Interlaken for one night and I wish we would have stayed longer. If you stay in Lauterbrunnen you could easily get to Interlaken for the day. If you do that be sure to go to Lake Brienz and Lake Thun.
Lake Brienz
Lake Brienz is a gorgeous bright blue lake and if you take the boat ride on the lake you can stop at the Grand Hotel Giessbach. Take the funicular up and hike to the top of the Giessbach Waterfall. From there we walked back down to the shoreline and to the town of Iseltwald to take the boat back to Interlaken.
Lauterbrunnen, Switzerland and the area was amazing!! This is high on our list of places to come back to!!
Getting To Lauterbrunnen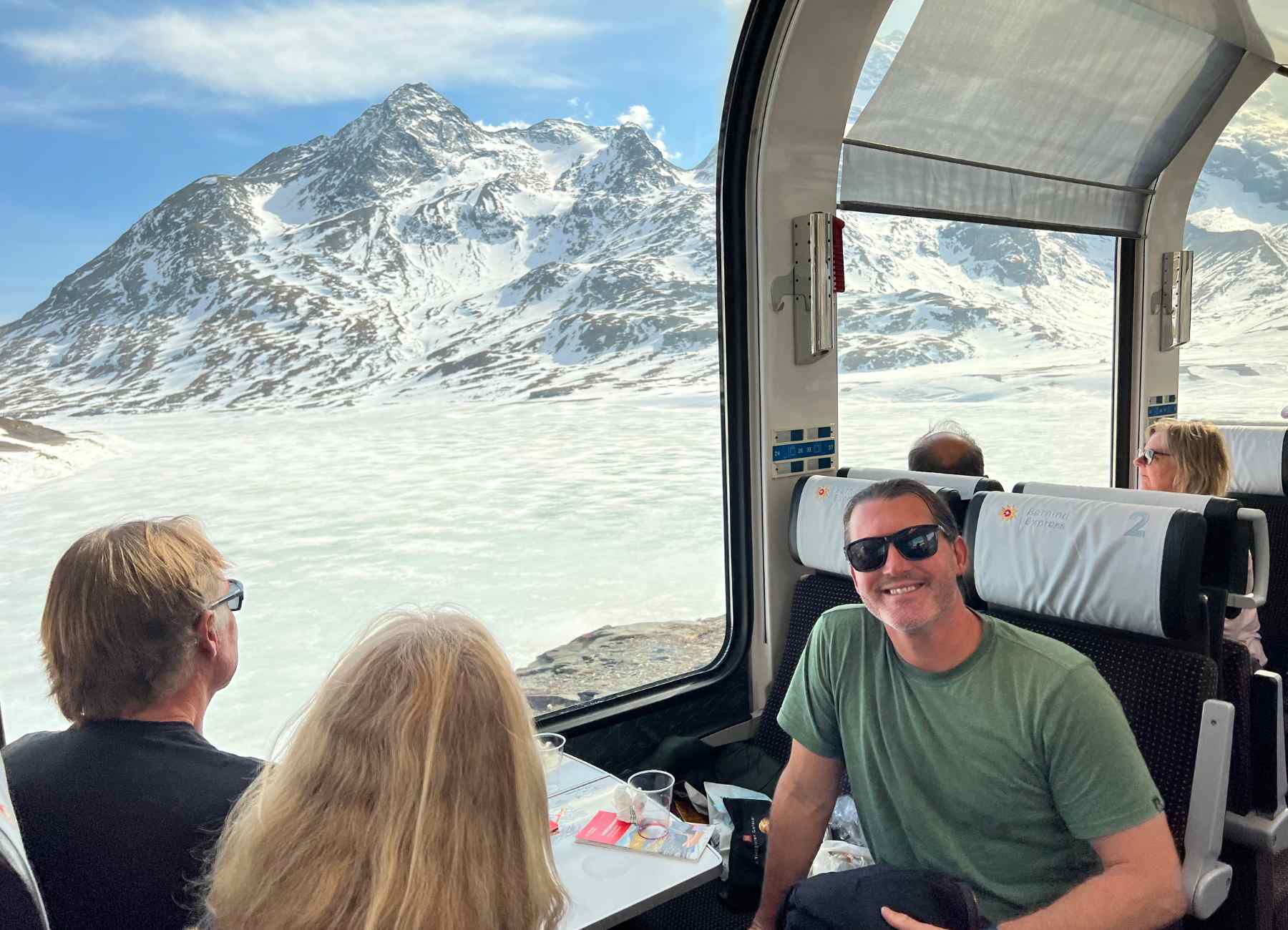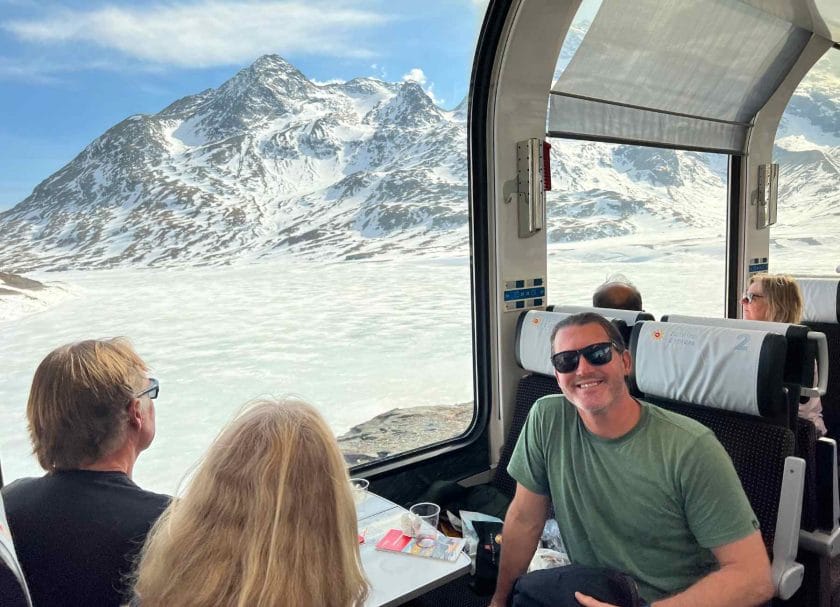 In our opinion there is just one way to get to Switzerland and that is on the Bernina Express! This panoramic train will bring you into this amazing country with unreal views and a gorgeous train ride. Ok, it doesn't really get you into Lauterbrunnen but to Chur, Switzerland and from there you have to take some trains to get to Lauterbrunnen.
But I am telling you if you can include this train ride into your time in Switzerland do it!! You can bring your own food on the train and drinks plus they give you swiss chocolate and these views are unbelievable!
Other Posts On Europe
21 Best Things To Do In Prague With Kids
30+ Best Things To Do In Lisbon, Portugal
One Day In Madrid Itinerary – 14 Stops Not To Miss!
One Day In Barcelona Itinerary
A Tourist Guide To Las Fallas Festival in Valencia Spain
Tips On Visiting All 5 Cinque Terre Towns [Itinerary Included]
25 Top Things To Do In Florence, Italy
15+ Things To Do In Tuscany Italy
17 Fun Things To Do In Venice Italy [2 day Itinerary Included]
15+ Fun Things To Do In Rome With Kids
Pin This Post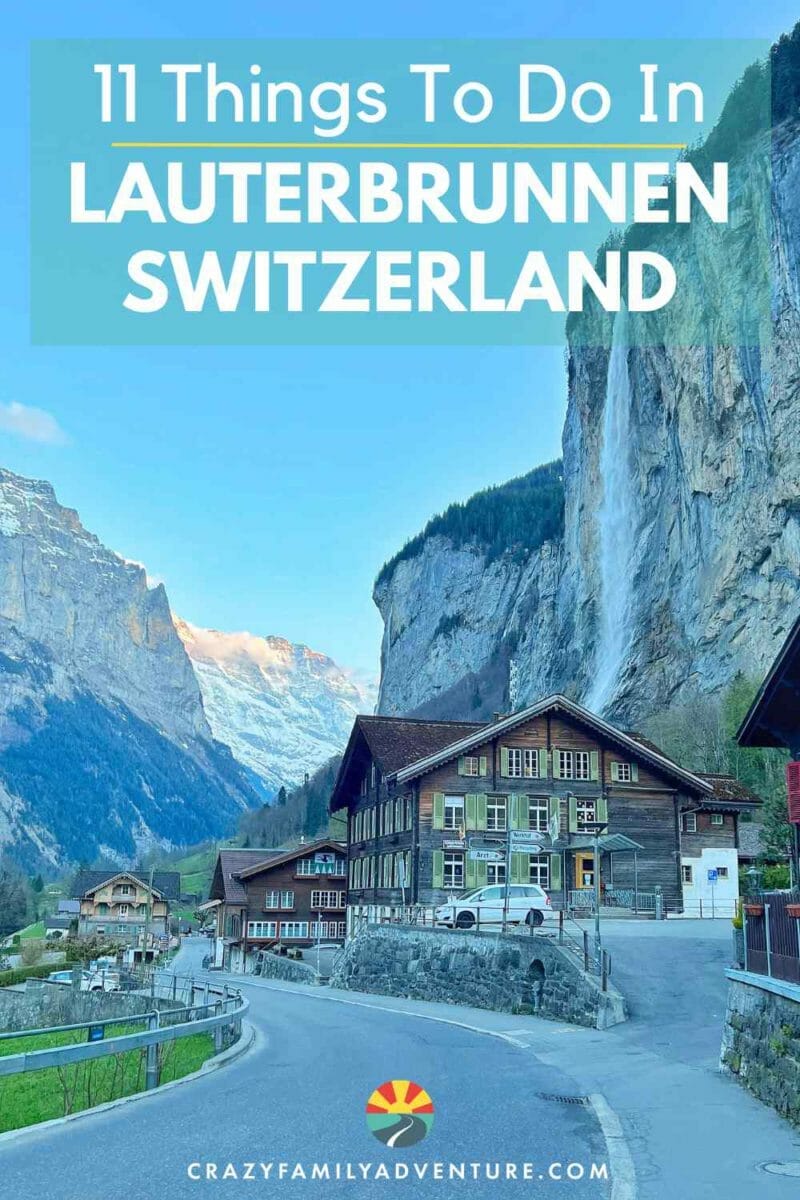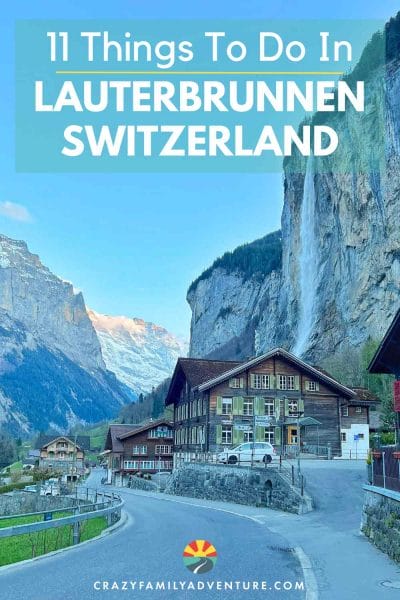 DISCLOSURE: This post may contain affiliate links, meaning I get a commission if you decide to make a purchase through my links, at no cost to you. Please read my disclosure for more info.