When we were planning our backpacking trip around Europe, I knew two things. One, I wanted to go to Interlaken and Lauterbrunnen, Switzerland, and Two, we would take the train anywhere we could. When we started researching getting to Switzerland, I found the Bernina Express, and I was sold! The Bernina Express is how we will get to Switzerland.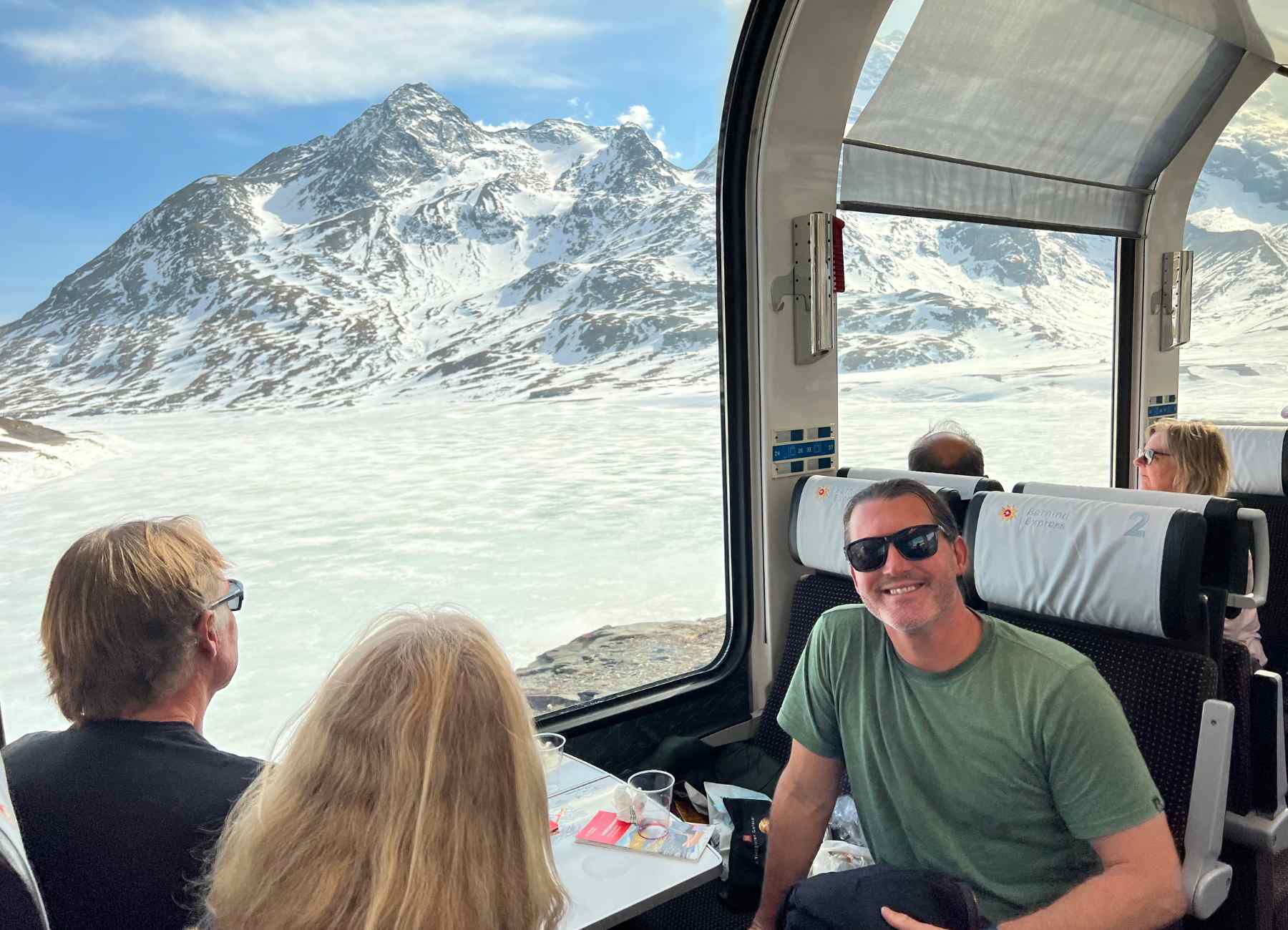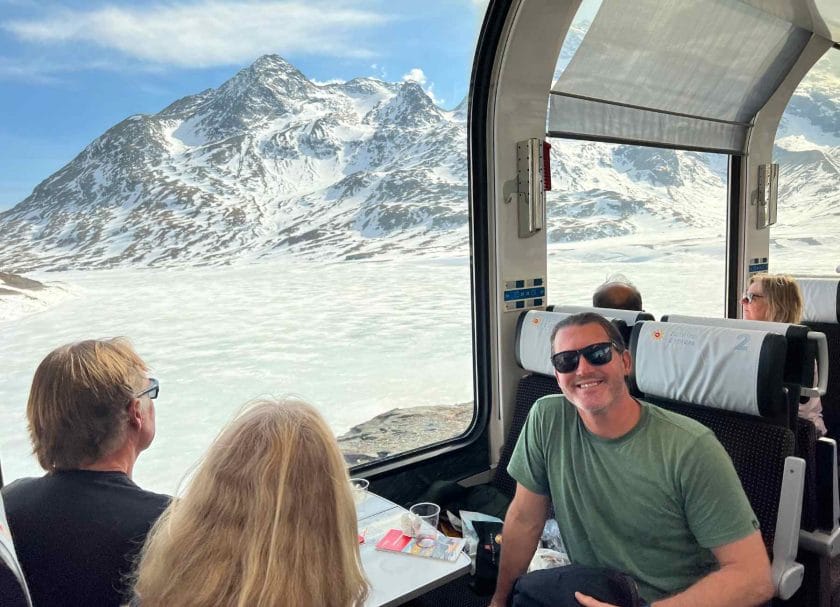 I eagerly checked the dates we wanted to take the train and was happy to see it was available! We quickly reserved our seats and planned the rest of the logistics around where the train took off from and where it would drop us off.
We had heard stories of people missing their train because they had to take another train earlier in the day to get to the Bernina Express train station. Their train was delayed or took longer than expected, and they missed the Bernina Express! I did not want to have this happen.
For that reason, we booked a night in Tirano, Italy, the night before our Bernina Express train ride. This also meant we could stop at the train station to confirm our tickets, seats, etc. Which I am glad we did – more on that below.
Ok, now that you know all the backstory, let's get into the Bernina Express and how to prepare for an epic train ride through Switzerland.
What Is The Bernina Express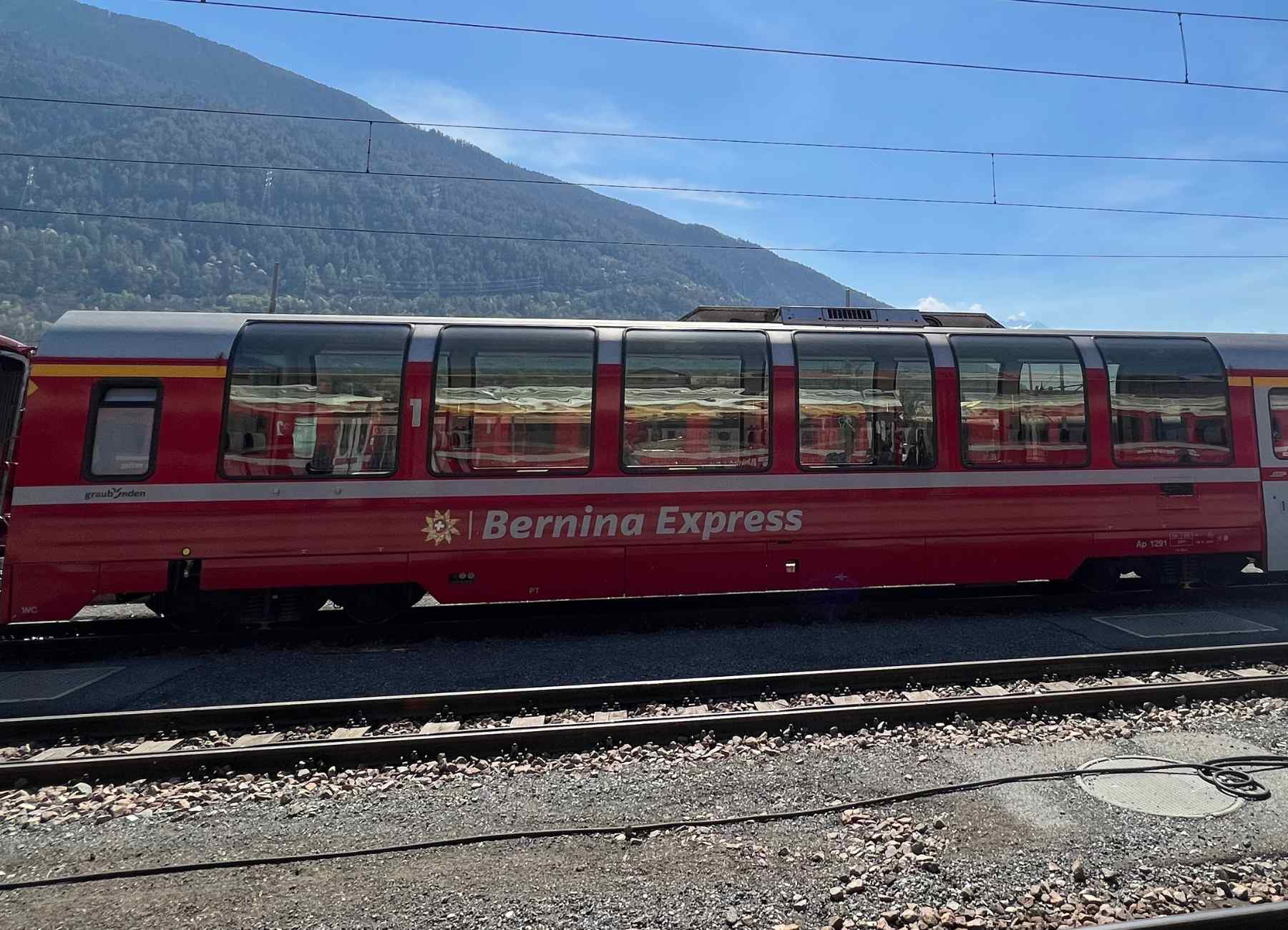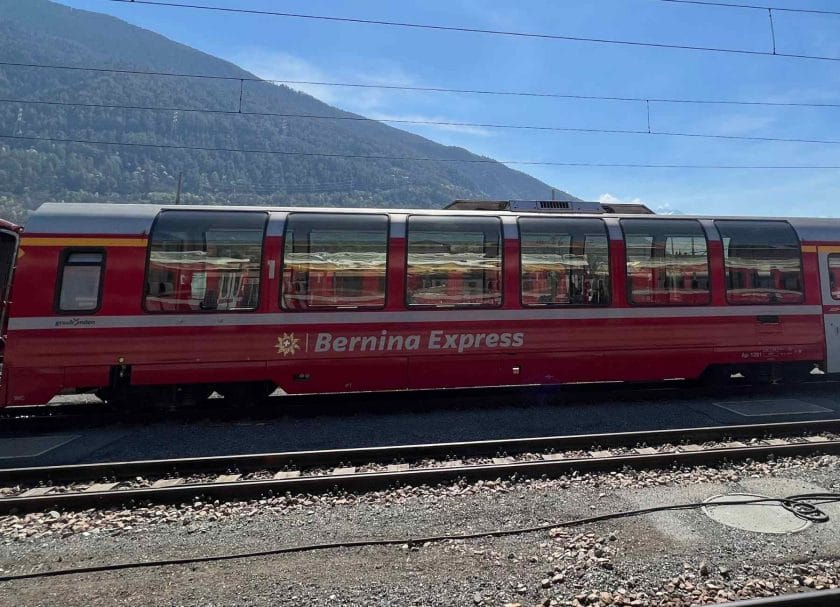 The Bernina Express is a panoramic train that travels from Tirano, Italy, to Chur, Switzerland going up and over a mountain! You can take the train from Tirano to Chur or from Chur to Tirano. The train does not make any additional stops.
Take note not every car on the train is panoramic. If you want the panoramic train car, you must buy seat reservations for that train car. If you don't do that, you will end up in a regular train car. You will still have epic views out of the train windows. They just won't be panoramic windows.
There are other ways to get from Italy to Switzerland, but I doubt any are as epic as the Bernina Express!!!
Getting Tickets
We had a 3-month unlimited Eurail pass and were pleasantly surprised that the Bernina Express train was on it. Say what?! But if we wanted to be in the panoramic car, which I 100% wanted to be in, you do have to buy seat reservations.
We had a 2nd class Eurail ticket, and I couldn't find anywhere if that meant I had to buy 2nd class Bernina Express tickets or if I could buy 1st class Bernina Express tickets. I mean, if we are going all in, let's go all in! I went for it with the 1st class tickets . . . we were able to pick what seats we wanted, so I thought we would be all set.
Luckily, we got to the train station a day earlier because when I went in to check on our tickets, the lady was like umm, no. You can't have 1st class tickets with the 2nd class Eurrail pass. Luckily, seats were still open in the 2nd class, and we got those. I was so nervous I messed up the whole thing, and we wouldn't be able to sit together!!
I was so glad it all worked out. Now that I knew we had our tickets, it was time to start planning for the trip.
We got out seat reservations on the Rhaetian Railway site.
Picking Your Seats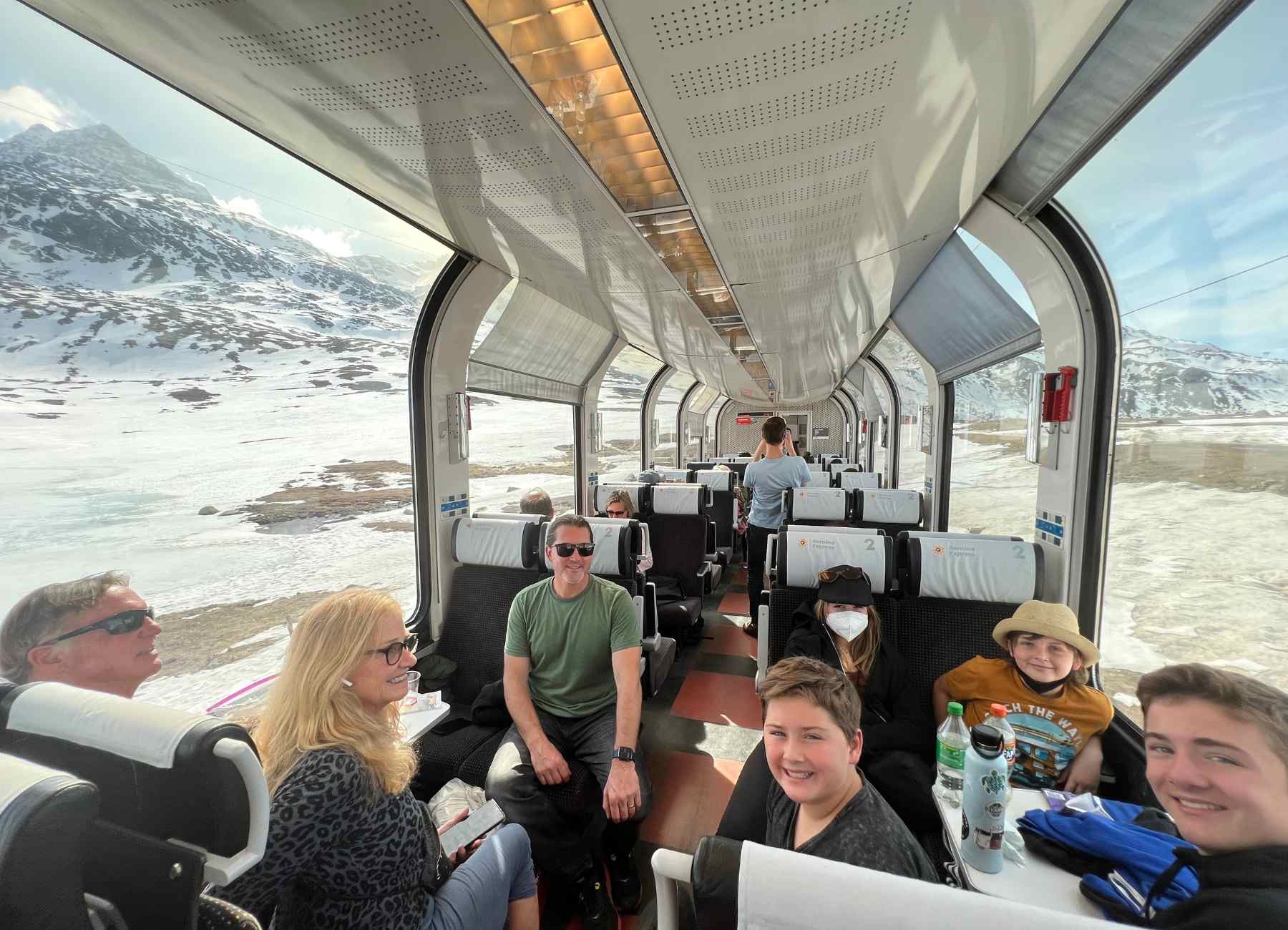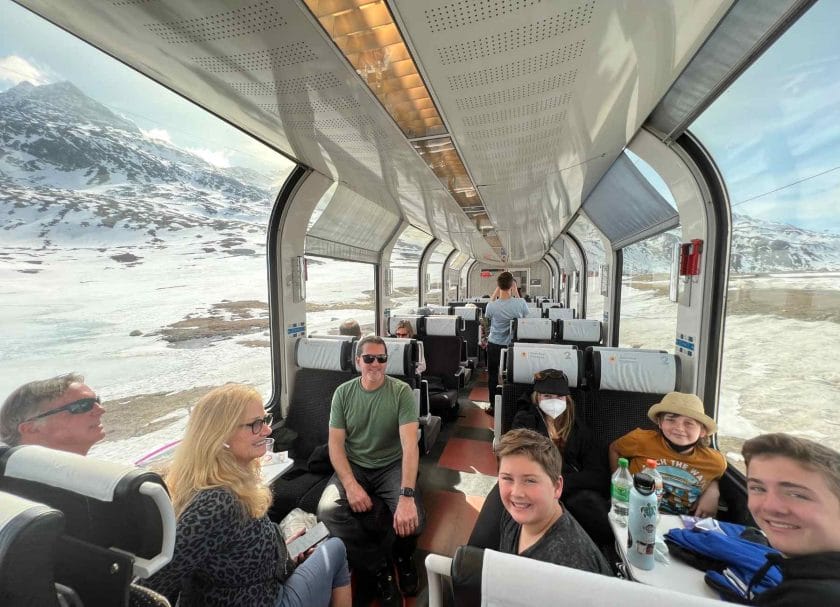 There were 8 of us since my parents were traveling with us. That means we could get two sets of 4 seats. We chose to get them across from each other, which was nice.
Two people were always traveling "backward," which was annoying. If you can help it – or get 1st class tickets, we recommend picking seats that will have you facing forward on the ride.
With the 4 of us, we just swapped who was sitting forward and backward.
Our time on the Bernina Express:
What To Bring On The Train
We went to the grocery store in Tirano and packed up picnic supplies, and got a couple of bottles of wine. We did cheese, meats, chips, and cookies and got drinks for the kids.
They do offer beverages and some food options on the train, but we figured it would be cheaper to buy our own, plus we could get what we wanted. It was not a problem that we brought our own food on.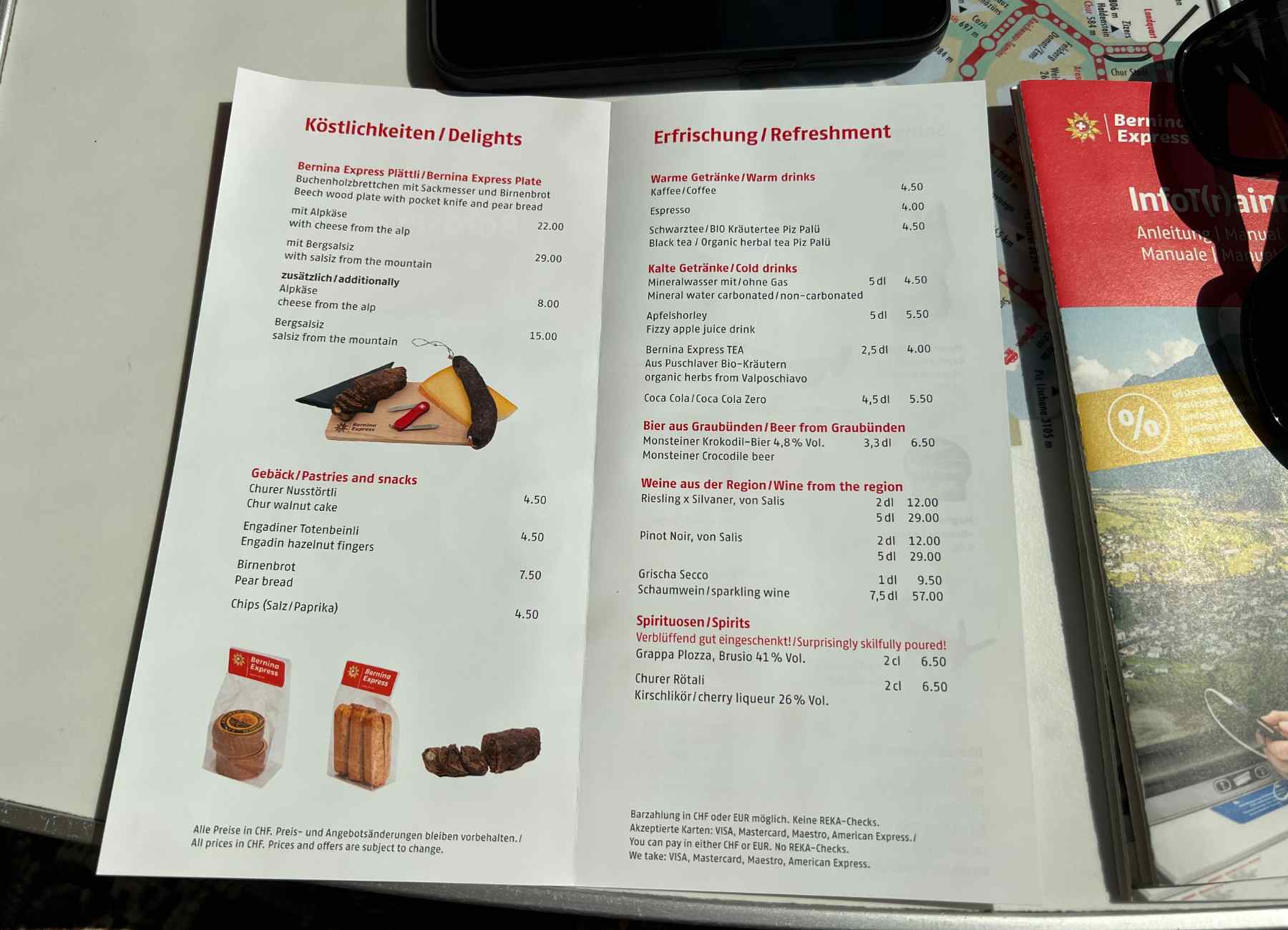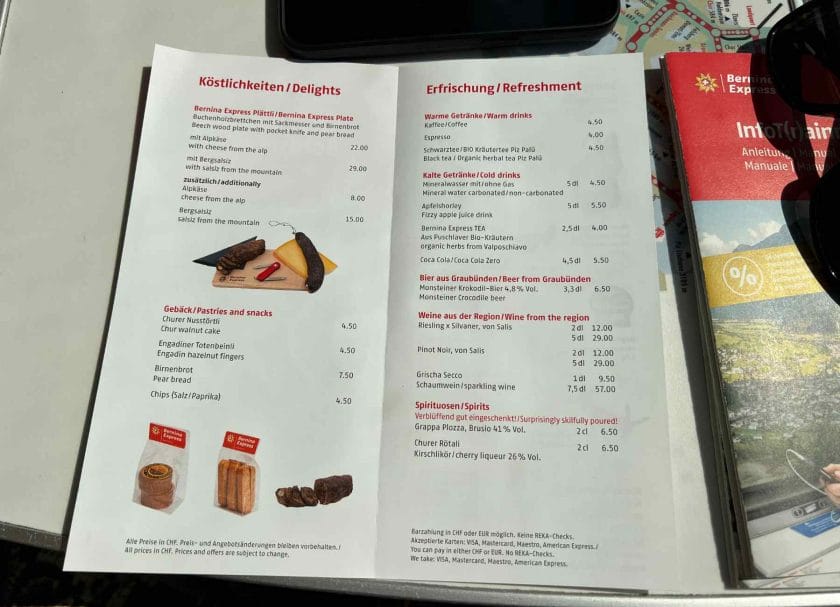 NOTE: there is only a small table in between the seats bringing plates would be very helpful.
Also, if you are traveling with two people, the seats are in sets of 4 facing each other, so you may have limited room. For that reason, pre-packing meals for each person so they can easily access their food – versus figuring out how to share it would make a lot of sense.
Everyone on the train gets Swiss chocolate!! During the ride, they bring it around to everyone. Yum!! They even came in a cute little train container.
What To Expect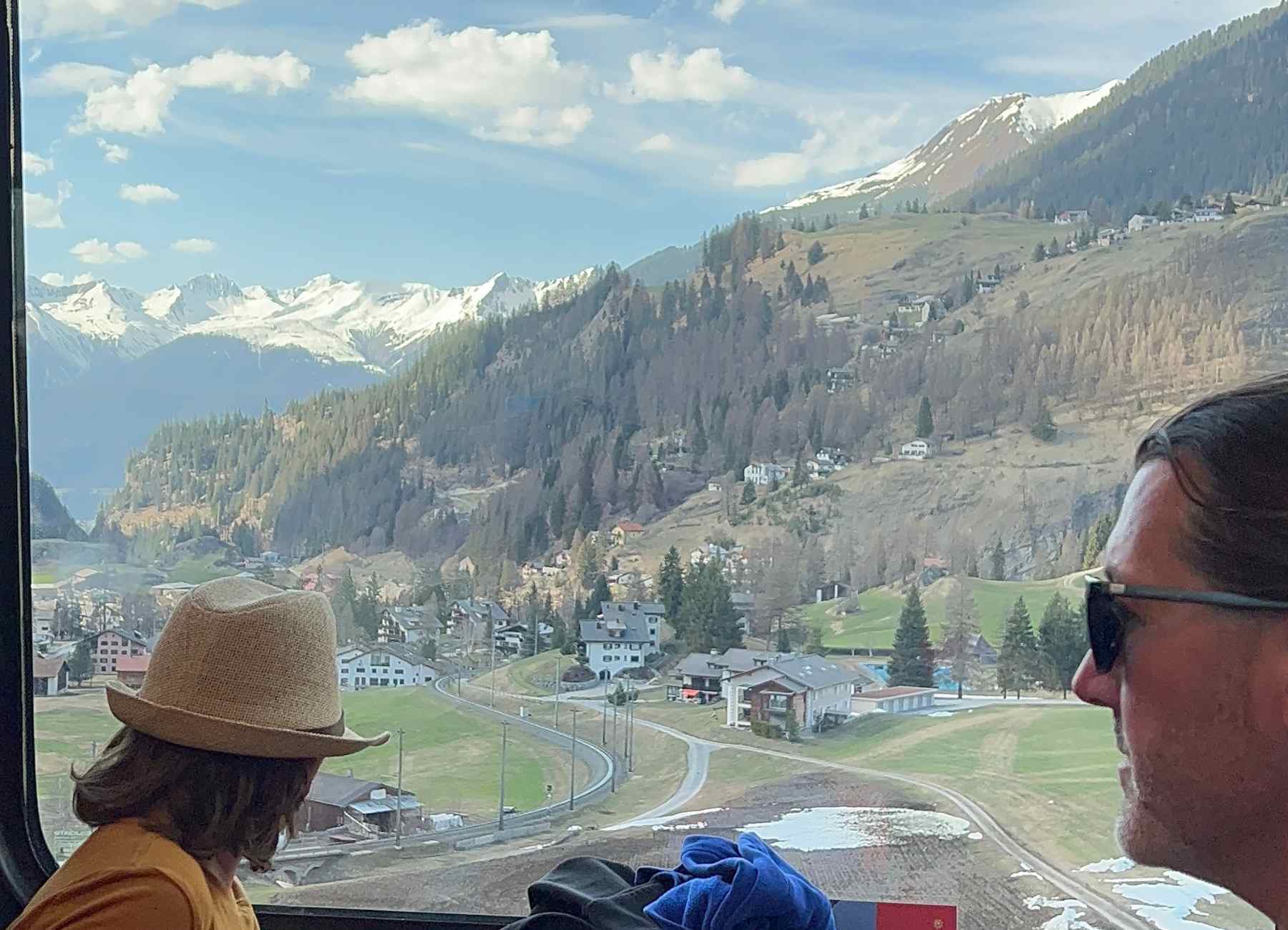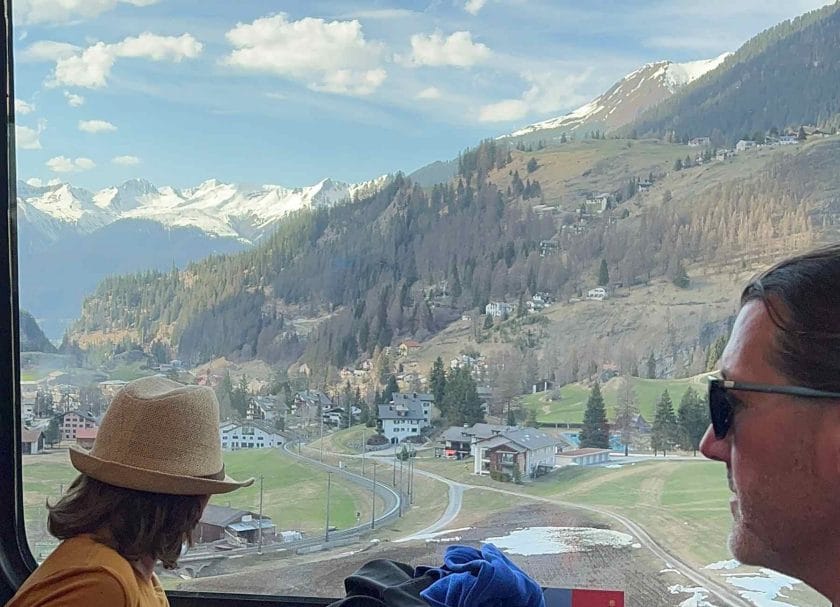 It is HOT when the sun is out and shining through the windows, so wear layers so you can take your sweatshirt off when you are hot. Plus, bring sunglasses!!
They have really nice bathrooms on the train, so there is no need to worry about that.
It is a 4-hour train ride and does not make any stops.
For the adults, we loved looking out the windows and watching the scenery go by. The kids got a bit bored with the view since it was a 4-hour ride. For that reason, you may want to bring things for the kids to do for part of the time.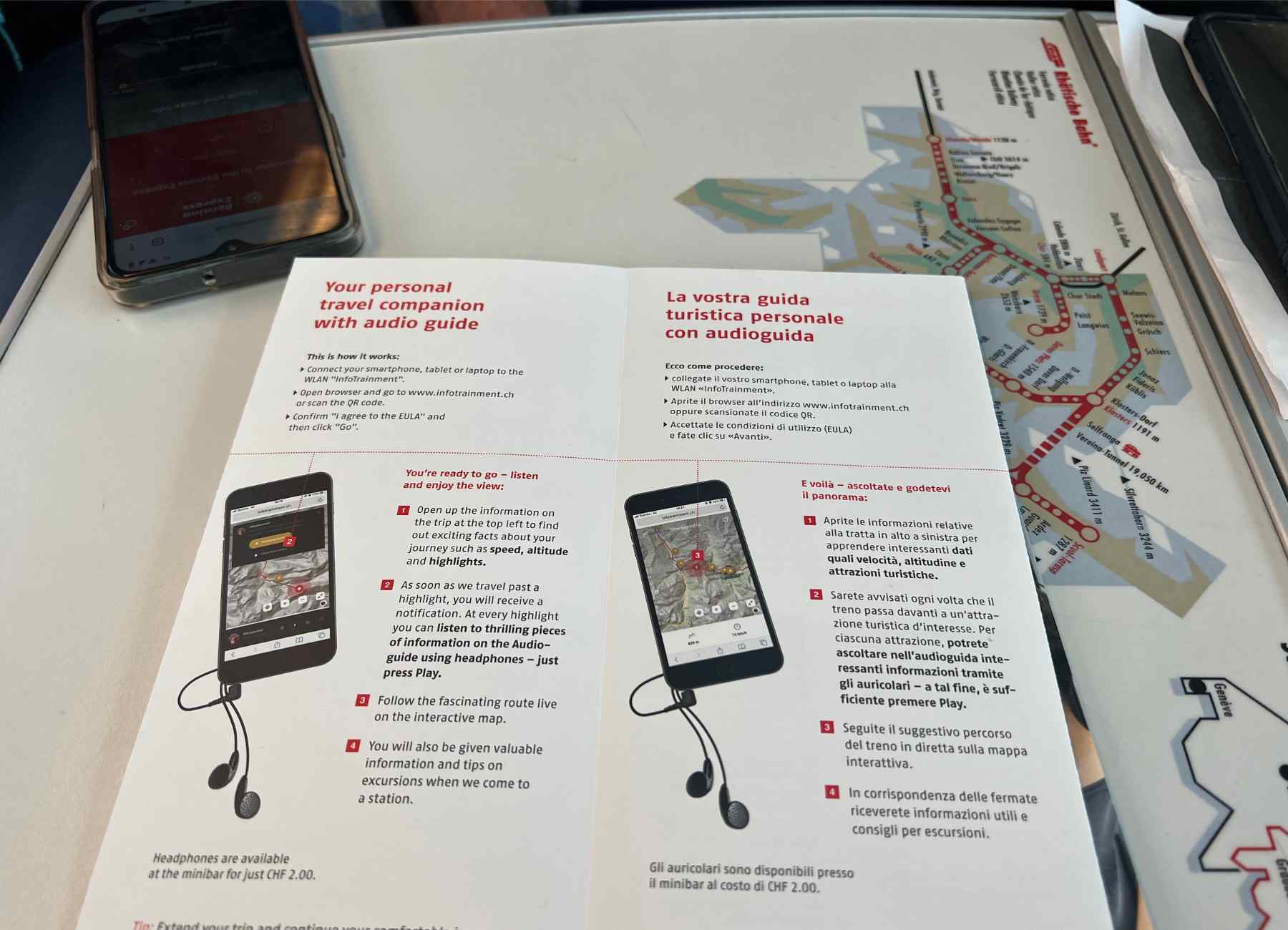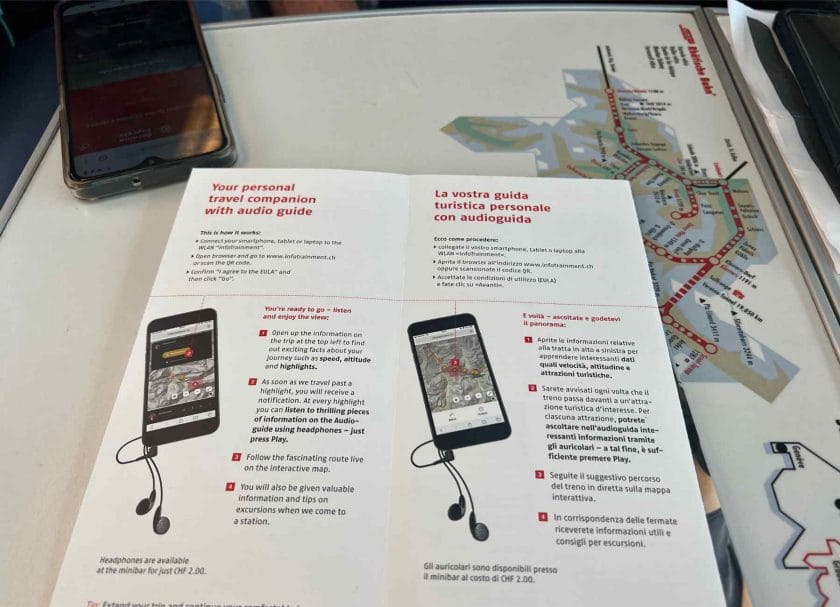 They do offer a narrated audio tour the whole time you are on the train if you prefer to listen to that. We did get some helpful information when we tuned in. We by no means listened for the whole 4 hours, but you could if you wanted to.
Stats On The Train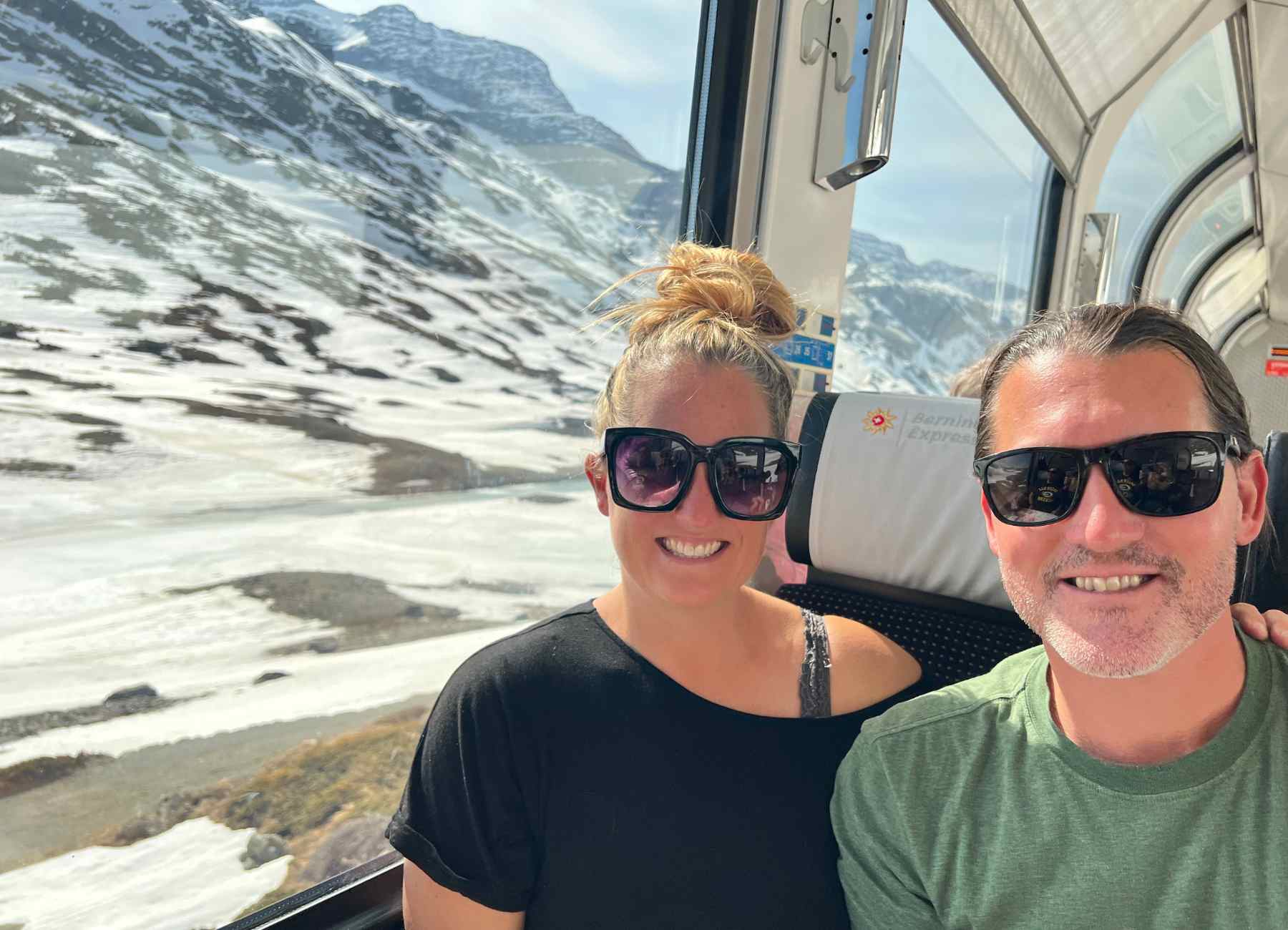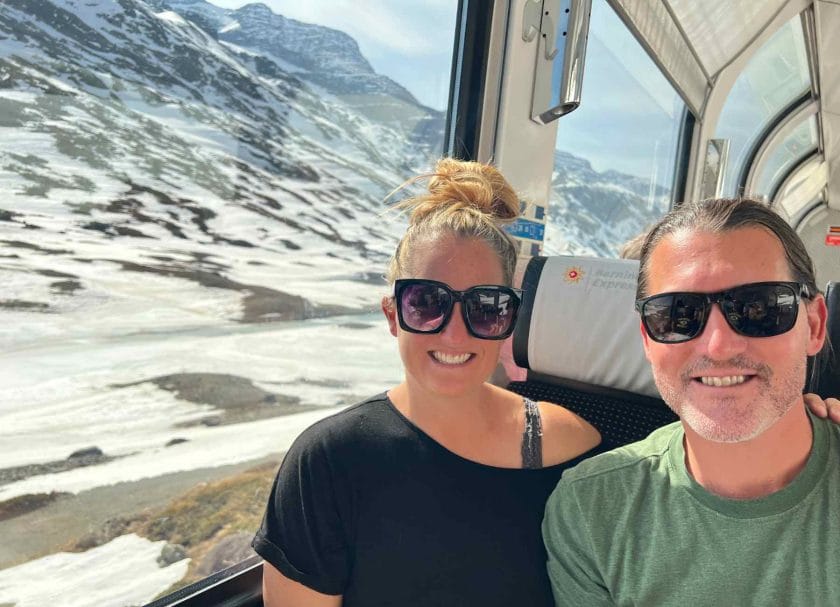 The train route covers 76 miles and reaches a top elevation of 7392 feet above sea level and travels through a Unesco World Heritage Site. You will go through 55 tunnels and 196 bridges, and viaducts. The train climbs up and over the Bernina Pass.
We choose the Bernina Express route but did also look at the Glacier express. Since we haven't been on the Glacier express we can't compare the two. But I will say we had no regrets about going on the Bernina Express!
Once we made it to Chur we decided to spend the night there since it was after 6pm when we got there and would travel from Chur to Interlaken the next day on one of the other high speed trains.
If you would like to visit Lake Como, St Moritz and do the Bernina Railway check out this awesome tour option!
More Posts On Europe
Backpacking Europe Packing List [With Kids!]
Visiting The Beer Spa Prague [What To Expect]
Tips On Visiting All 5 Cinque Terre Towns [Itinerary Included]
15+ Things To Do In Tuscany Italy
25 Top Things To Do In Florence, Italy
15+ Fun Things To Do In Rome With Kids
17 Fun Things To Do In Venice Italy [2 day Itinerary Included]
Pin this post: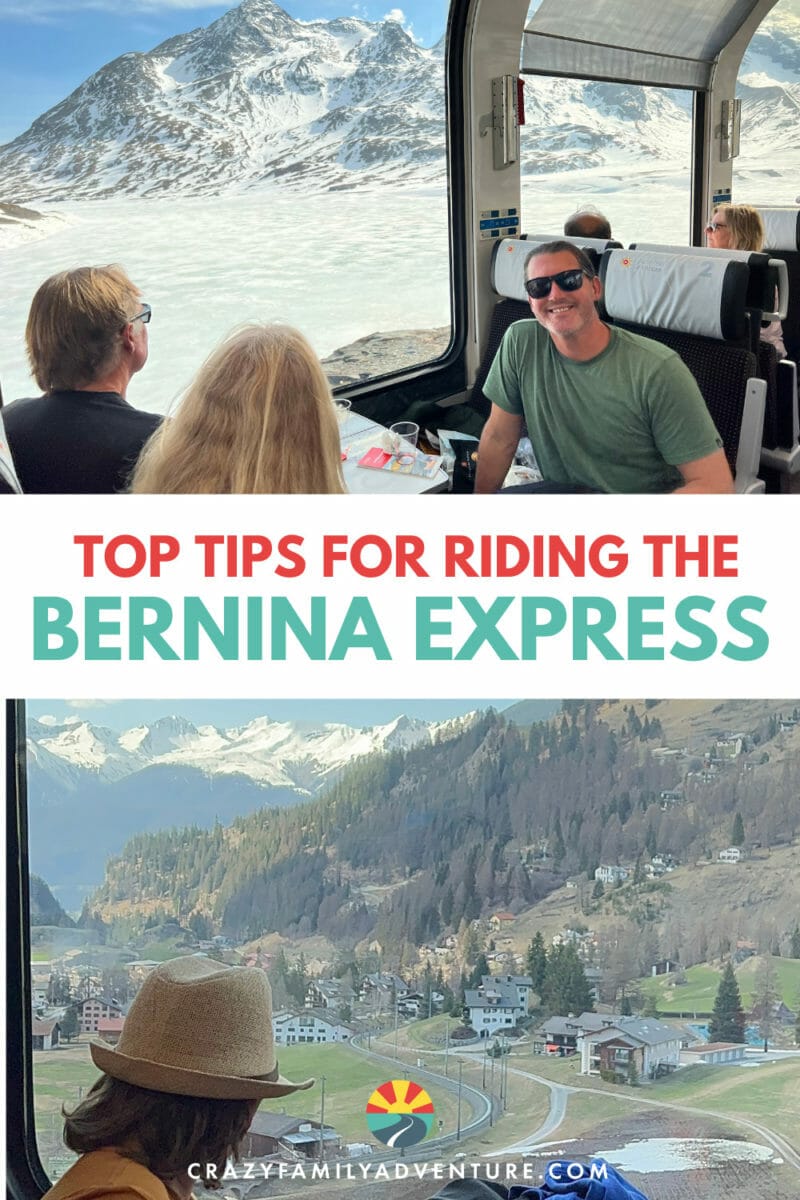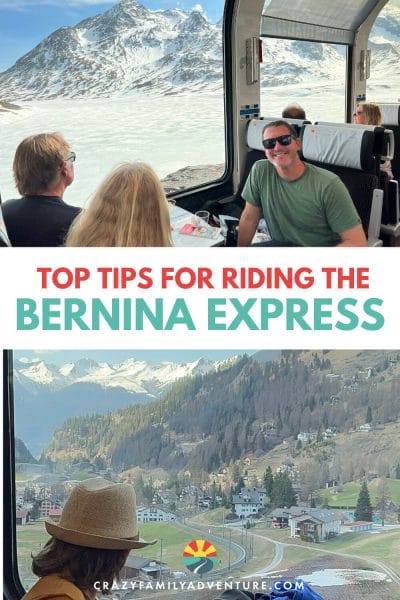 DISCLOSURE: This post may contain affiliate links, meaning I get a commission if you decide to make a purchase through my links, at no cost to you. Please read my disclosure for more info.