I was so excited to get to Cinque Terre, Italy. It had been on my bucket list for a long time and I couldn't wait to get out and explore these gorgeous Cinque Terre towns. Below we share our 2 night itinerary and tips on visiting.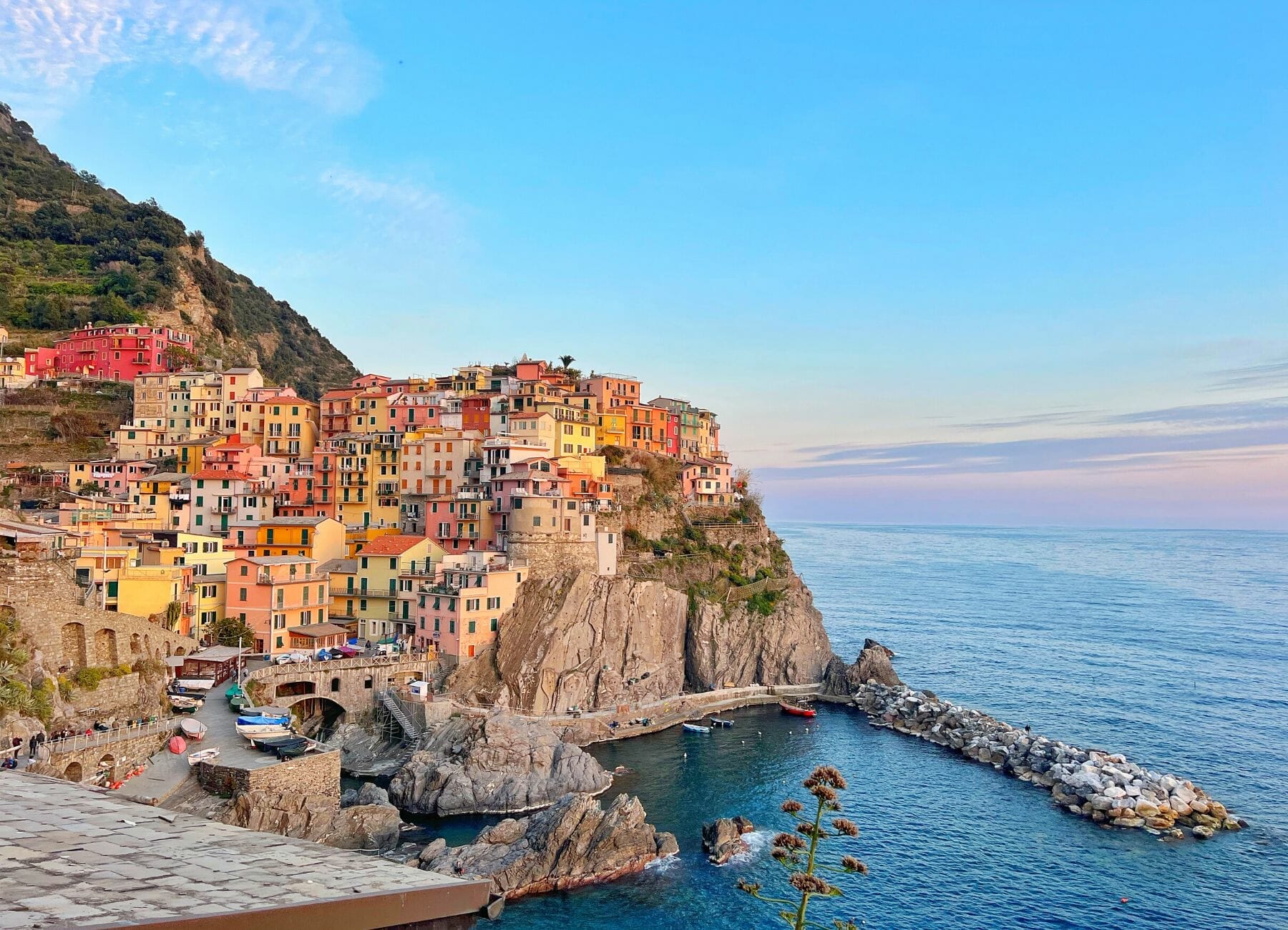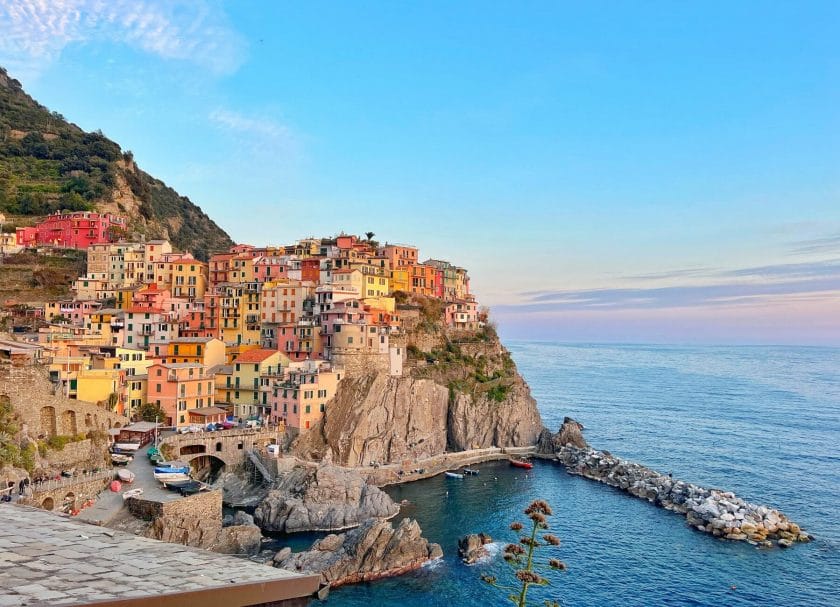 I watched the weather all week just hoping it would be nice and sunny for us and luckily it was! We stayed for 2 nights just outside of Cinque Terre in La Spezia on our 3 month backpacking trip around Europe with our 4 kids. I wish we would have stayed longer there were so many great things to do in Cinque Terre and I felt like we could have used more time in Cinque Terre.
Our place in La Spezia was perfect for us and our host was amazing. You can check out where we stayed in La Spezia here.
Plus we could tell there was so much more exploring we could do around La Spezia! I can see coming here for a week and spending a day in each of the Cinque Terre towns (including La Spezia) to really soak it all in.
At first we thought 2 nights would be plenty. We were wrong! That being said there is so much to do in Italy that even if you can just come for 1-2 nights or just the day do it.
Cinque Terre is also a great spot to stop if you are backpacking Italy! It can be a great day trip from Florence or Tuscany as well.
Cinque Terre Map
I know I was a bit confused how everything worked in the Cinque Terre area. Was this all walkable? How far apart were the towns in Cinque Terre? I know for me a visual would have been helpful so here you go: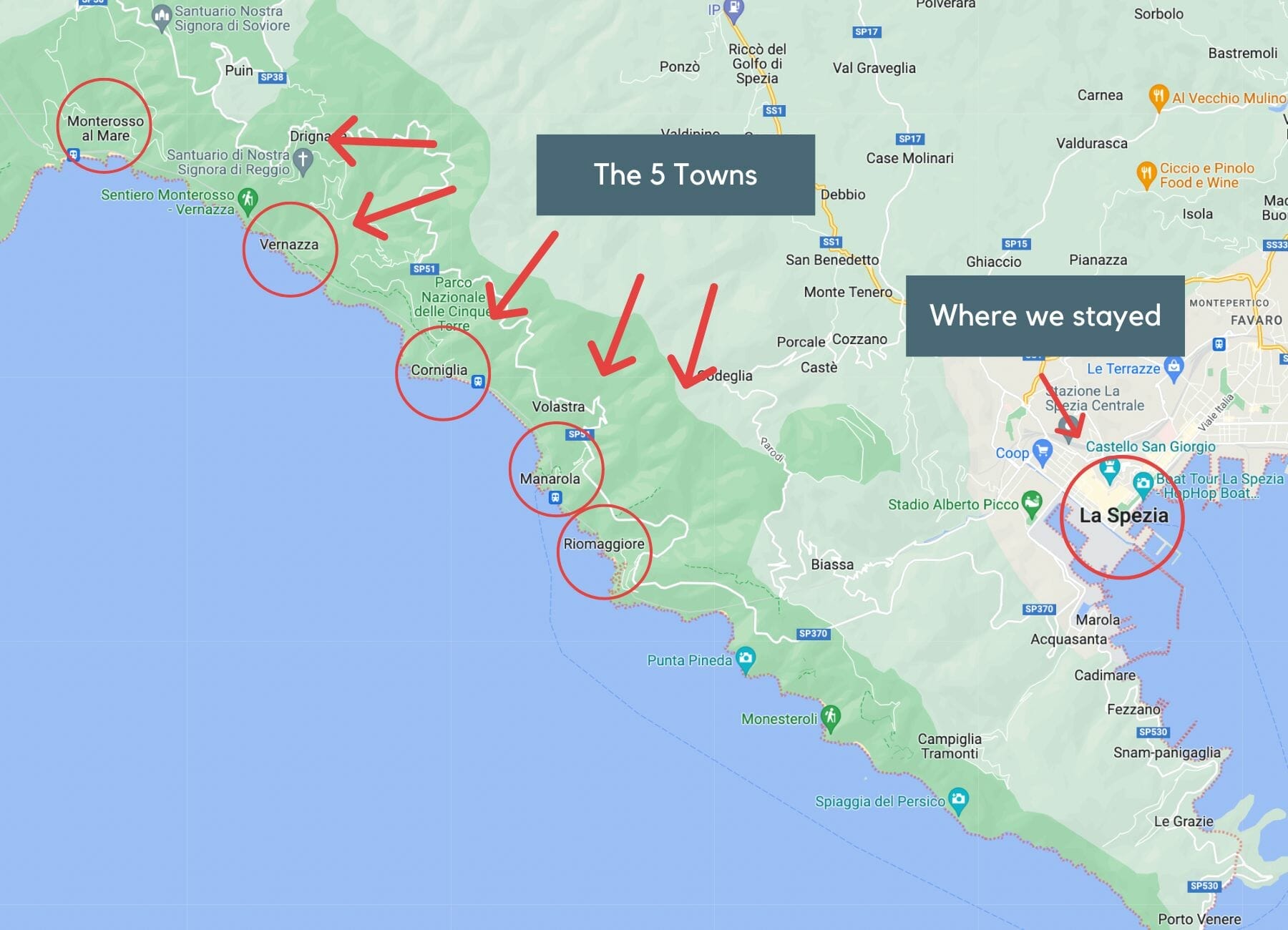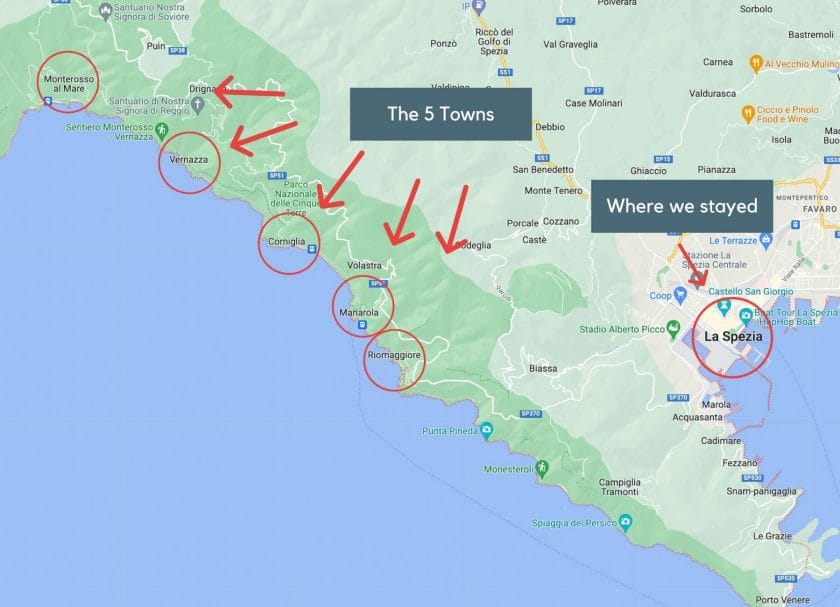 I also wasn't sure how the trains worked. Where did the train go? Was it confusing or straightforward. Here is a picture of the train route. As you can see the train runs right along the coast to all 5 towns. Train times and stops can vary so always be sure to check that at the train station when you arrive!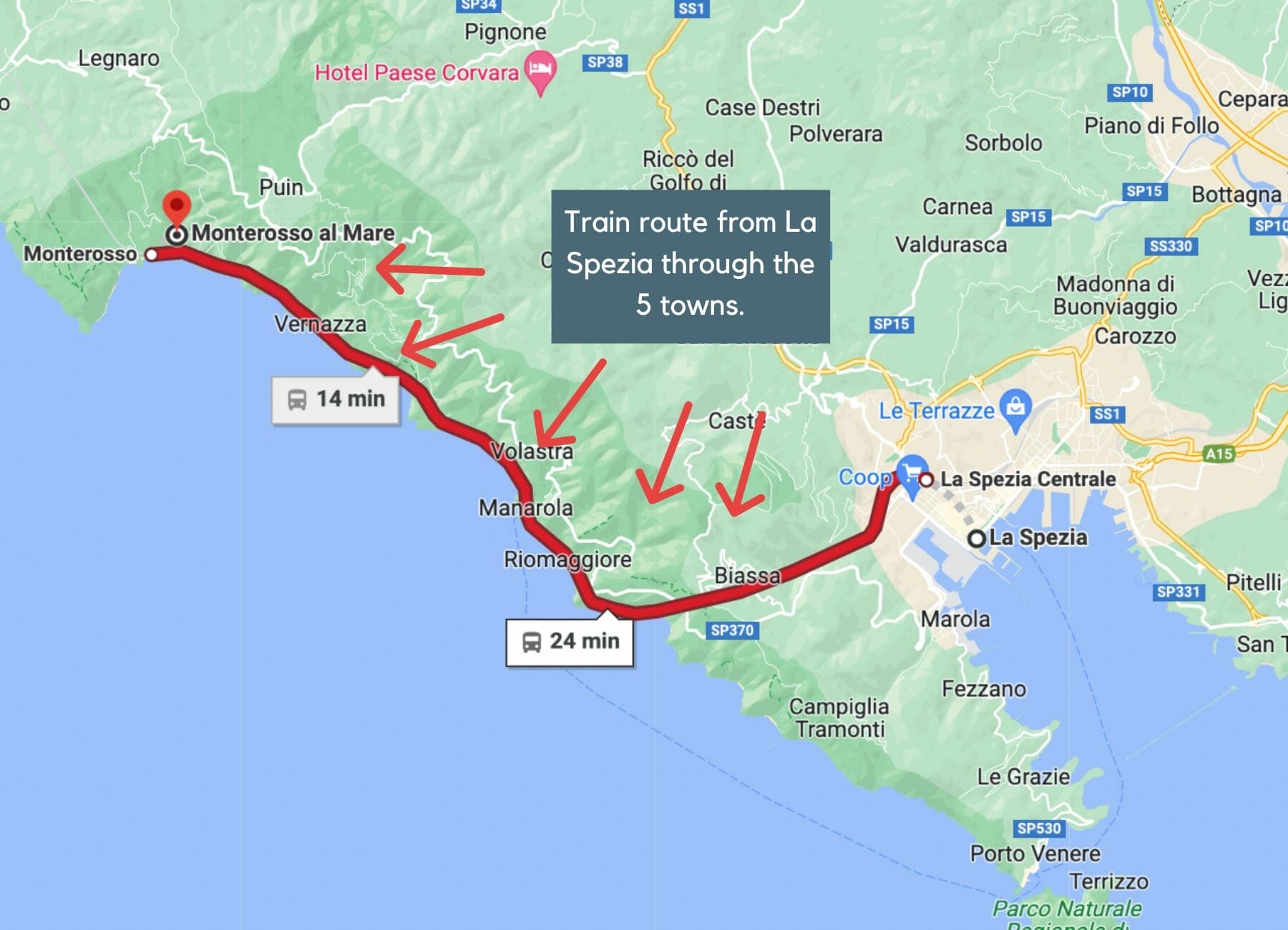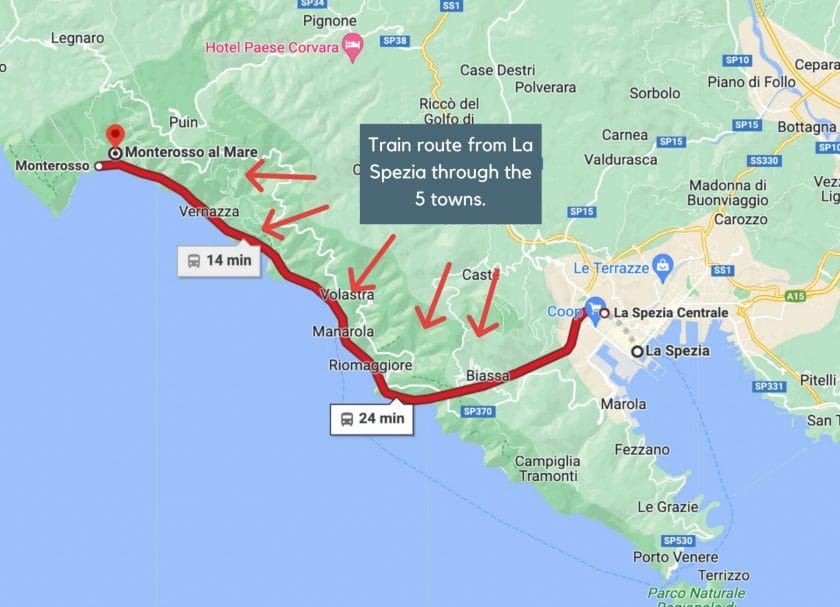 When To Visit
We have only been here 1 time and that was in the end of march. But we would pick this time of year again just because it was so much less crowded based on what we hear it can look like in the summer!
Granted this meant we weren't swimming in the ocean. But we 100% could have hung out on the beach for the day if we wanted to.
We arrived on Day 1 via Train using our Eurail Pass and didn't get there until later in the afternoon. This meant we walked to our place, checked in, dropped our bags and turned around and headed out to explore.
We came in by train from Nice, France and it was a gorgeous train ride. If you can take a train into Cinque Terre do it! You won't need a car when you are here so a train ride is perfect.
Can you Visit Cinque Terre In 1 Day From Florence?
If you are considering just coming in for the day from Florence to Cinque Terre or from another surrounding city do it! We have friends that did this and they said visiting Cinque Terre was a highlight of their trip.
It was a long day with 2+ hour train rides each way. But they said they would 100% do it all over again. That or come back and spend multiple days in Cinque Terre. If this interests you but you want a travel guide to take care of all the details check out this Get Your Guide tour from Florence to all 5 Cinque Terre Towns.
Cinque Terre – The 5 Towns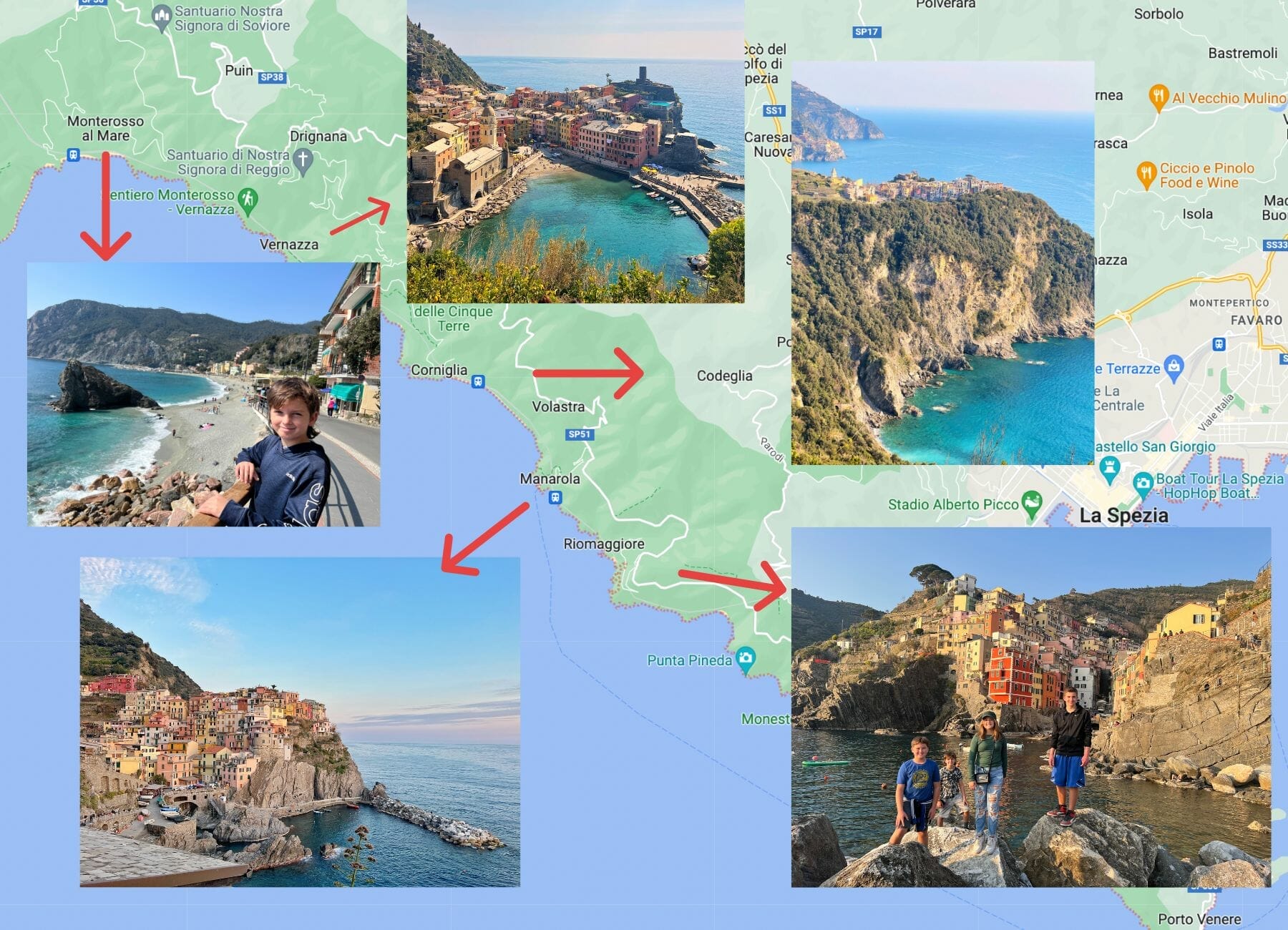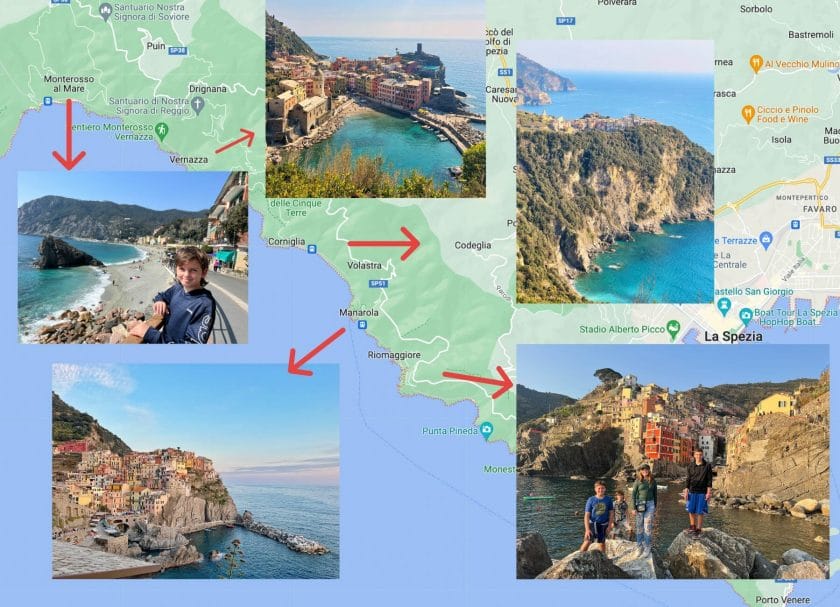 Cinque Terre is made up of 5 towns and is actually a National Park: Cinque Terre National Park and one of the best Unesco World Heritage Sites in Europe. It is known as Parco Nazionale delle Cinque Terre in Italy.
The 5 towns are all uniquely placed among the mountain side and by the ocean. All of the towns are known for being super colorful. You can totally see all of them in 1 day if you are just doing a quick stop in each. Since we had 2 nights we decided to do Manarola on its own the first night and the next 4 the following day.
You can take the trains in between the villages. But you can also hike in between a few of them. We highly recommend this! It is a hard hike but the views are amazing for a lot of it. Plus there are a few hidden gems along the way we wouldn't have seen if we didn't hike it.
Be sure to check the National Park site to see if you need to purchase tickets before hiking (a Cinque Terre card). We were there in the off season so we did not have to. If you are there April – December it looks like you do need to buy a Cinque Terre Trekking Card to hike the trails. You can also buy a train pass if you do not have the Eurail Pass.
Highlight in each of the villages:
Manarola – Highlight Nessum Dorma for dinner with an Epic view
Monterosso – Nice beach area to hang out at and the St Francis View.
Vernazza – Get Pizza and sit down by the water. Explore the random walkways in-between the buildings through the small town.
Corniglia – For Alberto's Gelato.
Riomaggiore – Pie Di Ma For drinks overlooking the water.
Hiking Cinque Terre
Hiking Cinque Terre is no easy feat! There is a lot of up and town and it is a long trail between all 5 towns. The Sentiero Azzurro is the name of the hiking trail that connects all 5 towns. But note it is not all open at this time. The trails between Riomaggiore – Manarola – Corniglia are closed as of now.
They are reopening some of the trail! You can learn more about it here.
Always check the National Park site to see what trails are open and don't forget about getting your Cinque Terre Trekking card if you are going during the main season (April – December).
There is also a great map here of the hiking trails within Cinque Terre. It may seem a bit confusing when you are sitting at your computer planning. But once you get there and just ask around it is easy to figure out. And if something isn't open or you aren't feeling up to hiking you just jump on the train.
2 Night Cinque Terre Itinerary
We stayed for 2 nights and explored Cinque Terre for 1 1/2 days. This 1 1/2 days Cinque Terre itinerary includes what to do on the day you arrive (try to get there as early as you can) and what to do on your full day in Cinque Terre.
1st Night in Cinque Terre
Manarola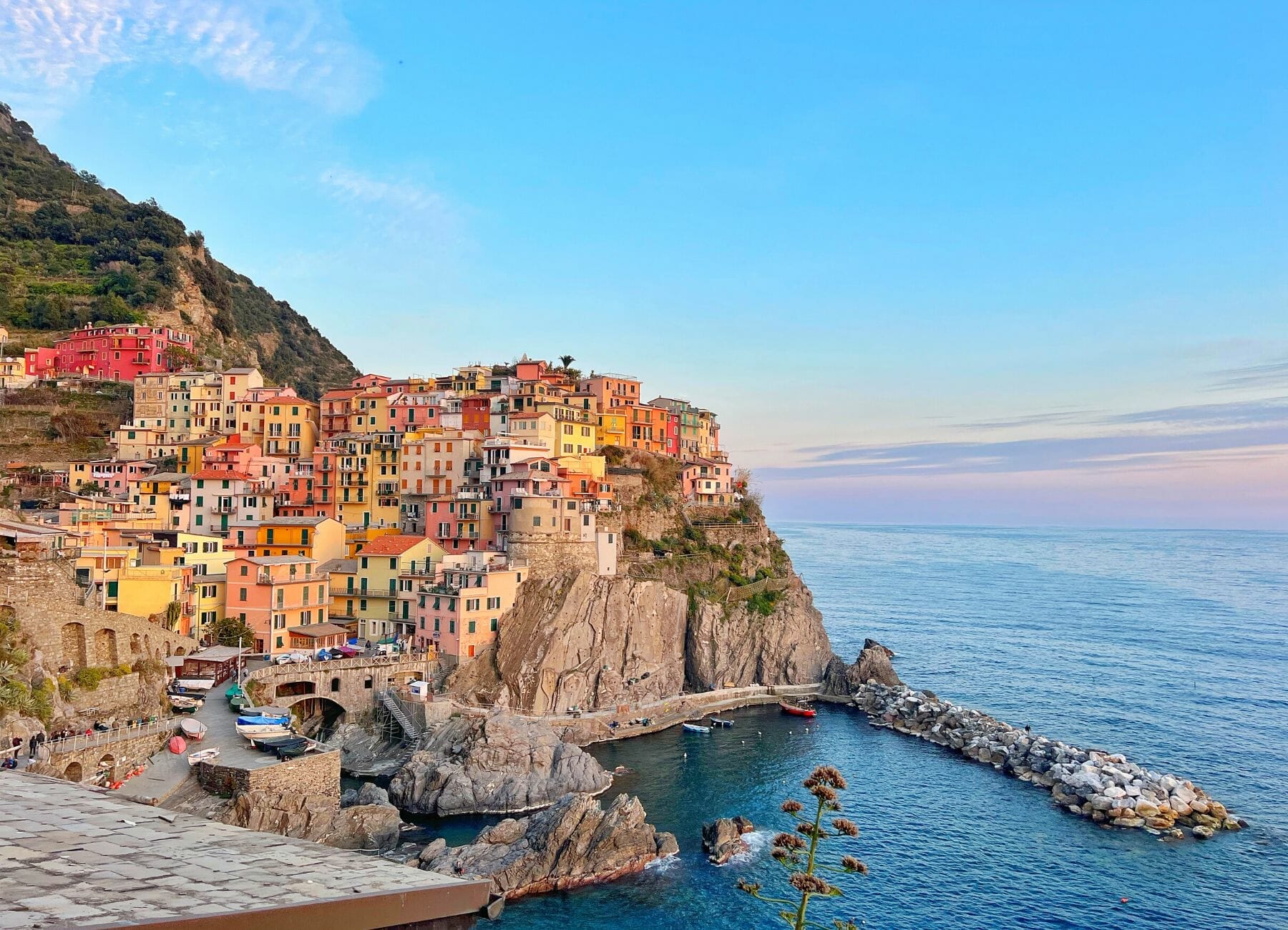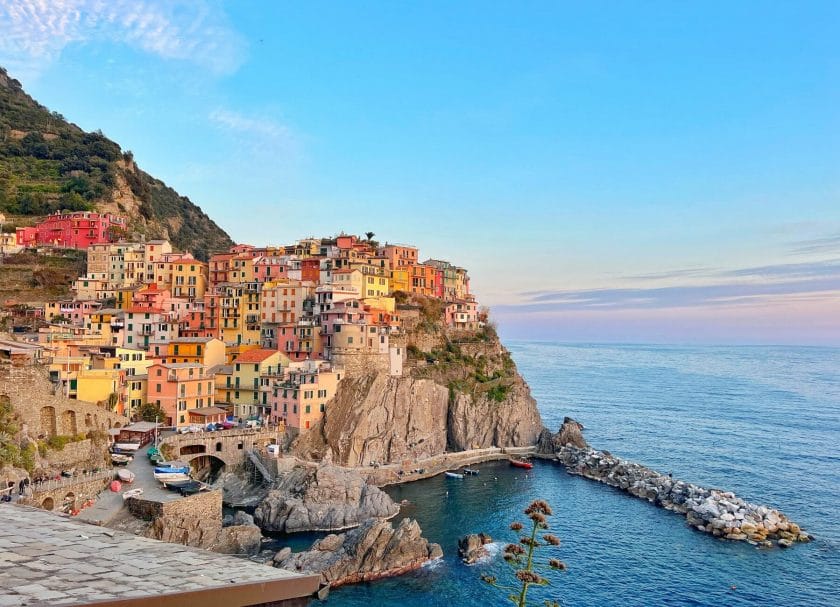 We jumped back on the train in La Spezia (free with our Eurail Pass) and made our way to Manarola. We did this since I really wanted to go to dinner at Nessum Dorma! This was one of those places that you see all over Instagram of the picture perfect shots of Cinque Terre at night.
Nessun Dorma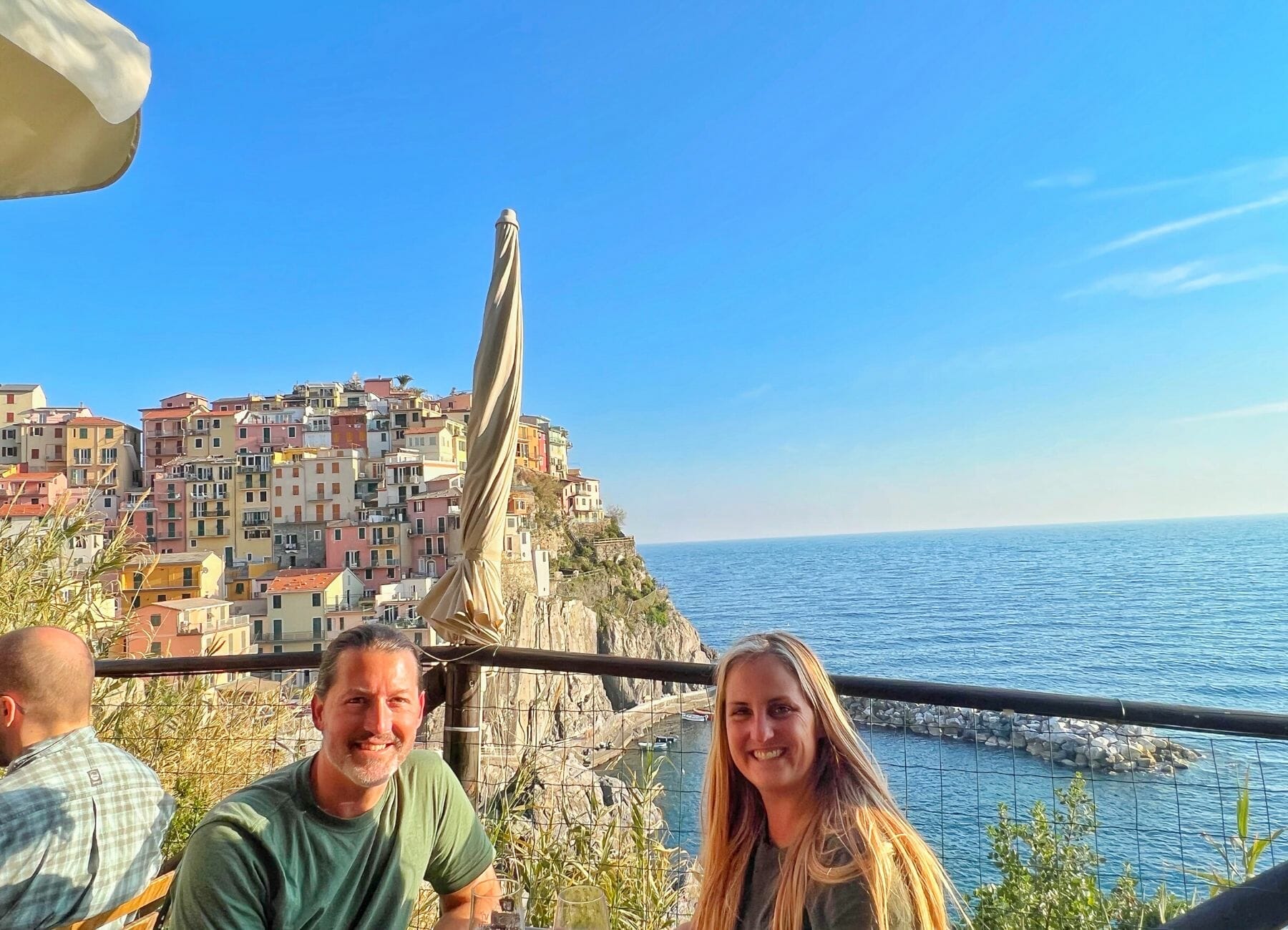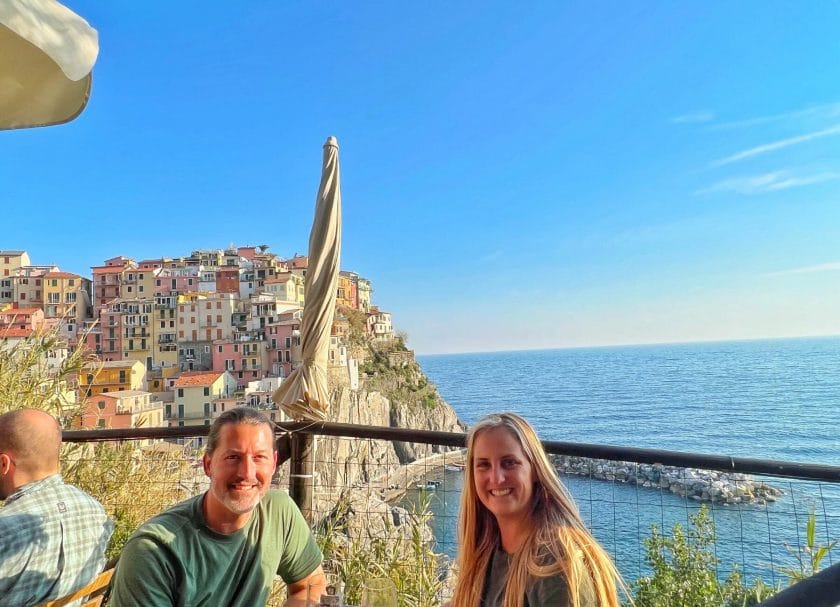 I researched the restaurant and it seemed like it might be hard to get into. Or that we would have to be patient and wait a while for a table. Especially with 6 of us. However the restaurant is smart and has an app for checking in. You can also see how many people are in front of you in line. So smart!!
I kept checking the app on our way there and I couldn't believe it. There wasn't a wait at all! We walked straight to the restaurant and they say us right away.
With 6 people we weren't able to get a table by the balcony but we were just behind it. I couldn't believe we were actually here!
All of the food is bruschetta style and drinks. It makes it a quick order for them and they are good at getting you your food quickly so they can move you on and get the next person seated. Not complaining! This is a great way to give a lot of people the opportunity to enjoy this epic spot for dinner!
Once we were done with dinner we walked on the pathway up above the resturant and there was a park for the kids to play at with epic views all around. Plus there were picnic tables we could sit it.
We didn't know there would be picnic tables up there but luckily you could get drinks to go from the restaurant to bring up there.
Money saving tip:
If you don't want to spend the money on the restaurant you could pack your own picnic dinner and head up to the picnic tables where you are going to get almost the same view you would get at the restaurant from the viewpoint.
There is also a free public restroom right by the picnic tables.
We had a great first night in Cinque Terre and made our way back to the train to head to La Spezia for the night. Note the restaurant is uphill from the train station.
Tip: Always check the train schedule the day of so you can know what time the trains are leaving at. There could be trains every 20 minutes and all of a sudden no trains for an hour. So you want to stay on top of what time it is and what time you want to get back on the train.
The trains are late once in a while but don't count on that! If you don't want to miss a train be sure to be there when it says it is coming.
Full Day In Cinque Terre
We opted to take the long train ride first to get us to the further town from us: Monterosso. We have read about people doing Cinque Terre this way or starting from the closer Cinque Terre village and working your way towards Monterosso.
After we completed our route we would not have changed it and were happy starting with Montrosse and working our way down.
Monterosso Al Mare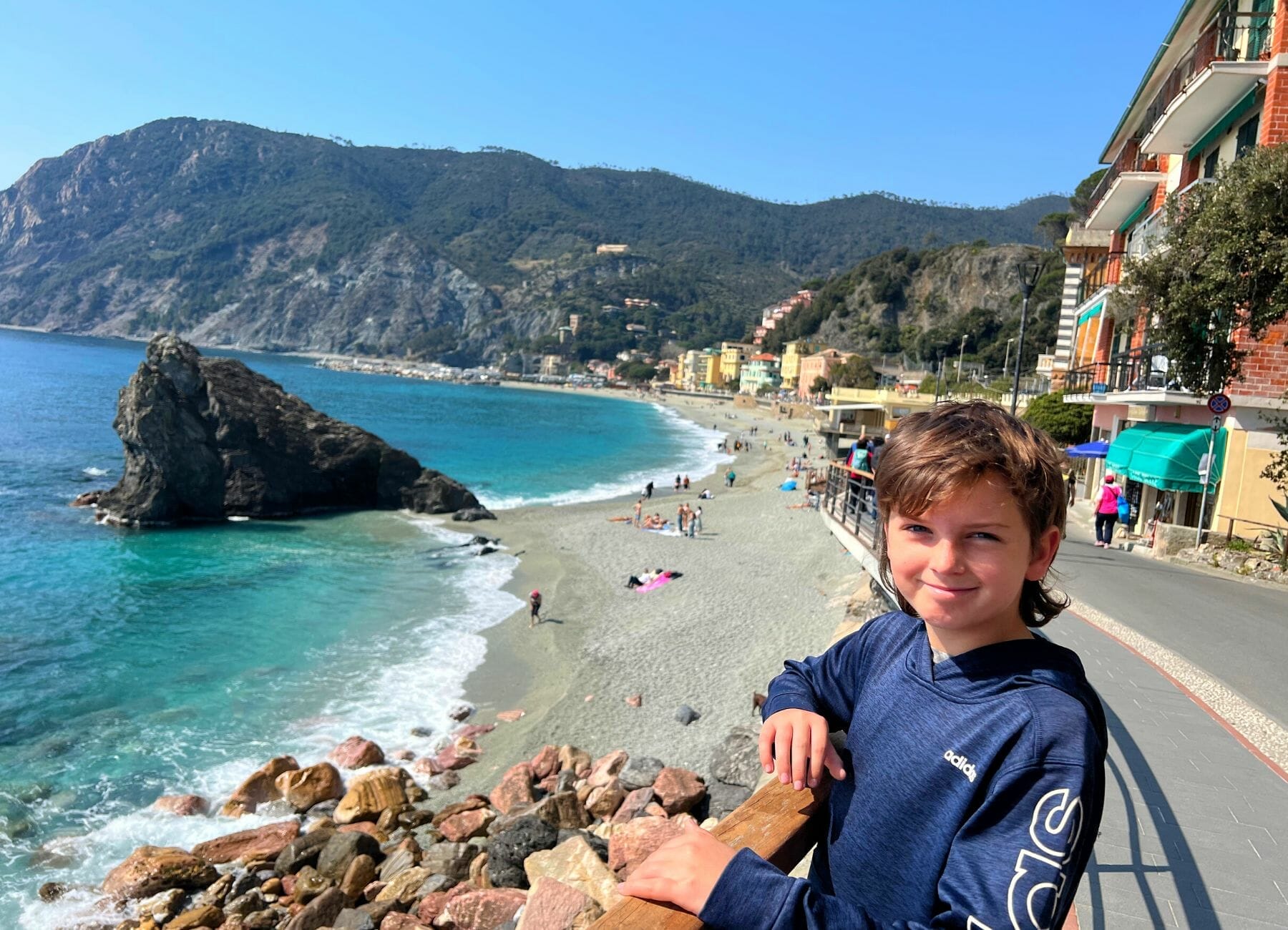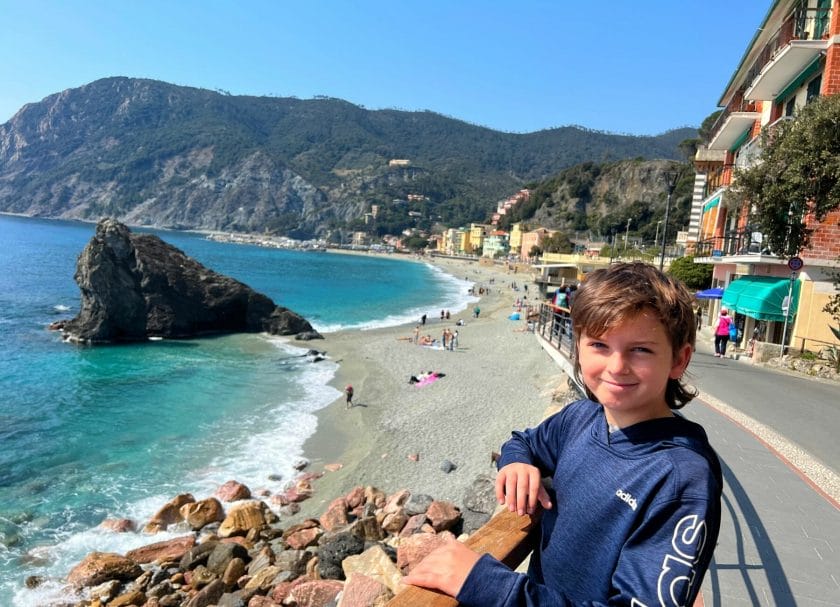 We are not early risers so we made a plan to be in Monterosso a little after 11am to kick off our day!
St Francis Overlook
When we got there we headed fist to the St Francis Overlook where you can look down the coast to see the other villages. It was a hike up but worth it for the view overlooking the sea. You also get a cool view of Monterosso.
Beach
Next we walked down to explore the sandy beach. I could see how this would be an awesome summer hang out! Since we had a jam packed day we didn't stop to enjoy the beach but we talked about how we would love to do that next time.
That was a wrap on Monterosso and it was time to start the hike to Vernazza. The Cinque Terre hiking trails really are awesome and the way to go to see the towns.
Hike to Vernazza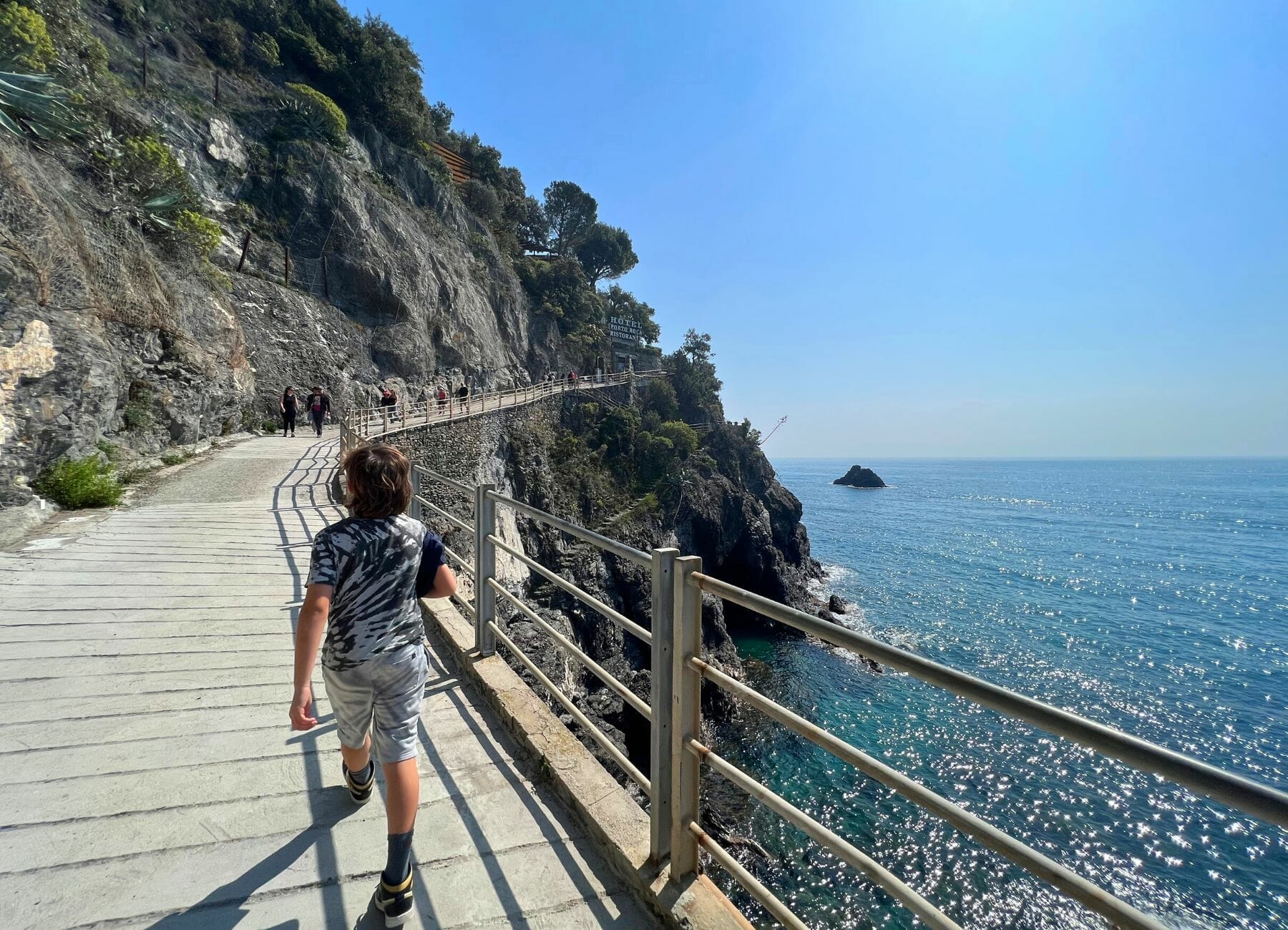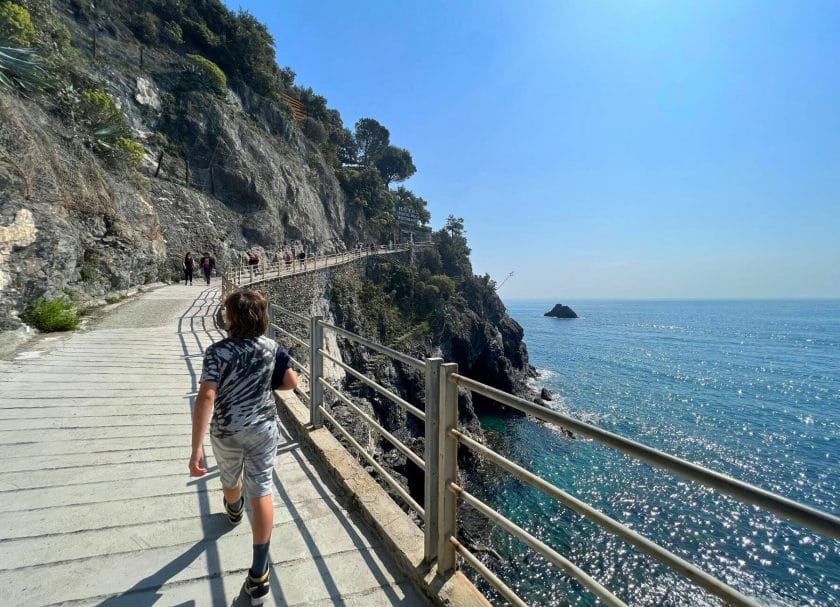 **Check the site to see if you need to buy a pass. We went prior to prime season so we did not have to.
Long and hard hike! Up, Up, Up what feels like the whole way. Through vineyards, across rocky cliffs and coastal trails with sea views.
The trail is well marked and there are most likely other people on it. This can get annoying if you are trying to walk fast and there is a slow group in front of you since the trail is pretty tight.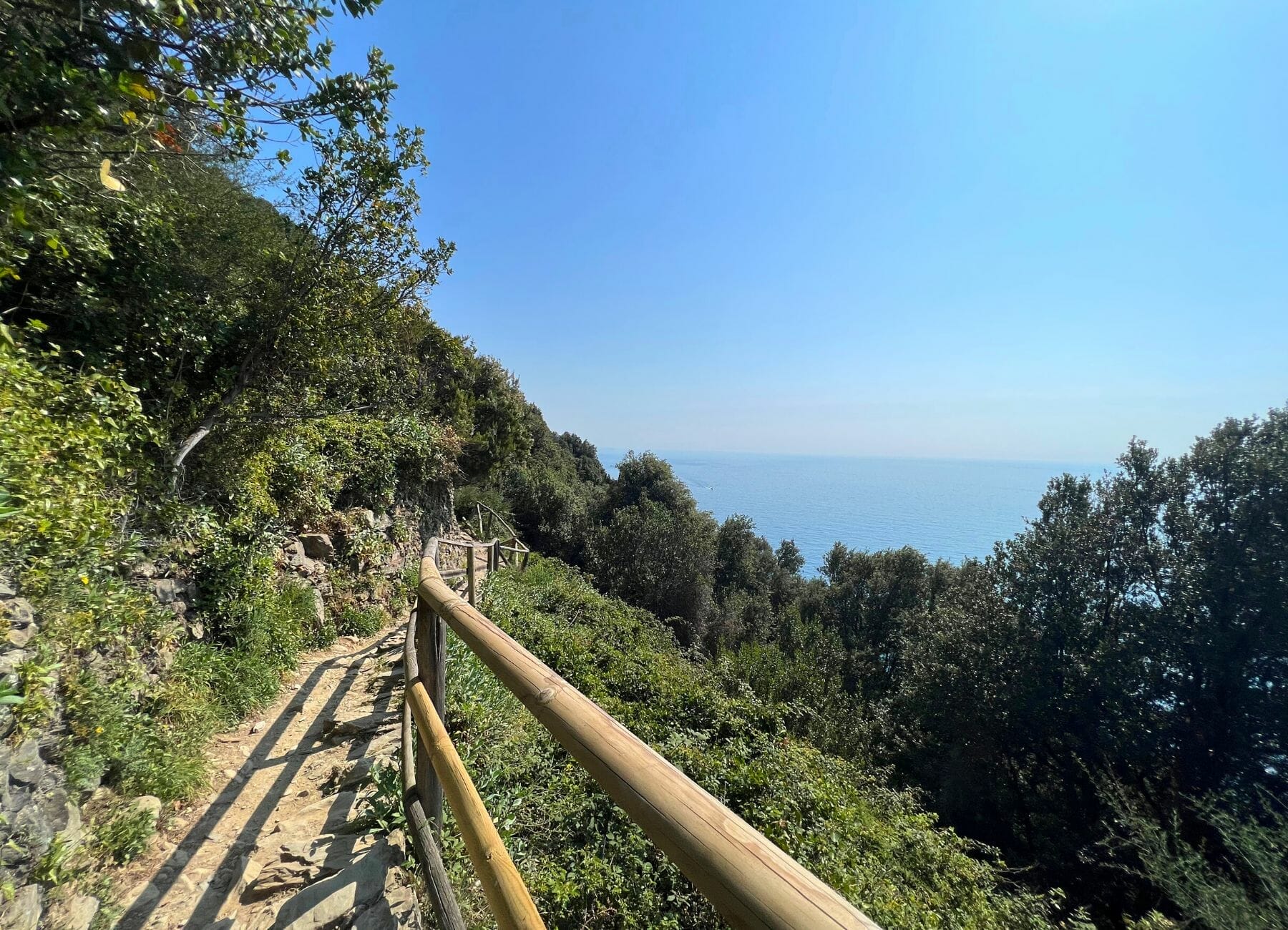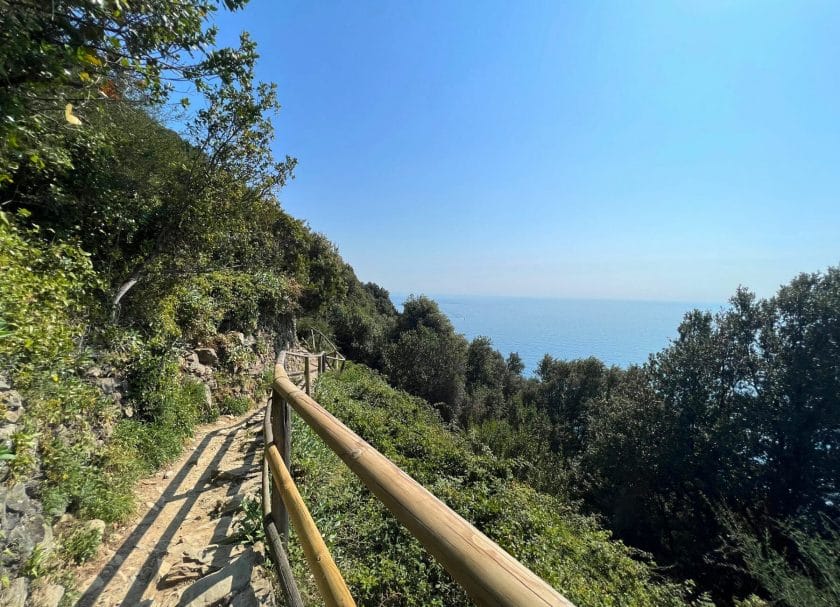 Make sure you have lots of water with you as this is a tiring hike. But don't let that stop you from doing it! It is also beautiful and gives you an amazing perspective of these towns. As you are hiking away from Monterosso you can turn around and see the town and the beach.
Vernazza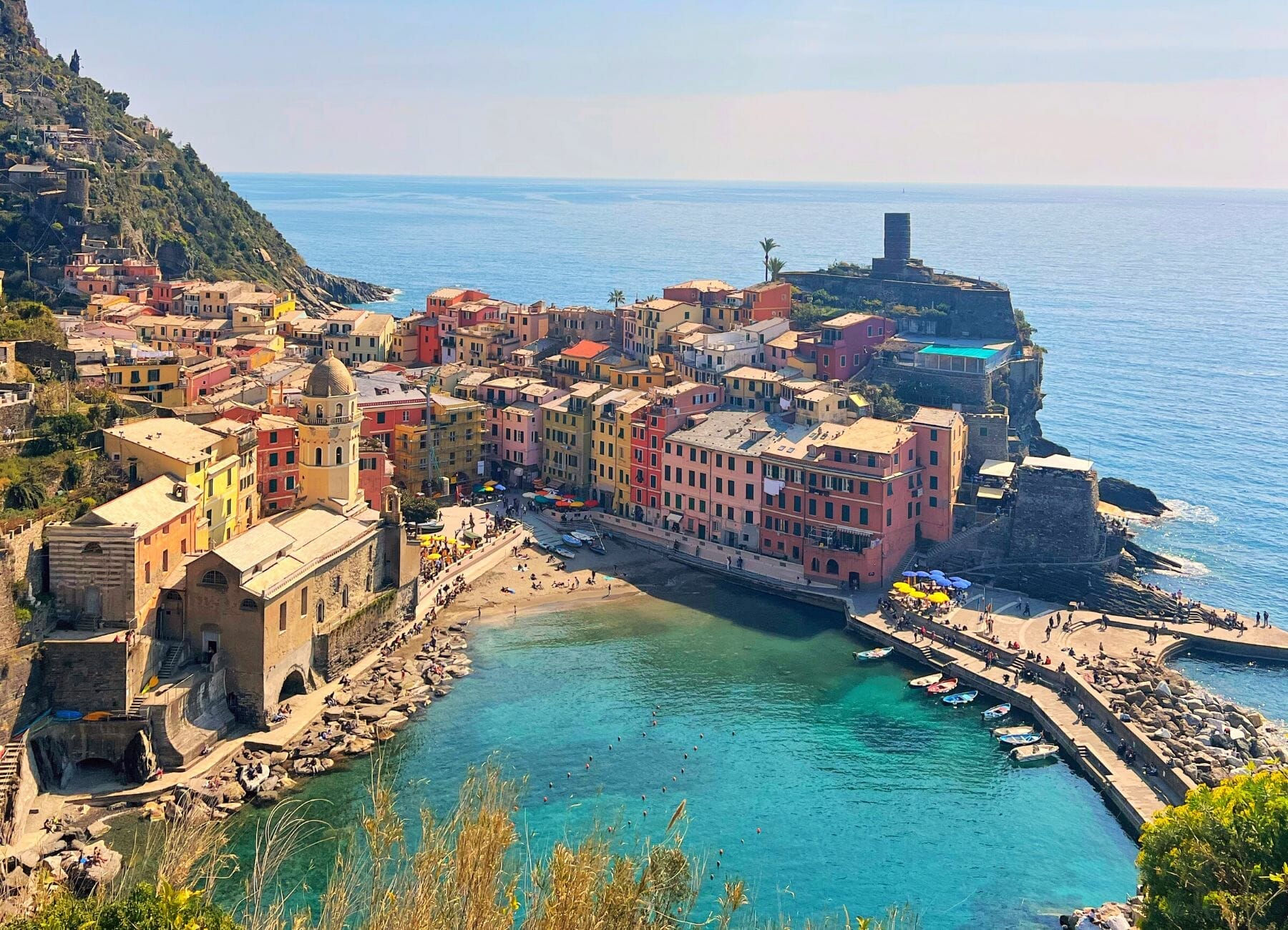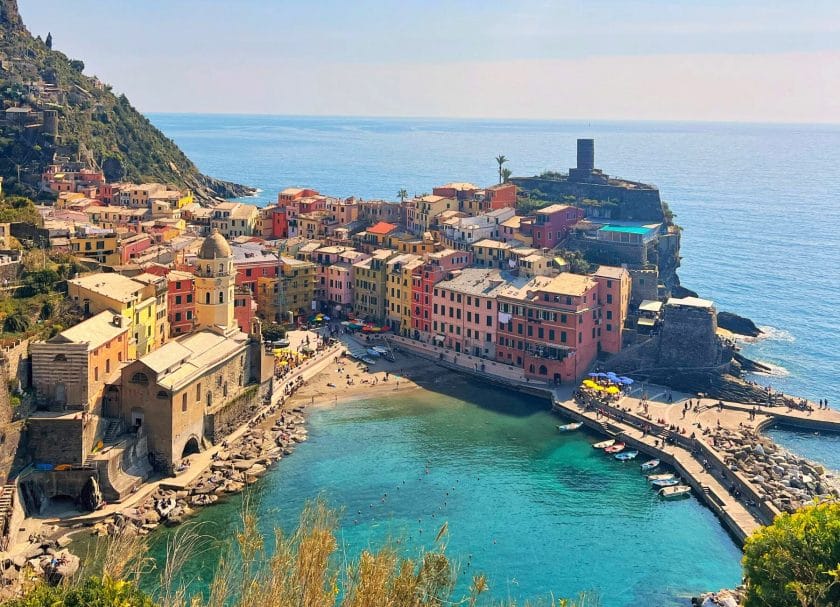 We made it to Vernazza and you walk through the tight sidewalks between the buildings to get down to the beach and restaurant area. This town is exactly what you think Cinque Terre towns would be like.
Small, colorful, and feels like a maze walking through the narrow lanes between the buildings!!
Pizza
We wanted to grab some pizza (We heard it was a must do in Vernazza). We asked the waiter at the restaurant and hung around keeping an eye on things until a table opened. There are a lot of tables and it is busy so I would recommend staying in view of your waiter so they remember you and know you are there waiting.
It paid off and we got a table right in the middle of Vernazza . Remember how I said the tables are close together . . . the couple right next to us smoked through their whole meal. It was gross so be ready for that.
The drinks were refreshing and the pizza was good! After that we were ready to hit the next part of the hike to get to the next village.
Hike from Vernazza to Corniglia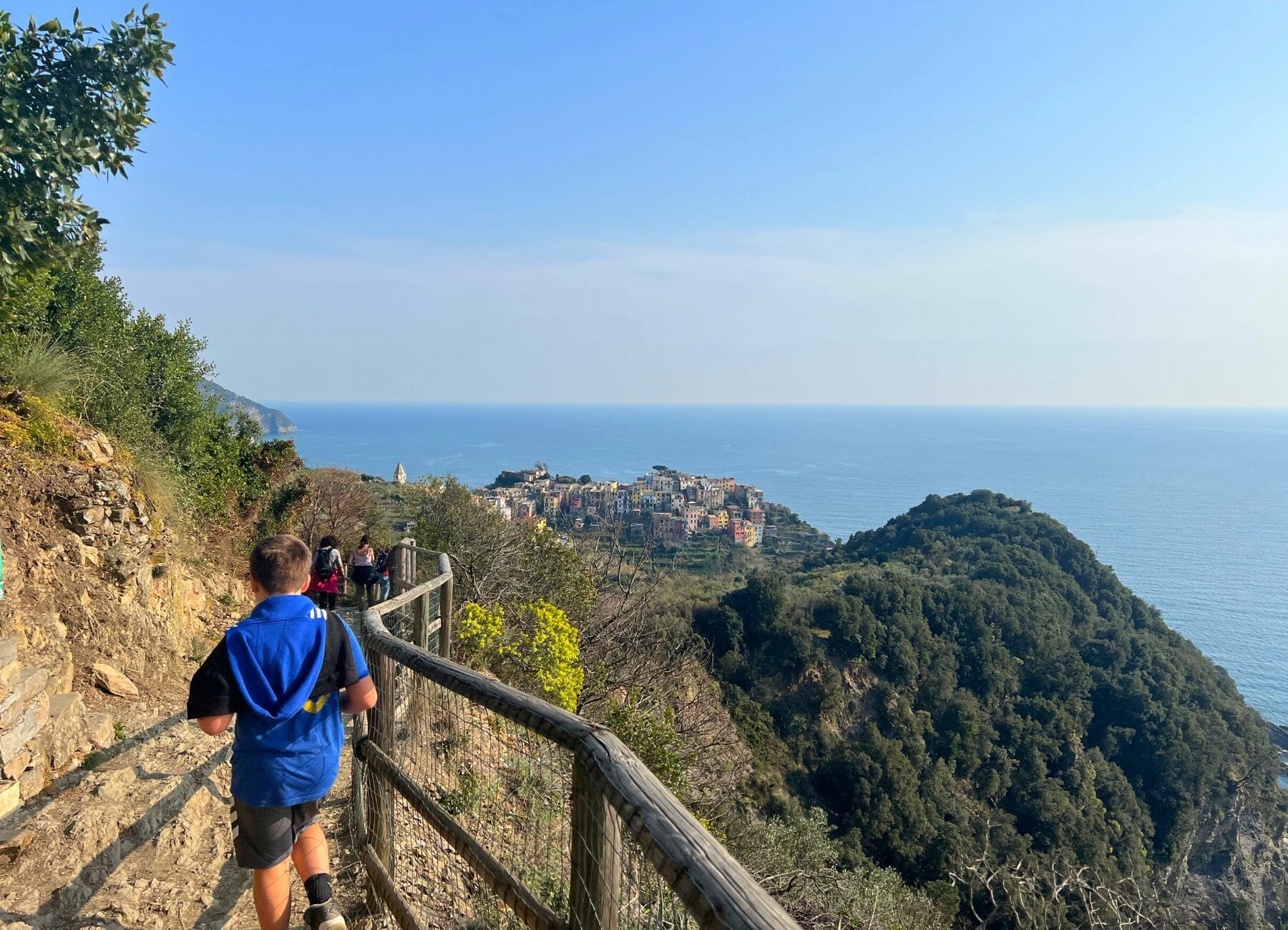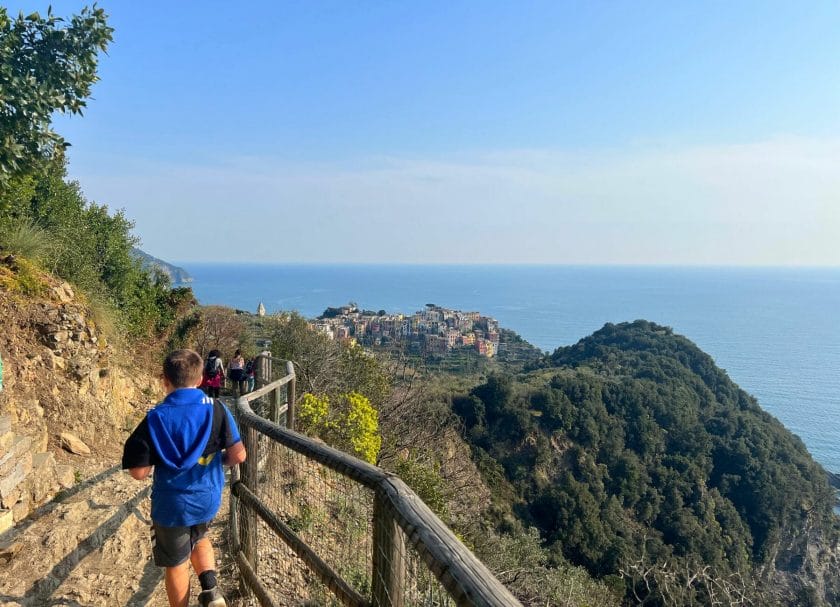 Another hard hike – not as much up and down but still a lot of hiking.
Bar Il Gabbiano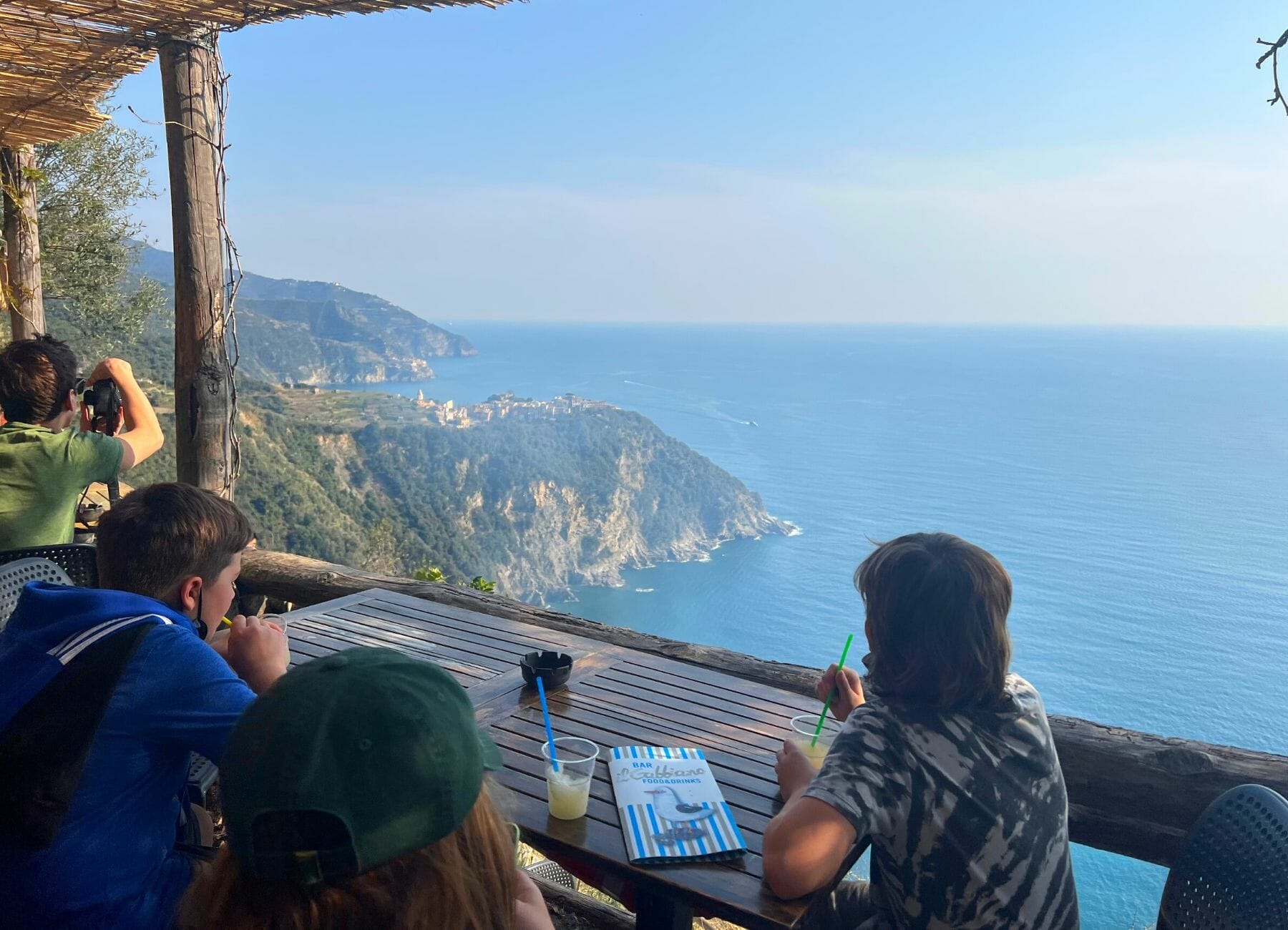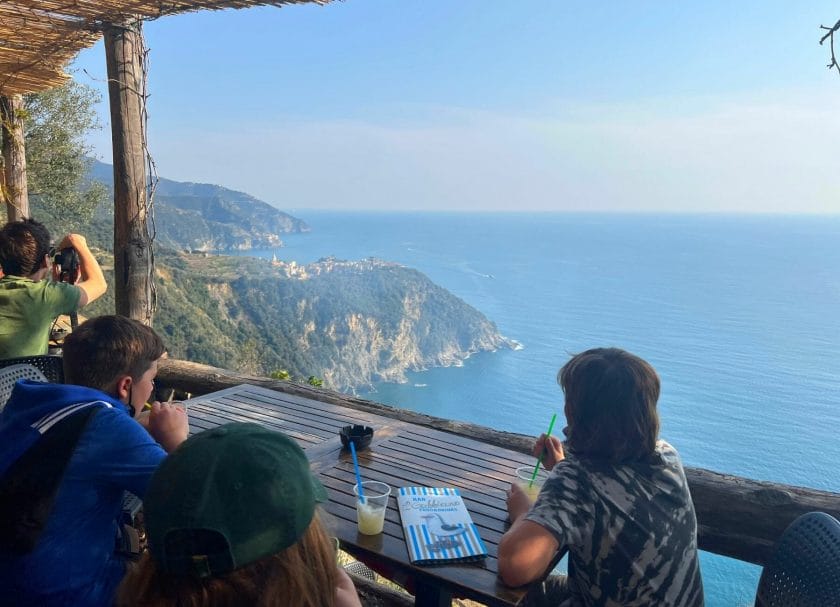 Halfway through we started seeing signs about a restaurant we were like say what?? It was hot and a drink was sounding really good.
Sure enough there is a restaurant/cafe halfway to Corniglia and it was gorgeous up there! We got some nice cold lemonades and Craig and I got a vodka lemonade slushy and we sat out on the terrace to enjoy them with an amazing view.
They also had smoothies, foccacia bread, pizza and a few other food options. It is also self serve so you walk down and order what you want and carry it back up to sit on the terrace.
They actually have vacation rentals up there and we took a card. I would love to come back and stay here for a couple nights.
After that we were reenergized and continued to make our way down to Corniglia.
We had no idea this restaurant/bar was here so it wasn't in our plan – a lot of the time the coolest things aren't! If you are someone who wants more of a plan to your day I would recommend checking out their website and IG account to verify they are open and what they are serving. I am guessing this can vary a lot.
Bar Il Gabbiano Instagram account
Corniglia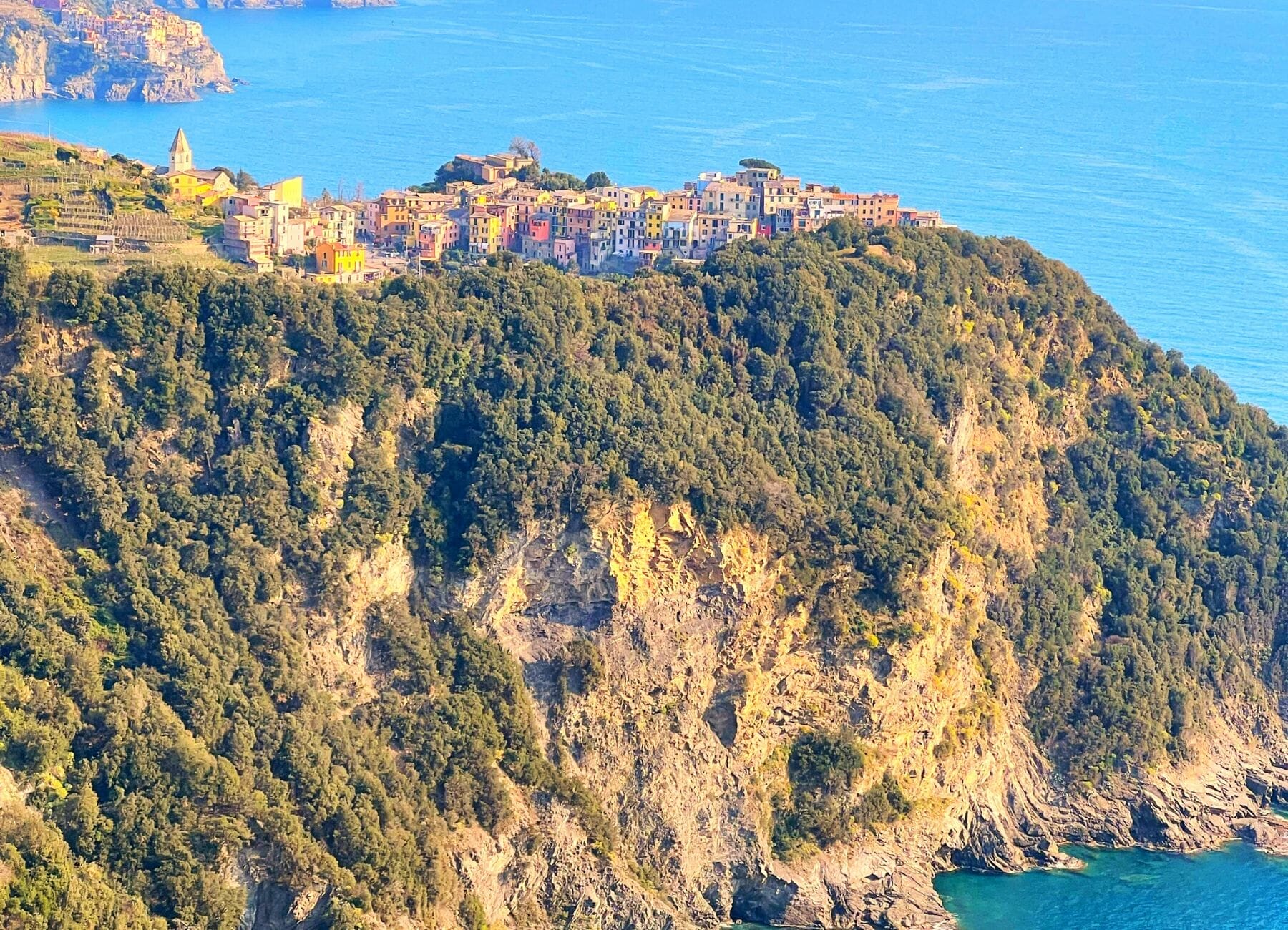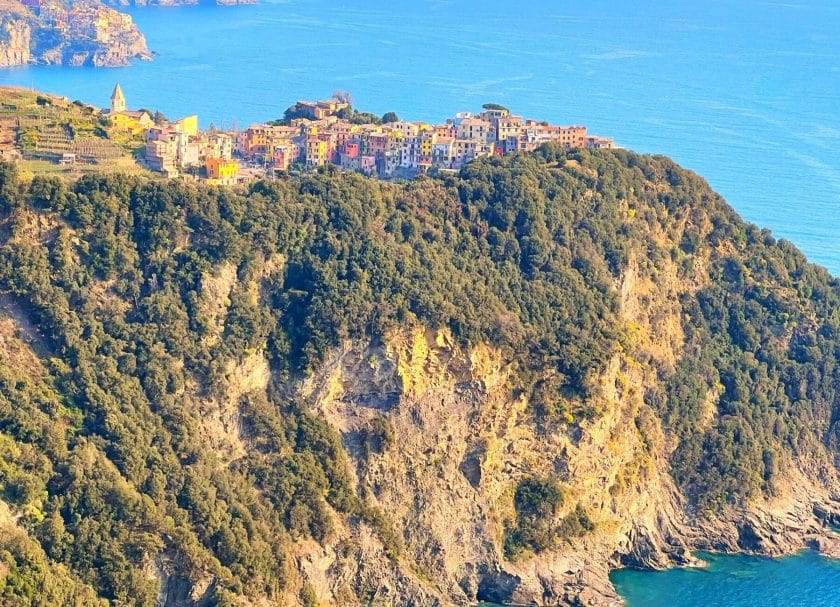 Our plan here was to stop for Gelato! We had heard they had yummy gelato in the town. We headed to Alberto's which was recommended by Rick Steve's. There was another Gelato shop in town but I have to say we were happy with Alberto's!
We got our gelato and enjoyed that before getting on the train to head to Ramogilia.
If you haven't done Manarola you could stop and do that now or else continue on to Ramogilia. The Dell Amore trail between Manarola and Ramogilia is still closed but is set to open in 2023 – hopefully!!
Tip: It is a long walk from the town down to the train station since the town sits up high on the mountain and the train is closer to sea level. It wasn't a hard walk but just be prepared it will take a minute and time your train ride around that.
Riomaggiore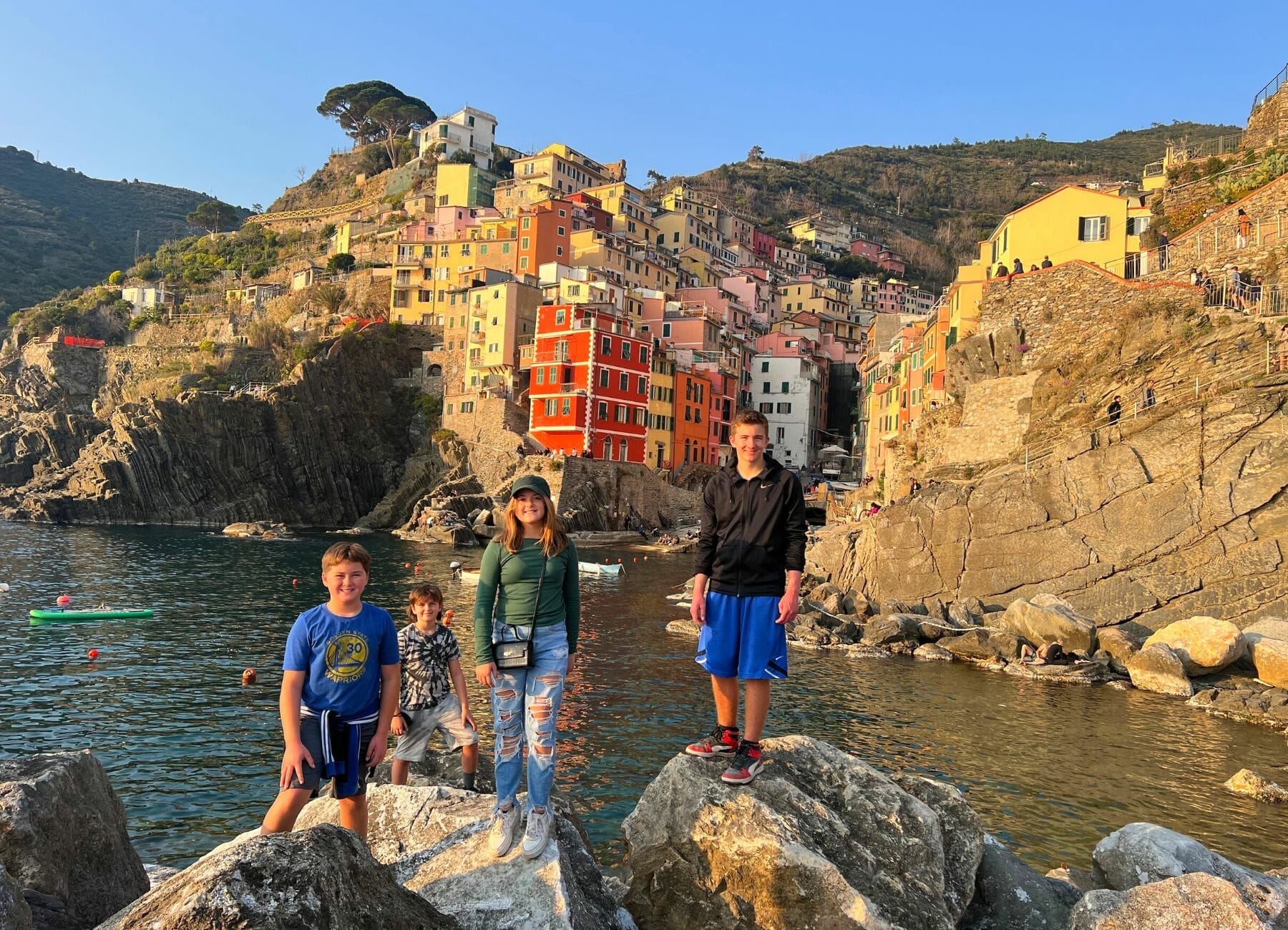 This is where you see the signature picture of the water surrounded by the colorful buildings. When we got there it was busy and of course our kids wanted to walk out on the rocks.
I was nervous about it but said fine just be careful. Well they didn't just go a little ways out they went all the way down the rocks. I eventually (with Carson's help getting over the rocks) made my way out there too and I was glad I did! It was worth it since I got an awesome picture of the kids with the buildings behind them!
I would only recommend walking out on the rocks if you are sure footed. It was scary in a few spots!
After that we headed to Pie Di Ma to get some drinks overlooking the water before we headed back to La Spezia.
La Spezia
La Spezia was a great place to stay – even though we didn't directly stay in Cinque Terre – with a nice grocery store, resturants, bars and coffee shops. Staying here definitely made the cost less per night for our family of 6.
There were also a list of things that we could have done in La Spezia so I know we want to come back again to explore those!
Check out this post on Things To Do In La Spezia to learn more.
Boat Rides
We had also heard that doing a boat tour between the islands or a Kayaking tour was a fun way to explore. Since we were there for such a short time we didn't want to mess with that and instead wanted the freedom to go at our own pace and not be set to the boat schedule.
There you have it! Tips on visiting these gorgeous parts of Italy and the lively fishing villages on the Italian Riviera. Either on a day trip or staying overnight you aren't going to want to miss Cinque Terre (which some people pronounce Cinque Terra) if you are in the area!
More on Europe from a travel blogger:
17 Fun Things To Do In Venice Italy [2 day Itinerary Included]
15+ Fun Things To Do In Rome With Kids
15+ Things to do in Tuscany, Italy
Backpacking Europe Packing List [With Kids!]
30+ Best Things To Do In Lisbon, Portugal
A Tourist Guide To Las Fallas Festival in Valencia Spain
One Day In Barcelona Itinerary
One Day In Madrid Itinerary – 14 Stops Not To Miss!
3-Day Florence Itinerary- Plan an Awesome Trip!
Pin This Post For Later: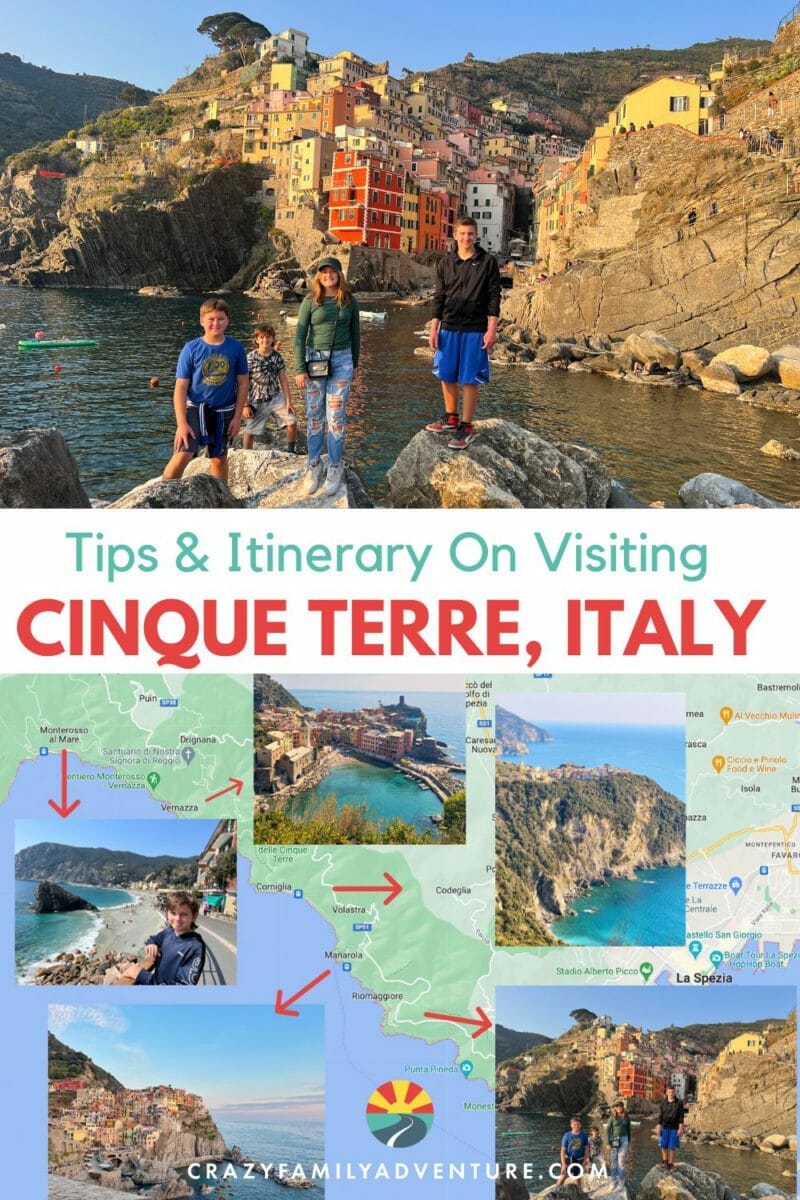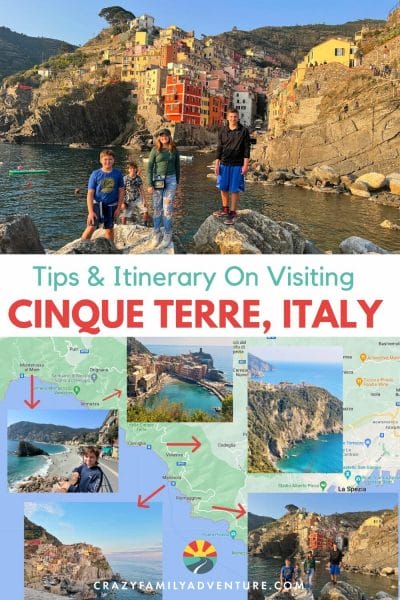 DISCLOSURE: This post may contain affiliate links, meaning I get a commission if you decide to make a purchase through my links, at no cost to you. Please read my disclosure for more info.