WOW. Everything I had read about the Las Fallas Festival in Valencia made it seem like this would be a wild and crazy time and it was! Plus it was loud – really loud!!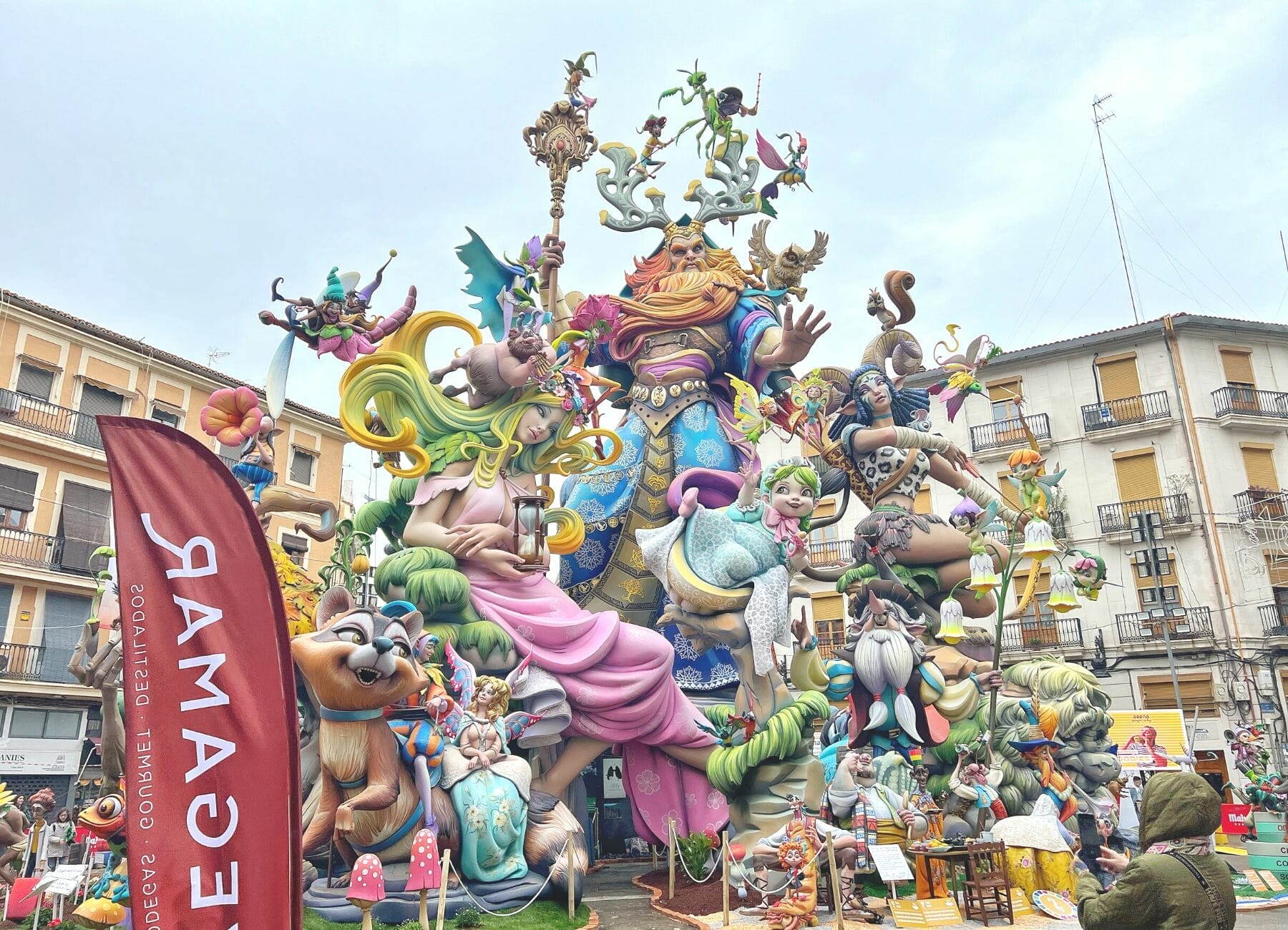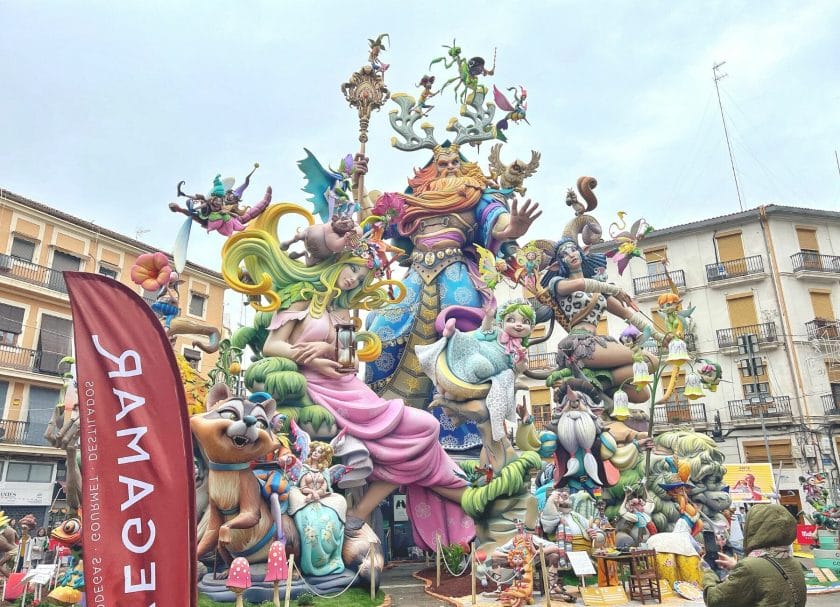 Some would say the traditions for the festival started back in the middle ages when farmers would burn things they had kept through the winter like wood pieces to celebrate that spring was here. It has also become a celebration of Saint Joseph the patron saint of carpenters.
The festival runs from March 1st to March 19th with March 15 being the day all the statues have to be completed to be judged. March 19th is the crema night when all the statues are burned. For this reason we booked our stay from March 16th – March 20th and planned to visit as part of our 3 month backpacking trip around Europe.
Figuring Out What Is Going On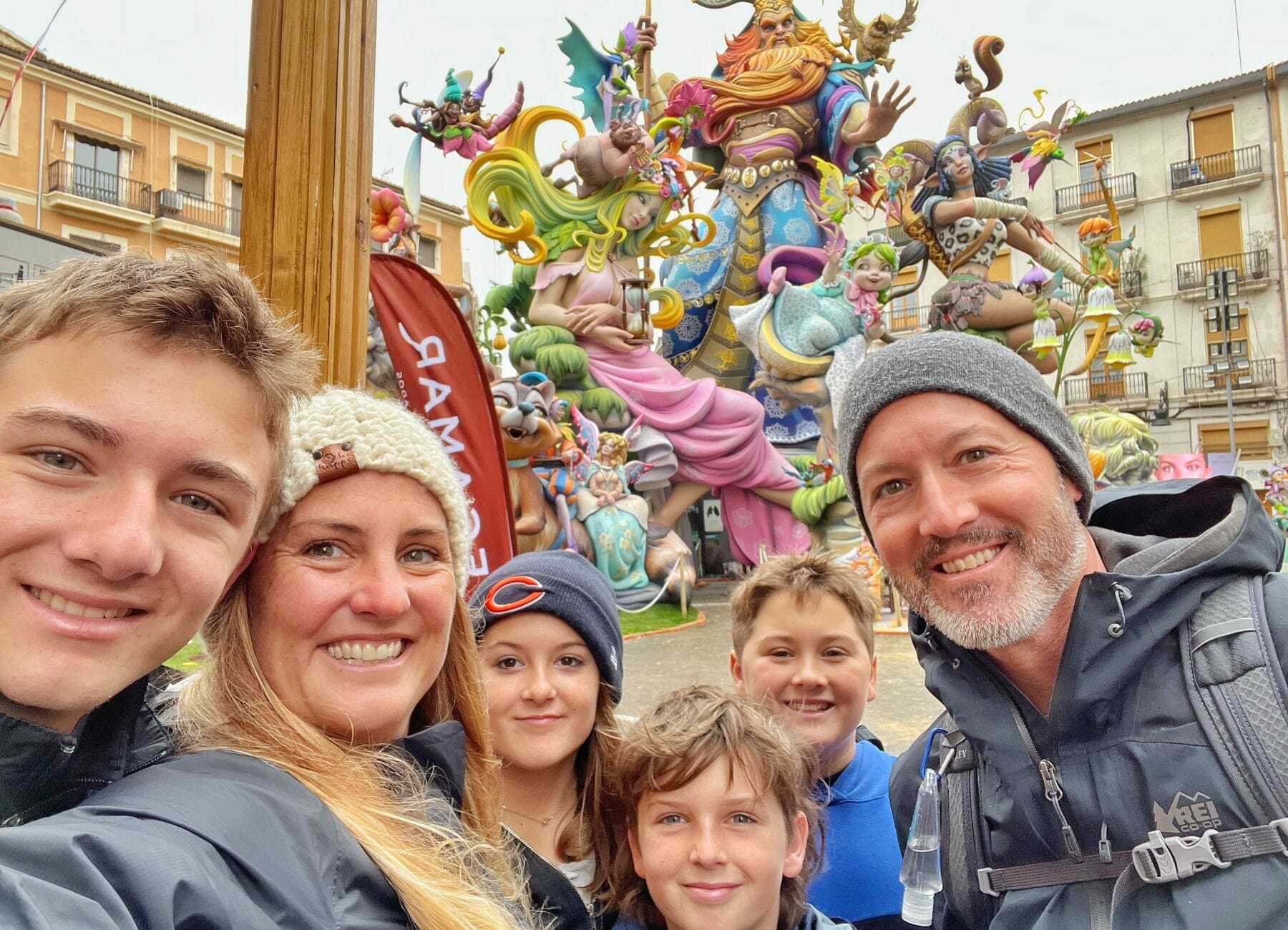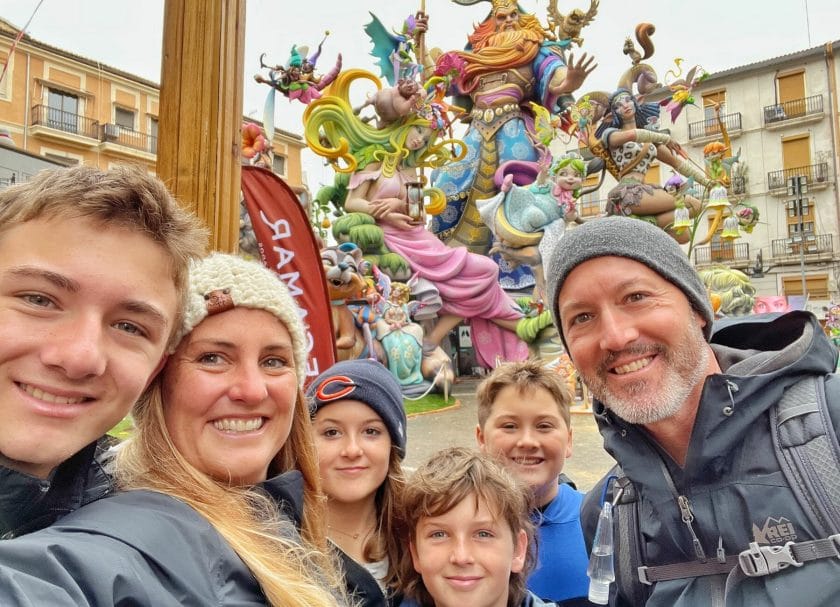 We arrived during the festival and had to walk about 45 minutes from the train station to our vacation rental. It happened to be right at 2pm when the big display of fireworks was going on. The streets were packed and it was SOOOOO loud!!
Welcome to the Fallas Festival!!
We got settled into our place and asked our hostess – who did meet us there – what recommendations he had for things to do during the festival. I highly recommend doing this. Even if you don't meet your host in person send them a message and ask. If you are at a hotel ask at the front desk. The locals know how to do the festival!
Even with the guidance from our host it was still overwhelming to know what was going on and when. For that reason I also recommend following a local Facebook page where they share up to date updates.
We used this one a lot: Las Fallas Valencia Information Page for English Speaking Visitors
You will also want to check out the festival website and calendar – but note it wasn't always 100% accurate.
In the end we got the hang of the Facebook page and the website and had a pretty good idea what was going on. We also learned (and what our host recommended) that you just need to go walk around and you will come across things!
The festival is not located in just one place. There are 2 kind of like main stage areas/plazas where a lot of things happen. There may be a 3rd area too but we never made it over there and these were the 2 we visited often:
Plaça de la Mare de Déu is where they do the flower offering towards the end of the festival.
Plaça de l'Ajuntament (Town Hall) is where a lot of things go on. This is also where they did the 2pm fireworks display which was LOUD.
We had also heard there were things going on at Plaza Del Ayuntamiento but we never made it over there so can't confirm.
But the statues are located all over areas of the city. Each neighborhood (or casal faller) gets together to create their own statue and a kids version/size statue also called a falla infantil. They have been working all year on fundraising and designing their falla (the statue).
There are also random food trucks spread out around the city and pop up shops outside of restaurants.
You will see a lot of tents set up around town. Don't worry you aren't missing out, well you are, but you aren't invited :). These are the local neighborhoods place to hang out.
We walked everywhere we went. The town is super busy and packed with people so I would not plan on driving anywhere.
Above all else know that you are not going to get a lot of sleep during the festival. There are fireworks going off ALL NIGHT LONG. Seriously. Bring ear plugs or just be prepared for it.
Kids Fireworks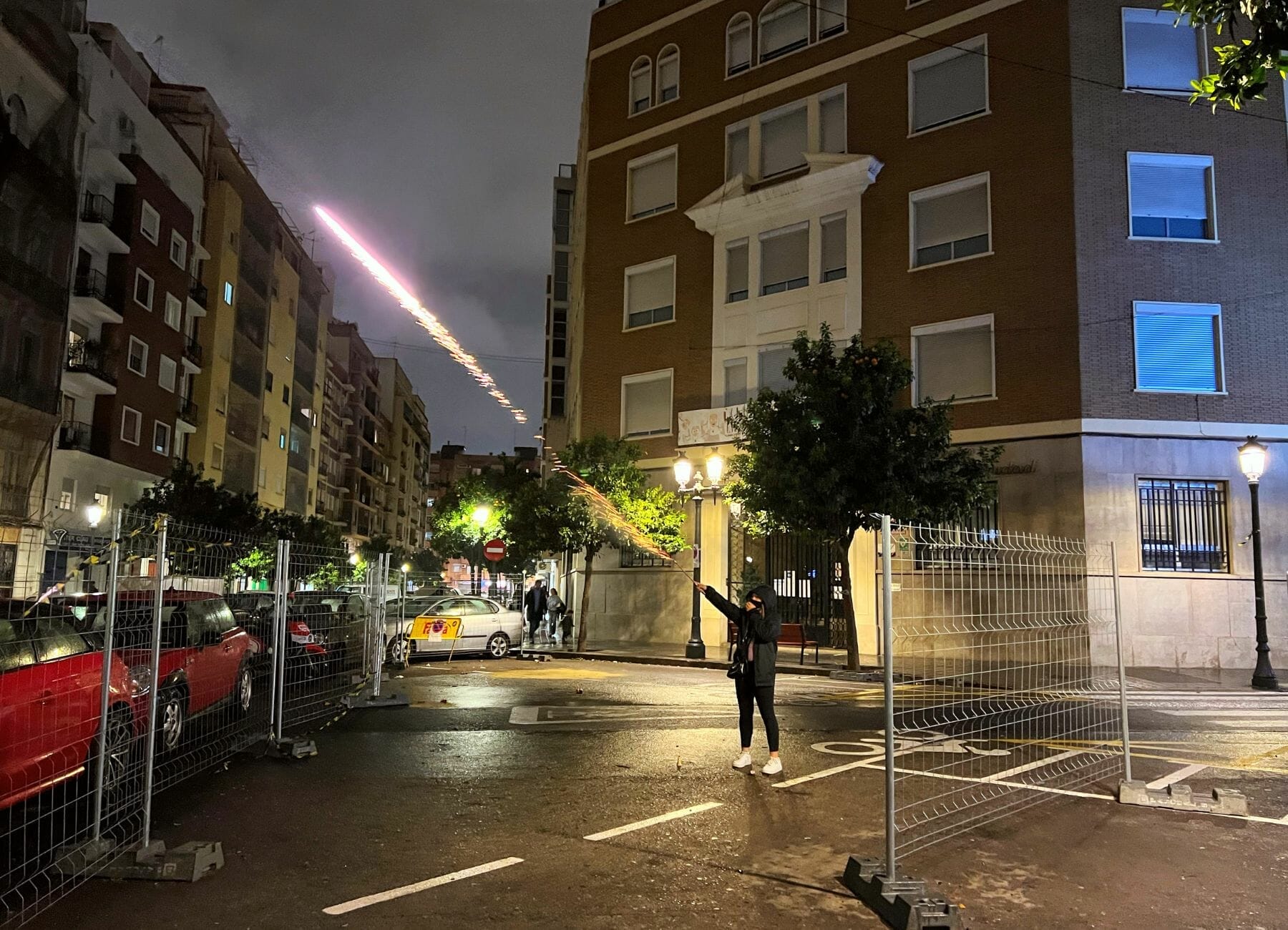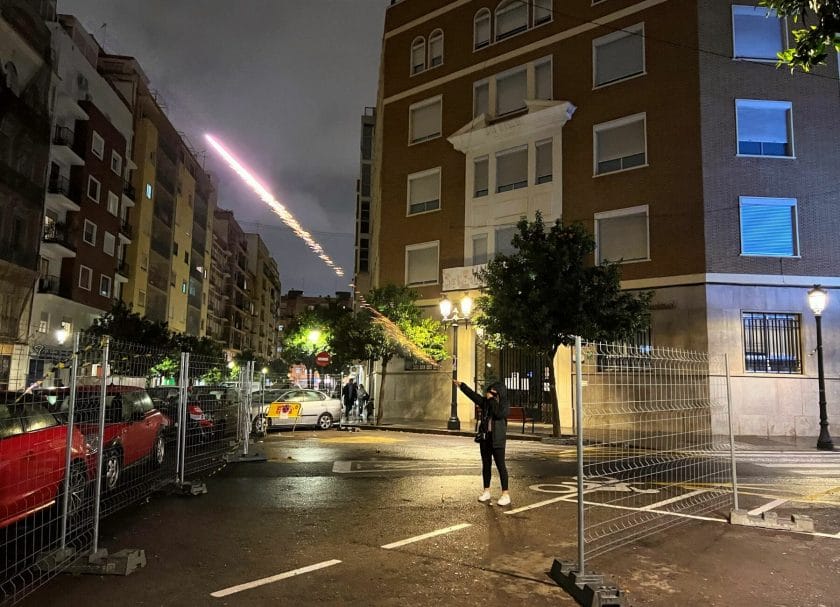 We saw a bunch of kids walking around the neighborhoods carrying these wooden boxes that they hung around a string on their neck. We also noticed kids lighting off fireworks all over the place – and yes this is 100% acceptable and even encouraged!
Our host had told us about buying the fireworks but we could not figure out how to find a store where you could buy them. Eventually we figured out the stores were called Petardos. A google maps search showed us where one was. Their website is www.pirofoc.com.
Off we went to buy the kids some fireworks!
We ended up buying the mega pack of fireworks and an extra rope. We really had no idea what most of the fireworks were but the sample pack seemed like a good idea. The rope was for the parents to light and then the kids use it to set off the fireworks – basically anywhere they want to around town!
Yes it is as crazy as it seems and so much fun!
It was funny to light them and run and see what happened since we didn't really know how most of them worked. There were spinning ones, popping ones, bottle rockets, harry potter wands that sent sparks flying out. It was fun!
Statues – Fallas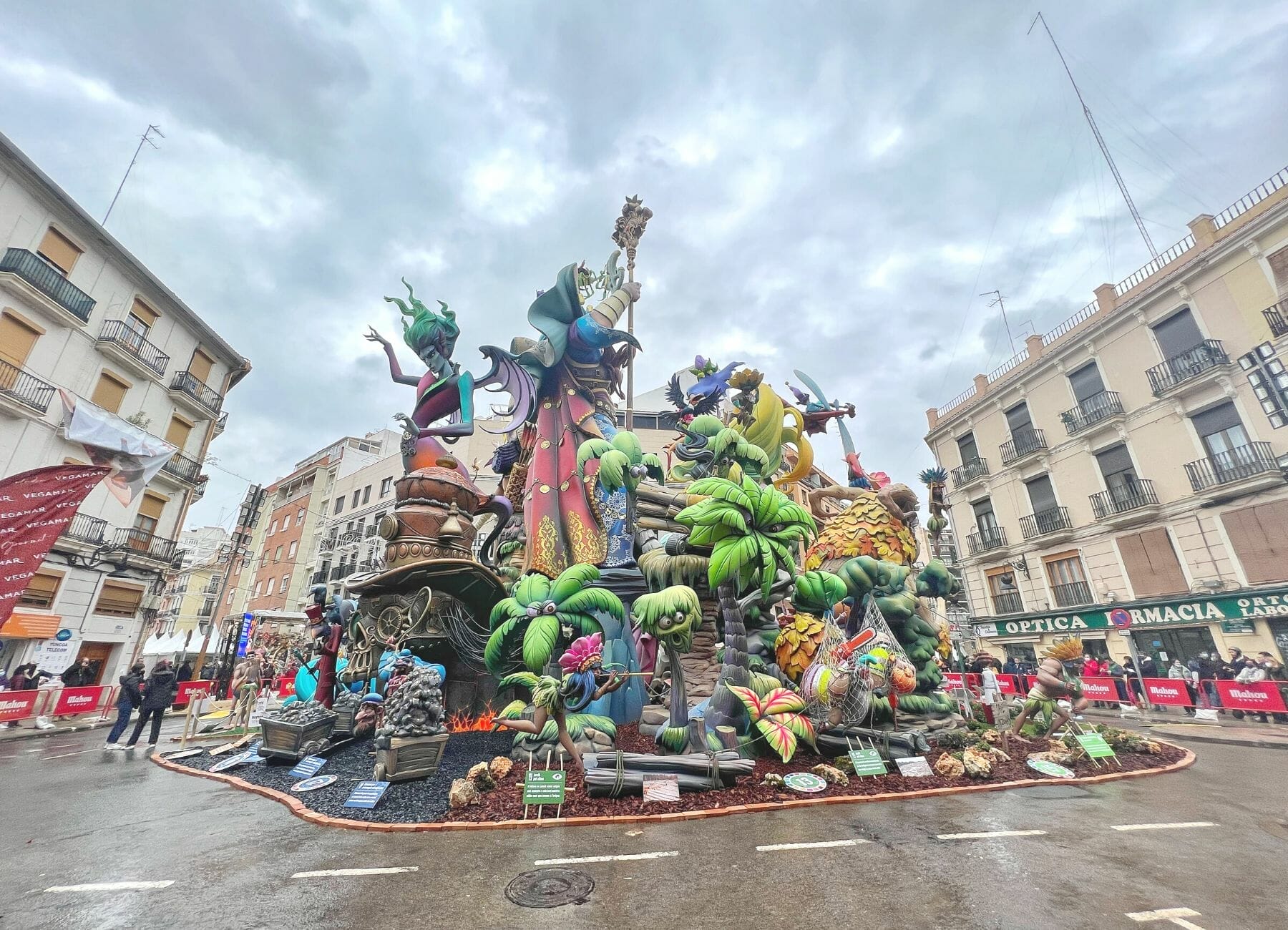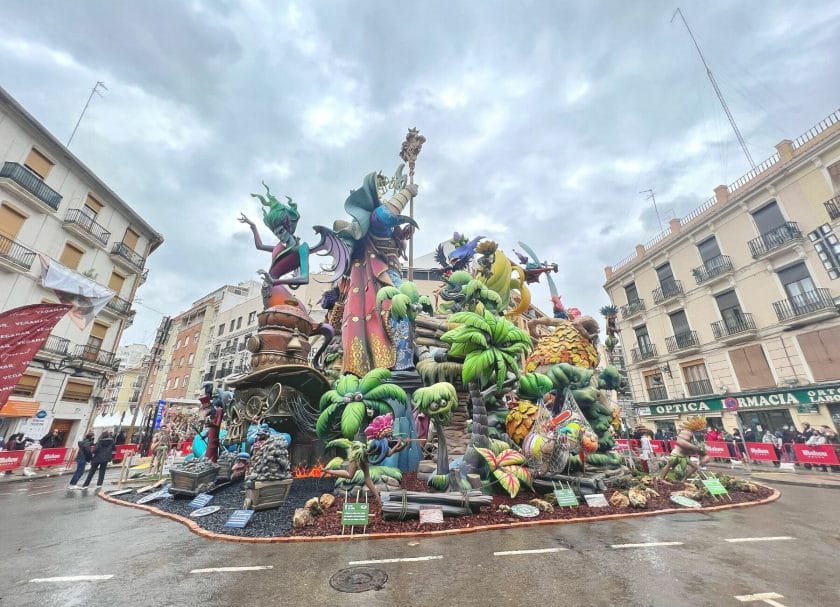 The Fallas statues – these statues were unbelievable. They take a year to make and our made of combustible materials like cardboard, pieces of wood, paper, clothing, expanded polystyrene, etc. and some of them are humongous! Walking around and seeing all of these and the detail that goes into them was really quite a site to see.
They are all over town pretty much every street you go down has 1 and every year there is a contest to see which one will get first place. They have the large sized ones and next to that they also have a kids size one.
The top ones were as tall as the surrounding buildings and had so many unique details to them. Each of them had a theme they picked and followed yet also got creative with what fit with their theme.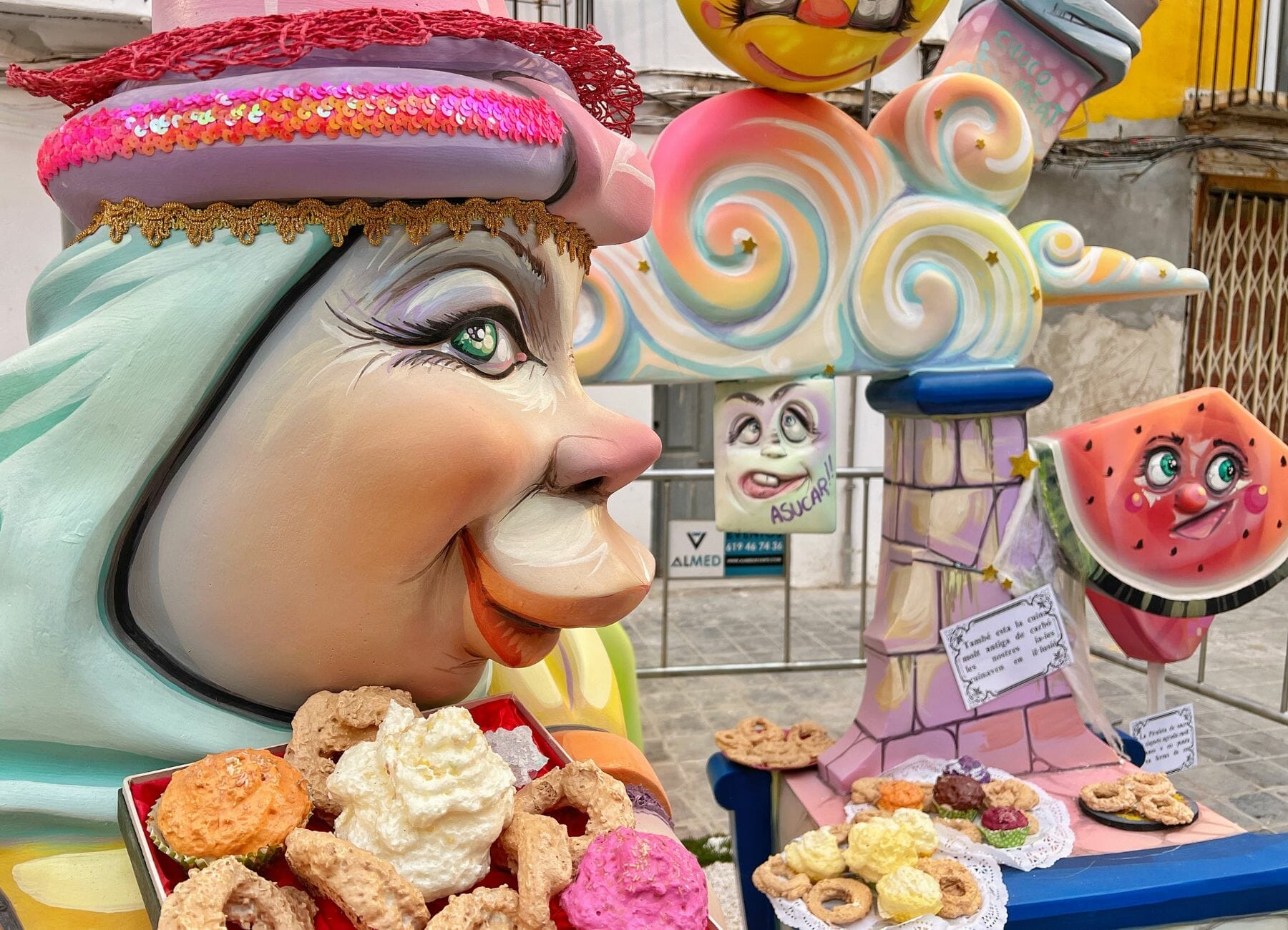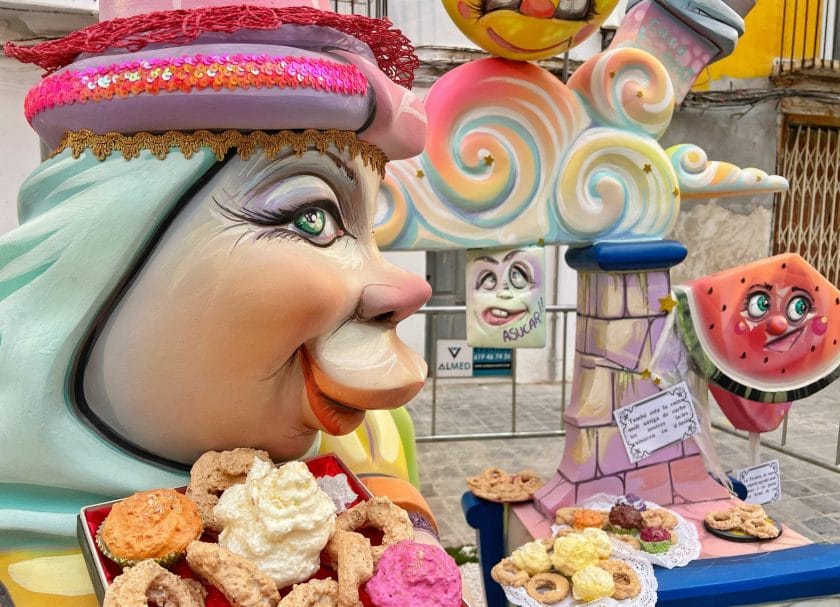 I can not believe that they burn all of these down at the end of the festival! They are so beautiful it is sad to think they are just gone at the end. But tradition is tradition!
They do rank them to determine which ones are the best. For both the large ones and the smaller kid versions. They will have a sign up saying which place the statue got. Make sure to go and see the top 1-3 for the large ones and the kid ones. You will be glad you did!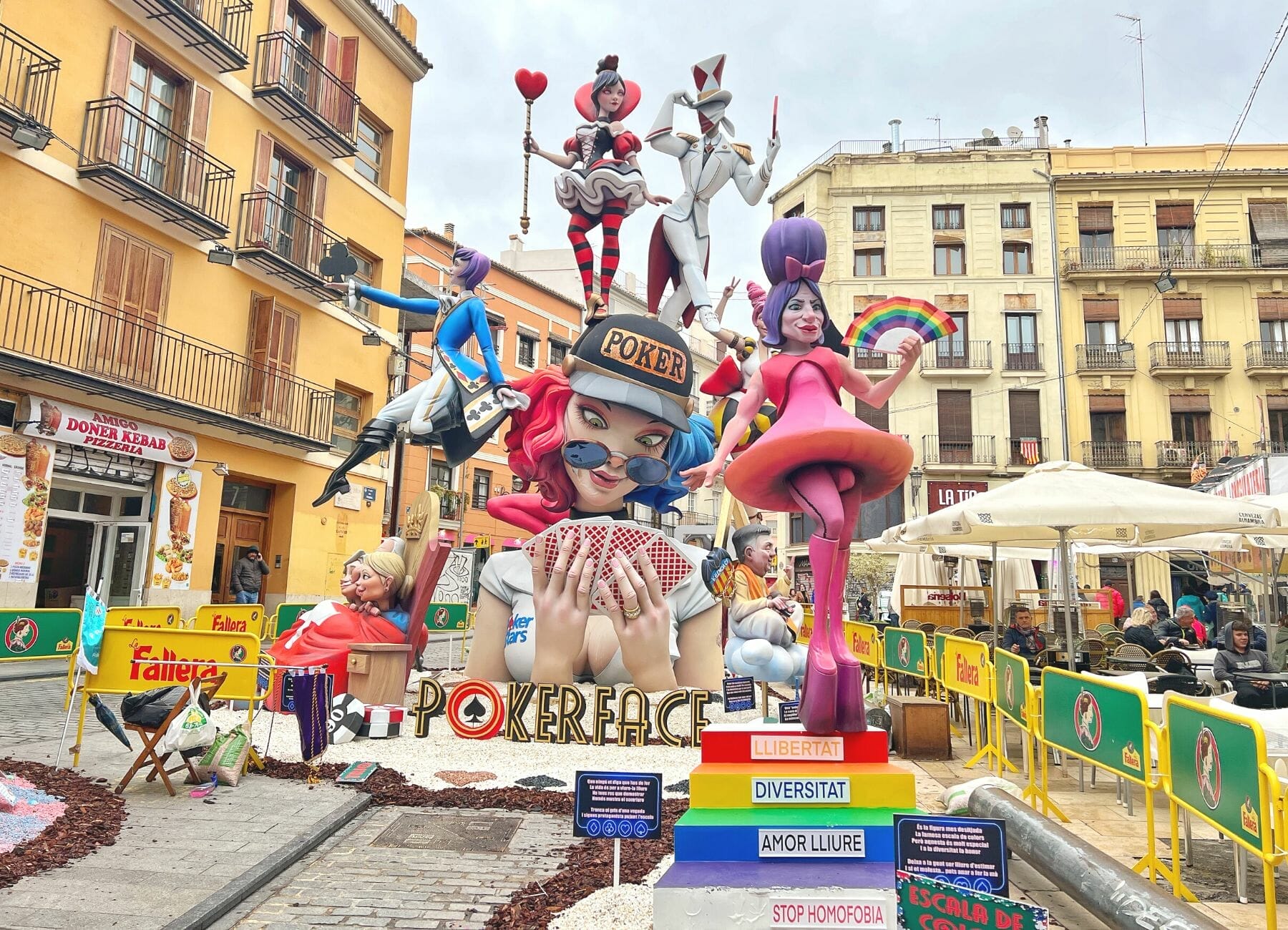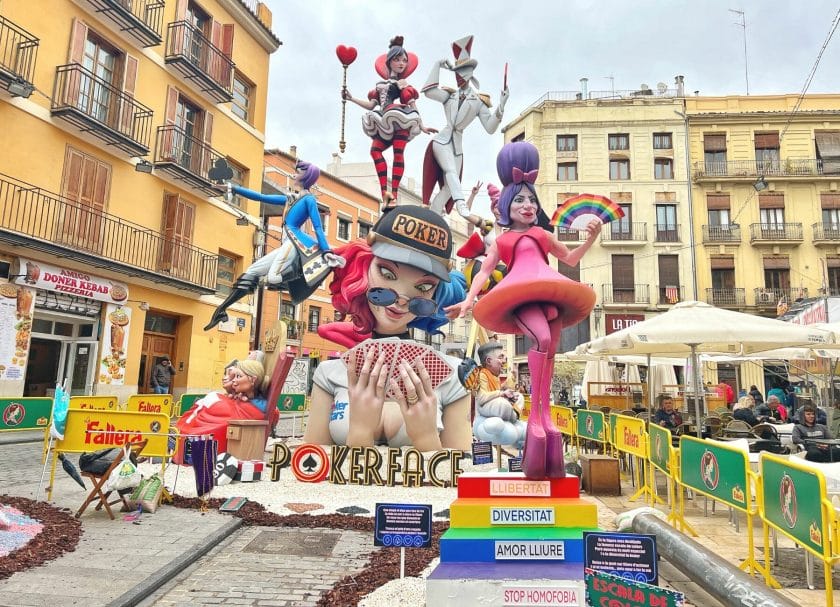 To see the current years rankings visit this site. Don't miss these massive and unreal statues – especially the top 3!
Afternoon Fireworks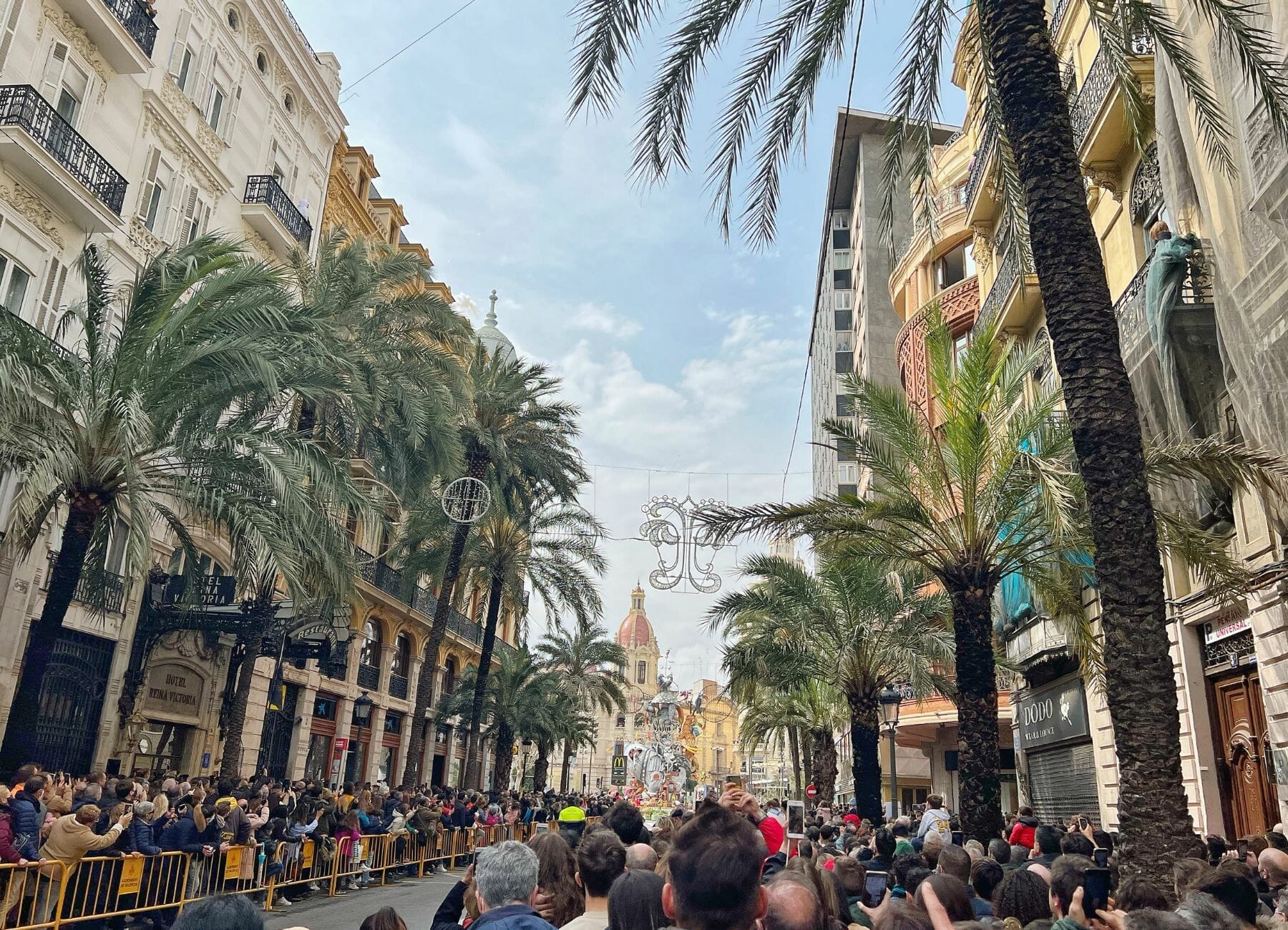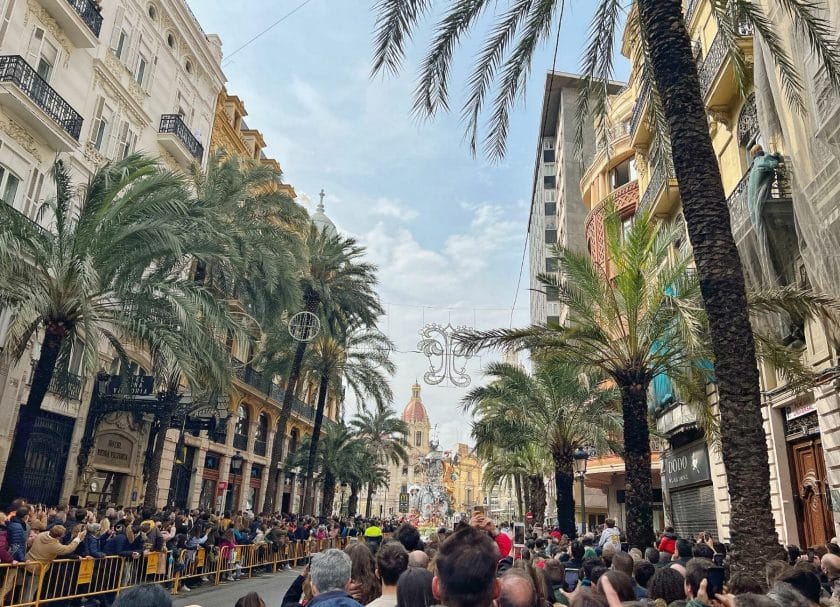 Afternoon fireworks or the la mascletà – every day at 2pm in the main plaza (Plaça de l'Ajuntament (Town Hall)) they did a firework display and a noise display :). If you are there you will understand. They shoot off fireworks but the accompanying noise that goes with it builds louder and louder. We heard multiple times from people to have our mouth open during it so our ears didn't pop!
It was crazy to see babies to toddlers here enjoying this crazyness and not a tear in site. I think if you live in Valencia you bring your kids from a young age so they are use to all of this!
Try to get to at least one of these while you are there.
Night time Fireworks – LATE night!!
Night time Fireworks – we actually didn't make any of these as they were always at midnight, 1am or 1:30am! We could hear them from our place and saw a bit of the fireworks from a far and they were quite the show!!
If our place would have been closer to where the fireworks were going off we would have gone. But it was over a 30 minute walk so by that time at night we were all done and in bed with our pajamas on!
We also heard that each night leading up to the last night the fireworks get grander and grander with the last night being the La Nit del Foc (The Night Of Fire).
Neighborhood Parades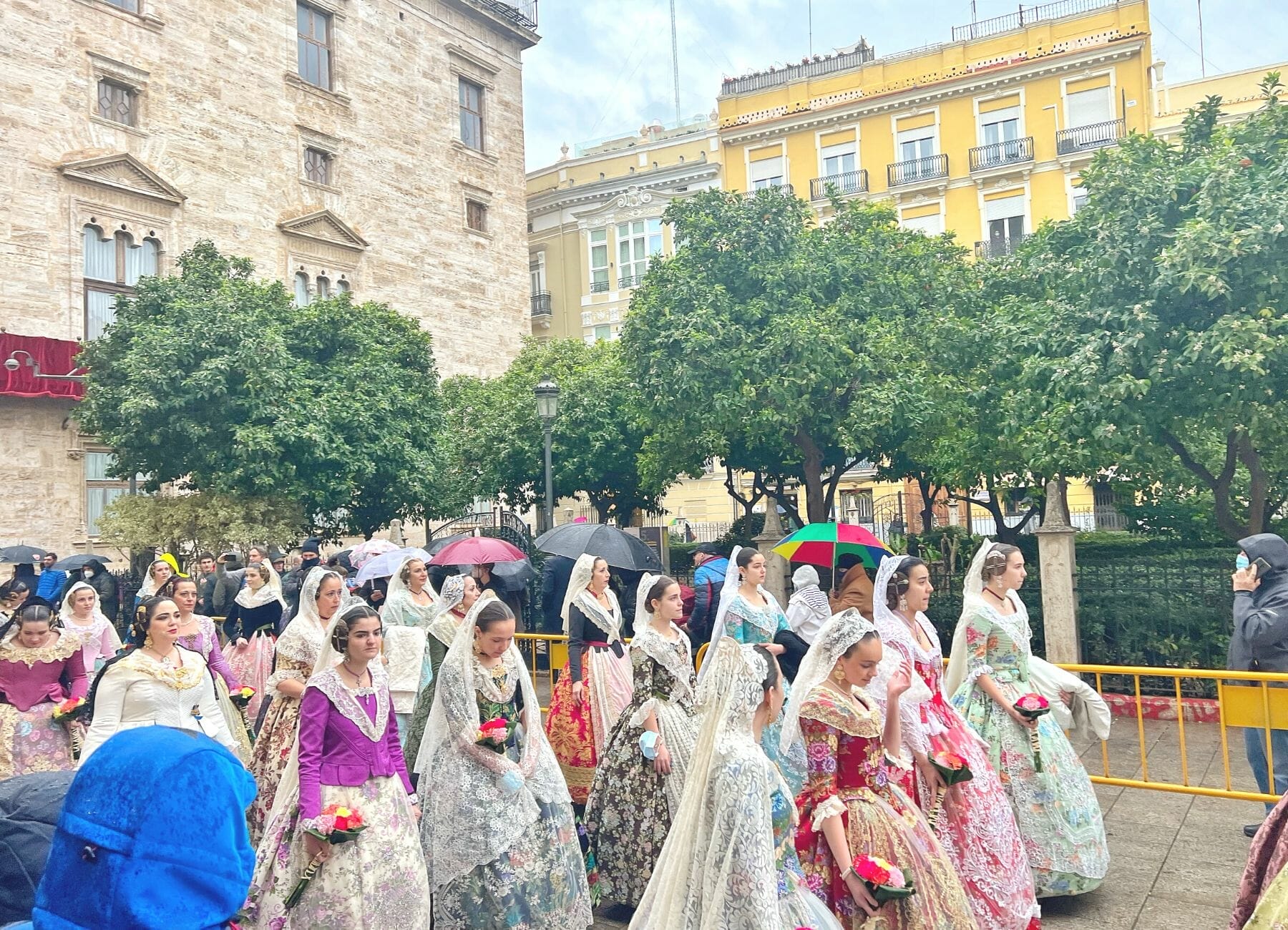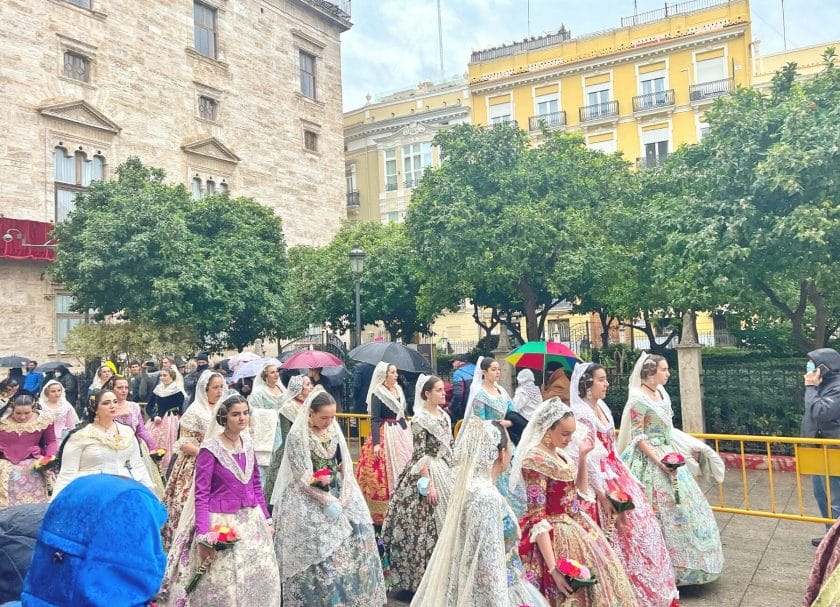 We would randomly run into parades all the time. Either while we were walking or we would hear it out our vacation rental window. I think they were all for the Offering Of the Flowers. But to be honest we never really figured it out??? If this is something you are really interested in seeing I would ask a local if they know the schedule.
Without knowing what was going on we still caught some of the parades where we were able to see their gorgeous outfits as they walked the streets to bring their offering. The offering ended at Plaça de la Mare de Déu.
We had also read that the Ruzafa neighborhood was worth seeing at night since they did a great job with lights. We never made it there. But if you are in the area you will want to check it out!
Offering Of The Flowers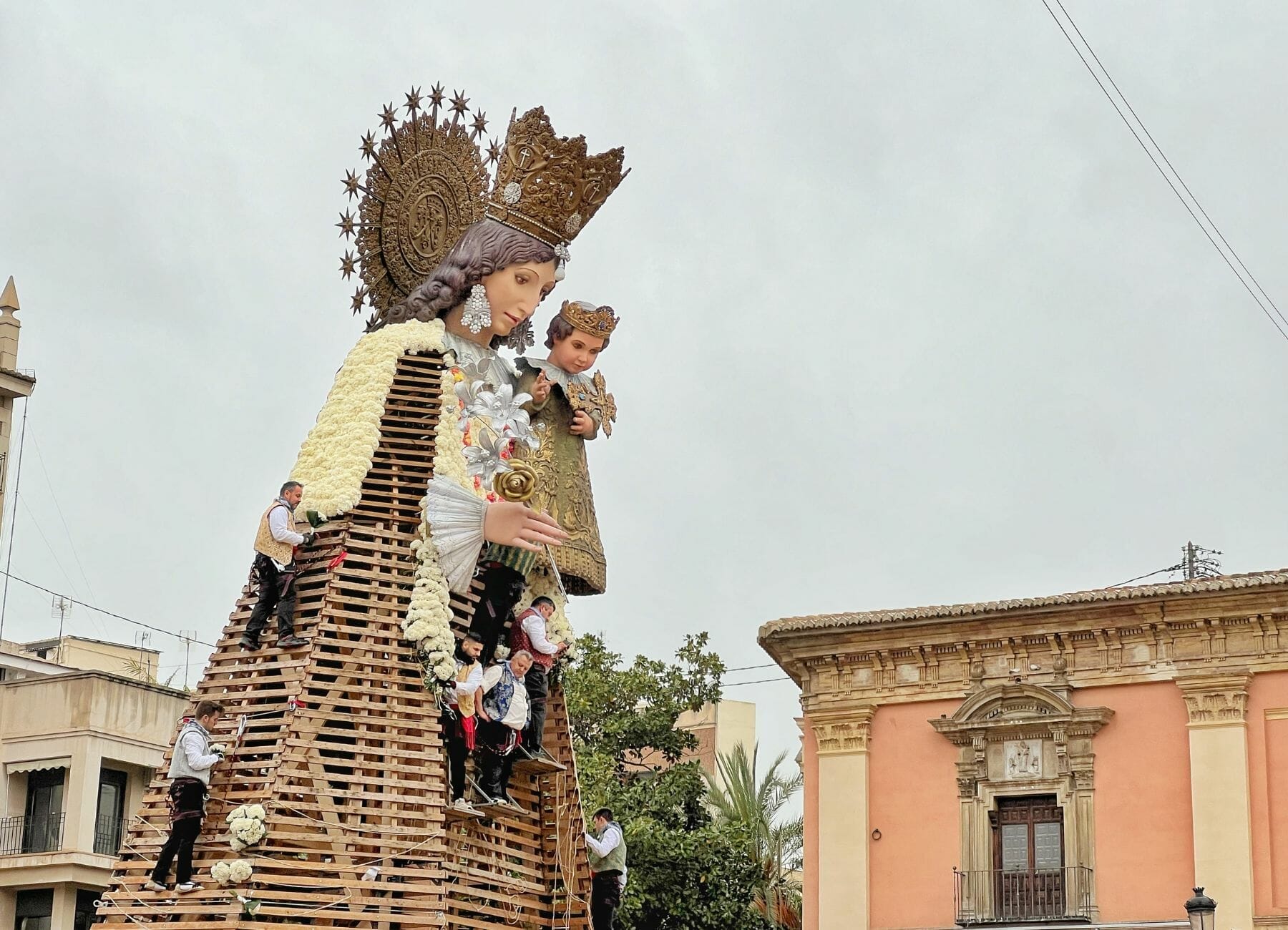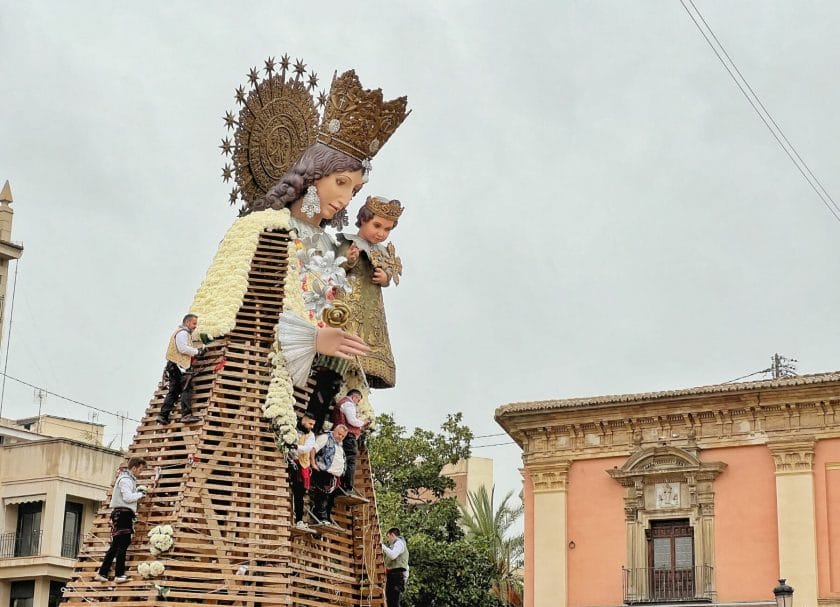 Full disclosure I am still not 100% sure what this was all about. My take was it was a religious offering of flowers?? Don't quote me on that. What we saw was each neighborhood had their set time to do a parade and to bring flowers from their neighborhood to Plaça de la Mare de Déu where the flowers were added to a gigantic wire form of Mary.
By the end the form was completely filled with flowers. It was quite the site to see! It was also very emotional for the locals as a lot of them were crying through this procession.
Fire Parade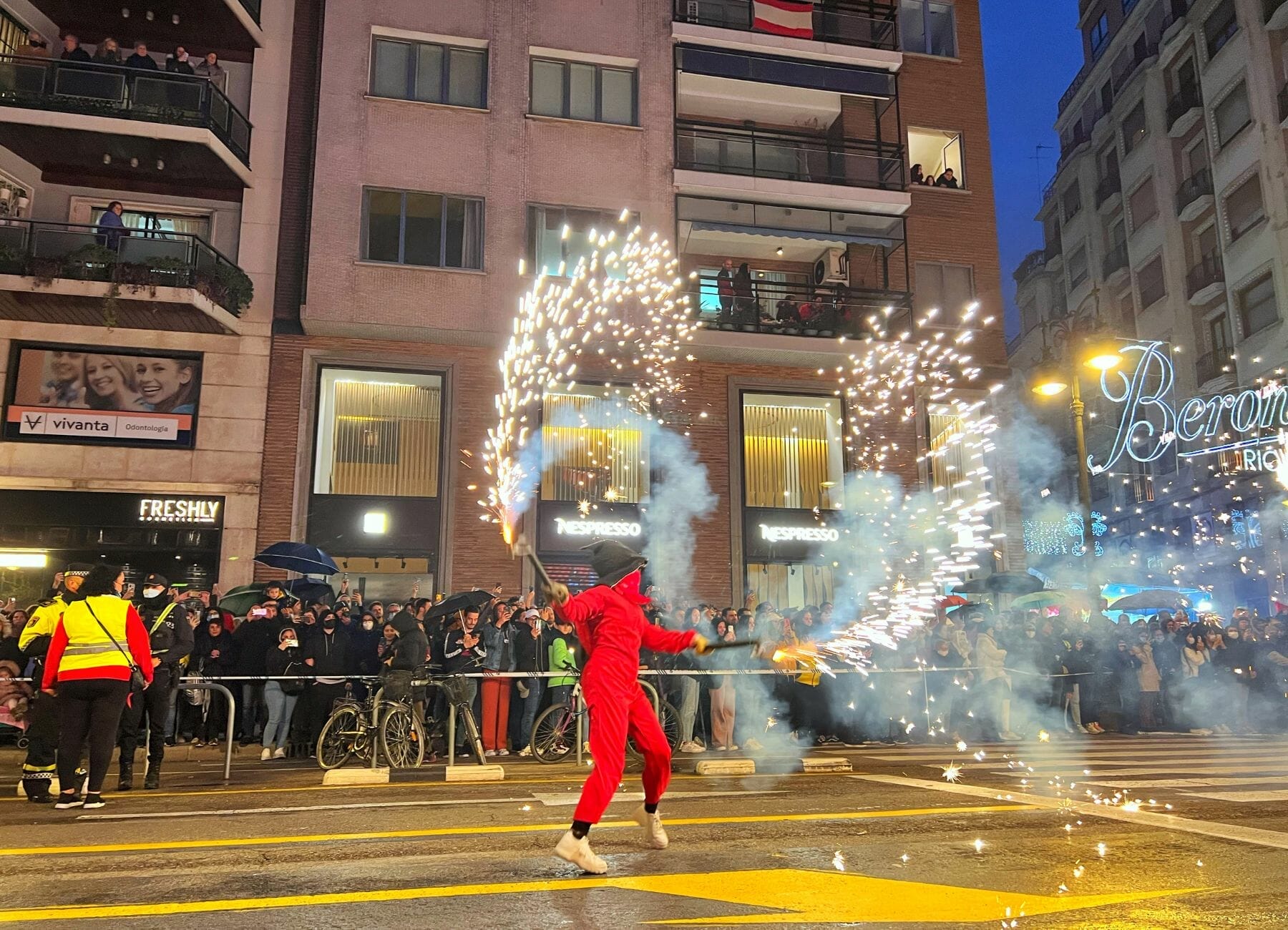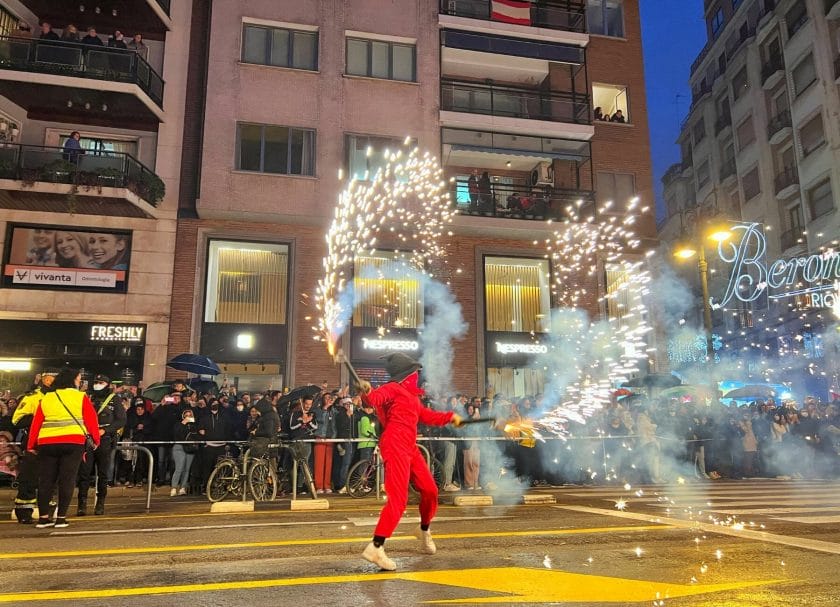 Parade – on the last day they do a fire parade and it was just that! During the parade the Fallera Mayor (queen of the Fallas) walks down the street along with a few other people involved in the festival.
After that they have techno teams that walk down the streets twirling tubes with sparks shooting out of them. Yes it is wild. Sparks are flying all over the place and they have some pretty cool contraptions they made that have the sparks flying around in ciricles!
We were right in the front row and one of the tubes came flying off and landed right at Knox's feet! It was a bit scary and it burned a hole in his pants – but luckily they ran over and put it out right away.
In true style of not really having a clue what was going on. We worked hard to determine where this parade would be by asking locals, asking a police man and confirming we were in the right place for the parade.
Our thought was a ton of people would be there an hour before to hold their spot. Like at the 4th of July parades in the US! That wasn't the case. We were the first ones there to secure our spot.
This also meant a lot of people stopped to ask us if this was where the parade was. It felt good that we weren't the only ones confused about when things were happening!
Originally it said the parade started at 6pm. We secured our spot at 5pm but the parade didn't end up starting until after 7pm! By that time it was packed and we were happy to have front row seats for the parade. Well until one of the fireworks flew out at Knox. At that point he was happy to move back a bit!
If you are going to try to make something work I would definitely recommend coming to the parade. It was a very unique experience and I doubt we will see something like this again.
Burning Of The Fallas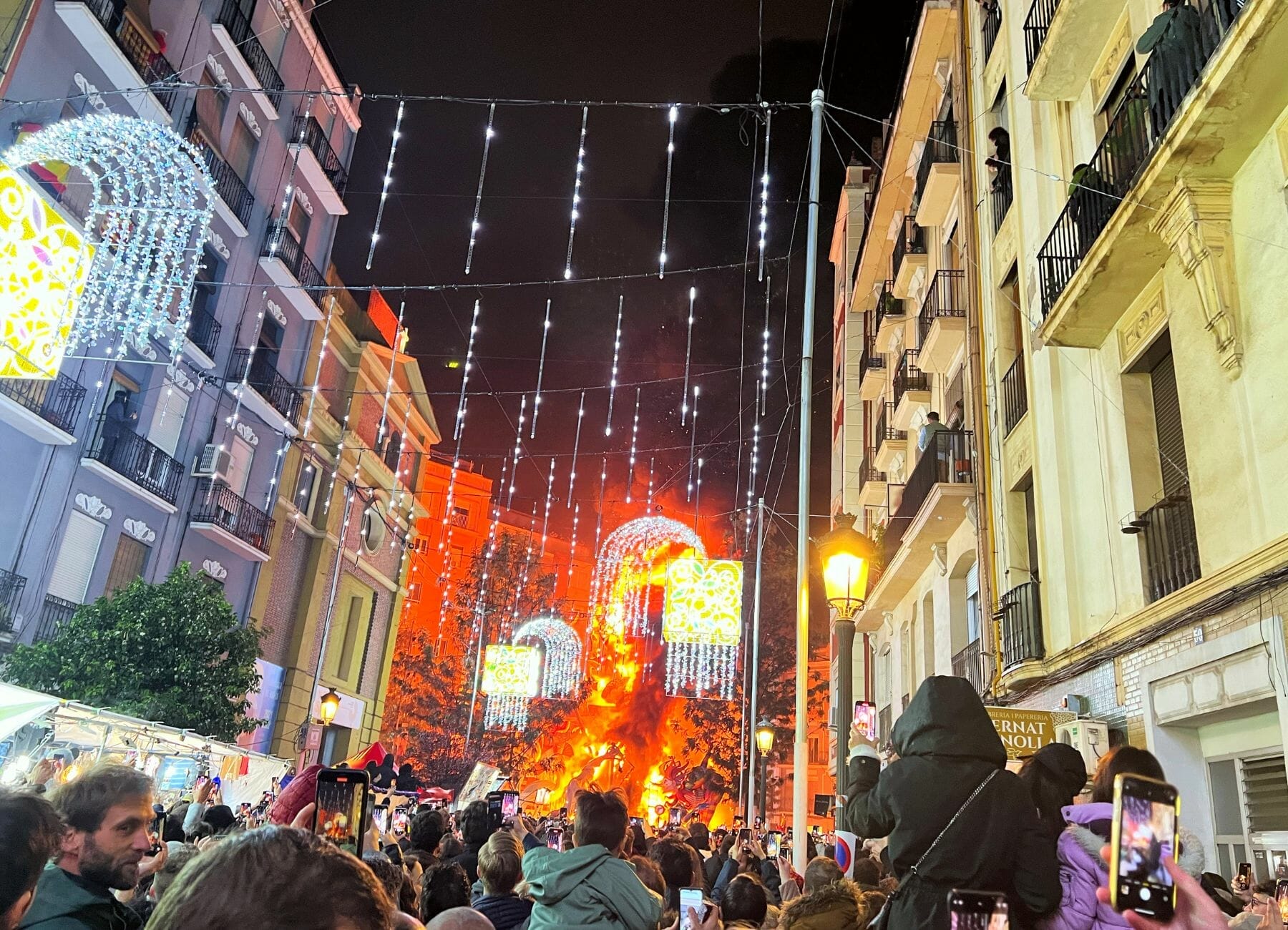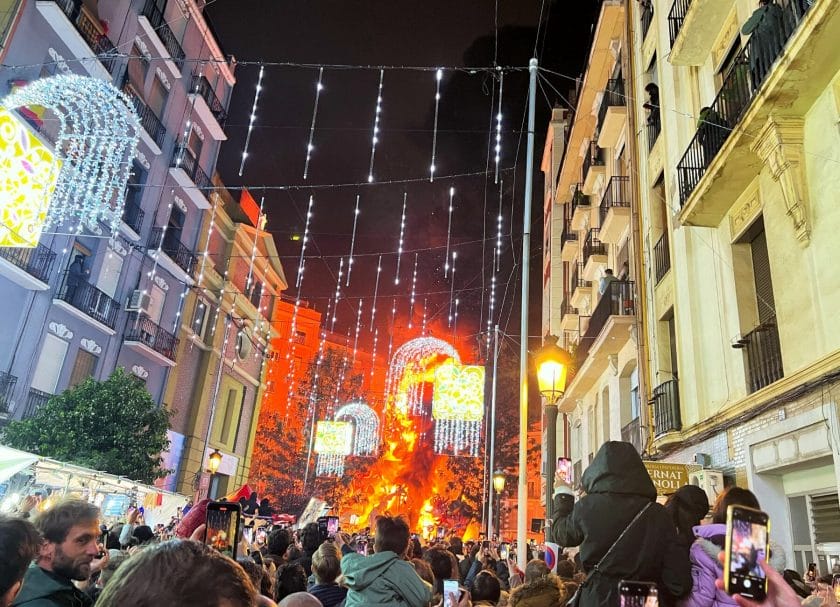 Burning of the Fallas – on the last day they burn all these amazing structures down to the ground! Yes it sounds crazy – but this is part of the tradition so everyone knows what is coming. It is a huge crowd of people that are there to see them burn. But even from a far it is a crazy thing to see.
They light of fireworks (of course) right before they "blow up" the structure. Note all of these structures are right in the middle of the street with buildings all around them – so they don't really blow up as much as light them on fire – but it is a loud process!
They start with doing this with the smaller kids fallas and move to the larger ones next.
We knew we wanted to see one of the top 3 Fallas be burned down since it was so big. Like we had learned from the parade we should get there early. We did and held our spot right up until the firefighters showed up and told us we weren't in a good spot and we had to move back. Ugh! Wish they would have been there hours before to set the boundaries so we knew.
Lesson learned with that. Make sure the spot you pick is far enough back that it makes sense to be there. The one we were in was on a corner but the building was really close behind us. In the end they moved everyone out of that section and only let people go in the areas where the long street was behind them.
I was disappointed we had to watch from so far back. But even watching from there it was quite the site to see! Be aware it is SUPER packed during this time. We got a little scared at one point when everyone was pushing when we had to move sites and you literally felt like you couldn't get out of it. That prompted us to make a beeline for the back.
If you plan to be in the area sooner you may want to check out the la despertà (the awakening) which occurs on March 1st the first day of the festival. You can learn more about it here.
Las Fallas Activities
If you are looking to do some guided tours or more touristy things in Valencia there are a few options. I do wish we would have gotten tickets ahead of time for the Fallas Guided Tour. By the time I looked it was all sold out. You can learn more here: Afternoon Tour: Las Fallas, Much More Than An Experience. They also offer a morning tour.
Where To Eat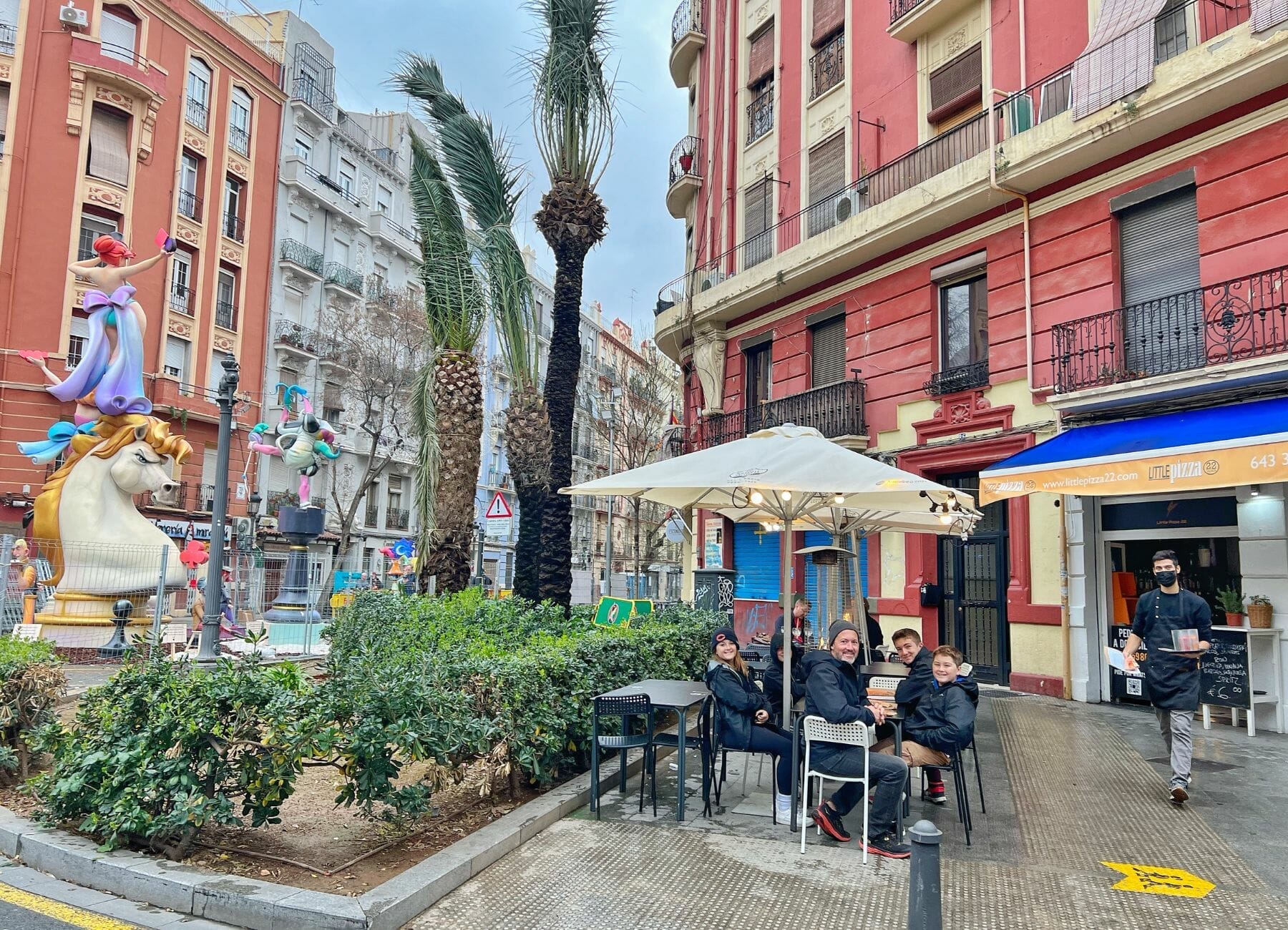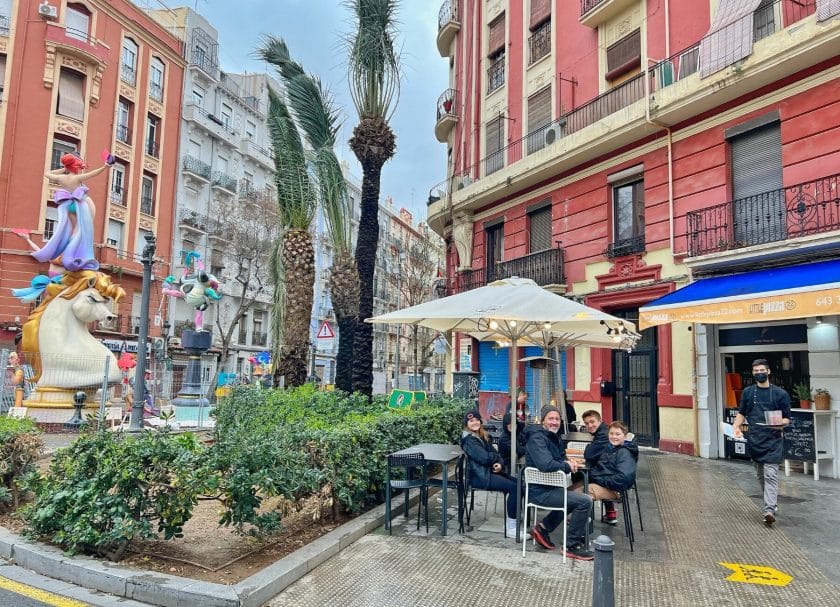 During the festival the hard part will be finding a table to eat at. Especially if you are right in the town center. If you go a little ways out from the center of town you will be able to find places to eat. Also note that a lot of places can close down from 2-6pm or something like that.
Pay attention to open and close times to restaurants so you can plan your day. But never fear McDonalds is open all day – if you just need to grab something!
Little Pizza 22
We enjoyed pizza and drinks here. And liked that we could sit outside right by the statues! It was also a good in between place as we were walking between neighborhoods.
Buñuelos and Chocolate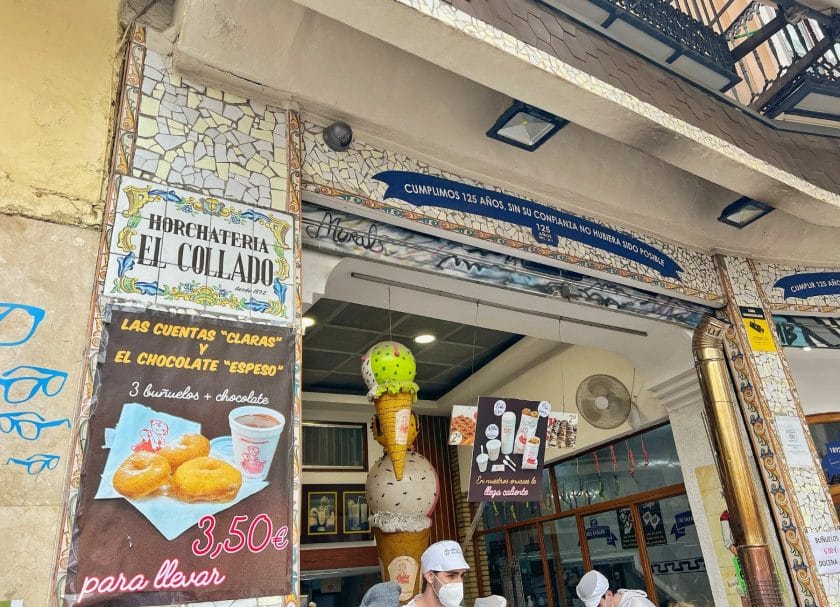 You will see these all over the place. Be sure you get some to try! It is basically fried dough you dip in chocolate. Yum! We went to Horchateria El Collado for ours.
Grocery Store
We had a grocery store right across from our vacation rental so we stocked up on food. But be aware stores are closed on Sundays and there was also a holiday off so the store was closed for 2 dates. We didn't know that! I would recommend asking when you first go in so you know when the store is open and closed.
Where To Stay
Piso Visitacion – We stayed at this vacation rental that was a bit outside of the main city part. But had its own neighborhood Falla right down the street, a fireworks store close by, and was not out of ear shot of daily and nightly fireworks :)! It was a 30+ minute walk to the main Town Hall Plaza. Besides that it was a great place to stay!
We also stayed one night at Soho Valenica which was a very nice hotel/apartment building right by the train station.
If you want to be right in the action I would look for a place by the Town Hall or Plaça de l'Ajuntament. But remember this is RIGHT in the middle of it all. We thought it was loud by us I couldn't imagine staying here! That being said if we did it again we would come for just 2 nights the 18th and 19th and stay right in the mix!
I hope you found this article useful! My best advice would be you probably aren't going to 100% know what is going on – unless you are there with a local. So go in with an open mind, ask questions, and just walk around and enjoy this fun, loud and amazing event!
Enjoy your time the Las Fallas festival!
More Posts You May Enjoy:
Backpacking Europe Packing List (With Kids!)
One Day In Madrid Itinerary – 14 Stops Not To Miss!
30+ Best Things To Do In Lisbon, Portugal
One Day In Barcelona Itinerary
1 Day In Sintra Portugal – 3 Places You Don't Want To Miss!
1 Day In Belem (Lisbon) – 9 Awesome Places To Visit
Pin This Post For Later: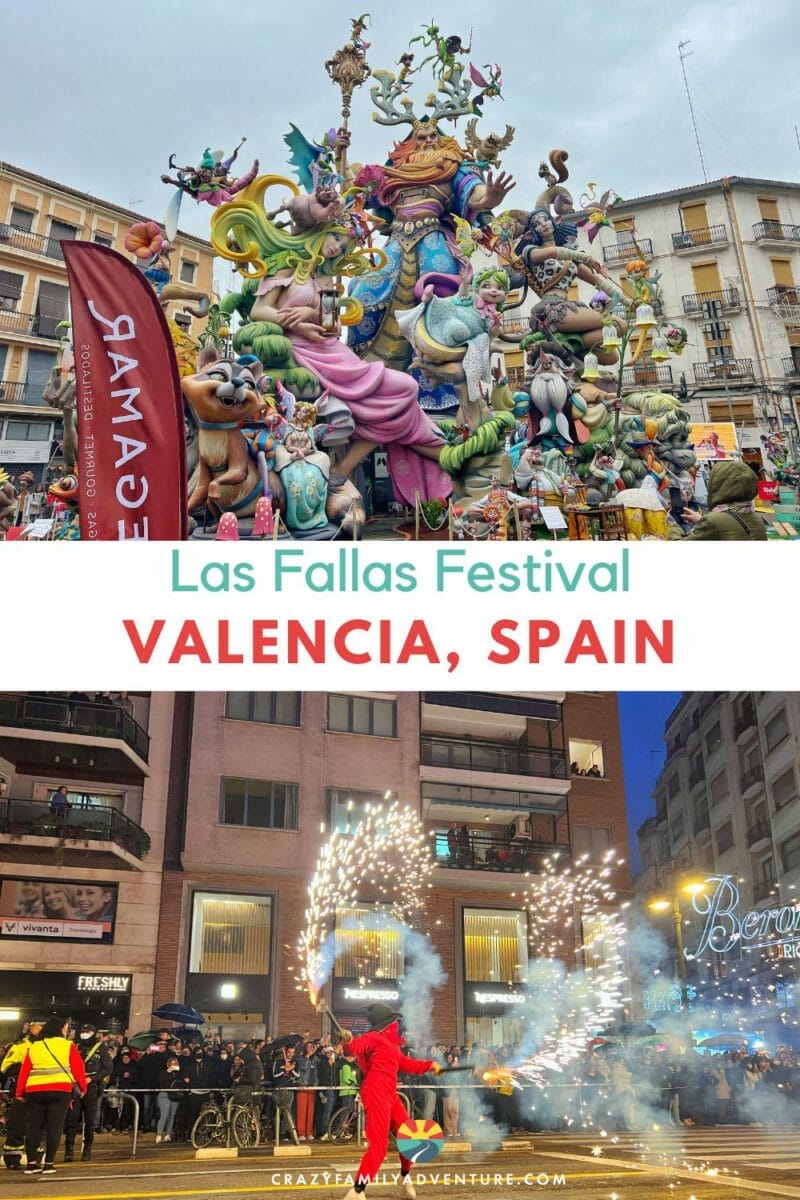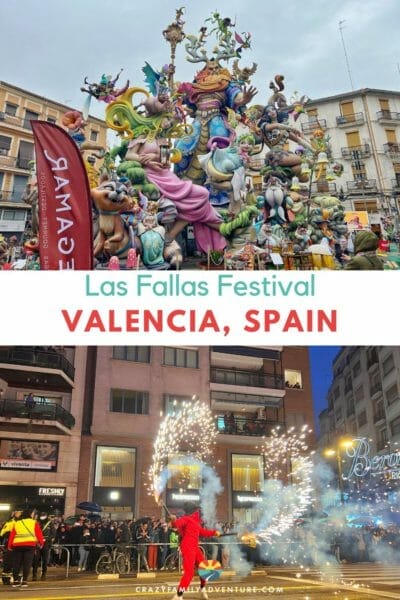 DISCLOSURE: This post may contain affiliate links, meaning I get a commission if you decide to make a purchase through my links, at no cost to you. Please read my disclosure for more info.