When visiting Lisbon, Portugal you want to be sure to set aside a day to explore Belem! Belem is a district of Lisbon and has so much to offer. It is located on the Tagus River and has a ton of history and yummy treats!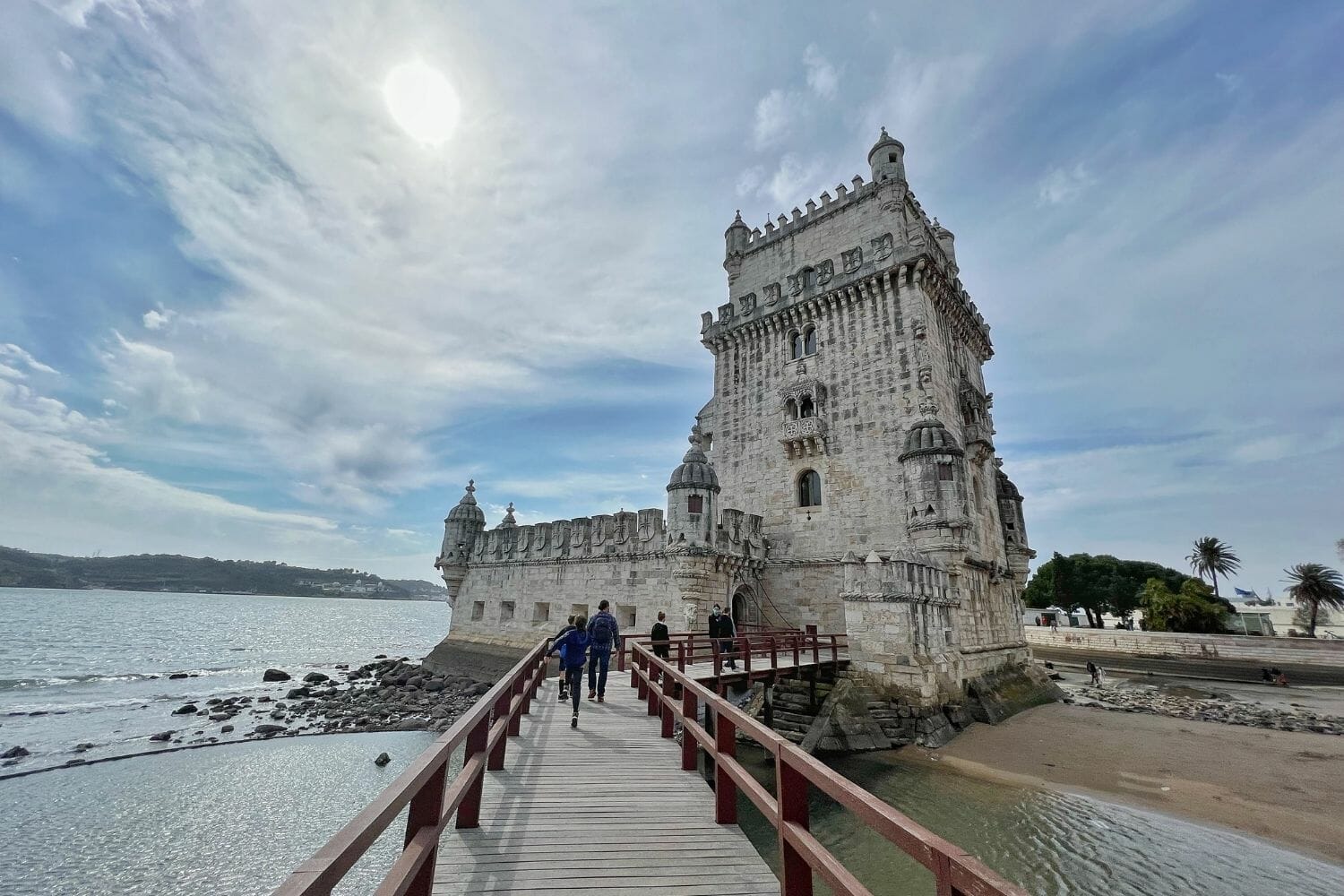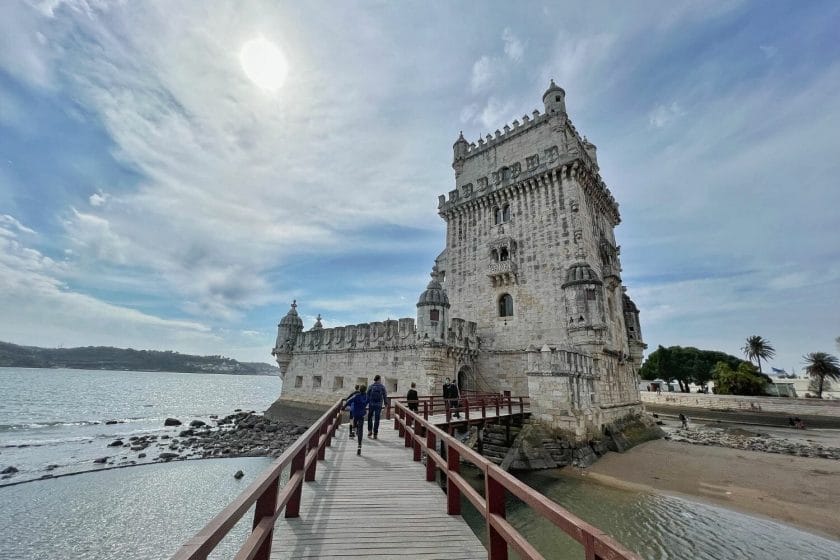 It is home to 2 UNESCO World Heritage Sites the Jerominos Monastery and the Belem Tower. Plus it is where Vasco da Gama set off in 1497 to discover India.
Below we share how to spend 1 day in Belem. We used our Lisboa Card and it made the whole trip easier and cheaper!
Getting To Belem
Take the 15E tram from the Praça da Figueira stop by Rossio Square (we walked there from our vacation rental – you could also take public transportation to get to Rossio Square). The tram rides were all included in our Lisboa Card. You just walk on the bus and swipe your card.
The tram took about 35 minutes to get to Belem from Lisbon. Pay attention to the stops and be sure to get off at the Belem stop. If you miss it just get off at the next one and back track to start our itinerary below.
We walked through Belem to do everything we have on this list. It was very doable.
1st Stop: Coach Museum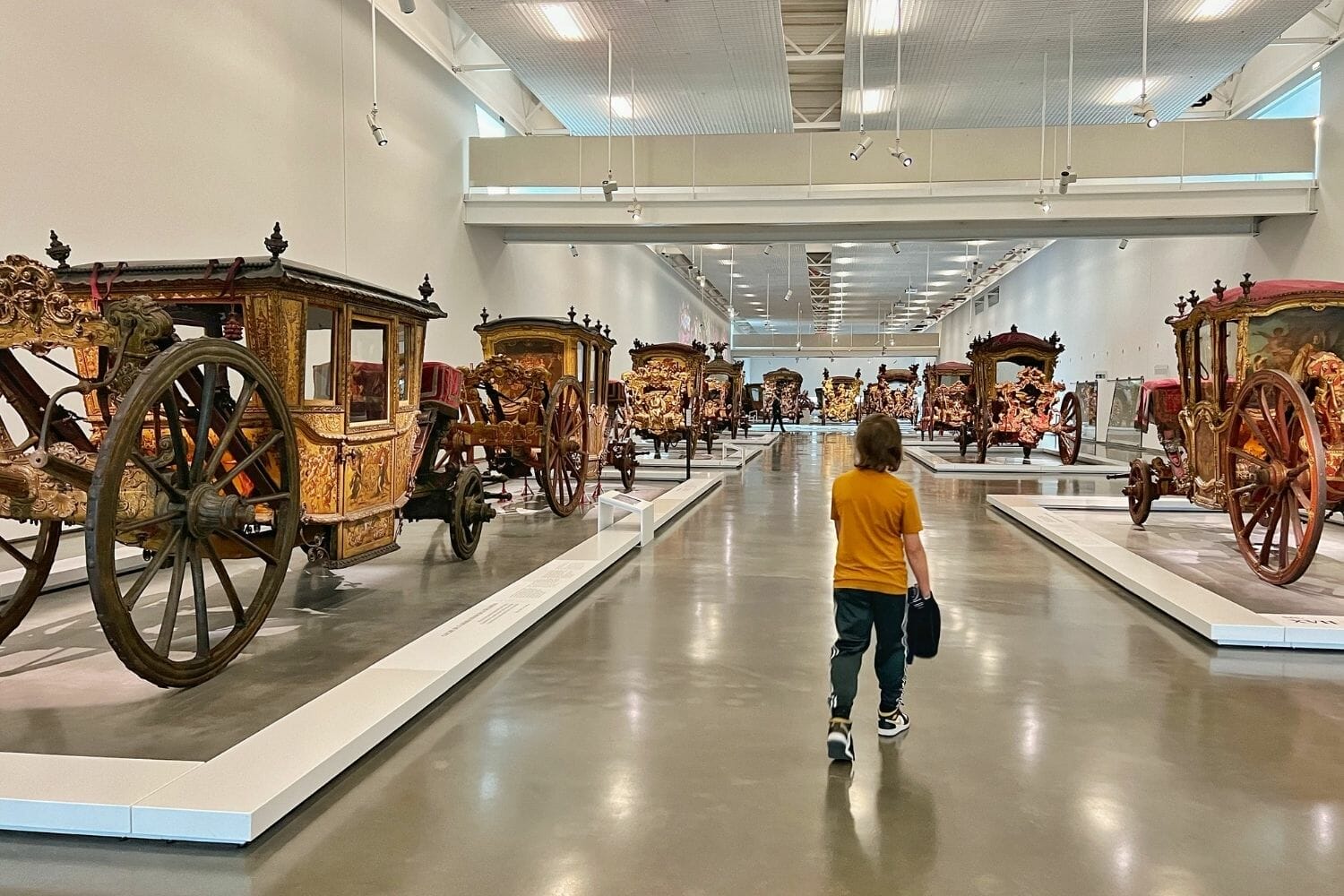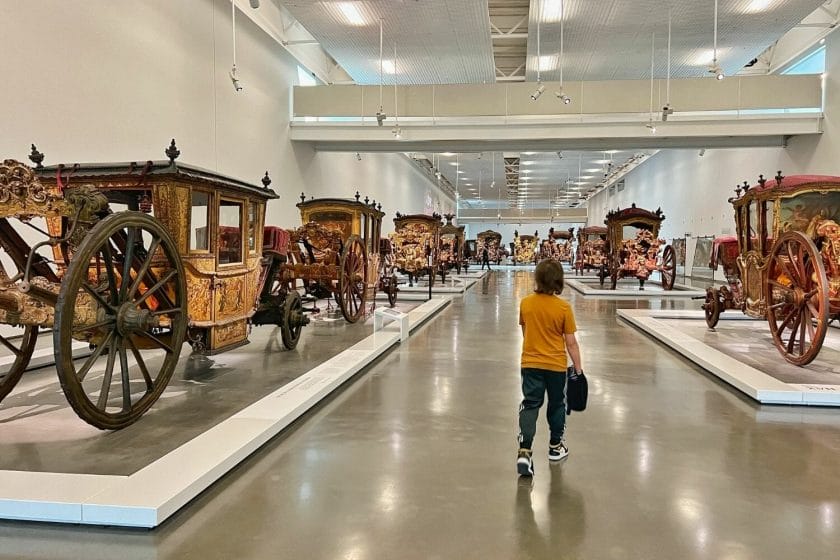 The Coach Museum was filled with different coaches from 100's of years ago. It was cool to see all the different styles and how elaborate some of them were!
2nd Stop: Pastéis de Belém
We got the originals to compare with all the other Pastéis we see around town. It was a split decision. We felt the Pastéis de Belém ones were less sweet but half of us liked those better!
Stop: 5 minutes – unless there is a line – if there is just get in it and wait it will move quickly. We bought ours in a pre made 6 pack – perfect! There is also an eating area in the back if you want to sit down in the restaurant to enjoy your Pastéis.
3rd Stop: Jerónimos Monastery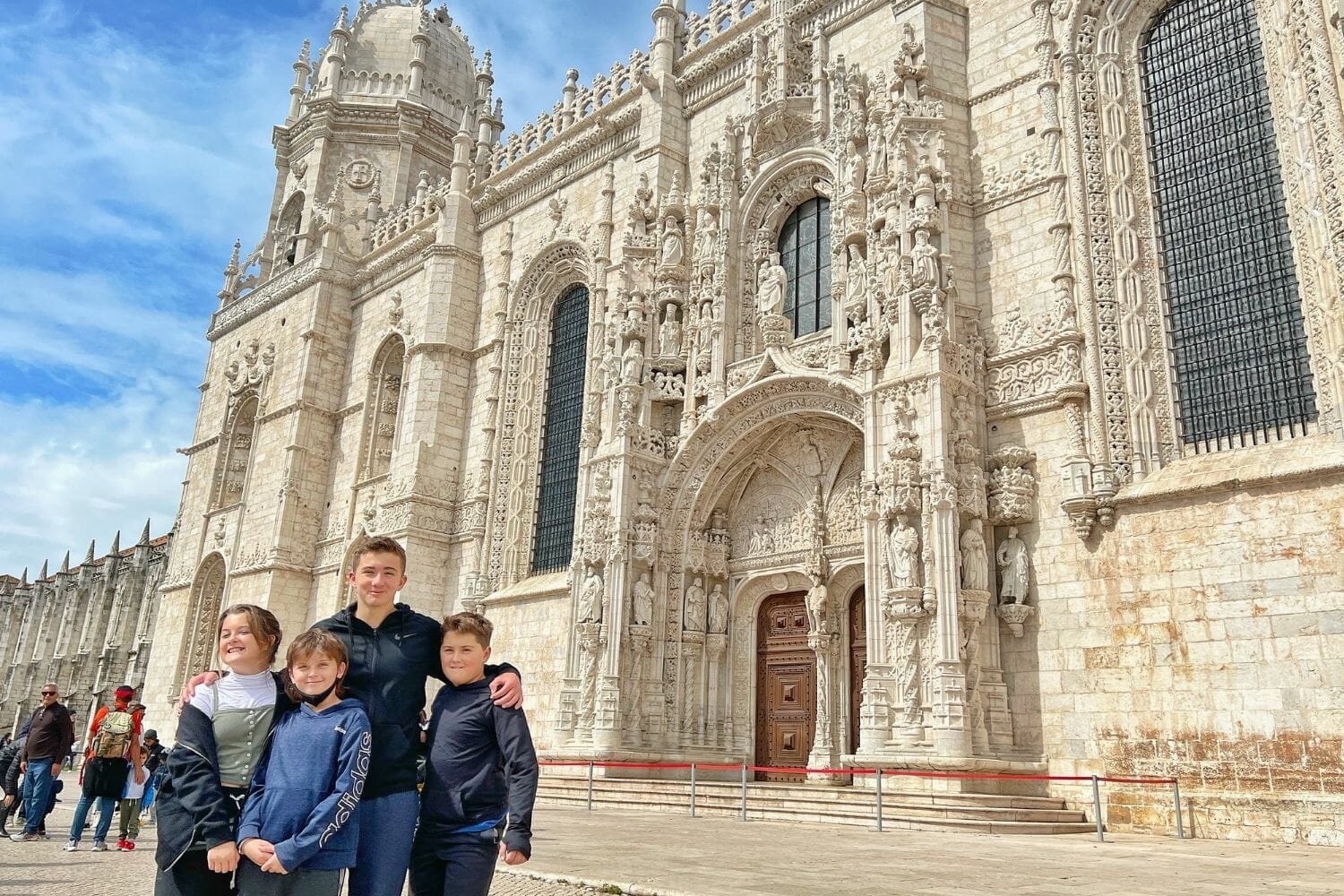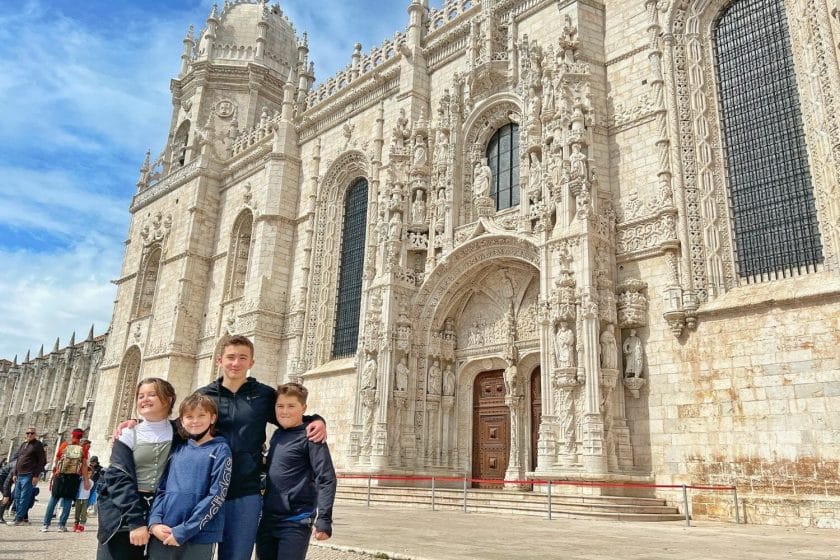 The church was gorgeous. We heard they still do mass there twice a day. Jeronimos Monastery was well worth it and was beautiful inside!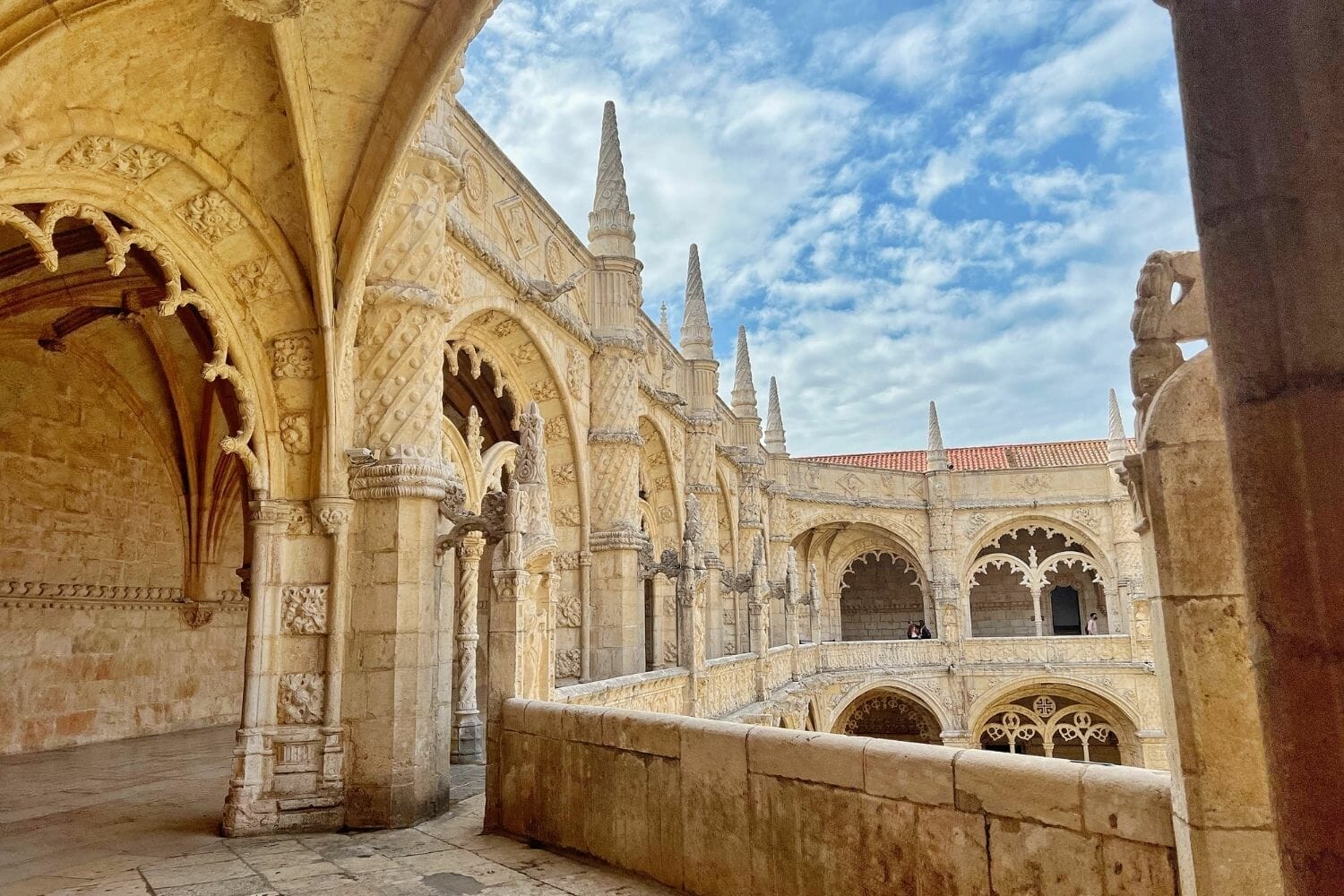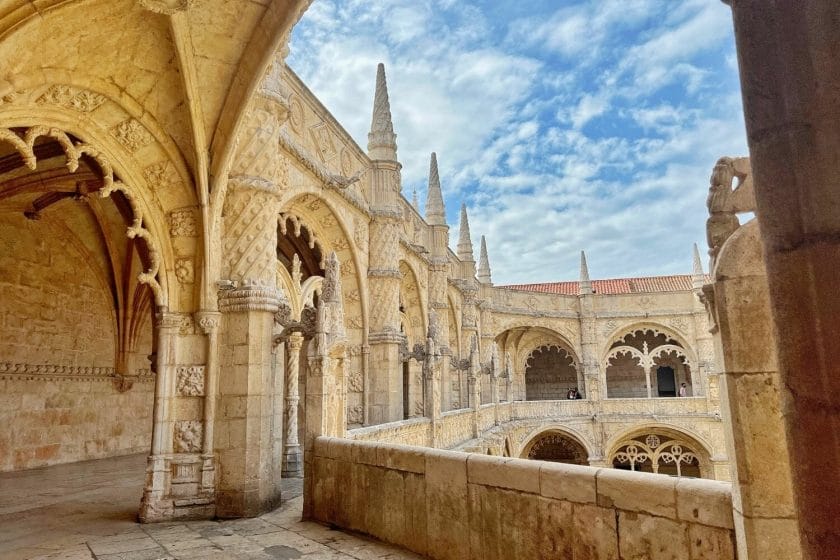 Stop: 1 hour if you are just slowly walking through and taking pictures. It could be quicker if you just walk through or slower if you really take your time at each place.
The church was free – the Monastery and grounds we got into for free with our Lisboa Card
4th Stop: Belém Tower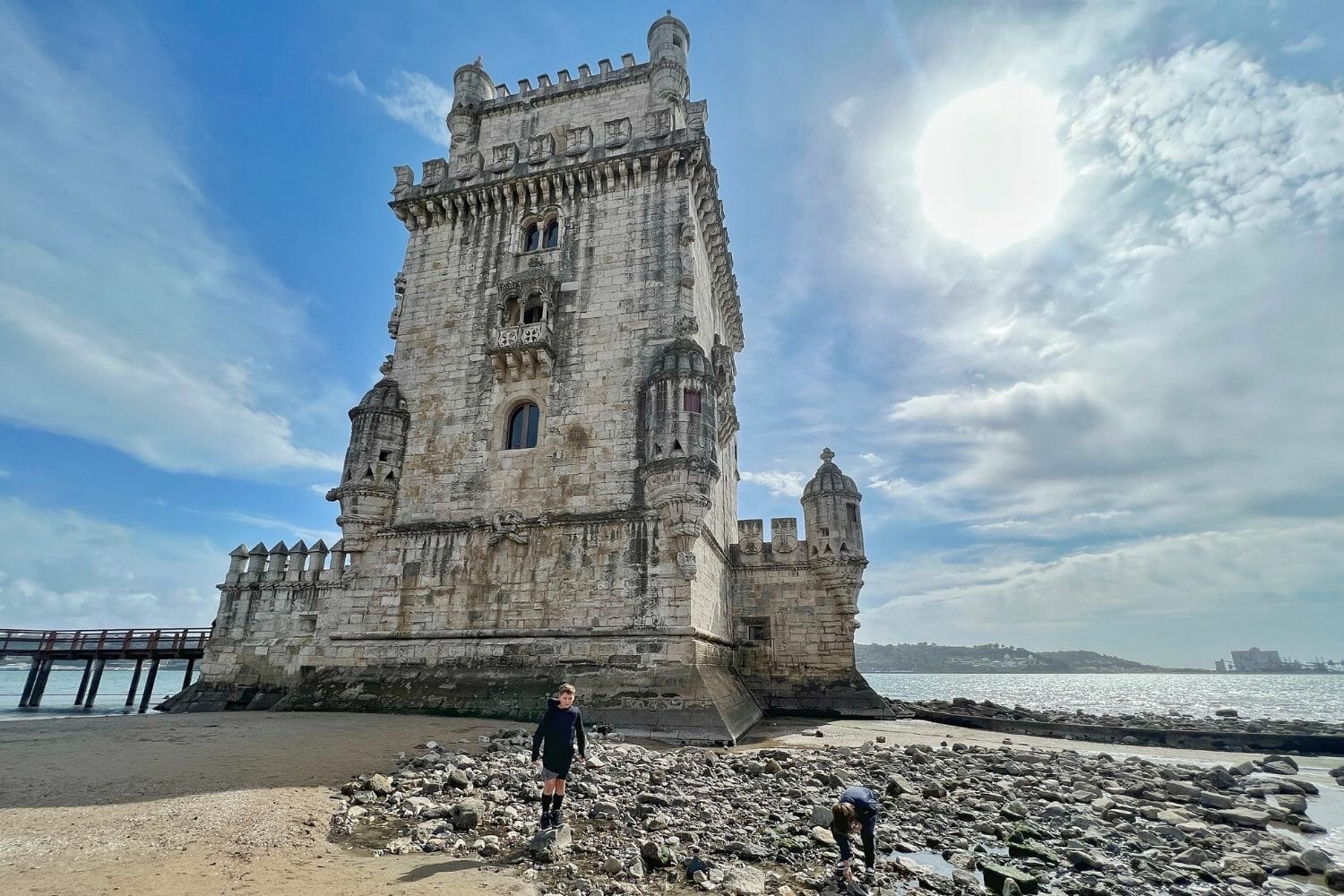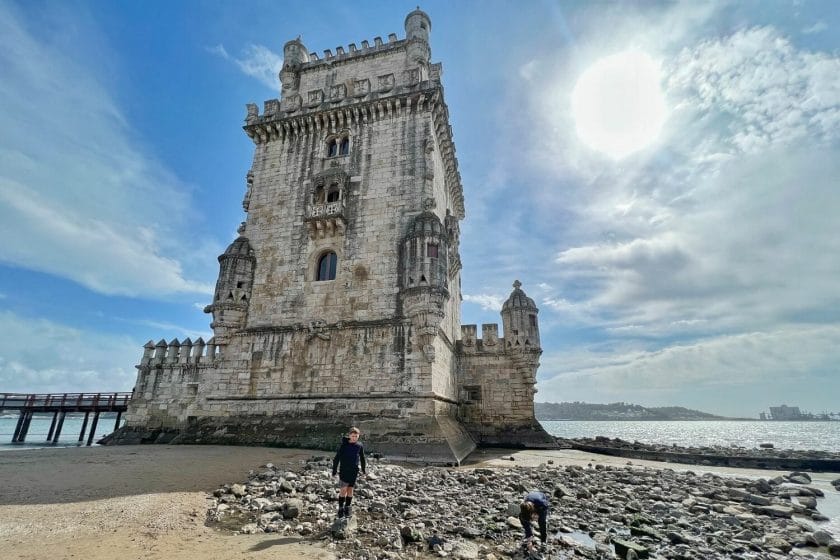 The Belém Tower was amazing. You walk through the draw bridge to get in and on the first floor you can see all the cannons pointing out at the water. The second floor is a big area that you can look out over the water. You can also climb up to the top. The top floors were all classed in windows and in our opinion not worth it. But the first level where you can walk out on the balcony was well worth it! Plus it is a stone spiral staircase – so cool!
When we were there we could also go out to the beach surrounding the tower to look for shells! It looks like at high tide you can't do that? But not 100% sure.
Stop: 45 minutes – if you are stopping to take pictures
Free with the Lisboa card – but you do need to stop at the ticket desk to get tickets before going to the tower. There wasn't a line for us. But we heard there can be.
5th Stop: Gelato Ice Cream
There are a couple places on your tree lined walk from Belem tower to Padrão Dos Descobrimentos to stop to get Gelato – I don't think it was the best Gelato but made the kids happy.
6th Stop: Padrão Dos Descobrimentos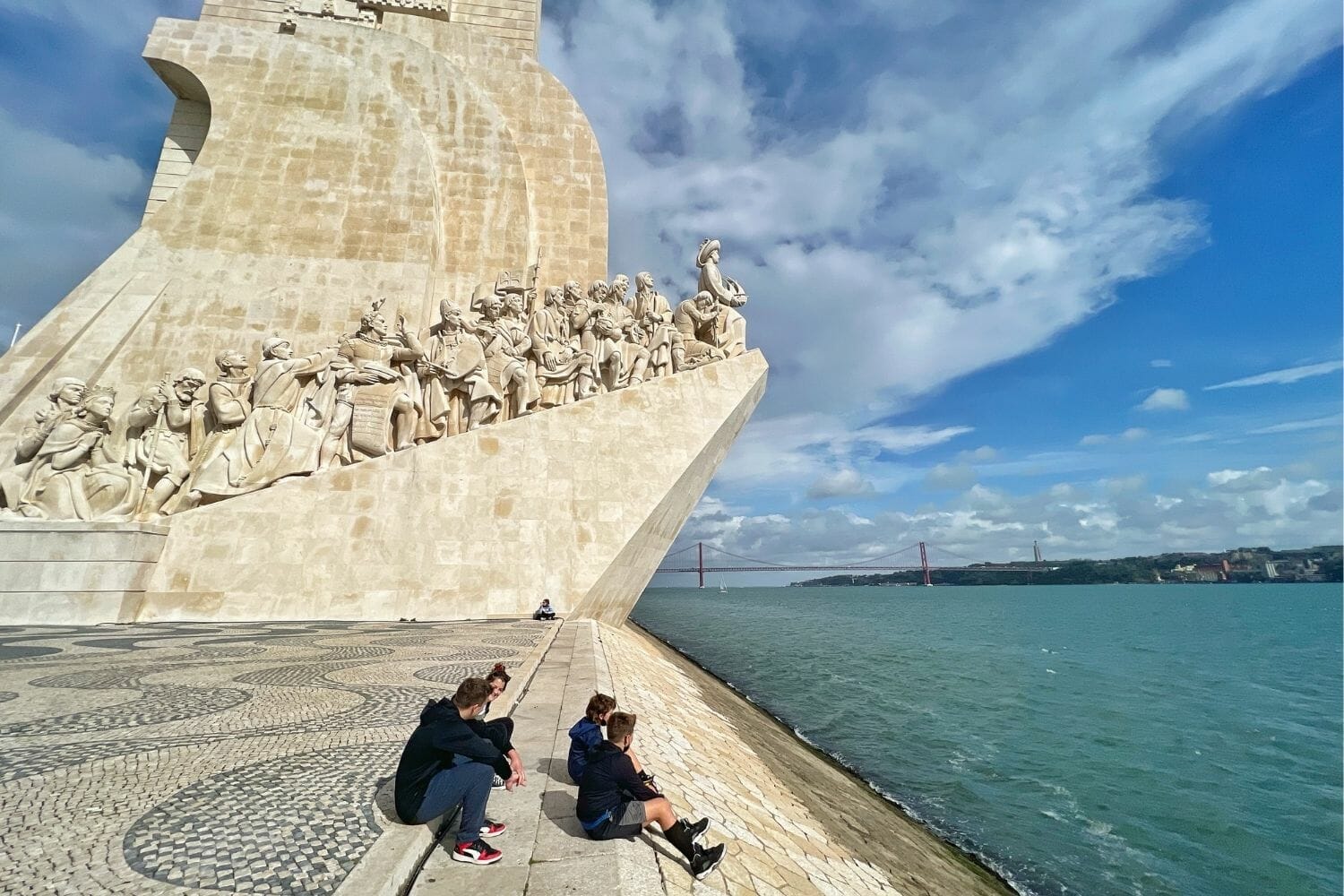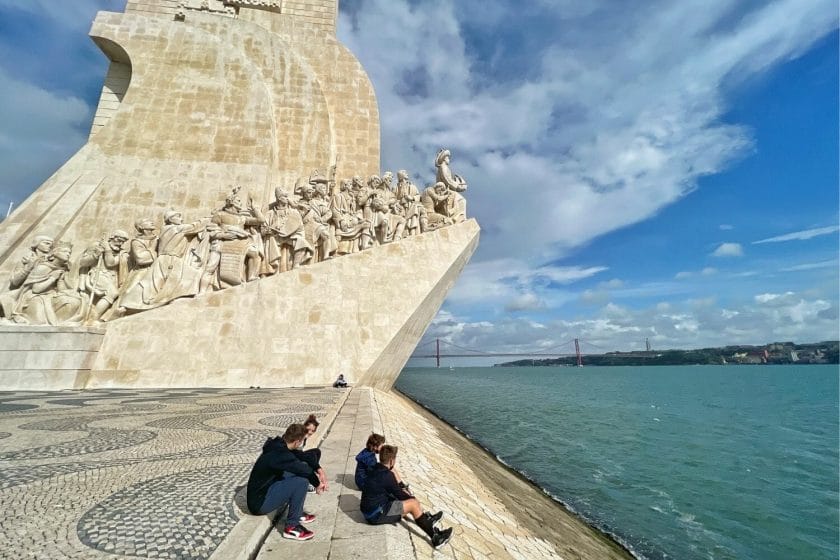 The Padrão Dos Descobrimentos has a cool entrance area with a large square with a world map showing all the places that Portuguese Explorers landed and discovered during the age of discoveries and their sea routes to get there. The monument itself is pretty impressive too and looks like a ship with a bunch of explorers looking out over the water.
It was made to commemorate the death of Henry the Navigator on the 500th anniversary of his death.
Be aware it is an angled wall down to the water and our kids wanted to make us nervous by climbing down it a bit . . . with littles you will definitely want to be careful!
Stop: 5 minutes – unless you go inside – we didn't since it was 100% included in the Lisboa pass.
After this we started heading back towards Lisbon and made a few stops on the way.
Head to the Mosteiro Jerónimos tram stop (a 10 minute walk from the monument – look for the underground walkway as you do have to go under the train tracks and street) to take the 15E tram again to the Rua Da Junqueria stop and walk 7 minutes to the next stop.
**Tram ride was included with our Lisboa Card.
If you put the stop in Google Maps it should come up for you.
7th Stop: Pillar 7 Experience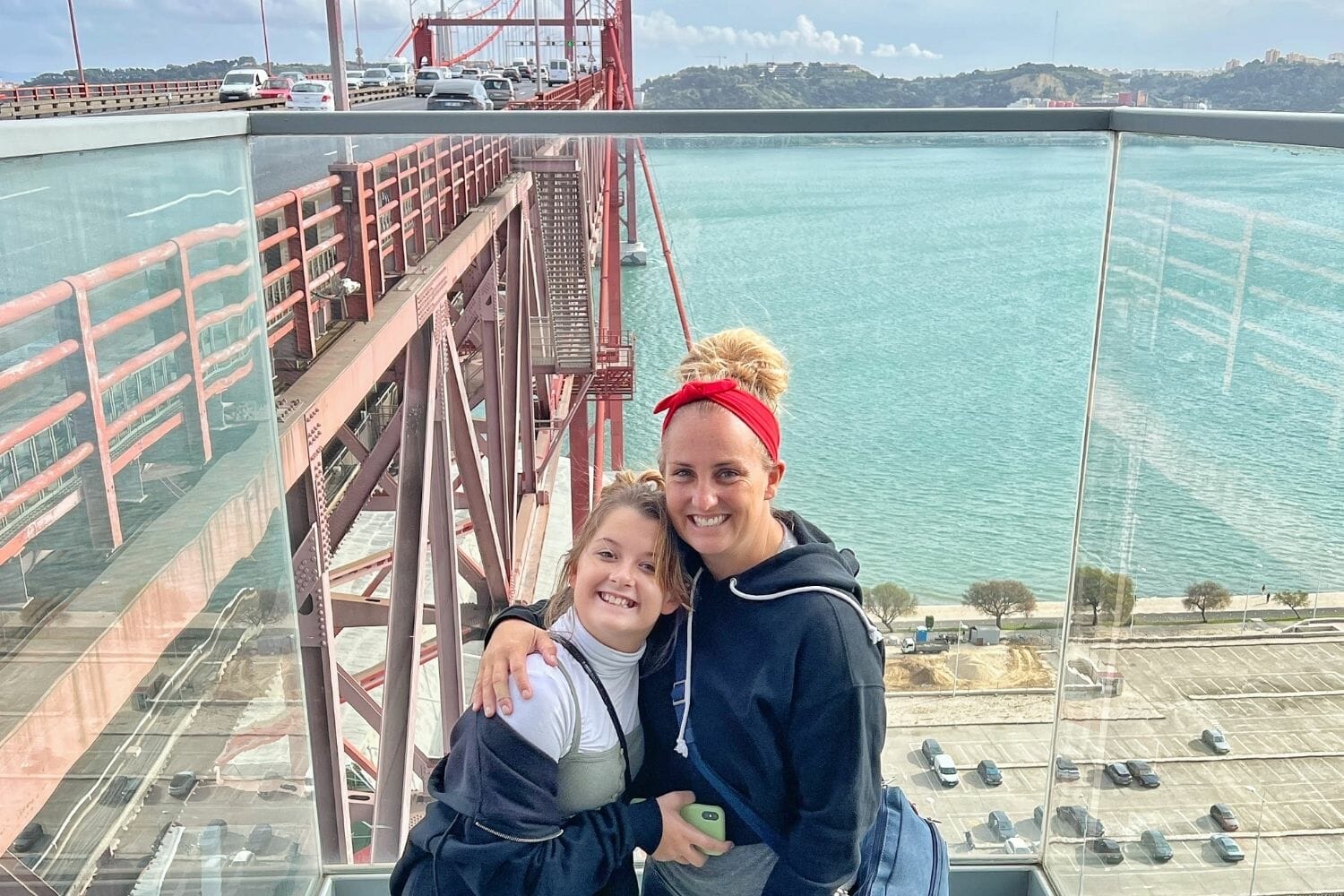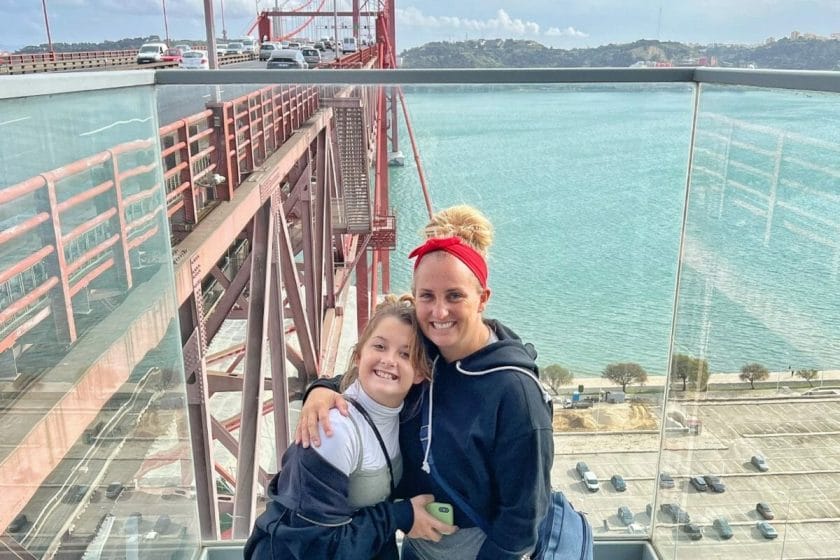 The Pillar 7 Experience is right at the bridge and you do have to go in to show your Lisboa Card and get your tickets. There is also a security check point where they xray your bag and have you walk through a metal detector.
After that you go through a small exhibit (with the slowest Elevator we have ever been on) to get to the main attraction – the glass elevator that takes you up to the bridge. You get off at the top and you can walk out onto a scary glass platform.
It was a fun experience!
Stop: 45 minutes – 1 hour
Included with the Lisboa Card
8th Stop: Village Underground Lisboa
The Villa Underground was a random stop that we came across when we were heading back to the tram. It had an outside basketball rim (not the best but the kids didn't care), a bar area and a cool sitting area! The whole place was a collection of containers.
It also looked like there was a restaurant and they were setting up for a band. This place was an awesome and random find!
Stop: As long as you want :).
Head to the Calvário stop (10 minute walk) and get on tram 15E again and get off at Cais Sodré stop
9th Stop: Time Out for dinner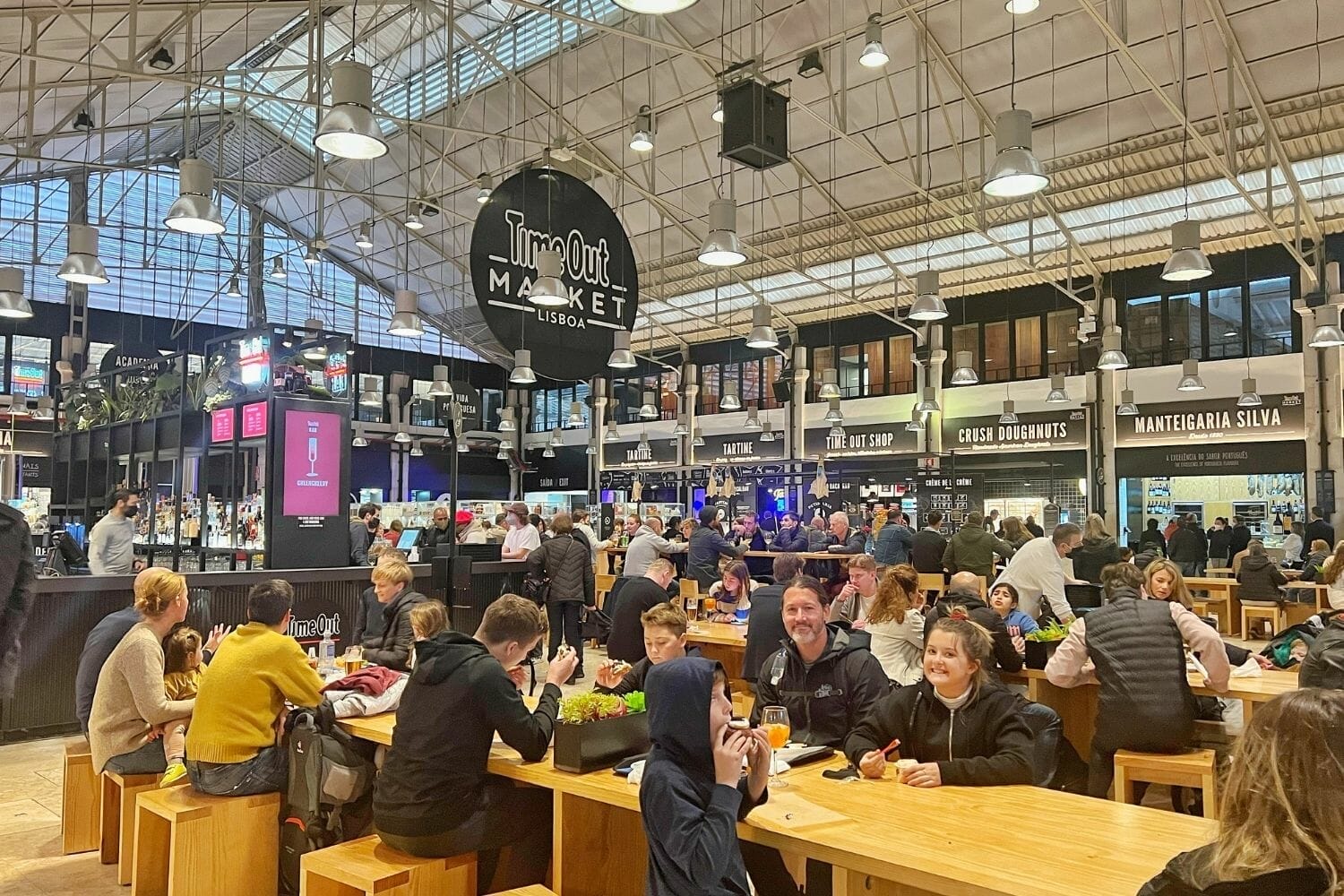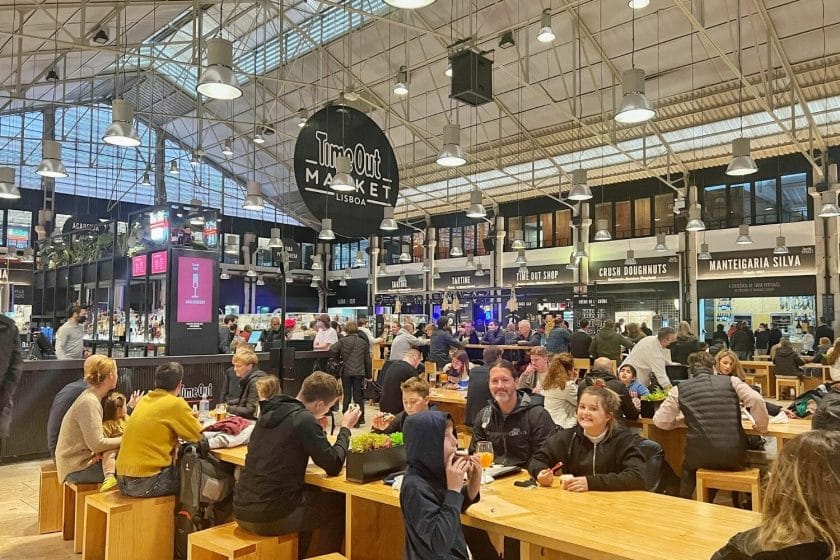 The Time Out is a large food market with about 20 different restaurants in it. From Pizza to burgers and donuts and also meat and cheese and traditional Portuguese dishes.
The kids liked that they each got to pick out what they wanted and ended with a large donut for dessert. It also worked for Craig and I as we got what we wanted and they also had multiple bar areas so we could pick out a drink that we wanted.
From there we walked back to our Vacation Rental. You could also get back on the tram if you didn't want to walk.
We started our day by getting on the tram by Rossio square around 11:30am and were at Time Out for dinner by 5:30 ish.
High Level Itinerary
Took the 15E tram from the Praça da Figueira stop by Rossio Square to Belem (Free with the 72 hour Lisboa card).
1st stop: Coach Museum (free with Lisboa Card)
2nd stop: Pastéis de Belém
3rd stop: Jerónimos Monastery (free with Lisboa Card)
4th Stop: Belém Tower (free with Lisboa Card)
5th Stop: Gelato Ice Cream
6th Stop: Padrão Dos Descobrimentos
7th Stop: Pillar 7 Experience (free with Lisboa Card)
8th Stop: Village Underground Lisboa
9th Stop: Time out for dinner
More things to do in Belem:
Berardo Collection Museum – Modern and Contemporary Art Museum
The Basilica de Nossa Senhora de Nazare
The Belém Cultural Centre
Belem Palace – a former residence of the Royal Family
Located not far from the Atlantic Ocean it is also an area known for its seafood. Unfortunately we didn't get a chance to try any while we were there.
The Santa Maria de Belém region is a must do on your trip to Lisbon yes it is a tourist attraction but it is totally worth it! And don't forget to stop and get pastéis at least once if not twice while you are there!
Click here to learn more about Belem from the 15th century to the 18th century and on to the 19th century and beyond.
Be sure to check out our post on Things To Do In Lisbon Portugal too!
For more day trip ideas from Lisbon check out 1 Day In Sintra Portugal – 3 Places You Don't Want To Miss!
If you are looking for a detailed itinerary for Sintra and Lisbon be sure to reach out to Go Ask A Local guide Inês who can help you plan a customized Lisbon itinerary based on her 14 years experience being a guide around Lisbon and Portugal!
One Day In Madrid Itinerary – 14 Stops Not To Miss!
A Tourist Guide To Las Fallas Festival in Valencia Spain
Backpacking Europe Packing List (With Kids!)
Visiting The Beer Spa Prague [What To Expect]
Pin this post for later: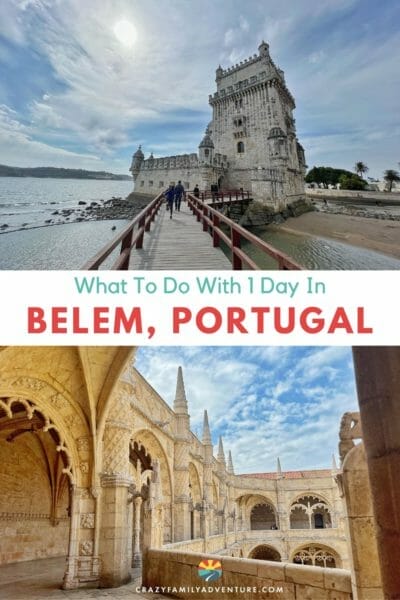 DISCLOSURE: This post may contain affiliate links, meaning I get a commission if you decide to make a purchase through my links, at no cost to you. Please read my disclosure for more info.