Once Craig heard about the Prague beer spa he was in! We found a date and time that worked for us and my parents. So they could take the kids and go do something fun with them (thank you Mom and Dad!) and we headed to the Beer Spa Bernard.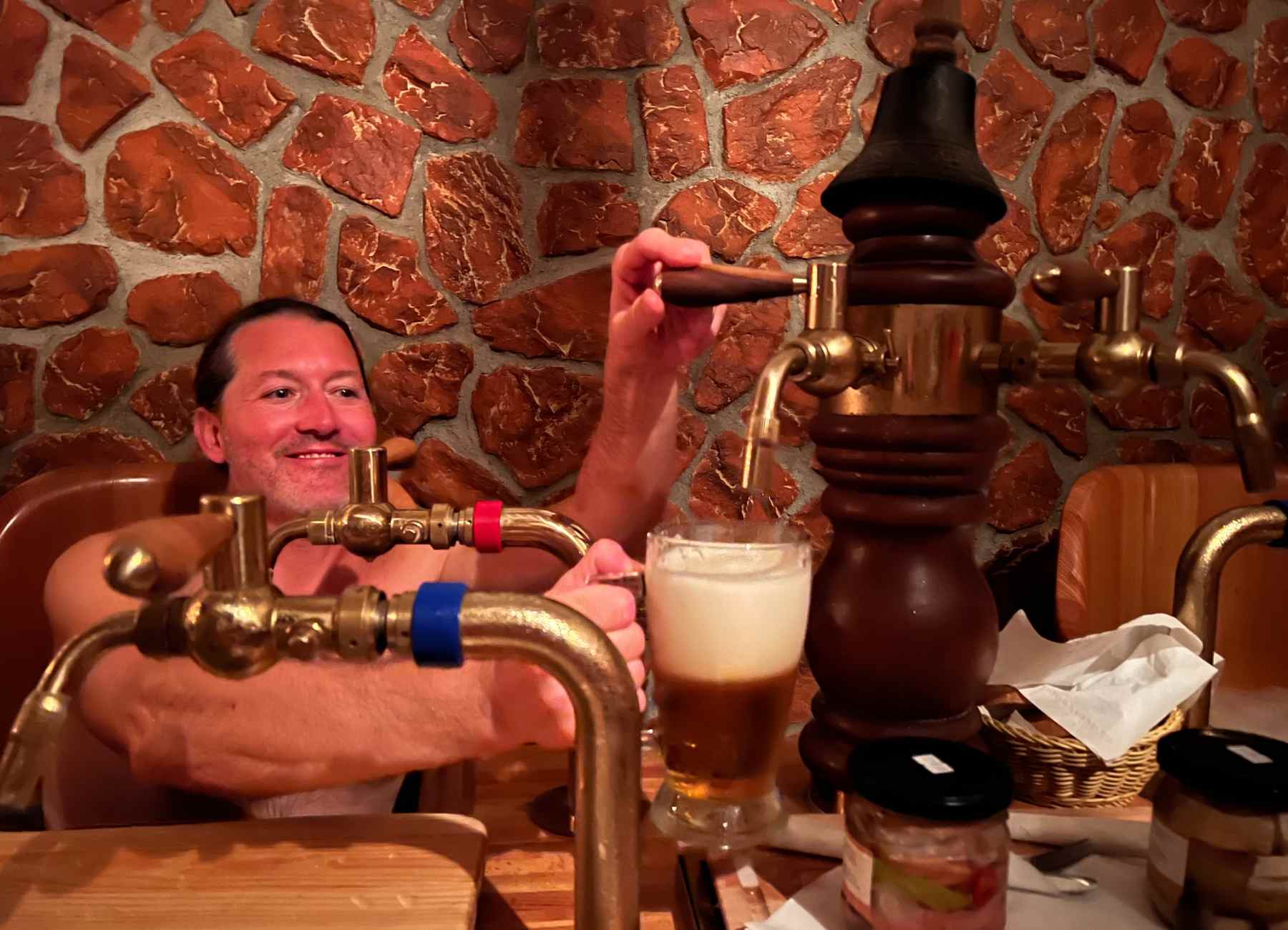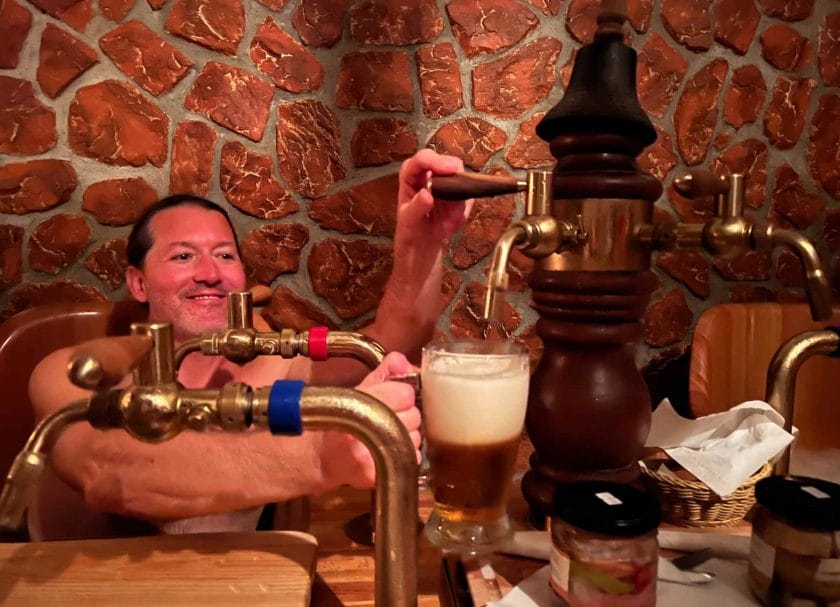 We knew this was going to be one of the most unique things we did while on our trip to Europe! I mean drink beer and not just one but unlimited beer and soak in a hot tub of beer ingredients – let's do this.
Checking In To The Beer Spa
We thought that clothes were optional in the hot tubs as they said you had complete privacy but weren't 100% sure how all of this would work so we brought our bathing suits with us.
When we got there we checked in, signed a waiver saying we didn't have any illnesses that could be spread and they took us back to the dressing rooms.
I was given a locker in the womens dressing room with a towel and crock like shoes. Craig was given the same thing in the mens dressing room. There were no robes and the towels were tiny.
Since there was no robe we figured we should put on our suits before heading out (Craig and I were texting each other on what we should do). We did that and throughout our time saw a lot of other people in bathing suits so it must be what you do? If you don't want to do that I would recommend bringing your own robe. The towels were not that big!
We waited outside the dressing room (how come these things can feel so awkward when you don't know what you are supposed to do?!) and the lady came to get us and brought us to our private room.
Our Room At The Beer Spa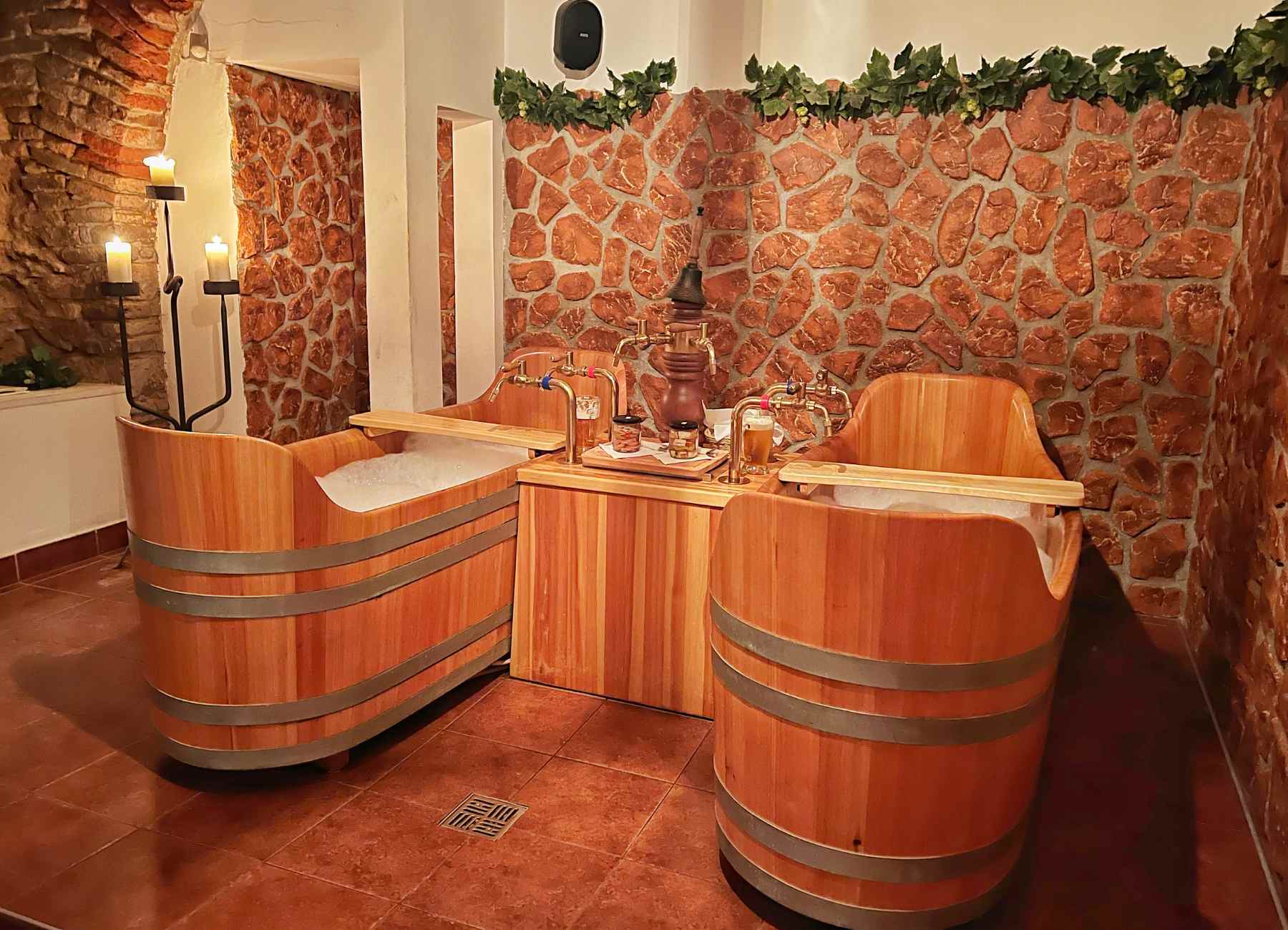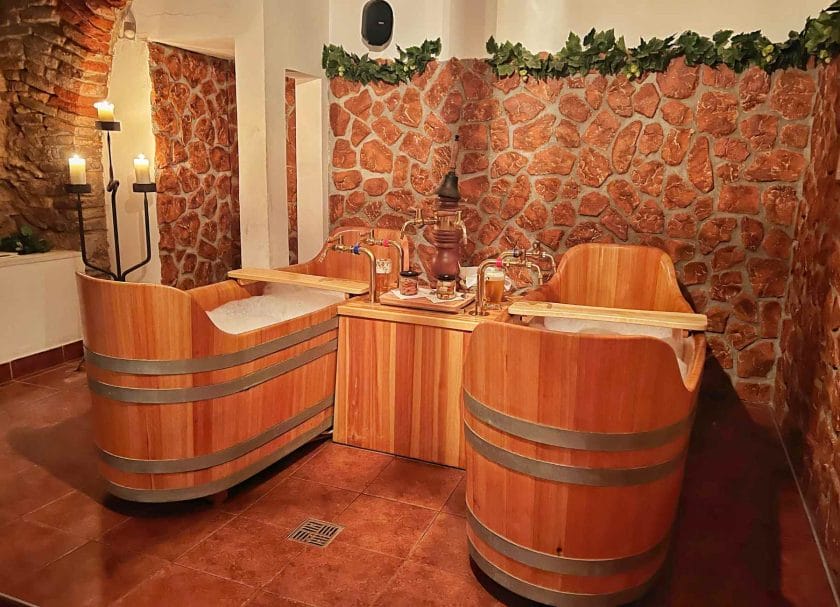 The room we picked had 2 oak tubs in it and a heated bed. She walked us in and showed us the hops and brewer's yeast beer ingredients she would be putting in our tub. It looked like guacamole!
She had us smell it and then she dumped it in the water that was already warm with bubbles. This was all before we got into the tubs.
After that she said just ring the bell if we wanted the bubbles to start again when they stopped (does this mean she would come back in the room?? Hmm all the thoughts that go through your head when you don't know what is going on! I should also add when you are American and care. I really think Europeans don't care if someone sees them naked. And I am all for that and wish Americans were more like that!).
There was a hot water and a cold water faucet for each tub so we could add more water if we wanted to so the temperature would be what we wanted it to be.
There was also 2 Bernard beer taps (Bernard is a Czech beer) and 2 big mugs of beer. She said we could have as much beer as we wanted! There was a note on the wall about not pouring the beer into the tub. Noted!
I really don't prefer beer but in this setting the beer was good!
Food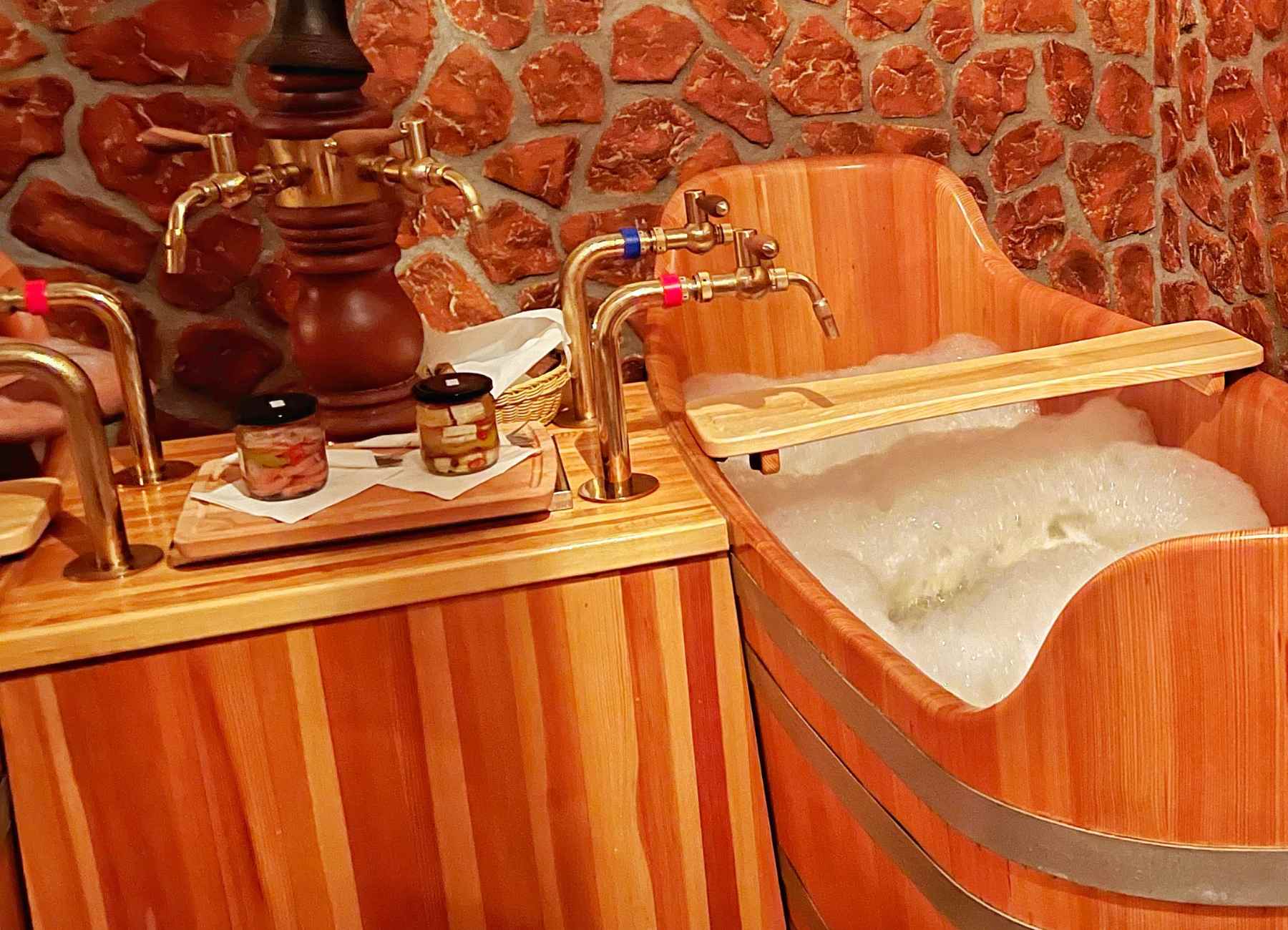 We had pre – ordered pickled cheese and sausage and bread. The bread was in a basket and was a rye type of bread. The homemade pickled cheese and pickled sausage were in jars that we had to open.
The Experience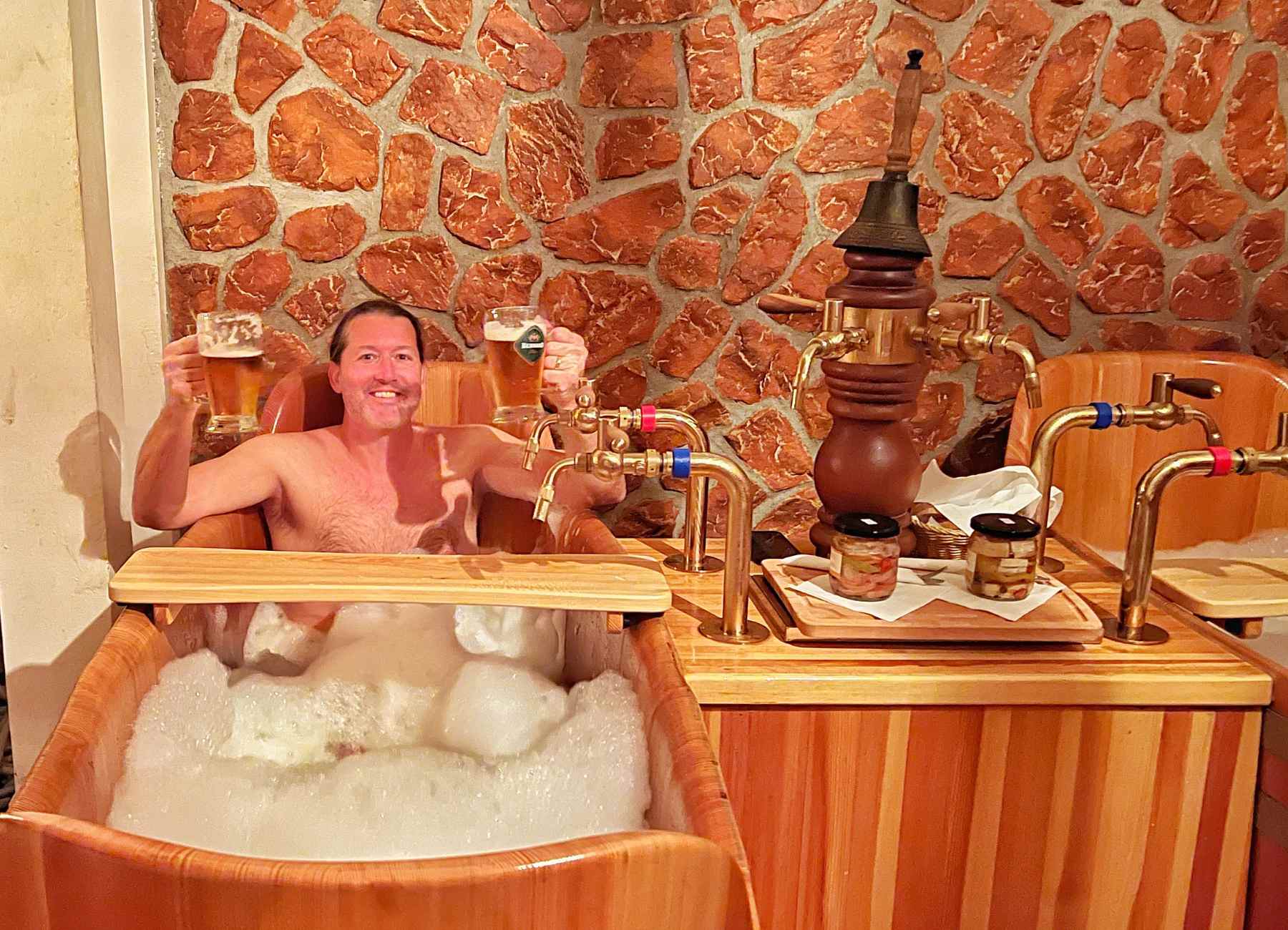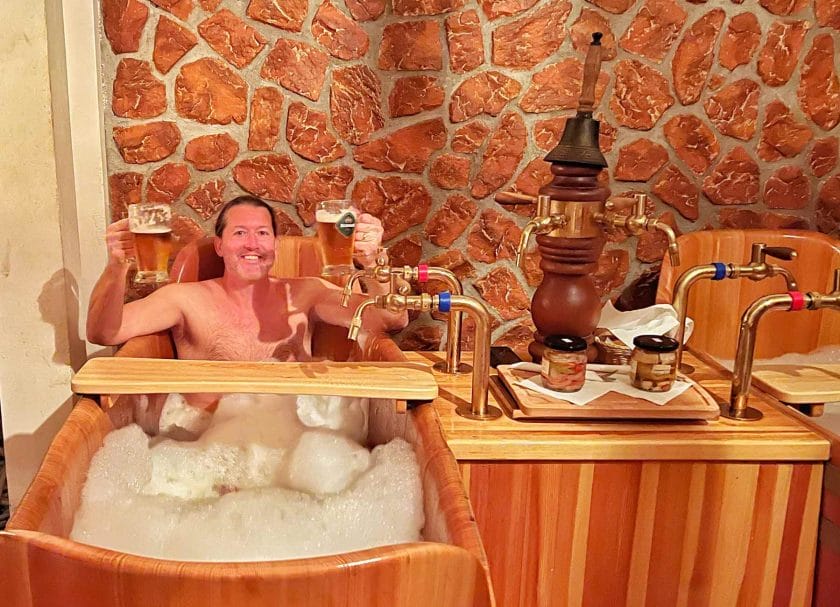 Once she got us situated she left the room. At this point Craig and I took our suits off and got in the water. The beer stuff she had dumped into the tub was really grainy and felt kind of weird. It did end up getting all over our suit and on our skin – but didn't seem to stain anything. But also made our skin feel really soft.
We sat in a tub together, enjoyed our beer and food and also each went in our own tub for a little while. When the bubbles stopped we rang the bell. We weren't sure if she was going to come back in the room to start the bubbles??
But she didn't. She just restarted them from outside the room. Nice. It really is total privacy.
The bed was heated and you can figure out for yourself what you want to use the bed for :).
The only downside was not having a bathroom in the room! When you are drinking unlimited beer you kind of have to go pee! In order to go you do have to walk outside of the room. Again another reason a robe would be a good idea.
I ended up putting my bathing suit on and getting back in the tub so we could take some more posting appropriate pictures. We are so American :).
When the hour was up we got out of the tub since we knew the hour was about up. At that time the lady came back to knock on the door to tell us to get ready for our massage.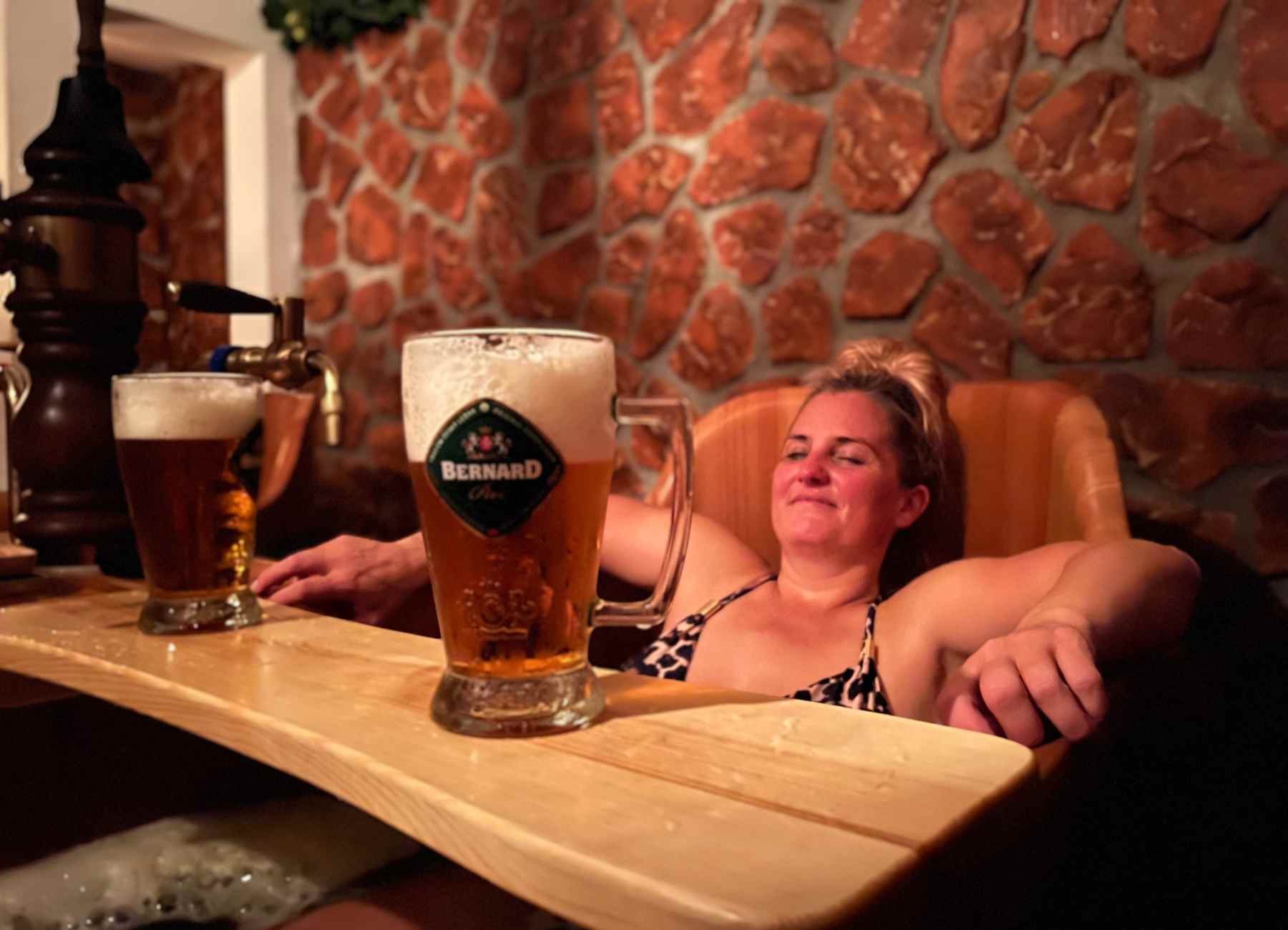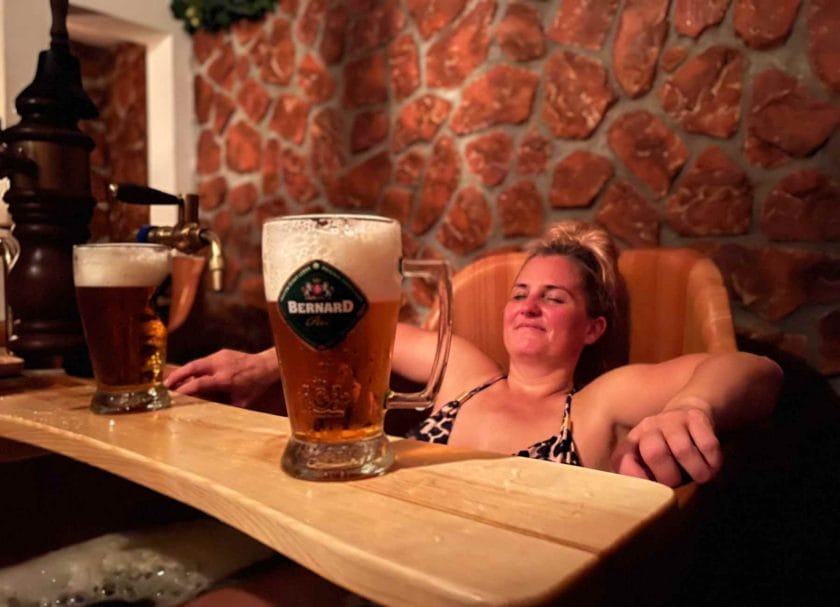 Spa Treatments
We had added the massage on as an extra thing. It was for 20 minutes and both Craig and I went into the massage room together. He had a guy give him a massage and I had a girl – not sure it is always that way?
The massage wasn't anything crazy amazing but it was nice and was a good way to end our time at the beer spa.
When we were done we went to change – there was a shower in the bathroom if you wanted to rinse off. After we were changed we went out to the reception area and they gave us a beer spa certificate – yay for us. And 2 beers to bring home with us.
The whole experience wasn't cheap at $200 and lasted about 90 minutes. But it was a cool experience and we are really glad we did it!
In the dressing room you have a locker with a key. We did leave our clothes in there. But opted to take my purse and Craigs wallet with us into the room and the massage room. This wasn't a problem at all.
Now that we have been through the experience once if we did it again it would be even more relaxing since we would know what to expect. If I had one with me I would also bring a robe along so I wouldn't have to mess with putting my bathing suit on.
If you are planning to go to Prague you should plan a time to do the beer spa!
Having a tub filled with a beer bath and learning all the health benefits of the yeast and ingredients I think we should do this more often!
There are a few beer spas in Prague. Here is another option:
Spa Beerland – which they say is the original beer spa in Prague. Here will find dark and light Krušovice beer. You can relax on a real wheat straw bed and have homemade beer bread.
Wherever you chose to go doing a Beer Spa when you are in the Czech Republic should be on your list of things to do!
Pin This Post For Later: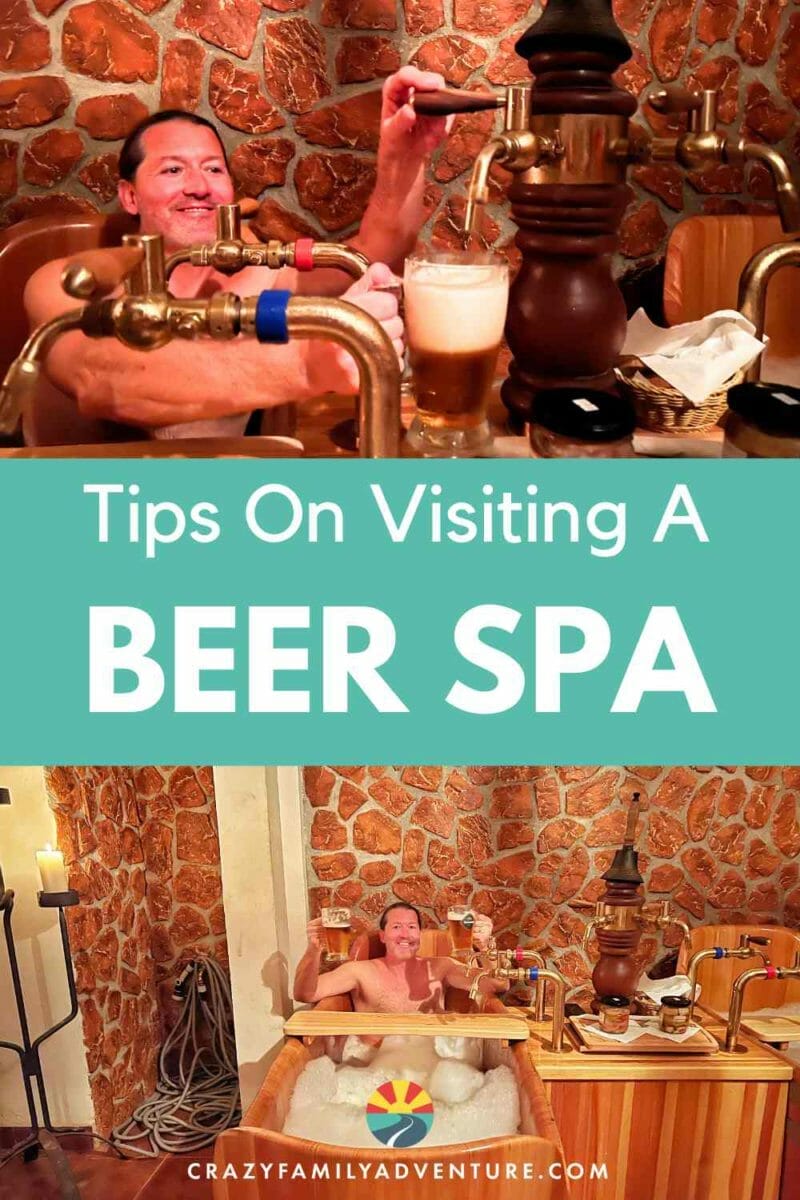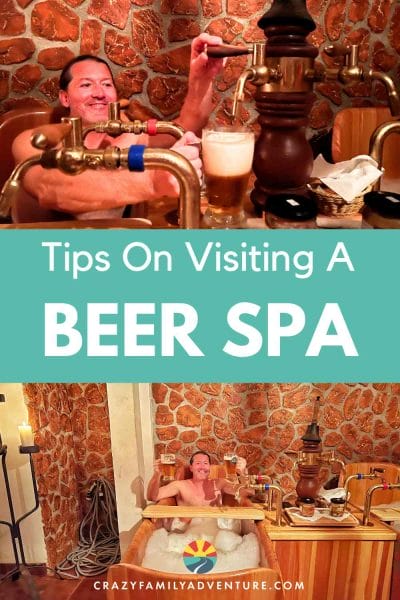 More Posts On Europe
Backpacking Europe Packing List [With Kids!]
30+ Best Things To Do In Lisbon, Portugal
One Day In Madrid Itinerary – 14 Stops Not To Miss!
One Day In Barcelona Itinerary
A Tourist Guide To Las Fallas Festival in Valencia Spain
Tips On Visiting All 5 Cinque Terre Towns [Itinerary Included]
25 Top Things To Do In Florence, Italy
15+ Things To Do In Tuscany Italy
17 Fun Things To Do In Venice Italy [2 day Itinerary Included]
15+ Fun Things To Do In Rome With Kids
DISCLOSURE: This post may contain affiliate links, meaning I get a commission if you decide to make a purchase through my links, at no cost to you. Please read my disclosure for more info.