When we were planning our trip to Europe we added Prague from the start! We couldn't wait to explore all of the amazing things to do in Prague. From the rich history to the beautiful architecture plus the vibrant culture.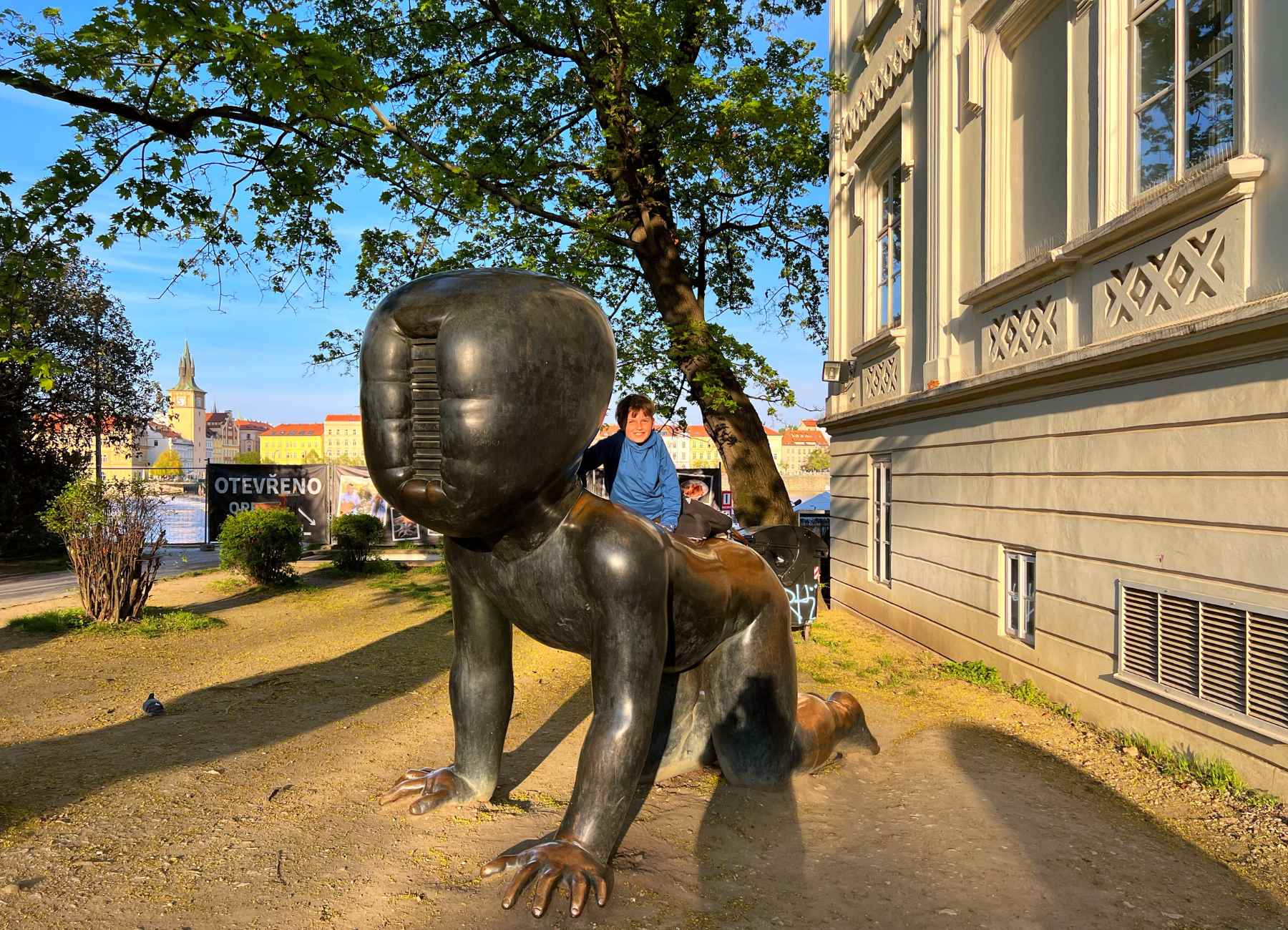 We had also heard that Prague is a very family friendly city and that it is affordable compared to other European destinations. We were excited to visit and really enjoyed our time in Prague.
Getting Around Prague
We took the train to get to Prague and were able to walk from the train station to our apartment. The whole time we were in Prague we walked everywhere we went. It was a lot of walking but it is was very doable.
Prague is a very walkable city. And don't worry you won't be the only one out walking, everyone is very active in Prague and the streets are almost always busy with people walking around. There can also be a lot of traffic so make sure you are paying attention.
Foods You Don't Want To Miss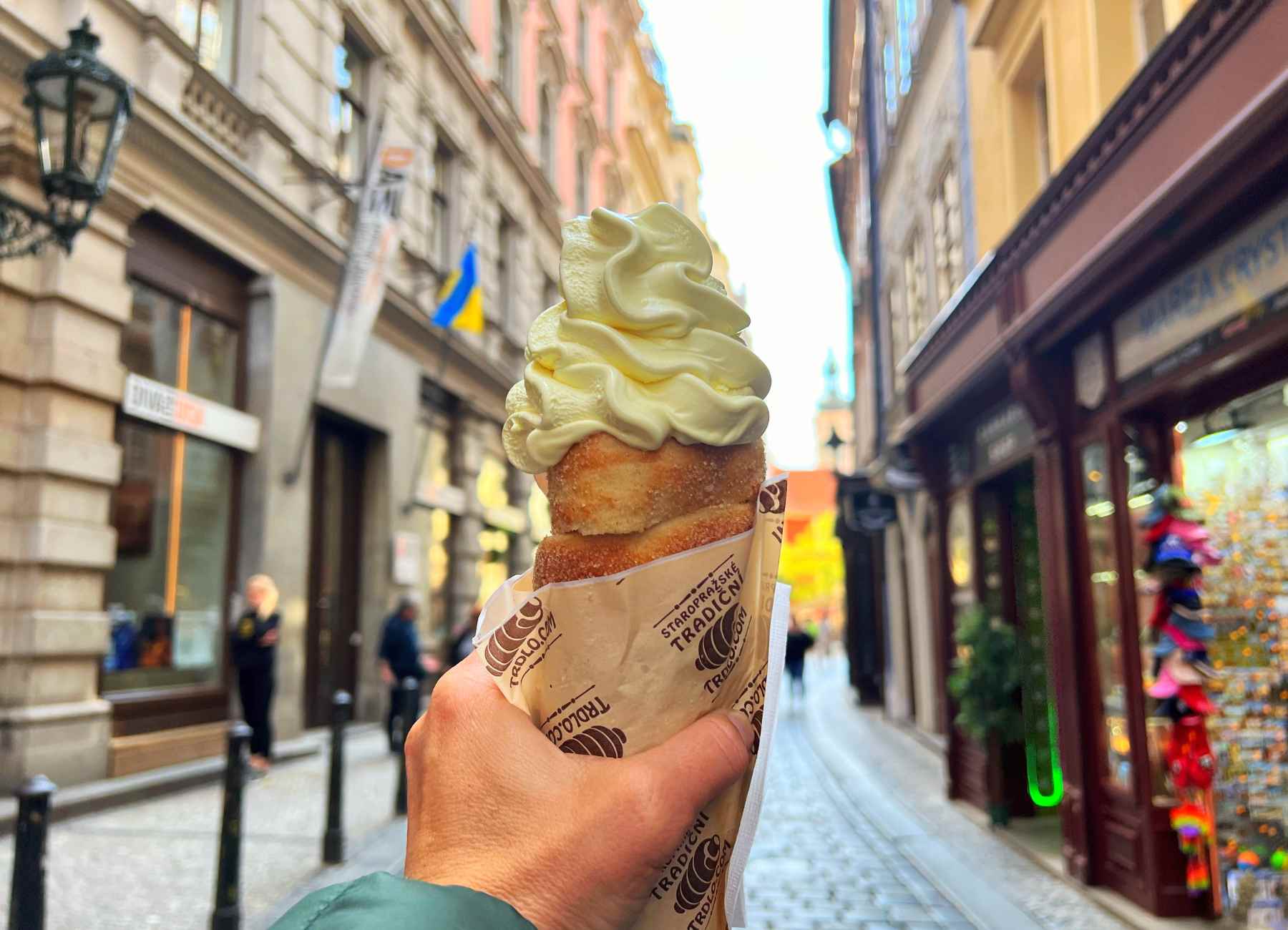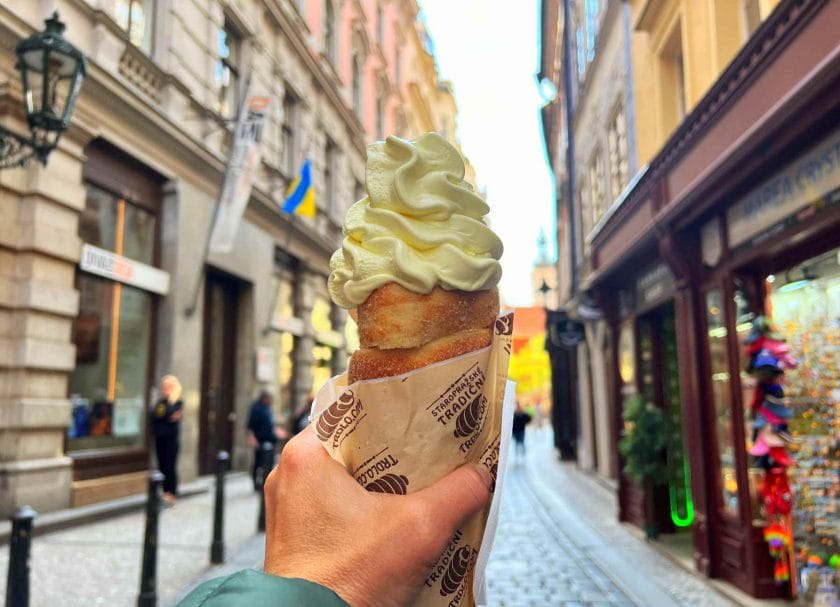 Don't miss the trdelník. It was my favorite!!! It will be hard to miss as they are selling them all over the city. Make sure to get one with ice cream to try and the fresher the better.
Food Kiosks – There were little shops setup on Charles square and we were able to try a variety of different Czech foods.
Strawberry/Banana Ice Cream – from Ovocny Svetozor.
Activities Not To Miss
The Beer Spa – this was such a unique experience and if you have a beer lover in your group they aren't going to want to miss this!
Clock – you can't come to Prague and not see the clock and see it in action (every hour on the hour).
Things To Do In Prague
Alright let's get into all the fun things to do in Prague with kids! We brought our kids to everything we talk about here. Minus the Beer Spa – that we did on our own. Ok let's do this:
Wenceslas Square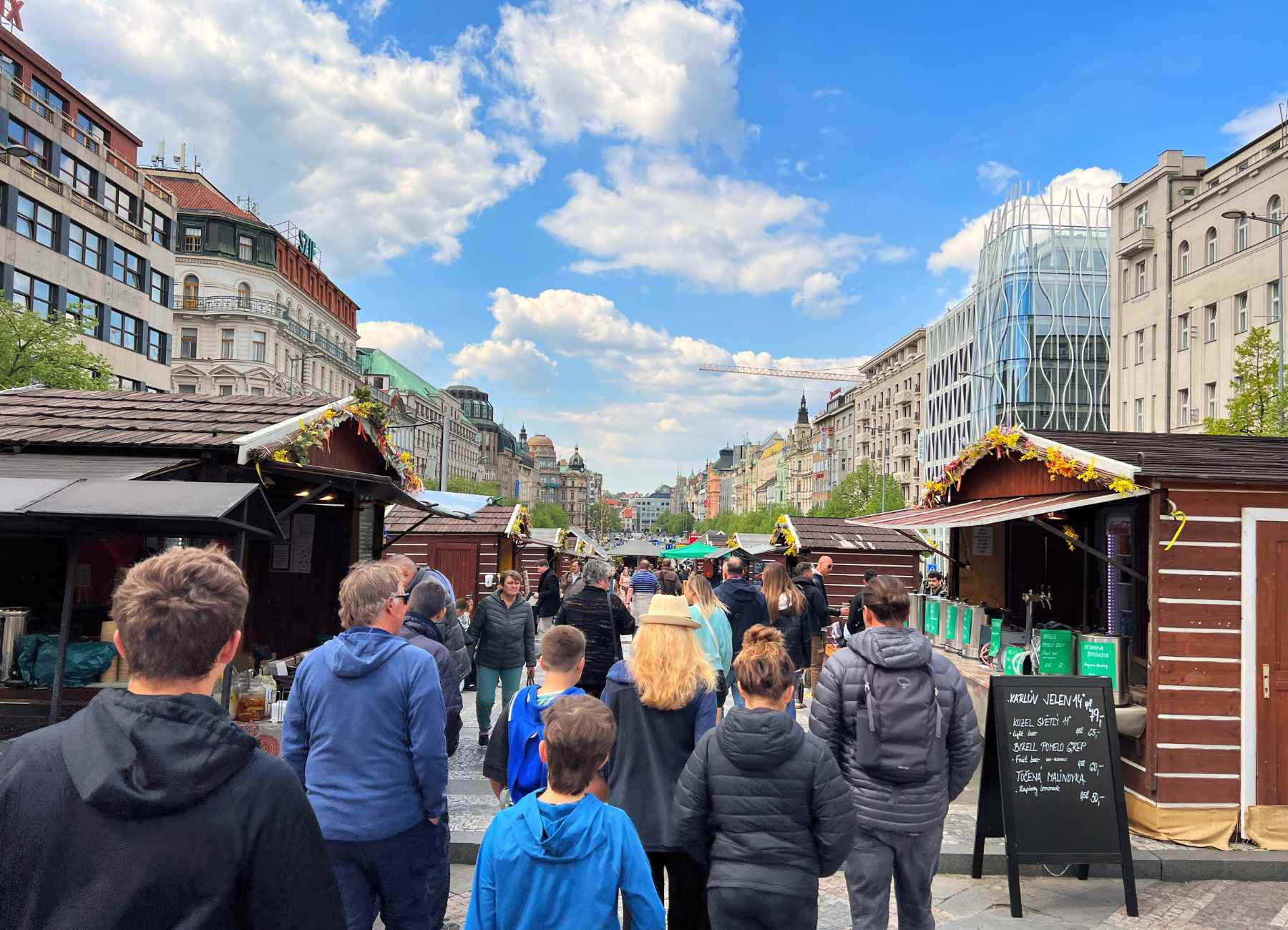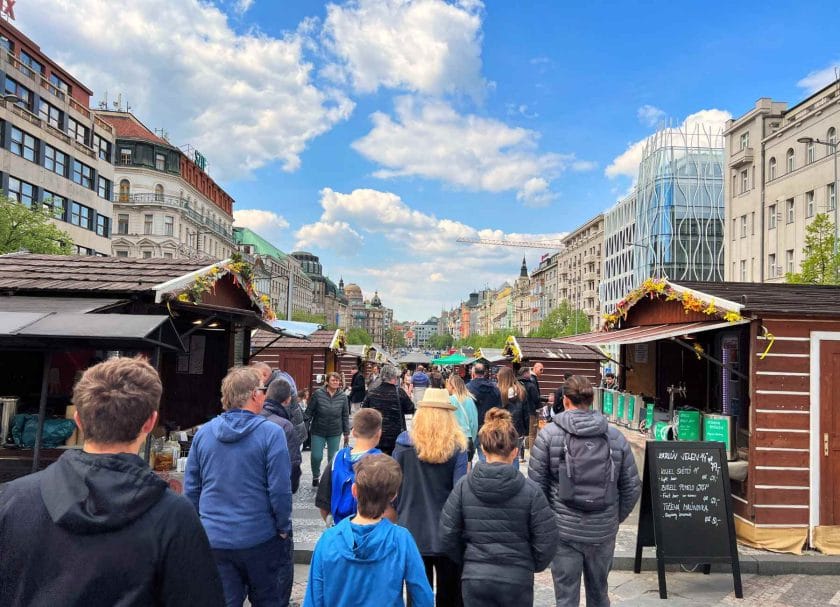 Wenceslas Square is a bustling public square located in the heart of Prague's New Town district.
The square is named after Saint Wenceslas, a patron saint of the Czech Republic, and is one of the largest squares in Europe. It's a popular gathering place for locals and tourists alike, with plenty of shops, restaurants, and entertainment options.
We stopped here multiple times while we were in Prague. Once on our history tour of the city that my Mom (my parents traveled with us to Prague) took us on. Where we learned about all of the demonstrations that were done in the square over the years and how significant they were for the Prague people.
We also saw the statue of St Wenceslas which is a statue of him on horseback with the Prague National Museum in the background.
The square has traffic on both sides of it. But down the middle is a large area where they had food kiosks set up where you could get a variety of famous Czech foods to try.
If you keep walking down the square you will come to a street that is filled with stores – similar to ones you would find in a mall in America. Melia was happy about that! And we made a stop in a few of them.
Franciscan Gardens
This is a beautiful green space in the middle of Prague! We love finding these spots to just walk through and take a breath of fresh air and find some peace and calm in a busy city. There is also a children's playground in the park.
Prague Golf & Games
If you have kids with you or you are just looking to get out and do something active. Be sure to check out Prague Golf & Games. The kids had a great time playing mini golf here with my parents when Craig and I were at the Beer Spa.
Old Town
I love to visit the older parts of the city to see the old buildings, streets, and feel the vibe. It is so cool to see in these European cities! The Prague City center of Old Town or Staré Město did not disappoint. With its numerous squares, narrow lanes and Gothic architecture. Within the Old Town are the Astronomical Clock and Old Town Square which we cover next.
Astronomical Clock
The astronomical clock on the Old Town Hall building is a top tourist attraction in Prague and is well worth a visit. The clock dates back to the 15th century and is one of the oldest functioning astronomical clocks in the world, and is also a masterpiece of medieval engineering and craftsmanship.
The clock features four main components: the astronomical dial, which shows the position of the sun and moon in the sky; the hourly clock, which features the figures of the Apostles and other sculptures; the calendar dial, which displays the day and month; and the procession of figures, which features a variety of allegorical representations of life and death.
Every hour, on the hour, the clock comes to life with a fascinating display of movement and sound. The Apostles move past the windows, and other figures move and dance to the music. It's a truly mesmerizing experience, and one that shouldn't be missed.
To watch it everyone stands in a group below the clock. It is normally a large group of people waiting to watch and you are squeezed in between restaurants on one side and the Old Town Hall on the other. With people trying to walk through to get into the square so be ready for that!
Old Town Square
If you are visiting the Astronomical clock you will already be in Old Town Square. It is a large square with unique architecture all around you. Walk into the square, stop and just do a full circle taking in all of the beautiful buildings around you.
There are also restaurants and shops that you can stop in. Or grab one of the outside tables and sit with a glass of wine or a cup of coffee and do some people watching!
Charles Bridge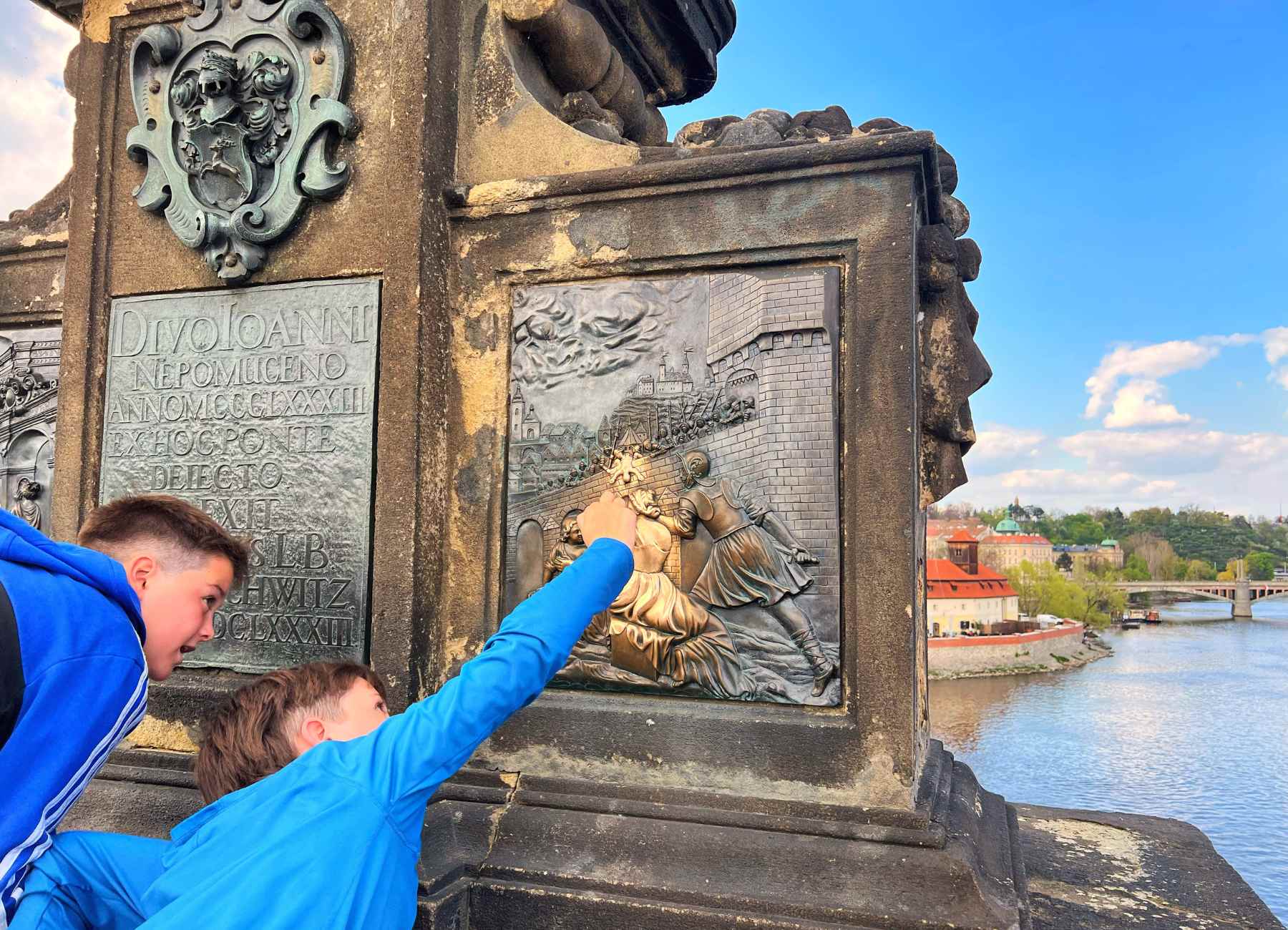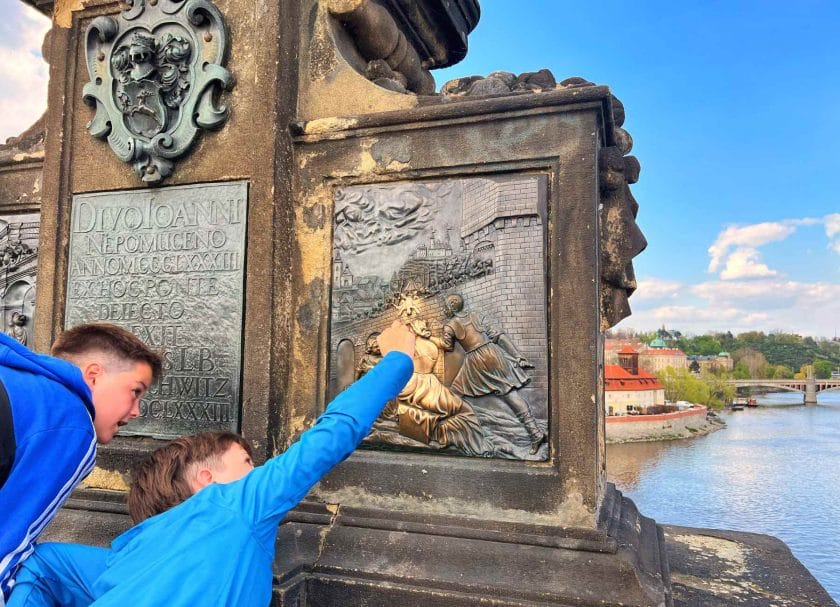 When you visit Prague you can't miss the gorgeous bridges! Charles Bridge is one of the most famous ones so be sure to stroll across the Charles Bridge and to stop and get an amazing view of the city!
The bridge was built in the early 15th century and is lined with 30 statues of various saints and religious figures. Legend has it if you stop and touch the plague of the statue of St John of Nepomuk you will have good luck and you will return to Prague. We touched it. So we will see!!
Beer Spa
Yes, you read that right. A Beer Spa!! This wasn't a place we were going to bring the kids so luckily our parents were with us so they took the kids out to find some black light mini golfing and Craig and I headed to the beer spa.
At the Beer Spa you get your own room with 2 bathtubs in it and a keg of beer right in the middle of the tubs. Prior to going in they give you a robe and you can put a suit on or go naked up to you!
In the tub they don't pour actual beer but instead the hops from beer. We were told that actual beer isn't really good for your skin. They securely lock the door and tell you they won't be back for an hour so the room is all yours.
Interesting enough there was also a bed in the room. Hmm you can use your imagination for that one!
If you want you can also have some snack type of food waiting for you in the room.
I am not a big beer drinker but found the whole experience to be really fun and something very different. When you are done you even get a certificate commemorating your visit to the Beer Spa. Good times!!
Art Work
Prague is known for its unique and sometimes controversial art work found around town. We couldn't wait to get out and see it for ourselves!
The art we wanted to see was located in the Malá Strana part of Prague which is across the river from the Old Town area.
Peeing Statues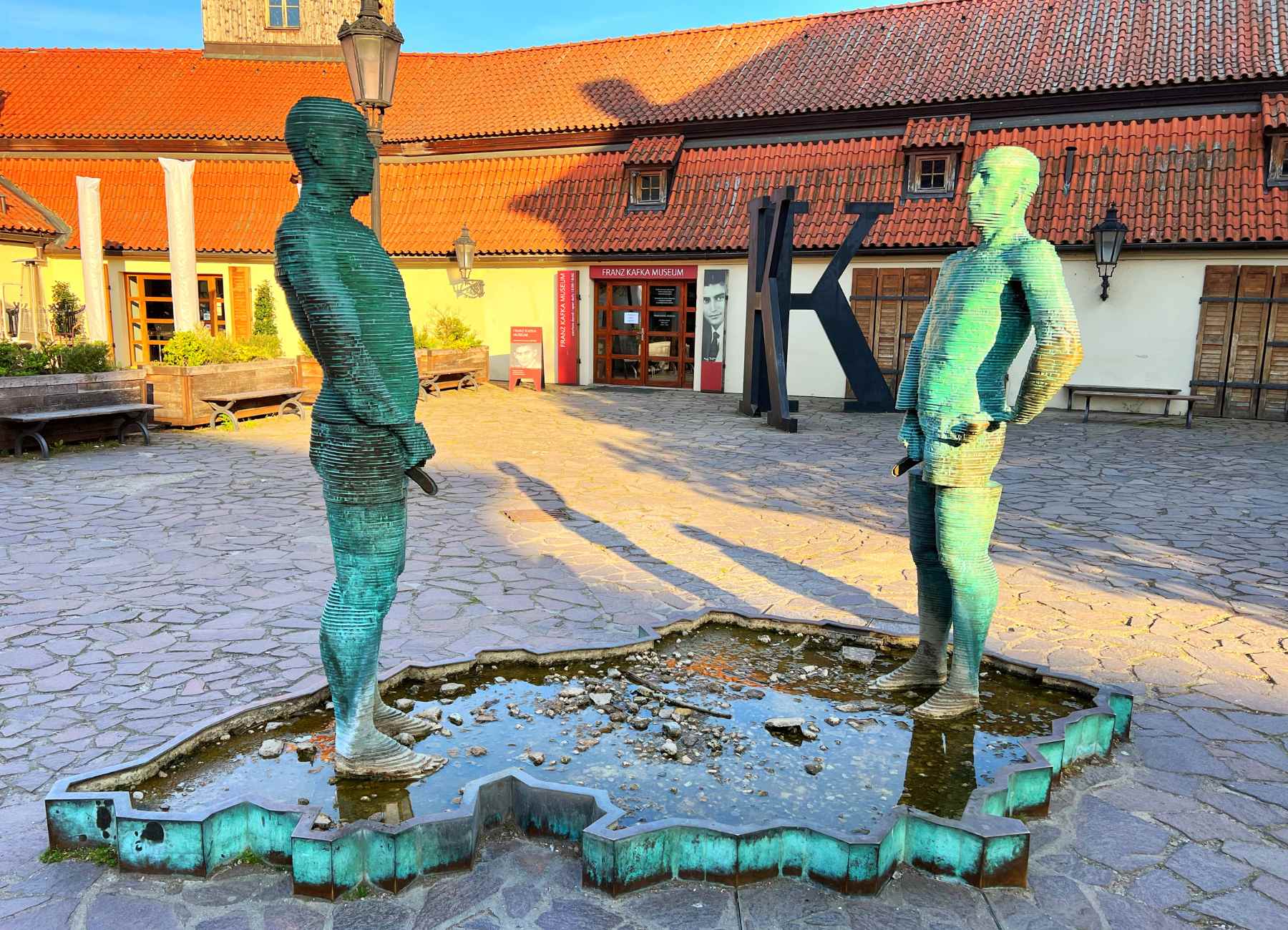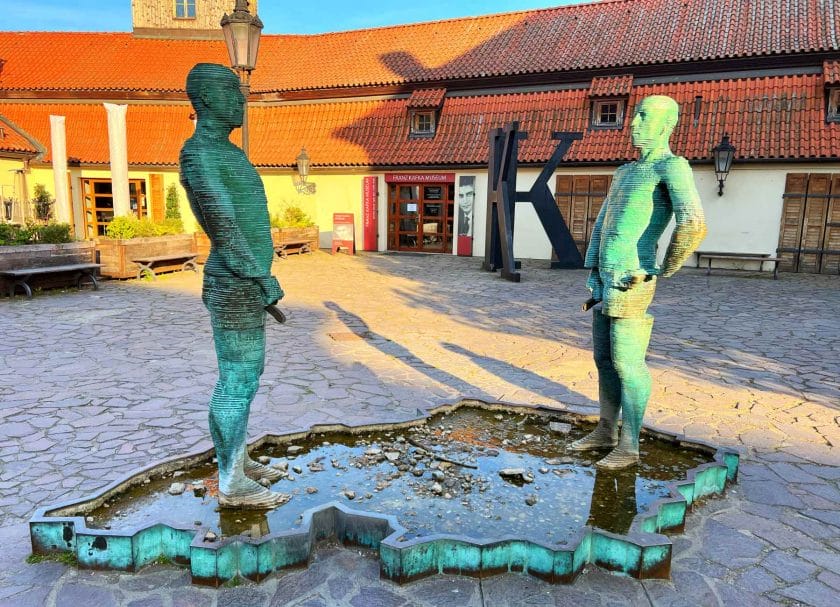 My kids heard about these and couldn't wait to see the peeing statues (or the Piss Sculptures as it is named). Unfortunately when we got there they weren't working. But you got the idea of what it would look like if it was.
These controversial statues show two men facing each other peeing into a pool (shaped like the Czech Republic) at their feet. When it is working you can text a word and they will write the word in "pee" in the pond. Ha! This is great and especially a highlight if you have kids who will get a kick out of it.
Yes, it is an interesting choice for a piece of art work but the artist David Černý is known for his provocative art. And it does draw in the crowds to come check it out!
Big Baby Statues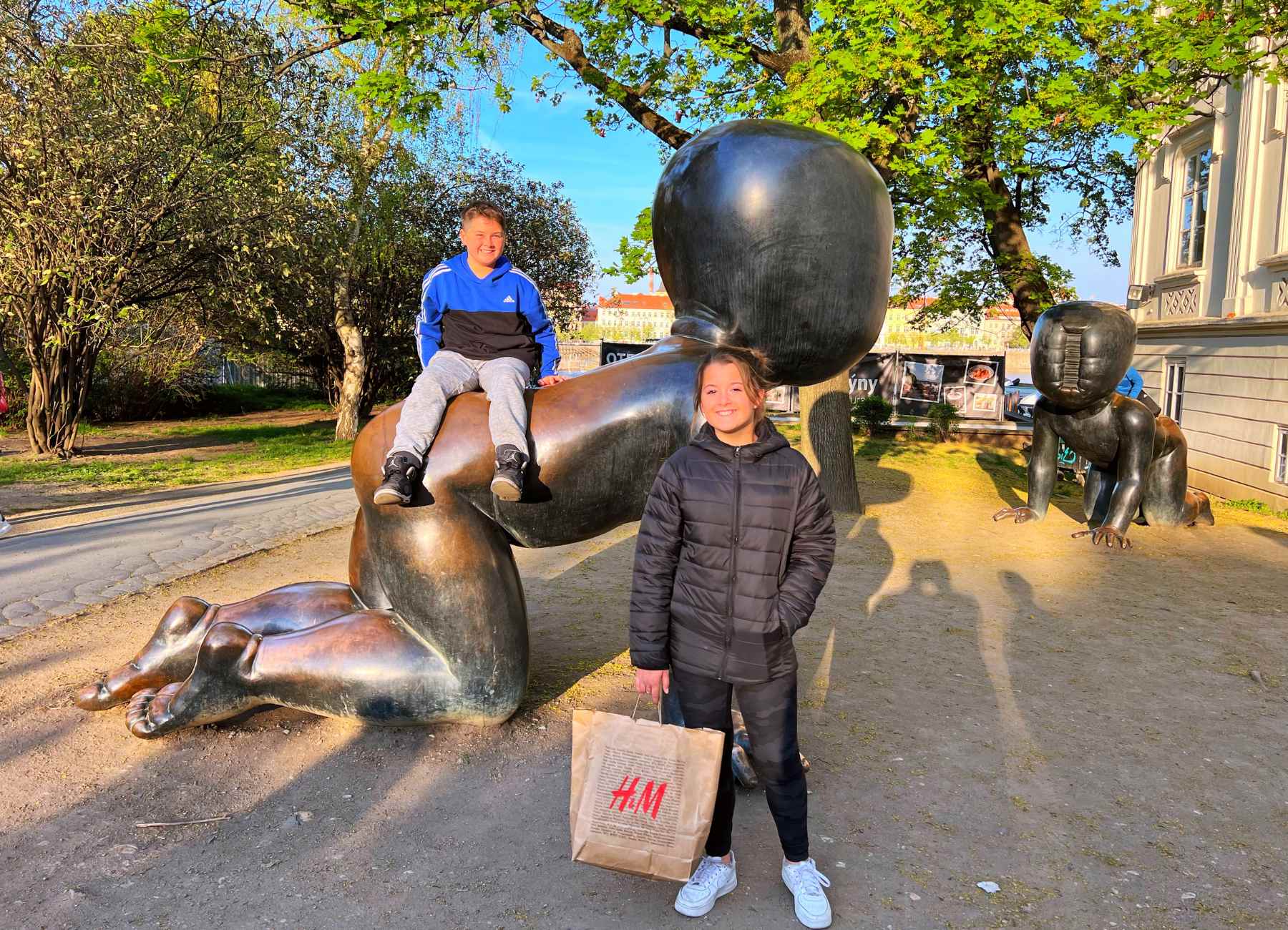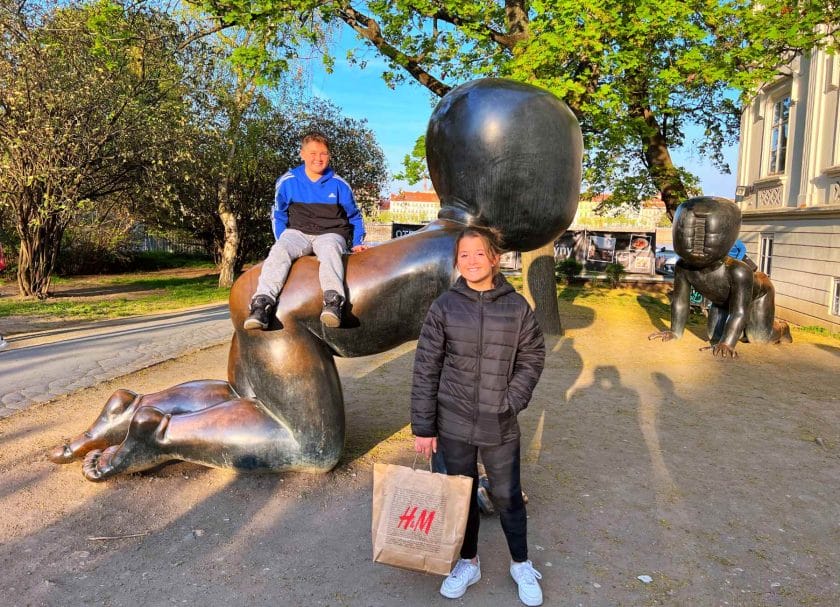 We also found the Big Crawling Baby Statues. These are huge babies in a crawling position with something that looks like a barcode for their face. Yes, a little creepy.
The fun part is you can climb all over them! And everyone and anyone was. The kids had a blast trying to get on top of them from all different angles.
These are just 2 of the many interesting statues in Prague!
John Lennon Wall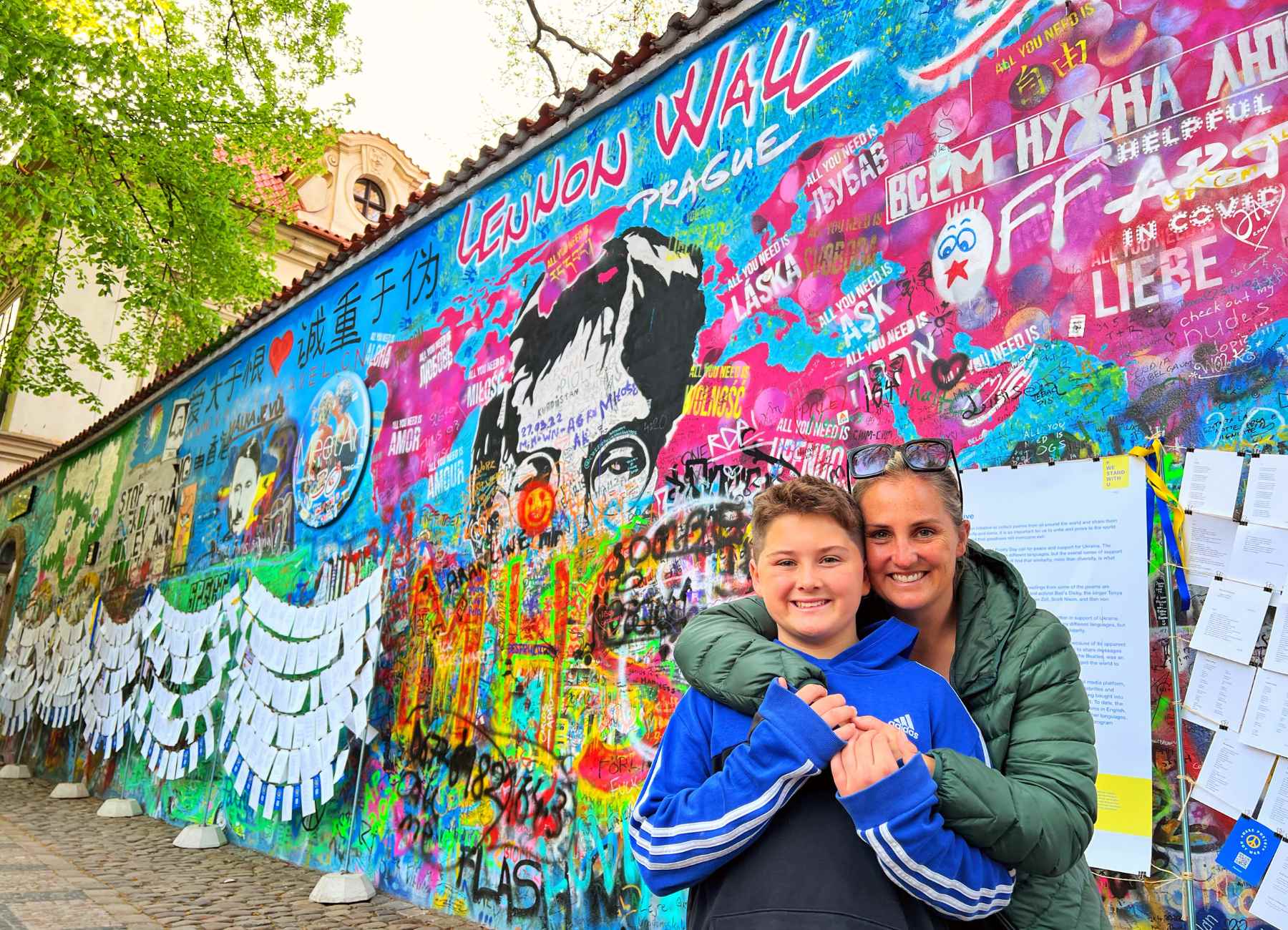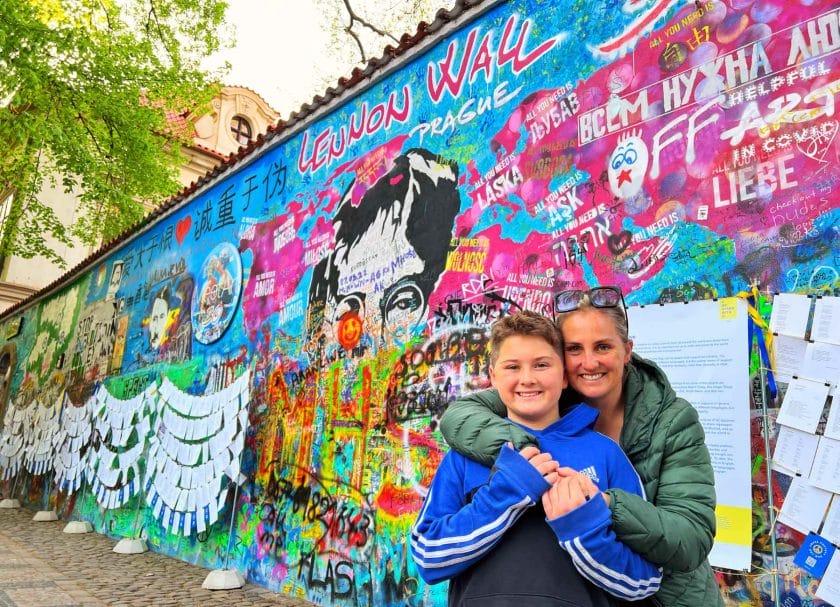 We wanted to check out the John Lennon Wall and see all of the paintings supporting Love and Peace! It was cool to read some of the things on the wall and to see what people have painted on it. The wall has been painted and repainted since 1980 and I love that the people of Prague have kept it going.
Boats On The Water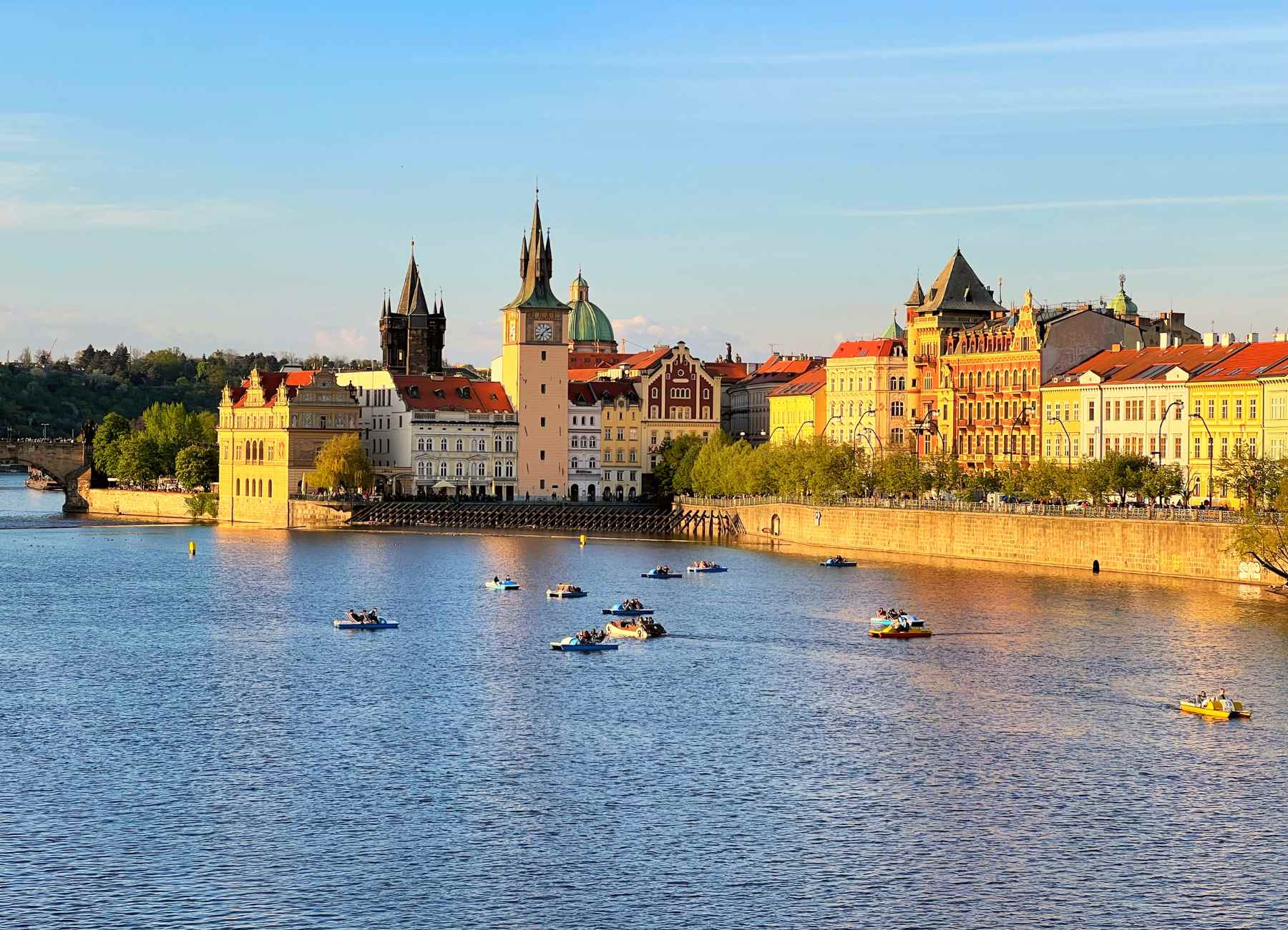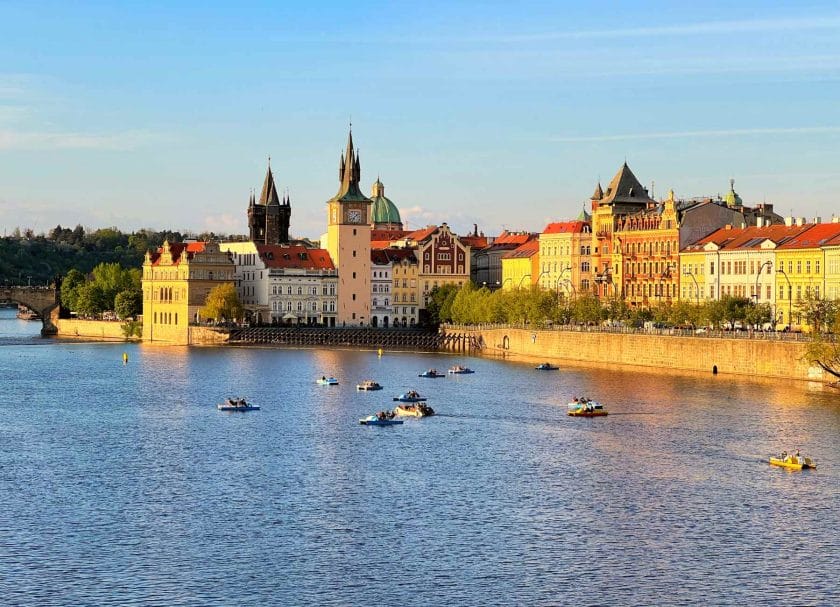 We didn't do it ourselves but there were a ton of people out on the Vltava River! It looked like a fun way to spend a warm summer day kayaking, rowing or paddle boarding down the river.
Petřín Lookout Tower
You can climb 299 steps up to the Petřín lookout. The building is a loose copy inspired by the Eiffel tower. Supposedly on a windy day it will sway slightly!
Prague Castle
Another top thing to do is visiting Prague Castle. It is believed that the castle was founded sometime around 880 by a prince from the Premyslid Dynasty. It isn't just one castle but instead a group of palaces and buildings including the Golden Lane. Prague castle is known as the largest ancient castle in the world!
The buildings have various architectural styles from Romanesque to Gothic to more recent modifications made during the first republic (1918- 1938) by a Slovenian architect. It has continued to get repairs and updates since the Velvet Revolution.
You can get tickets to go into the castle. The St Vitus Cathedral is located in the castle complex as well. You can also do a guided tour. Here is a great post about visiting Prague Castle!
Letna Park
We made the walk all the way over to Letna Park and were surprised with a nice beer garden in a beautiful park. That wasn't the reason we came – instead we were on the lookout for a basketball court for the kids and we found one.
There were gorgeous views of the city from up here and I am glad we made the walk over. You can learn more about Letna Park here.
Where To Eat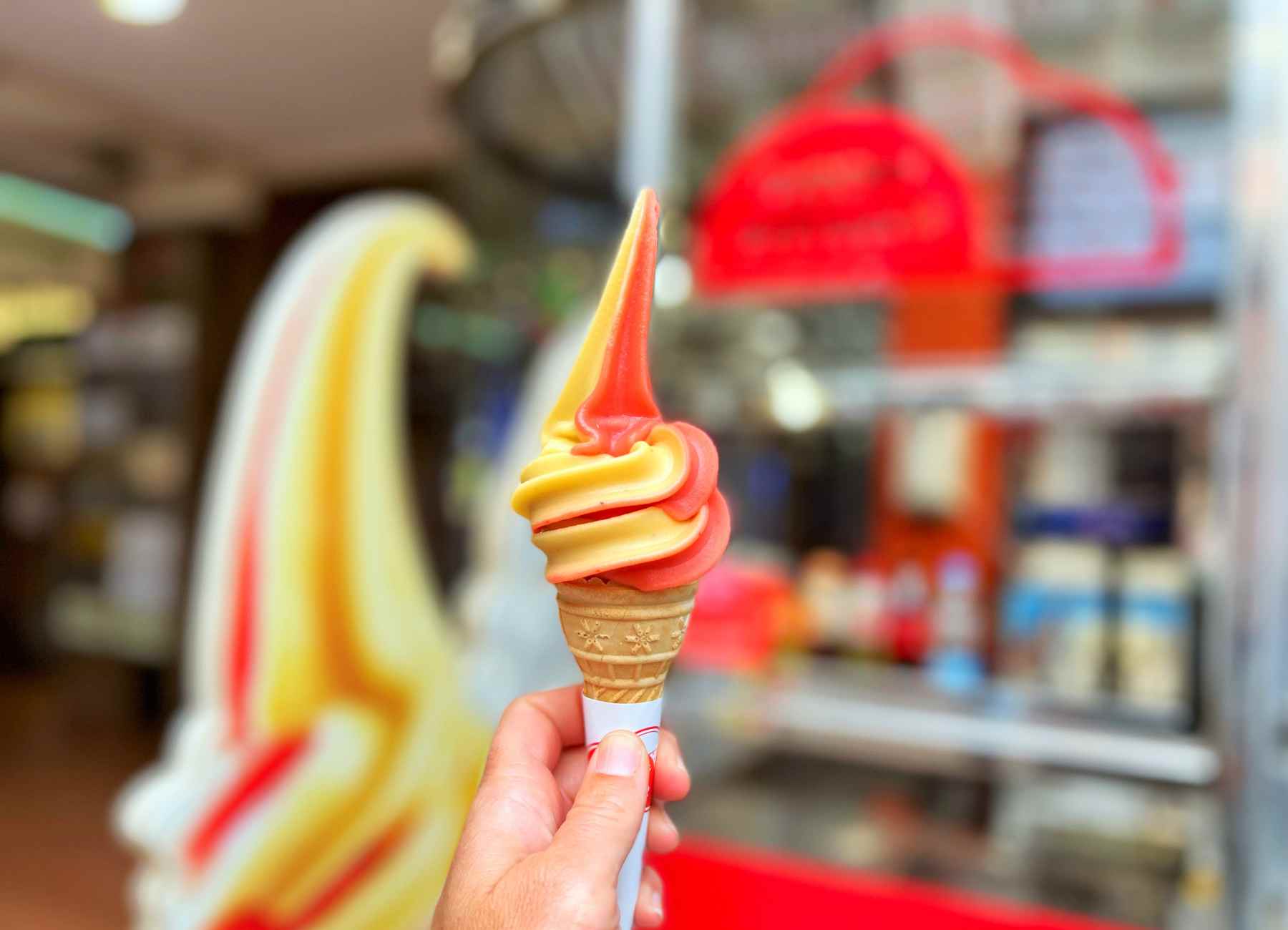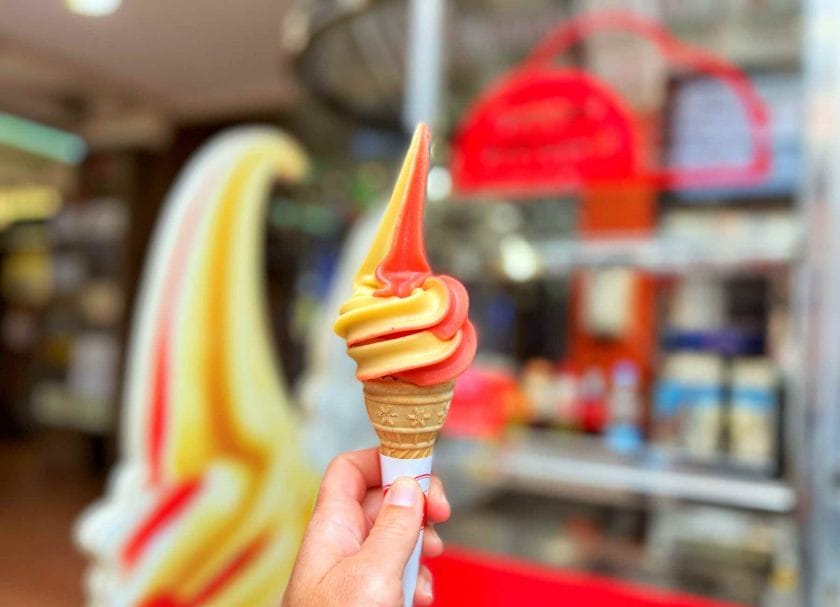 Ovocny Svetozor
Make sure to stop at one of the many Ovocny Svetozor pastry and ice cream shops while you are walking around Prague! You can try whatever you want but be sure to sample the strawberry banana soft serve ice cream – it is their speciality.
When we went there was a line out the door to get this famous ice cream. It was delicious!
Mad Rabbit Macaroons bar
Continuing with the sweets make a stop at the Mad Rabbit Macaroons Bar to get some delicious macaroons.
Riegrovy Sady – Beer Garden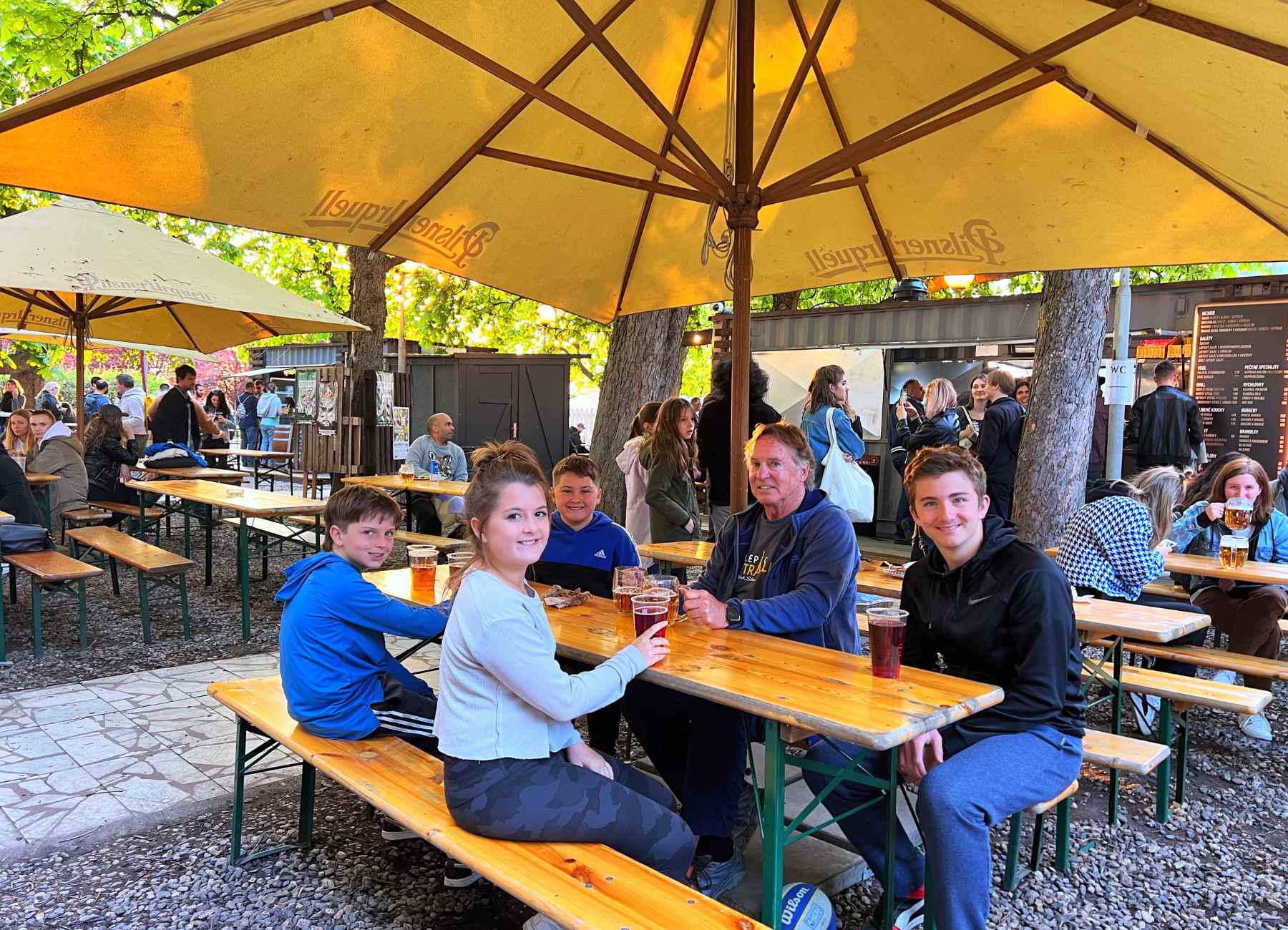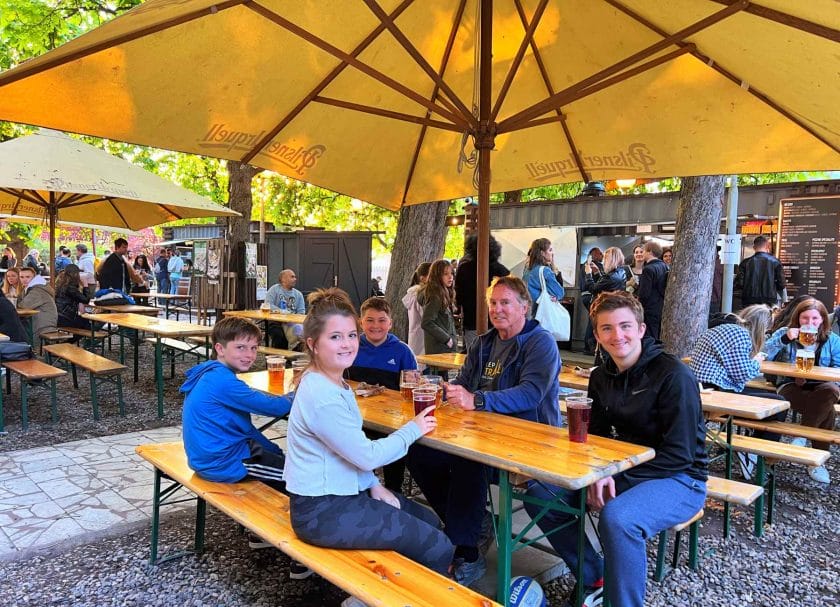 When we hear beer garden on our travels we always try to stop! When we visited the Riegrovy Sady we had to take a bit of a walk up a hill to get to it and it took a minute for us to find it. But we were glad we did.
There was live music going on, a place to order food and Czech beer to try! We sat at a picnic table and enjoyed our food and beer.
Vytopna
My parents had been to this restaurant before and were excited to share it with us! It is a popular place in Prague so be sure to call ahead to make a reservation.
The highlight is after you order your food everything is delivered to your table on a train! How fun is that!! The food was good and getting our food delivered via train added to the whole experience.
Pernickuv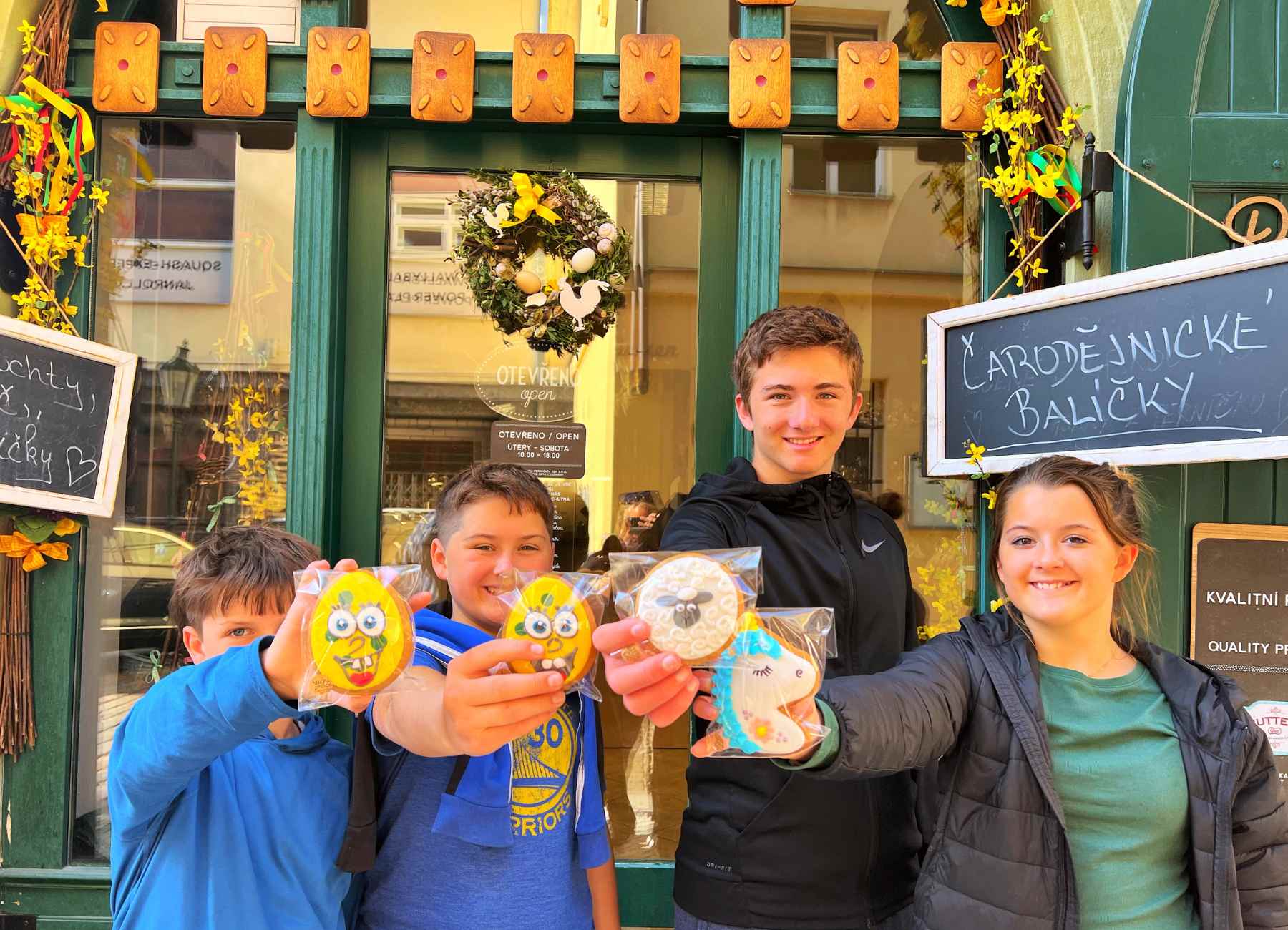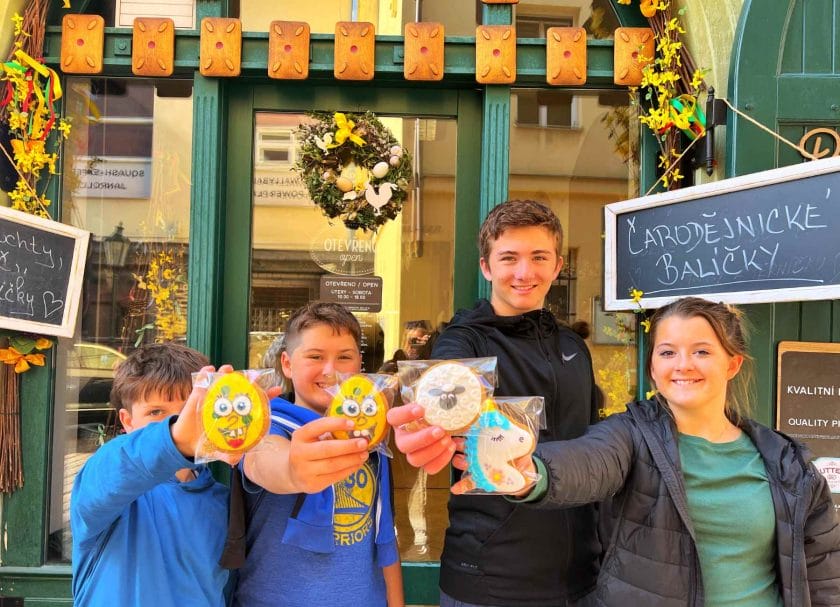 We headed to Pernickuv to try some gingerbread. The kids weren't into the regular looking gingerbread but instead went for the fun frosted gingerbread cookies.
The store had so many cute gingerbread options and smelled delicious.
Where To Stay
We really liked the place we stayed at which was called Chill Apartments. We liked it so much that when we walked in we were like OK let's just stay in for the night and enjoy our place!
It was located in a great location. We could walk from the train station to the apartments and Wenceslas Square was just down the street from it.
More Posts On Europe
14 Fun Things To Do In Rothenburg Ob Der Tauber Germany
16 Top Things To Do In Munich Germany [+ Day Trips]
11 Magical Things To Do In Lauterbrunnen
14 Epic Things To Do In Interlaken, Switzerland
Backpacking Europe Packing List [With Kids!]
30+ Best Things To Do In Lisbon, Portugal
One Day In Madrid Itinerary – 14 Stops Not To Miss!
One Day In Barcelona Itinerary
A Tourist Guide To Las Fallas Festival in Valencia Spain
Tips On Visiting All 5 Cinque Terre Towns [Itinerary Included]
25 Top Things To Do In Florence, Italy
15+ Things To Do In Tuscany Italy
17 Fun Things To Do In Venice Italy [2 day Itinerary Included]
15+ Fun Things To Do In Rome With Kids
14 Fun Things to do in Rothenburg Ob Der Tauber Germany
Pin This Post For Later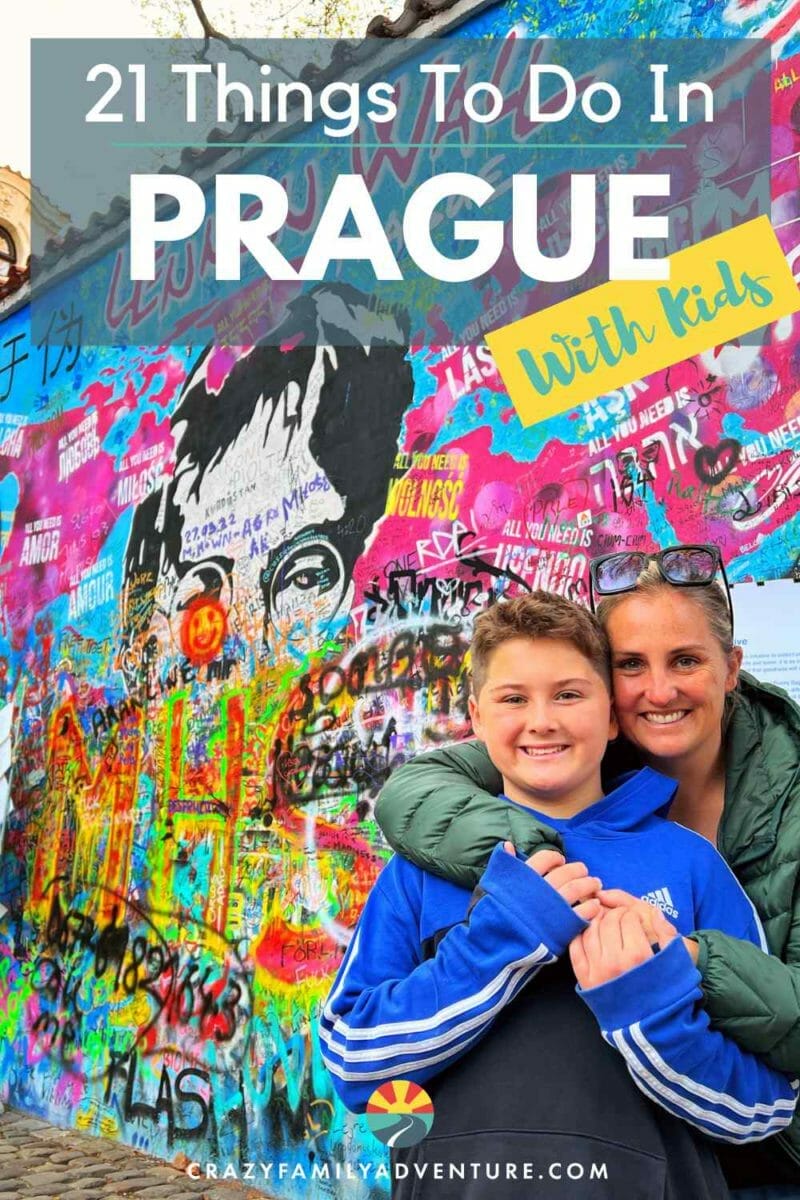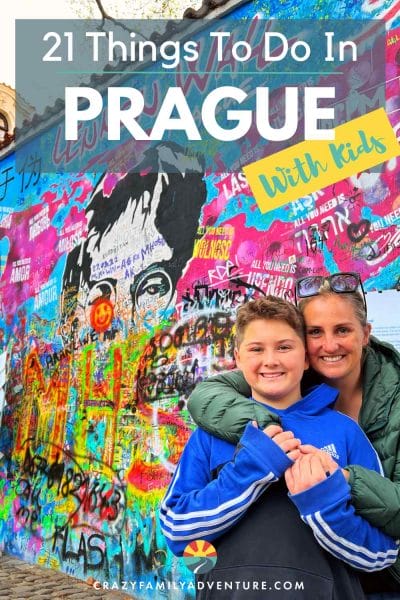 DISCLOSURE: This post may contain affiliate links, meaning I get a commission if you decide to make a purchase through my links, at no cost to you. Please read my disclosure for more info.