Munich was our first stop in Germany on our 3 month backpacking trip around Europe and we were excited for some German Beer! Ok not just the beer also for exploring the city and the surrounding area.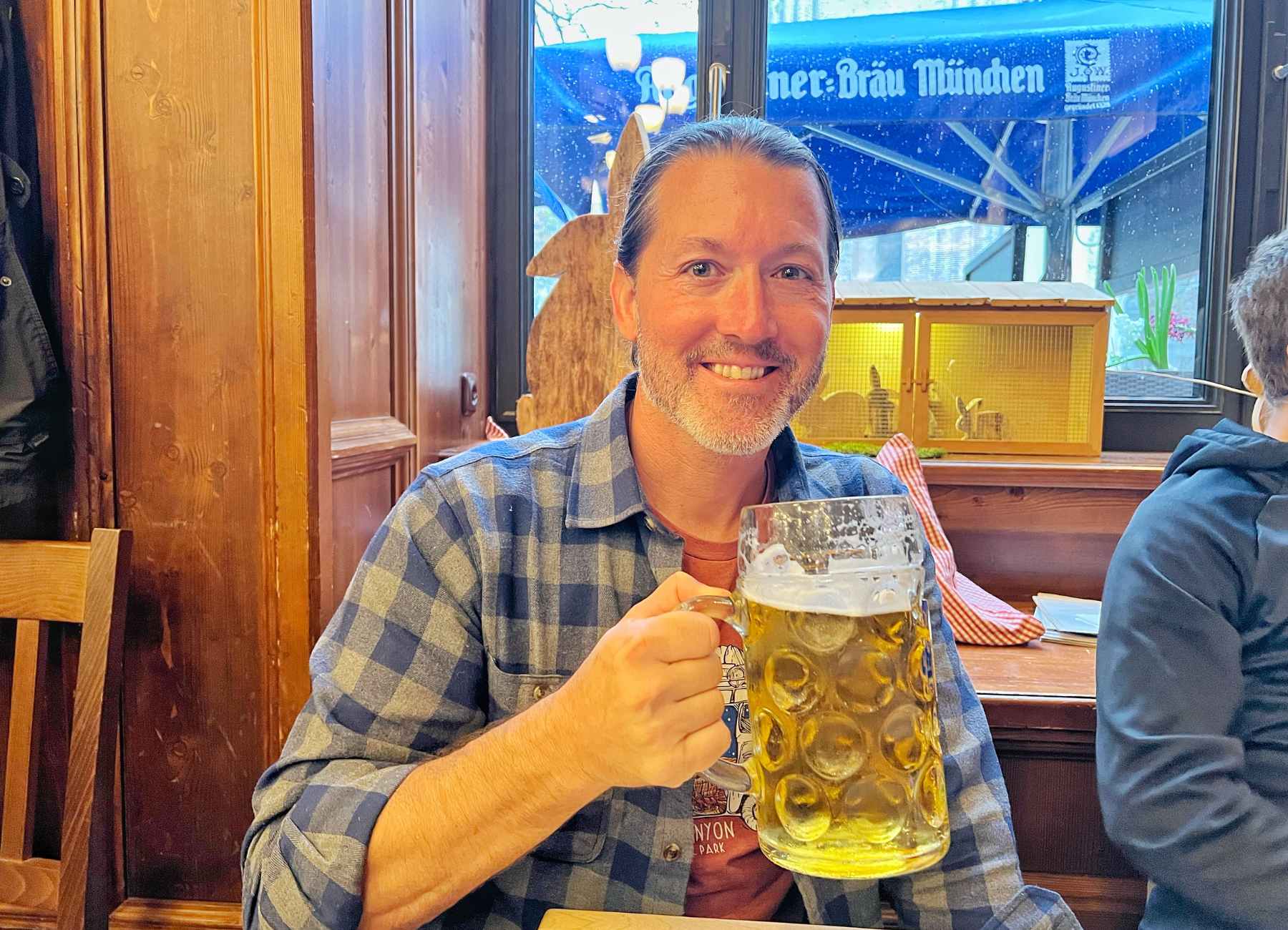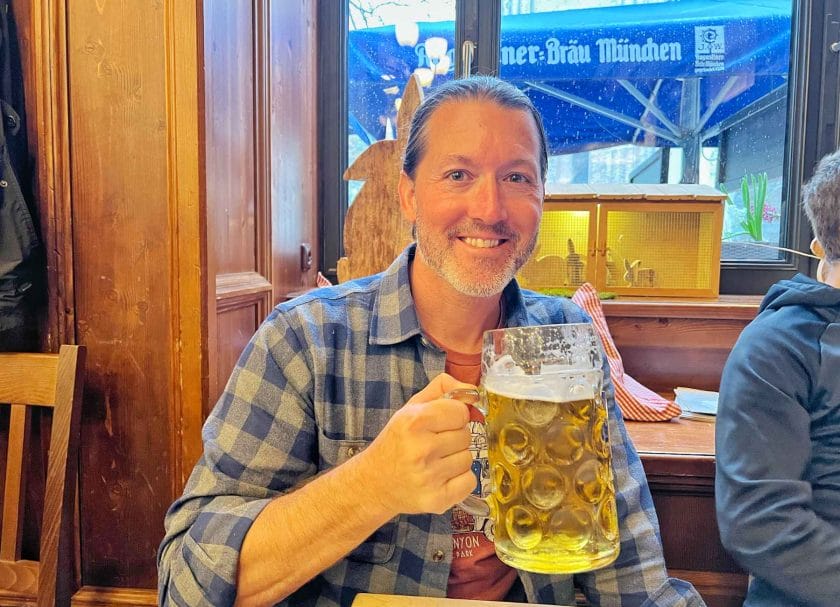 We knew we wanted to try a lot of the German food at the markets and beer gardens. Plus get out to see some of the amazing castles in Germany. We spent 5 nights exploring Munich including celebrating Knox's birthday while we were there!
In this post we are going to share the foods we didn't want to miss, the places we didn't want to miss, the best way to get around Munich and our experience enjoying the city and surrounding area!
Foods To Try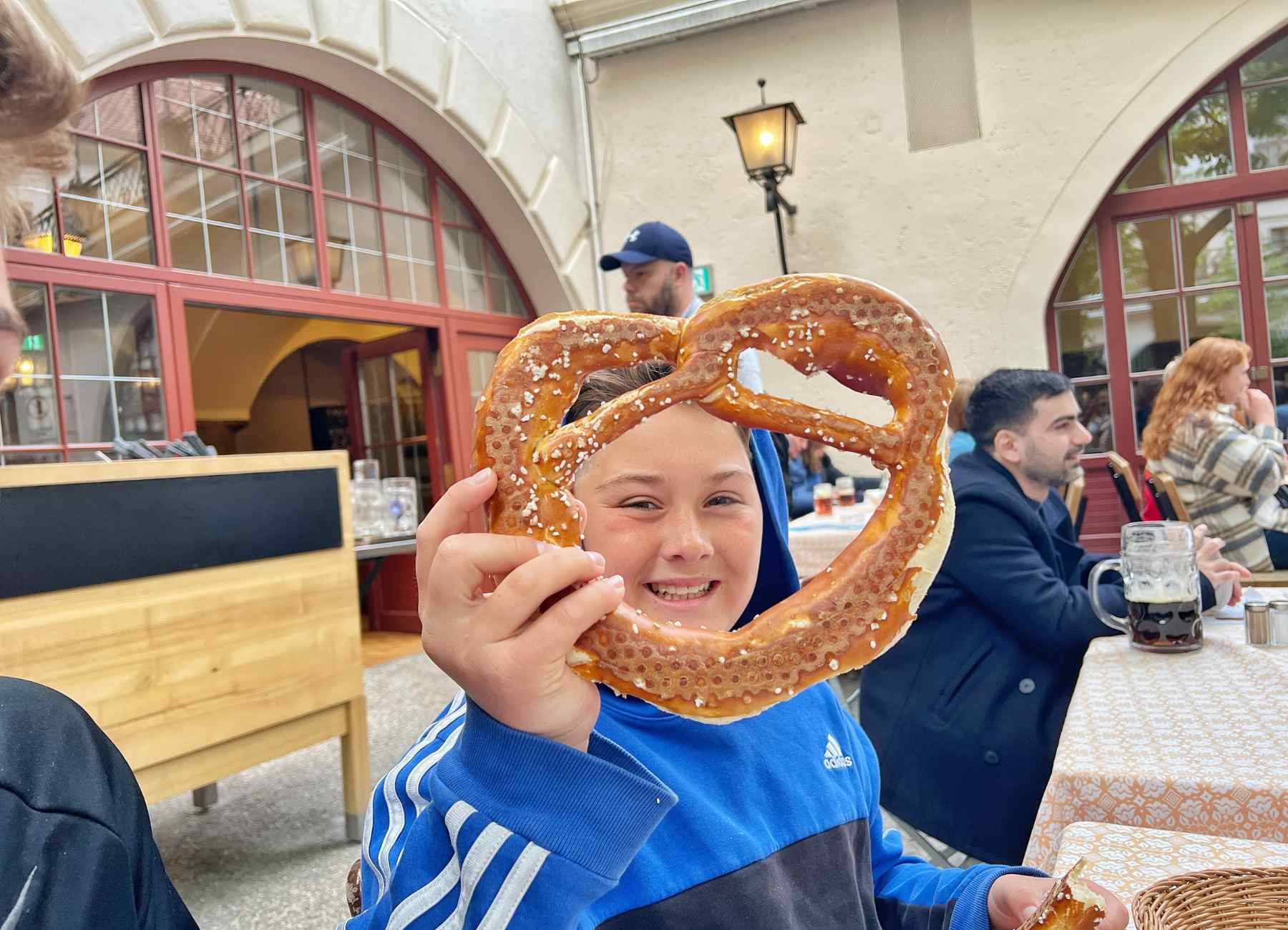 We will jump right in with the top foods to try in Munich.
Schweinshaxe
A German dish that consists of a roasted pork knuckle, typically from the hind leg of the pig. The pork knuckle is usually marinated in a mixture of beer, garlic, and various herbs and spices for several hours or overnight. It is then roasted in the oven until the skin is crispy and the meat is tender and juicy.
Schweinshaxe is often served with a variety of side dishes, including sauerkraut (a sour fermented cabbage), potato dumplings, roasted potatoes, or a simple green salad. It pairs well with a variety of German beers, and is often enjoyed as part of a traditional Bavarian meal or at a beer garden.
Obatzda
A yummy dip for your pretzel. Obatzda is a traditional Bavarian cheese spread that is typically made with Camembert cheese, butter, onions, and spices. It's a popular appetizer in Bavaria and can often be found in beer gardens, pubs, and restaurants throughout the region.
We really enjoyed having it with the huge pretzels we found all over Munich!!
Sauerkraut
This is a traditional German dish (made from fermented cabbage) and we found it everywhere! We also had some with ham mixed into it which isn't what we are use to!
Spätzle
Spätzle is a type of German egg noodle that is a popular side dish and comfort food in Germany and other parts of Central Europe. It is typically made from a simple dough of flour, eggs, salt, and water, and is boiled until it becomes tender and chewy.
Beer
Beer is an important part of the German culture and Craig was ready to try them all! One of the most famous beer styles in Germany is the Bavarian-style Hefeweizen, which is a wheat beer known for its refreshing, fruity taste and cloudy appearance. Other popular styles include Pilsners, which are light, crisp, and refreshing, and Dunkels, which are dark and rich in flavor.
Radler Beer
I don't usually like beer but this one is half beer and half lemonade. It means the alcohol content is lower but it was tasty! I was glad I found this and could enjoy the German beer as well.
Places Not To Miss
MarianPlatz Square
This is one of the most iconic and popular landmarks in the city. It is located in the heart of the old town and is surrounded by beautiful historic buildings and landmarks. The centerpiece of Marianplatz Square is the famous Glockenspiel, which is a massive clock tower that features life-sized figures reenacting scenes from Munich's history. The Glockenspiel puts on a show several times a day, complete with music and dancing figurines, and is a major attraction for tourists.
Viktualienmarkt
This famous market is located in the heart of the city and is open daily. It is known for its fresh produce, artisanal cheeses, and homemade sausages, as well as its selection of flowers, spices, and crafts.
Dachau
Though not located in Munich you can do it as a day trip. Dachau was the first concentration camp established by the Nazi regime during World War II and is now a museum and memorial site, serving as a powerful reminder of the atrocities committed during the Holocaust.
Getting Around The City
The subway system is great and can quickly get you from place to place. However if it is a sunny day you can pretty much walk everywhere which is what we choose to do.
How Long To Stay
If you want to explore Munich and visit a few of the places outside of the city 5 days is a good amount of time. This gives you a couple days to just enjoy Munich and a day to visit Dachau and do a Castle Tour.
One of the best things in Munich are the beer gardens and markets so you will want to plan time to just hang out at those and not have your day filled with activities. Hence why 5 days is a good amount of time!
Where To Stay
We stayed right by the train station. It meant we had to walk to most of the things we wanted to do but it was a good location to be based.
The other area I would want to stay by is the market – just so that I could eat every meal there!
Things To Do In Munich, Germany
Let's jump into what we did when we visited and our experiences exploring Munich. We really fell in love with this city and all the history, markets and beer gardens. Plus our experiences outside of Munich were exceptional as well.
Rick Steves Audio Tour
We started our time in Munich by following the Rick Steves Audio Tour. This is always nice since it gives you a good overview of the city when you first get there. We didn't make it all the way through the tour the beer garden at the end was calling us. But it was a good way to get familiar with the city. Plus his audio tours are free!
On our travels we have had multiple people stop to ask us what we are listening to or reading. When you are out exploring a new place on your own it can be confusing to know what you are looking at and where to go. The Rick Steves App really helps with that!
Marianplatz Square
The main square in Munich and really a centerpiece of the city. We found ourselves walking through here multiple times on our stay to get to our next stop.
Surrounding the square are a variety of shops, restaurants, and cafes, making it a great place to relax and soak up the atmosphere of the city. You can grab a cup of coffee or a cold beer and watch the hustle and bustle of the city go by.
The square is also home to a number of important buildings and landmarks, including the New Town Hall (Neues Rathaus), the Old Town Hall, and the Frauenkirche, which is one of the most iconic churches in Munich. Visitors can explore these historic buildings and learn more about the rich history and culture of Munich.
With its beautiful architecture, rich history, and lively atmosphere you won't want to miss Marianplatz Square when you visit Munich! You can also check out St. Peter's Church and really just walk around and see what you find.
Plus, it has the famous clock tower which you will want to see. We talk about that next.
Glockenspiel – Clock Tower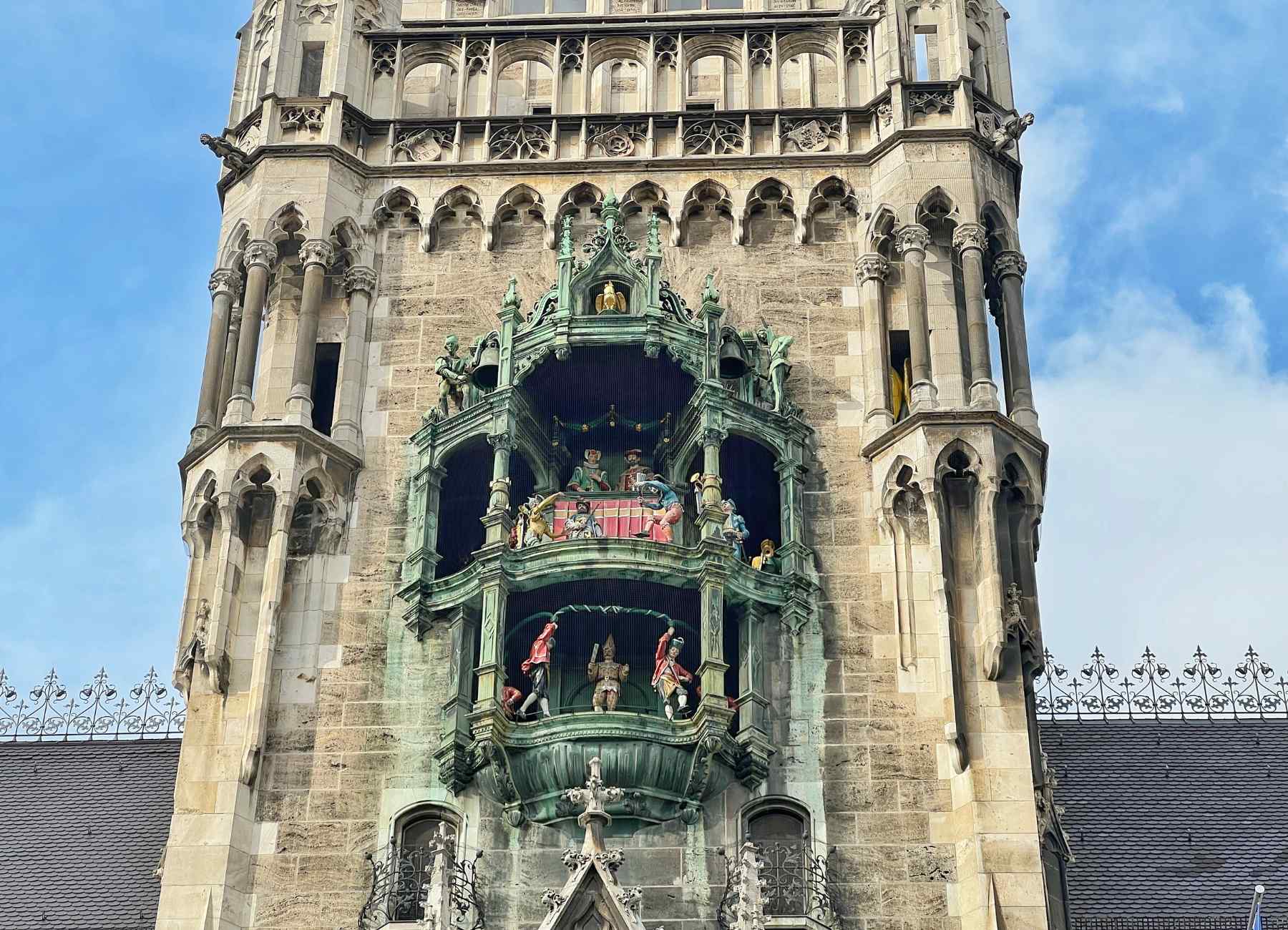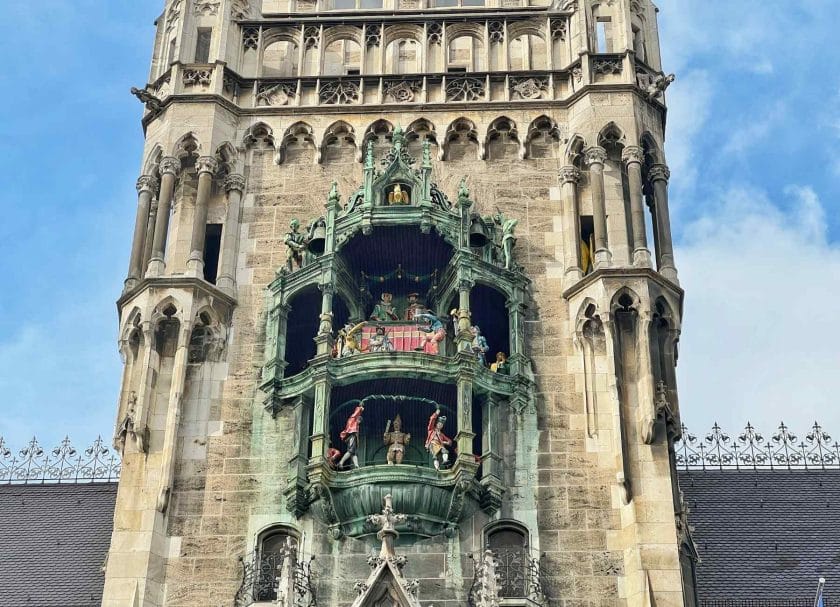 The clock tower is located in the Marianplatz Square and at 11,12 and 5pm the tower comes alive and you can watch life-sized figures reenacting scenes from Munich's history in time to bells and music.
The clock tower plays beautiful bells at every hour as well. Be prepared if you come during the clocks performance it can get busy in the square!
Viktualienmarkt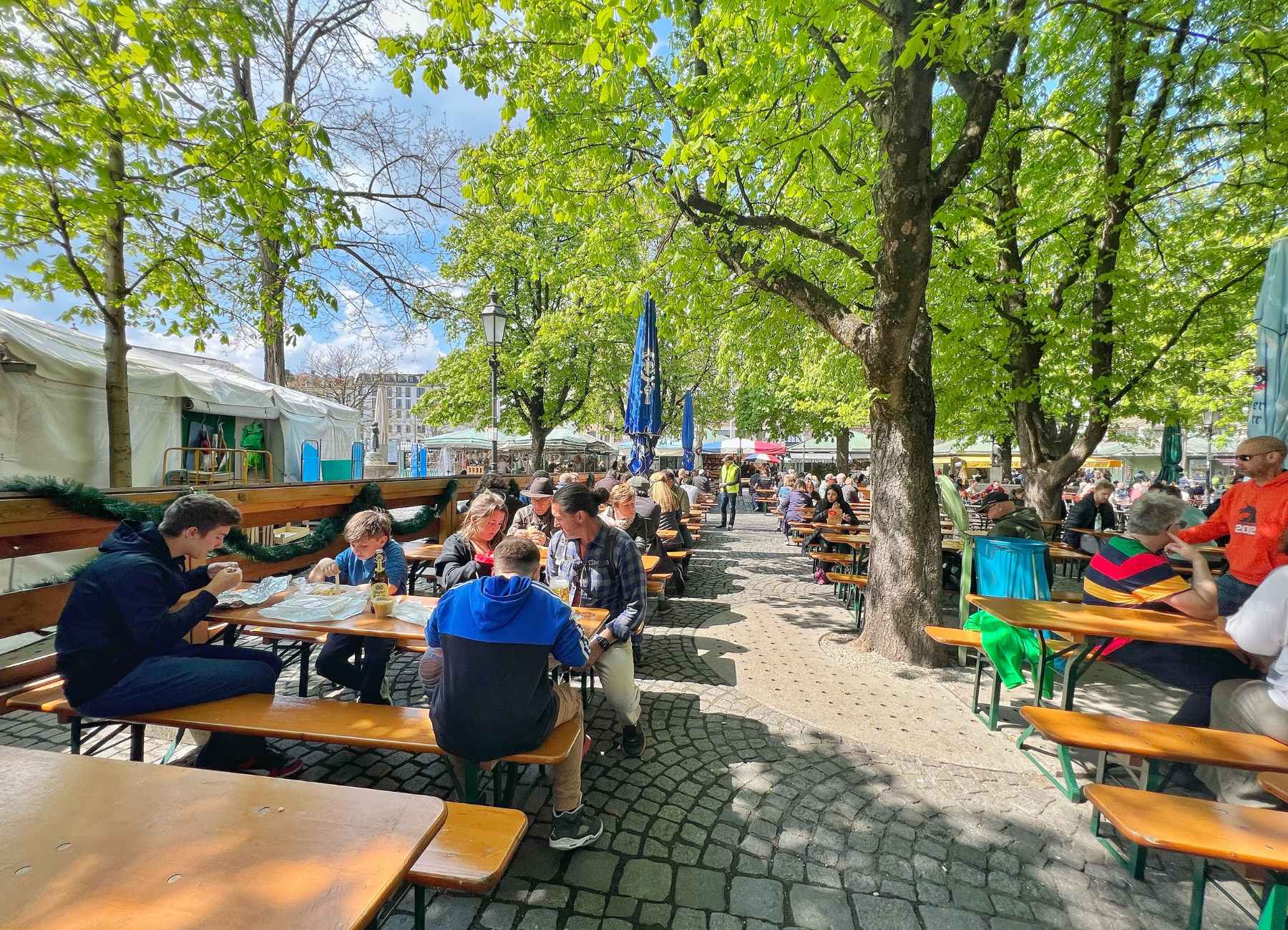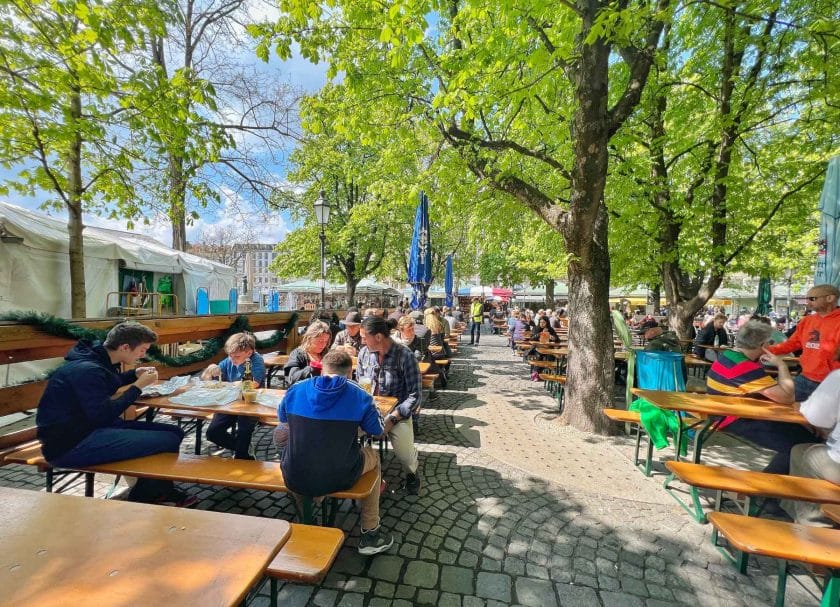 Viktualienmarkt was amazing. Filled with German Deli's where we couldn't pronounce anything. Plus fruit and vegetable stands, bakery items, flowers, cheese and of course beer!
Here you can buy what you want to eat and bring it to the beer garden area where you can sit at a picnic table and grab a beer at the beer stand.
I seriously wanted to eat here every day and every meal. So many different foods to try and such a fun atmosphere and vibe.
Ohel Jakob Synagogue
This beautiful building is located within a 5 minute walk to Marianplatz Square. It is a unique building with the base being in the style of the Wailing Wall. We have been Israel and visited the Wailing Wall so it was cool to see.
We didn't go inside but just looked at the building from the outside. It is gorgeous.
Asam Church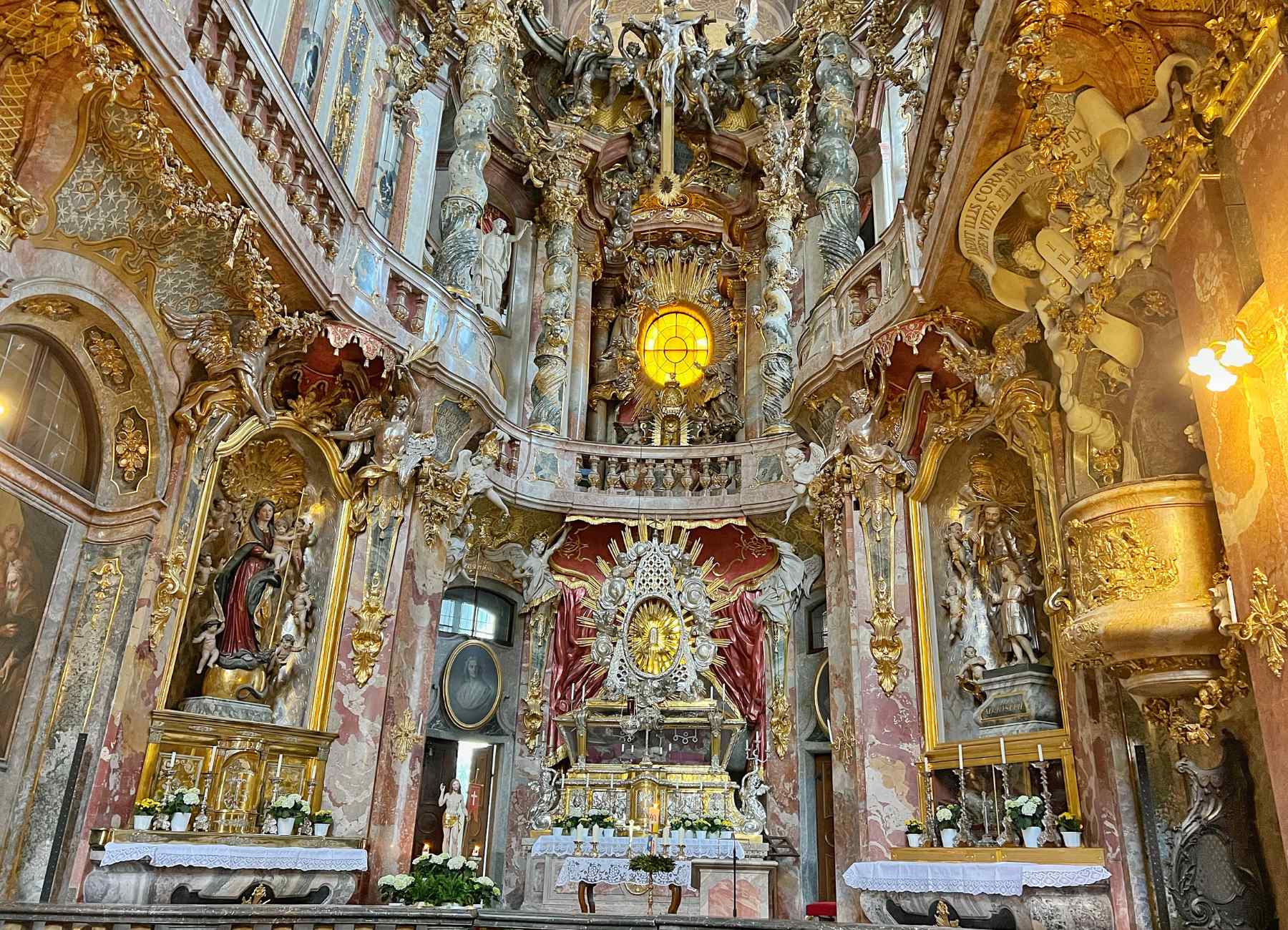 This is more like an overdecorated room then a church! But is well worth a stop. It is a Baroque church and is often said to be on of the most important buildings of the southern German Late Baroque. Built from 1733 to 1746 as a private church by brothers Eqid Quirin Asam and Cosmas Damian Asam.
It is the middle of a shopping street and isn't big so pay attention or you could miss it. One of the kids said it was their favorite church we have visited so far and we have been in a lot!
Hofbräuhaus Beer Garden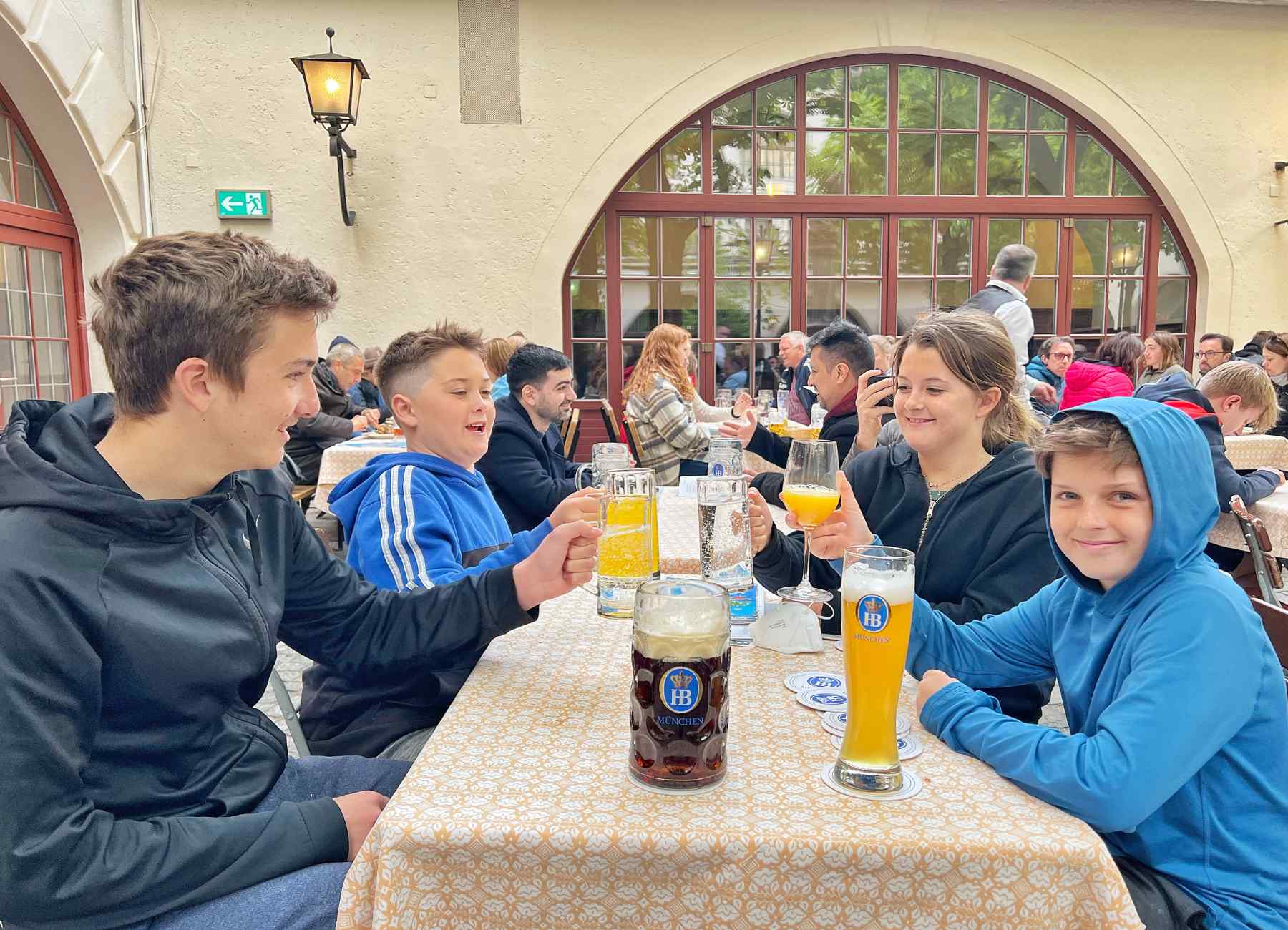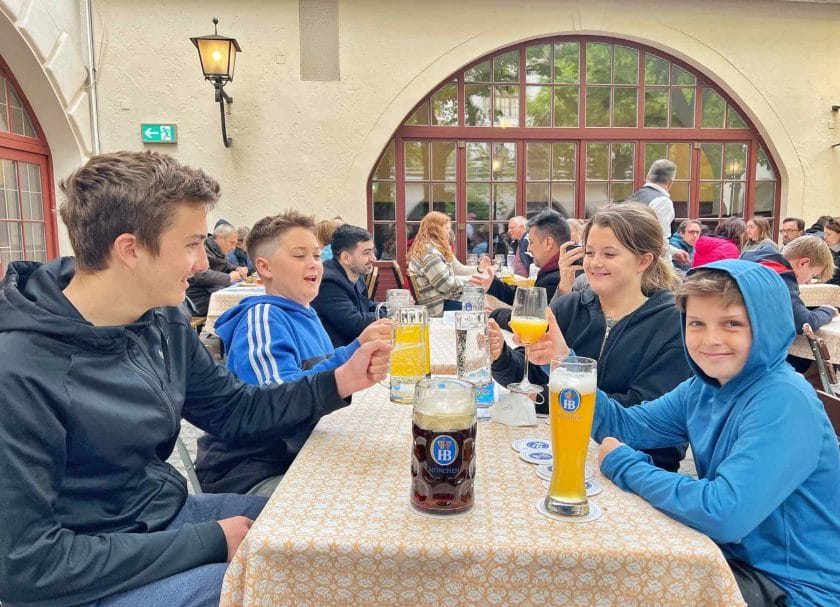 This is the largest beer garden in Munich and it was a crazy, fun and boistrous place! We walked into the inside seating area and music was playing, people were talking, beer was flowing and there was no where to sit! It is exactly what you would imagine a German beer hall being like.
We walked through into the courtyard area in the back and luckily my Dad found us a table (there weren't many available!). We sat down and waited a good 15 minutes for someone to take our order. It was busy!
They bring out the beer in the huge mugs and have a variety of traditional German food to pick from. There are also women walking around selling large soft pretzels – which we ended up getting as we waited to order our food.
We put together an order of chicken, sausage, dumplings and Spatzle along with beers for the adults and enjoyed our time in a German Beer Garden!
Bavaria Bowling
It was Knox's birthday when we visited Munich and he said we wanted to go bowling. We found a bowling alley and reserved a few lanes. The bowling alley felt like we were back bowling in the states!
I don't know if they do that on purpose but that is exactly what it felt like. On the other hand can you really change bowling up that much??
Dolby Cinema im Mathäser
We learned if a movie says OV that means Original Version and means it is in English! Sweet! On Knox's birthday the other thing he wanted to do was see a movie. This was a large movie theatre with OV movies so we picked a time and headed to watch a movie.
The movie theatre like the bowling alley felt like we were back in the states watching a movie. I think that is what Knox wanted for his birthday so it worked out well.
Augustiner Beer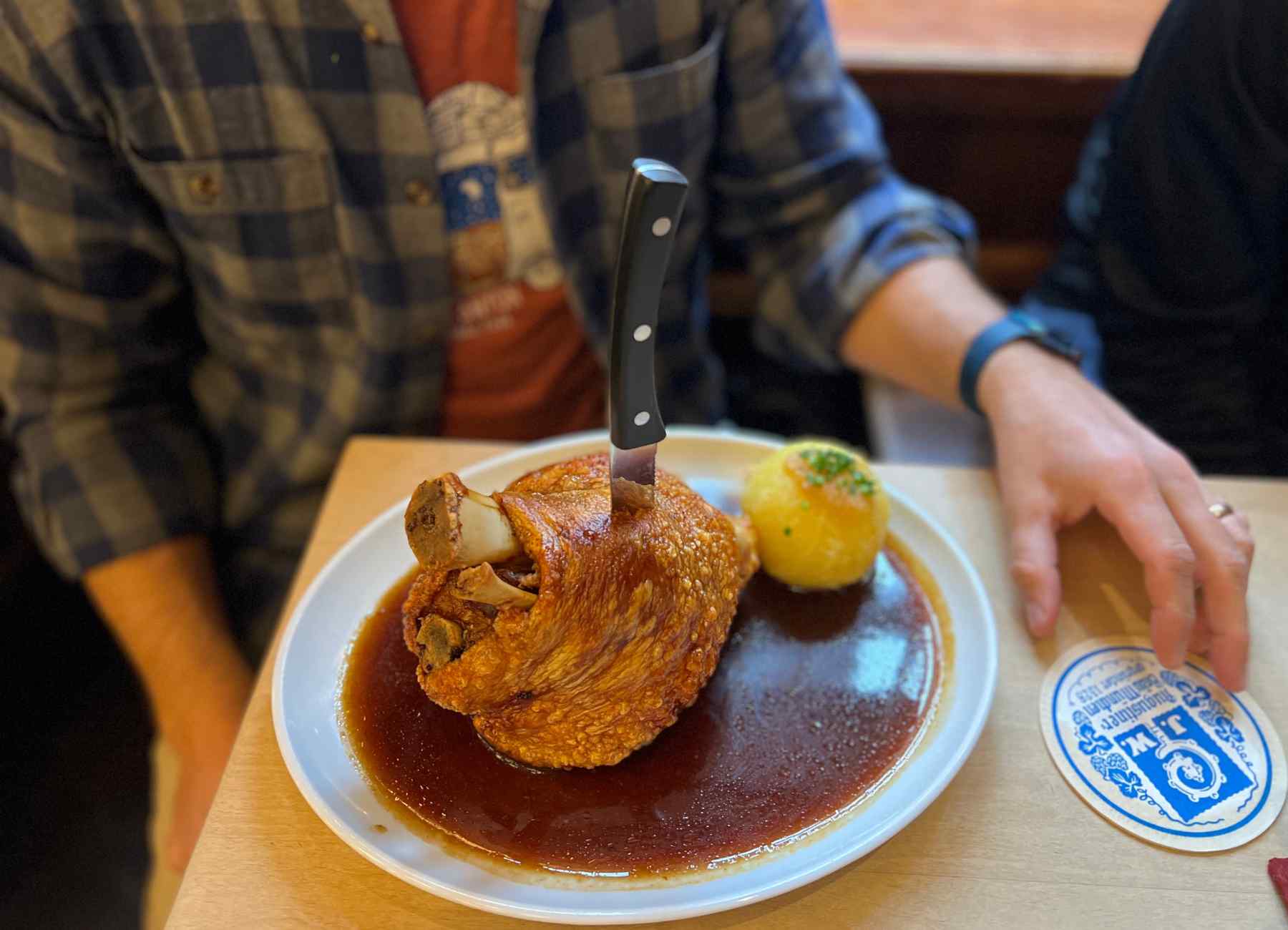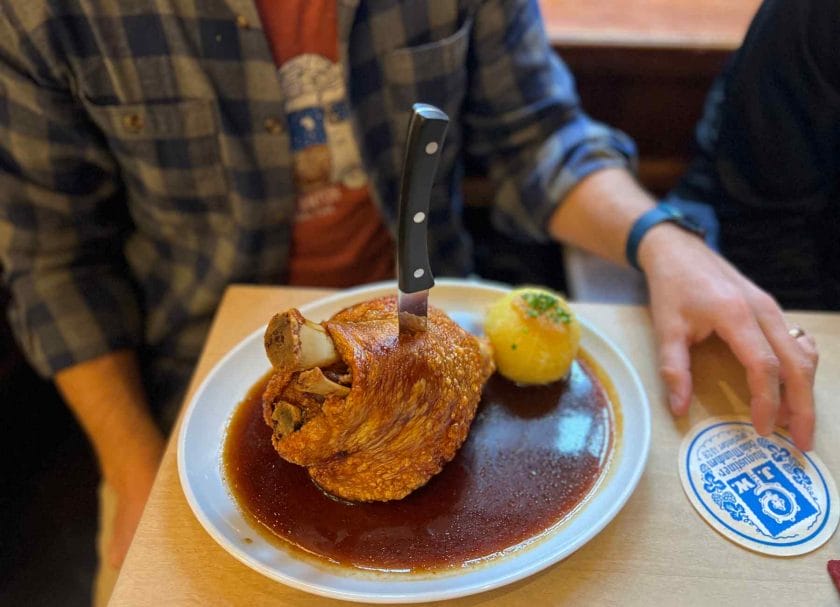 All over Munich you can find the Augustiner Restaurants. Which is a Munich brewery with locations all over town. We found one close to us and got a table in the corner.
We ordered some different German food to try – including the pork knuckle and the food was brought out in like 2 minutes! This is the food they have here so it is prepared and ready to go! We had a table full of German fare to try and we finished almost everything.
This wasn't quite the same scene as the bustling Hufenbrau Beer Garden but the food was good and we would recommend stopping here to eat.
Olympic Stadium
Munich hosted the 1972 Summer Olympic Games and you can now visit the complex (which is now used for events, concerts, sports venue and a recreation park). They also offer to climb to the roof of the stadium and zipline down!
If you are into cars you can stop in to check out the BMW Welt and BMW Museum. It is a large complex and you can do a tour. They also have a workshop and restaurants.
Alte Pinakothek
If art museums are your thing you won't want to miss the Alte Pinakothek. It is one of the oldest art galleries in the world and has a great collection of old world paintings. You will also find modern art here and a variety of different exhibits.
Bavarian National Museum
To continue on with art you can head to the Bavarian National Museum to view art and to walk through the museum.
Munich Residenz
The Munich Residenz is the former royal palace of the Wittelsbach Monarchs and is located in central Munich. It is the largest city palace in Germany! If you would like you can visit the palace. It is known for its room decorations, architecture and formal royal family collections displays.
English Garden
If you are looking to stretch your legs head to the English Garden which is a large green space located in Munich.
Day Trips From Munich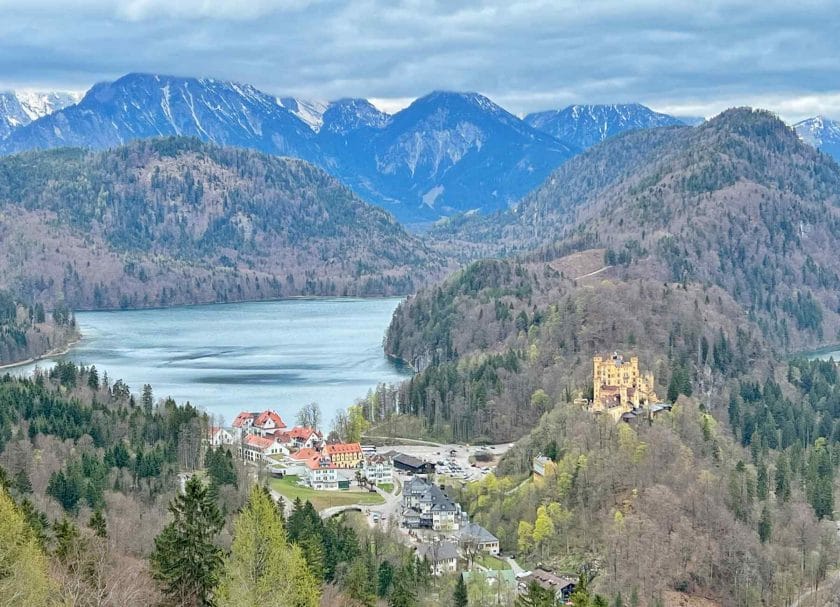 Dachau Concentration Camp
It is very important to us that we show our kids history as we are traveling. Dachau Concentration Camp is a train ride and bus or walk from Munich and is a trip anyone who visits Munich should do.
Everything we read did say they recommended it for kids 12 and older. Our youngest was almost 10 when we went. But we have talked a lot about the Holocaust and what happened during WWII so we felt he could handle it.
There are a lot of graphic pictures and you are actually in the location where people were being held. It brought up a lot of questions and thoughts but was a trip well worth taking.
Visiting The Camp
The main part of the facility is a museum that has been created in the rooms where the prisoners were checked in, bathed, etc. As you walk through you can follow the images and text they have put together to explain what happened here.
There is also a video you can watch which was not playing when we were there.
From here you walk outside and there are boards with information and images showing where everyone stood for daily roll call.
Next you can go into a room that was rebuilt (all the originals were tore down) to show you what the barracks looked like where the prisoners stayed. You start from one end and they walk you through and show you how the living conditions got worst and worst as the years went on.
You can then walk down the tree lined "Street" between all of the barracks and try to imagine 60,000 people living in this area. In these unbelievable conditions.
At the far end is the crematorium and burial grounds. There is also a section of fence that is still in place showing how impossible it was for anyone to escape.
It was a very moving experience to come here, imagine what happened here, see actual images of what did happen, and to think about the people that had to go through this.
Neuschwanstein & Linderhof Castles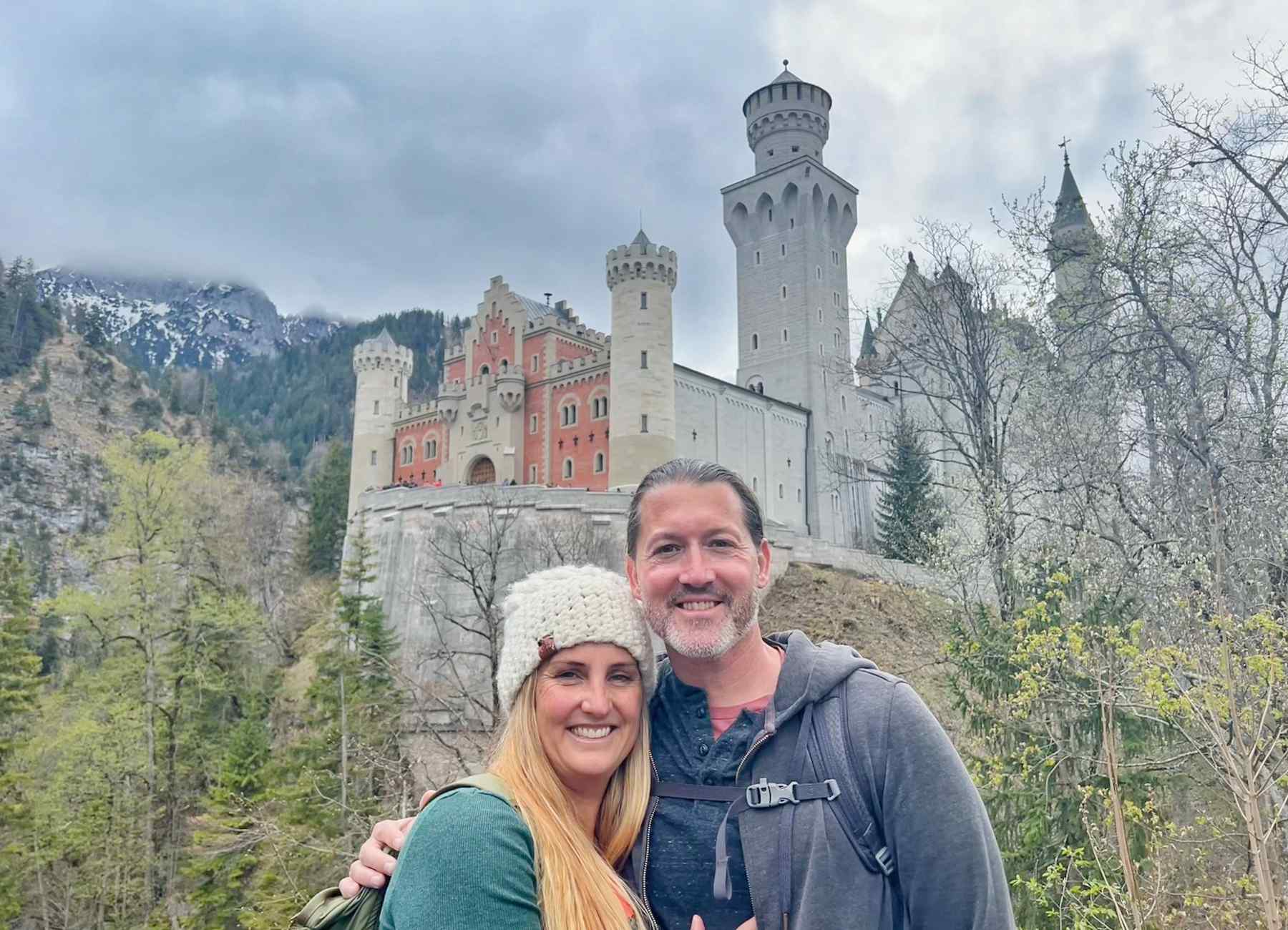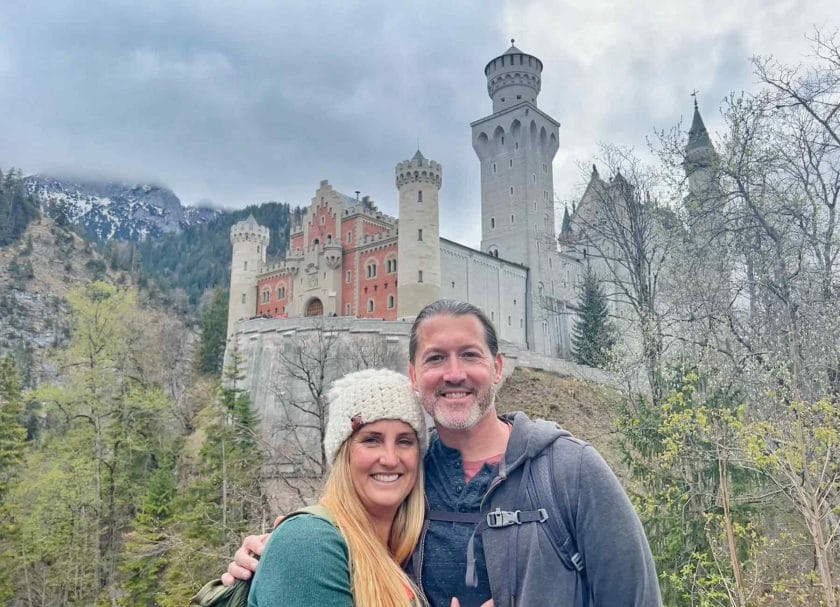 I love castles and when I saw how many beautiful ones were in Germany and close to Munich I knew I wanted to go! To keep it easy we booked the From Munich: Neuschwanstein & Linderhof Castle Full-Day Trip on Get Your Guide.
This meant we just had to get to the place the bus was picking us up (which we could walk to in Munich) and they took care of the rest! When you plan most of the trip and your days on your own it is nice to sometimes just take a tour.
We got on the bus and spent the next 10.5 hours driving to 2 different castles, enjoying lunch and walking the castle grounds.
Linderhof Palace
We visited Linderhof Palace first and it took about 1.5 hours from Munich to get here. It was a large double decker bus so was very comfortable. At Linderhof Palace we were able to walk the grounds and got a short tour of the inside of the castle.
Next up we drove through the town of Oberammergau. This town is known for its production of the Passion Play plus its wood carvings and elaborately painted buildings. On this tour you sometimes get to stop and get out to walk through the city. On ours we weren't able to but they took us on a bus tour through the town.
Next up we stoped in Schwangau which is about 1 mile from Neuschwanstein Castle and had lunch before heading up to the castle.
Neuschwanstein Castle
At Neuschwanstein we were able to walk around outside and take pictures. If you want a tour inside of the castle you do have to pay extra but you will get to hear all about King Ludwig which is pretty interesting! The day ended up being rainy but I am glad we did it and that I got to visit 2 gorgeous German castles!
We didn't have time for another castle visit but if you do you may want to check out Nymphenburg Palace. It looks really interesting!
Where To Eat
We mentioned a few places above but will mention them again!
Hofbräuhaus Beer Garden – beer and German food.
Augustiner – multiple locations around Munich for German beer and food.
Vinzenzmurr Metzgerei – Butcher Shop
Eataly – if you are looking for a break from German food get some pizza.
Ca'd'oro – Another Italian option! Can you tell we like Italian food.
Where To Stay
We stayed at the Jaeger's Müchen (Hotel/Hostel). It worked out well for us and the price was right! Plus they had a bar and a beer vending machine downstairs. Craig said it was some of the coldest beer he had ever had.
More Europe Content
Packing List for Backpacking In Europe With Kids
14 Fun Things To Do In Rothenburg Ob Der Tauber Germany
Things To Do in Lisbon, Portugal
Things To Do In Tuscany, Italy
Top Things To Do on Venice, Italy
14 Fun Things to do in Rothenburg Ob Der Tauber Germany
Pin This Post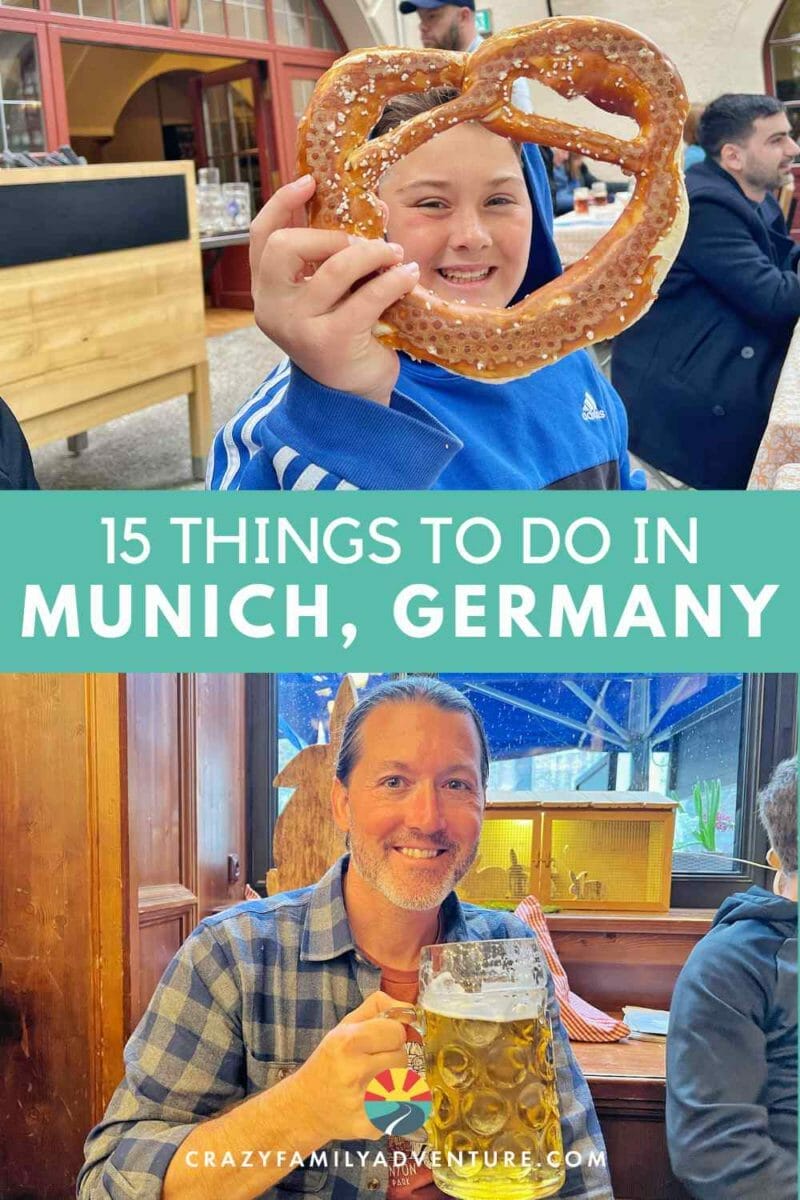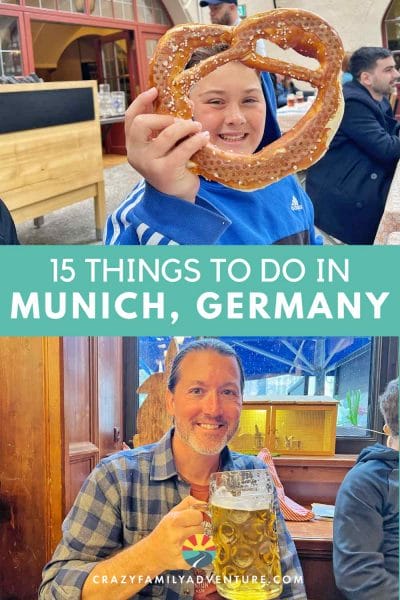 DISCLOSURE: This post may contain affiliate links, meaning I get a commission if you decide to make a purchase through my links, at no cost to you. Please read my disclosure for more info.