We took the train 4 hours from Rome to Venice on our 3 month backpacking trip around Europe and we got 2 gorgeous days with the sun shining! We couldn't wait to explore this iconic city and to get out on the water. There are so many great things to do in Venice, Italy.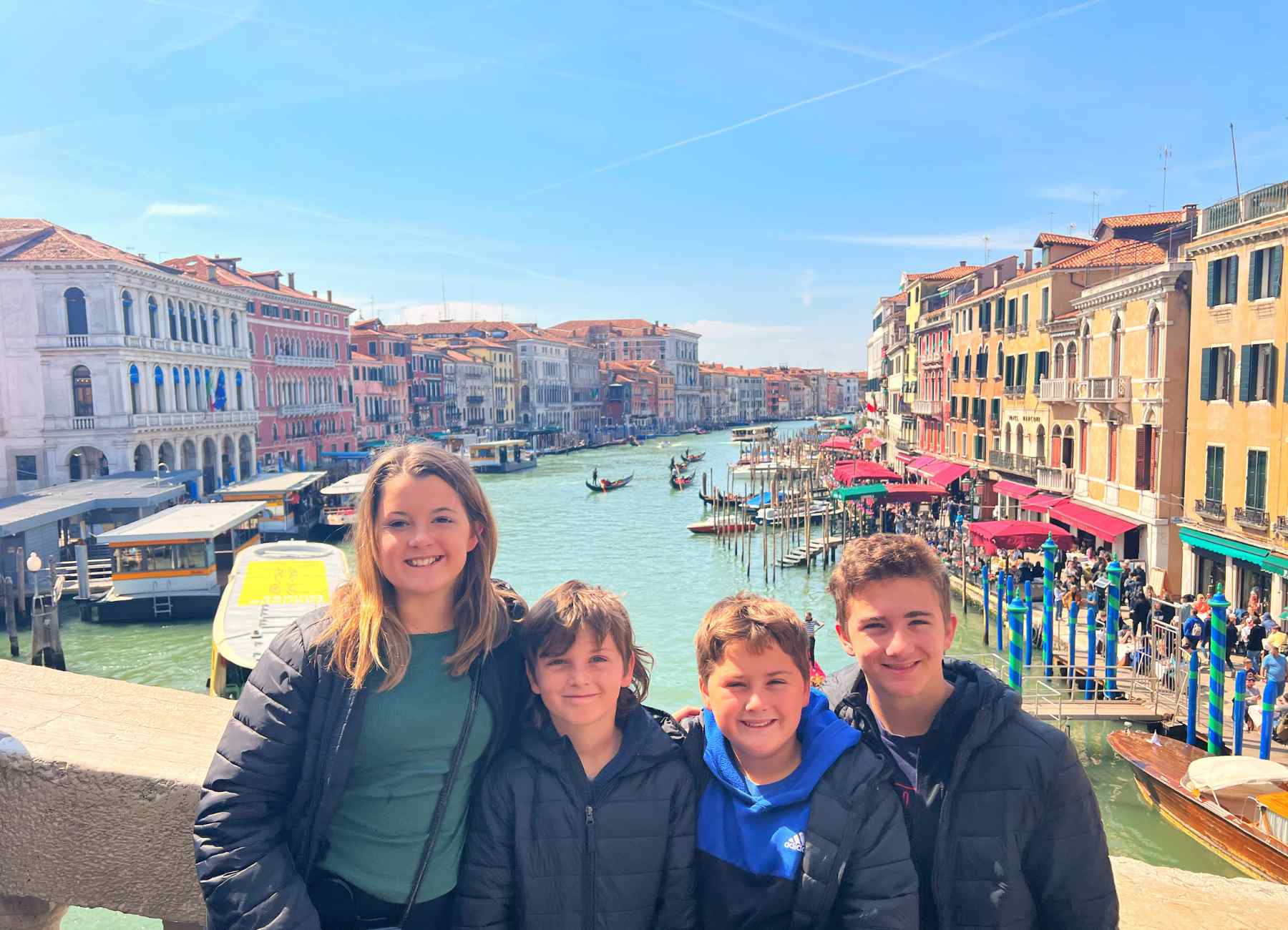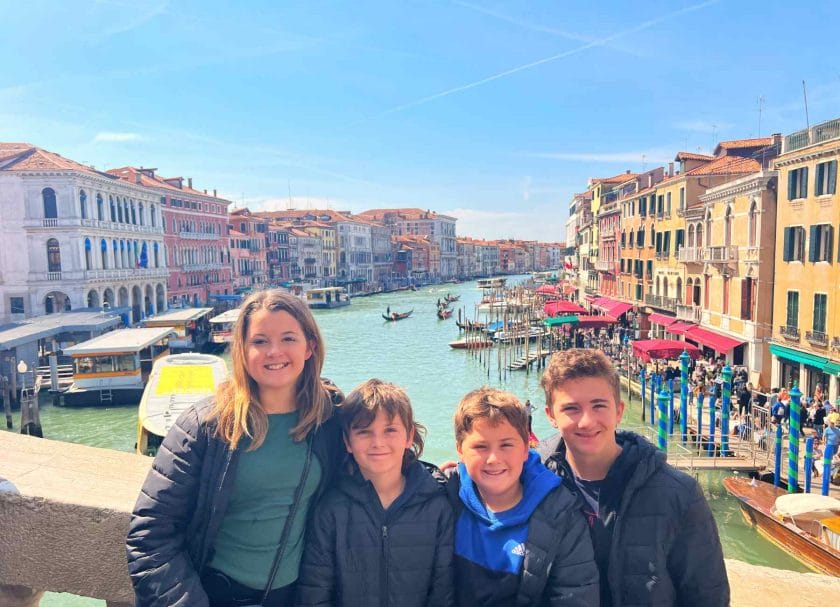 We loved Venice, the vibe, the canals, it is such a beautiful city.
Overview Of Venice
The city is located on 118 islands that are separated by 150 canals. It really does feel like a city on the water! A lot of the islands are connected by 400 footbridges while some of them like Burano and Murano you have to take a boat to get to them in the Venetian Lagoon.
There are no cars in Venice which was amazing. Knox commented how quiet the city was without cars!
You will only find four bridges that cross the Grand Canal. And won't miss the 400+ gondolas that are floating through the canals all around the city.
Venice is magical. There really isn't a better way to describe it. I know people have complained about it being too busy or smelly. But when we were there at the end of March/beginning of April it was perfect.
Not busy, not smelly and with the sun out it was perfect weather to be walking around the city.
That being said if you are going to visit Venice when it is busy we definitely recommend you book your tickets in advance and get as many skip the line tickets as you can. The worst thing to be doing in Venice would be standing in line!
Getting To Venice
We took the train into Venice. It was a very easy process and was a beautiful ride coming into the city. Be sure to check your trains stops and make sure you stay on until you reach the actual island.
Once you reach the island you can walk from the train station right across a bridge and into Venice. We purposely picked a vacation rental that was within walking distance to the train station.
That meant we weren't close to the main attractions but the island isn't that big so it was no problem walking anywhere we wanted to go.
Things To Do In Venice
Grand Canal "Tour"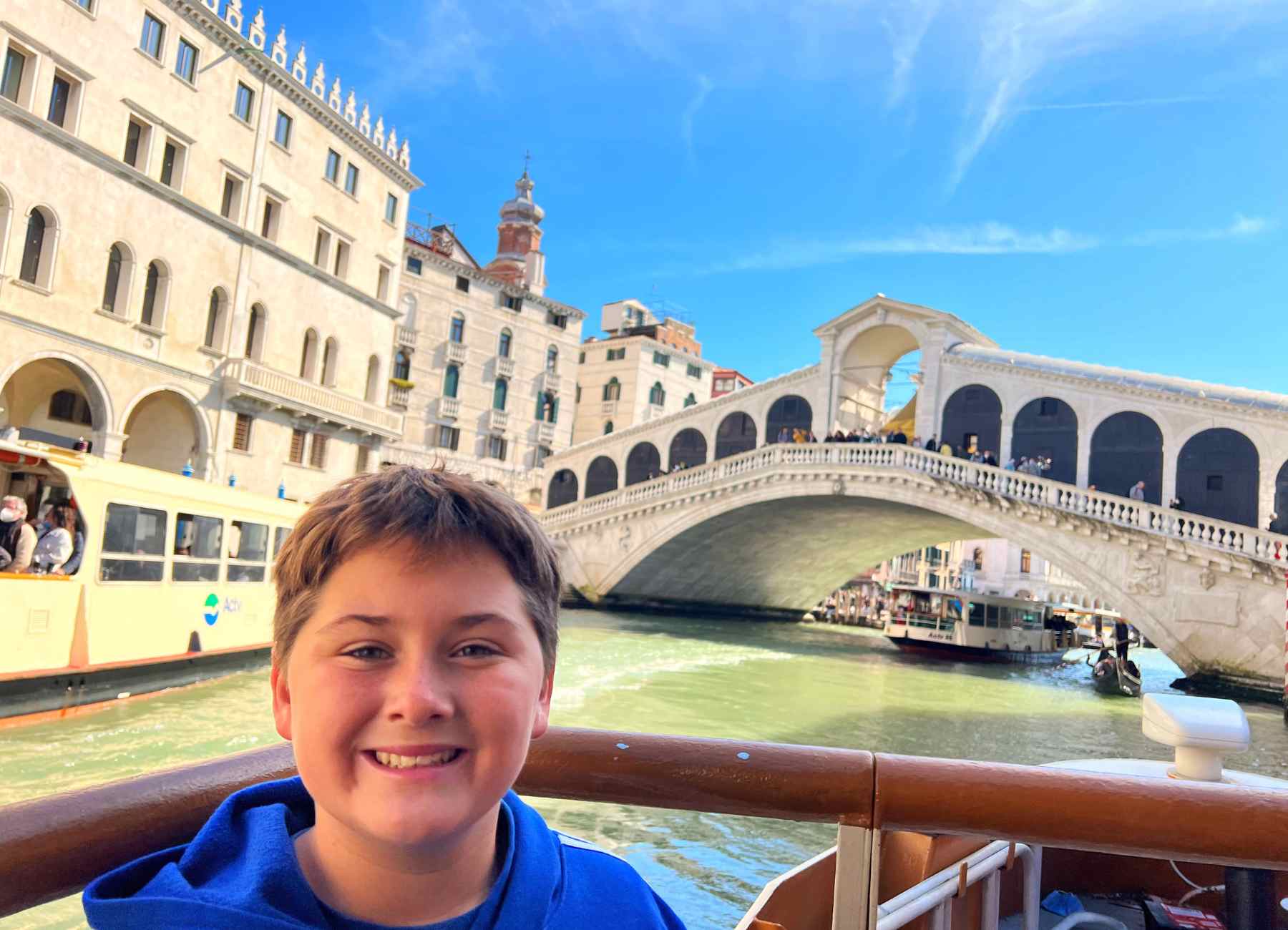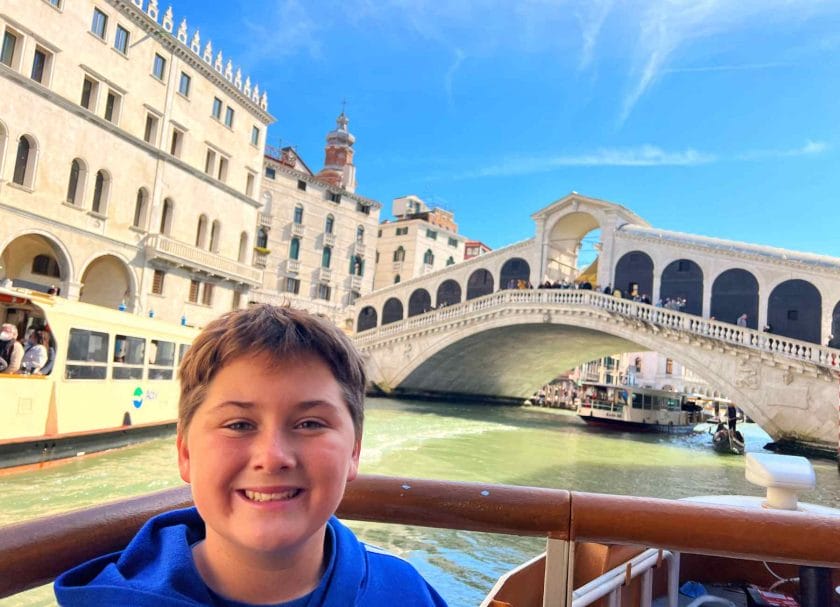 I have tours in quotes since this wasn't a paid tour. This was us riding on the Grand Canal public water bus (vaporetto). It was packed with people using it as a bus to get around Venice.
We paid attention and quickly grabbed the seats at the front and got out my phone to open the Rick Steves Grand Tour app on my phone. His tour lasts 45 minutes – starting from the Piazzale Roma and bringing you just past St Marks Square.
It talks about places like the Basilica di Santa Maria Della Salute which is a beautiful church that was built in the 17th century to commemorate the end of a devastating outbreak of the plague that killed thousands of Venetians.
The tour was well done and helped us understand what we were saying as we were riding down the canal. If you don't want to stay on for the whole tour you can hop on and off at any of the stops the boat makes.
St Marks Square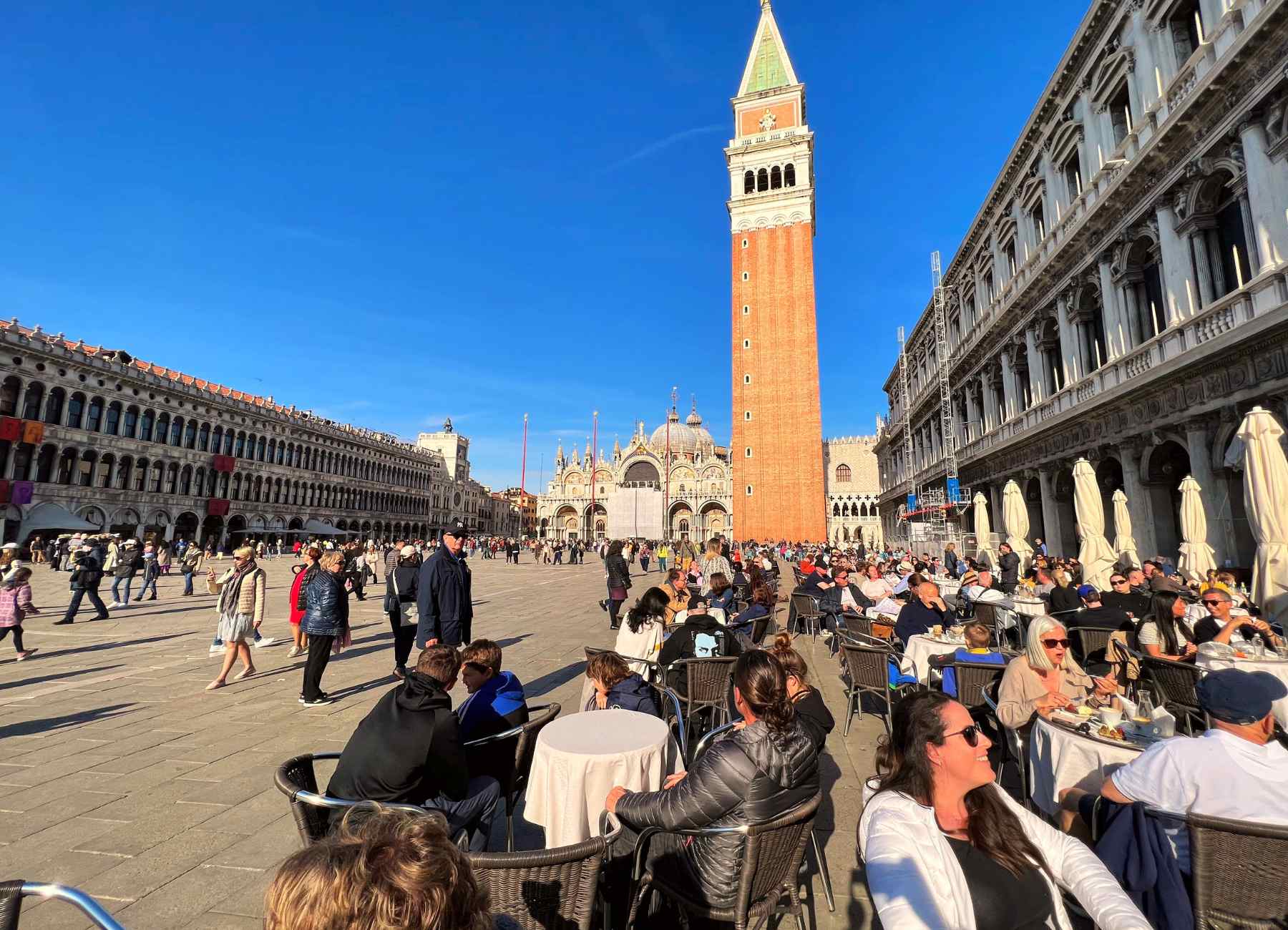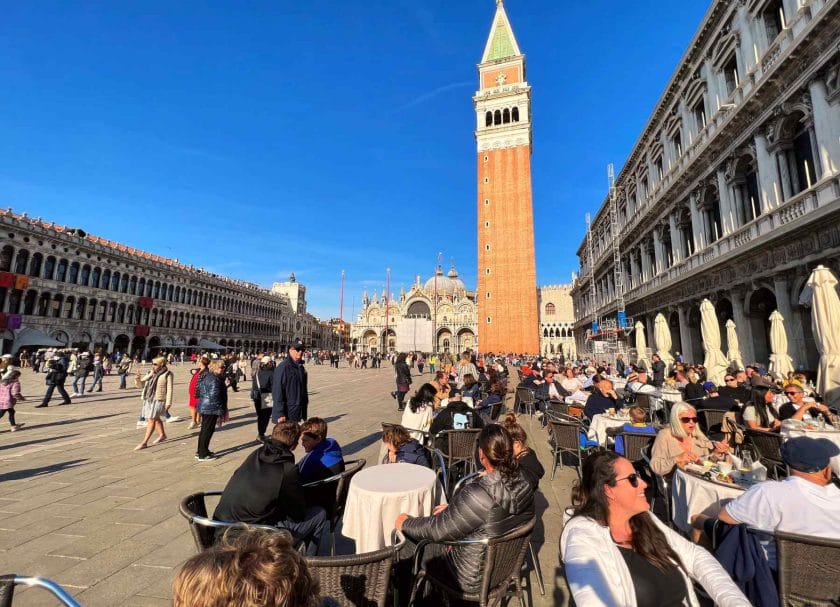 Next up we headed to St Marks Square (Piazza San Marco). We got our Rick Steves app again and read through some of the highlights of St Marks Square. While we were doing that we noticed all of the people sitting out have a drink in the square. We definitely wanted to try that!
We stopped at Caffè Florian. It was super expensive! But it was an experience so it was worth it. We got overpriced drinks and snacks and looked out over the square as we listed to the orchestra playing from the restaurant.
You could also choose to tour the Doge's Palace when you are here and see the Ponte dei Sospiri or Bridge of Sighs. We figured with our kids they wouldn't be into it. But if you like seeing Gothic palaces that were built in the 14th century you should do it!
**Fun Fact: The Bridge of Sighs is a small enclosed bridge that connects the Doge's Palace to the adjacent prison. Legend has it that the bridge earned its name from the prisoners who, as they crossed it, would sigh at the sight of Venice for the last time before being locked up.
Another option would be to climb to the top of the Campanile di San Marco (bell tower) when you visit Saint Marks square.
Gondola Ride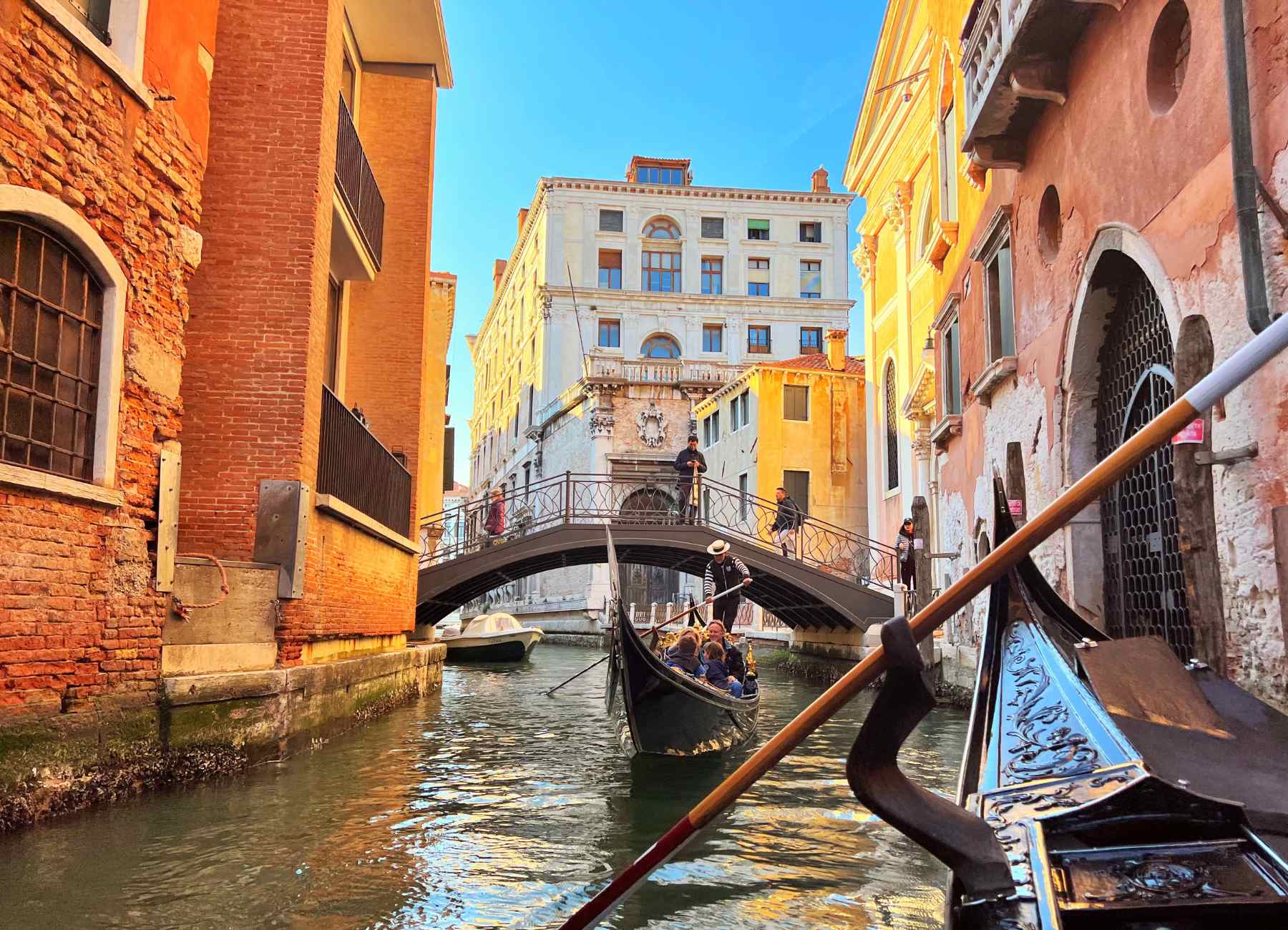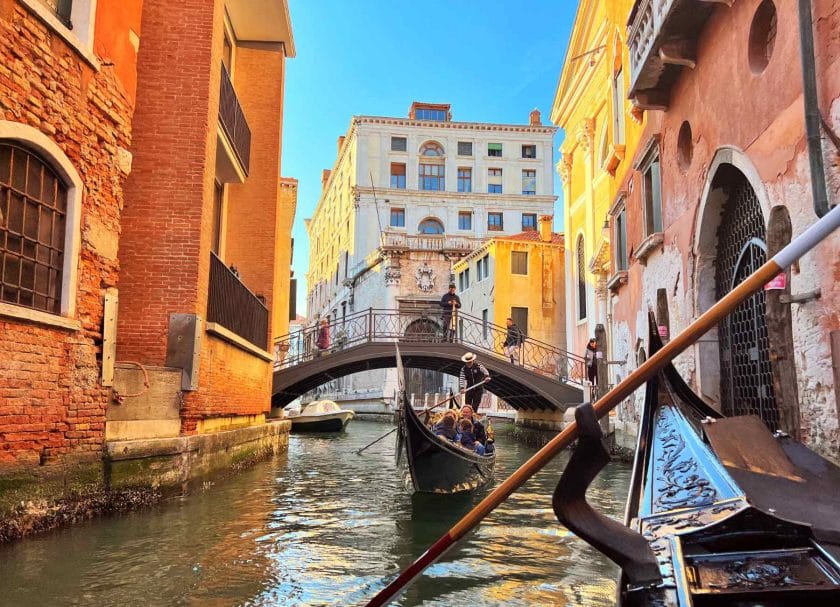 We of course had to do a gondola ride! They only allow up to 5 people on 1 boat so luckily Nana and Boppa were with us and could take 2 kids!
It was an over priced but fun experience and we are glad we did it! At the time it was $85 for a 35 minute trip for up to 5 people. We tried to see if we could do 6 with the 4 kids but they said no they would lose their license.
I mean you can't come to Venice and not do the Gondola Ride so be sure you budget for it. Now that we did it we won't have to do it again but I am glad we did and that the kids got this experience.
It was also fun to explore the canals and see some areas of Venice you can only see on the Gondolas.
Rialto Market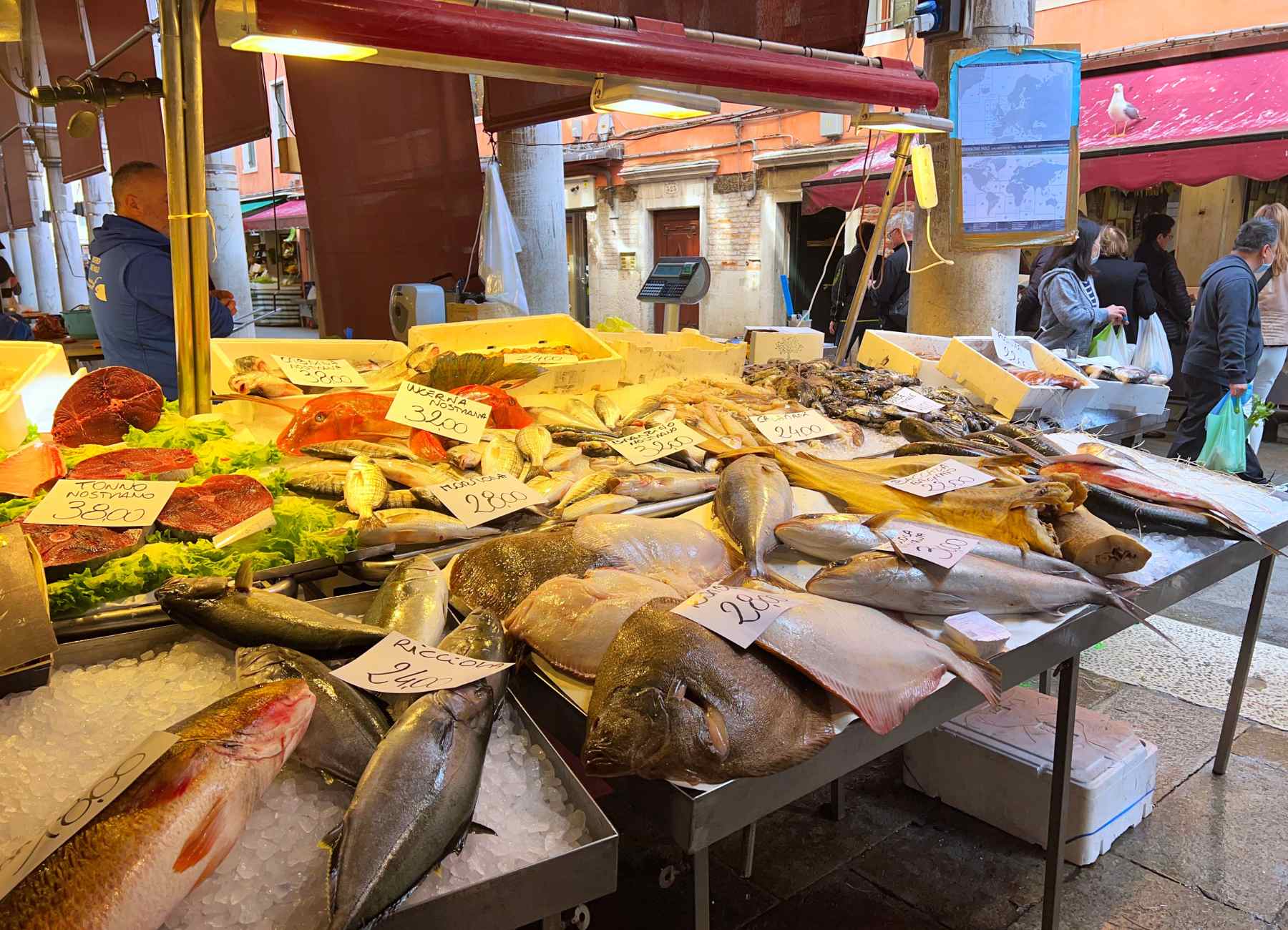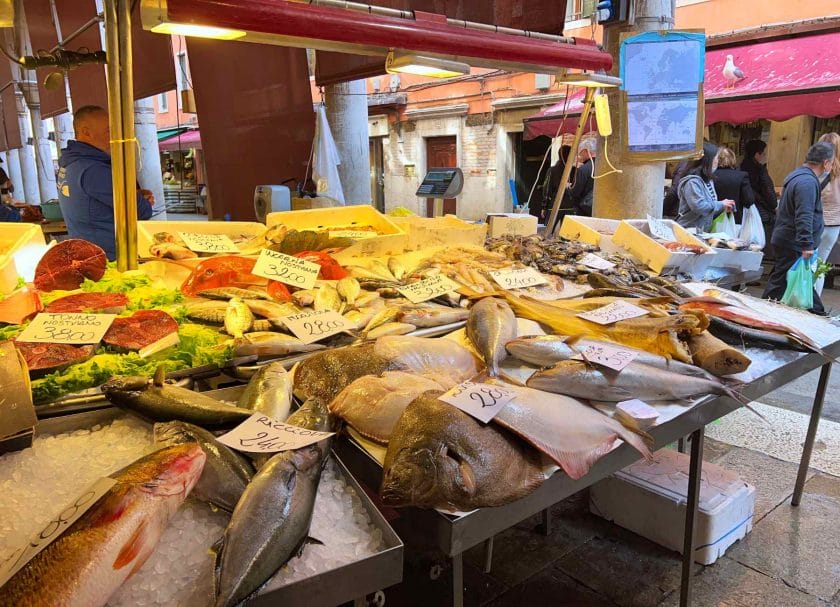 We started the day with a trip to the fish market at the Rialto Market. It was quite the experience. There are all kinds of different fish just sitting out. I mean fish we have never seen before!
Plus there is blood on the ground from the fish and a definite fishy smell! Once of the crazy things is that when the market is done they clean it all up and you could barely tell it was there.
We didn't buy anything . . . but I have to say I would love to hire someone to bring us to the market and help us pick things out. Then bring us back to our place to cook a delicious meal from the market.
Osteria al Squero
After that we headed to Osteria al Squero to watch the workers fix and build gondolas across the canal at Squero Di San Trovaso.
Scavenger Hunt
If you are traveling with kids you won't want to miss this scavenger hunt around the city. It was a great way to teach the kids some history of Venice while making it fun and interactive. Plus we visited a couple of places we may not have found on our own during the hunt!
Our guide had a map and clues and split us into 2 teams so we could see who found the clues first and answered the questions correctly.
It was education and fun! And brought to our attention some different things in the city we may not have noticed on our own.
Libreria Acqua Alta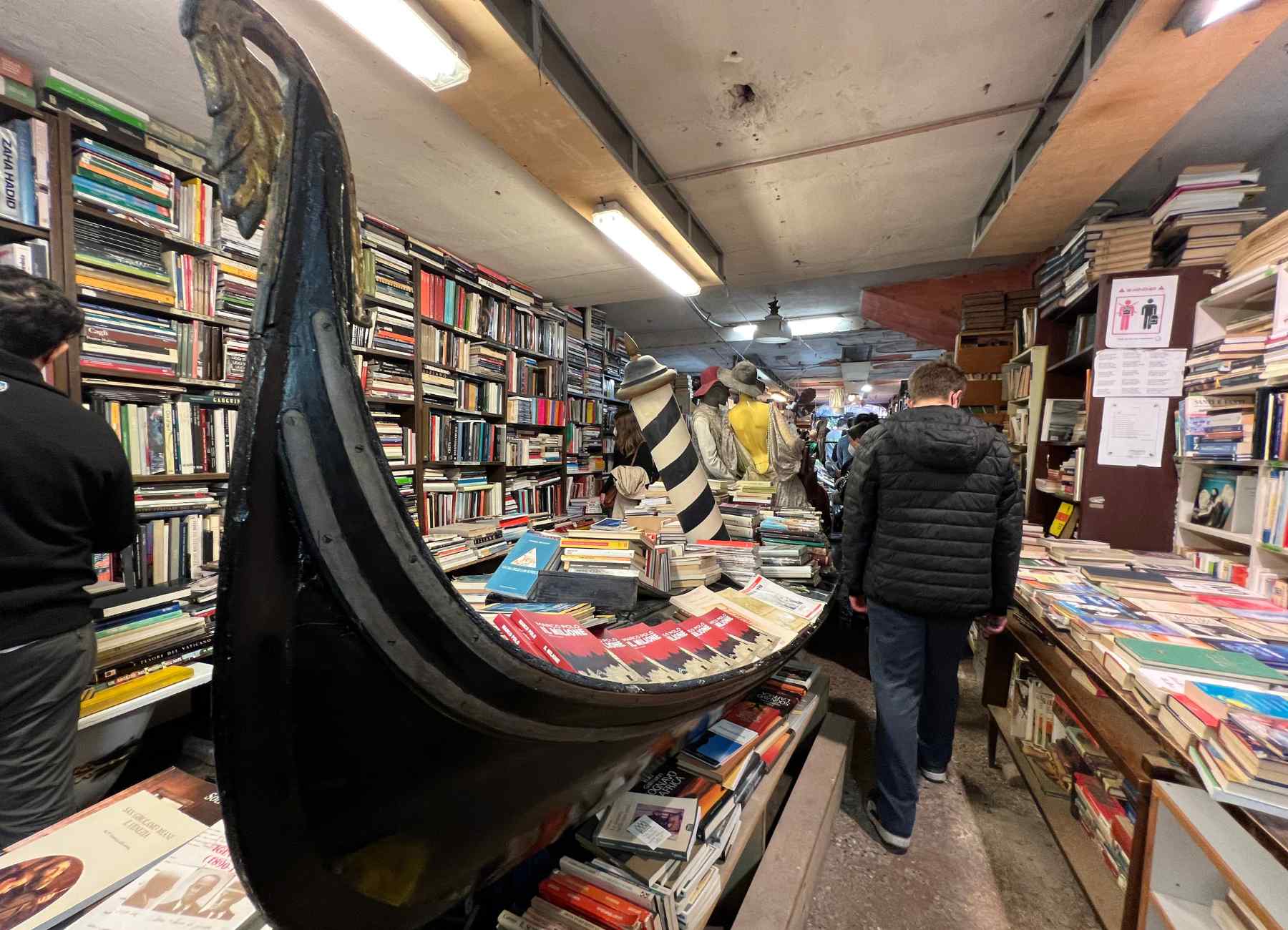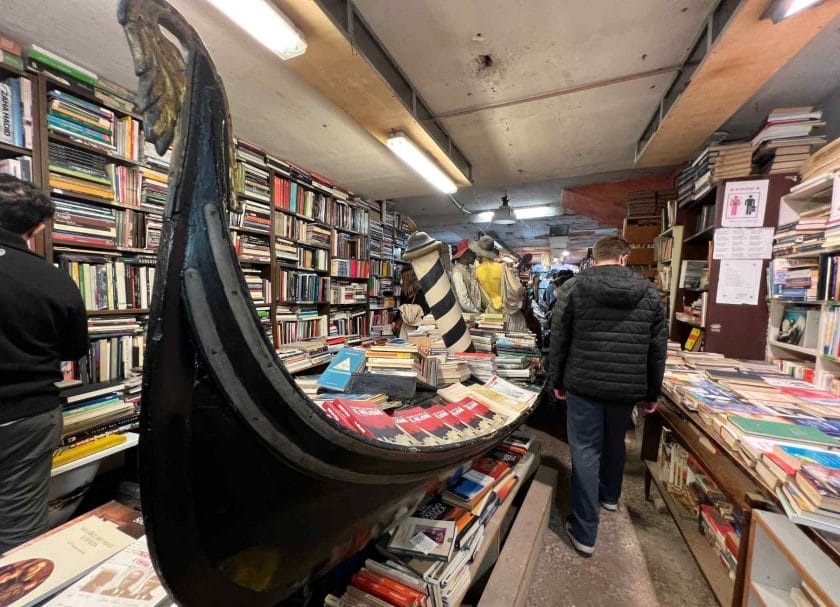 We found this stop on our scavenger hunt and I am so glad we did! It backs up to one of the canals and there is a book staircase you can climb up to look out over the canal.
The store has a gondola in it filled with books and books everywhere. It can get very busy and you may have to wait in line to get in.
Spiderman Movie Spots
If your kids are Spiderman fans they probably remember when Spiderman came to Venice. If that is the case be sure to stop to see the following two spots:
Santa Maria Formosa Church
Ponte de l'Arsenal o del Paradiso
The Rialto Bridge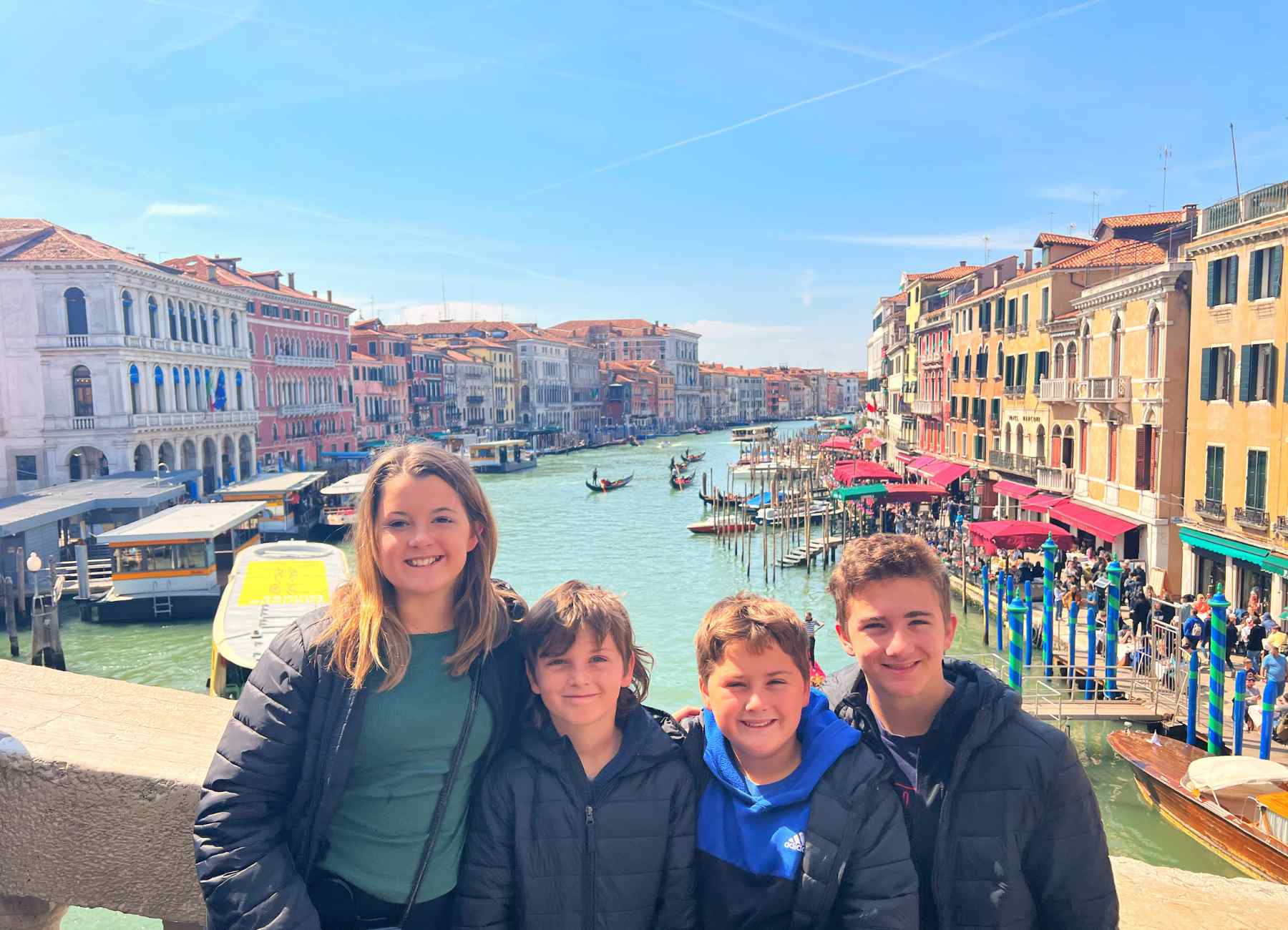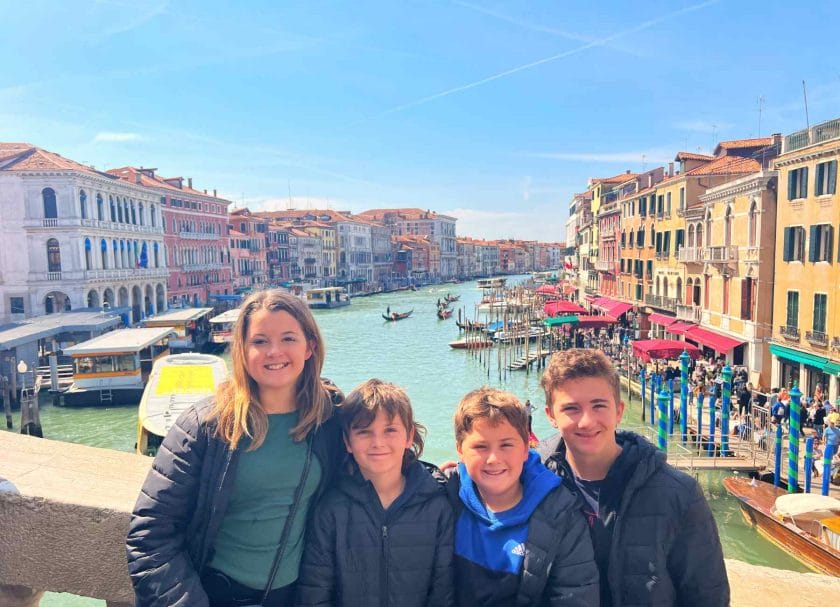 Grab a picture on the famous Rialto Bridge! This is the iconic bridge in Venice that goes over the Grand Canal. If you spend any time in Venice you will most likely catch your self walking over this bridge a few times.
Take note the bridge is called The Ponte di Rialto in Italian.
Learn To Row As A Venetian
This is another activity our friends from Zula Life did when they visited and they said it was a blast! It is one thing to take a gondola ride but to be able to learn how to row that is awesome!
You can learn more about learning how to row as a Venetian here.
Carnival Mask Making
Zula Life also did this activity and said it was a great experience. There are masks stores all over Venice that you can buy masks at. But being able to make your own would be quite an experience!
You can book your own Carnival Mask Making class here.
Teatro la Fenice
If you are into Opera and/or architecture you are going to want to check out this Opera House. You can either do a tour or you can opt to come and see a show here. The Opera House has a long history of being destroyed or damaged by fire and rebuilt.
Burano Island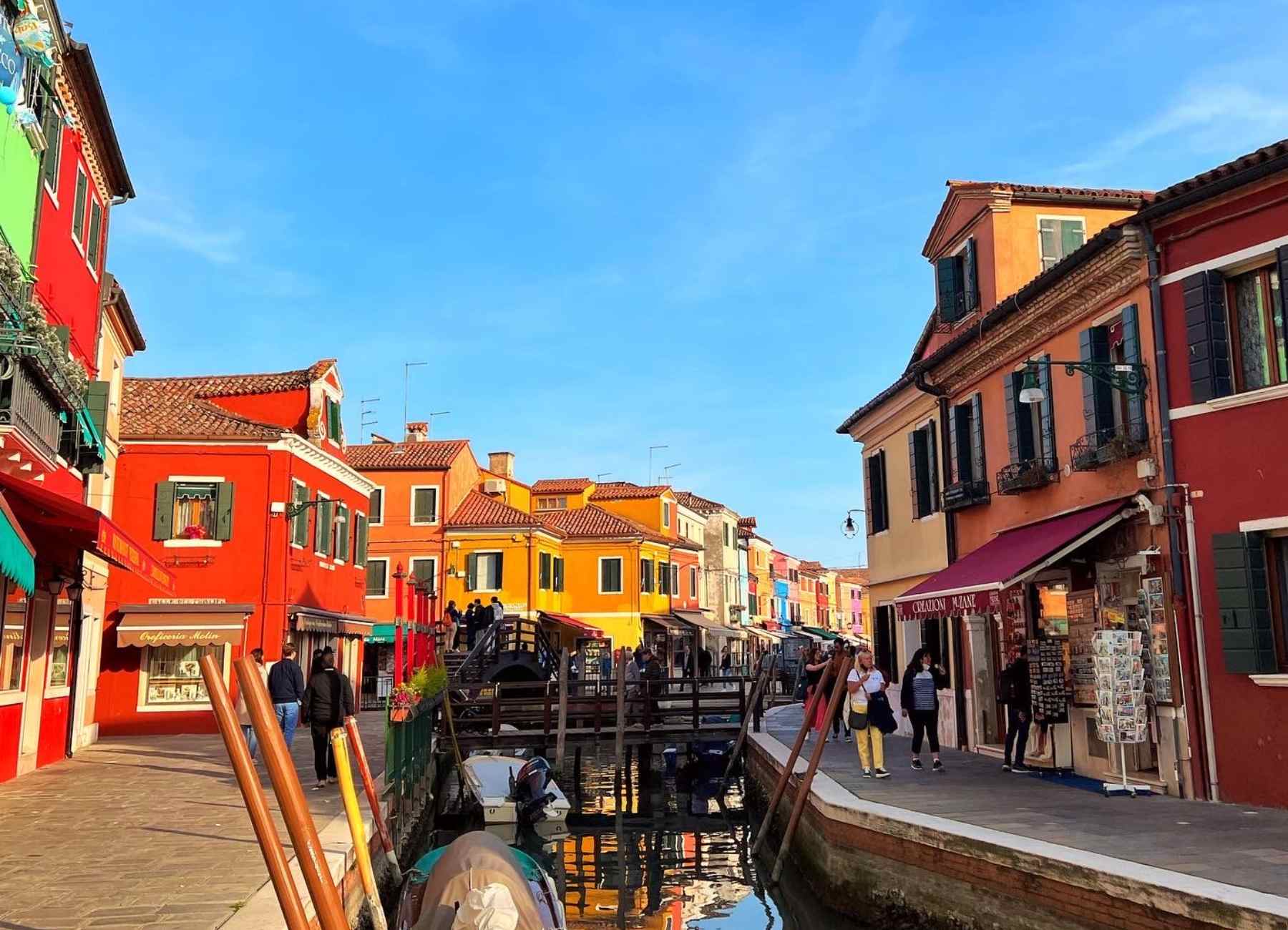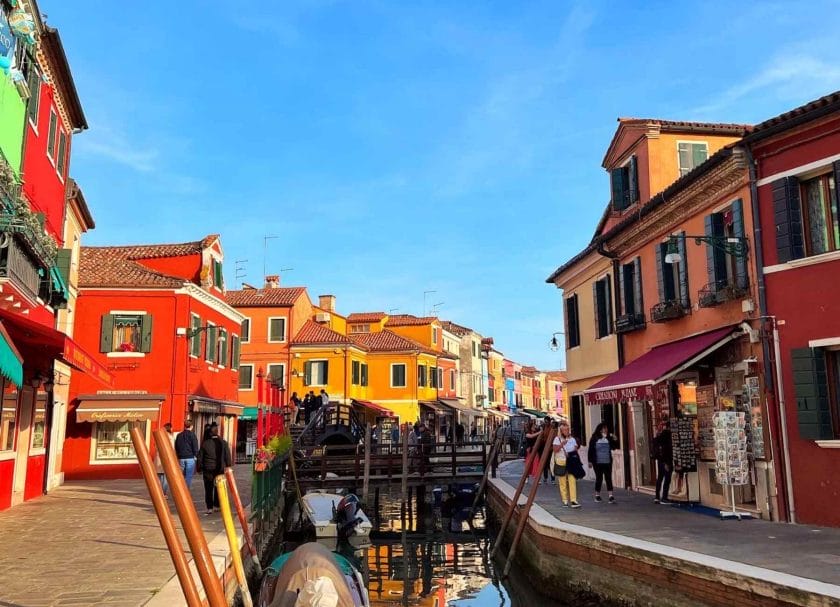 We only had a little bit of time to see Murano or Burano. We ended up going with Burano because I wanted to see all of the colorful buildings!
To get to the island we had to get on the water bus (vaporetto) at the Fondamenta Nuove stop and took the 45 minute ride over to Burano Island. We didn't get there until almost 6pm so things were starting to close down. But we were able to grab a quick dinner at Trexento and make a stop in a couple of the shops.
The island's buildings are painted in bright colors such as pink, blue, green, and purple. The origin of the brightly colored houses is said to be from the fishermen who used to live on the island. They painted their houses in bright colors so they could easily spot them from the sea.
Burano Island is also famous for its traditional lace-making industry. The art of lace-making has been passed down through generations of Burano families, and today it is still possible to see artisans creating delicate lace items by hand. My Mom bought some when we were there.
We definitely wish we had more time on the island! We also really enjoyed seeing the views of Venice from the water on the way here and back.
Murano
We didn't make it To Murano Island on this trip but we ill next time! I just couldn't resist the colored buildings of Burano so made the choice to go there since we could just go to 1 island. However, getting to Murano from Venice only takes about 10-15 minutes by water taxi (vaporetto).
Murano Island is known for the art of glass making. The skill dates back to the 13th century when the Venetian Republic ordered all glass factories to move to the island to prevent fires in the city. Since then, Murano has been renowned for its exquisite glassware, and the island's artisans continue to create unique glass objects by hand using traditional techniques.
When you go to Murano you can watch the glass-making process in action by visiting one of the island's many glass factories and studios. These studios offer guided tours that showcase the intricate and complex process of creating glass objects. You can also see the stunning finished products on display in the studios and purchase them as souvenirs.
Our friends from Zula Life visited Murano Island and did a glass making class and they said they loved it!!
You can see the video of them in the class here.
Where To Eat In Venice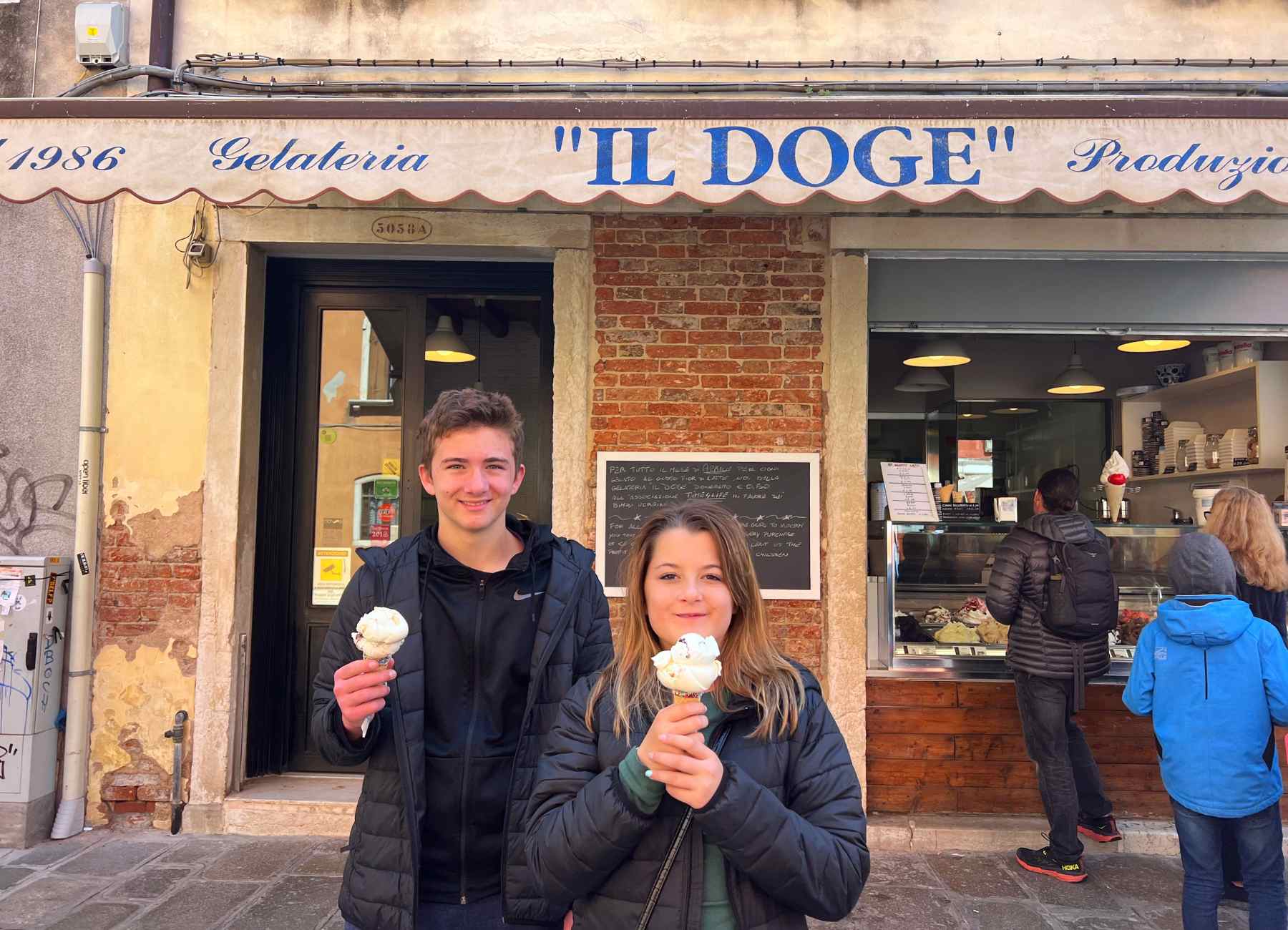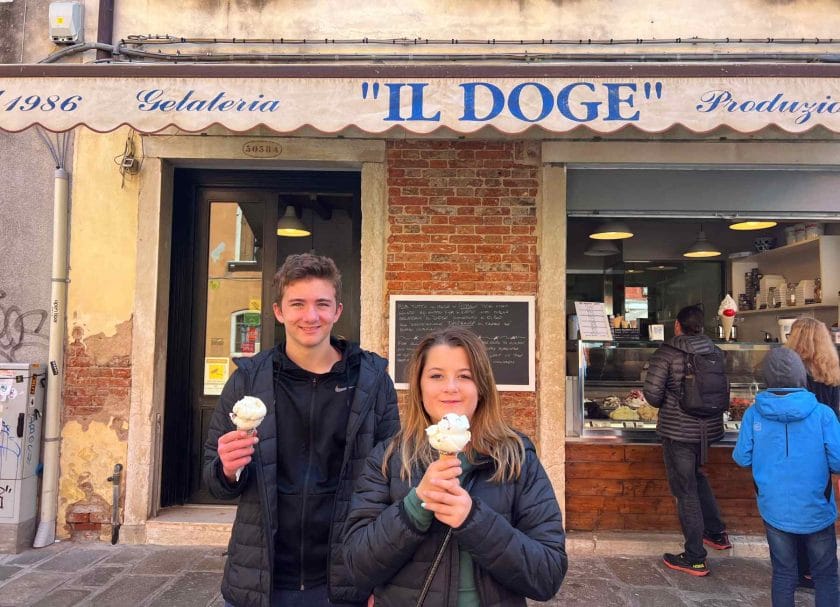 Gelateria il Doge
This Gelato spot is located in Campo Santa Margherita. The kids were able to get their ice cream and they sat by a fountain to eat it while us and my parents found an open table at Fuori Rotta to get a glass of wine.
When the kids came to find us after they were done with their gelato by Dad gave them 20 Euro and said go see what else you can find. That give us a chance to sit for a bit longer and finish our glass or bottle 🙂 of wine.
Birraria la Corte
We were excited to head to Birraria la Corte to try their pizza! When we walked in they asked if we had a reservation . . . umm no. I guess that meant we might not get a table. Luckily they had some outside seating and since it was a bit cooler not many people wanted to sit out there.
It was actually really nice and we always prefer to eat outside when we can. The drinks were good and the pizza was delicious!
Cip & Ciop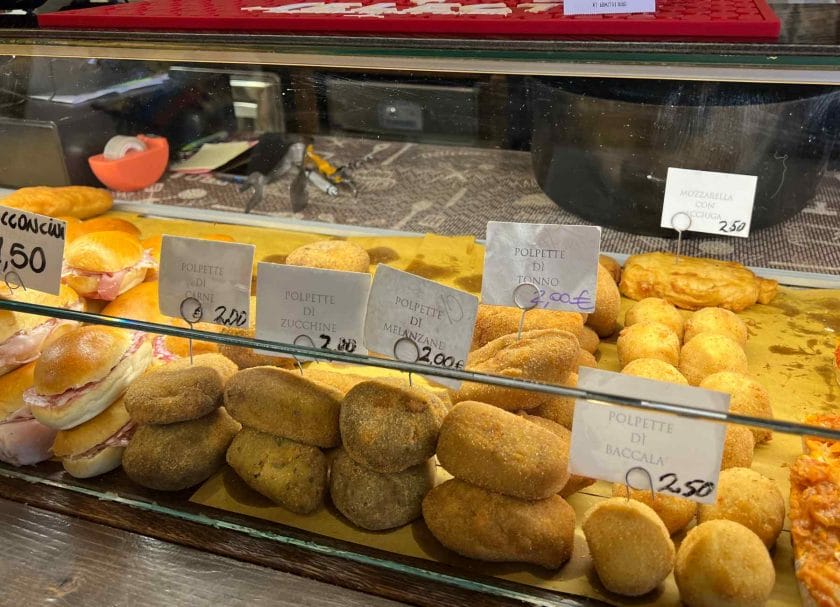 This was a fun little restaurant/bar right by where we stayed. They had these delicious handheld foods like fried mozzarella pocket things and vegetarian tapa's and other ones filled with meat. I don't even know the right way to describe them but they were so good!
You just walked up to the counter and they had everything on display in the case so you just asked for what you wanted. We went and ordered and came back and ordered more since it was so good.
I think they are called Cicchetti. Like the Italian version of Spanish Tapas. In any case if you are in Venice ask around about Cicchetti and try all the things!
Cantina Do Spade
Make sure to stop here for a Mozzarella Sandwich. We just stopped in to grab one to go and it was delicious!! While we waited we also got a glass of wine and that was good too.
Where To Stay In Venice
When picking where to stay we picked a place – Residence degli Artisti – that was close to the train station so we could easily walk from there to our vacation rental with our backpacks and bags.
The place we picked wasn't close to St Mark's square but we liked that it was tucked away and not in the middle of all the hustle and bustle of Venice.
The place – Residence degli Artisti – was beautiful and we were glad we stayed here.
Venice Itinerary
Here is what we did on our 2 days in Venice. We definitely could have stayed longer. We really fell in love with Venice!!
Venice – Day 1 (day you arrive)
Head to the Piazzale Roma water bus (Vaporetto) stop. To start the Rick Steves Grand Canale tour at the right place. Check out the water bus schedule here. You can buy your tickets online before you get there.
Ride the water bus to the St Marks Square stop. If you want more context check out the Rick Steves Tour of St Marks Square on his app. Stop here for a drink in the square.
Birraria la Corte for dinner.
Day 2:
Breakfast and Coffee at Cip & Ciop
10am – Rialto Market Area – only open until 1pm
Osteria al Squero to watch the Gondola workshop across the canal (squero di san trovaso).
Campo Santa Margherita and get gelato at Gelateria il Doge [Dorsoduro 3058/A, Rio Terà Canal]
Stop at Cantina Do Spade for mozzerella sandwiches.
Santa Maria Formosa Church – which was in the Spiderman movie.
Ponte de l'Arsenal o del Paradiso – which was in the Spiderman movie.
2pm – Gondola Ride – 30-45 minutes.
3pm – Scavenger Hunt Tour
5pm – Head to Burano Island
Burano Island for dinner at Trexento
More Great Things To Do In Europe
Backpacking Europe Packing List [With Kids!]
21 Best Things To Do In Prague With Kids
Tips For Riding The Epic Bernina Express
30+ Best Things To Do In Lisbon, Portugal
One Day In Madrid Itinerary – 14 Stops Not To Miss!
One Day In Barcelona Itinerary
A Tourist Guide To Las Fallas Festival in Valencia Spain
Tips On Visiting All 5 Cinque Terre Towns [Itinerary Included]
15+ Things To Do In Tuscany Italy
25 Top Things To Do In Florence, Italy
Pin This Post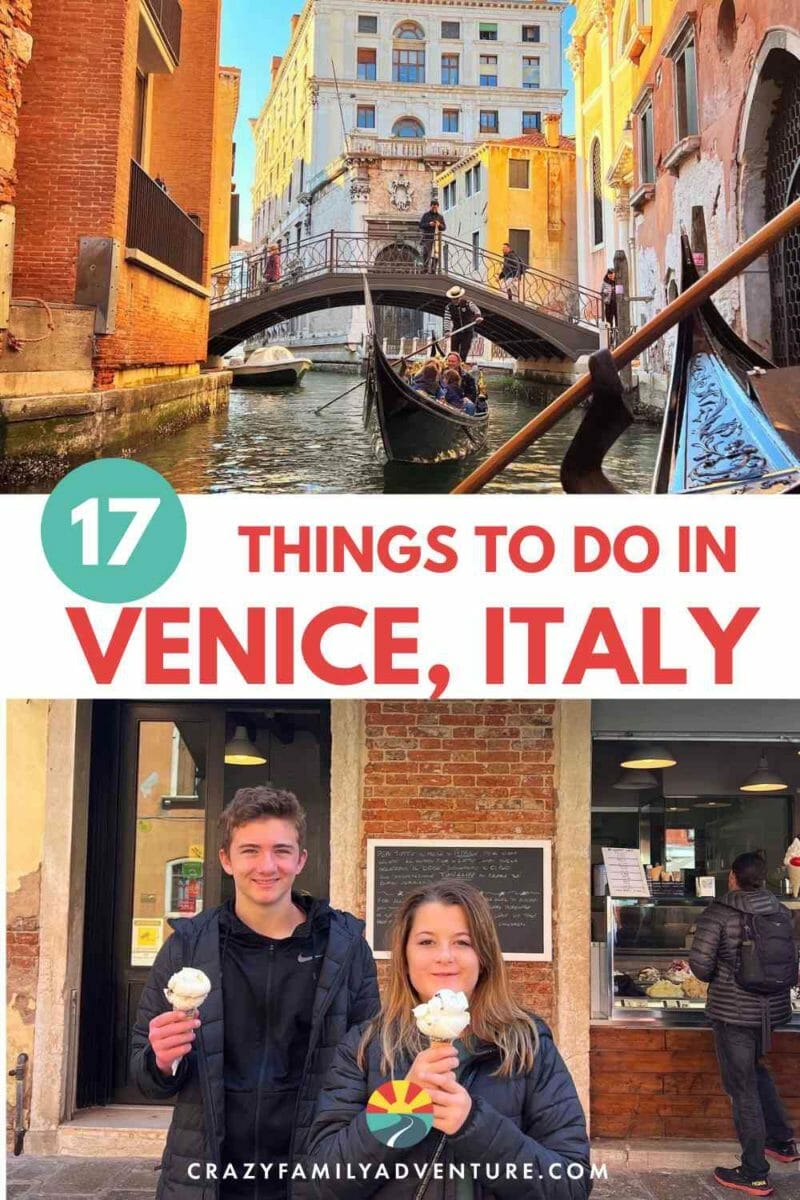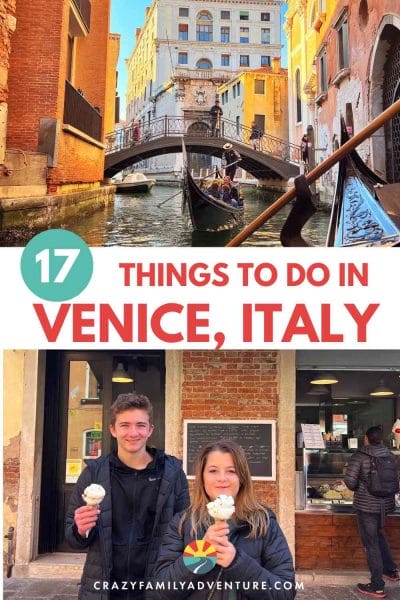 DISCLOSURE: This post may contain affiliate links, meaning I get a commission if you decide to make a purchase through my links, at no cost to you. Please read my disclosure for more info.