One Day In Barcelona is really not enough time. But if that is all you have that it is time to make the most of it! Here is how we recommend you spend 1 day in Barcelona. We visited here for 1 night on our 3 month backpacking trip around Europe.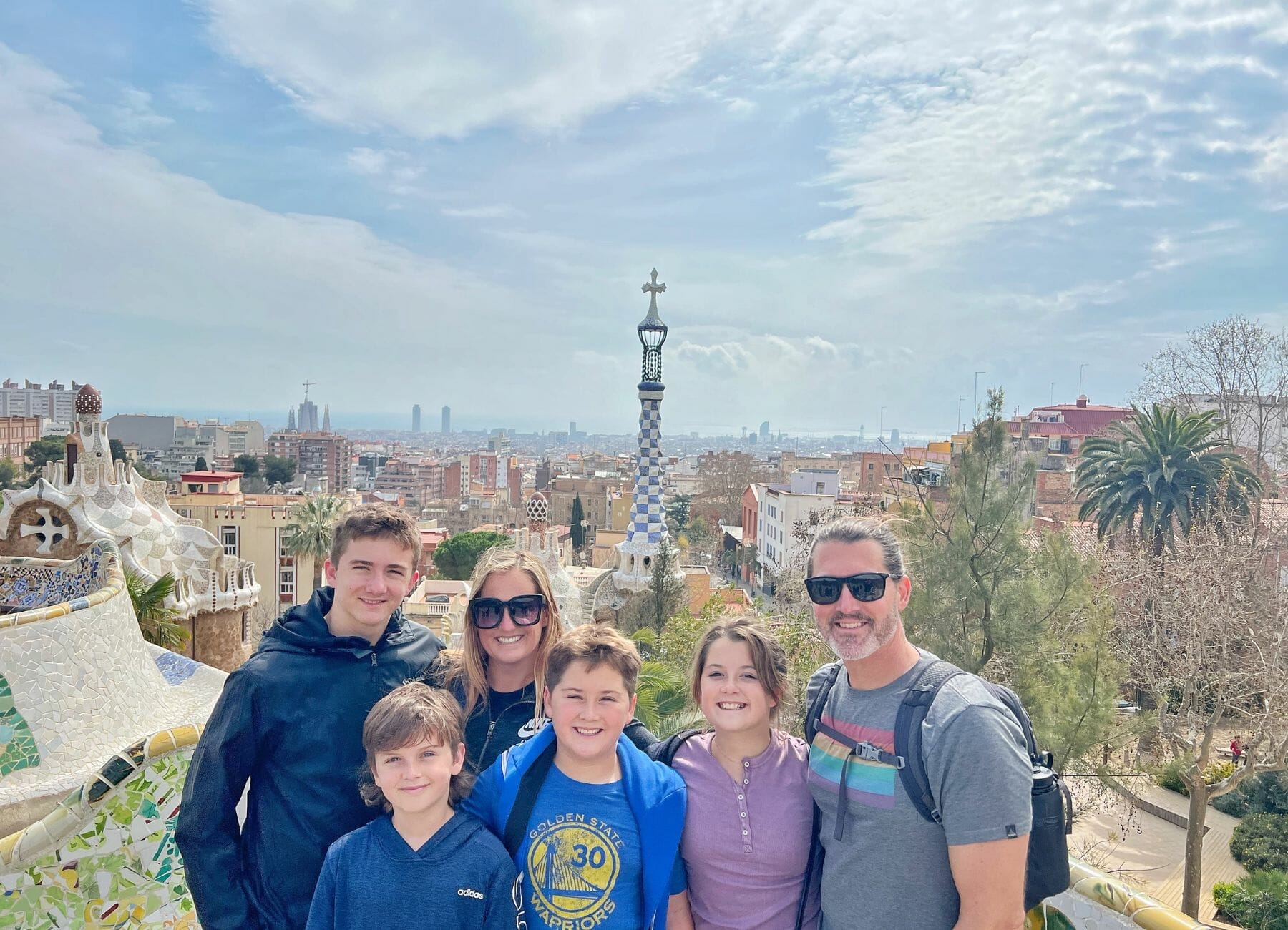 How To Get Around
By the 24 hour unlimited Metro Pass so you can easily jump on the Metro to get around Barcelona. Barcelona is a big city! Normally we would say walk it – since that is such a great way to take in a city but when you only have 1 day you don't want to spend half the time walking from destination to destination.
Buying these tickets is never as straightforward as it seems so we recommend finding a train employee to ask to confirm you are getting the right one.
Now that you know how to get around let's jump into the one day Itinerary.
Map of One Day Itinerary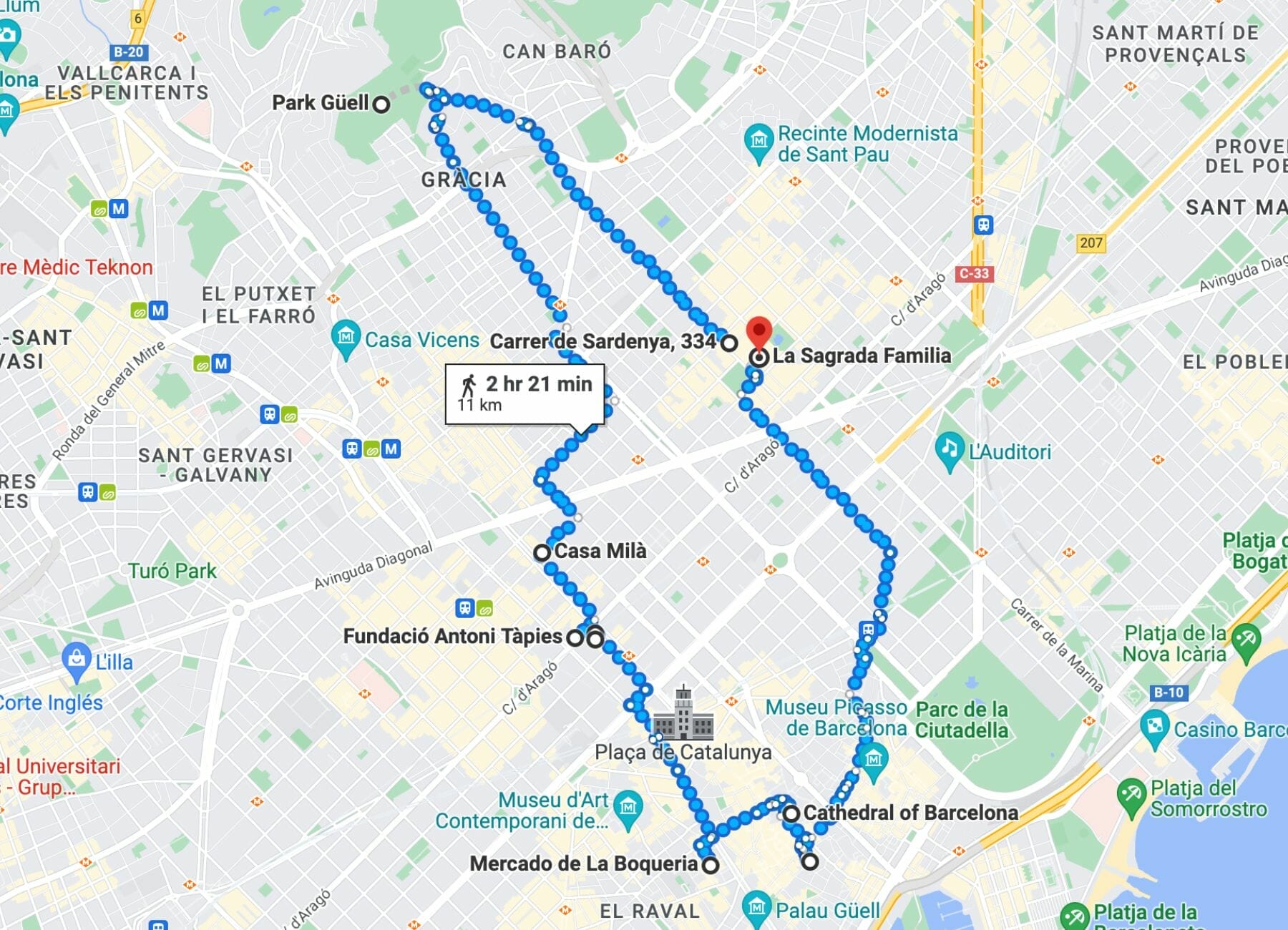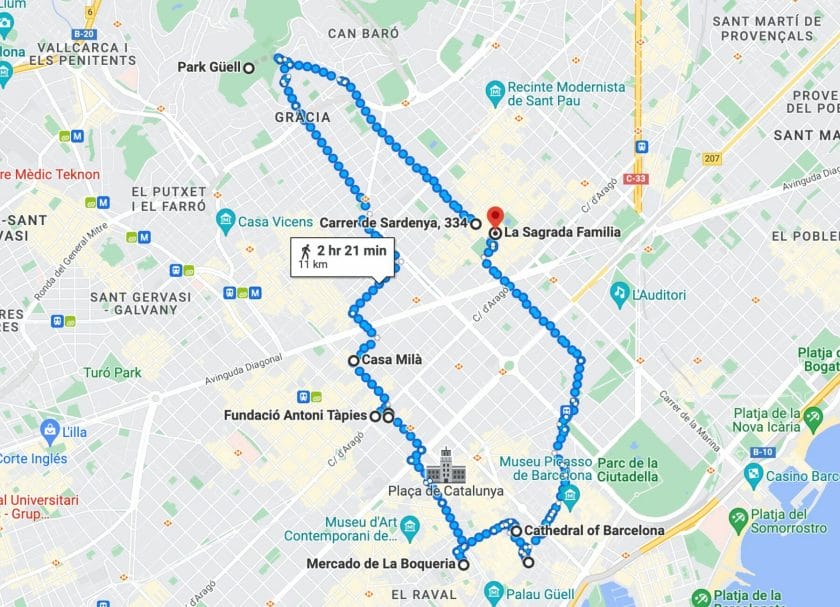 Here is a map of our one day itinerary. It starts from where we were staying and ends at Familia Sagrada. Here is a link to an interactive map: https://goo.gl/maps/Z1MHvVj737vY8hAD9
Park Guell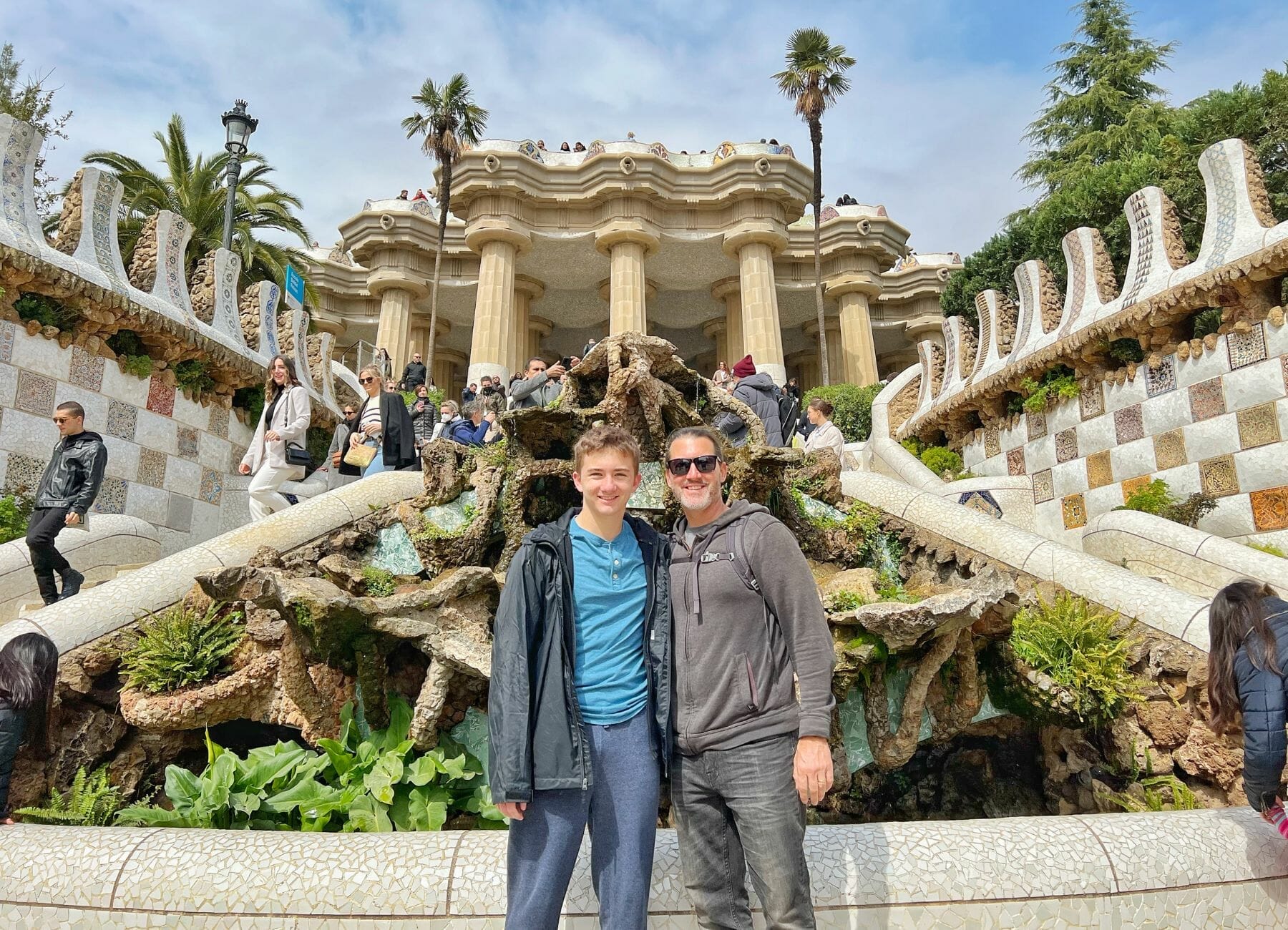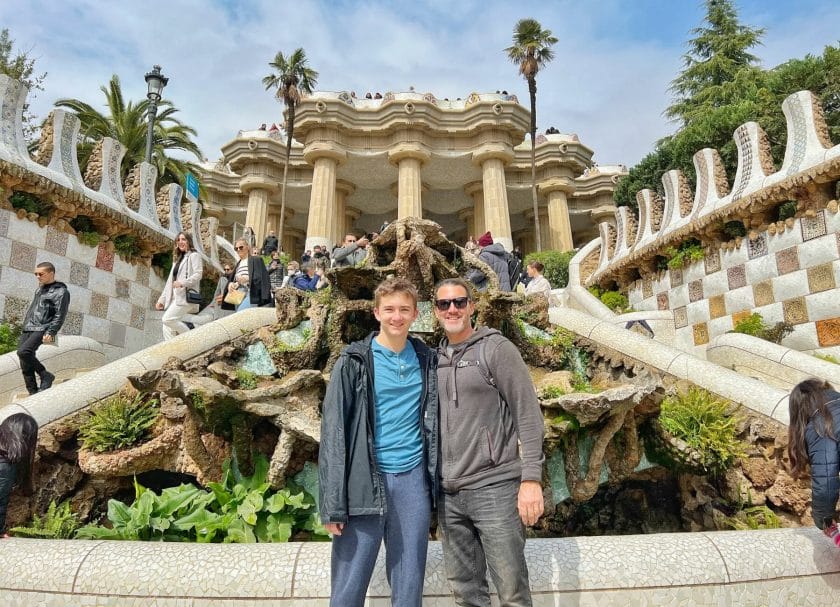 Park Güell is a huge park at the "top" of Barcelona. It looks down over all of Barcelona for fabulous views. The project to build the park began back in the early 1900's and was built by the famous Antoni Gaudí. In 1984 it became a World Heritage Site guaranteeing it would be maintained and conserved for future generations to enjoy!
Getting Tickets For The Park
You will want to purchase tickets on line as you do need to pick an entrance time – and must arrive within 30 minutes of that time. You can opt for a 10 Euro ticket to get you into the park to explore on your own. Or opt for a 22 Euro ticket that includes a guided tour. These are also skip the line tickets which are always nice to have!
If you aren't a huge history buff or if you are with kids you will be fine to do the 10 euro entry ticket and to enjoy the park at your own pace on your own "tour". It is a huge park so if you want an idea of where you are going be sure to check the map when you come in and take a picture of the map.
Exploring The Park
You will find picnic areas, public toilets, fountains, trails to explore and amazing architecture and buildings to view. There is also a park in the restaurant if you are interested in stopping for a bite to eat.
We enjoyed climbing up to the highest point to look out over Barcelona, then walking through the gorgeous trails to get to the overlook – which has a view of Barcelona and a view of some of the amazing buildings.
From there we walked down to walk among the columns – always being sure to look up and around to find all of the little details that Antoni Gaudi added to this awesome park.
Our last stop was the fountain right by the exit. Don't miss the colorful lizard in the middle of the stairs as you make your way down.
This is one of those places you could explore over and over again and find something else to look at and admire that you missed the time before.
Eixample Walk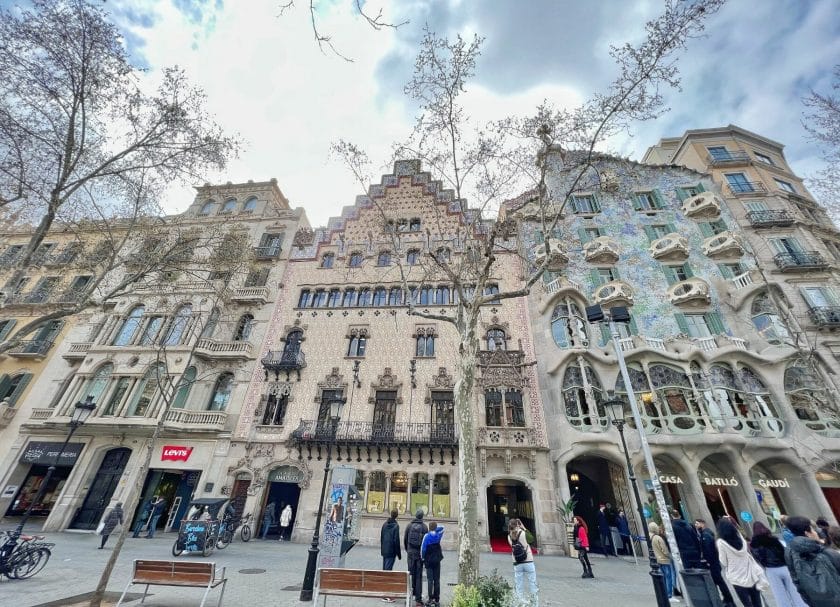 Next up we walked from the park down to the Eixample part of Barcelona to explore more of the famous architecture of Barcelona. To do this we downloaded the Rick Steves App and his Barcelona's Eixample Walk.
It was helpful to have his explanation of each of the buildings as we stood on the sidewalk and took them in.
Passeig de Gracia
This is the main street of the Eixample area. It is 7 blocks long and ends at Plaça de Catalunya which is Barcelona's main square.
Casa Milà
La Pedrera or Casa Mila is one of the buildings built by Gaudi and when you see it you can immediately tell it was his design. It is wild and wavy – yes a wavy building.
You can go inside the building and also up onto the roof which is suppose to be amazing! With only one day in Barcelona we opted not to go in. But if you are there longer this is one you will want to add to your list to explore more.
Tapies Foundation
This is an interesting stop since the building looks like is has a crazy metal hairdo! This one isn't one of Gaudi's but instead was designed by Montaner.
The Block Of Discord
If you are really tight on time and can't spend as much time in this area – I would recommend you come straight here. On the Block of Discord you will see 3 magnificent buildings right on the same block.
Casa Amatller – This rosy-hued building was designed by Josep Puig i Cadaflach
The House of the Dragon or Casa Batllo – which was designed by Antoni Gaudí
Casa Lleó Morera – Lluís Domènech i Montaner was the designer of this house with a variety of different architecture styles displayed.
These 3 buildings make quite the impression. Especially since they are right in a row next to each other. Be prepared to just stand and stare at each of these buildings and try to take in as many of the small details as you can. They really are extraordinary!
You can also walk across the street to take them in from a far so you can see all 3 at once.
If you continue on Rick's Steve tour he will take you to a few more spots. We opted to stop here and grab a quick bite to eat at one of the outside cafe's across from the Block of Discord.
La Boqueria Market/Las Ramblas Market
This famous market is located in off of La Rambla one of the most icnonic areas in Barcelona. It is filled with colorful fruits, veggies and a variety of unique different foods to try. You won't want to miss the Mercat de la Boqueria!
Barcelona Cathedral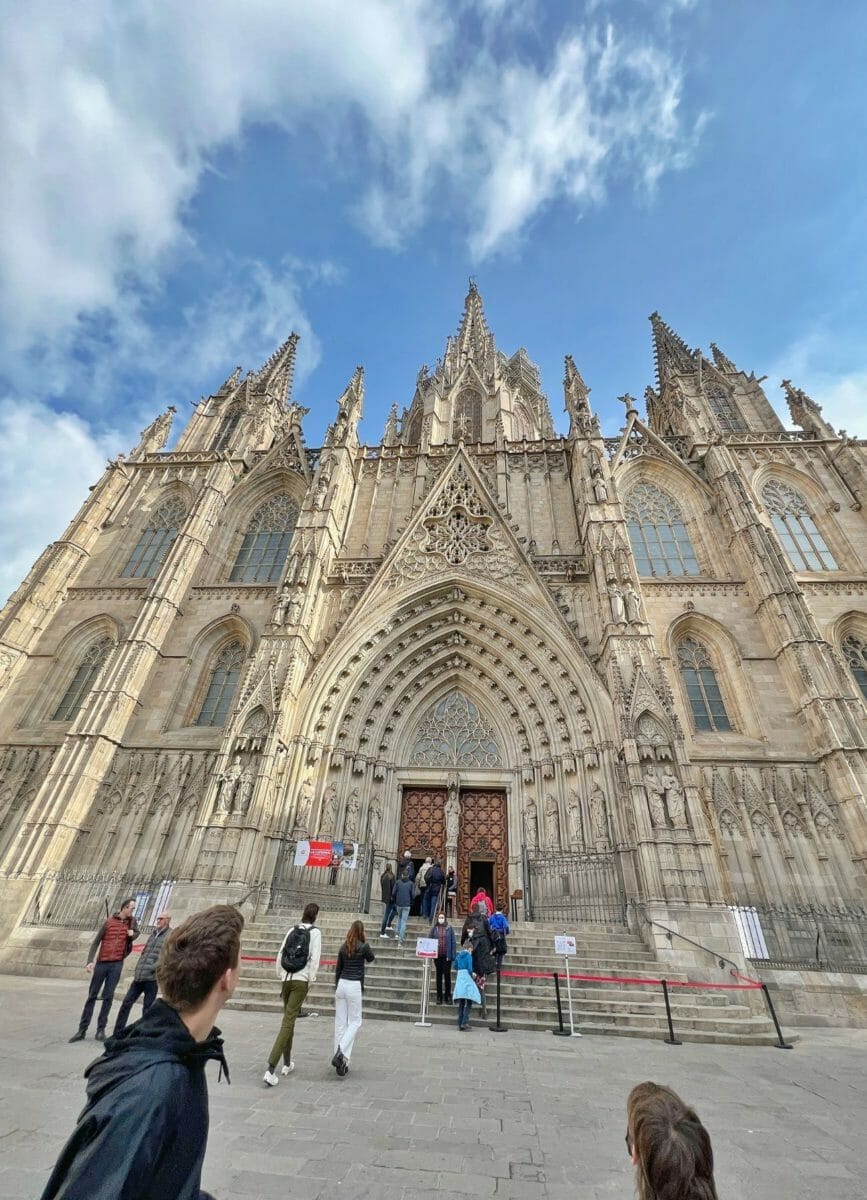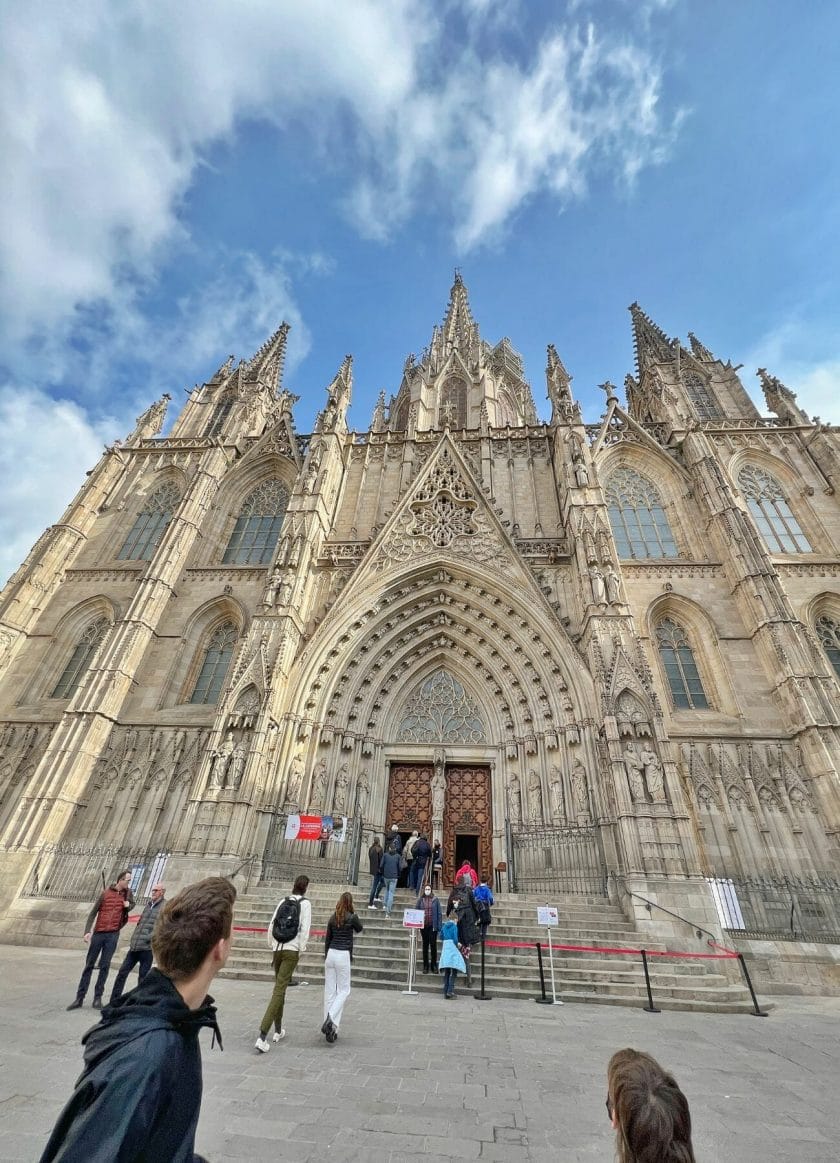 You won't want to miss this gothic cathedral when in Barcelona. The size and the architecture is just breathtaking. We opted not to go into the church but seeing it from the outside was well worth checking it out.
Gothic Quarter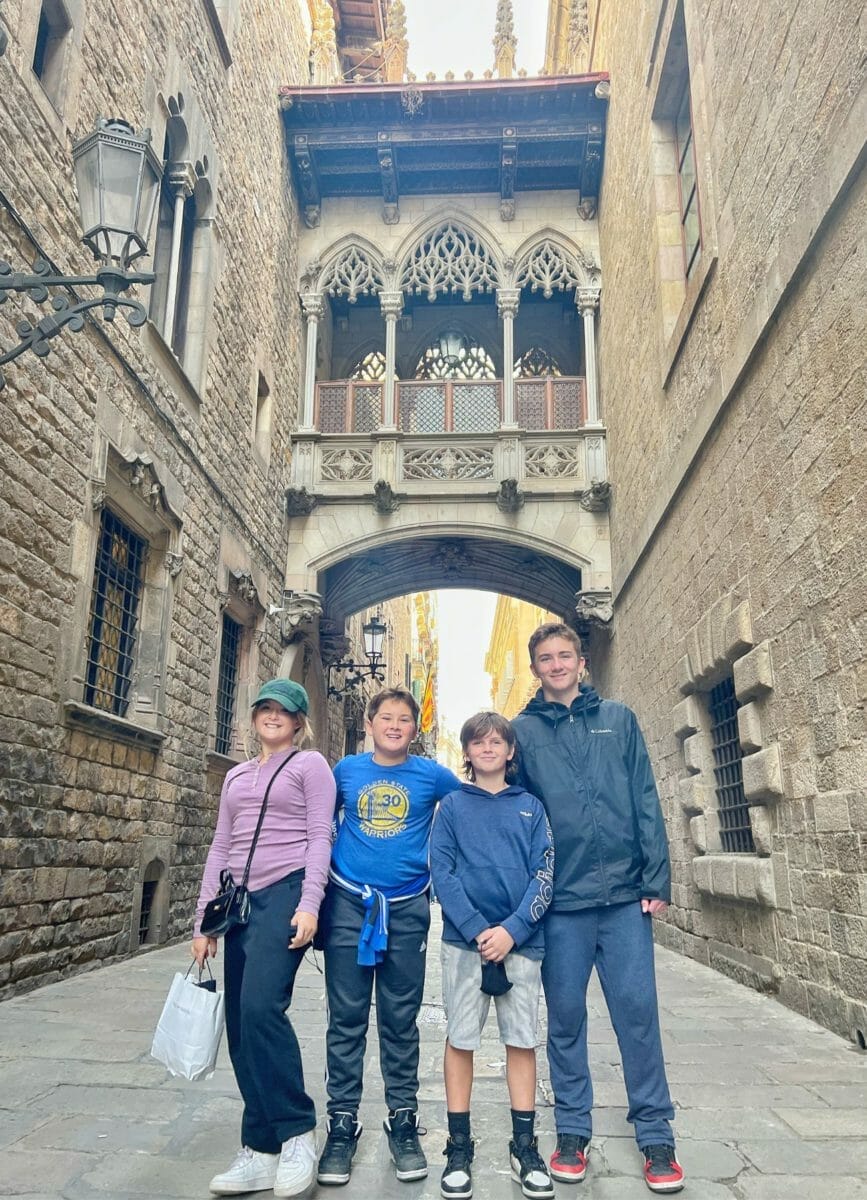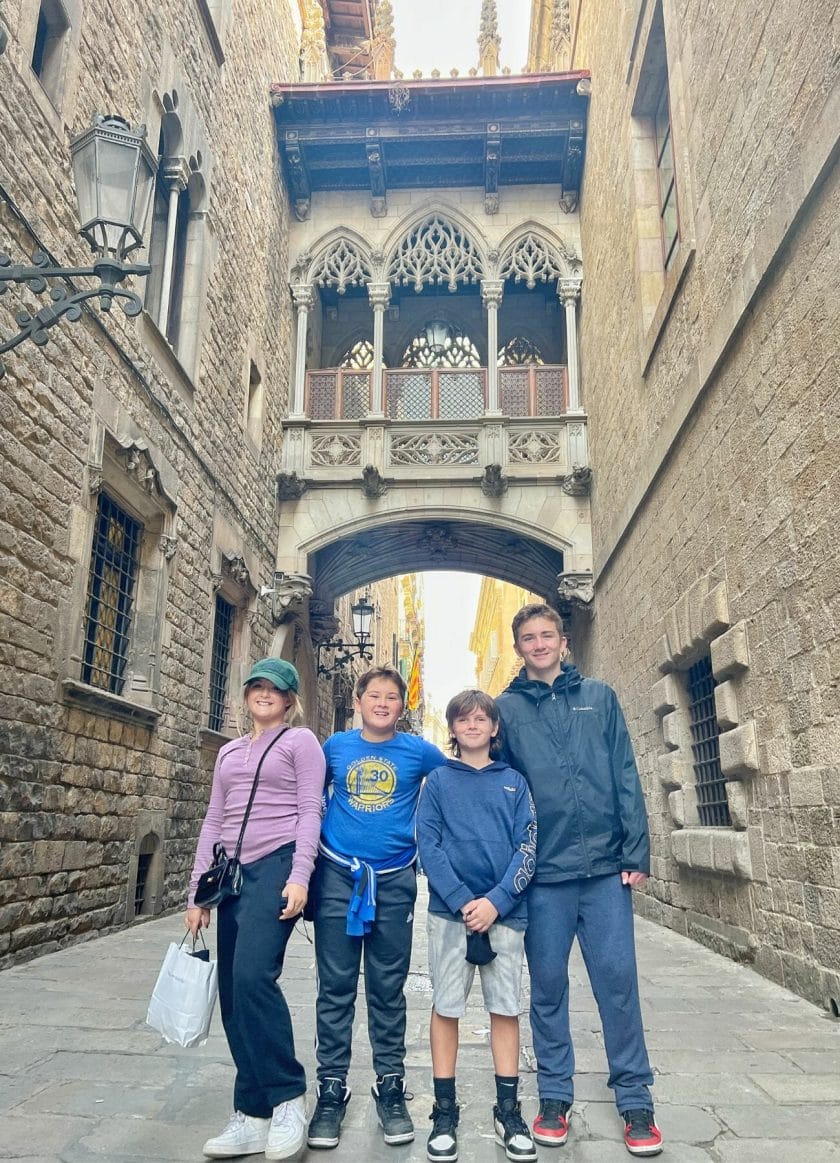 The Gothic Quarter is the historic old center of Barcelona. It was very cool how you walked through the arches into the Gothic Quarter – you could tell you were in the old part of town and we loved it! There are a variety of bars and restaurants located in this area as well.
Walk The Streets
As you are going from one viewpoint to the other you will undoubtedly make a random turn down a street or a stop at a cool looking store. Don't stop yourself! Go for it! Barcelona is a great city to walk around.
Familia Sagrada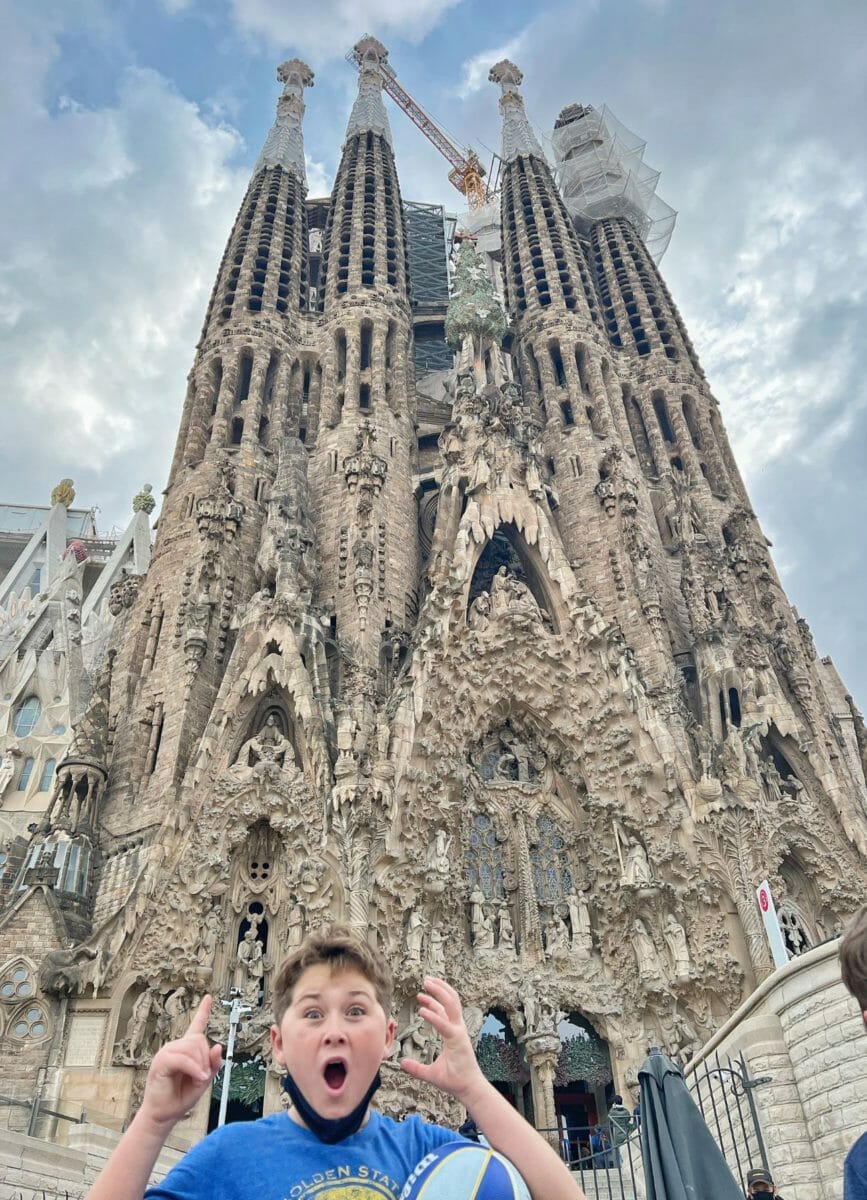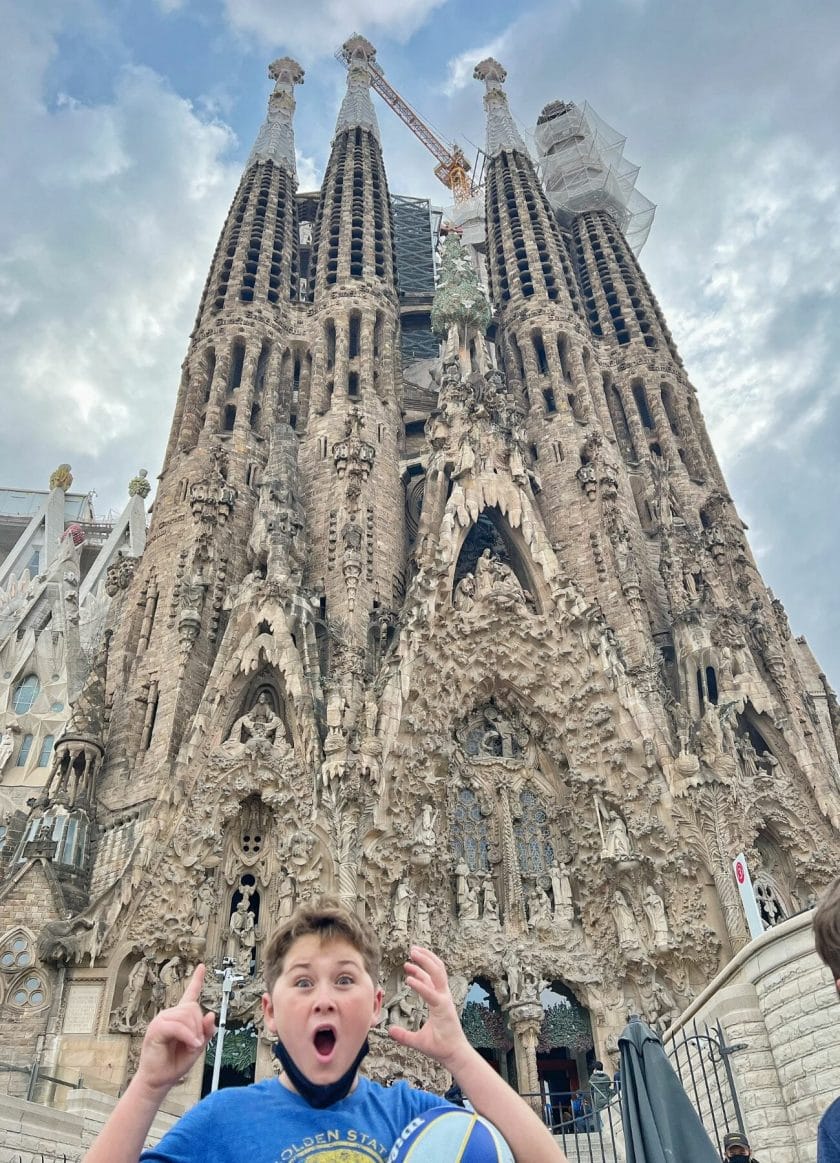 You can't visit Barcelona and not go to the Familia Sagrada. Be aware we did have to buy our tickets and book our time over a week before we got to Barcelona. With our tickets we also received the guided tour. Honestly we could have skipped it.
We enjoyed walking through the museum in the basement of the church. Plus walking through the church and just taking in yet another amazing piece of architecture that Barcelona has on display.
**You will have to go through security to enter the church so be prepared for that.
Barcelona is a gorgeous city filled with so much personality, unbelievable architecture and an overall fun and inviting vibe! Everyone we talked to said there was no way we could stay just 1 day in Barcelona and after being there we understand why. The city has so much to offer! There are also a lot of great things to do in Barcelona with kids.
Places To Stay In Barcelona
Hotel Sagrada Familia Apartments
This is where we stayed in Barcelona and it was a great place and in a good location. We ended up in one of the apartments that was up the street from the main building. It worked out well for our family of 6.
Our friends also found a house boat to stay on when they were in Barcelona! Plus there are a variety of hotels that you could stay at.
Be sure to do your own research on the best area to stay in Barcelona based on what you are looking to get out of your stay in the city! Since we were there for a day we knew we wanted a central location to the activities we were doing and somewhere that was close to the train station and public transportation.
Additional Places & Things To Do To Add
If you end up with extra time here are a few places you can add to your itinerary:
Hop on Hop Off Buss
We love to do this around a new city. It gives you a really good overview of the city and also takes you to some areas you may not find on your own.
Get tickets for the Hop on Hop off bus here.
Inside Casa Batlló
We had friends that went inside and they said it was amazing! You get a virtual reality audio/visual tablet that guides you through the different rooms.
Get tickets for the Casa Batlló Entry With Self-Audioguide Tour here.
Flamenco Dance
We had already done this in Madrid. But if you are in Spain and haven't seen one you could definitely add this to your list!
Here is one at City Hall to check out.
Or you can do one with a Tapas dinner included. That is what we did in Madrid and loved it!
Big Fun Museum
If you have kids or social media fans head here to capture some fun pictures!
Get tickets for the Big Fun Museum here.
Tibidabo
The oldest park in Barcelona. You can ride a funicular to the top for amazing panoramic views. Plus the park has more than 30 attractions.
Camp Nou
Soccer is a thing in Europe! Check out this awesome stadium and learn all about FC Barcelona.
Moco Museum For Modern Art
If you like art be sure to check out the Moco Museum for Modern Art.
While on a road trip around Spain or a day trip from another location in Spain Barcelona is a great option!

If you want to continue exploring Spain – which we highly recommend! Check out this great post: Hidden Gems In Spain You Won't Want To Miss
More Europe Content To Check Out
Backpacking Europe Packing List (With Kids!)
30+ Best Things To Do In Lisbon, Portugal
1 Day In Sintra Portugal – 3 Places You Don't Want To Miss!
1 Day In Belem (Lisbon) – 9 Awesome Places To Visit
A Tourist Guide To Las Fallas Festival in Valencia Spain
One Day In Madrid Itinerary – 14 Stops Not To Miss!
Pin This Post For Later: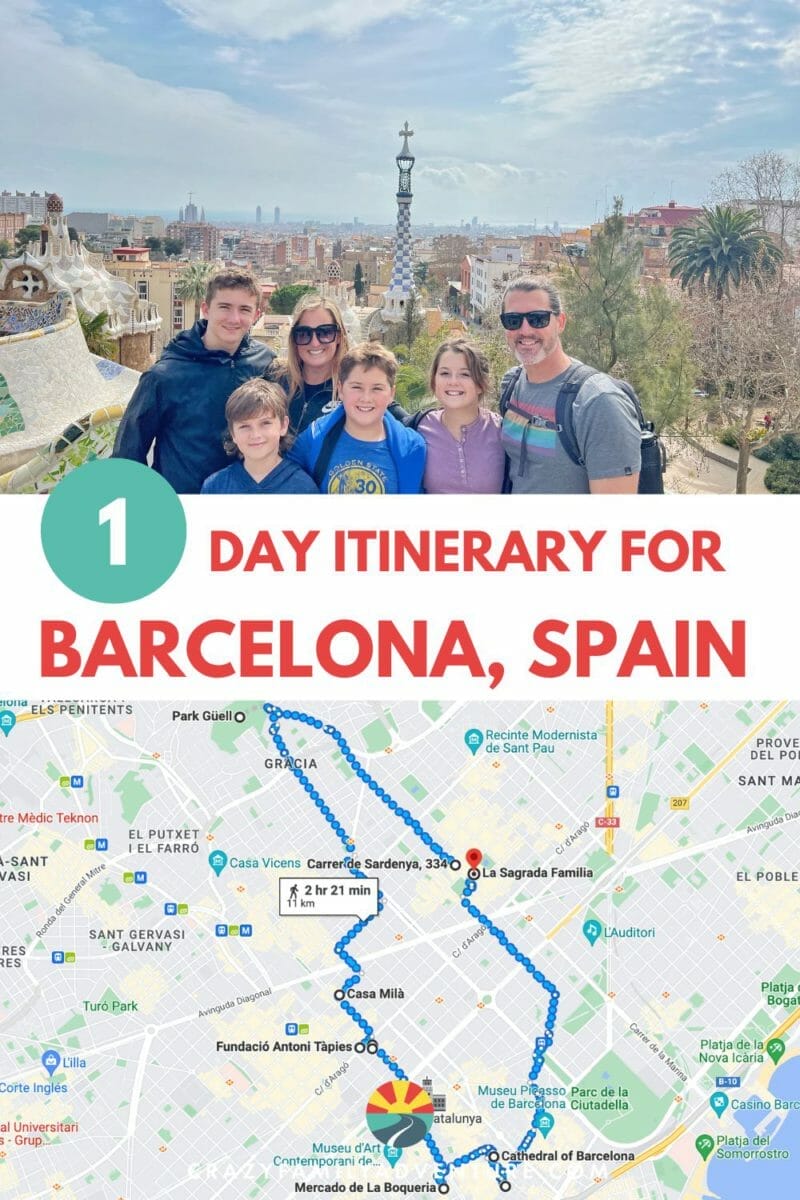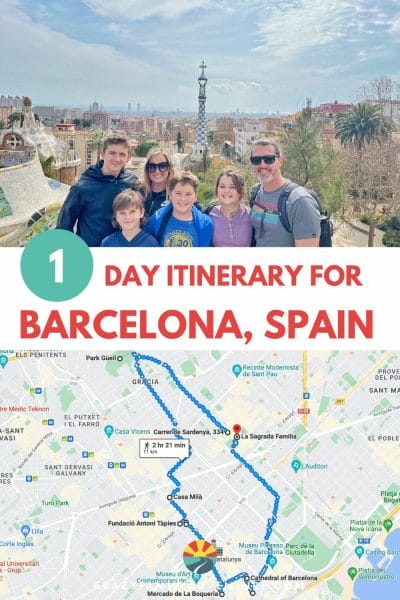 DISCLOSURE: This post may contain affiliate links, meaning I get a commission if you decide to make a purchase through my links, at no cost to you. Please read my disclosure for more info.