We got a 2020 Keystone Montana High Country 335BH from Camping World. Then gave ourselves about 2 1/2 weeks to remodel it and make it feel more like home. Below we share our fun and simple RV remodel ideas.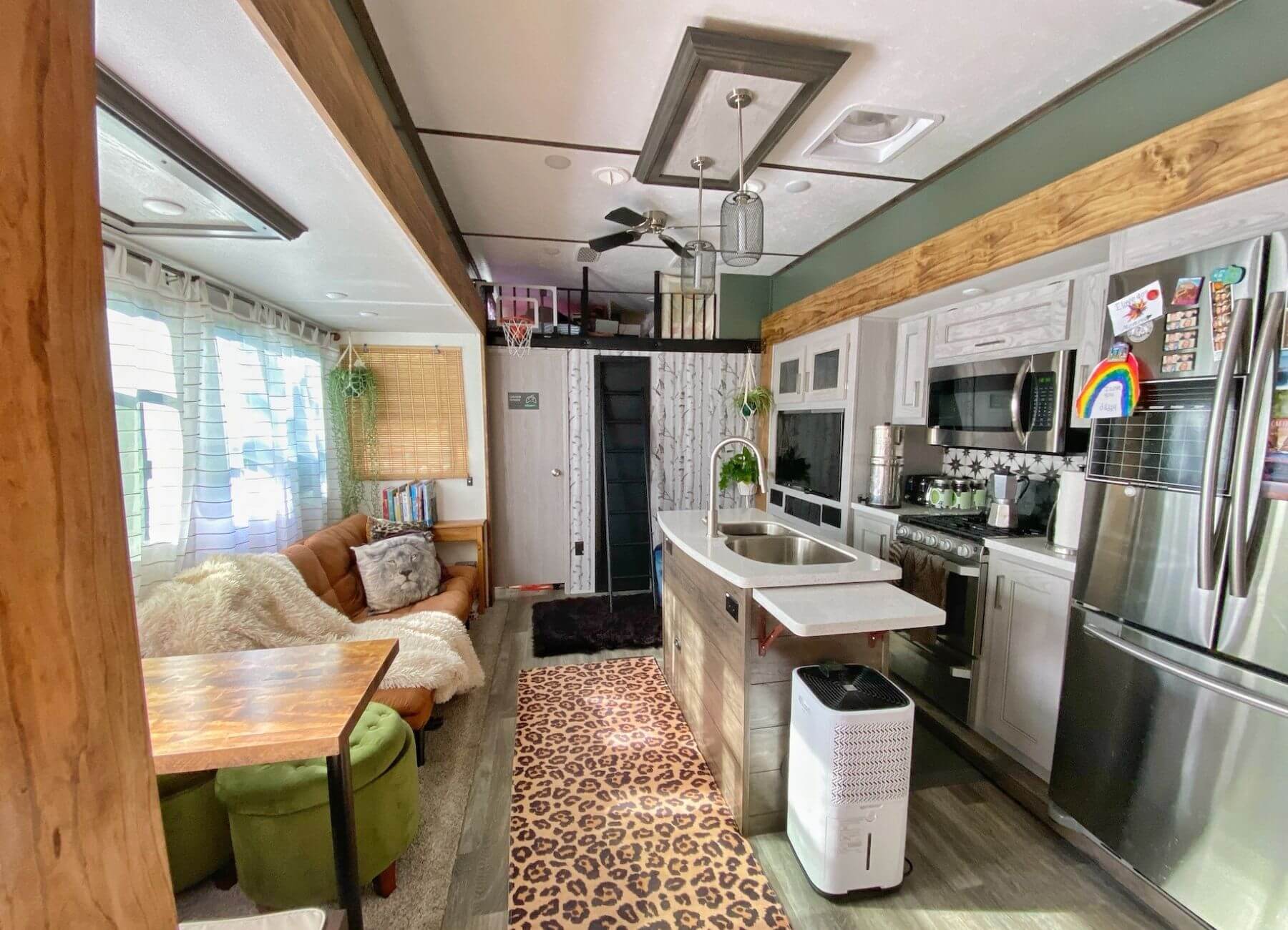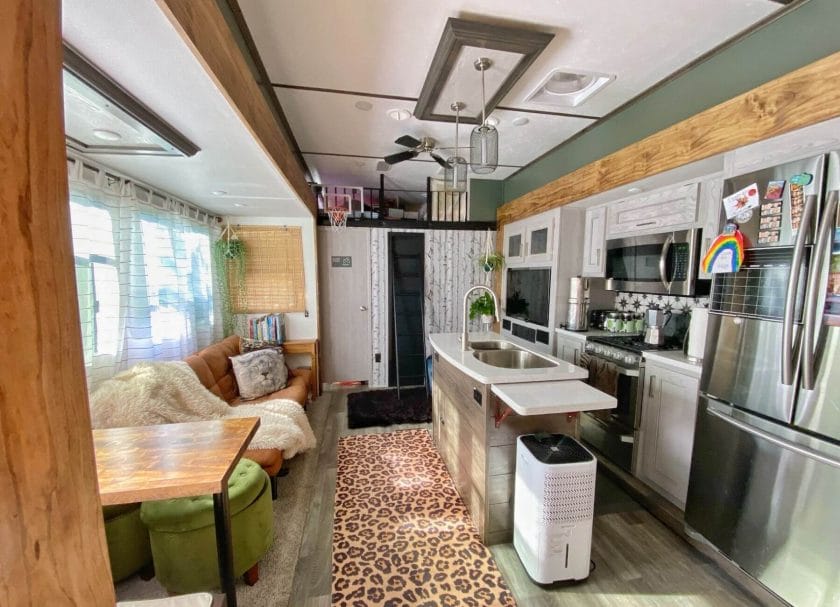 At this point we had been living in an RV for over 6 years so we had some good ideas what we wanted in the RV!
Since the RV was brand new we didn't want to do a ton of work on it but instead just do more surface work to make it look like ours and not an RV on the lot.
Our RV's are our homes on wheels since we travel full time so it is important to us that we take the time to make it feel like our own and not have the RV feel.
Remodeling your RV can take months and months or you can keep it pretty simple and straightforward.
We tried to keep ours minimal so it could fit in a 2 1/2-week time frame. This was with both Craig and I working on it every single day.
When we did our last travel trailer remodel we did it in less than 2 weeks so we knew we could do it.
Video tour of the finished RV:
Now into the details of what we did and what products we used:
Living Room:
Couch
We removed the couch that was there. It fit out right through the door. It was a nice couch with reclining seats but just wouldn't work for a family of 6. We usually find that RV furniture isn't really selected with kids or families in mind.
We went with a less expensive futon couch option from Amazon. Craig found one we like better from Urban Outfitters but it was out of stock – so we may be upgrading to that this fall. **UPDATE – we did upgrade. This one from Amazon did not last long. We have been much happier with this couch from Urban Outfitters: Brenna Convertible Sofa.
Going with a futon gives more sleeping space for our kids and also an option for when they have sleepovers.
I was OK with this couch. It is comfortable enough and the futon part works well. However it seems kind of small in the space??
**UPDATE** This couch fell apart pretty fast. We actually switched it out for this one and are a lot happier with it: Brenna Convertible Sofa.
Side Table
It is so hard to find a table that will fit in these little spots in the RV. I was so excited when I came across an Etsy shop that made custom sized tables!
I measured where everyone was going to go in the slide-out and then set our measurements.
They built and sent back an unstained table. Craig had the stain from around the slide-out so he stained it to match! Perfect! I really like this table!
Check out the site here: Wood Barn USA
Bamboo Shades
Our friend at https://www.instagram.com/this.sacred.space/ shared a picture of her living room with me and recommended bamboo shades. I was sold!
We ordered these off of Amazon and took down the shades and valances that were here.
Craig did have to cut the bottoms off – as they were for a 72 inch window. But he was pretty easily able to do that and re-glue the bottom piece on.
Curtains
I kept trying and trying on Amazon to find what I wanted but no go. So instead I checked out Cost Plus World Market and found the White Jute Striped Sahaj Tab Top Curtains!
They were exactly what I was looking for.
At first I thought I needed to ordered 4 so they were going to be pricey and then at the last minute I realized they come in packs of 2 so I only needed 2. That made the price way better.
When we got them they were a little too long but I just took the scissors and cut the bottom. So if you are ever in our rig don't look too close :).
We removed the valances that you see on every RV window and ordered a long curtain rod to put up. Then hung the curtains.
Table
We went back and forth on keeping the table that was in the RV but ended up opting to make our own table. The one we had was a little too big for the space so by making one we had the ability to set the size.
We had gotten butcher block wood from Menards (a hardware store) to make a desk in the bedroom so used that to make the table. Craig then ordered table legs from Amazon and stained the wood and put it all together.
It isn't super sturdy right now . . . so we will have to figure that out but for now it works.
Chairs
Instead of regular chairs, we went with these circle green velvet ottomans. I loved the way they looked plus there is inside storage! Win, win! Space-saving things like this are always good for your RV interior!
Bench
For the other side, I wanted to do a storage bench so that we could have storage in bins underneath for art supplies and games. This one is a bit on the smaller side but it is what we needed to fit back there so we could still access the plug. I picked up some baskets at Menards that fit in the cubbies.
Plants
I am giving RV plants a go . . . we will see if I can do this.
All of the plants are in Macrame holders from Amazon. I ordered 2 sets since one set was really long and I wanted a shorter one for the corner by the table.
Some are just in the pots they came in – others I put into a pot I bought at the store. I purchased all of these from Equinox – a local plant store in Kenosha, Wisconsin.
These are the sticky hooks we put on the ceiling to hang them: JINSHUNFA Wall Hooks
Plant by the table: Burros Tail
This one seems really fragile . . . so we will see what happens. But it looks so cool!
**Update – it didn't make it. Probably on me? Or else not good with travel and weather changes.
Plant by the couch/end table: Fishhooks
I love how this one hangs down!
**Update – it didn't make it. Probably on me? Or else not good with travel and weather changes.
Plants in the corner by the TV: Spider Plant on top and Nerve Plant on the bottom.
**Update – spider plant didn't make it. Probably on me? Or else not good with travel and weather changes. Nerve plant is doing well!
Pillows
We had these throw pillows from our other RV. I got them from H&M over a year ago and the Lion one from IKEA.
Blanket
Love how soft and cozy this blanket is! Got it from Amazon.
Books
I bought a couple of bookends to hold these books up and in place on the table.
Paint:
Craig painted it a white color we got from Sherwin Williams and brought to Menards to save money on the paint – it was called Alabaster in semi gloss.
Gamer Sign:
We got this sign to put up on Cannon and Knox's door.
Birch Wallpaper
We used this wallpaper a few RVs ago and really liked it so used it again!
Ottoman
We went back and forth on getting a bean bag for this spot but decided on the ottoman since you can store blankets inside of it. The kids still ask for the bean bag . . .
Air Purifiers
We added 4 of these in the RV. One in our room, one in the back room, one in the loft and one in the living room.
RV Kitchen Setup
Here is what we did in the RV kitchen to add a touch of home!
Wall Mounted Baskets
I originally got these hangers for the water bottles but then the set came with 3 baskets so it worked out well when we needed extra space for some fruit and veggies. Craig did have to add extra wood in the island behind the shelves where he screwed them in.
Wall Color
This is another color from Sherwin Williams that we brought to Menards and they matched it. Pewter Green – in semi gloss.
Craig painted this right on the wall no prep just painted. It took 2 coats. You can also paint the cabinets to update your space.
Wallpaper – Backsplash
We went back and forth on our wallpaper choice for the backsplash but then ended up going with these tiles and I love them!
They are peel and stick so they were easy to put up. If they don't stay sticking I will add some adhesive spray to them.
**Update – these are not staying well at all . . . I think it gets too hot behind the stove since the wallpaper borders the stove.
Berkey Water Filter
Always have our Berkey! The travel size fits perfectly here since we can still open the cabinet door.
Highland Cow
I kept seeing these Highland Cow pictures and I just love them! Ordered this one from Amazon. Command strips for the win on hanging this one!
Pantry Sticker
Added this pantry sticker to the door. Just in case you didn't know it was a pantry.
Diffuser
This is a Young Living diffuser that I got for signing up for the Young Living Starter Kit. It is pretty awesome!
Plant
A succulent plant that doesn't like sun or water – perfect. Hopefully, I can keep this one alive.
**Update – the plant didn't make it. I just can't keep succulent plants alive!
Letter Sign
Just so I can stay trendy :). Ha! But really I like these and my goal is to change the saying every day for the kids to read!
Candle
The Leaves candle is out at Bath and Body Works! Craig and I love this one. We always light it at night when we are getting the kids to sleep.
Moscow Mule Cup Holder
Bought a cup holder thing and put my Moscow Mule cups on it. Thought it was fun to add a touch of color here!
Essential Oils Holder
An easy place to put the oils and leave them when we are traveling.
Decorative Suitcase
Where all the iPads and phones go when the kids are done with them for the day. Picked this one up at Hobby Lobby.
Slide-out Trim
We knew we wanted to add in some wood to make it feel more like a house. Both Craig and I love the way these turned out.
We started with cedar wood and didn't like the look so changed to pine.
The stain is Early American.
Craig ripped down the old ones and the measured, cut, stained and nailed in these new ones. They look great! He did an awesome job!
Leopard Print Rug
I searched high and low for this and ended up with this one. I wasn't sure I liked how much cream was in it but when we put it down it worked! It is getting dirty pretty quickly though. . .
Here is a link to where we bought it.
Dehumidifier
That big white thing under the counter is a dehumidifier. And yes we did need one this big when we were in the southern states and the size of the rig.
We are so happy with how our main living space turned out! We will be sharing more on our RV bathrooms, the kids room, the loft area and our room soon! Renovation RV continues with more RV upgrades.
Kids Room
This was a must in the rig. The boys wanted somewhere to setup their gaming things. So here it is!
Also note if you are looking at this rig that the back bunks are short. Only 63 inches long.
Gaming posters:
I got the posters here. And then got frames at Hobby Lobby. We put them up with command strips. They just fit!
Stickers For Slide-out Wall
Desks
Measured so each one fits in its spot. They also both fold down to put away on travel days.
Folding Chairs
Gaming Remote Holders
Kids Loft Area
Carson and Melia are up in the loft area. Originally it had 3 small RV mattresses. We took those out and replaced it with 2 foam mattresses and put a shelf in the middle to divide the space. Craig bought another white piece of thin wood to put in-between them so it separated it all the way to the top.
The kids were able to pick out their own curtains – once we took the valances down. We just used cheap curtain rods that wrap around from Walmart. I did have to cut the curtain length to fit. The middle shelf was from our local hardware store.
Note the loft area is around 68 inches long. Our older son is starting to outgrow it . . . It is a good idea to make sure to measure your kids and the sleeping areas!
Foam Mattresses
We use these on the kids loft floor for their beds and also in the back bedroom on top of the RV mattresses on the bunks.
RV Bedroom
Cheetah Print Wallpaper
Desk/Dresser
We took out the original dresser and bought new dressers and then Craig took a piece of butcher block (yes it is heavy . . .) and stained it to put it on top.
Side table/Dresser for under the desk
Craig did have to cut some of the back of the desk out to make it fit. He was able to do that without messing with the drawers so the drawers still open and close.
Comforter
This one came with us from our other rig. I love it!!
Projector
Here is the projector we use behind our bed. We can also take it off and take it outside for outside movies!
Hanging Screen
This hanging screen works great and we can leave it inside or take it off the hooks and bring it outside.
Hooks we use to hang it. Craig screwed this into the wall.
What it looks like with the projector on:
Essential Oil Diffuser And Stand
This is a setup with a stand – with storage places for oils and a diffuser on top of it. Here is the stand:
And here is the diffuser:
Outside Screen and Projector Setup
The projector that we use outside:
We usually put it on our camera tripod or setup a table and put it on there.
The screen that we use outside:
Hooks we use to attach the screen to the side of the RV:
When we first got on the road we had a Class A Motorhome that we remodeled to fit a family of 6.
You can go crazy with camper remodeling or you can keep it simple and make a few updates to make it feel more like home. We RV full-time to be on the road traveling so we knew we wanted to keep our camper renovation simple and didn't want to change any interior walls or get into changing any light fixtures or more major things.
Instead we kept to things that were pretty easy to install, created a few accent walls (ok more than a few :)) with peel and stick wallpaper. We also weren't super budget friendly with this project . . . we basically just bought what we wanted. But if you plan to do an RV renovate project you can definitely figure out places to safe money if you want to. We hope that these 5th wheel remodel ideas will help you plan and come up with RV renovation ideas of your own.
We really enjoyed this whole process and we are very happy with how it turned out!
Check out more of our posts:
RV Living – 68 Things You Will Want To Know [Free eBook]
Keystone Montana – 7 Owners Share What They Love About It
Utah Road Trip: All 5 Utah National Parks & More [Map Included]
The Ultimate Florida Road Trip: 31 Places Not To Miss
21 RV Apps That Are Super Helpful For Your RV Trip
40+ Helpful Tips For Planning An RV Trip
RV Checklist To Make Your Trip A Success
And our Podcast – all about Full Time RV Travel!
Pin This Post For Later:
DISCLOSURE: This post may contain affiliate links, meaning I get a commission if you decide to make a purchase through my links, at no cost to you. Please read my disclosure for more info.