In a travel trailer you want to be sure that all your space is being used. This takes a lot of measuring, searching and trying to find what fits and what will work. And you can't forget to add some spice and fun with decorations and peel and stick wallpaper (I LOVE peel and stick wallpaper) in your travel trailer remodel to make it feel like a tiny home.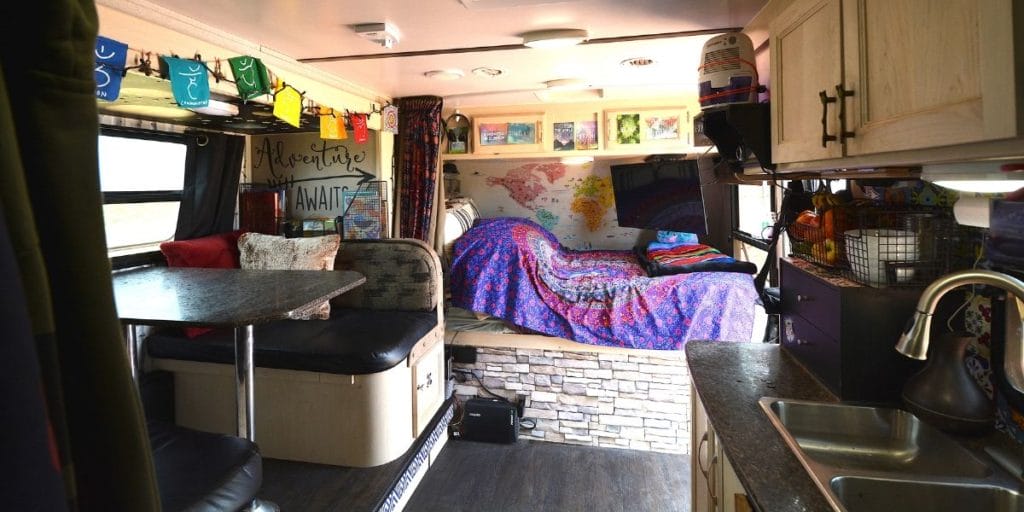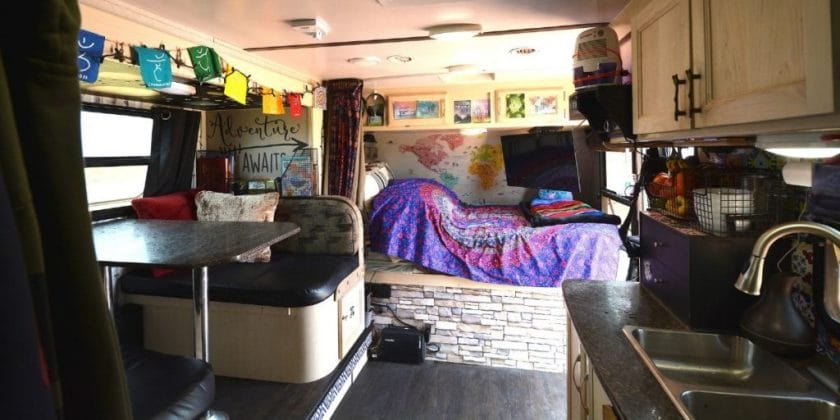 In our post we will walk through each section of our travel trailer remodel and share our tips and ideas on how to make it work in a small space while also making it look like home!
Please note most of the links are Amazon Affiliate links – but they do reflect the actual product we purchased and used in our rig. We also were full time RVing with our 4 kids and dog in this rig so we had to get things setup for us to be living in the rig!
We full time RV'd for over 8 years and and have been in 6 different rigs. Here is a post we have that shares our tips on getting your family RV. We have also done an RV remodel on our 5th wheel. Even if you aren't full time RVing but instead take RV trips it is fun to have your RV feel more like home!
Check out our video showing all of the changes we made:
Kitchen Area
Spice Rack
I searched far and wide for a spice rack that would fit just right next to our stove. This one wasn't perfect but it was pretty close.
We used mounting tape for the bottom and had to add a makeshift cardboard piece – (basically just piled a bunch of cardboard pieces together and taped them up) to make it level. I didn't realize that as you went further back the counter got a little smaller so things weren't lining up perfect. We then screwed the top into the wall with small screws.
I wasn't sure if the spices I would buy from the store would fit so I also bought spice containers that fit perfectly. Some of the store-bought spices did fit. But if they didn't I have the spice containers.
Towel Hanger
All we did for our towels was buy stick-on hangers. They work great since the kitchen towels aren't that large or heavy.
Behind The Stove Basket
Since we travel a lot (we are usually moving places every 3-4 days) we need to make sure that most of our stuff will stay put while traveling. That is why I bought these wire baskets to put behind the stove.
Since it is behind the stove I wanted to get wire and not plastic. And again it took a lot of research to find one that was the right size to fit back there and this one worked out perfect!
The challenge game with finding containers that would fit inside the basket . . . our thought was to put things we used every day – like Coffee, Sugar, and Oatmeal in easy-to-reach containers. Versus having to shuffle things around in our cabinet every morning.
I also wanted Glass and not plastic. I wasn't able to find a glass coffee container – my husband was specific in wanting a rectangle opening for the coffee so I went with this one:
It actually held up well behind the stove and didn't melt. But we also don't use that back burner often . . .
For the glass ones I found a set that fit perfectly in the basket and hold a lot of sugar and oatmeal! Unfortunately they are no longer available on Amazon.
The last thing was the Flour. Again I couldn't find glass in the right size so I went with another plastic one. It is getting the job done. And actually sits outside of the basket against the wall in the corner. The basket and spice rack hold it in place while traveling.
Click the images to buy now:
Magnets On Stove Range
Every time we go to a National Park we get a magnet of the park! I love looking at them and remembering visiting the park.
Cutting Board Popup
As you can see, this is a small kitchen for a family of 6. My husband does most of the cooking and he really wanted more counter space. It was hard to find something that would fit perfectly so he decided to make his own.
He took a regular cutting board and cut it in half, sanded it down, bought the brackets, connected it to the brackets, then to the counter and there you go! A pop up cutting board!
We went with this paper towel hanger, it works well and keeps the towels off of the counter and dry.

Counter Cabinet
Like I mentioned above. We have 6 people using this kitchen . . . so we needed more storage.
Originally in this spot there was a small TV. We removed the TV and searched high and low for a drawer set that would fit this spot. We found this double drawer that sits perfectly on the counter.
With the fact that we move so often we had to make sure it wouldn't move when we were driving down the road. So my husband used mounting tape to attach it to the counter and then put caulk around the whole bottom – to keep water out and to secure it.
Once it was in we had a lot of open area on top of the drawers so we decided to find baskets where we could put fruit and bowls/cups. I liked the way it looked but quickly found I needed to add a paper plate to the bottom of the basket so the fruit didn't get dented! I did love how the kids could just grab a piece of fruit when they were hungry.
Note: We added nails to the top and bottom of the black drawers so that we could put a rubber band on there to hold the doors closed when driving. It worked great!
Under The Sink Pull Out Shelf
The area under the sink was nice and big but everything always got stuck in the back! To deal with that we got a pull-out shelf that fits perfectly under there.
Garbage Can
Small RV means small garbage can. This is what we found worked well and perfectly fit the grocery store plastic bags.
Cabinet Shelf
The cabinets are just a big open space. We needed more organization up there so we added a couple of shelves that gave us multiple places to put things while still allowing us to have an area for tall boxes.
Always helpful to keep things in place on travel days!
Cast Iron Pan
We still have our cast iron pans. But the good thing is we only have 2 and that has worked out well for us for the past year.
Whisky Glass
My husband is in to Whiskey right now so he picked up this whiskey glass and these Deathstar ice cube trays. You know it is all about the important things.
Wine Glass
I did not want a glass wine cup so went with a nice Stainless Steel one. It works out well and isn't too big :).
I just got a basic one. But think I want this one now 🙂
Stainless Steel Small Bowls
I didn't want plastic and glass is so heavy and can chip when traveling so we found these stainless steel bowls for the kids. They also work out well for heating up corn or blueberries on the stove.
Stainless Steel Cups
We did the same thing with the cups and went with these stainless steel cups.
Pizza Trays For Cooking
We use pizza trays for cooking frozen pizzas on – we have found it works better to use 2 trays than to put the pizza right on the oven rack. We can also use these to cook chicken strips, fries, really anything like that that we want to cook in the stove.
Always check your oven size before purchasing.
Drawer Liners
I kept on telling my husband we didn't need these drawer liners. But it was so nice when we finally got some and put it in so stuff didn't slide all over the place in the drawers!
Peel and Stick Wallpaper
Like I mentioned. I love my peel and stick wallpaper. I really wanted a bohemian look and felt these peel and stick squares did a pretty good job of giving that look and I loved the color scheme!
Here is a tool to help with the application!
Window Cling
In order to get a more open look we wanted to remove the RV valance and pull down shades. We didn't want to replace it with a big curtain rod and curtains so decided to not put anything up and just put a window cling on the windows.
We couldn't see out, but the window was so small we could barely see anything out of it anyways.
Humidifier

My husband likes to have a humidifier so we got this small one. The problem was we never had anywhere to put it. To help with that he built this shelf and stained it black to fit in with everything else.
Salt Lamp
Who doesn't want a salt lamp, right??
Essential Oil Diffuser
I love diffusing oil and this diffuser works great and fits perfectly next to the sink!
I also found this great storage container for both of my 0.5 and 1-ounce oils!
Stick Cabinet Handles
We wanted to add a personal touch to our cabinets so we found these cute stick handles! They work perfectly!
Letter Holder
I always hate how we can never find the keys and don't have anywhere to put the campground maps that they give you when you check-in. Now we do! This letter/keyholder is a perfect way to keep those things organized.
Adding A Kitchen Cabinet
When we bought the rig there was one cabinet above the sink and then there was this little corner area that you could never see. It was annoying and not a good use of the space. My husband purchased new custom cabinets from Etsy and it worked out great!
He took the original cabinet off. Moved the middle section, added new cabinet clips and hardware, then installed the new cabinets.
I don't know why we waited so long! It made the cabinets so much more functional
Living Room Area
Yes our 21 foot trailer had a living room area – ha :).
Wallpaper
Of course we had to add some wallpaper. We went with an outdoor theme of trees! Tip – don't forget to do the part under the table. Yup we forgot that and had to go back and do it.
Calendar Chalk Board
We wanted a calendar that could stay put and we could write on. This chalkboard calendar was the perfect fit! I love that it came with a chalk pencil. Much easier to write with than a piece of chalk.
Adventure Awaits
I love peel and stick wallpaper and sticker sayings! They work great for a small space. Given the life we are living the Adventure Awaits sign with an arrow pointing to the door was a perfect fit. The letters are big so putting it on wasn't too difficult.
Dr. Suess Quote
I love this quote from Dr. Suess. If there is anything I can instill in my kids this is it! Again wasn't to much of a hassle to put up.
Art Station
With having such a small space everything needs its place. I tried to be intentional with what spaces these were. Our kids are in to drawing and cutting so having an art station made a lot of sense.
The back of our booth seats had a 4 inch ledge so it was perfect for installing a few baskets and paper holders that we could fill with paper, crayons, markers, colored pencils, scissors, etc.
All of the baskets were either staple gunned in, nailed in or we used heavy duty tape to hold them in place. It worked out great and I think one of the bins only fell once, other than that the setup traveled 1000's of miles without issue.
Book and Card Station
The other thing I wanted accessible for the kids was books. I feel like if they can see them they will take them out and look at them. On the other booth we installed a couple of holders specifically for books.
Then for the middle area we added a smaller bin to put the card sets that the kids like to play a lot – regular cards, go fish, memory, etc.
Chalk Board Wall
On the art station wall we installed Chalk Board peel and stick wallpaper to have a fun area that the kids could color on. We kept the chalk right there so it was easy to get to.
Solar System Ceiling
Cannon and Knox slept on the dinette bed at night and since they didn't have their own bunk bed area to decorate like the other 2 we wanted to be sure they had something special so we created a glow in the dark solar system ceiling!
Step 1: Install a Black peel and stick wallpaper. This was NOT easy. When you are putting it on the ceiling gravity is against you and it was hard to get lined up right and put on without creases.
The first piece went on great. For the second it went OK . . . we ended up with quite a few creases but tried to cover them up with the planets. . . it is what it is.
Step 2: Add the glow in the dark planets. This is by no means to correct size but it is at least in order. These were easy to put up since they were pretty small.
Step 3: Stars. The Stars were the easiest to add and the kids helped. A few of them we set up as actual constellations but for the most part the kids just randomly added them.
There you go! It really did glow in the dark and the kids were happy with the outcome!
Book Shelf
There never is enough room for books. I searched high and low for something that would work on the wall where the slide-out comes in. Problem is that since the slide-out has to go in and out all I had was about 2 1/2 inches.
We ended up with my husband building something with scrap pieces of wood he had. Once it was done I added some of the tile peel and stick pieces and there you have it!
It worked out well for showcasing some of our favorite books and making them easily accessible.
And who would have thought. I just found this option that would probably have worked out really well!!
Dog Food Bowl
We highly recommend this dog bowl. It doesn't easily tip and you have a place to store the dog food. Plus it is up higher so Indy doesn't have to bend down far to eat and drink.
Dog Bed
We got Indy a dog bed with a lip on it. We had one without and she kept getting caught under the table slide-out areas. With this dog bed she had a back so it kept her in place.
Mattress Toppers
Those RV dinette mattress things are not that comfortable. We got our kids a full size latex mattress topper and cut it to fit. When we put the table up we moved the mattress topper over to our bed and it worked great for getting it out of the way.
Pillows
I so didn't need these pillows but liked the way they looked so I got them :).
Charging Station
With the kids having 4 tables and 3 phones we need a designated area for charging or it turns into a hot mess. The rig had this little 3 inch lip hanging out from the dinette area and it was the perfect place to setup a charging station.
We got a basket for the tablets and a mini basket for the phones and then a large charging strip with plugs and USB plugs and nailed it into the wall. Then we got retractable charging cords and short phone cords and we were all set.
The other nice thing was the plug was right by our invertor so when we switched to solar we just had to plug the power strip into the inverter and we were good to go.
I couldn't find the right size basket online so I went to Bed Bath and Beyond and found the right sizes.
Bedroom Area
I don't know if you would actually call it a bedroom area more just like a bed. But again we tried to use the most of the space!
Sitting Pillows
We work while siting at the bed and watch TV so we knew we wanted something that would make it comfortable to sit. We found some pillows that did the trick!
I didn't find them online but instead at Target – where we actually went in and sat down with them on the floor and tried them out :). They were $50 each so figured it was worth testing them!
Ceiling Mounted TV
The rig had a tiny TV that we took out. So for a while we were watching TV on our computer. But we eventually came up with the idea to mount a TV above our bed. It was awesome!
Craig got a piece of wood and cut, sanded and stained it black to attach to the ceiling/cabinet. Then got a ceiling mount for the TV and screwed that into the wood. Then we measured and bought a TV that would fit and still close up to the top so we can easily secure it out of the way.
With traveling we had to be sure it was secure. So on travel days we would latch it up and then Craig added metal loops that we could run a ratch strap through to keep it secure while traveling.
When we watched TV it was right in our face, but it was perfect. When we watched as a family we could turn the TV towards the living room and some people could sit at the bed and others at the dinette bed. Then we could all watch together!
When we watched at night when the kids were sleeping we got a bluetooth headphone adapter. We then shut the curtain to keep the light out and put on our headphones and we were good to go! Craig did a great job pulling this all together.
Curtain
The RV came with a curtain with specific RV curtain hooks so I didn't want to mess with that. Instead I took the curtain down and had a tailer sew a piece of fabric I found directly onto the original fabric. This made the fabric thicker and also much prettier!
Note that the fabric wasn't the whole size of the curtain. So I just had them sew it on to the area that you could see the most.
If you pulled the whole thing out it wasn't all covered but it is what it is. And worked out well for us.
Window Valance Baskets
We didn't take the valances down from our windows – even though I hate those things. Since it was a perfect spot to put a few baskets to charge our phones, hold headlamps and books and just to have an extra space where we could put our things that kept them up and out of the way.
I also found these at Bed Bath and Beyond. They had a good variety so it was easier to go in and measure by hand to find the right ones.
World Map
I LOVE this world map! There were so many times I was laying down with the kids in bed when we would talk about the map and all the locations on it. It sparked some great conversation while also teaching our kids about the world!
It was peel and stick and took a minute to put up and to make sure it was spread out correctly (it comes in pieces, so you add North America, then South America, Then Europe, etc).
Mattress Toppers
Those RV mattresses are not the most comfortable. We went with a Full-Size latex topper for our bed as well. Do note that they smell when you open them. But after a few nights the smell goes away.
Bunkbed Area
With the bunkbeds we wanted to give the kids a chance to do their own decorations and have a place to store their toys.
Toy Storage
The Stuva from IKEA fits perfectly – like literally we had to slide it into place. The nice thing about that was it doesn't tip over when driving! We bought one for each kid and some baskets for their things.
For our oldest we moved the bottom shelf up so he had more leg room. It worked out great.
Curtains
With our oldest being 11 he wants as much privacy as he can get. So we had curtains made to hang up by their beds. I found fabric that I liked and then found a local seamstress who sewed 2 panels per bed. It worked out great.
For the curtain rod we went with tension rods. Which were annoying sometimes since they would fall down. But we were OK with that versus them pulling a nailed in rod out of the wall when they climbed into bed and kneeled on the curtain!
Just make sure you measure for the right size tension rod!
Wall Decorations
They wanted things like stickers, a white board, a peg board and posters to put up. We basically let them do what they wanted to.
We got all of this stuff from Walmart. Cheap and easy :).
Lights
These lights from IKEA worked out great and added to the ambiance for our daughters bed.
They don't carry the ones we had gotten anymore. But now we are using these ones:
Mattress Toppers
For them we bought a queen size mattress topper and cut it in half. They were fairly easy to cut and we just used regular scissors to do it.
Coat Hangers
We hung a couple coat hangers on the outside wall so the kids could easily grab a sweatshirt when they needed it.
Bathroom
With this little space we had to turn our shower into a closet for the kids clothes. I still don't understand in these rigs where they expect you to put clothes??
Shower Closet
We got a plastic shelf from Home Depot that fit the dimensions of the shower – don't forget about the corners and any built in shelves when measuring.
Then found baskets from IKEA that fit in perfectly for the kids clothes.
For all of the extra cosmetic stuff and toothbrushes we found pins that fit on the top and heavy duty taped them down (they never fell off).
There was a really annoying shower curtain system that was in place when we bought it. We unscrewed that and removed it and added a tension rod and a fun shower curtain. The tension rod only fell off once and hit Knox in the head . . .
You will have to measure for yourself to see what will fit in your shower and then go to somewhere like Home Depot or Walmart to find a shelf that will fit. Same thing for the baskets. I had to make a few purchases until I found what fit!
But don't forget to measure first to see if everything will fit! Our baskets hung over the top shelf since it only had a lip on one side and they just barely all fit on there.
Mounting Tape
Wallpaper
We had some fun with the wallpaper in here and went with a brick look! Doesn't it look real?! Then my husband had the idea to add a window looking out at the beach :). We loved it!
Baskets
We found where the 2X4 studs were in the Rig and added hanging baskets to put the cosmetic stuff that was so annoying to find in the bins in the shower. It was so helpful to have these things easily accessible – brushes, deodorant, lotion, etc.
Hat Rack
With 6 people we have a lot of hats. We installed a coat rack just for hats and it worked perfectly to keep them out of the way and organized.
Over The Door Rack
We used an over the door rack in the bathroom to hang our sweatshirts on the outside of the bathroom door.
Something like this or just go to walmart or Target to get one:
Mirror
We placed a full length mirror on the back on the bathroom door. It would get covered by the sweatshirts but we could just move them out of the way.
I have found the best ones at Walmart. They are the full length mirror with a frame. They are usually fairly light too so they stick on the wall with the mounting tape mentioned above.
Hanging Laundry Bag
We were excited when we found this bag. Yes, excited about a laundry bag :). We had one we put on the bottom shelf of the shower but it was always a mess. This one would hang right over the door and make it really easy to put our dirty laundry in!
Posters
We found a poster about the digestive system to hang on the bathroom door. Educational for the kids to look at when they were going #2 :).
Having bought a new trailer we didn't have to deal with water damage and things like that and the rig was in great shape. I totally think remodeling a vintage trailer or 5th wheel would be fun and you could really get creative by adding vinyl planks for the floor and painting the cabinets (usually older rigs have real wood cabinets so it would be easier and you don't need chalk paint!).
But I also think you need a lot of good luck for things to work out with older trailers. It always seems like there is something else to fix or do. But if that is what you enjoy it could be a great project!
There you have it! All of the little things we did in our travel trailer remodel to make it work for our family of 6 and a dog while we travel full time around North America in it!
If you liked this post you may also enjoy our RV Remodel on our newest Rig!
Check out these posts on RV living:
RV Remodel: How to fit 6 people and 2 large dogs in a Class A RV
11 Things We Have Learned After 3 Years Of Full-Time RV Living
How We Downsized From A House To An RV
Why We Decided To Downsize Our RV
RV Kitchen Accessories For Your Family RV Trip
8 Travel Memberships Worth Having
Pin it for later:
DISCLOSURE: This post may contain affiliate links, meaning I get a commission if you decide to make a purchase through my links, at no cost to you. Please read my disclosure for more info.