RV kitchens are small. But that's OK. You really do not need to bring everything and the kitchen sink into your RV kitchen when taking an RV road trip, long-term traveling, or moving in full-time. The list below will help you with what you should bring for your RV kitchen accessories.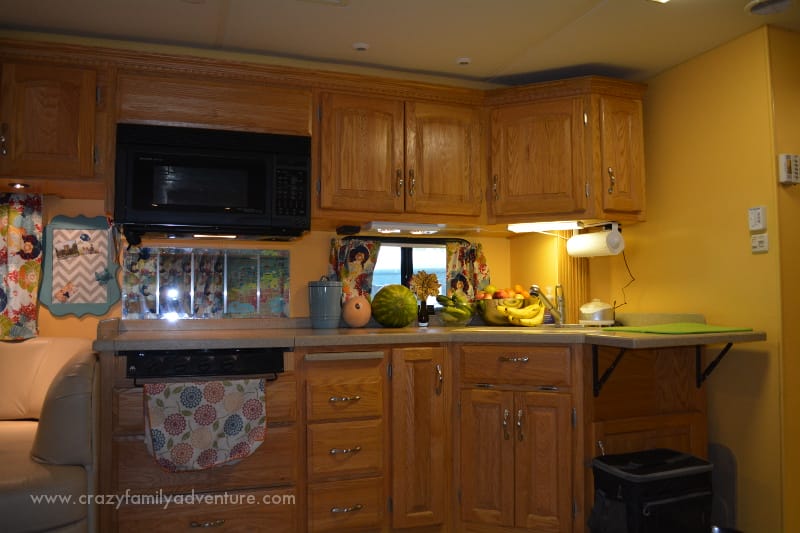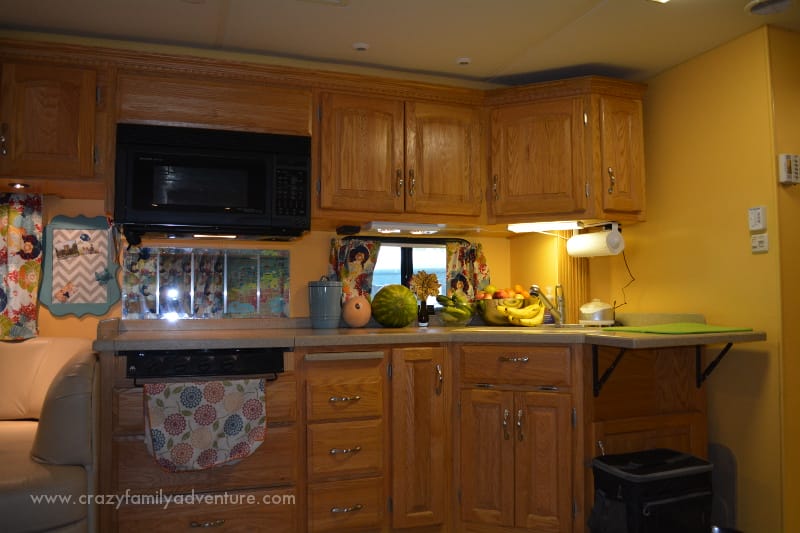 We strongly believe that to make the most of your RV trip you want as few things as possible. Reason being most RV's are small and the less things you have the less cluttered your space will feel and the more relaxing and enjoyable it will be.
With just a few basic RV kitchen gadgets you will be equipped with everything you need to make pretty much every meal you would make in your house kitchen. Granted you are not going to have your fancy shredder or kitchen aid mixer. But even without these essentials you will still get by I promise. We have been feeding our family of 6 from our camper kitchen and RV fridge for the last 2 1/2 years without any issue.
RV Kitchen Accessories
Cast Iron Skillet
We prefer a cast iron one (Lodge Cast-Iron Skillet 12 inches) since cast iron is very healthy for cooking on. This is totally your own preference. Yes, they take some getting use to (you can't wash them with soap and you should dry them right away, plus things stick to them so clean them quickly – or just boil a little water to help remove the food). But we feel the health benefits are worth it.
Cast Iron Dutch Oven Pot
This is our only pot we have for cooking. Yes sometimes it is larger than what we need but it always works for what we are trying to do. Mac and Cheese, Spaghetti, Corn on the Cob, Hot Dogs, it all works in the Cast-Iron Dutch Oven With Dual Handles. Just be aware these pots and pans are heavy! 
Cast Iron Griddle
We like pancakes and grilled cheese so for us this was a must. It also fits great on our outdoor propane grill. We have been very happy with the Cast-Iron Reversible Grill/Griddle. It works well plus it does not release all of the chemicals that an electric griddle does. It will take some getting use to. Like for pancakes we have to set the burner to a 3 then down to a 2 then back up to a 3. The more you use it the easier it gets. 
We have been living with just these 3 cooking pans for over 2 years and have never needed anything else.
9X13 Glass Baking Dish
You have to have something to make cookie bars and cake in right?! The 9X13 Glass Baking Dish is perfect for that. TIP – make sure the propane oven or convection microwave you have in your RV can fit a pan this size. If not you may be going for an 8X8 size pan. Also if you plan on taking a lot of meals or cookie bars places you may want to get a dish that comes with a cover. 
9 X 13 Small Cookie Pan
I use to bake all the time so this felt like a necessity to me. I have used it a few times so am glad I had it. Again measure the size of the oven or convection microwave to see what size will fit. For us the 9 X 13 pan fits great. 
Toaster 
We have room for a toaster so we kept one plus I splurged and got one that matched the color scheme of the RV. After a few times moving I quickly learned it was easier just to put it away in a drawer. I still love the way it matches our colors any time we bring out the Toaster. If you like toast find space for it. You will be glad you did.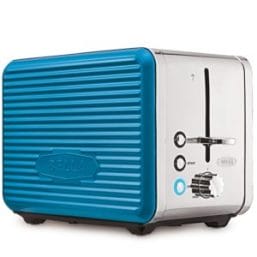 Donut Maker
Necessities remember! We actually do use our Babycakes Nonstick Coated Donut Maker quite a bit and are happy we have it. If it isn't donuts for you but something else that you know you make more than once a month and need a special appliance bring it with you. P.S. We know this is non-stick but hey once they make a cast iron donut maker like this we will be all over it! 
Coffee Pot/Espresso Maker 
This lifestyle is all about having more time. So we make complicated coffee – but it is good! And we have been really happy with our Moka Express Espresso Maker – I actually prefer our coffee to Starbucks now! 
A regular coffee maker would work too. Or if tea is your thing then an electric kettle would be the route to go.
Dishes
We have 1 plate for each person. We travel with glass plates and have had no issues. Nothing goes between them when we travel and they have been fine. We have 8 inch size square plates and they work great. 
Bowls
We have 1 glass bowl per person. Again all we need. 
Glasses 
We use mason jars for all of our glasses. We have a few in each size (8 ounce, 12 ounce, 32 ounces) We use them quite a lot so I would highly recommend them and again no issues on travel days. However with these we do sometimes put a kitchen towel in-between them since they can clatter and make noise. It can be hard to find these in individuals so you may want to find someone else to split the dozen order with. The only place I have found them in individuals is at Party City. 
32 ounce size:
Coffee cups 
We have 2 one for Craig and I and that is it. If one breaks we go buy another one or use a mason jar for a while. Those things are darn useful! Craig got me one for my birthday from Starbucks that says Wisconsin on it – representing the home town. Craig bought one for himself down in the Florida Keys – to remind us of our time there. 
Cutting boards 
Another thing you will want to have. Even just a small one or one that can go over your sink.
Blender 
We have a blender since we make smoothies almost every morning. Again totally worth it for us. We went with the less expensive option and got a Ninja Professional Blender. Maybe I don't know what I am missing?? But I have never had a Vitamix so the Ninja works for us. Plus I don't know about having anything that costs that much . . . what happens if I drop it or it breaks . . . too much pressure! 
Silver Ware 
1 knife, 1 fork, and 1 spoon for everyone. You just wash them when you are done.
Cutting Knives
A nice set of knives with covers on them is useful. I really like the covers since it makes it easy to bring them with us when we go on hikes or are gone for the day and want to pack a lunch. We got ours at Costco. 
Essential oil diffuser
RV's can get stinky. Small space, black tanks, pets . . . We bought the one we use from Doterra. 
Mixing Bowl 
One large mixing bowl. For mixing doughnut and pancake mix! Again check the size of your rig and where you will be storing your bowl to see how big you can go. We also use this bowl for popcorn on movie nights. 
Ziploc Containers 
Come in really handy on travel days. But we are trying to move away from plastic and will use paper plates or mason jars when possible. For now Ziploc containers work great. 
Kleen Kanteen Water Bottles
Everyone has their own Kleen Kanteen water bottle and this is what we mainly use for drinking throughout the day, on hikes, in the car, we basically take them everywhere we go. We use an Igloo Cooler bag similar to this one that we use to carry all 6 of them around. We can't quite zip it closed but it still works great.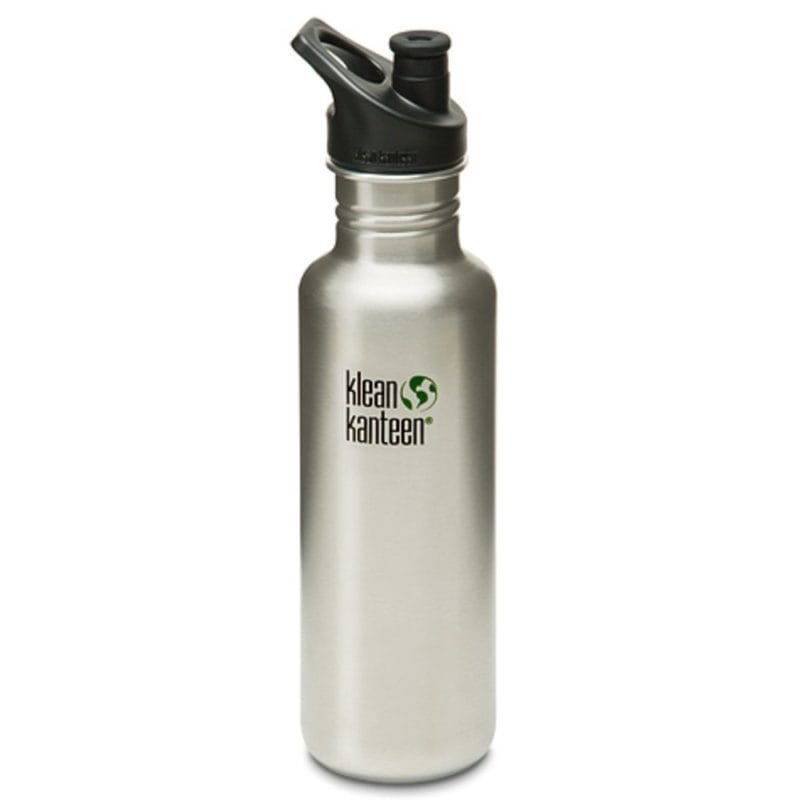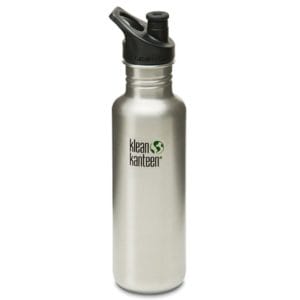 Berkey Filter
Our Berkey filter is essential for nice fresh water no matter where we are. Did you know water tastes different depending on where you are in the country. Seriously! But with a Berkey it always tastes fresh and clean. We currently have the Travel Berkey.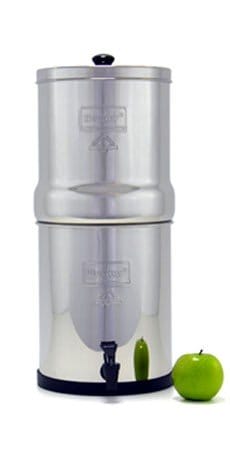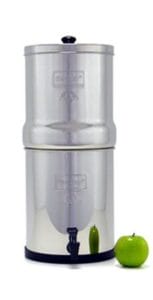 Utensils 
Your basics. 1 spatula, 1 can opener, 1 wine bottle opener, 1 bottle opener, 1 large plastic spoon, 1 coffee grinder (since we make coffee from beans). 
Oven Gloves
Gotta have the 'Ove Glove' for cooking
Kitchen Towels 
3 should be plenty. Love these camping ones! 
Instant pot 
A lot of RVers will tell you this is a must. We got one and just don't use it that much. I guess it depends on what you normally cook. If you usually use the crockpot, make a lot of rice or do a lot of meat the Instant Pot may be a good fit for you. Same thing with a crock pot. It just isn't how we cook. 
Propane Grill
We don't cook outside much at all. We use to romanticize about being in an RV and cooking outside every night . . .  The reality is it is a lot of work to bring everything outside to cook! And the RV kitchen is so accessible and easy to use.
We do eat outside at the picnic table from time to time but normally will cook all our food inside and then bring it outside. But when we do get around to wanting to grill the Coleman Classic Propane Stove is great! Plus our cast iron griddle fits perfect on it. Just don't forget the propane! It is the worst when you get all setup and then realize you are out of propane.
Tension Rods For The Fridge
Things move around in the fridge when you are driving. We purchased tension rods for the fridge and they have been very helpful.
Sink Strainer 
This inexpensive little gadget can save you from having a gray tank clogged up with coffee grinds or seeds. Get a sink strainer. 
Colander 
Great for straining food. A collapsible one is even better and is a great space saver! 
We cleaned out our kitchen before moving into the RV and it was amazing how many cups and bowls and wine glasses we had! How the heck did we accumulate all of that? Now we know you just really don't need that much and one of everything is more than sufficient and keeps you on top of cleaning. Plus we never lose anything in our kitchen and know where everything is and what is in each cabinet.
RV Kitchen Tips:
1 – Plan your meals ahead of time so you don't over buy. This is annoying when you have to get your list together. But really nice when you have limited space.
2 – The fridge and freezer are not that big so buy smaller size items when you can. But don't over stress. Most RV fridges can easily fit a gallon of milk.
3 – Don't buy everything you need for a whole 2 or 3 week trip. You can easily stop at the grocery store with your rig.
4 – If you are going to buy frozen pizza check your freezer size and if you have just to take the pizza out of the box to store in the freezer. It is a great space saving trick. 
Your rig will most likely have either a propane stove or a convection microwave for an oven.
5 – Propane stove – don't be afraid of it they really do a great job cooking your food!
6 – Convection Microwave – As long as you preheat it before you use it it will work out great. I also recommend if you are cooking 2 pizzas (and they won't fit in there together) then when one pizza is down let the fan run to cool it down and then preheat again before cooking the next one. I don't know why but this really made a big difference in the second pizza during out right.
If you preheat the cook time is normally pretty close to what the box says. However there will be times you have to cook a little more – have never had to cook less.
Also the convection microwave can act as a storage space too.
Above all remember you need the basics and it is good to simplify but if there is something that you really enjoy then bring it with (the donut maker in our case). Just try to limit what those things are to 1 or 2 things. And guess what if you end up wishing you had something with you – you can always stop at the store to buy one. More often than not you will realize you didn't really need it anyways.
Learn more about how we shop and eat in our RV here: Grocery shopping, meal planning, cooking and eating in an RV
Is there anything you would add to your list of RV kitchen accessories?
Learn more about full time RV living:
RV Living – 68 Things You Will Want To Know [Free eBook]
Full Time RV Living – 31 Things We Have Learned After 3 Years On The Road
Pin for later: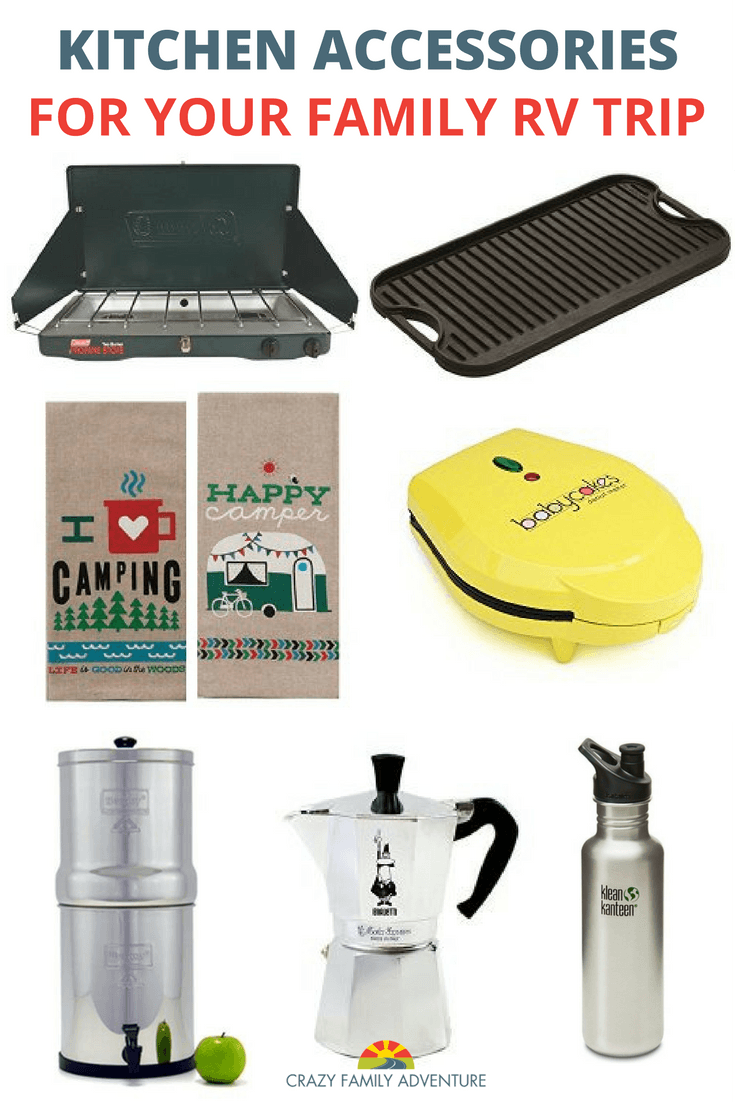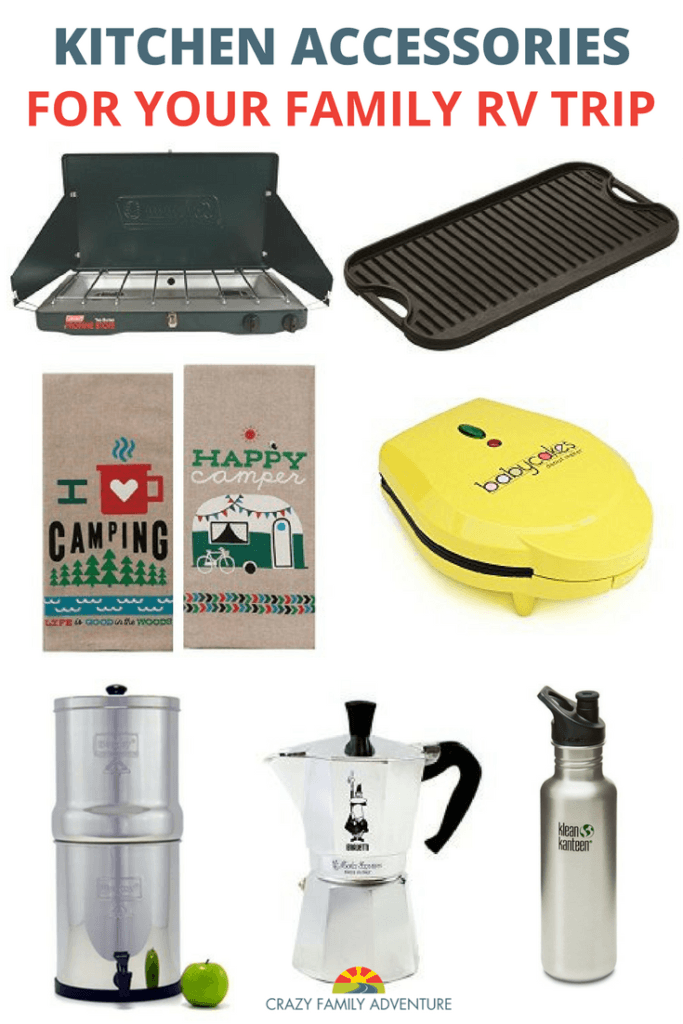 This post includes affiliate links to Amazon. Thank you for supporting us! Shop amazon here.
DISCLOSURE: This post may contain affiliate links, meaning I get a commission if you decide to make a purchase through my links, at no cost to you. Please read my disclosure for more info.