With 6 thirsty people in our family, we needed a way to satisfy all of our drinking needs. We didn't want to just use regular tap water. With all the horror stories out there of tainted water and other chemicals in water supplies, we new we needed a high quality filter. Then there are the dozens of different water filters out on the market. Everything from the Berkey Water Filter to Brita to more advanced filtration technology like reverse osmosis and ultraviolet systems.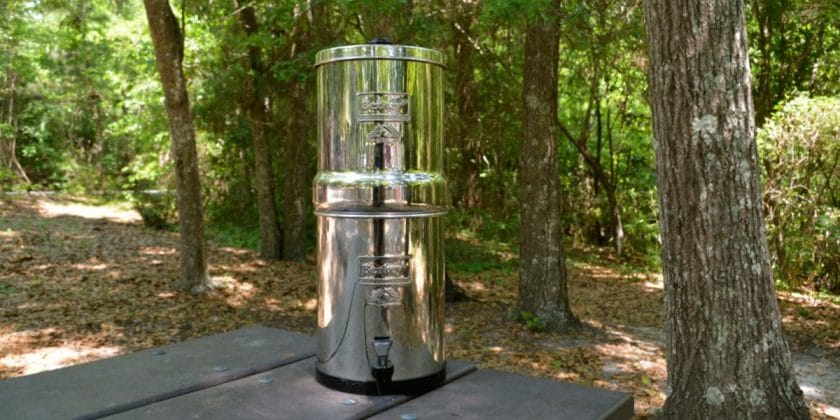 It's hard to determine what system is enough for your family when your health depends on it. After a lot of research, the clear winner for was the Berkey Water System.
We did a lot of research on this topic before choosing the right filter for us. While we didn't want to spend thousands of dollars on a system (or multiple systems combined), we also wanted a product that we could trust would provide great water quality.
We came across the Berkey system and really started to like what we saw. Berkey filters surpassed being just a water filter and actually qualify as a water purifier. May not sound like a big deal, but that's huge. Also looking at the specs of what the Berkey water filtration system takes out (harmful contaminants like viruses, pathogenic bacteria, inorganic minerals, metals micro-organisms, pesticides, heavy metal etc, etc).
It made for an obvious choice since the filters were so affordable yet the Berkey removed so much from the water. Check the actual specs on the filters here http://www.berkeyfilters.com/berkey-answers/performance/filtration-specifications/
When we decided to make the purchase, we went with the Big Berkey Water Filter. This system included a 2.1 gallon stainless steel chamber (upper chamber to put in unfiltered water and lower for the water to filter to), 2 Black Berkey purification elements, and a plastic spigot. This was a complete filter system for just about $250. That was a small price to pay to get clean, fresh water every single time!
If you calculate it it comes out to $.02 cents per gallon of delicious water. That is an awesome price for a water filter system.
We have owned 2 Berkeys in our lifetime. We first had a Big Berkey which holds about 2.1 gallons of water. This worked very well for our family of 6. The 2+ gallons allowed us to easily fill all 6 of our 27oz Klean Kanteen water bottles.
The Big Berkey was about 21″ high, which was a bit too high for the upper cabinets we had, so we ended up going to the smaller model.
The smaller model we went with was the Travel Berkey Water Filter. This system is 19″ tall and it fits perfectly under our upper cabinet right next to the sink. We actually traded with Bryanna's mom since they had a little more counter space for our Big Berkey water filter.
The Travel Berkey holds about 1.5 gallons of water, so we can all still fill up our water bottles if the Berkey is full. We just make sure to refill it after we've topped off our water bottles.
The smaller model still works for our family, but I'd recommend going with a bit bigger model if you have the counter space.
Take note that the smaller size Travel Berkey fits really well underneath the cabinets and would in most places. If you want to go with a bigger one make sure you measure all the way to the knob on top of the Berkey. And remember you will want to put it in a place that is pretty close to the sink for ease of refilling.
Berkey Water Filter Review
Our Berkey Water Filter review is very simple. If you're looking for a trustworthy product that will filter even the dirtiest water leaving clean, purified water that tastes the same every time, then get a Berkey.
They offer many different sizes to accommodate your family's water drinking needs from large to small (including a Berkey Light option). They also offer a water bottle called the Sport Berkey. It has a small Black Berkey filter at the end of a straw in a blue water bottle. We've had these as well and they filter very well. It just became hard to suck through the straw when the filters were getting older.
Each Berkey kit you buy comes with everything you need to filter water right out of the box. This includes the upper and lower chambers, the filter elements (minimum of 2 filter elements for each size Berkey), spigot and connection hardware.
After a quick wash of all the pieces, the set up is super easy. It's basically putting the filters in place and hand-tightening the plastic wing nuts. The same then also applies to the spigot.
The components of the Berkey filtration systems are very high quality. The stainless steel chambers are very high quality and have survived multiple falls off the counter thanks to taking some quick turns in the RV without even a dent.
The plastic components are also very high quality as well. You can read more about their lifetime warranty and what is covered here.
We have had our Berkey for over 8 years and have no plans of moving to something else. We have changed our filters out multiple times and given it a good deep clean every so often. But overall it is very low maintenance and we love the way the Berkey water tastes!
Here's a quick video showing the components of the Berkey water filter and how to set them up.
Each filter is supposed to last 3000 cycles. That's 6,000 cycles for a 2 filter system! We've had ours for over 2 years and they are still are doing great. When swapping for the Travel Berkey, we actually kept our black filter elements, so the ones we have are still from our original Big Berkey purchase.
By doing a little maintenance (see below), they've lasted a long time and still have some life left in them. You can also do the red food color test Berkey is famous for to see if the filter is still doing its job: Berkey Red Food Color Test
Click here to order your Berkey Water Filter Today!
Berkey Water Filter Problems
Even though the product is pretty great, there are definitely a few Berkey water filter problems. Most of them pertain to the design of the dispensing of the water and not the filters themselves.
First, you can overfill the lower chamber. When we first bought our Berkey, we thought if we kept the top chamber filled, it will filter water to the lower chamber until it was full and stop so we'd have clean drinking water all day long.
That's not true. The water in the upper chamber will keep filtering down until it's empty and will overflow the bottom chamber. So be careful of that. Only put in the top what can fit in the bottom.
Second, there's not a good way to see how much purified water is left in the lower chamber. It's a stainless steel tank. So the only way to see is if you lift the top chamber up and peek in. This can be cumbersome if your Berkey is tucked away under a cabinet or something.
Berkey does offer a Water View Spigot. It is a tall sight glass that goes between the lower chamber and the spigot. It's as tall as the lower chamber and shows how much water is left in the lower chamber. The water in the sight glass will be at the same level as the water level in the chamber. Good ol' fluid dynamics for ya!
We didn't purchase this because it was about $40 more at the time. We figured we'd lift the top chamber up and look if we needed to know.
Another odd thing that happens sometimes is that even though there is purified water in the lower chamber, when I open the spigot to fill my cup, the water just trickles out and almost comes to a stop. This has happened to a couple other people who own a Berkey. We all came to the conclusion there is a suction issue going on that is stoping the flow rate.
It seems when water is still being filtered from the top chamber there is too much weight bearing down on the bottom chamber. And it doesn't allow air to sneak in through the small gap between the top and bottom chamber. This can be taken care of by slipping a small piece of plastic in there(like the ring from a gallon of milk that has been cut open). To allow air to get in or to just wait for all the water to filter through.
Click here to order your Berkey Water Filter Today!
Cleaning the Berkey Water Filter
The Berkey water filters need to be cleaned from time to time. We notice this when it takes over an hour to filter a couple of gallons of water. Berkey gives instructions on what to do when this happens. They say it is normal throughout the life of the filters.
They basically say to take a scouring pad and gently rub the filters. Check out their instructions here: How To Clean The Black Berkey Filter
I made up my own cleaning regimen for the filters. Along with cleaning the outsides of the filters as Berkey instructs, it also meant taking a large syringe. You can find one on Amazon or at Walmart, fill it with clean water (you can use filtered water from your Berkey).
Then back flush the filters by firmly putting the end of the syringe to the end of the filter. And shooting the clean water through it. Make sure you get a good seal when putting the syringe on or you'll spray water all over yourself.
I usually do this about 5 times then run tap water over the entire filter to prime it a bit. An easy trick to shooting the water through the filter is to just turn the upper chamber upside down in your sink (with filters still attached in the chamber). To expose the ends of the filters and shooting the syringe in that way. Just be careful not to press too hard and damage the bottom of the chamber.
If you are in need of replacement parts or replacement filters be sure to reach out directly to Berkey for them. Berkey also keeps coming out with new components. Like a stand for the Berkey or a way to see the water level. So be sure to check their site for these extra things you may want to add to your Berkey purchase!
If you're looking for a trustworthy water filter at a very reasonable price, definitely check out Berkey water filter system. We're extremely happy with ours and couldn't recommend them more!
If you don't want to forget about the Berkey be sure to pin it for later:
DISCLOSURE: This post may contain affiliate links, meaning I get a commission if you decide to make a purchase through my links, at no cost to you. Please read my disclosure for more info.