As full-time RVers, one of the things we use most is our Travel Berkey. Obviously, we need water on a daily basis. Since we never know what kind of tap water we're going to come across while traveling, we count on the Travel Berkey system to provide us with consistently clean and great tasting drinking water.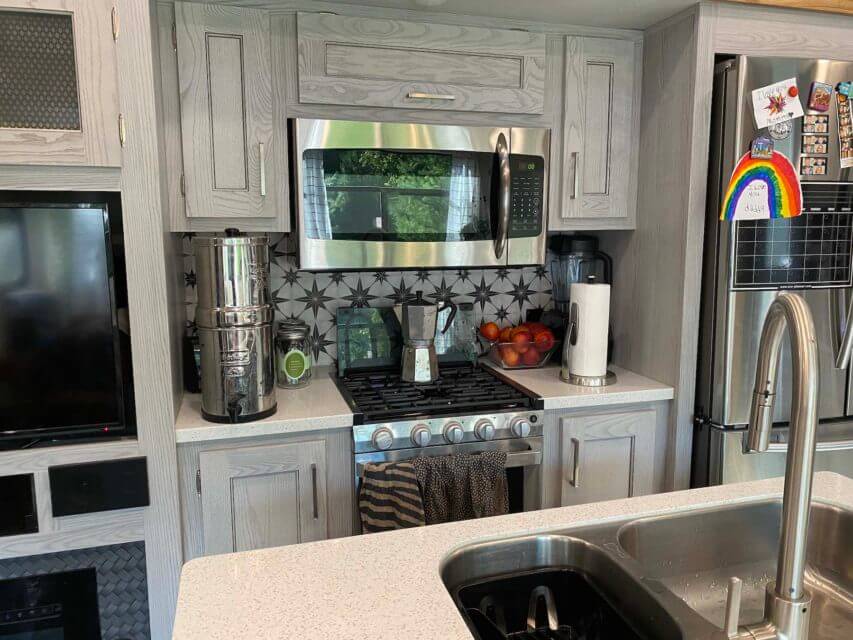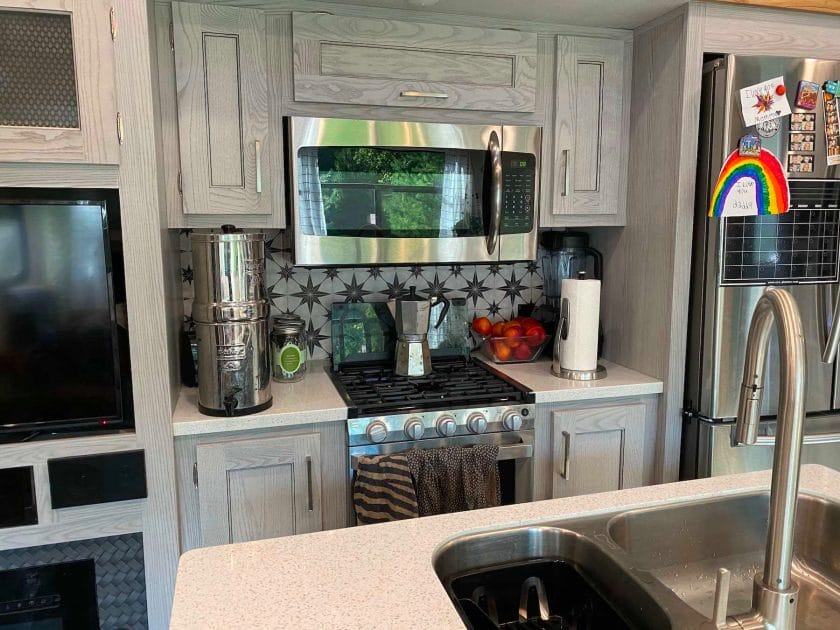 This product works so well that a Travel Berkey is one of the products I recommend every full-time RVer invest in as soon as they move into their motorhome or trailer. On top of that, this amazing filter system has traveled with us for over 5 years and is still going strong.
Want to know more about this Berkey water filter system? Read on to learn 7 things we think you should know about this fantastic product.
Top-Notch Filtration
First, and probably most importantly, we should mention the absolutely incredible gravity fed water filtration offered by the Travel Berkey. This product removes pathogenic bacteria and heavy metals from your drinking water. It does this using two special black Berkey filters, which employ both microfiltration and adsorption to do their job. These black Berkey filters can clean up to 6,000 gallons of water before needing to be changed.
In addition to the black Berkey filters, users can also choose to add two PF-2 fluoride and arsenic reduction filters. As the name suggests, this type of filter removes both fluoride and arsenic, leaving you with even cleaner water.
The intense filtering offered by the Berkey does result in a slightly slower flow rate than might be expected. However, we haven't had any problems with the amount of time required to filter water. On average, as long as the priming button is used, you can expect to filter around 2.75 gallons per hour, which should be enough for day-to-day use.
Buy your Travel Berkey now!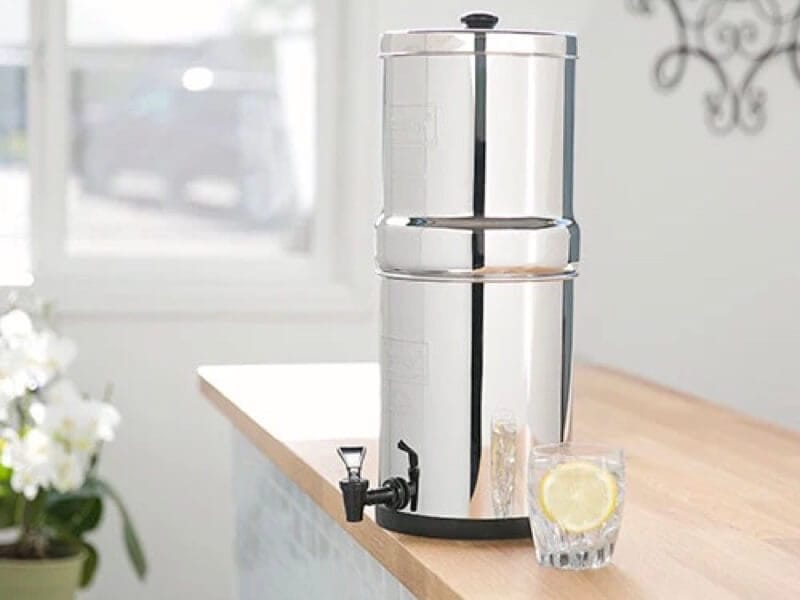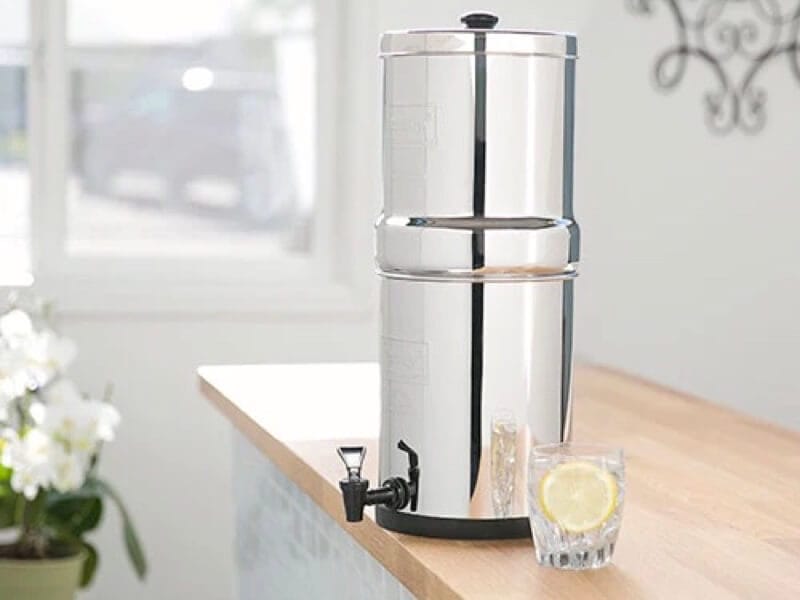 Easy to Use
One of the best things about the Berkey water purification system is that it does all the work for you. All you have to do is fill the top reservoir and the black Berkey purification elements go to work.
Changing the filters is quick and easy, and there are no daunting maintenance tasks to keep up with. Producing delicious filtered water whenever and wherever you need it using literally any tap water source absolutely could not be any easier.
Quality Guaranteed
Every Berkey is made with stainless steel, meaning you can rest easy knowing it will last for years to come. In fact, the company even backs their product with a lifetime guarantee warranty on all of the hardware. They also provide a two-year warranty on the filters.
This means that while it's extremely unlikely that your Berkey water filter will break, if anything at all does go wrong, all you need to do is contact the company and they will make it right.
RV-Friendly Size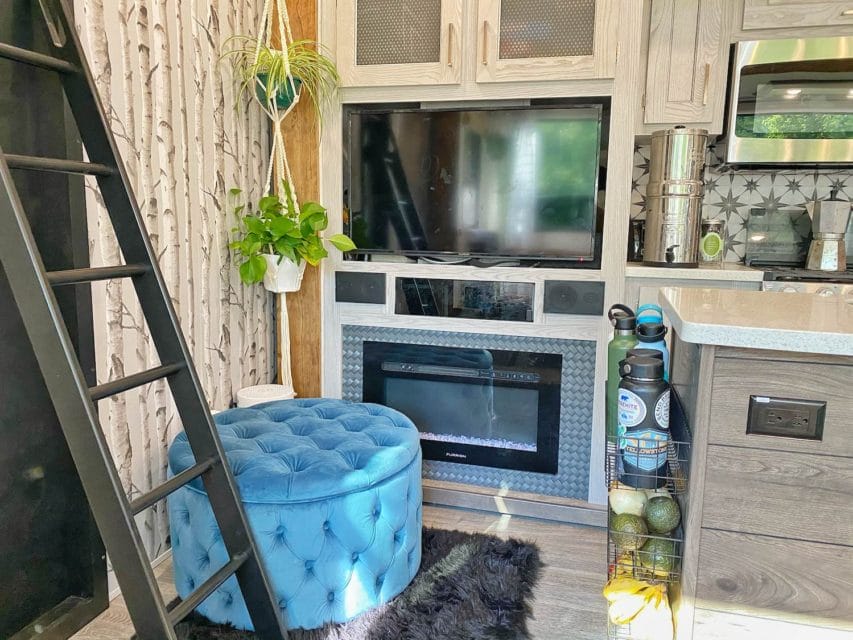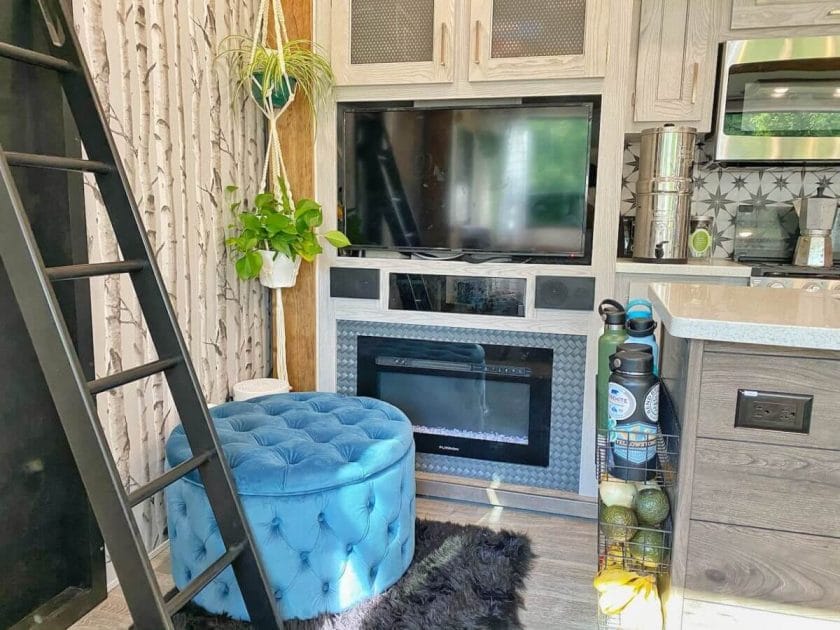 We love that the Travel Berkey water filter is smaller than the other Berkey options, making it perfect for RV living. Even though it is relatively small, this smallest version of all the Berkey water filtration systems can hold a full 1.5 gallons of filtered water.
The Berkey company advertises that this is enough for a small family of 3. That said, we've found that as long as we keep it filled throughout the day, it works well even for our family of 6.
It fits perfectly on our kitchen counter just under our cabinet door so it tucks nicely back and out of the way. We actually started with a Big Berkey and but when we downsized RVs we switched to the Travel Berkey and it has been working out great!
Buy your Travel Berkey now!
Cost Effective
You could of course go buy jugs of water or even disposable bottles of water. However, this is an expensive habit that can cost as much as $1.50 per gallon. Besides, who wants to drive to the store every time they need more drinking water?
The Travel Berkey water filtration system can give you clean water for around 2¢ per gallon. To make a good thing better, getting clean water from this system doesn't require any trips to the store. This means you can count on fresh filtered water even if you happen to be miles away from the nearest store.
Good for the Earth
Another problem with disposable water bottles and jugs is the waste they create. All of that plastic has to come from somewhere, and it has to go somewhere after you've used it. This is terrible for the environment. This problem can be remedied by using a Berkey water filter to make water that is even more delicious. Using a refillable water bottle makes your drink just as portable as if it were in a disposable bottle.
Video when we had our Big Berkey before we switched to the Travel Berkey when we downsized rigs:
Water Tastes Amazing
Perhaps the very best thing about the Berkey stainless steel water filtration system is the fact that Berkey purified water tastes absolutely amazing. Since all of the icky stuff is removed from the water as it makes its way through the Berkey's filters, users are left with the most pure water possible.
No contaminants means no weird tastes—only clear, crisp water that is a pleasure to sip. In fact, we've even heard of people who won't drink water unless it's from a Berkey because they've been so spoiled by the filter's incredible purification powers.
Clearly, there are plenty of great reasons to invest in a Travel Berkey water filter. We know we'd buy one all over again. Yes, the initial purchase is quite a big investment. However, we definitely feel like we've gotten our money's worth.
Pin this post: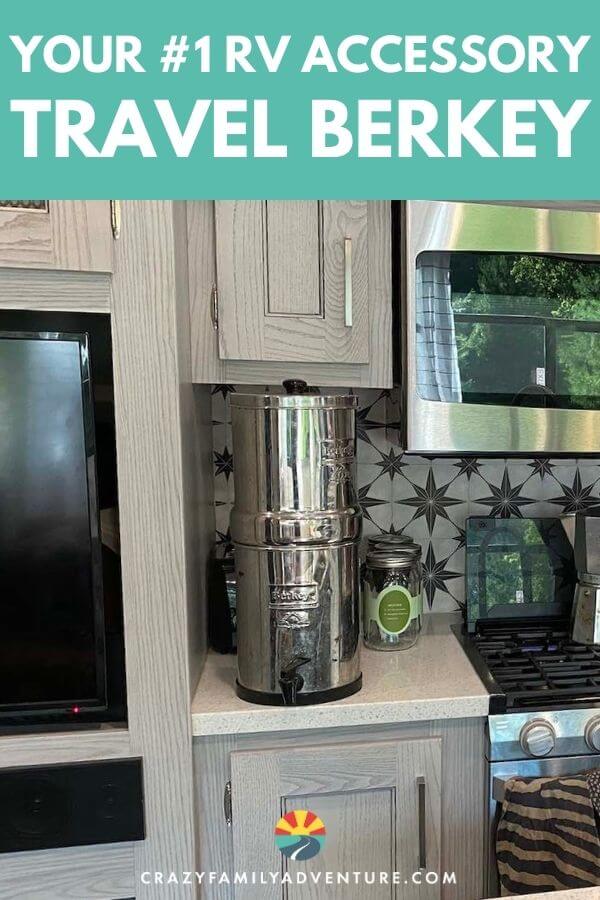 DISCLOSURE: This post may contain affiliate links, meaning I get a commission if you decide to make a purchase through my links, at no cost to you. Please read my disclosure for more info.