Whether you're celebrating a birthday, a holiday, or simply being friends, giving gifts is always a fun thing to do. That said, finding the best gifts for RV owners can be incredibly difficult. This is because those who take RV road trips already have all of the most important RV/5th wheel accessories. On top of that, full-time RVers typically try to live very minimally, meaning anything they bring into their home-on-wheels should be useful.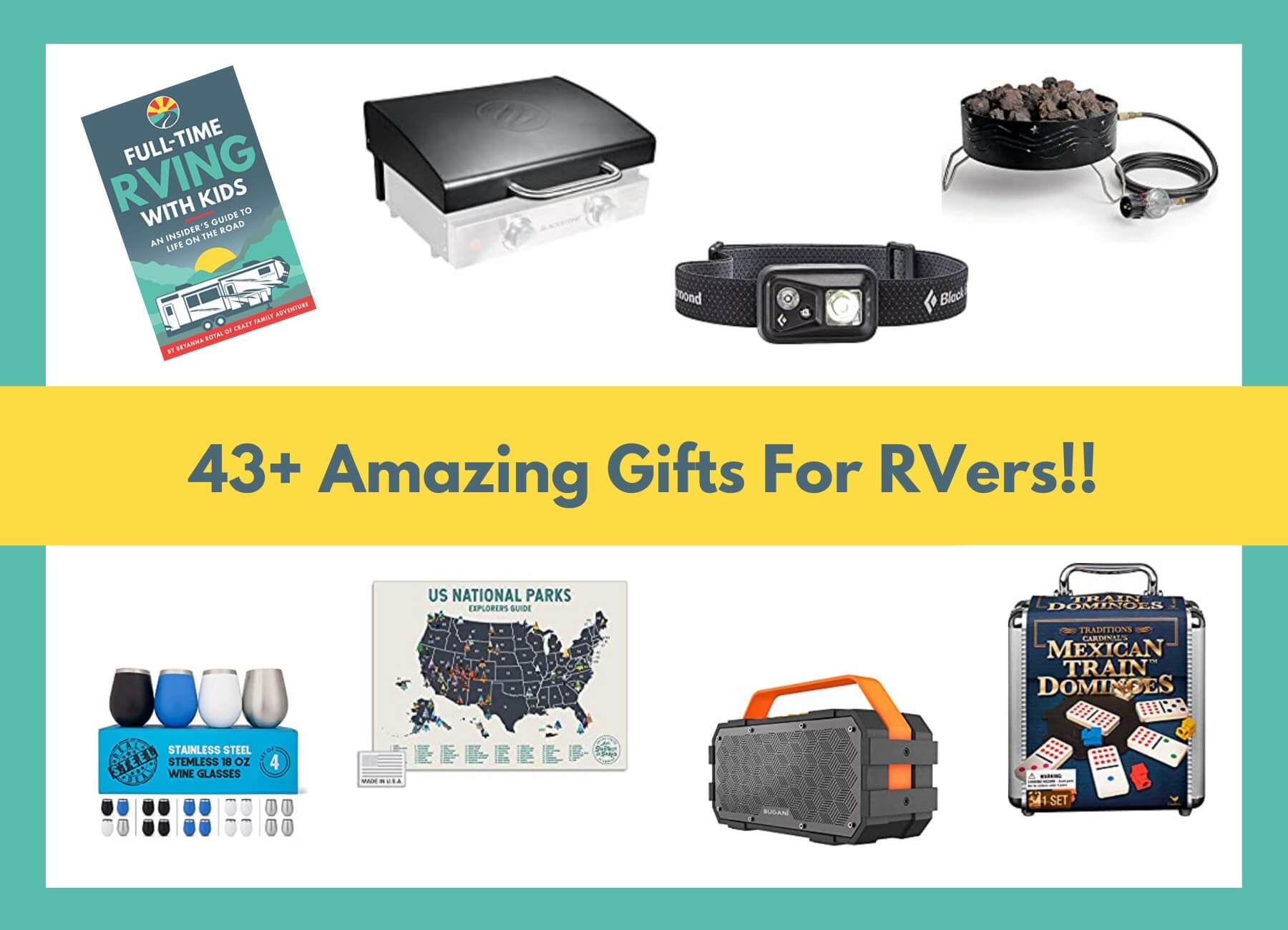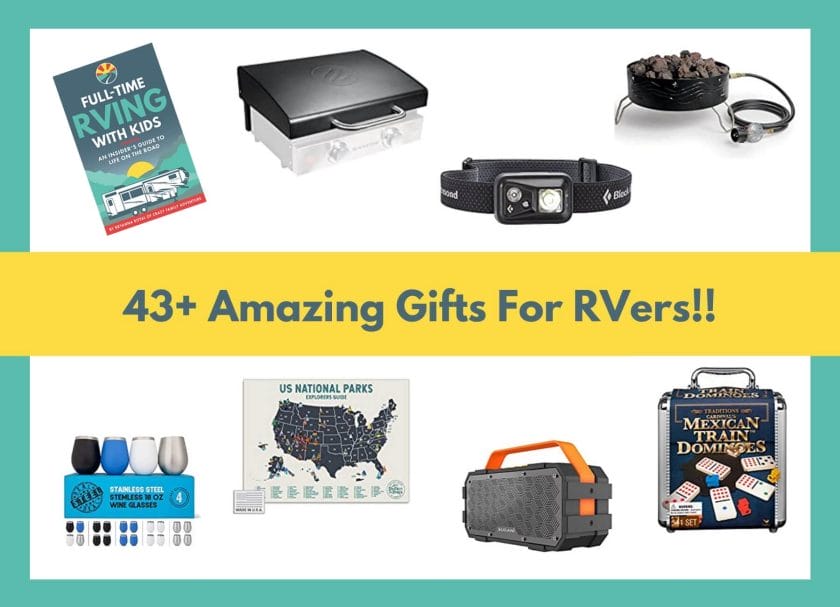 This doesn't mean you should skip giving gifts to these individuals entirely, but it does mean you'll want to be very thoughtful about what you do give, making an attempt to find practical gifts whenever possible. Fortunately, there are plenty of great ideas for RV owners out there and we've put them into a list, creating one of the best RV gift guides out there.
If you have friends and family planning an RV trip or those that have choosen the RV living route we have you covered!
RV Book Gifts
Books that help those who are new to the world of RVing are a great option when it comes to gifts for RVers. We especially love ebooks, which can help save storage space and cut back on RV weight.
Full-Time RVing With Kids: An Insider's Guide To Life On The Road
Ever wonder what it might be like to live on the road with kids? This book: Full-Time RVing With Kids covers everything that goes into such a lifestyle, and is perfect for parents considering full-time living.
A Beginner's Guide to Living in an RV: Everything I Wish I Knew Before Full-Time RVing Across America
Another great option for RVing newbies hoping to go full-time, this book: A Beginner's Guide To Living In An RV discusses all the ins and outs of RV living. It was written by a full-timer who learned these things the hard way so you don't have to.
Best Gifts For RV Owners – Outdoor RV Gifts
Most RV enthusiasts love spending time outdoors, so your RVing loved one should be a happy camper with any of the outdoor gifts listed below.
Blackstone 22" Table Top Griddle
Cooking outside is very common in the RV world. Not only is it a great way to get fresh air and socialize with the neighbors, it also keeps the RV nice and cool in the summertime. This Blackstone griddle is the perfect outdoor cooking appliance for this purpose, making it one of the best gifts for RVers.
MacSports Padded Folding Chair
Of course, if you're going to be spending a lot of time outdoors, you want to be comfortable when doing it. That's why we recommend this super comfy folding camp chair by MacSports.
Camco Portable Propane Campfire
A propane fire pit is the perfect solution when you don't want the work and smoke of a wood fire, but still want to hang out outdoors at night. We really like this small and portable option for RV life.
HigherHuman Safety S'mores Roasting Sticks
Of course, with campfires comes s'mores. These s'mores roasting sticks are super cool because they help keep little hands safe while still offering all the fun of roasting marshmallows around a fire.
"Home is Where You Park It" Door Mat
The amount of dirt that can sneak into an RV throughout the day is insane. For this reason, a doormat (or two) is highly recommended, and we think this one is super cute.
Eagles Nest Outfitters SingleNest Hammock
Who doesn't enjoy hanging out in the hammock and soaking up sunshine? This super portable, super durable hammock can be set up in any campsite with trees. Those who want a hammock stand can check out this list of awesome stands to go with it.
Black Diamond Spot Headlamp
Walking around a campground at night requires a flashlight, as does working in the tight nooks and crannies of an RV. This headlamp gives you the light you need to do these things while freeing up your hands, making it an excellent gift for RVers.
Camping Tablecloth
Nearly every campsite out there includes a picnic table. Unfortunately, it's hard to know what's been on these tables. A tablecloth like this one can give some peace of mind while also brightening up the campsite.
Cornhole Set
Outdoor games are always fun to play with family and friends. We especially love a good game of cornhole, and find that a cornhole set is an excellent thing to carry in an RV storage bay.
Bocce Ball Set
Bocce Ball is another great outdoor game, and one we imagine most RVers would be happy to add to their collection.
Bugani M90 Portable Bluetooth Speaker
Music is a great addition to any outdoor gathering, and this super portable Bluetooth speaker is an excellent way to play that music. We love that it is small but still puts out excellent sound.
Clam Quick-Set Shelter
If your traveling friend feels the need to expand upon their current mobile living space, a Clam shelter is just the gift for them. This awesome pavilion tent is incredibly durable and surprisingly easy to set up.
RVLock V4 Keyless Entry Handle
Fumbling with keys every time you come and go from your RV is annoying. This keyless entry handle removes the need for keys, something your RVing loved ones are sure to appreciate.
Progressive Industries RV Surge Protector
A power surge can ruin an RV power system. This Progressive Industries surge protector is one of the best on the market and will make a great addition to your friend's collection of RV accessories.
EEZTire Tire Pressure Monitoring System
A tire blowout is dangerous and can cause some serious damage to a travel trailer or motorhome. An EEZTire Tire Pressure Monitoring System can protect an RVer from these problems.
Renator M11-0660R Water Pressure Regulator
High water pressure is another thing that can damage an RV. A good water pressure regulator like this one will protect the RV's water system and is an excellent gift to give a newer RVing fanatic.
Weber 54060001 Q2200 Liquid Propane Grill
We mentioned a Blackstone for cookouts above. However, those who prefer a traditional grill might like this adorable little Weber travel grill better.
Renogy 100W 12V Monocrystalline Solar Panel Suitcase
Having a solar powered RV is a dream come true for many serious RVers. However, rooftop solar panels are expensive. This solar panel suitcase can give your traveling friend some solar power without the cost of a rooftop install.
Indoor Gifts for RVers
Looking for awesome gifts for RVers that can be used indoors? Look no further! Our favorite small-space-friendly RV gift ideas are sure to meet your needs and the needs of the RVers in your life.
Epic Adventure Maps USA National Park Scratch Off Map
National parks are some favorite RVing destinations. Help your RV friends keep track of where they've been with this cute and fun National Park scratch off map.
Camco "Life Is Better at The Campsite" Welcome Mat
Earlier, we talked about putting a door mat outside to catch dirt. Adding this one inside will help keep even more dirt off RV floors. Besides, who wouldn't want this adorable mat in their home-on-wheels?
Mexican Train Dominoes Game
Games are great to use as Christmas gifts or birthday gifts. We especially love this Mexican Train Dominoes game because it is small, easy to store in its own carrying case, and versatile. We have spent multiple nights around the RV table or picnic table playing dominoes with friends and family!
Blueair Blue Pure 411+ Air Purifier
Traveling the country in an RV means you can pick up some yucky things along the way. For this reason, this air purifier is an ideal gift for RVers looking to remove impurities from the air.
COLZER 70 Pints Home Dehumidifier
Too much water in the air can do a surprising amount of damage to an RV. Many RVers run dehumidifiers to mitigate this issue. We really like this dehumidifier for RV use and we know your gift recipient will too.
Oxygenics 26781 Hand Held Sprayer
It's no secret that most stock RV shower heads are junk. This Oxygenics shower head is a 100 times better and perfect for RV life, offering better water pressure while using less water.
Annual Passes for RVers
Some of the best gifts for RV owners aren't physical things, but rather memberships and passes. The passes below will allow your RVing loved one to explore their world more easily.
Harvest Hosts Membership
The Harvest Host annual pass gives RVers access to hundreds of awesome dry camping (i.e. boondocking) sites at farms and vineyards across the country. It's great for those looking for a new experience and is perfect for one-night stays along any route.
Fulltime Families
Any full-time RVing family should have a membership with Fulltime Families. This group provides community for traveling families by offering rallies and other events throughout the year, giving parents and kids a chance to connect with like-minded individuals.
RV Trip Wizard
One of the best RV trip planning tools out there, RV Trip Wizard has a variety of features that make trip planning a breeze. Not only will this program allow you to create routes, it'll also help you find and research campgrounds wherever you go, give attraction suggestions, and help you spot possible hazards along your route.
Boondockers Welcome
Like Harvest Hosts, Boondockers Welcome gives RVers access to RV parking spaces across the US. These are dry camping spots in the driveways and yards of other members, and the campsites always come with fun experiences and new friends.
Roadtrippers
Another fantastic road trip planning tool, Roadtrippers helps travelers find awesome places to stop, giving them the option to add them to a mapped-out route as they discover new attractions and eateries.
The Dyrt Pro
It's always a good idea to read reviews of campgrounds and boondocking stops before you head out. The Dyrt is a great place to go for this, and their "pro" membership gives you access to even more great features, such as a trip planning tool and offline use.
CampgroundViews
Besides the Dyrt, we also like using CampgroundViews for getting an idea of what a campground might be like. Those who want to get a really good view before booking can join the 360 Insider club for street views of campgrounds across the US.
Another option is a National Park Pass that gets the user into all National Parks in the US for free for 1 year!
Best Gift For RV Owners: RV Kitchen Gifts
Many great motorhome gifts are tools and toys for the RV kitchen you can always go simple like collapsible measuring cups or bowls or find something more unique. Check out some of our favorite kitchen gifts for RVers below.
Stainless Steel Unbreakable Wine Tumblers
There's no way a traditional wine glass would survive the bumping and bouncing that happens in an RV cabinet. Fortunately, these stainless steel wine tumblers get the job done just fine.
Original Bialetti Moka Express 12-Cup Stovetop Espresso Maker
Every RV should have a coffee maker of some sort. We especially love the moka pot for this purpose because it can be used on the stove or even over a fire, and doesn't require any electricity to work.
Enamel Camping Mugs
Traditional ceramic mugs are sure to crack and chip as you drive your RV down the road. For this reason, we highly recommend all RVers invest in a set of enamel-coated metal mugs like these.
HomeLabs Chill Pill Countertop Ice Maker
Most RV freezers simply are not large enough to hold ice trays in addition to food. For many RVers, this means going without ice. Our solution? This awesome little countertop ice maker makes lots of ice quickly and without taking up too much counter space.
Kay Dee Designs Camping Adventures Chambray Towel Set
If you're looking for gifts for RVers that are adorable and useful, these super cute travel trailer dish towels might be just the thing. Can't you just imagine these cute RV themed towels hanging in a tiny little RV kitchen?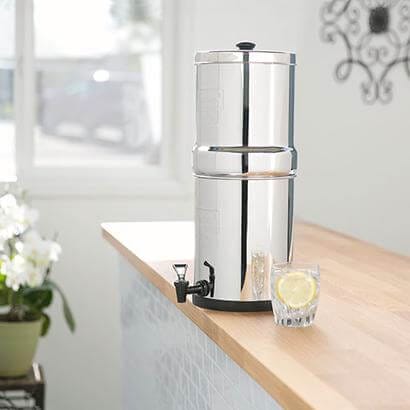 You never know what kind of water you're going to come across while traveling. For this reason, we highly recommend a Berkey Water Filter. The Travel Berkey is our favorite option for those in small motorhomes and travel trailers, as it helps save space while still creating delicious crystal clear water.
Gift Cards for RVers
When all else fails, a gift card is always a great gift idea. In the case of gifts for RVers, this is especially true if it helps pay for costs associated with RV life. It is definitely one of the best gifts for RV owners and easy for you!

Gas Card
RVs are gas guzzlers. Because of this, gas gift cards will always be appreciated by the RV crowd.
Amazon Gift Cards
Amazon is a great place to get RV parts. The reliable shipping times also make this the perfect place to order from if you travel often and need to receive packages within a certain time frame. For this reason, an Amazon gift card is a great choice for an RV gift.
Camping World Gift Card
RV travelers often find themselves shopping at Camping World. For this reason, a gift card to this RV store is an ideal gift for motorhome and travel trailer owners.
KOA Gift Card
Some of our favorite RV parks fall under the KOA umbrella. For this reason, we're sure your RVing friend will appreciate a KOA gift card to use on a stay at one of these fabulous campgrounds.
A couple extra thoughts for gift ideas for RV folks are an Instant Pot – we bought one for ourselves and never used it. But we know a lot of RVers love it! Or outdoor string lights for a cool outdoor setting. We got our favorite set at Costco.
There you have it! Our list of gifts for RV campers! Remember a great gift for RV traveling is something the person will use and something that isn't that big. We hope you will find the perfect gift on here!
More RVing Posts:
9 Best RV TV Mount Options [+ Tips on How to Choose One]
9 Outstanding RV Stabilizers For An Unshakeable Experience
Pin This Post For Later: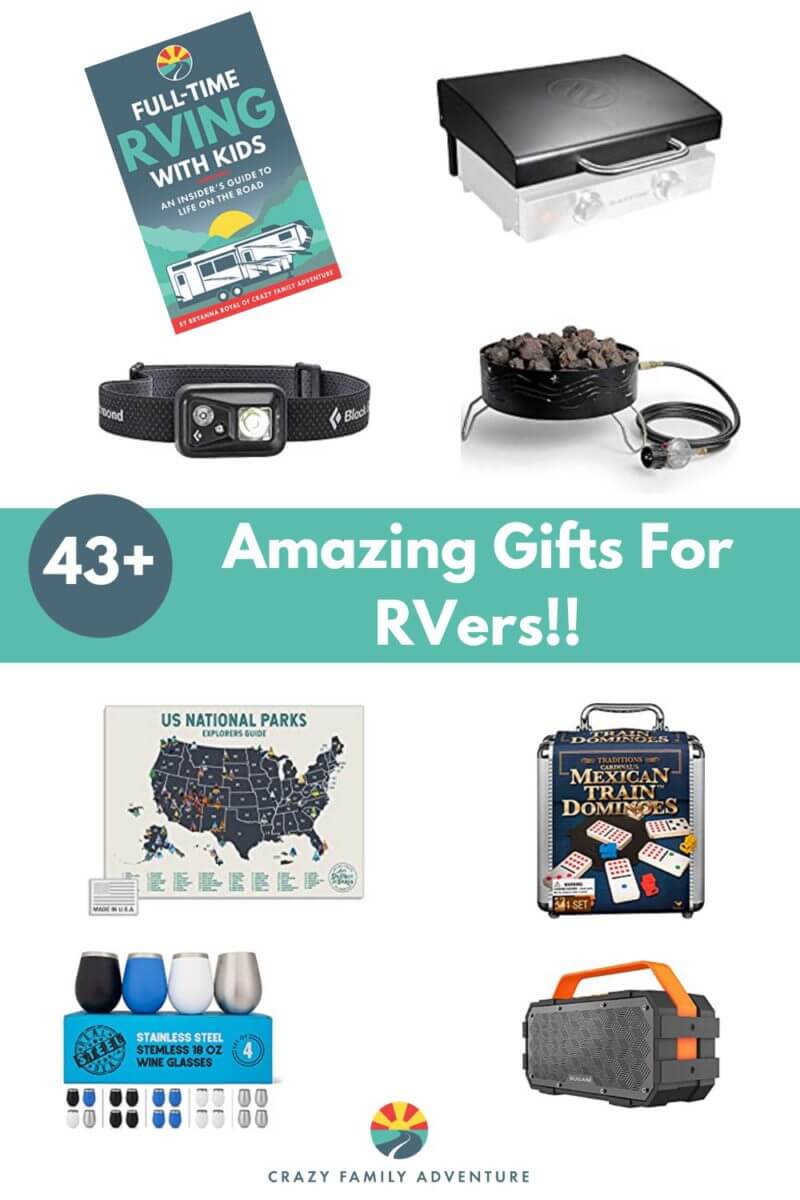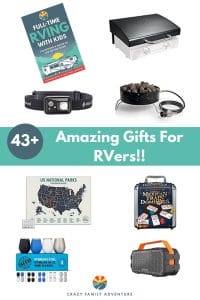 DISCLOSURE: This post may contain affiliate links, meaning I get a commission if you decide to make a purchase through my links, at no cost to you. Please read my disclosure for more info.