A portable hammock stand is a fun accessory to add to your camping or RV gear! With a stand you don't have to worry about being by a tree (damaging trees) or by somewhere you can hook your hammock up. You will also be surprised how easy it is to pack and store. Here we go the best portable hammock stands!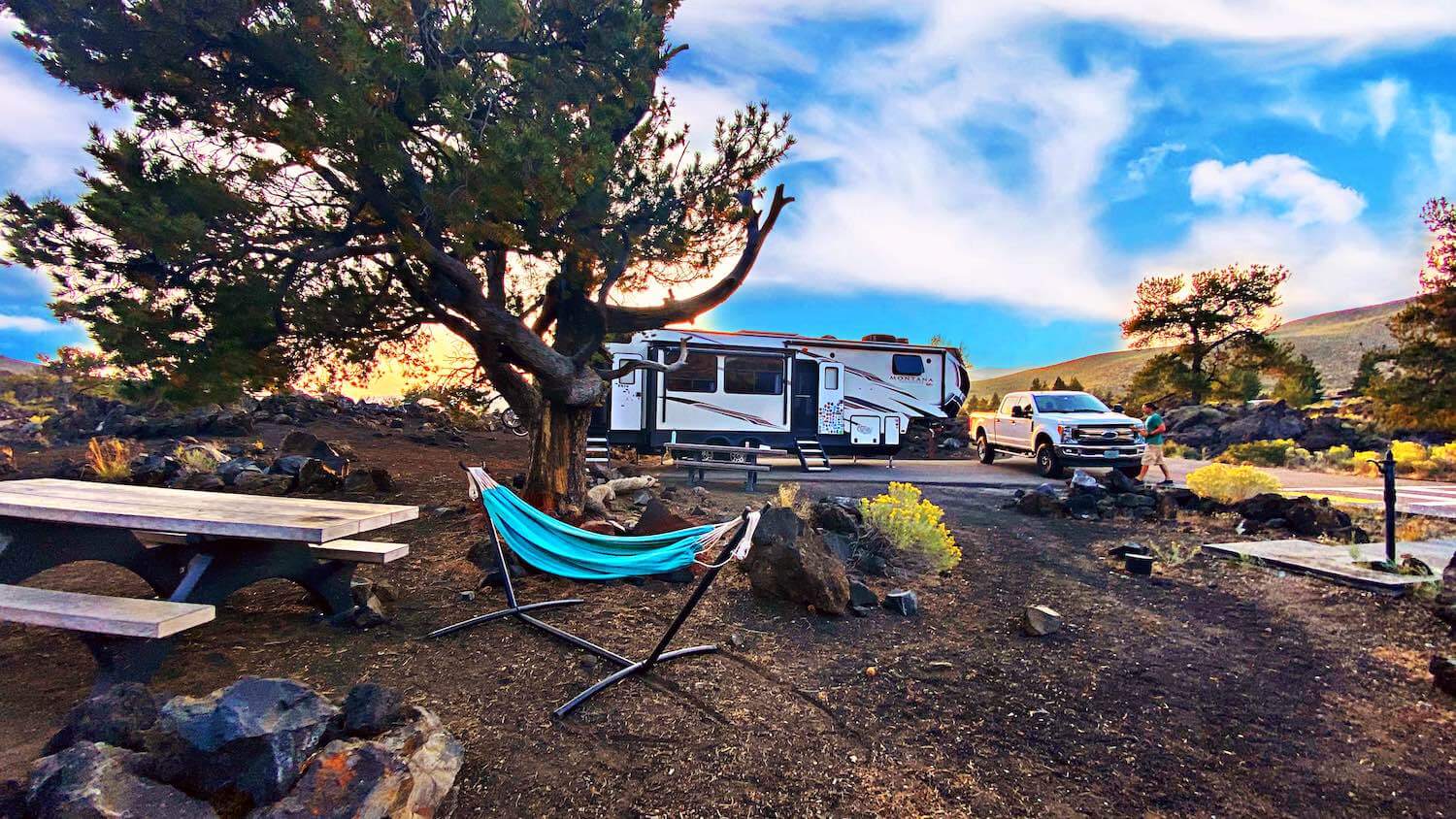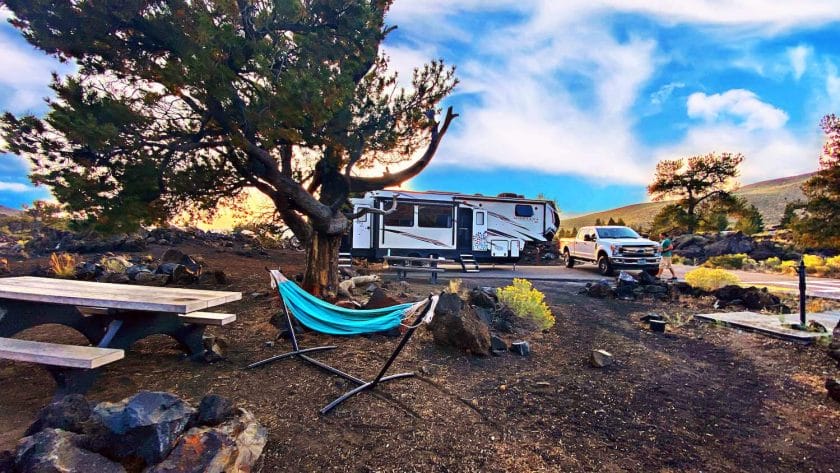 Our Top Pick For The Best Portable Hammock Stand
I am telling you when you are traveling in our RV or just hanging out in your backyard having a hammock is so relaxing! It may not be must have RV accessory but we would say it is a great item to have and you will enjoy it.
LazyDaze Hammocks Double Canvas Hammock
This amazingly comfortable hammock and stand make setting up a relaxation spot on the beach or in the woods a breeze. You're sure to love the durable canvas hammock fabric, as well as the portability of the setup.
Why It Is Our Favorite Pick
Durable canvas for the hammock.
Can hold up to 450lbs so you can sit in it with 2 people or the kids.
Easy to fold up and put away under the RV.
Comes with a nice storage bag.
Can set this hammock up anywhere.
Other Top Picks
Our top pick above is awesome, but it may not be exactly what you're looking for. Lucky for you, we've found some more awesome choices so you can find the perfect hammock for you.
Best for Weight: Republic of Durable Goods Compact Portable Folding Hammock
This is by far the most portable option on our list, and is what we'd pick if we needed to carry our hammock any sort of distance before setting it up.
Pros: Very lightweight; incredibly easy to fold down for travel; surprisingly sturdy
Cons: Only holds one person; relatively low weight capacity; not as comfortable as some other options
Overall Weight: 17.79 lbs
Best for Durability: Zupapa Adjustable Steel Hammock Stand, Double Hammock Included
Looking for something ultra sturdy that'll hold up to the kids? This Zupapa hammock stand might be a good option for you. It's very durable and comes with excellent customer service in case something goes wrong.
Pros: Incredibly sturdy; excellent customer service; several color options, easy assembly
Cons: Slightly more expensive than other options
Best Value: ONCLOUD Double Hammock with Steel Stand
People on a budget will appreciate the ONCLOUD hammock and stand. While this option isn't the cheapest on the market, it is still relatively inexpensive while still being durable and comfortable, giving you the best bang for your buck.
Pros: Inexpensive; includes two pillows; easy to assemble; adjustable; pocket drink holder on hammock
Cons: Hammock must stretch to fit properly; slightly lower weight limit
Why a Portable Hammock Stand?
A portable hammock stand is fantastic for a number of reasons. The most obvious is the fact that it allows you to set up a hammock absolutely anywhere. As a traveling family, we love this, as it means we can be comfortable everywhere we go.
Another reason one might consider portable stands over traditional hammocks and stands is the ease of setup. If you aren't very handy, or if you think you might ever want to move your hammock stand from one place to the next—whether it's around your yard or in the house—this can be super useful.
Finally, there is the fact that hammock stands are safer for the environment than setting up a hammock between two trees might be. You see, using trees to set up your hammock can actually damage and scar the trees. In fact, national parks and most state parks do not allow hanging hammocks between trees for this reason.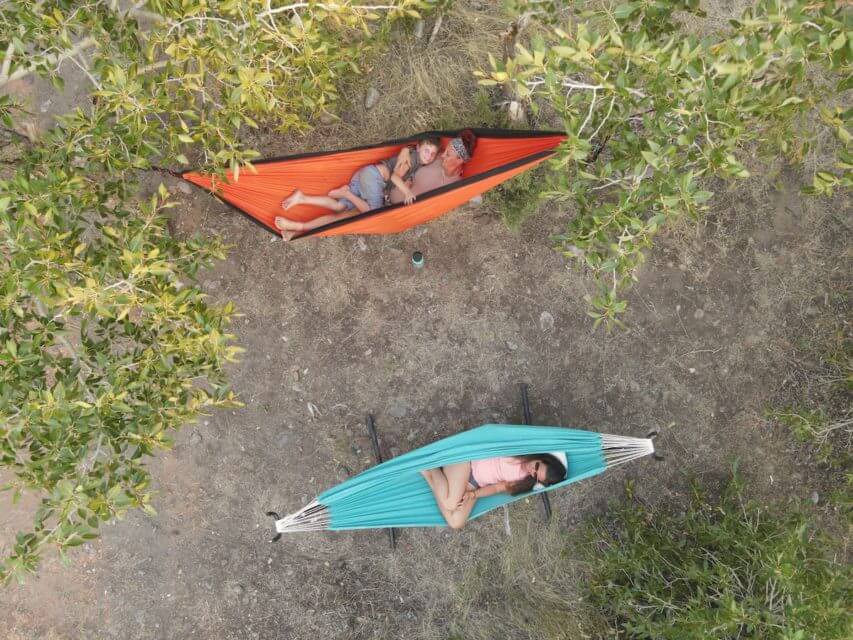 How Does a Portable Hammock Stand Work?
There are several types of portable hammock stands out there. Some can be broken down into pieces by removing screw-in knobs or pushing spring-pin buttons that hold the parts into place. Other stands are collapsible, much like a camping chair. There are also portable stands that are mounted to your truck hitch receiver.
No matter which version you get, you will have a stand that is easy to set up and take down. It'll also be small and light enough to carry from place to place, or pack into your car or RV storage area for some road trip fun or a bit of hammock camping.
Tips for Taking Care of Your Portable Hammock Stand
For the most part, taking care of a portable hammock stand is pretty straightforward. That said, there are a few things you should know about caring for your new purchase:
First, it's important to know that while most hammock stands are made to be rust-resistant, a lot of time in the elements can still cause rust to form in some areas. For this reason, we recommend packing the stand away between uses.
Fabric hammocks can be bleached and worn by the sun and rain. Therefore, these should also be put away when not in use.
However, you should refrain from putting away your hammock or hammock stand whenever it's wet. That way, you can avoid mildew, mold, and rust.
If your stand gets dirty, simply wipe it down with a wet cloth and allow it to air dry.
Hammock stands have weight limits for a reason. Exceeding the weight limit of your stand or your hammock will likely result in a broken stand or torn hammock.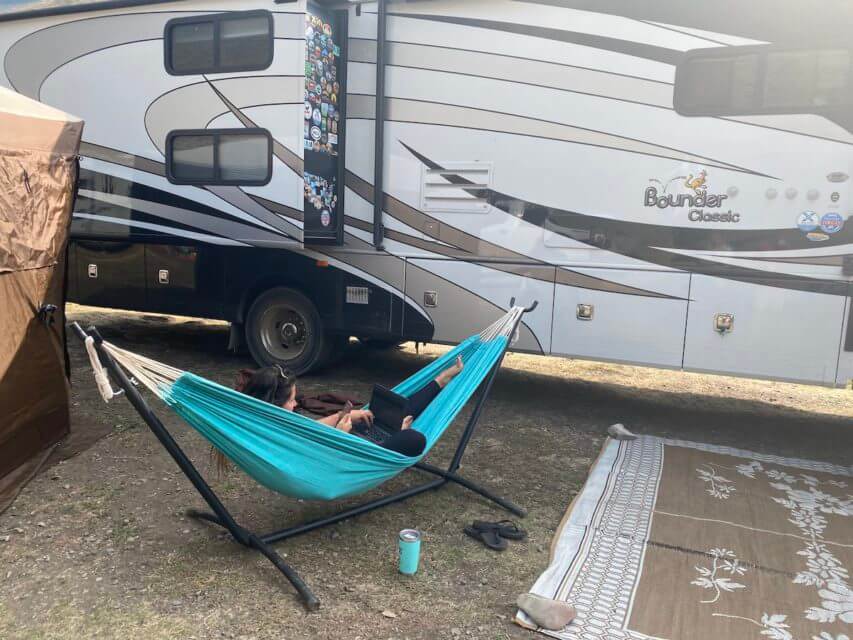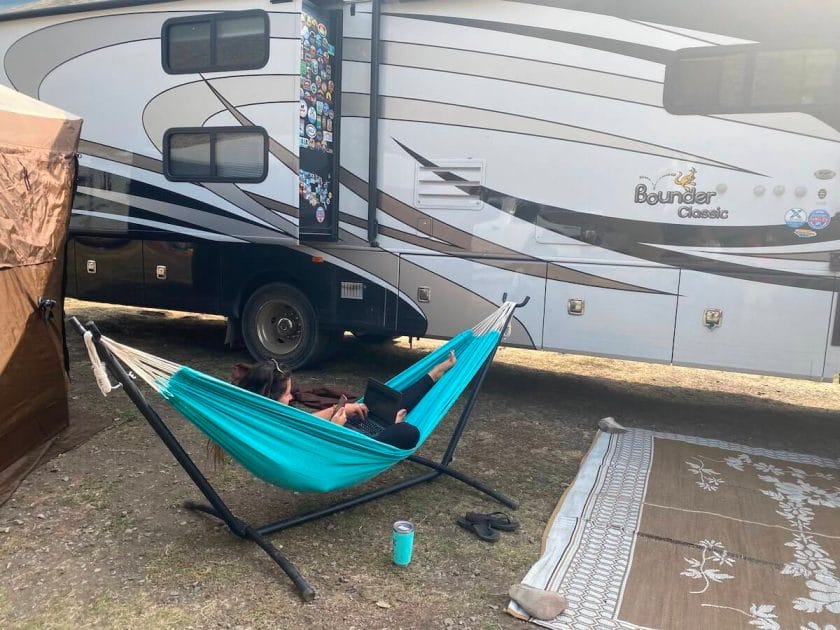 More Portable Hammock Stand Options
There are a few more awesome portable hammock stand options we have found. We will list them below along with pros, cons, weight capacity, if it has a carry bag, and overall weight when everything is packed up.
1 – Vivere Double Cotton Hammock with Space Saving Stand
Many hammock users recommend this product, and we can see why. The cotton hammock fabric is breathable and soft, and we love that there are a number of color choices available to suit every style.
Pros: Hammock is 100% cotton; several color choices; easy to assemble; adjustable
Cons: Hammock must stretch to fit properly; stand scratches easily
Overall Weight: 31.14 lbs
2 – Sunnydaze Heavy-Duty Steel Hammock Stand
This stand is a bit different from many of the other stands on our list, so if you're looking for another type of stand, this one might be for you. It is sturdy and fits almost all hammocks.
Pros: Sturdy with high weight capacity; universal stand that fits almost all hammocks; easy tool-free assembly
Cons: No hammock or carrying case included; not as portable as other options
3 – AmazonBasics Fabric Hammock with Stand
As the brand name suggests, this hammock and stand are pretty basic, but are durable, comfortable, and functional. This product can take a while to ship out, so if you travel often, make sure you'll be around to receive the product.
Pros: Adjustable; easy to assemble; comfortable
Cons: Can take a long time to ship out
4 – Best Choice Double Hammock with Steel Stand
Like the ONCLOUD hammock and portable stand above, this Best Choice setup is an inexpensive option that is ideal for those on a budget. We love the ease of assembly, as well as the many color choices.
Pros: Easy tool-free assembly; relatively inexpensive; several color choices
Cons: Stand can rock and wobble a bit
5 – ENO ENOpod 3-Person Hammock Stand
Those who like the single ENO stand above will love this version, which holds three 2 person hammocks. This is a great option for those who find that their family often argues over who gets to use the hammock.
Pros: Super fun for a group; well-made product from a reputable brand; quick-release parts for easy assembly
Cons: Large and heavy; no hammock included; expensive
Weight Capacity: 400 lbs per hammock (holds 3)
6 – Hammaka Hammock Hitch Stand
A creative option, the Hammaka Hammock Hitch Stand plugs into the hitch receiver on your pickup truck. It can hold two cradle chairs or a traditional hammock, making it the most creative and versatile option on this list.
Pros: Super cool design; very sturdy; comes with two cradle chairs and a hammock
Cons: Poles don't break down as small as we'd like; pretty heavy for what it is
7 – Tranquillo SSRS Adjustable Foldable Polyester Net Hammock
This hammock and stand are nice because, instead of disassembling the frame, all you have to do is fold it up and you're good to go. This fact makes it an excellent portable hammock, ideal for car camping.
Pros: Quick and easy to set up; relatively lightweight
Cons: Some users claim it won't hold a full 550 lbs as the manufacturer claims
Weight Capacity: 550 lbs (see point above)
8 – Mac Sports Collapsible Portable Removable Canopy Hammock
Another collapsible option, the Mac Sports hammock reminds us of the Republic of Durable Goods hammock above, and is a great choice for a camping trip. It folds very small very easily, but does have a higher total weight of 33 lbs.
Pros: Quick and easy put up; folds very small; includes canopy for shade
Cons: On the heavy side for a collapsible unit; lower weight limit
There you have it! Some awesome portable hammock stand options! We also have a great list of RV gifts! So many great options with stands including a hammock and more. Some of these would also make great camping hammocks!
Looking for some amazing places to visit with your hammock check out some of our favorite destinations below:
12 Epic Things To Do In Northern California [Map Included]
Pin This for later: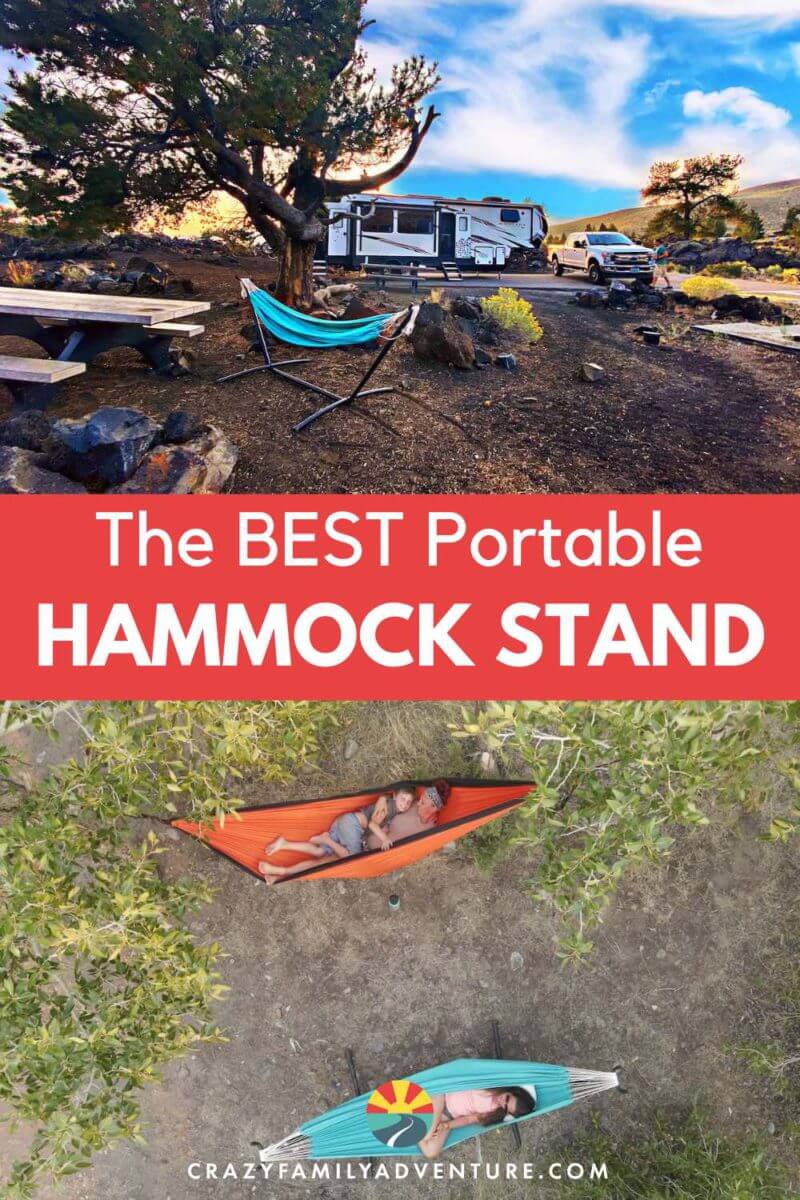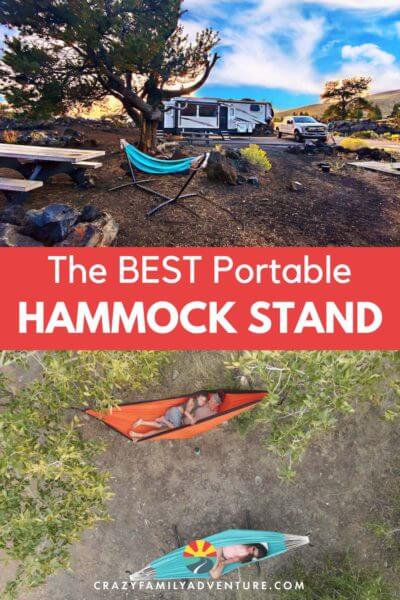 DISCLOSURE: This post may contain affiliate links, meaning I get a commission if you decide to make a purchase through my links, at no cost to you. Please read my disclosure for more info.