Spectacular scenery, some of our favorite hikes in the US, glaciers, wildlife viewing and the breathtaking Going-to-the-Sun Road this is Glacier National Park!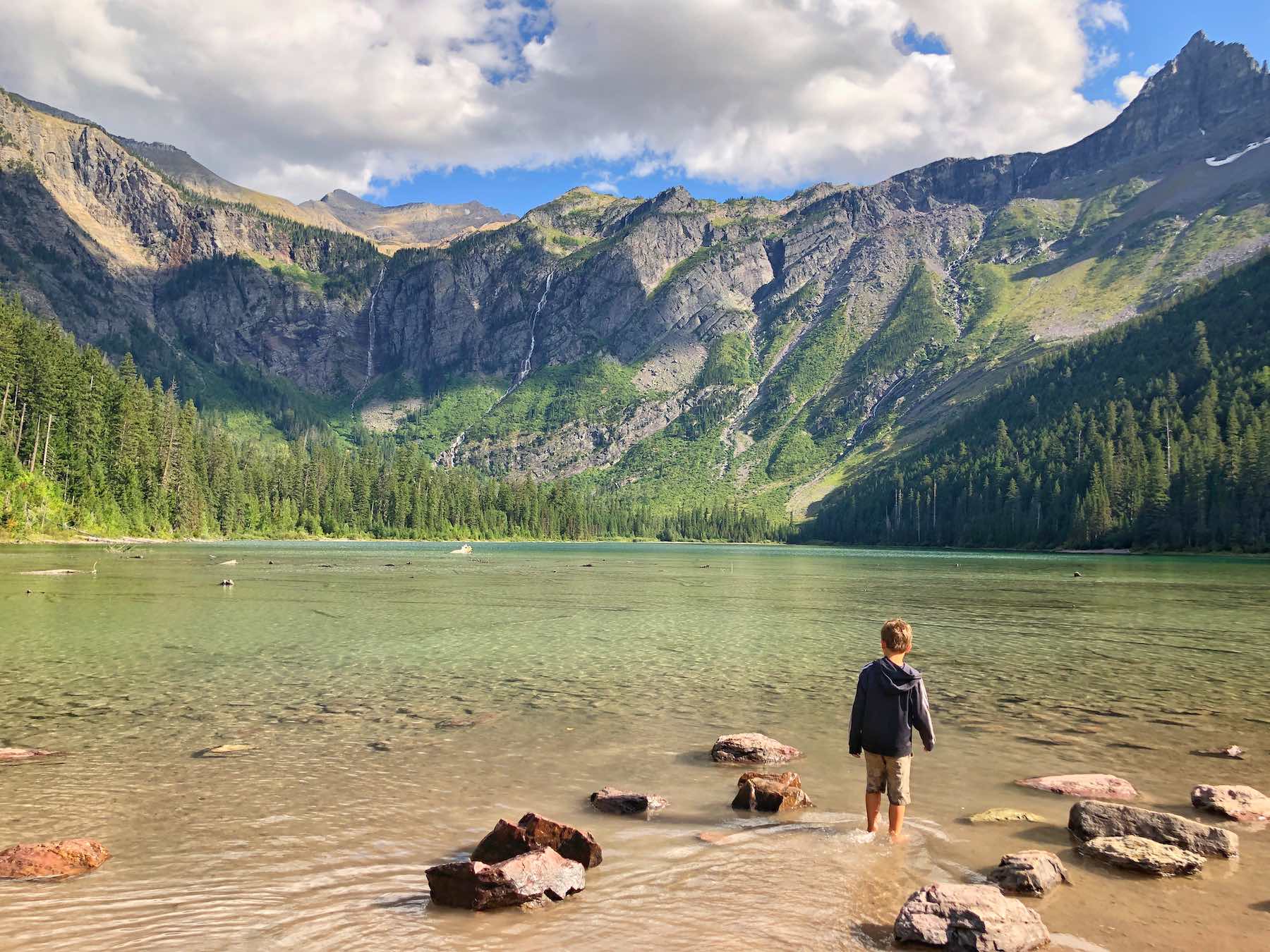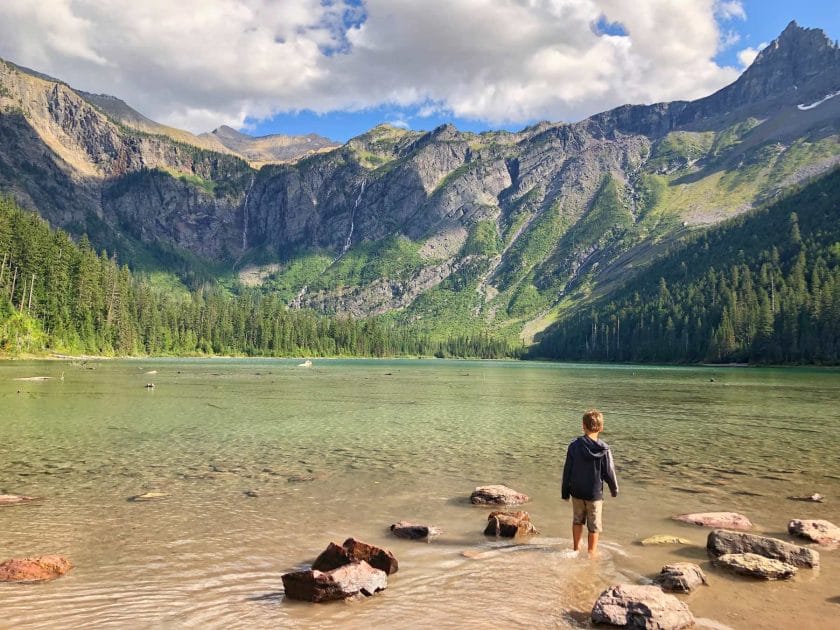 You won't want to miss this pristine wilderness and all the epic things to do in Glacier National Park. There are fantastic opportunities for photographers and those looking for camping and backcountry adventure! Also make sure to set time a side to visit the amazing nearby attractions.
Top Things To Know Before Going
You need a vehicle registration to visit between 6am to 3pm in the summer.
The Going To The Sun Road sometimes doesn't open until July.
2023 Glacier National Park Construction – Glacier National Park has also released that there will be construction on the roads in the park during the 2023 season. Keep an eye on their site for updates on how that could impact your trip.
Top Things To Do In Glacier National Park
Things To Do In Glacier National Park
You will drive the stunning Going To The Sun Road, visit the more remote Polebridge Mercantile and Bowman Lake, do some of the best hikes in Glacier and visit the gorgeous Many Glacier area on an awesome Glacier Itinerary either as a National Park Road Trip or a stand alone trip.
Visitor Center
When you first get to Glacier National Park we recommend making a stop at the visitor center. It is a great place to grab a map and park newspaper, learn about any road or trail closures, and to talk to the ranger about things to do at Glacier National Park – with over a million acres there are a lot of things to pick from!
Then of course there are all the souvenirs . . . we always end up with a sticker from each of the Visitor Centers we go to and once in a while leave with a t-shirt or hat.
Ok time to dive into what to do in Glacier National Park! We list a variety of hikes on here but don't worry if you aren't a hiker there are still a lot of things you can do. Plus some of these hikes are on the shorter side so if you have it in you go for it! You will be glad you did.
Hike the Trail of the Cedars
There are so many great day hikes in Glacier (there are over 700 miles of trails!) and this is a great trail to start with. It is very popular and the trail itself is wide and well marked so you won't get lost. It is also short so gives you a chance to warm yourself up for a couple longer hikes.
Believe me when I say even if you have never hiked a day in your life you will be totally fine on this trail.
I love that the trail has one of the most beautiful waterfalls we saw at Glacier on it and it is so easy to access that anyone can see it! The trail is also wheelchair accessible and you could bring a stroller on it as well.
For more on hiking: Best Hikes In Glacier National Park With Kids
Visit Lake McDonald to hang out at the beach
I wasn't expecting to spend any time on a beach when we were in Glacier. But it ended up being one of our favorite things to do in Glacier National Park. There are multiple pull offs by Lake McDonald, don't look for a sign saying beach this way because there isn't one, instead just pull off on the side of the road and take the short walk down the hill to the beach.
The beach isn't pure white sand, but it is good enough that you can sit there comfortably. The water is REALLY cold but depending on how warm it is you can totally jump in to go for a swim or float on an inner tube.
Lake McDonald is the largest lake in Glacier National Park. And is definitely a top Glacier National Park must see. I really wish we would have had a paddle board or kayak to take out – next time!
If you're interested in learning about fly fishing, check in at the nearby Glacier Outdoor Center for a fly casting lesson!
**Don't forget you will need a ticket in order to do the Going-To-The-Sun Road – depending on what time of year you go. Plus the road normally doesn't open until late June or early July – when all the snow has been removed – but this is never a set date. Instead it is based on that seasons weather.
Learn about getting tickets here.
Learn about when the road will open here.
The drive is a bit stressful since the road is small and you are right on the edge of the rocky mountains, but it is also beautiful! There are multiple pullouts where you can stop to take pictures and believe me you will want to.
There is the Weeping Wall where a waterfall splashes down onto the road and multiple other waterfalls that cascade down the mountain top. You also have a good chance of seeing snow. We were there in August and there were still small piles of snow on the mountainside.
There are so many great stopping points along The Going To The Sun Road, I can't even begin to list them. My best advice is to take your time and stop as often as you can!
Check out our Going-To-The-Sun Road post for more information on what to do and what to see on this epic drive.
The road reaches its highest point at Logan Pass Visitor Center (the heart of the park) and continues toward the St. Mary east side entrance (where there is a really cool hike that takes you to 2 waterfalls. You can learn more about it here: Hiking in Glacier National Park with Kids).
In between these 2 popular destinations is Wild Goose Island in St Mary Lake. This is one of the most iconic picture spots in the entire park. Definitely stop here and get some good shots.
The drive into Many Glacier is beautiful and offers picturesque views of the Many Glacier hotel and Swiftcurrent Lake. There is also a restaurant in the village that has great food options for kids as well as a convenience store that has vanilla or huckleberry ice cream. A great treat if you've been on the move all day!
Apikuni Falls
We recommend doing the fun and adventurous waterfall hike to Apikuni Falls. It's a shorter hike at 2 miles roundtrip, but does have some elevation gain. The remote waterfall at the end makes it all worth it and there's even a small pool for the kids to splash around in.
If you can get out to hike it really is one of the best things to do in Glacier National Park.
For more information on this area of the park and what to do there, check out our Many Glacier post! And if you want to do a boat tour check out the options in Many Glacier.
There are plenty of other hiking and wildlife spotting activities to do in Many Glacier. You can even make the long trek out to Grinnell Glacier to see an active glacier. So cool!
Grinnell Glacier
We did this hike with our kids when they were 12, 9, 9 and 7. It is a tough hike with a lot of elevation gain at the end but totally worth it. On the way there you have gorgeous views of the glacial blue lakes – just be on the look out for grizzly bears!
Once we got there we saw the glacier and iceberg floating in the lake! It was so cool to walk around the corner and see the lake filled with icebergs. We stayed for a while just taking in the beauty and ended up being the last people to leave.
There is also an option to take a boat for most the hike – if you are thinking a 7 mile hike won't work out well for your family. You can learn more about it here: Hiking in Glacier National Park with Kids.
Another hike we have always wanted to do but has always been closed due to grizzly bear activity when we are in Glacier is Iceberg Lake. That made us even more excited when we saw these icebergs on the Grinnell Glacier hike. Just a week before friends had gone on this same hike and there weren't icebergs in the lake.
We have also seen the Ptarmigan Tunnel recommended. But have not done it ourselves. You can learn more about it here.

You will have to go to the far side of the park to get here and drive on a dirt road for quite a while, but it is worth it! The pastries at the Polebridge Mercantile are yummy and they have some cool souvenirs too.
The Mercantile is not officially in the park so to get to Lake Bowman you drive back into the park and on a winding dirt road that is really only big enough for 1 1/2 cars but is used as a 2 lane road. We drove it in our car (GMC Acadia) and my parents drove it in their little car (Chevy Sonic) and my sister and her husband drove their 21 foot long rig there. So it is doable. Just be prepared.
After driving on said road for 6 miles you reach the amazing lake and beach area. They do have a campground there and it would be a really cool place to camp for a few nights. If you have a paddle board or kayak bring it! Or rent one if you can transport it.
If you have a sailboat, bring it! Seriously, there was a big old sailboat on the lake when we were there.
Pack a cooler and plan on making a day out of it! For more information on Polebridge and Bowman Lake, check out our post on it!
Visit Whitefish beach and town
Take a day to relax at another great beach in Montana! Head out of Glacier National Park and over to Whitefish to spend time at the public beach – where you can rent kayaks, play on the beach, or swim out to the platform. They also have a concession stand.
Be aware this is not a Caribbean beach so the water is cold. I don't think it ever really warms up. But if the sun is shining it is still a good time and well worth it.
Then head over to the town to walk the streets, do some shopping, and grab dinner. They also have the Great Northern Brewing Company, which is fantastic, and during the summer months have lots of festivals and events going on. There are so many fun things to do in Whitefish, Montana!
The water in Glacier is just so beautiful and getting out onto it is an amazing experience. If you have younger kids you are able to do a scenic float. This means there are no real rapids. A couple of spots were a little bumpy, but nothing crazy.
Kids do need to wear lifejackets and they have water shoes you can borrow when you are there. You shouldn't get overly wet, but you will get a little bit wet getting in and out of the raft and as you hit those bumpy spots.
Also note that in the middle of the trip there is a spot where they let you jump out of the boat to swim. They pick this spot for the reason that there isn't a strong current. Cannon, Craig and Carson did go in.
The water was FREEZING, but they still enjoyed it. That being the case you will want to bring some towels with. We didn't and it made the second part of the trip not as an enjoyable for those that jumped in.
If your kids are older and want to do a real half-day rafting trip or full-day rafting trip you can do that too! I believe the trips starts as young as 6, but it also depends on the time of year and the size of the rapids. You can also book a dinner option!
We did our trip with Glacier Guides Montana Raft and really enjoyed it. We wrote more about it here: Rafting With Kids With Montana Raft
If you went to the beach you may have already been in the town of Whitefish, but to get to the Whitefish Mountain Resort you have to go up the mountain. In the winter it is a skiing resort.
In the summer you can do a variety of fun things: Rope Course, Incline Slide, Zip Lining, ride the gondola, mountain biking or take the ski lift up. They also have a blow up climbing thing that is great for younger kids.
The gondola ride to the top of the mountain brought us up to a location that has a restaurant and bar along with a small nature museum. This is also where we picked fresh huckleberries on the mountainside!
They were so yummy. If you are there at the right time of year I highly recommend doing this.
You can find the huckleberries by walking down the main hiking trail and the bushes are right off the trail – you may have to climb a little ways off trail to get to them. The best thing to do is ask the workers that are there where you can find them.
At this point you could hike the 4 miles back down or just take the gondola back. Your choice! If you are into mountain biking they also have an amazing mountain biking course.
Read our post about our day there here: Whitefish Mountain Resort Summer Activities
Hike the Avalanche Lake Trail
This is a great hike for kids as it's a bit longer, but not too much elevation. Clocking in at just over 4.5 miles roundtrip, it will test everyone. I highly recommend checking the weather – we didn't and got stuck in a thunderstorm when we were at the lake!
Assuming the weather is good, the trail is very populated. You should always have your bear spray and be on the lookout, but popular trails normally mean you won't see any while you are hiking.
This hike takes you about 2 miles through the forest on a very well marked trail. Then at the top it opens up into a beautiful lake surrounded by mountains and waterfalls.
The water is very shallow so it isn't like you will be swimming in it but you can definitely walk out a little ways and get your feet wet.
We recommend bringing snacks and a few drinks to celebrate making it to the lake. There is a pit toilet near the lake as well.
Even if you aren't a hiker I highly recommend giving this hike a go. I promise you will be glad you did!
Logan Pass is like a whole other world. You drive the Going To The Sun Road to get here and the Logan Pass Visitor Center is located at the top point of the road. It is amazingly beautiful! Like words can't describe it beautiful.
Parking can be hard since it is a busy place so be patient and look for people leaving so you can take their spot. Then head into the visitor center to check out the small displays they have, to ask a ranger any questions you have and if you time it right you could listen to a ranger talk as well.
After that head out on the Hidden Lake nature trail. Again even if you aren't a hiker, do it. Another populated trail with a very clear trail laid out.
Part of it is steps. It is a steady incline all the way up then once you get to the hidden lake overlook the view is amazing.
This one is a leg burner! It's not much of an elevation gain, but for some reason we struggled going up this one.
At this point you could head down to the shores of the hidden lake – but note this will add 3 miles to your trip. Or you could hang out at the lookout for a while and then head back down.
Both times we did the trail we saw mountain goats. Both times they walked right across the path in front of us. It was a really cool experience! They are used to people so they don't seem to mind them and we were sure to give them their space.
You can also check out the scary but cool Highline Trail across the street from the Logan Pass visitors center. Look for the continental divide sign as well!
Highline Trail
This was a bit scary! You are walking right on the edge overlooking the Going To The Sun Road. They even have a rope on the side for you to hold on to. As long as you are careful it is a gorgeous hike!
We hiked about a mile out and a mile back – or else you can keep going.
---
Planning a trip to Glacier? We put together a series of digital guides that take the guesswork out of planning. Stop-by-stop itineraries for making the most of 1, 3 or 7 days in Glacier National Park including where to stay, where to eat, what hikes to take and the best driving routes.
We've even included links for you to book your stays and buy your park passes. Everything you need in one convenient digital guide. Just download and go!
---
Map Of Glacier Entrances:
The entrances in gray: North Fork and West Glacier are the ones that you need a vehicle reservation ticket for starting May 26th the rest (in red) you need one starting July 1st.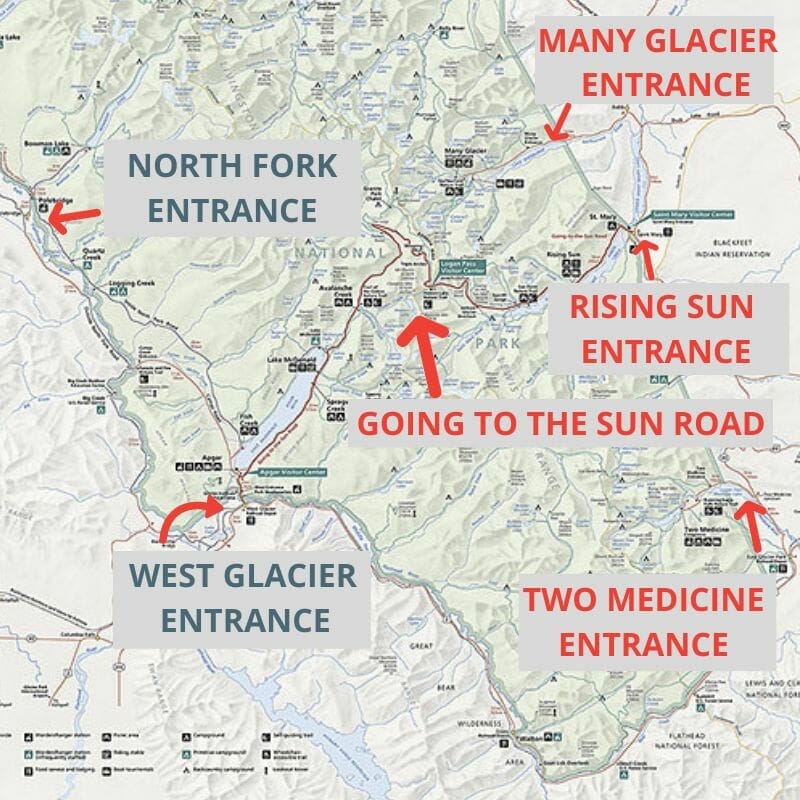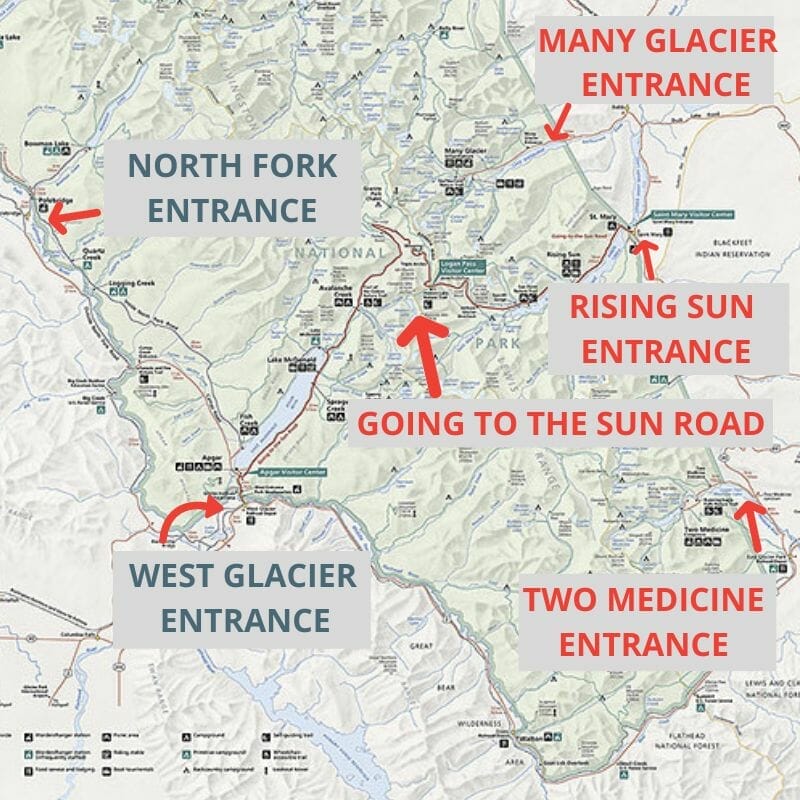 Visit Canada and the Waterton Lakes National Park
**Be sure to check with the Canadian border to see if US Citizens are allowed in.**
Seriously do it. There are so many Glacier National Park things to do and it is an amazing park and you could spend months exploring it, but if you don't think you will be back up this way again then take the trip up to Canada. It took us about 2 1/2 hours to get there so it is a whole day event.
We crossed the border – I believe you need passports or the passport card so double check that, stopped for a picture by the Alberta sign and then headed straight to the National Park.
We did a couple of hikes in Waterton Lakes, but our favorite by far was Red Rock Canyon. There is a trail that walks along the rim of the canyon, but we climbed down into the canyon for an epic creek walk!
Our feet were numb the entire time, but it was a blast climbing and navigating the river. It was pretty low when we were there, but a few spots got up over our knees.
You'll want some good toe protection as there are big rocks under the water that you can't really see. We recommend Keens.
You can also stop at the Waterton Glacier International Peace Park. Learn more about what that is here.
Funny story . . . at the beginning of the hike there are a ton of people hanging out and playing by the water. The further you go down the creek the less people there are.
The whole way I did great keeping up with the kids and helping them. We then turned around to head back.
We were right back by the beginning – where all the people were – and Cannon did this awesome 2 footed slide down a hard climbing spot. It was only about a foot long slide. I asked him to come show me again how he did it. He made it look so easy.
I figured I could do it . . . Nope I totally wiped out like feet in the air, butt in the water – right in front of everyone! Good times, good times!
It was so cool to be in the creek in a canyon hiking and climbing all over the place. Still one of our favorite hikes to date.
We also recommend hiking up Bears Hump – a 1¾ mile hike with an elevation gain of 738 ft. It isn't easy but it is well worth the view!
We then stopped to eat at the Hot Dog place: Weiner's of Waterton. Don't laugh they had amazing hot dogs, veggie dogs and fries! We totally could have stayed in Waterton for a week to explore more.
The town was so cute and the vibe was very relaxed. We also saw a bear on our way into the park. That was the only one we saw but they said they are all over the place . .
Make a note that the border crossing closes at a certain time. If you miss it you will be sleeping in your car that night. Double check the time when you cross and tell yourself it is an hour earlier so you don't miss it!
We would love to go back again in the future to spend more time here and to better explore the park.
Extra Time
If you have more time you could also explore the Two Medicine area and visit Medicine Lake and the St. Mary's area. The towns outside the west entrance are the most developed with Walmarts, Costco, full grocery stores, etc. But the St. Mary's entrance offers more of the quaint little stores and hotels.
Red Tour Bus
If you aren't someone who wants to drive yourself or prefers to go on tours you can also do the Red Tour Bus. I believe it is a 3 hour drive and takes you all over the park making a few stops to get out to take in the view or take pictures.
Where to See Wildlife
There is a lot of wildlife in Glacier. Be sure to always have Bear Spray with you when hiking and be aware. The bears are there as are other animals that can be dangerous too. Always stay at least 100 yards away and check in with the Rangers before going on longer hikes.
One hike was closed the whole time we were there since bears had taken residency right around the trails. The wildlife is for real – but as long as you are educated, have bear spray and are smart you should be fine.
Bears
Both of the times we saw bears was when we drove by the Rising Sun campground area in the field on the side of the road around 7pm – or later in the day. Once it was a Mama bear with cubs!
There is obviously no guarantee you are going to see any. But this seemed like one of the places where your chances were higher. It was always right around dusk when we saw them. Seeing a grizzly bear or any bear from your car is an amazing experience!
When you are in Glacier be sure to always have bear spray with you and keep distance of over 100 yards away.
Bighorn Sheep
By Logans Pass. One night we were there until almost dark and a group of big horn sheep came out to sweep the almost empty parking lot of scraps to eat! We also saw them multiple times when we were driving to Logan Pass and on one of the trails right across the street from Logan Pass.
Mountain Goats
We saw mountain goats both times we were on the Hidden Lake trail from Logan Pass. We also saw them when we were driving up by Logan Pass on the Going To The Sun Road.
Moose
We saw a moose in the Fishercap Lake which is about a 1/3 mile hike from the Swiftcurrent Pass trailhead which is at the far end of the parking lot by the campground and restaurant area in Many Glacier. This is known as a high moose traffic area but again totally hit or miss.
There just happened to be one the day we went there. Some people do recommend early morning or evening but I am pretty sure this was the middle of the day . . . you just never know!
Seeing wildlife is an amazing thing. But remember they are wild animals so you don't want to get to close and you do want to give them space. Also always have your bear spray with you. This is a serious thing – have your bear spray.
When we were there a worker had gotten mauled by a bear that she surprised while out picking huckleberries. It was at dusk and she was in a quiet area. She was OK but it just shows it happens. One of the trails was also closed the whole time we were there due to bear activity.
All that being said don't let it stop you from going out exploring just be prepared, bring your bear spray and know how to use it, hike in groups, talk or sing while you are hiking to notify bears you are there, don't let your kids run ahead around blind curves, if you are in an area that is quiet yell out "Hey Bear" as you are hiking.
We never came across a bear while we were hiking – thank goodness! We did come across a deer and it was amazing how all of a sudden it was there. I imagine coming up on a bear would be the same way. Yes I was nervous about it – but with a larger group, yelling kids and bear spray I felt we would be OK.
If you want help planning your trip check out our post: The Best Glacier National Park Itinerary From 1 to 7 Days.
Where to eat
If you are looking for a family pizza night head to Jammer Joe's which is by the Lake McDonald lodge. The price was right for the pizzas plus you can get breadsticks for a few extra dollars. As a family of 6 we ate for a very reasonable amount. Works for us!
They also had an Italian menu if you were looking for something more. Be sure to check hours as they closed at 8:30pm I believe when we were there. Which is crazy since it wasn't even dark out yet!
We also ate at the Nell's at Swiftcurrent Restaurant one night which is in Many Glacier. We were surprised by all the organic and vegetarian options that they had!
Beer in the park? Oddly enough most of the gift shops in the park that sold snacks also had a great selection of local brew and for a great price.
Where to stay
Vacation Rentals
If you're looking to stay at a house or cabin near Glacier, here are a few really cool VRBO options.
This West Glacier adobe house would be a perfect spot for easy access to the park. It's also just a short drive from the towns of Columbia Falls and Whitefish which have plenty of stores, restaurants and night life.
If you're looking to have the trip of a lifetime, check out this tree house in the woods! It is the coolest place I think I've ever seen! It's between Whitefish and Columbia Falls so it's a great location as well. You have to see it to believe it.
Check out these awesome Montana Airbnb and VRBO vacation rental options too!
Hotels/Lodges
Just like our advice for camping when heading to a National Park, the best experience is always staying in the park. Luckily Glacier has several amazing lodges right in the park so you get a fantastically rustic place to stay while being in the park so you can start your exploring right away. Check out this post on Glacier National Park Lodging.
Lake McDonald Village Lodge
In our opinion, Lake McDonald Village Lodge is the perfect place to stay in Glacier National Park. It's right in the mix of the park so you can easily go out the West entrance if you need to get back to civilization. While being close enough to all the hiking, waterfalls and The Going To The Sun Road to really experience a lot without a lot of travel time.
Many Glacier Hotel
If you're going to be in the Many Glacier area of the park, the Many Glacier Hotel is the place to stay. Seeing this hotel up on the hill is like a scene from a movie.
Glacier Park Lodge
Glacier Park Lodge is the ultimate in woodsy luxury. The humungous lobby area was something out of a movie. It was the perfect combination of high end luxury and rustic. Even if you don't stay here, definitely stop for a drink or dinner.
Cabins
If you are looking for a unique option you could check out one of the cabins at the campgrounds near the West Glacier entrance.
Columbia Falls RV Park – has cabins and is about 19 minutes (17 miles) from the West Glacier entrance. Take note it may be shared bathrooms so be sure to check with the resort to know what you are getting.
Glacier Campground – has cabins and is 2 miles from the West Glacier entrance – take note you do need to bring your own linens for your bed, shower, etc. Take note it may be shared bathrooms so be sure to check with the resort to know what you are getting.
Campgrounds
If you have an RV or if you are thinking about renting one for a trip to Glacier, you'll have plenty of options for camping. While there are several spots around the National Park, here are a couple ideas. Here is a great post on RVing to Glacier National Park.
Only 2 miles from the West Glacier entrance is Glacier Campground. If your main focus is to be in the park while you are here this is the park for you! Plus there is a playground and laundry on site. They also have cabins if you don't have an RV (but you do need to bring all of our own linens).
Located in Columbia Falls is the Columbia Falls RV Park. Located about 19 minutes (17 miles) from the West Glacier entrance. However you are in Columbia Falls which means restaurants and grocery stores are close by. Cabins available as well – with linens.
Another option close to Glacier (and where we stayed) is Timber Wolf Resort. More on that below!
If you are OK with a longer drive into Glacier check out this option:
If you don't mind driving into Glacier, Edgewater RV Resort is located about an hour from the west entrance in Lakeside, Montana. Situated on Flathead Lake, this campground is also in a great location to visit Flathead National Forest.
Timber Wolf Resort
We spent 5 weeks work camping at Timber Wolf Resort. It was a great place to stay! It is 9 miles from the west sides entrance – which is the main entrance to Glacier National Park. 16 miles to Whitefish.
Has a small, but reasonably priced grocery store 1 minute away. And about 30 minutes to Costco and other big grocery stores in Kalispell.
When we were there we stayed in an RV and the sites were a little tough to get into since they are on a hill. But once in the site, they were very level. They weren't sites where you would play a lot in your front yard since they are smaller. But there is a playground for the kids plus a community Gazebo that anyone can use.
If you want to experience a cabin in the woods, it would also be a great place to stay. They have multiple cabins that can sleep 4 to 5 (or more if you have young kids). They are just 1 bedroom cabins. Then there is a community bathroom.
Each room has a small fridge but it is definitely more of a camping experience – except you have a roof over your head and a bed to sleep on.
They do have 2 bed and breakfast rooms in a building with a community bathroom. Each room just has 1 bed in it. If you are looking to experience the cabin in the woods it would be a great choice! Plus the owners are really nice and help make your stay even better.
KOAs
We've all either stayed at a KOA or at least heard of them, so it may be a name you trust. There are 2 options just outside of both entrances at Glacier. The West Glacier KOA and the St Mary Glacier Park KOA are both solid options.
Camping In Glacier National Park
Camping in the park is always ideal as it cuts on commute time to the adventures in the park. The caveat to that is Glacier campgrounds are pretty limited when it comes to accommodating big rigs or having hookups.
Check out their website for more information on camping in the park. Learn about the campgrounds in the trail of the cedars / Avalanche creek area and other parts of the park.
We can't stress enough how much we LOVED Glacier National Park. It really is as beautiful as the pictures make it look – even more so in person! The national historic park was established in 1910 and is definitely at the top of our list of places we have been in North America and we highly recommend it to everyone.
It will give you and your family a whole different appreciate for the beauty of this earth that we live on plus you can see active glaciers.
Map Of Glacier
Here is a map of the places I recommended above when visiting Glacier National Park (also shows the east and west entrances). And here is a link where you can download a Glacier National Park map: http://npmaps.com/wp-content/uploads/glacier-map.pdf
To learn more about Glacier visit our Glacier Page where we keep all of our posts about our amazing time there: Glacier National Park
Important Information To Know For Your Trip To Glacier
Always be sure to check the Glacier National Park website for any closures and to confirm the Going To The Sun Road is open – we highly recommend going to Glacier when the road is open and it normally doesn't open until later in the summer (usually in late June sometimes as late as July. So going later in July or in August/September are great months to go).
***PLEASE NOTE – Glacier National Park requires a vehicle reservation ticket to access the park starting May 26th for the west side and July 1st for the east side. From 6am to 3pm.
Going To The Sun Road (westside entrance): May 26th – September 10th
North Fork (Bowman Lake): May 26th – September 10th
Many Glacier: July 1st – September 10th
Two Medicine: July 1st – September 10th
Going-To-The-Sun Road from the Rising Sun (east side): July 1st – September 10th
To get into these parts of the park during these times you will need a vehicle reservation AND a National Park Pass or to pay the park entrance fee.
If you have lodging, camping, transportation or a commercial activity reservation during these dates you will still be able to enter the park. But always check with these reservations/tickets to confirm.
Vehicle reservation tickets are rolled out 4 months in advance and become available at 8am MDT. Always check the site for exact dates and times.
There will also be 24 hour advance reservations available on a rolling basis starting May 25th at 8am MDT.
Make your vehicle reservations here.
Tips If You Don't Have A Vehicle Reservation
As of now the reservations are required between 6am – 4pm from late may to early September. In the summer months it is light out until 9/10pm. Always check the official Glacier National Park website to confirm this.
1st Option: Go into the park after 3pm
This means if you go after 3 pm you will most likely have less crowds and would have time to drive to Logan Pass and back – just watch your time. Or drive the full Going To The Sun Road – but watch your time or you may end up driving back in the dark. We have done it so it is possible.
However, driving back at night is a bit scary and you have to be careful for wildlife. We saw a mama bear and her 2 cubs on the road at night. The road is pitch black at night – unless the moon is shining. You can also drive back on highway 2 – which goes around the outside of the park. But be aware this is very dark as well so you want to drive carefully and be on the lookout for wildlife and cows!
Here is a map of the route around the outside of the park. It does take you by East Glacier Village where you could stop at the beautiful Glacier Park lodge.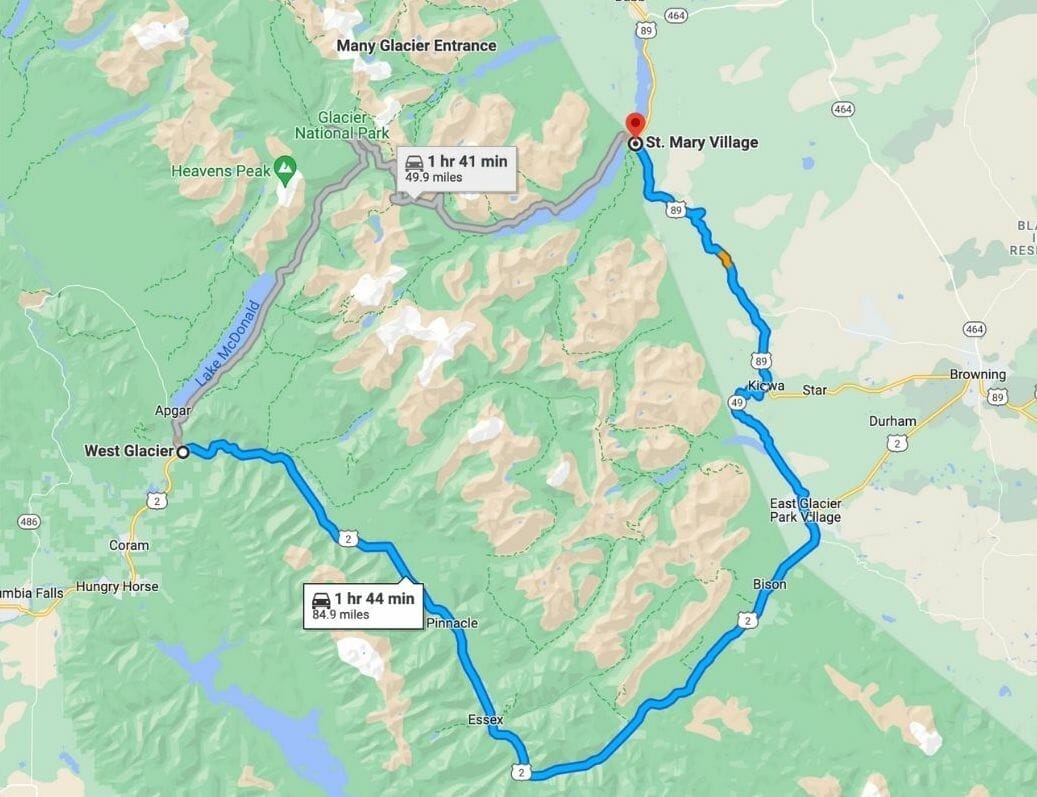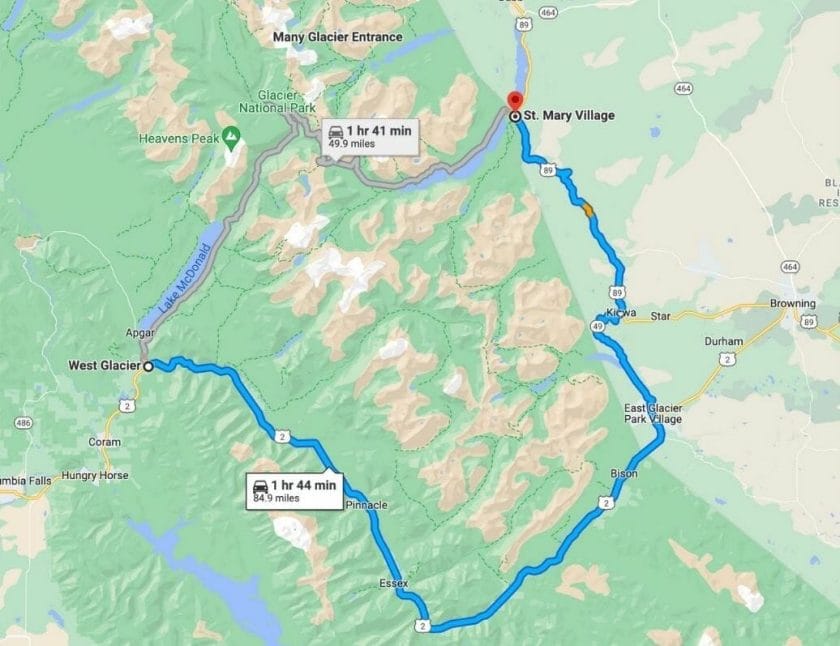 2nd Option: Go into the park before 6am – Not possible for 2023 with the construction going on.
Unfortunately this isn't an option for 2023 with the construction going on. The other option is to go before 6am. Yeah we aren't morning people either so this is a tough one for us!
3rd Option: Book a night or 2 by the St Mary's entrance
Another option is to book a night staying by the St Mary's entrance to the park. This way you could drive on the Going To The Sun Road after 3pm but instead of having to drive back you can just stay at somewhere by the East entrance.
This also gives you a chance to explore the Many Glacier area – which is a big drive from the west entrance. But a section of the park we highly recommend you explore! It has one of our favorite hikes – Grinnell Glacier.
4th Option: Book a Red Bus tour
We have always recommended booking a Red Bus tour if you felt like you didn't want to drive the Going To The Sun Road on your own. Now we also recommend it as a way to see the Going To The Sun Road if you can't get a vehicle reservation ticket.
5th Option: Book your trip in mid to late September – after the vehicle reservations have been lifted.
September is a great month to visit Glacier! You take a chance that it may snow – but usually if it does in September it melts the next day. September can mean less crowds in the park versus summer too.
---
Planning a trip to Glacier? We put together a series of digital guides that take the guesswork out of planning. Stop-by-stop itineraries for making the most of 1, 3 or 7 days in Glacier National Park including where to stay, where to eat, what hikes to take and the best driving routes.
We've even included links for you to book your stays and buy your park passes. Everything you need in one convenient digital guide. Just download and go!
---
Let us know of any other things to do in Glacier National Park in the comments below! You could come to Glacier for one day but we highly recommend you come for 3 – 7 days if possible! With all of these amazing things to do, Glacier National Park will keep you busy!
Want to explore more of Montana? Check out this great post on Things To Do In Montana.
If you are planning to include Yellowstone National Park in your Glacier trip – doing Yellowstone, Grand Tetons and Glacier National Park is a great road trip! Be sure to check out our Yellowstone Guides.
Other Things To Do In Montana:
12 Amazing Things To Do In Gardiner, Montana [+ Where To Stay]
Best Things to do in Livingston, MT and Paradise Valley
22 Amazing Things To Do In Red Lodge, Montana
9 Awesome Things To Do In West Yellowstone
Top 5 Amazing Montana National Parks To Visit
26 Unique VRBO & AIRBNB MONTANA Stays [17 With Hot Tubs]
Here are some more posts you may enjoy:
Yellowstone Vacation: 12 Day Itinerary for Visiting In & Around The Park
6 Epic National Park Road Trip Ideas [Maps Included]
17 Amazing Things To Do In North Cascades National Park
Pin it for later:
DISCLOSURE: This post may contain affiliate links, meaning I get a commission if you decide to make a purchase through my links, at no cost to you. Please read my disclosure for more info.