North Cascades National Park is one of the lesser visited National Parks in the US. I don't know why?! There are over 300 Glaciers here! It was gorgeous and is definitely a National Park you should have you on your list. There are so many amazing things To Do In North Cascades National Park.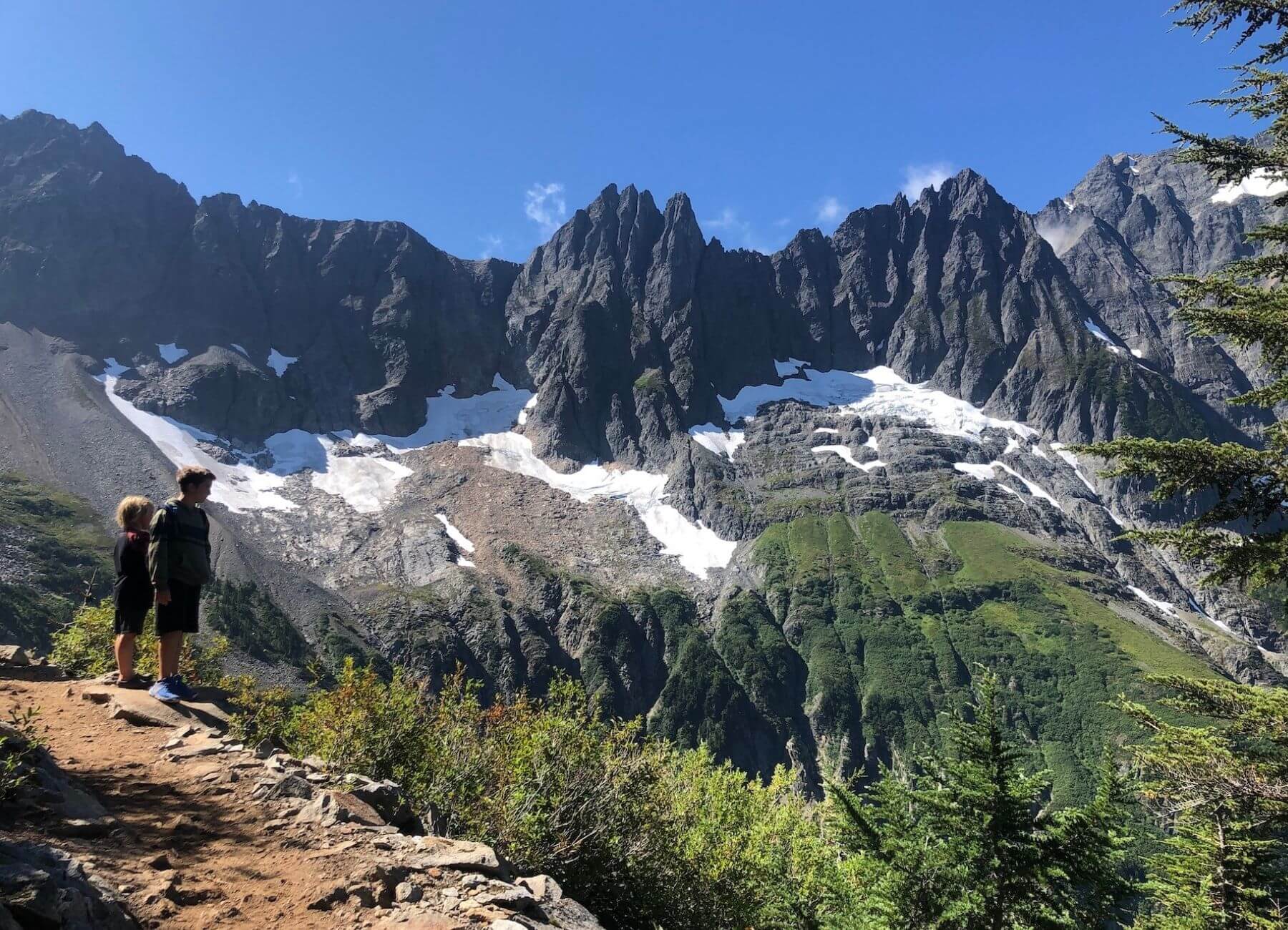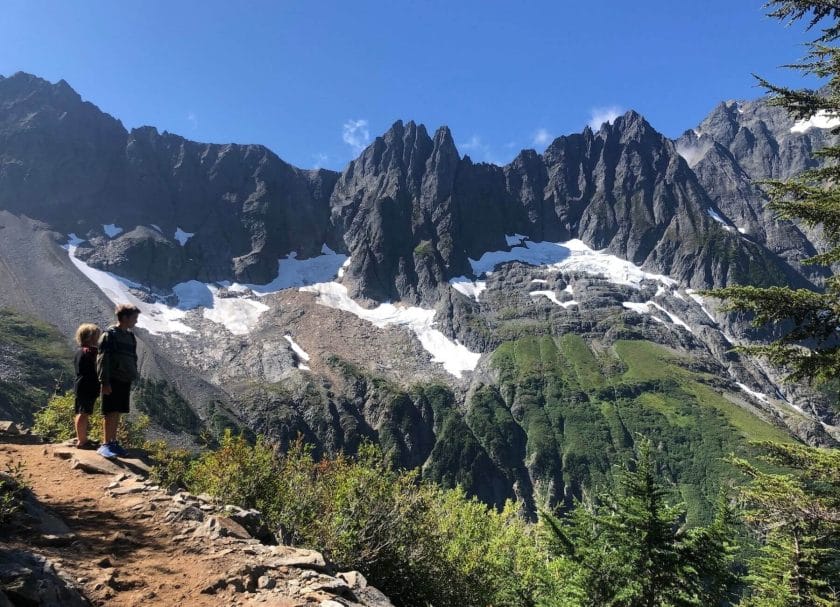 North Cascades is located in northern Washington state. You could do a day trip from Seattle but we recommend planning a whole weekend or longer in the park.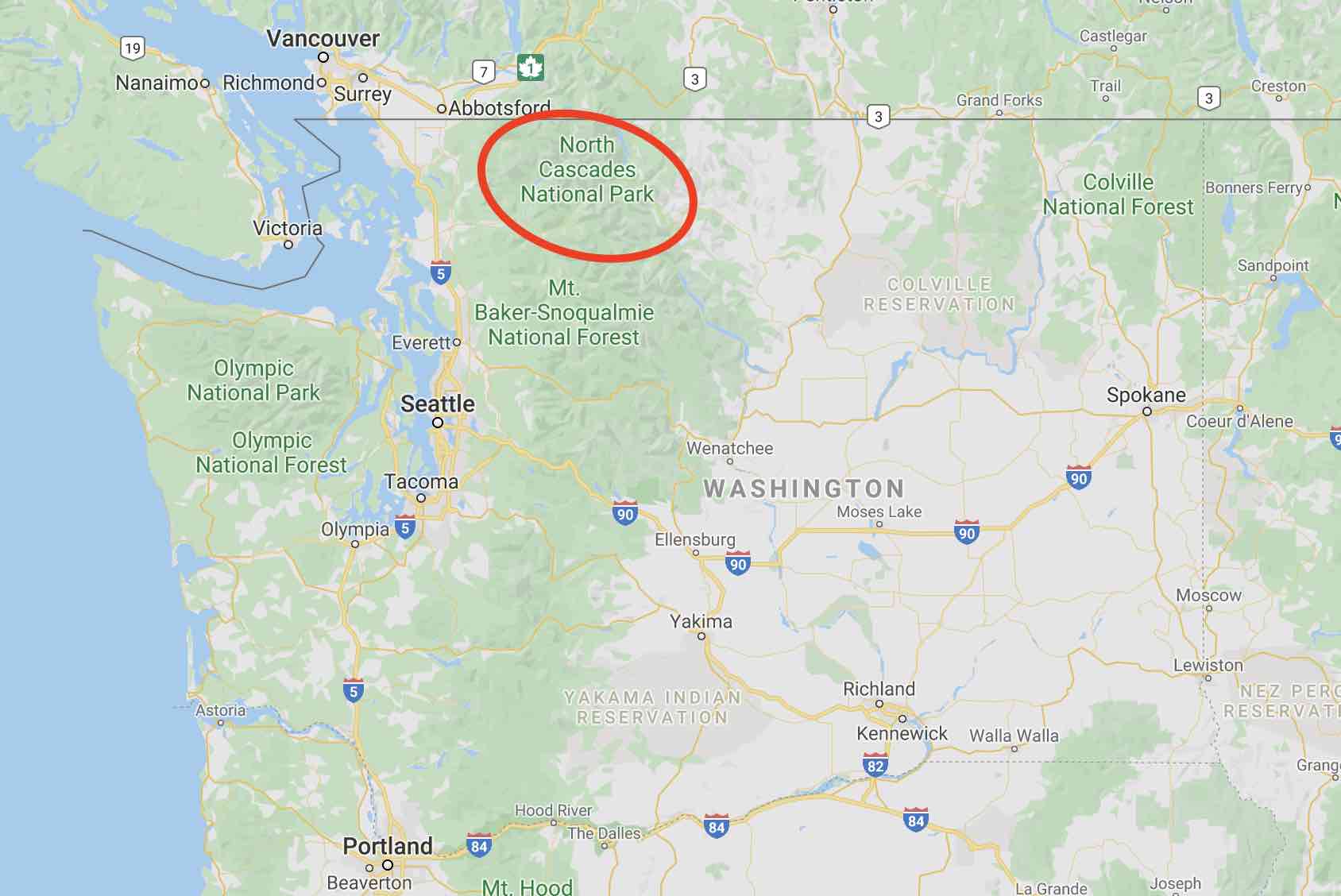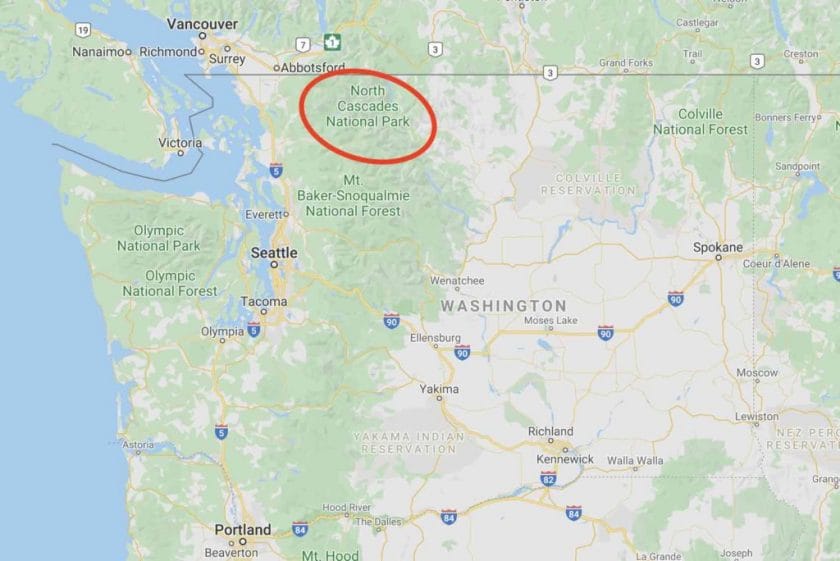 We only stayed 3 nights in the park and I wish we would have stayed longer. With 3 busy days we were able to see and do a lot but there was still so much more we wanted to explore! Here is a map of the places we went to while in North Cascades: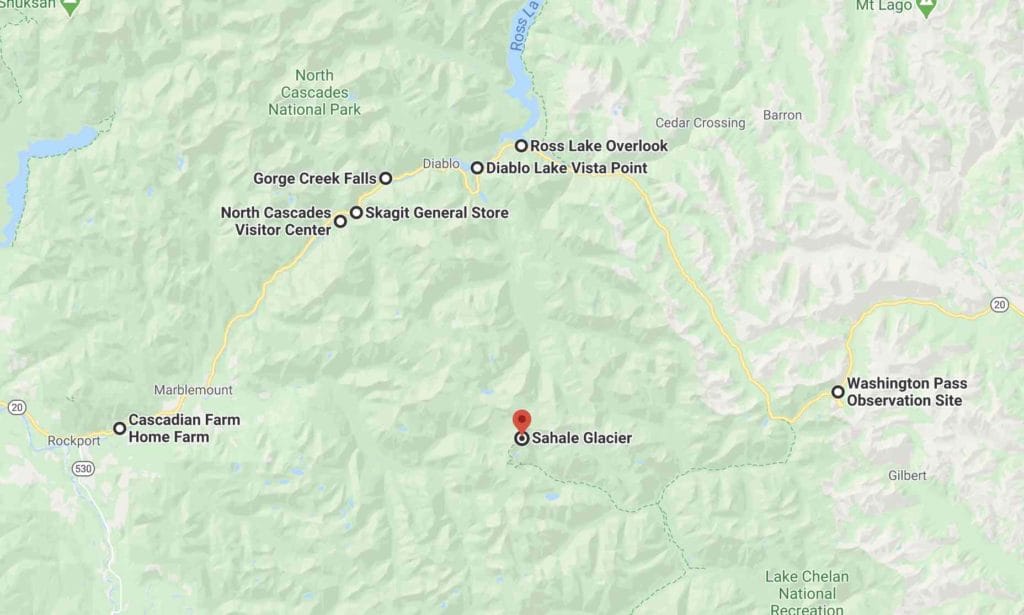 Cascadian Farm Farm Stand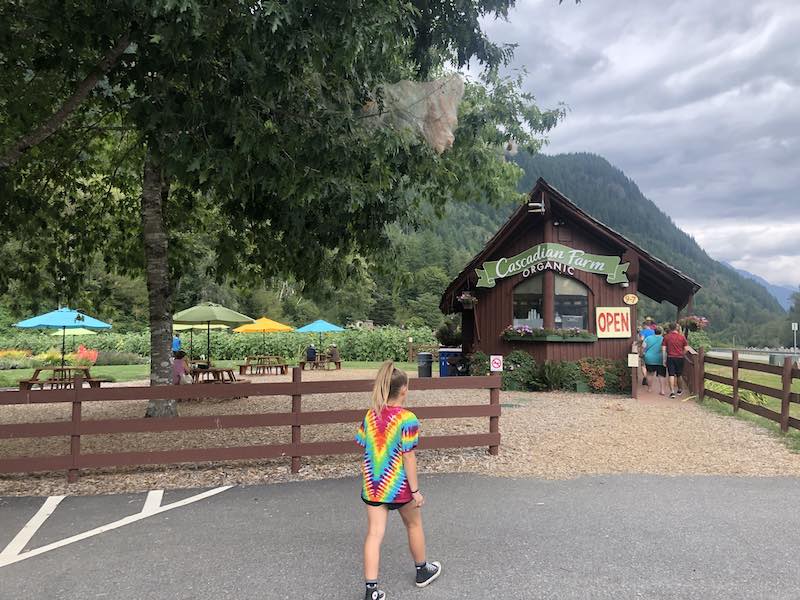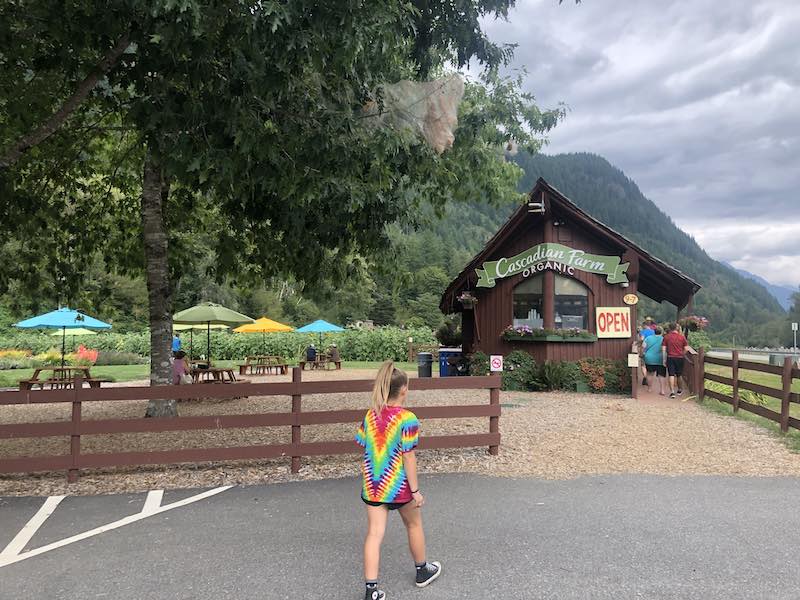 On our way into our campground in North Cascades National Park we stopped at the roadside Cascadian Farm farm stand. We have eaten their granola bars for years so thought it would be fun to stop in to check it out and get some ice cream!
The ice cream was delicious and they had the cutest places surrounded with flowers that you could sit at!
We did stop here with our RV and there was a few nice RV parking spots. If the spots were taken parking may be difficult with a rig but if they are open it was super easy.
North Cascades Visitor Center
Like we have mentioned before we always like to start by stopping at the National Park visitor centers. This visitor center had a nice area where you could walk around to learn more about the park. Which is always a nice and easy way for us and the kids to learn more about the area.
Plus we like to talk to the rangers at the desk to find out what North Cascades hikes they recommend. They gave us a map and a couple lists of different hikes in North Cascades we could do with our group.
You can also pick up the Junior Ranger books if your kids want to get badges.
Gorge Creek Falls Overlook Trail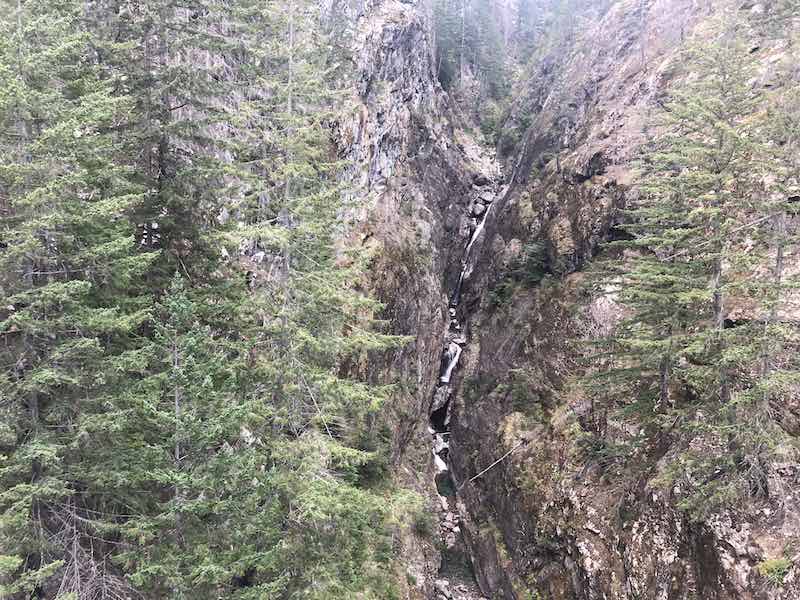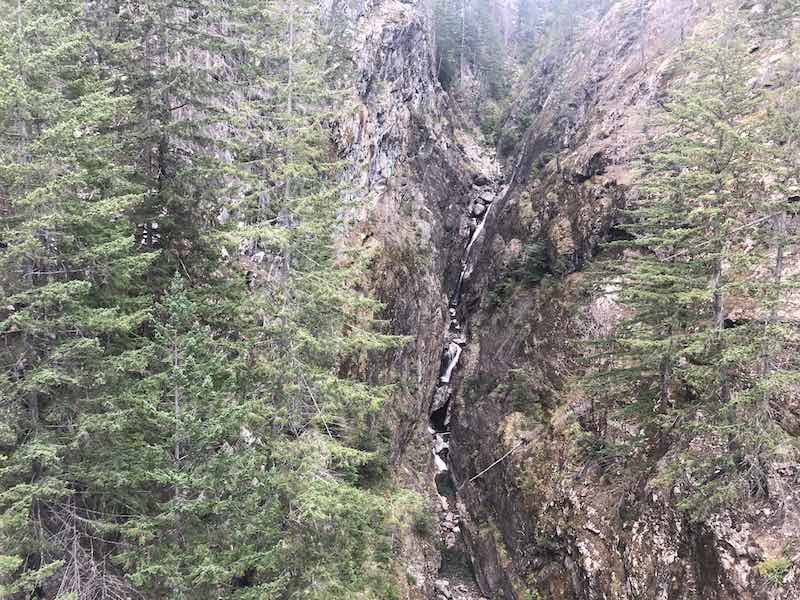 A short loop trail that took us to an overlook where we could look at the Gorge Creek Falls. The trail was located right off of the road so it made it easy for a quick stop.
Length: .5 miles
Gain: 39 foot elevation gain
Video Of North Cascades
Check out our video on our time in North Cascades National Park:
Diablo Lake Overlook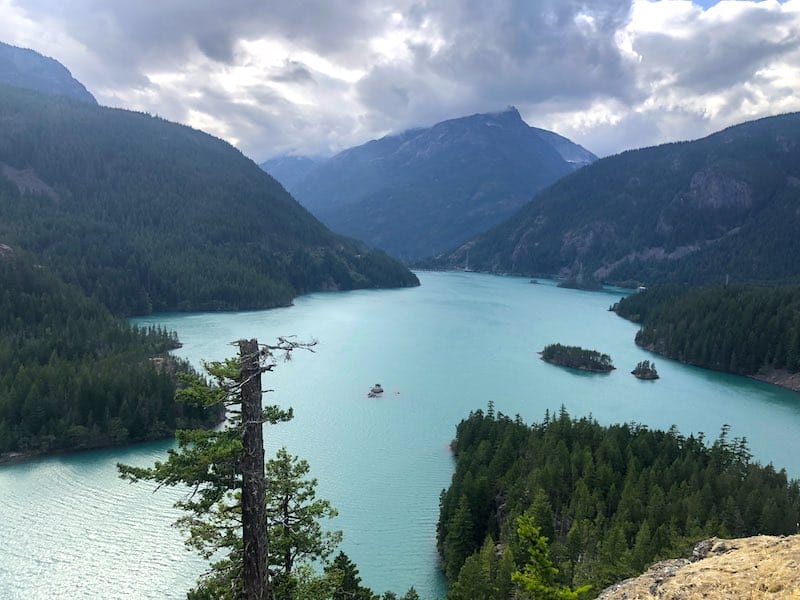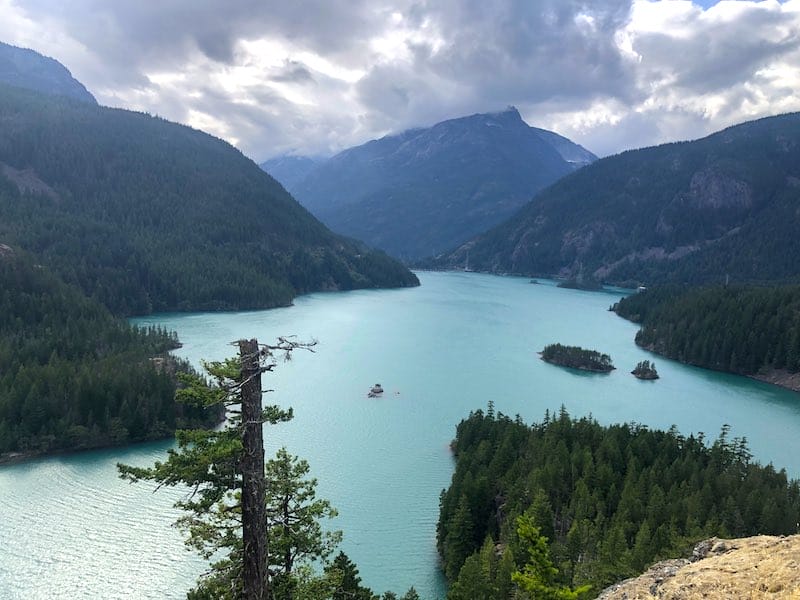 A beautiful overlook where you can take in the bright blue lake! It was super windy when we were there but it was worth getting out of the car to walk up and look out over this gorgeous lake.
Ross Lake Overlook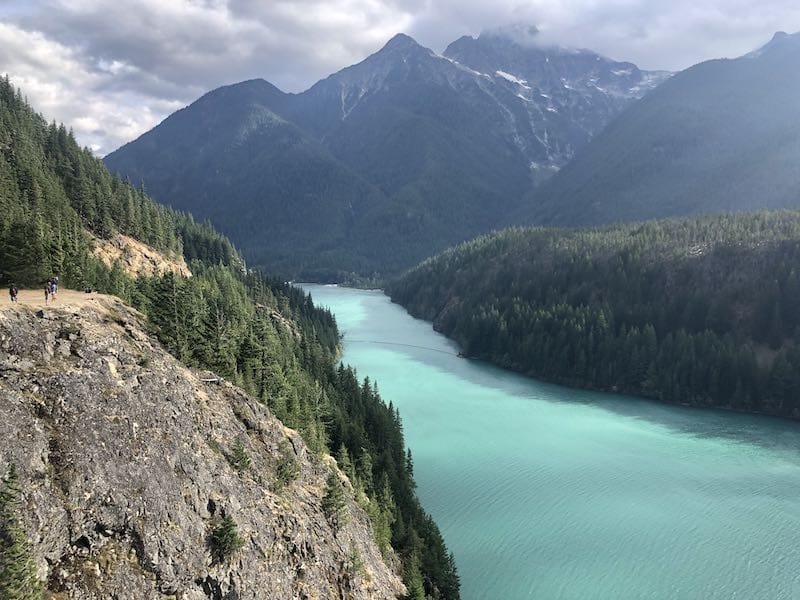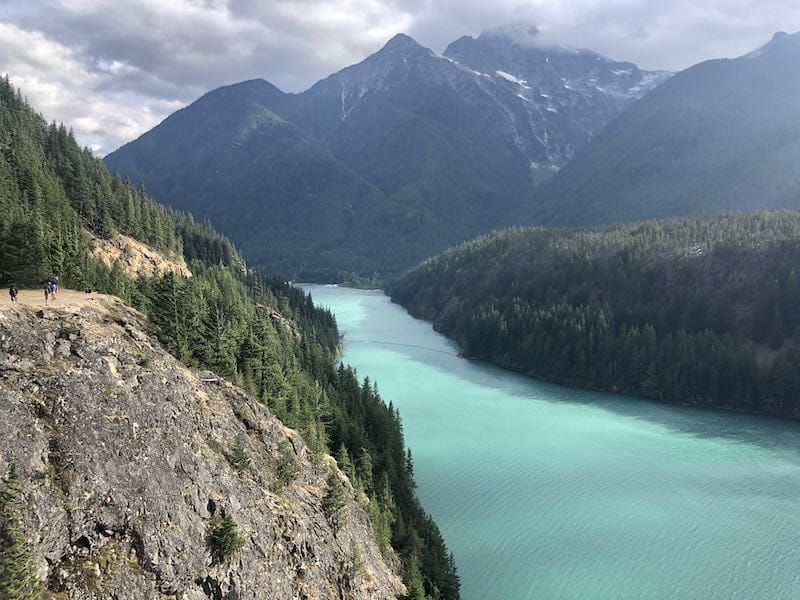 The views of these bright turquoise lakes never get old for me! It is awesome that you can just pull off the main road and walk up to the overlook. The water seems like it was dyed it is that bright!
Blue Lake Trail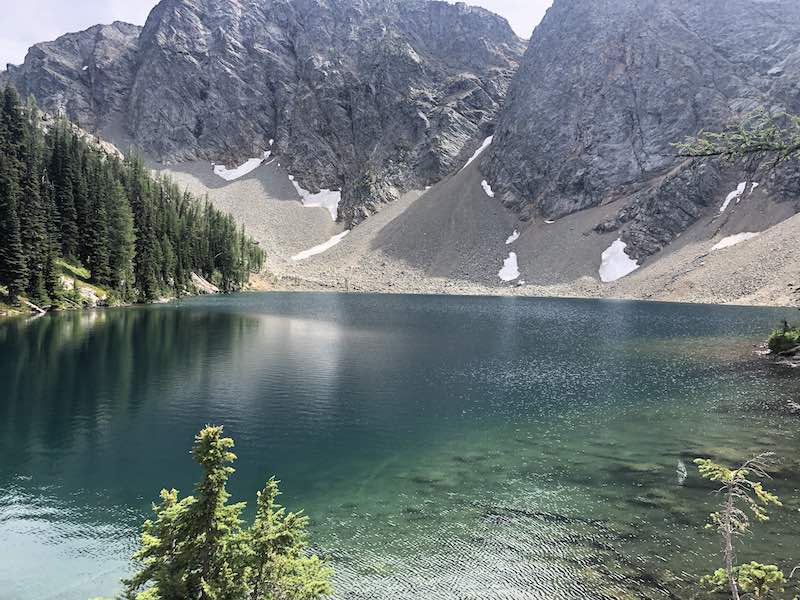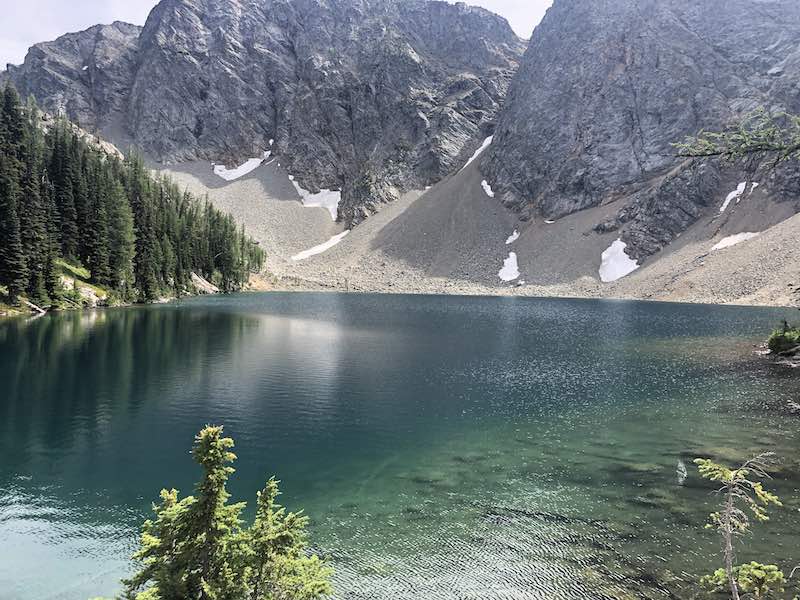 We had asked the rangers for a hike where the kids could go in the water if they wanted to. This was it! The Blue Lake trail took us through subalpine forests and meadows as we made our way to the correctly named Blue Lake.
Everyone started by just sticking their feet in but eventually a couple of the kids got down to their shorts and jumped into the freezing water!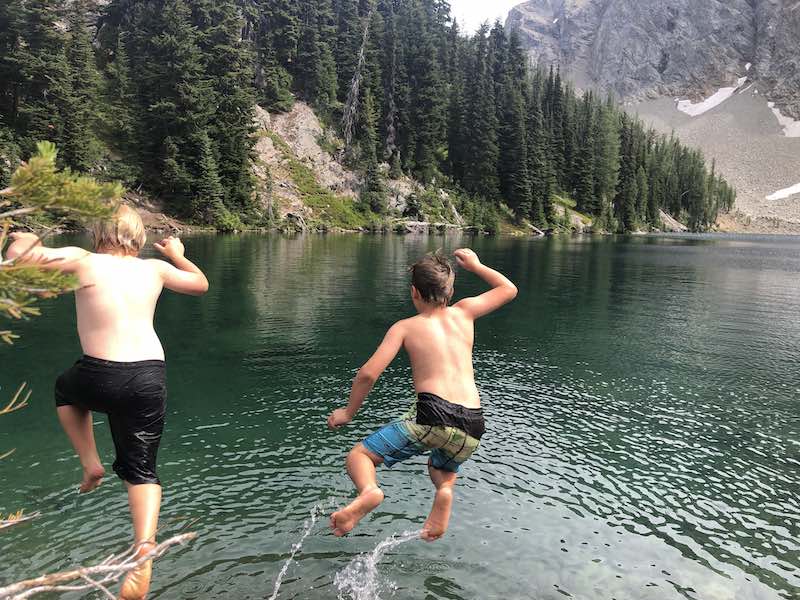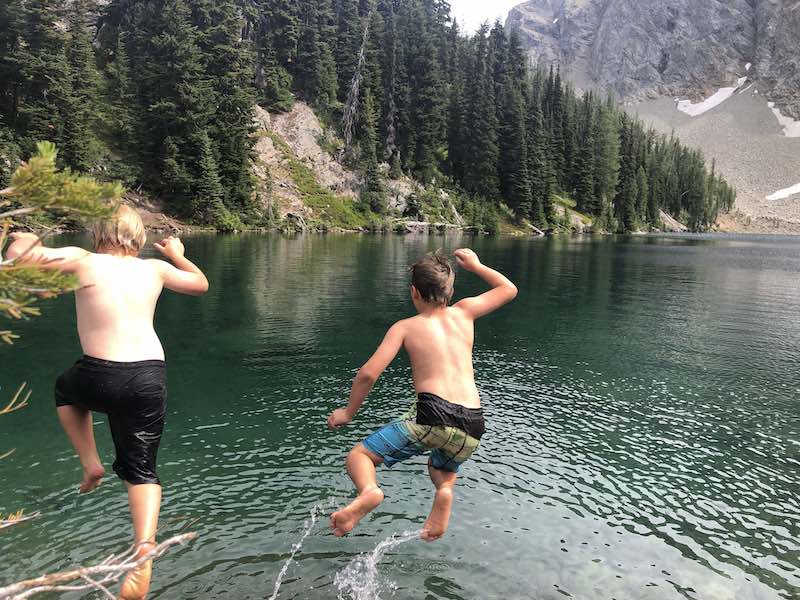 The view was amazing. The bright blue lake surrounded by forest and mountains with snow still on them. I could have sat there for hours just taking in the beauty of the area!
Length: 4.4 miles roundtrip
Gain: 1050 foot elevation gain
North Cascades Highway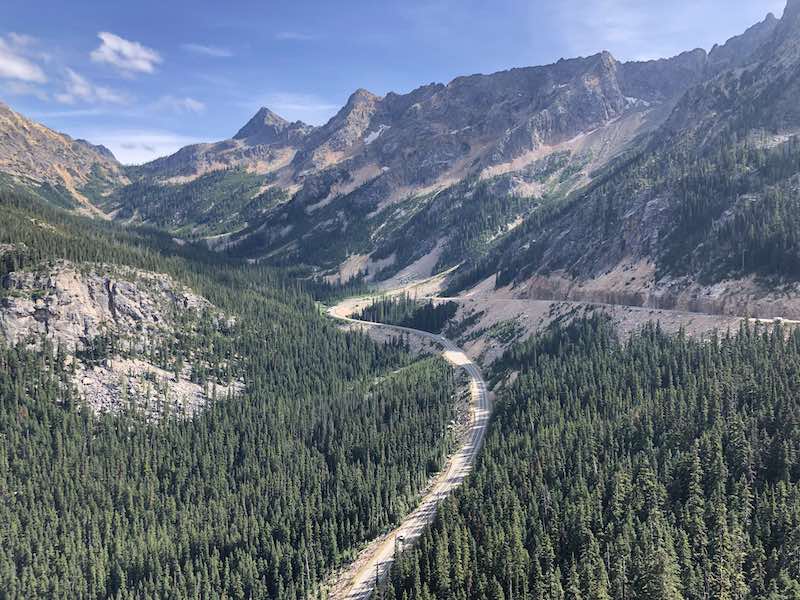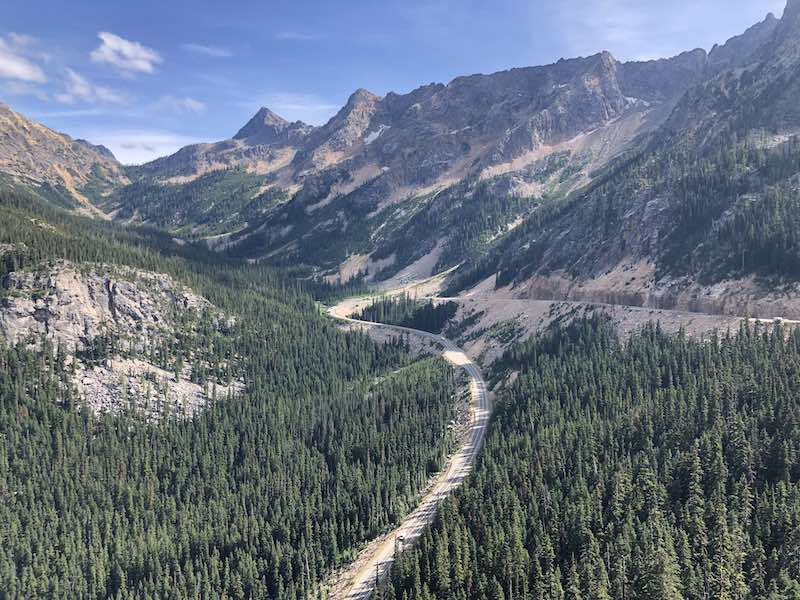 A gorgeous drive (also called route 20 or highway 20) through jagged peaks, waterfalls, valleys and at times by the Skagit river. It is definitely worth taking the time to drive through and take in the beauty all around you. It also leads to the Washington Pass Overlook – which is a must stop spot.
Washington Pass Overlook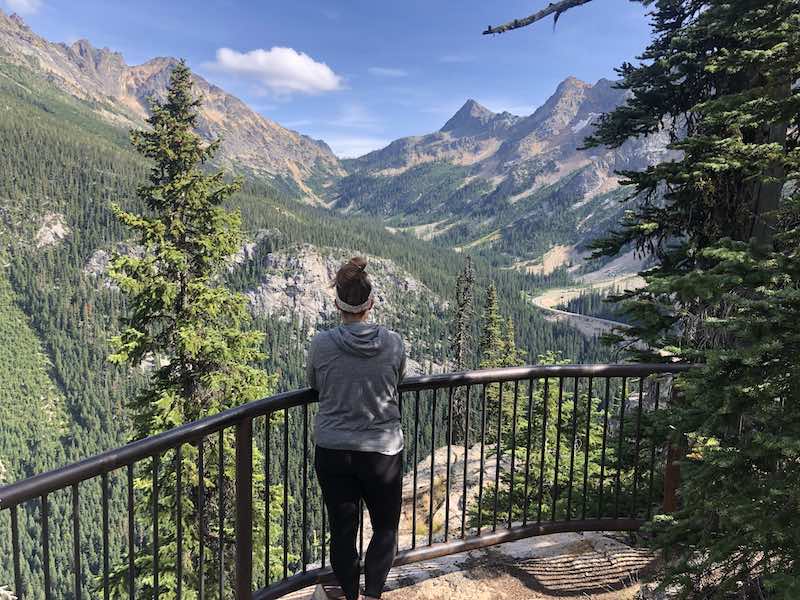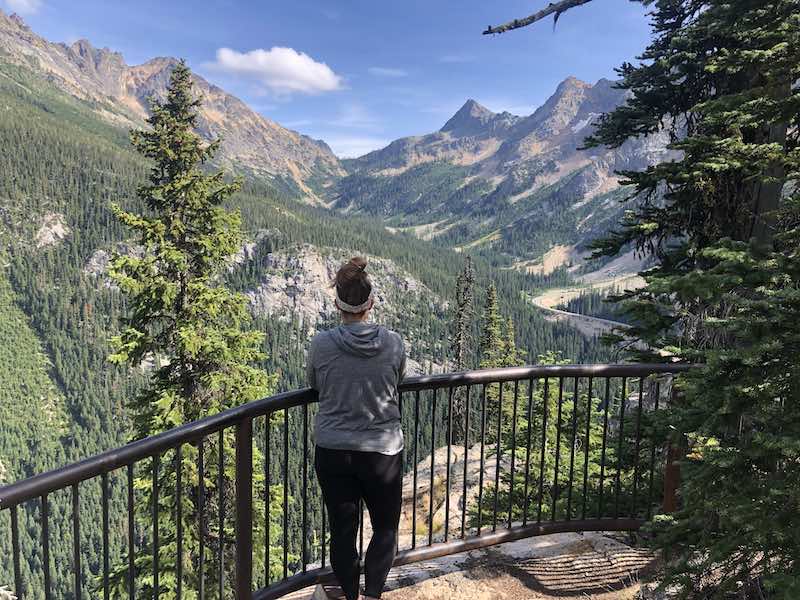 Make a stop here to get out and walk up to the Overlook to take in these unreal views of the towering granite peaks surrounding you. It is a short .25 mile hike to get to the Overlook and back.
Skagit General Store
A general store located close to the campground that was perfect for stopping in to pick up supplies before our hikes!
Skagit Information Center and Train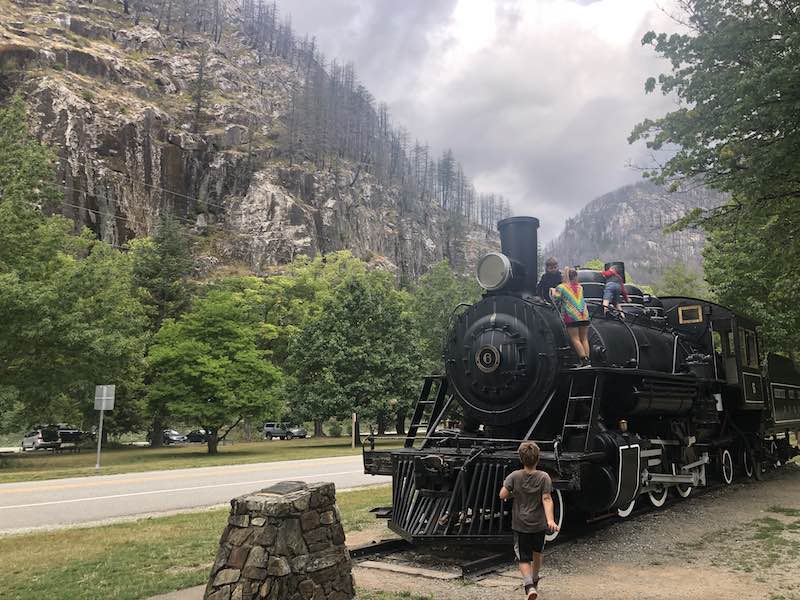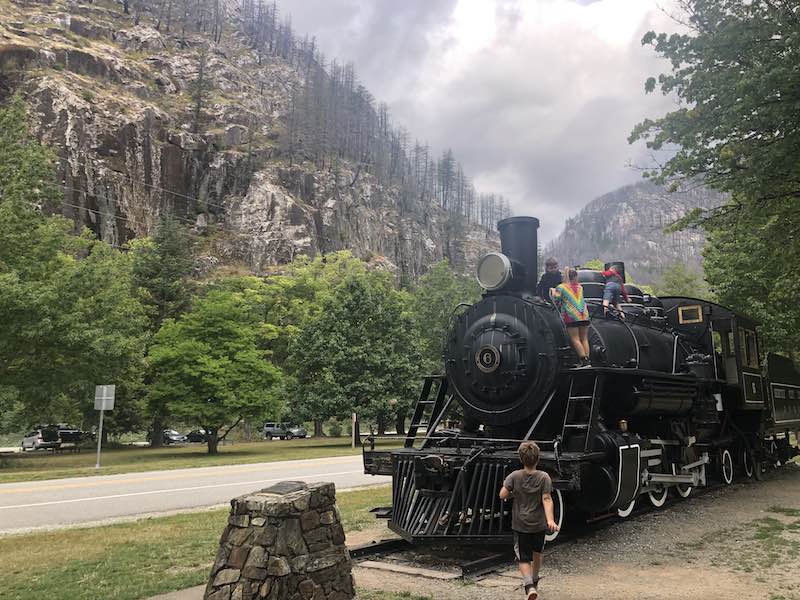 Located right by the General Store was a fun outdoor train that the kids could climb and play on! A perfect stop to let them get out to run and play for a minute.
Sahale Glacier Trail (Cascade Pass)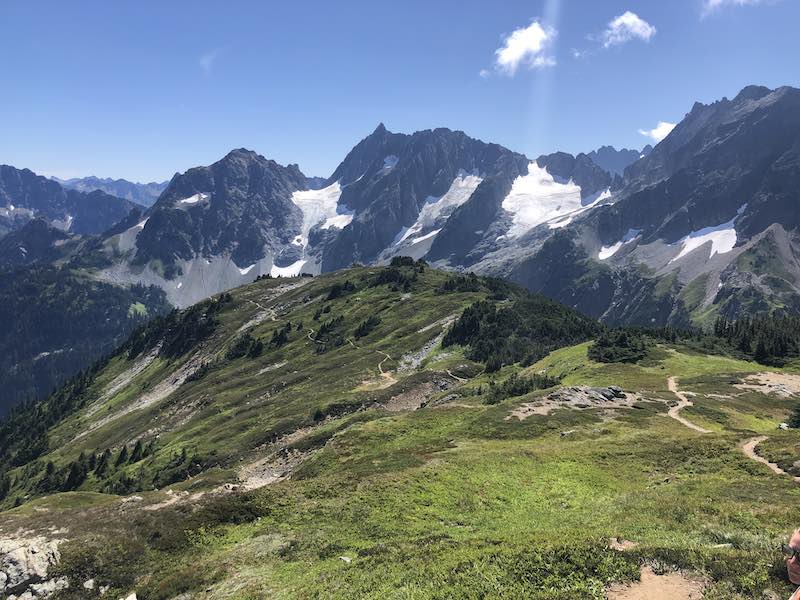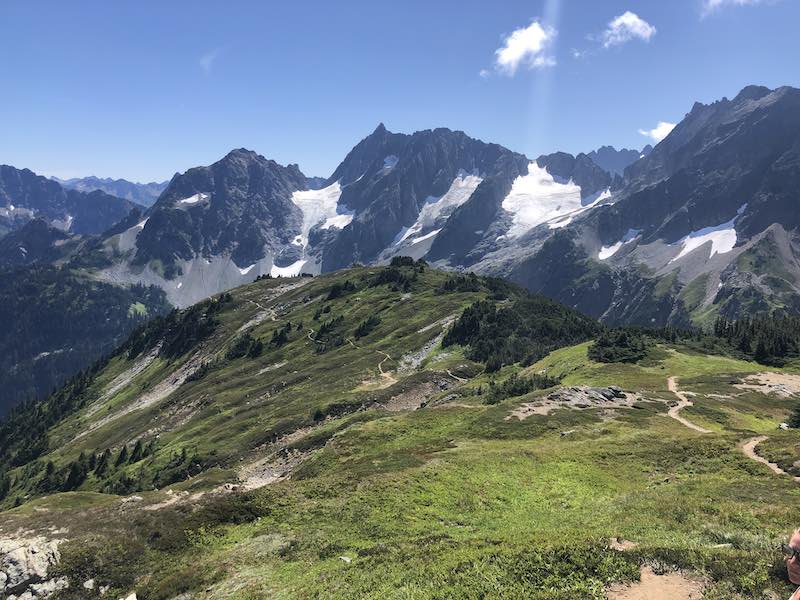 THIS was the highlight of our time in North Cascades National Park. We started by doing the Cascade Pass trail but then once we made it there we met people that said we should continue on to the Glacier.
That would make our expected 6.5 mile roundtrip hike with a 1781 elevation into a 11 plus mile hike with a 3858 elevation gain . . . So we had hiked over 3 miles at that point and to get to the Glacier was going to be an additional 2 mile hike with more then a 2100 foot gain . . .
We weren't sure if we should do it so we asked the kids and they got so excited – Cannon in particular and convinced most of our group that we should go for it! So off we went – without enough water or supplies but figured we would be OK . . .
It was SO worth it and we are really glad we did it! We ended up seeing 3 bears on the hike including a cub.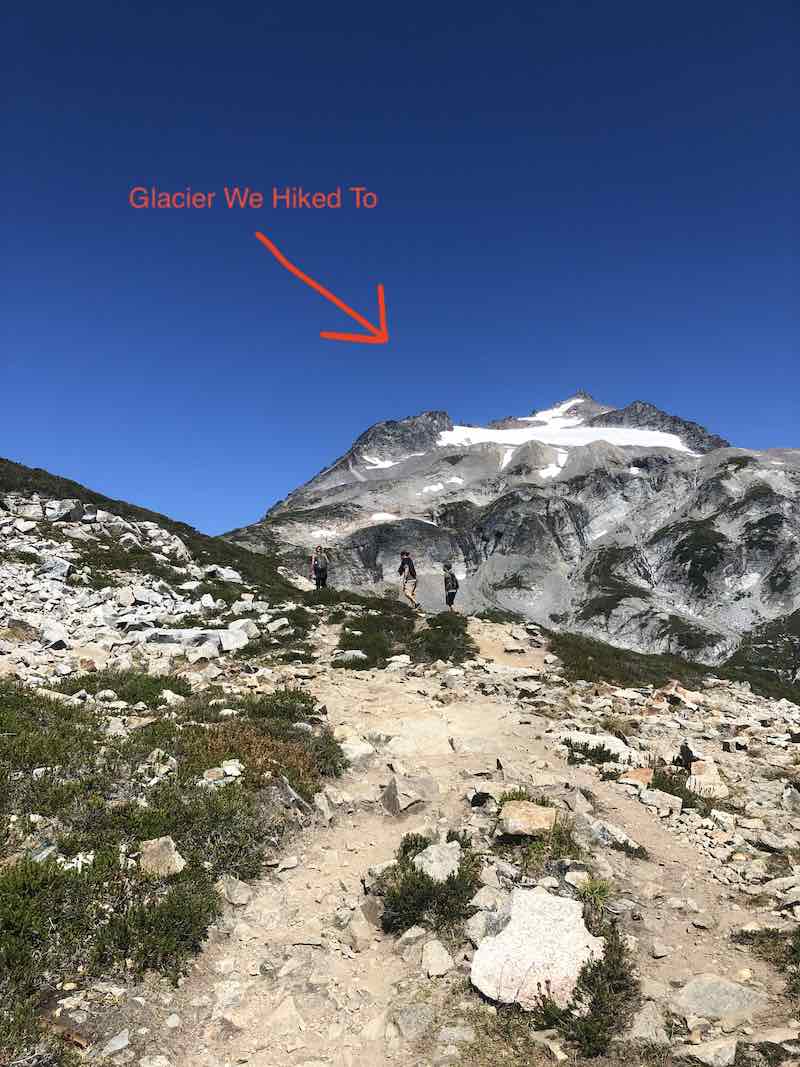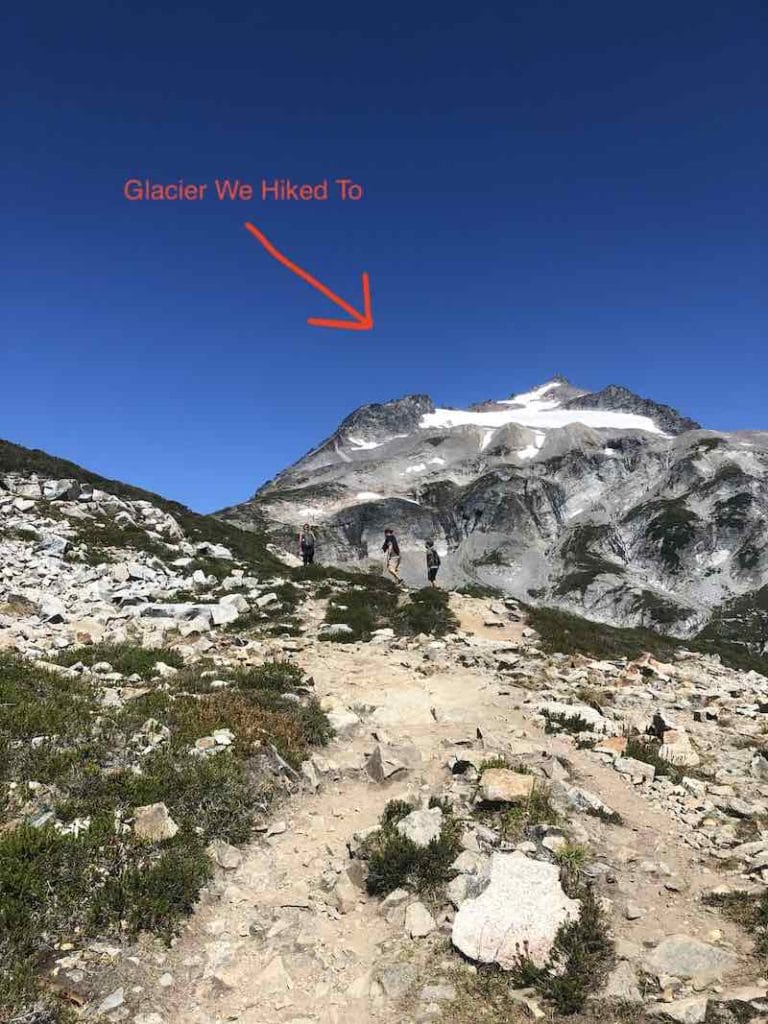 When we were getting towards the top we had to scramble on a trail/pile of rocks to make it to the glacier but we did it! And the kids barely complained at all. From there we were able to walk right out onto the Glacier (note – we were safe about it and stayed away from all crevices and cracks and stayed close – we didn't venture far off onto the Glacier as this can be very dangerous – we also stayed within footprint areas we could already see).
Reaching The Glacier
We ate the snow, ran and slid down the Glacier and just took in the beauty around us. When we reached the Glacier we turned around and had a magnificent view of glacier after glacier. I am so glad that we were able to bring our kids out to do this. With the rate the glaciers are melting who knows how long they will be here.
We then had to turn around and hike back down . . . that was a long hike. But we made it and the kids did amazing! We were with my sister and her family and our friends from yTravelBlog so we had kids ranging from 6 to 11 and they all did amazing.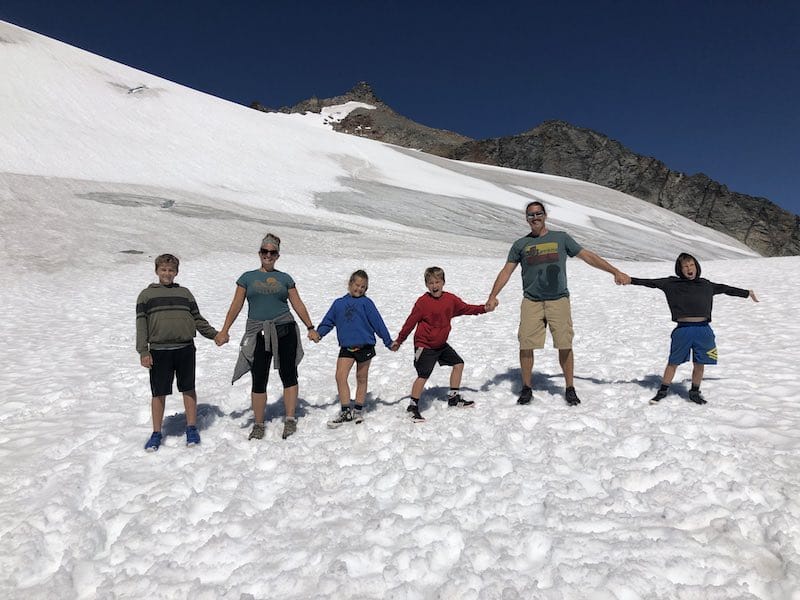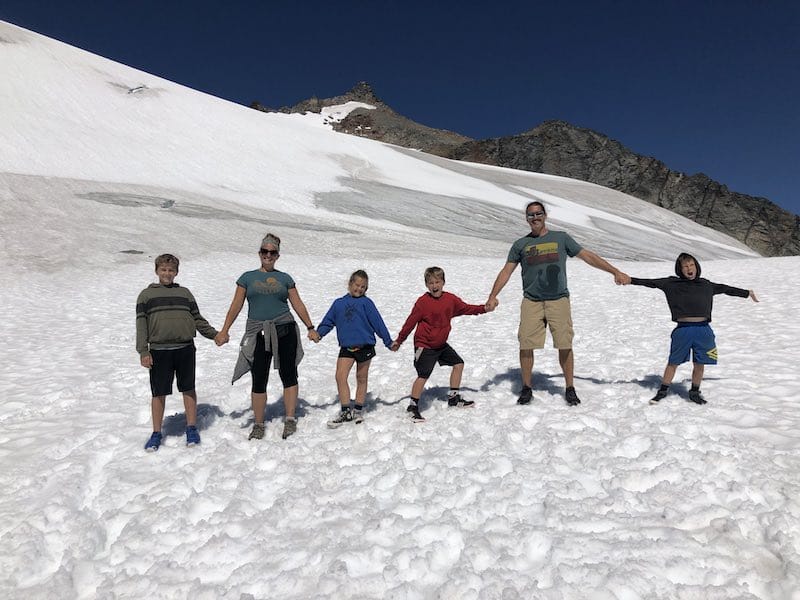 My fitbit ended up showing 15 miles even though it said it should have only been 11+ miles . . . hmm not sure what happened there. But it definitely felt like 15 miles and took us 9 hours. So basically it was a day of hiking.
We did have to drive for about 45 minutes on a rough 1 1/2 lane road to get to the trail head. Plus we got up early so we could be to the trail head around 8am to secure a parking spot.
Even with all of that it was totally worth it and ranks up there with our favorite hikes of all time!
Length: 11+ miles or maybe 15??
Gain: 3,858 foot gain
Additional Hikes
Here are a few more trails in North Cascades that were recommended to us but we did not have time to do them. The hiking trails range from moderate to easy.
Desolation Peak – 9.4 miles 4400 foot gain (where Jack Kerouac stayed for 63 days at the fire lookout)
Cutthroat Lake Trail – 3 mile roundtrip with a 410 foot elevation gain
Thunder Knob Trail – 3.6 mile roundtrip with a 425 foot elevation gain
Trail of the Cedars Nature Walk – .3 miles
Ladder Creek Falls – .4 miles with some steep areas
Rock Shelter Trail – .3 miles (side creek trail there too)
River Loop Trail – 1.8 mile loop trail
Seattle City Lights Tour
If you are interested in tours you may want to check out the Seattle City Lights Tour that takes you out onto Lake Diablo. Learn more here: https://www.nps.gov/noca/planyourvisit/accessibility-at-seattle-city-light-tours-diablo.htm
Want to explore more in Washington? Be sure to check out all the cool Bavarian activities in Leavenworth.
Where To Stay
Campground
Newhalem Campground – this is where we stayed and it was awesome. I love when we can stay inside the National Parks at a campground!
Don't have an RV? Rent an RV around North Cascades!
Hotels
VRBO
If you want to explore more of the area check out the North Cascades National Park Complex that includes the National Park, Ross Lake National Recreation Area, Lake Chelan National Park Area. Or any of the surround National Forest areas.
We loved that North Cascades National Park is one of the lesser visited National Parks. It has epic views but not many people. If you can make it here do it!
If you like National Park road trips be sure to check out more of our National Park posts:
6 Epic National Park Road Trip Ideas [Maps Included]
19 Magical Things To Do In Glacier National Park [Map Included]
21 Epic Things To Do In Yosemite National Park With Kids
12 Amazing Things To Do In Olympic National Park [Itinerary Included!]
How To Plan A Trip To All 5 Utah National Parks [Map Included]
Things To Do In The Surrounding Area:
14 Things To Do In Coeur D'Alene Outdoor Enthusiasts Will Love
Things To Do In Washington State
Pin This Post For Later: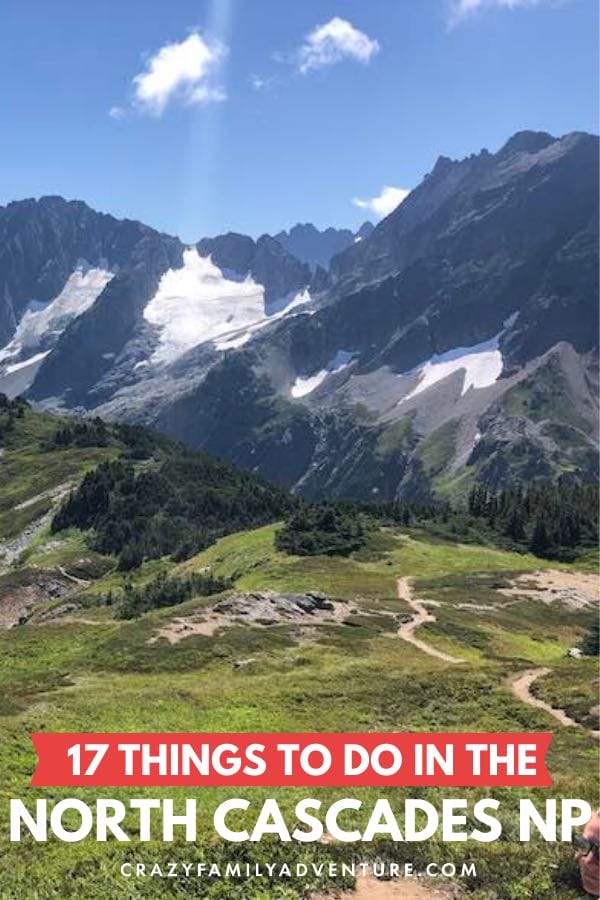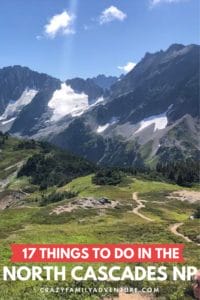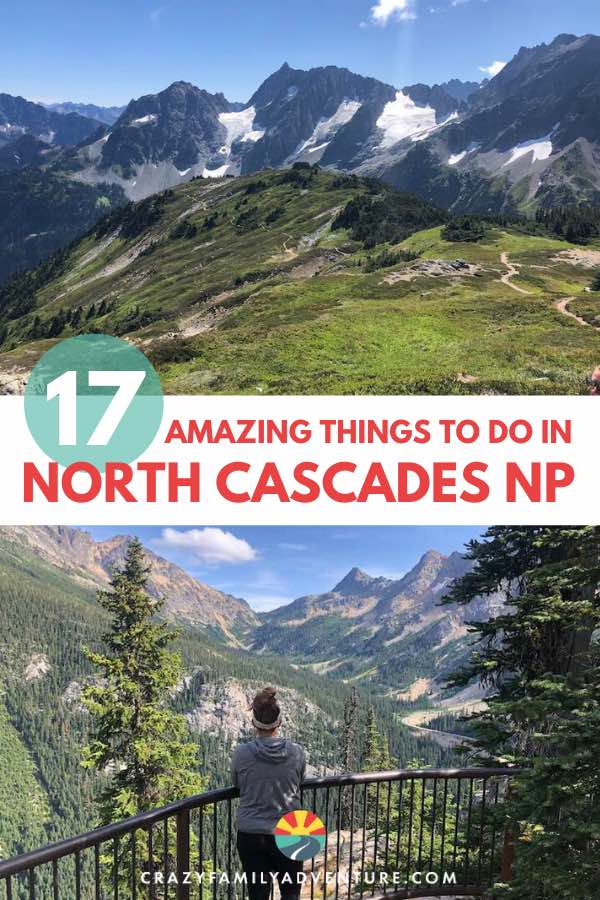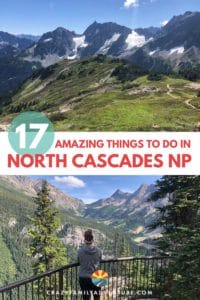 DISCLOSURE: This post may contain affiliate links, meaning I get a commission if you decide to make a purchase through my links, at no cost to you. Please read my disclosure for more info.