We were looking for a way to go rafting with kids when we were in Montana by Glacier National Park and we found the perfect fit for our family: Montana Raft.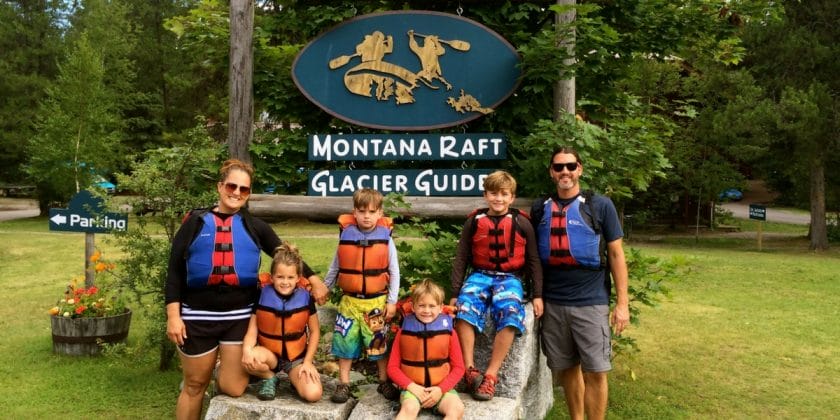 It was a great fit for us because they offered a Scenic Float down the Flathead River, so our whole family could go together! If we wanted to do a whitewater rafting trip, all of the kids needed to be 6 or older.
We had never been rafting with kids, so doing the Scenic Float was a great introduction to what going on a rapids trip would be like.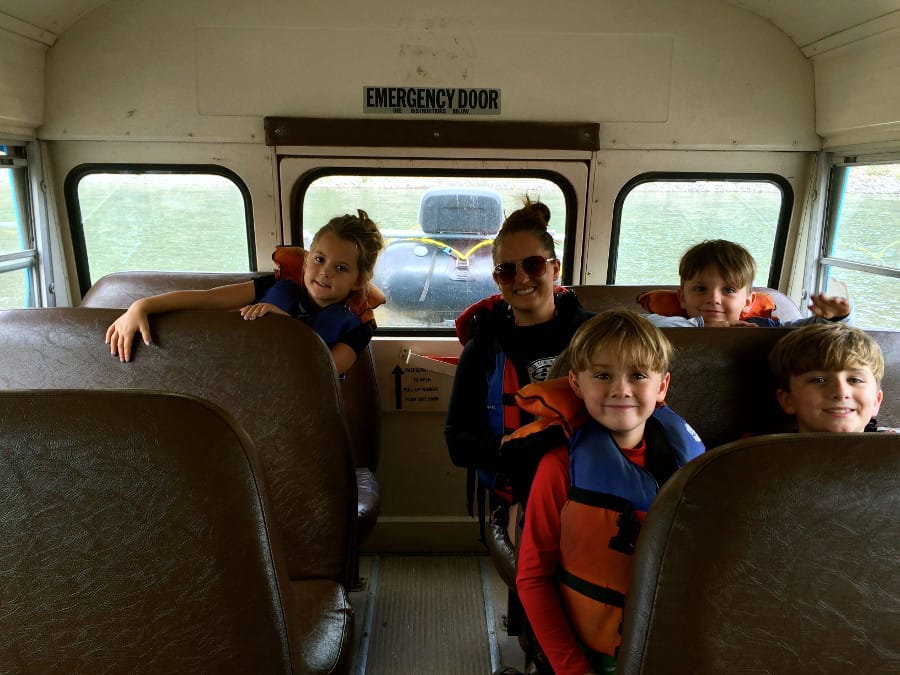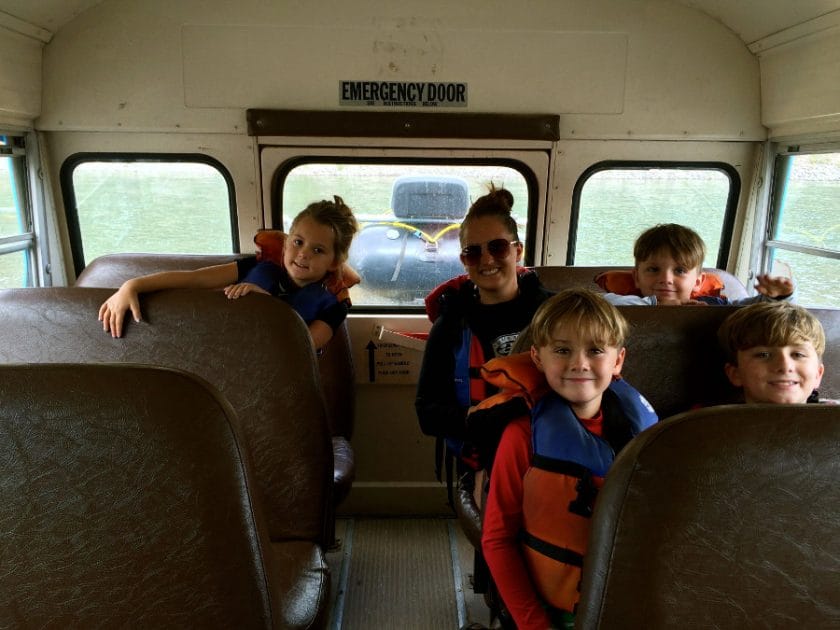 At their main office you get suited up in life jackets and river shoes if you would like (they're sweet, Google it). You then take a bouncy ride in a school bus down to the boat launch with the rafts in tow.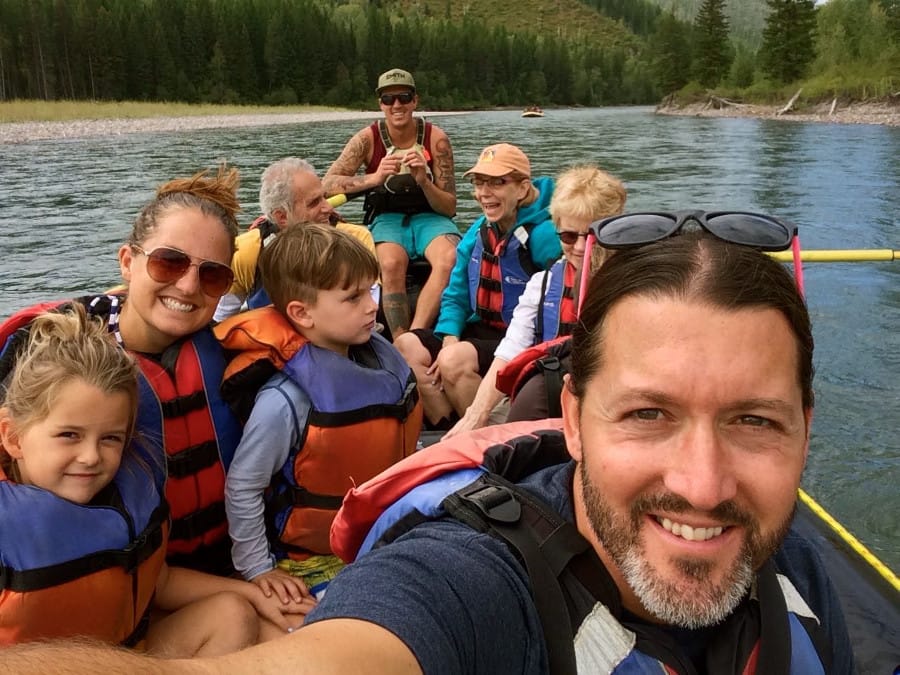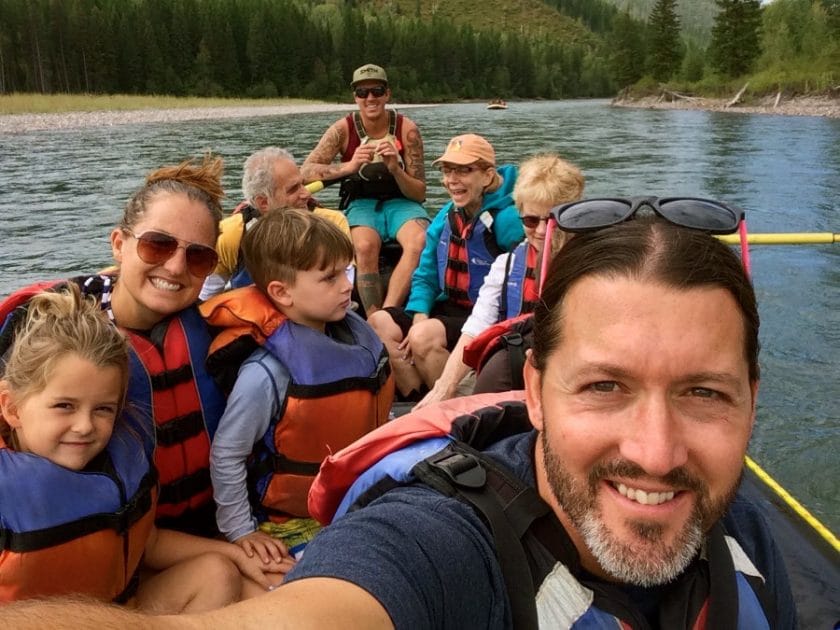 The bus drops everyone and the boats off and 9 people get into each boat. A guide then takes you down the river. The current isn't crazy on this part of the river, so it is a scenic ride but it's definitely moving you along.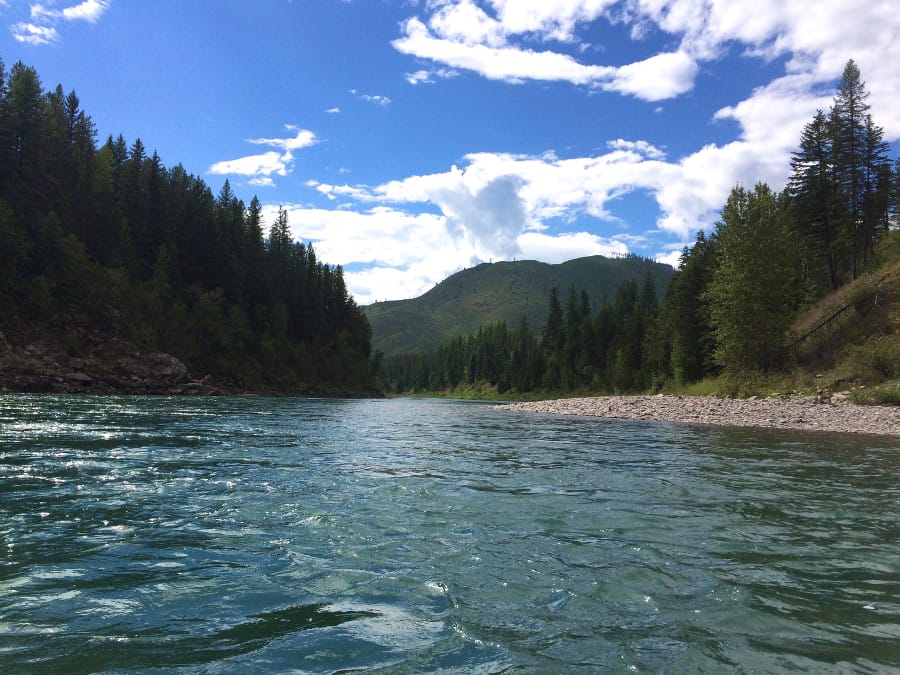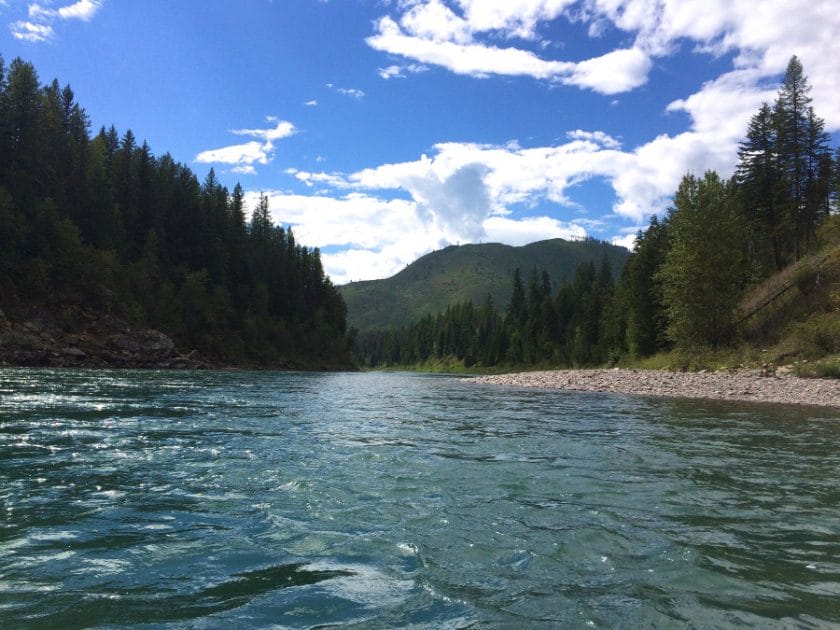 On the river we came to a few small rapids areas which were really fun and again, perfect for our kids first time on the water. The Montana Raft guides are very knowledgable about the area and pointed out different mountains and landmarks as we went.
Towards the end of the trip we hit a spot that didn't have as strong of a current and we were able to jump in the water! Well actually Craig, Cannon, and Carson did. The rest of us stayed warm and dry on the boat. As you can imagine, glacier water is a bit on the cool side.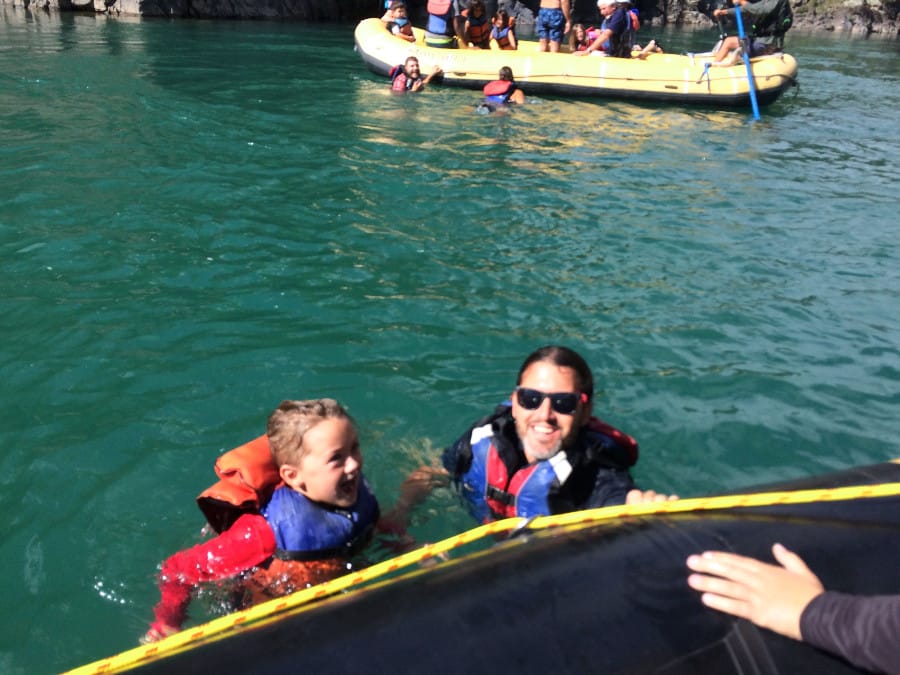 Cannon ended up doing a back flip right off the boat into the water! We didn't know we were going to be able to do this so unfortunately we didn't have towels. If we did it again we would bring towels. The water was freezing!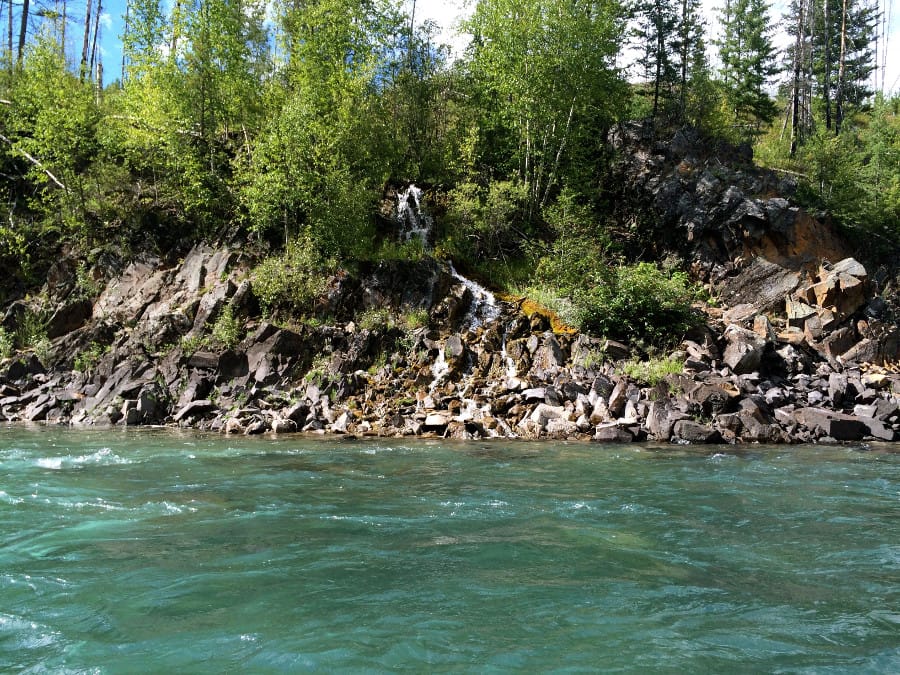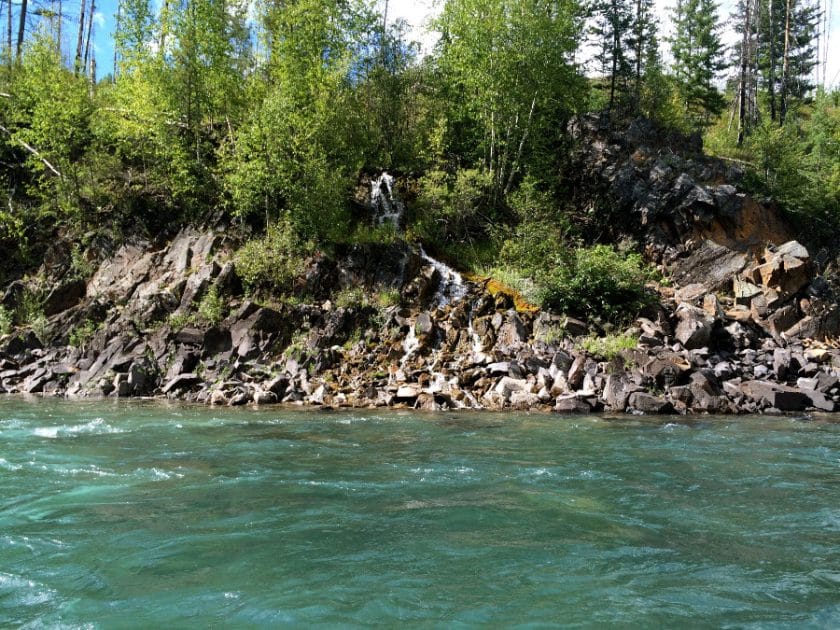 The whole trip was about 90 minutes long, which is great for younger kids. The scenery was beautiful and it was so relaxing.
At the end of the trip the bus is waiting there to take you back to the Montana Raft office. You will get a little wet when on the boat from a few small splashes and from climbing in and out of the boat at start and finish. We recommend bringing one or two towels on the boat with you and also having a set of dry clothes back at your car, just in case!
When Knox is 6 we definitely want to come back and try whitewater rafting with kids. They have different levels of rafting trips and based on the time of year and the water level kids as young as 6 years old can go on the trips.
The guides were fantastic (don't forget to bring some money to tip them) and so was the staff at their main office. We highly recommend them!
Other posts to check out on Glacier:
Ultimate Glacier Guides: We Planned Your Trip to Glacier for You
7 Awe Inspiring Things To Do In Many Glacier in Glacier National Park
The Best Hikes in Glacier National Park With Kids
Visit The Magnificent Bowman Lake and Polebridge Mercantile
Tips For Driving The Stunning Going To The Sun Road
Whitefish Mountain Resort Summer Activities
Disclosure: A big Thank You to Montana Raft for hosting us on our trip. All opinions expressed are my own. #truth
DISCLOSURE: This post may contain affiliate links, meaning I get a commission if you decide to make a purchase through my links, at no cost to you. Please read my disclosure for more info.