The Many Glacier area is a top thing to do in Glacier National Park and shouldn't be missed. It is a less busy section of Glacier and definitely has more of a remote feel to it than the main parts of Glacier National Park.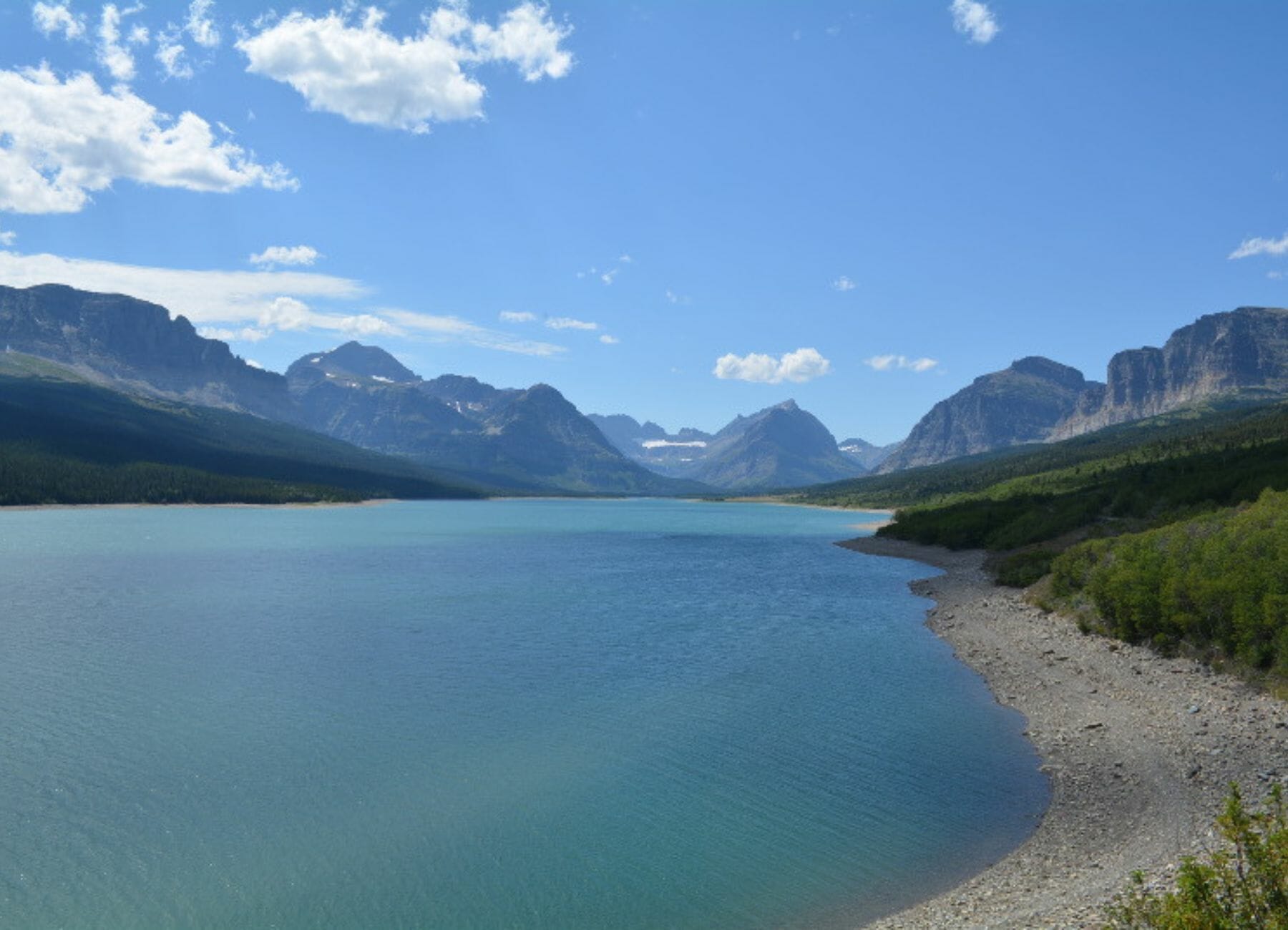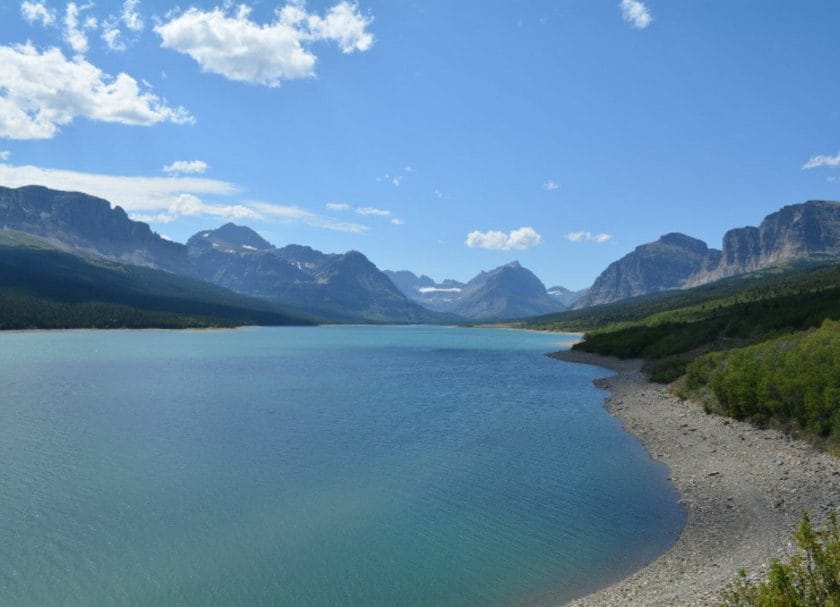 Many Glacier is home to some of the best hikes in Glacier! If you are planning a trip to the park be sure that Many Glacier is on your Glacier Itinerary.
Always be sure to check the Glacier National Park official website to make sure this part of the park is open.
***PLEASE NOTE – Glacier National Park has started requiring a reservation and a ticket to travel the Going-To-The-Sun Road or the Polebridge Ranger Station entrace. This will impact your trip. You can check out more details here.
Want help planning your trip? Check out our post: The Best Glacier National Park Itinerary from 1 to 7 Days.
Getting There
If you are staying in the main section of Glacier, either by West Glacier or the Lake McDonald area, you will have to drive a good 2 1/2 to 3 hours from the West Glacier side of the park to get to Many Glacier. You can either get there by going through the park on the Going-To-The-Sun Road, which is beautiful, but could take a while depending on how busy it is. Or by going around the bottom of the park.
We lay out the best routes and must-see stops along the way in our Glacier Guides. These 1, 3 or 7 day itineraries make it simple plan your trip to Glacier. If you want to see the Many Glacier area, you are going to want the 3 day or 7 day guide to help find your way.
---
Planning a trip to Glacier? We put together a series of digital guides that take the guesswork out of planning. Stop-by-stop itineraries for making the most of 1, 3 or 7 days in Glacier National Park including where to stay, where to eat, what hikes to take and the best driving routes.
We've even included links for you to book your stays and buy your park passes. Everything you need in one convenient digital guide. Just download and go!
---
Map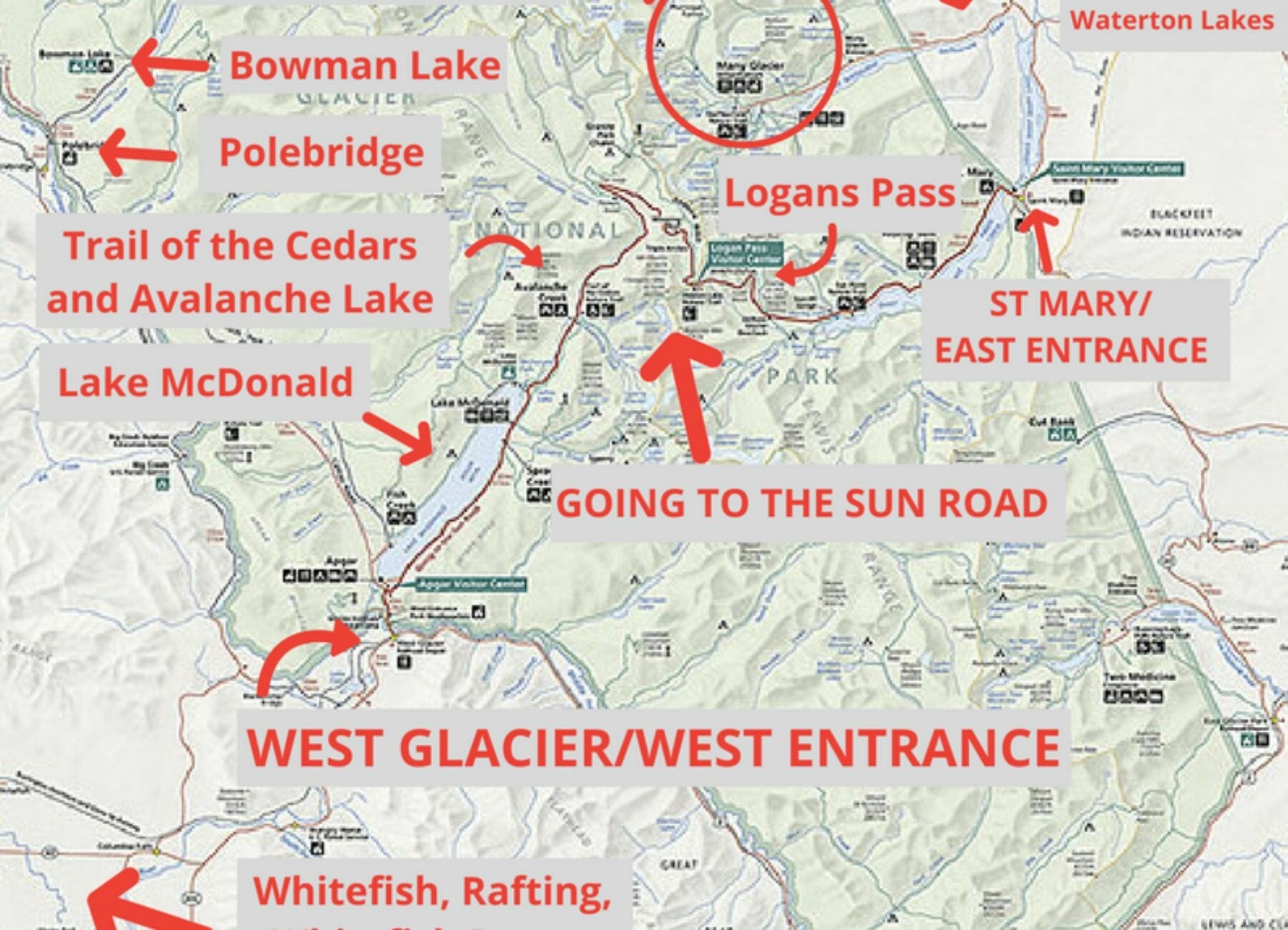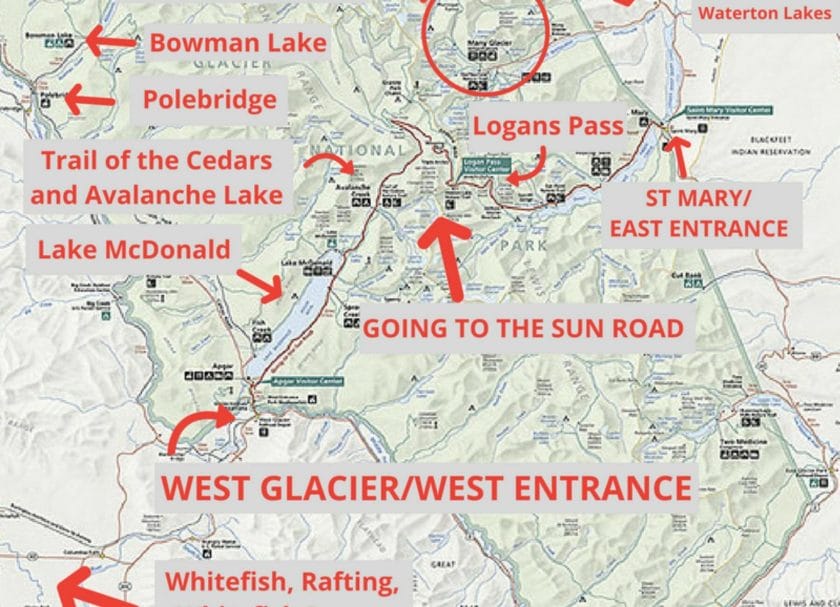 Getting into this area is a little rough and bumpy and can be filled with free-roaming cattle. All this aside we were able to do it with our mid-size SUV and my parents were able to with their compact car. You just have to be aware and ready for a few bumps.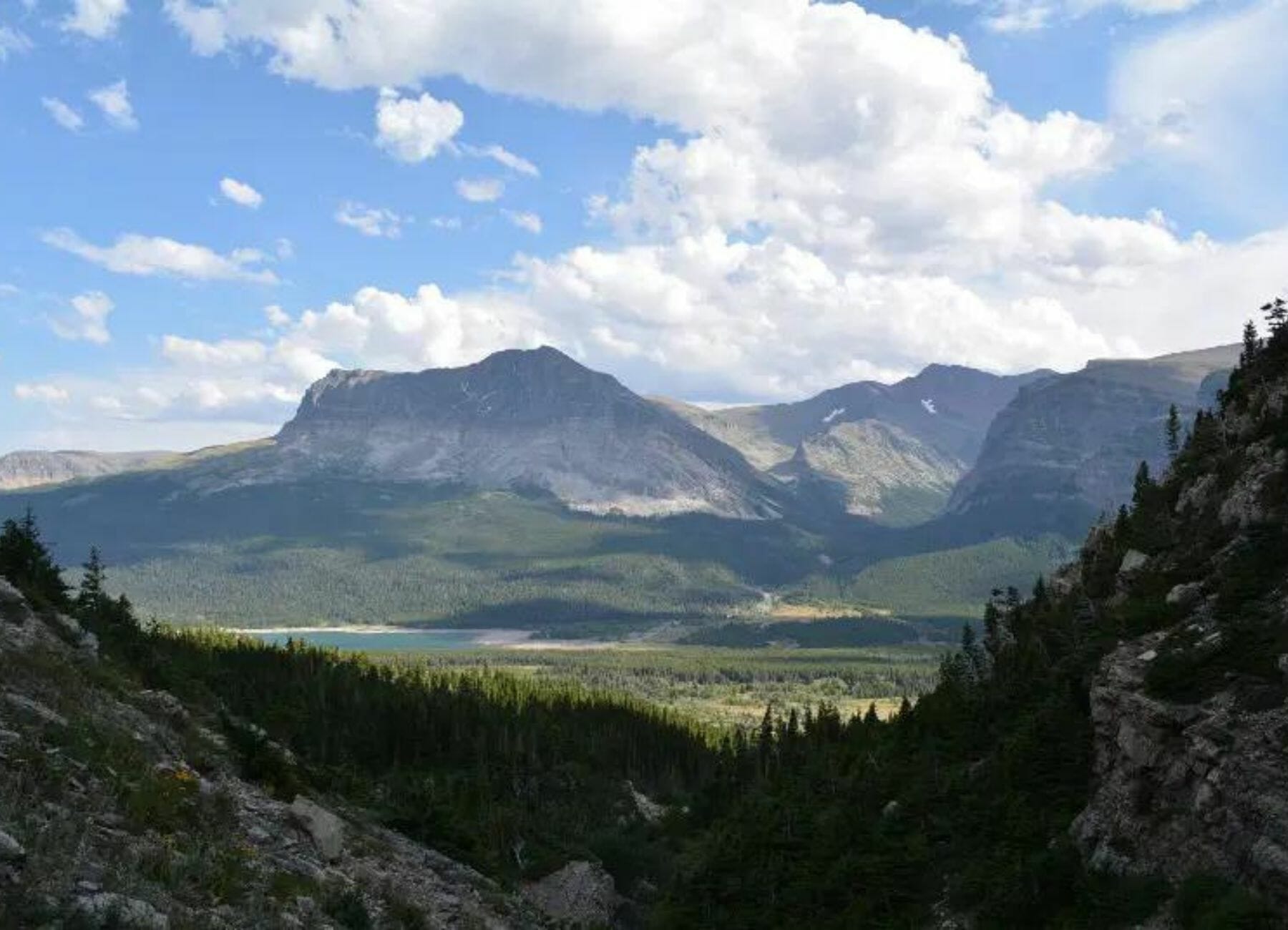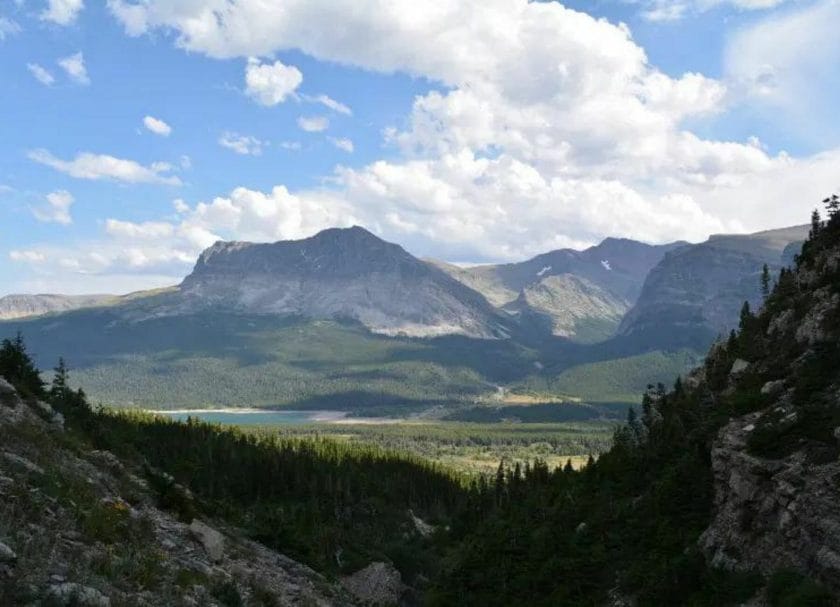 The ride in is beautiful and you get a glimpse of the gorgeous blue waters of Glacier with mountains in the back. As you drive through the entrance and into the park, the views continue to be amazing.
Many Glacier Hotel
The Many Glacier hotel is located past the entrance. The hotel was built with a Swiss style back in the early 1900's by the Great Northern Railway. The Many Glacier hotel is situated on the shores of the Swiftcurrent Lake with mountains surrounding it. It is the largest hotel in Glacier National Park with 214 rooms offering a great place to stay to enjoy this historic hotel and the area.
Where To Eat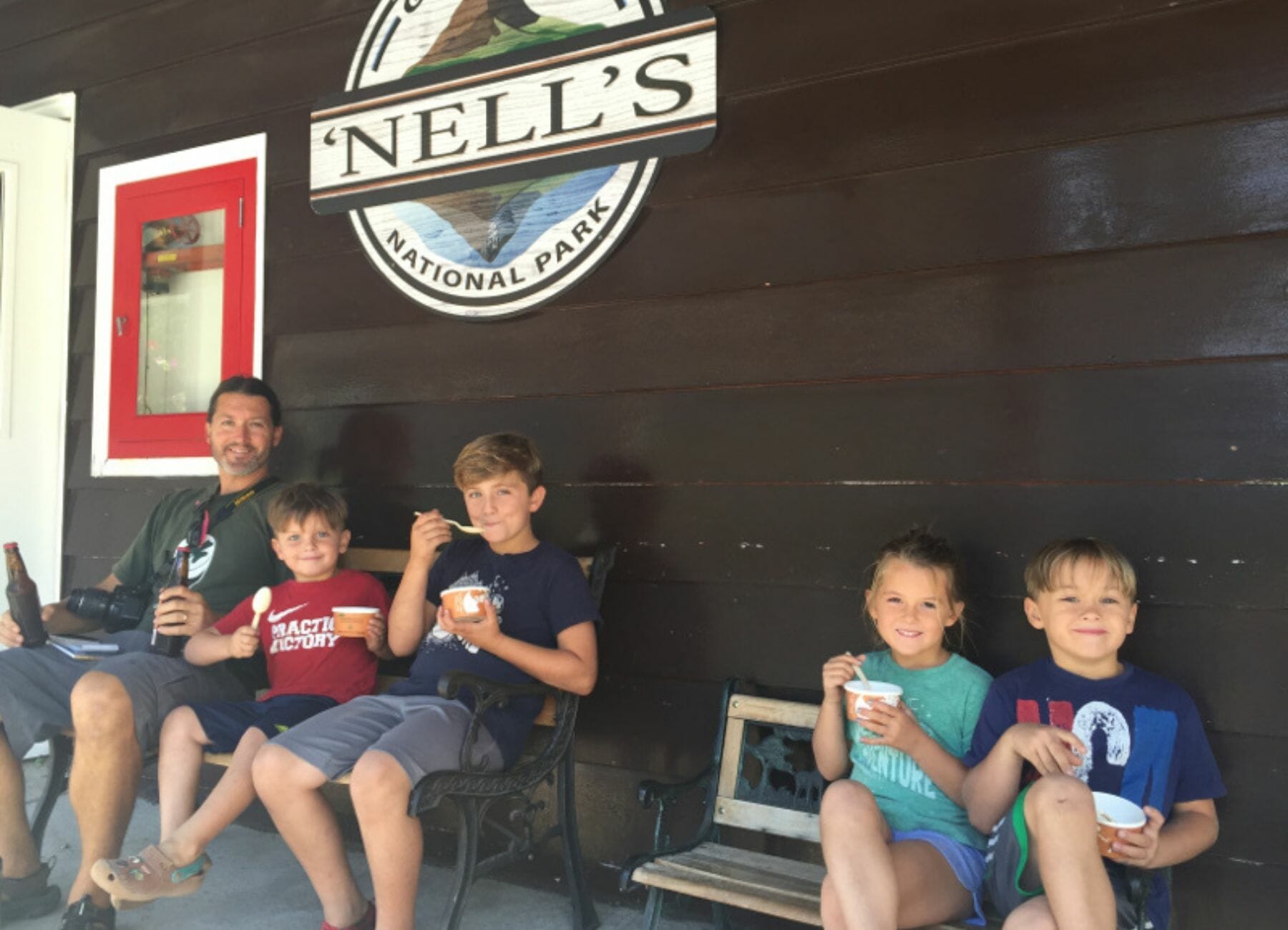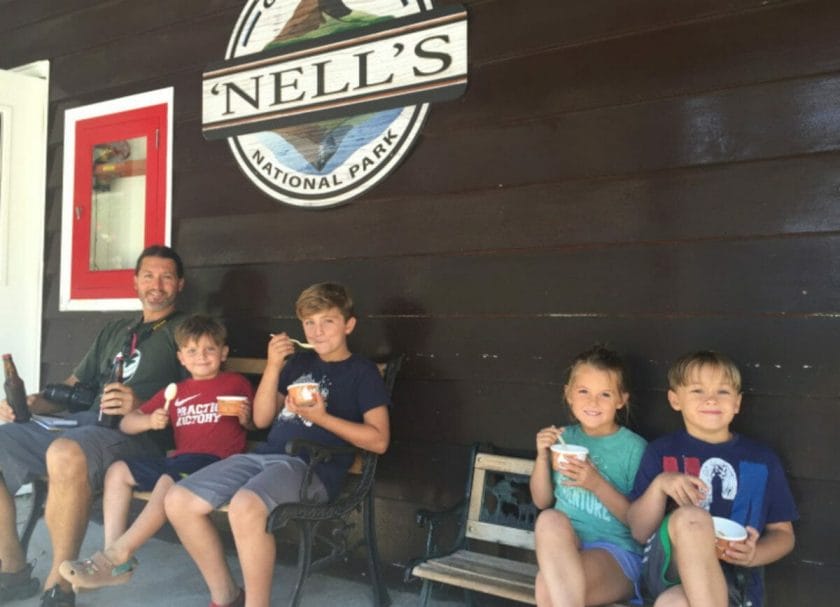 After that you can drive to the end of the road and you come to the Swiftcurrent area. There is a campground here, a convenient store/snack shop/gift shop, and a restaurant. We were very surprised with the great selection of food at the restaurant. They had a variety of vegetarian options and organic or grass-fed options on the menu. The gift shop had yummy self-serve huckleberry or vanilla ice cream! They also had a great selection of local microbrew for a very great price!
**Note this menu does change!! This is what it was when we were there.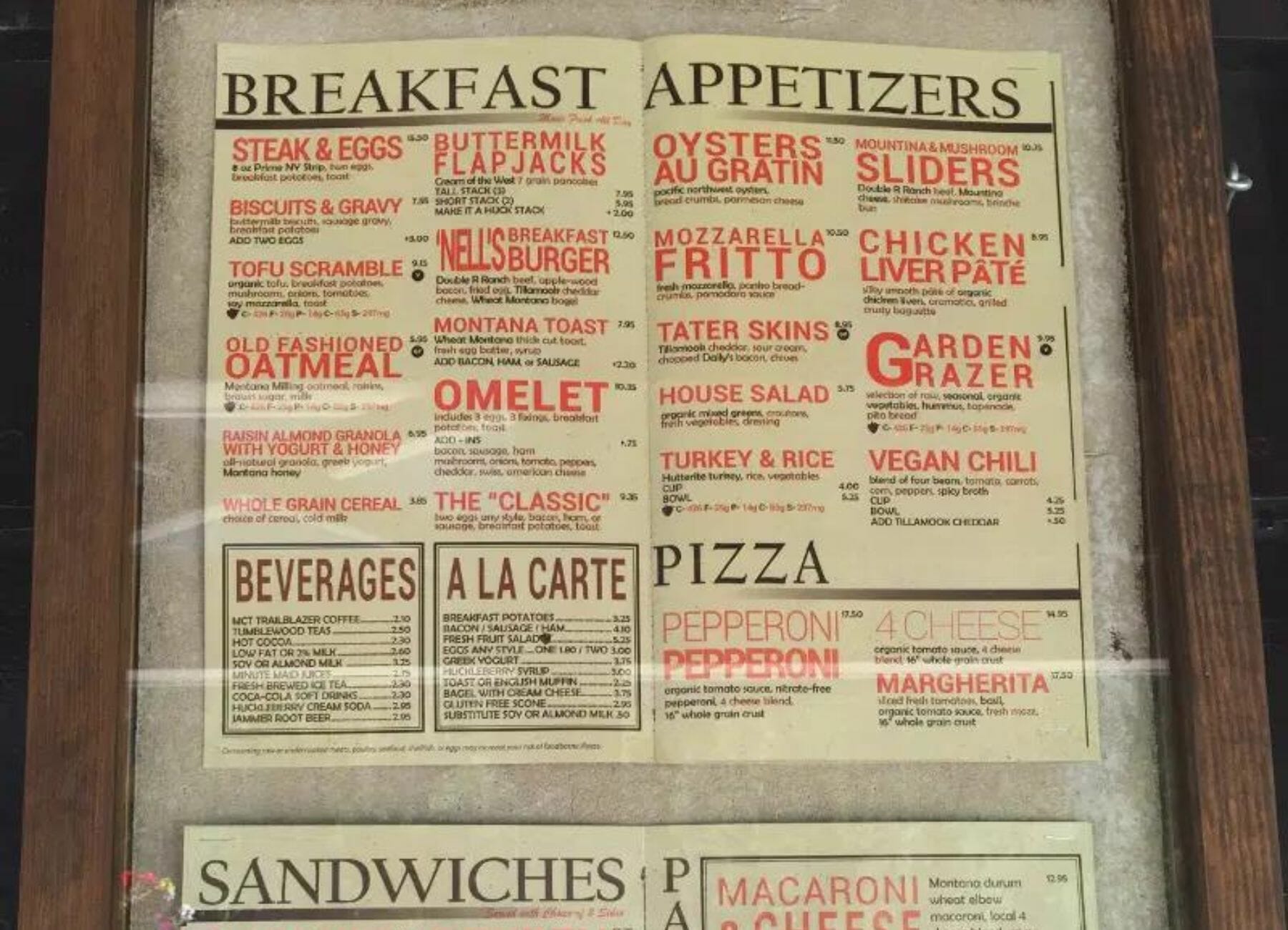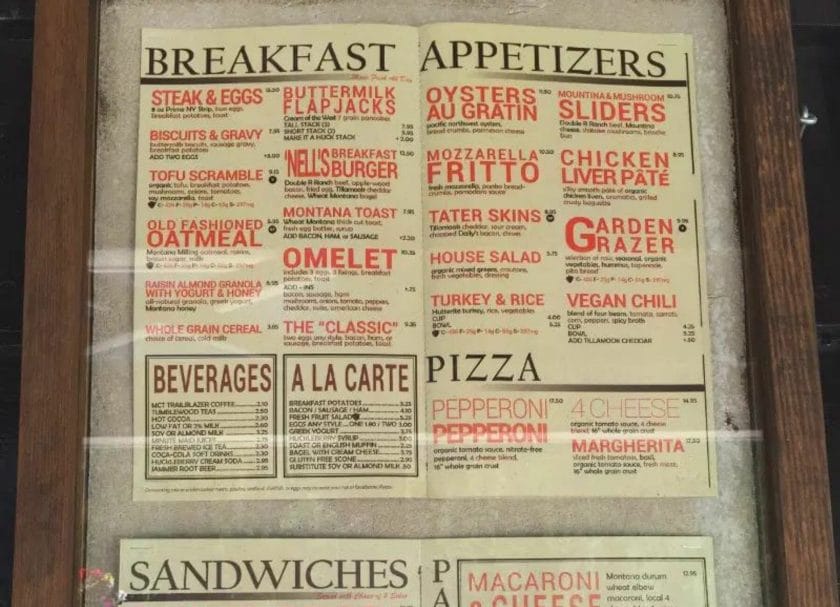 Hiking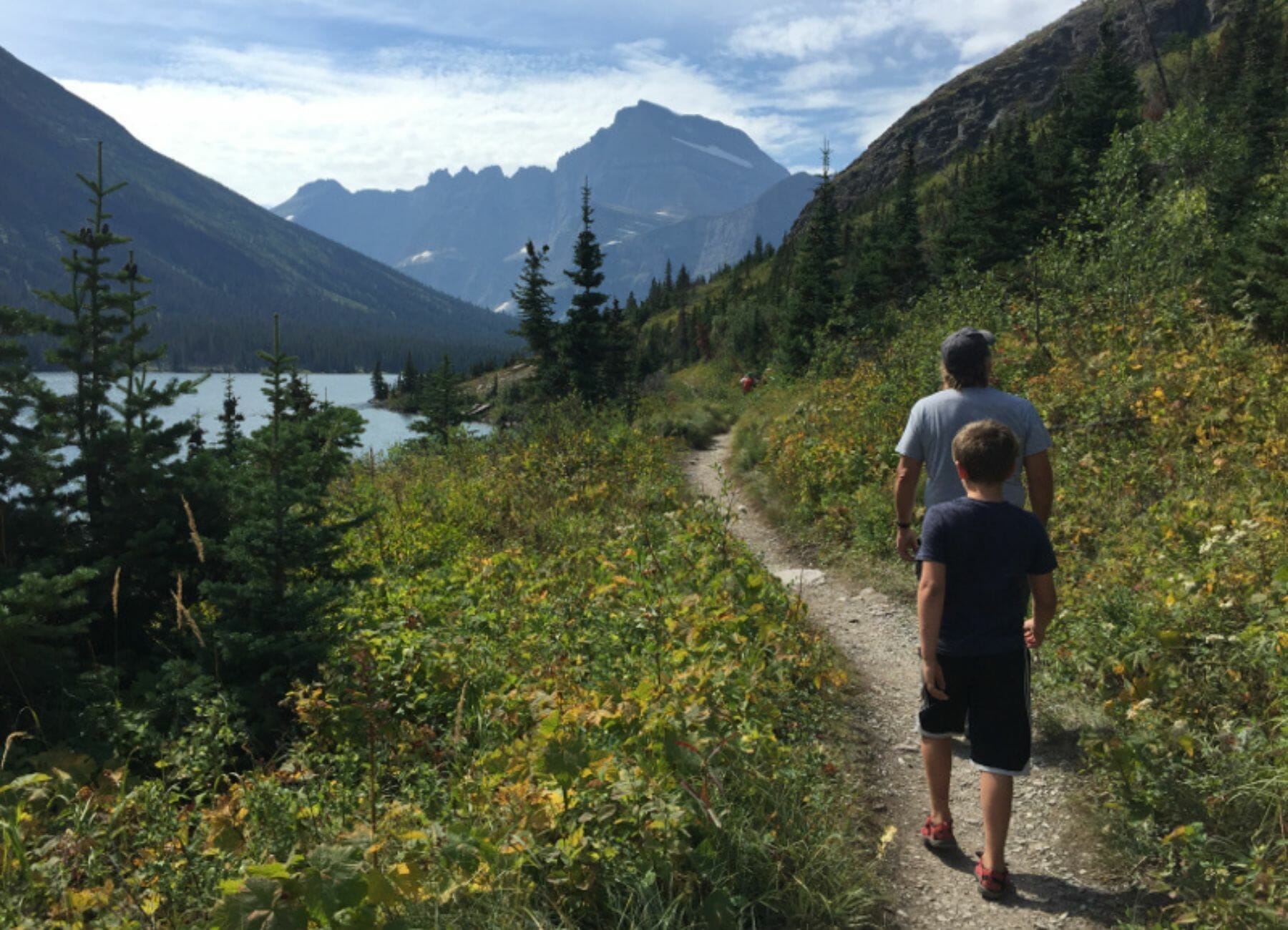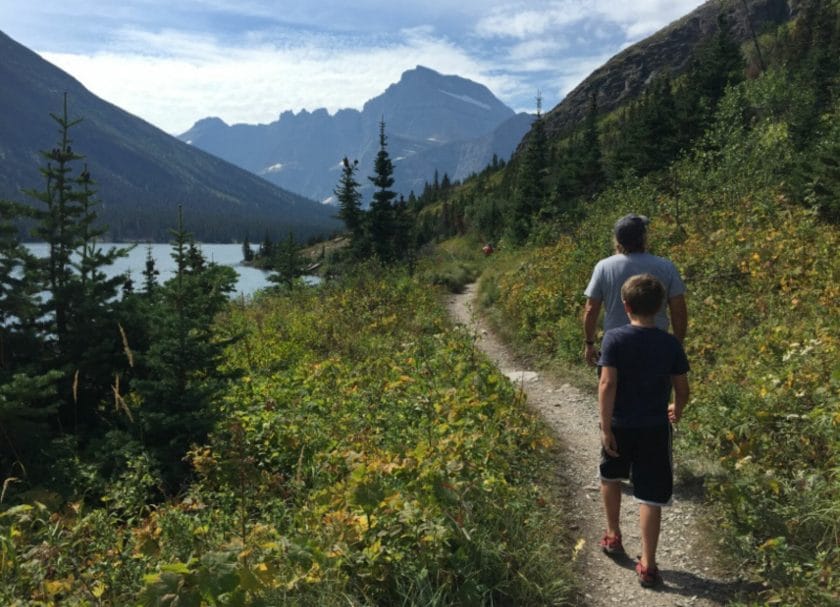 To really see the area, you are going to want to get out and do a hike. Yes, you can drive through and get a good feel for this section of the park and take in some amazing views, but actually hiking it is going to really show you the brilliance of the area.
Many Glacier has a lot of our recommended Best Hikes In Glacier National Park.
Here are a few suggestions for Many Glacier trails:
Apakuni Falls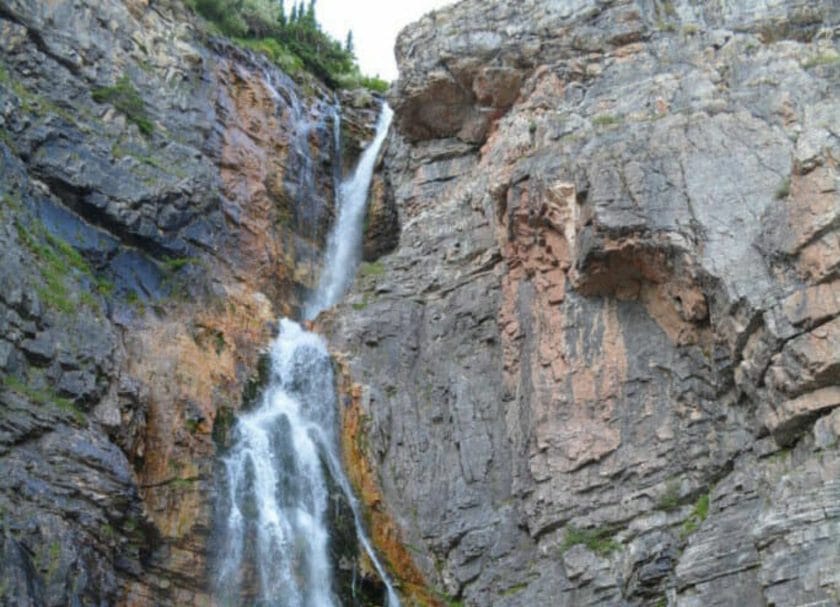 You could catch this hike on the way in or the way out of Glacier. It is shorter at just 2 miles. But you are climbing up hill the whole way.
Hike to Fishercap Lake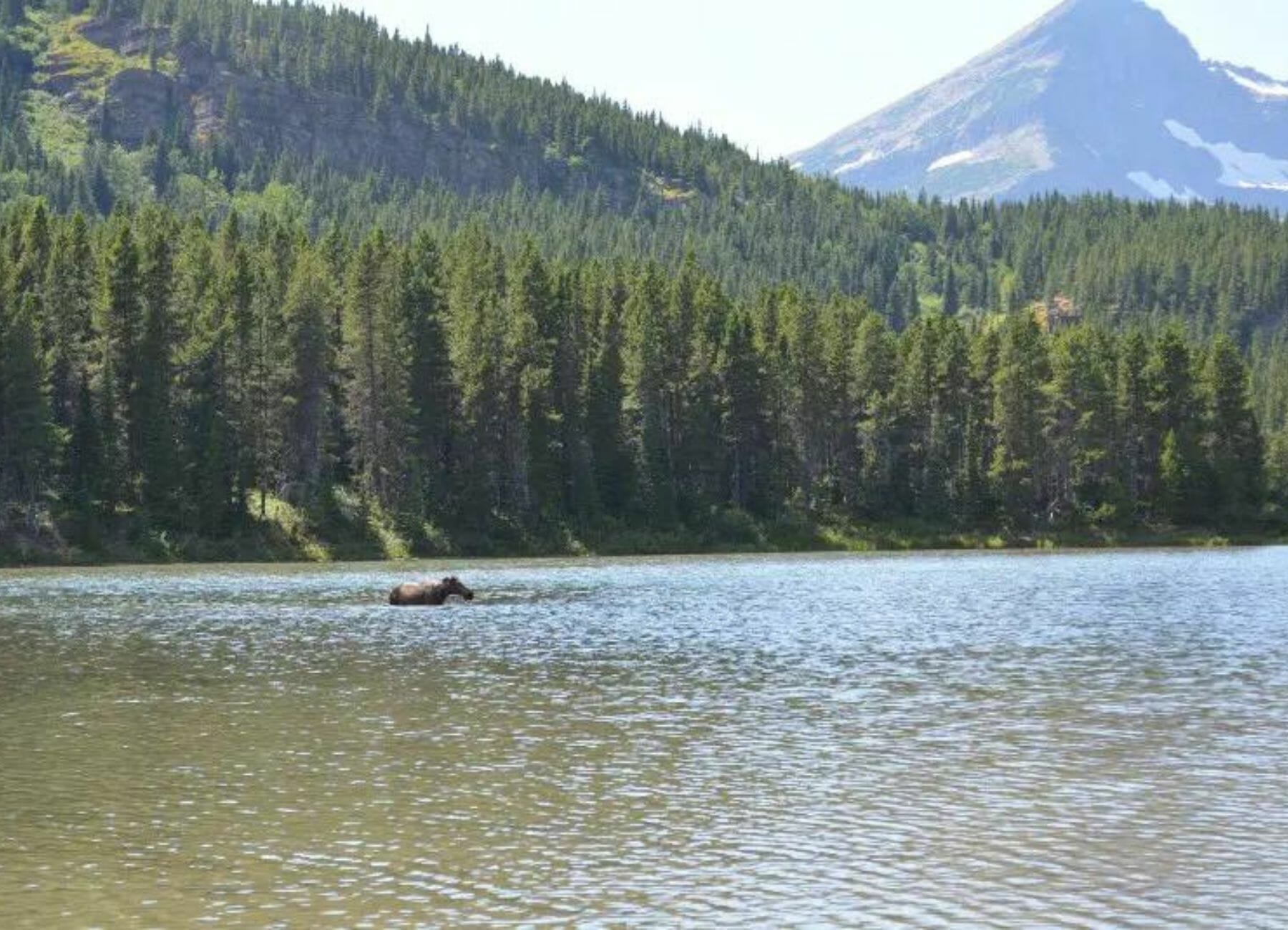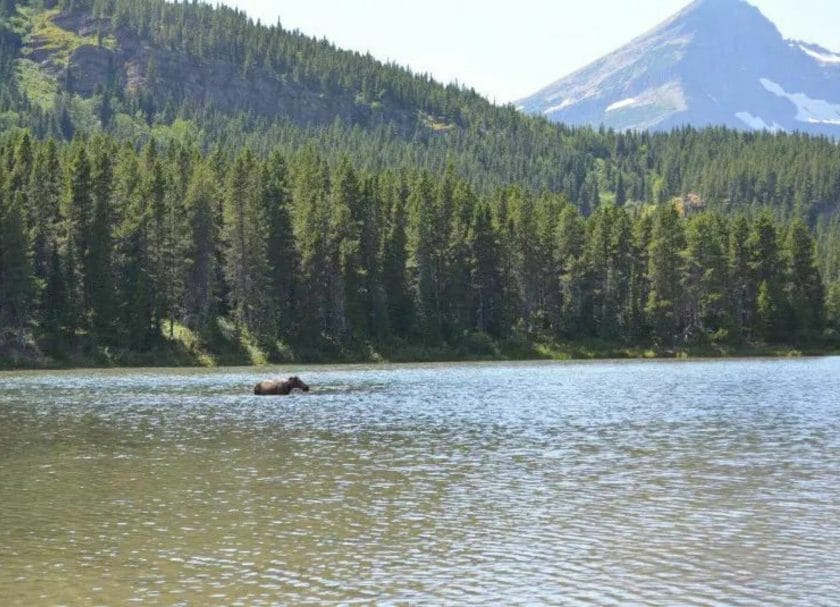 This is a short walk (starts at the trailhead at the end of the Swiftcurrent Parking lot) to a lake where you may or may not see a moose. We were lucky enough to see one playing in the water. You can continue on to Red Rock Falls if you would like.
Grinnell Lake Trail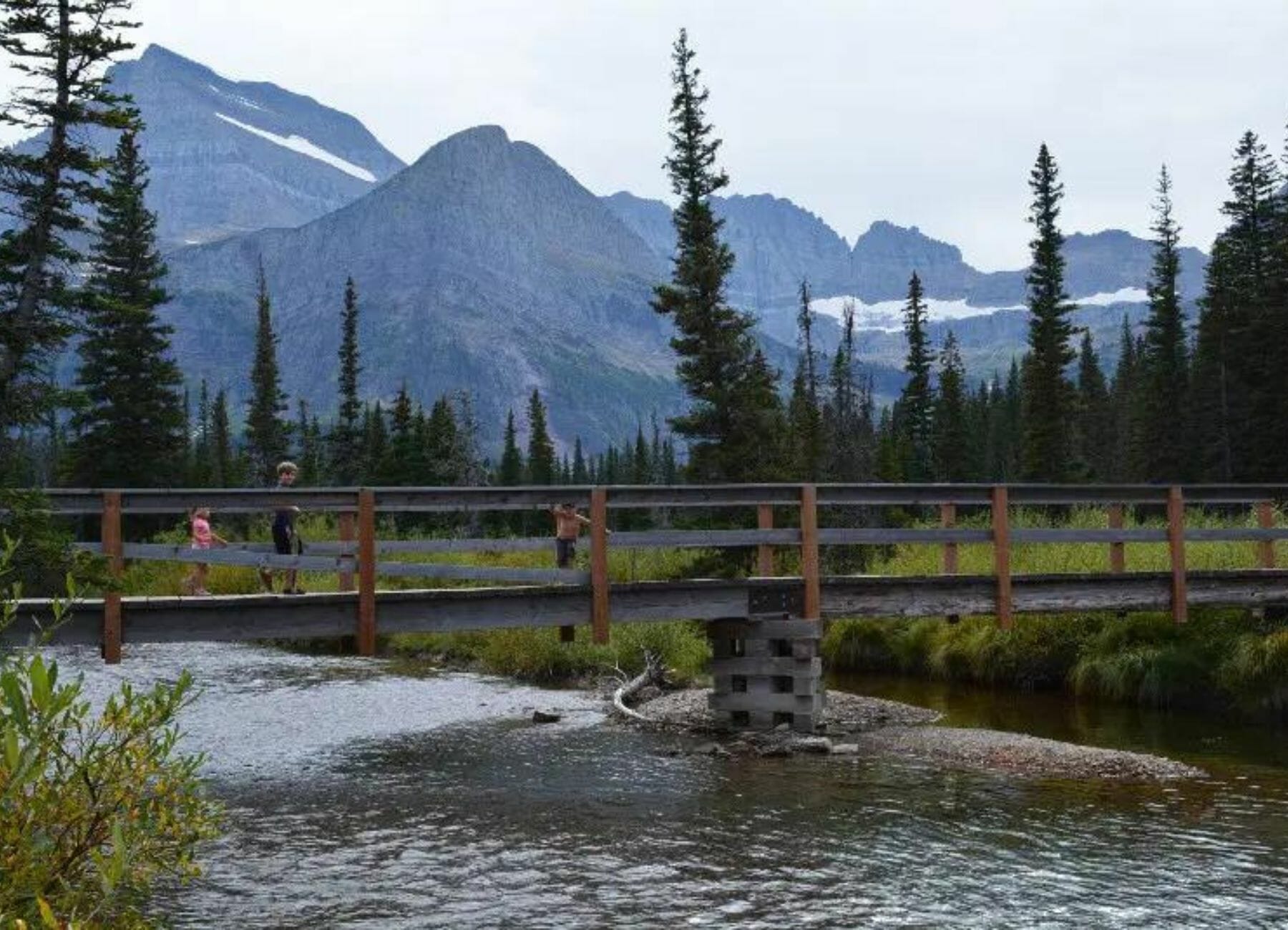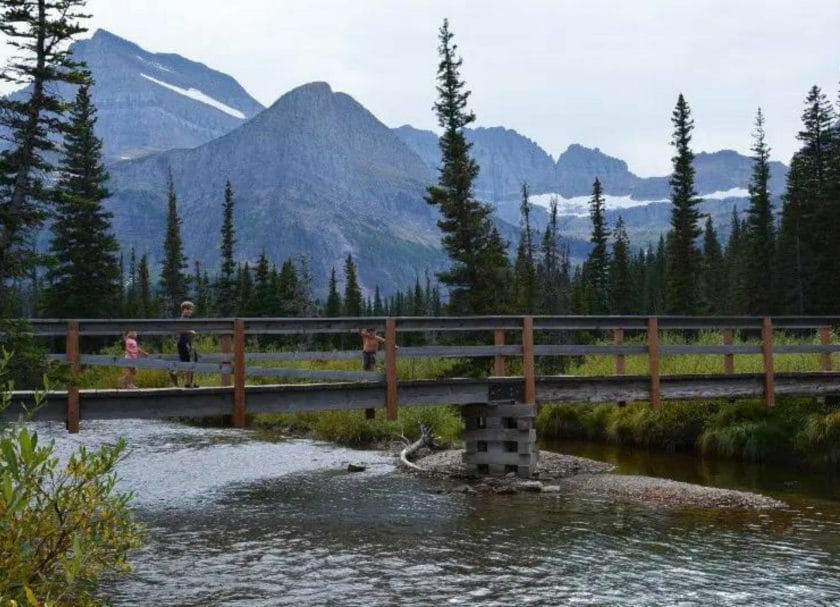 This is a trail where you can take a boat with red bus tours boat cruises, hike a short distance, then take another boat, then decide to either hike to Grinnell Lake or to Grinnell Glacier before taking the boats back.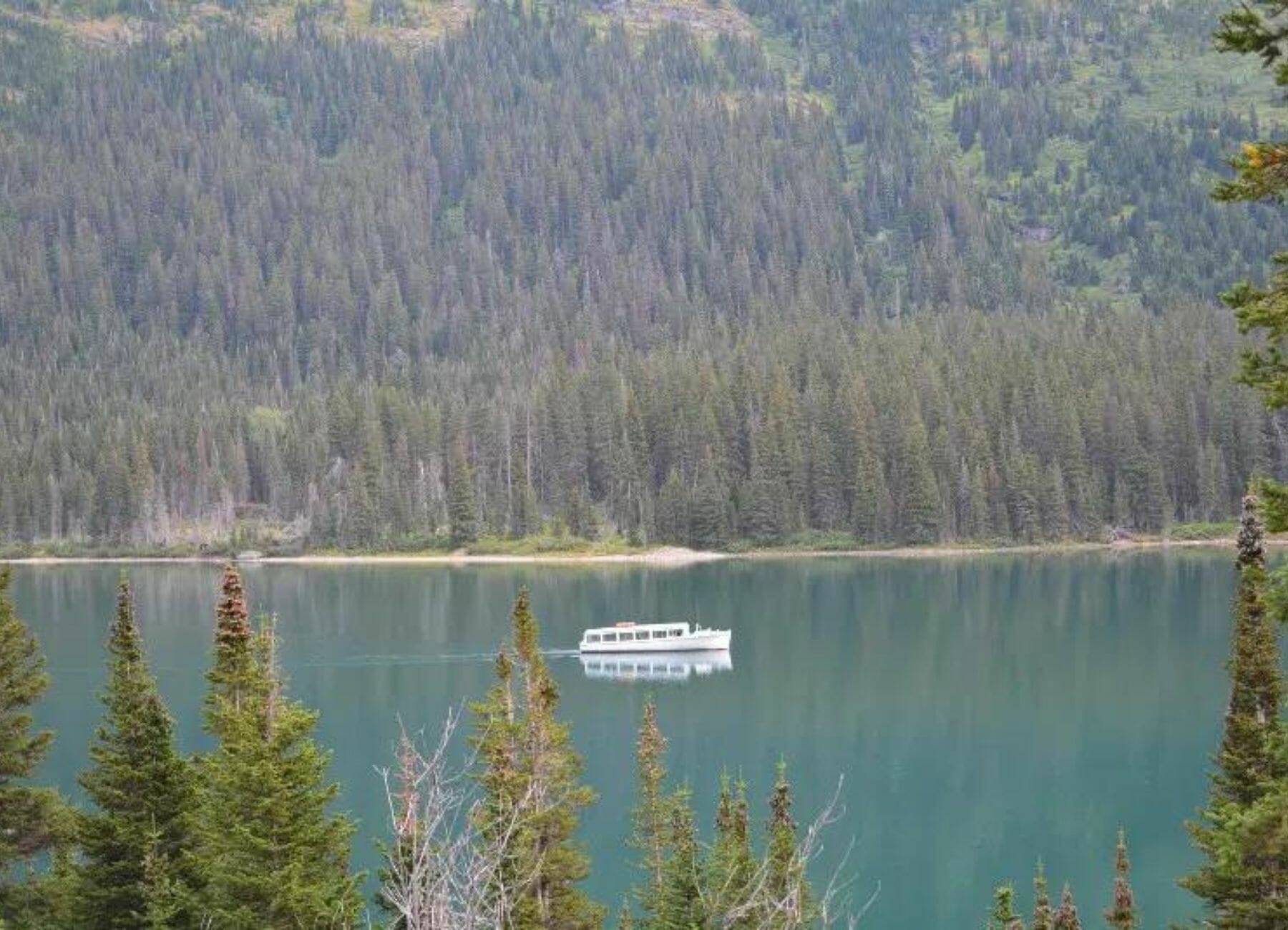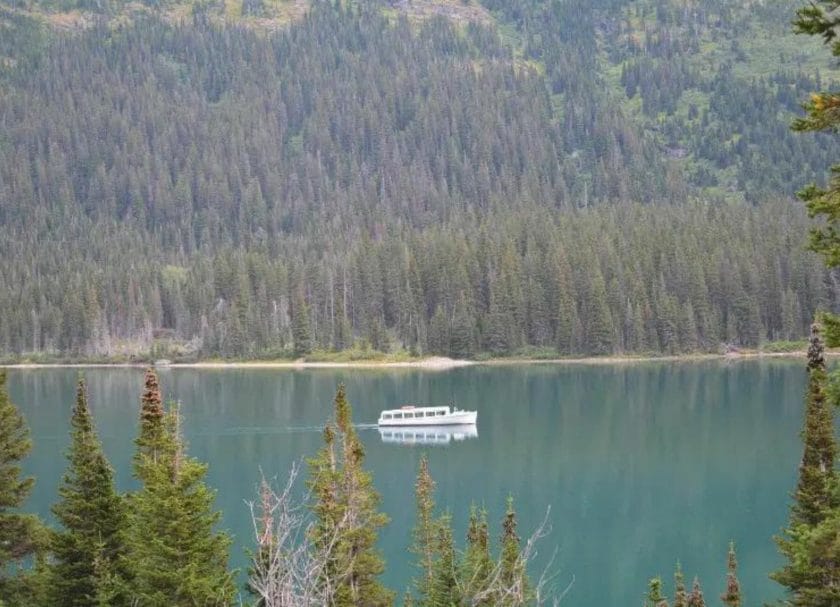 Or if you would like you can safe yourself some money and hike the whole thing. So many choices!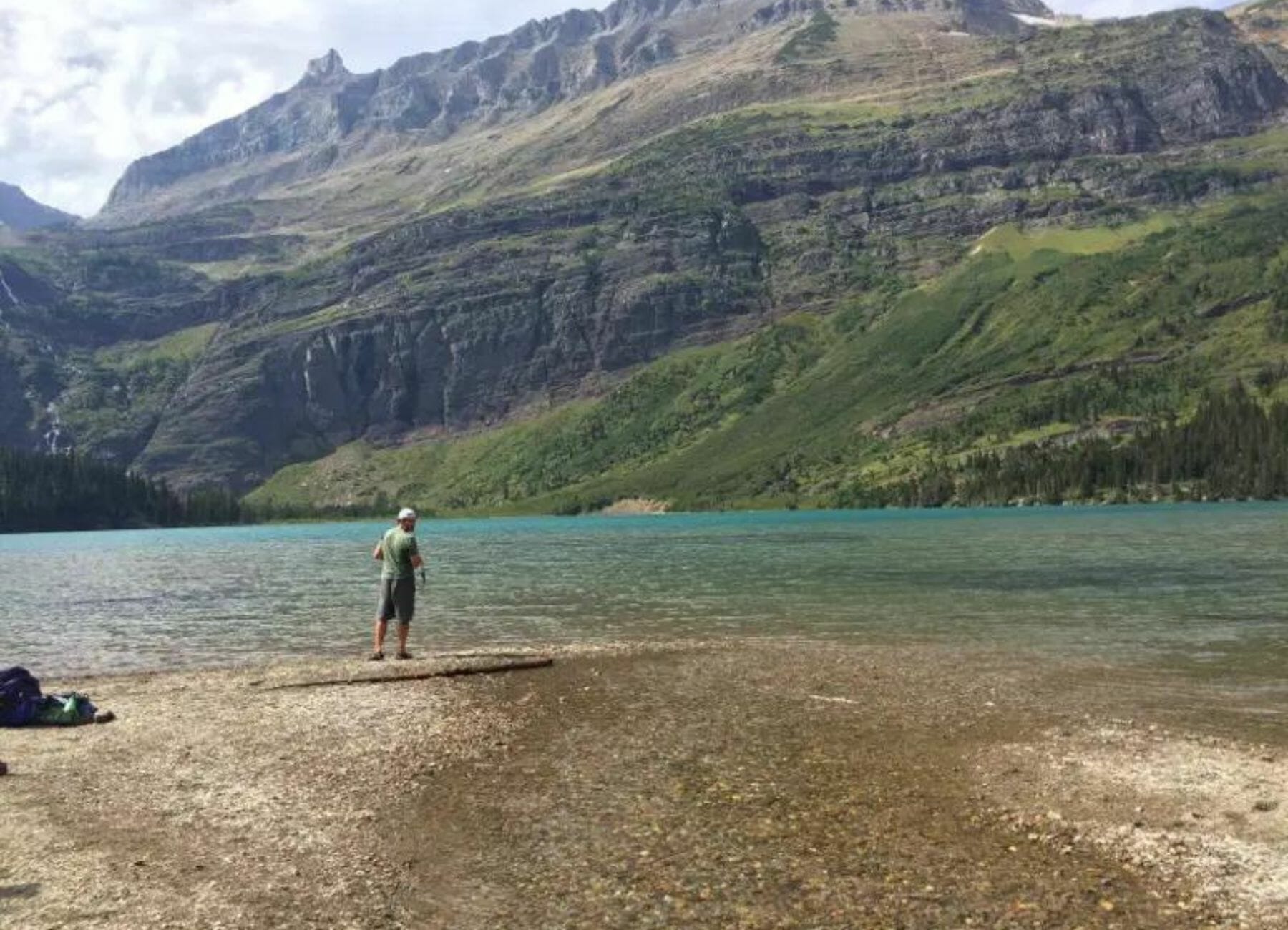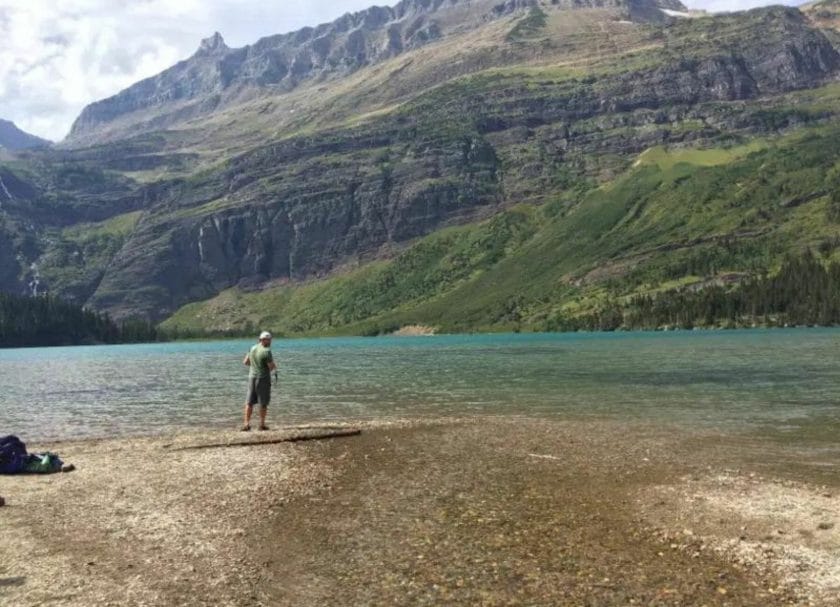 Grinnell Glacier Hike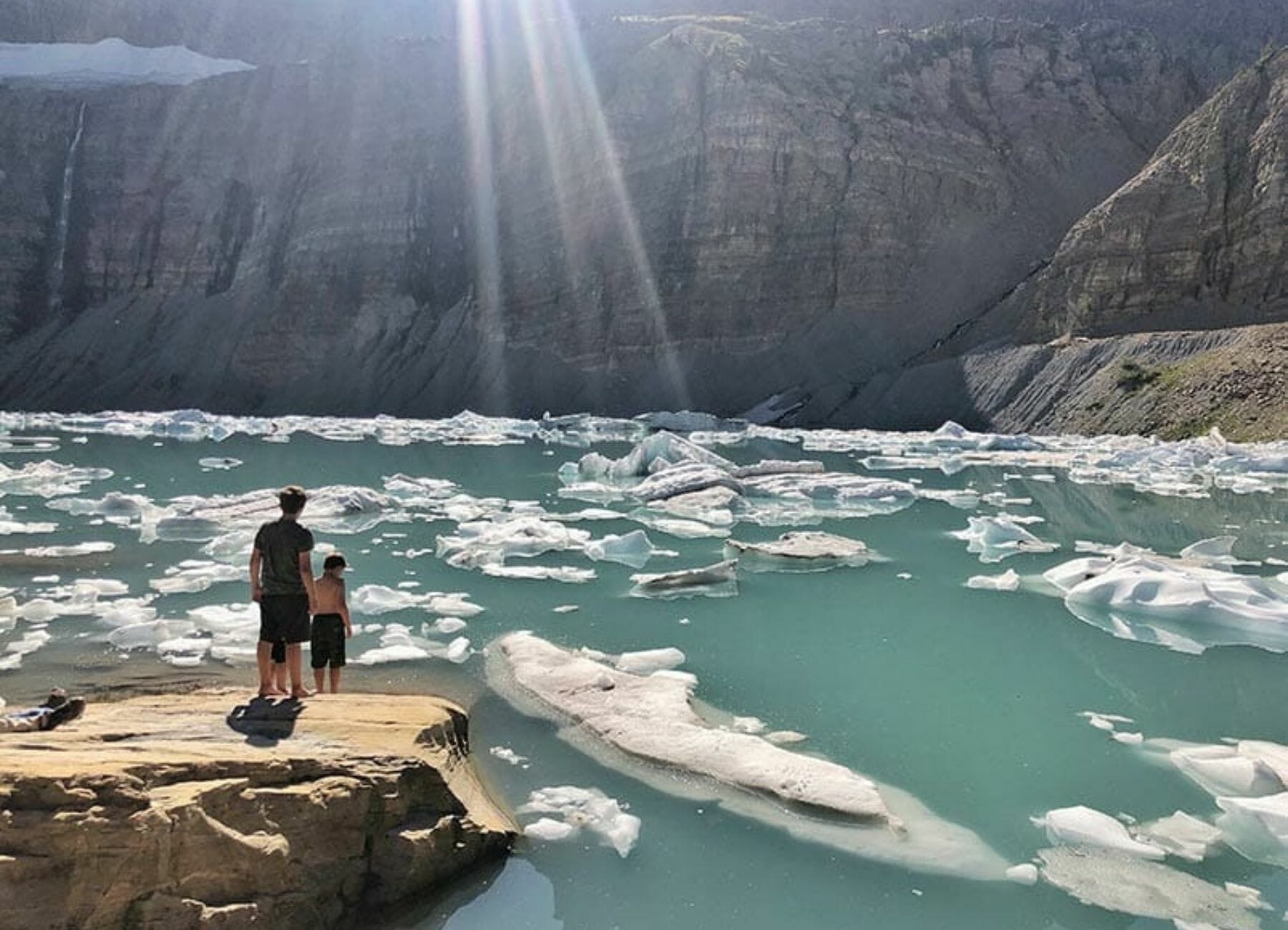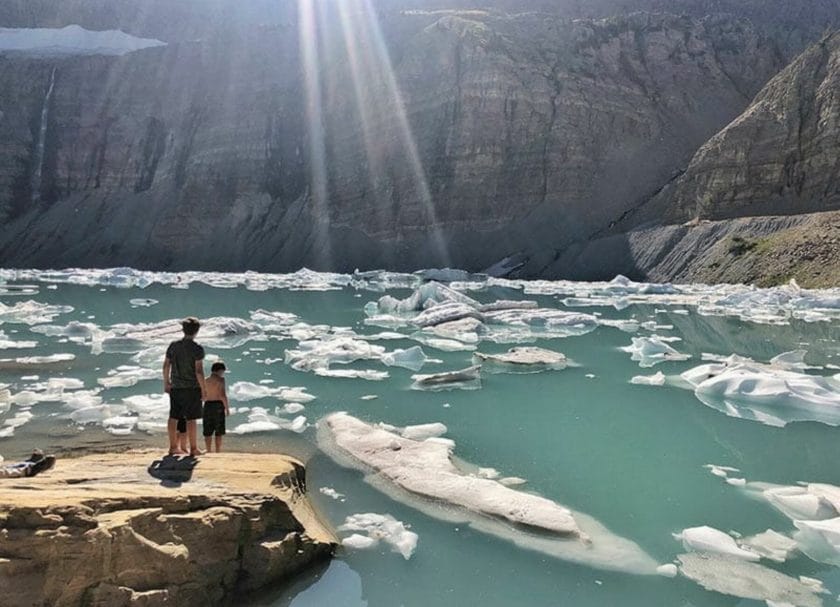 We did this hike when our kids were 11,9,9 and 7. It was a long hike at over 11 miles roundtrip and an 1800 foot elevation gain. It was totally worth it!
The views on the hike were gorgeous – similar to the Grinnell Lake hike – as you start on the same trail. But instead of taking the trail to the lake you take the trail to the glacier.
When we came around the corner the view were UNREAL!! We sat for a while to enjoy some snacks and we did not want to leave!
If you can do this hike. Here is a video of our hike:
Iceberg Trail
We were not able to do this hike when we were there due to the trail being closed due to bear activity, but we would love to go back and do it in the future! How cool would that be to see an Iceberg floating around. You can see the icebergs all year round – even in summer.
Here is a link that shows what Iceberg Trail is like. It looks so cool!! Next time!
There are a few more long trails that you could do and any of the visitor centers (there is not one by Many Glacier) have a brochure on the hikes in the area.
Read more about hiking here: The Best Hikes in Glacier National Park With Kids
When planning your trip to Glacier National Park make sure to save at least one if not 2 days to explore this area. We made it back a few times and would love to come and camp in this section of the park in the future.
Things To Know
Cell coverage is pretty much non existent in the area.
The roads are bumpy on the way in. It is not all paved.
You will need your National Park pass/or Glacier day pass to get into the area.
Fill up on gas before you head here.
Bring water and good shoes if you plan to hit the hiking trails.
There are also options to do Horseback riding in the area if you are interested in that.
Don't miss Bowman Lake and Polebridge Mercantile!
We know there is a lot to take in when you plan your trip! Don't forget to get your Glacier Guide to help with the planning:
---
Planning a trip to Glacier? We put together a series of digital guides that take the guesswork out of planning. Stop-by-stop itineraries for making the most of 1, 3 or 7 days in Glacier National Park including where to stay, where to eat, what hikes to take and the best driving routes.
We've even included links for you to book your stays and buy your park passes. Everything you need in one convenient digital guide. Just download and go!
---
Where to Stay Near Glacier National Park
Hotels
Haven Inn Located in Essex a short 20-mile drive away from the National Park. This inn feels like home due to its breakfasts, packed lunches, and home-cooked dinners. This is a great location for anyone looking to explore the park.
Great Northern Resort is located in West Glacier, this hotel has great family-friendly amenities to make your stay more comfortable.
Vacation Rentals
Glacier Riverside Lodge is located just 10 miles from Glacier National Park. This beautiful house can sleep 8.
West Glacier Adobe House This unique home is filled with modern and luxurious amenities. This home is located across the street from the western entrance to the park.
Camping
Mountain Meadow RV Park & Cabins Peaceful and picturesque this RV park is located 28 miles from the park in Hungry Horse, MT.
More amazing things to do around Glacier National Park:
Polebridge Mercantile and Bowman Lake: If you are looking to get off the beaten path in Glacier be sure to check this place out and get a pastry!
Whitefish Resort: If you are visiting the park during the summer months, discover why you need to go to Whitefish Resort.
Rafting: Discover more about the amazing rafting adventures you can have with your family.
Going To The Sun Road: The Sun Road is a must-see for anyone that come to Glacier National Park.
Guided White Water Rafting Trip: with Dinner included. This guided tour is the ultimate bucket list adventure for your family.
Private Fly Casting Lesson: learn to fly fish with a 1-hour private lesson. Learn why fly fishing is so popular and a great source of exercise during this lesson.
Scenic Rafting Trip: enjoy a 2 1/2-hour scenic rafting trip to remember. This is perfect for those that want a more relaxing experience than white water rafting.
Or visit our Glacier Page to learn all about visiting Glacier National Park with your family!
More Things To Do In Montana
If you love National Parks be sure to check out our National Park Road Trip ideas!
Stay in one of these 26 Unique VRBO & AIRBNB MONTANA Options, visit the fun towns of Gardiner, Bozeman, Livingston, West Yellowstone or Red Lodge.
More Great National Park Family Fun
12 Fun Things to do in Olympic National Park
18 Top Things To Do In Yellowstone National Park
21 Breathtaking Things to do in Banff National Park
Yellowstone Vacation: 12-Day Itinerary for Visiting In & Around The Park
15 Awesome Things to do in Zion National Park
23 Magical Things to do in Redwood National Park
10 Best Things to do in Joshua Tree National Park
The Best Glacier National Park Itinerary From 1 to 7 Days
Pin it for later: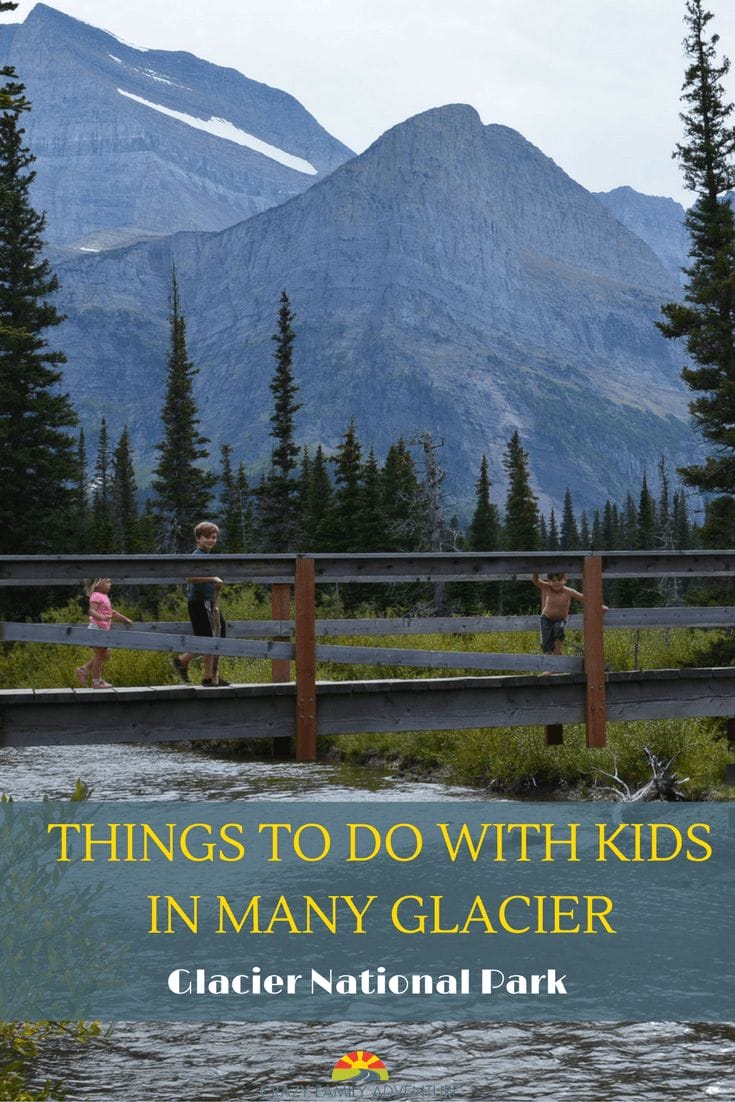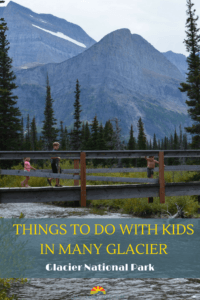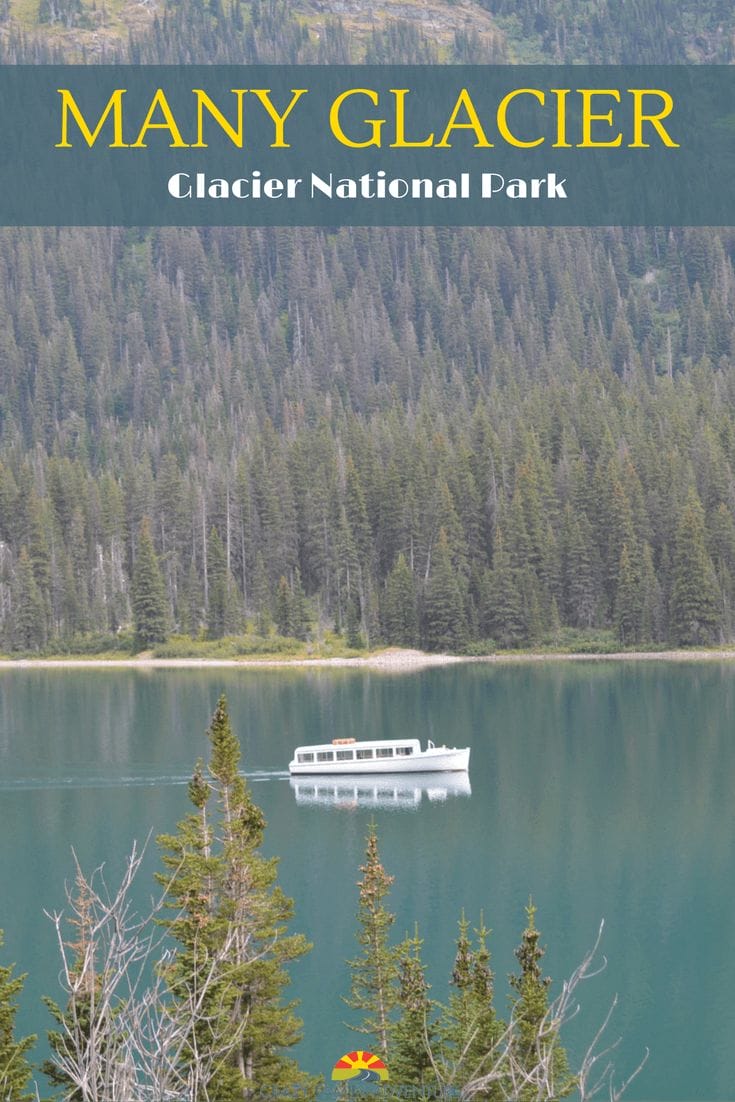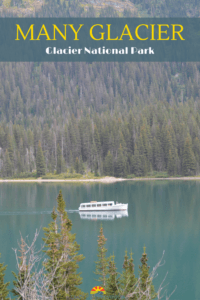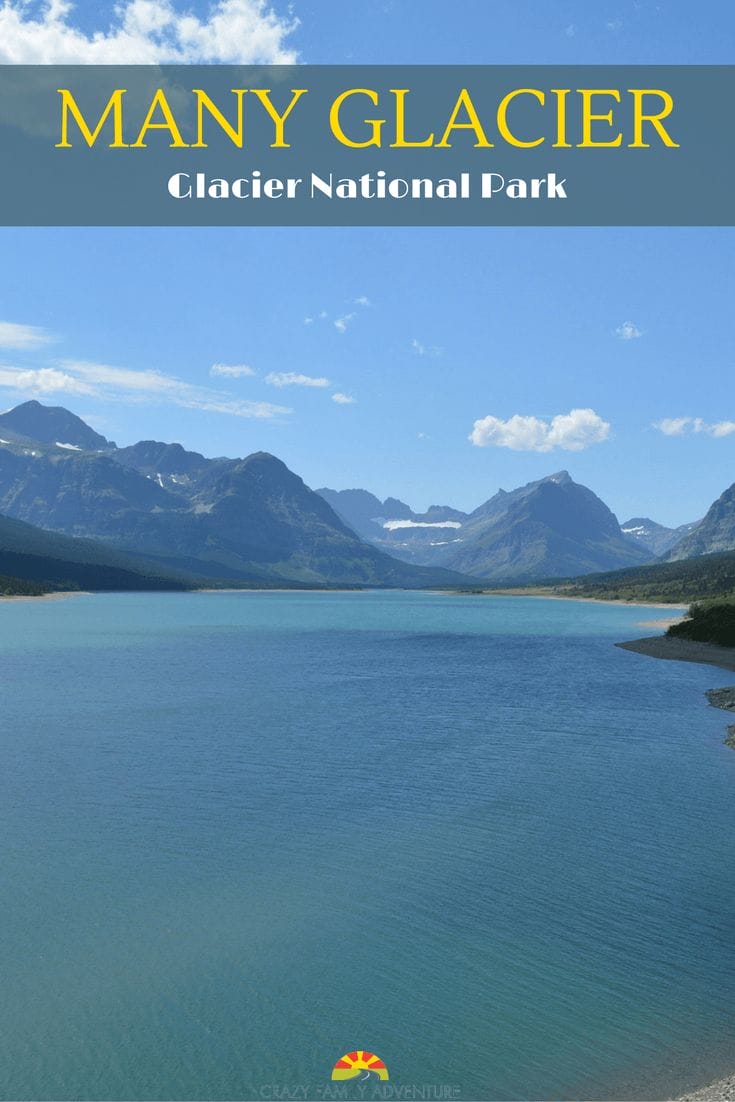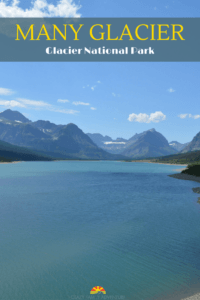 DISCLOSURE: This post may contain affiliate links, meaning I get a commission if you decide to make a purchase through my links, at no cost to you. Please read my disclosure for more info.