We spent weeks exploring Olympic National Park and the area around it. It is filled with so much wonder and beautiful mountains, forests, waterfalls, beaches and a rain forest! Here is our list of our favorite things to do in Olympic National Park.
At the bottom of the post we also share our recommended Olympic National Park itinerary based on our experience exploring the area.
Map
Here is a map of where we recommend visiting in the Olympic National Park. There is a lot of ground to cover in the park but it is all worth it! Olympic National Park should be on every National Park Road Trip list.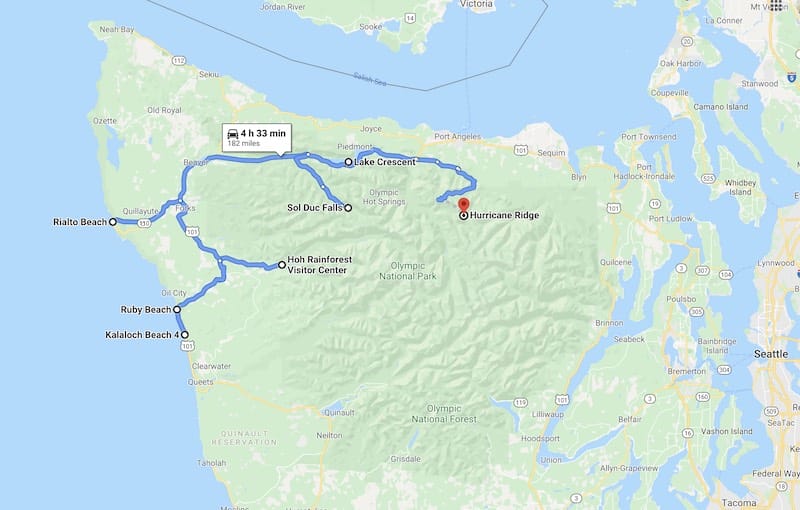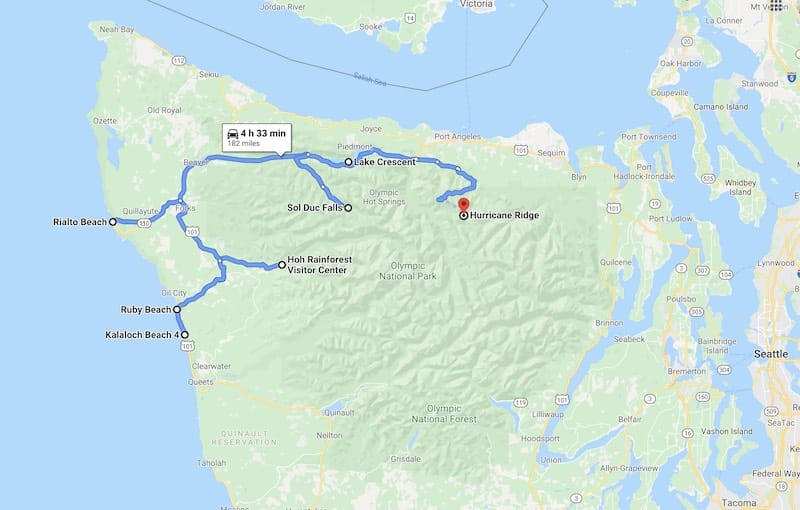 Here is a link to an interactive map: https://goo.gl/maps/t8j9ncwJjKnFM7UZ8
Hoh Rainforest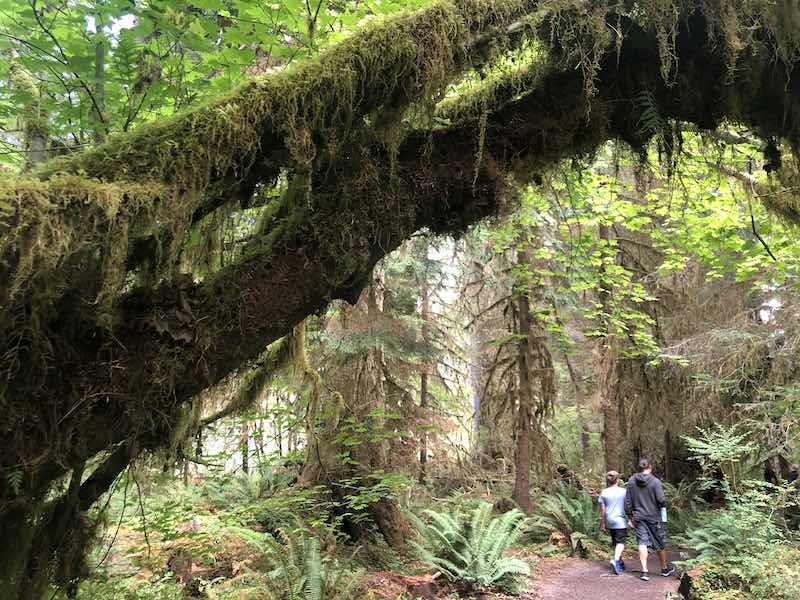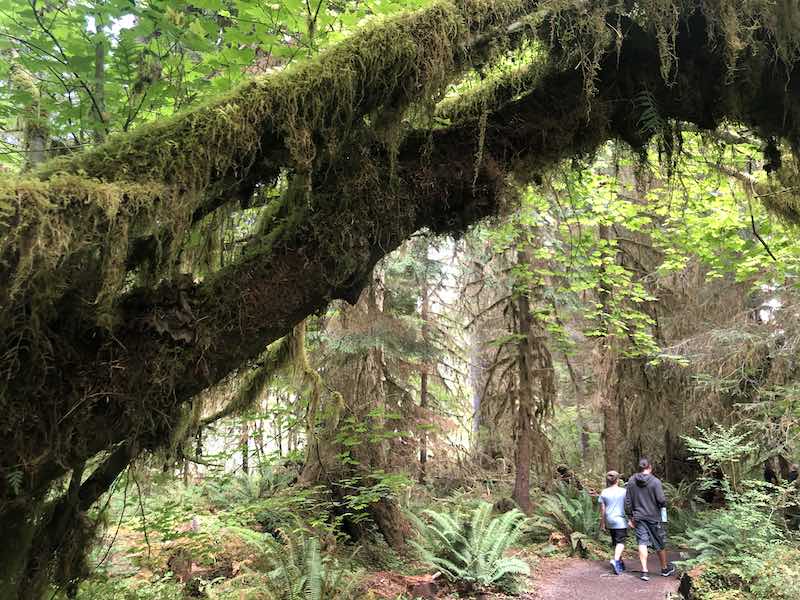 The Hoh Rain Forest has been on my list of places I wanted to visit since we hit the road almost 6 years ago! We finally made it! We started at the Hoh Rain forest Visitor Center to check in and see what hikes and nature trails we should do.
Hikes
Spruce Nature Trail – a 1.2 mile easy hike through the forest. I didn't feel like this one felt as much like a rainforest as the Hall of Mosses, but it was still beautiful and had lots of magical forest views to take in.
Hall of Mosses Trail – This was my favorite hiking trail in the Hoh Rainforest. It is a short .8 mile hike through the beautiful trees with green moss hanging everywhere. Definitely feels like you are in a fairy world!
Be prepared for it to be busy though. It is a short trail and one of only 2 that are short and easy in the Hoh Rainforest so there are a lot of people that check it out.
Time to explore: 1 day is plenty of time to explore the Hoh Rainforest. If you have questions be sure to talk to a Park Ranger.
Video of our time in the Hoh Rainforest:
Where to Stay
Camping
Hoh Campground – located in the National Park with first come first serve sites with some up to 35 feet. We opted not to do this as we weren't sure we would get a site (we aren't early risers so figured they would all be taken by the time we got up and got moving).
Hard Rain Cafe & RV Park – this is where we stayed. It is a store/cafe/RV park close to the Hoh Rainforest entrance. We could make a reservation and had full hookups and internet so it worked for us!
Check out this awesome post on camping in the Hoh Rainforest: Where To Camp In Washington's Hoh Rainforest
Don't have an RV? Rent one! Check out these great RV rentals in the area.
Hotel
Kalaloch Lodge – Located in Olympic National Park but about a 1 hour drive to the Hoh Rainforest visitor center.
Forks Motel – This is another option. But note that Forks is about a 45 minute drive to the Hoh Rainforest Visitor Center.
VRBO
Olympic National Park Coast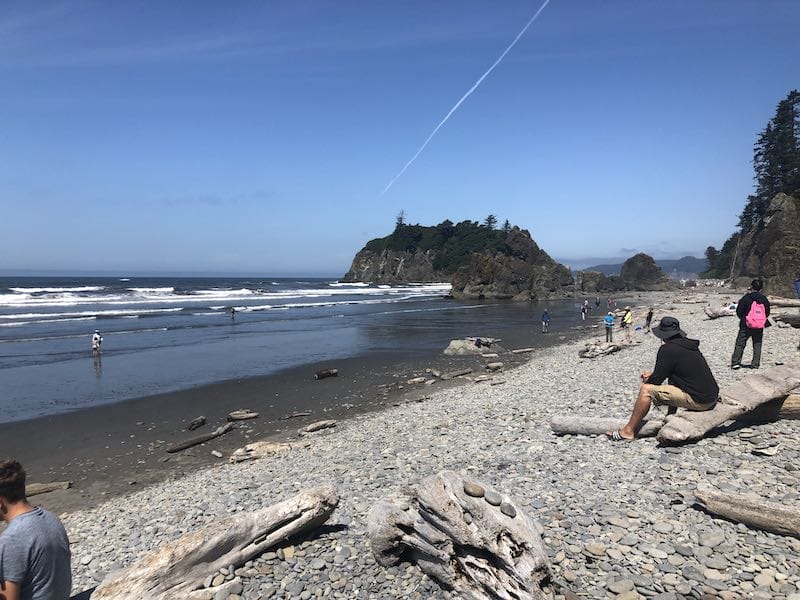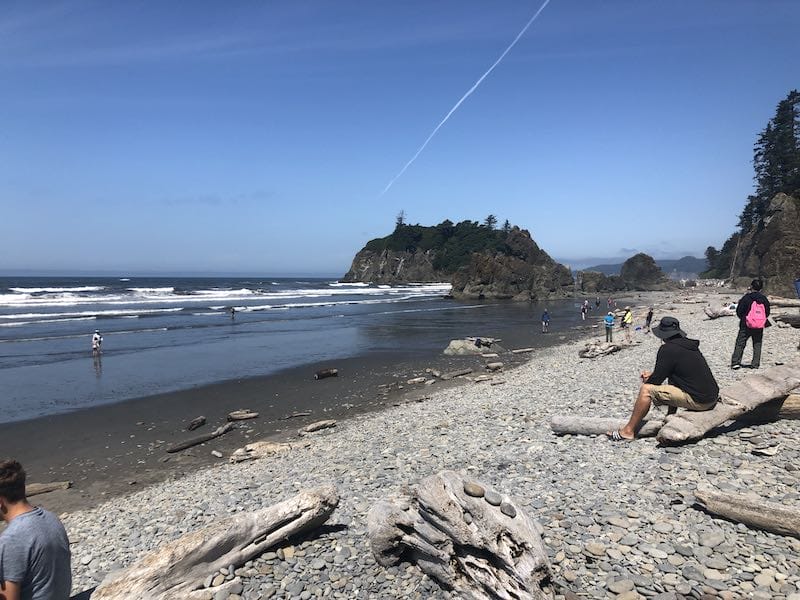 The Olympic National Park coast located on the Pacific Ocean is gorgeous and well worth spending time exploring up and down the coast. And if you can time it right there are some awesome tide pools to explore too.
We really enjoyed exploring the coast and the wild rugged beauty of the beach and the ocean. So different than the sunny Florida but no less gorgeous in their own way. We fell in love with this coastline when we explored Northern California and continued to enjoy the coast as we made our way through Oregon into Washington.
You can find these beaches on the list of the top 25 favorite beaches in the US for a family vacation.
Video of our time on the coast: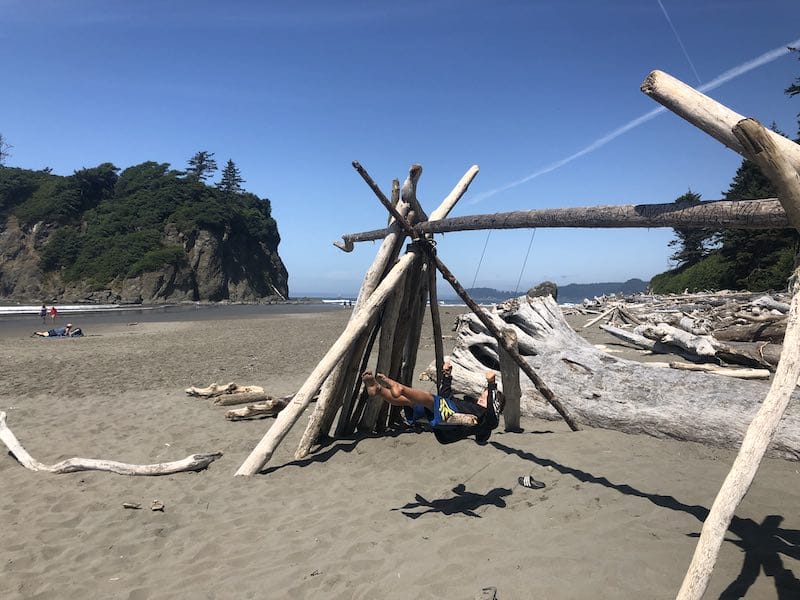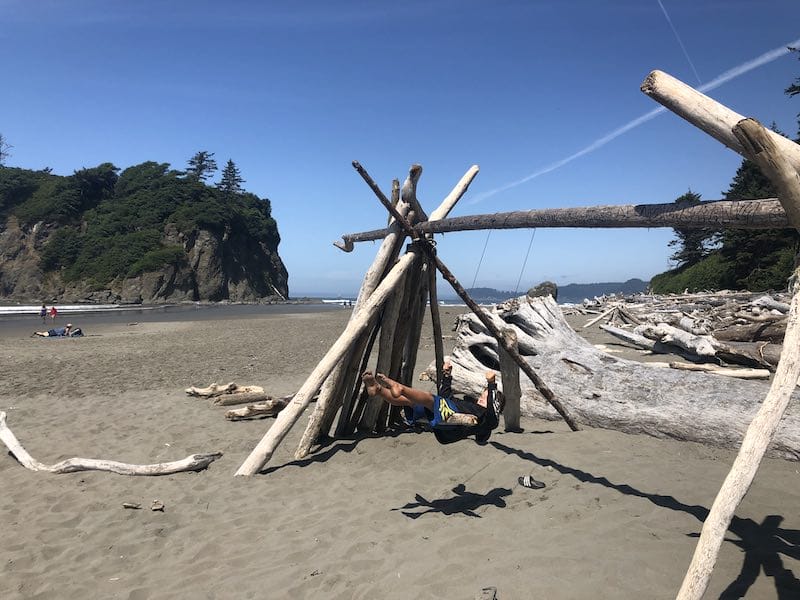 A gorgeous beach with the famous sea stacks sticking out of the ocean and driftwood filling the beach. Plus a great place to walk along the beach or to spend a few hours playing among the driftwood.
When we were there someone had built a swing set out of driftwood! We had a blast playing on it and then headed over to the driftwood teeter totter. Natures playground at its best!
Kalaloch Beach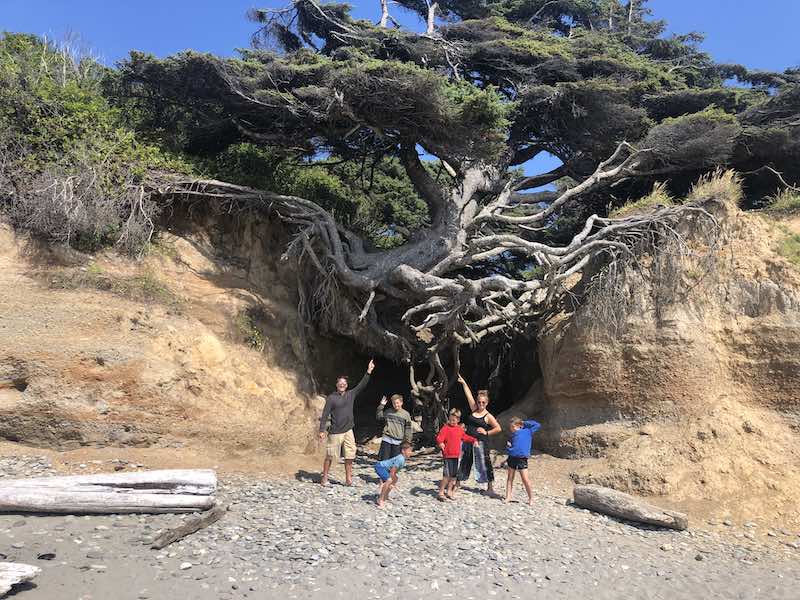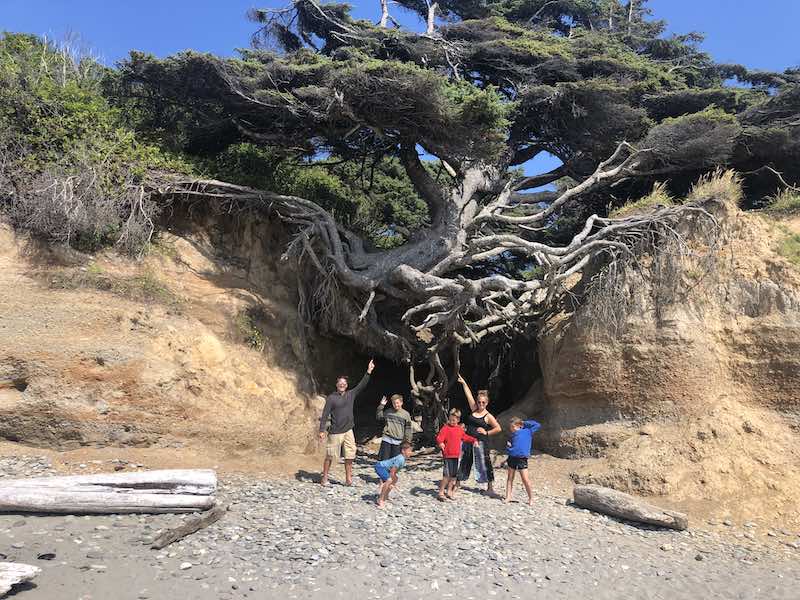 We pulled up to Kalaloch Beach and it was exactly what you would picture a Washington Coast beach looking like. Foggy and mysterious. As we walked down the beach we came to a maze that someone had drawn in the sand. We all worked our way through it and then continued down the beach to get to the Tree of Life.
The Tree of Life is a gorgeous tree that sits up on the ledge above the beach, but its roots are totally exposed so you can see all of the intricate roots working their way down.
Right as we got here the sun came out and we were able to take a fun picture under the Tree of Life. This place is listed as one of the best things to do in Washington State and I see why!
We had lunch at the Kalaloch Lodge and is definitely a place we would like to stay!
Rialto Beach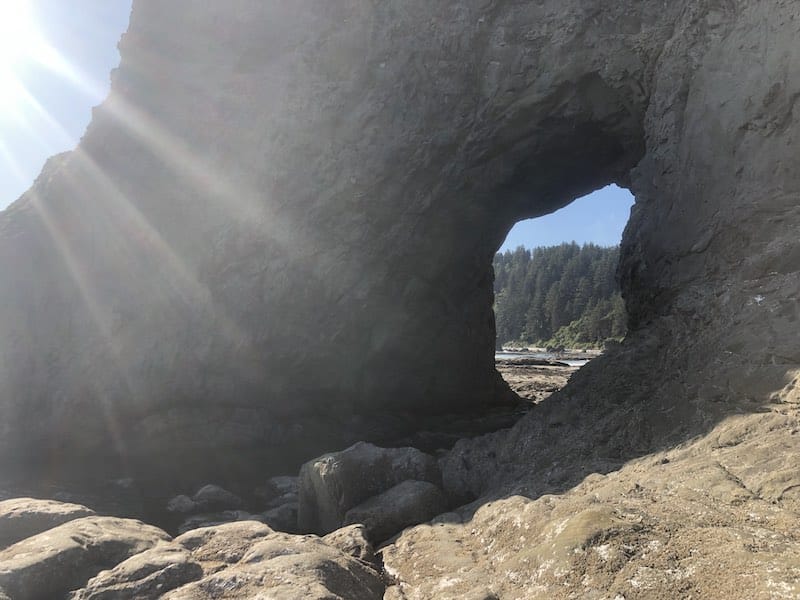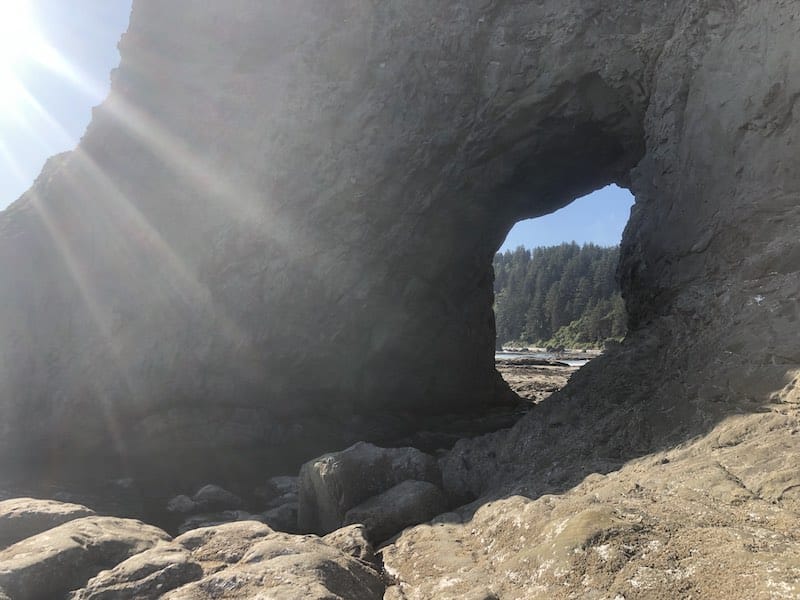 The 3rd beach we visited on our way up the Olympic National Park coast was Rialto Beach. Another beach filled with driftwood to climb on! We also ready about the Hole In The Rock hike that seemed like a short 1-2 mile hike up the beach to reach, but we forgot how hard it is to hike on sand!
We did make the hike to the Hole In The Rock and were able to sneak our way through the hole before the tide came in to take a peek from the other side.
Where To Stay
Camping
Don't have an RV? Rent one! Check out these great RV rentals in the area.
Hotel
VRBO
Next we leave the coast and head to the northern part of Olympic National Park to explore more of the mountains and waterfalls.
Hurricane Ridge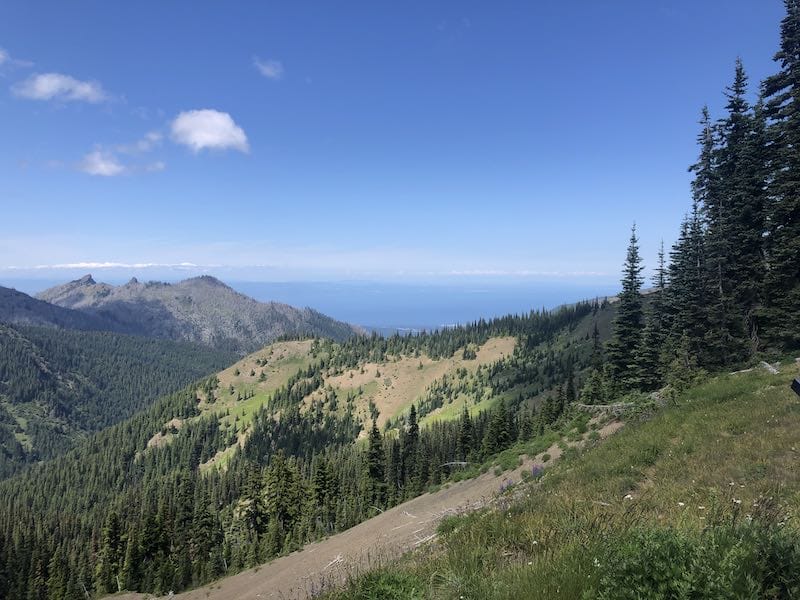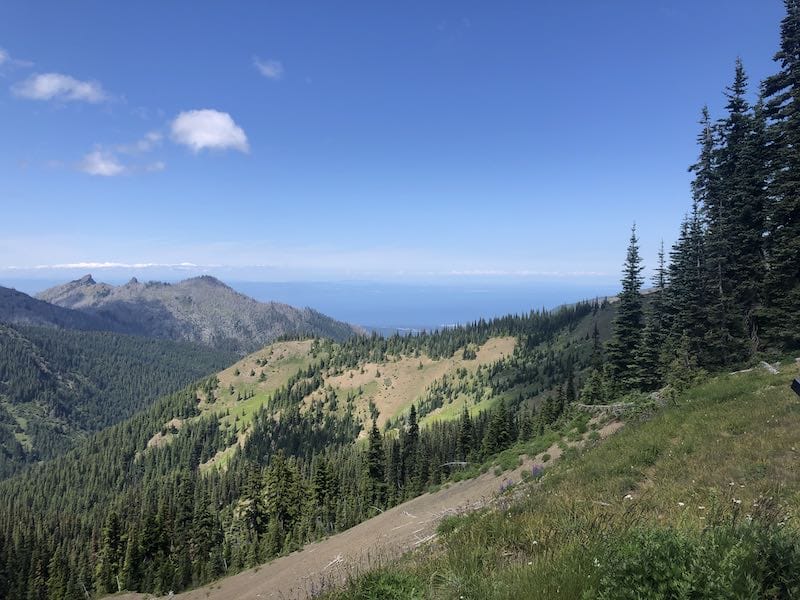 Hurricane Ridge is a visitor center in Olympic National Park. Even if you just drive here to take in the views it is worth it! The drive is beautiful and views of the Olympics are amazing and if you can stay and check out the hiking trails too.
You will see forests of Douglas Firs and Sitka Spruce along with the ocean and mountains. We got lucky and got a beautiful and clear day so we could see for miles. Then as we were leaving we came upon a marmot just sitting on the curb watching all of the tourist leave.
Video of our time exploring this part of Olympic National Park:
Klahane Ridge Trail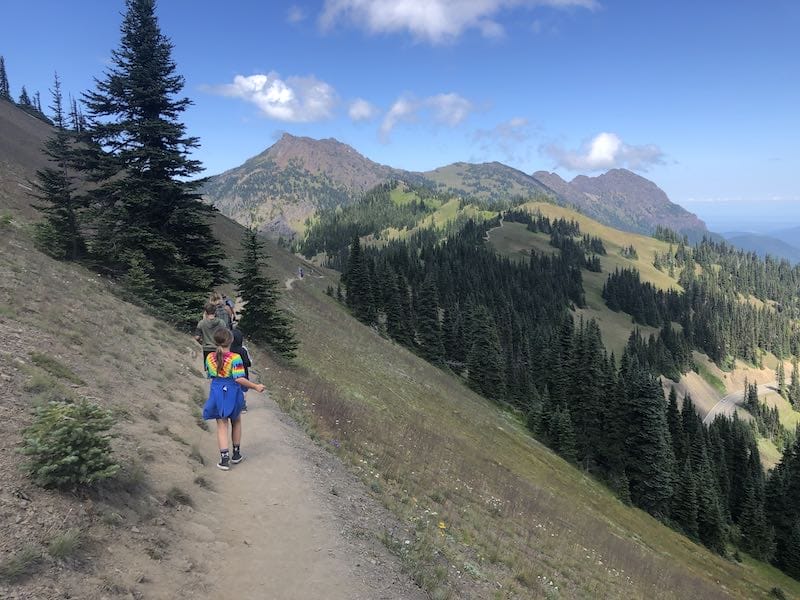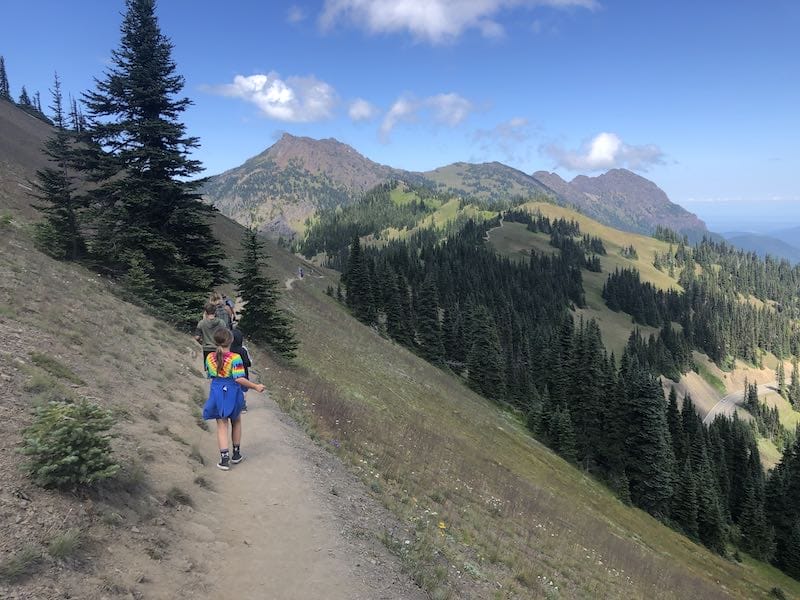 From the Hurricane Ridge visitor center you can do the Klahane Ridge Trail an awesome Hurricane Ridge hike. The ranger told us it was relatively flat . . . not so much! It was a 1700 foot gain and then you have to turn around and hike back down!
We hiked about 5 miles roundtrip and we could have continued on, but decided to turn around once we had made it about 2.5 miles. This is a challenging trail, but gives you amazing views – and on a clear day you can see across to Canada.
Here is more information on the hike: https://www.wta.org/go-hiking/hikes/klahhane-ridge
Sol Duc Falls
Next up we visited the Sol Duc Falls area that is filled with beautiful waterfalls and fun hikes. We loved how lush the forest was here and how much beauty there was to explore. There are some great Olympic National Park hikes here!
Sol Duc Falls Trail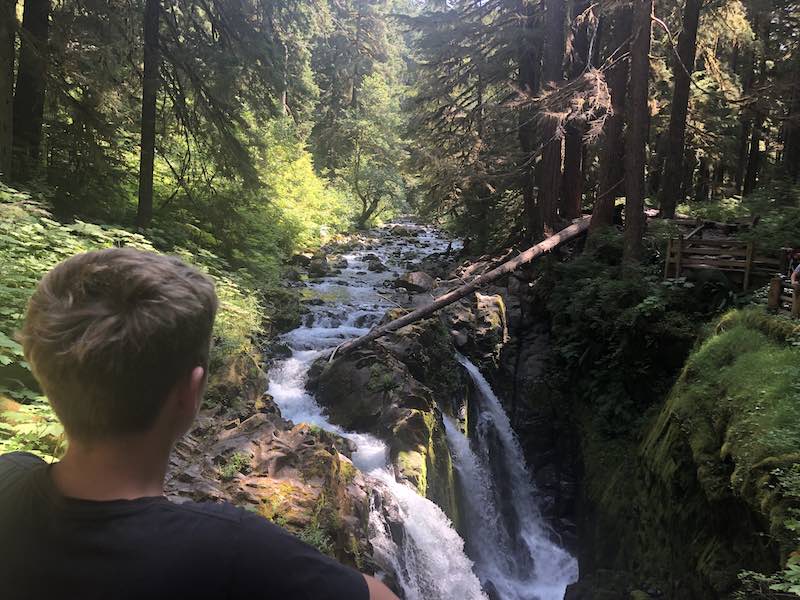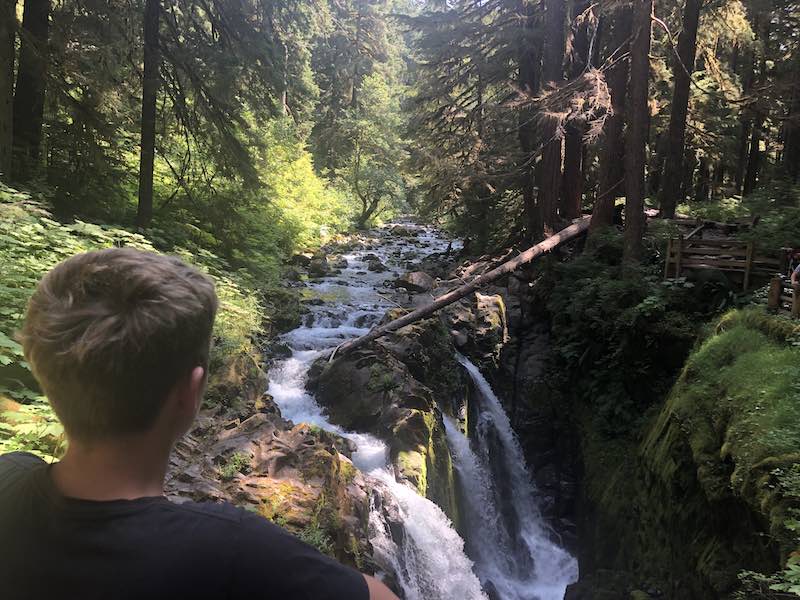 For the Sol Duc falls you hike on a gorgeous trail that takes you across bridges where you look down into a canyon where the waterfall is flowing. I love how it was so green and foresty. If fairies exist the Olympic National Park is where they live!
Ancient Grove Trail
Up the road was the Ancient Grove Trail. Our friend Rob from 2 Travel Dads introduced us to this overlooked trail. You just park on the side of the road and then take a short hike through this ancient grove of all trees and beauty. Definitely worth the stop.
Marymere Falls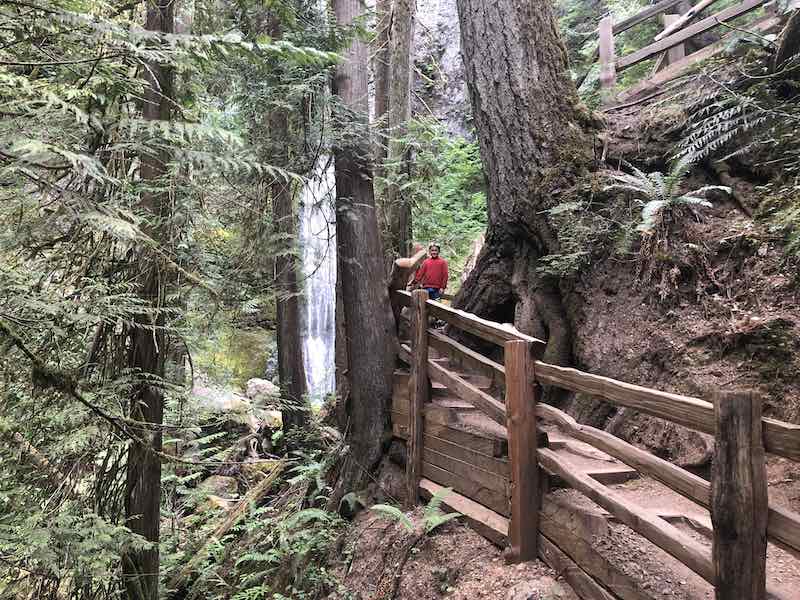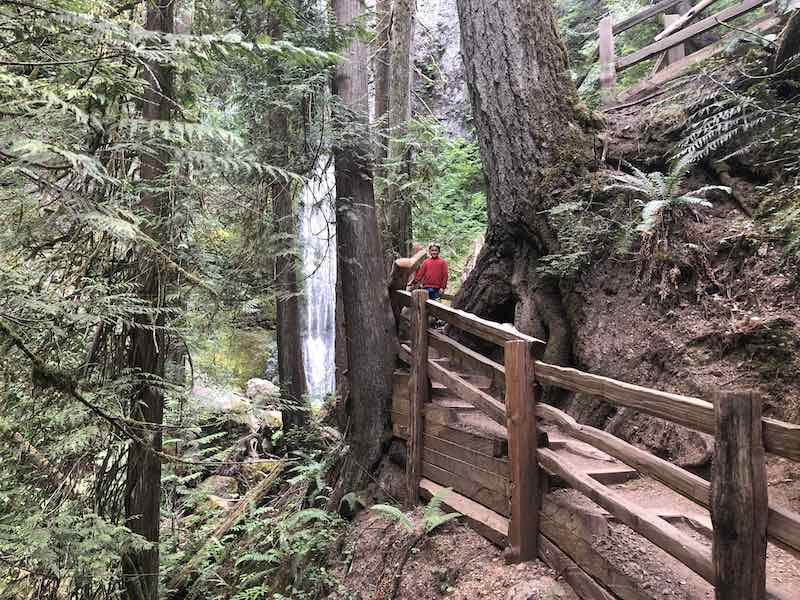 Another fun waterfall hike that takes you up close and personal to this beautiful waterfall. It is a tall thinner waterfall and if you hike up to the platform you can get an amazing view of it.
Lake Crescent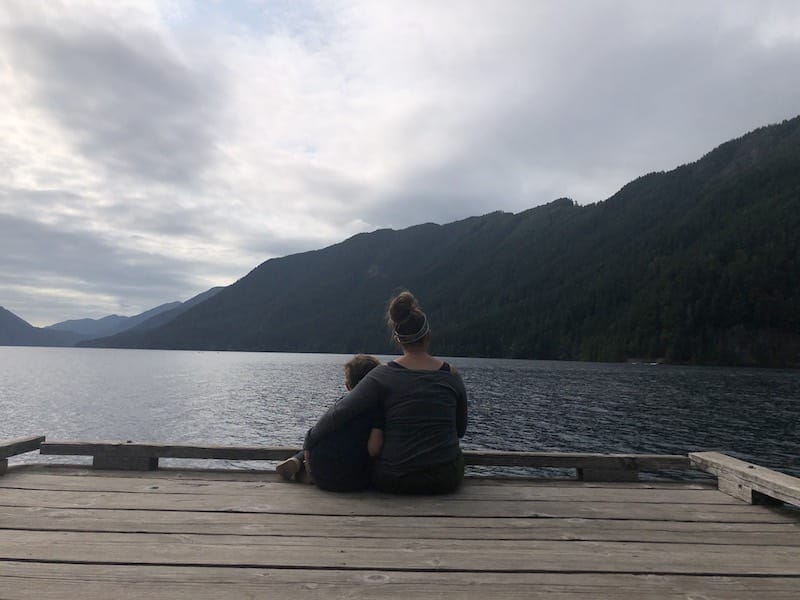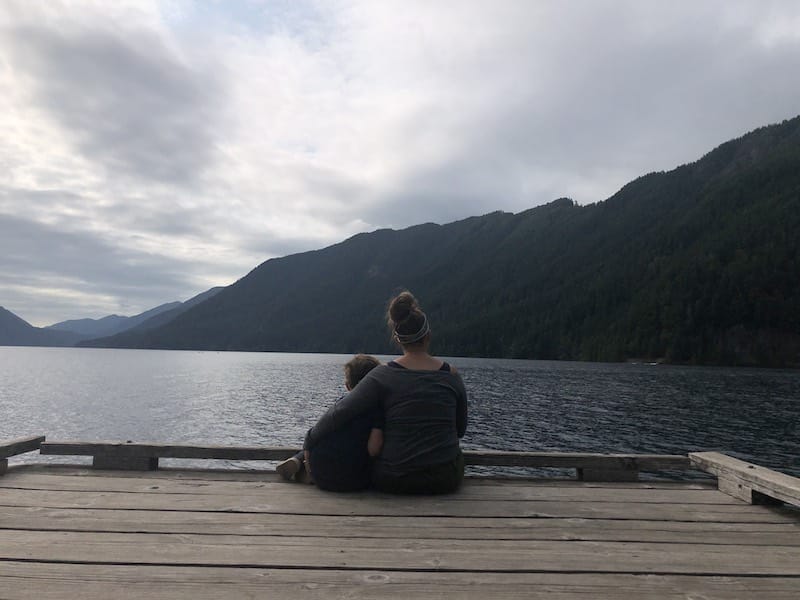 On our way back to our campground we stopped at Lake Crescent to grab a drink and sit out to take in a view of the lake. It was the perfect stopping point for Happy Hour!
Mount Storm King Trail
A trail we want to go back and try is Mount Storm King where you hike up to a beautiful view over Lake Crescent! Learn more about the hike here: https://www.wta.org/go-hiking/hikes/mount-storm-king
Where To Stay
Campground
Heart Of The Hills Campground – located in Olympic National Park this is a a first come first serve campground and can accommodate larger rigs. We came in during the week so we didn't have a problem getting a site.
Salt Creek Recreation Area – this is the campground we were looking to stay at but by the time we knew our dates it was already filled up.
Don't have an RV? Rent one! Check out these great RV rentals in the area.
Hotel
Olympic Lodge – Or else you can look into the city of Port Angeles – which is a bit of a further drive but does have restaurants.
VRBO
Olympic National Park Road Trip Itinerary
Day 1
Arrive: Hoh Rainforest Area (make sure to arrive first thing in the morning so you have the day to explore the Hoh Rainforest)
Stay: Hoh Rainforest
2nd Day:
Explore: The Olympic Coast (Ruby, Kalaloch and Rialto Beach)
Where to Stay: Forks area
3rd Day:
What To Do: Explore Sol Duc Falls area, do hikes, hang out at Lake Crescent and enjoy the area
Stay: Sol Duc Hot Springs area
4th Day:
Explore: Continuing exploring the Sol Duc Falls and Lake Crescent area
Where to Stay: Hurricane Ridge area
5th Day:
What To Do: Explore Hurricane Ridge
Stay: Hurricane Ridge area
Day 6: Make a stop in Port Townsend to explore this awesome town!
More options: Check out Bass Lake!
The Olympic Peninsula is a gorgeous place to travel and is a place everyone should visit! Add it to your road trips bucket list today and once you finish exploring here plan a weekend in Seattle to see everything this epic city has to offer! If you're staying in Seattle, you can book a guided tour of Olympic National Park and explore the sites and trails that way!
If you are in Washington in winter be fore to check out the town of Leavenworth. It is cool anytime of year but Leavenworth in winter is magical!
Here are other amazing places to check out in the area:
17 Amazing Things To Do In North Cascades National Park
Things To Do In San Juan Islands
26 Oregon Coast Road Trip Stops You Don't Want To Miss
How To Spend 3 Amazing Days At Mckenzie River National Recreation Area
The 10 Best Stops On The Hood River Fruit Loop
32 Epic Things To Do In Portland With Kids
12 Epic Things To Do In Northern California
Pin This Post: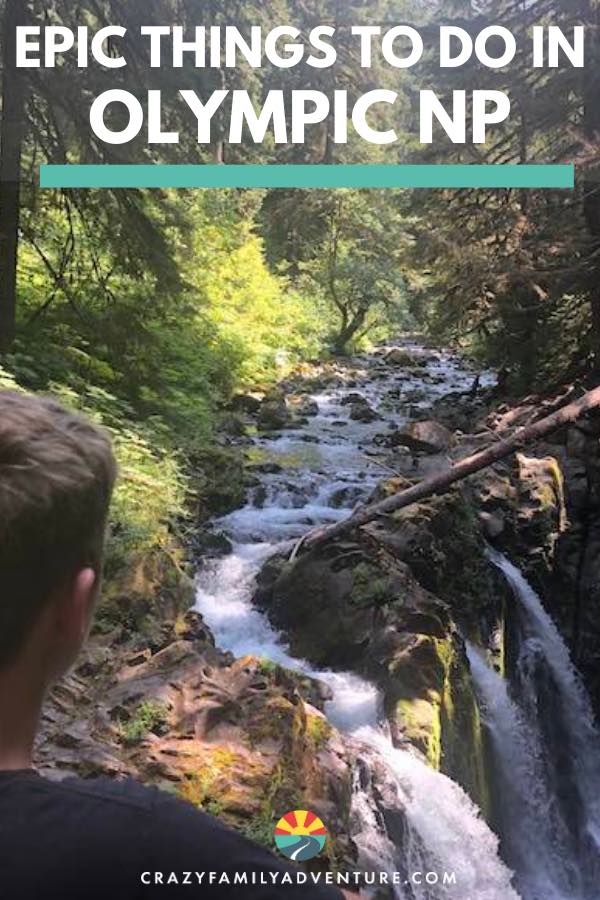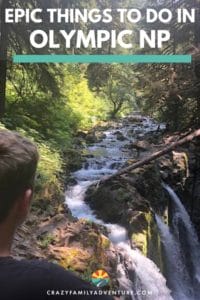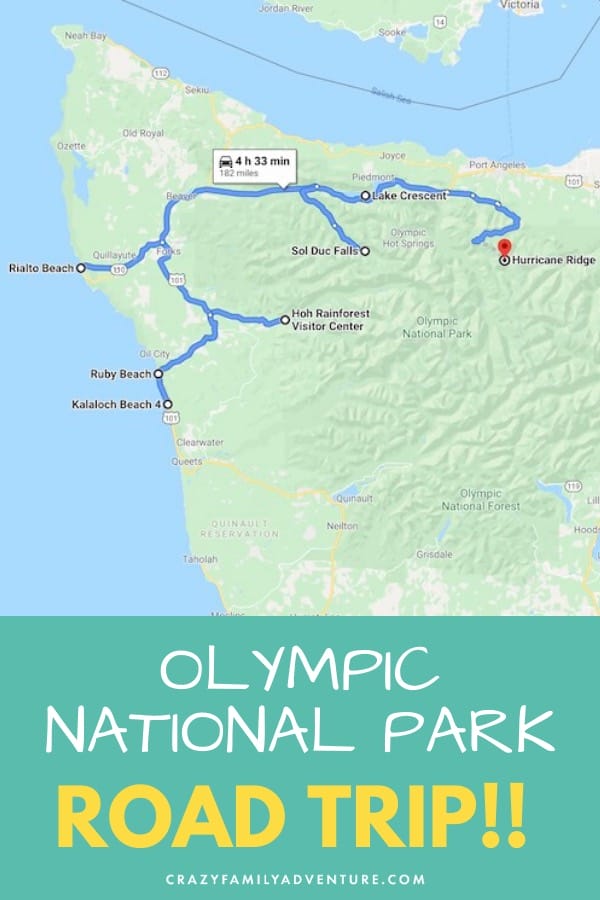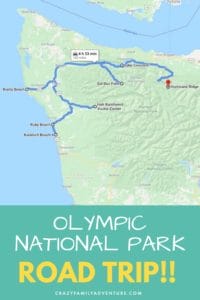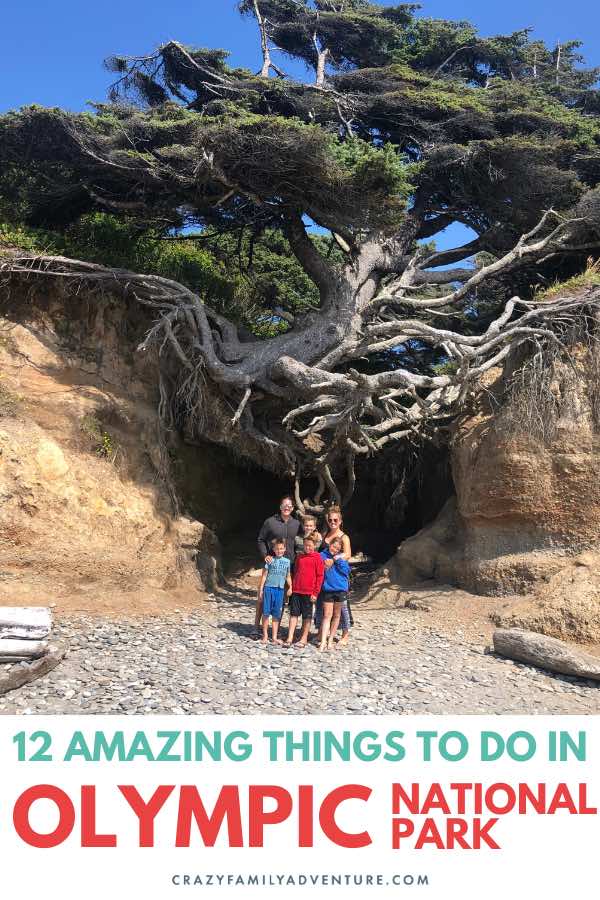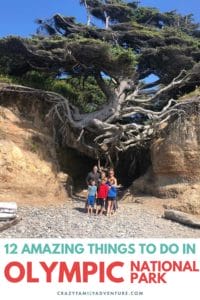 DISCLOSURE: This post may contain affiliate links, meaning I get a commission if you decide to make a purchase through my links, at no cost to you. Please read my disclosure for more info.