Hood River, located just over an hour from Portland, is a beautiful little town on the waterfront with great breweries and shops. But the real fun starts when you head onto the Hood River Fruit Loop trail, a 35-mile scenic drive which includes all the farms, fruit stands, wineries, breweries and cider places that have found an oasis for growing fresh fruit in Hood River! We will share our favorite stops with you in this post.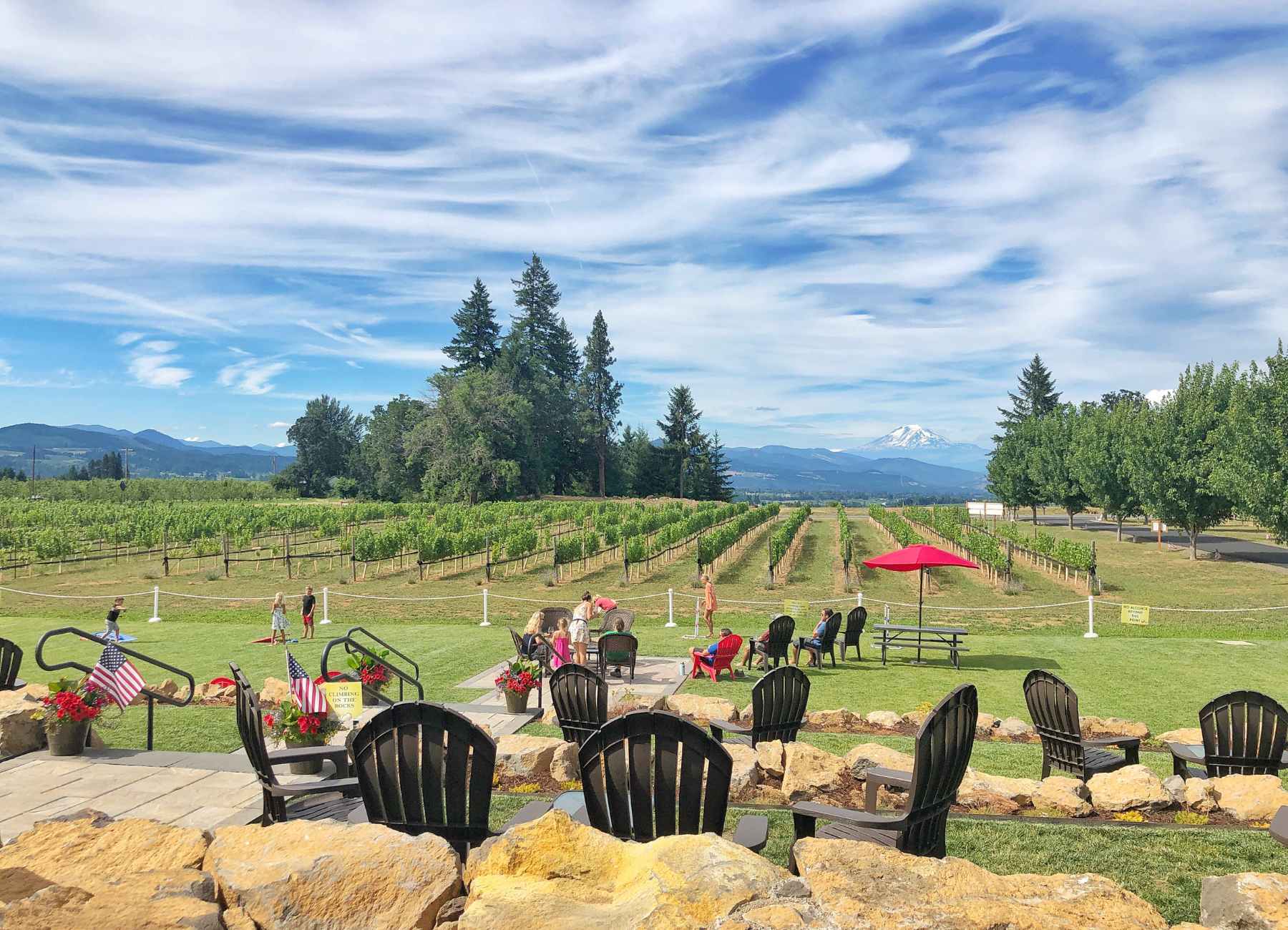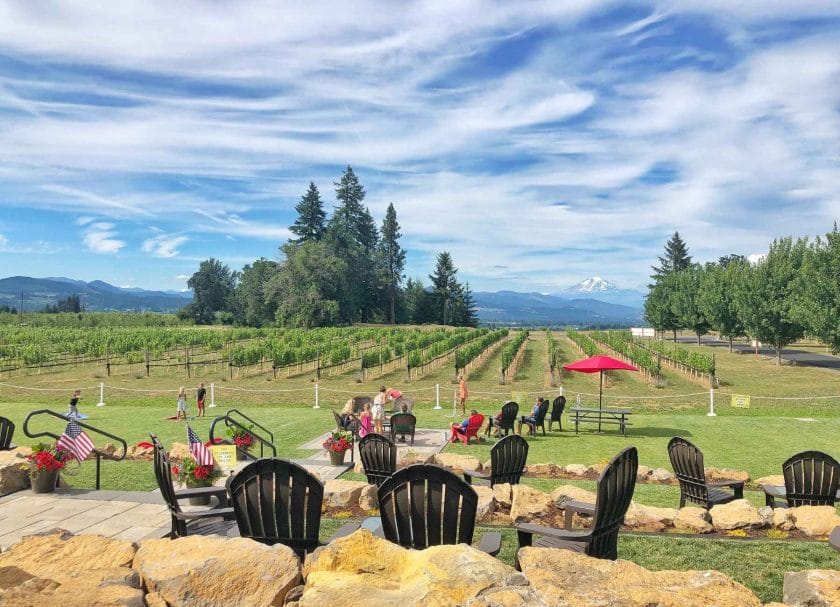 There are over 20 stops on the Fruit Loop trail but all we had was 1 day so we cut it back to only 10 stops. Note that most of the farms close at 5 or 6pm so you will need to get going early if you want to check a lot of places out – also be sure to check what locations are open on what days. Some of them are only open certain days of the week.
Here is a Fruit Loop Map that shows all of the stops: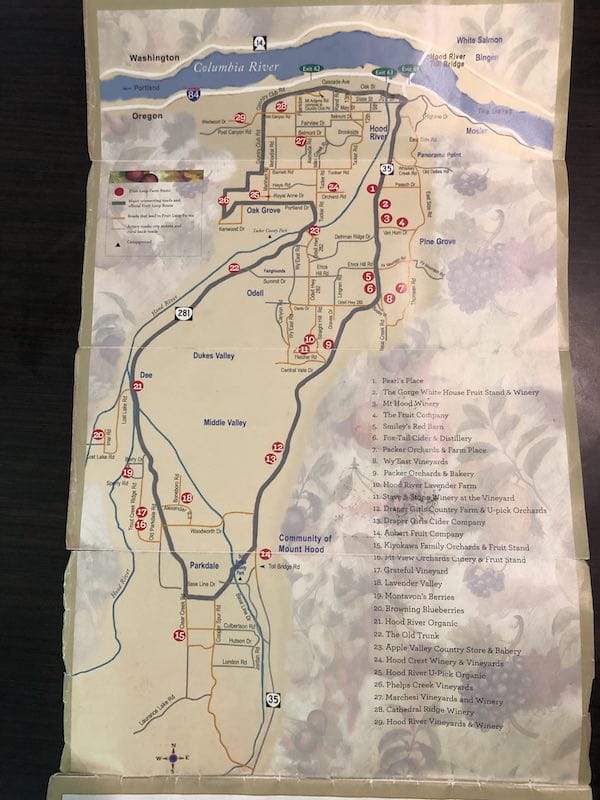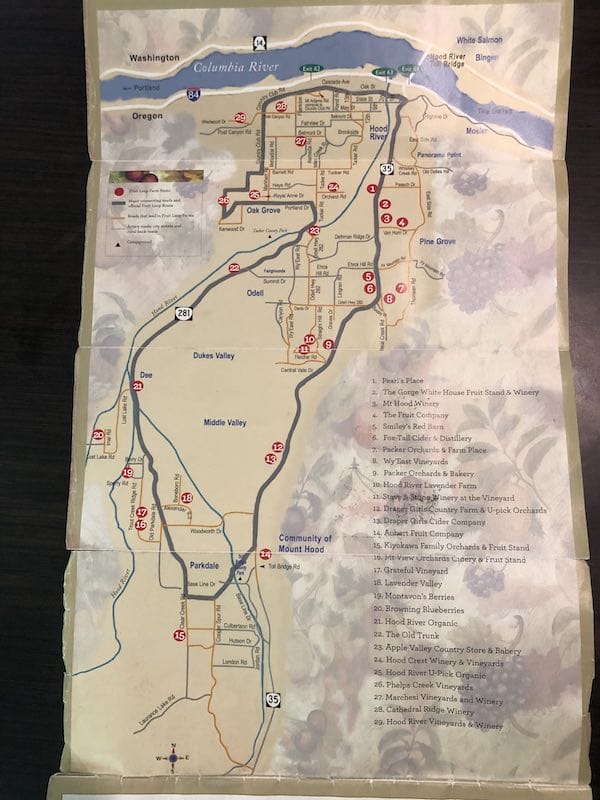 Link to an online map Hood River Map and when you make your first stop on the Fruit Loop trail you can ask if they have any Guides To Local Farm Stand booklets – where you can learn more about each stop and get a printed map.
Fruit Loop Stops
1st stop – Ground Espresso Bar and Cafe
This coffee shop was located in the town of Hood River. We were just planning to stop to grab a coffee and go but after getting into the town I wish we could have stayed longer to explore!
They have a lot of cute shops and the coffee was delicious.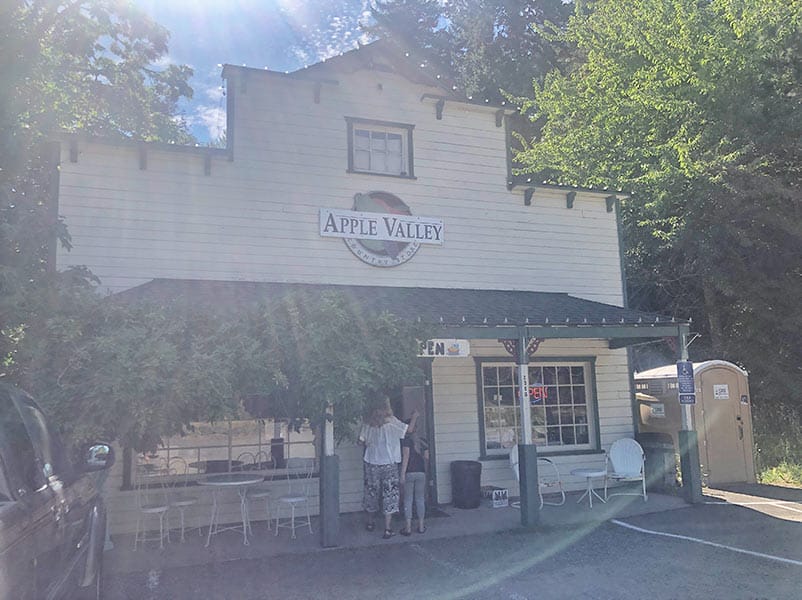 Our next stop was the Apple Valley Country Store where I had read they had scones and other baked goods which is what we were going to get the kids for breakfast. When we got there they only had a few scones . . . but luckily they had huckleberry milkshakes so the kids started their day with half a scone and a milkshake – not a bad deal.
The store also had some jellies that you could sample and I bought a handmade purse there.
There was a cute little outside seating area so it was a good place to stop to get some breakfast, just wish they would have had more options!
If you are looking for a place to grab dinner at the end of your day, they have a sister restaurant called Apple Valley BBQ which looks delicious.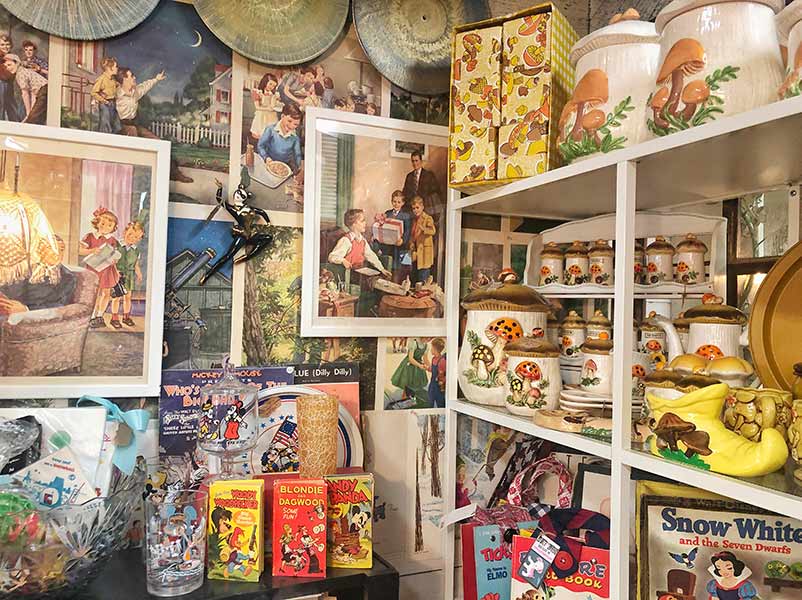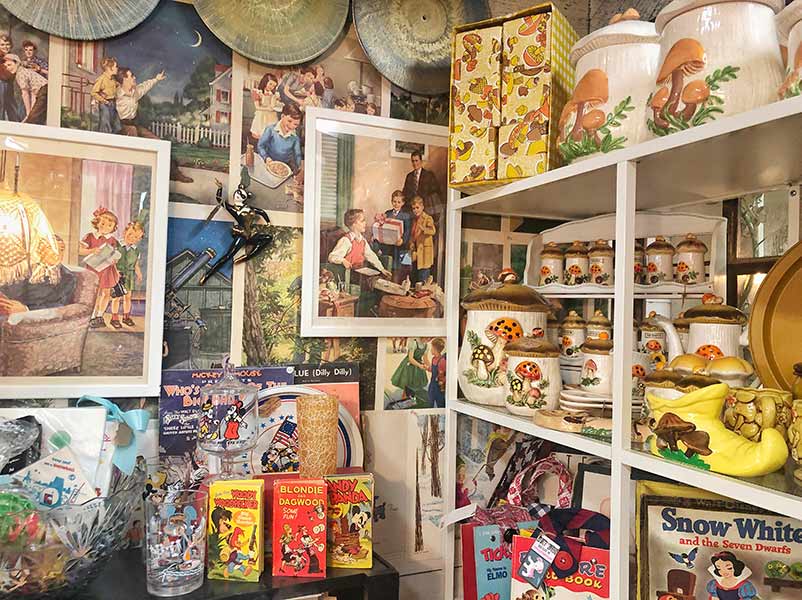 We knew we wanted to do some u-picking of blueberries, raspberries and marionberries when we were in the Hood River area. Since The Old Trunk was on the way we figured we would check it out.
It was an antique store with all sorts of interesting antiques from dishware to comic books and clothes. The kids had a blast exploring the store and picking out a set of old keys and some comic books.
We then headed into the back to do the berry picking. It was a small area and more like a backyard fruit orchard but it worked out great for our group of 16 and you couldn't beat the prices!
4th stop – Montavon's Berries – U-pick And A Harvest Host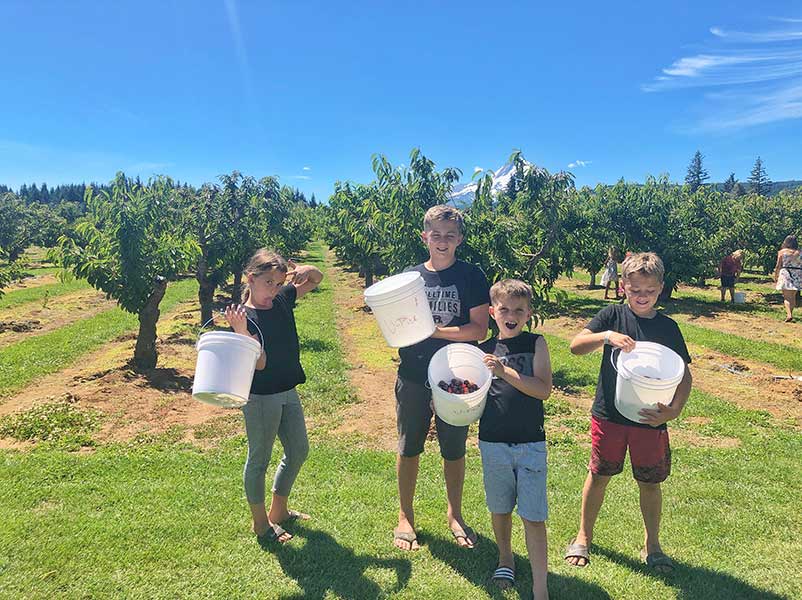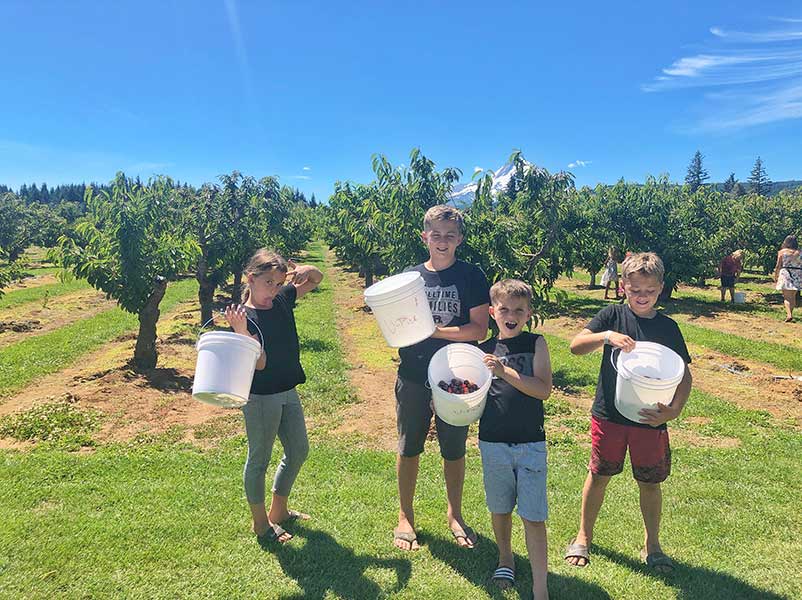 We had heard from multiple people that we should visit Montavon's Berries. Plus they are a Harvest Host location for RV's so we figured it was worth checking out.
Since we had already done the berry picking we opted to pick Cherries here. They were so good!!
This was more of a full blown farm and the acres of orchards had views of Mountains on both sides. It was a beautiful area.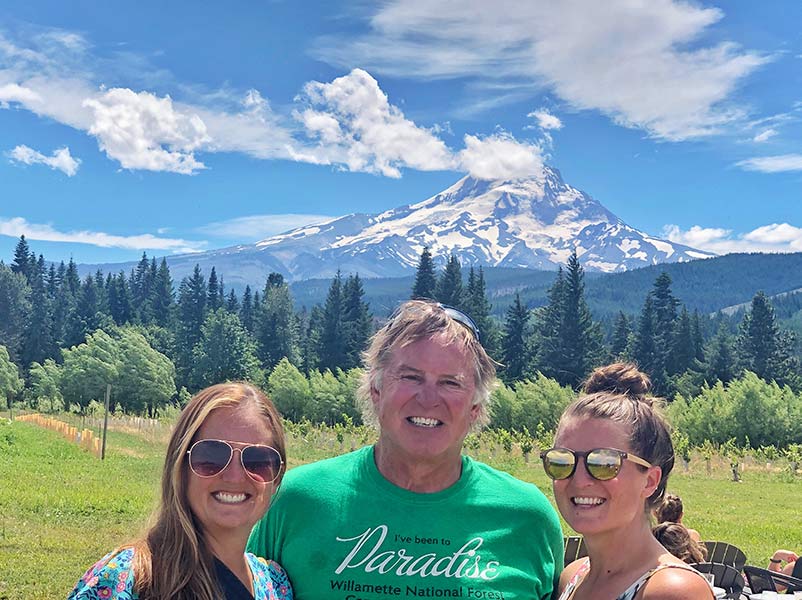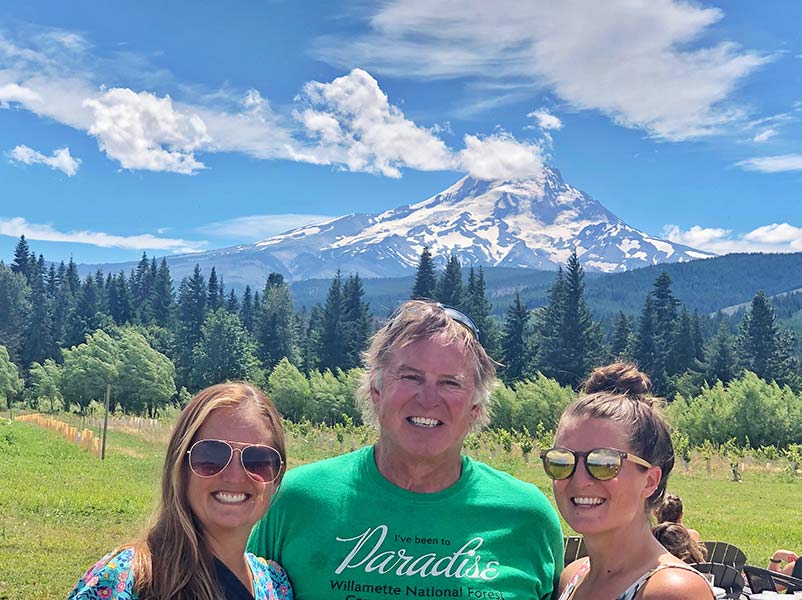 The next stop was Mt. View which had a winery and a cidery along with pizza. We weren't sure if we were going to eat here or head to the Solera Brewery but once we saw the view and the pizza flavors we were sold.
All of the ladies did a wine tasting in the tasting rooms and then bought a glass of wine or a pint of cider to take out on the patio overlooking a gorgeous view of Mt. Hood. They also had beer for the guys to get.
Right down the road was a playground for the kids and a gigantic bull that the kids could go and see. It worked out as the perfect place for our large group to grab a drink and some pizza before continuing on.
I really liked that all of the cider places used local apples and you could tell based on how good everything tasted!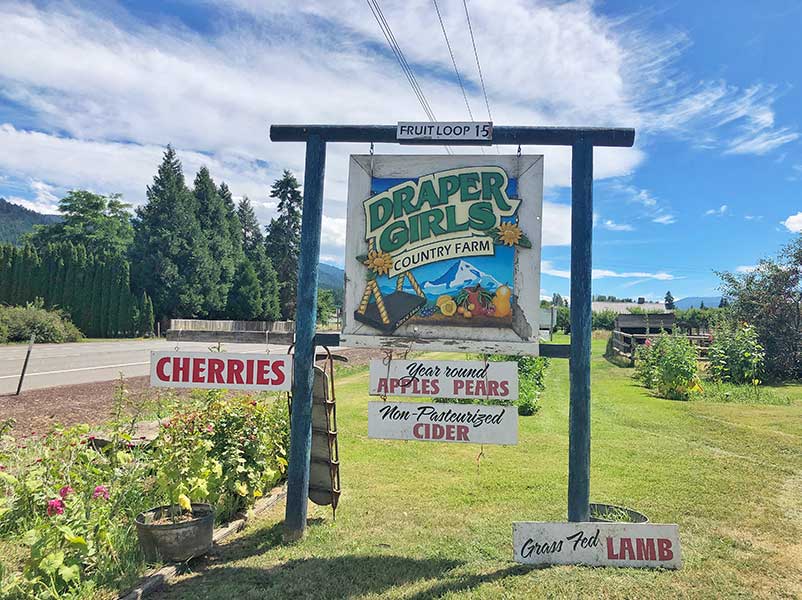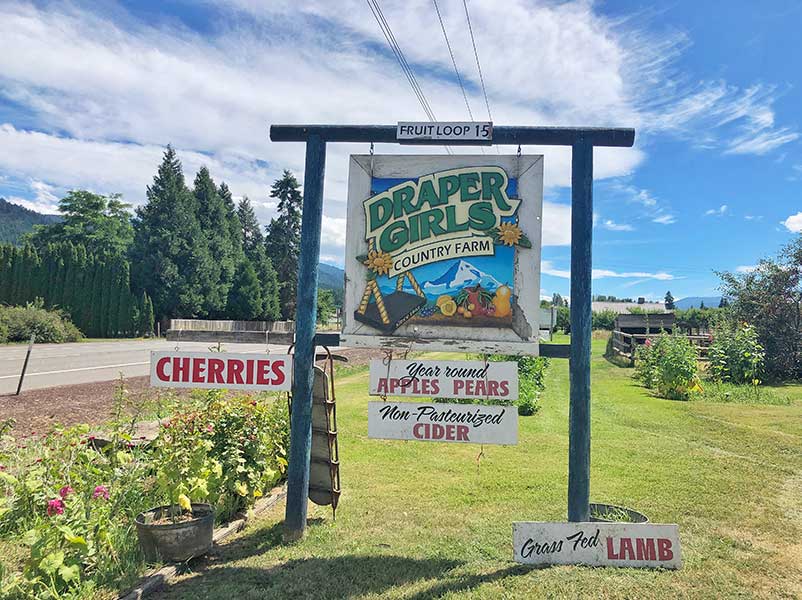 At The Old Trunk one of the owners had recommended stopping at Draper Girls Country Farm since they had an area where you could feed the goats plus a big swing that 3 kids could sit on at once. Oh yeah and more cider :). They had 4 different kinds of cider on tap that we could try and then a variety of different size growlers if we wanted to take some home with us.
The kids had a blast feeding the goats and swinging while we hung out on the porch drinking our cider.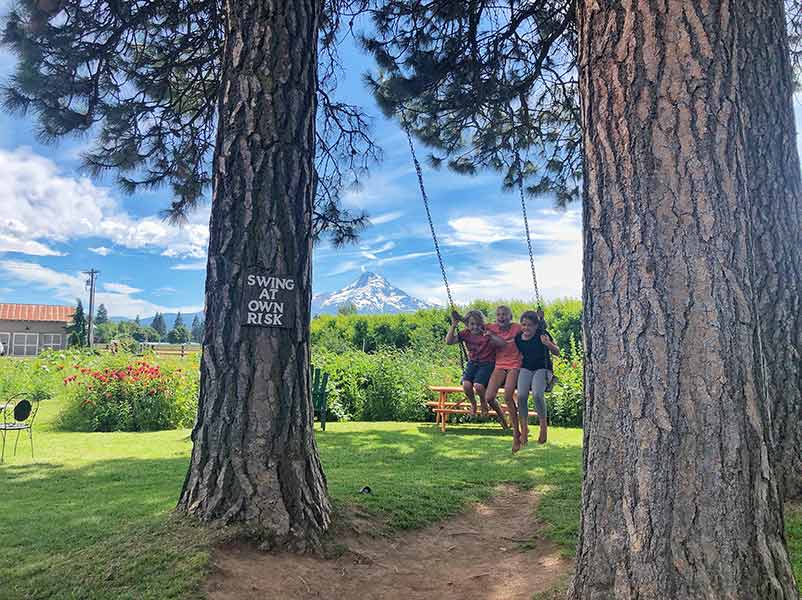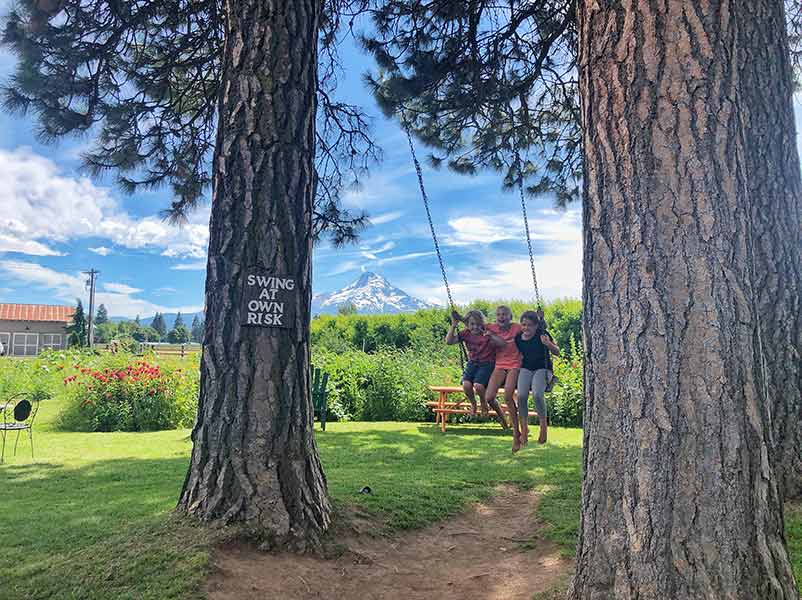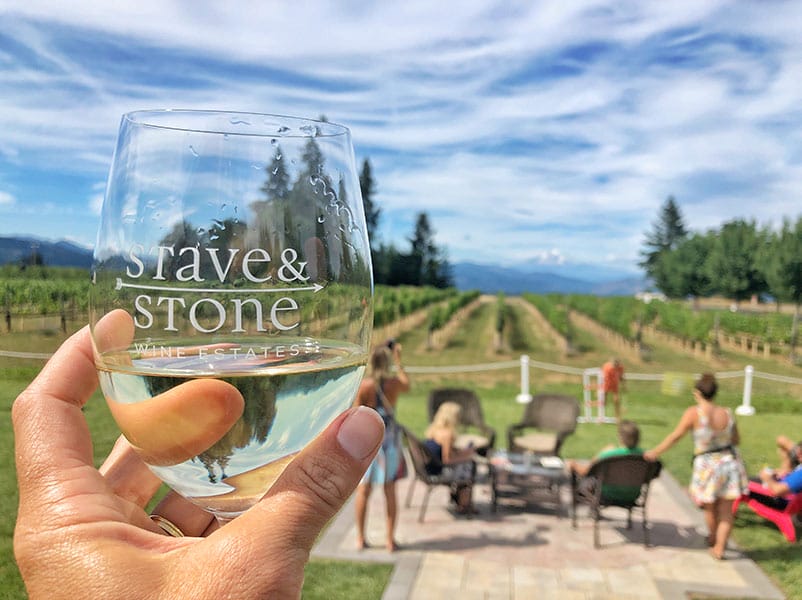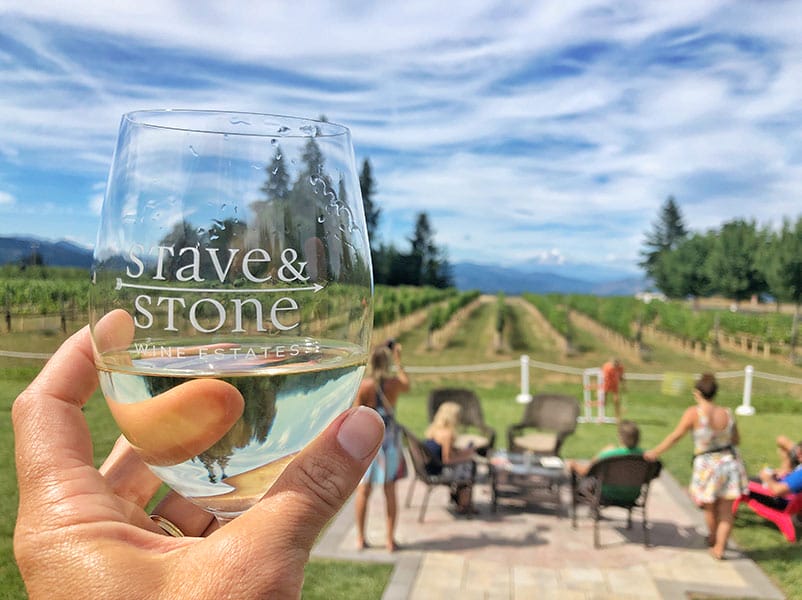 The Mt. View Winery bartender had recommended we stop to try out this winery as well. It was not originally on our list but we were happy to add it.
Craig and I had talked about it before we went and with all the cider and winery places he knew he was going to be the driver. Highly recommend figuring that out before you go since there are so many good options but someone needs to drive!
This winery was gorgeous!
The next time we went Kids were allowed in the wine garden and by where the Lavender farm is but not in the area pictured above.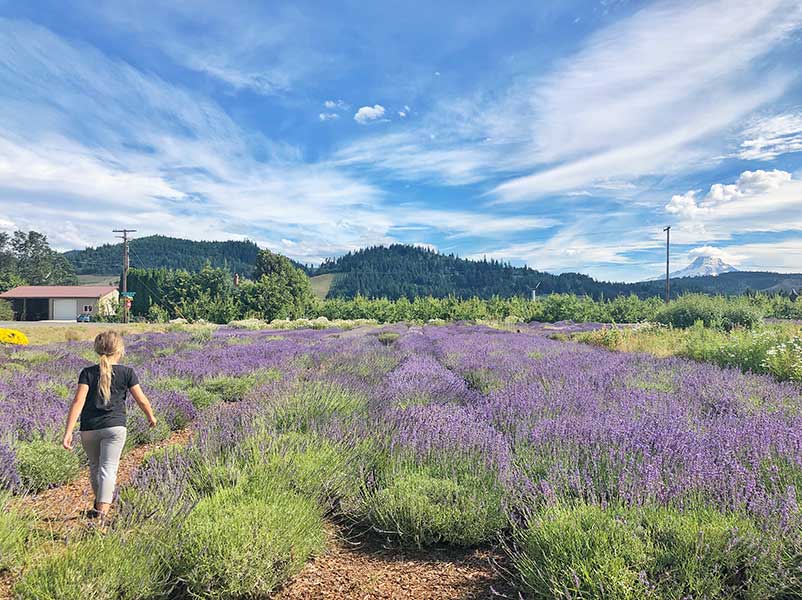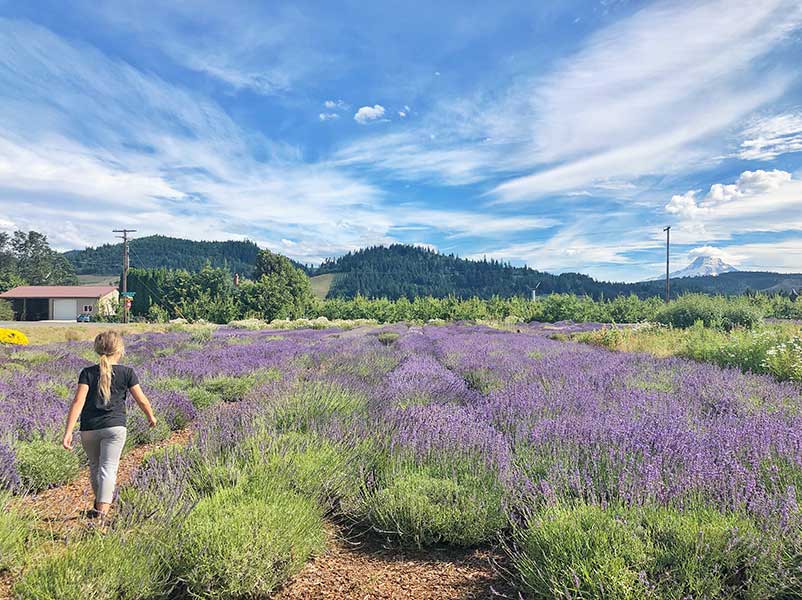 Next stop was the lavender Farm that was closing in 20 minutes so we thought we would have time to pick some lavender. However, we didn't know that they stopped letting you do that 30 minutes before they closed . . . so instead we just walked around the lavender fields and checked out the little shop.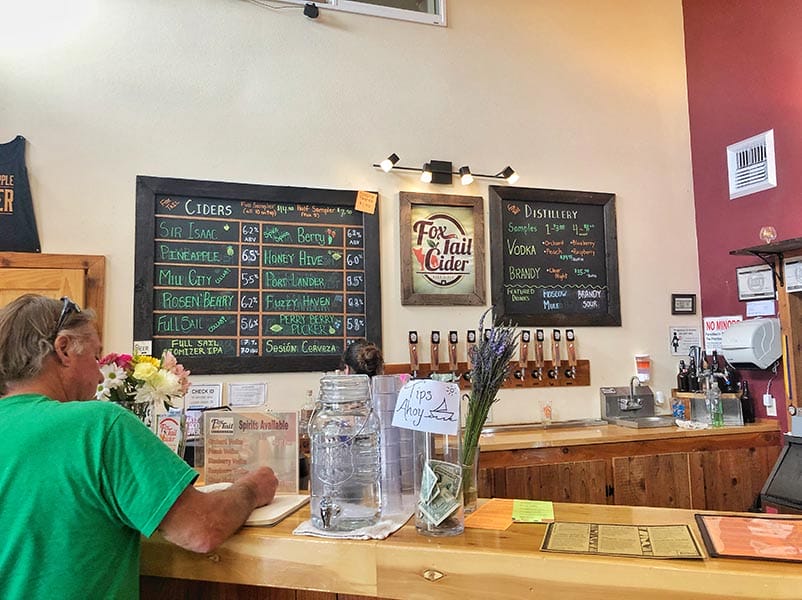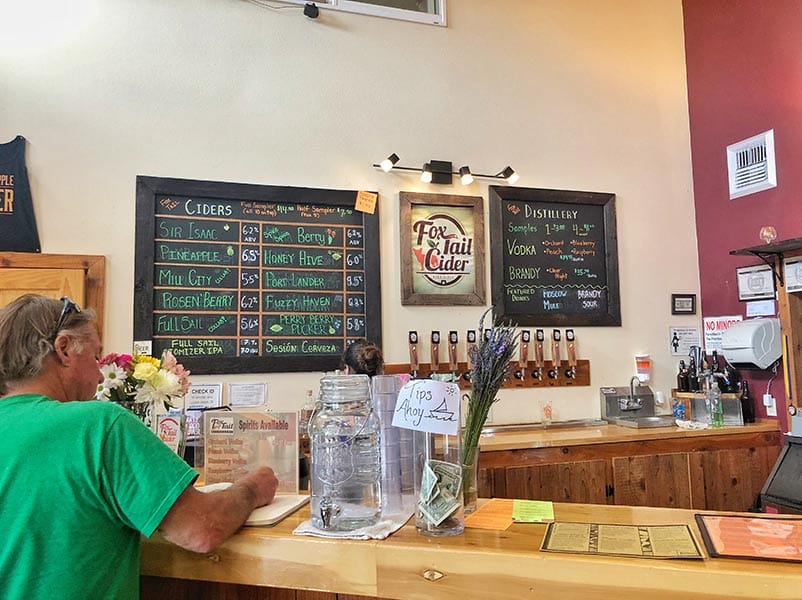 Last stop was the last cider place for the day – yes that was a lot of cider in one day! This place had about 10 different flavors of cider. And I ended up with a flight to sample a few kinds and then a couple growlers to take home.
They also had a flight of vodka (made with an apple base) that my mom tried.
We headed back into Hood River to finish up with dinner at the Double Mountain Brewery which is known for their pizza. So yes, we had Pizza again . . . and it was delicious!
It was a really fun day and was cool to explore all of the local farms and farm stands and to sample a variety of different fruits, ciders and wineries on the Hood River County Fruit Loop. Just make sure you are HUNGRY when you start!
If you have more time you can visit 14 farm stands and get a stamp at each to get a free market bag (this is from 2019 so check their site to see what they are currently offering.)
Additional Activities
Here are some additional ways you might enjoy exploring the Hood River Fruit Loop and the Mt. Hood area:
Spend the morning taking a private tour of the beautiful waterfalls around Mt. Hood and the afternoon being chauffeured to wineries for wine tastings. Enjoy the beauty and the wine and let someone else do the driving. Book tickets for this private tour here.
Enjoy stops at some of our favorite places above (Draper Girls, Apple Valley Country Store) as well as purely scenic stops (Columbia River Gorge National Scenic Area, Rowena Crest Viewpoint) on this private tour. Relax while the planning and driving is taken care of and just enjoy the wine and the views. Book your tickets here.
This tour takes you to several scenic locations, including Multnomah Falls and a stop at Panorama Point and finishes with a wine tasting at The Gorge White house. Book here!
Where To Stay
RV/Camping
Cascade Locks – we stayed at Cascade Locks. Right on the water and down the road from the Thunder Island brewery – we could walk there! The brewery had great beer and awesome food.
LOUD trains coming through all night and only a 12 foot clearance bridge – so tall rigs WON'T fit – there is NO wiggle room at all. So be prepared for both of those things.
More options include Lewis & Clark Campground and RV Park located in North Bonneville. Only a few miles outside Cascade Locks. Gorge Base Camp located in White Salmon. A little farther out but still only a short drive to the Cascade Locks area.
KOA
If you are interested in staying at a KOA, check out the Cascade Locks/Portland East KOA. It has lodging, tent and RV sites with hookups.
If you are dying to try the RV lifestyle without jumping in feet first, consider renting an RV for your trip to the Fruit Loop. You can learn more and check out available RV's in Oregon here.
Best Western Plus Hood River Inn. Right on the Columbia River. Has a wide variety of rooms and suites for any price point. As well as access to all activities on the river.
Columbia Cliff Villas Hotel. On the cliff overlooking the Columbia River, has its own waterfall just a short stroll away and is only a mile from downtown Hood River.
Vacation Rentals
Stay in the Eye on the Gorge if you are interested in spectacular river views, a hot tub, large deck and BBQ grill. Like home…but better.
Or check out this dog-friendly house with a hot tub and game room!
If you like this post, you might also enjoy these:
32 Epic Things To Do In Portland With Kids [Itinerary Included]
Your Guide To The Best Places For Oregon Coast Camping
How To Spend 3 Amazing Days At Mckenzie River National Recreation Area
26 Oregon Coast Road Trip Stops You Don't Want To Miss
12 Epic Things To Do In Northern California [Map Included]
Our Awe Inspiring Pacific Coast Highway Road Trip!
Pin this for later: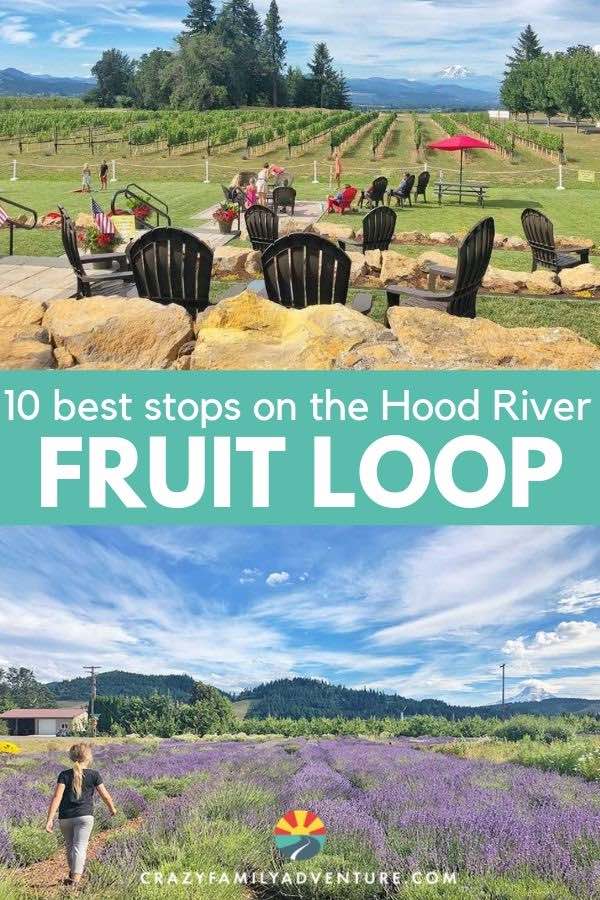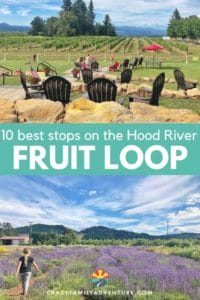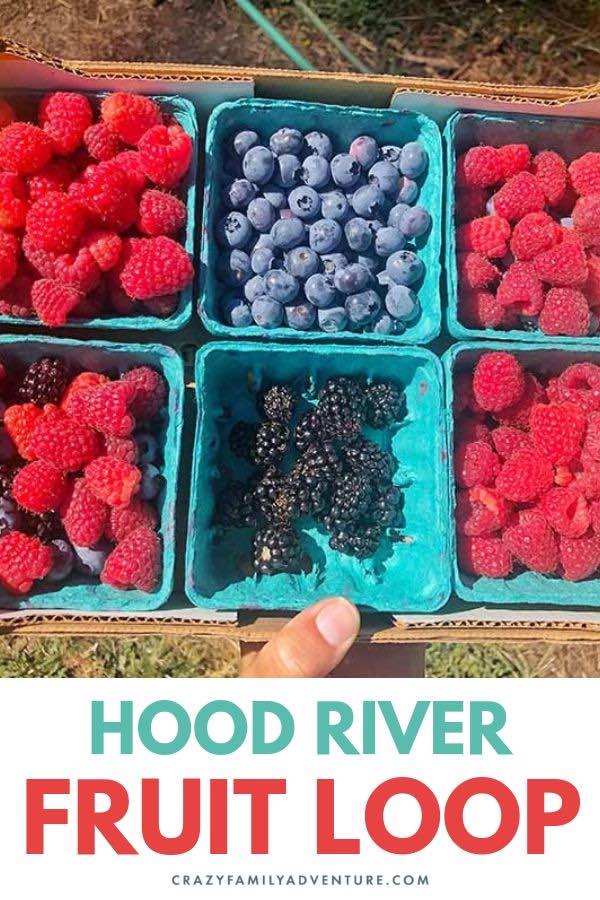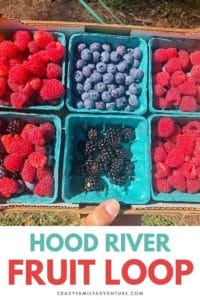 DISCLOSURE: This post may contain affiliate links, meaning I get a commission if you decide to make a purchase through my links, at no cost to you. Please read my disclosure for more info.