Portland is an awesome city to explore and is very family friendly. It isn't a big touristy attraction kind of place in the sense of lots of attractions to see but there is plenty to do! Below we share our list of the top things to do in Portland with kids when you visit.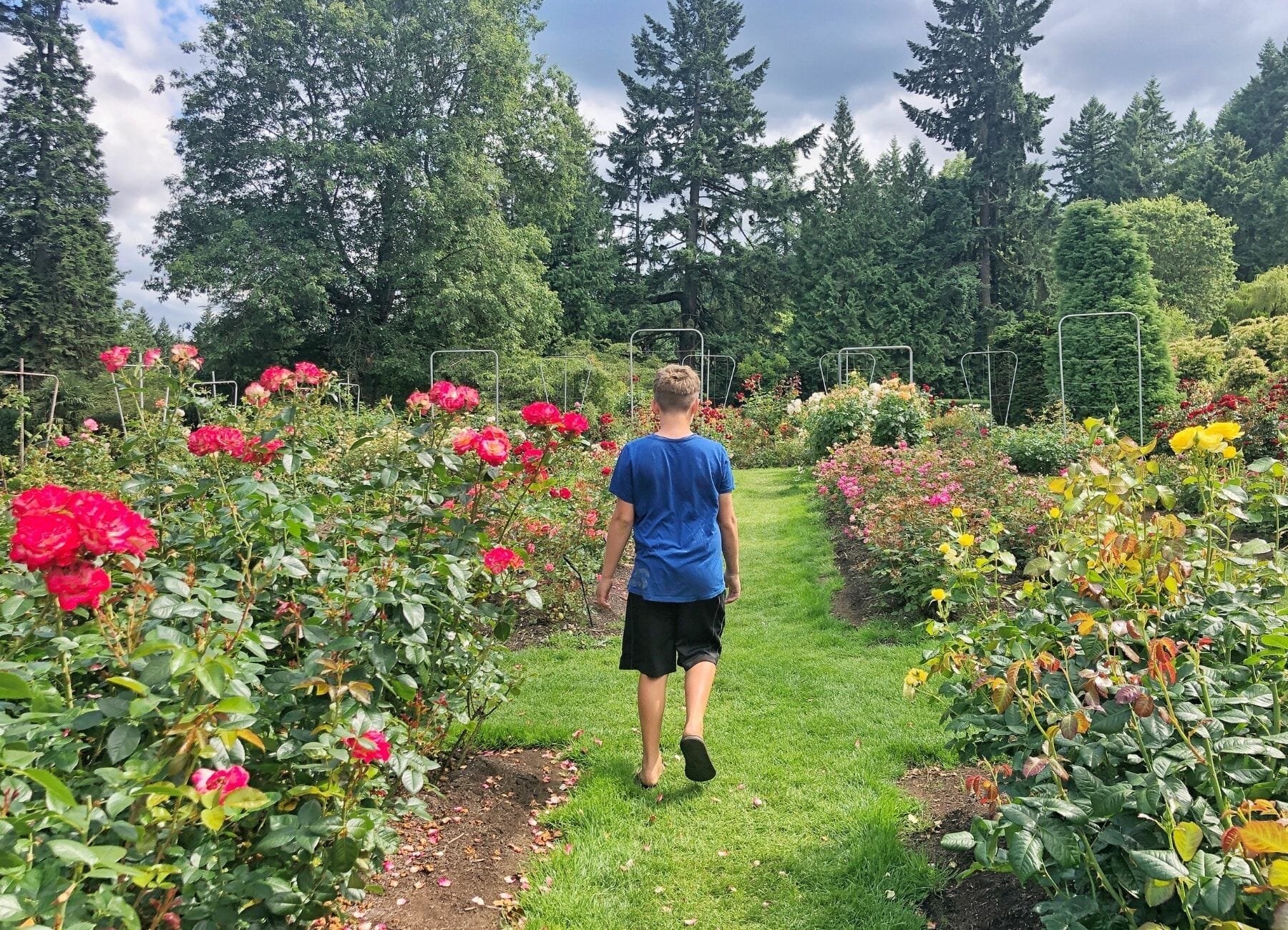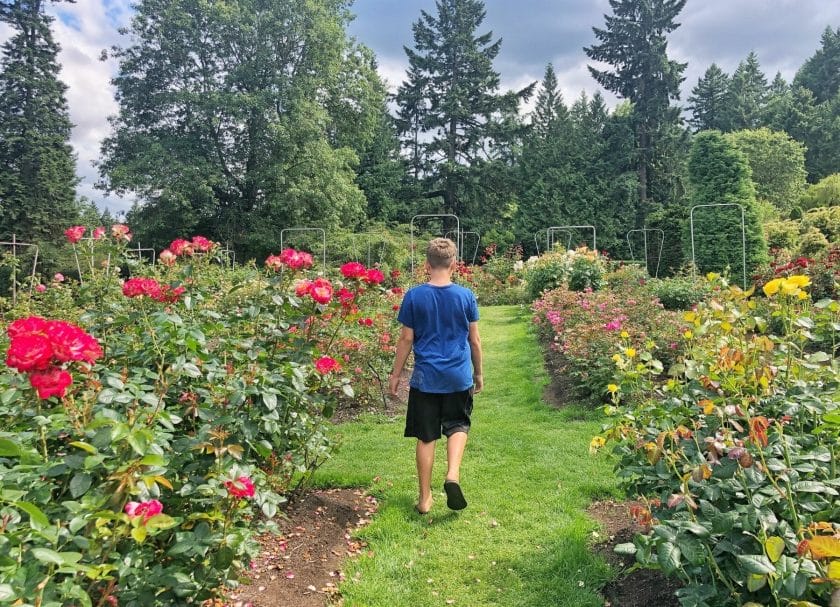 Let me start by saying a lot of Portland is about the food. And there are lots of options and it is all delicious!
The hardest thing is picking where you are going to eat. You could stay here a month and still not get close to trying all the amazing options.
There are also a lot of great day trips you can take from Portland. These are a few of our favorites:
Or spend a weekend away visiting all the awesome things to do in Bend, Oregon!
Portland Neighborhoods
Besides having a downtown area Portland is also known for its neighborhoods. The neighborhoods aren't just a bunch of houses but instead each have their own unique "downtown" area or street with great restaurants and shops.
To be honest, trying to figure out which neighborhood I was in was confusing. I can see if you lived in Portland you would know . . . but as a tourist I would recommend just going by the street where all the cool restaurants and shops are on!
If you are really interested in learning more about the neighborhoods you can check out this site.
We did a variety of things between doing the downtown things and spending time in the neighborhoods exploring. We definitely recommend you do the same to get a true feeling of Portland.
Things To Do In Portland
Downtown
The downtown area has a variety of stores and restaurants along with a square towards the middle of town. We spent one of our days here exploring downtown and it was fun to park and walk all over the place.
We also got some really good PokemonGo! A city is a great place for that :).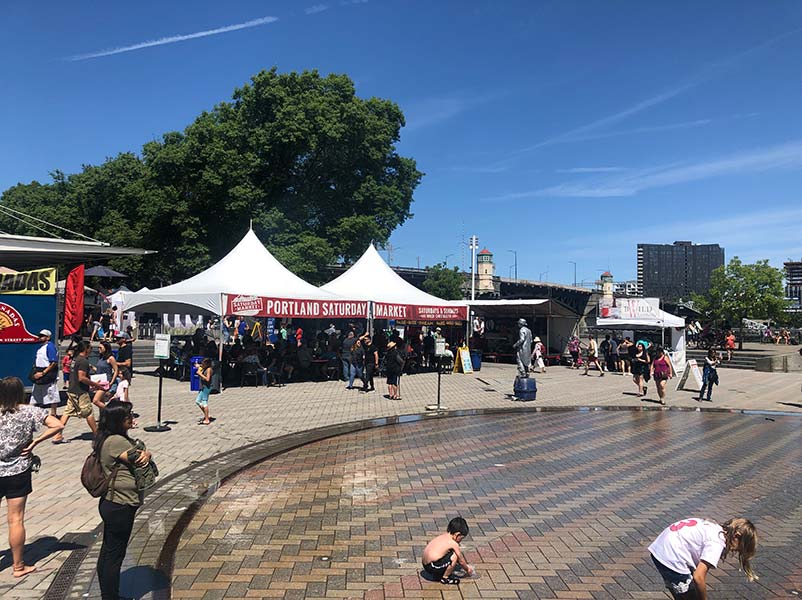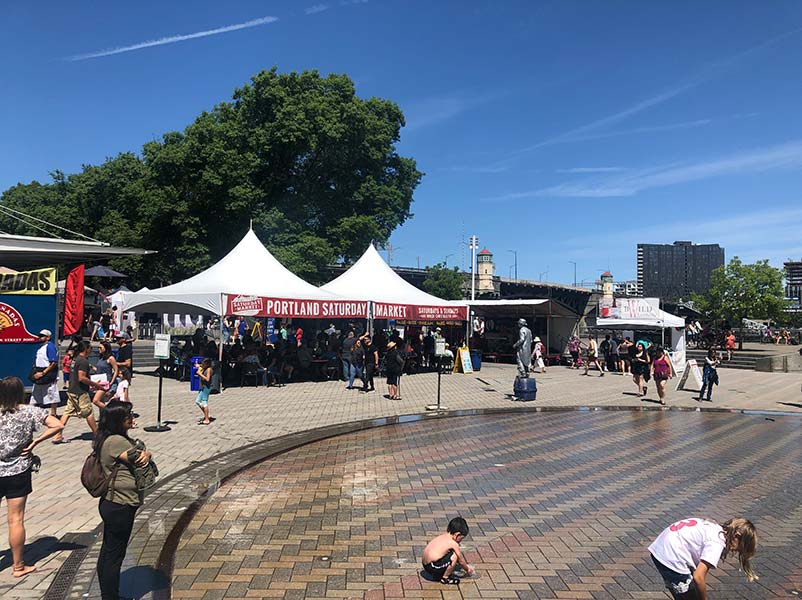 Portland is known for their markets so we were glad we were there on a Sunday so we could check out one of the big ones! It is called Portland Saturday Market but it happens on Saturday and Sunday.
There were a variety of fun shops selling clothes and crafts and a few different food stands as well. The kids ended up getting tie-dyed shirts and I had fun looking around (I could have stayed for hours – but everyone else in the family was ready to move on).
You can also check out one of the big Portland Farmer's Markets!
Waterfront Trail (Downtown)
Part of the market is located on the waterfront, so it was fun to see that part of Portland as well. There is a nice waterfront hiking trail that you can walk along and there is a fountain/splash pad type area for the kids – so bring extra clothes if your kids like to get wet.
Powells Book Store (Downtown)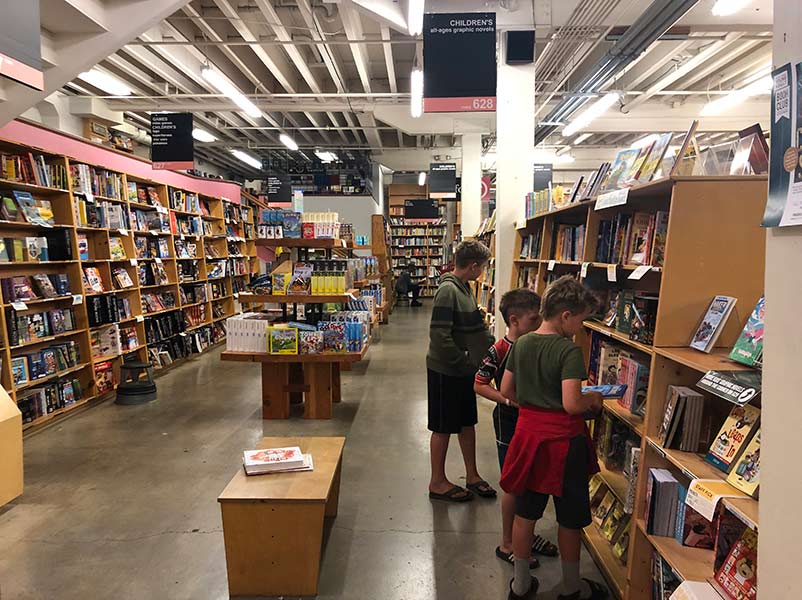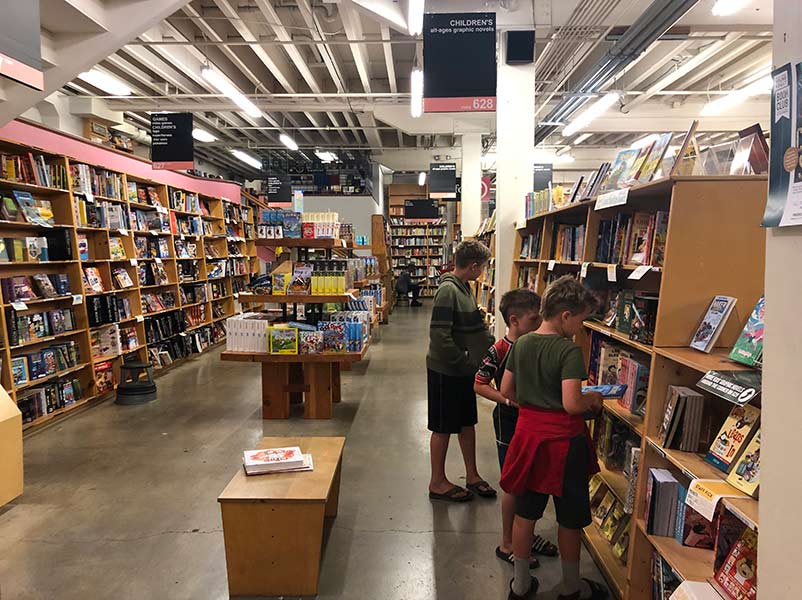 This store is HUGE – like unbelievably BIG. They have everything broken down in sections and you could easily get lost just walking around looking at all of the books. I love that they have new and used books.
If you have a family of readers plan to spend hours in here exploring. They have a very kid friendly area that is loaded with kids books.
Living Room Theatre (Downtown)
The new Spiderman movie had just come out so we surprised the kids with dinner and a movie! The cool part was the food was served right in the movie theatre.
It was a little awkward since you didn't have a table or anything. But the kids still got a kick out of eating dinner at the theatre while they were watching the movie. Craig and I liked it since you can order beer and Moscow Mules too!
Pioneer Square (AKA: Portlands Living Room – In Downtown)
We happened upon the square when one of the kids had to go to the bathroom, so I went into the Starbucks to buy a drink to get the bathroom code (hey, it is what it is with kids!). But I am so glad we found it. It was a really cool square and was fun to do some people watching while we were there.
They do hold a variety of events and things here so would be great to keep an eye on that and plan to come on a day when they have events going on. You can learn more here.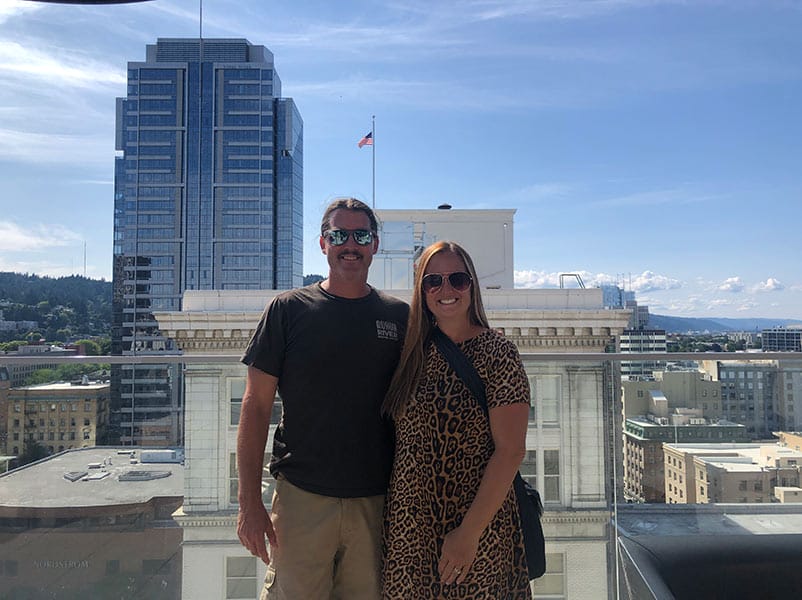 We ran into someone when we were exploring Mt. Hood and they recommended having a drink on the top of The Nines hotel to take in a view of the city. We weren't sure if we would do it but we happened to be walking around the streets of downtown Portland and we came up on the hotel so we popped in!
You go up the elevator to the top floor and hang a left (instead of going straight into the restaurant). And there is an open patio area with a bar. It was fun to take in the views of Portland from up high!
If you are the type who is always looking for a place to hike, check out Forest Park! Over 70 miles of hiking trails right on the edge of Portland, this park keeps Portlandians in touch with nature!
You can also check out Mt. Tabor Park – a large park with an extinct volcano – in southeast Portland.
Did you know there are 100's of miles of trails all around Portland! You can learn more about the trails here.
Walking Tours
If you are looking for an activity in Portland, Walking Tours are bound to come up. Here are a few options for walking tours you might want to take:
Portland Walking Tours – A tour of some of Portland's must see sights while you travel the Portland way: on foot.
Ghost and Vampire Tours – Check out the spooky side of Portland on one of these tours.
Food and Gourmet Tours – Portland and food go together! Check out one of these tours to get a locals perspective on Portland food.
Underground Donut Tour – Enjoy this curated donut tour, if donuts are your thing too. You get to taste donuts from four different donut shops on this tour. Enjoy yourself!
Outside of town
We didn't get to visit the Oregon Museum of Science and Industry when our family vacationed/visited Portland, but I know our kids would love it. They have over 200 hundred exhibits and they have labs where you can get in and work with and learn from the scientists. This would be an awesome activity with kids!
If your family can't get enough of art, check out Portland Art Museum. Portland Art Museum is the oldest Art Museum in the Pacific Northwest, so you are experiencing a little piece of history there as well.
Washington Park is huge and encompasses the activities listed below and many more. If you have time, you could easily spend days exploring all it has to offer! Below are a few highlights: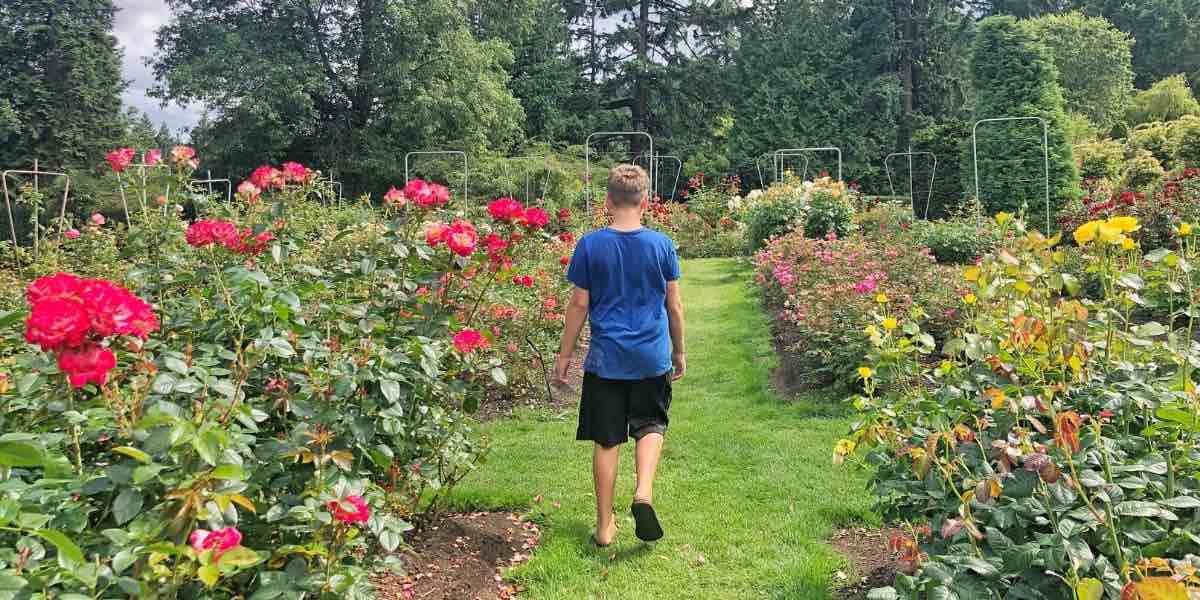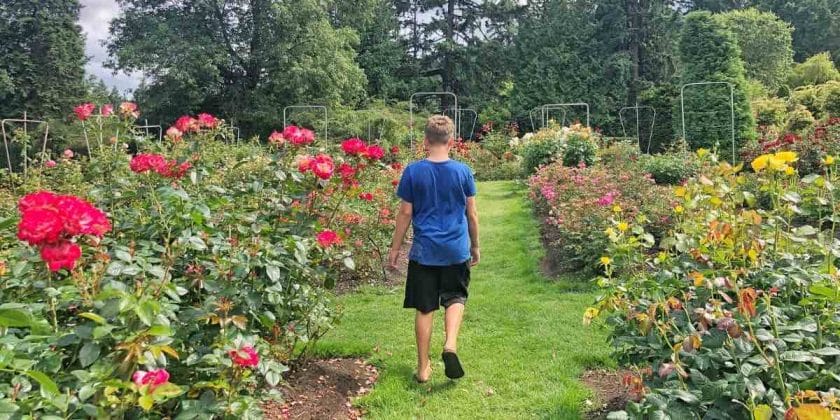 Did you know Portland is known for its Roses and called the city of roses?? Me either! The International Rose Garden is a FREE garden that is filled with tons of different kinds of roses. It was fun to walk through them and read all the different names.
We always like giving things a try that are free and this one worked out well! We didn't spend much time here but it was worth taking the drive and making a stop.
Children's Museum
Whether your kids love building with tools, creating with clay, playing in water or pretending to be a doctor, there is something for every type of play at the Children's Museum. Definitely check it out if you have time.
The Japanese Garden is steeped in Japanese Culture and the park offers endless opportunities to learn about the culture and traditions of Japan. The Garden is not just a beautiful peaceful garden, but also a contains a cultural village and art gallery. Well worth a visit.
You have to pay for adults but kids are free.
Visit the Oregon Zoo. The Zoo has a lot to offer in the way of education as well as all of the amazing animals, of course.
An educational museum of living trees. If you have plant lovers in your family or just people that love to hike in nature, check out the beautiful array of wildlife at Hoyt Arboretum.
This is about an hour outside of Portland, but it is so worth the trip. It is a 35-mile scenic drive on a loop with a bunch of fruit stands, orchards, farms and more. You can pick your own fruits, drink the freshest possible cider, sample some excellent wines and generally have a great time. Learn more about the Hood River Fruit Loop here.
Corn Maze
If you are in to corn mazes and happen to be visiting Portland in the fall, check out the original Portland Corn Maize.
In A Neighborhood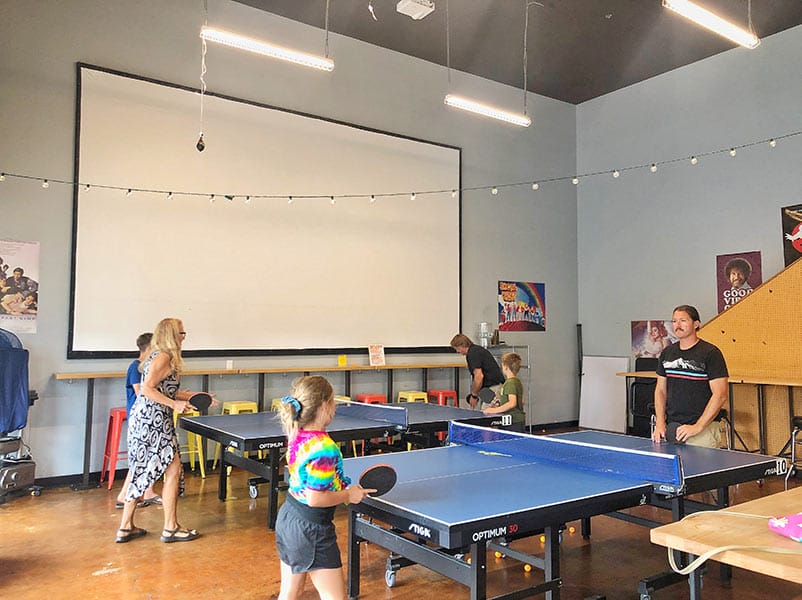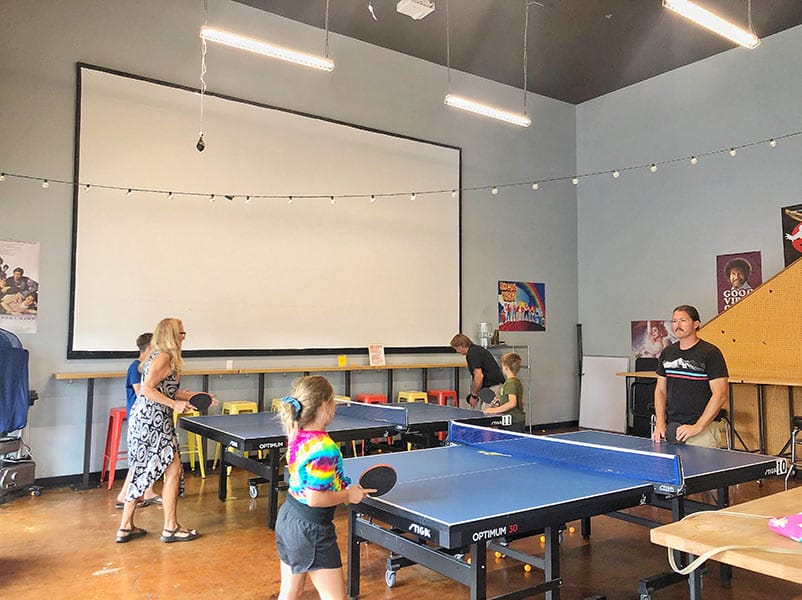 A ping pong bar/lounge! I knew this would be a great fit for our kids. During their happy hour special if you buy 2 drinks you can "rent" a table for free!
It was a fun way to spend some time in the afternoon as we were exploring the Portland neighborhoods. They have a ton of ping pongs and paddles all ready to go and it wasn't busy so we had space to play. The kids wanted to stay for longer.
You can rent the tables in half hour increments so if your kids are into Ping Pong plan on staying for a while.
If you can hold off on diving into the Portland food scene (which really is one of the best in the United States) be sure to check out the Willamette River and all the fun things to do there and Pittock Mansion.
Restaurants
Portland, Oregon is known for their food. From fine dining to donuts there are so many great food and restaurant options in the city!
Needless to say our first stop in Portland was donut testing!! We have, of course, heard about Voodoo donuts and ever since we got on the road in 2014 we have wanted to try Voodoo donuts. But when I started talking to people local to the area they recommended Blue Star and said they were way better . . . we had to test it out to see.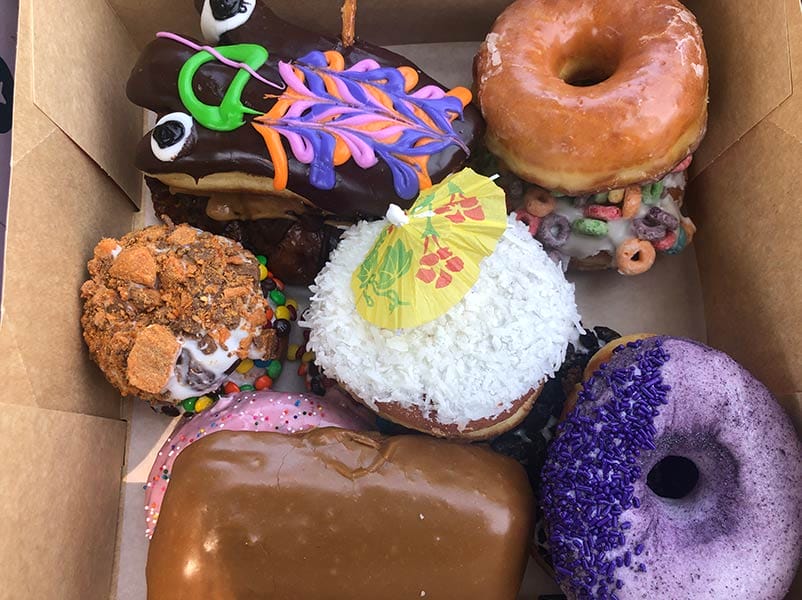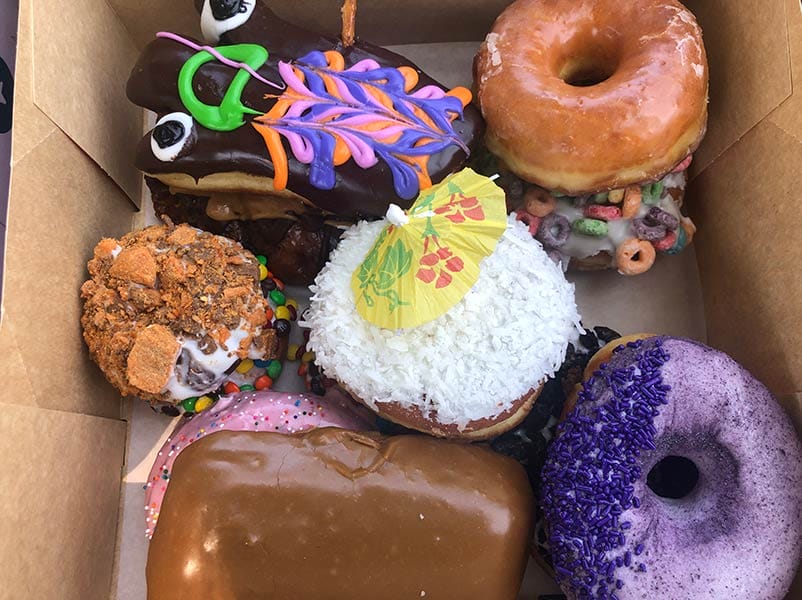 I stood in line with the sun blaring down on me for a good 25 minutes before it was my turn to order. The options are crazy but the prices aren't too bad so we decided to go for a dozen and try as many as we could!
We ended up with flavors like: fruit loop, grape-ade and butterfinger. We didn't dive right in but instead headed to Blue Star to grab a box there so we could sample them at the same time.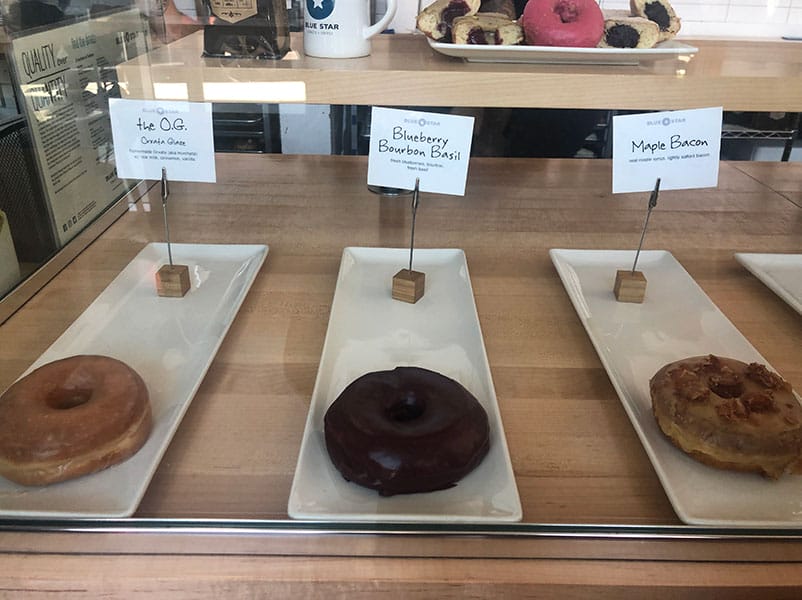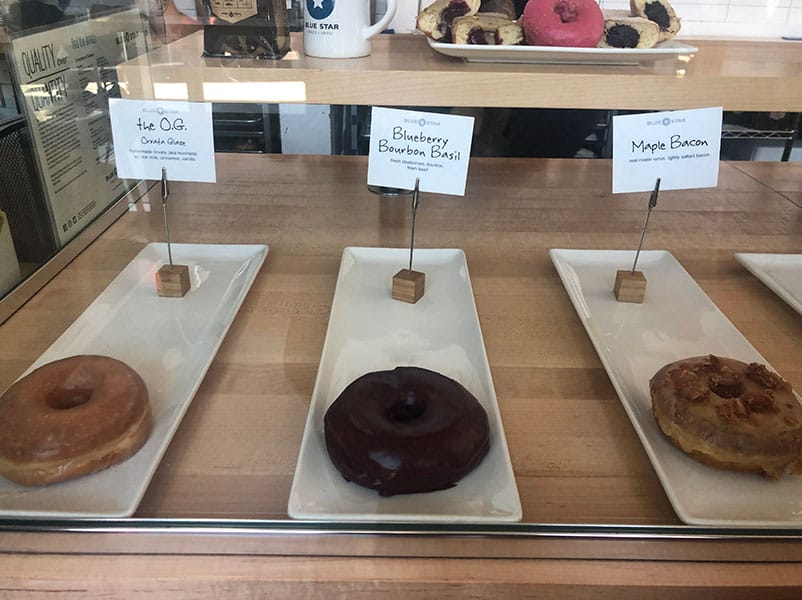 We kept hearing from locals that this is where it is at. When we got there we ended up with only 6 donuts cause wow were these little cake donuts expensive! We picked up a couple unique flavors like: The O.G (Orxata Glaze) and Loganberry with Salted Lemon Crumble.
Then headed to the waterfront to find a spot to taste them!
After all 6 of us taking a few bites of each we came to the conclusion that the kids liked Voodoo the best – probably since they were so sweet! And for Craig and I we didn't really prefer either . . . but never fear, we found a donut we love in Portland!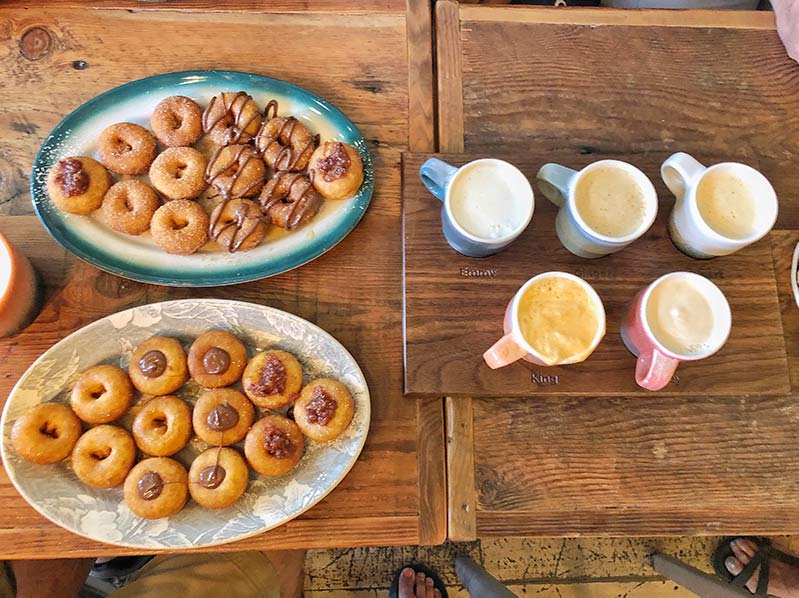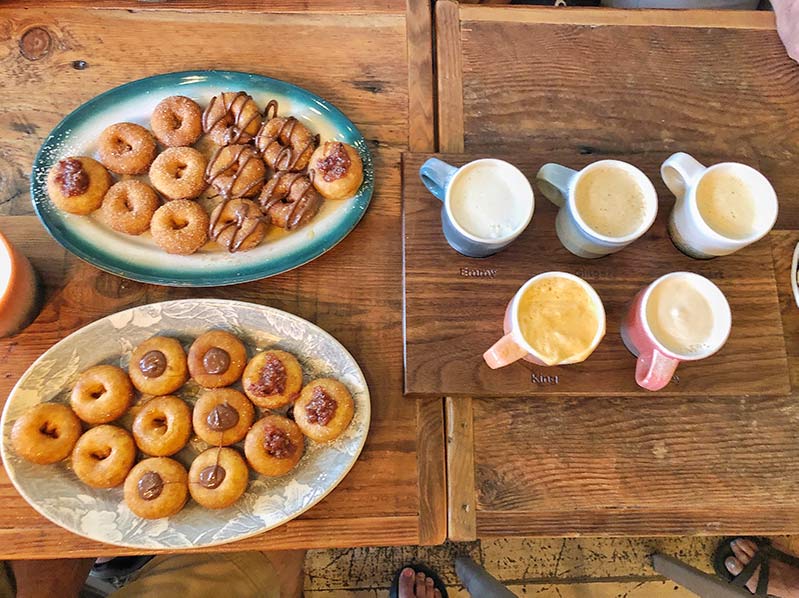 We had heard about Pips on a youtube video we watched on Portland and I knew we wanted to check it out. We headed here on a Monday afternoon at 2pm and had to stand in line for about 15 minutes. People really like their donuts in Portland!
We ordered 2 dozen mini donuts in flavors like Raw Honey and Sea Salt, Candied Bacon Maple and Nutella and Sea Salt. Then we also order a flight of Chai Tea so we could try all of the Chai's!
For the Chai's they had 5 flavors: Smokey Robinson, Ginger Rogers, Heart Of Gold, The King and I and EmmyLou. We got 6 ounces of each to try. They were delicious!
After having the donuts here, Craig and I decided these were the winners for donuts in Portland!
I know my kids like dumplings so when we were walking down the street and saw this restaurant it only made sense to stop to try some dumplings! They were really good and did not disappoint.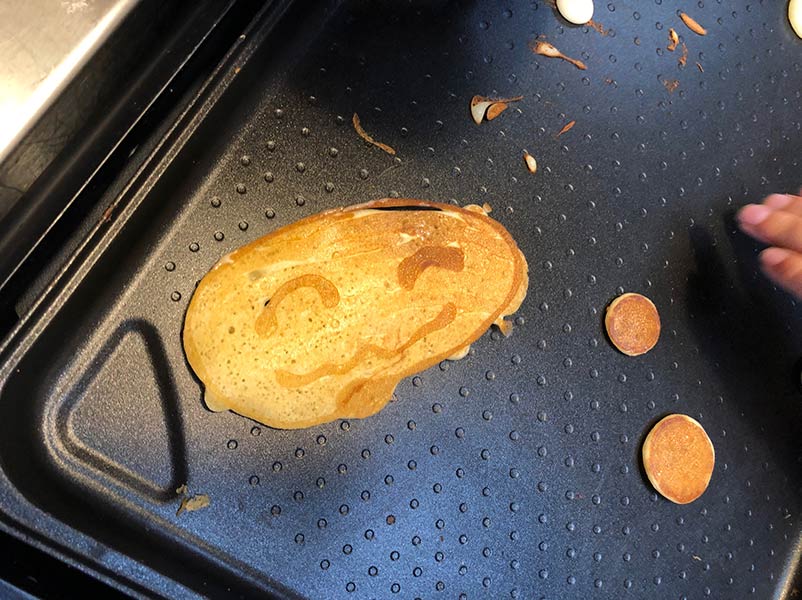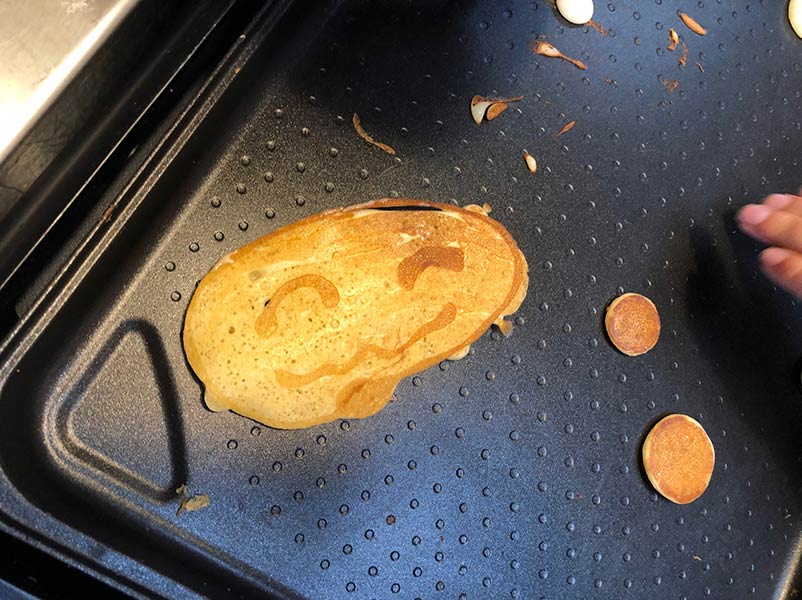 We had done a similar pancake making restaurant in Nashville and everyone had a blast making their own pancakes. So when I came across this place I knew we needed to add it to the list.
They have griddles right at your table and they bring out pancake batter in a squeeze bottle plus cups of whatever sides you want. Things like chocolate chips, fruit, whip cream. The kids had a blast making their pancakes and Craig and I enjoyed a delicious avocado toast and coffee.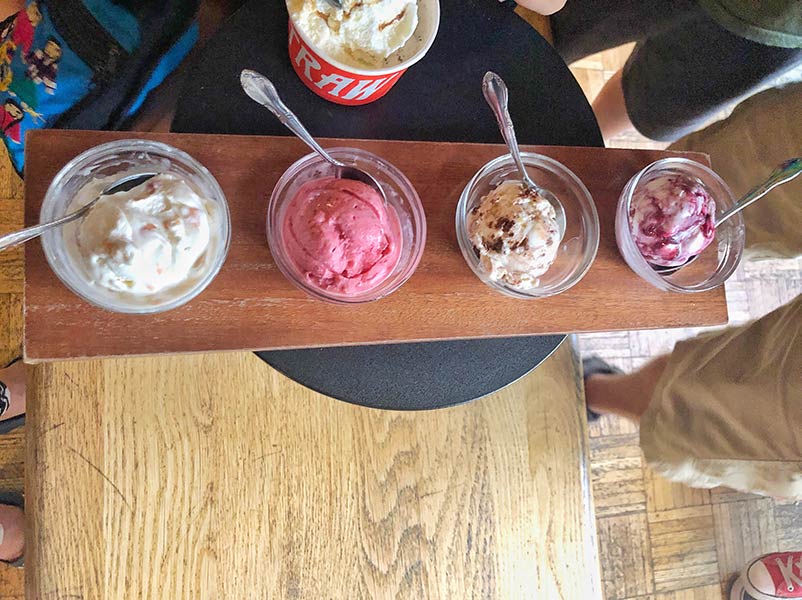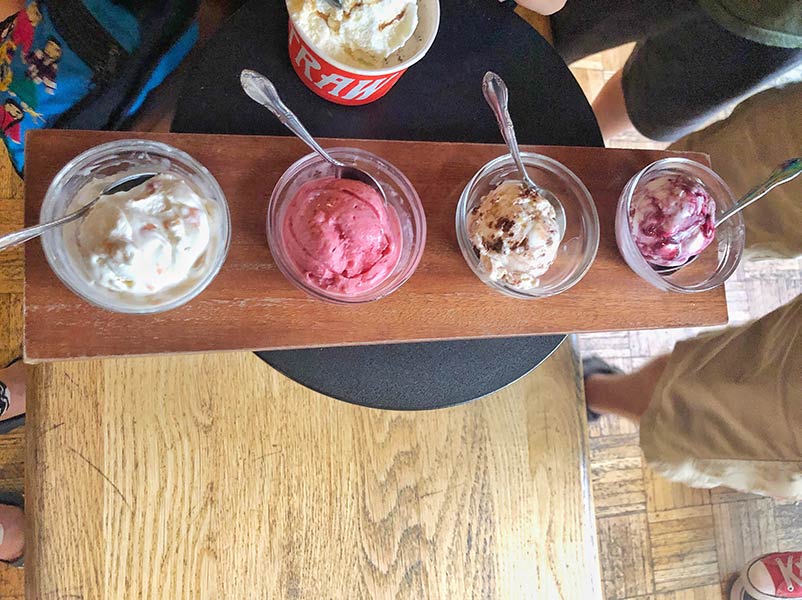 This is the go to place for ice cream in Portland. They have very unique and different flavors. We opted to do a flight of ice cream – I love this idea! We picked 4 different flavors and got a small scoop of each.
The ice cream was delicious and unique. There was a line out the door when we got there so be prepared to have to wait for a little while.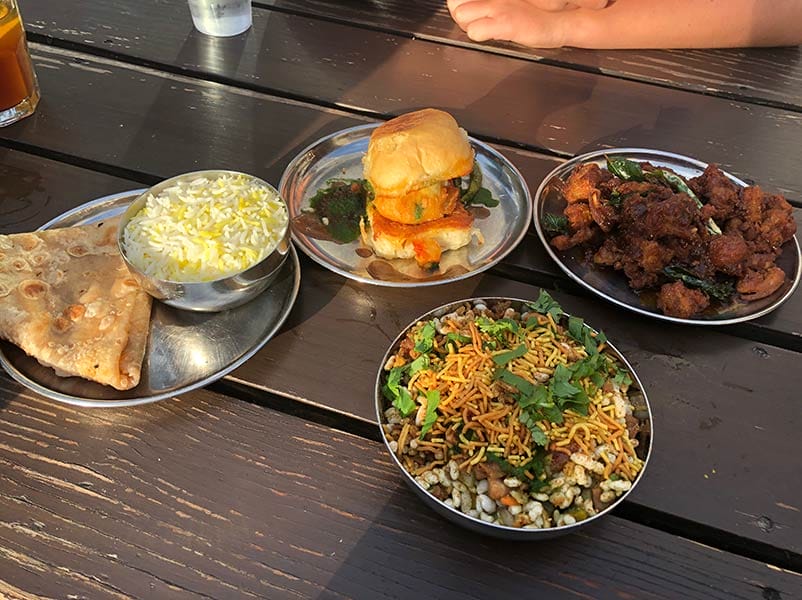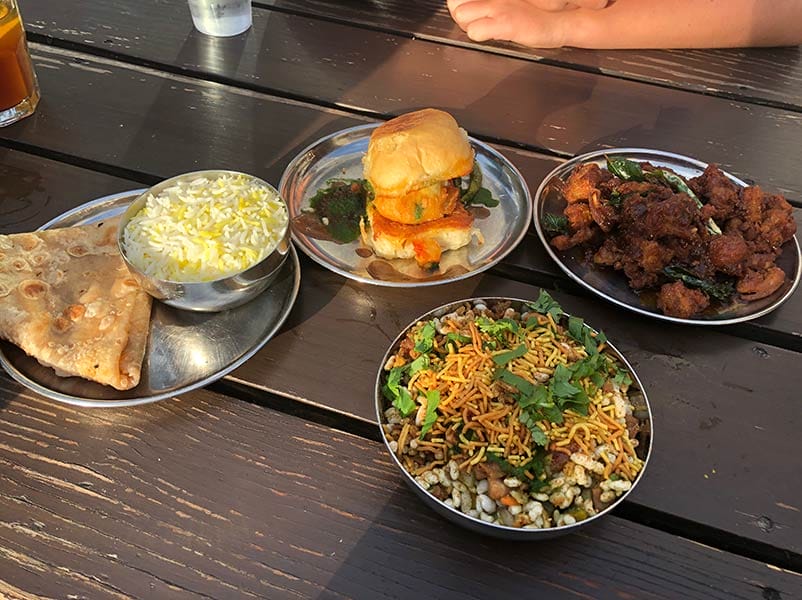 Portland has so many food options so I thought it would be a perfect time to introduce the kids to some different kinds of food. That is why we chose the Bollywood Theatre that specializes in Indian food.
I had no idea what to order . . . so when I walked up to the counter I just randomly selected 5 things that sounded good on the menu . . . they brought our food out and the kids devoured it!!
Craig and I really enjoyed it too and if we were staying longer we definitely would have come back for more.
Tusk (neighborhood)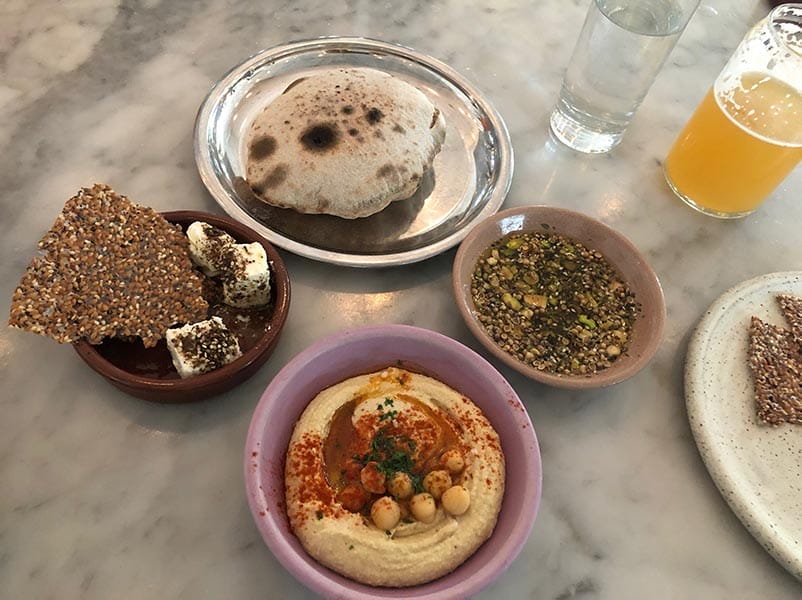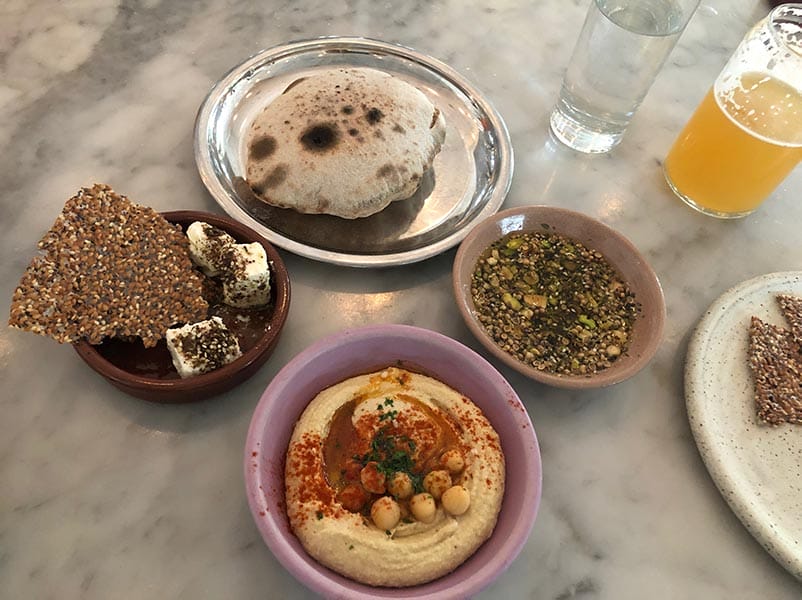 The night my parents watched the kids Craig and I decided to try out a Mediterranean restaurant. Tusk kept coming up as the place to go so we figured we would give it a try. Now we know you normally need to make reservations . . . but we were able to sit at the bar and order so it all worked out.
They had a really interesting drink menu and I got a drink with yogurt in it . . . it was delicious! It was too funny as Craig and I sat there to try to order. We had no idea what to get . . . luckily the bartender helped us out and we ordered a variety of foods to try.
Everything was yummy, but in the end we both said we could have gone back to Bollywood instead!
Pok Pok (Division Street)
The restaurant is currently closed. Keep checking in to see if they will reopen. We sure hope they do!
If you are a fan of Thai food this is the place to go. We tried to go one night but it would have been over an hour wait for a table so we opted to go somewhere else instead. It is definitely on my list to get back to Portland so I can try this place out.
Food Cart Pod
Another option is a food cart pod. They show up in the most random places and are a collection of food carts where all of the food sounds delicious! If you can't decide what type of restaurant you want to go to then a food cart pod is a good route to go.
Parking
I always worry about parking when we are going into a city. Especially since we have the big van with the cargo box on top. But it was actually pretty easy to park in Portland and not too expensive.
They have large lots (outside) all over the place. Plus you can park on the street – but be aware there may be a time limit on the street.
When we were exploring the neighborhoods we just found a spot on the street to park then walked to wherever we were going.
Breweries
I am not a beer fan, but a cider fan, so Portland was perfect for me. They have multiple cider houses so we checked out a few. The one's we went to were all in neighborhoods in Portland.
Shilling Cider House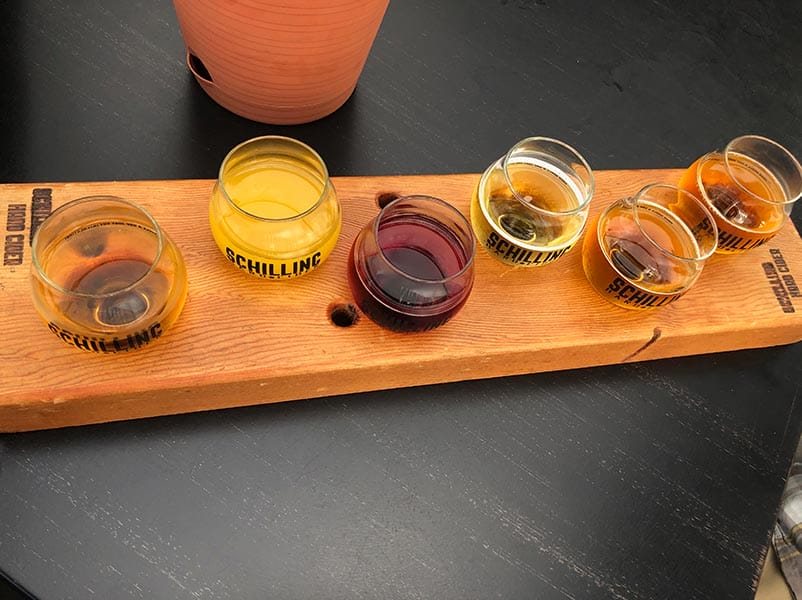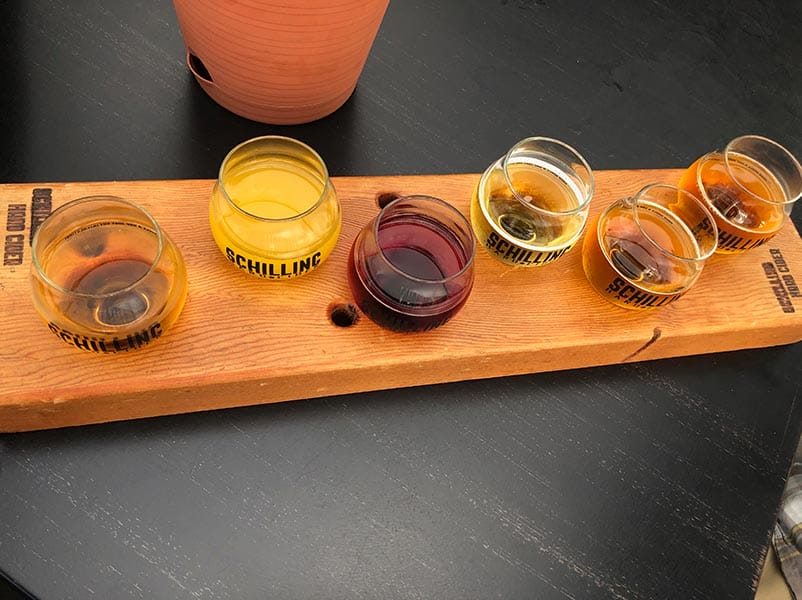 There were no kids allowed here so just Craig and I went while my parents watched the kids. They had 50 ciders on tap! I got a flight to try a few and they were delicious.
Craig and I sat out on the patio and enjoyed the flight.
Portland Cider House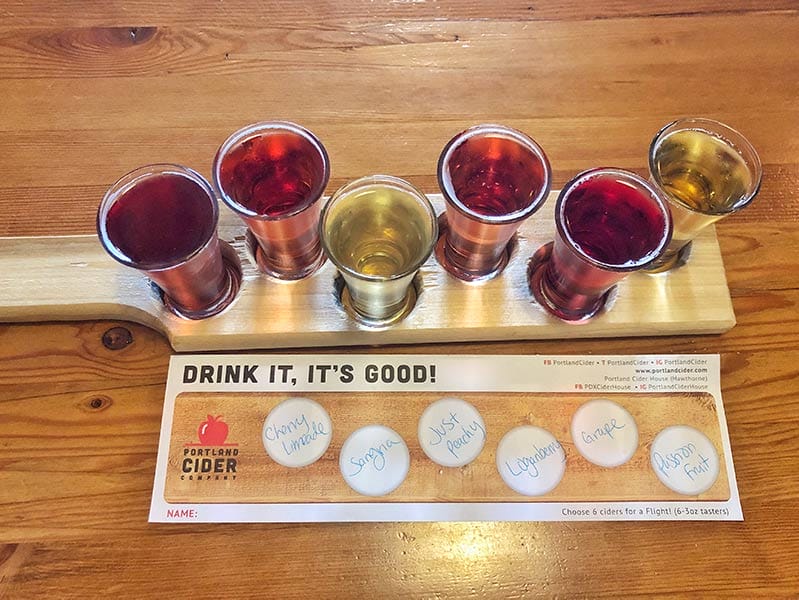 After 5pm kids can't come in so Craig and my Dad took the kids on a Pokemon Go Hunt while my Mom and I went in to try a flight of their ciders (this was on a different day than the shilling cider house :)).
I love how you can get the sampler flights and try a variety of different kinds before picking the one that you want.
I also wished we had more time in Portland to explore more of the cider houses!
McMenamins
These places are located all over Oregon and Washington and they are crazy! They are usually in an old school house or farm and there are multiple bars, wineries, restaurants, and theaters spread out throughout them. You literally need a map to figure out where you are going.
It is definitely an experience to check one of these out and see what they are all about. If you like craft beer you will want to check it out!
We accomplished all of the above over 2 1/2 days and yes I think we all gained a couple pounds. We really enjoyed the neighborhood vibe of Portland more than we thought we would and would love to go back to explore more.
Where to Stay
RV
We stayed at Portland Fairview RV Park which was nice. You could also try Columbia River RV Park or Jantzen Beach RV Park.
There are plenty of RV parks available in Portland.
Portland would be the perfect place to take an RV trip if you rent an RV! You can try out the RV lifestyle with no commitment and also experience Portland in a unique way. Learn more about renting an RV here.
Hotel
Check out Mark Spencer Hotel for an upscale, European Hotel Experience or The Dossier if you are looking for a downtown hotel with an arsty flair.
Click here for more hotel options in Portland.
VRBO
VRBO options are great if you want a homier feel. Portland has a lot of high end hotels, but if you are looking for something a little more laid back, check these out:
Or, if you want the true Portland experience, check out the Tiny Forest Cabin!
Itinerary for 3 days in Portland (maps included)
Also check out this great post on Oregon waterfalls you don't want to miss while you are in the area!
Friday
Breakfast: Slappy Cakes for breakfast, where you can make your own pancakes at the table – (Slappy Cakes, 4246 SE Belmont St, Portland, OR 97215)
Explore: Oregon Museum of Science and Industry – Endless educational activities for the kids – (OMSI, North Parking Lot, 1945 SE Water Ave, Portland, OR 97214)
Lunch: Kachka – Enjoy authentic Russian cuisine for lunch – (960 SE 11th Ave, Portland, OR)
Fun: Pips and Bounce Ping Pong 12-6pm summer happy hour – (Pips & Bounce, 2311, 833 SE Belmont St, Portland, OR 97214)
Extra stop: *Kids Not Allowed – so maybe Mom can stop in for a quick sampling** Shilling Cider House! Enjoy craft cider from Master Cider Makers – (Schilling Cider House Portland, 930 SE 10th Ave, Portland, OR 97214)
Dinner: Bollywood Theatre – Indian Cuisine the whole family will love – (Bollywood Theater, 3010 SE Division St, Portland, OR 97202)
Dessert: Salt and Straw Ice Cream – Take a walk on the wild side with these off the wall hand made ice creams – (Salt & Straw, 3345 SE Division St, Portland, OR 97202)
Map of the full day:
Interactive Map: https://goo.gl/maps/jhTL2wtgtnuko2PW8
Saturday
Breakfast: Voodoo Doughnut (Voodoo Doughnut, 22 SW 3rd Ave, Portland, OR 97204) and Blue Star Donuts (Blue Star Donuts, 1155 SW Morrison St #102, Portland, OR 97205) if you want to compare them.
Explore: Rose Garden – Take in the huge variety of beautiful roses – (International Rose Test Garden, 400 SW Kingston Ave, Portland, OR 97205)
More: Portland Japanese Garden – Experience and learn about Japanese culture while enjoying the beautiful gardens – (Portland Japanese Garden, 611 SW Kingston Ave, Portland, OR 97205)
Portland Children's Museum – The kids will find plenty of things to keep them interested and engaged here – (Portland Children's Museum, 4015 Southwest Canyon Road, Portland, OR 97221)
Map of second half of the day:
Interactive map: https://goo.gl/maps/hwMTV9RhWD2q1cYD7
Parking: For the 2nd half of the day park here and walk everywhere: 362 SW 10th Ave Parking – then you can walk to everything else – about 2 miles total.
Lunch: Little Bird Bistro (Little Bird Bistro, 215 SW 6th Ave, Portland, OR 97204) Other options: Killer Burger (Killer Burger, 510 SW 3rd Ave, Portland, OR 97204), Luc Lac Vietnamese Kitchen (Luc Lac Vietnamese Kitchen, 835 SW 2nd Ave, Portland, OR 97204), Deschutes Brewery Portland Public House (Deschutes Brewery Portland Public House, 210 NW 11th Ave, Portland, OR 97209)
Fun: Portland Art Museum – The oldest Art Museum in the Pacific Northwest – (Portland Art Museum, 1219 SW Park Ave, Portland, OR 97205)
Dinner: Mediterranean Exploration Company – (Mediterranean Exploration Company, 333 NW 13th Ave, Portland, OR 97209) OR Eat at Living Room Theatre while you enjoy a show! (Living Room Theaters, 341 SW 10th Ave, Portland, OR 97205)
Map of the full day:
Interactive Map:https://goo.gl/maps/XBp6zraKWgWXHCFB9
Sunday
Breakfast: Pip's original for donut and chai – You can get a flight of chai and mini donuts here – (Pip's Original Doughnuts & Chai, 4759 NE Fremont St, Portland, OR 97213)
Explore: Portland Saturday Market – 11 – 4:30pm – You must check out one of Portland's amazing Farmer's Markets while there – (Portland Saturday Market, 2 SW Naito Pkwy, Portland, OR 97204)
Explore: Waterfront Trail – (Waterfront Park Trail, Portland, OR)
Lunch: Afuri – Get some Ramen and Dumplings – (AFURI Ramen + Dumpling, 50 SW 3rd Ave, Portland, OR 97204)
Fun: Powells Used Book Store – Explore the stacks and have a contest to see who can find the most interesting book – (Powell's City of Books, 1005 W Burnside St, Portland, OR 97209)
Pioneer Courthouse Square (Portland's Living Room) – Check the calendar online to see what events are happing when you visit – (Pioneer Courthouse Square, 701 SW 6th Ave, Portland, OR 97205)
Shopping in the area
Dinner: Pok Pok Thai – Take the kids to experience Thai Flavor at Pok Pok Thai – (Pok Pok, 3226 SE Division St, Portland, OR 97202)
Fun: Oaks Park roller skating open skate: 7-9:30 – (Oaks Park Roller Skating Rink, 7805 SE Oaks Park Way, Portland, OR 97202)
Map of the full day:
Interactive Map: https://goo.gl/maps/Sv8Jr3RsGHsf2jZ2A
If you like this post, you may also enjoy:
21 Best Oregon Waterfalls You Will Want To Visit
The 10 Best Stops On The Hood River Fruit Loop
How To Spend 3 Amazing Days At Mckenzie River National Recreation Area
Your Guide To The Best Places For Oregon Coast Camping
26 Oregon Coast Road Trip Stops You Don't Want To Miss
21 Magical Things To Do In Redwood National Park
54+ Things To Enjoy On The Ultimate Baja California Mexico Road Trip
Pin this for later: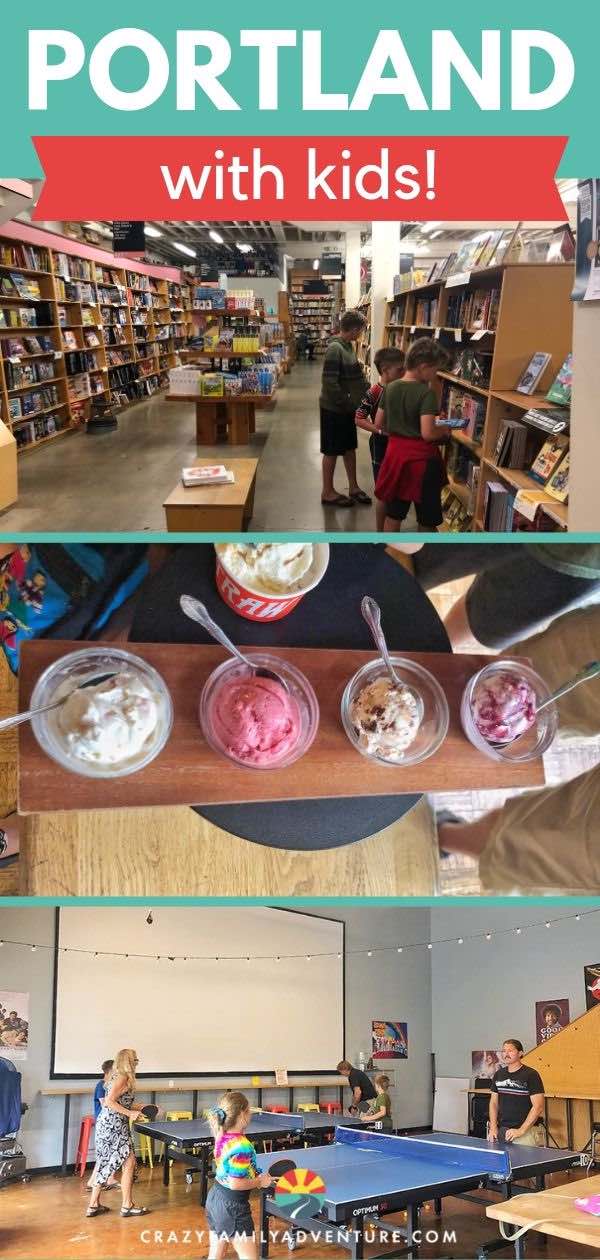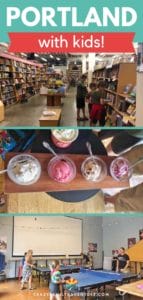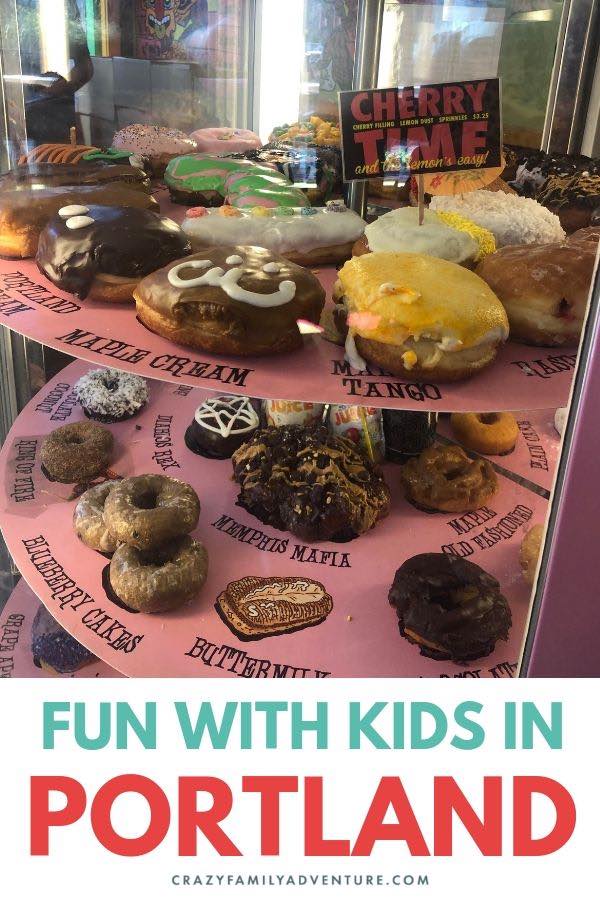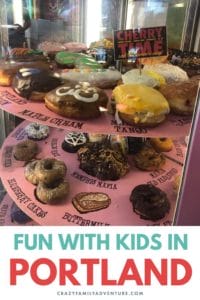 DISCLOSURE: This post may contain affiliate links, meaning I get a commission if you decide to make a purchase through my links, at no cost to you. Please read my disclosure for more info.