When it comes to having the most picturesque and stunning waterfalls in the United States, very few states come close to Oregon. Nothing compares to the feeling of watching a rushing waterfall after a long hike. Witnessing Oregon waterfalls is an experience like no other.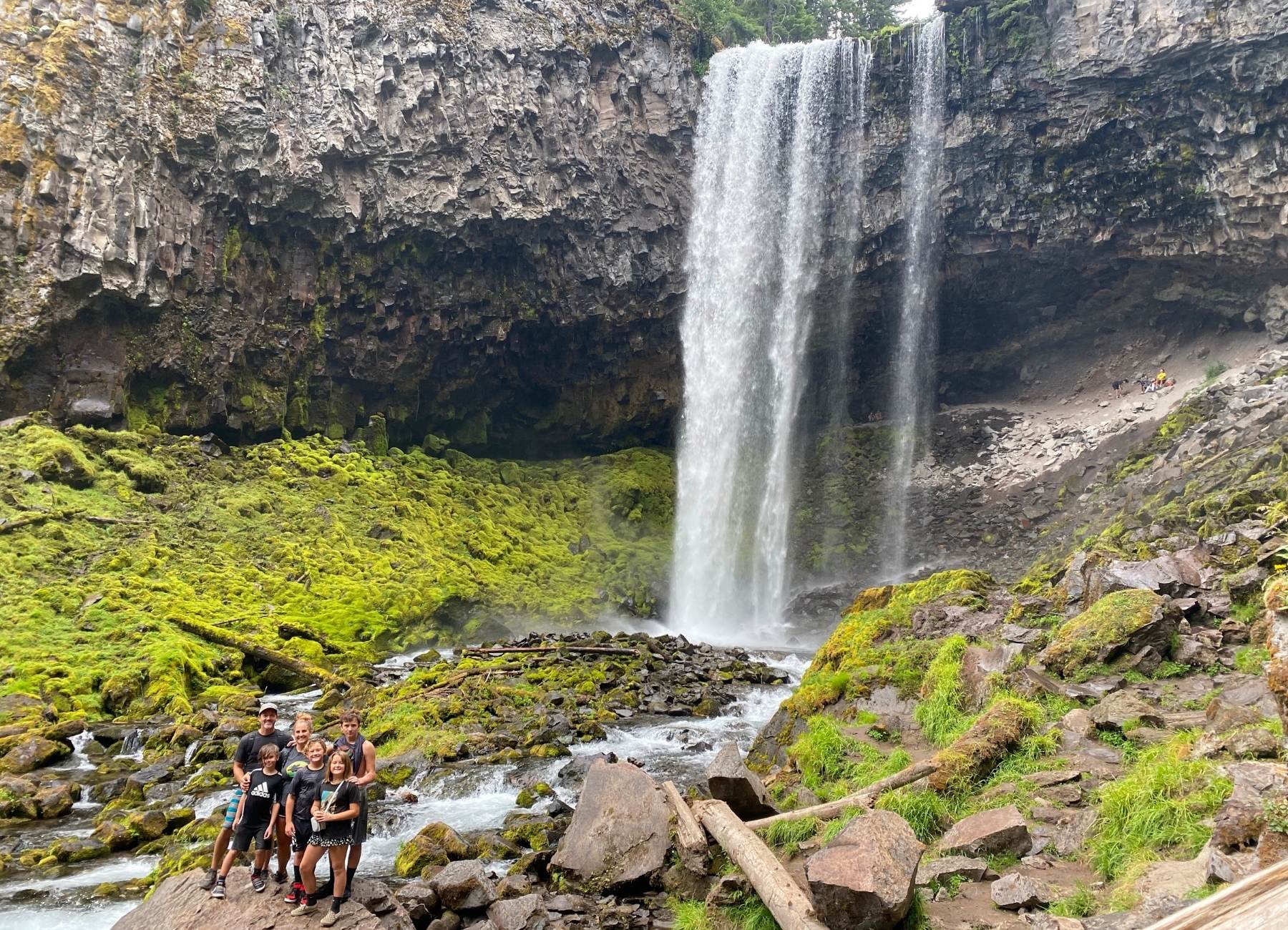 With more than 200 waterfall hiking trails to choose from, you may feel conflicted about which one to visit first — we were too! To help make the decision easier, we've compiled a list of the 21 best waterfalls in Oregon that you should visit.
Some are located close to Portland, others in the McKenzie River Recreation Area and many are in national forests and can easily be reached with a car, while others require a hike to access.
If you are planning an Oregon Coast road trip or an Oregon Coast camping trip you will want to check out this awesome list of waterfalls!
While the fall season is the best time to embark on these hikes, these waterfalls are breathtaking any time of year and should be on your Oregon bucket list. So without any further ado, let's get started!
Tamanawas Falls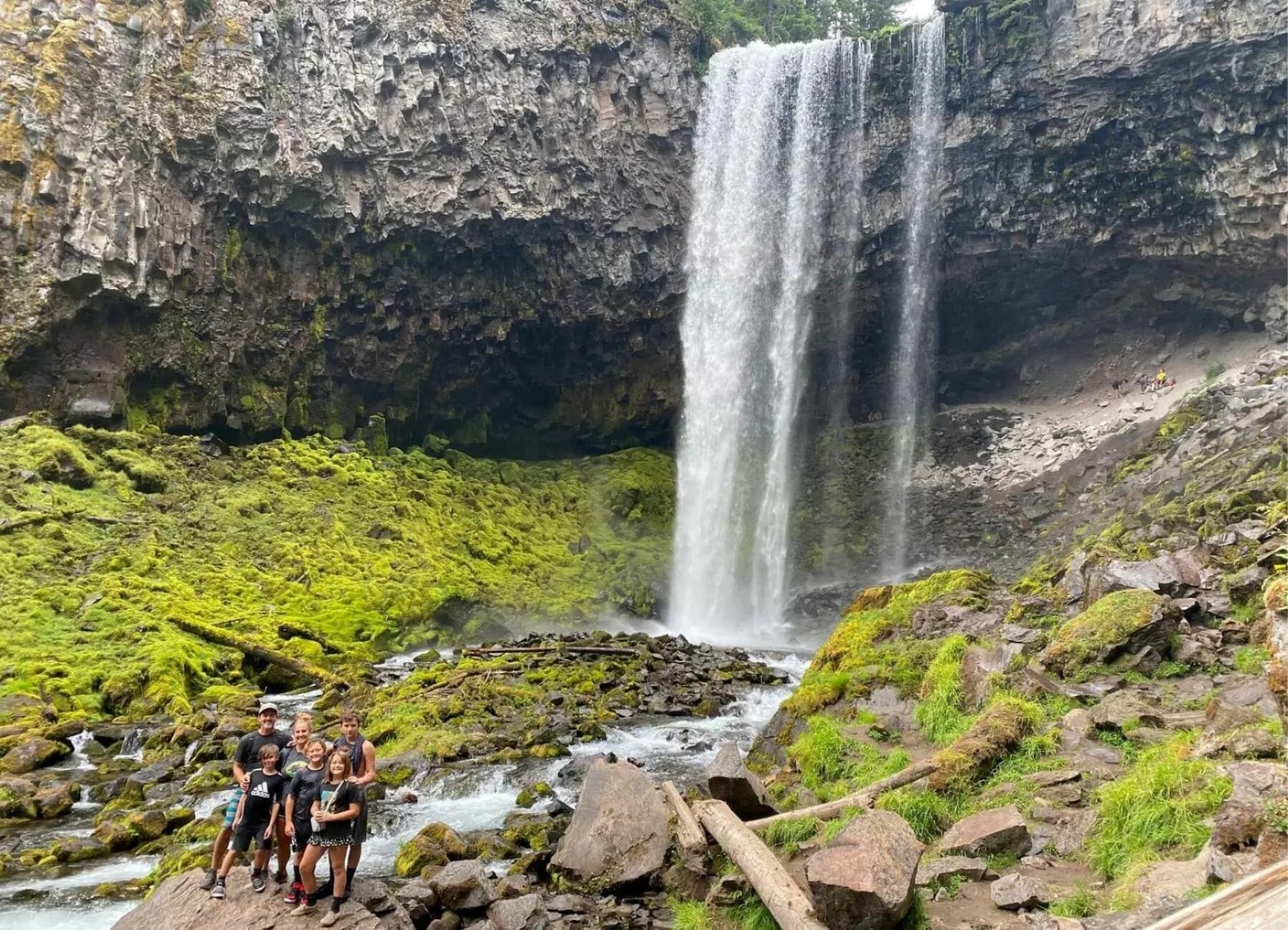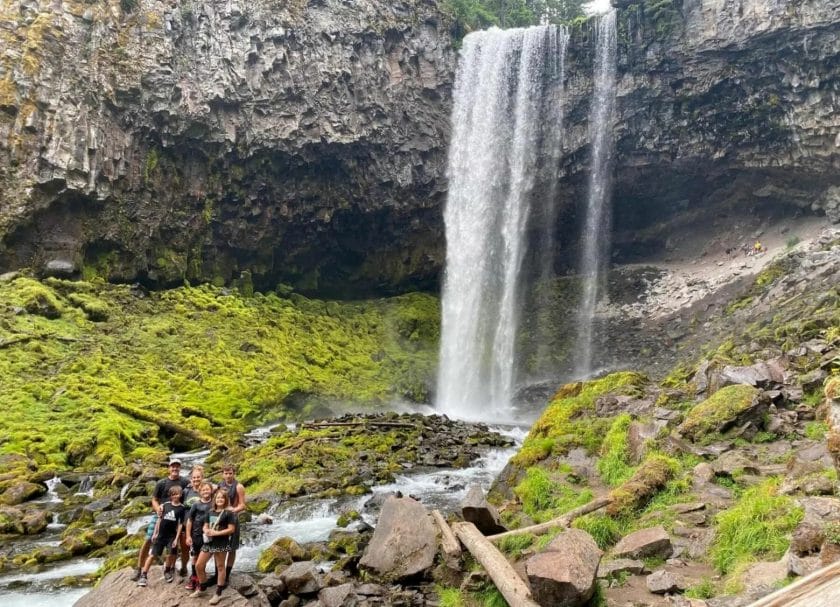 The hike leading to Tamanawas Falls is one of our favorites. You don't have to wait for the beautiful cascading falls to feel rewarded. If you're able to visit during late spring or summer, you'll love how lush and green the trail is.
That doesn't mean the waterfall is any less spectacular. It's simply breathtaking with the waterfall pooling from the Cold Spring Creek and plunging from the lava cliff above.
Among the most famous waterfalls in Oregon, the 1.5-mile hike to reach it is enough to keep hikers to a minimum. If you prefer visiting places that aren't too crowded, Tamanawas Falls should be on your list of places to visit.
Salt Creek Falls
If you're looking for waterfalls with the largest drops, Salt Creek Falls should be on your list. The 286-foot waterfall is the second largest waterfall in the state after Multnomah Falls; it doesn't fall behind in terms of beauty!
This fall is located within the Willamette National Forest, with one viewpoint very close to the parking lot and another requiring a short hike. We'd recommend the latter as the trail leads to the base of the waterfall, giving you an up-and-close look. It's an experience you definitely won't want to miss!
White River Falls
Who said a dry and remote landscape can't have its own magnificent waterfall? Almost 100 feet high, White River Falls plunges 90 feet and is a popular spot in summer to cool down and relax with friends and family. The region is also popular among hikers as temperatures start to cool.
We watched the falls from a viewing platform that's close to the parking lot, but you can also take a half-mile hike for a closer look. There is also an additional side trail that leads to the pool of water at the base where you can unwind. We recommend you check it out!
Latourell Falls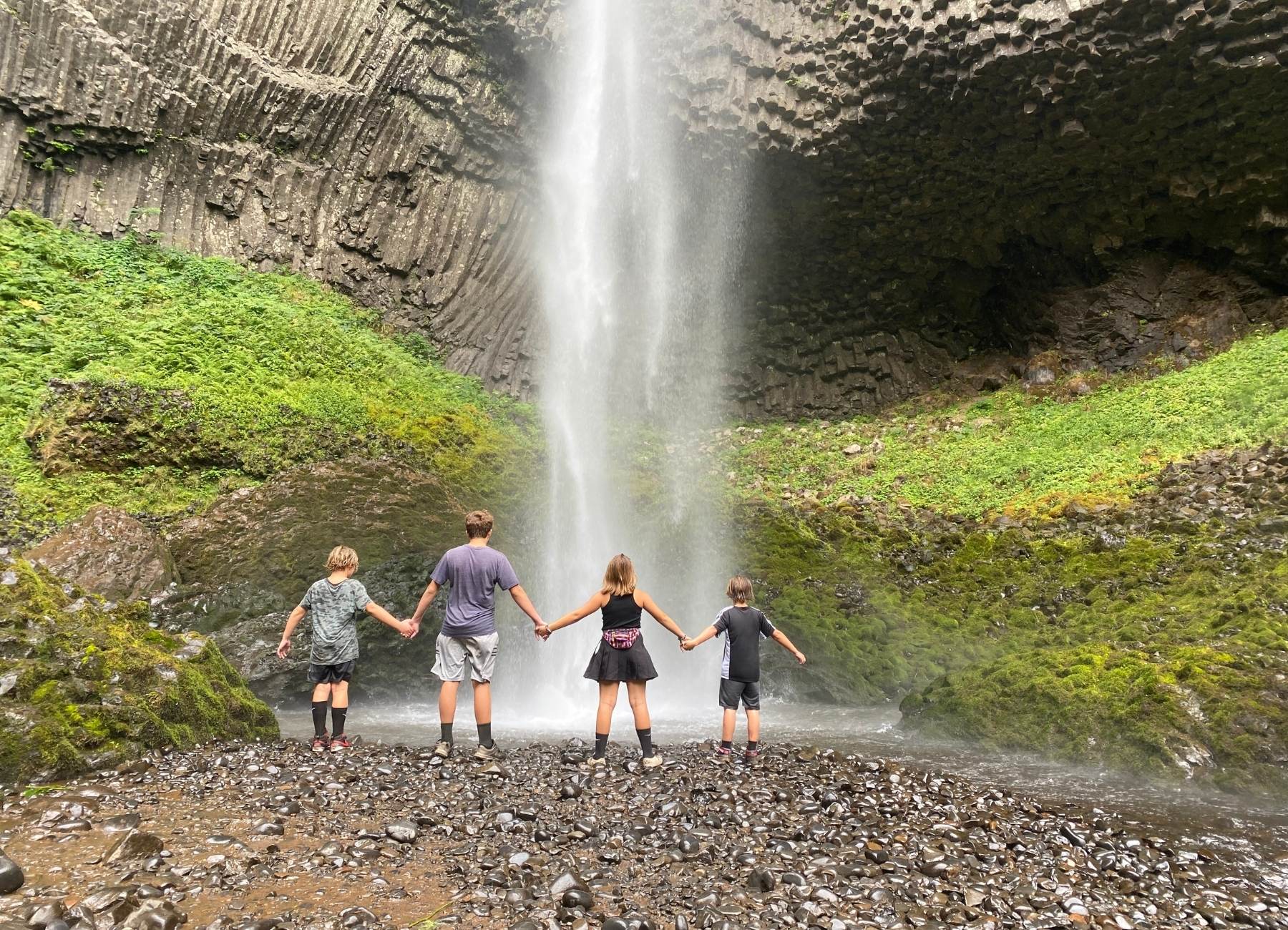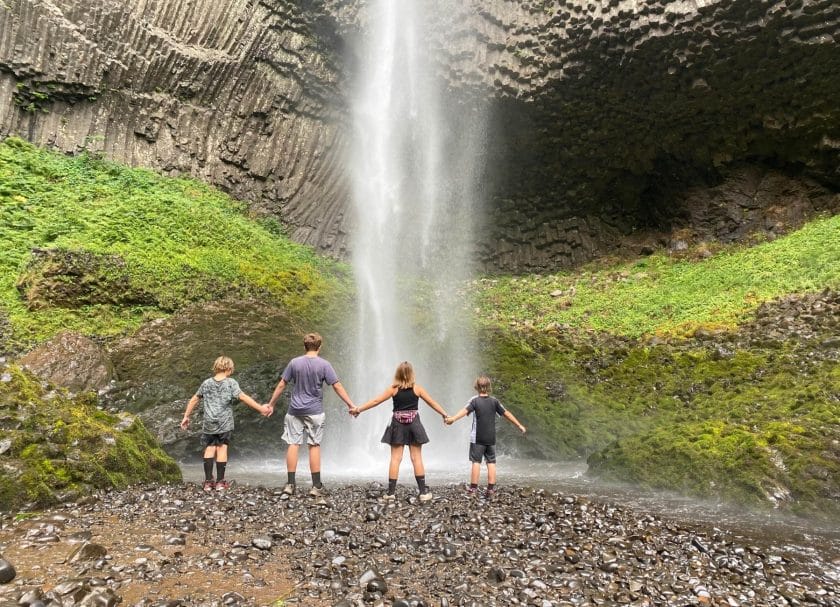 One of the first big waterfalls along the Columbia River Gorge, Latourell Falls, has two falls. If you're not in the mood for a hike, the lower falls, which are much stronger, are a good place to start. However, we suggest you take the 1-mile hiking trail to the top, which will take you to the upper falls, which have fewer visitors and amazing views.
Latourell Falls is quite popular because it is easily accessible from the Historic Columbia River Highway if you're coming from Portland. You can expect a small crowd, but that shouldn't keep you from appreciating its exhilarating beauty!
We love this waterfall and how you can get so close to the falls. Standing down there with the mist hitting your face is the best!
Visit Latourell Falls and more on a tour:
Portland: Half-Day Tour Of Multnomah Falls and Columbia River
Watson Falls
Situated within the Umpqua National Forest, around 30 miles north of Crater Lake National Park, is southwest Oregon's largest and most popular waterfall. With a plunge of more than 300 feet, Watson Falls is one of the tallest waterfalls in the state.
The waterfall is accessible after a short half-mile hike from the parking lot and leads to a view that showcases the falls in all its glory. There are helpful signs along the trail that provide information about the local geology. If visiting this extra-high waterfall appeals to you, the best time to visit is between April and November.
Toketee Falls
Only an hour's drive away from Crater Lake, Toketee Falls is a great side trip when you're visiting the national park. We hiked for a little less than a mile, round trip, to see the falls and the short journey was greatly rewarding.
Toketee Falls boasts of two drops that plunge for over 100 feet. You also get views of the glorious Umpqua River while on the trail. However, it is the mesmerizing view of Toketee Falls that will leave you speechless! Nestled in the Umpqua National Forest, the fall is less than three miles from Watson Falls which was mentioned earlier in this article.
For more fun in Oregon check out all the awesome Oregon hot springs!
Multnomah Falls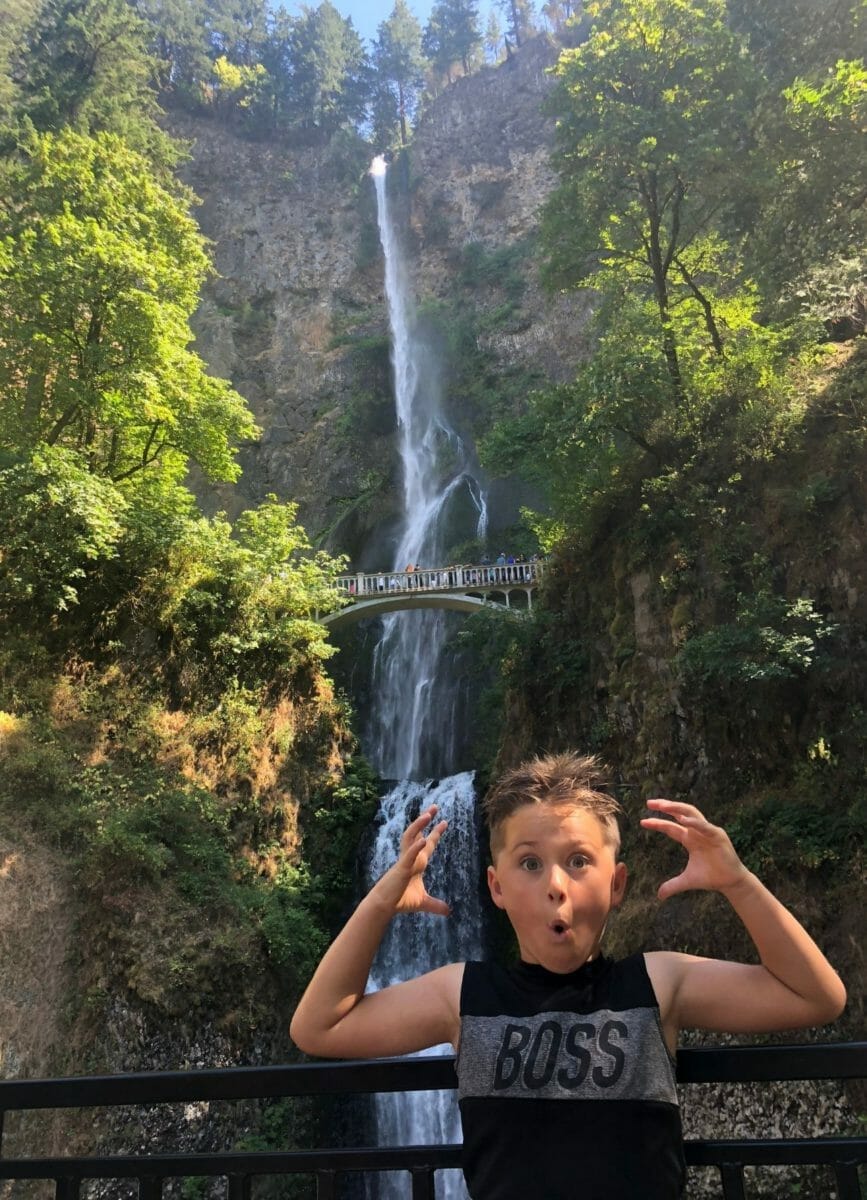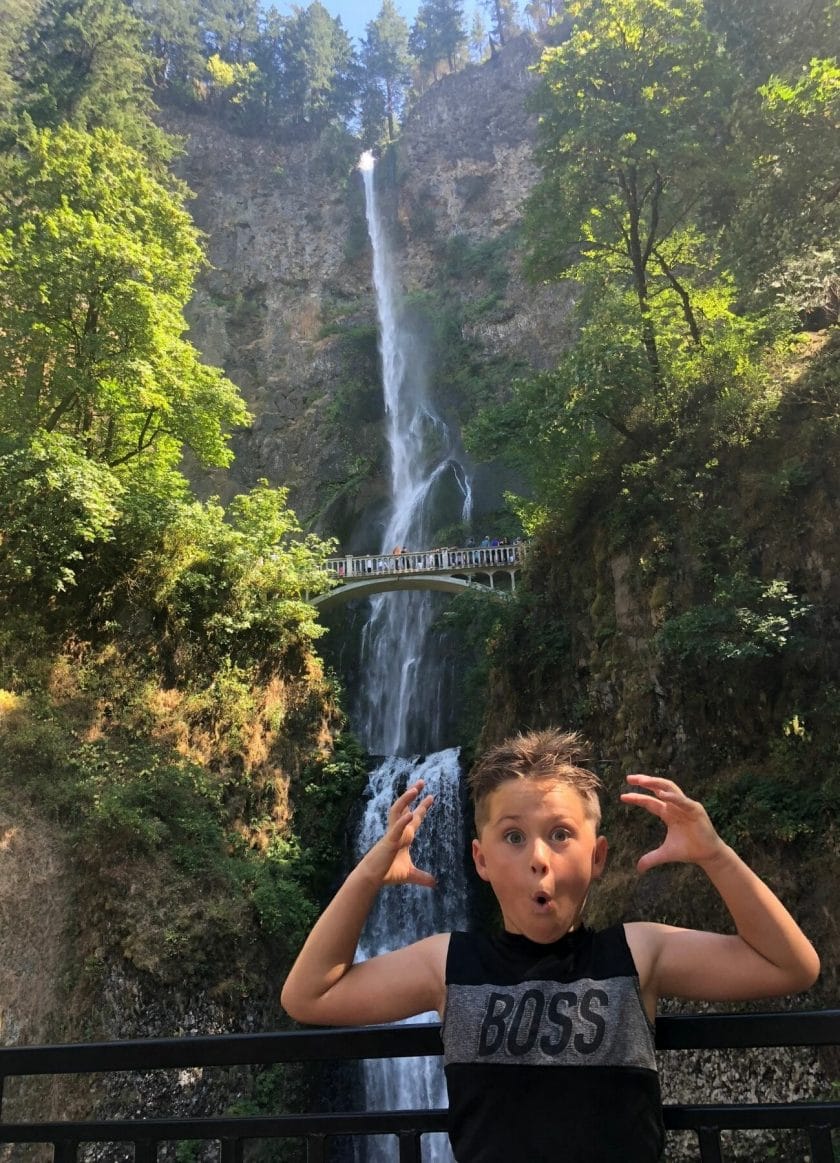 Many consider Multnomah Falls to be the best waterfall in Oregon and it is one of the best waterfalls in the USA. We can see why! With water plunging from an enormous height of over 600 feet, the view is mesmerizing for everyone who visits. The steep cliff and dense greenery surrounding the falls add to its beauty.
The biggest attraction here is Benson Bridg. It was located in the middle of the two falls. Visitors can look up from a footbridge and witness the gush from the waterfall above and — without moving a muscle — look down to see the second waterfall pooling below. We viewed Multnomah Falls from three points: the bottom (which is a few minutes from the parking lot), the bridge, and the top of the falls. The view from the top required a long hike but was worth it!
Check out these tour options:
Portland: Wine and Waterfalls Full-Day Tour
Portland: Columbia River Gorge 3-Hour Small Group Tour
Take a Scenic Flight over the falls!
Punch Bowl Falls
Another iconic Oregon waterfall along the Columbian River Gorge is Punch Bowl Falls, a popular swimming spot for outdoor enthusiasts, so bear in mind that you will run into some crowds. It is aptly named after the massive bowl-shaped pool formed by the rushing water.
Punch Bowl Falls can be accessed via the Eagle Creek Trail and is just one of the many attractions found here. We hiked further along the trail to reach Tunnel Falls. Along the way are eight major waterfalls with smaller falls between them.
This trail has been closed on some occasions owing to safety issues. Before going, it's best to check the status here. If you're thinking of hiking with small kids and dogs, this may not be the ideal trail to bring them on. There are sections where a cliff lies on one side of the trail.
Kentucky Falls
Compared to the other hikes we've mentioned here, this one is slightly trickier since it's a downhill hike. This means you'll have to trek uphill on the way back. However, you're rewarded with not one but three stunning waterfalls for your efforts!
The first waterfall we saw after hiking for less than a mile was Upper Kentucky Falls. The view was fantastic.
You can choose to turn back from here or continue hiking till you reach a crossroad. The trail on the right will take you to the base of Lower Kentucky Falls which is a huge plunge of more than 100 feet. There is a viewing platform here that's perfect to take pictures from.
Bridal Veil Falls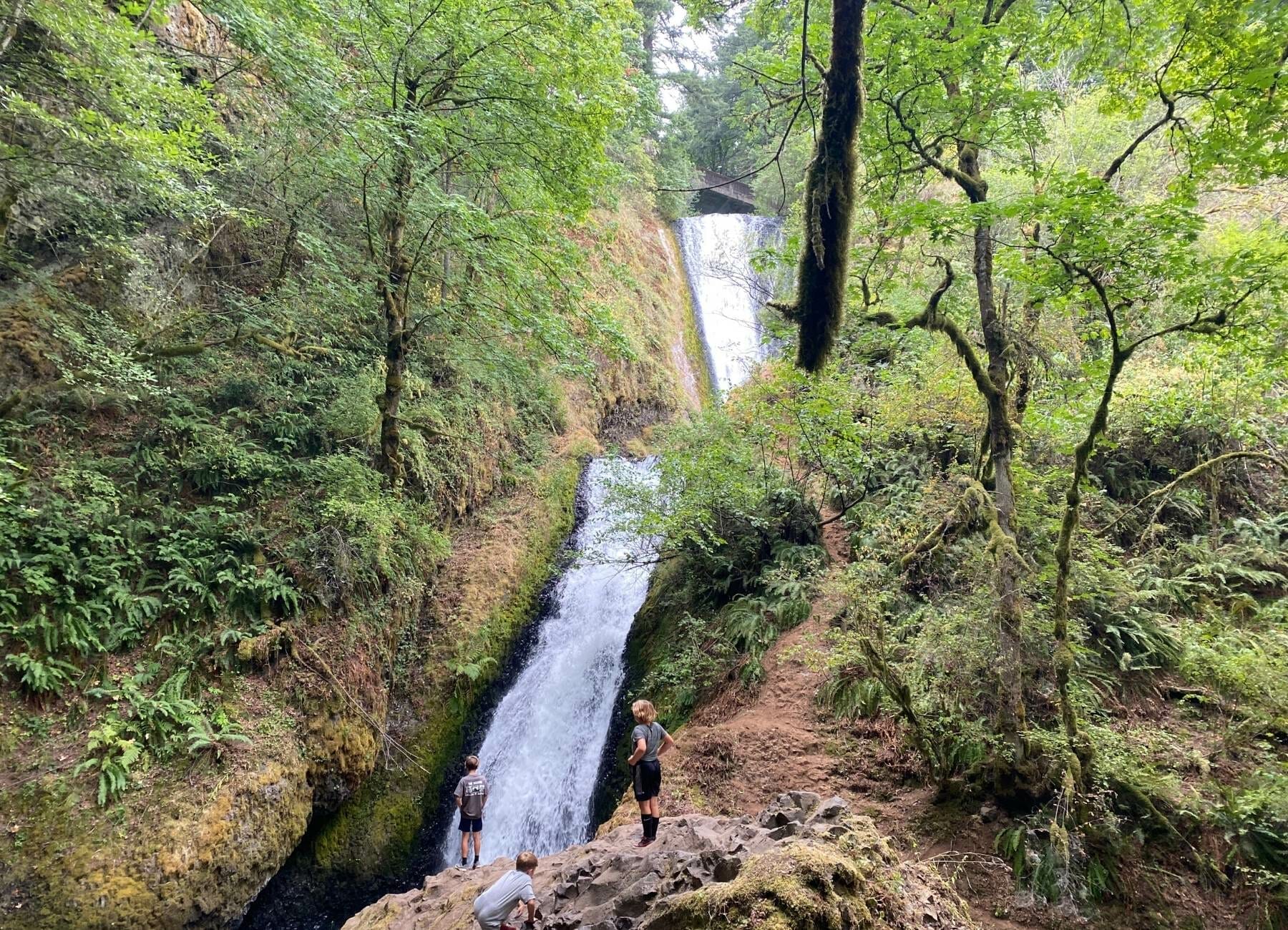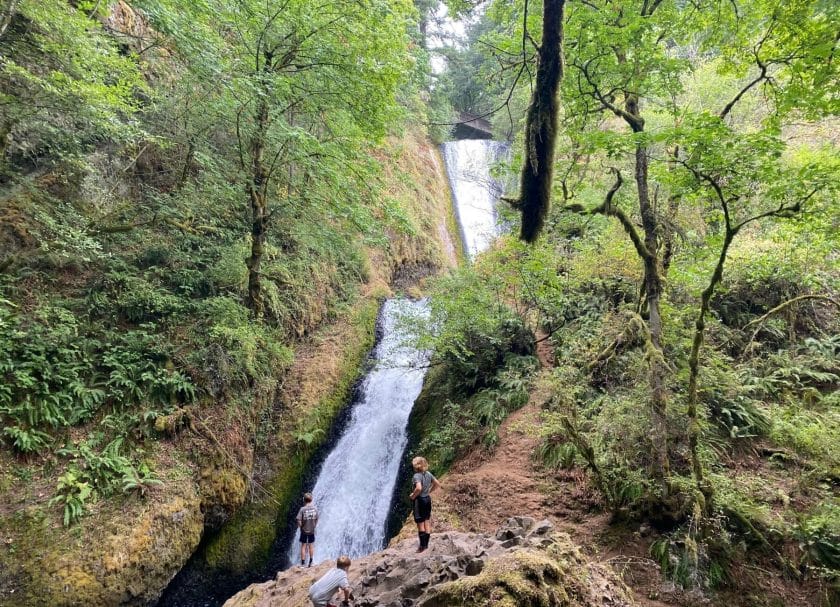 This family-friendly waterfall is very easy to explore and located along the Columbia River Gorge — Bridal Veil Falls. The viewing platform is close to the parking lot, but you can also take on either of two hiking trails for more adventure!
The Upper Trail gives you panoramic views of the Columbian River Gorge, while the Lower Trail takes you to a creek before the falls come into view. The viewing platform is at the base of the waterfall and is a popular photography location. It's also somewhat of a romantic spot which will become evident to you when you see all the hearts carved into the wood.
South Falls
South Falls is the most popular (and easy to reach) waterfall out of the 10 you can witness at the Silver Falls State Park. The aptly named "Trail of Ten Falls" is a 7.2-mile long hiking trail. If you're up for a challenge, it's the perfect trek for an adventure!
South Falls has an impressive height of 175 feet, making it a great place to take pictures. We intentionally scheduled our hike early to avoid the crowd. By the time we were about to leave, people were starting to arrive in numbers, so make sure to time your visit in the early morning hours.
Golden and Silver Falls
These two waterfalls are as beautiful as they sound. At 259 and 254 feet, these are two of the highest waterfalls in the state's coastal region. The best time to visit these falls is either winter or spring.
These falls are situated in the Golden and Silver Falls Natural Area which is the place to be on a hot day. Though you can choose from three trails, we suggest taking the one which lets you visit both falls since it's more satisfying. You can even cross Silver Falls via a bridge when taking this route.
Proxy Falls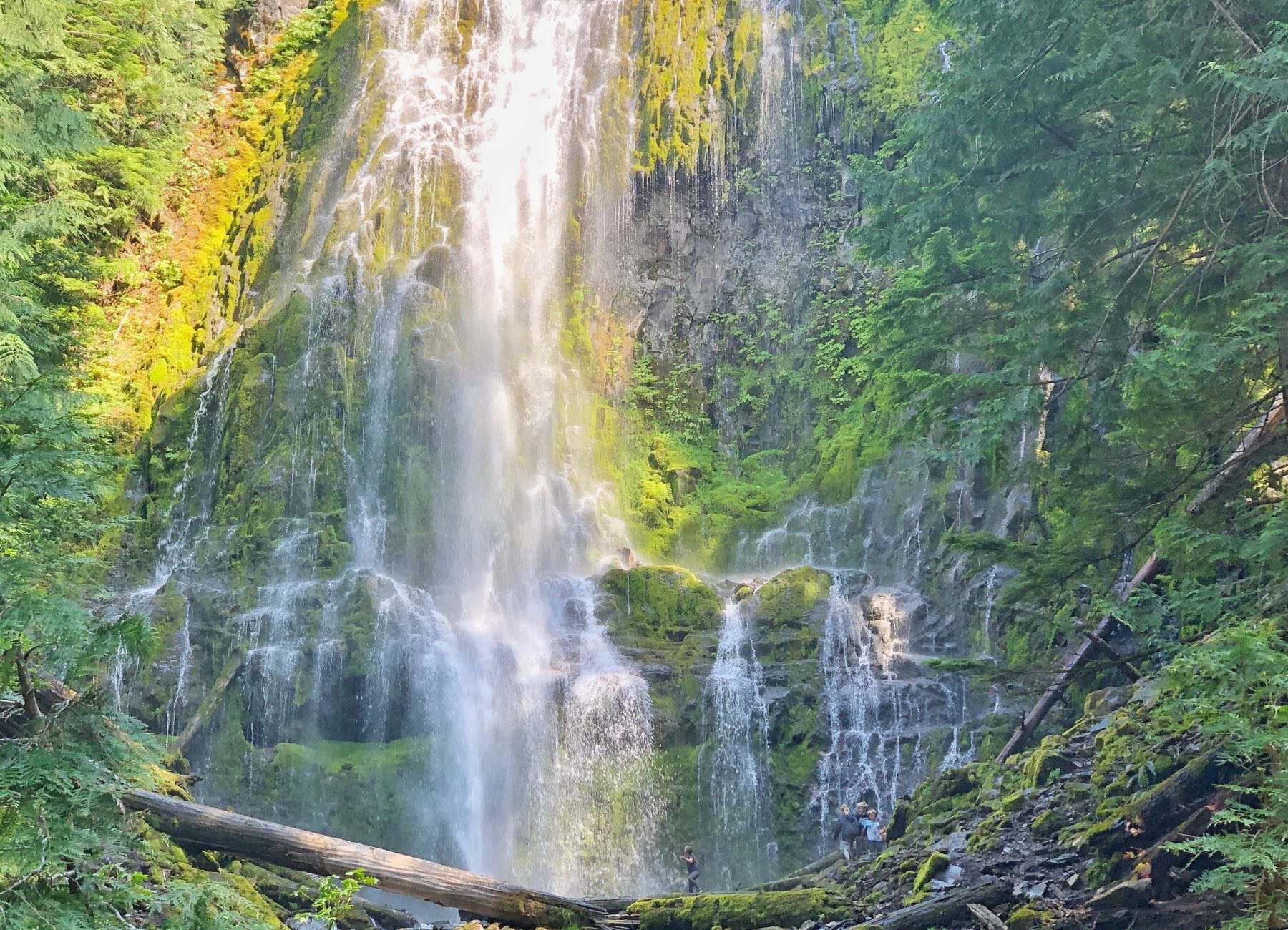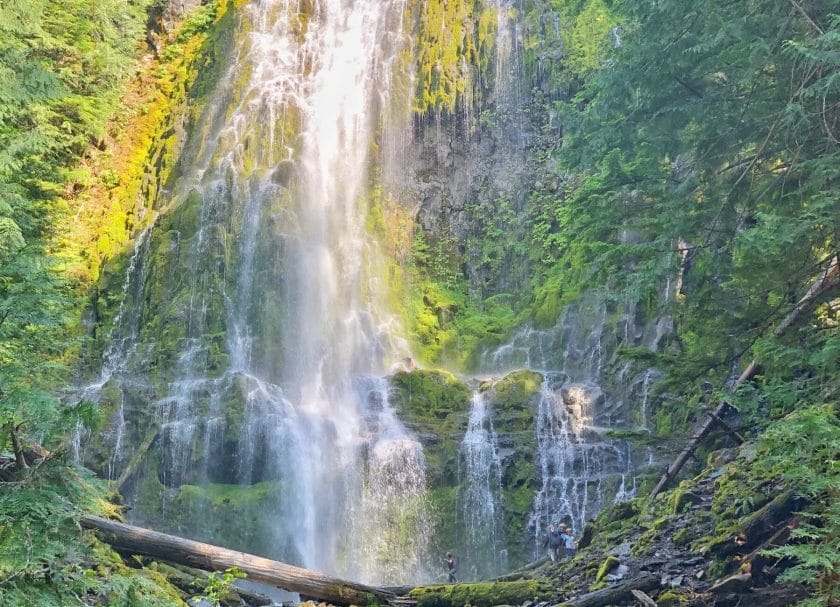 Located within the Willamette National Forest, Proxy Falls promises a breathtaking view that you won't be able to get enough of! The 1.5-mile trail culminates in a scenic view of one of Oregon's most stunning waterfalls.
The best part about its hiking trail? You experience not one but two beautiful waterfalls – the Lower Proxy and the Upper Proxy. The lush forests that surround the trail add to the experience. The trek will leave you satisfied and invigorated.
*Note– Proxy Falls are temporarily closed. Check here for the status of the falls and for any required permits.
Munson Creek Falls
If you're looking for the best waterfall in Oregon along the coastal region, look no further than Munson Creek Falls, which is easily accessible from the Oregon Coast Highway. With an incredible drop of more than 300 feet, it's one of the tallest waterfalls in the state.
We took a short half-mile hike from the trailhead, which gives a spectacular view of the waterfall from its base — an easy hike for everyone! There is a nice picnic area where we enjoyed a family lunch with the falls as a backdrop. You can also continue hiking along the more challenging Upper Trail to get picturesque views of the dense coastal forest area.
Ponytail Falls
The best part about planning a trip to this waterfall is you get to see Horsetail Falls the moment you get out of your car. After taking in the view, you can continue up the trail to reach the slightly smaller Ponytails Falls.
We continued on the trail before being treated to incredible views of Oneonta Creek and Gorge. You also get a glimpse of other falls while you're on this trail. Overall, this trail starts and ends with fantastic waterfall views, making it one of our all-time favorites.
Sahalie and Koosah Falls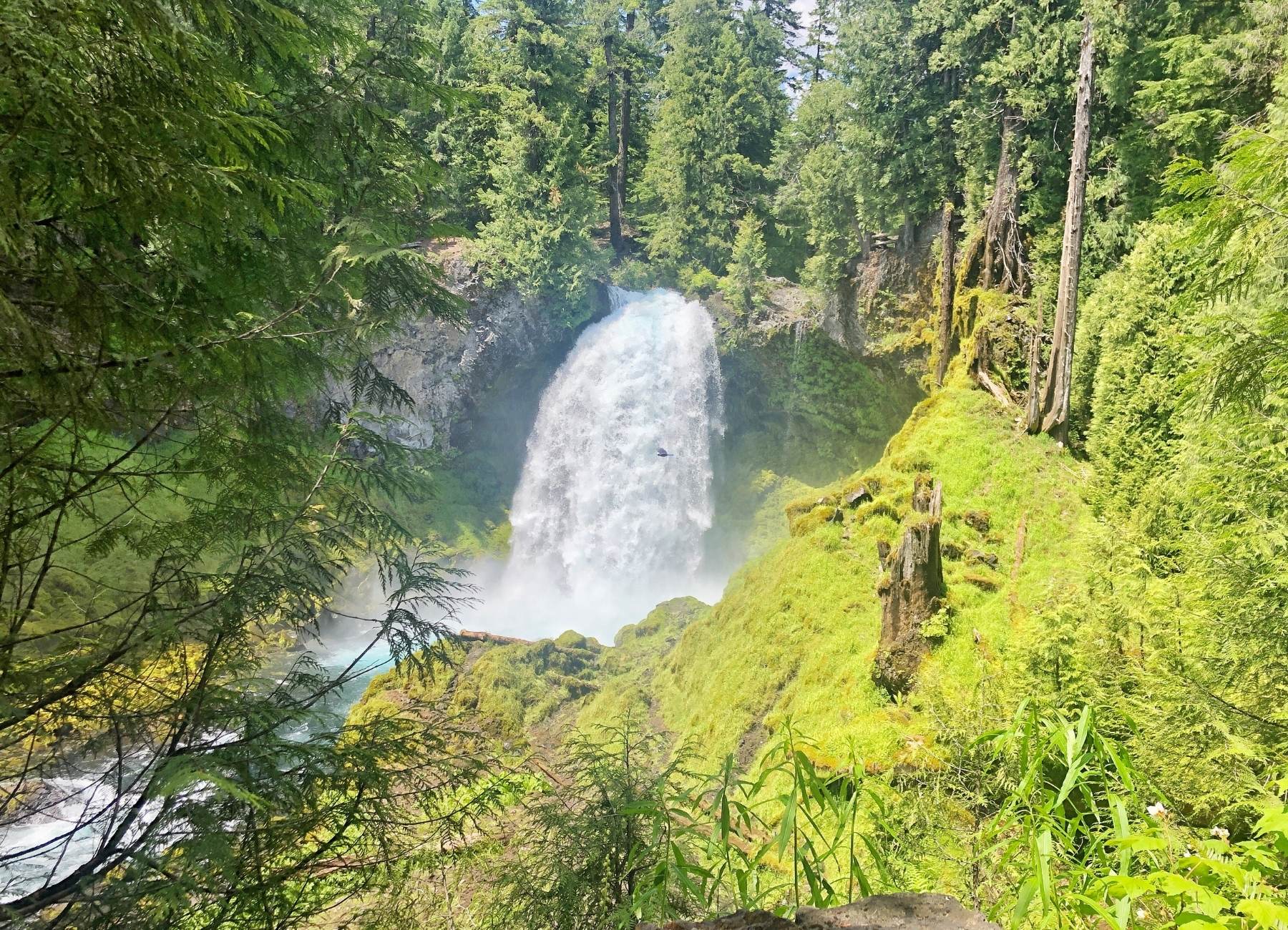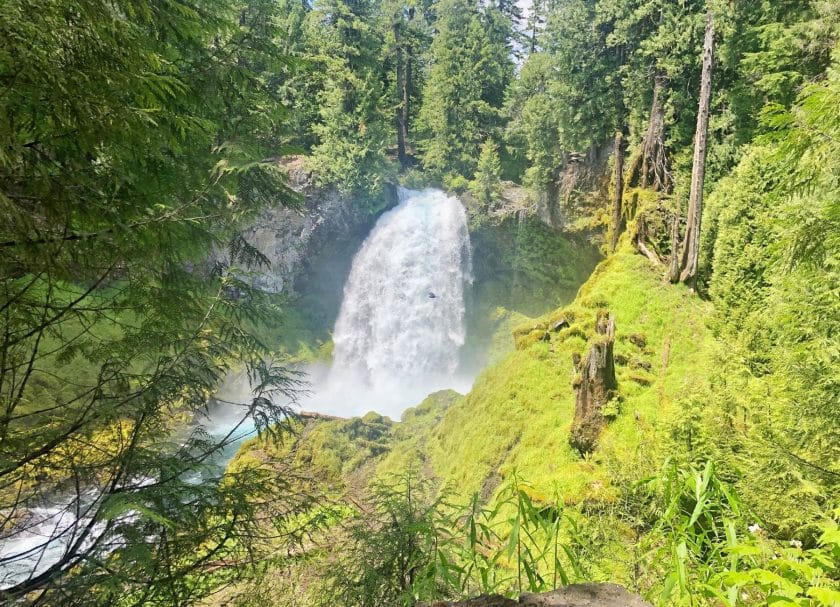 The Sahalie and Koosah Falls deserve a visit any time of year since they're always gushing. These two falls are part of the beautiful McKenzie River.
We enjoyed the two falls by looping around a 2.6-mile hike that gave us a glimpse of the McKenzie River National Recreation Trail. Replete with moss-laden trees, it's the perfect hike for anyone! While Sahalie is the bigger waterfall, Koosah draws a bigger crowd.
Stop by either one depending on your preference. When it comes to choosing the best waterfalls in Oregon, these two are always up for consideration!
Tumalo Falls
One of the best-known waterfalls in Oregon, Tumalo Falls, is situated within the evergreen Deschutes National Forest. Surrounded by a forest with abundant pine trees, the picturesque waterfall is a favorite among nature photographers.
While you can spot it directly from the parking area, we suggest that you take the short hike to the top for a more dramatic view of the falls. You can take the Tumalo Creek Trail through a small canyon to the top. You can count on a view that will be etched in your memory for a long time!
Whitehorse Falls
Whitehorse Falls should be on your list of must-visit waterfalls in Oregon. They are one of the most accessible ones, given the one-minute proximity from the parking lot.
While the hike isn't taxing, the falls are picturesque with two crossing logs sitting in front of it. It's a popular spot among photographers and you don't have to wait for crowds to disperse to take pictures. You can visit Whitehorse Falls any time of the year, but it is especially beautiful at the start of winter. *Note– Whitehorse Falls are temporarily closed. Check here for the status of the falls.
Ramona Falls
Planning a day to Mt. Hood National Forest is incomplete without adding Ramona Falls to your itinerary. While it is a 7-mile roundtrip hike, the picturesque views are worth it.
You will need to have proper hiking shoes and hiking gear before setting off. The cobbled waterfall is probably one of the most unique and distinctive in all of Oregon. The waters bump gently down a cliff of protruding rocks, giving it the appearance of a staircase.
The cascading water collects in a small pool below and provided us the perfect place to cool off after the long hike. You will need a permit if you're visiting from May 15 to October 15. You can apply for a permit online by visiting this page.
Abiqua Falls
Looking for an easy hike for pets and children? Abiqua Falls is the perfect destination. It features an easy and short hike that leads to a 92-foot waterfall that is jaw-droppingly beautiful.
While the hike may be simple, we thought that finding the trailhead was the trickier part. Abiqua Falls isn't as popular as the other falls on this list but don't let that deter you from visiting. It is no less magnificent. One tip – get detailed directions before leaving for Abiqua Falls. There aren't many signages to help you navigate.
We had to clamber over a few wooden logs and boulders before reaching the falls so you'd be well-advised to wear shoes with good traction.
Shellburg Falls
Last but not least is Shellburg Falls, another spot that's easy to hike to, but one that offers spectacular views. Its two-tiered waterfall is the center of attraction in the Santiam State Forest and runs along the Stout Creek Canyon.
The trailhead starts as a single track with private pastures on either side. You'll have to walk a bit until you reach the forest and access the trail. The trail leads to a great view at the base of the waterfalls.
Don't be surprised if you encounter cattle herds along the way. You'll also spot a sheep barn in the distance and get to follow the creek during some parts of the trail. *Note– The Shellburg Falls are currently closed. Check here for the status of the reopening.
That wraps up our list of the best waterfalls in Oregon to visit. While it's difficult to choose from the state's 238 waterfalls, we hope this article has helped narrow it down for you so you can decide which ones to see first.
Places to Stay
Hotels
Hyatt House Downtown Portland Stay in the heart of downtown Portland while you explore the beauty of nature within close driving distance.
Heathman Hotel Located in downtown Portland, the Heathman Hotel is filled with luxurious and comfortable amenities.
Vacation Rentals
Spacious Family home with Mountain Views Your whole family can stay in this large home that sleeps 10 and is dog friendly.
Stunning Riverfront Property This beautiful home is located on the riverfront with hiking and waterfalls nearby. This 5-bedroom house sleeps 14, making it perfect for your large family.
If you liked this post, you may also enjoy:
4 Best Amusement Parks in Oregon To Visit
How To Spend 3 Amazing Days At Mckenzie River National Recreation Area
The 10 Best Stops On The Hood River Fruit Loop
32 Epic Things To Do In Portland With Kids [Itinerary Included]
26 Oregon Coast Road Trip Stops You Don't Want To Miss
Pin This Post: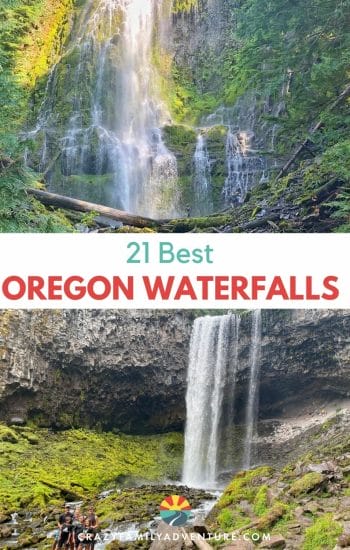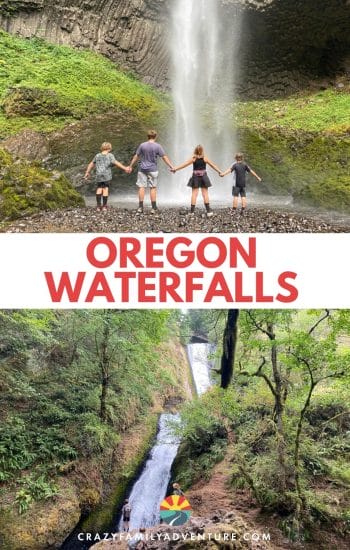 DISCLOSURE: This post may contain affiliate links, meaning I get a commission if you decide to make a purchase through my links, at no cost to you. Please read my disclosure for more info.