If you are looking for a unique place to go in Oregon or for a day trip from Portland, then head to the Mckenzie River Oregon National Recreation Area! We explored this area for multiple days and were blown away by the colors, beauty and waterfalls!!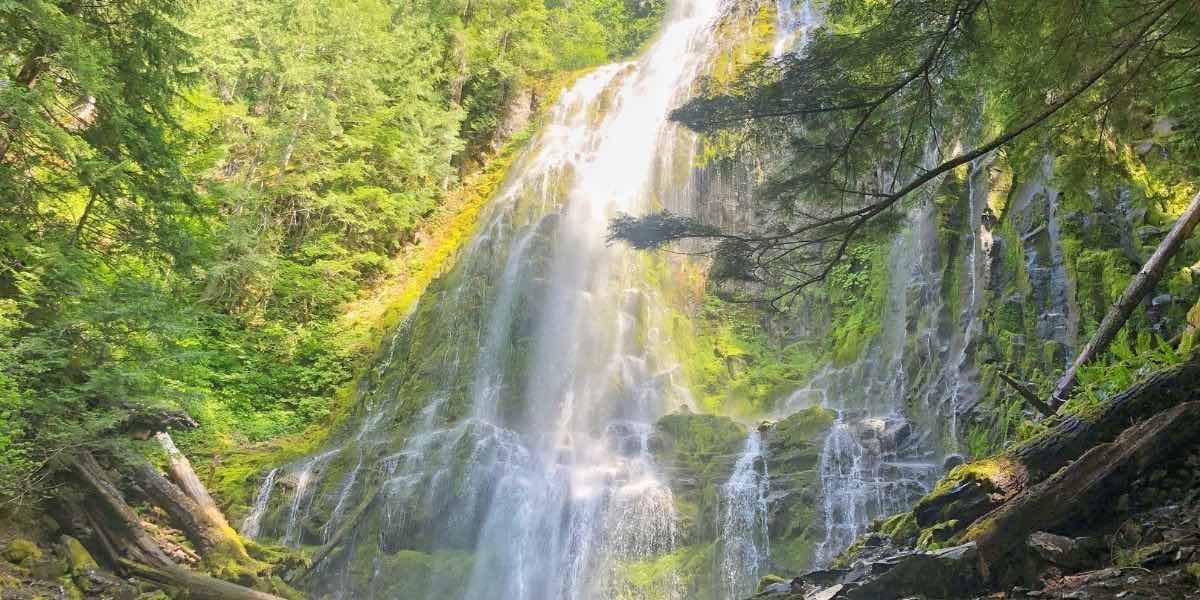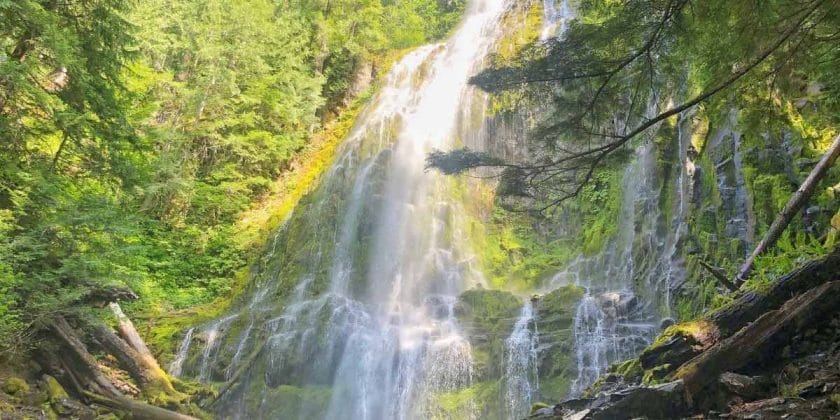 The scenery and the views are just breathtaking and the campgrounds are perfect for finding a place to relax for the weekend. Head to the city of Mckenzie Bridge for awesome outdoor adventures!
I recommend staying for at least 3 nights if you can so that you have 2 full days to explore. Below we share what we did and what we recommend when you visit.
**Note – fires do occur in the Willamette National Forest so be sure to look into that before heading to the McKenzie River area.
Arrival Day
Check in to your hotel or campground, get settled in, and then make your way down to the McKenzie River at Paradise Campground (or ask at your hotel if there is river access near by). There are sections of rapids but also sections of calm water where you can play. The water is so clear it is a perfect way to kick off your time here.
Plan to head back to the campground or your hotel for dinner or check the McKenzie General Store restaurant to see if they have any live music. If they do, head there for some delicious dinner and beers.
Day 2
Head to the Ranger Station to check in and see what they recommend and if there are any closures or things you should know going on. Grab some maps and get ready to head out!
242 Scenic Byway
You will start the day by heading out on the 242 Scenic Byway. The drive is beautiful so put on some good tunes and sit back and take it all in while you make your way to Proxy Falls.
Proxy Falls Trail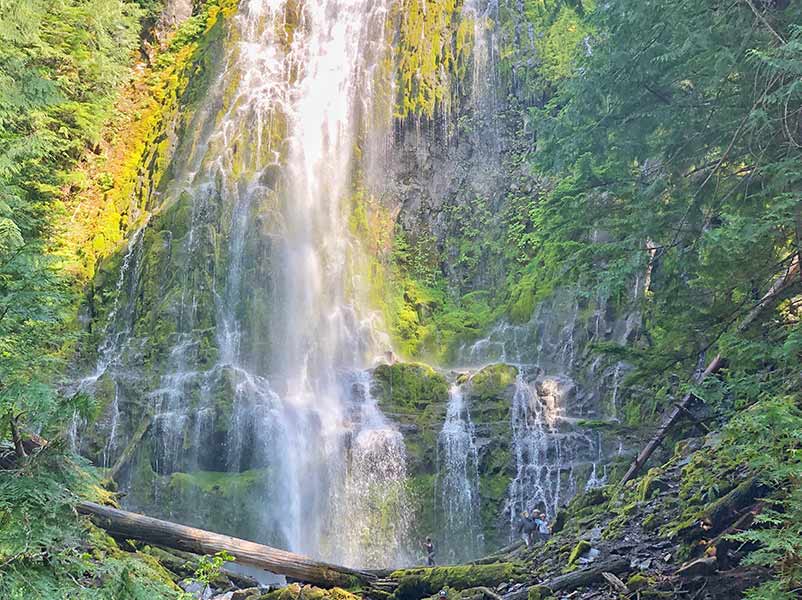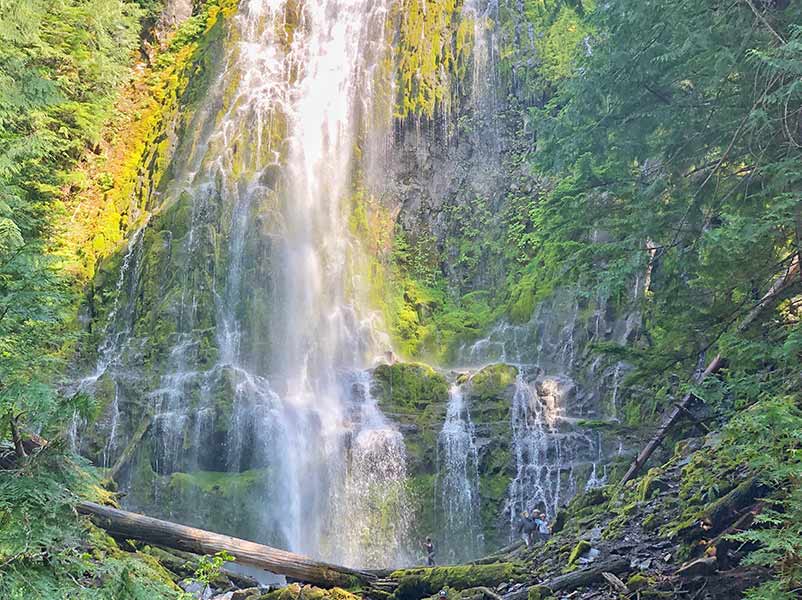 1 and 1/4 mile loop trail that takes you to 2 waterfalls and through open lava fields and dense forests. You can even climb up really close to one of the waterfalls – so be prepared to get a little wet!
We opted to go right first and came to lower proxy falls. When we got there we noticed there were trails heading down to the waterfall, so of course we had to check it out. We climbed down and over the water and then got really close to what we would say was one of the the best Oregon waterfalls.
It was beautiful and the kids loved scrambling around on the rocks and trees. I loved getting up so close to the waterfall you could feel it spraying you!
Next up was upper proxy falls – that wasn't as cool as lower, since you couldn't get too close to the falls.
If your kids (or you) like to play at waterfalls then I would count in extra time to spend here exploring lower proxy falls.
Dee Wright Observatory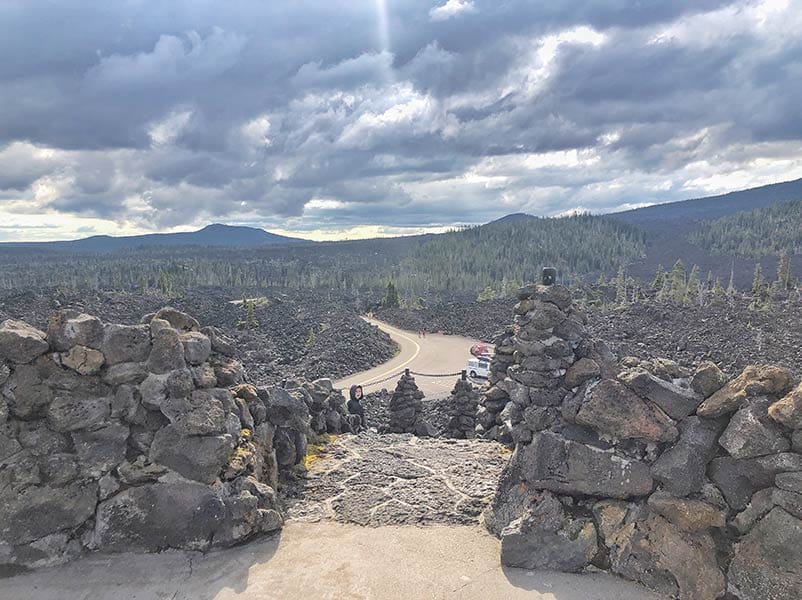 Up next was the Dee Wright Observatory. You climb up to the top of the mountain which is covered in lava fields. Then at the top there is an "observatory" built out of stone! It was really cool and very Game Of Thrones-esque.
When you stand in the observatory you can look out the slat windows in the rock – each one shows you a different mountain in the area. And the lava rock goes on and on. It is a very unique place.
We then turned around and headed back down towards the campsite and made a side trip to check out Belknap Hot Springs. It was basically just a swimming pool that holds hot spring water.
I wish they would have done more with it! With the river right there you could have setup a really cool infinity pool overlooking the river or do something more natural.
We didn't opt to go into the hot springs. It was about $8 a person.
Instead we just walked across the bridge over to where the hot spring is coming out of the mountain to feel the steam! It was hot. Then looking out over the river you can see steam coming up from where the hot spring meets the water.
Dinner
Head to the McKenzie General Store for dinner. Yup. Doesn't sound right but it is!
You order at the counter then take your drinks back into the beer garden area where they have baggo, picnic tables and sometimes live music. They then serve you your food when it is ready.
Click the image to see the interactive map: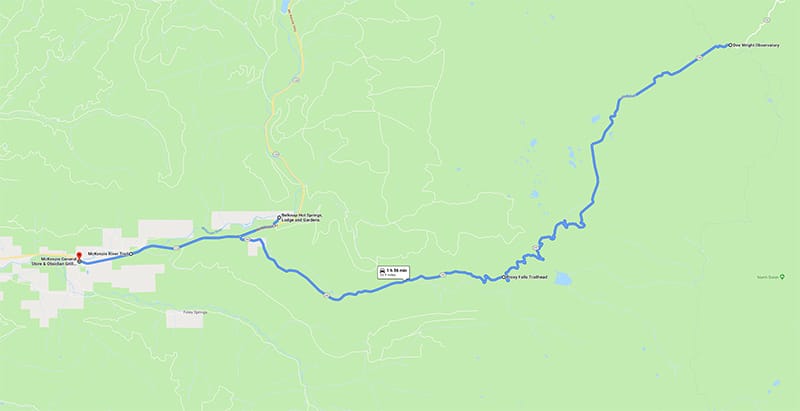 Day 3
Blue Pool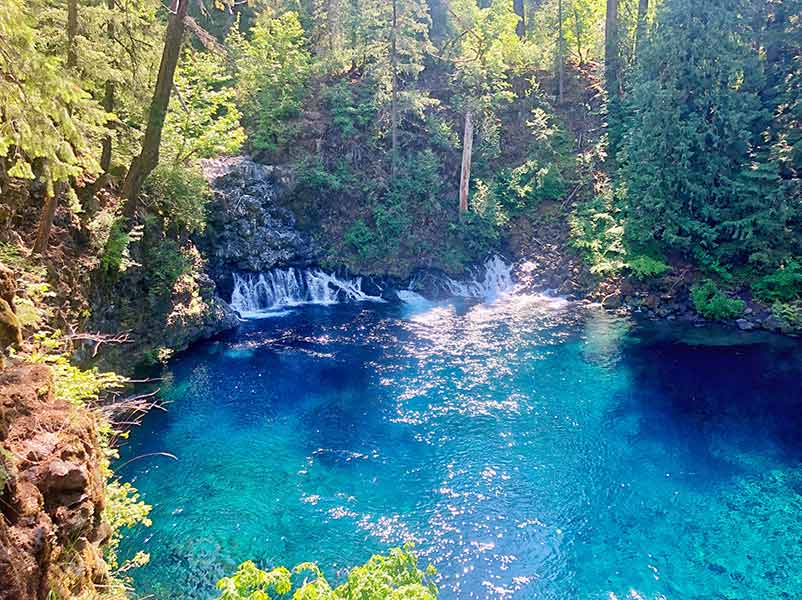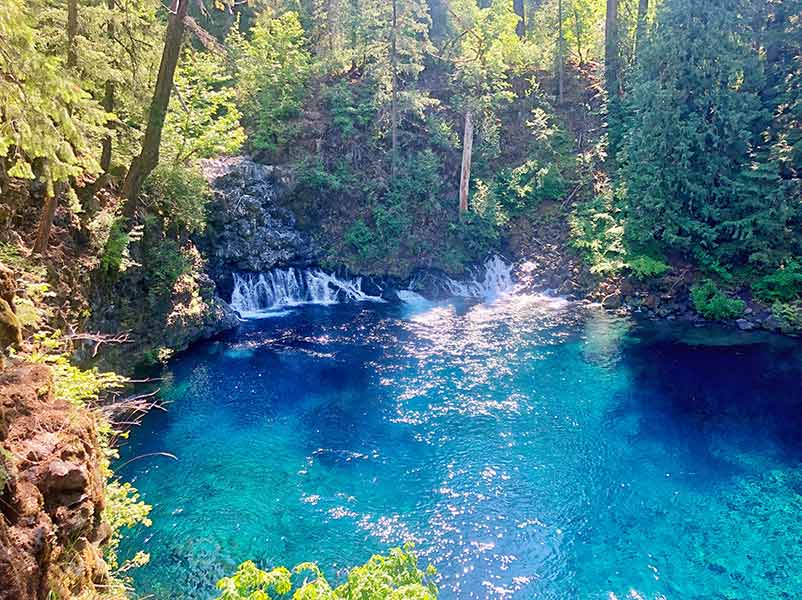 Start the morning off a little earlier and head to the Blue Pool trailhead (we would recommend getting here before 10am for parking.) It is a 4.2 mile hike closely following the river (which is sometimes a blue river) and is relatively flat. The trail is a section of the larger McKenzie River National Recreation Trail.
The highlight is the Blue Pool at the turn around point. It is beautiful! It is a hike in and hike out trail so it is not a loop. But you will be fine with that since the walk along the river is gorgeous.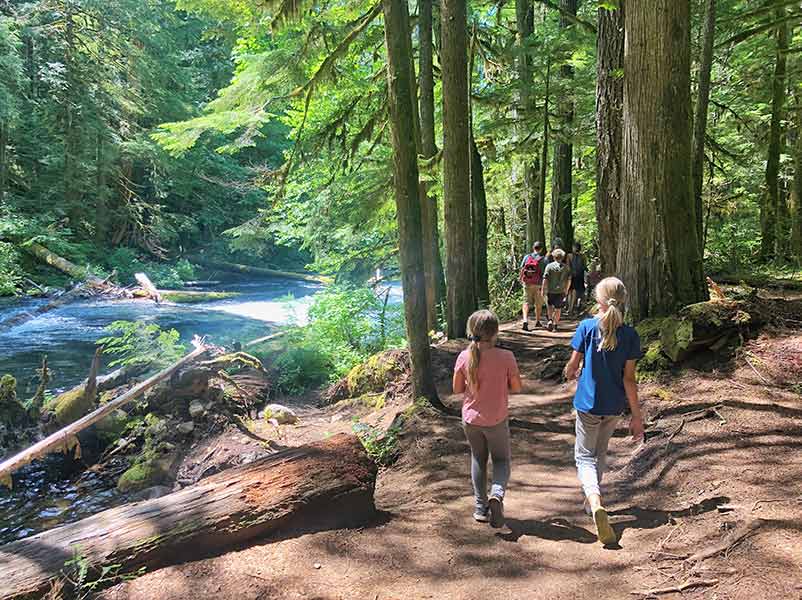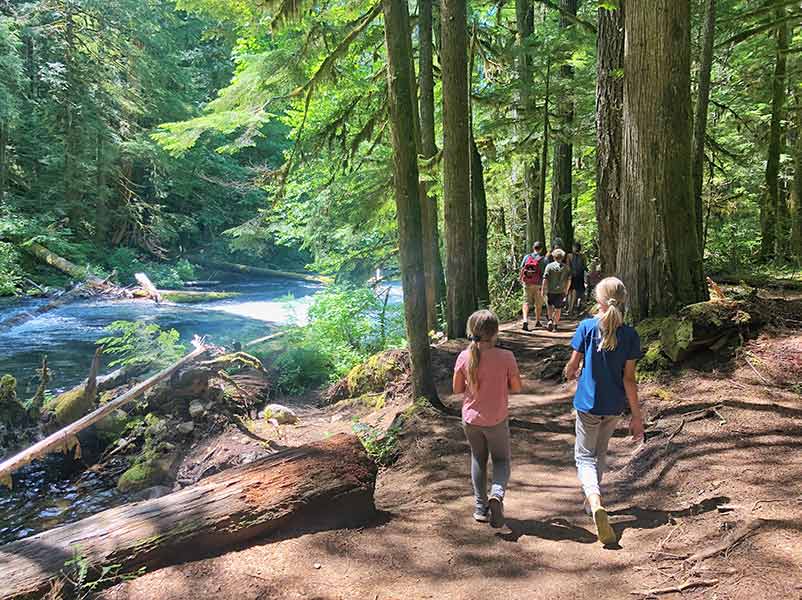 We got there about 9:30 and had no problem parking, but by the time we left people were parking almost a mile up the road! It was worth getting there early so we could get a good spot and do the hike there with no one really around. The hike back was different and we were passing people the whole time.
Waterfall Loop – Sahalie and Koosah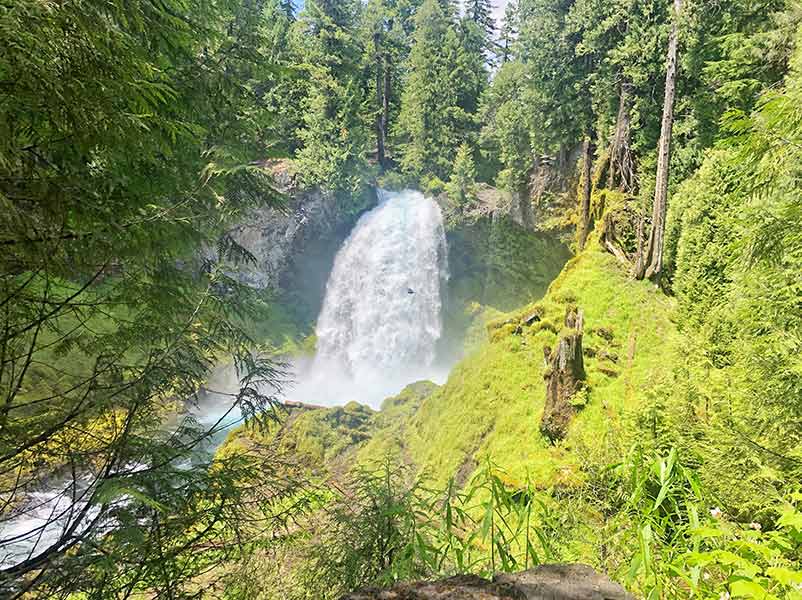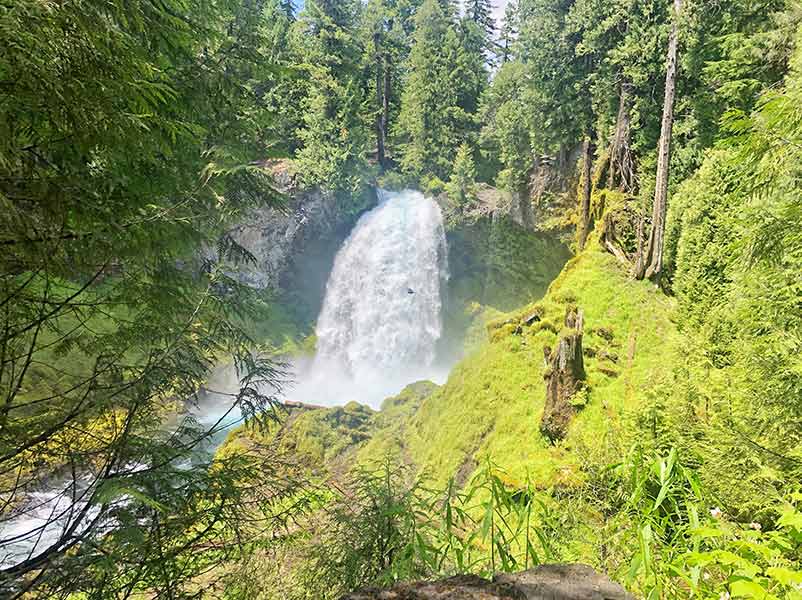 This is a 3 mile loop hike that takes you to 2 waterfalls. We actually didn't do the loop but instead parked at Koosah Falls and checked that out and then hiked up to Sahalie Falls then turned around and came back.
The highlight of the hike wasn't even the waterfalls themselves but instead was the rushing blue water you walk along in-between the falls. It seriously looked fake!
It was a busy hike, but I would still recommend it since it was so gorgeous.
This waterfall is part of our list of 21 Best Oregon Waterfalls You Will Want To Visit!
Clear Lake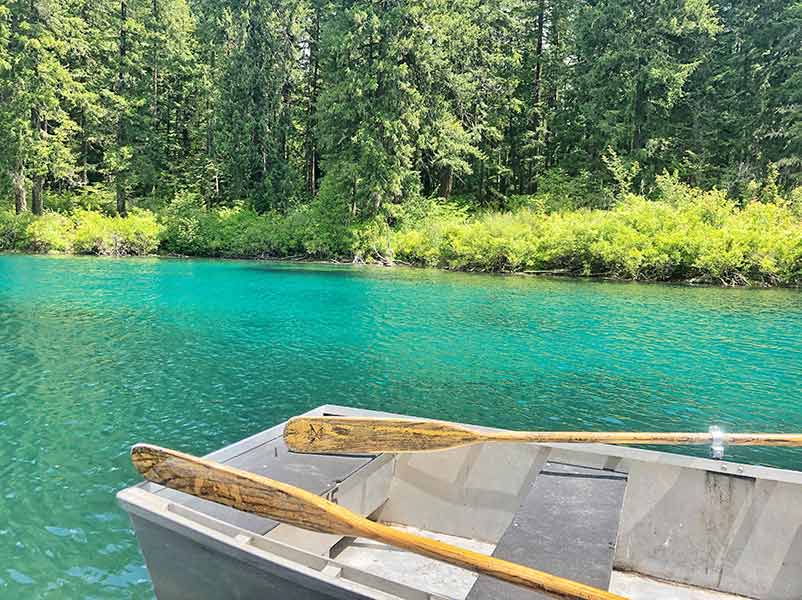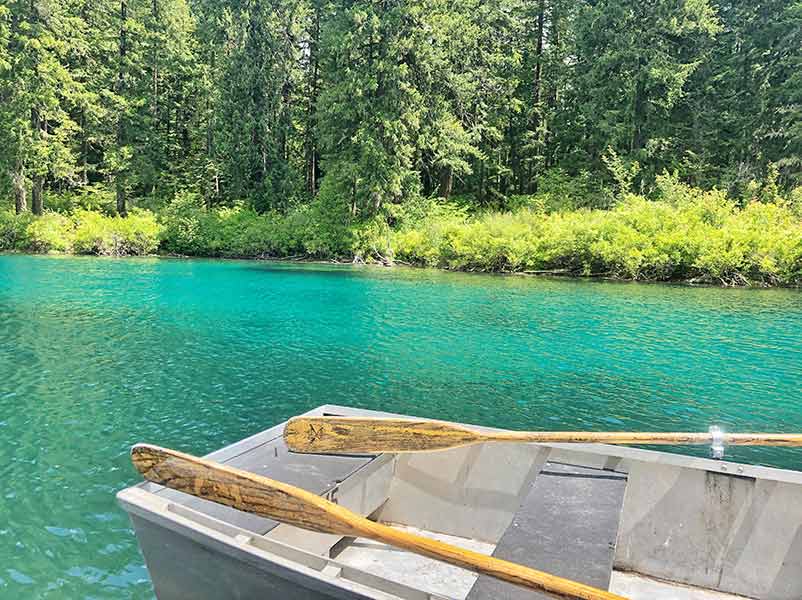 We grabbed a late lunch at Clear Lake – food was fine – cafeteria style. Then we rented a couple row boats and went out on the water! It is a unique lake in that there is a frozen forest underneath the waters.
Not a whole forest by any mean but there were a few trees still standing in the water. It was a cool thing to see.
All the kids tried their hand at rowing the boat and luckily we were there with our friends from yTravelBlog so that they could take one of our kids since there were only 5 people allowed in each boat.
The water color was unreal and so clear and cold!
After this head on back to your campground or hotel to make some dinner or to stop at the General Store again.
Click the map image to see the interactive map: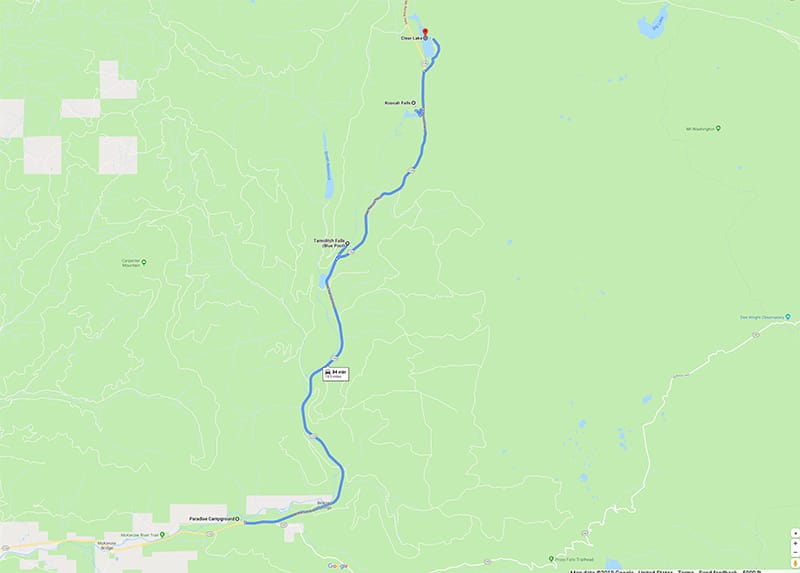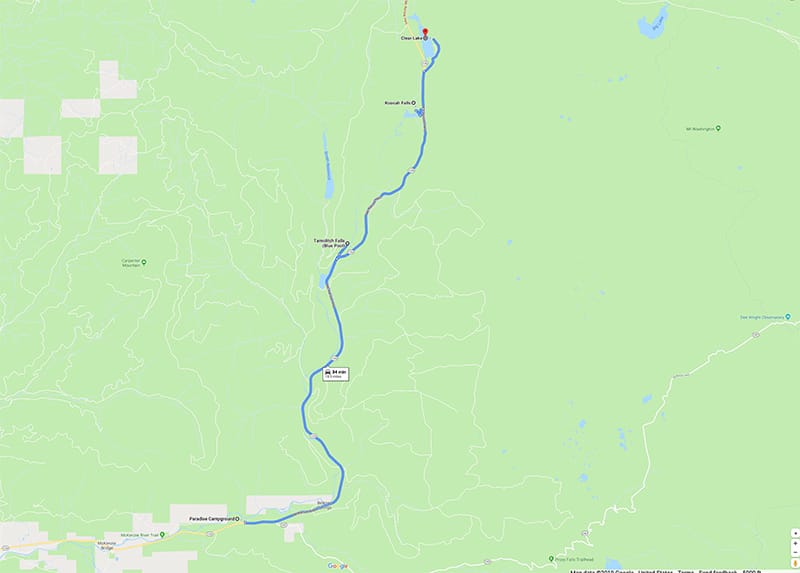 Additional Activities
There are a lot of activities in the Mckenzie River valley from mountain biking to boating. When we go back again we would stay a week to be able to do everything we wanted to do! The cascade mountains, lava flows, old growth forests are all phenomenal.
McKenzie River Trail – the full length of this trail is 26 miles and it was named the #1 Bike Trail in the United States! It is a beautiful hike all the way through, with waterfalls, crystal water and a clear trail for hiking or biking. A mountain biker favorite!
McKenzie Pass Scenic Bikeway – if you are a serious cycler, this 38 mile, extremely difficult ride might be for you. With gorgeous and unique views of Oregon, this ride is sure to be different from anything you've done before.
Fishing the Mckenzie River – the river has 22 native fish including rainbow trout, spring chinook salmon, mountain whitefish and more.
McKenzie River Rafting – Go on a rafting adventure on the McKenzie river with professional guides.
McKenzie River Drift Boat Fly Fishing – go fly fishing on a deluxe drift boat – which you can take a few miles east from Eugene, Oregon on the river.
Trail Bridge Reservoir is a great place for boating, swimming, fishing, camping and hiking.
The upper Mckenzie river is popular for fishing, rafting and kayaking and always be on the lookout for bald eagles, osprey, and other birds.
Water Quality
Note that there have been some concerns about the Algal Bloom in the water. You can check this site to get the latests on the McKenzie River Basin Water Quality.
Where To Stay
McKenzie River Camping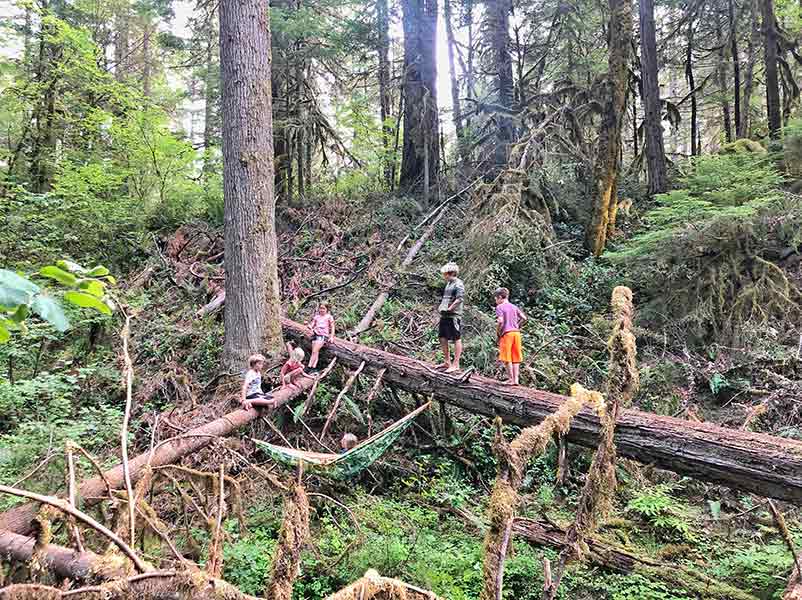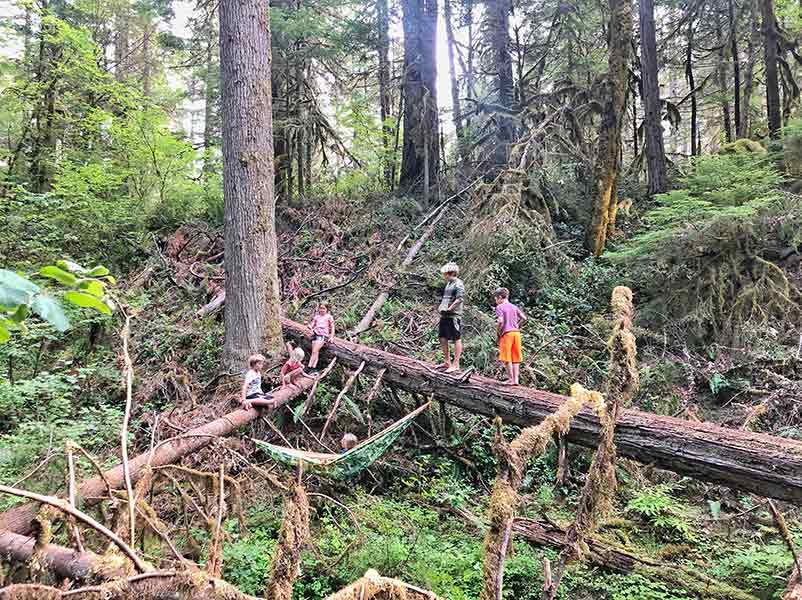 Paradise Campground in the Willamette National Forest. The campground spots are a little tight and hard to get into with a trailer – but our friends with a 37 foot travel trailer were able to get in.
Once in, the sites are AMAZING! There is tons of room and lots of places for the kids to run and play. We could have stayed here for weeks – the kids did not want to leave when it was time to go.
Rent an RV for your Oregon Road Trip here!
Hotel
Here are a few nearby hotels to Mckenzie River National Recreation Area:
Best Western Ponderosa Lodge – breakfast included!
FivePine Lodge & Spa – if you are looking to stay in style, check out the FivePine Lodge & Spa.
VRBO
Let the Riverfront Cabin be your outdoor haven – has an oversized screened-in porch and stone fireplace!
Check out this awesome McKenzie Riverside Retreat – Right on the river and includes a hot tub and indoor and outdoor games for the family!
Where Is It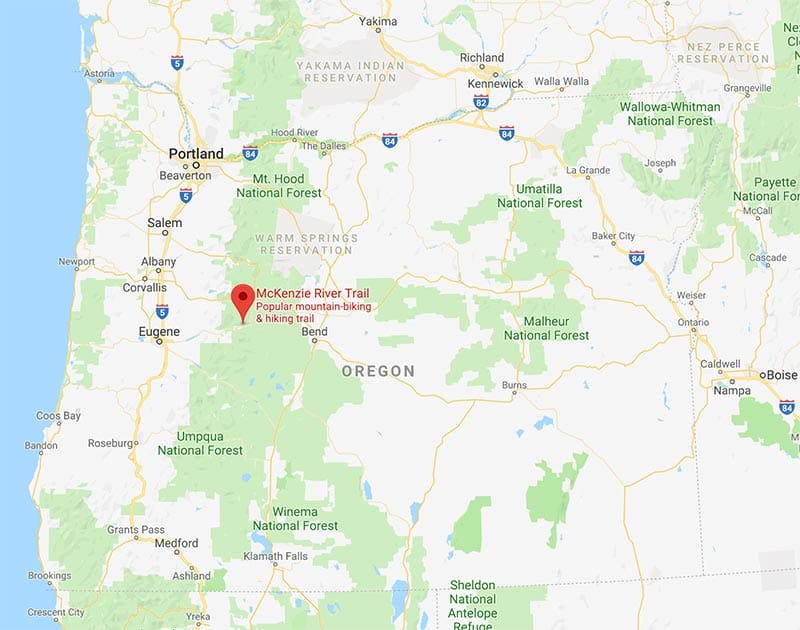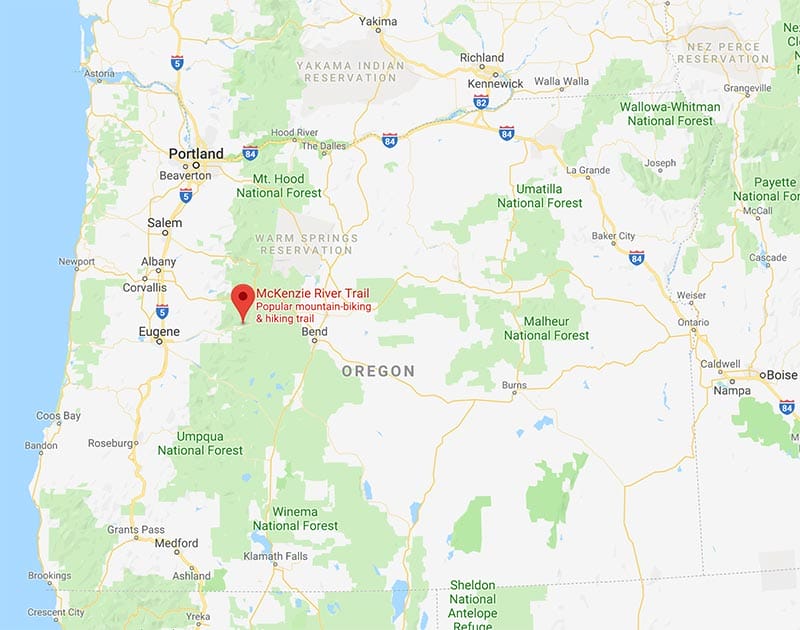 About 2 hours 45 minutes (158 miles) from Portland.
About 1 hour and 54 minutes east of Eugene.
McKenzie Bridge (which really does have a covered bridge!) is in Lane County, Oregon inside Willamette National Forest.
If you have never been to McKenzie River you gotta do it! This place is gorgeous and should be added to your Pacific Northwest road trip!
You can check the Forest Service website for more information on recreation near McKenzie River and the Willamette National Forest and Willamette Valley.
If you enjoyed this post, you may also like:
4 Best Amusement Parks in Oregon To Visit
21 Best Oregon Waterfalls You Will Want To Visit
The 10 Best Stops On The Hood River Fruit Loop
32 Epic Things To Do In Portland With Kids [Itinerary Included]
Your Guide To The Best Places For Oregon Coast Camping
26 Oregon Coast Road Trip Stops You Don't Want To Miss
12 Epic Things To Do In Northern California [Map Included]
14 Awesome Things To Do In Death Valley National Park [And Where To Stay]
Pin this for later: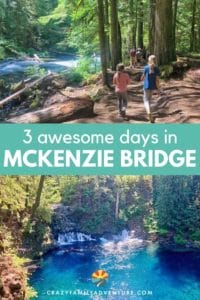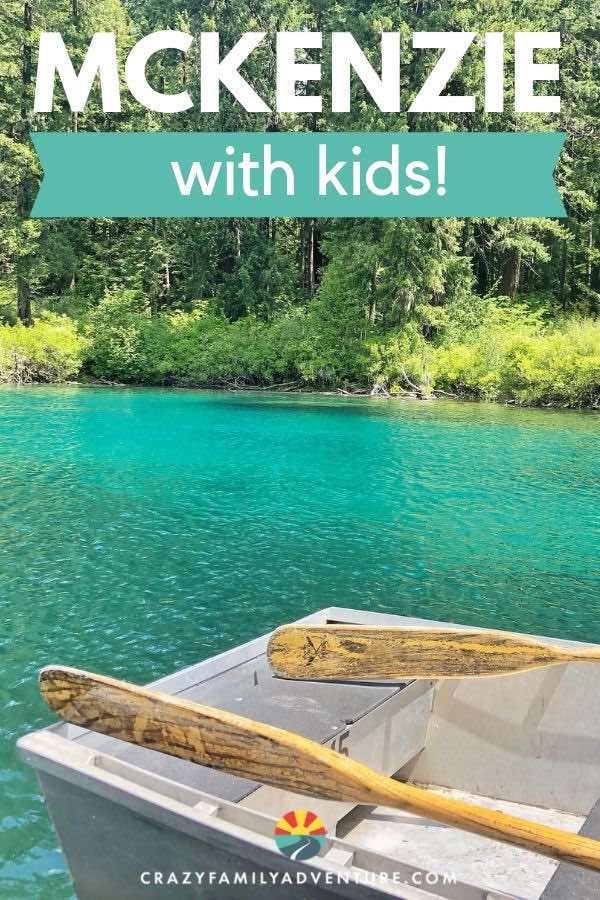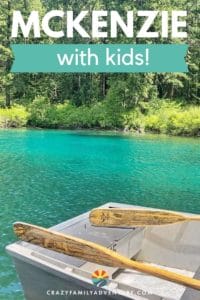 DISCLOSURE: This post may contain affiliate links, meaning I get a commission if you decide to make a purchase through my links, at no cost to you. Please read my disclosure for more info.