Bend is one of our favorite places to visit on the west coast! We love the weather of the high dessert and all of the awesome outdoor things to do here. In our post we will list our top things to do in Bend, Oregon along with where to stay and what to eat!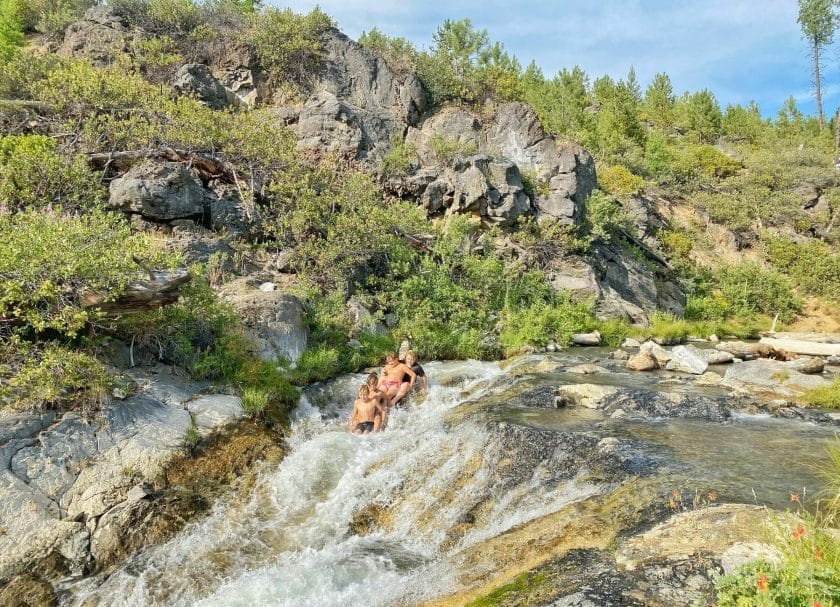 There are a lot of great things to do in the city of Bend that we will share. From doing the Bend River Float to visiting the best Bend, Oregon breweries!
Plus the top things to do in the surrounding area including the Deschutes national forest and the McKenzie River area.
Float the Deschutes River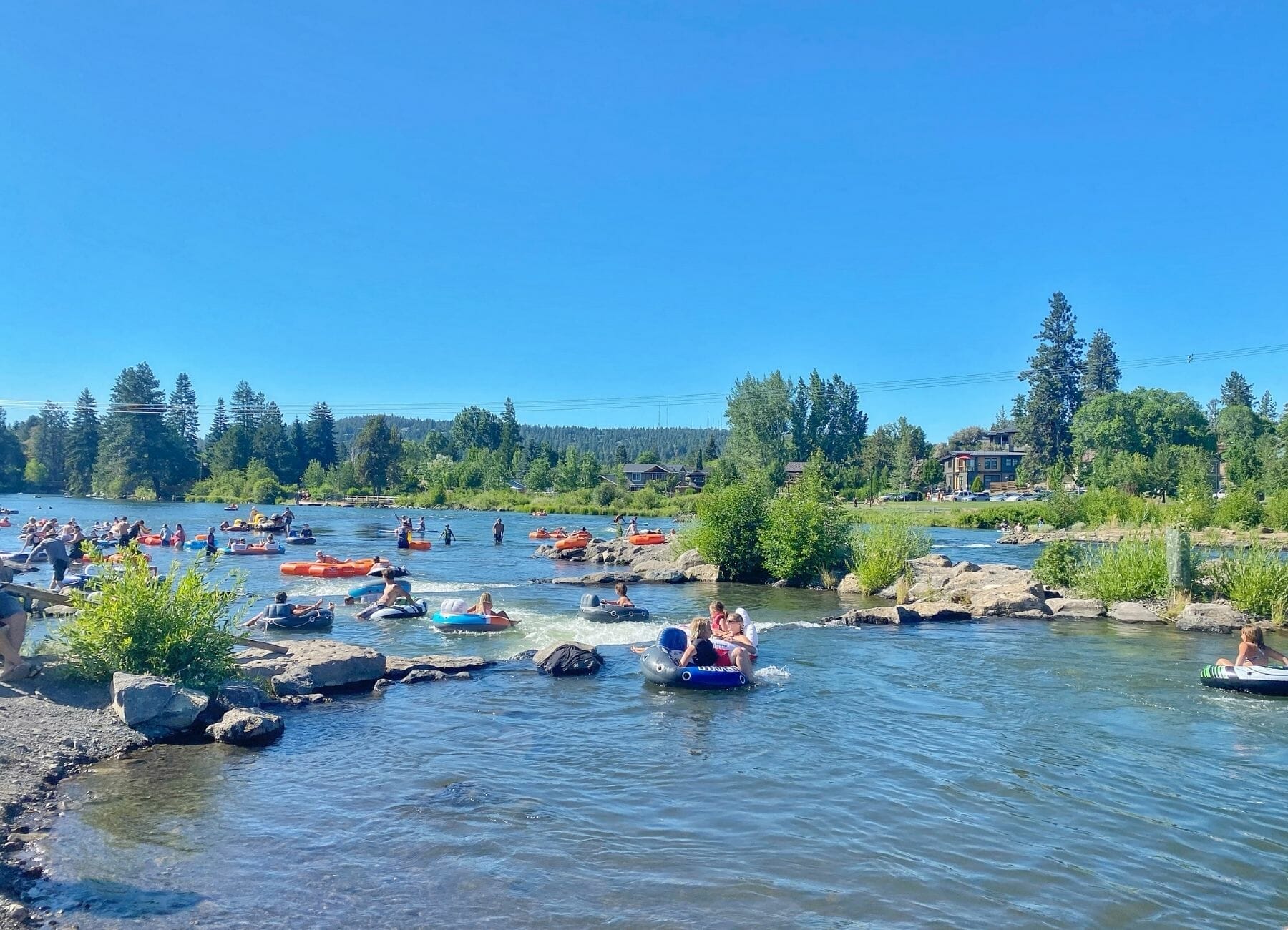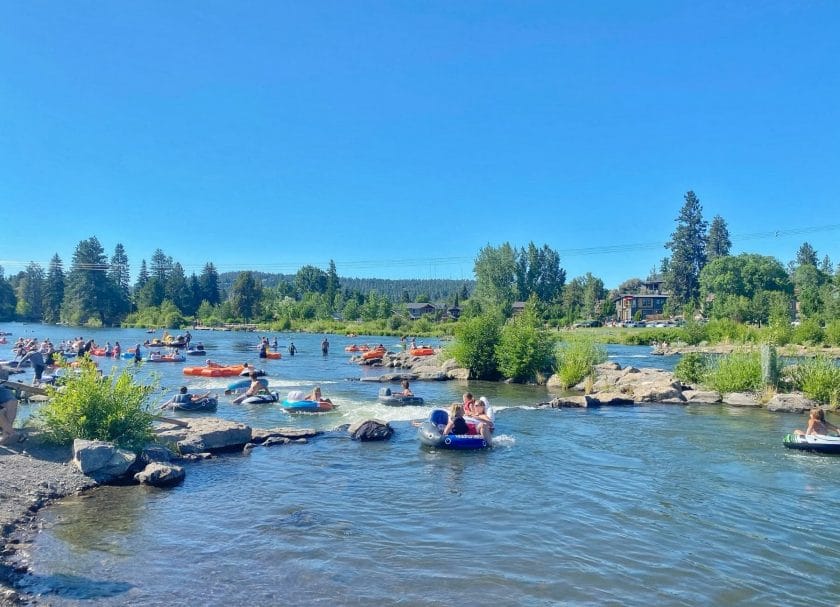 You can't come to bend and not float the river! Seriously it is a thing and it is well worth it! You can float down the Deschutes River and through the Mill District to the man made whitewater channel. The channel is made to go down in tubes!
From there you continue on to Drake Park, In total it is about a 2-3 hour trip and so much fun!
To help you plan your rafting trip we wrote a whole post on it! You can check it out here: Bend River Float How To [Maps Included]
Newberry National Volcanic Monument
This area features 54,000+ acres of lava flows, geologic features and lakes and a variety of different highlights to explore. Here are some of our favorite things to do there.
Obsidian Flow Trail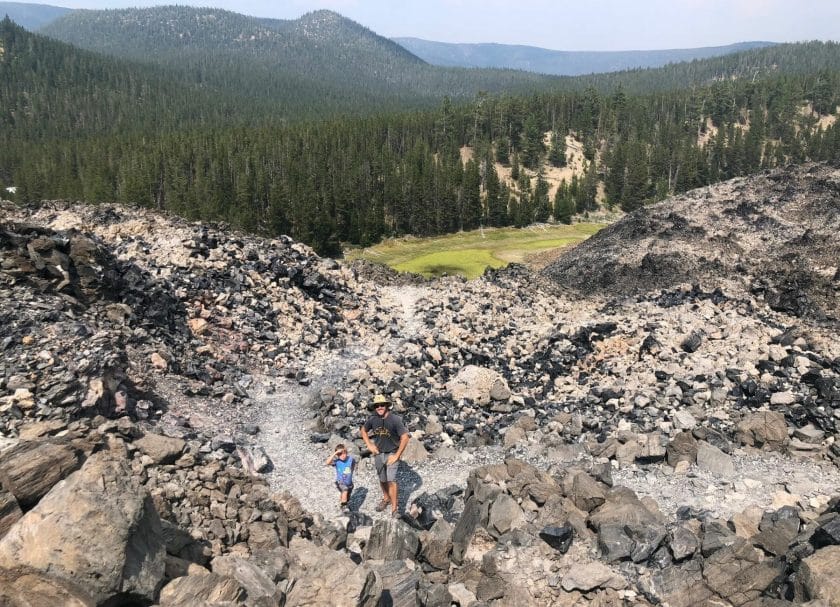 This is an awesome 1 mile hiking trail that takes you through a field of obsidian and pumice! If you have Minecraft fans this is a must. The Big Obsidian Flow is only 1300 years old and is the youngest lava flow in Oregon.
Lava River Tube
This is an awesome hike you can do down into a lava river cave! It is monitored and they do check to make sure the shoes and clothes you are wearing haven't been worn in any other caves.
It is a nice and brisk temperature of 42 degrees year round inside the tube so you may want to bring a sweathshirt! Parking can be tight so this is one you can do earlier or later in the day. Or just go for it but know you may be waiting to get parking for a while – or may not even be able to get into the lot.
The walk itself takes you down into the tube and it the cave/tube is about 1 mile long. It is open for self-guided tours seasonally – check their site for dates.
Paulina Falls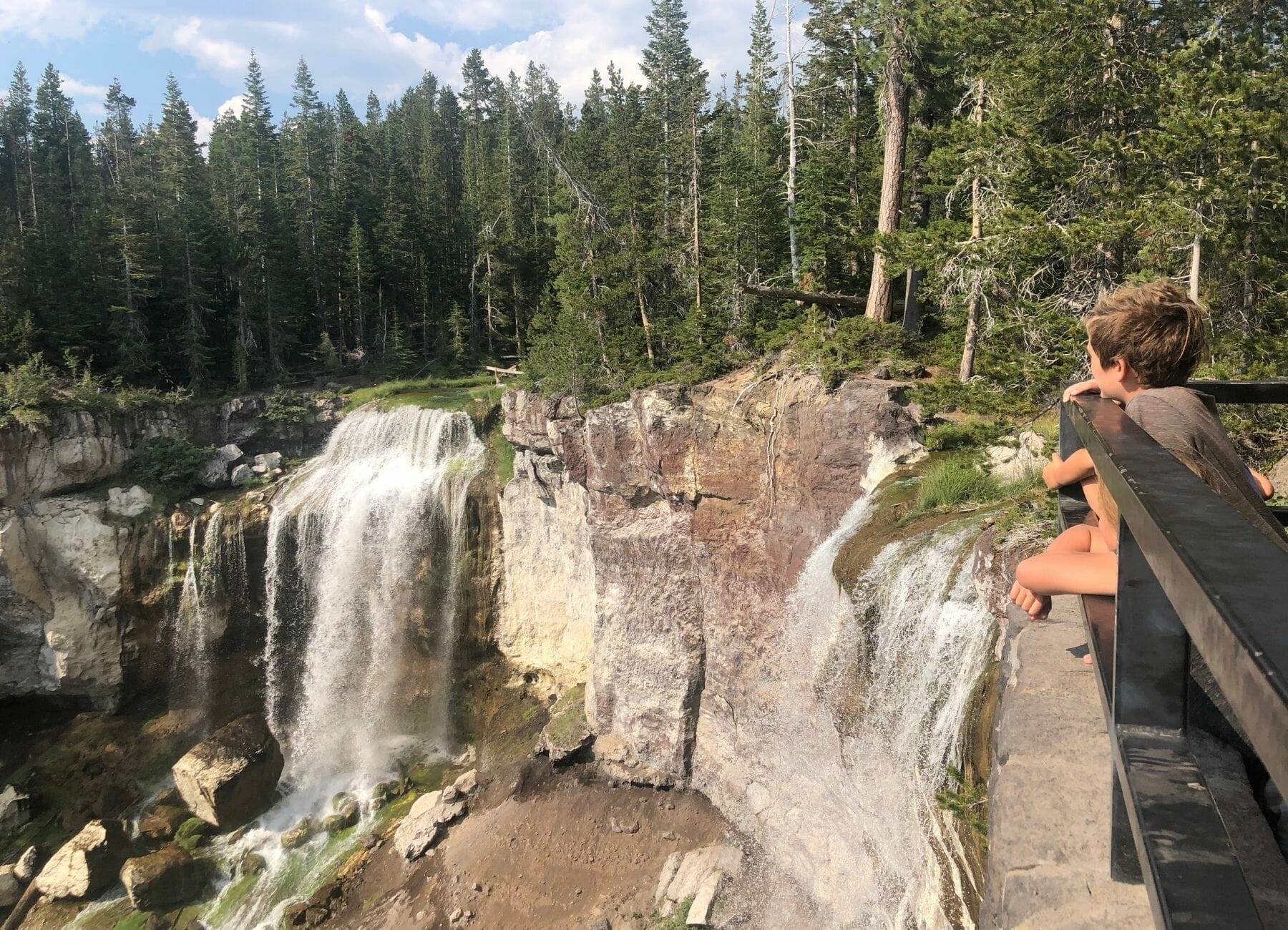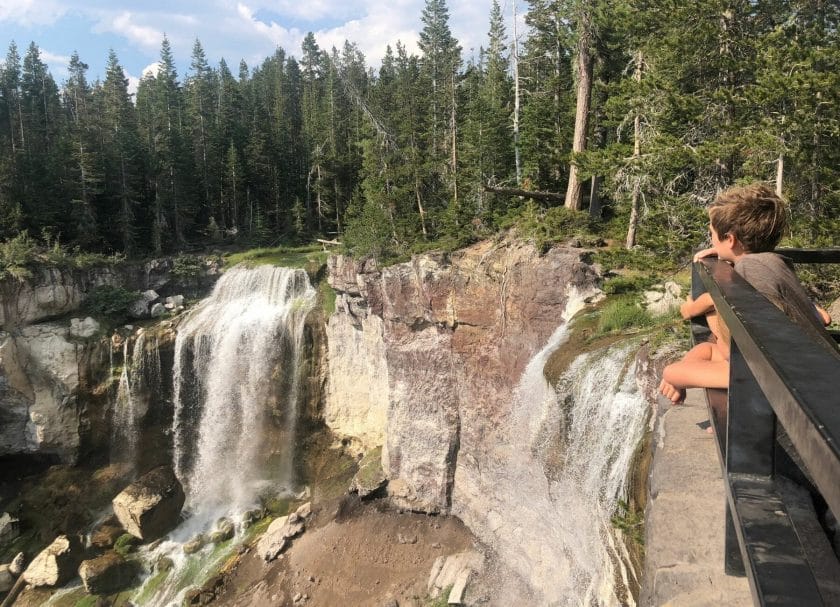 An 80 foot double waterfall that you can see on a short paved path from the parking lot. There are also longer hikes along the Paulina Falls trails from 1.6 to 16.6 miles.
The High Desert Museum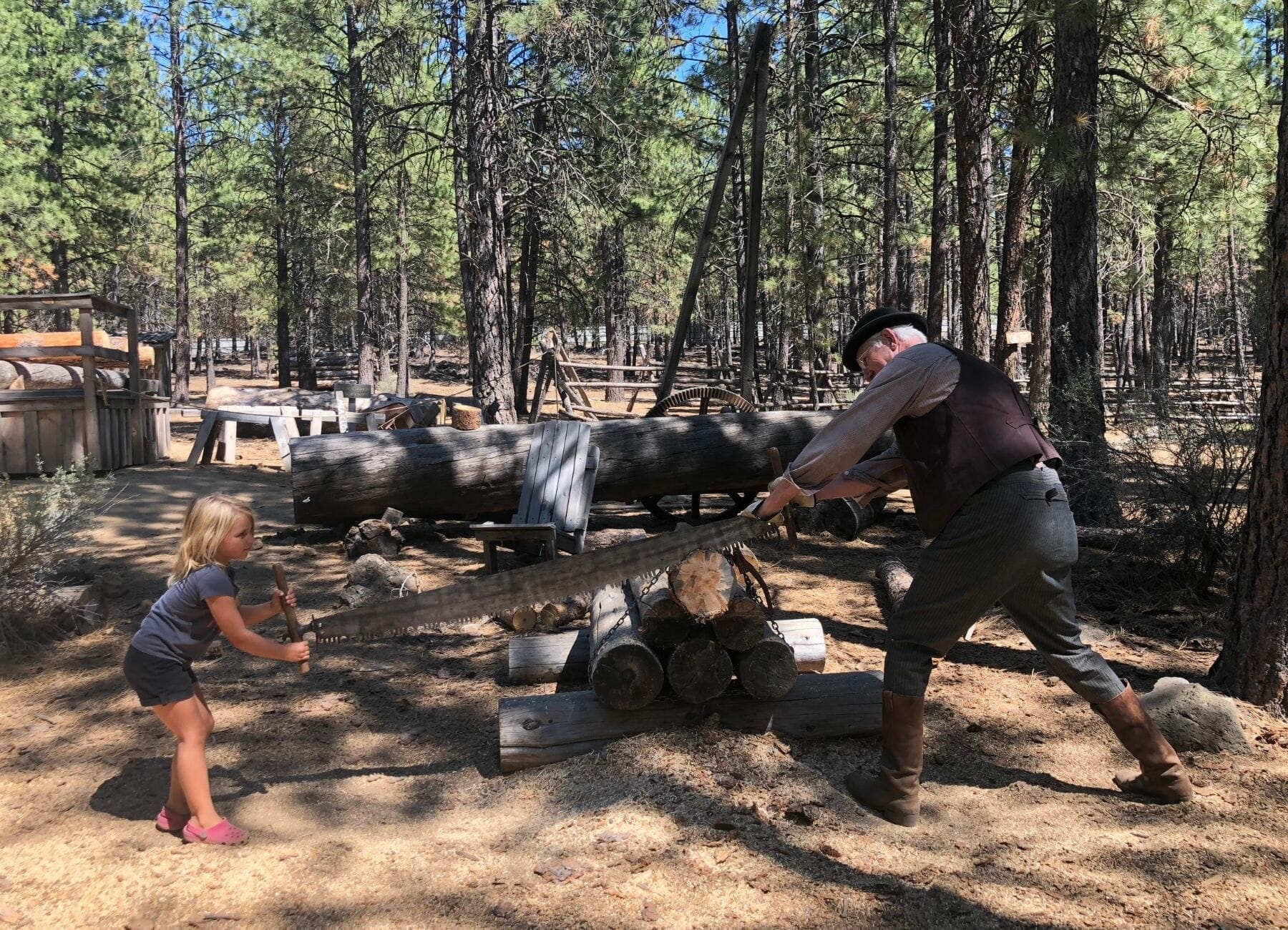 A fun museum about the area with a living history museum section where you can wash clothes and cut logs like they did back in the old-in days! Are kids loved it and spent hours here playing in the living history part of the museum.
Farmers Market
We visited the Wednesday farmers market and there was a lot of delicious food and produce. We got steaks, mushrooms, pastries, fruit and veggies. I was surprised there weren't many makers stalls but instead it was almost all food.
We brought a cooler with ice in the car so we had somewhere to store our goodies while we continued to walk around and explore. And of course we had to stop to get a beer at the Bend Brewing Company while we were down there.
Drake Park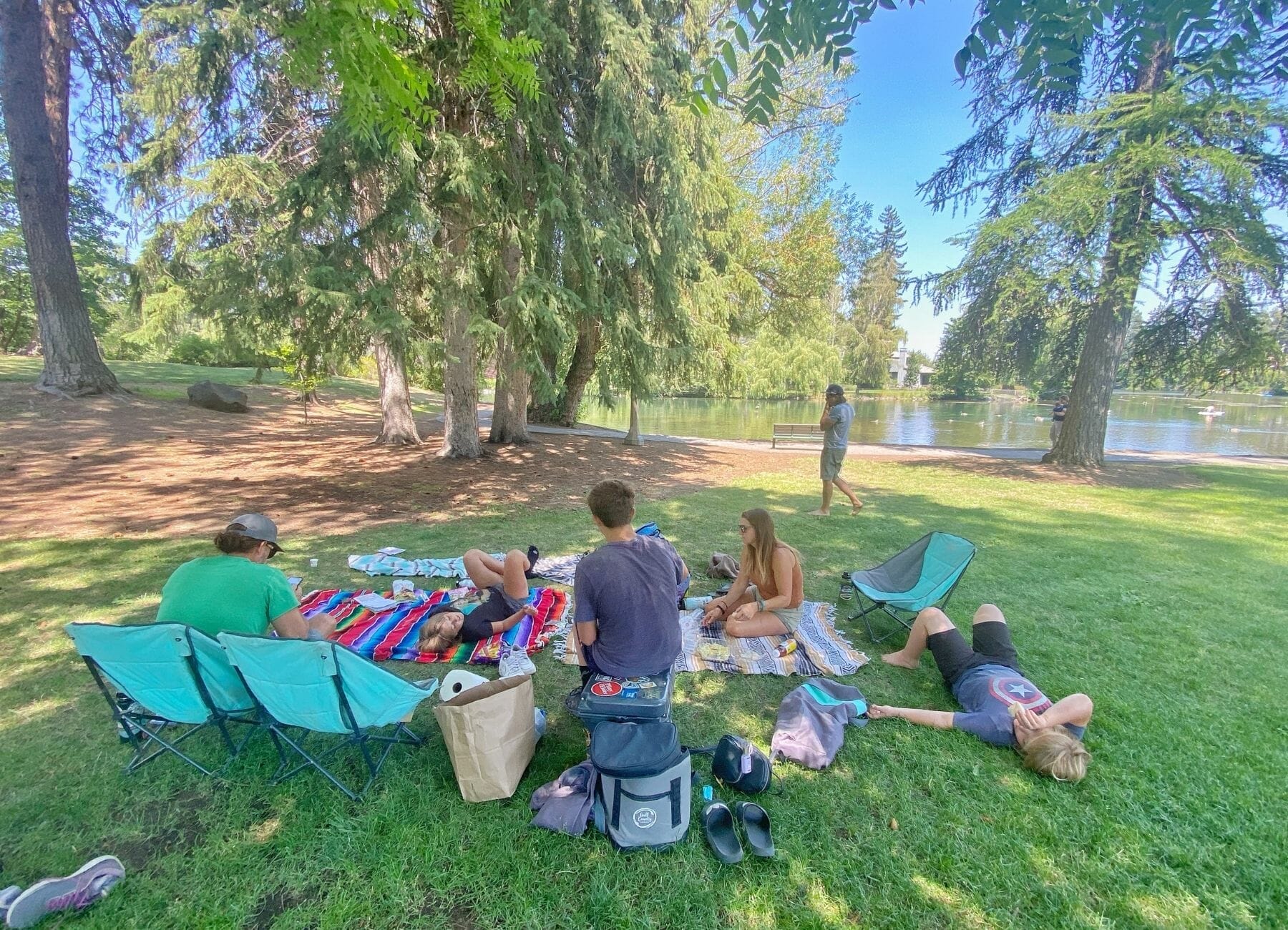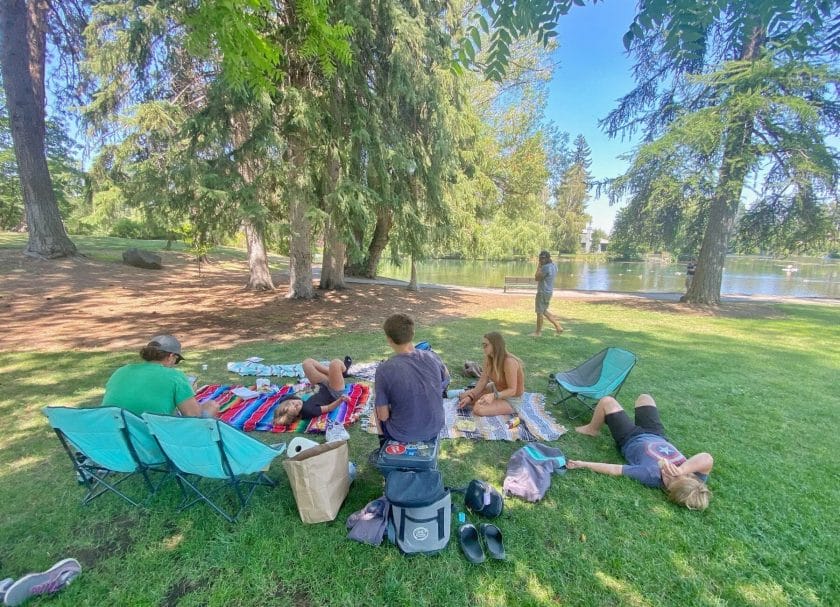 This is a beautiful park on the river where events are held or you can just stop to hang out. We bought food and brought it down there with chairs and a blanket and hung out for a few hours before the Worthy Brewery called us in for a beer.
Music In The Park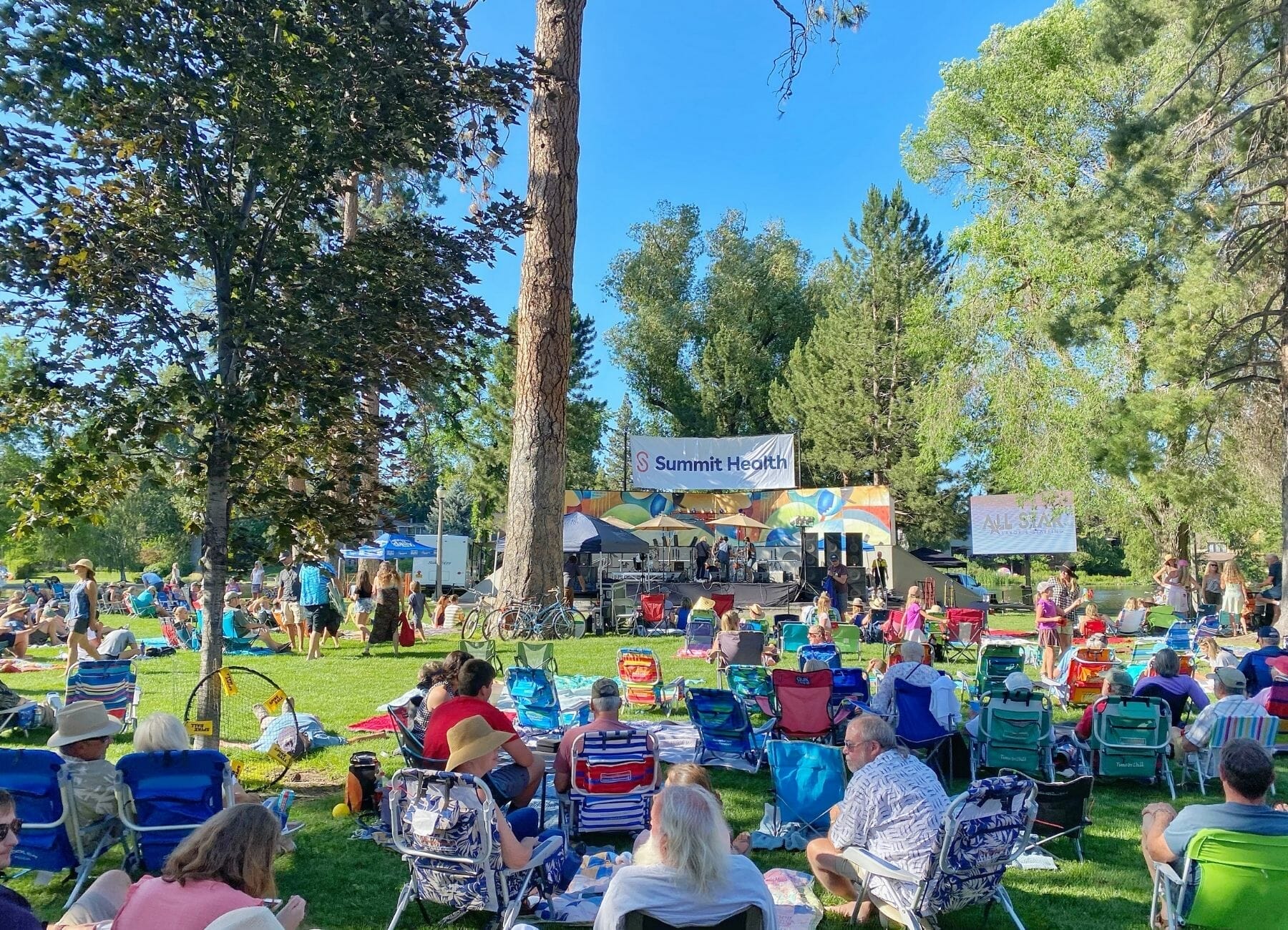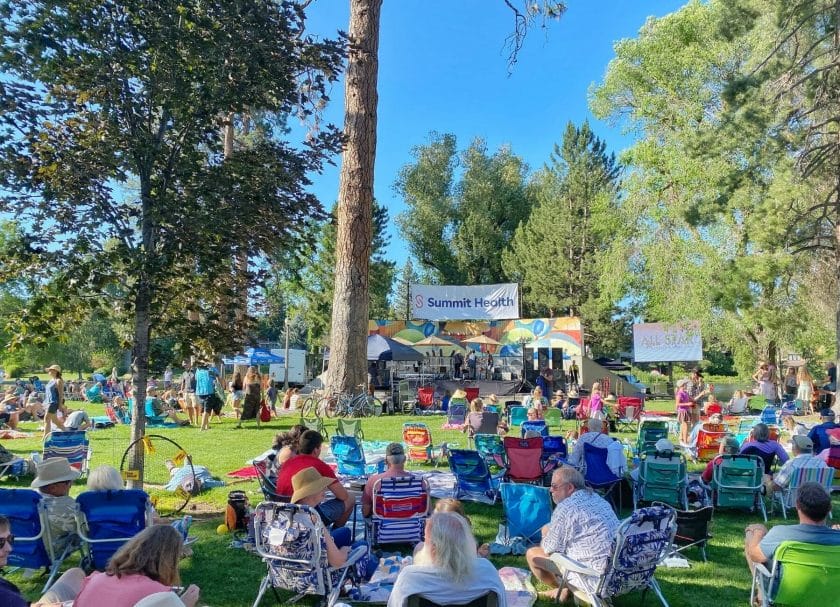 Munch and Music is a fun event that happens in the summer where they bring in local artist, food trucks, bouncy houses and makers. You can bring your own chairs or blanket to sit and enjoy the music while having some food from the food trucks and a beer or glass of wine from the beer tent.
There are about 20 food trucks – but be aware there can be LONG lines. If you are looking to do food I recommend either getting there right at or a bit before 5pm or going to them at the end of the night (but be aware they may be out of things).
There were some great shops too! Craig got a few pairs of shorts and Melia and I ended up with some necklaces and bracelets.
Check their sites for dates and times. Normally it is on Thursday nights in July and August.
The Last Blockbuster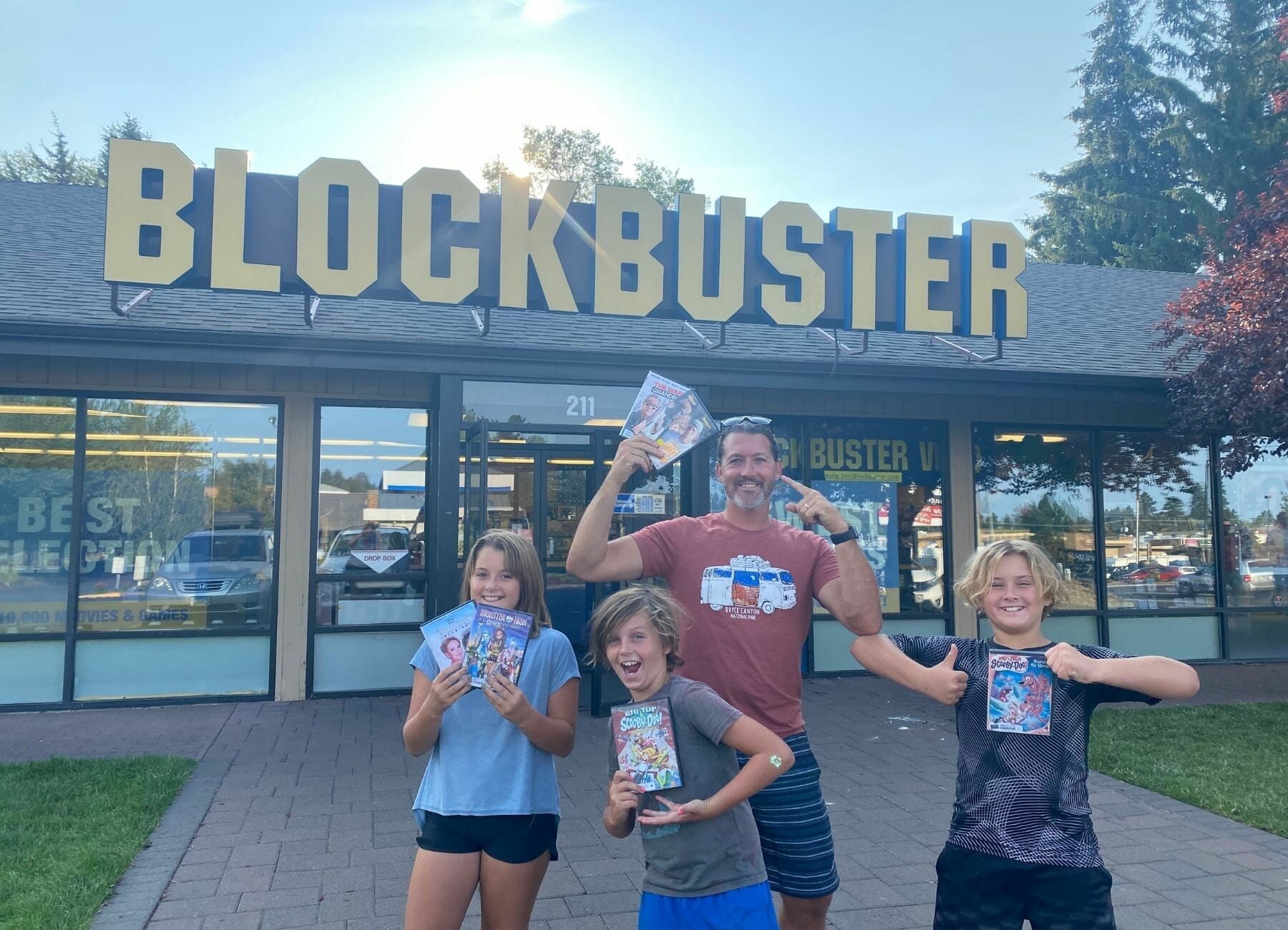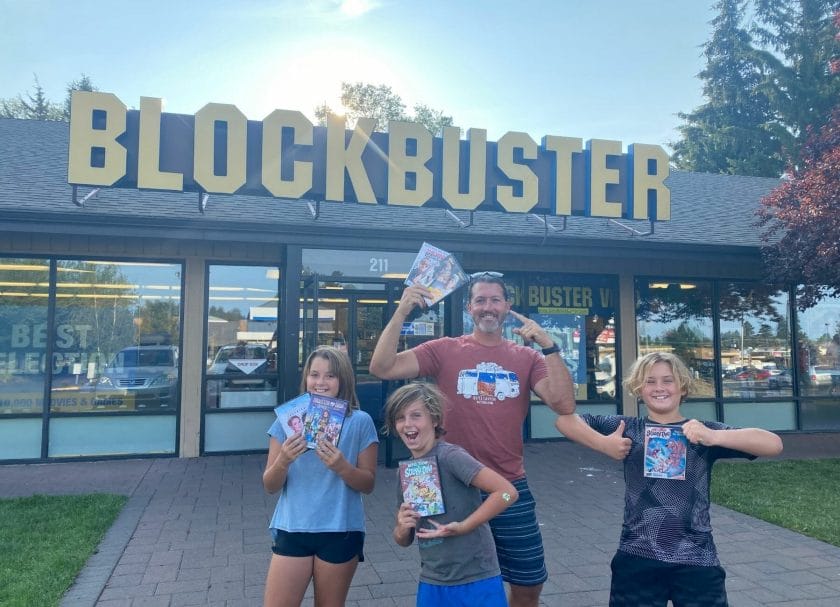 You can't go to Bend and not visit the last Blockbuster! A total blast from the past and well worth it. This is the last Blockbuster in the world and you can go in and rent movies just like in the old days!
Dakotas Brick Shop
If you have a lego fan in your family be sure to check out the Brickmaster Store! They also have a tent at the Munch In Music. They have a large selection of figurines and a lot of cool sets.
Smith Rock State Park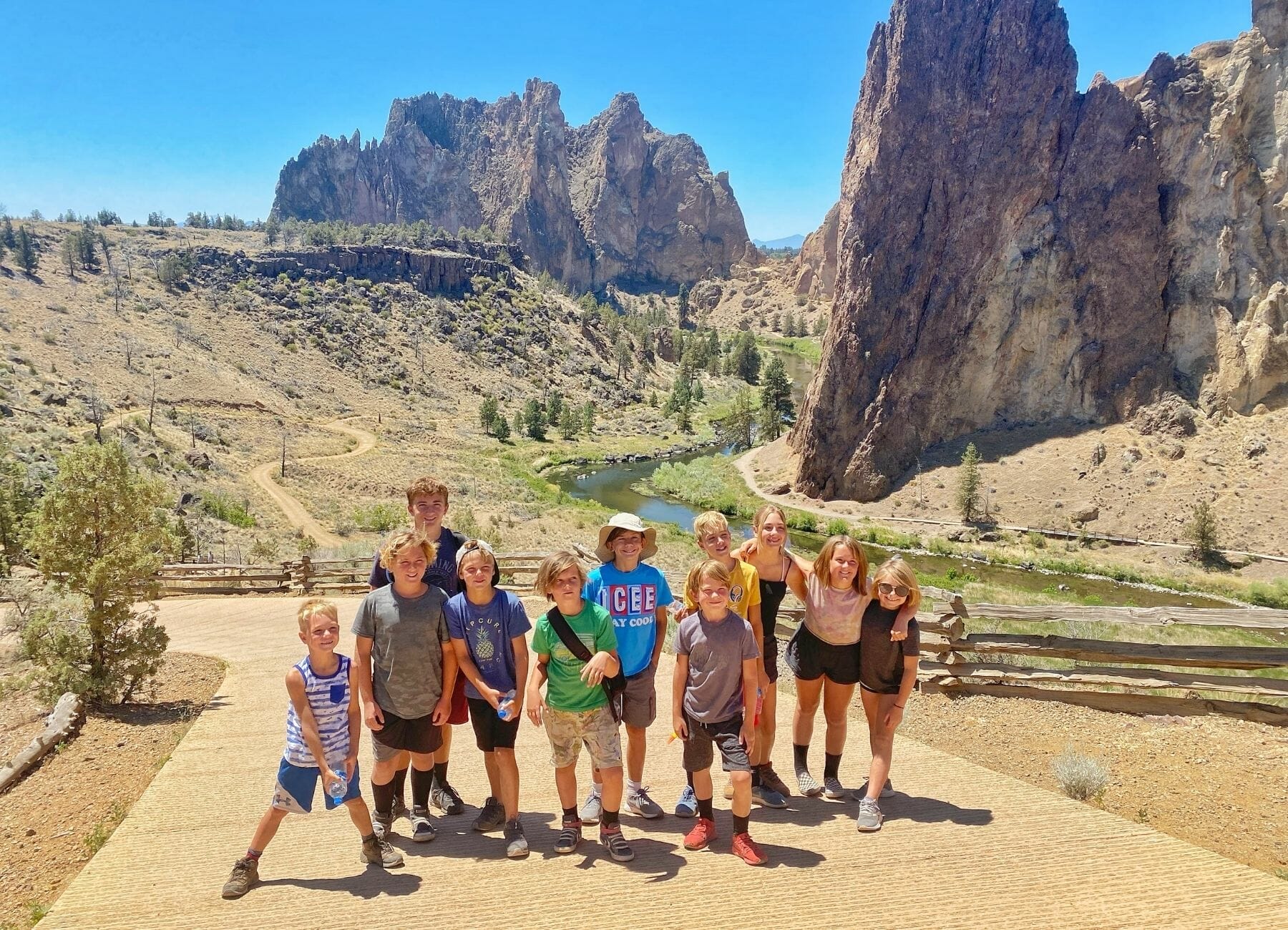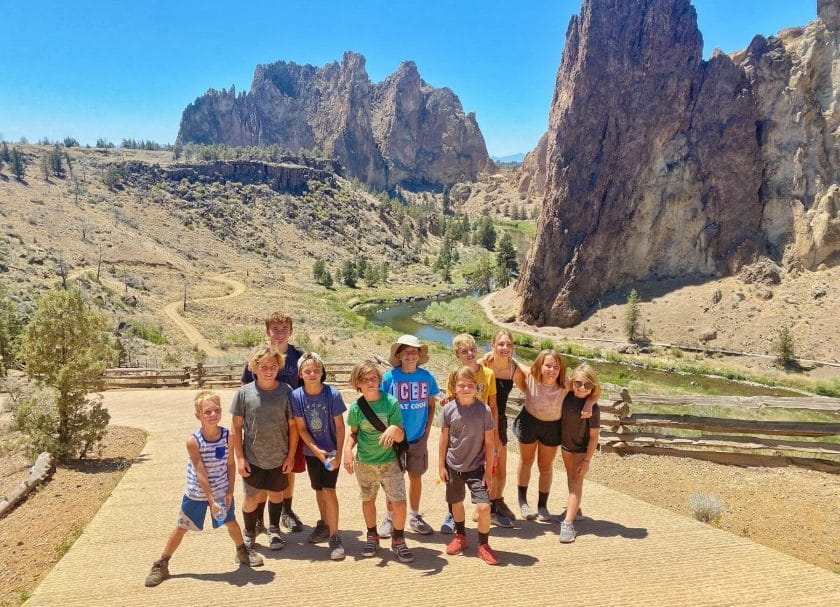 This was named the best state park in Oregon and for good reason! It is gorgeous!! We headed here to do the misery ridge trail where we walked up to the top of the ridge and had amazing views all around us.
You can also rock climb here and we saw people horseback riding.
Steelhead Falls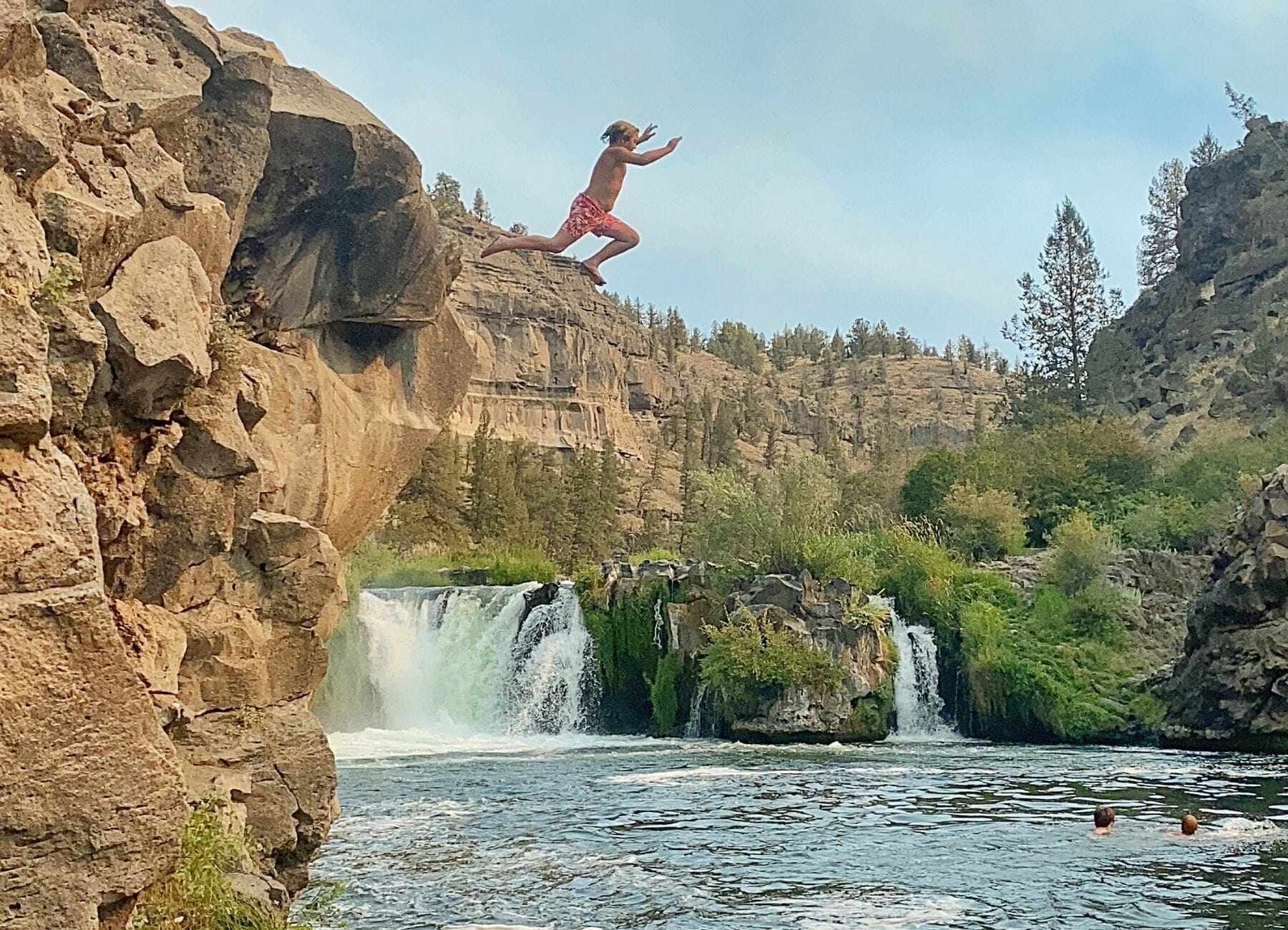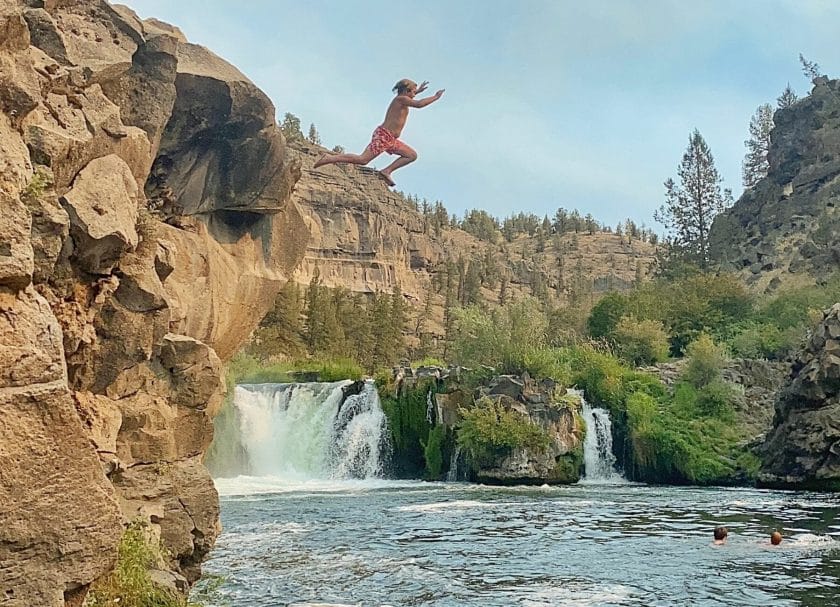 These beautiful waterfalls are just a short walk from the parking lot. And if you or your kids are adventurous there is a great place to go cliff jumping! With amazing views of the waterfall as you take the 20 foot leap!!
The hike down to cliff jump and the waterfall is maybe 1/2 mile. It is downhill and a bit slippery but we did it in suits and our sandals. The area around the cliff jumping is a bit sketchy so keep a close eye on the kids!
Sunriver
Located about 30 minutes outside of Bend is the cute little town of Sunriver. The Sunriver brewery is one of our favorites – be prepared for a long wait unless you go at an off time.
Rent bikes and check out the bike trails in the area. They also offer a variety of other activities within the Sunriver village area and some cool shops.
Rent Bikes for the Deschutes River Trail
We totally wanted to do this and ran out of time! You can rent bikes to take out on the Deschutes mountain bike trail. We heard mixed reviews if beginners could do this trail but I am thinking we would have give it a go.
Cascades Lake Scenic Drive
If alpine lakes are your thing you definitely don't want to miss doing the Cascades Lake Scenic Drive! It is a beautiful drive through the Cascade mountains PLUS there are multiple Alpine Lakes you can stop at.
Alpine Lakes
There are a variety of alpine lakes to check out. Some you can drive right up to and others you have to hike to. We also saw the option to rent a party barge which looked like so much fun! Unfortunately they were all booked when we looked.
Here are the lakes that were recommended to us:
Tumalo Mountain Trail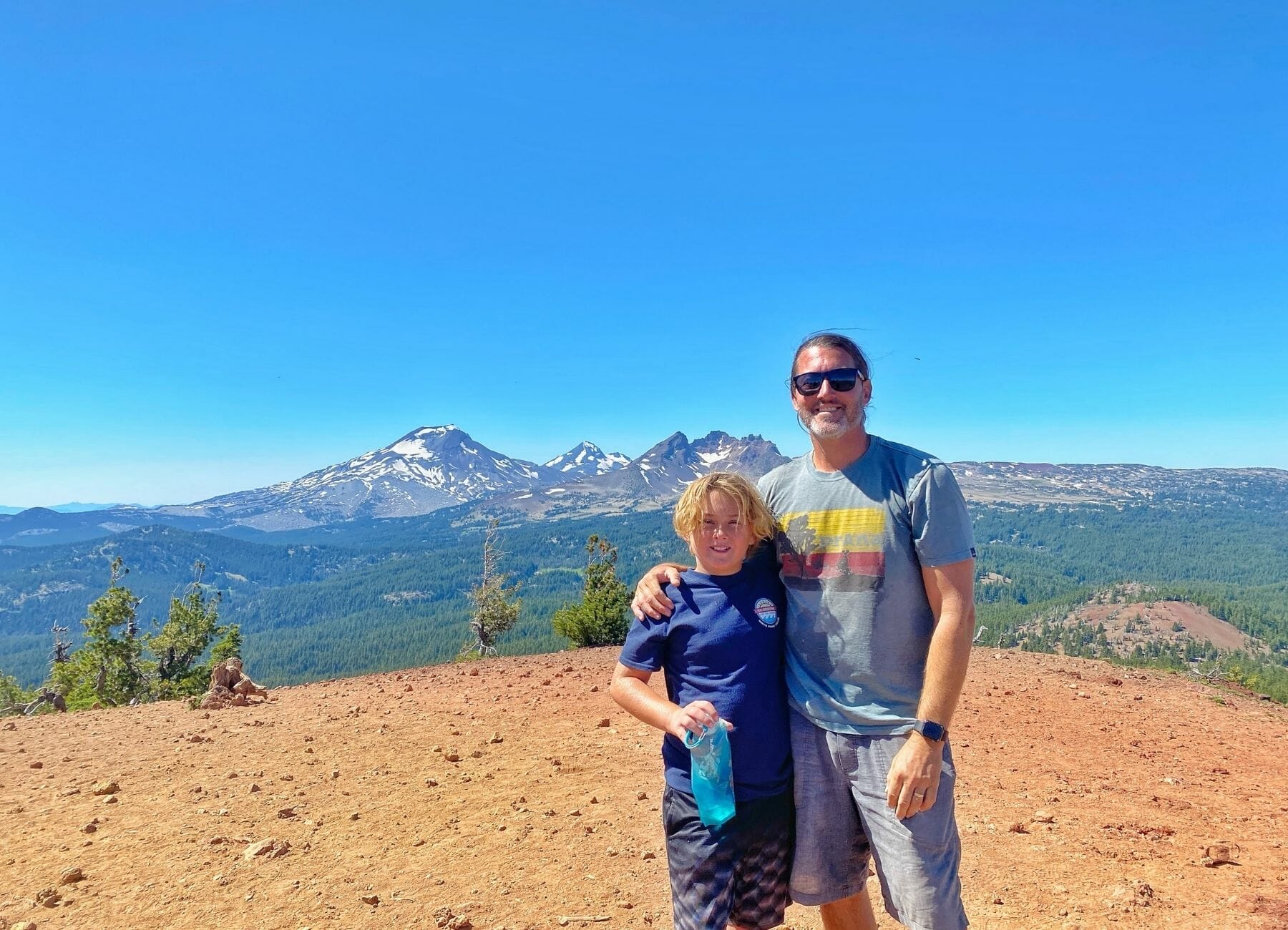 This is a 4 mile round trip hike with a 1423 foot gain as you hike to the top of Tumalo Mountain to take in the beautiful mountain views all around you. It is market as moderate since you are hiking up the mountain for the first half of the hike.
Check out: 15 Tips For Hiking With Kids
Sisters
Sisters is a cute little town you can explore on its own or as you are driving through to get to some of the other hikes and destinations in the area.
Tumalo State Park
This is another place where you can go tubing. Here is information on tubing the Tumalo Creek in Tumalo State Park: How To Float The Deschutes River in Tumalo.
It looked like there was also a swimming hole and a few places to hang out here as well. If you head this way be sure to check out Tumalo Cider and the food trucks across the street!
La Pine Natural Slides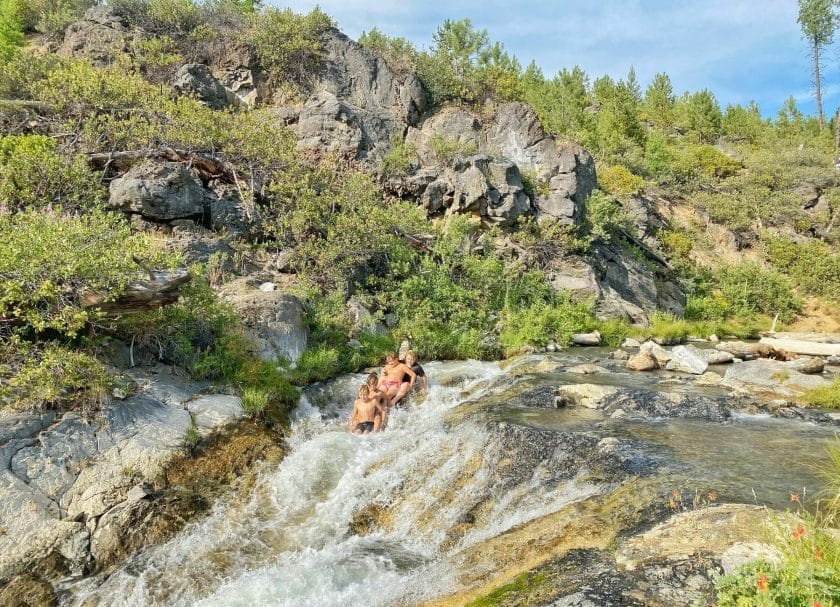 Our kids LOVED these!! They are natural water slides in the river. I have no idea how their butts weren't all bruised but they kept doing them over and over again and did not want to leave!
Park: You have to go into the campground and park in the day use area. Either right when you pull into the campground or right past the bridge to the left when you pull into the campground.
You then hike on the * trail for about 1.5 miles to get to the natural slides. Normally there are people there so you will know you made it. If there isn't anyone keep an eye on the river when you are reaching 1.5 miles and look for the trails down the waterfall.
There are 2 slides. The first one is a straight down the waterfall. The 2nd one is a little further down the river and is more of a winding slide.
It was awesome.
Paulina Lake Hot Spring
We did not do this one but our friends visited the hot springs and they loved it! There are little pockets of hot springs located right off of the lake. The hot springs water is really hot but when mixed with the cold lake water it is a comfortable temperature.
McKenzie River Area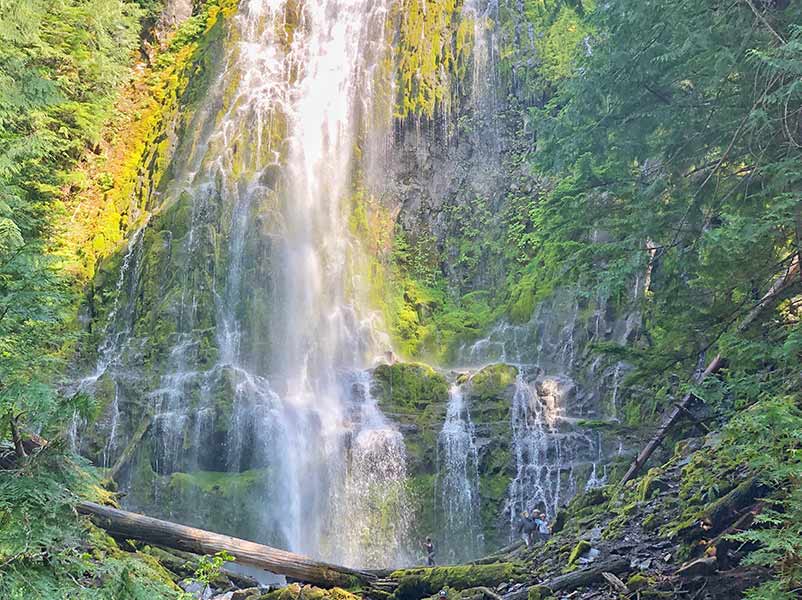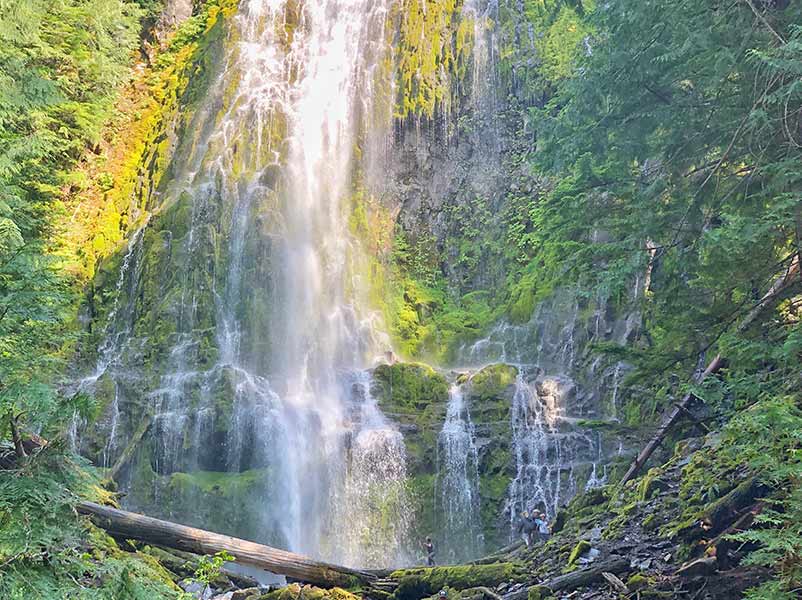 We LOVED this area!! You can do this as a day trip from Bend but we recommend going for multiple nights so you can really enjoy the area. It is so beautiful!
We recommend doing:
Clear Lake
Koosah Falls
Blue Pool
Proxy Falls
Learn more at our post: How To Spend 3 Amazing Days At Mckenzie River National Recreation Area
A few other areas we would like to visit next time we are in Bend are: Tumalo Falls, Mt Bachelor, Lava Butte (a cinder cone in central Oregon).
Where To Eat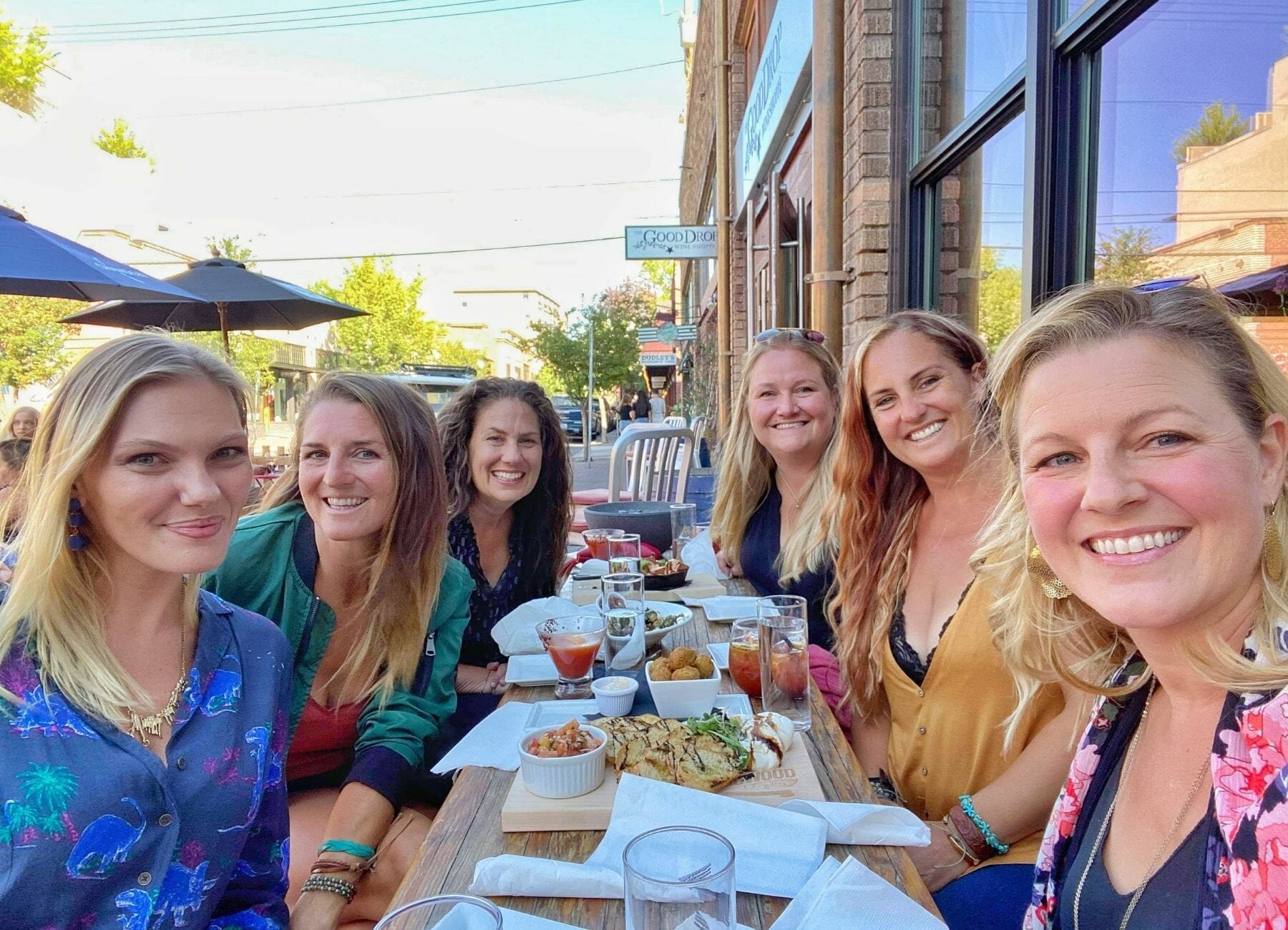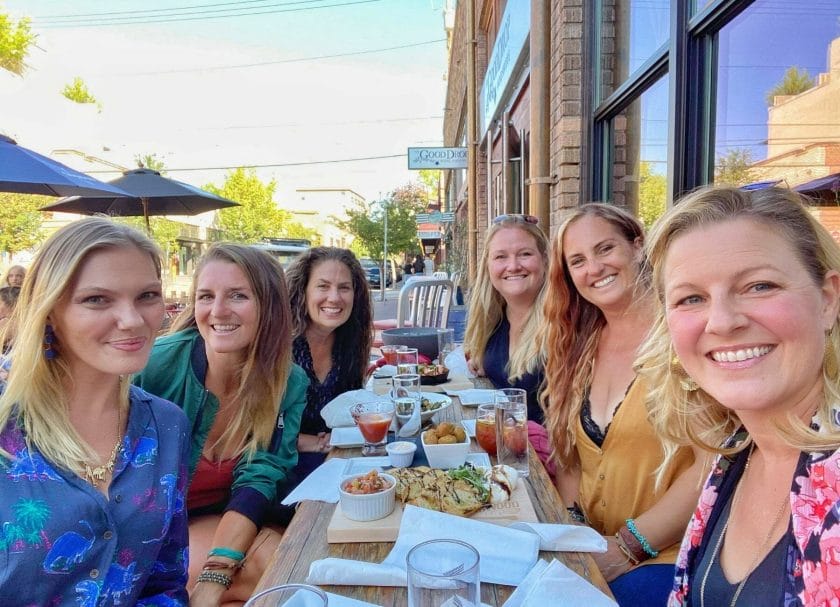 There are a lot of options of places to eat in Bend from breweries to restaurants to food carts. Here is the list of some of our favorites.
Dogwood
We visited this restaurant as part of our parents night out. They had delicious small plate options and an awesome drink menu. I wish we could have gone back again before we left.
Spork
This was rated as one of the best restaurants in Bend so I definitely wanted to check it out! They call their food mexican/asian combination – which that in itself sounds interesting. Our food was yummy, yet a bit spicy for my liking. But just like Dogwood I would have liked to go back to try some other dishes.
Podski
This is a collection of food trucks in a food court type of setup. Unfortunately when we went nothing was open yet – it was a Monday at like 4pm. Be sure to check that before you go. That being said I am a big fan of food truck courts – especially with kids. Since everyone can pick what they want.
Sparrow Bakery
YUMMY that is what I can say about Sparrow Bakery. We first tried them at the farmers market and then also went to one of their shops. The bakery items were delicious and so were the breakfast sandwiches.
If you come try their ocean rolls and also ask if they have the little bitsize cream puff things – they aren't cream puffs but this is what they told me they were like and I can't remember what they were actually called :).
Breweries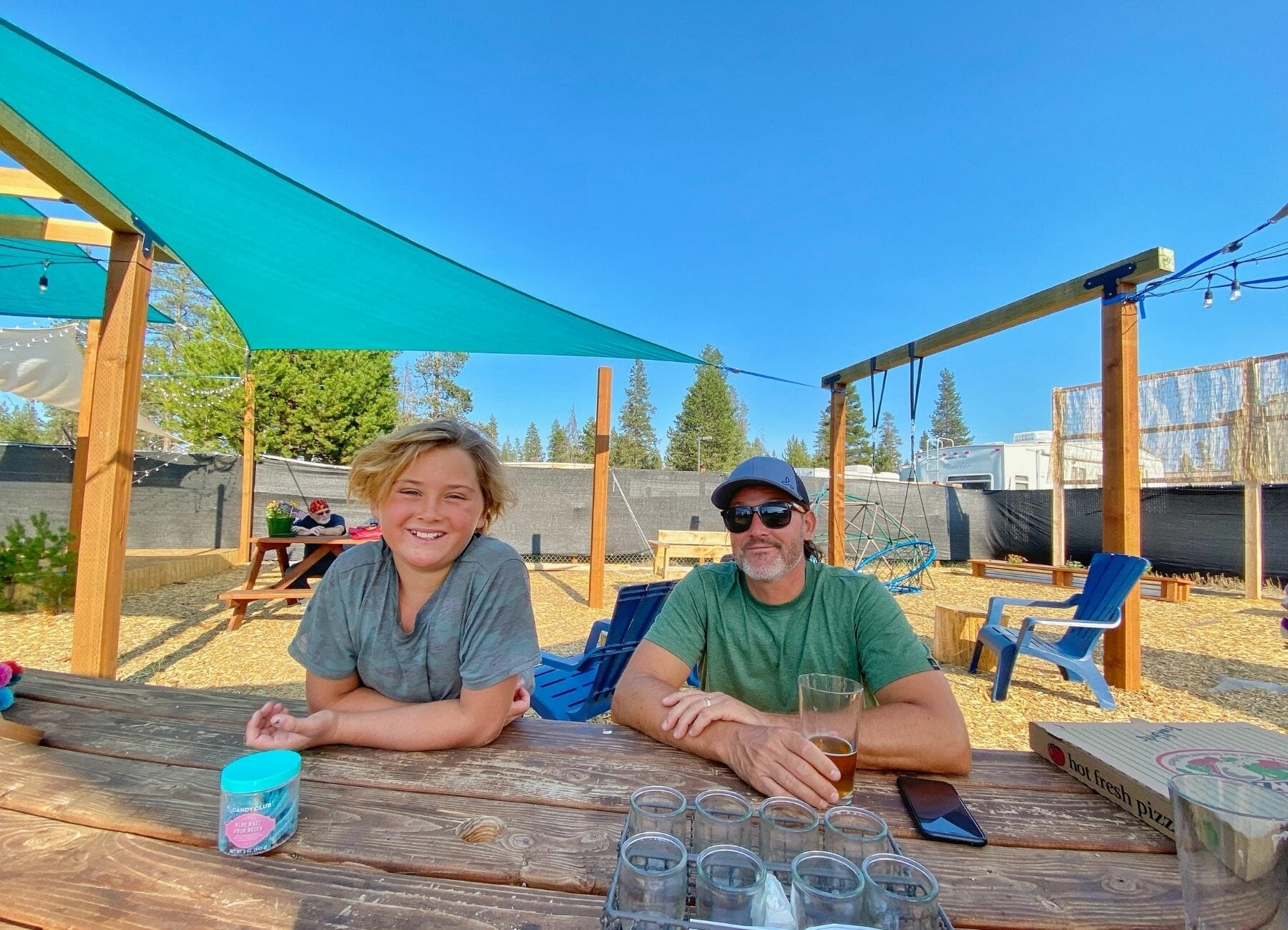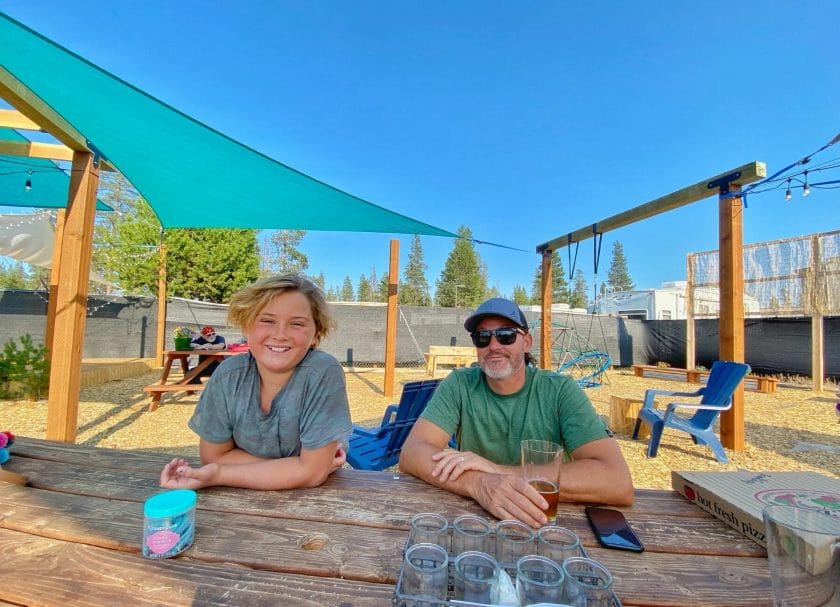 There are so many good breweries and cider places to try in Bend! The fun thing is most of them also have food or a food cart area. Here are our recommendations and experiences:
Avid Cider
One of my favorite cider places in the country! Make sure to get a sampler and try the apple cider donuts. They do have beer on tap and a basketball game inside that the kids can play.
SunRiver Brewery
About 30 minutes outside of Bend. But has Craig's favorite beer: The Vicious Mosquito. He also liked the Pale Ale they have on tap. Take note it can be VERY busy here and take hours to get a table. We recommend either sitting at the bar (no kids allowed at the bar) or going at like 2 or 3 – an off time.
Deschutes Brewery
This is a full on restaurant. The food was good and Craig likes their Fresh Squeezed IPA. They also have a tasting room in another location.
Legend Cider
Located in La Pine, Oregon about a 40 minute drive from Bend. It has an awesome outdoor seating area and the ciders were yummy!
Silver Moon brewery
They have a nice outdoor seating area in the back with food trucks. Craig really liked their IPA97.
Immersion Brewery
This one is located right next to Avid Cider. The beer was OK but the food was good.
Bend Brewing Company
Close to Drake Park and a nice grassy area. The food was good the beer was OK.
Worthy Brewery
There are a couple locations. We tried the one by Drake Park. The beer was OK – but really when you say a beer was OK in Bend it still means it is pretty darn good!!
Crux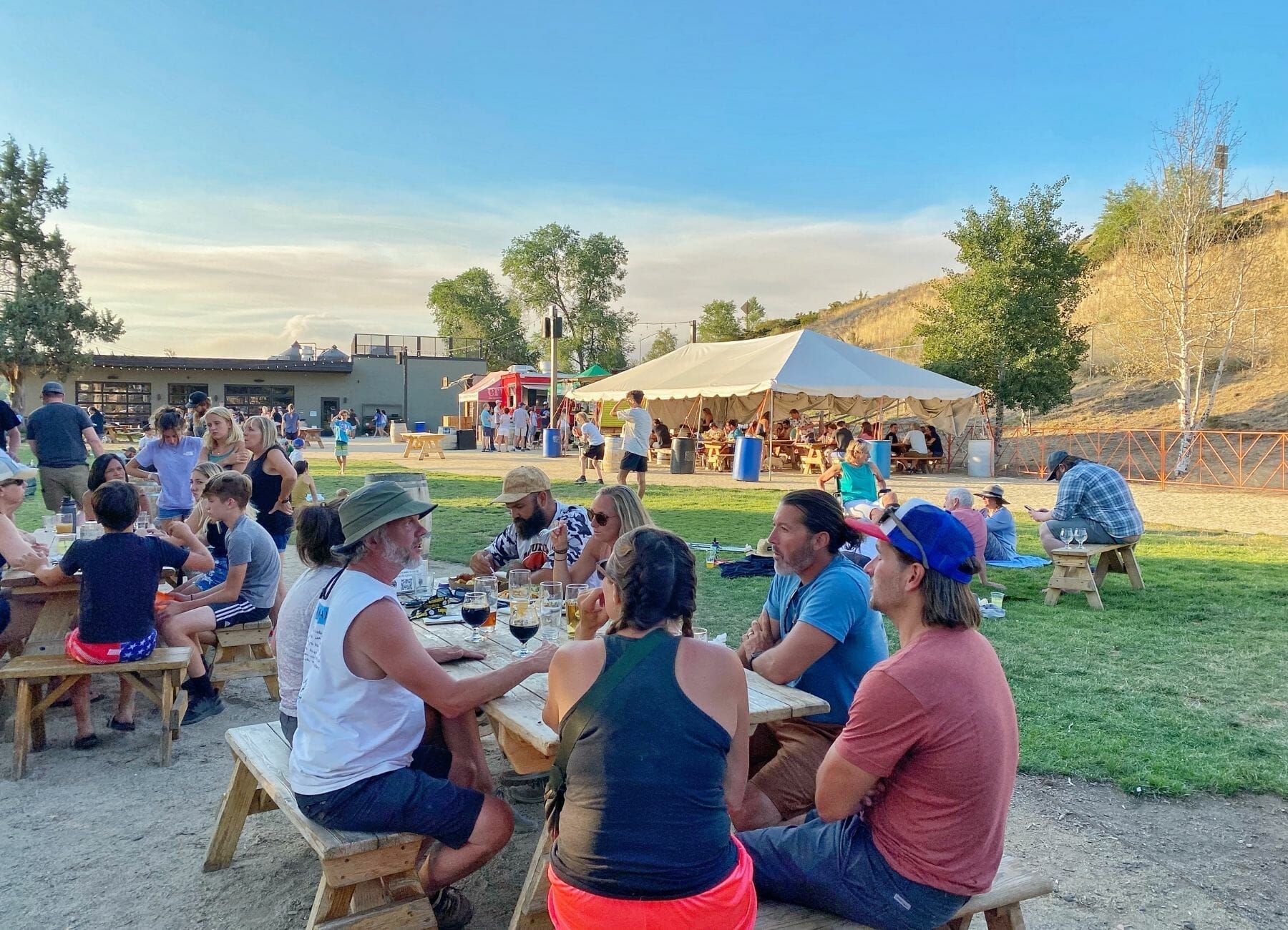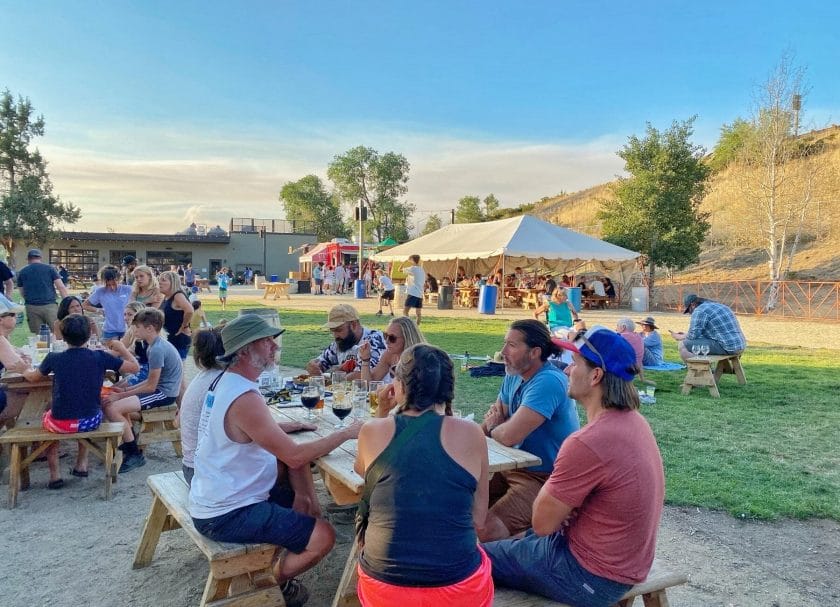 This one has a large outdoor grass area and food trucks. If you are with a large group or kids we definitely recommend this one.
Bevel
Bevel also has a collection of food trucks along with lots of outdoor seating.
Tumalo Cider
This one is located in Tumalo, Oregon. They carry Semi-dry to dry ciders and are located right across the street from a bunch of food trucks.
For more on the best Kid Friendly Breweries in Bend check out our post: 11 Kid Friendly Bend Oregon Breweries
As you can tell Bend has a LOT of yummy restaurants, breweries and cider places! The hard part is picking which one you want to go to.
Where To Stay
You can visit Bend and stay in a hotel, vacation rental or an RV. There are a lot of options for any of these! Here are ones we recommend based mainly on location or else otherwise stated:
VRBO
Here is a post we did with more options: 15 Family Friendly VRBO Bend Oregon Stays You Will Love
Hotel
From the best boutique hotels in Bend Oregon to regular hotels you will find something that works!
Oxford Hotel Bend – a boutique eco-friendly hotel in a great location to explore Bend!
McMenamins Old St Francis School – a unique stay in a great location!
RV Park
Bend Sunriver RV (A Thousand Trails Park) – This park is located by Sunriver so it is about a 30 minute drive into Bend but we loved the park! There is a river to play at and float down. Plus a basketball court and large sites.
**Note: Just a few 50amps and it is first come first serve and no sewer hook up at the sites.
Scandia RV Park – we did not stay here but we did drive by it and the location gets you right into Bend so everything you want to do in Bend is a short drive.
As you can see there are so many great things to do in Bend! The problem isn't what to do it is having enough time to do everything you want to do!
More Oregon Content:
21 Best Oregon Waterfalls You Will Want To Visit
32 Epic Things To Do In Portland With Kids [Itinerary Included]
26 Oregon Coast Road Trip Stops You Don't Want To Miss
Pin This Post: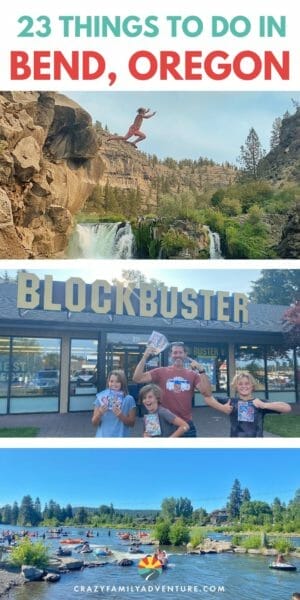 DISCLOSURE: This post may contain affiliate links, meaning I get a commission if you decide to make a purchase through my links, at no cost to you. Please read my disclosure for more info.