There are so many great kid friendly things to do in Bend Oregon including visiting these Bend Oregon Breweries! Central Oregon is known for its delicious craft beers and Bend did not disappoint. The fun thing is most of them also have food or a food cart area.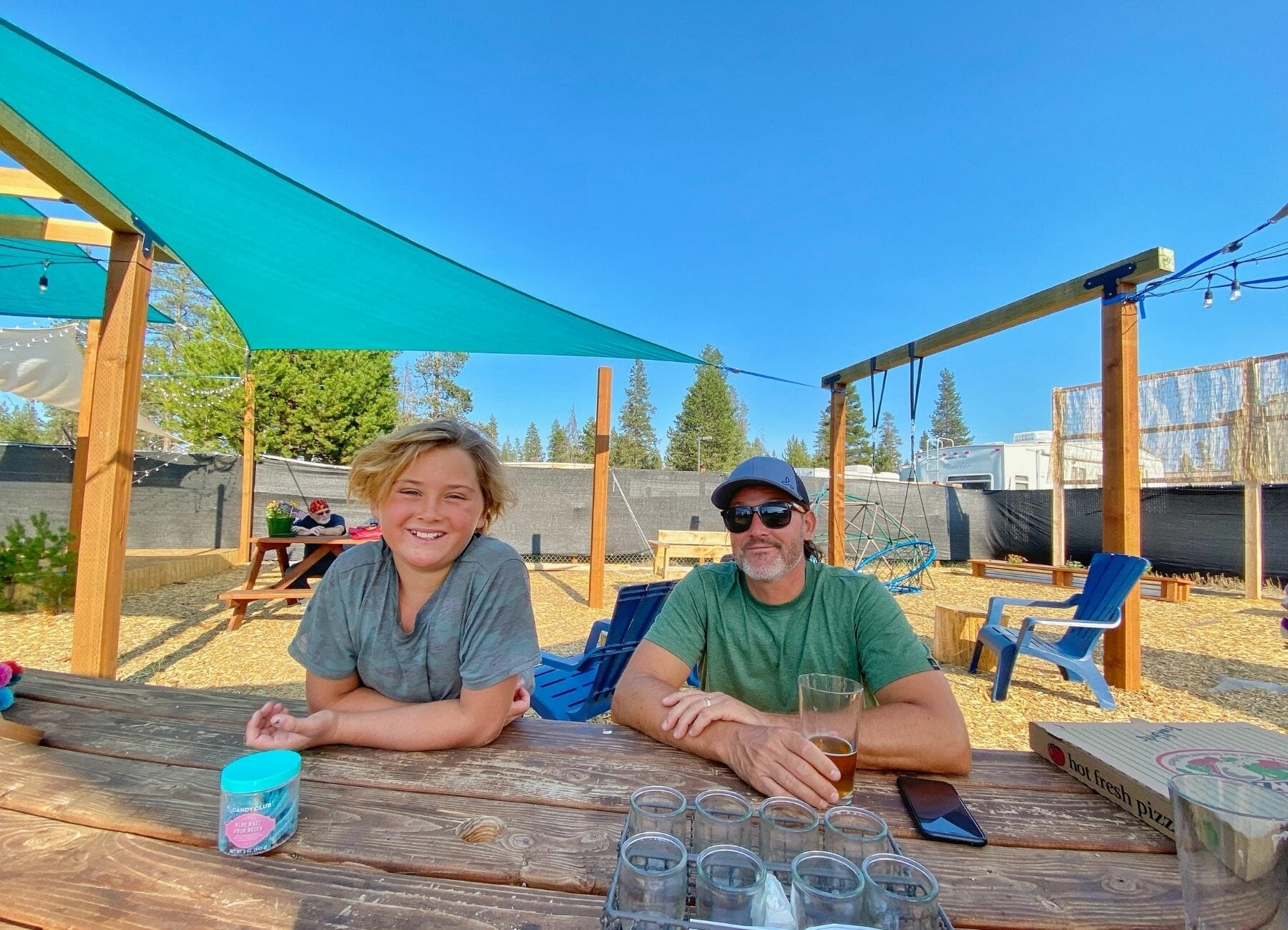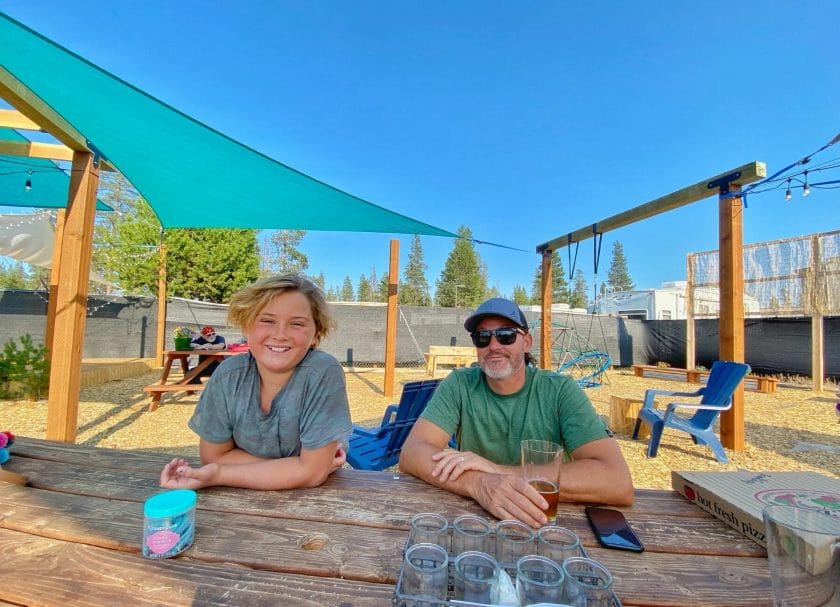 Here are our recommendations and experiences on the best craft beer places in Bend that you can take your kids too. We will share what the setup us like, why it is kid friendly and what we thought about the beer or cider.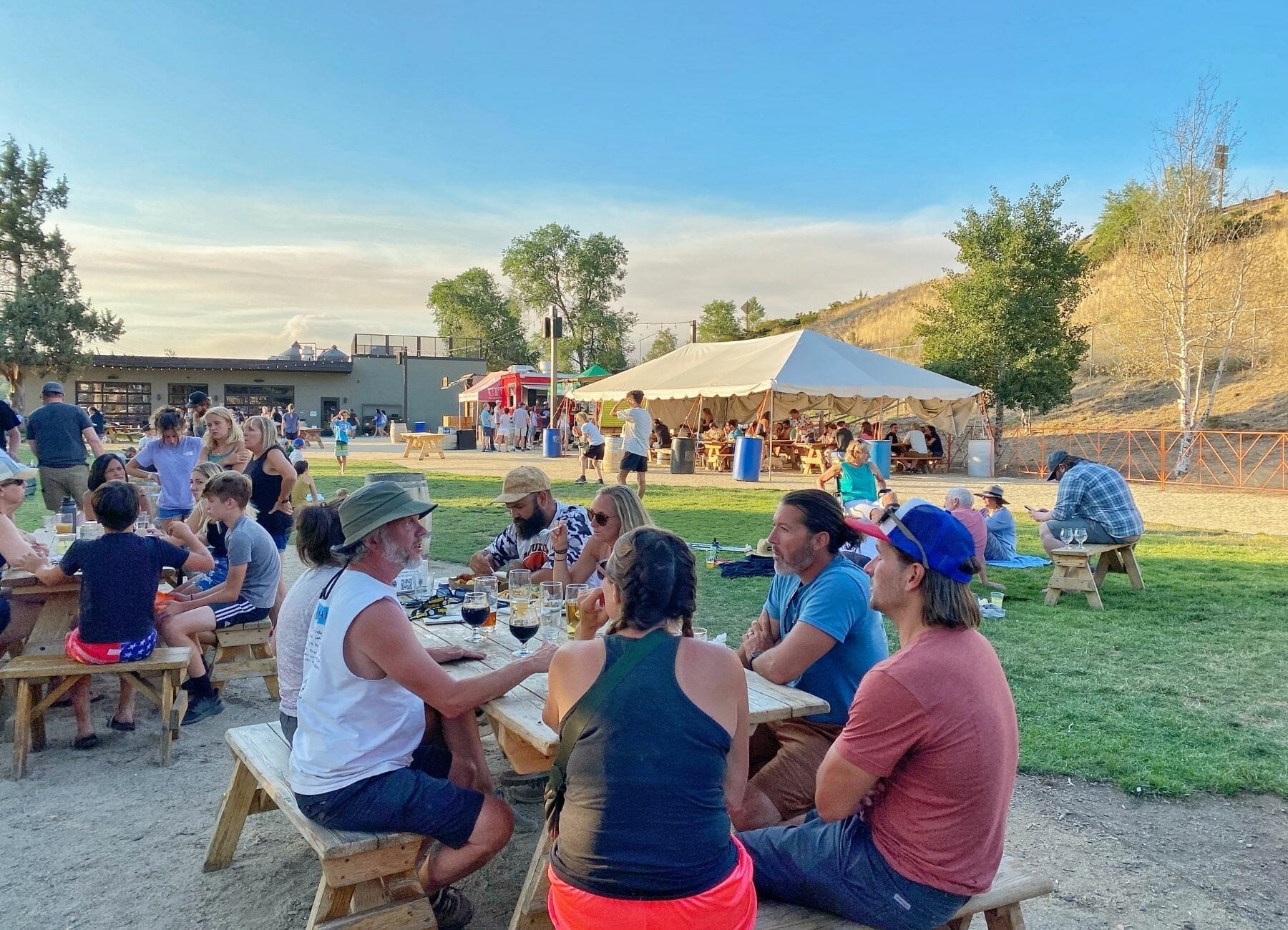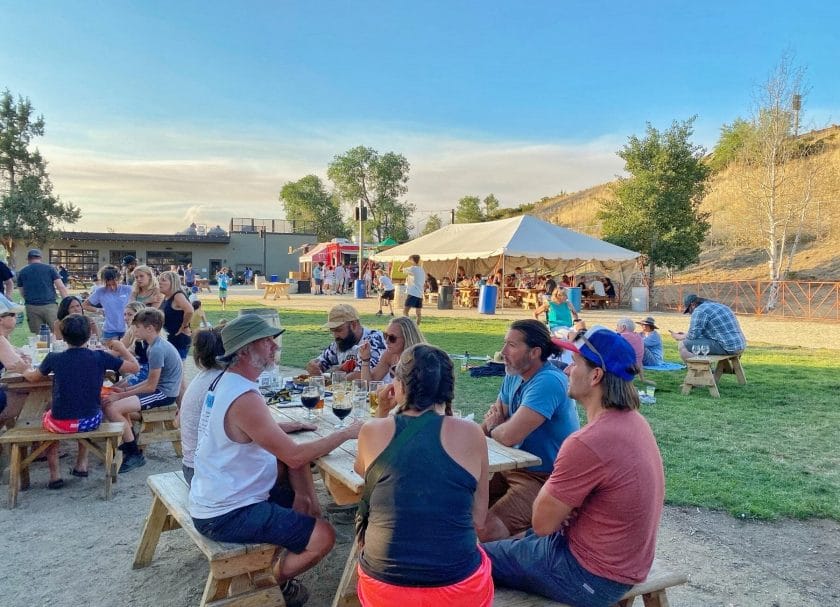 We would pick this as the most kid friendly brewery in Bend. It has a great outdoor area with picnic tables along with a large grassy area. They have their own food and also a variety of food trucks that are parked there.
If you are with a large group or kids we definitely recommend this one.
Why it is kid friendly: With a large grass area the kids had a place they could sit on the ground and run around to play tag. It is always helpful when the kids can burn some energy!
Beer review: It was OK . . . when comparing to so many other great options it is hard to be at the top!
This is our 2nd option for a kid friendly brewery. Yes it is a cider place but never fear they have local beer on tap too!
Full disclosure – we went here way to many times in the 4 weeks we were here! But it was yummy and I am fan of cider so I couldn't get enough!
You can do a flight of cider, they also have hard seltzers to try and do different mixes. Plus there are cider slushies.
They do sell cider donut holes (perfect for the kids!) but beyond that there is a food truck out front – that is open at varying hours, or Immersion Brewery is next door so you can order to go from there and bring it over to Avid.
Why It Is Kid Friendly: Our kids would seriously ask to come back here! Why – they had a basketball game that the kids loved playing. Plus a pool table. Just remember to bring quarters or cash to get change.
They also had a selection of non-alcoholic drink options in the cooler too. And outdoor seating. Take note the outdoor seating is by the parking lot – so may not be ideal with little kids.
Beer Review: The Cider was awesome! My favorite was the Pineapple Mango.
This one is always a good one to tie into a Bend river float day since it is by Drake Park. It has a large outdoor area where you can sit and have a beer and order from their small snack menu. Or you can get an outside or inside table and sit down.
They do have a full menu here. I love that the outdoor seating looking out over the Deschutes River.
Why It Is Kid Friendly: The large grass area in the back is perfect for kids and it is all fenced in. Plus the outdoor seating is picnic tables under a canopy tent. If you are like us any time we can eat outside with the kids is better!
They do have an indoor restaurant – but it is smaller.
Beer Review: The IPA on tap was good but wasn't so good that we remember what it was called. . .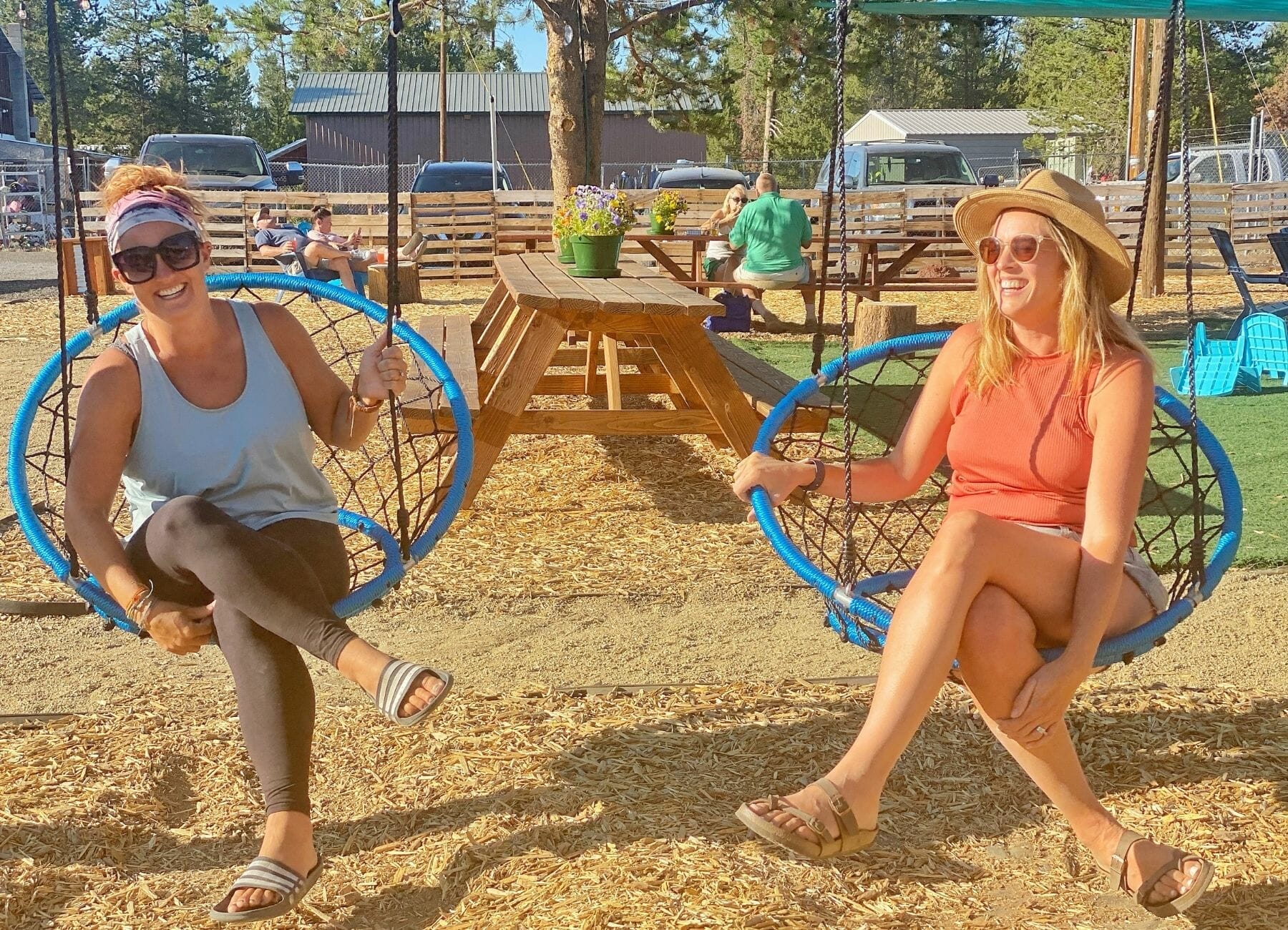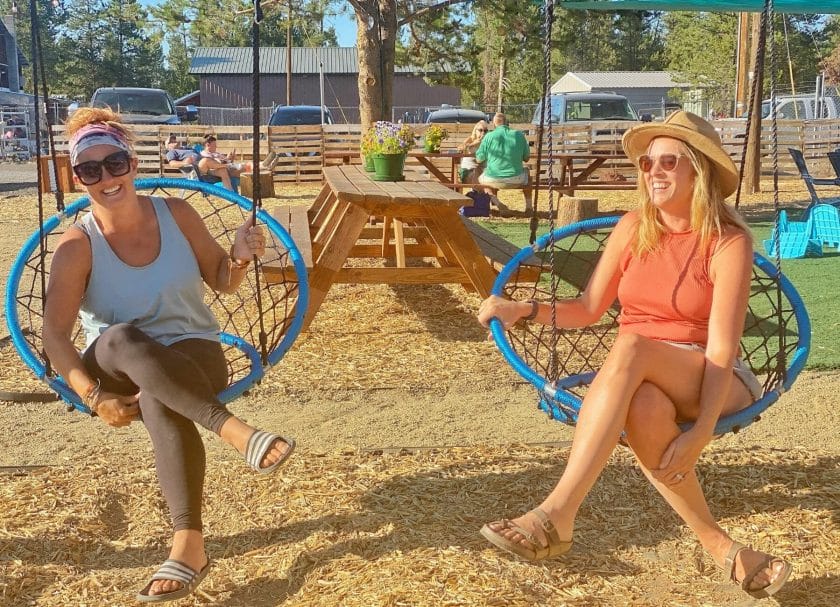 This one is located in La Pine, Oregon about 30-45 minutes from Bend. They had about 8 different flavors of cider plus a few beers on tap. They had an indoor seating area but the cool spot was outside where they had a jungle gym for the kids along with chair swings and picnic tables.
It looked like some days there were a few food trucks but that the pizza food truck was always there? Not 100% sure on this so be sure to call or check their FB page. They also have a farmers market right next door on Saturdays.
Why It Is Kid Friendly: Any time a place has outdoor seating AND a jungle gym for kids you know it is family friendly. Plus the swings to sit in would be good for adults and kids!
Beer Review: I really liked their ciders and was able to sample all of them by 2 doing flights of 4 each. I did end up going home with a growler but can't remember which flavor I got – since I do remember it was hard to decide!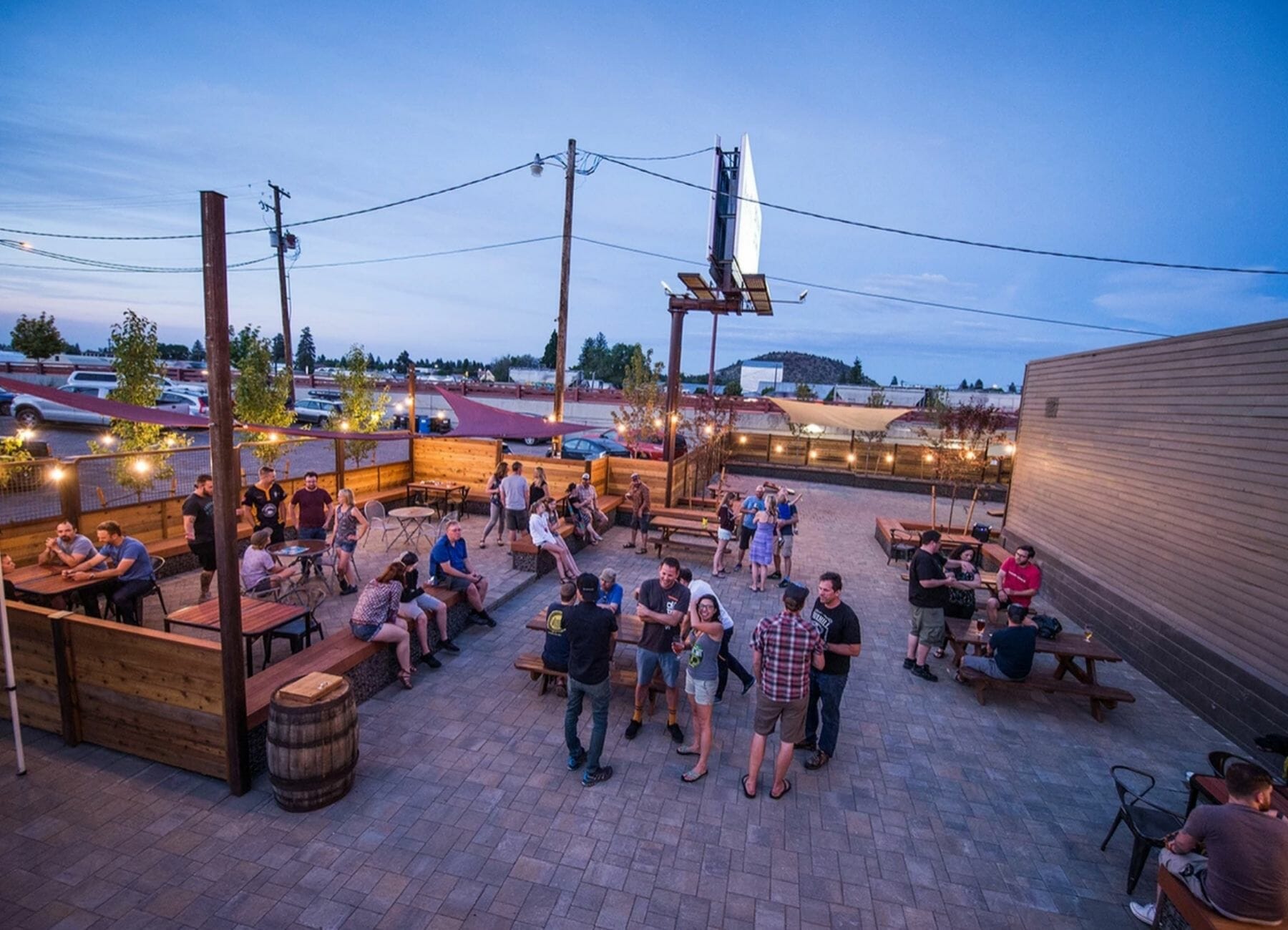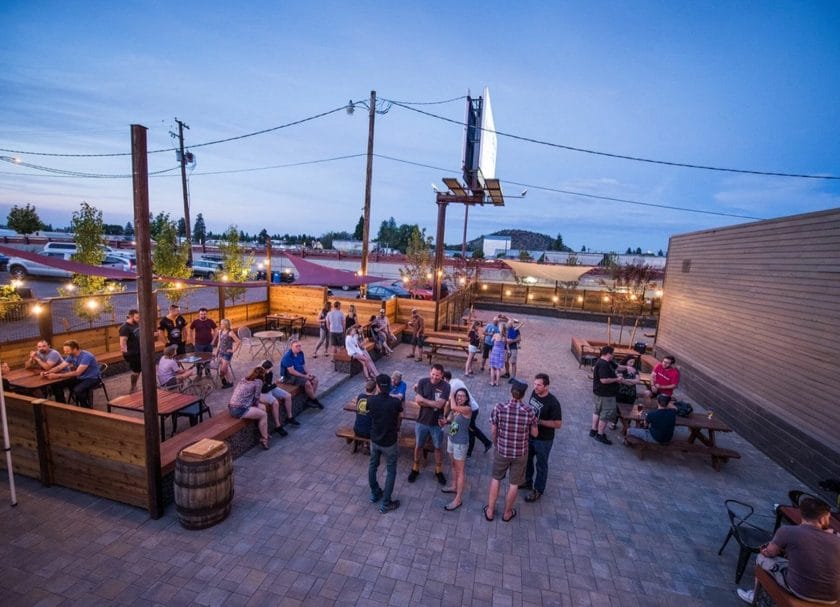 The Silver Moon brewery has an awesome backyard area with lots of seating areas and food trucks. We also heard that they will soon be opening an indoor gaming area with ping pong tables and pool tables.
Why it is kid friendly: There were soda options for the kids and an ice cream freezer. And anytime there is outdoor seating it is more family friendly.
Beer review: The IPA 97 ended a Craig's top list of beers in Bend!
There are a couple locations. We ended up at the one by Drake Park in downtown Bend. Right where they do the Wednesday Farmers Market in the summer. It is a small brewery but a perfect place to stop and grab a drink if you are hanging out by Drake Park or if you just came from the farmers market.
Why It Is Kid Friendly: The brewery itself by Drake Park is small but it is nice it is close to the park. If you have older kids they can go over to the park with a football to play while you enjoy a beer. Note – you can't see them from the brewery so they have to be old enough to be on their own.
Beer review: It was good – as most are in Bend – but didn't make the top of the list.
Bevel also has a collection of food trucks along with lots of outdoor seating. The difference is there isn't a large grassy area for the kids to play in. Other than that it is a great option since there are a variety of food trucks to pick from.
Why It Is Kid Friendly: There was a large outdoor seating area with picnic tables. And having a selection food trucks is always helpful when your kids like all sorts of different food.
Beer review: It was good but again didn't make the top of the list.
There is a large brewery – we have not done that as it is just a tasting room. Instead we went to the Deschutes brewery and restaurant where they have indoor and outdoor seating and a full menu. Our kids loved the mac and cheese but the 2nd time we went back it wasn't on the menu anymore!
Beer review: This one is at the top of the list. The Fresh Squeezed IPA is a go to! Plus you can find this in stores around the country – which is a bonus.
Why It Is Kid Friendly: It is a large restaurant with a kids menu.
This is the one I mentioned above where we got food to bring over to Avid Cidery. They also have good beers and a full food menu you can order from. With both indoor and outdoor seating.
Why Is It Kid Friendly: The outdoor seating area and food menu.
Beer review: The food was good. The beer was OK.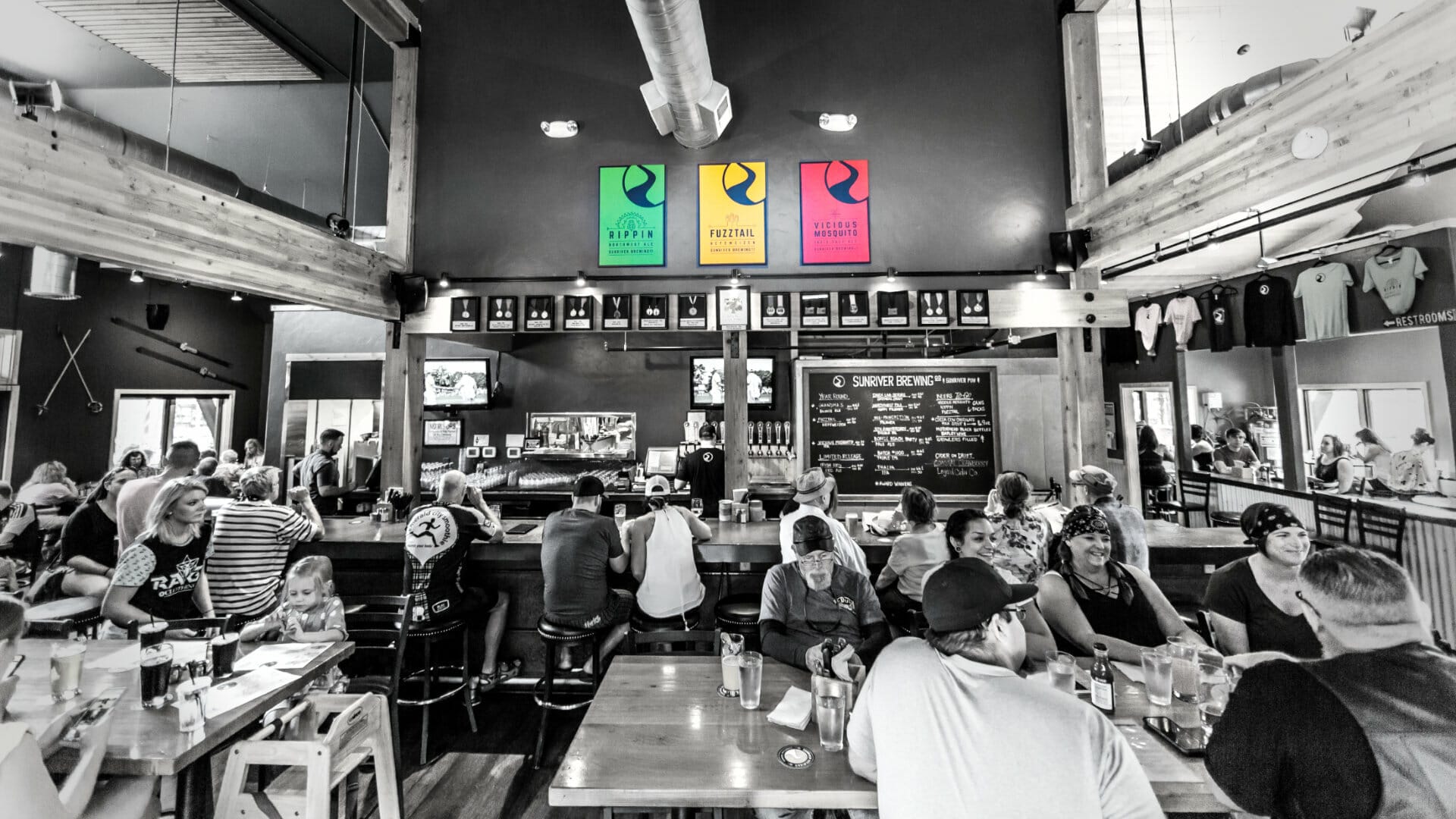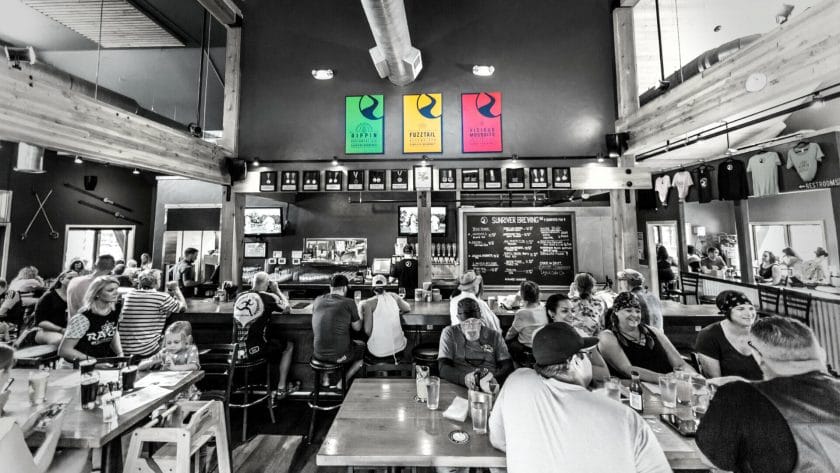 This one is located in SunRiver, Oregon. One of Craig's favorite beers in the area – Viscous Mosquito – is from Sunriver Brewery. The Brewery has indoor and outdoor seating but can be extremely busy. If you are going to go we recommend going at like 2 or 3pm or else plan to wait an hour or 2 for a table. They have a full menu and the food was good!
Why Is It Kid Friendly: I wouldn't necessarily say it has anything special to make it kid friendly . . . but it had Craig's favorite beer so I had to add it!
Beer review: This is the #1 spot! Craig's favorite was the Vicious Mosquito plus he really liked the Pale Ale too.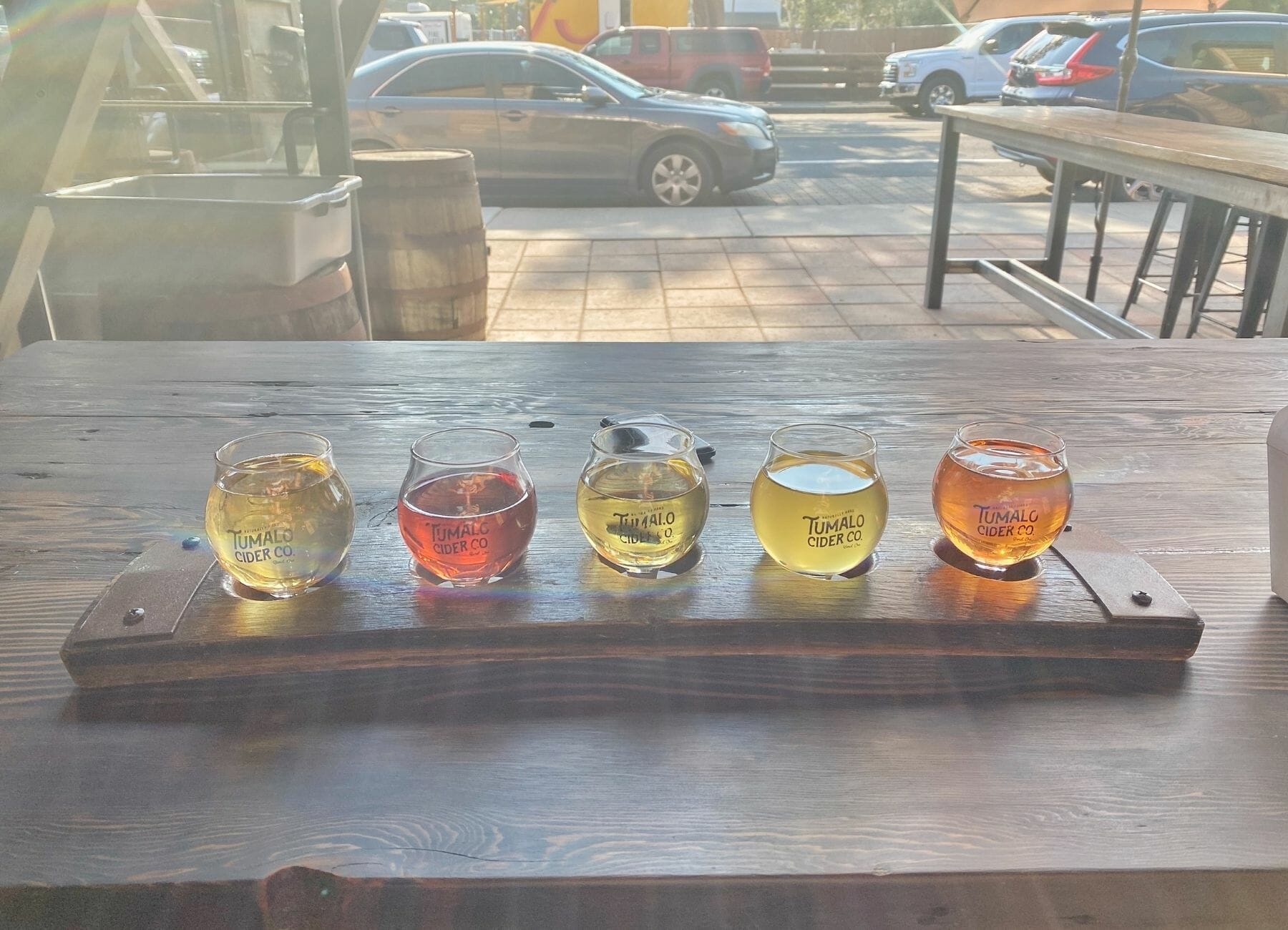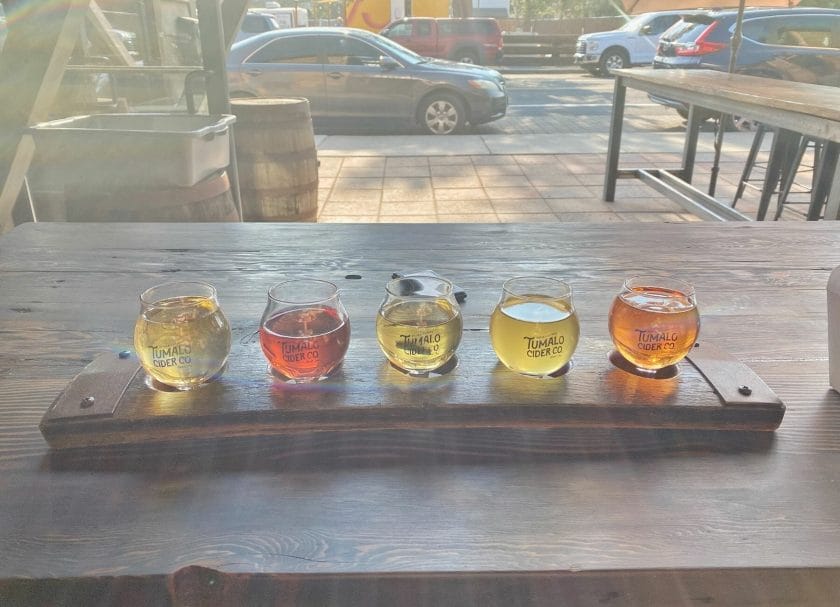 This one is located in Tumalo, Oregon. They had 6 different kinds of cider and a few beers on tap. All the ciders are dry or semi-dry ciders. They do not serve food but right across the street is a large food truck area that has a good variety of food and the pager from the food trucks works at the cider place. So order your food, come on over and get a beer and site at Tumalo while you wait for your food. Once your food is done you are welcome to bring it back to Tumalo to eat.
Why Is It Kid Friendly: They have root beer on tap! Plus it is right across from the food trucks.
Beer review: They only have Semi-Dry and Dry flavors. For someone who likes the sweeter the better I didn't overly enjoy the beer. That being said there were some good ones with strong flavor like the Ginger option.
Here are a few other options you may want to check out:
Boneyard Beer
Monkless Belgian Ales
Bridge 99 Brewery
Ale Apothecary
10 Barrel Brewing East Side Bend
Craft Kitchen Brewery
As you can tell Bend has a LOT of yummy brew pubs and cider places! The hard part is picking which kid friendly Bend, Oregon breweries you want to go to. Looking to stay in Bend? Check out our post on 15 Family Friendly VRBO Bend Oregon Stays You Will Love!
We love Oregon and have found so many fun things to do there! Check out more of our Oregon posts:
26 Oregon Coast Road Trip Stops You Don't Want To Miss
7 Best Oregon Coast Camping Spots & 20 Things To Do
How To Spend 3 Amazing Days At Mckenzie River National Recreation Area
32 Epic Things To Do In Portland With Kids [Itinerary Included]
Pin This Post For Later: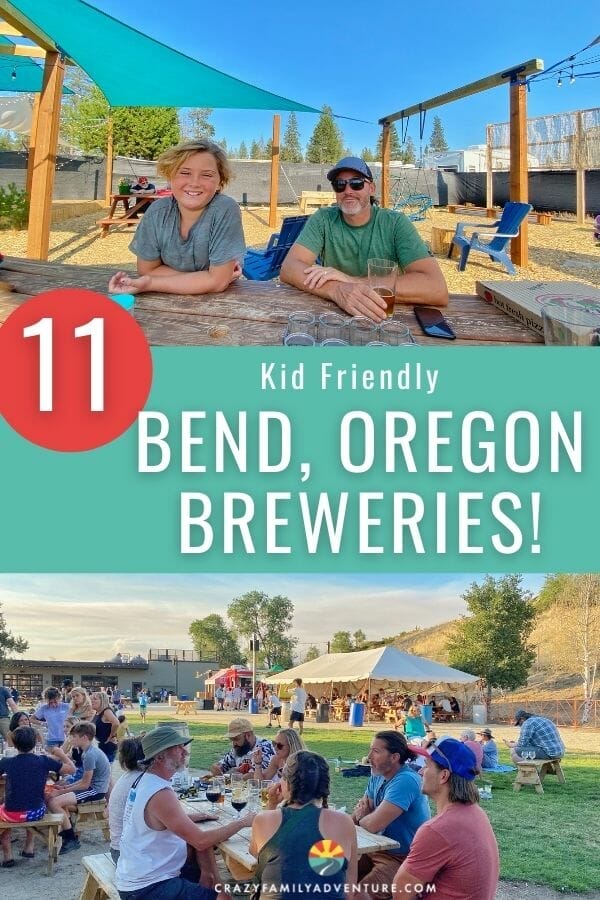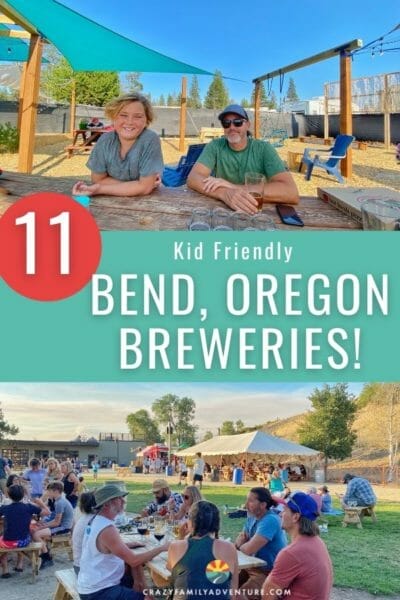 DISCLOSURE: This post may contain affiliate links, meaning I get a commission if you decide to make a purchase through my links, at no cost to you. Please read my disclosure for more info.