You can't come to Bend, Oregon and not do the Bend river float on the Deschutes River! Seriously! Just walk across the bridge by the Mill District and you will see all the river floaters heading down the river. This is by far one of the top things to do in Bend, Oregon.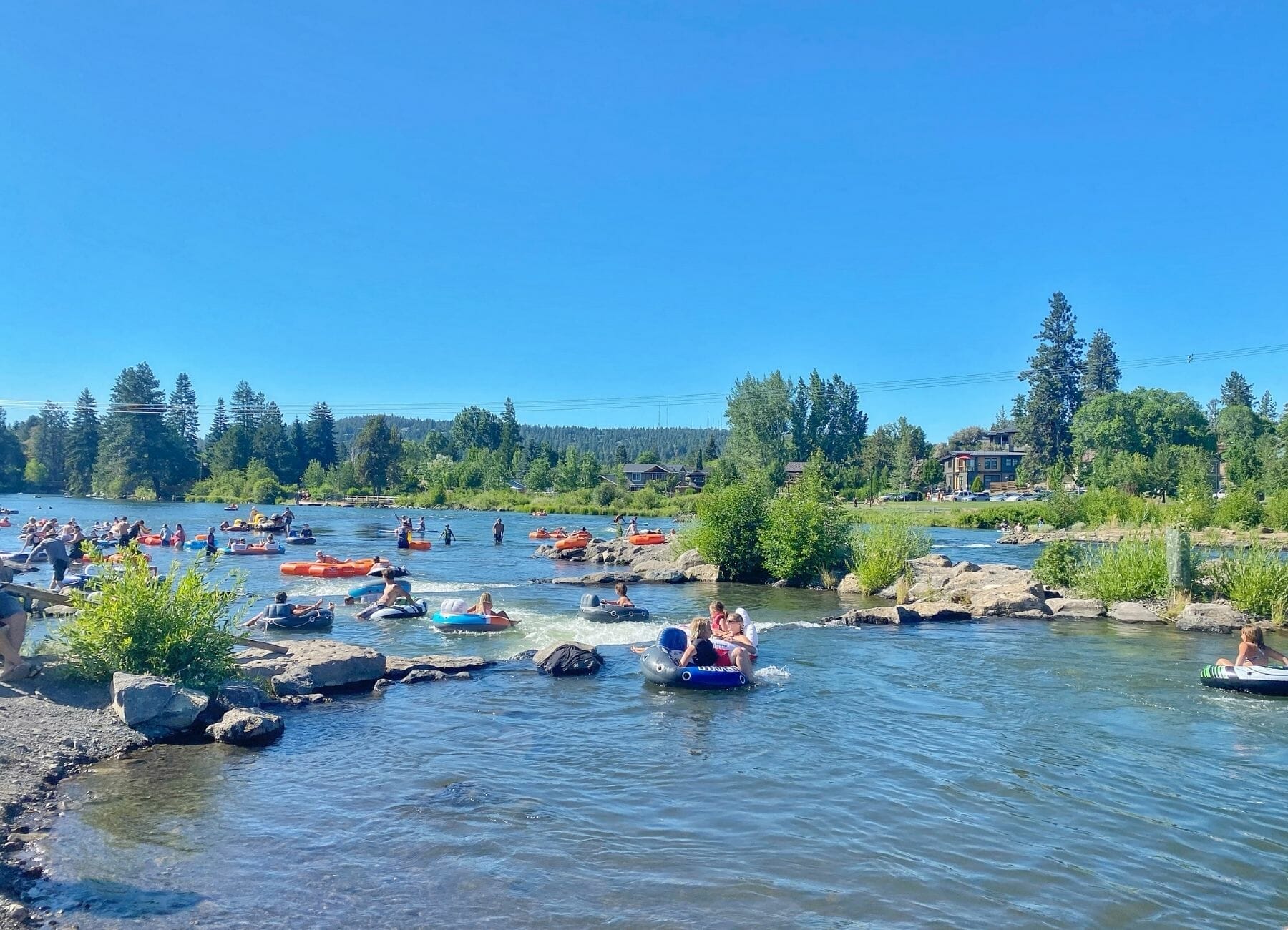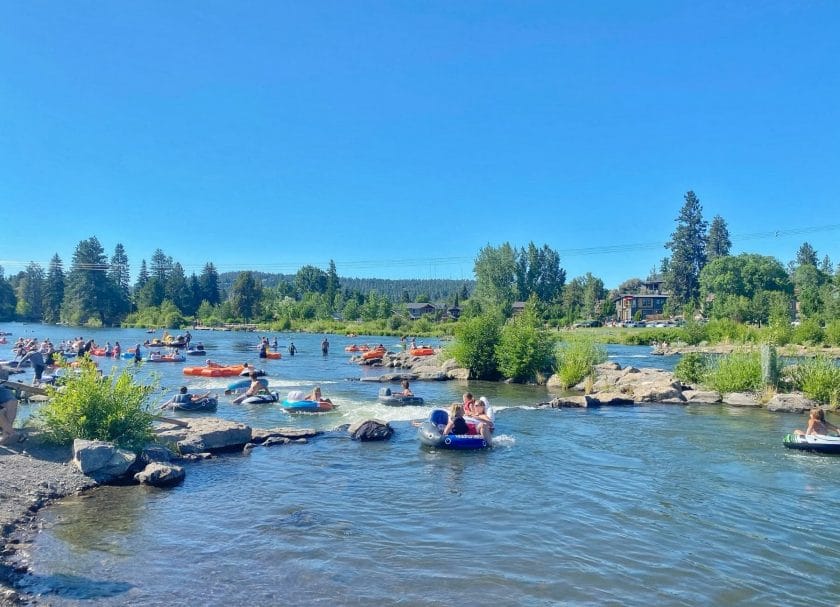 If you have your own tubes bring them with on your trip, it will save you the hassle of trying to find them here or renting them. Just be sure to have a pump with you to make it easy to inflate and deflate them.
We recommend the river run tubes and the Dewalt cordless pump.
When we float we normally start at the Riverbend Park and park there or at the Riverbend Dog Park. If we plan to do a float all the way to Drake Park we will do the truck drop off where 2 people go and drop off one truck at Drake Park.
***We did this multiple times in mid July and we were able to get parking every time we went.
If we plan to do the shorter float just to the rapids area we will leave the car at the Riverbend Dog Park or Riverbend Park and when we reach the rapids Craig just walks back to get the truck. It is about a .7 mile walk and super easy to do.
There is also the option to ride the shuttle with Cascades East Transit. You can learn more about the shuttle service on their site: Cascade East Transit.
**I know this information can be super confusing to find if this is your first time doing it. So I will try to be as detailed as possible:
Tubes For The Float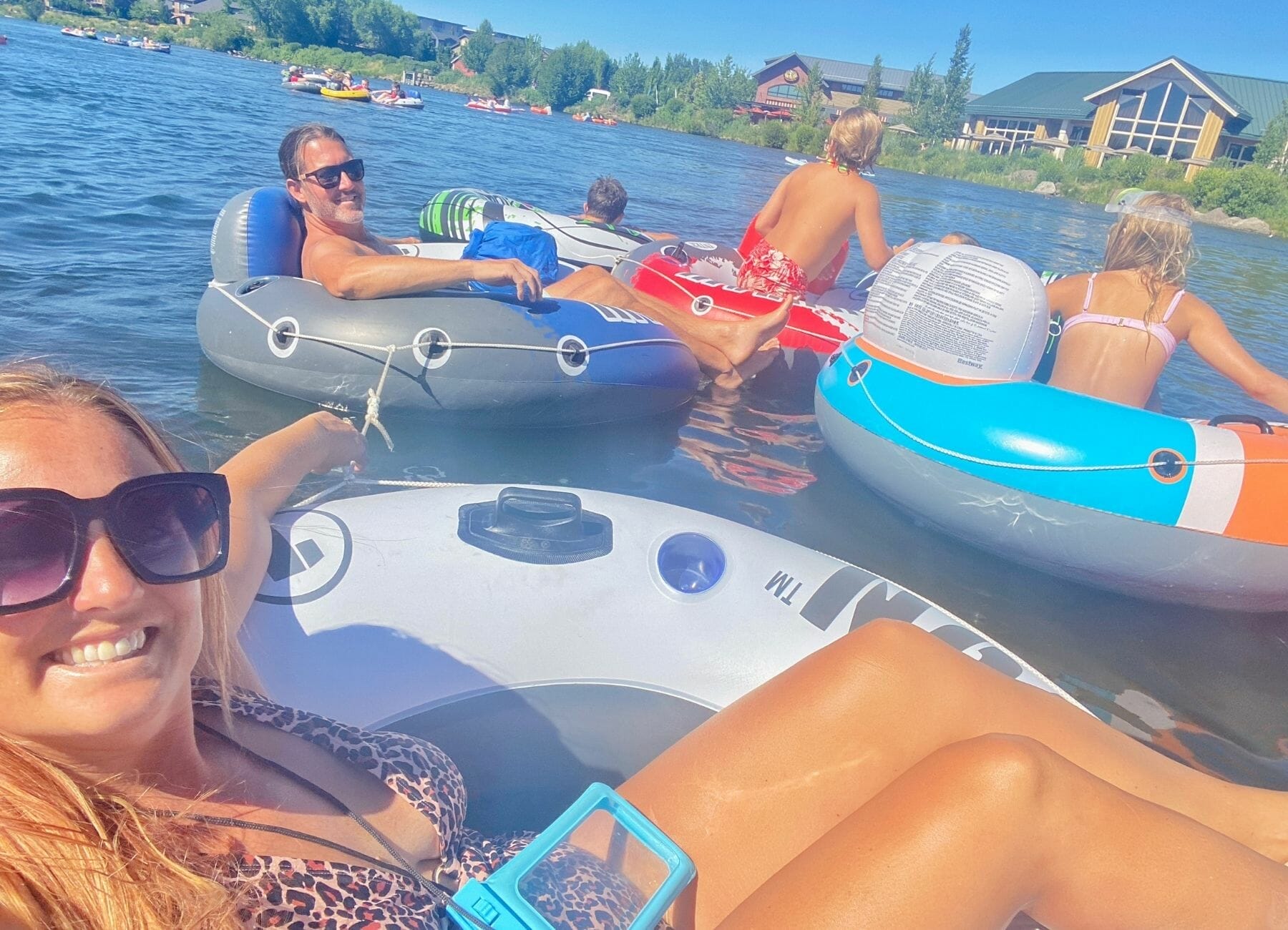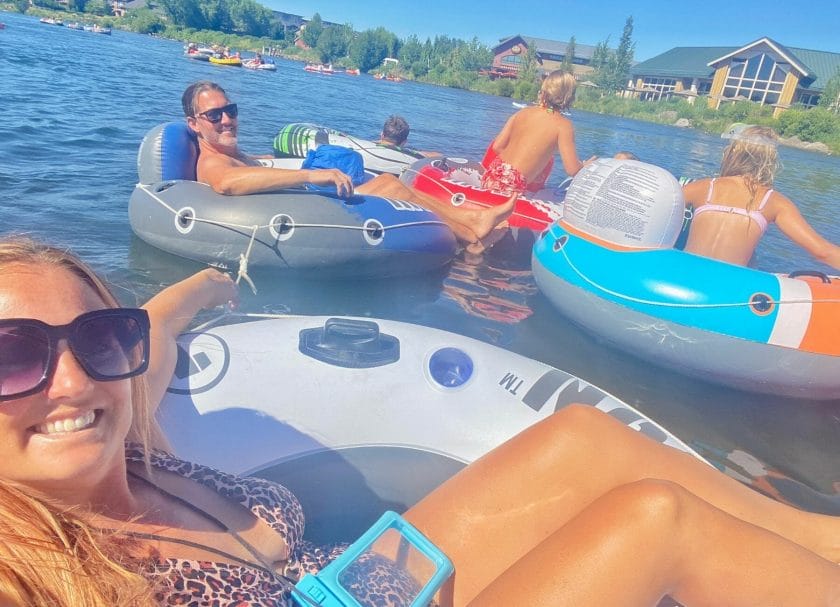 Bring floats from home, or you can try to find them in Bend, but know in the summer places sell out fast. We got a tip that the Ace in Sunriver had a ton of floats. If you aren't finding them in Bend you may want to call there or head out of town a bit to find them.
You can rent big and sturdy floats from: Tumalo Creek. We did this the first time we floated the river and they worked great! Do note they have a few more restrictions – you can't tie them together, you can't bring your dog on them, etc. Beyond that they are big and sturdy tubes!
The shuttle service mentioned above takes off from where you rent the tubes: Park and Float. Located at: 1000 SW Bradbury Dr, Bend, OR 97702. They do have a kiosk at the Riverbend Park you CANNOT rent a river tube here (only paddle board, kayak and canoe rentals are here). All tube rentals are done at the Park and Float location.
Tube rentals run from June 17th, 2023 – through September (ending when weather determines it is time to stop). Your can rent tubes from 10am – 4pm with the last shuttle pick up at 7pm.
It is $24 to rent a tube and get a shuttle ride. If you have your own tube it is $6 for just a shuttle ride.
There are bathrooms and a place to change at the Park & Float.
They also have a store (Kiosk) on site in case you forget a dry bag, sunscreen, cell phone cases. etc.
Map Of Bend River Float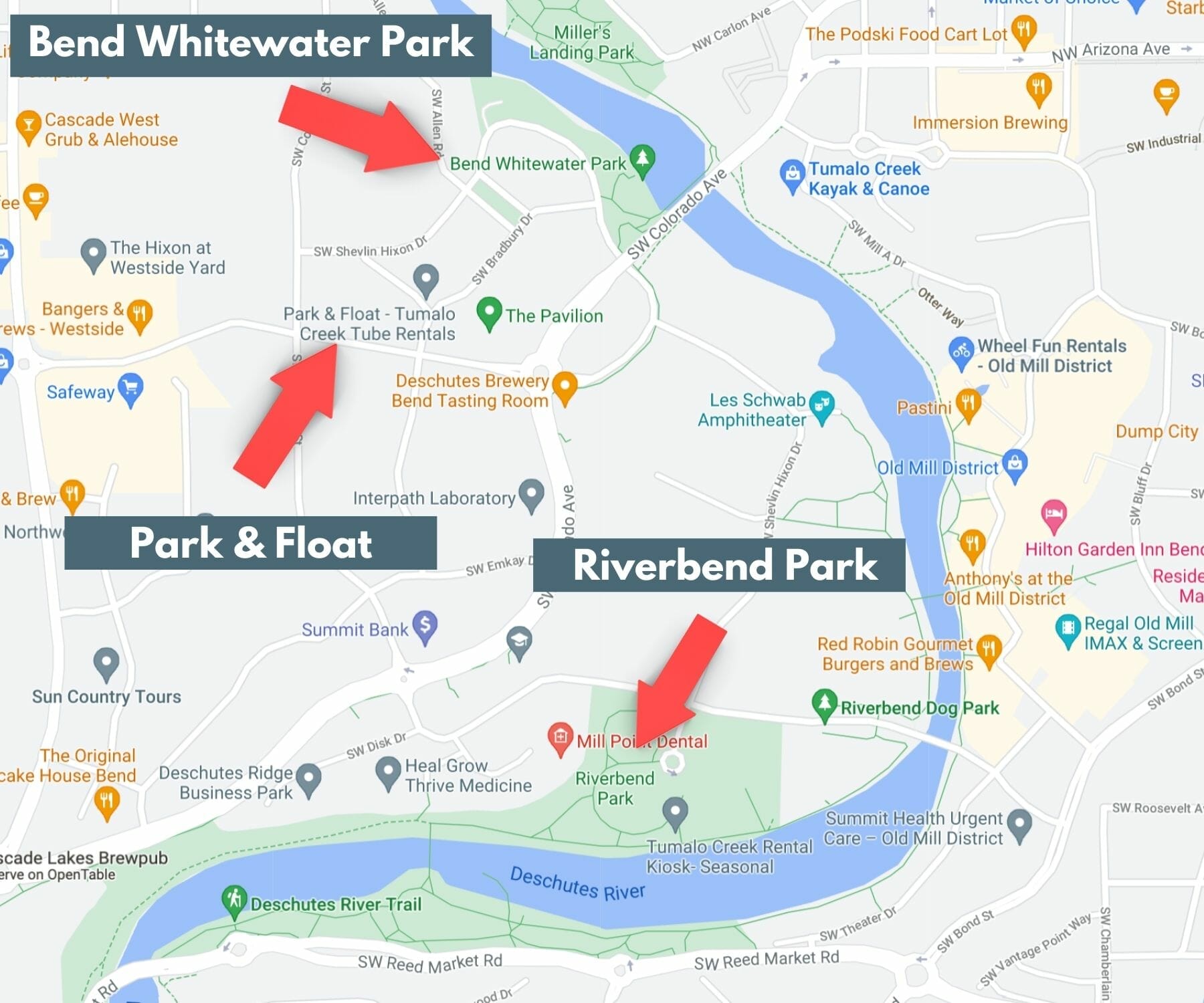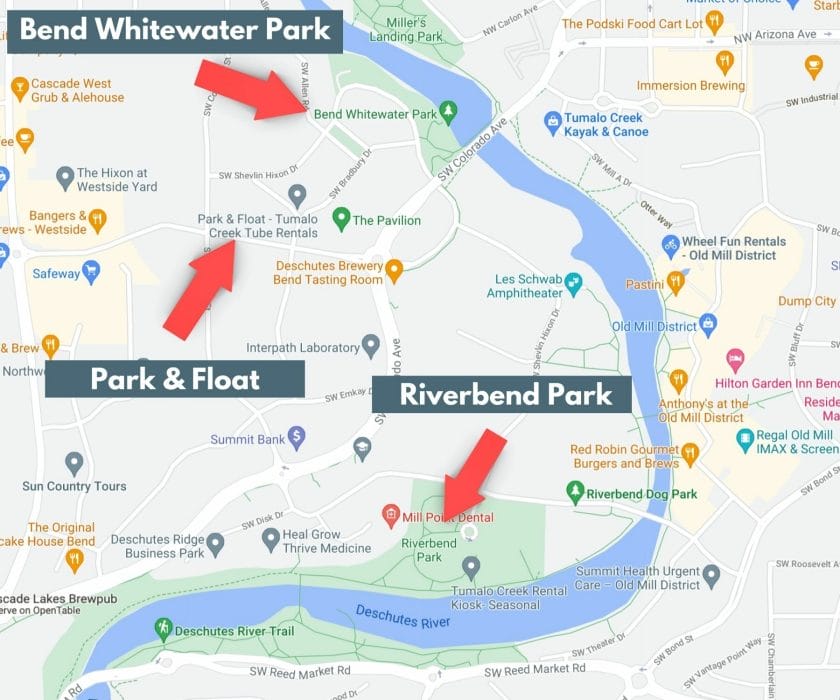 You will also see people going down the river with fun floaties – rainbow unicorns, a big pink flamingo, a big rubber ducky or even a blow up mattress! These can be fun but you may want to think twice about the rapids. Then again I did see multiple people go down the rapids with setups like this – only a few fell off!
There is a place to get off right before the bridge where the rapids start. You can walk under the bridge or out and around on the road and get back in past the rapids.
There are people on the river with kayaks and paddle boards. In my opinion these should not go down the rapids – as they could really hurt someone in a tube or if someone has fallen out of a tube.
Instead I recommend getting off and walking around like I mentioned above. There are tons of signs as you approach the bridge before the rapids to direct you where to go.
If you don't care about my opinion :), we did see people go down the rapids with kayaks and paddle boards.
Bend Whitewater Park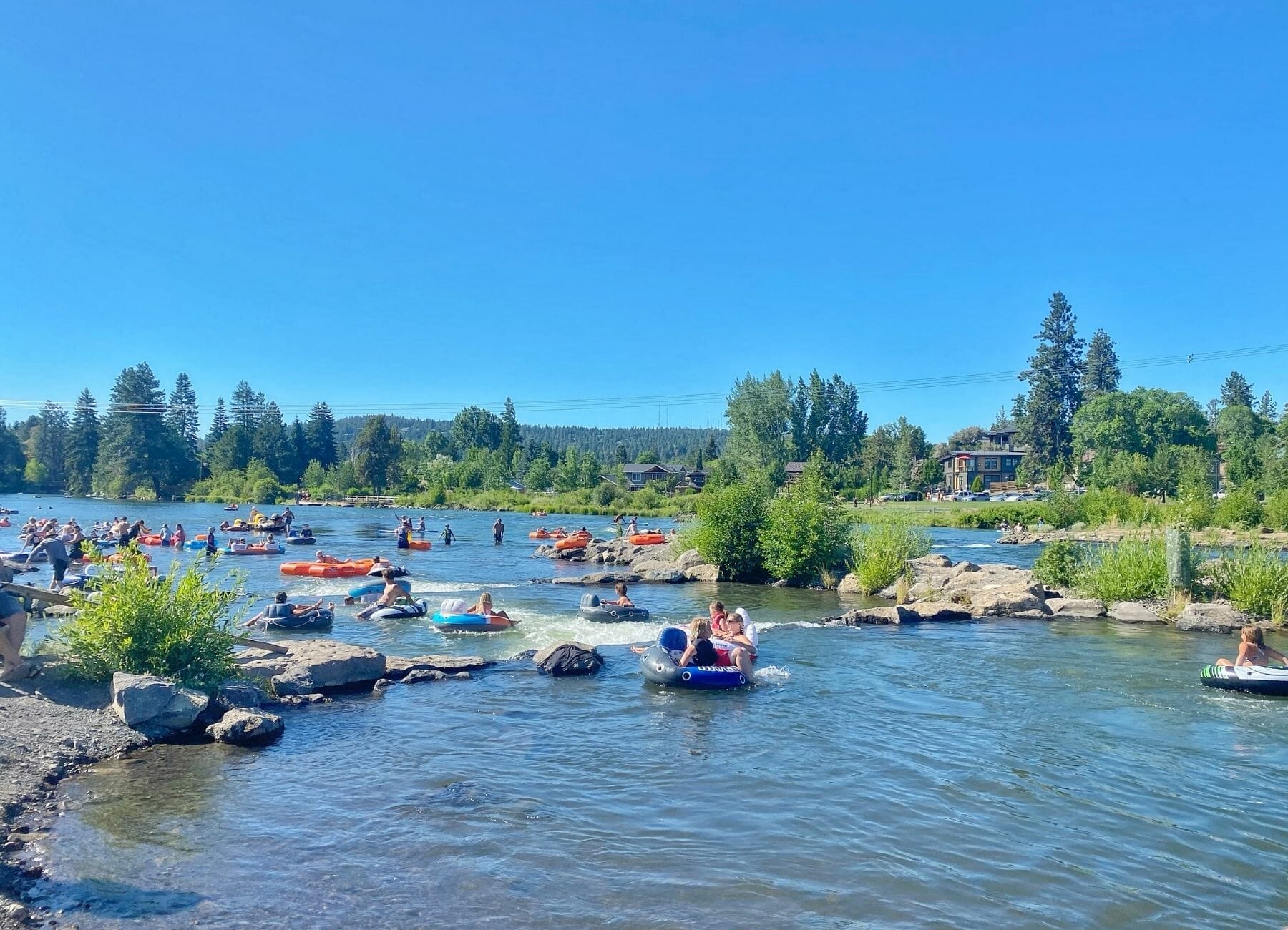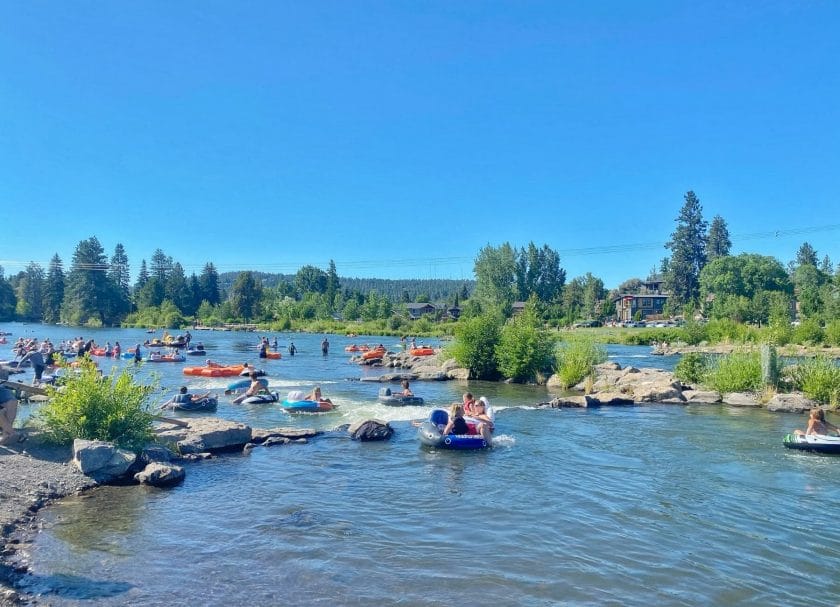 Don't be freaked out about this. It isn't anything too crazy! The whitewater channel or rapids is man made. It is locally named the fish ladder – in case you hear anyone reference that.
Take note there are rocks and you may hit your butt on them. You also may tip over once you go over the rapids. It doesn't happen often but it does happen. Don't let this stop you from enjoying them – but something to be aware of.
Kids of all ages go down the rapids on their own in their own tube. If they aren't good swimmers or if you aren't going down with them you may want to put a life jacket on them first.
If possible try to hit the middle of the rapids between the rocks. There are less rocks to hit your butt on!
Sometimes when you go down a rapid you get "stuck" in the water at the bottom on your tube. Just be patient the next person down will bump into you and push you out and on your way.
The rapids really are fun! Secure all your belongings before you go and hang on and have fun!
Floating Routes
There are a couple route options. You will need to determine what route you are going to go on before you start so you can figure out where you need to leave your car. All the routes listed below start at the same place and take you along the mill district to start.
Riverbend Park to the Rapids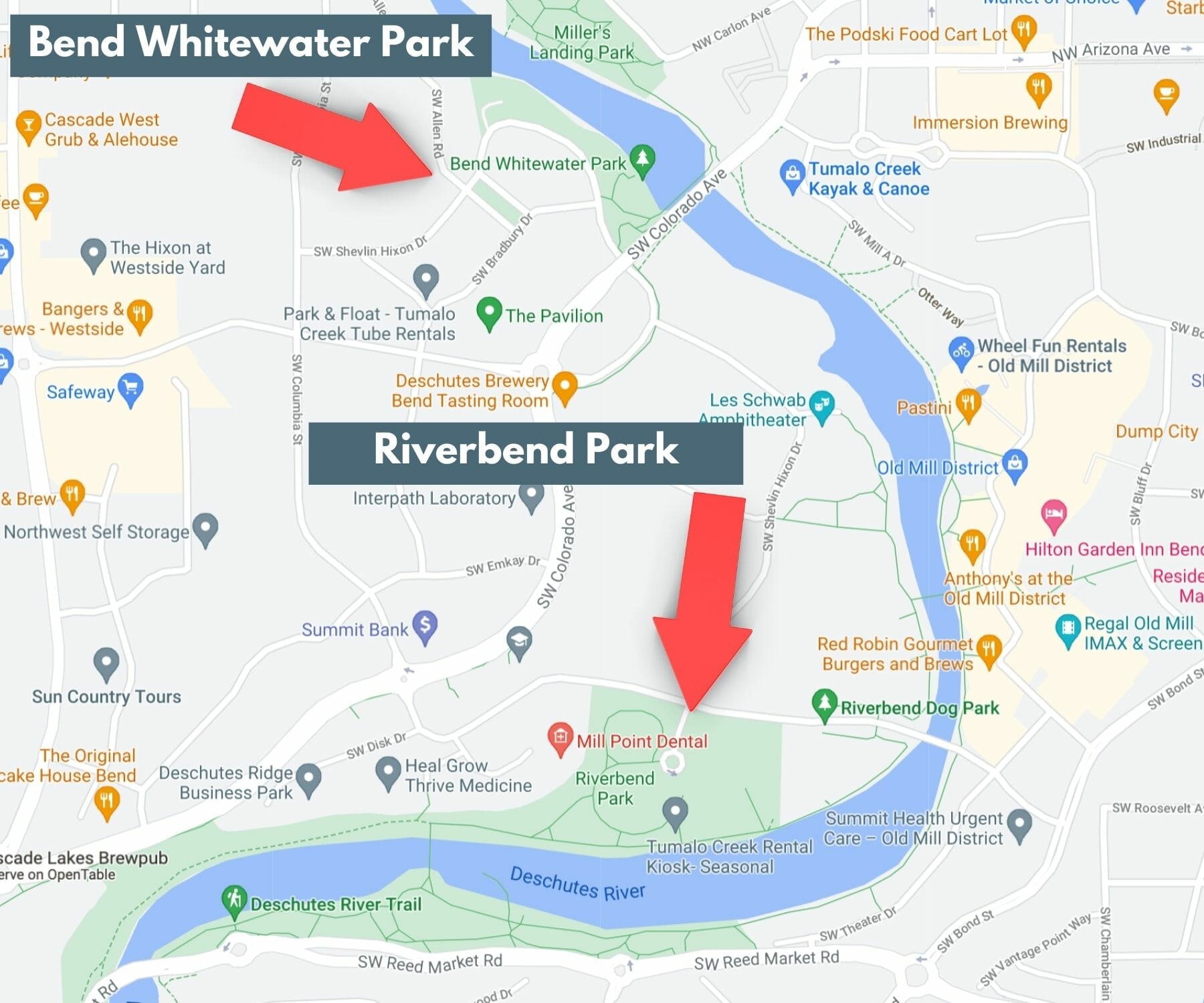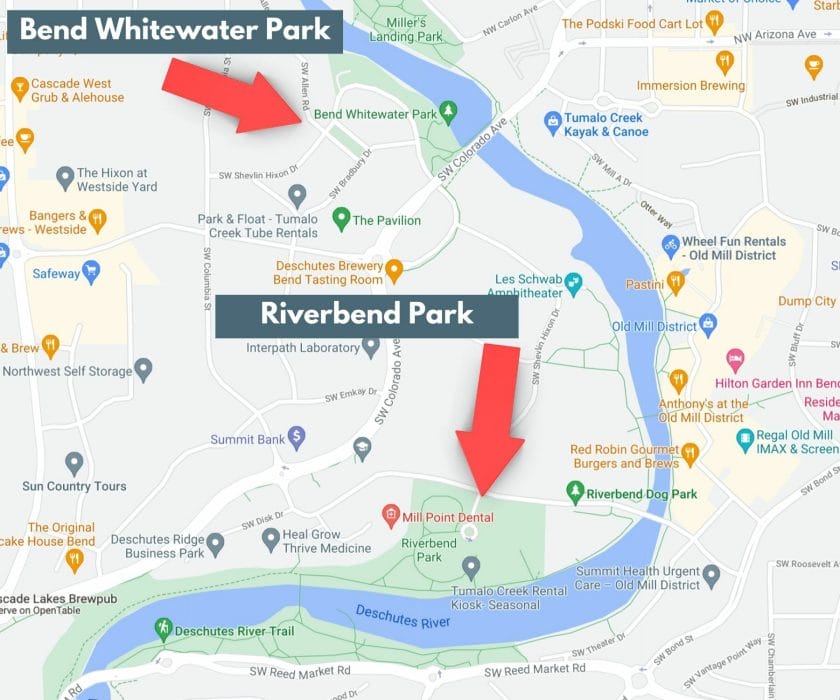 This is about a 45 minute float. The rapids will take an extra 5-10 minutes depending on how backed up it is with people floating and waiting to get into the rapids.
The rapids take about 2 minutes if that!
Riverbend Dog Park to the Bend Whitewater Park/McKay Park to Drake Park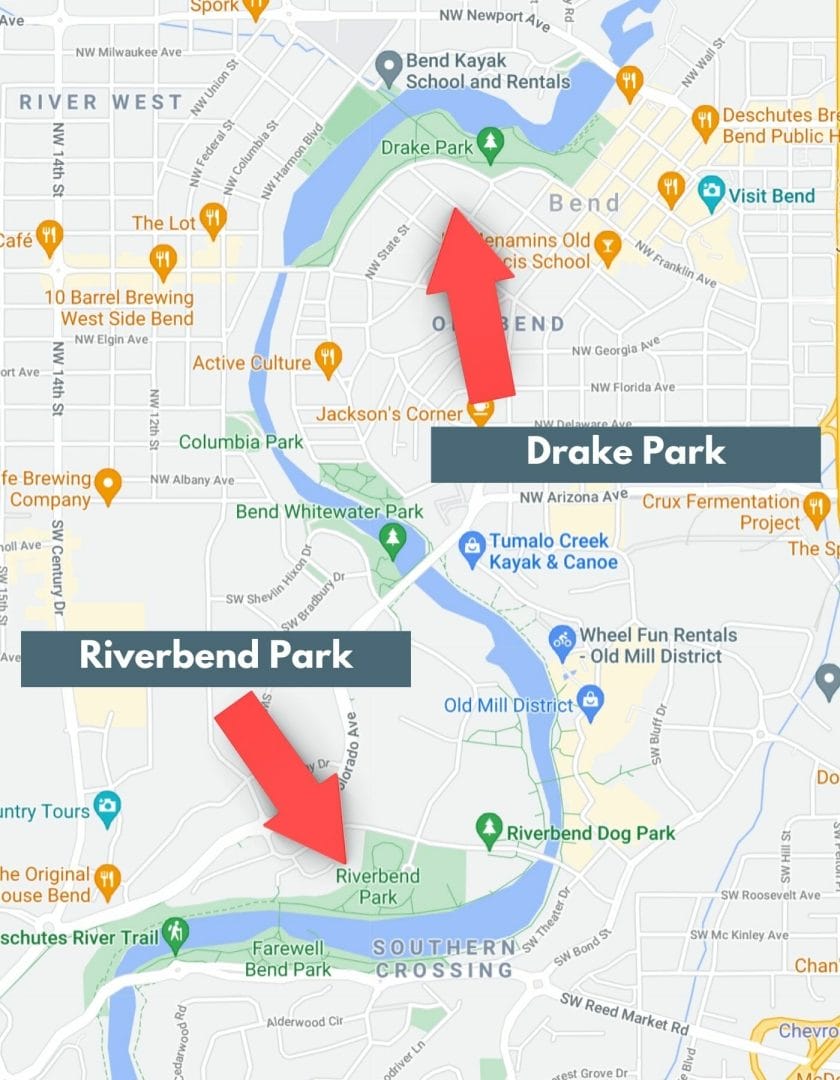 It takes approx. 45 minutes to the rapids 5/10 minutes for the rapids – or more if you want to get out and redo the rapids over and over again. An additional approx. 45 minute float to Drake Park.
Bend Whitewater Park/Rapids Only
If you don't want to do any floating you can park by the rapids and just do the rapids over over again! We have done this multiple times!
Parking
If you plan to do the Riverbend Dog Park to the rapids just plan to leave a car at the dog park and walk back from the rapids to get it. It is about a .7 mile walk.
If you plan to go from the Riverbend Dog Park to Drake Park you will need to figure out transportation. If you are with other people you can drive 2 cars down to Drake Park, find a parking spot and then drive one car back to park at the dog park.
When you are done floating you will take the car from Drake Park and whoever's car is still at the dog park and drive them back there to drop them off so they can get their car.
You can also do the shuttle as mentioned above with: Cascade East Transit.
Things To Bring With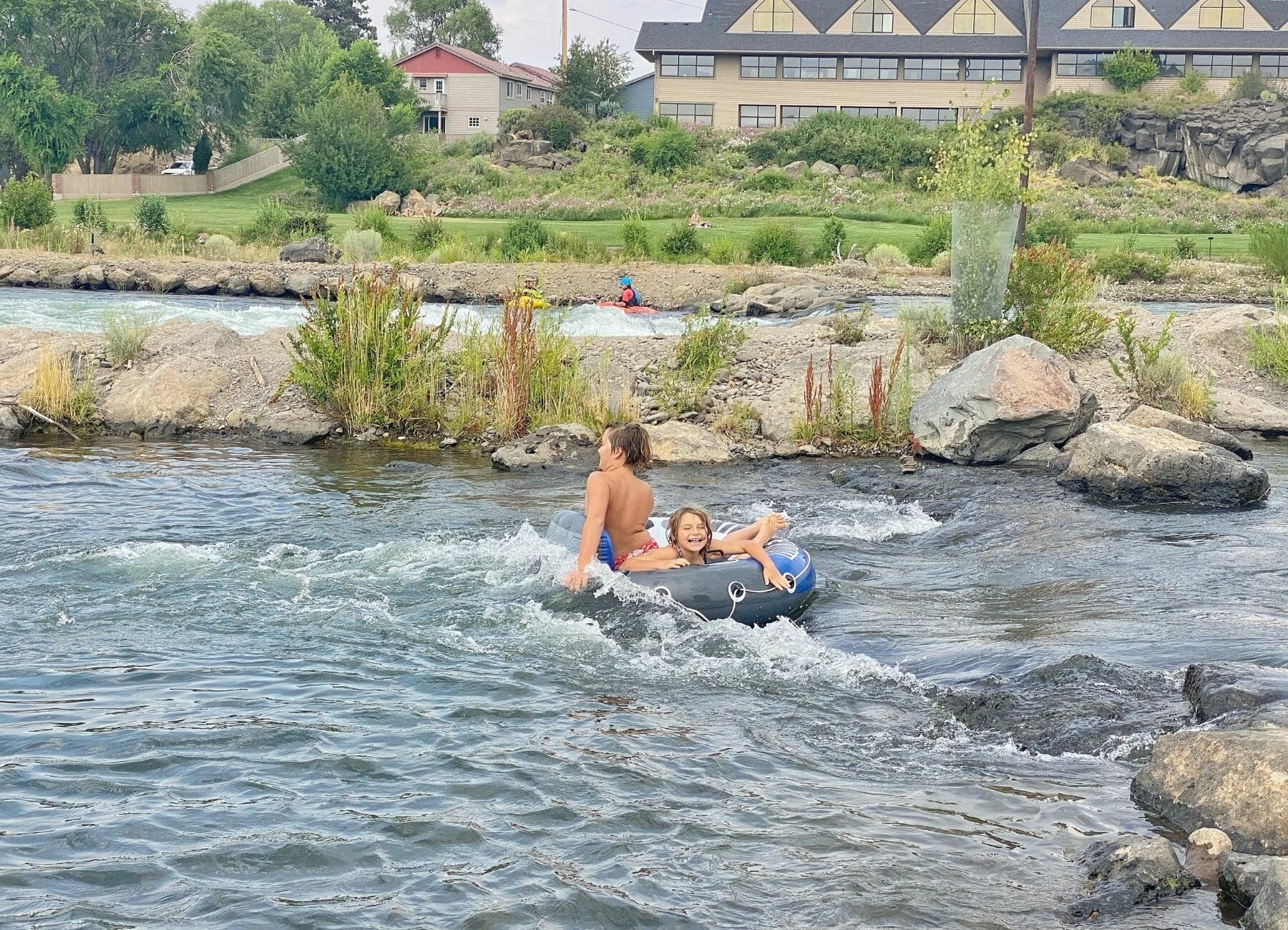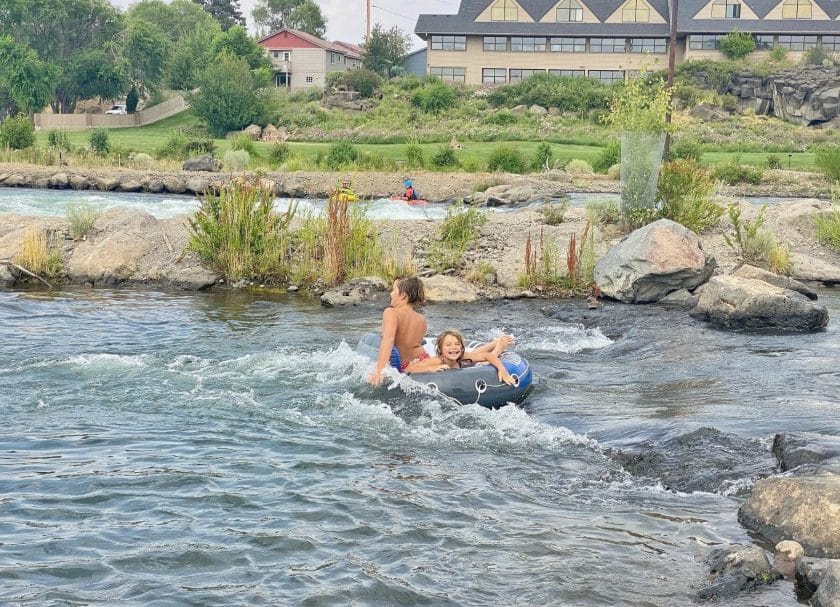 It is recommended to leave all flip flops in the car – there is a good chance you can loose them in the water. The worst part about this is the pollution to the river – so be very careful with this. You may want to bring water shoes or keen sandles that are strapped on. Or go barefoot.
Life Jackets – when on a tube a life jacket is not required. For the majority of the float you can get out and stand in the water. However there is a chance you will flip over in the rapids. For that reason if you are not a good swimmer or want to feel safer bring a life jacket for at least the rapids part.
Water bag – having a water bag is very helpful for anything you want to keep dry – your keys, wallet, phone, etc. I recommend getting one that you can easily attach to your tube.
We recommend this one:
Phone case – a phone case that protects your phone from water and also has a strap you can put around your neck is ideal! Almost every time we went we heard about someone losing their phone in the water! Don't let that be you!!
We recommend this one:
Towels – you may want to thrown one in your dry bag. But also know if the sun is out you will most likely dry very quickly. Instead you can put your towels in the car you parked at Drake Park – along with a change of clothes.
For small compact towels we recommend these: Turkish Beach Towel
More Things To Bring!
Sunglasses – it is sunny on the water!
Goggles – if your kids are like ours and don't just want to hang out in their tube and float bring their goggles. Our kids had fun looking in the river for things people had lost!
Rope – if you want to connect all of your tubes and your tubes don't come with ropes bring one from home. You would be amazed how fast you can float apart from each other if you aren't connected! *Note – if you rent tubes they ask you not to do this.
Drinks – there are mixed reviews on if you can have open alcohol on the river. Supposedly you can't . . . but we saw lots of people with open drinks and no one said anything. We even saw people with coolers – so . . . not sure what to say about that.
Pick up bag – pack a bag with a change of clothes, towel and shoes that you can easily put into the vehicle you park at the end of the float. This way if it isn't your vehicle there you can easily grab your bag out of the car and dry off and change while you wait for the person who is riding back to get your car and come pick you up.
Tips For Floating
Later in the day the float from the rapids to Drake Park can be shaded which makes it a cooler ride.
The water is COLD. But feels great with the sun beating down on you. Luckily it is normally sunny in Bend in the summer. Check the weather and pick a sunny day for your float.
If you go in the rapids be prepared to get wet. And remember, if you don't want to go you can get out and walk around but you will have to carry your tube with you.
Secure your phone during the rapids! A water case with a neck strap is ideal!
Munch and Music – on Thursday's starting in July there is a music festival that takes place in Drake Park. It starts around 5pm and this will cause it to be extra busy on this day.
Have fun! This is such a Bend thing to do and is totally worth it! If you have kids plan time for them to do the rapids over and over again!
There are so many more activities on the water, be sure to check out Tumalo Creek kayak canoe and more! Plus Farewell Bend Park has a boat launch area if you have your own kayak or paddle board.
After Your Float
If you float down to Drake Park (one of our favorite Bend parks!) we recommend going to the Bend Brewing Company to get dinner and drinks. They have an indoor restaurant area that has a full menu and some outdoor seating. Along with a large grassy area that you can hang out in with smaller plate options.
The Deschute's Brewery is near by and can be walked to. We recommend these – but note there are a lot of restaurants, ice cream places, shops, etc in the downtown Bend area by Drake Park so plan to head there when you are done.
Check out our post on all the awesome things to do in Bend, Oregon and our friends posts on their favorite Bend picks! Check out all of these 11 Kid Friendly Bend Oregon Breweries and these 15 Family Friendly VRBO Bend Oregon Stays You Will Love!
Central Oregon has so many great things to do! The McKenzie River Area is one of our favorites.
The coast is amazing too! Check out our posts on it:
26 Oregon Coast Road Trip Stops You Don't Want To Miss
7 Best Oregon Coast Camping Spots
Don't stop there! Keep exploring down into California:
23 Magical Things To Do In Redwood National Park
12 Epic Things To Do In Northern California [Map Included]
21 Epic Things To Do In Yosemite National Park With Kids
Or up into Washington:
12 Fun and Exciting Things To Do In Olympic National Park
Pin This Post: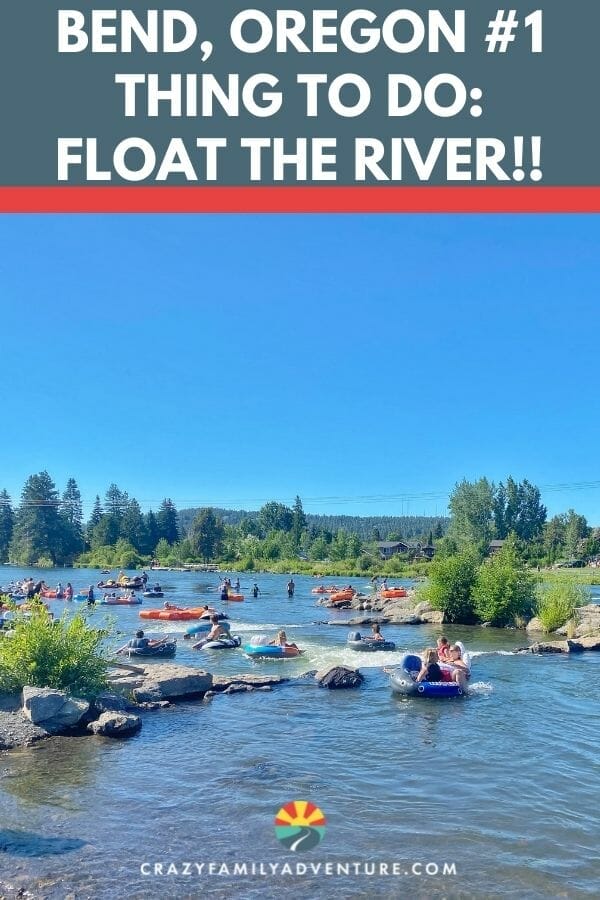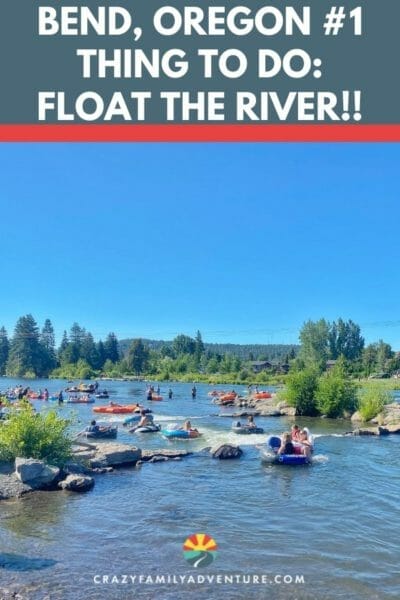 DISCLOSURE: This post may contain affiliate links, meaning I get a commission if you decide to make a purchase through my links, at no cost to you. Please read my disclosure for more info.